82 Wedding Photo Ideas That You Definitely Need to Capture
Once your big day has passed, your wedding album will hold all of your memories. Make sure you don't forget to capture these precious moments...
We have included third party products to help you navigate and enjoy life's biggest moments. Purchases made through links on this page may earn us a commission.
Your wedding photographs are such an important part of your wedding day. Once all the fun has passed, they're the thing (along with your memories) that you'll be able to treasure forever.
After booking your wedding photographer, you might think there's nothing else to be done on the snaps front. But if you really want to get the most out of the photographer you've hired, it's a good idea to provide them with a checklist of the pictures you definitely want to see in your wedding album.
You might have saved some snaps on Pinterest that you'd like to recreate, or there may be a group of friends you'd definitely like a posed picture with. Whatever it is, you don't want your dream photographs to go forgotten!
To give you some ideas of the photographs you might like to capture, we've compiled a list of 82 wedding photo ideas. They're giving us all the wedding inspo…
Getting Ready Wedding Photo Checklist
Your wedding day begins the moment you wake up, so consider having your photographer with you while you're getting ready. We're obsessed with these wedding morning snaps…
1. The Bride(s) Opening Her Wedding Morning Gift
If you and your other half are surprising each other with gifts on your wedding morning, make sure your photographer captures the moment.
READ MORE: 21 Ways to Surprise Your Partner on Your Wedding Morning
2. The Champagne Shot
Cheers to your wedding day! We love this snap of the bride's first glass of Champers.
3. Getting Your Makeup Done
There's nothing like a close-up shot of the bride as she gets her makeup done. How glamorous does this lovely bride look?
4. The Bridesmaids Getting Their Makeup Done
It's also a great idea to make sure the photographer gets some shots of the bridesmaids as they get ready. Perfect for the 'gram!
READ MORE: 37 of the Best Boho Bridesmaid Dresses
5. The Bride(s) Putting Her Perfume On
You've spent ages carefully choosing your wedding day fragrance, so make sure your photographer gets a close-up snap of you putting it on.
In other news – how lovely do this bride's nails look?
READ MORE: How to Grow Stronger Nails Before Your Wedding Day
6. The Bride(s) Putting Her Jewellery On
This bride looks so elegant, taking a moment to gather her thoughts as she gets ready to walk down the aisle.
7. The Bridal Party Helping the Bride(s) Get Dressed
No wedding album is complete without a shot of the bride having her wedding dress buttoned up! It's a classic.
8. A Close-Up of the Bridal Shoes
The bridal shoes are just as important as the wedding dress! Particularly if you've splashed the cash on a pair of designer wedding shoes. Give them the attention they deserve.
9. A Close-Up of the Finished Bridal Makeup
The last thing you should do before you leave your bridal suite is to take a photo of your makeup… before it gets smudged by tears of joy, obvs.
READ MORE: The Ultimate Bridal Beauty Countdown
10. The Bride(s), Ready to Go!
Ta-da! And just like that, she's ready to get married. We love this shot of the bride walking down the stairs to her wedding ceremony.
11. The Bride(s) Seeing the Bridesmaids in Their Dresses for the First Time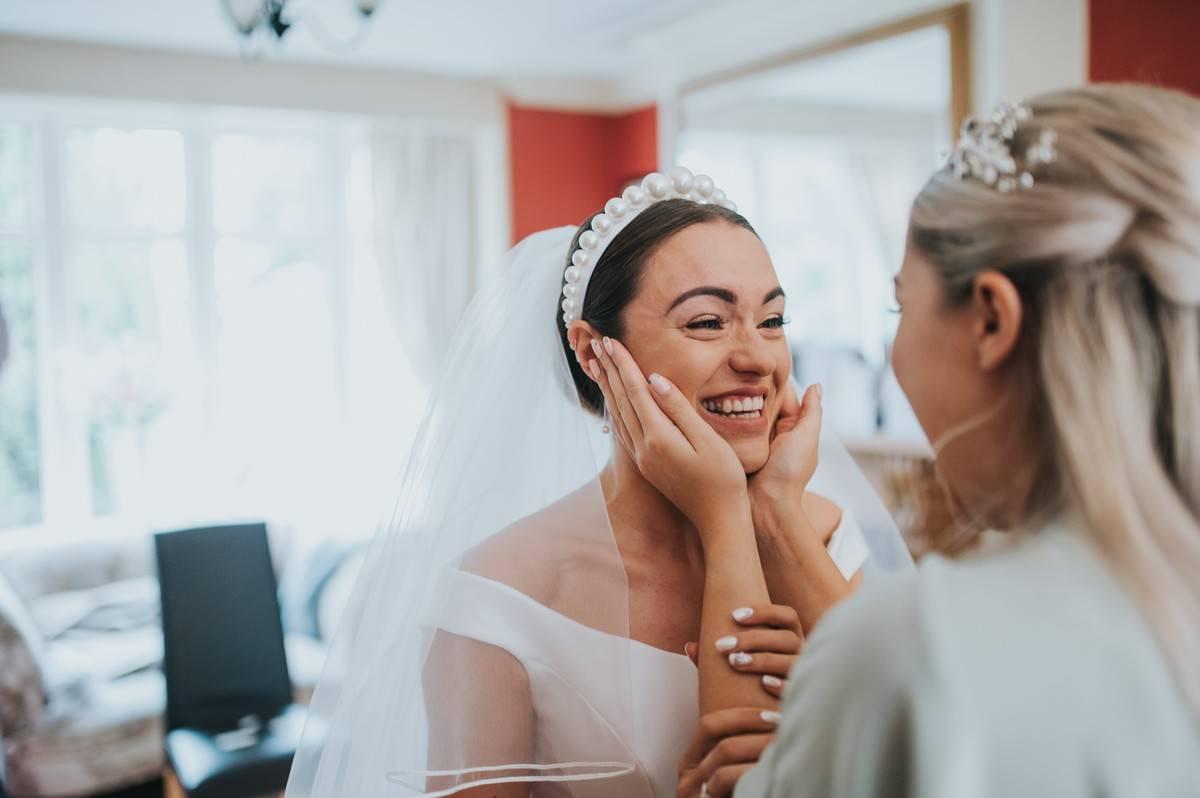 Nothing compares to the feeling of when you get to see your bridesmaids dolled up in their dresses for the first time. This bride's face says it all!
12. The Bridesmaid Flowers
Ask your photographer to get an arty snap of your bridesmaid bouquets before your girls walk down the aisle with them.
READ MORE: How to Choose Your Wedding Flowers
13. The Bridal Bouquet
You spend so much time choosing your wedding flowers, so make sure your photographer captures a photograph of your bridal bouquet before the ceremony.
14. The Arrival of the Flower Girl
So. Cute. We've got nothing more to say.
15. The Father of the Bride(s) or Groom(s) Seeing the Bride(s) or Groom(s) for the First Time
One of the most precious moments on any wedding day is when the father of the bride or groom sets his eyes on their daughter or son for the first time. We love this shot!
16. The Groom(s) Getting Ready
It's all well and good capturing snaps of the bridal party getting ready, but what about the groom?
If your other half is getting ready in the same building as you and you have one photographer then arrange timings beforehand so that they don't miss any vital getting ready shots of either of you.
17. A Close-Up of the Groom's / Grooms' Outfit Details
We're obsessing over this snap of the groom's buttonhole. Rustic wedding goals.
18. The Button Holes
Or how about getting them papped before the groomsmen put them on?
19. The Ceremony Room Before Proceedings Begin
You go to so much effort decorating your ceremony space, so ask your photographer to pop in and take a pic of it before everyone sits down.
This barn wedding venue looks so gorgeous.
Wedding Ceremony Photo Checklist
From walking down the aisle to signing the register, the ceremony will go by in a flash.
Make sure your photographer captures all of these essential moments so you can remember them forever.
READ MORE: The Ultimate Wedding Ceremony Guide
20. An Exterior Shot of the Venue
Does your wedding photographer have a drone to hand? If your venue allows it, get them to send a drone into the sky to get a photograph of your wedding venue pre-ceremony.
21. The Bride(s) Preparing to Go Into the Ceremony
It's time to make the finishing touches! This wedding photo idea by Sacha Miller perfectly captures the bridesmaids as they help the bride into the church.
22. The Groom Waiting at the Altar
Ask your photographer to get a photograph of the groom as he waits for his partner to walk down the aisle. A picture really does say a thousand words.
23. The Bridesmaids Walking Down the Aisle
You'll love to look back on the moment your bridesmaids walked down the aisle, particularly if they walked in front of you and you didn't get a good view of it happening!
24. The Page Boy and Flower Girls Walking Down the Aisle
This wedding photo idea is too cute for words. Do you have flowers girls or page boys? Ask your photographer to snap them walking down the aisle!
READ MORE: All the Flower Girl Duties You Never Knew Existed
25. The Bride(s) or Grooms Entering the Ceremony Room and Walking Down the Aisle
What a gorgeous photograph this is!
For same sex couples, you may either choose for one of you to walk down the aisle with a parent/both parents/on your own first, followed by your partner. Heterosexual couples usually opt for the groom to wait at the altar as the bride enters, but we encourage all couples to make their own rules!
26. The Bride Being Given Away
We love a photo of the bride being given away. This one by Matt Fox is simply beautiful.
27. The First Look Shot
Perhaps our favourite moment of the entire day: when the person at the bottom of the aisle sets eyes on their other half looking a million dollars. Priceless.
READ MORE: 29 of our Favourite First Look Wedding Photos
28. The Guests' Reactions to the Bride(s) or Grooms
Almost as priceless as the couple's reactions to each other is the reaction of the guests as the bride or groom walks down the aisle.
29. The Ring Bearer
"And the most adorable ring bearer award ever goes to…" This wedding photo idea has got to be up there with our favourites.
30. The Vows
Ask your photographer to capture lots of photos while you're saying your vows, from all different angles!
READ MORE: How to Write Your Own Wedding Vows
31. The Exchanging of the Rings
We're loving this shot of the exchange of the wedding rings. A must-have, for sure!
32. The First Kiss
Another must-have wedding photo idea is the moment the vows are sealed with a kiss.
33. The 'Just Married' Shot
Don't you just adore this shot of the bride and groom celebrating their vows? Hands in the air if you're finally married!
34. The Signing of the Register
This wedding photo idea by Photo Bart of the signing of the register is gorgeous. You've gotta get a snap of the moment you make it all legal!
35. The Couple Walking Back Up the Aisle
Get your photographer to stand at the end of the aisle as you leave your ceremony to capture a shot like this.
36. The Confetti Shot
You just can't beat a confetti photo! Check out our guide to everything you need to know about confetti, from where to buy it to making sure it's eco-friendly.
READ MORE: How to Plan an Eco-Friendly Wedding
37. A Close-Up of the Rings
You've got a close-up of the rings being exchanged, but now you need a close-up of the rings being worn! How cute is this?
Formal Wedding Photo Checklist
The most special part of your big day (besides marrying your best friend) is spending it with everyone you love.
Make sure all of your favourite people are captured on camera, and well as taking time for some shots of just you two!
READ MORE: How to Make Your Own DIY Wedding Photo Booth
38. A Close-Up of the Couple
When you manage to steal a few moments away from the madness to get some photographs as a newly married couple, a gorgeous close-up like this should be top of your list.
39. The Couple Facing Each Other
We love this wedding photo idea of the newlyweds against a brick wall.
40. The Couple Kissing
Is there any such thing as too many kissing shots? Maybe, but one more won't hurt…
READ MORE: 16 Photographers Share Their Favourite Ever Wedding Photos
41. The Couple Flashing Their Wedding Rings
This snap of the couple flashing their wedding rings is so cool. One to add to your checklist pronto.
42. The Couple Against a 'Statement' Wall
Whether it's some graffiti, a gorgeous flower wall or just a simple brick wall, these make for some seriously cool photos. This snap is great!
43. The Couple with a Smoke Bomb
If you really want to push the boat out, get your hands on some smoke bombs and ask your photographer to snap you setting them off.
They make for such a cool wedding photo idea!
READ MORE: The Hottest Pinterest Wedding Trends of the Year
44. The Couple Under the Veil
Here at Hitched HQ, we're obsessing over this beautiful shot of the couple under the bride's veil. Courtney Marie, we applaud you.
45. The Couple in the Grounds of Their Venue
Make the most of sunset and take a romantic walk as day turns to dusk. You might be lucky and get a shot like this!
READ MORE: How to Take Awesome Wedding Photos on Your iPhone
46. Individual & Group Shots with Both Sets of Parents
Whether it's the bride with her mum, the couple with both sets of parents or the couple with the groom's parents, make sure you get plenty of pics with the people who have helped you the most.
READ MORE: All of the Mother of the Bride Duties Explained
47. The Couple with Their Siblings and/or Cousins
There's nothing wrong with suggesting a few posed photographs to your photographer!
How about one with both sets of siblings? Or a photograph of the couple with all of their cousins?
48. The Bride(s) or Groom(s) with Their Grandparents
Whether it's posed or candid, a photograph of the bride or groom with their grandparents is a must-have. This wedding photo idea is so cute.
READ MORE: 29 Totally Tear-Jerking Wedding Photographs
49. The Bride(s) and Bridesmaids
You've got to get a snap like this with your squad. It's mandatory!
50. The Groom(s) and Groomsmen
A super-cool groomsmen photo is also mandatory. When you're visiting your venue, try and hunt down some cool photo backdrops ready for the big day – we love this chapel wall!
51. The Bride(s) and the Flower Girl(s)
*Insert row of heart-eye emojis here.*
52. The Couple with Their Wedding Party
It's a lovely idea to get a photograph of all your groomsmen and bridesmaids together.
53. The Couple and All of Their Guests
It can be tricky to get everyone together in one place, but if your entire guest list isn't too long, how about attempting a whole group photo?
54. Candid Shots of Groups of Friends (School/Work/University)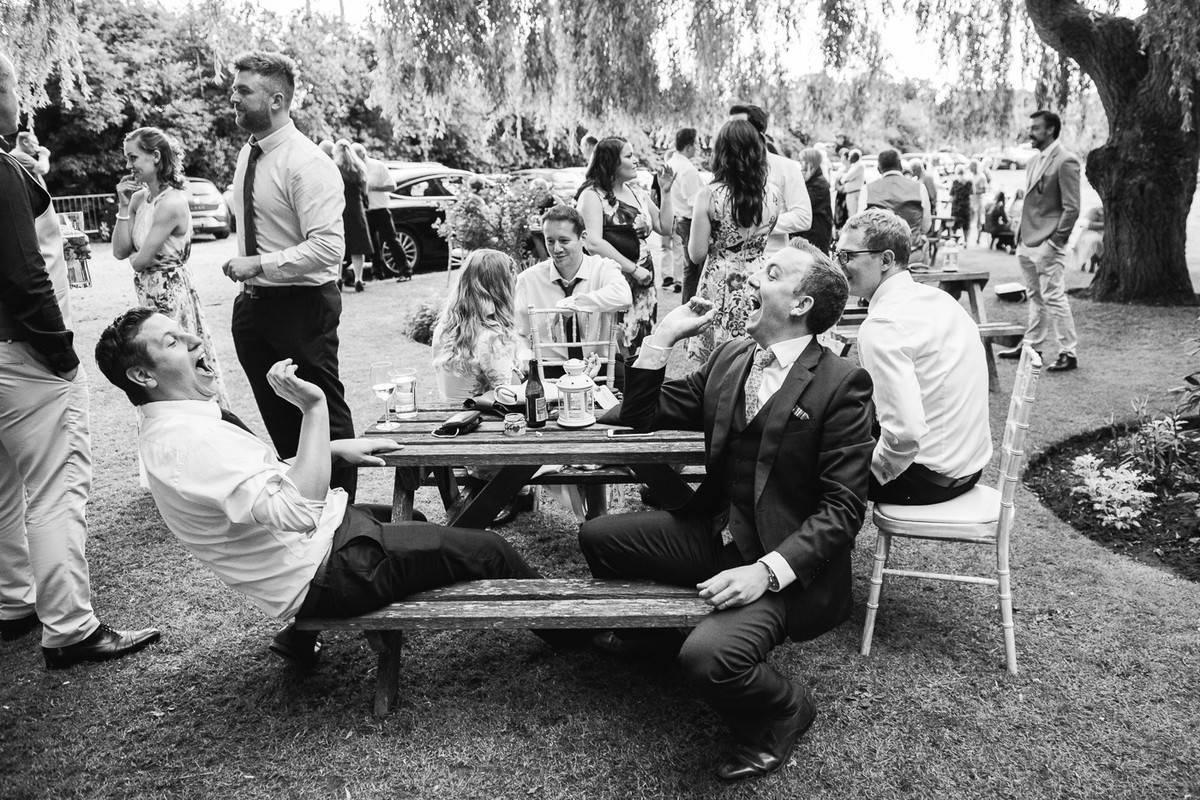 If you've got any groups of friends attending your wedding who you'd definitely like to be photographed, let your photographer know in advance! It could be university pals, school friends or colleagues from work.
READ MORE: 13 Bridesmaid Duties You Didn't Already Know About
Wedding Reception Photo Checklist
You spend the majority of your time (and probably your budget!) planning the reception, so from your décor to your speeches, ensure your wedding photographer captures all those little details and special moments.
Oh, and if friends and family members have made things for your reception, like the table plan or the name cards, it's a nice idea to add those specifics to your checklist so you can give them a photo of their handy work.
READ MORE: 15 of Our Favourite Ever Wedding Themes
55. The Reception Room Before Guests Arrive
Ask your photographer to capture a long-shot of your wedding breakfast room before your guests sit down. This one by Anna Mathilda is lovely!
56. The Couple Exploring Their Reception Venue
We love this wedding photo idea of the couple taking a few minutes to explore their wedding venue and take in all the details.
57. The Couple Making Their Wedding Reception Entrance
Don't they just look so happy? A photo of the couple as they enter their wedding reception is compulsory.
READ MORE: 51 Free Wedding Ideas to Transform Your Big Day
58. Wedding Guests Mingling
As your guests mingle during the reception drinks or after dinner, ask your photographer to capture some candid photos of them.
59. The Couple with Their Pet
Have you got any VIPs on your guest list (A.K.A. your pets)? Make sure you snap a family photo!
READ MORE: The Cutest Pictures of Animals at Weddings
60. The Tables
So much thought goes into your wedding tablescape, so make sure your wedding album includes a photo like this!
61. The Table Numbers
Done something creative with your table numbers? Whether you've named them after the countries you've travelled to or made signs yourself, they're certainly worth snapping!
READ MORE: 47 Fun & Unique Wedding Table Name Ideas
62. The Place Settings
We can't get enough of this photograph of these lovely rustic wedding tables by Anna Mathilda.
63. Other Décor Details
If there are any particular décor details which you really love at your wedding (like your balloon arch or a photo wall), ask your photographer to take a photo.
64. The Dessert Table
Now we're talking. What's a wedding without cake? We love this dessert table shot by Anna Mathilda.
65. The Wedding Cake
You've got to get a photo of your wedding cake in all its glory. This snap is making us hungry just by looking at it…
66. The Cutting of the Cake
Whether you're cutting a traditional wedding cake or a cheese wedding cake, ensure the moment is documented.
READ MORE: How Much Does a Wedding Cost in the UK?
67. Wedding Guests Enjoying the Food
Splashed the cash on alternative food and drink, like a hog roast or pizza oven? You've gotta get a photograph of your guests tucking in…
68. The Couple Holding Hands
Our hearts are melting! We adore this wedding photo idea of the couple holding hands.
69. A Shot of the Top Table
Ask your photographer to keep an eye out for any tender top table happenings like this one!
70. Each of the Speeches
From the groom's speech to the best man's speech, be sure you get every speech photographed.
READ MORE: The Traditional Wedding Speech Order Explained
71. The Couple's Reactions to Their Speeches
The couple's reactions to their wedding speeches are often priceless. Jordanna Marston has done a brilliant job of capturing this couple laughing at their best man speech.
72. The Guests During the Speeches
The guests are great people to watch during the wedding speeches, particularly when the best man is cracking his jokes…
READ MORE: 33 Genuinely Funny Best Man Speech Jokes
73. The Toasts
Following the speeches are the toasts – a photo opportunity not to be missed!
74. The Couple Chatting to Their Wedding Guests
You can't beat a few candid snaps of the couple making the way around their reception, chatting to their guests.
75. Children at the Wedding Reception
Got any cute wedding guests in attendance? They're always bursting with photo opportunities, if only you take a moment to sit back and watch. This little guy is having a great time!
READ MORE: Should I Invite Children to My Wedding?
76. The Tossing of the Bouquet
The throwing of the bouquet is always a great moment to capture. You might even get evidence of a few elbows to the face on camera…
77. The First Dance
Of course, the first dance has got to be photographed! This snap by Jodi Hanagan is gorgeous.
78. An Aerial Shot of the First Dance
Get creative with your first dance shot – how about suggesting a snap from above?
79. The Party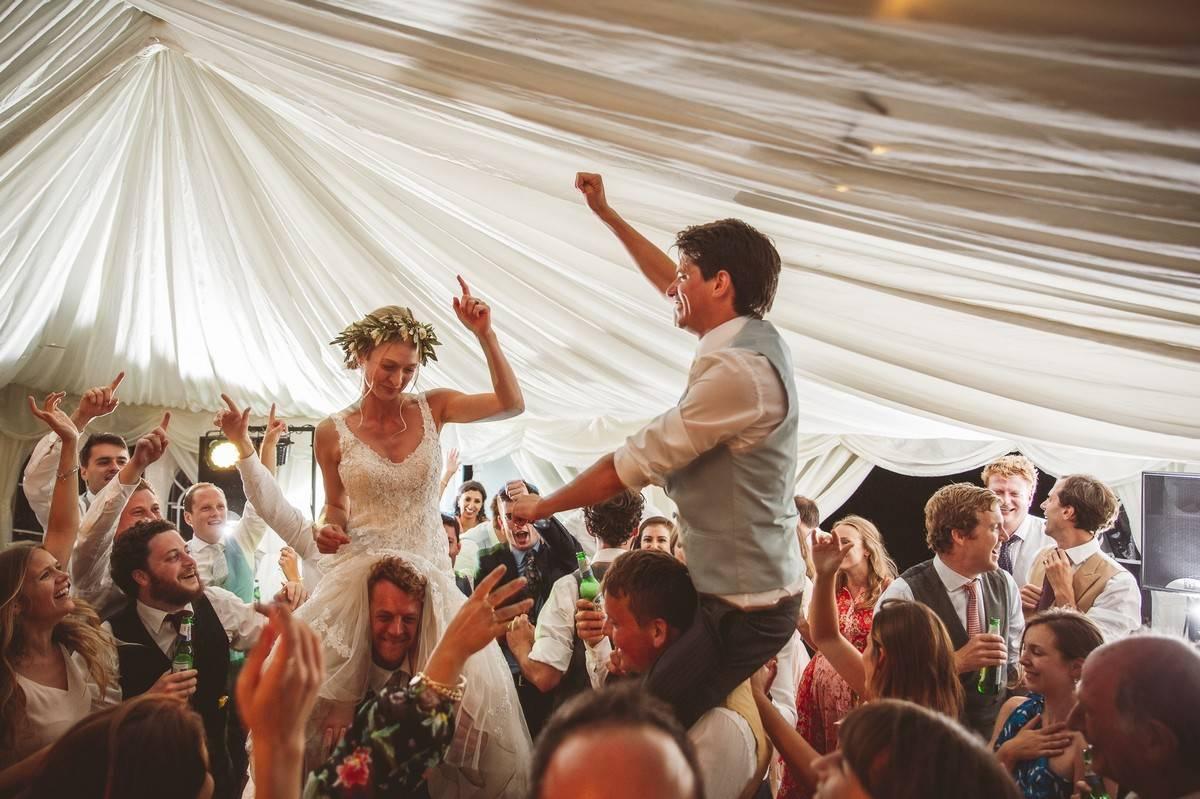 Let the party commence! As your photographer does the rounds of the dance floor, they're sure to find some true gems.
Oh, and if you're dropping confetti from the ceiling or doing anything photo-worthy, tell the photographer in advance so they don't miss the moment!
80. The Bride(s) Dancing with Father(s)/Groom(s) Dancing with Mother(s)
Doing the traditional thing of dancing with your parents after your first dance? Get it on camera!
81. The Entertainment
We love this shot of the wedding band doing their thing.
82. A Sparkler Shot
Sparklers make for excellent photo opportunities. Get all your guests to make an arch with sparklers to bid farewell to you at the end of your wedding!
READ MORE: The Ultimate Guide to Wedding Themes
With your big day fast approaching, check out our guide to 15 last-minute tasks you should do the week before your wedding!