If you're working to a tight budget, the idea of buying dozens of wedding favours might be keeping you awake at night. But don't fear! We're here to restore your sleep and keep your budget in check.
We've scoured the web and it turns out there are plenty of bargain options out there which could cost you as little as a pound – that's right, cheaper than your morning cappuccino.
We've searched the shops and scoured the web to round up this selection of fun, quirky and seriously cheap wedding favours that will help you balance your wedding budget. From fans to fridge magnets to things you can eat and handy accessories you never knew you needed, there's plenty of cheap wedding favour options in our round-up.
Before you start filling up your virtual cart, we explain everything you need to know about wedding favours.
NB: We have included third party products to help you navigate and enjoy life's biggest moments. Purchases made through links on this page may earn us a commission.
What are Wedding Favours?
Wedding favours are small gifts given by the couple to their guests as a token of gratitude for attending. For centuries sugared almonds were given as a thank you, but they've fallen out of favour. Traditionally, you'll leave your little gift on the place setting for each person at their table.
What Do You Give as Wedding Favours?
It's all about small gifts: think a little candle, scented soap, packet of seeds or a bottle opener. Edible ones, like chocolate truffles, pick n' mix sweets, or biscuits, go down a treat; as do little bottles of alcohol. Try to link them in with your theme or a passion for you as a couple. If you're having a rustic theme, how about little jars of jam, shot glasses, tea bags or a succulent? If you're having a vintage theme, you could have popcorn in old-school striped boxes, polaroid snaps, tea cups, or cute milk bottles filled with personalised cocktails.
READ MORE: The Ultimate Wedding Favour Ideas Guide
How Much Do You Spend on Wedding Favours?
It's really up to how much you can spare in your budget. If you're trying to save money then you can double them up with your place cards – we have a cute wooden heart one below. Otherwise just keep track of your guest numbers and make sure not to go over your set budget. Any of the cheap wedding favours under £1 below will help you stay on track.
Do You Have to Have Wedding Favours?
That's totally up to you! It's not a strict rule but it is a cute reminder of the day that your guests can take away. If it's something they can use regularly, even better! If you can't afford them, don't get into a panic over it – your guests won't mind at all.
READ MORE: 25 Super Smart Hacks to Help You Save for Your Wedding
The Best Cheap Wedding Favours Under £1
1. Bride & Groom Wedding Tissues – from 95p Each, Hitched Shop
Pop these cute and fun tissues into a basket at the entrance to your ceremony - your guests will be glad you did as they tear up listening to your vows!
2. Bubbles in Wedding Cake Bottle – from 58p Each, Hitched Shop
Who says bubbles are just for kids? Certainly not us! These bubbles in wedding cake bottles offer a sophisticated take on the favour and will also make for some fab wedding photos when guests start to blow their bubbles!
3. Wooden Place Setting – from 64p, Cake Toppers for You at Etsy
Save money and double up your place names as favours. These wooden place settings will look contemporary and stylish on your tables and we reckon your guests will love having these on their desks after the wedding.
READ MORE: The Most Amazing Chocolate Wedding Cakes
4. Fudge Wedding Favours – £1, Thorntons
Wedding guests with a sweet tooth will love these delicious little fudge cubes from Thorntons. Buy a bag for each guest and transfer them to pretty organza favour bags to make them feel extra special.
5. Chocolate Wedding Favours – £10 for 25, Confites at Etsy
One for the chocolate lovers out there! These sweet little squares of goodness come in milk chocolate and vegan dark chocolate, so you can keep all of your guests happy. We love the gold foil and cotton blossom design too.
6. Personalised Engraved Wooden Pencils – from 70p, Secret Creation at Etsy
These personalised pencil wedding favours are super handy! Not only will they keep your younger guests entertained, but they'll be useful when your guests come to sign the guest book. You can have each pencil engraved with your names and the wedding date making this a cheap wedding favour idea that everyone will enjoy.
7. Custom Wedding Teabag Favours – £30 for 30, Victoria Mae Designs at Etsy
Who doesn't love a good cuppa? Your guests will enjoy their morning cup even more with these personalised teabags available in assorted delicious flavours. You can add your names and wedding date for an extra personal touch.
READ MORE: 101 Amazing Wedding Favour Ideas
8. Love Wreath Hand Fans – 99p, Hitched Shop
Getting hitched in the summer heat? These pretty personalised wreath fans will go down very well indeed with your guests. Stylish, practical and steal at 99p, we'll take 100!
9. Love is Sweet Personalised Bags – £4.99 for 25, Hitched Shop
Priced at £4.99 for 25 bags, these sweetie bags come in at 18p each making them a total bargain. Fill them with sweets yourself or set out bulk bought jars of sweets on your dessert table and invite guests to choose their own selection of treats.
READ MORE: Disney Wedding Cocktails You'll Love
10. Wooden Heart Place Names – 85p, Design by Eleven
These personalised wooden hearts work as both a cheap wedding favour for guests to keep, and a place name so they know where to sit – a great money-saving hack!
11. Mini Magnet Heart Frames – from 99p for 3, Hitched Shop
These silver heart heart magnet frames are a great keepsake for guests. They can put their favourite snaps of the day in them and be reminded of your wedding every time they head to the fridge!
12. Personalised Magic Bean Seeds – £200 for 1,000, Beecycle
You can get your names, initials or wedding date stamped on these cool seeds. Get your guests to pot and water the beans and, within two weeks, they'll have their very own plant to remember your big day by.
READ MORE: What To Write In A Wedding Card
13. Popcorn Bag Wedding Favours – £49.65 for 50, Izzy and Loll at Etsy
Popcorn's always a crowd pleaser. Treat your guests to a moreish snack with a personalised popcorn bag that you can cheaply fill with purchased popcorn or (even cheaper) by popping your own. They'll look amazing on your wedding tables!
READ MORE: How to Make a Wedding Budget: 7 Easy Steps to Staying on Track
14. Heart-Shaped Marshmallow Wedding Favours – £20.99 for 60, The Welsh Confection at Etsy
How cute are these fluffy, handmade marshmallows? Cut into heart shapes, you can choose the colour and the flavour of them, including elderflower, raspberry and coconut. They come topped with an edible rose petal for a perfect finishing touch. Also, these are gluten free, so excellent for guests with allergies!
READ MORE: The Best Wedding Picks From Paperchase
15. Personalised Coasters – £24.99 for 100, Hitched Shop
These personalised coasters come in all different colours and designs, so you can easily find something to match your theme. You can choose to feature a message, your wedding date and initials making them super-personal too.
16. Colour In Place Mat Wedding Favours – £1, Chi Chi Moi
Your guests will adore these personalised place mats which are just begging to be coloured in, from Chi Chi Moi at Not On The High Street. Put a pot of pencils on each table and watch everyone's 'concentration faces' as they try to stay within the lines after a wine or two!
READ MORE: How to Plan a £5,000 Wedding
17. Mini Bird's Nests – from 85p, Hitched Shop
Planning a wedding around Easter time? We reckon these mini bird's nests make adorable favours. Pop in some mini chocolate eggs and guests young and old will be delighted, plus they can keep the basket to store things in afterwards.
18. Magnet Letter Wedding Favours – 90p, Home & Glory
A magnet with your guest's initials on is a really nice and thoughtful idea for a cheap wedding favour. These magnets cost just 90p each and are something useful and stylish for your friends and family to remember your day with.
READ MORE: How to Plan an Awesome Wedding for £3,000
19. Miniature Metal Pails – from £9.48 for 12, Hitched Shop
These adorable miniature pails work out at just 79p each and can be filled with cheap plants or sprigs of your wedding flowers, mini chocolates or popcorn. We reckon they make a great favour for rustic weddings.
20. Potpourri Wedding Favours – £1, IKEA
If you have a floral wedding theme going on, why not keep your wedding favours in line with this £1 potpourri from IKEA? Available in a range of colours and combinations, this wedding favour idea is a true bargain and looks far more expensive than it actually is.
21. Pink Chocolate Wedding Favours – £15.95 per kg, Amazon
Treat your guests to something sweet by purchasing these pink chocolate treats. They're available for just £12.99 per kilo and also come in a pastel blue colour. Scatter them across the tables or fill cheap mason jars for the best finished look.
READ MORE: Fun Wedding Favours for Children
22. Wooden Heart Wedding Favours – £7.50 for 10, Artcuts
These personalised wooden love hearts can be engraved with yours and your partner's names and your wedding date, pretty cute, right? They're sold for £7.50 and come in packs of 10 and will make adorable key rings if your guests wish to repurpose them.
23. Personalised Bottle Opener Keyring – £1.18, Shimmer and Confetti
A keyring bottle opener is a seriously handy gift that guests will use time and time again so we reckon they're worth splurging that little bit more on. These ones come in a range of colours and can be personalised with your wedding date and names.
24. Drinks Token Favour – £3 for 10, Weddy Tags at Etsy
If you're having a vintage wedding, these retro-style drinks tokens are such a good favour. Organise a cheap drink deal with your venue or a special wedding cocktail (even easier if you're at a no corkage venue) and give your guests a free drink each with one of these cheap tokens.
25. Thank You Tag Wedding Favours – £9.99 for 100, Amazon
These Amazon thank you tags are perfect for couples who don't want to go overboard with their budget wedding favours and want to thank their guests for sharing the special day with them. Attach one of these tags to each champagne flute or wine glass on the table for a pretty added touch.
READ MORE: The Prettiest Rustic Wedding Venues
26. Chilli Seed Wedding Favours – from 80p, Wedding in a Teacup
The ideal choice for nature-loving couples, these seeds will allow guests to grow their own chillis after the big day. We love that these bargain seeds by Wedding in a Teacup can also be personalised with your name and your wedding date.
27. Yankee Candle Wedding Favours – £17.99 for 15, Amazon
Ok, so we've gone over budget by 19 pence here but these Yankee Candles from Amazon are such a beautiful favour that we just couldn't leave them out! You can purchase 15 from Amazon for £17.99 – working out at £1.19 per favour.
READ MORE: Our Favourite Wedding Candles
28. Novelty Popcorn Boxes – 86p, Erickson Design
These super-cute popcorn boxes are just 86p each, so you will have plenty of wedding favour budget left to buy delicious popcorn to fill them with!
29. Cupcake Wedding Favours – from £2.99, Lakeland
If you're happy to go DIY for your wedding day then baking your own cupcakes will be a great way to keep costs down. Lakeland have a huge range of cute cake cases in a range of different colours and finishes starting at just £2.99 for 80 cases.
READ MORE: DIY Wedding Favour Ideas
30. Love Hearts Wedding Favours – 29p, Amazon
Love Hearts are a wedding favourite and it's easy to see why. These mini packets of inexpensive sweet treats add a fun and retro twist to your special day, and you can have them personalised with your new married name. Prices start at just £2.98 for ten on Amazon.
31. Miniature Spirit Bottles – £29 for 50, Amazon
Got a favourite tipple that you always drink together? Share it with your guests and decant some into each of these tiny bottles from Amazon for a boozy wedding favour that's guaranteed to be a hit. You could even make some personalised labels to stick on!
READ MORE: Wedding Decor For £10 or Less
32. Coconut and Vanilla Bath Bomb – £1, Wilko
Speaking of post-wedding chill-out sessions, who wouldn't want to rest their dancing feet in a luxurious bath complete with a coconut and vanilla bath bomb? We reckon this Wilko treat will be very much appreciated by your guests.
33. Key Bottle Openers – £14.99 for 50, Amazon
These romantic key bottle openers are the perfect wedding favour for traditional weddings in stately home or castle settings. Not only do they look adorable, they'll also come in handy when your guests are popping open the beers at your reception!
34. Festive Sticker Wedding Favours – 75p, Love Paper Wishes
Getting married in the winter? These personalised festive stickers would be the perfect wedding favour either on their own, or to seal a bag of sweets or an envelope. The best bit? They're only 75p each!
35. Sailboat Magnet - £6 for 6, Hitched Shop
If you've got a coastal wedding planned, these fun sail boat magnets make such a sweet favour. They'll look lovely placed on the table and give a great nod to your seaside venue.
READ MORE: Unusual Wedding Favour Ideas
36. Vegan Soap - from 92p, Fashioooon Jeweler
These charming, dried flower vegan soaps would fit in perfectly at a rustic wedding. Not only are they seriously beautiful, they're super practical too! You have a choice of thirteen different styles to choose from so you can mix and match or keep all your favours the same.
37. Just Married Flip Flop Key Chain - from 83p, Hitched Shop
Complete a beach themed wedding day with these mini flip flop key rings. They'll be a lovely reminder for your guests of the special day every time they grab their keys.
38. A Slice Of Cake Bag - £8 for 20, Simply Stationery UK
After your delicious wedding day meal the guests might be too stuffed to scoff a slice of cake! Let them take some home in a personalised paper bag. You can choose from rustic brown or contemporary white so there's something to suit any style of wedding.
39. Novelty Camera - from 99p, Hitched Shop
We adore these unique novelty camera wedding favours. Fill them with sweets, chocolates or even a special personalised note letting the guest know how much they mean to you.
READ MORE: The Ultimate Guide to Wedding Loans
40. Clear Champagne Bottles - from 99p, Hitched Shop
If you love the above idea but fancy something a little less novelty, how about these gorgeous mini champagne bottles? Pop a personalised sticker on the front, fill with colourful sweets and dish out to your guests.
41. Personalised Scratch Card Holders - 60p, Jemz Wedding Designs
Your guests will love you if you pop these lucky in love scratch card envelopes on your wedding tables. Simply place a lottery ticket and a penny inside and watch their faces light up. You can also save time and money by adding a belly band for just 15p so they can double up as table name cards.
42. Wedfest Festival Wristbands - £1, Wedfest Weddings
These wristbands will complete any festival themed wedding day. Send them off with your wedding invites or hand them out before the ceremony. They'll look amazing in the wedding photographs and make a lovely keepsake. After all, your guests are VIPS!
READ MORE: IKEA Wedding Decor Hacks
43. Birds And Bunting Pin Badge - £12 for 10, Macmillan Cancer Support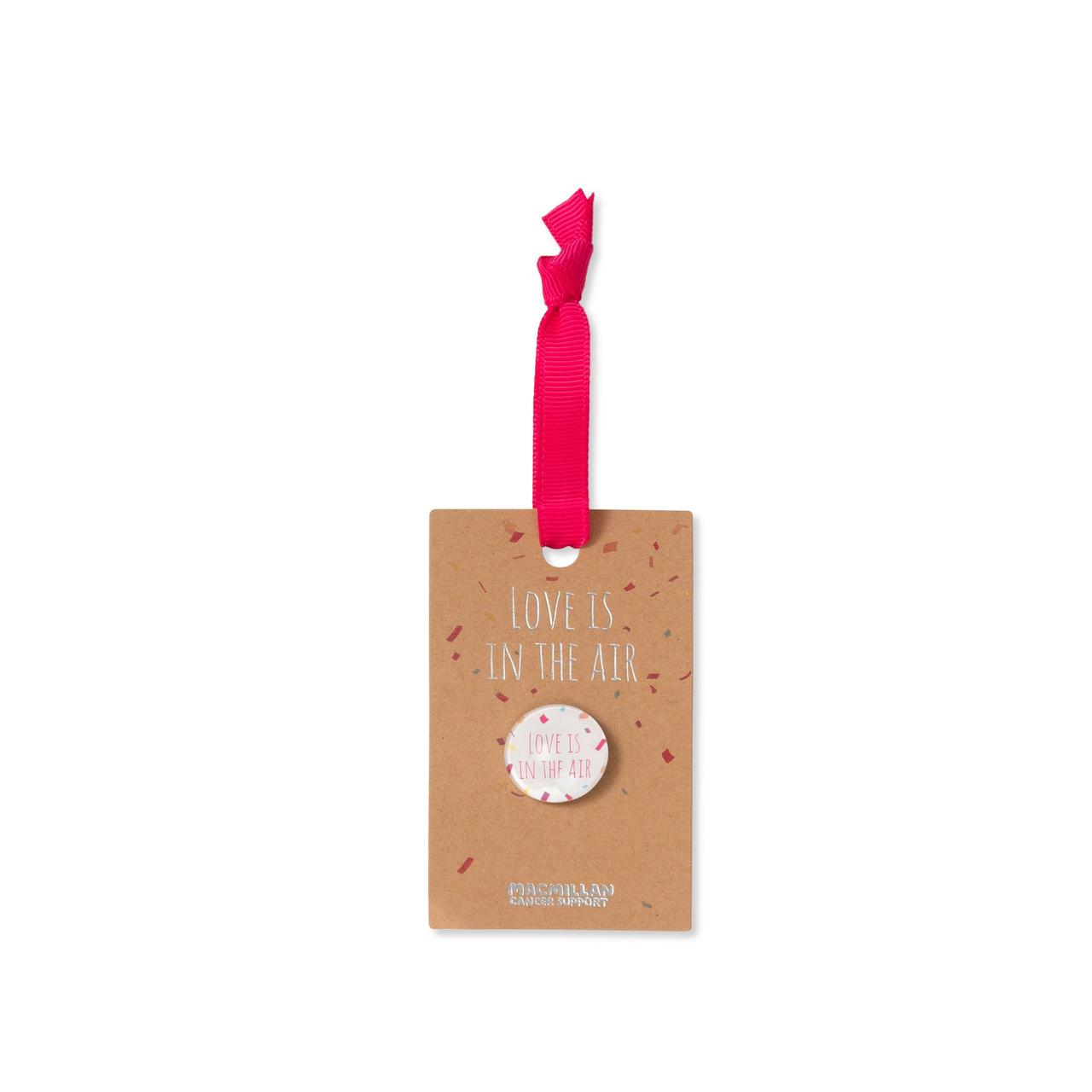 Okay, so these adorable birds and bunting pin badges are slightly over £1 but with all proceeds going towards Macmillian Cancer Support they're definitely worth it. Finished with a beautiful foil detail and ribbon not only are they gorgeous, they support a brilliant cause.
Need some more money-saving advice? Check out the 23 Things to Give Up Now to Help Save For Your Wedding.