30 Cheap Wedding Favours for £1 or Less
You can still have fabulous favours if you're on a tight budget! We've rounded up 30 beautiful and cheap wedding favours that cost £1 or less
We have included third party products to help you navigate and enjoy life's biggest moments. Purchases made through links on this page may earn us a commission.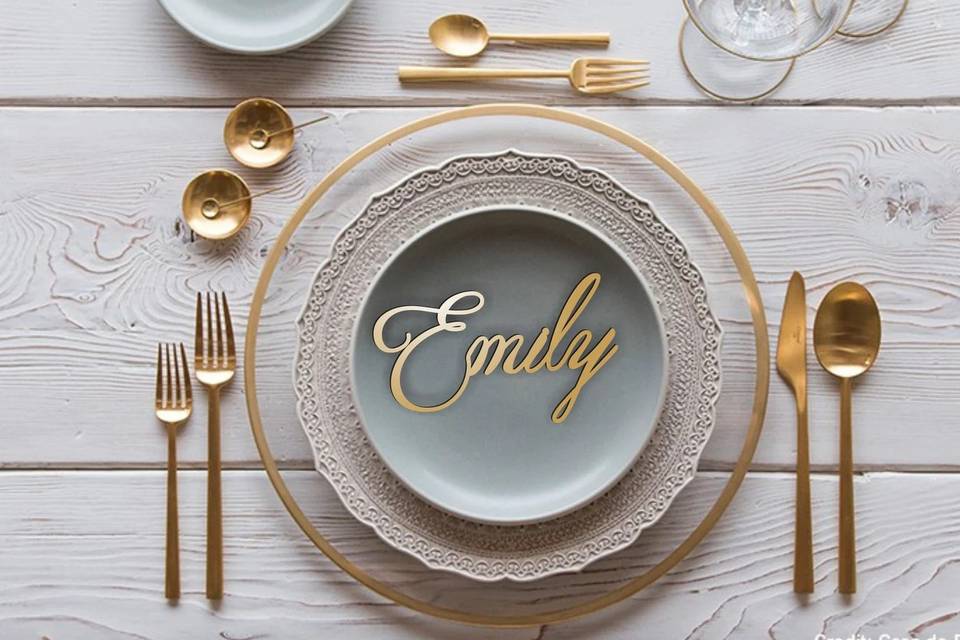 If you're working to a tight wedding budget, the idea of buying dozens of sweet or unusual wedding favours might be keeping you awake at night. But don't fear - we've rounded up the best cheap wedding favours for under £1 to help keep your budget in check. There are plenty of ways to save money on a wedding, and cheap wedding favours are one of them.
We've scoured the web and it turns out there are plenty of bargain options out there which could cost you as little as a pound or even less – that's right, cheaper than your morning cappuccino by a mile. Who knew cheap wedding favours from the UK could look this good and set you back just a few pennies?
The Best Cheap Wedding Favours Under £1
We've rounded up this selection of fun, quirky and seriously wedding favour ideas that are cheap - but look anything but!
From fans and things your guests can eat, to fridge magnets and handy accessories you never knew you needed, there's plenty of budget friendly ideas in our round-up, including a number of cheap wedding favours that you can buy in bulk, saving you even more money.
You can browse the very best wedding favours for under £1 - and even some wedding favours for under 50p - or hop to the bottom to discover everything you need to know about wedding favours - cheap or not!
1. Wooden Place Setting – from 93p, Etsy
Save money and double up your table place names as wedding favours. These wooden place settings will look contemporary and stylish on your tables and we reckon your guests will love having these on their desks after the wedding as a reminder of the special day.
Pros & Cons: These personalised wedding favours can be painted with gold, silver, copper or black to suit your wedding theme. Make sure you have every name spelt correctly before sending off to order as returns are not accepted.
2. Personalised Engraved Wooden Pencils – from 70p, Etsy
These personalised pencils are super handy. Not only will they keep your younger guests entertained, but they'll be useful when your guests come to sign your wedding guest book. You can have each pencil engraved with your names and the wedding date making this a cheap wedding favour idea that everyone can enjoy.
Pros & Cons: All pencils come with an eraser just in case guests make a mistake in the guest book. Pop a sharpener nearby though as we all know from our school days that lead can be fickle.
3. Custom Wedding Coffee Favours – £68.74 for 100, Etsy
Who doesn't love a good cuppa? Your guests will enjoy their morning cup even more with these personalised coffee bags, and you can add your names and wedding date for an extra personal touch. Sold in various sizes, these are perfect for large guest lists.
Pros & Cons: The coffee bags are reusable and resealable, and can be filled with an assortment of products once the coffee is done.
4. Chocolate Hearts Wedding Favours – £48.50 for 50, Etsy
What better way to spread the love than with these dainty chocolate hearts? With their adorable 'love is sweet' message in a gorgeous cursive font, these are sure to go down very well indeed with your guests.
Plus, with options to choose your foil and card colour, they are a steal at 99p each. Those with a sweet tooth will love these chocolate wedding favour ideas, and you can buy them in bulk in packs of 50 - winning!
Pros & Cons: If you're having a summer wedding, these chocolates might not last on the tables long but we think that guests won't be able to resist eating them regardless of the temperature. It's never too warm for chocolate, in our opinion...
5. Wooden Heart Place Names – 85p, Design by Eleven
These personalised wooden hearts work as both a cheap wedding favour for guests to keep, and a wedding place card so they know where to sit – a great money-saving hack. They come in a neutral shade so will fit into any colour scheme.
Pros & Cons: The rustic wood finish is gorgeous but if you wanted to add more colour, simply mix up the string threaded through the hole - metallic silver or gold would look lovely.
6. Lottery Ticket Wedding Favour – 90p, Love Lumi Ltd
Add a little excitement to your wedding favours with these fun lottery ticket holders. They make a great alternative to the traditional wedding favour, especially for loved ones who are feeling lucky. This is both a fun wedding favour and a wedding favour idea that is cheap and could lead to some big wins. Just make sure you add a note saying if anyone wins, they have to split the prize with you, obvs!
Pros & Cons: If you go for the scratch card option, pop a penny into each of the holders so that your guests aren't trying to find loose change.
7. Popcorn Bag Wedding Favours – £50 for 50, Etsy
Popcorn's always a crowd pleaser. Treat your guests to a moreish snack with a personalised popcorn bag that you can cheaply fill with purchased popcorn or (even cheaper) by popping your own. They'll look amazing on your wedding tables and can be purchased in bulk packs of 50, so you can buy plenty all at once.
Pros & Cons: You can choose from regular or large to fit within your budget. The bag has a simple design but it could easily be decorated at home using colourful pens, glitter, ribbon or stickers.
8. Colour In Place Mat Wedding Favours – £1, Chi Chi Moi
Your guests will adore these personalised place mats which are just begging to be coloured in, from Chi Chi Moi at Not On The High Street. Put a pot of pencils on each table and watch everyone's 'concentration faces' as they try to stay within the lines after a wine or two.
Pros & Cons: Choose from a floral or geometric design depending on your taste. These are certainly not just for children, adult colouring is a huge trend right now.
9. Just Married Flip Flop Key Chain - £5.49 for 6, Hitched Shop
Complete a beach themed wedding day with these mini flip flop key rings. They'll be a lovely reminder for your guests of the special day every time they grab their keys. It's also a nod to adventures to come if you are going to an amazing honeymoon destination.
Pros & Cons: This cheap wedding favour is sold in packs of six but if you have any left over you could give them to anyone who was not able to attend on the day itself.
10. Modern Geo Marble & Gold Favour Boxes - £10.99 for 12, Hitched Shop
We love the unique look of these classic marble and gold favour boxes. Fill them with sweets, chocolates or even a special personalised note letting the guest know how much they mean to you.
Pros & Cons: You'll have to put a little extra time into folding these boxes up but once you get the hang of it, they are so quick and easy to do.
11. Festival Wristbands - £1, Wedfest Weddings
These festival wristbands will complete any festival-themed wedding day - you can send them off with your wedding invites or hand them out before the ceremony. They'll look amazing in the wedding photographs and make a lovely keepsake. After all, your guests are VIPs!
Pros & Cons: These wrist bands look super realistic and they're so fun. They'll have to be cut-off to be removed, but this only makes them feel even more like the real-deal.
12. Personalised Sweet Cone - from 75p, Etsy
Treat your guests to something sweet by purchasing these colourful sweet cones. With prices starting from less than £1, they are sure to give your guests a touching sensation of nostalgia as you embark on a brand new journey.
Pros & Cons: These would make an excellent addition to a sweet table. There's a great mix of different sweets per cone so there is sure to be a treat that your guests will enjoy.
13. Champagne Bubbles – £17.99 for 24, Hitched Shop
These champagne bubbles are just adorable and such a cheap wedding favour, too. They'd be perfect for entertaining little ones if you've invited kids to your wedding. Almost as good as the real thing.
Pros & Cons: Make sure guests don't get confused about what these wedding favours are, we can't imagine bubble liquid tastes that great. Reviews state that that these are high quality and they come out as a steady stream of bubbles.
14. Wildflower Seed Wedding Favours – £1, Etsy
The ideal choice for nature-loving couples, these wildflower seeds will allow guests to grow their own blooms and save the bees in the process. A sweet way to plant the seed for sustainable living and sharing the love for the beloved honeybee. Discover more eco-friendly wedding favours here.
Pros & Cons: These wedding favour packets are light and easy to transport. Your guests can simply pop them inside a pocket or bag and take them home.
15. Novelty Popcorn Boxes – 95p, Etsy
These super-cute popcorn boxes are just 95p each, so you will have plenty of wedding favour budget left to buy delicious popcorn to fill them with. Choose from cream, blush, pink or magenta to match the boxes perfectly to your colour scheme.
Pros & Cons: No popcorn is included in the price of these wedding favours, but popcorn is the kind of wedding favour you can buy in bulk for very little - even supermarket popcorn won't set you back very much at all. Fill the boxes up last minute to ensure your popcorn tastes fresh.
16. Birds & Bunting Pin Badge - £10 for 10, Macmillan Cancer Support
Finished with a beautiful foil detail and ribbon, these adorable birds and bunting pin badges are not only gorgeous, they support a brilliant cause and are a cheap wedding favour your guests will really appreciate. Inspired by the sentiment? If so, you can discover more charity wedding favours here.
Pros & Cons: As all proceeds going towards Macmillian Cancer Support, they're definitely worth it.
17. Diamond Shaped Wedding Bubbles – £19.99 for 24, Hitched Shop
Let your loved ones take a taste of your glam wedding theme home with them with these sophisticated diamond-inspired bubbles. Who says a bottle of bubbly needs to break the bank? Certainly not these. At less than £1, these wedding favours are a true bargain and look so much more expensive than they are, and can be bought in bulk in packs of 24.
Pros & Cons: Bubbles have the capacity to look novelty, but these diamonds look for from that. The chic gold bottle and shape of this cheap wedding favour idea will add elegance to your wedding tables.
18. Fortune Cookie Wedding Favour – £120 for 150, Bunting & Barrow
Fortune cookie favours are a highly affordable option and such a great way to break the ice when your wedding guests sit down. It's a favour, wedding table game and table decoration all in one. These cheap unusual wedding favours come up at just 80p each - now that's value for money. And if you're looking for cheap wedding favours in bulk, these come in huge packs of 150!
Pros & Cons: You can pick the colour of the fortune cookie wrapper to fit in with your theme. If you want to write a custom message inside each cookie it might take a little longer but it'll be totally worth it when your guests open them up.
19. Mini Board Games – £28.50 for 30, Baker Ross
If your wedding guests have travelled from far and wide to be at your special day, then a retro game like Snakes and Ladders or Scrabble will keep them entertained on the journey back. Buy the games in a smaller, travel size to make them favour appropriate. This 4-in-a-row game is just 95p a favour. Discover more wedding games for your reception here.
Pros & Cons: There are so many games to choose from that you might have a hard time choosing. We recommend putting a few types of each on every table.
20. Personalised CD Sleeve Favours – £10 for 10
If you're giving your guests the soundtrack of your special day to take home or a CD filled with cute couple pictures, then you could consider popping the disks in these personalised CD sleeves. They come in a pack of 10 and we love the sleeve's bold font.
Pros & Cons: The CD isn't included in this wedding favour, but we reckon a trip to your local charity shops is a great idea. You can choose a song or album that reminds you of each guest for a sentimental touch.
21. Wedding Sparklers – £8 for 12, Sixpence Paperie
If your guests use their sparkler favours on the day itself then you can guarantee some amazing wedding photos. Sparklers give an amazing touch to an outdoor evening reception and these sparkler covers add a bit of fun and can be personalised with your names and wedding date.
Pros & Cons: The sparklers themselves only cost pennies when you bulk buy them. Choose from gold, silver or rose gold foil.
22. Wedding Jigsaw Favours – from £32 for 50, Etsy
Keeping with the rustic wedding theme, no doubt your guests will love these personalised jigsaw favours. Made with gorgeous rich oak, these unique pieces are a quirky way of showing just how important your friends and family are in your life.
Pros & Cons: These jigsaw pieces are super versatile so you can put them wherever suits you - hang them with string or use them as wedding table decorations.
The Best Cheap Wedding Favours Under 50p
Thought wedding favours under £1 were a bargain? Wait until you see the selection of cheap wedding favours under 50p we've got for you. Helping you keep costs to even more of a minimum, a lot of these budget-friendly wedding favour ideas can be bought in bulk from the UK, making them a great if you have a large guest list.
23. Personalised Rock Candy - £13.75 for 75, Etsy
Give a subtle nod to the seaside at a coastal wedding venue by gifting everyone a slice of rock. Individually packaged with biodegradable and compostable plastic free wrappers, scatter them on your tables as a sweet treat. As they're so cheap and can be bought in bulk in packs of 75, you can give each guest a few.
Pros & Cons: These sweets are vegan so will be suitable for all. They are quite small, so you might want to give two or three to each guest and keep away from younger children.
24. Personalised Magic Bean Seeds – £300 for 1,000, Beecycle
You can get your names, initials or wedding date stamped on these cool seed favours. Get your guests to pot and water the beans and, within two weeks, they'll have their very own plant to remember your big day by. Plus, buying in bulk packs of 1,000 is so cost-effective and gives you plenty to offer.
Pros & Cons: Your guests won't be able to see the full effect of this cheap wedding favour straight away, but when they start to grow, they'll be amazed.
25. Chocolate Wedding Favours – £12 for 25, Etsy
One for the chocolate lovers out there... These sweet chocolate favours come in milk chocolate and vegan dark chocolate, so you can keep all of your guests happy no matter their dietary requirements. We love the gold foil and cotton blossom design too.
Pros & Cons: Chocolate wedding favours are always a bit hit with wedding guests. Yes, they might not last long, but we don't think they'll mind - and you can guarantee none will be left behind.
26. Drinks Token Wedding Favour – £3 for 10, Etsy
If you're having a vintage wedding, these retro-style drinks tokens are such a good wedding favour idea that is cheap. Organise a cheap drink deal with your venue or a special wedding cocktail (even easier if you're at a no corkage wedding venue) and give your guests a free drink each with one of these cheap tokens. See no corkage wedding venues here for venues that suit.
Pros & Cons: You'll have to spend a little extra on top of these vouchers to get the drinks deal, but your guests will really appreciate the gesture.
27. Personalised Love Hearts Sweets – £24.89 for 100, Etsy
Love Hearts are a cheap wedding favour favourite, and it's easy to see why. These mini packets of sweets add a fun and retro twist to your special day, and you can have them personalised with your new married name. Prices start at just £6.99 for 20 on Etsy, making them wedding favours that are cheap that'll keep all your guests happy.
Pros & Cons: These are so adorable and will go down a treat with guests. Note that the packaging has been slightly changed from pink foil to clear wrap.
28. Key Bottle Openers – £19.99 for 50, Amazon
These romantic key bottle openers are the perfect wedding favour for traditional weddings in stately home or castle wedding venues. Not only do they look adorable, they'll also come in handy when your guests are popping open the beers at your reception.
Pros & Cons: Planning a Harry Potter wedding? These are the ideal nod to the film. As they are from Amazon, they'll arrive quickly if you've left buying your favours until the last minute.
29. A Slice Of Cake Bag – £23.34 for 50, Etsy
After your delicious wedding day meal, the guests may be too stuffed to scoff a slice of cake so let them take some home in a personalised paper bag. You can choose from rustic brown or contemporary white so there's something to suit any style of wedding.
Can't decide on a cake? See our favourite wedding cake flavours for inspiration.
Pros & Cons: The font on the lettering is elegant and sophisticated. The bag doesn't have a seal but it will easily fold over and keep cake slices safe.
30. Wooden Place Names Wedding Favours – 50p, Etsy
Show your guests they always have a seat at your table with these elegant rustic place names. Handmade with a natural finish, they fit seamlessly in with any country wedding theme and make a dainty décor item for the home too. A gift that keeps on giving.
Pros & Cons: They're laser-cut with each guests' name so they can take them home and put them on display - the perfect desk accessory.
Wedding Favour FAQs
What Are Wedding Favours?
Wedding favours are small gifts given by the couple to their guests as a token of gratitude for attending. For centuries sugared almonds were given as a thank you, but in more recent times, they've fallen out of favour. Traditionally, you'll leave your little gift on the place setting for each person at their table.
What Do You Give as Wedding Favours?
It's all about small gifts: think a little candle, scented soap, packet of seeds or a bottle opener. Edible ones, like chocolate truffles, pick n' mix sweets, or biscuits, go down a treat; as do little bottles of alcohol wedding favours. Try to link them in with your theme or a passion for you as a couple.
If you're having a rustic theme, how about little jars of jam, shot glasses, tea bags or a succulent? If you're having a vintage theme, you could have popcorn in old-school striped boxes, polaroid snaps, tea cups, or cute milk bottles filled with personalised cocktails.
How Much Do You Spend on Wedding Favours?
It's really up to how much you can spare in your budget. If you're trying to save money then you can double them up with your place cards. Otherwise just keep track of your guest numbers and make sure not to go over your set budget. Any of the cheap wedding favours under £1 below will help you stay on track.
Do You Have to Have Wedding Favours?
That's totally up to you. It's not a strict rule but it is a cute reminder of the day that your guests can take away. If it's something they can use regularly, even better. If you can't afford them, don't get into a panic over it – your guests won't mind at all and most won't even notice there aren't any.
What are Traditional Wedding Favours?
Wedding favours are a way of sharing your love and representing your bond. Meaning is more important than expense with traditional favours taking the form of wedding bells, candles, miniature paintings, and cigars. Today, popular gifts such as chocolates, miniature bottles of a beloved tipple, and soaps are the most traditional.
Is it Okay to Not Have Wedding Favours?
As traditional as wedding favours may be, they are not bound by strict rules or etiquette. Many couples are opting for more individual ways of expressing their appreciation for their loved ones' support with DIY creations or through experiences on the day.
How you choose to commemorate your special milestone is a deeply personal one and open to any number of unique ideas. The more reflective of your personality, the better.
What is Another Name for Wedding Favours?
Looking for a fresh alternative to the wedding favour? Welcome gifts, party bags, and wedding keepsakes are all fun twists on the popular trinket. You could also dive deeper into the age-old practice and incorporate favours from other cultural traditions.
In French and Italian aristocracy, Bonbonnieres were the preferred wedding favour, often comprised of a box made of porcelain or crystal with a delicate sweet inside. In Spain, guest gifts receive detalles in the form of a cigar, pin or wine. When it comes to your special day, the sky is the limit. You could even create a unique name befitting your signature style.
Need some more money-saving advice? Check out what you can give up to help you save for your wedding.