43 Cheap Wedding Favours for £1 or Less
You can still have fabulous favours if you're on a tight budget! We've rounded up 43 beautiful and cheap wedding favours that cost £1 or less
We have included third party products to help you navigate and enjoy life's biggest moments. Purchases made through links on this page may earn us a commission.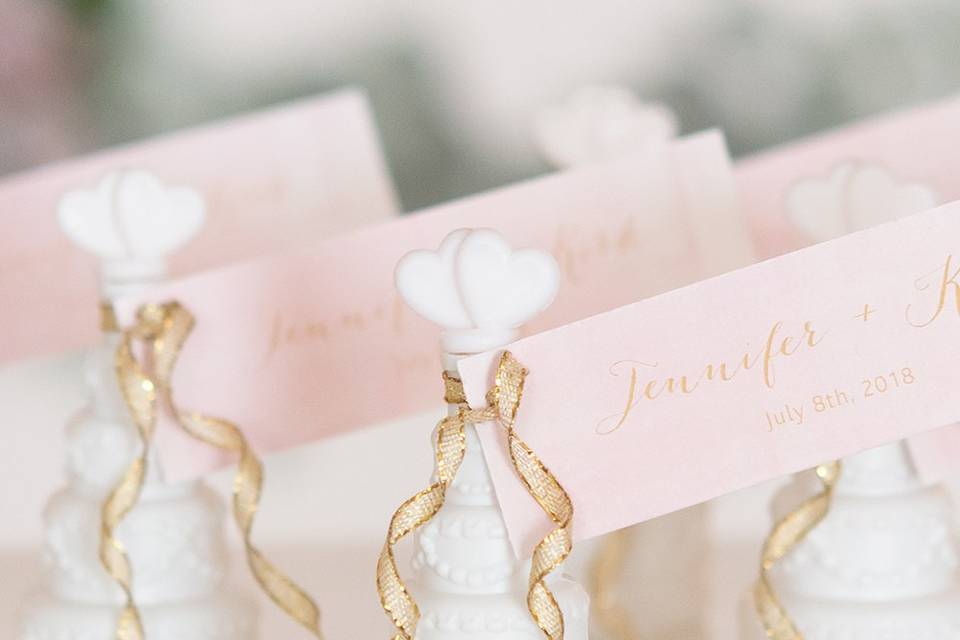 If you're working to a tight budget, the idea of buying dozens of wedding favours might be keeping you awake at night. But don't fear! We've rounded up the best cheap wedding favours for under £1 to help keep your budget in check.
We've scoured the web and it turns out there are plenty of bargain options out there which could cost you as little as a pound or even less – that's right, cheaper than your morning cappuccino.
We've rounded up this selection of fun, quirky and seriously cheap wedding favours that will help you balance your wedding budget. From fans to fridge magnets to things you can eat and handy accessories you never knew you needed, there's plenty of cheap wedding favour options in our round-up.
You can browse the very best wedding favours for under £1 - and even some wedding favours for under 50p - here, or hop to the bottom to discover everything you need to know about wedding favours - cheap or not!
The Best Cheap Wedding Favours Under £1
1. Bride & Groom Wedding Tissues – from 95p Each, Hitched Shop
Pop these cute and fun tissues into a basket at the entrance to your ceremony - your guests will be glad you did as they tear up listening to your vows!
2. Bubbles in Wedding Cake Bottle – from 62p Each, Hitched Shop
Who says bubbles are just for kids? Certainly not us! These bubbles in wedding cake bottles offer a sophisticated take on the favour and will also make for some fab wedding photos when guests start to blow their bubbles!
3. Wooden Place Setting – from 79p, Cake Toppers for You at Etsy
Save money and double up your place names as favours. These wooden place settings will look contemporary and stylish on your tables and we reckon your guests will love having these on their desks after the wedding.
READ MORE: The Most Amazing Chocolate Wedding Cakes
4. Fudge Wedding Favours – £1, Thorntons
Wedding guests with a sweet tooth will love these delicious little fudge cubes from Thorntons. Buy a bag for each guest and transfer them to pretty paper favour bags to make them feel extra special.
5. Chocolate Wedding Favours – £10 for 25, Confites at Etsy
One for the chocolate lovers out there! These sweet little squares of goodness come in milk chocolate and vegan dark chocolate, so you can keep all of your guests happy. We love the gold foil and cotton blossom design too.
6. Personalised Engraved Wooden Pencils – from 70p, Secret Creation at Etsy
These personalised pencil wedding favours are super handy! Not only will they keep your younger guests entertained, but they'll be useful when your guests come to sign the guest book. You can have each pencil engraved with your names and the wedding date making this a cheap wedding favour idea that everyone will enjoy.
7. Custom Wedding Teabag Favours – £30 for 30, Victoria Mae Designs at Etsy
Who doesn't love a good cuppa? Your guests will enjoy their morning cup even more with these personalised teabags available in assorted delicious flavours. You can add your names and wedding date for an extra personal touch.
READ MORE: 101 Amazing Wedding Favour Ideas
8. Chocolate Hearts Wedding Favours – 85p, Special Events By AJ at Etsy
What better way to spread the love than with these dainty chocolate hearts? With their adorable 'love is sweet' message in gorgeous cursive, these are sure to go down very well indeed with your guests. Plus with options to choose your foil and card colour, they are a steal at 85p each.
9. Vegan Soap - from 81p, My Dream Soap at Etsy
These charming, dried flower vegan soaps would fit in perfectly at a rustic wedding. Not only are they seriously beautiful, they're super practical too! You have a choice of thirteen different styles to choose from so you can mix and match or keep all your favours the same.
10. Wooden Heart Place Names – 85p, Design by Eleven
These personalised wooden hearts work as both a cheap wedding favour for guests to keep, and a place name so they know where to sit – a great money-saving hack!
11. Rose Gold Lottery Ticket Wedding Favour – 80p, Love Lumi Ltd
Add a little excitement with these elegant lottery ticket holders. They make a fun alternative to the traditional wedding favour, especially for loved ones who are feeling lucky!
12. Personalised Magic Bean Seeds – £200 for 1,000, Beecycle
You can get your names, initials or wedding date stamped on these cool seeds. Get your guests to pot and water the beans and, within two weeks, they'll have their very own plant to remember your big day by.
READ MORE: What To Write In A Wedding Card
13. Popcorn Bag Wedding Favours – £50 for 50, Izzy and Loll at Etsy
Popcorn's always a crowd pleaser. Treat your guests to a moreish snack with a personalised popcorn bag that you can cheaply fill with purchased popcorn or (even cheaper) by popping your own. They'll look amazing on your wedding tables!
READ MORE: How to Make a Wedding Budget: 7 Easy Steps to Staying on Track
14. Sailboat Magnet - £6 for 6, Hitched Shop
If you've got a coastal wedding planned, these fun sailboat magnets make such a sweet favour. They'll look lovely placed on the table and give a great nod to your seaside venue.
READ MORE: Unusual Wedding Favour Ideas
15. Colour In Place Mat Wedding Favours – £1, Chi Chi Moi
Your guests will adore these personalised place mats which are just begging to be coloured in, from Chi Chi Moi at Not On The High Street. Put a pot of pencils on each table and watch everyone's 'concentration faces' as they try to stay within the lines after a wine or two!
READ MORE: How to Plan a £5,000 Wedding
16. Just Married Flip Flop Key Chain - from 83p, Hitched Shop
Complete a beach themed wedding day with these mini flip flop key rings. They'll be a lovely reminder for your guests of the special day every time they grab their keys.
17. Mini Bird's Nests – from 96p, Hitched Shop
Planning a wedding around Easter time? We reckon these mini bird's nests make adorable favours. Pop in some mini chocolate eggs and guests young and old will be delighted, plus they can keep the basket to store things in afterwards.
18. DIY Wedding Favours – from 60p, KC Weddings at Etsy
An elegant glass bottle just waiting for you to fill with your favorite sweets, confetti, or perhaps a slip of something fragrant. These mini bottles cost as little as 60p with a few options to add a personal touch to your wedding favours that close friends and family are sure to appreciate.
READ MORE: How to Plan an Awesome Wedding for £3,000
19. Modern Geo Marble and Gold Party Favour Boxes - 83p, Hitched Shop
We love the unique look of these classic marble and gold favour boxes. Fill them with sweets, chocolates or even a special personalised note letting the guest know how much they mean to you.
20. Wedfest Festival Wristbands - £1, Wedfest Weddings
These wristbands will complete any festival-themed wedding day. Send them off with your wedding invites or hand them out before the ceremony. They'll look amazing in the wedding photographs and make a lovely keepsake. After all, your guests are VIPs!
21. Personalised Large Sweet Cone – £1, Monch Monch Sweets at Etsy
Treat your guests to something sweet by purchasing these colourful sweet cones. Available for just £1 each, they are sure to give your guests a touching sensation of nostalgia as you embark on a brand new journey.
READ MORE: Fun Wedding Favours for Children
22. Wooden Heart Wedding Favours – £8.50 for 10, Artcuts
These personalised wooden love hearts can be engraved with yours and your partner's names and your wedding date, pretty cute, right? They're sold for £8.50 and come in packs of 10 and will make adorable key rings if your guests wish to repurpose them.
23. Champagne Bubbles – 71p, Hitched Shop
These champagne bubbles are just adorable. They'd be perfect for entertaining little ones if you've invited kids to your wedding. Almost as good as the real thing!
24. Wedding Pear Bottle Tea Favours – 90p, Etsy
Got a favourite cuppa that you always drink together? Share it with your guests with these tiny tea bottles from Etsy. Feel free to add a DIY herbal brew of your own for that personal touch or splash the cash with a selected flavour and personalised label. The choice is yours!
READ MORE: Wedding Decor For £10 or Less
25. Thank You Clay Wedding Favours – 90p, A to Zee Gifts at Etsy
These clay thank you tags are perfect for couples who don't want to go overboard with their budget wedding favours but want to leave a lasting impression on their guests. Attach one of these tags to each champagne flute or wine glass on the table for a pretty added touch.
READ MORE: The Prettiest Rustic Wedding Venues
26. Wild Flower Seed Wedding Favours – £1, The Flower Child Art Co at Etsy
The ideal choice for nature-loving couples, these wildflower seeds will allow guests to grow their own blooms and save the bees in the process. A sweet way to plant the seed for sustainable living and sharing the love for the beloved honeybee.
27. Handwritten Pegs Wedding Favours – £1, Hello Heart String at Etsy
A sentimental wooden peg just made for a rustic wedding. Complete with a handwritten message of your choice, you could always clip them to a thank you card or use them to pin a bag filled with little treats.
READ MORE: Our Favourite Wedding Candles
28. Novelty Popcorn Boxes – 95p, Erickson Design at Etsy
These super-cute popcorn boxes are just 95p each, so you will have plenty of wedding favour budget left to buy delicious popcorn to fill them with!
29. Personalised Jigsaw Puzzle Piece Wedding Favours – from 99p, Pretty Personalised UK at Etsy
These unique puzzle keyrings are a fun way of thanking your guests for being part of your special day. Made with high-quality wood, they are sure to serve as a lifelong reminder of the experiences you shared every time they venture from home.
READ MORE: DIY Wedding Favour Ideas
30. Wedding Favor Magnet – 100 for £86.94, Unique Crafty Shop UK at Etsy
A date you've long-awaited and will never forget. These wooden calendar magnets are a wonderful homage to not only your special day but the whole month and year! A fun, tasteful way of keeping your wedding anniversary fresh in the minds of loved ones.
31. Birds And Bunting Pin Badge - £12 for 10, Macmillan Cancer Support
Okay, so these adorable birds and bunting pin badges are slightly over £1 but with all proceeds going towards Macmillian Cancer Support they're definitely worth it. Finished with a beautiful foil detail and ribbon, not only are they gorgeous, they support a brilliant cause. Discover more charity wedding favours here.
32. Music Note Wine Glass Charms - £1, Charms By Karlene at Etsy
Have your guests leaving your wedding celebrations on a high note with these adorable wine glass charms. Handmade from used wine corks, they are a harmonious blend of rustic style with tasteful elegance that will add a wonderful touch to the dinner table.
READ MORE: IKEA Wedding Decor Hacks
33. Diamond Shaped Wedding Bubbles – 79p, Hitched Shop
Let your loved ones take a taste of your glam wedding theme home with them with these sophisticated diamond-inspired bubbles. Who says a bottle of bubbly needs to break the bank?
The Best Cheap Wedding Favours Under 50p
34. Drinks Token Favour – £3 for 10, Weddy Tags at Etsy
If you're having a vintage wedding, these retro-style drinks tokens are such a good favour. Organise a cheap drink deal with your venue or a special wedding cocktail (even easier if you're at a no corkage venue) and give your guests a free drink each with one of these cheap tokens.
35. Personalised Love Hearts Sweets – 100 for £21.99, The Personalised Store at Etsy
Love Hearts are a wedding favourite and it's easy to see why. These mini packets of inexpensive sweet treats add a fun and retro twist to your special day, and you can have them personalised with your new married name. Prices start at just £6.99 for 20 on Etsy.
36. Love is Sweet Personalised Bags – £4.99 for 25, Hitched Shop
Priced at £4.99 for 25 bags, these sweetie bags come in at 19p each making them a total bargain. Fill them with sweets yourself or set out bulk-bought jars of sweets on your dessert table and invite guests to choose their own selection of treats.
READ MORE: Disney Wedding Cocktails You'll Love
37. Key Bottle Openers – £14.99 for 50, Amazon
These romantic key bottle openers are the perfect wedding favour for traditional weddings in stately home or castle settings. Not only do they look adorable, they'll also come in handy when your guests are popping open the beers at your reception!
38. Wooden Ornate Handles for Hand Fans – 40p, Hitched Shop
Getting married in the summer? These ornate wooden fan holders are a practical favour that will keep guests feeling super comfortable if it's hot out. You can choose from a range of fan options to accompany them, or could even try to DIY!
39. Heart-Shaped Marshmallow Wedding Favours – £21.99 for 60, The Welsh Confection at Etsy
How cute are these fluffy, handmade marshmallows? Cut into heart shapes, you can choose the colour and the flavour of them, including elderflower, raspberry and coconut. They come topped with an edible rose petal for a perfect finishing touch. Also, these are gluten-free, so excellent for guests with allergies!
READ MORE: The Best Wedding Picks From Paperchase
40. Personalised Coasters – £27.99 for 100, Hitched Shop
These personalised coasters come in all different colours and designs, so you can easily find something to match your theme. You can choose to feature a message, your wedding date and initials making them super-personal too.
41. A Slice Of Cake Bag - £8 for 20, Simply Stationery UK at Etsy
After your delicious wedding day meal the guests might be too stuffed to scoff a slice of cake! Let them take some home in a personalised paper bag. You can choose from rustic brown or contemporary white so there's something to suit any style of wedding.
READ MORE: The Ultimate Guide to Wedding Loans
42. Wooden Place Names Wedding Favours - 50p, The Geek Stop at Etsy
Show your guests they always have a seat at your table with these elegant rustic place names. Handmade with a natural finish, they fit seamless in with any country wedding theme and make a dainty decor item for home too. A gift that keeps on giving.
43. Wedding Jigsaw Favours - £24.00 for 50, Make The Day UK at Etsy
Keeping with the rustic wedding theme, no doubt your guests will love these personalised jigsaw favours. Made with gorgeous rich oak, these unique pieces are a quirky way of showing just how important your friends and family are in your life.
Your Wedding Favour FAQs
What Are Wedding Favours?
Wedding favours are small gifts given by the couple to their guests as a token of gratitude for attending. For centuries sugared almonds were given as a thank you, but they've fallen out of favour. Traditionally, you'll leave your little gift on the place setting for each person at their table.
What Do You Give as Wedding Favours?
It's all about small gifts: think a little candle, scented soap, packet of seeds or a bottle opener. Edible ones, like chocolate truffles, pick n' mix sweets, or biscuits, go down a treat; as do little bottles of alcohol. Try to link them in with your theme or a passion for you as a couple. If you're having a rustic theme, how about little jars of jam, shot glasses, tea bags or a succulent? If you're having a vintage theme, you could have popcorn in old-school striped boxes, polaroid snaps, tea cups, or cute milk bottles filled with personalised cocktails.
READ MORE: The Ultimate Wedding Favour Ideas Guide
How Much Do You Spend on Wedding Favours?
It's really up to how much you can spare in your budget. If you're trying to save money then you can double them up with your place cards – we have a cute wooden heart one below. Otherwise just keep track of your guest numbers and make sure not to go over your set budget. Any of the cheap wedding favours under £1 below will help you stay on track.
Do You Have to Have Wedding Favours?
That's totally up to you! It's not a strict rule but it is a cute reminder of the day that your guests can take away. If it's something they can use regularly, even better! If you can't afford them, don't get into a panic over it – your guests won't mind at all.
What are Traditional Wedding Favours?
Wedding favours are a way of sharing your love and representing your bond. Meaning is more important than expense with traditional favours taking the form of wedding bells, candles, miniature paintings, and cigars. Today, popular gifts such as chocolates, miniature bottles of a beloved tipple, and soaps are the most traditional.
Is It Okay to Not Have Wedding Favours?
As traditional as wedding favours may be, they are not bound by strict rules or etiquette. Many couples are opting for more individual ways of expressing their appreciation for their loved ones' support with DIY creations or through experiences on the day. How you choose to commemorate your special milestone is a deeply personal one and open to any number of unique ideas. The more reflective of your personality, the better.
What Is Another Name For Wedding Favours?
Looking for a fresh alternative to the wedding favour? Welcome gifts, party bags, and wedding keepsakes are all fun twists on the popular trinket. You could also dive deeper into the age-old practice and incorporate favours from other cultural traditions. In French and Italian aristocracy, Bonbonnieres were the preferred wedding favour, often comprised of a box made of porcelain or crystal with a delicate sweet inside. In Spain, guest gifts receive detalles in the form of a cigar, pin or wine. When it comes to your special day, the sky is the limit. You could even create a unique name befitting your signature style.
Need some more money-saving advice? Check out what you can give up to help you save for your wedding.