20 Wedding Thank You Cards and What to Write In Them
Tick your wedding thank you cards off your to-do list with our round-up of the very best designs and guide to thank you card etiquette
We have included third party products to help you navigate and enjoy life's biggest moments. Purchases made through links on this page may earn us a commission.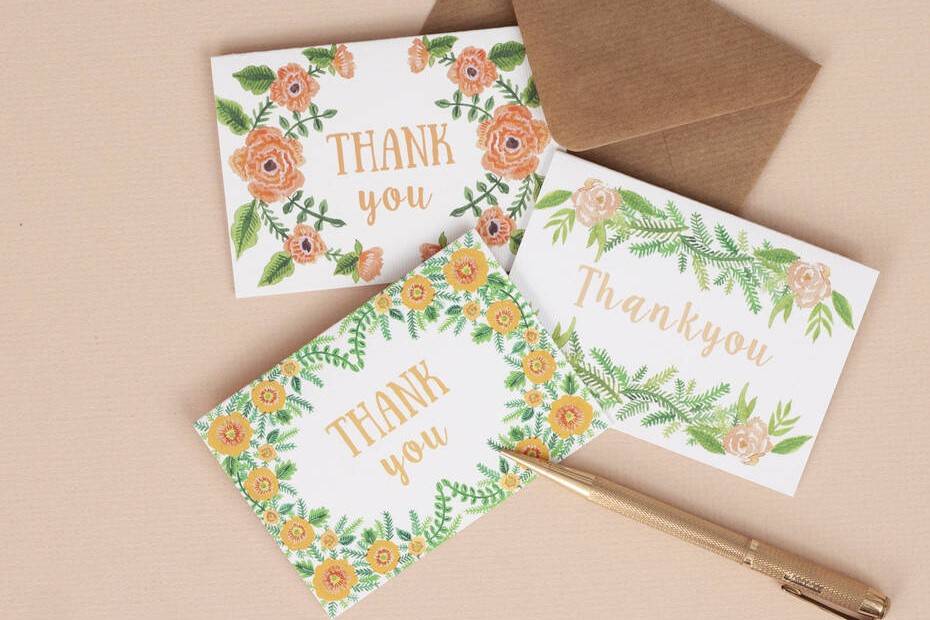 After all the excitement of your wedding day, it's easy to overlook your wedding thank you cards and get swept up in all the post-wedding emotions and fun – opening your gifts, looking at your wedding photos and going on your honeymoon.
But you still have one important wedding stationery task to do: writing your thank you wedding cards. Trust us, they're almost as important as the wedding invitations and your guests will really appreciate receiving them.
If you've overlooked thank you cards wedding in your planning, don't panic. We've scoured the web for the very best designs that you can buy now. From personalised wedding thank you cards that allow you to add a wedding photo to readymade cards with charming designs and print wedding thank you cards, there's something for your style and budget here. We've also written a guide to wedding thank you cards, complete with the etiquette you need to know and some ideas of what to write if you're stuck for words.
20 Beautiful Wedding Thank You Cards
Personalised Wedding Thank You Cards
1. Ancona Wedding Thank You Card – £2.85, Hitched Stationery
We love personalised thank you cards that incorporate your wedding photos into their design and we're head over heels for the blush florals and foil framing on the Ancona card. You can choose from gold, silver or rose foil detailing, along with a lemon, mint, peach, white or Kraft background.
Pros & Cons: The illustrations will overlap your wedding photos giving a professional finish. Foiling comes at an additional cost but it's so beautiful it is definitely worth it.
2. Portrait Thank You Card – from £20 for 10, Papier
Papier portrait thank you wedding cards give you lots of options. You can choose the perfect layout to incorporate your wedding photos into the design, whether you opt for a single portrait style or a trio of photos. You have the option to leave the inside blank for your own handwritten message.
Pros & Cons: You have to buy a minimum of 10 cards but you can get a personalised sample to check the design before you commit to a full set.
3. Blooming Botanical Thank You Card – £2.61, Hitched Stationery
If you're having an autumnal wedding we think the dark blue, rich pink and orange florals of this design would make the perfect way to thank your guests. You have a large selection of paper types to pick from, including pearlescent and textured.
Pros & Cons: The floral motif continues on the interior as well as the front of the design for a seamless look. There is only one background colour, but navy is a neutral option that will suit all kinds of wedding themes.
4. Claire Wedding Thank You Card – £2.85, Hitched Stationery
Muted florals are paired with Kraft, mint, white, lilac, emerald or muted purple card in the Claire thank you card. We love that you can incorporate three wedding photos into your design, and we think your guests will too. Choose from gold, silver or rose gold foiling and matte or pearlescent paper.
Pros & Cons: If you're indecisive or just have too many gorgeous wedding photos to pick from, this design is perfect. You'll have to ensure you choose two landscape and one portrait image.
5. Wedding Arch Thank You Card – From £20 for 10, Papier
Contemporary couples will adore Papier's modern print wedding thank you cards - take this arch design! You can opt for a pink or white background and then pop a photo of your choice into the arch. You'll receive a free white envelope or you can upgrade to a customised coloured option.
Pros & Cons: Papier cards are plastic-free and use sustainably sourced papers from FSC-certified forests. This style isn't traditional but it sure is beautiful!
READ MORE: The 15 Most Common Wedding Stationery Mistakes
6. Summer Blossom Thank You Card – £3.38, Hitched Stationery
Soft pink summer florals make this thank you card a firm favourite among the Hitched team. All you need to do next is choose your favourite wedding photo to complete the design. Pick from a wide range of pastel coloured backgrounds, including cornflower blue, pink and mint.
Pros & Cons: This is one of the more expensive designs from the Hitched shop but you can see why from the level of detail and quality.
7. Connessione Thank You Card – £3.38, Hitched Stationery
If you prefer simpler designs, may we suggest the Connessione design? This card featuring gold foiling and two wedding rings will allow your wedding photo to take centre stage. It is an unusual design and one that minimalistic couples will adore. Choose your foil colour and between pearlescent or matte paper.
Pros & Cons: The font used on this wedding thank you card is stunning and really intricate. The rings will represent the love shared between you on your special day.
8. Ink Thank you Card – £3.38, Hitched Stationery
A black and white wedding photo looks gorgeous against this moody blue ink swirl design while gold foiling adds warmth and a luxe feel. We think this pick would look elegant with pearlescent paper and love the idea of silver foiling for a winter wedding.
Pros & Cons: A darker hue adds edge to your wedding thank you cards and the white background stops it from feeling too sombre.
9. Personalised Thank You Card – £4.75, Faith Hope & Love Designs
Keep it simple with a white card and lettering that matches your wedding colour scheme. Choose an envelope in a complementary colour and finish with a personalised message. Pick from a single card or a pack of cards and whether you want to send a 'big' or a 'little' thank you.
Pros & Cons: The colour range you can choose from is very versatile, from mandarin to mint and lilac to light coral. A plain design means there is room for added extras, such as hand drawn illustrations.
10. Kate Wedding Photo Thank You Cards – £2, Project Pretty
There's something super dreamy and romantic about a black and white photo, which is why we love this card from Project Pretty that puts a black and white portrait at the centre of the design. Personalise with the date of your wedding and choose from a white, Kraft or black envelope.
Pros & Cons: There is a minimum order of 20, but this is a brilliant pick if you are having a large guest list as you can order up to 160 cards.
READ MORE: 3 Ways to Deal with Post-Wedding Blues
Non-Personalised Thank You Cards
11. Blue and Gold Marbled Ink Thank You Cards Pack of 10 – From £6.50, Etsy
We love the laidback feel of these watercolour cards. Each card comes in Kraft envelopes giving a rustic vibe and, at just £6.50 for 10, they're a total bargain. You can choose from a flat or folded finish and are crafted from high quality 350gsm white card.
Pros & Cons: This design has over 300 5-star reviews, with buyers stating that they arrived quickly and were great value for money. Be mindful that the gold design isn't foiled but this does keep the cost down.
12. Set of Six Floral Mini Thank You Cards – £7.20, Little Paisley Designs
These bright, floral mini notecards will go down a treat with wedding guests or wedding party members you'd like to thank. Each pack contains six different designs so you can mix and match, featuring watercolours by illustrator Eleanor Longhurst.
Pros & Cons: The mini size is adorable and will mean that guests can pop them as a keepsake on the fridge or side without causing clutter. This design is ideal for short and concise words.
13. Calligraphy Thank You Cards Set of 10 – £13, Betterday Studio
Simple yet glamorous with gold foiling and a twinkling design, these cards are a great choice for just about any wedding theme. Choose from gold, rose gold or rainbow holographic lettering and you'll be left with a magical and luxe finish. Each card is handmade from 100% recycled, 350gsm card.
Pros & Cons: All cards come with matching peel and seal envelopes which are hygienic and easy. The design itself can't be personalised but the inside is left blank for your own special message.
14. Thank You Notelet Pack of Eight Foliage Pattern – £10.20, Little Paisley Designs
Want to mix up your thank you cards? These cards come in four different designs, each with a beautiful foliage theme that make for the perfect follow-up to a botanical themed wedding. Another gorgeous style from illustrator Eleanor Longhurst, they come in a compostable cellophane bag to protect them from damage.
Pros & Cons: These thank you wedding cards have lots of blank space for you to write a long special message. The design is quirky and unusual.
15. Thank You Cards Pack of Eight – £5.60, Oakdene Designs
We love these bright and whimsical cards and reckon they'd make a great follow-up to a fairground or festival wedding. Each wedding thank you card comes with a metallic silver envelope and this design have tons of raving reviews.
Pros & Cons: You can only choose from a pack of set numbers so you may find you'll have some leftover but the versatile design means they can be used for other occasions.
READ MORE: Discover the App That Makes Sharing Wedding Photos Easy
16. Thank You Notecards Pack of Eight – £7.50, Jodie Gaul
Sometimes the simplest of designs can have the most impact and that's definitely the case with these cards. Featuring a rustic wooden star and a simple font, your message will be the star of the show with these cards. We love the added texture the wooden star gives.
Pros & Cons: These thank you wedding cards come wrapped in natural twine or in an aluminium tin so you can store them safely. If the design is too simple for your taste, stick a wedding photo in the centre.
17. Wildflower Thank You Cards Pack of 10 – £17.99, Paper Willow
Were rustic florals a big feature on your day? We think these wildflower cards are a great way of incorporating your theme into your thank you notes. They are seriously wedding-appropirate which means even though they aren't personalised, your guests will know exactly who they are from.
Pros & Cons: These cards feature digitally printed watercolour flowers made from wildflower paintings so are delicate and dainty. The textured Italian card means they are a little bit more expensive but the quality is amazing.
READ MORE: 29 Wildflower Bouquet Ideas for Whimsical Brides
18. Risograph Printed Thank You Postcards – £9.50, Petra Boase Ltd
Postcards are a more laidback style of card and, coupled with the off-beat designs of these cards, we think they're the perfect pick for couples that hosted casual and alternative celebrations. As soon s your wedding guests open these beauties up, they'll have a smile on their face.
Pros & Cons: You will receive a selection of all the designs so you'll have lots of variety, however, there will be a double up of two of the styles.
19. Plantable Thank You Card – £4.50, Summer Lane Studio
Worried about the environmental impact of sending out cards? This amazing seeded thank you card can be planted to produce a mini wildflower meadow – we're in love! You can choose from a pack of 10, 25 or 100 so they cater for all types of wedding sizes.
Pros & Cons: The seeds inside are chosen especially to promote garden wildlife and should be planted within two years of purchase - make sure you let your wedding guests know!
READ MORE: The Best Eco-Friendly Wedding Products: 31 Green Ideas
20. Pack of 10 Wildflower Thank You Cards – From £6.50, Hip Hip Hooray Studio
With colourful flowers adorning the front and Kraft envelopes, we think these cards would be the perfect way to thank guests for coming to your summer nuptials. They are a bestseller with over 150 5-star reviews - some state that they are amazing quality and very affordable.
Pros & Cons: Designed and printed in the UK, each sale supports a social enterprise that provides employment opportunities for women who are rebuilding their lives after hardship.
READ MORE: The Ultimate Post-Wedding To Do List
Wedding Thank You Cards: What You Need to Know
1. Yes, You Need to Send Them
This might sound like a simple one but so many couples neglect to send wedding thank you notes. After your guests have taken the time and effort to come to your wedding and have likely bought you a wedding gift then it's only polite that you say thank you.
2. There's a Time Limit on Thank You Cards
It's general wedding etiquette that you should send your wedding thank you notes within three months of your big day. However, wedding etiquette also states that guests can send wedding gifts up to a year after your wedding. While this may seem a little long (and one to two months is probably more realistic), reply in a timely fashion even to late gifts.
3. List Your Gifts as You Open Them
You want your wedding thank you notes to be personal so write down who gave you which gift as you open them. That way you can thank them specifically rather than thanking for 'the gift'. It's also nice to include a brief sentence about how you used the gift, for example: "Thank you so much for the towels! They go with our bathroom décor perfectly."
4. Always Handwrite Your Notes
Yes, it takes ages, but this is one of the times when you need to make the time and effort to handwrite your notes.
5. Make the Message Personal
Try and thank each guest in a personal way. It's such a rare thing to write a note to each person you care about so put a bit of extra effort into it. You're beginning to see why you've got a whole three months, aren't you? Split the task between the two of you and just do a few a night while you're watching TV.
6. Put in as Much Effort as You Did with the Rest of Your Wedding
If you sent a beautiful wedding invitation and had a gorgeous wedding then don't let yourself down on the last hurdle by rushing your thank you notes. Why not order the cards from the same stationery maker? You can often get discount for bulk purchases.
7. Keep the Tone Light
You're writing to close friends and family so keep the tone relaxed and informal and the notes will be much easier to write. A funny line will always go down well too.
What to Write in Wedding Thank You Cards?
A wedding thank you card message should include:
Thank you to your guest for sharing your special day with you (this comes first as their presence is always more important than a present)
Thank you for their gift
Mention of what you plan to do with the gift
Finish with well wishes
Examples of What to Write in a Wedding Thank You Card
Thank you so much for sharing in our wedding day and for your wonderful gift. The Nespresso machine has already transformed our mornings; I don't know how we lived without it! I think John was more excited about it than the honeymoon when we opened it!
It means the world to us that you joined us to celebrate our wedding day and create memories we'll cherish forever. We can't say thank you enough for your generous contribution to our honeymoon fund. We're planning a two-week trip to Sri Lanka and have decided to put your gift towards a scuba-diving experience which we're both so excited about.
It was so special to have you there on our wedding day and we really appreciate you travelling from Scotland to join us. Uncle Ted made the evening with his wonderful dance moves – we'll make sure to show you the video next time we see you! Thank you for the dinner set you gave us. It's a beautiful addition to our kitchen.
Thank you for the cheque you gave us for our wedding. Sam and I have been saving for a deposit for our first home and have put it into our special account. It was incredibly thoughtful of you and we'll be inviting you to the housewarming – hopefully very soon!
How to Write Wedding Thank You Cards?
Make Use of Your Wedding Photos
Your thank you notes can be a perfect way to show off some of your beautiful wedding pictures – why not send personalised photo thank you cards featuring one or some of your favourite pics?
Think About Your Wedding Theme
If the rest of your wedding stationery has been rustic or botanical themed, continuing that with your thank you cards is a lovely way to round off the theme. You could get them printed in the same design as your wedding cards or, to save money, go for something simpler with a nod to your theme.
Don't Blow Your Last Bit of Budget
If you are concerned about blowing the last of your wedding budget on elaborate thank you notes then there is no need to worry – a budget friendly option that still looks great would be to send wedding thank you postcards, saving you money on the cost of envelopes.
How to Say Thank You For a Cash Wedding Gift?
As with tangible gifts, when saying thank you for a cash wedding gift, it is a great idea to let them know how you plan on spending the money. Whether that is a contribution to your honeymoon or an activity you've always wanted to do together, it will be lovely for your wedding guests to feel part of a special event in your married lives.
If you haven't ordered your wedding thank you cards yet, the Hitched wedding stationery section has a stunning selection of photo thank you cards, or for pretty handmade cards browse our directory of local wedding stationery suppliers