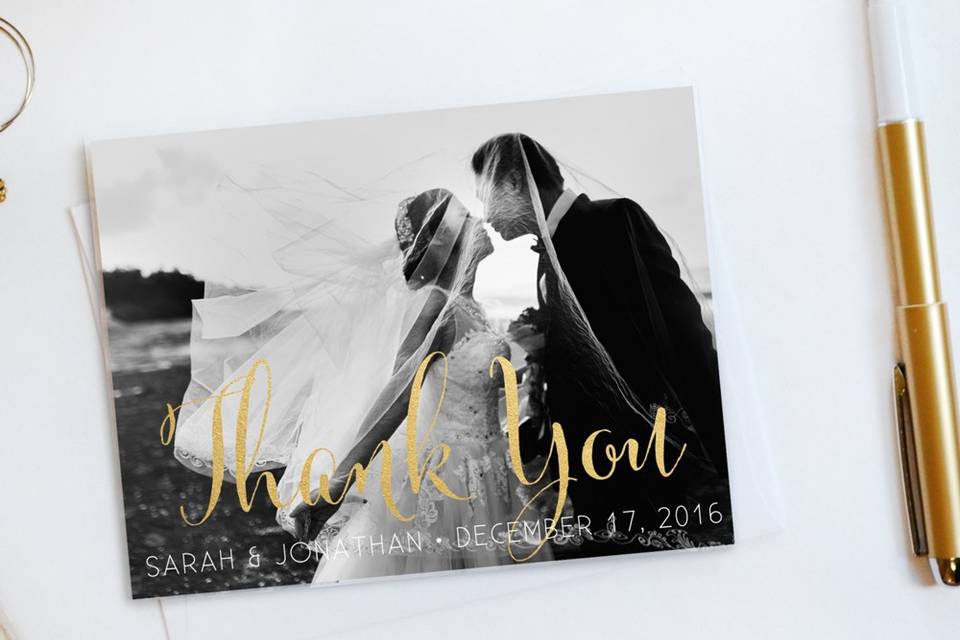 After all the excitement of your wedding day, it's easy to get swept up in all the post-wedding emotions and fun – opening your gifts, looking at your wedding photos and going on your honeymoon.
But you still have one important wedding stationery task to do: writing your wedding thank you cards. They're almost as important as the wedding invites.
Image: Etsy
To help get you started, here's our top tips on what to write in a thank you card and a few of our favourite wedding thank you card designs.
Wedding Thank You Cards: What You Need to Know
1. Yes, You Need to Send Them
This might sound like a simple one but so many couples neglect to send wedding thank you notes. After your guests have taken the time and effort to come to your wedding and have likely bought you a wedding gift then it's only polite that you say thank you.
2. There's a Time Limit on Thank You Cards
It's general wedding etiquette that you should send your wedding thank you notes within three months of your big day. However, wedding etiquette also states that guests can send wedding gifts up to a year after your wedding. While this may seem a little long (and one to two months is probably more realistic), reply in a timely fashion even to late gifts.
READ MORE: The Ultimate Post-Wedding To Do List
Image: Etsy
3. List Your Gifts as You Open Them
You want your wedding thank you notes to be personal so write down who gave you which gift as you open them. That way you can thank them specifically rather than thanking for "the gift".
4. Always Handwrite Your Notes
Yes, it takes ages, but this is one of the times when you need to make the time and effort to handwrite your notes.
5. Make the Message Personal
Try and thank each guest in a personal way. It's such a rare thing to write a note to each person you care about so put a bit of extra effort into it. (You're beginning to see why you've got a whole three months, aren't you?) Split the task and just do a few a night while you're watching TV.
READ MORE: 9 Ways to Save Money on Your Wedding Stationery
Image: Littlebird Weddings
6. Put in as Much Effort as You Did with the Rest of Your Wedding
If you sent a beautiful wedding invitation, had a gorgeous wedding and a stunning dress then don't let yourself down on the last hurdle by rushing your thank you notes. Why not order the cards from the same stationery maker? You can often get discount for bulk purchases.
7. Keep the Tone Light
You're writing to close friends and family so keep the tone relaxed and informal and the notes will be much easier to write. A funny line will always go down well too.
What to Write in Wedding Thank You Cards
Image: Etsy
A wedding thank you card message should include:
Thank you to your guest for sharing your special day with you (this comes first as their presence is always more important than a present)
Thank you for their gift
Mention of what you plan to do with the gift
Finish with well wishes
Examples of What to Write in a Wedding Thank You Card
Thank you so much for sharing in our wedding day and for your wonderful gift. The Nespresso machine has already transformed our mornings; I don't know how we lived without it! I think John was more excited about it than the honeymoon when we opened it!
It means the world to us that you joined us to celebrate our wedding day and create memories we'll cherish forever. We can't say thank you enough for your generous contribution to our honeymoon fund. We're planning a two-week trip to Sri Lanka and have decided to put your gift towards a scuba-diving experience which we're both so excited about.
READ MORE: The Complete Guide to Changing Your Name
It was so special to have you there on our wedding day and we really appreciate you travelling from Scotland to join us. Uncle Ted made the evening with his wonderful dance moves – we'll make sure to show you the video next time we see you! Thank you for the dinner set you gave us. It's a beautiful addition to our kitchen.  
Thank you for the cheque you gave us for our wedding. Sam and I have been saving for a deposit for our first home and have put it into our special account. It was incredibly thoughtful of you and we'll be inviting you to the housewarming – hopefully very soon!
How to Choose Your Wedding Thank You Cards
Image: Etsy
Make Use of Your Wedding Photos
Your thank you notes can be a perfect way to show off some of your beautiful wedding pictures – why not send personalised photo thank you cards featuring one or some of your favourite pics?
Think About Your Wedding Theme
If the rest of your wedding stationery has been rustic or botanical themed, continuing that with your thank you cards is a lovely way to round off the theme. You could get them printed in the same design as your wedding cards or, to save money, go for something simpler with a nod to your theme.
READ MORE: Unqiue Wedding Cards for Your Bridal Party
Don't Blow Your Last Bit of Budget
If you are concerned about blowing the last of your wedding budget on elaborate thank you notes then there is no need to worry – a budget friendly option that still looks great would be to send wedding thank you postcards, saving you money on the cost of envelopes.
Here's a few of our favourite designs:
Rustic Floral Thank You Card, Etsy
Gold Foil Photo Thank Your Card, Etsy
Calligraphy Thank You Card, Etsy
Watercolour Thank You Card, Etsy
If you haven't ordered your wedding thank you cards yet, the Hitched wedding stationery section has a stunning selection of photo thank you cards, or for pretty handmade cards browse our directory of local wedding stationery suppliers.