What is a Wedding First Look? Pros, Cons & Our Favourite Photos
Is a wedding first look for you? We explain everything there is to know about this fun trend, including photo and video ideas for inspiration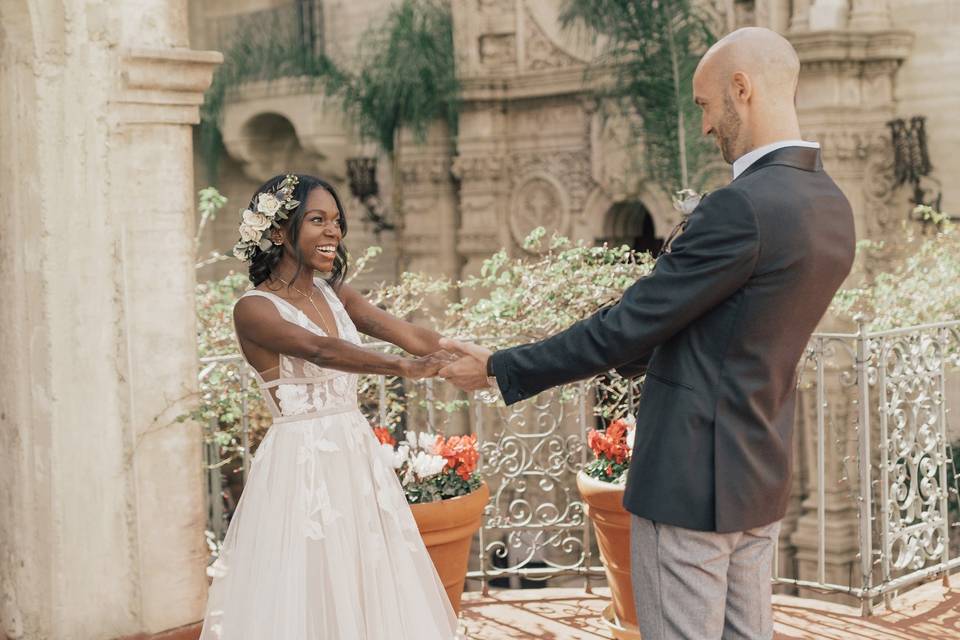 The moment a couple first set eyes on each other during that emotional walk up to the aisle or the altar is one of the most anticipated parts of the wedding. A wedding first look is a truly special moment that all the hard work and planning leads up to, as you are just minutes away from finally tying the knot with your soul mate.
But the ceremony doesn't necessarily have to be the first glimpse you have of each other on the big day. Lots of couples are choosing to break wedding tradition by having a wedding first look before the ceremony, so that they make the most of the moment.
In fact, the Hitched National Wedding Survey found that more than one in ten couples who married in 2021 chose to incorporate the American tradition of a wedding first look into their big day.
Want to adopt this wedding trend? Wherever you choose to have that wonderful wedding first look, make sure that your photographer captures it on camera so that you can look back at that photo and remember exactly how you felt.
We spoke to wedding photographer and videographer James Stenlake of 1st Class Wedding Photography, who shared his expert thoughts on the pros and cons of having a first look, as well as rounding up our favourite first look wedding photos for inspiration.
What is a Wedding First Look?
Sometimes referred to as a pre-reveal, the first look is when a couple sees each other for the first time on their wedding day prior to when they traditionally would at the ceremony. This intimate moment is typically captured on camera as it makes for a sentimental snap.
"First look wedding photography is a trend from the US that seems to be on the increase here in the UK," explains James. "The excitement on the face of the couple as they see each other is usually phenomenal."
Where to Have the First Look at a Wedding?
The ideal place for a first look at a wedding is a remote and romantic location at your venue. This will ensure none of your guests stumble across you and your partner as you will want to enjoy this special moment without any onlookers (besides your photographer that is!).
Talk to your wedding venue before the big day so that you can scope out an intimate location beforehand and inform your photographer of your plans.
Wedding First Looks Pros
First looks are a popular choice over-seas and this list of pros is a great indication of why!
1. Gives You and Your Partner a Special Moment Together
With all the excitement of being surrounded by everyone you love, it can be easy for your wedding day to fly-by without you having spent any quality one-on-one time with your partner!
A wedding first look gives you both the perfect opportunity to connect, take everything in and remind yourselves of what you are celebrating. "One look at your partner's smile and you'll remember why that day is so important. You'll remember that they are the reason why you decided to do it all and that they're worth it," says James.
2. Captures an Emotional Moment on Camera
As you can see from the spectacular photos below, the pictures you can capture from a wedding first look are exceptional. "As your wedding photographer, I'll be barely noticeable and give you the privacy you need to be yourselves. That and the joy at seeing each other for the first time that morning will provide some of the most beautiful pictures of yourself that you'll ever see," shares James.
3. It Can Calm Your Nerves
It is commonplace to feel pre-ceremony nerves and a first look is a great way to calm these jitters. Take the pressure and anticipation of the big reveal off you and your partner by having this moment without an audience.
"Who better to soothe your nerves than the love of your life?" says James. "They'll be able to understand exactly how you feel because they are going through the same too. You can hug, hold, and share a kiss. Most especially, they'll say those reaffirming words that you need to help you take on the day and all it brings. No anxiety can last past that!"
If you are feeling apprehensive that you will be overcome with emotion and would rather this happen privately between you and your partner, the first look allows for this.
5. You Won't Miss Time With Your Guests
There are many moving parts to a wedding and your timeline might not always go to plan. Having a first look will make sure that you have photographs of you and your partner so after the ceremony you can focus on spending time and mingling with your guests.
6. Something Unique
Although a wedding first look is becoming an increasingly popular trend, it is still a break from tradition making it super unique to a lot of weddings.
7. Ideal for Winter Weddings
Having a first look on the morning of your winter wedding guarantees that you will have some photographs with your partner taken in the natural light. It also takes the pressure off getting photos outside together later in the day should the weather take a turn for the worst.
Wedding First Look Cons
Having a wedding first look won't be for everyone - consider these cons carefully so that you can be certain you are making the right choice for you as a couple.
1. You May Have to Get Ready Earlier
You will need to ensure that you are ready a little earlier than you would if you were not having a first look. We recommend allowing for at least 30 minutes, so that you can head to the location, your photographer can capture the moment and you and your partner can soak it all in!
2. Some Consider it Bad Luck
Seeing your partner before the ceremony is considered bad luck for some, so if you are a superstitious couple this is something to be aware of. This wedding tradition comes from when arranged marriages were commonplace and the couple weren't allowed to see or meet each other at all until they were at the altar.
3. Your Wedding Outfit May Get Dirty
If you are walking around outdoors for your first look, there is always the chance that the bottom of your wedding outfit may get dirty or your hair and makeup might need a touch-up before you head to the ceremony. This should only take a couple of moments to fix, but it is worth noting.
Wedding First Look Couple Photos
Still undecided on whether to have a wedding first look? These breath-taking wedding first look couple photos might just sway you...
Romantic Touch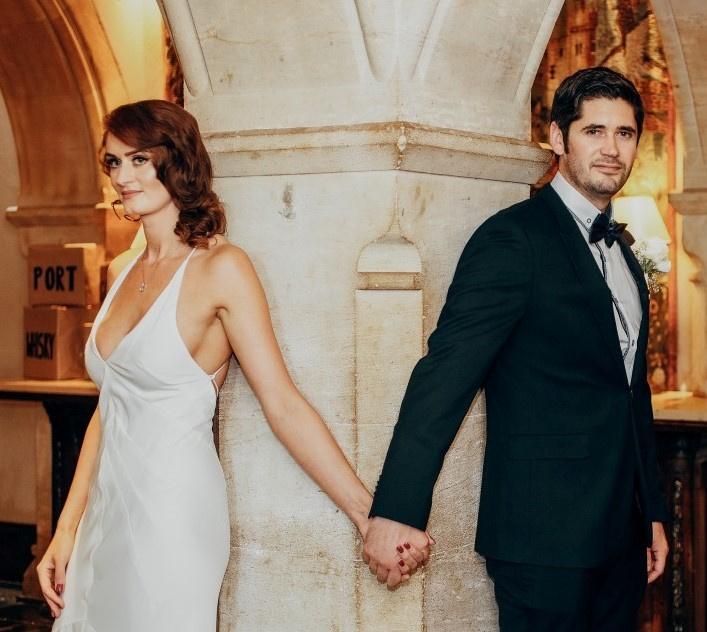 If you want to incorporate elements of a wedding first look into your big day but don't want to actually see each other, consider having a 'first touch' like the couple above. This special moment will calm your nerves, while keeping the reveal for the ceremony.
Look of Love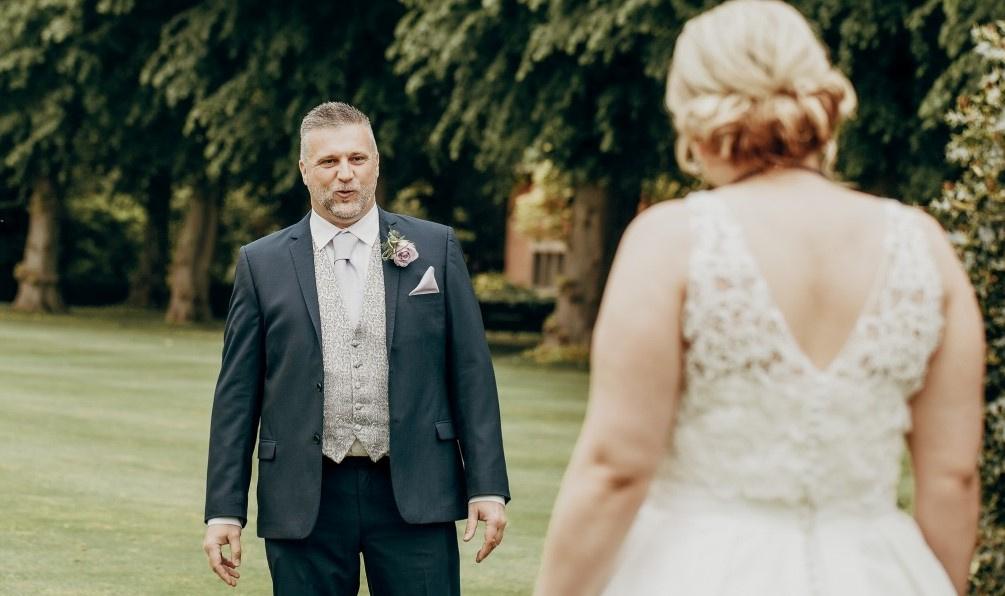 This photograph wonderfully captures the first moment this couple see each other on their special day - the expression on the groom's face says it all!
Guess Who?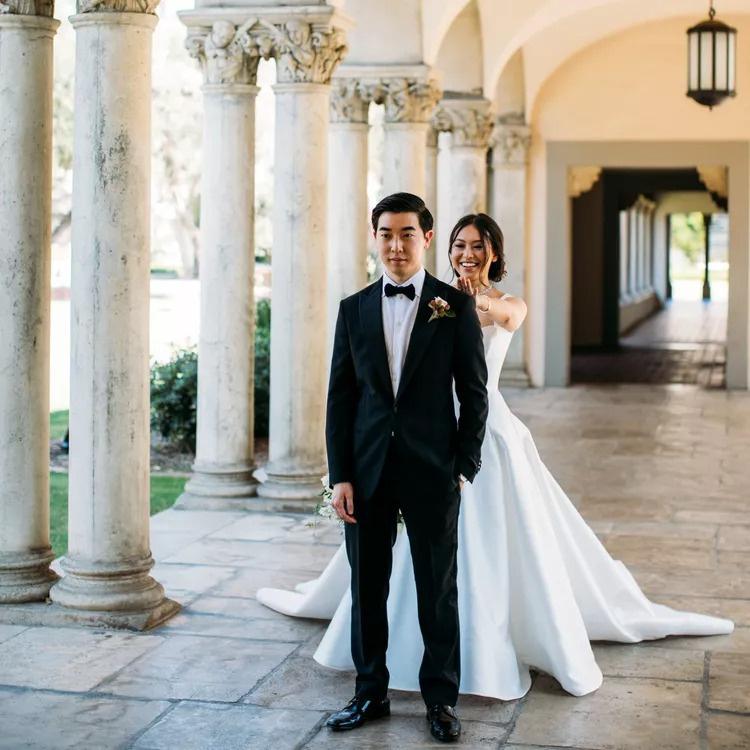 For a fun take on the wedding first look, have one of you stand with your back to the other and tap on their shoulder. This photograph is both playful and powerful.
Back to Back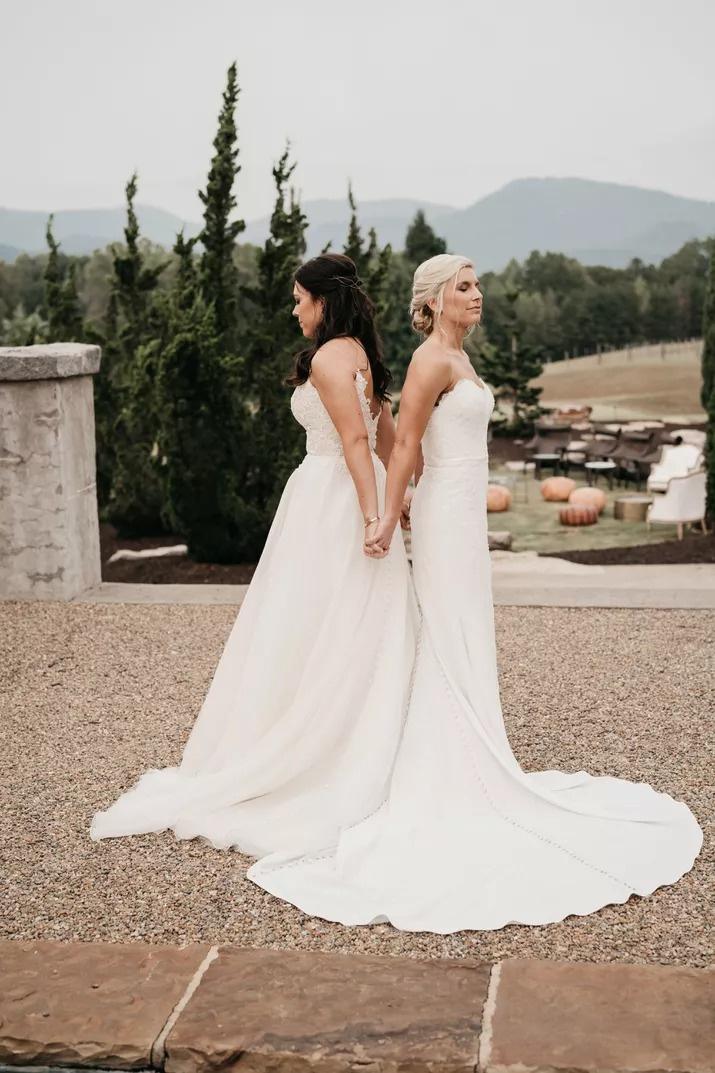 Starting your wedding first look back to back with your partner and having a few moments holding hands before you turn around can really build up the suspense.
Happy Tears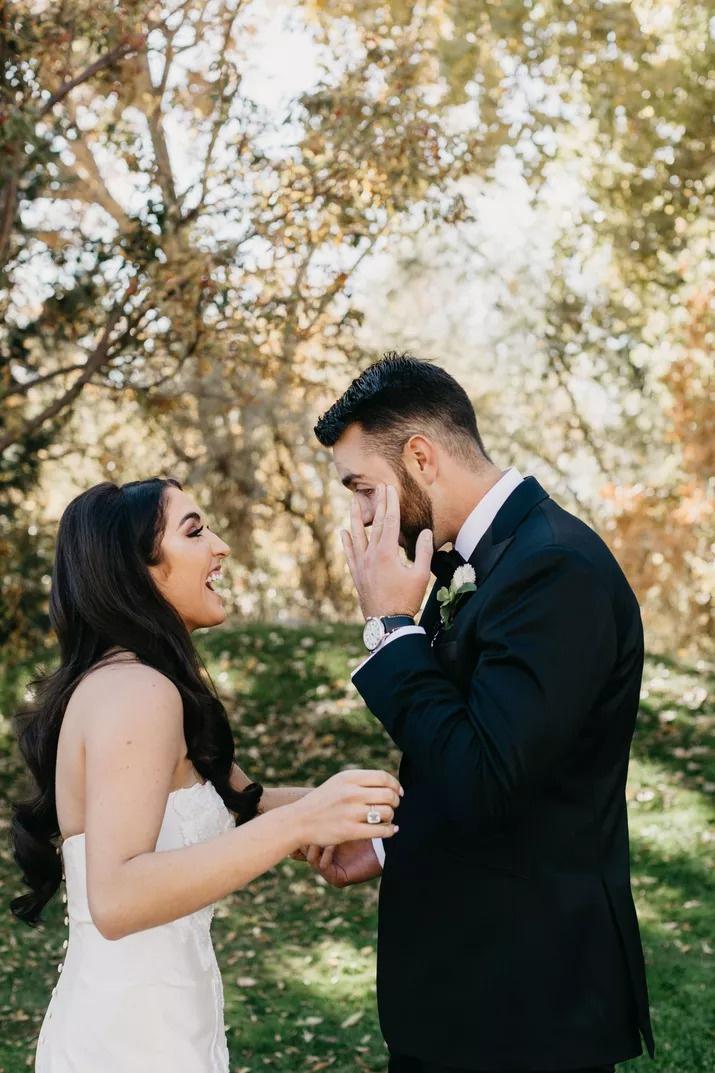 A tearful groom seeing his bride for the first time on their wedding day makes for photo perfection. We adore how raw and emotional this moment is.
Something Special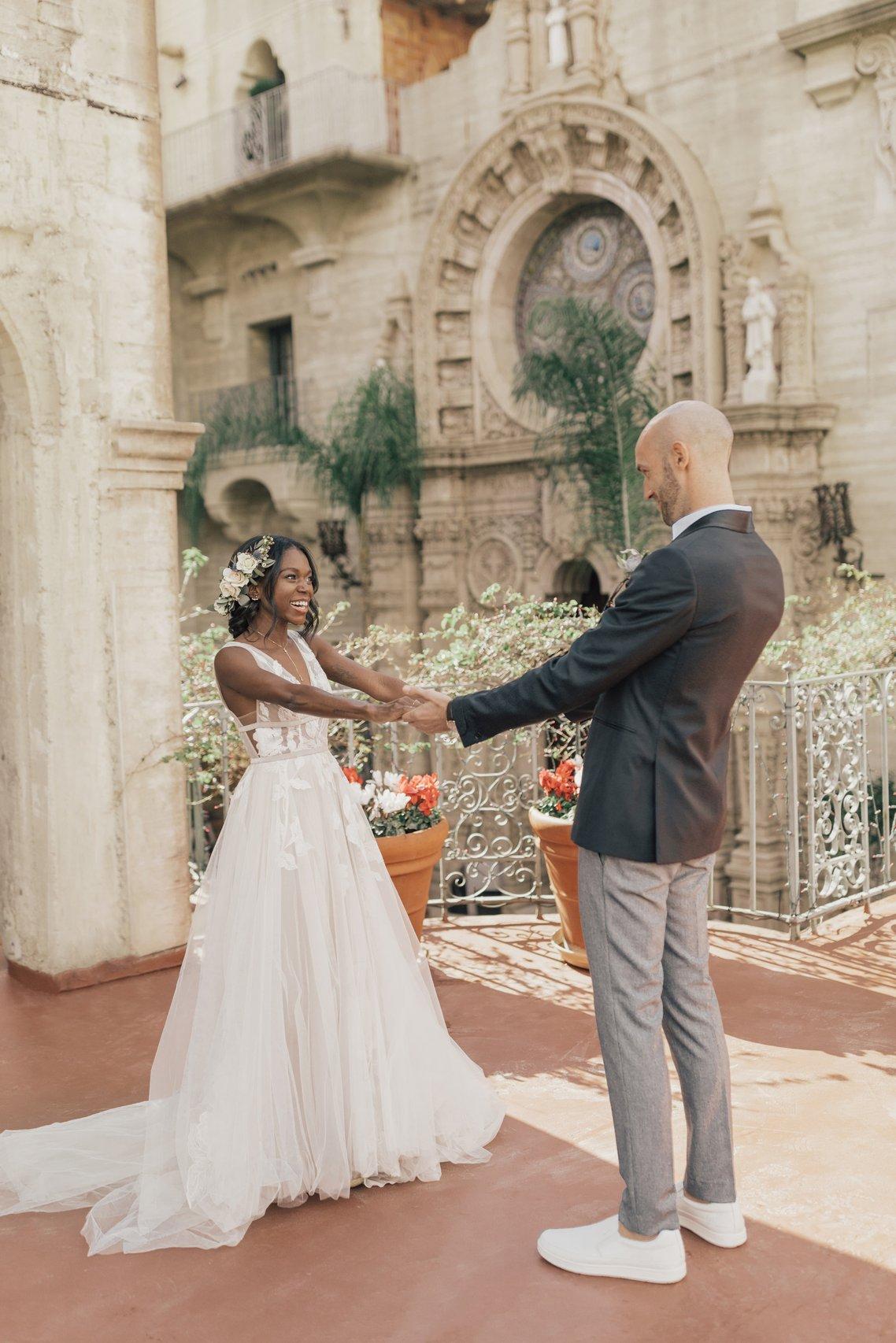 Heartfelt and joyous reactions are what wedding first look dreams are made of and this photograph certainly captures that. You can feel the excitement between the bride and groom!
Wedding First Look Pranks
Prank your partner with these hilarious wedding first look ideas! From getting the groomsmen involved to donning fancy dress, there's no doubt they'll be in for a surprise.
A Dino-mite Idea
This bride nails the wedding first look prank by dressing up in an inflatable dinosaur costume. Judging by the groom's hilarious reaction we're pretty sure he can't wait to marry his fun-loving partner.
Best Man or Bride?
You wouldn't be fulfilling your duty as a best man if you didn't prank the groom, right? Dress up as their partner so when they turn around for their intimate moment - it's you standing there instead.
Groomsmen Gotcha
If you didn't get a chance to prank your friend on their stag or hen do, your wedding first look is the time to do it. This will have them in stitches!
You Take My Breath Away
Is your partner a Star Wars fan? Darth Vader might not be quite who they were expecting to see at their first look but it sure makes for a funny moment.
The Cat's Pyjamas
Keep things casual by rocking your pyjamas to your wedding first look. It's a perfect idea if you want to see your partner before the ceremony but would rather keep your outfit as a surprise.
For even more fun features to include in your wedding day, take a look at the biggest wedding trends for the year ahead.