19 of the Sweetest Personalised Wedding Guest Books
Wedding guest books are the perfect keepsake for your wedding. We've found for the best personalised wedding guest book ideas out there, suitable for all budgets and themes
We have included third party products to help you navigate and enjoy life's biggest moments. Purchases made through links on this page may earn us a commission.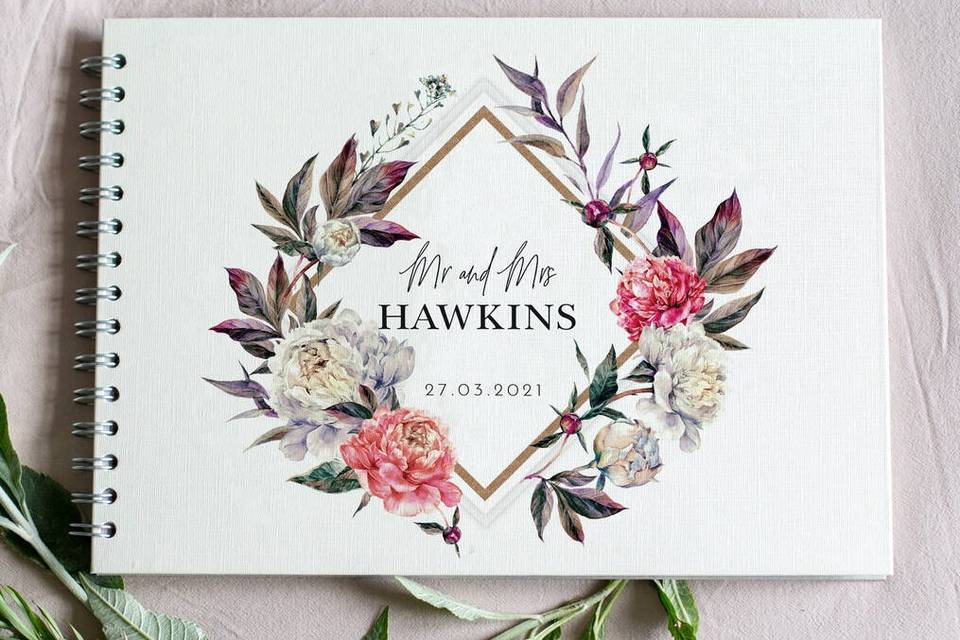 Wedding planning comes with a long checklist, from setting up your wedding website, to choosing the perfect wedding dress to finalising the seating chart. With so much going on, it can be easy to forget about the small finishing touches, such as picking the perfect personalised wedding guest book.
Despite being a seemingly small addition to your wedding, the importance of having a wedding guest book on the day cannot be understated. This will become a treasure trove of memories for you to look back on in years to come, and something you can pass down for generations.
Finding a personalised wedding guest book can be tough; you want to find something that suits you as a couple, as well as the theme or colours at your wedding. You'll also want to find something that's high quality, and has plenty of space for your loved ones to leave you a heart-warming message.
19 of the Best Personalised Guest Books
Fear not; we've done the hard work so you don't have to. In this edit of the 19 best personalised wedding guest books, there is something for everyone, taking into account different styles and all wedding budgets.
You could also take a look at our alternative wedding guest book options, for something a little quirky and different. Either way, we're sure you'll find something you love.
1. Monogram Wedding Guest Book – £32, Not On The High Street
This stunning book's deep colour scheme makes it ideal for an autumnal or winter wedding. The bold front cover can be embossed with your initials, which can appear in gold, silver, copper or rose gold foil, perfect for a rose gold colour scheme.
2. Nautical Wedding Guest Book – from £42.02, Etsy
Ideal for coastal wedding venue, this nautical design is fun while still maintaining a level of class. Everything can be changed from the font to the colours, and the pages can even be personalised with your names. You can buy this one in a number of sizes, as well as page numbers, from 30 through to 50.
3. Large Framed Photo Wedding Guest Book – £55, Papier
If you'd rather say it with beautiful images than words, this wedding guest book will be right up your street. Pick a stunning photograph for the front cover and to really grab your guests' attention. You can still add in names, dates and a personal message inside, so it really does offer the best of both worlds. Coming with 96 thick pages and finished with a grey ribbon marker, there's plenty of room for all the words inside.
4. Watercolour Blush Wedding Guest Book – £55, Papier
How pretty is this delicate, elegant design? It comes with 96 sturdy pages, and can be customised on the front and back, like all of Papier's designs. This will feel special for the months, years and decades after your special day.
5. Duo Map Wedding Guest Book – £45, Not On The High Street
Here we have another quirky option which is perfect for those who love to travel, or who want to represent each partner's different backgrounds or different events in time. This wedding guest book, for example, shows the country outlines where the proposal and wedding took place. Each book is made from birch and contains 30 pages of paper, but more can be added.
READ MORE: Wedding Guests Reveal Their Biggest Bugbears
6. Floral Corners Wedding Guest Book – £40, Not On The High Street
This wedding guest book is made from real oak veneer covers, and features 50 sheets of luxury plain white paper and a silver binding. It combines an understated wooden finish with super vibrant florals for an chic look.
7. Modern Wedding Guest Book – £39, Not On The High Street
A lovely, understated pick that'll look great alongside your flower arrangements, this sweet design comes with 50 sheets of high quality paper, a round wooden tag, and coloured start and end sheets, which you can pick to your taste.
8. Photo Wedding Guest Book – £20, Not On The High Street
This lovely personalised wedding guest book allows you to show off a striking image from the history of your relationship for your guests to get nostalgic over. Wording and fonts are all personalised, so you can give it a custom feel.
9. Personalised Clear Acrylic Wedding Guest Book – £50, Hitched Shop
An acrylic covered personalised guest book not only looks cool, it'll ensure accidental drink spillages won't damage the pages. We adore the botanical green leaf design as it will suit all kinds of wedding colour schemes.
10. Personalised Pink Flowers Wedding Guest Book – from £31.99, Etsy
Available with the option of 30 or 50 pages, this vibrant wooden personalised wedding guest book will make a lovely statement at your wedding reception. Cut from sustainably sourced walnut, it's hand designed and printed in the company's New Forest studio.
READ MORE: 93 Unique Ways to Entertain Your Wedding Guests
11. Personalised Stars Wedding Guest Book – from £55.16, Etsy
For a touch of magic at a celestial themed wedding day, consider Paper Peach Shop's black and gold star personalised wedding guest book. Each hardcover design comes with a white ribbon attached at the top of the spine.
12. Personalised Foil Wedding Guest Book – £28, Etsy
Simple, elegant and chic, the gorgeous foiling on this personalised wedding guest book is the feature that won us over. Choose from gold, silver or rose gold lettering, and a whole range of colours for the cover.
13. Personalised Elegant Wedding Guest Book – £29, Etsy
Linen creates a luxe finish to your personalised wedding guest book and this design showcases that perfectly. From soft grey, to charcoal and navy, choose a colour that suits your wedding colour palette. How adorable is the adjoining heart lettering?
14. Wildflower Personalised Wedding Guest Book – £27, Etsy
The ideal addition to a rustic wedding, this pretty floral handmade wedding guest book features your names and wedding date.
15. Botanical Personalised Wedding Guest Book – from £18.50, Etsy
There's so much to love about this personalised wedding guest book - the botanical design is gorgeous, the pages open out flat so that both sides can be filled and it's created from thick, luxury cartridge paper.
READ MORE: The 38 Best Wedding Games for Your Wedding Reception
16. Gold Foil Dusty Blue Wedding Guest Book – from £61.64, Etsy
This sophisticated, personalised wedding guest book has a minimalistic look that's perfect for anyone who loves the simpler things. The gold foiling and dusky blue colour is pretty fabulous, too.
17. Personalised Peony Frame Wedding Guest – £28, Not on the High Street
Picking a peony wedding bouquet? Why not match your wedding guest book to this popular flower by opting for this stunning floral design. It's a great bargain at less than £30 and is sure to impress.
18. Personalised Wedding Guest Book With Initials – £30, Not On The High Street
Another gorgeous linen personalised wedding guest book comes in the form of this beauty. The botanical initials are what set it apart from the rest, as well as the luxe-looking font. If you can't get enough of neutrals - this one is for you.
19. Cupid Arrows Wedding Guest Book – £35, Not On The High Street
Give your wedding guest book a nostalgic touch with this cupid arrows option. It's ideal if you and your partner were childhood sweethearts as it has such an old-school feel to it.
Do You Have to Have a Guest Book at a Wedding?
While it is not mandatory to have a wedding guest book, it is a lovely idea! Wedding guest books are typically quite affordable so they make a great addition to the day.
What is a Wedding Guest Book Used For?
A wedding guest book is usually laid out at the reception so that wedding guests can sign their name and write well-wishes to the happy couple. It serves as a lovely keepsake and memory book to look back on of all the people who were there to help celebrate your special day.
It's also a brilliant way to entertain your wedding guests as they'll have a lot of fun thinking of and writing personal messages.
Where Should the Guest Book Be at a Wedding?
Where your wedding guest book is located will depend upon the layout of your wedding venue, however, putting it near the entrance of the wedding reception for your guests to sign upon arrival is a popular choice.
If stationing it next to the entrance isn't ideal, consider placing it in a spot that has enough space for your guests to comfortably write without feeling rushed. Remember to keep it somewhere that can easily be seen so your friends and family don't forget to sign it before the end of the night. It's worth nominating someone in your wedding party to remind guests to sign.
What Kind of Pens Do You Use For a Wedding Guest Book?
It is important to use a pen that wont smudge or smear across the pages. We recommend using an ultra-fine tip pen so that each message doesn't take up too much space, and the ink won't transfer through. An acid-free pen is also a good idea for a wedding guest book as the ink won't fade over time or damage the paper.
Still looking for ways to make your big day extra personal? Don't miss our favourite personalised wedding favour ideas!