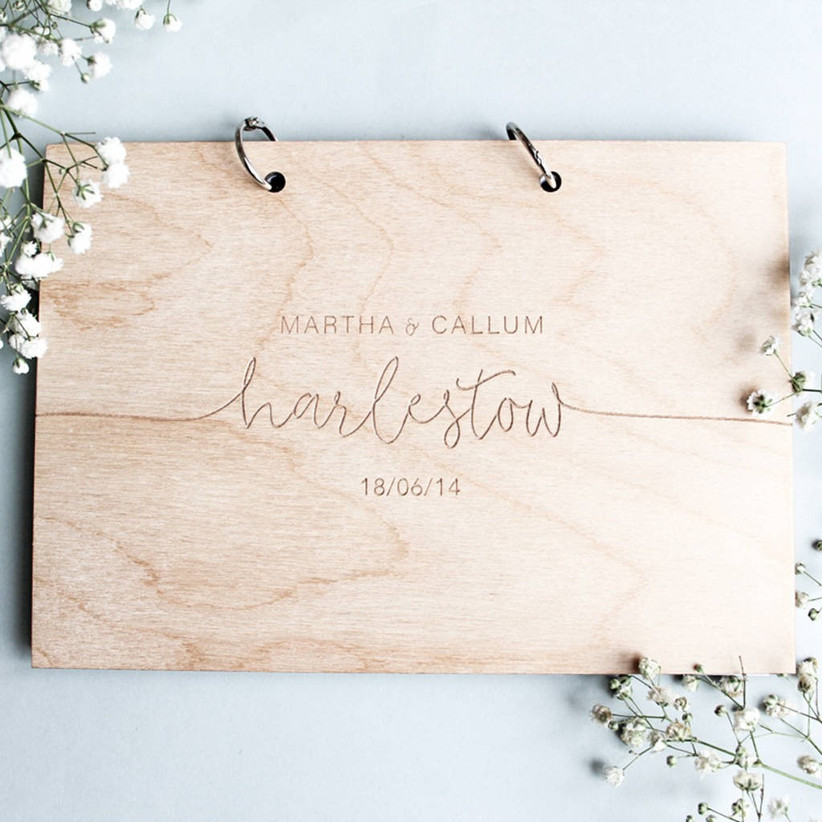 Your wedding day comes with a lot of planning, from the food to the venue, the dress to the seating arrangements. With so much going on, it can be easy to forget about the small finishing touches, such as finding the perfect wedding guest book.
Despite being a seemingly small addition to your wedding, the importance of having a wedding guest book on the day cannot be understated. This will become a treasure trove of memories for you in years to come, and something you can look back on and even pass down for generations.
Finding the perfect option can be tough; you want to find something that suits you as a couple, as well as the theme or colours at your wedding. You'll also want to find something that's high quality, and has plenty of space for your loved ones to leave you a heartwarming message.
Fear not; we've done the hard work so you don't have to. In this edit of the 21 best personalised wedding guest books, there is sure to be something for everyone, taking into account different styles and all budgets.
You could always also take a look at our alternative wedding guest book options, for something a little quirky and different. Either way, we're sure you'll find something you love.
NB: We have included third party products to help you navigate and enjoy life's biggest moments. Purchases made through links on this page may earn us a commission.
Black Map Wedding Guest Book – £36.97, Paper Bound Love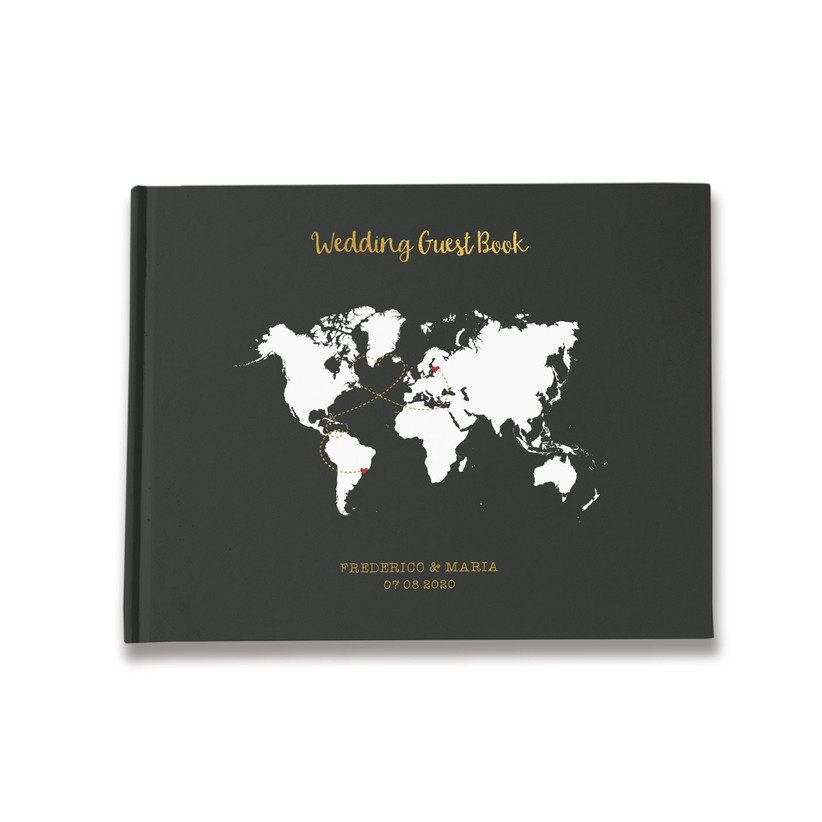 Paper Bound Love's black design is perfect for globe trotting newlyweds. It's ultra customisable, as everything from the fonts, colours and wording can be edited to suit you, as well as the names. Names and dates can be printed upon the spine, while a quote or poem can be printed on the back, giving it an extra special touch. There are 100 pages, which are encased in a matte finish hard cover case, and all books come with a white ribbon bookmark.
Boho Wedding Guest Book – £72, Not On The High Street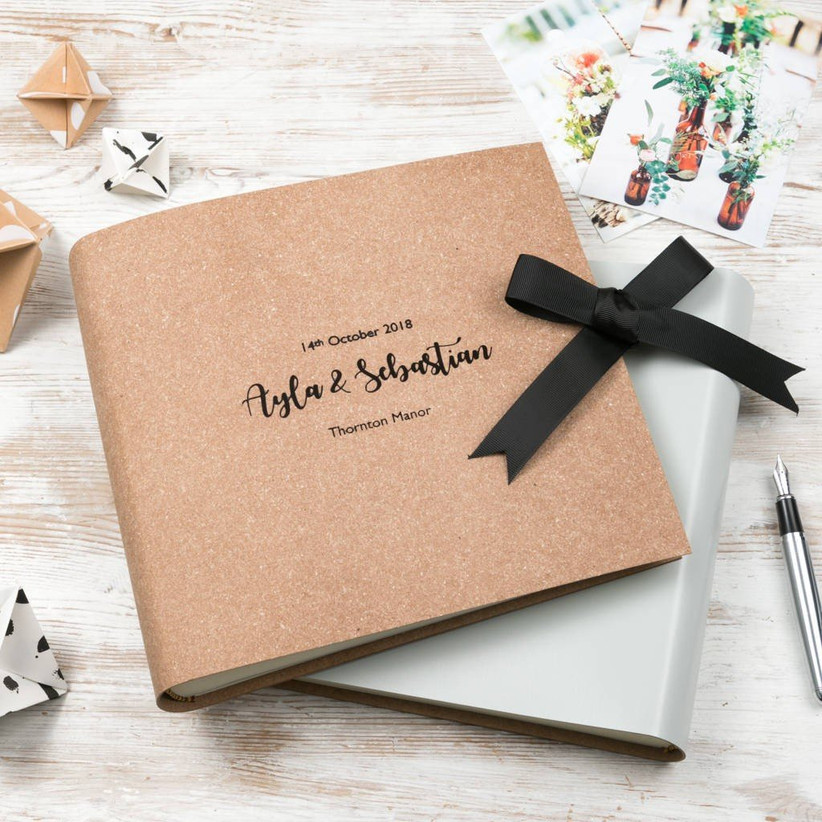 This wonderful large guest book is made from recycled leather, and has a distinctly boho, rustic feel as its name suggests. It's handmade and, thanks to its size, has plenty of space for messages, pictures and anecdotes.
Elegant Ivory Wedding Guest Book – £29.99, Amazon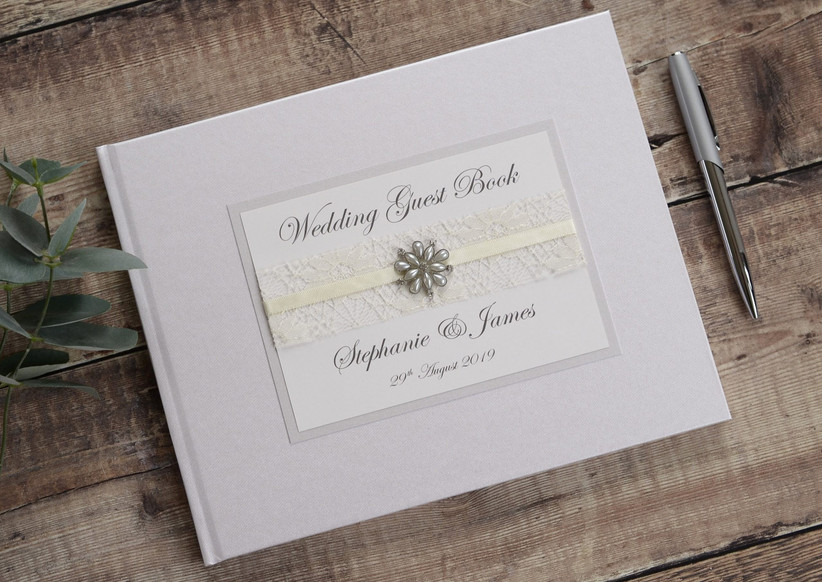 This beautiful handmade wedding guest book comes with 50 pages (or 100 sides to write on), and can be bought in five different jewel designs with 34 ribbon colours to choose from. The book cover colour can also be changed depending on your taste. This pretty design comes with a presentation box, so will always be kept clean and fresh.
Monogram Wedding Guest Book – £25.60, Not On The High Street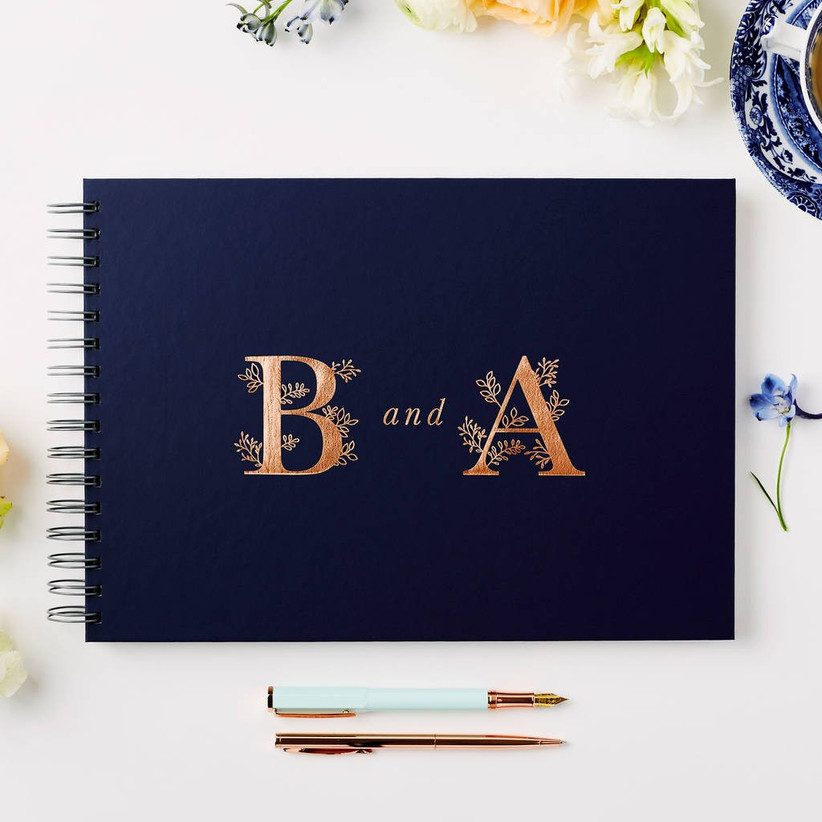 This stunning book's deep colour scheme makes it ideal for an autumnal or wintery wedding. The impactful front cover can be embossed with your initials, which can appear in gold, silver, copper or rose gold foil. The pages are thick and luxurious, while the front and back covers are super sturdy and long-wearing, to ensure all the beautiful messages inside are protected.
Pastel Blue Palms Wedding Guest Book – £36.97, Paper Bound Love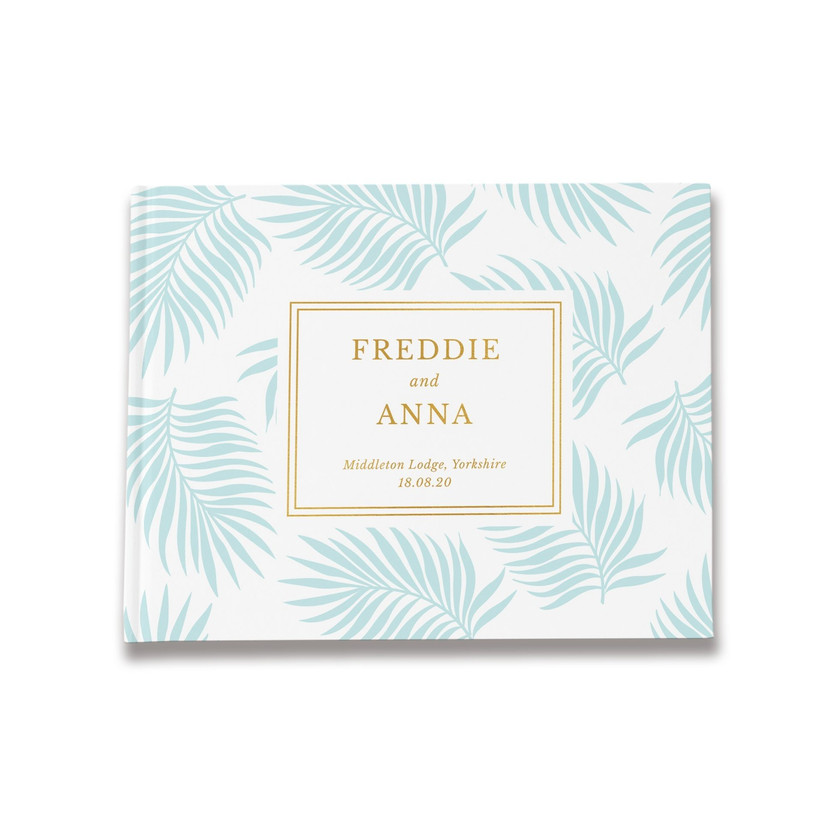 Ideal for a tropical wedding abroad somewhere, this vibrant design is anything but traditional. Made with 100 pages, this wedding guest book is available in three different sizes, and the paper inside can come in white, white lined or black. All are made from acid-free paper, so you don't need to worry about the pages turning yellow or becoming brittle.
Illustrated Wedding Guest Book – £34.95, Prezzy Box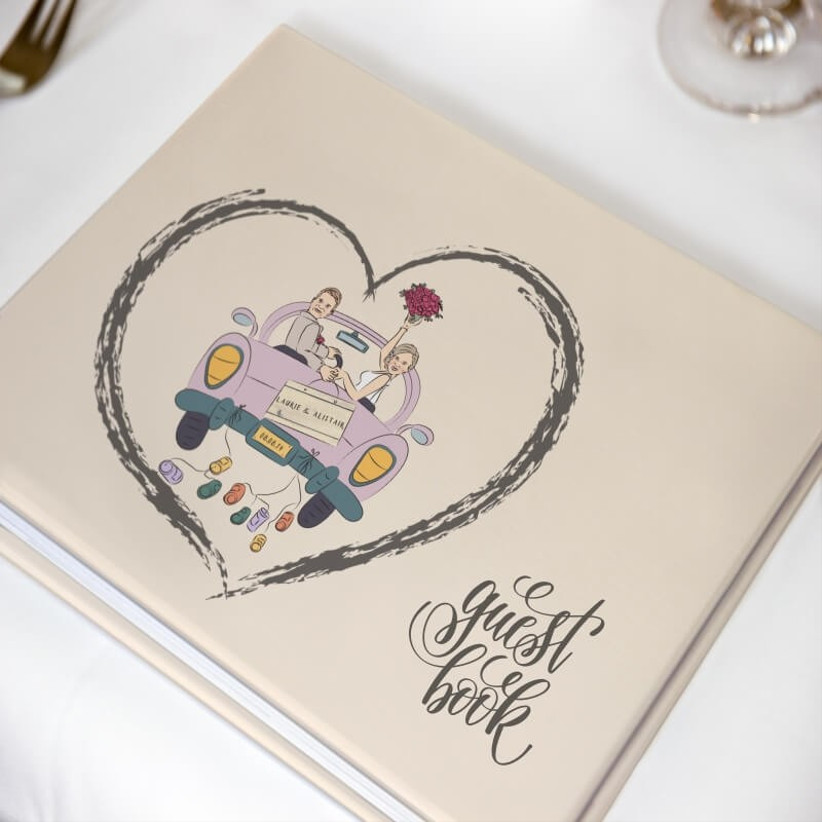 What we love about this wedding guest book is that not only are the names and dates personalised, but the illustrations are made to look like each couple! It comes with a cushion hardcover and the pages come blank, so guests are welcome to write or draw whatever they wish. This is the ultimate pick for something a little fun and different.
Nautical Wedding Guest Book – £25.16, Etsy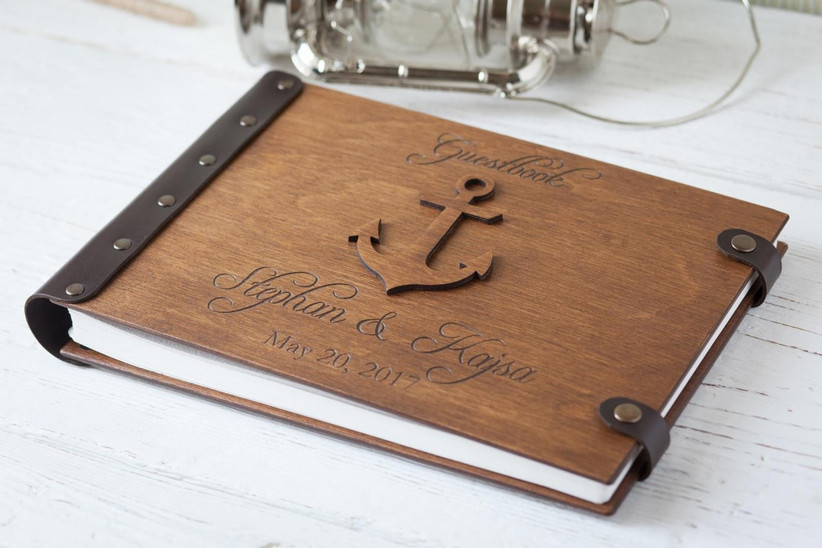 Ideal for a wedding near water, this nautical design is fun while still maintaining a level of class. Everything from the font to the colours can be changed, and the pages can even be personalised with your names. You can buy this one in a number of sizes, as well as page numbers, from 30 through to 50.
Simple Photo Wedding Guest Book – £45, Papier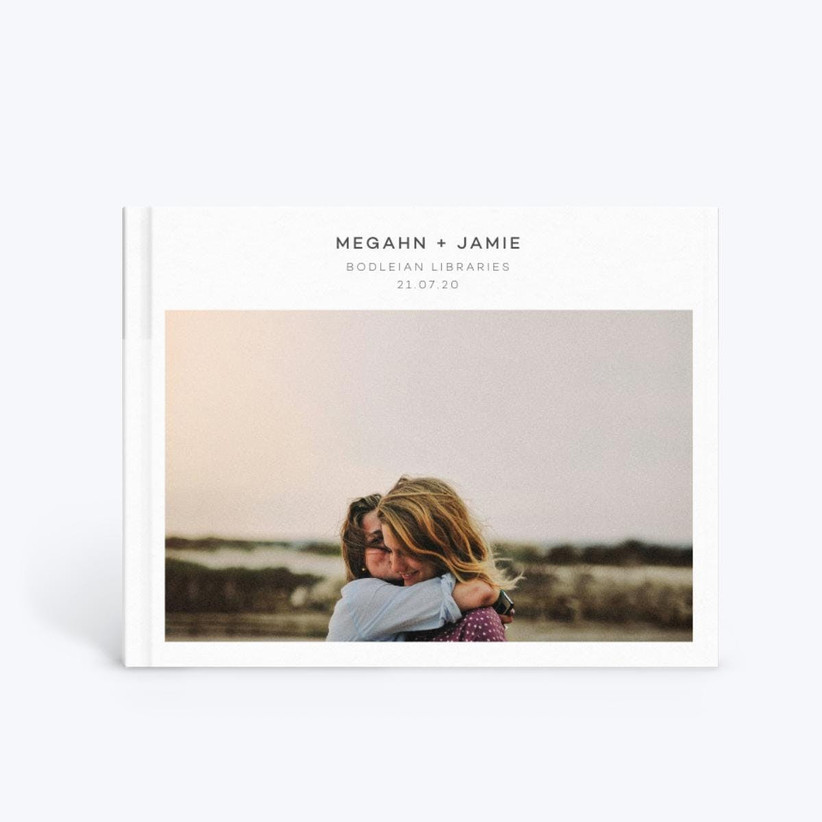 If you'd rather say it with beautiful images than words, this wedding guest book will be right up your street. Pick a stunning photograph for the front cover and wow guests. You can still add in names, dates and a personal message inside, so it really does offer the best of both worlds. Coming with 96 thick pages and finished with a grey ribbon marker, there's plenty of room for all the loving and kind words inside.
Monochrome Wedding Guest Book – £36.97, Paper Bound Love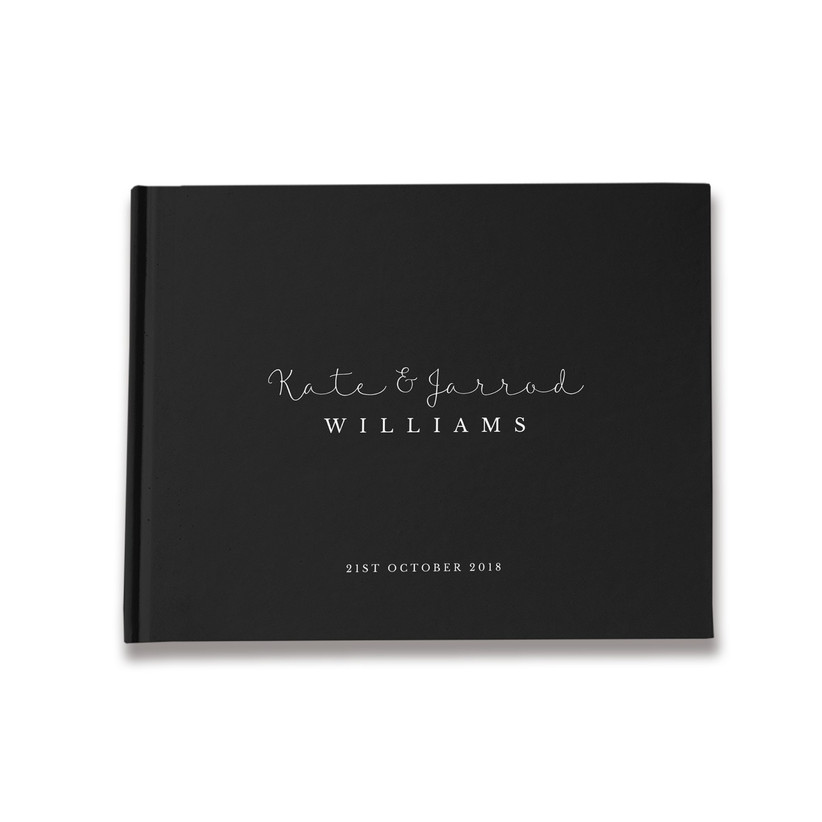 This incredibly chic, sophisticated design is perfect for super stylish couples. Keeping things simple, it will fit into any wedding colour scheme or theme. It comes with 100 pages, and everything from the type of paper to colours and fonts can be customised.
Shell Embossed Wedding Guest Book – £35, Etsy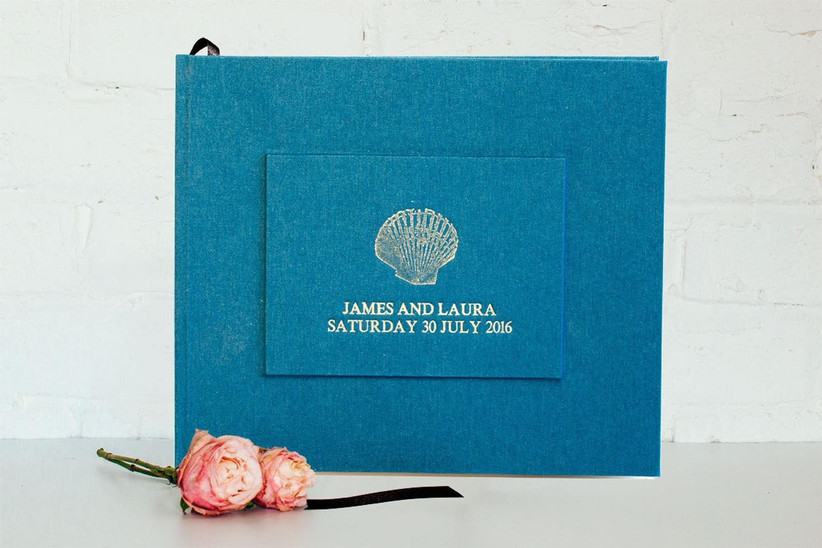 This lovely and totally unique option can be personalised in many ways, including the primary colour and the symbol on the front. Options range from a bicycle to a compass, but we especially like the shell. It comes in medium or large sizes, and features handmade paper and gold foil embossing.
Watercolour Blush Wedding Guest Book – £45, Papier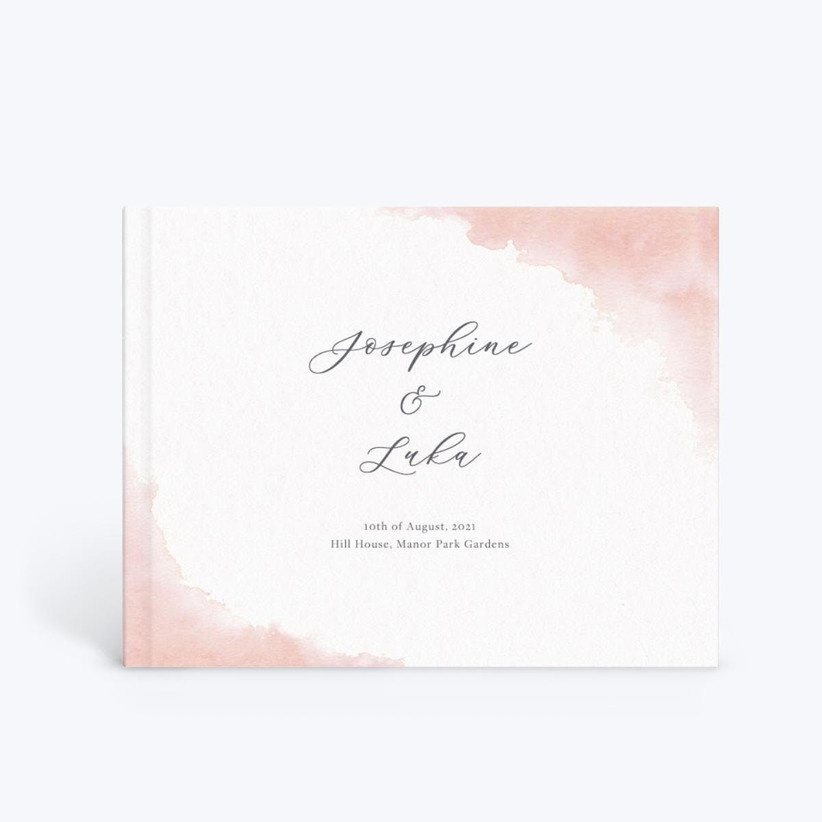 How pretty is this delicate, elegant design? It comes with 96 sturdy pages, and can be customised on the front and back, like all of Papier's designs. This will feel special for the months, years and decades after your special day.
Rose Gold Foil Wedding Guest Book – £29.90, Amazon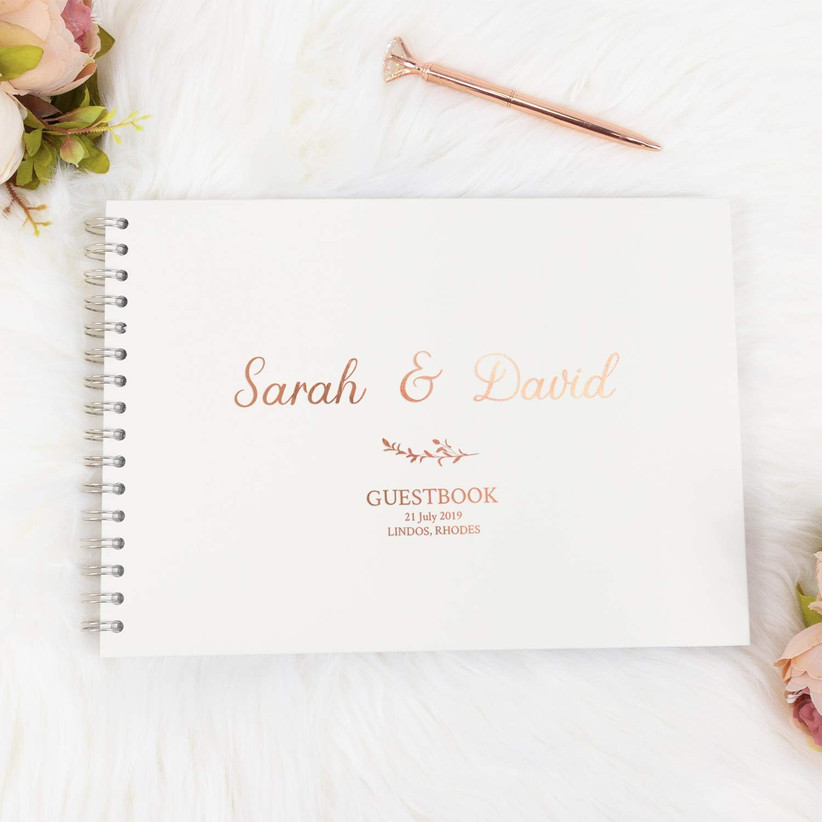 If you'd prefer to keep things simple and classy, this understated design will pique your interest for all the right reasons. The wording can all be personalised, and can be printed in gold, silver or rose gold. It comes with 100 pages and a hardy, long-wearing front cover that'll keep all your messages safe. It also comes in light or dark grey.
Duo Map Wedding Guest Book – £36, Not On The High Street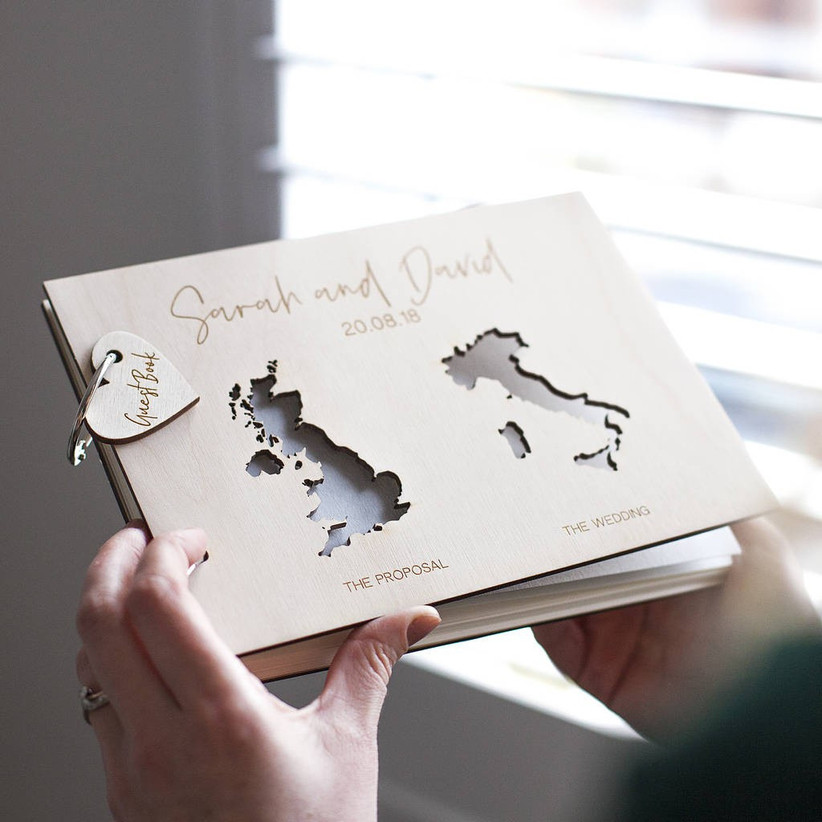 Another quirky option which is perfect for those among us who love to travel, or who want to represent each partner's different backgrounds or different events in time. This wedding guest book, for example, shows the country outlines where the proposal and wedding took place. Each book is made from birch and contains 30 pages of paper, but more can be added.
Floral Corners Wedding Guest Book – £35, Not On The High Street
This wedding guest book is made from real oak veneer covers, and features 50 sheets of luxury plain white paper and a silver binding. It combines an understated wooden finish with super vibrant florals for an unexpected effect.
Leather Wedding Guest Book – £48, Etsy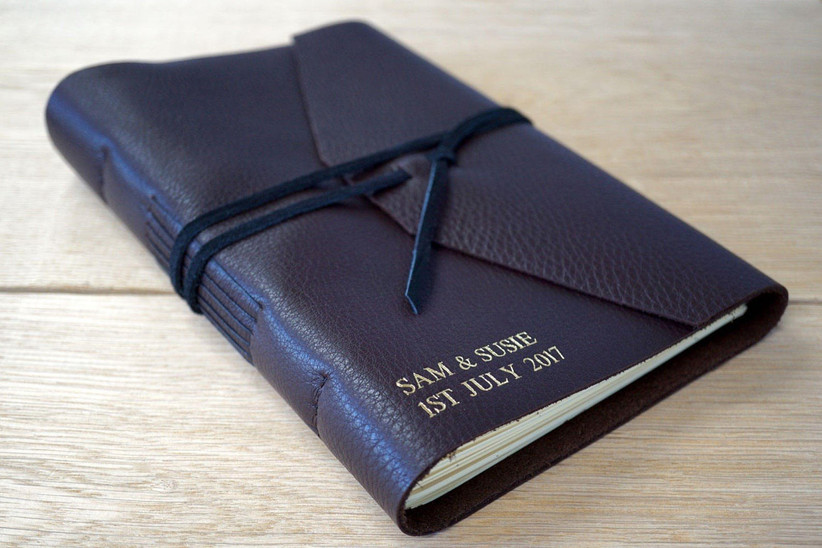 Want something just a little 'cooler' than a traditional wedding guest book? This real leather notepad is understated yet meaningful. Handcrafted and bound in the UK, this design also comes with a special gift box, making it the perfect present for your soon-to-be married friends.
Modern Wedding Guest Book – £39, Not On The High Street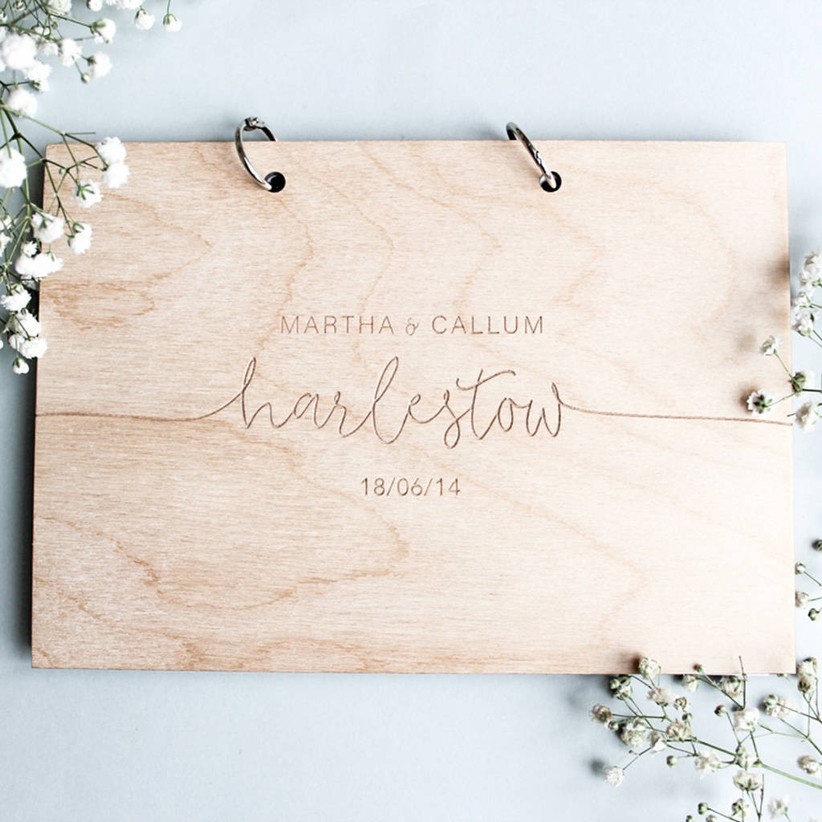 A lovely understated pick that'll look great alongside your flower arrangements, this sweet design comes with 50 sheets of high quality paper, a round wooden tag, and colour start and ends sheets, which you can pick to your taste.
Photo Wedding Guest Book – £19.50, Not On The High Street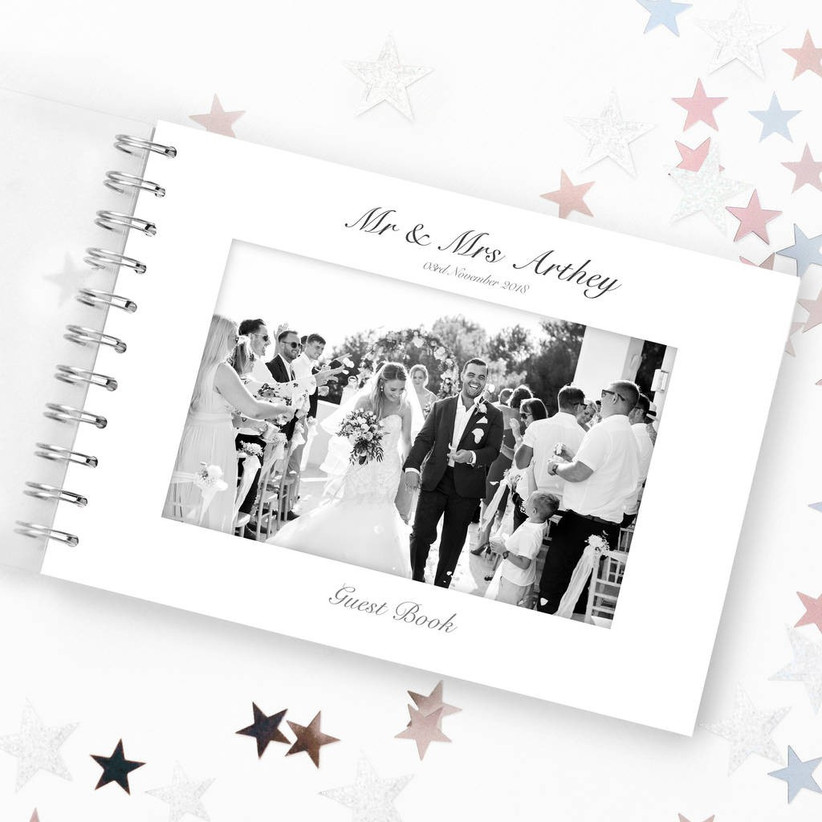 This lovely, understated option allows you to show off a striking image from the history of your relationship for you and your guests to get all nostalgic over. Wording and fonts are all personalised, so you can give it a custom feel.
Coral Wedding Guest Book – £47.25, Not On The High Street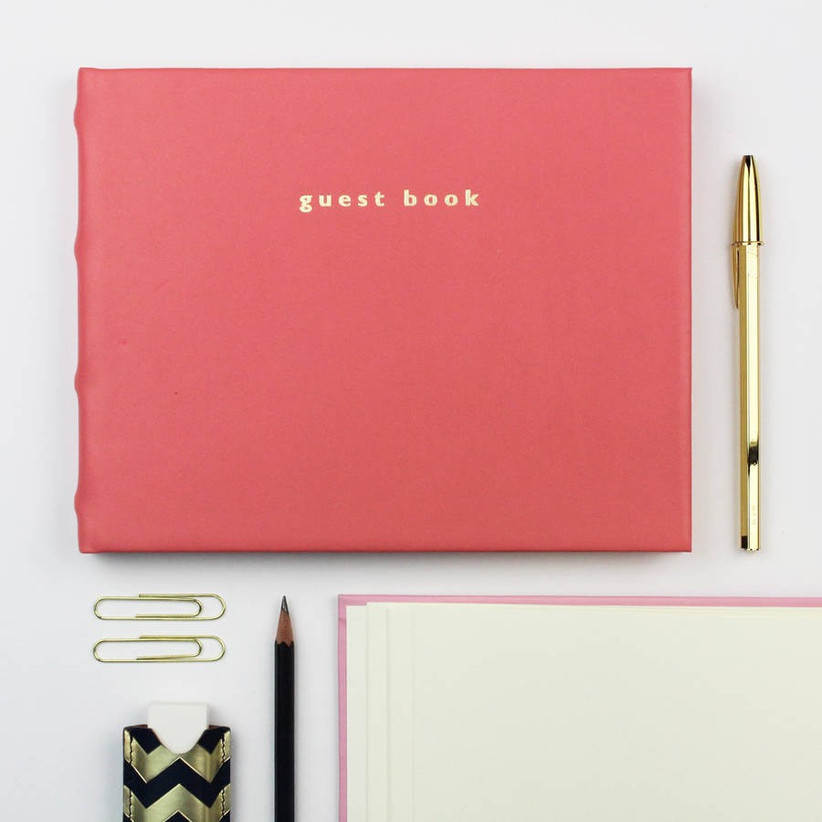 If bright and bold is your thing, this beautiful coral number with gold detailing will be the dream guest book for you. It would look great alongside a golden pen on your special day. Not a big fan of coral? This comes in a load of other colours.
Still looking for ways to make your big day extra personal? Don't miss our favourite personalised wedding favour ideas!