Online Save the Dates: Etiquette & Our 15 Favourite Ideas
Give your guests plenty of notice of your wedding plans by sending online save the dates. Not convinced? We're here to show you that digital save-the-date templates can be every bit as stylish as paper wedding stationery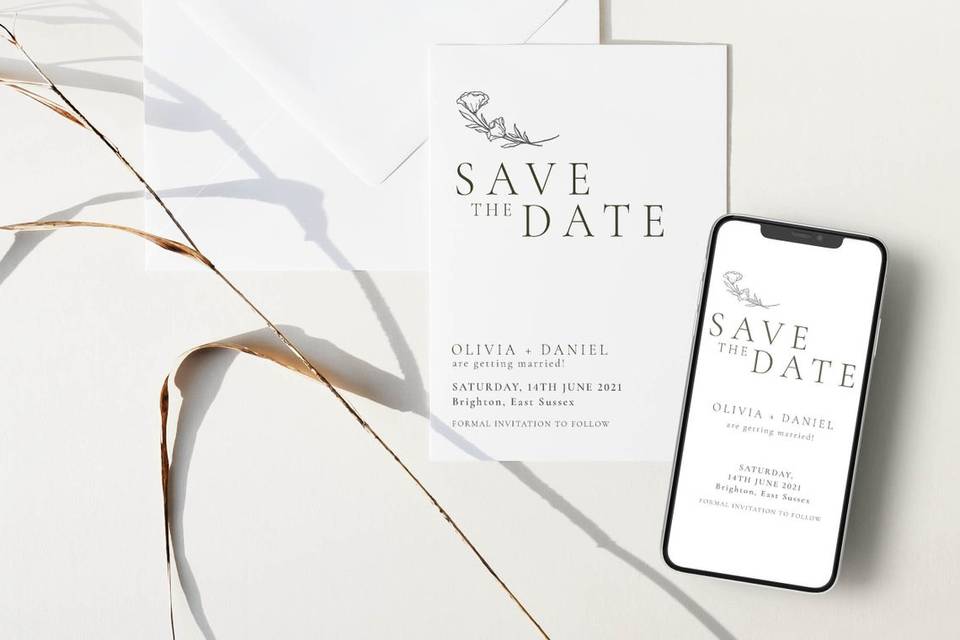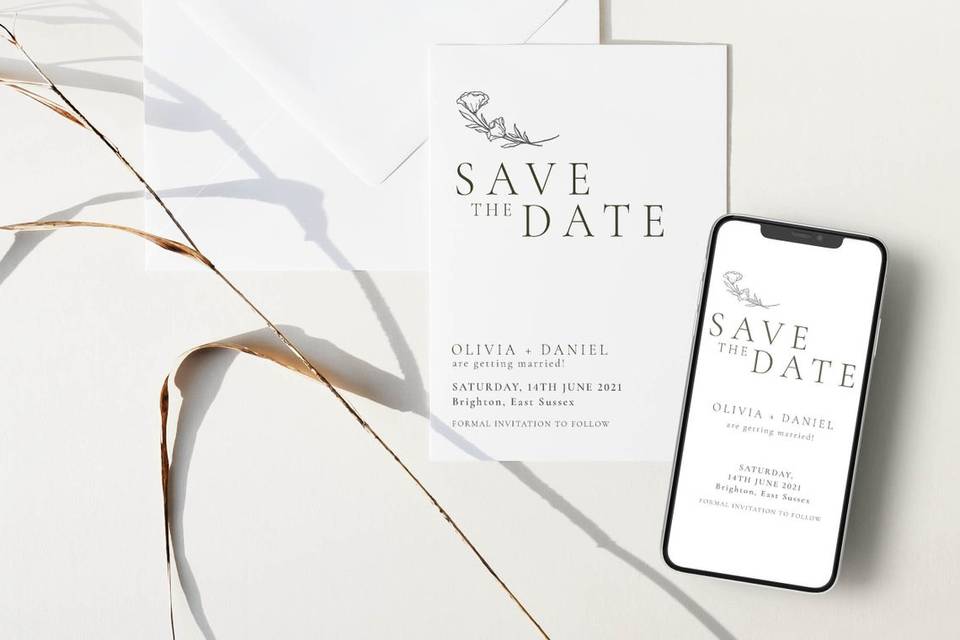 For some couples, the idea of sending online save the dates is, frankly, horrifying.
We do sympathise. If you're a stationery lover through and through, it's hard to embrace the idea of going electronic with something as important as your big day communications. However, we're here to tell you that digital save the dates could save you valuable time, money and stress - not to mention looking incredibly good.
The thing about save the dates is that you need to send them as early as possible. You may have seen advice saying 6 months in advance - we say, get them out as soon as you've booked your venue and finalised your guest list, even if that's 18 months before the wedding. You don't need to include the finer details at this stage; all you're trying to do is make sure people plug that date into their iCals and know where they'll be going for your celebration.
Online save the dates are the stress-free way to do that. You can get them out at speed, and usually virtual stationery will be less expensive than printed versions - handy when you're right at the start of the planning process and putting down deposits on big-ticket items like the venue, photographer and dress.
If you're picturing a standard email, stop right now. Professional online save the date templates suit all kinds of wedding styles, from laidback boho to full-on glam, and can often be send by WhatsApp and text. You can even get lined virtual envelopes!
We'll show you the most beautiful designs to shop right now, and explain how to get them sent while still following wedding etiquette.
NB: We have included third party products to help you navigate and enjoy life's biggest moments. Purchases made through links on this page may earn us a commission.
READ MORE
Are Save the Dates Really Necessary?
Save the dates are very important if you want to avoid your guests getting booked up. This is particularly true if you're getting married in peak wedding season, when they may be invited to several celebrations. You should also give plenty of notice if you're getting married at time of year when people traditionally go away or organise family gatherings, such as school holidays and the run-up to Christmas.
But even if you're getting married in autumn, winter or on a weekday, it's still important to send save the dates. By doing so, you're showing respect for your guests' time. Childcare, accommodation, travel - all those things can take time to organise, so your loved ones will appreciate having as much notice as possible. Online save the dates are a quick and easy way to give them the when and the where. Once your guests have that key information, you can take your time over the actual invitations.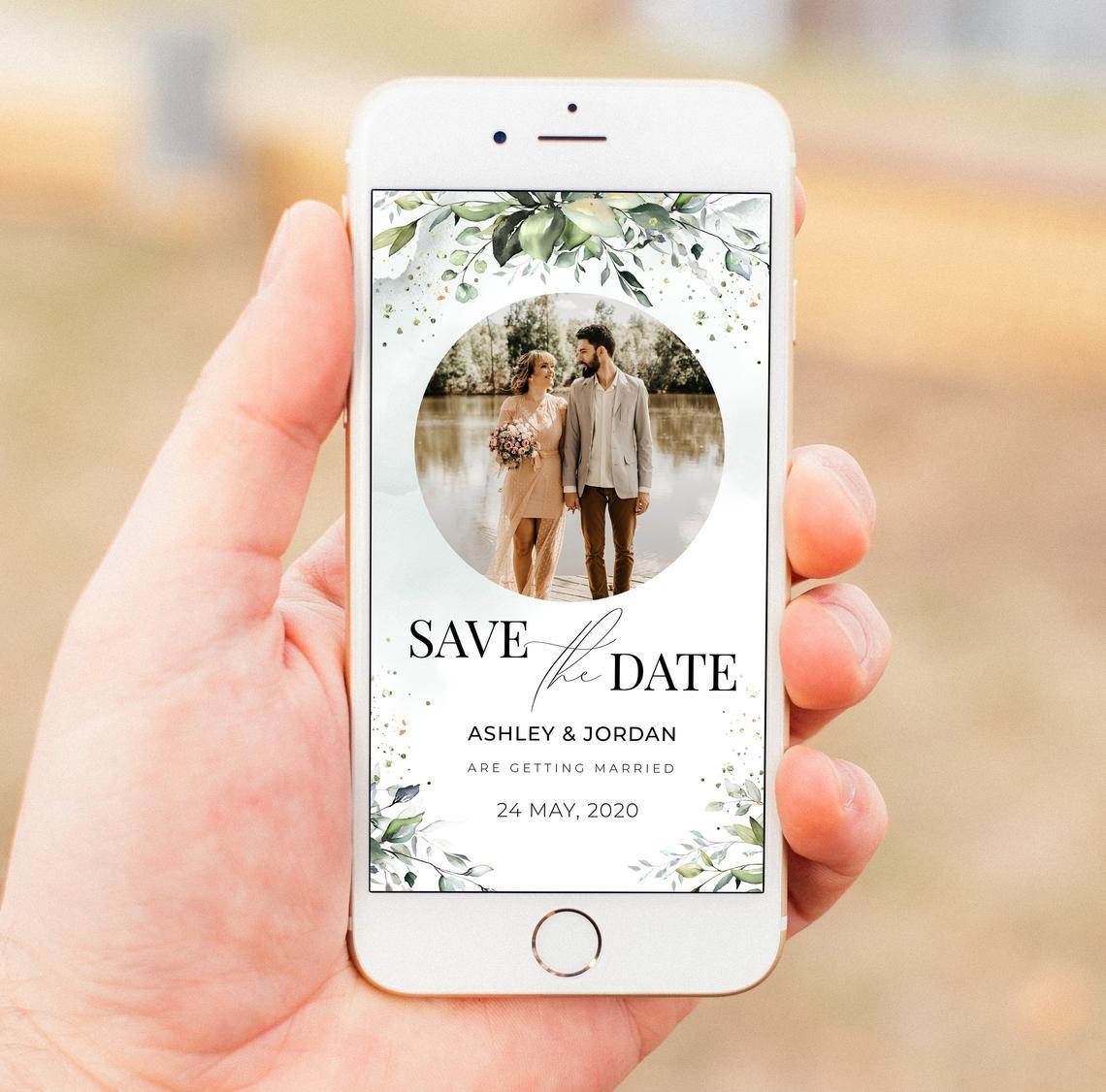 Are Online Save the Dates Tacky?
Online save the dates aren't tacky - that much will become obvious when you take a look at the gorgeous digital designs we've found.
Electronic wedding stationery may not be traditional, but then, wedding customs are constantly evolving. In a few years, online save the dates may well be standard.
What's more, by taking at least some of your wedding stationery online, you're having a more eco-friendly, sustainable wedding; what's tacky about that?
READ MORE: 15 Beautiful Sustainable Wedding Dresses for Eco-Conscious Brides
How Far Ahead Should Save the Dates Be Sent?
As soon as possible after you've booked your venue. Online save the dates are the fuss-free way to send the information to your guests. Rather than ordering printed versions, tracking down each guest's address, addressing all the envelopes and dealing with postage, you can send online save the dates with a few clicks. And as the digital designs you can get nowadays are so chic, your electronic save the dates will look good enough to get everyone excited!
Saying that, the older generation aren't always totally tech-savvy. If you have any relatives who rarely, if ever, use email, it's a nice idea to order a few printed save the dates for them.
What Do You Say on a Save the Date?
There are no rules about save the date wording, but we suggest keeping it simple. Just include the essentials: date and location, and ideally the venue. You could add that a formal invitation will follow. Oh, and your names, so your guests know whose wedding it is!
READ MORE: Wedding Invitation Wording: 17 Example Templates to Make Your Own
How Much Do Online Save the Dates Cost?
This depends on the price structure of the site you're using. With Etsy, for example, you pay the designer a one-off fee, and then you can customise and send the file. Prices usually start at about £5, but expect to pay £60+ for a bespoke design. Other sites work on a subscription model, with a monthly fee giving you access to all their online stationery designs. Some sites charge a per-mailing price, often around £1 per online save the date sent. You'll also find sites offering free online save the dates, but you'll probably need to pay for upgrades, such as RSVP tracking and special design elements.
The Best Online Save the Dates
You don't have to compromise on style by going digital.
1. Floral Online Save the Date - Free with £2.25 per Month Subscription, Greetings Island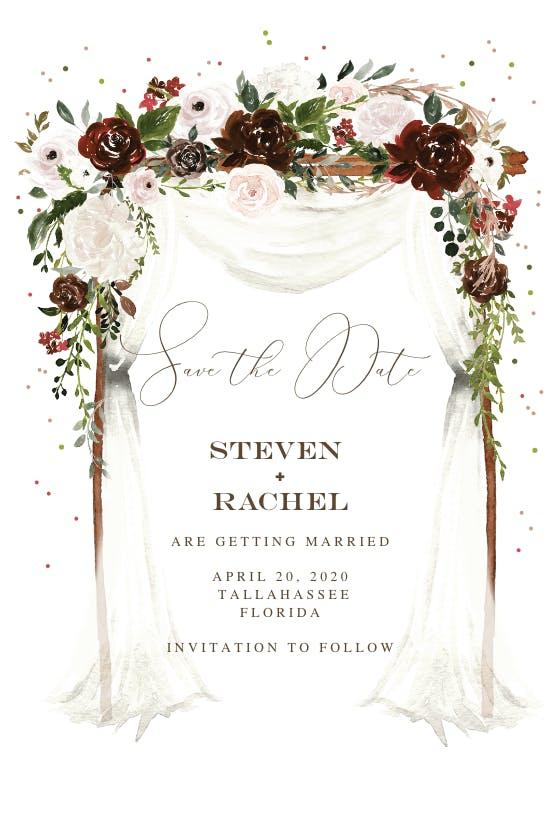 Greetings Island takes a flexible approach to wedding stationery, letting you send online save the dates to your guests by email, text or Facebook, as well as downloading and printing templates at home. There are some free templates, but you need a premium account for special designs, such as this beautiful floral save the date.
2. Personalised Save the Date - from 2 Coins, Paperless Post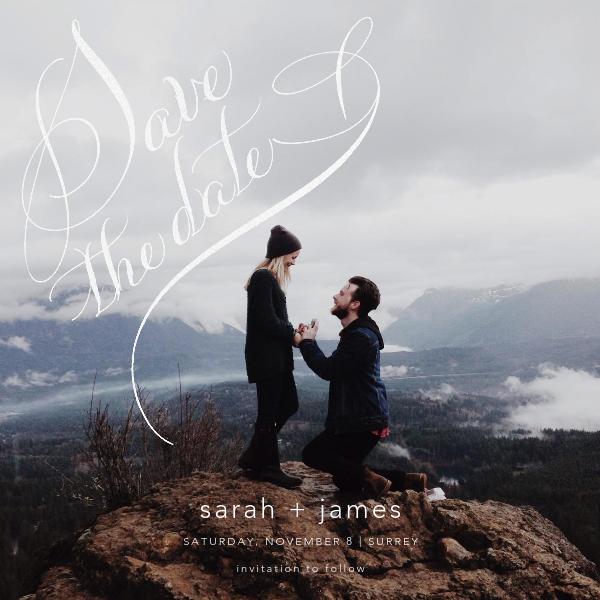 Your save the date is a good way to use your favourite photo from your engagement shoot. Choose a personalised design from Paperless Post and they'll help you track RSVPs and communicate with your guest list. You buy 'coins' to add premium elements to your invitations, such as digital envelope liners and reply cards, and to access some services.
3. Calendar Online Save the Date - from £29 for up to 40 Mailings, Greenvelope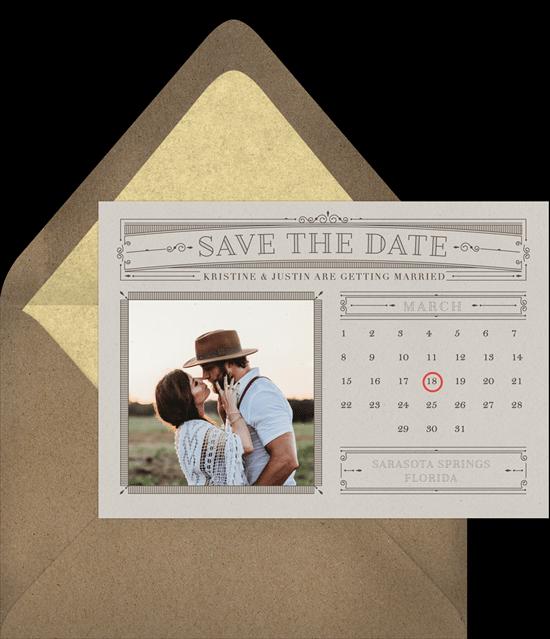 We've known couples to send actual calendars through the post as their save the dates; for a more planet-friendly version that's still super-cute, check out Greenvelope's digital calendar save the date.
READ MORE: The Best Eco-Friendly Wedding Invitations
4. Classic Save the Date - £6.77, Etsy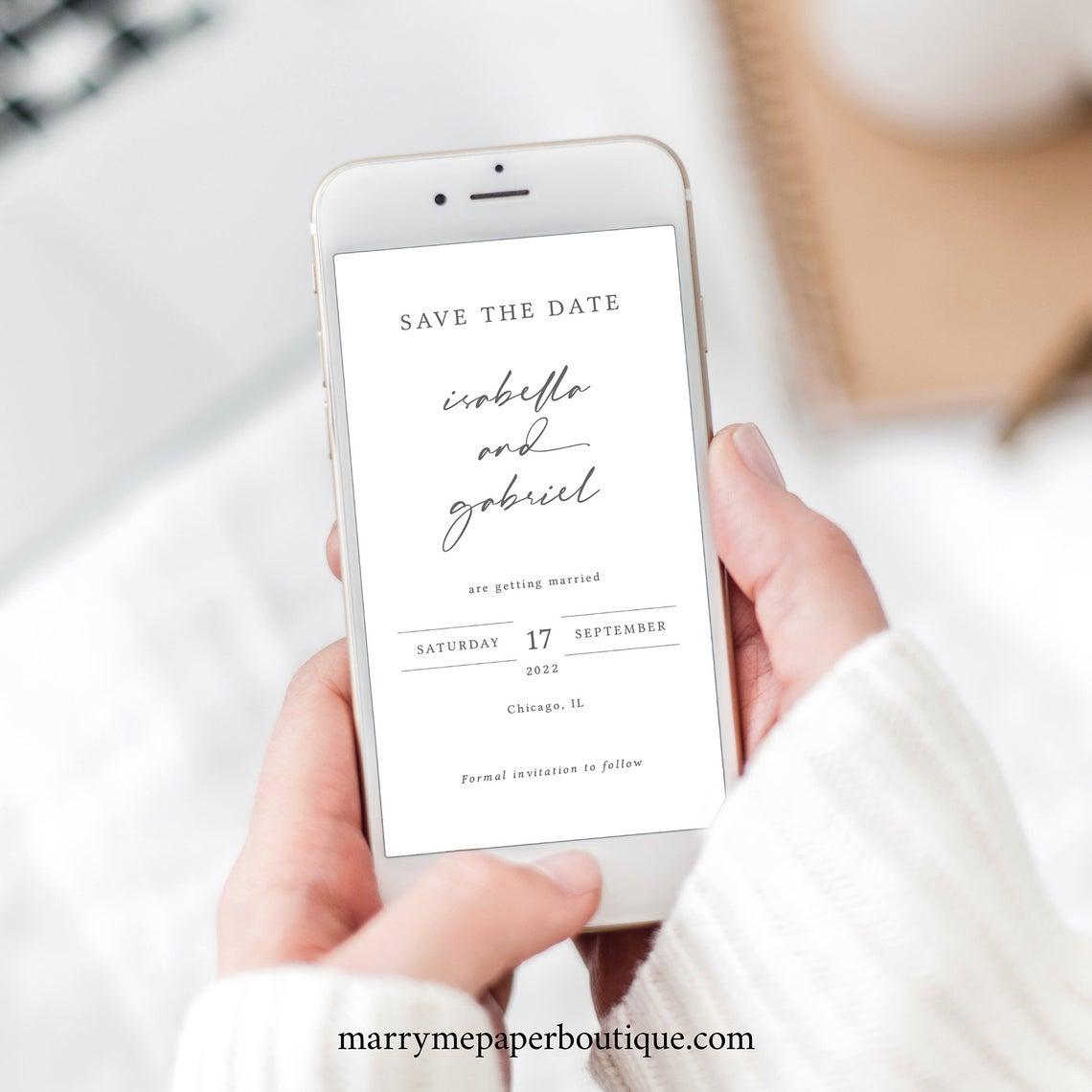 This digital save the date combines the minimalist style of classic wedding stationery with the convenience of sending online - genius!
5. Greenery Online Save the Date - from £7.50, Utterly Printable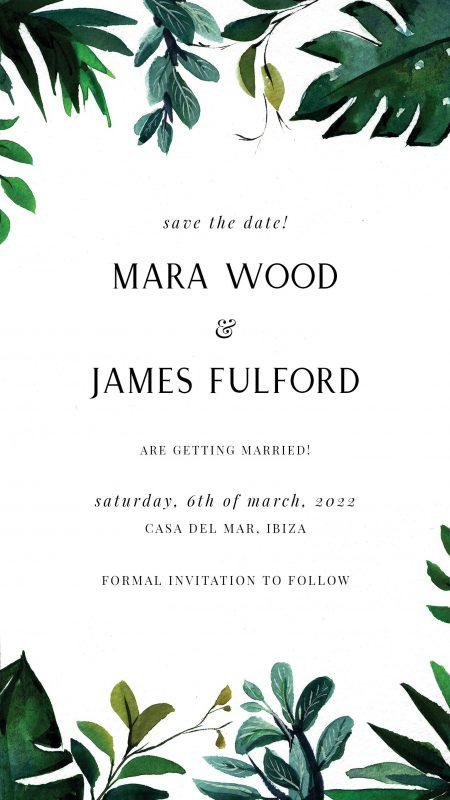 Utterly Printable's save the dates have been designed to fit smartphone screens, so they're ideal for sending via WhatsApp or text. You can send them with an RSVP link, if you want, to log responses. We particularly like the freshness of their jungle-inspired design.
6. Animated Save the Date - from £5.66, Etsy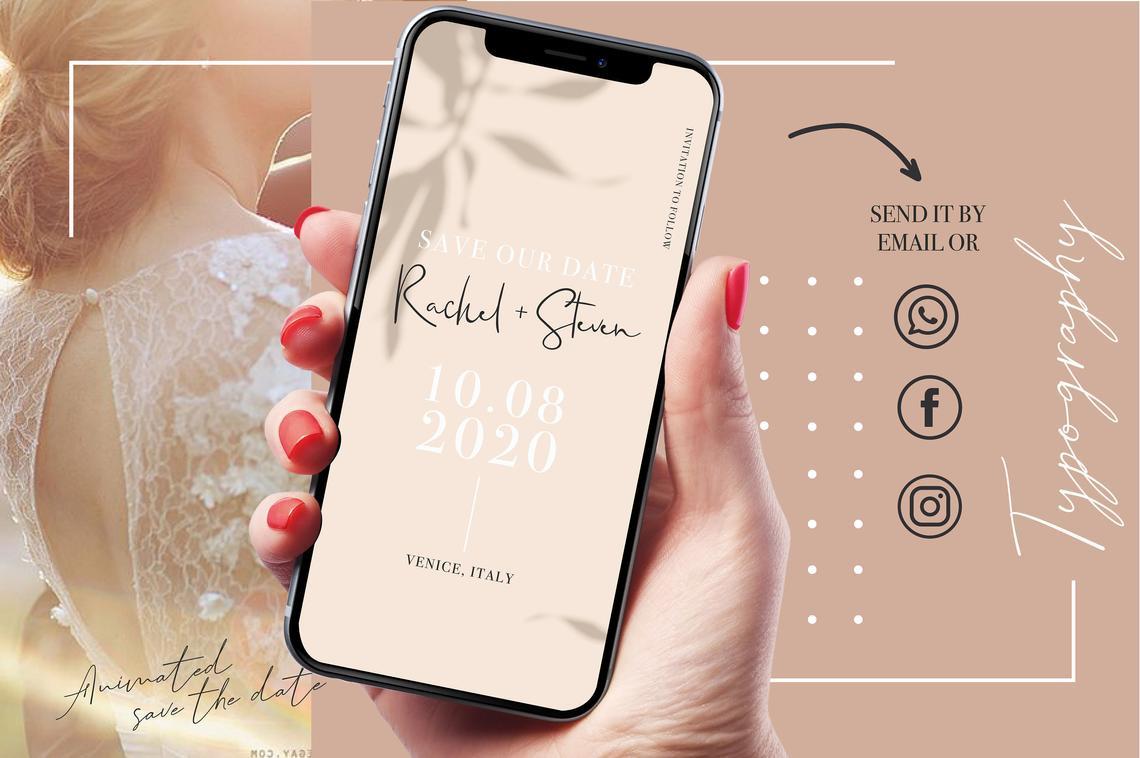 Want to really surprise your guests? Choose an animated save the date, customised with your details. Of course, you could always go totally DIY and shoot a save the date message on your phone.
7. New Date Save the Date - from 2 Coins, Paperless Post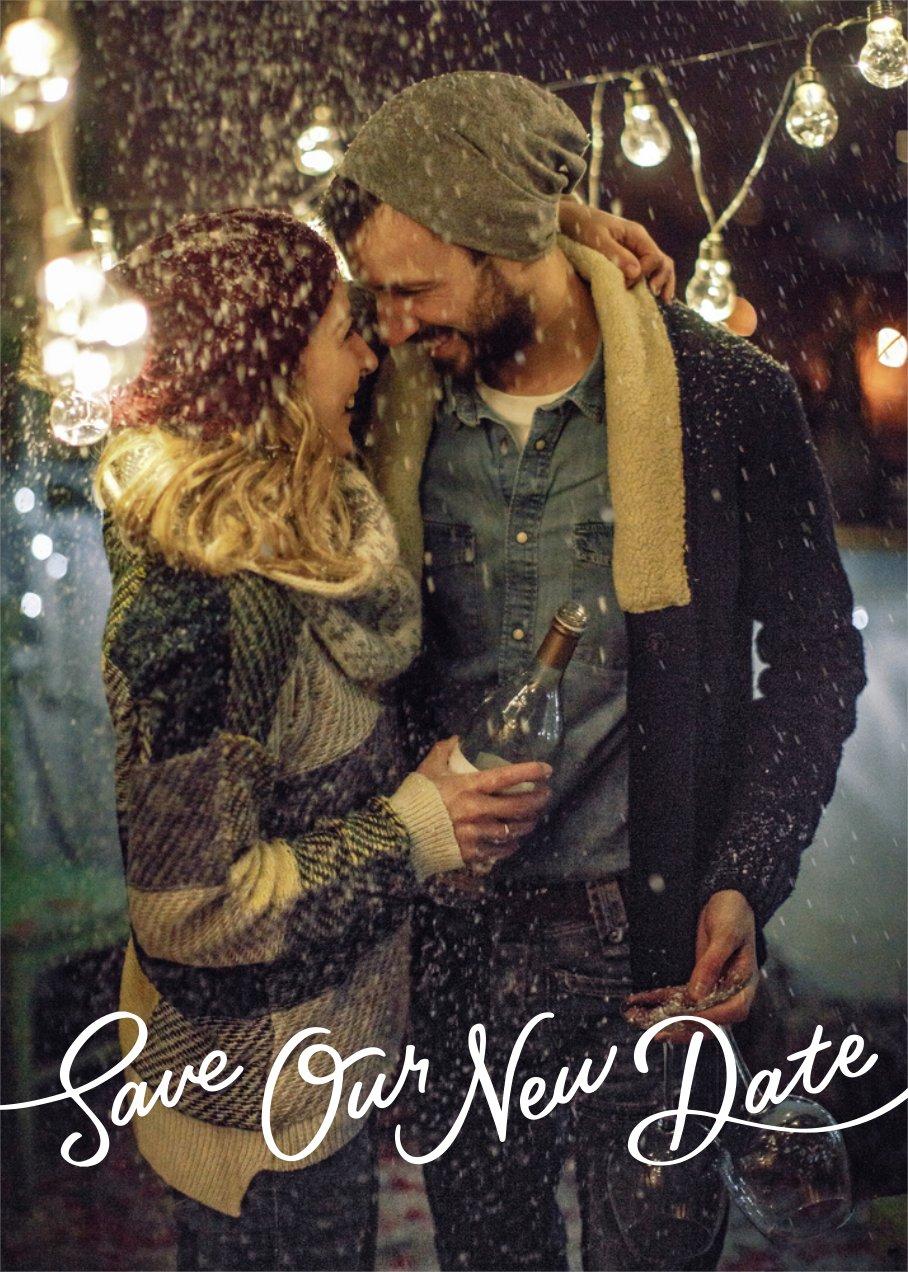 If you have a picture of the two of you that you both love, make it full size with this chic and simple design, part of Paperless Post's range for couples who have rescheduled their weddings.
READ MORE: How to Update Your Wedding for a Different Season: 31 Creative Ideas
8. Terrazzo Save the Date - $0.90 per Mailing for 10+ Guests, Bliss & Bone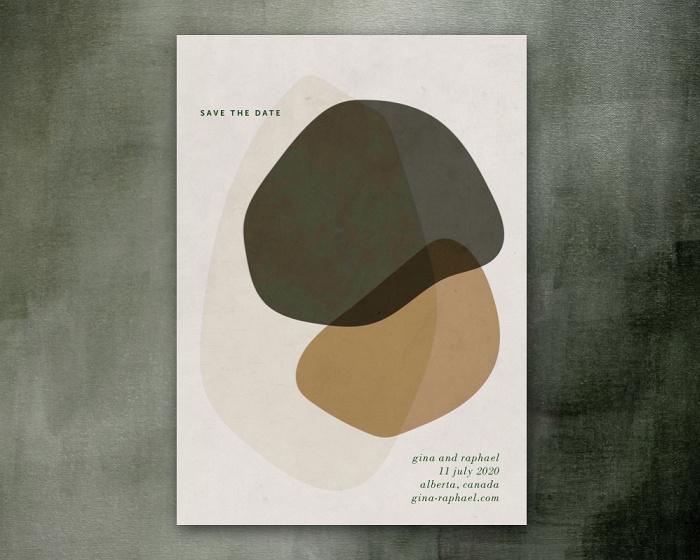 Bliss & Bone is the stationery brand to know for modern romantics. Each of their design has a contemporary yet timeless aesthetic - we love the colours in this abstract design.
9. Autumn Floral Save the Date - from £29 for up to 40 Mailings, Greenvelope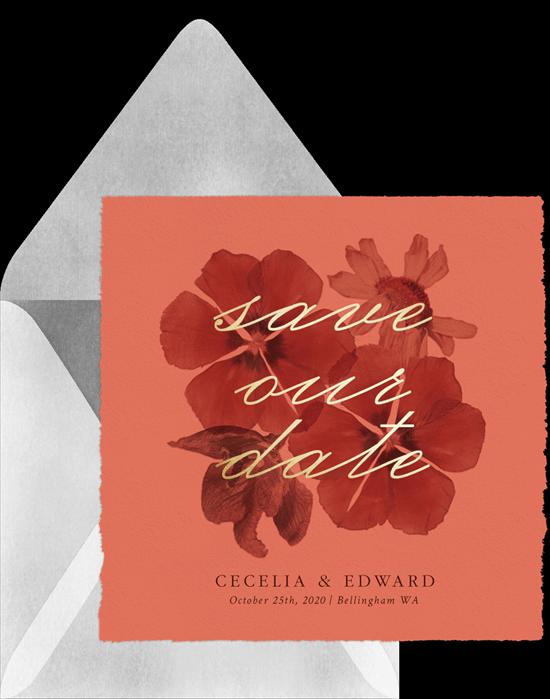 The colours of this save the date make it ideal for announcing your autumn wedding.
10. Golden Save the Date - Free with Trial, Punchbowl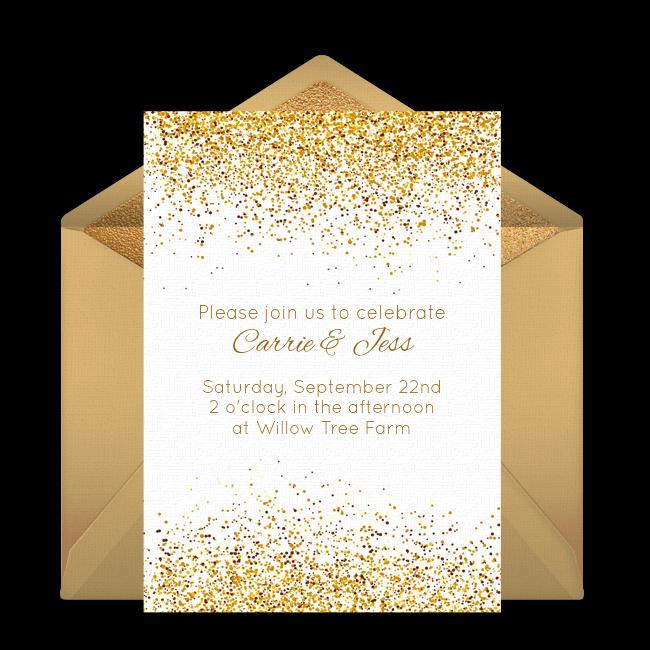 Add a touch of glamour to your (online) wedding stationery with this gold design. Sign up for Punchbowl's trial period and you can send save the dates and invites for free - after that, there's a subscription fee.
READ MORE: Gold Bridesmaid Dresses: 20 Glittering Gowns Your Maids Will Love
11. Passport Save the Date - from 2 Coins, Paperless Post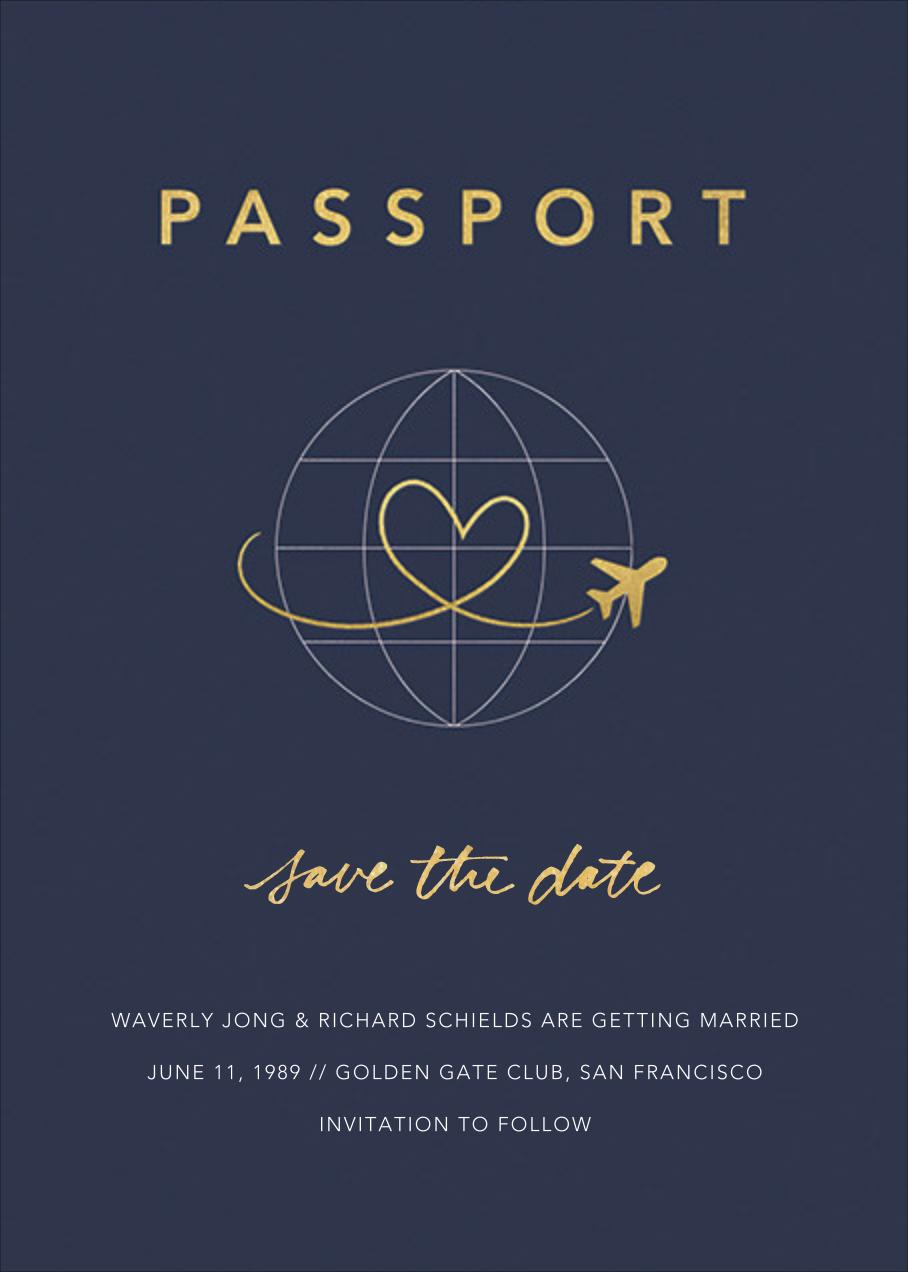 Having a destination wedding? This passport-themed digital save the date is just the thing to let guests know you're getting wed abroad.
12. Illustrated Electronic Save the Date - from £55.39, Etsy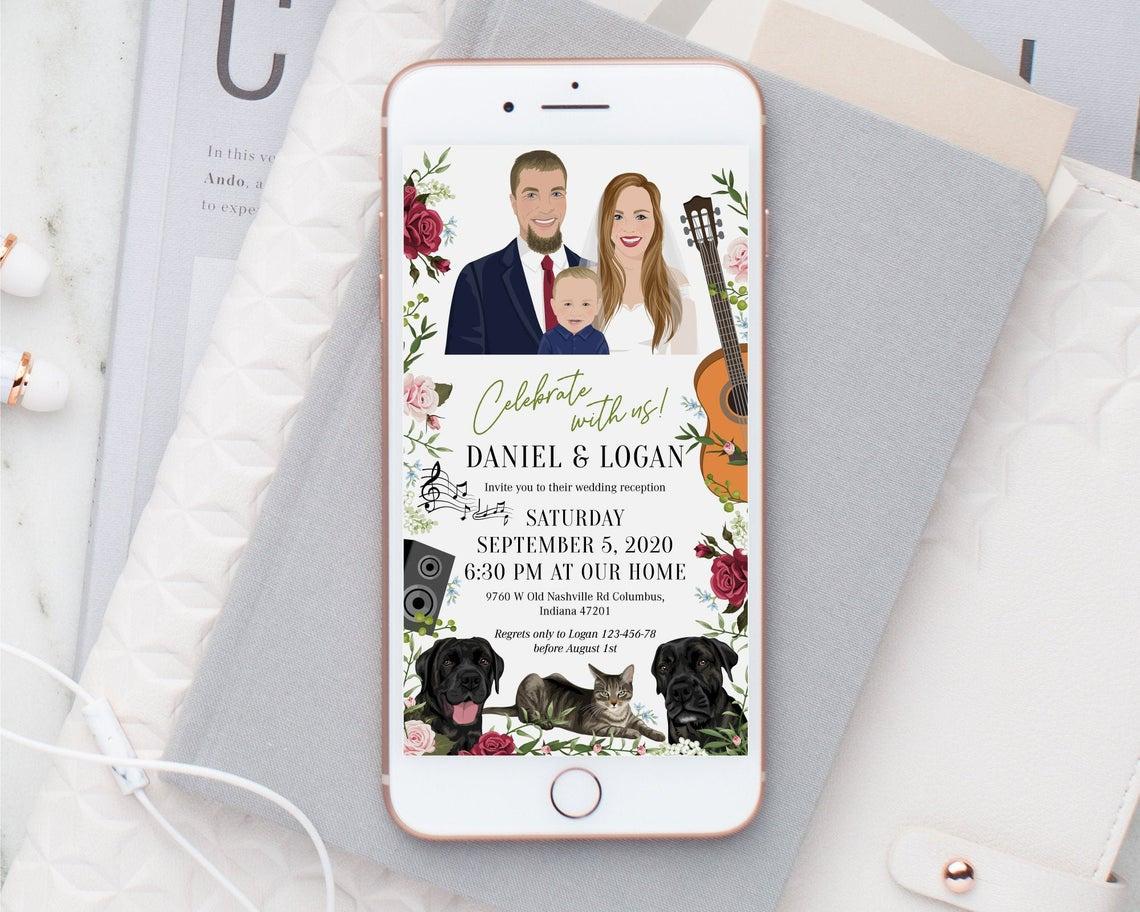 Illustrated wedding stationery is increasingly popular - and you can still get in on the action if you're going digital with your save the dates. Simply send this Etsy seller some photos of yourselves (and pets, and anyone else you want to include!) for a unique personalised portrait.
13. Watercolour Save the Date - $0.90 per Mailing for 10+ Guests, Bliss & Bone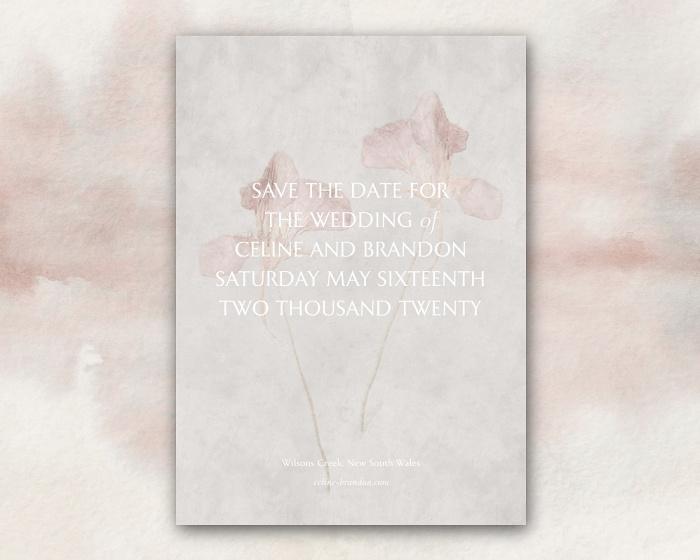 For a note of pure prettiness, chose a watercolour design. This Bliss & Bone online save the date is all about subtle romance.
READ MORE: The 11 Hottest Wedding Invitation Trends for 2021
14. Botanical Save the Date - 17p, Etsy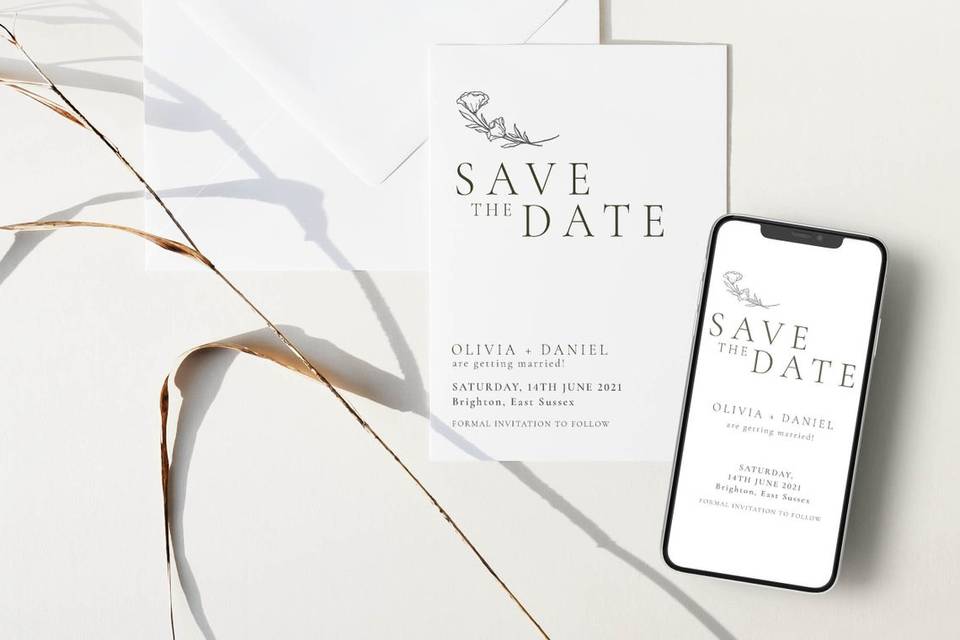 This editable digital template is elegant in its simplicity, and is pared-back enough to go with any wedding theme.
15. Photo Save the Date - from 2 Coins, Paperless Post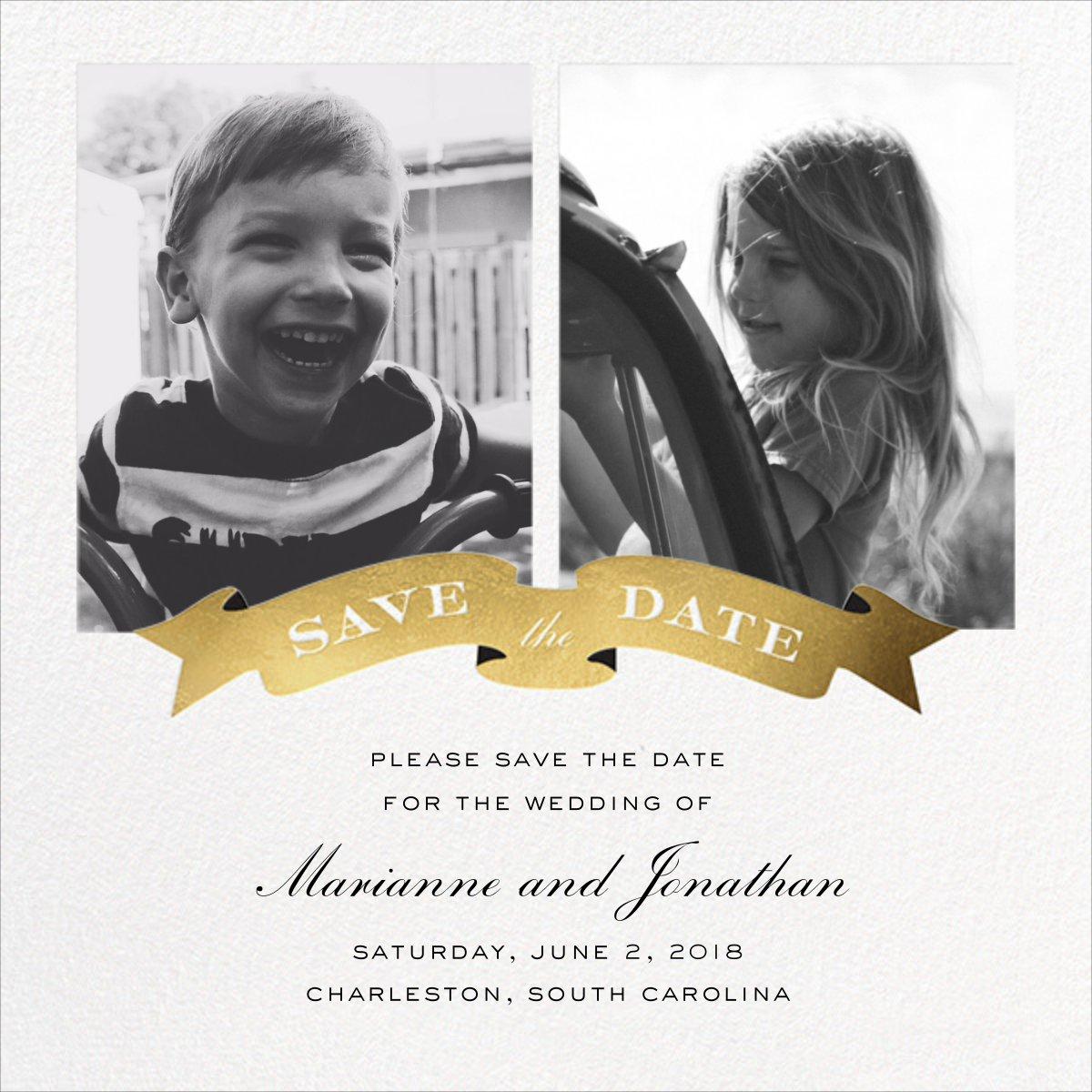 For a twist on the personalised photo save the date, we love the idea of mining your childhood photos for inspiration. Of course, with this chic design you can upload whichever photos you like and it'll still look good.
Still in love with the idea of actual wedding invitations? No problem. Get your online save the dates sent out then you're ready to browse some gorgeous wedding stationery, from invites to orders of service and thank-you cards.