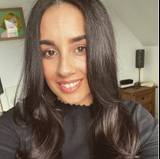 Rima is the Deputy Editor at Hitched, and has years of experience writing about pretty much everything in the wedding industry. Her expert comments and advice can be found in titles such as Newsweek and The Independent, and she has also hosted advice panels and talks at leading industry events. Rima's content on Hitched covers a wide range of topics, but she is particularly passionate about body positivity, wellbeing and travel.
Rima's Experience:
Rima's passion for the wedding industry began when she started working as a wedding dress boutique assistant back in 2011. After starting her own wedding blog at university whilst studying Journalism, Rima set her sights on a job at Hitched, and joined the team for work experience in December 2015.
After working her way up, Rima became a full-time writer at Hitched in 2016 where she was responsible for writing marketplace, celebrity and news content for the brand. After almost three years at the company, she left to complete a master's degree in education - something she's always been passionate about - before returning to Hitched as Deputy Editor in May 2022.
Since returning, Rima has combined her love for education with her enthusiasm for weddings, running campaigns and working with influencers and industry experts on content which educates the wedding industry and its consumers on need-to-know topics.
As well as writing strong SEO-led content herself, Rima contributes to the editorial strategy at Hitched, ensuring the content is diverse, representative, inspiring and has a positive message to nearlyweds and wedding businesses alike.
Rima has been quoted in several media outlets, offering her expert wedding advice and insight to consumers, and regularly engages with couples in Q&As on the Hitched social media channels, as well in-person talks on stages such as The National Wedding Show.
Rima's Area of Expertise:
Rima is quite the all-rounder when it comes to wedding knowledge and expertise, and covers a huge scope of topics in her work, but her specific niches lie in celebrity, travel and wellbeing content.
Rima's Favourite Thing About the Wedding Industry:
Though there's so much to celebrate here, Rima's favourite thing about the wedding industry is the way wedding traditions and styles are constantly diversifying and evolving. She loves to see couples tap into their quirkiest of ideas, and embracing their unique and authentic selves on their wedding day, as opposed to following traditions they may not believe in.
Rima's Favourite Wedding Moment:
Rima's favourite wedding moments always take place during the ceremony - and there's two she particularly loves. The first, is watching the couple when they first see each other at either ends of the aisle. She says, "Everyone always looks at the person walking down the aisle, but I like to catch a glimpse of the person standing at the altar - seeing their future spouse for the first time on the day - their reaction always gets me."
And the second, as a writer, it has to be the vows. Rima is a stickler for romance and getting the words right. "A couple's wedding vows are so personal, and so much goes into them. Vows are your chance to express how you feel, and you have so much freedom to make them unique. Whether they're funny, sentimental, sarcastic or seriously tear-jerking - I just love listening to people in that moment," she explains.
Rima's Best Piece of Wedding Advice:
Giving advice to couples ahead of their wedding day is one of Rima's favourite things to do, but if she could give just one piece of advice, she'd say, "You are already wedding ready! We've dedicated an entire campaign to this mantra, and I believe in it wholeheartedly. The moment you got engaged, you were 'wedding ready'. You don't need to change a thing about yourself to get married, and you certainly don't have to do it because society makes you feel like you should!"
Rima's Proudest Career Moment:
Aside from the fact that she got to interview the Vicky Pattison for a Hitched campaign, Rima's proudest career moment to date is launching the Hitched #AlreadyWeddingReady campaign. Working with four minority influencers, Rima spearheaded a series of articles by each influencer explaining why they are already wedding ready.
Speaking about the campaign, she explains, "Highlighting a lack of representation in the industry and touching on issues such as accessibility in weddings, alopecia and hair loss, transgender stereotypes and the pressures of being a plus size bride was so important to us as a brand, and the fact that I got to run point on the series was absolutely the proudest moment in my career to date."
Articles published by Rima Barakeh