Your Complete Wedding Stationery Checklist: What You'll Need & Why
With so many options, choosing your wedding stationery can feel overwhelming. Luckily, we've put together a comprehensive guide to all the stationery you'll need for your big day
We have included third party products to help you navigate and enjoy life's biggest moments. Purchases made through links on this page may earn us a commission.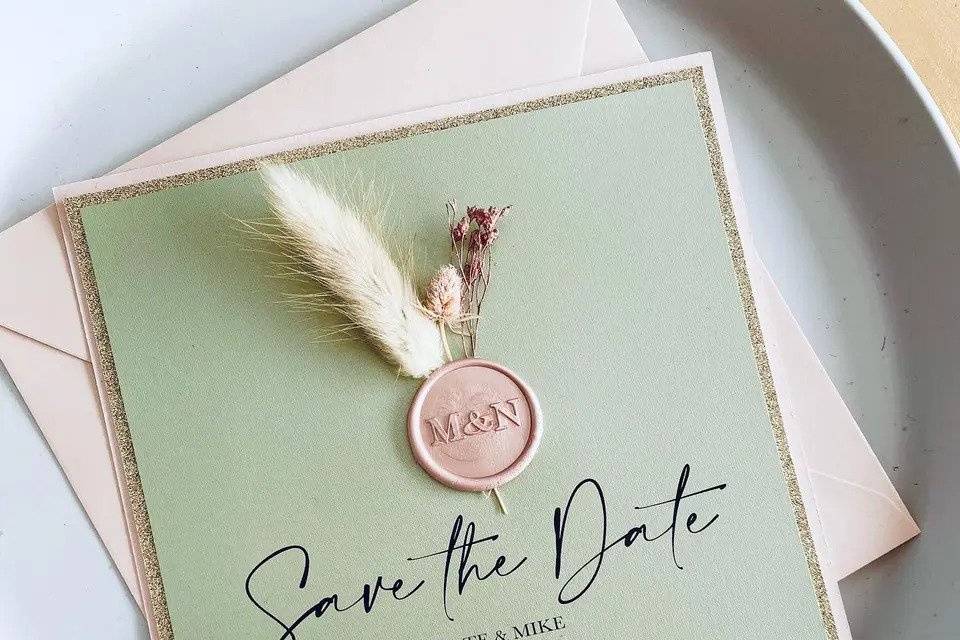 There are several componenents that go into making your wedding day run smoothly - the perfect venue, dress, food and, of course, stationery. Wedding stationery sets the tone for the whole wedding event - think of the excitement of receiving a gorgeous wedding invitation in the post!
Before planning your wedding it's important to sit down with your partner and discuss everything you need to include in your stationery list, whether that's the essential wedding invitations or some indulgent engagement party invites. We've put together a comprehensive wedding stationery list of all the paper elements that you can include on your big day from pre-wedding stationery, on the day wedding stationery and post-wedding stationery.
Note: Not all of these elements are essential - feel free to pick and choose what's necessary for you!
A Chronological Guide to Wedding Stationery
We've listed all the wedding stationery you'll need in the order you'll need it - here's a snapshot list, but be sure to scroll down for more details and recommendations!
Engagement Party Invitations
Save the Date Cards
Wedding Party Proposal Cards
Hen, Stag or Sten Party Invitations
Wedding Invitations
Order of Service
Table Plan
Table Number or Name Cards
Place Cards
Favour Tags
Menu Cards
Wedding Guest Book
Thank You Cards
Before the Wedding
1. Engagement Party Invitations
If you want to kick things off with a bang, then an engagement party is the way to go. This initial celebration of your love should happen within a few months of your engagement and can take many different forms - just remember to send out an invitation first! Check out this great example from Etsy.
2. Save The Date Cards
Adult life is busy and filled with distractions. If, like us, it's hard to get all your friends in the room at the same time, send out a save the date like this one from Hitched about a year to 18 months before your ceremony to make sure you have a full house. These should include the date and location of your wedding and wedding website, if you have one.
Remember, only send your save the dates to people you definitely want there for the whole day!
3. Wedding Party Proposal Cards
Being asked to be a part of the wedding party is a huge honour - mark the occasion by offering your pals some proposal cards, like this design from Etsy. Why not get creative - add some personalised pictures and inside jokes to make this a truly memorable experience. For more ideas, check out our 26 best bridesmaid proposal gifts and boxes.
4. Hen, Stag or Sten Party Invitation
While not an essential part of wedding stationery, if your wedding party extends well beyond the size of a normal group chat, you might want to consider invitations to your pre-wedding celebrations, such as hen party invitations or a bridal shower invite. This is a great opportunity to match the invitation to the theme of the party - here's some inspiration from Etsy.
5. Wedding Invitations
The wedding invitation is definitely THE essential piece of wedding stationery. Here your guests will find all the essential information about the day, as well as instructions on how to RSVP. The invitation can be made up of the following cards (or include all the information in one page):
The invitation: The most essential part of the pack, this tells guests the date, time and venue of the wedding ceremony
Reception card: If your reception is at a different venue than your ceremony, then be sure to include this information
RSVP: Many people nowadays choose to have guests RSVP on the wedding website, however if you like things done the old-fashioned way, you can opt for a response card with an envelope
Accommodation details: If you have a list of accommodation options nearby, it can be useful to include this, as well as on your wedding website
This elegant sage invitation set by Ink and Paper has all the information your guests need.
On-the-Day Wedding Stationery
6. Order of Service - The Illustrated Invitation
Keep your guests in the loop by providing a beautiful order of service at your wedding. This handy booklet or card will let your guests know the timings for the entire day, from the initial wedding ceremony all the way through to the dancing and fireworks. These programmes from The Illustrated Invitation can be personalised with an illustration of your wedding venue for an extra special touch.
Discover more illustrated wedding stationery here.
7. Wedding Table Plan - Ivy White
Congratulations! You've finally finished your wedding seating plan and now it's time to direct your guests to their table. A seating chart or wedding table plan is the traditional way to display this information, however you could also be inspired by the American tradition of 'escort cards' - when they're done right, they can add some serious flavour, just like these black and white cards from Ivy White.
Tap into your creative juices and you can come up with an escort card that can also be used as a memorable favour.
8. Place Cards - Cotton Bird
Let your guests know where they're sitting in style. Wedding place cards are a great finishing touch to a sit down reception dinner and they won't break the bank either. They will also help to indicate to servers who's getting chicken, who's getting fish, who has vegetarian dietary requirements or allergies, etc.. Check out these simple and striking place names by Cotton Bird.
9. Table Number - The Illustrated Invitation
Introducing even more on the day stationery for your wedding, and next up it's your wedding table numbers. These are a must-have for bigger weddings - they keep things straightforward, and send guests in the right direction, as long as the numbers are big enough to be seen clearly. Try incorporating them in your centrepiece, or opt for a personalised design like this one by The Illustrated Invitation.
You don't have to have numbers - check out our edit of unique wedding table names here for more ideas.
10. Menu Cards - Cotton Bird
Get your guests excited for the feast that's to come with some sumptuous menu cards. There are plenty of options out there to suit all styles and budgets, like this sleek sunset menu by Cotton Bird.
11. Guest Book - Willow Rose
Wedding guest books are one of our personal favourite wedding keepsakes. These gorgeous notebooks allow guests to express all their feelings towards the happy couple and make for a gold mine full of memories in the years to come, just like this floral book from Willow Rose.
12. Favour Tags - Magic Moments
Favour tags are a lovely finishing touch to an amazing wedding favour. These creative labels usually include the name of the couple and the date of the wedding. Including a tag is optional as many gifts have this information engraved on them, but it's a thoughtful way to round things off. This tag and skeleton key bottle opener from Magic Moments isn't just elegant, but practical too, and would look great at a Disney wedding.
Post-Wedding Stationery
13. Thank You Cards - Love Invited
The happy tears have been shed, the party is over, the outfits have been packed away - now it's time to let your guests know how much their presence meant to you. Be sure to say a special thank you for any gifts bought, and bear in mind that your wedding thank you cards should be sent out fairly promptly - aim to do so as soon as you're back from your honeymoon.
Take a leaf out of Love Invited's book and add some pictures to your card.
Worried you're missing something? Check out our ultimate wedding planning checklist to put your mind at ease.