93 Unique Wedding Cake Flavours Your Guests Will Never Forget
With everything from traditional styles and Royal wedding inspired flavours, to unique flavour combinations you've never heard of - you're guaranteed to find your wedding cake flavour here!
We have included third party products to help you navigate and enjoy life's biggest moments. Purchases made through links on this page may earn us a commission.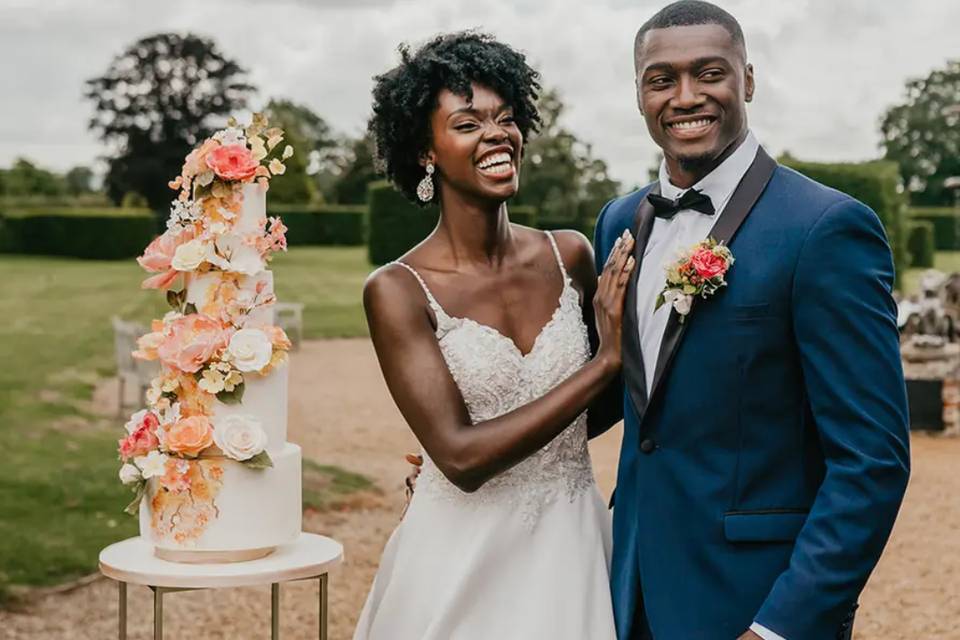 When it comes to wedding cake flavours - the possibilities are literally endless. Wedding cake suppliers are so innovative and imaginative with cake flavour combinations and every year we see more and more unique wedding cake flavours surface.
As wedding cake flavours have developed, it's become increasingly easier for couples to have a large number of different flavours in their wedding cake. If you can't decide on just one unique wedding cake flavour combination, you can have a different flavour for each of your tiers.
For those who want the entire wedding cake to be made from just one flavour combination for consistency (or budget) - additional flavours can be added through your choice of icing, filling, soak or compote.
What Flavour is Wedding Cake Traditionally?
Before we delve into the world of delicious new wedding cake flavour ideas - let's first take a look at where it all started. Traditionally, wedding cakes were typically made using a fruit sponge which was then covered with marzipan and fondant icing. Traditional wedding cakes were decorated with white fondant and marzipan icing and stacked in tiers.
READ MORE: The Questions You *Need* to Ask Your Wedding Cake Supplier
The Best Wedding Cake Flavour Ideas: 93 Wedding Cake Flavour Combinations
From traditional fruit cake wedding flavours, to wedding cake flavour combinations we guarantee you've *never* heard of - we have 93 of the most delicious flavour combos for you to choose from.
Couples on the hunt for the best wedding cake flavours will be spoilt for choice when they see what we've come up with - and if you're after something specifically citrussy or a delightful chocolate wedding cake - we've split our selection of unique wedding cake flavour ideas into categories.
Don't want to scroll through all 93? No worries, skip straight to your favourite section by using the links below.
READ MORE: The Best Wedding Cake Suppliers in London
Traditional Wedding Cake Flavour Ideas
Despite the modern twists and latest trends, there are some traditional wedding cake flavours that will just never go out of style. For those who like to keep their cake tastes simple and delicious, one of these classic flavours is bound to do the trick.
Traditional fruit and marzipan wedding cake
Chocolate wedding cake
Vanilla wedding cake
Victoria sponge wedding cake
Lemon drizzle wedding cake
Carrot wedding cake
Red velvet wedding cake
Sticky toffee wedding cake
Chocolate Wedding Cake Flavour Ideas
There are bound to be a few chocoholics on the guest list — and chocolate wedding cakes double up as the perfect pudding for your wedding breakfast. But chocolate wedding cakes don't have to be stereotypical - if you're all about the flavour, consider one of these chocolate wedding cake flavour ideas that your guests might not be expecting.
Raspberry and white chocolate wedding cake
Chocolate and peanut butter wedding cake
Oreo cookie and Toblerone wedding cake
Dark chocolate and vanilla wedding cake
Mocha chocolate wedding cake
Mint chocolate wedding cake
Chocolate orange cake wedding cake
Chocolate fruit and nut wedding cake
Chocolate and berries wedding cake
Coffee and chocolate wedding cake
Fruity Wedding Cake Flavour Ideas
If you're looking for wedding cake flavour ideas that have a fruity element to them, you'll love these delicious ideas. From autumnal apple combinations to summery berry flavours, these are the best wedding cake flavours for fruit-lovers.
Passionfruit and white chocolate wedding cake
Banana and poppy seed wedding cake
Apple, cinnamon and raisin wedding cake
Raspberry ripple and white chocolate wedding cake
Apple and caramel wedding cake
Cherries and cream wedding cake
Cherry, blackberry and raspberry wedding cake
Strawberries and cream wedding cake
Blueberry and passionfruit wedding cake
READ MORE: How to Make Your Wedding Cake Last Longer
Citrus Fruit Wedding Cake Flavour Ideas
A gorgeous citrus wedding cake will refresh the palette and is ideal for a hot, midsummer wedding. Slightly zingier than the more traditional fruit wedding cake flavour ideas, these combinations will allow you to follow in the footsteps of Prince Harry and Meghan Markle, who had a delicious lemon-elderflower wedding cake.
Lemon and elderflower wedding cake
Lemon limoncello wedding cake
Lime and ginger wedding cake
Lemon and orange wedding cake
Lemon and lime key lime wedding cake
Lemon meringue wedding cake
Lemon and blueberry wedding cake
Grapefruit and white chocolate wedding cake
Clementine and blood orange wedding cake
Passionfruit and lime wedding cake
READ MORE: How Much Should a Wedding Cake Cost?
Tropical Fruit Wedding Cake Flavour Ideas
Great for a summer wedding, a wedding abroad or a beach wedding in the UK, a tropical fruit wedding cake flavour combination gives your sweet treat a twist. The exotic flavours in this list of sensational wedding cake flavour ideas will leave your guests wanting more.
Coconut and guava buttercream wedding cake
Vanilla sponge and mango mousse wedding cake
Spiced coconut and papaya wedding cake
Passion fruit and pineapple wedding cake
Pineapple and banana sponge wedding cake
Banana, coconut cake and white chocolate wedding cake
Kiwi and lime wedding cake
Pomegranate, banana and mango wedding cake
READ MORE: The Best Wedding Cake Suppliers in the UK
Nutty Wedding Cake Flavour Ideas
Baking with nuts is something that has been done for years. There are a number of nuts that work particularly well when baking sweet treats and there's no reason why these tasty flavour combinations can't be incorporated into your wedding cake.
Pistachio and dark chocolate wedding cake
Almond and Nutella wedding cake
Pecan, date, apricot and raisin wedding cake
Macadamia and caramel wedding cake
Walnut and matcha wedding cake
Hazelnut, caramel and cream cheese wedding cake
Pecan, hazelnut and honey wedding cake
Almond, date and sticky toffee wedding cake
Pecan, walnut and butterscotch wedding cake
Floral Wedding Cake Flavour Ideas
These unique and fun flavour combinations will be a talking point at any wedding — and they work particularly well with a vintage wedding theme.
Vanilla and rose wedding cake
Lavender and honey wedding cake
Rhubarb and rose petal wedding cake
Lavender, cardamom and champagne wedding cake
Rose petal, cranberry and prosecco wedding cake
Cinnamon, cardamom and rose wedding cake
Lavender, lemon and vanilla wedding cake
READ MORE: Wedding Cheesecakes for Cool Couples
Healthy Wedding Cake Flavour Ideas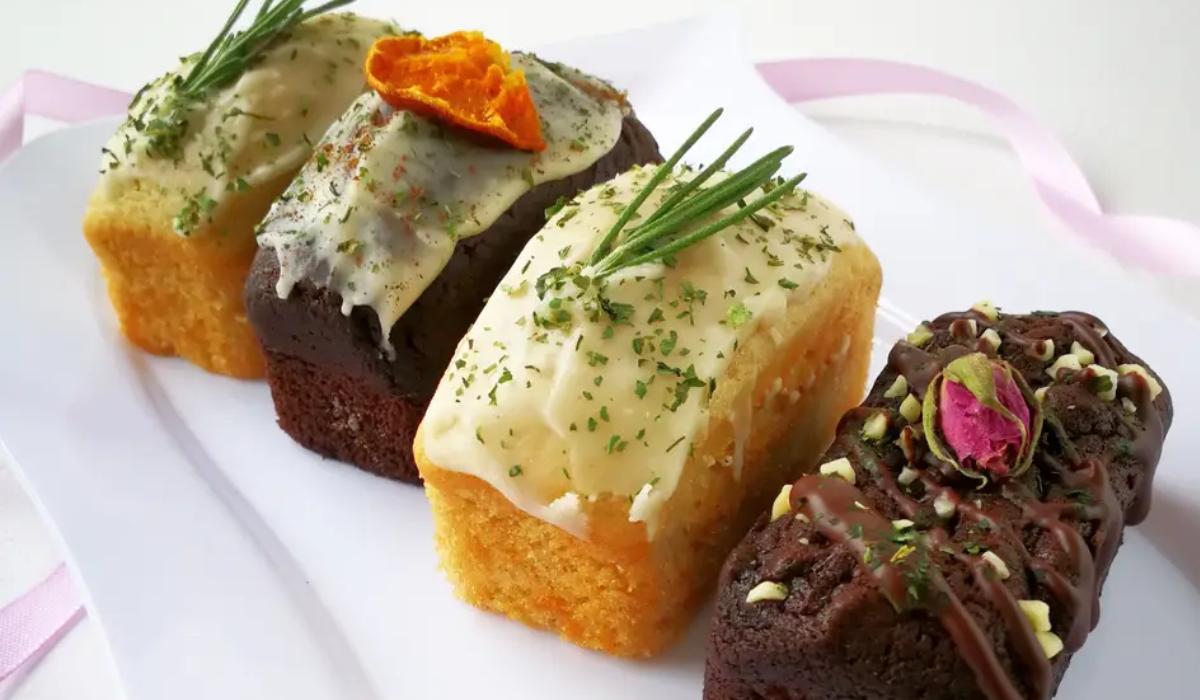 Health-conscious couples can ensure they get their five-a-day with a healthy wedding cake flavour combination. Not only do these unique wedding cake flavours taste delicious, they also have health benefits too. Vegetable cakes are becoming increasingly popular and will ensure a wedding cake experience your guests will never forget.
Orange and butternut squash wedding cake
Carrot and mango wedding cake
Dark chocolate and avocado wedding cake
Beetroot chocolate fudge wedding cake
Courgette and pistachio wedding cake
Cocoa, vanilla and sweet potato cake wedding cake
Pumpkin and peanut butter wedding cake
Pumpkin, sweet potato and vanilla wedding cake
Avocado and vanilla wedding cake
Carrot, cardamom and cinnamon wedding cake
Tea and Coffee Wedding Cake Flavour Ideas
If you're a tea or coffee addict then these wedding cake flavour ideas, paired with classic flavours, are perfect for you. Whether you're after a light pud to end your afternoon tea style breakfast, or a rich, flavoursome delicacy to delve into, we have the wedding cake flavour combinations for you.
Green tea and dark chocolate ganache wedding cake
Matcha green tea, caraway and sweet azuki beans wedding cake
Vanilla café latte wedding cake
English lavender with Earl Grey buttercream wedding cake
Coffee-infused mocha wedding cake
Espresso with white chocolate icing wedding cake
Chai tea with vanilla filling wedding cake
Earl Grey and lemon wedding cake
Coffee, walnut and pecan wedding cake
Coffee, cinnamon and milk chocolate wedding cake
Coffee and Biscoff wedding cake
READ MORE: Wedding Cupcake Ideas for Couples With a Sweet Tooth
Alcoholic Wedding Cake Flavour Ideas
Whether it's sipping on a post-ceremony cocktail or raising a glass of champagne during the speeches, weddings can be a boozy affair. Embrace the British fondness for a tipple with an alcoholic wedding cake flavour combination. For those who don't want actual alcohol in their wedding cake, ask your wedding cake supplier for alcohol-free options that mimic the alcoholic flavours you know and love.
Discover the perfect alcohol wedding favours to accompany it here!
Champagne and crème de cassis wedding cake
Ginger and rum sponge with spiced rum buttercream wedding cake
Chocolate, Guinness and blackcurrant cake
Amaretto-soaked fruitcake wedding cake
Vanilla sponge and Pimms jam wedding cake
Piña colada and coconut wedding cake
Brandy apple and cinnamon wedding cake
Lemon and elderflower gin wedding cake
Pink Champagne and raspberry jam wedding cake
Chocolate red wine and chocolate ganache wedding cake
Lemon gin and orange Aperol spritz wedding cake with Prosecco buttercream
Wedding Cake Flavour FAQs With the Experts
We spoke to some of our Hitched wedding cake suppliers, Sugared and Spiced Cakes and Yummity Scrummity, as well as Elizabeth from Elizabeth's Cake Emporium to gain some insight into the world of wedding cake flavours as an expert in the industry.
What's the Most Unusual Wedding Cake Combination You've Made?
Elizabeth has had some great combinations: "My most memorable unusual flavour has got to be wasabi and white chocolate cake with a plum jam filling. This was tricky as wasabi is known for producing a burning, nasal flaring sensation due to the chemical allyl isothiocyanate and it's not exactly the sort of thing you want in a cake.
"We experimented a LOT to get the balance of sweet and tingly just right and thankfully it worked.
"Another unusual cake combination was a vanilla cake with African star apple (or African cherry) filling. The fruit is fleshy and quite tart and is well known for being super rich in vitamin C. We made a curd from the flesh and skin and it was absolutely delicious."
The team at Sugared and Spiced Cakes told us: "I once made a honey, rose and pistachio wedding cake for a lovely Turkish couple who wanted the taste of Baklava in their wedding cake!"
Yummity Scrummity added: "Though we haven't had any strange or unusual wedding cake requests, we're very adventurous and would be willing to try (almost) anything. Our favourite combination at the moment is coconut and lime. It's a light and moist coconut layer cake with a lime cream and tangy lime curd - delicious!"
What Are the Most Common Wedding Cake Flavour Requests You Receive?
Sugared and Spiced Cakes say: "Vanilla wedding cakes never go out of fashion, but citrus and fruit flavours are very popular for summer weddings, leaving the more robust and warm flavours for autumn weddings. Raspberry and white chocolate has been a massive hit this year with lemon wedding cakes in close second, followed by strawberry and rose.
"We've adjusted our flavours this year and now do champagne, strawberry and rose which is proving to be a great hit as the subtle pink colour of the sponge is a real delight for couples with a pastel pink theme. In autumn, tastes shift and our Biscoff wedding cakes, pumpkin spiced latte design and the faithful carrot cake take centre stage with orders."
Elizabeth from Elizabeth's Cake Emporium says that in her experience: "The most commonly requested cake is still the classic vanilla, followed by chocolate. However, couples wanting the best of both worlds have gone for our Tuxedo cake, which is layers of Vanilla and Chocolate filled with caramel and chocolate or raspberry conserve.
"Lemon is also another favourite, especially in the summer. A few years ago, red velvet was all the rage but now funfetti cake and some alcoholic cakes have toppled it from the cake chart."

While the team at Yummity Scrummity admit their most popular choices are similar, explaining: "The most common cake flavour request we get has to be a Victoria sponge with strawberry and champagne jam and vanilla buttercream - although our signature fruit cake is very popular (and very boozy!) too."
Did Harry & Meghan's Wedding Cake Choice Impact Orders for Lemon and Elderflower Wedding Cakes?
Sugared and Spiced Cakes explain the 'Harry and Meghan' effect they've experienced: "We definitely saw more requests for this wedding cake flavour for weddings this year and next and it's not just this combination that's been affected. There's been a real trend for citrus flavoured tiers in the last couple of years which has seen our vegan coconut and lime wedding cakes proving extremely popular."
Adding to this, Elizabeth said: "Harry and Meghan's wedding cake significantly impacted wedding cakes both in terms of the inside of wedding cakes and appearance. Their buttercream cake was made with 200 Amalfi lemons and 10 bottles of Sandringham Elderflower Cordial and was decorated with peonies.
"Many couples were intrigued by the combination of elderflower and lemons and for the next 18 months, it was all the rage, with sales of elderflower increasing by 1,000%. Like anyone else I was also intrigued to find out more about this flower and found that it had a whole load of health benefits and is also used in perfumes."
READ MORE: The Best Vegan Wedding Cakes Around!
What Wedding Cake Flavour is the Most Popular?
We recently did a poll with over 1,400 Hitched couples to reveal which wedding cake flavours were the most popular. We were curious to see just how many of our nearlywed and newlywed couples opted for traditional wedding cake flavours over modern combinations.
The results of our poll revealed that only 5% of voters opted for a traditional fruit wedding cake with marzipan icing. Considering that this style of wedding cake is considered the most traditional of all flavour combinations - a surprisingly small number of couples admitted to choosing it. Explaining why the number may have been so low, it was then revealed that 84% of voters don't actually enjoy eating this flavour of cake.
When asked what the least popular wedding cake flavour request is in her experience, Elizabeth explained: "Hands down it has to be fruit cake which I actually adore. The fruit is soaked in a combination of wines and spirits for months and combined with the spices in the batter, the pairing is heavenly. Sadly many see it as stodgy and not very trendy."
We went on to ask our audience which wedding cake flavour they would favour. The top result was trusty vanilla, snatching 45% of the votes, followed by chocolate which was voted for by 32% of users. Red velvet received 19% of the vote whilst traditional fruit cake was only voted for by 3% of couples.
We then asked Hitched followers to vote for their favourite wedding cake flavour, with the choice of lemon and elderflower, salted caramel, champagne and strawberry or coffee and walnut. The most popular choice was lemon and elderflower which received ⅓ of the vote, followed by salted caramel, champagne and strawberry and finally, coffee and walnut.
Ready to find your perfect wedding cake? Discover all our wedding cake suppliers here!