How Much Money Should You Give As a Wedding Gift? Try Our Calculator!
If the couple have asked for money as a wedding gift, it can be difficult to know what the rules are. We've covered how much money you should give and what to expect if you're going to a wedding from a different culture.
We have included third party products to help you navigate and enjoy life's biggest moments. Purchases made through links on this page may earn us a commission.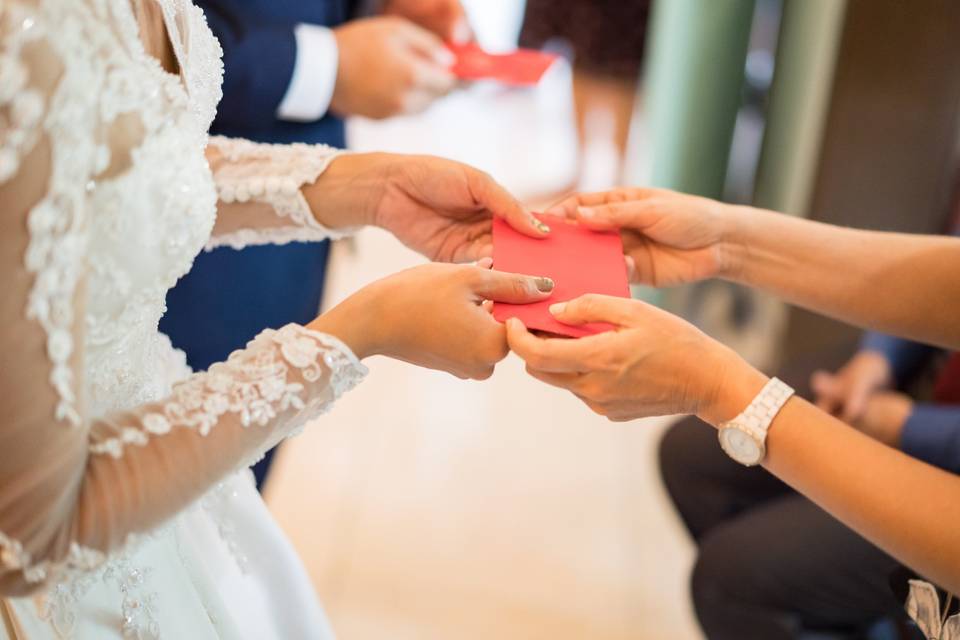 Cash gifts are becoming more popular at weddings as couples move away from asking for traditional homeware items. When a couple already live together, it might make more sense to save up for a big purchase like a home deposit, future children, a new car or even a once-in-a-lifetime honeymoon, so you might wonder how much to give as a wedding gift.
It can be tough to know exactly how much money to give. Choosing a fancy candle they put on their wedding gift list is one thing, but handing someone cash - where they'll know exactly how much you gave - can feel like a minefield. Some people have rules, like to cover the cost of your meal or to give equal to what they gave you, but others factor in how much they've paid in hotels and travel and give much less. So what exactly should you give?
If you've been asked to bring a cash gift to the wedding or to contribute to a honeymoon fund online, we've broken down what's expected of you below. There's ideas for what to do if you feel uncomfortable about giving money and some hints for the best ways for couples to go about asking for cash gifts.
You can also try our wedding gift calculator, which will tell you how much money to give as a wedding gift, depending on how well you know the couple, the style of their wedding and much more!
How Much Money Should You Give As a Wedding Gift?
The rules for how much you should spend on a wedding gift don't change just because you're giving money instead of a set of kitchen knives. It's always about what feels comfortable to you and will depend on your personal relationship with the couple.
You may feel pressured to give more than you can afford because the couple will see exactly what you spent, but this is not the point of a wedding gift. Only give what feels right. Here's a rough guide to what's considered a typical amount to give:
You're a Single Wedding Guest: £50
You're a Couple: £100
You're Immediate Family: £100+
You're in the Wedding Party: £100+
You're an Evening Guest Only: £25 - £50
You're a Colleague: £25 - £50
Wedding Gift Spend Calculator
We'd highly recommend you buy a paper money wallet to put a cash gift into as it makes it look really special. You can get these for about £1 from a card shop, but they really make a difference to how your gift looks.
Should You Feel Offended That the Couple Asked for Money?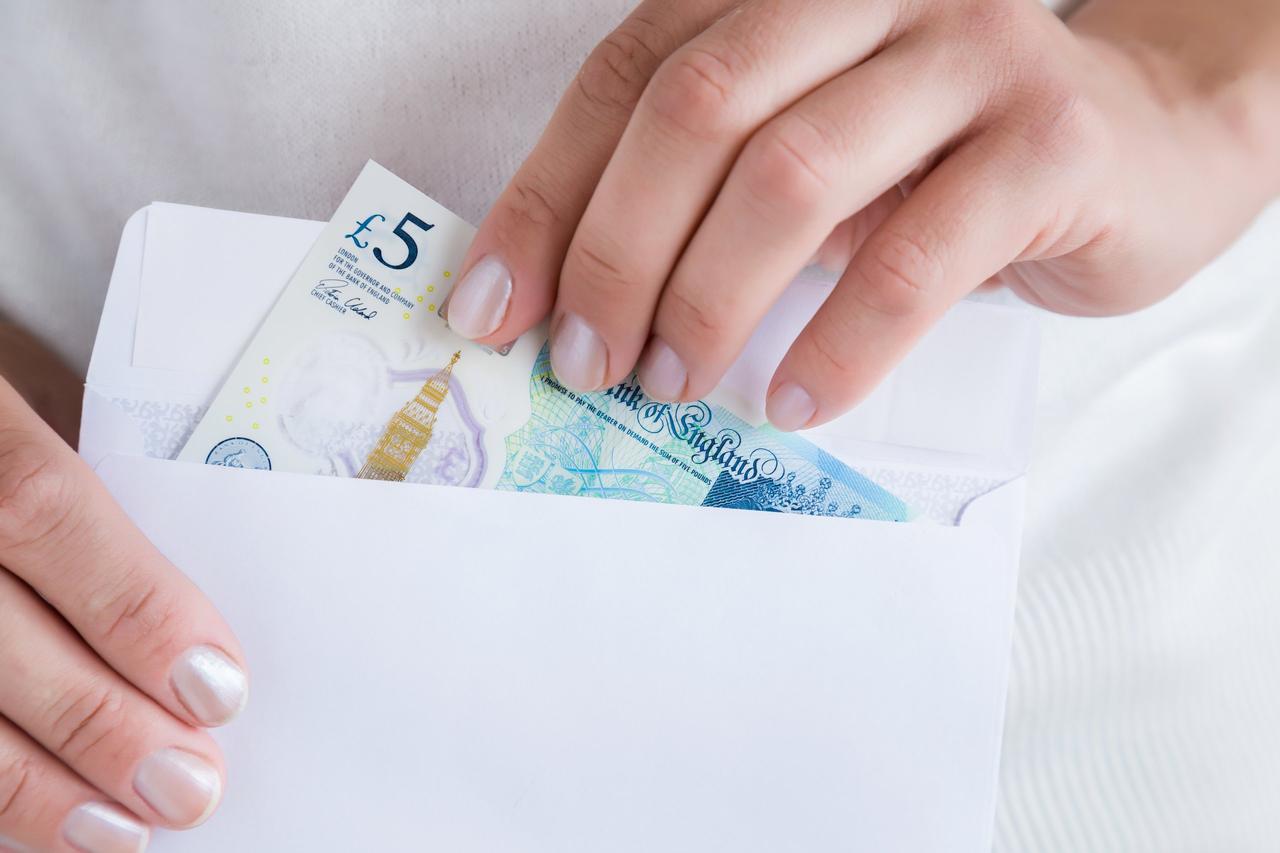 It's been traditional for couples to create a wedding gift list or to leave it up to the guests to bring a gift of their choice, and this was typically an item for the couple's new home. This dates back to when a couple wouldn't live together before their wedding, which is less likely the case now. Many modern couples live together before they get engaged and already have all the towels and toasters they need, so the traditional gift lists don't suit them.
Asking for money as a wedding gift has become a popular trend, but it's understandable that it can split opinion among older relatives who may see it as cheeky or bad etiquette. However, it's become much more accepted and many couples feel confident asking for money for their wedding or putting down a monetary gift option on a traditional gift list.
They will have spent a lot of savings on their wedding day and the money will be saved towards the next step of their future together. If you always viewed giving a homeware gift as setting the couple up for their new life, money gifts are the modern way to do the same.
Many couples themselves feel a little awkward asking for money and will instead ask for donations towards something like their honeymoon. This is often done through a honeymoon gift list where you can go online and transfer the amount of money you wish to pay and even allocate it towards a specific excursion or treat, like a couple's massage on the beach.
What Are the Expectations In Other Cultures?
Expectations of how much money to give vary vastly between different cultures and you're best to ask someone in the know, e.g. a friend in the wedding party or a relative of the engaged couple.
For example, at Japanese weddings, money is a very common gift. A friend of the couple may give £200 in Yen, while relatives may give three times this amount. The money is put in an envelope called Goshugi-bukuro and your name and the amount is written on the front.
In China, money is almost always given to the couple in red envelopes as a gift. Typically guests work out the amount to give based on how much the wedding meal would have cost, so the fancier the meal and venue, the more money is given.
At Nigerian weddings, it's tradition for there to be a 'money dance' where the couple are sprayed with money as they boogie on down. In addition, guests will fill envelopes with money or a cheque and give it to the couple. The amount you are expected to give really depends on your relationship to the couple, so we'd advise you to ask ahead of time and prepare your gift plus money to spray.
Indian weddings will typically have no wedding registry and a 'no boxed gifts' rule - cash or a cheque in an envelope is given instead. In Indian culture, they avoid gift amounts ending in 0 and typically would give £51, for example, as it starts the couple off on accumulating their next £50.
At Italian weddings, the bride often carries a special bag at the reception called la borsa and will collect envelopes of money from guests to cover wedding expenses. The amount again will depend on the couple and the wedding.
One important thing to note is that your gift shouldn't be affected by whether it's a destination wedding. Even if you are paying for flights and accommodation, a gift is typically expected, although most couples will expect something smaller due to your expenses getting to the wedding.
What Should You Do If You Don't Want to Give Money?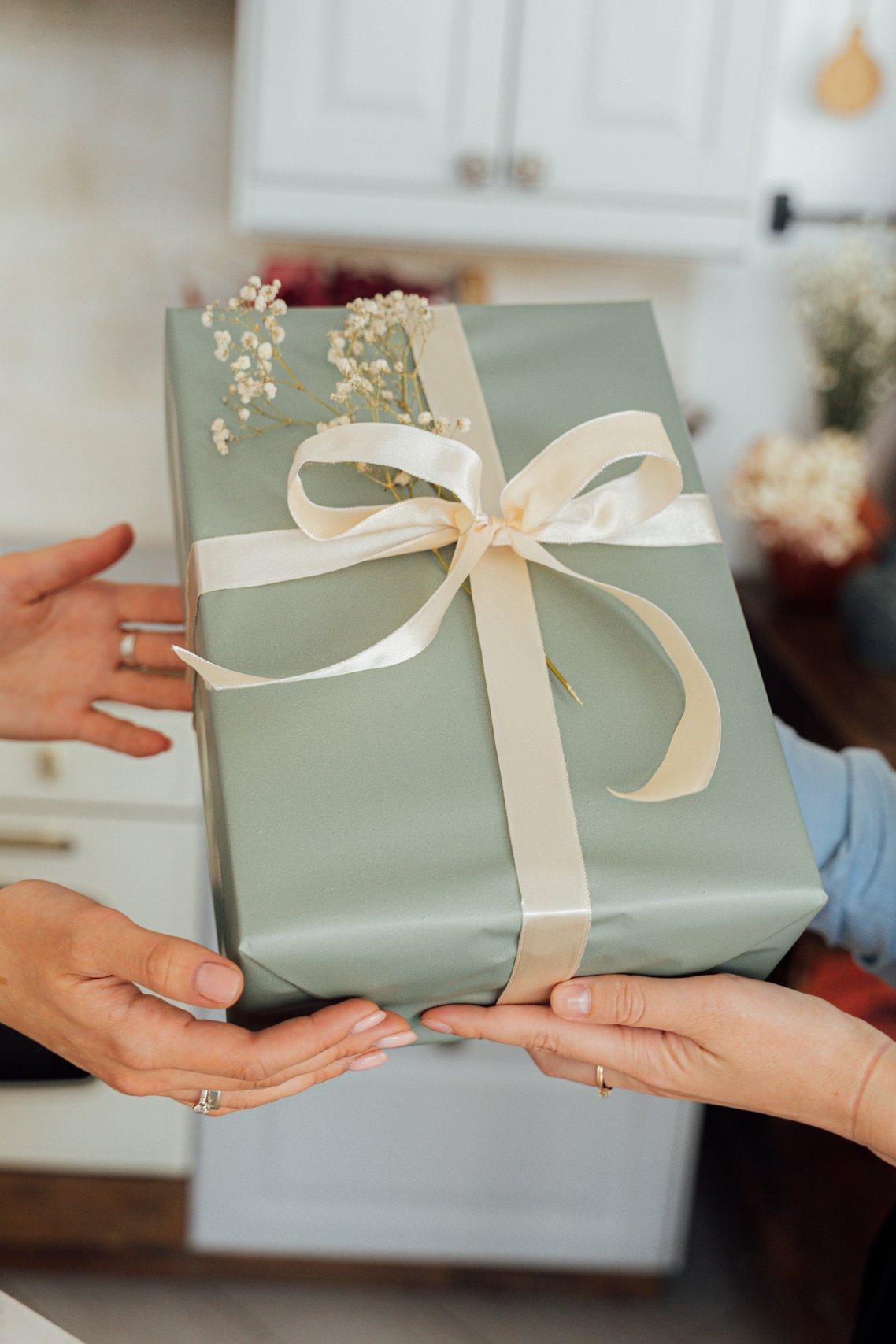 There is absolutely no obligation to give cash if you don't want to; gifts should be given in the spirit of generosity and not as a duty. That said, there's often a reason the couple have asked for money, so it does no harm in politely asking the couple why.
If you're uneasy about giving money as a gift, communicate this with the couple and see if there's an alternative way you can contribute to what they're putting the money towards.
If they haven't already explained it on their wedding website, it could be they're saving up for a new addition to the family or for a new kitchen. Once you understand, you could offer to buy them gift vouchers for a large department store that will help their overall aim.
If it's saving for a honeymoon, you could get them a prepaid travel money card or currency in notes for the country they're going to.
Lots of gift lists give you the opportunity to buy things such as a honeymoon experience - this will aid them in affording their dream honeymoon, but allow you to give something more tangible.
There are lots of alternatives to giving physical cash money and all of them will be greatly appreciated by the couple.
Ideas for £25 or Less
If they're an acquaintance, a colleague, you're only invited to the evening or you're on a super tight budget, there are lots of lovely ideas for £25 or less!
Holy Moly Matrimony Card - £3.75, Rock the Custard
How cute is this Holy Moly Matrimony card? It's perfect for slipping some notes in - put in £20 and you're still coming in at under £25. If you want to make your cash wedding gift feel more personal, find out where the couple are honeymooning and change your notes into the local currency. This is also a nice way to delicately give cash without the immediate value being apparent.
Personalised Scented Candle - £13.50, Lollyrocket Candle Co
You honestly can never go wrong with a lovely wedding candle. This scented soy candle is a really affordable gift, but the personalisation makes it look much more expensive. You can choose between four different, dreamy sounding scents to further tailor it to your couple. Every time they light it they'll be reminded of you and their wedding day!
OMG Congrats Cookies - £18, Baked by Steph
What could be more fun and delicious than a gift of cookies? We love these 'OMG Congrats' cookies, and at under £20, they are a total bargain. We guarantee the couple won't receive any other gift like this on their day - which makes it invaluable.
Retro Cocktail Sign - £20, Oakdene Designs
We literally cannot believe what a bargain this gorgeous personalised cocktail sign is, and it's the ideal wedding gift under £25 if you know the couple love entertaining at home. In fact, if they're having wedding cocktails, you might want to give it to them ahead of the big day so they can display it at their wedding!
Personalised Ring Dish - £25, White Rain Designs
If you're looking for a gift at the higher end of this price range, this beautiful personalised ring dish is a lovely idea. A ring dish will always come in handy, and one that's customised to suit them and their wedding date is something they'll cherish for the rest of their lives - not bad for £25!
Ideas Under £50
£50-£25 is a reasonable amount to give as a wedding gift if you're a colleague, or if you're an evening guest but you really like the couple, or even as a all-day guest but you're attending alone. If you don't want to give around £50 in cash, you can browse these gift ideas for £50 and under to inspire you!
Wooden Wedding Keepsake Box - £26, Modo Creative
A wedding keepsake box is a gift that will be used for years to come. You can personalise this one with the couple's names and wedding date, for less than a fiver more, you can also add a personalised message to the underside of the lid too.
Pair of Champagne Saucers - £30, The Vintage List
Newlyweds have a lot to toast to, so these beautiful star-etched champagne saucers will go down a treat! They are a perfect buy if you know the couple has planned a celestial themed wedding.
Breakfast in Bed Hamper - £30, AnyDayMade
What could be a better gift than breakfast in bed? Your hungover, newlywed pals will be incredibly grateful for this cute hamper featuring coffee, granola and jam. You can also add a bottle of prosecco to add a little more sparkle to their morning.
Personalised Marble Serving Board - £44, Sophia Victoria Joy
Stylish couples who love hosting a dinner party will be so grateful to receive this personalised marble serving board! It looks way more expensive than the £44 price tag, so it's a great choice if you're on a limited budget but want to give something lavish.
Personalised Couple's Sketch - £47, Letterfest
Sentimental couples will adore this personalised sketch - we love how this one is a picture of the newlyweds on their wedding day. Perhaps if you wanted to give them a sketch of them in their wedding attire, you could make and print them a voucher to let them know you'll organise this gift as soon as you have a wedding photo to work from!
Ideas Under £75
For couples you're close to and care about, around £75 is a great amount to give - it covers a delicious dinner for two, or can go a long way towards a more significant purchase. If you don't want to give £75 (or thereabouts) in cash as a wedding gift, here are some beautiful gift ideas to inspire you.
Three Month Gourmet Coffee Subscription - £55.47, Blue Coffee Box
If the couple are coffee aficionados, they will be very grateful for this three month coffee subscription. Each month they'll receive two different gourmet coffees to try, and you can choose what form the coffee arrives in too.
Seasonally Themed Wine Box - £60, Unwined at Yours
You can order your favourite couple a box of specially selected wines, picked by connoisseurs. Choose from a range of themes, including 'to new beginnings', which seems very apt for a newly married couple!
Hope & Happiness Tree Hamper - £65, The Present Tree
Are your nearlywed friends green-fingered? If so, they'll be enchanted by this wild plum tree hamper. The tree symbolises hope and happiness, which is exactly what you want as newlyweds, and the gift comes with everything you need to make the new tree flourish.
Copper Banded Champagne Bucket - £69.75, Becky Broome
We bet lots of people will buy the newlyweds a bottle of champers or two. Make sure they're prepared for this with this beautiful personalised champagne bucket. It features a copper band which can be customised with up to 15 characters.
Personalised Cosmic Ceramic Platter - £74, Rose Nisbett Ceramics & Textiles
Chic couples will adore this personalised ceramic platter! You can choose whether you want to have it personalised and if you want it in navy or in apricot. It will be pride of place in their home for years to come!
Ideas Under £100
If you're close to the couple, giving between £75-£100 is a good amount when it comes to giving cash as a wedding gift. But you can get some seriously beautiful gifts for that amount too - here are some of our favourite wedding gifts under £100.
Personalised Hand Painted Plate - £80, China Dawgs
How beautiful is this hand painted plate?! It comes personalised with the happy couple's initials and their wedding date. We love the folksy, vintage style - it's the perfect pick if the couple in question love all things cottage-core.
Bridal Bouquet Collage - £90, Soodle Street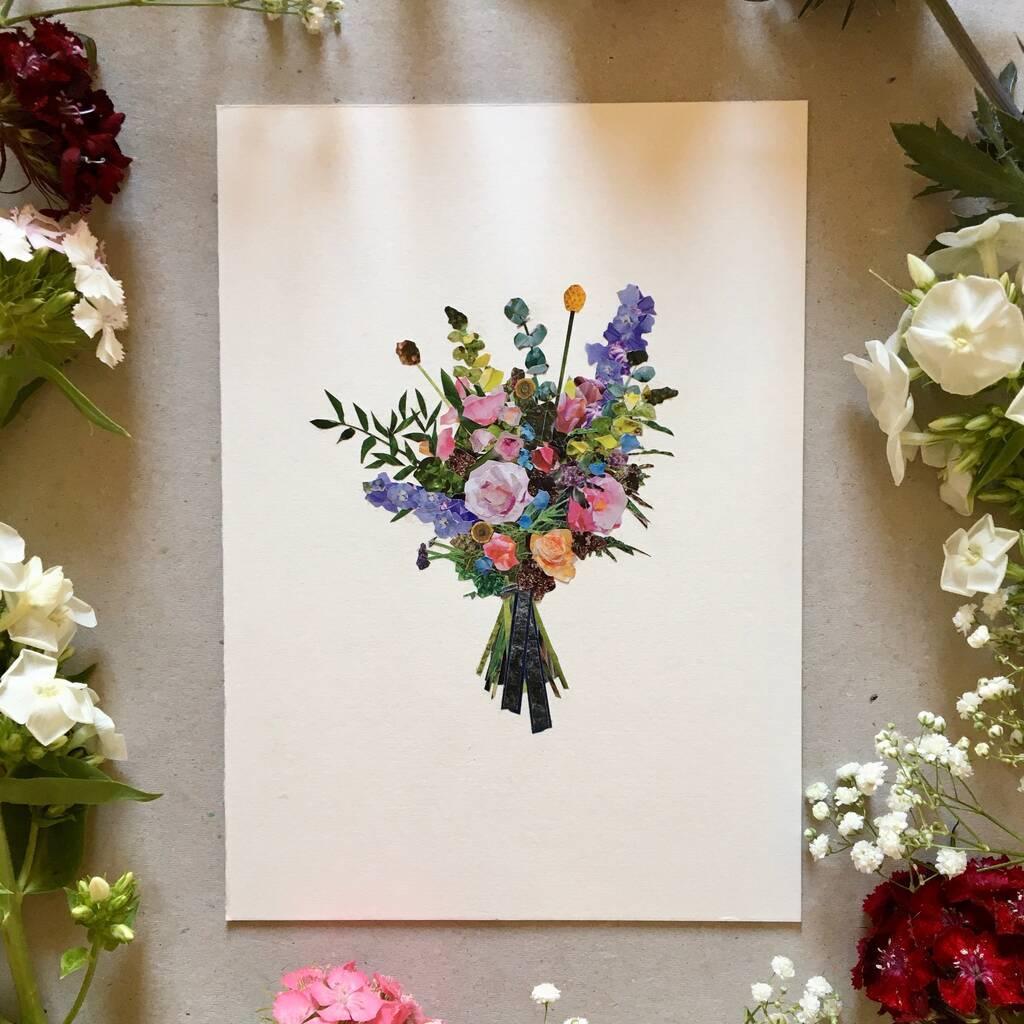 What could be more special than a handmade collage of the bridal bouquet? This isn't one you'd be able to easily action pre-wedding, but instead of putting cash in the wedding card, you could always make a voucher to say you'll treat them to this lovely gift idea once they have the photos available.
Three Month Flower Subscription - Flowers by Flourish
It can be hard to let go of the idea of being surrounded by flowers after the big day, so you can help them hold on to that feeling with a three month fresh flowers subscription! It's a lovely gift idea that'll keep on giving for months.
Personalised Venue Portrait - £90, My Artist
This pen and ink portrait of the couple's wedding venue will be cherished for decades. You can choose from a range of sizes, add a custom message and pick if you want it framed or unframed. All these choices will impact the price, but it starts from £90.
Date Night Gift Box - £95, Amala Curations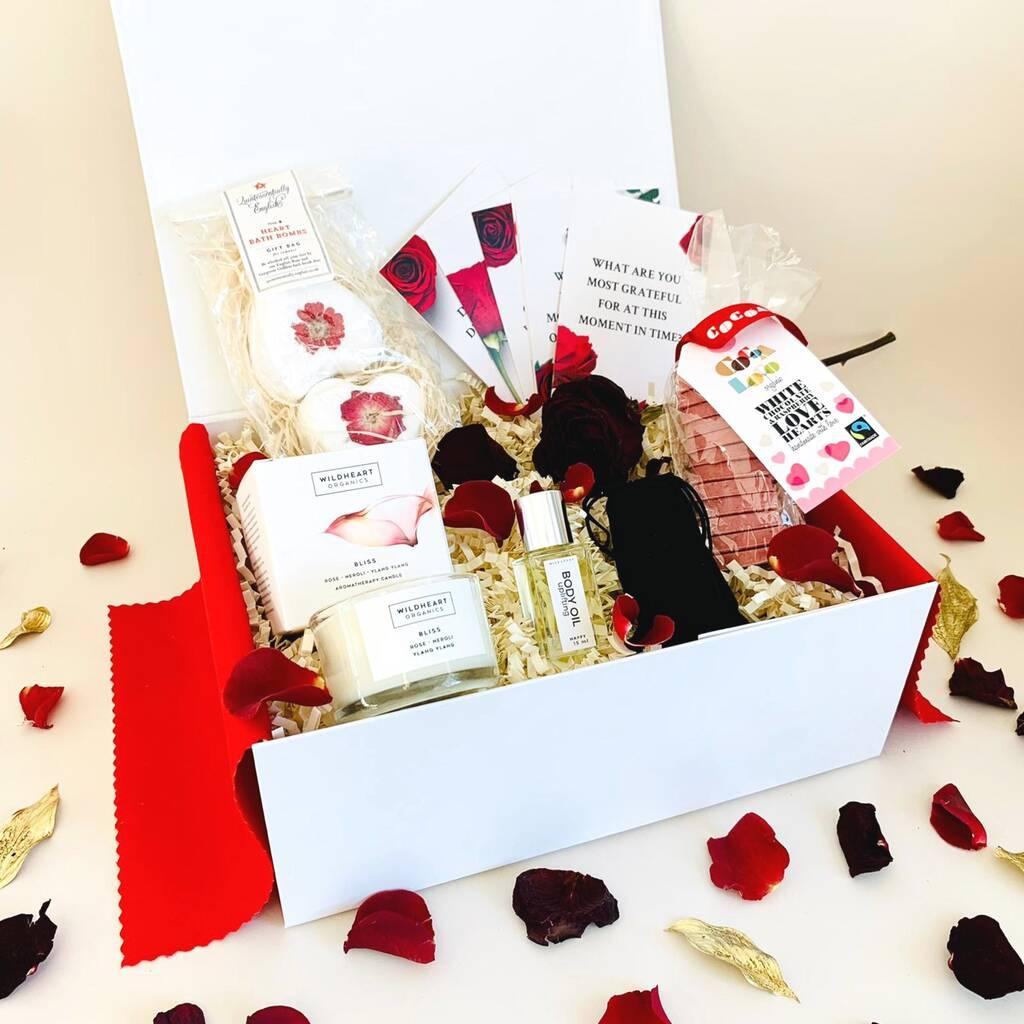 If you know the newlyweds love a date night or two, treat them to a very special one with this date night gift box. It contains a candle, bath bombs, massage oil, chocolate hearts and some couple's conversation starter cards.
Ideas for £100 or More
If you know the couple well and have the budget to do so, a gift of £100 or more will be greatly appreciated. This can go towards a romantic mini moon or into a fund for a bigger honeymoon or project. However, if you'd prefer to give them a present that's entirely up to you - here are some of our favourite wedding gifts worth £100 or more.
Pull-Down Bar - £130, The Forest & Co
For couples who love to host at home, this pull down bar would be a totally unique and well-used gift idea! It's great for couples who are always short on space as it neatly tucks away when it's not in use. Drinks at theirs, anyone?
Personalised Suitcase - £139.50, Koko Blossom
If you know they're jetting straight off on their honeymoon, treat them to a personalised suitcase customised with their surname!
Gold and Glass Letter Sign - £155, Fedele Makes
This gold and glass personalised sign is the perfect wedding gift for a couple who love making a statement with their interiors. You can customise so many details, from the frame to the background colour, and whether you want gold or silver detailing.
Gin Experience for Two - £160, Salcombe Distilling Company
If they love a G&T or two, why not treat them to a gin experience? It's a great idea to get a couple's gift experience as it gives them something to look forward to and plan post-wedding.
Deluxe Cheese Lovers Food Hamper - £170, Hamper Lounge
Do the nearlyweds love cheese? This deluxe cheese hamper will go down a storm - and for £65 more you can add three bottles of wine too!
What Are the Best Ways Engaged Couples Can Ask for Money?
If you're approaching this from the other side and are an engaged couple wondering how to ask for money or what you can expect to be given, here's some ideas of what you can do.
Ask on your invitations for guests to bring cash gifts on the day and state if there will be a secure money box or gift table to leave them. We'd recommend explaining what you want to save the money towards if you have an idea in mind. You may feel awkward about asking outright so one of these money poems is a cute way to do it.
Create a wedding gift list that has both gift options and a money donation option. Guests then have the choice between buying a tangible gift for you and/or give you a financial gift.
If you want money towards your honeymoon, set up a honeymoon gift list where funds can go towards the costs of flights and hotels, or towards specific trips and activities. A guest might love to know they're paying for a bungee jump in New Zealand and see the photos afterwards.
If you have a specific purchase in mind, such as saving up for a house, you can set up a fun website where guests can donate to that specific thing. For example, a website called 'Buy Us A Brick' where guests can buy you figurative bricks to build your first home.
Still considering buying a gift? Browse our edit of the best wedding gifts for couples here.