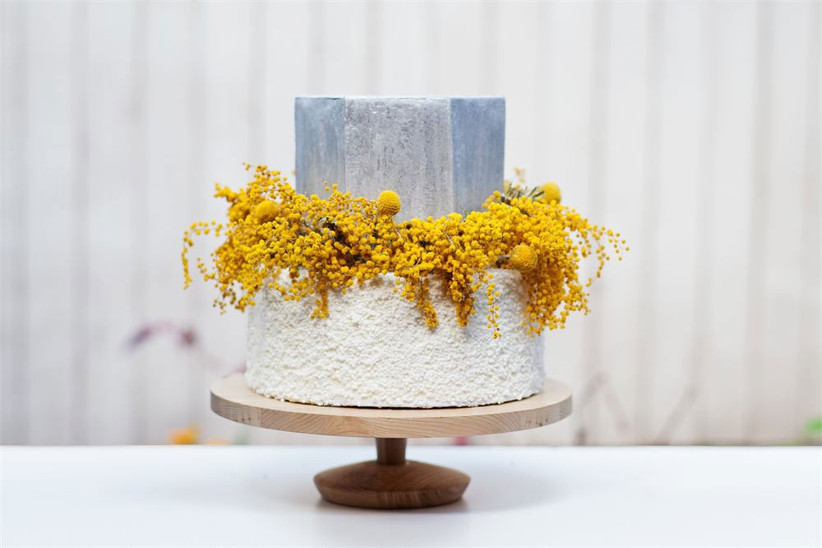 Shopping for your wedding cake is by far one of the most enjoyable tasks when planning a wedding – but how much does a wedding cake cost?
There's so much variety out there – from five tier sparkly wedding cakes to single tier cakes with modern touches – so it can be hard to know whether you're getting a good deal or not.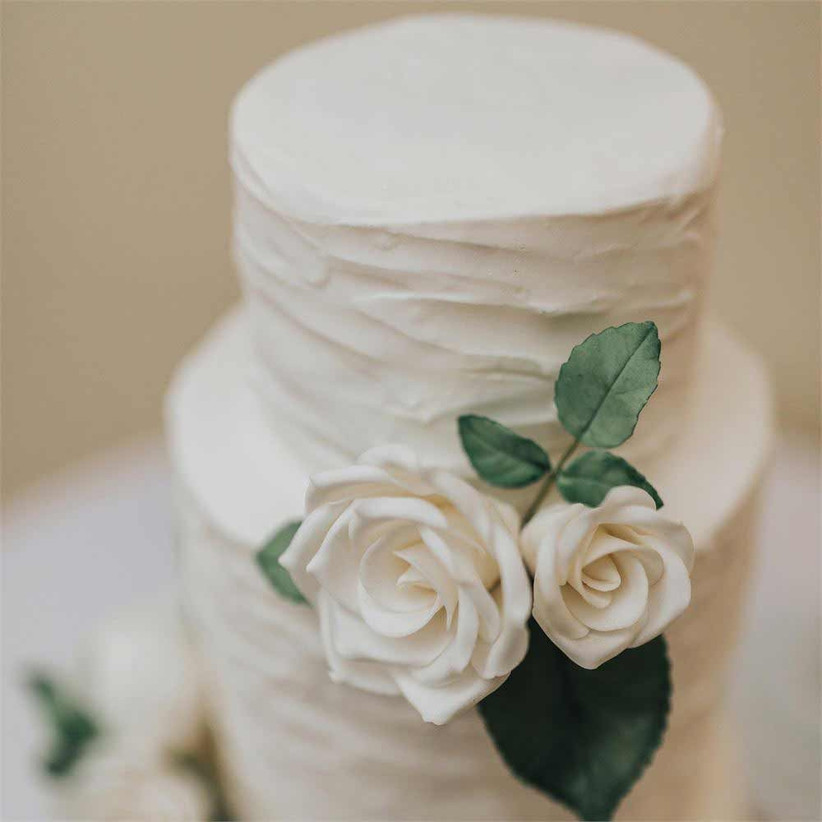 Image – Bluebirds Bakehouse
We've spoken to the experts and compiled a complete guide to wedding cake prices, which will help you and your partner feel satisfied that what you're paying is a fair and reasonable price as well as giving you a few ideas on how you can cut costs along the way.
READ MORE: Wedding Budget Advice
How Much Does a Wedding Cake Cost?
Whilst the average spend of a wedding cake is under £300, it's becoming more and more common for couples to want a wedding cake that stands out and plays centre stage at their wedding reception, but cakes like this come with a cost attached.
READ MORE: Average Wedding Spends Revealed
Cake company Sugar High Cakes say: "We always advise our clients to let their vision for the cake be their guide and encourage them to remember that when you purchase a wedding cake, you are mainly paying for the artist's time, and in the case of a three-tier wedding cake, that could be up to a week's work."
What Factors Affect the Cost of a Wedding Cake?
When purchasing a wedding cake, there are a range of different factors that will determine how much it will cost you.
READ MORE: Wedding Cakes in London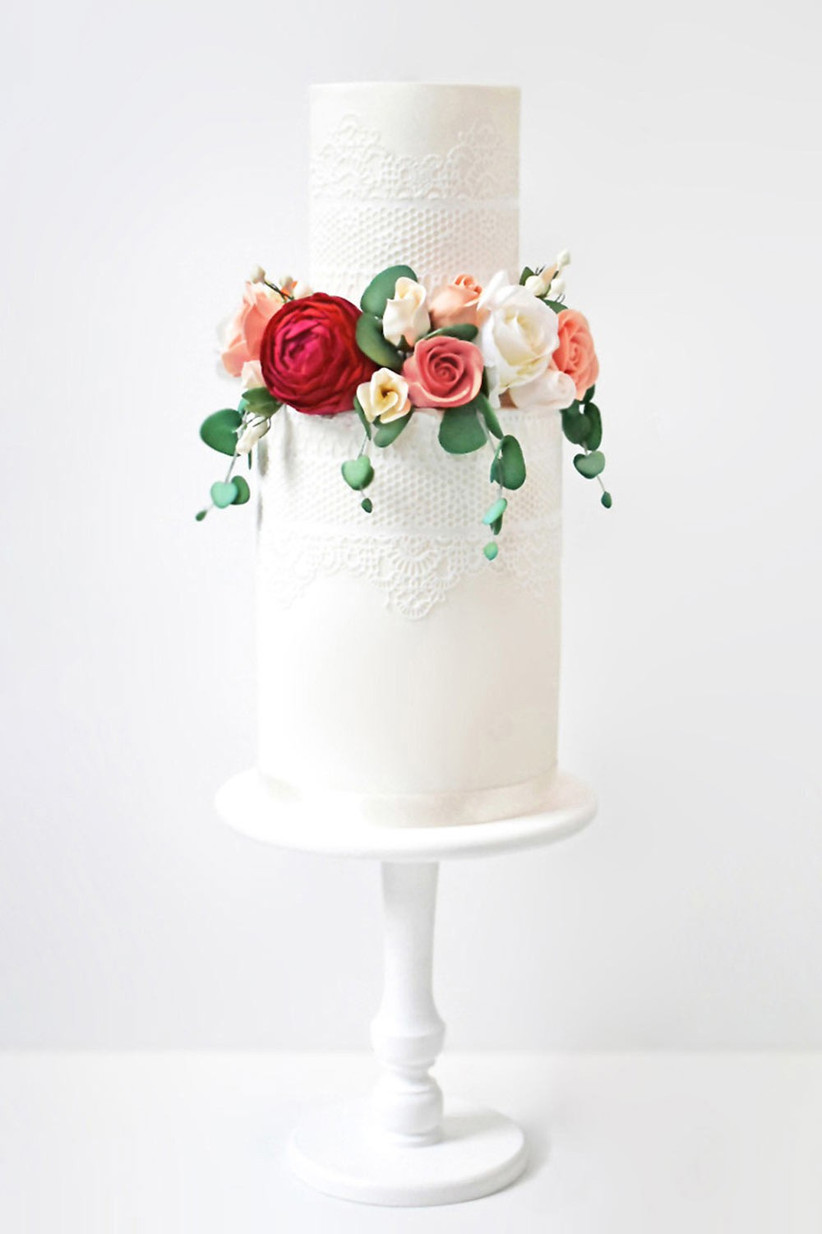 Image – Deluce Cakes
The Time of Year
Unlike wedding venues and florists, which usually adjust their prices according to the time of year and season, wedidng cake costs don't tend to follow the same pattern. Whilst the height of August will be a much busier time for wedding cake suppliers, you shouldn't expect to see too much increase in the price depending on the time of year you're ordering for.
The Location of Your Wedding
Whilst wedding cake suppliers in London, Surrey and the south tend to have higher prices than those in the north of the country, the location of your wedding shouldn't necessarily effect the price of your order either. However, if you're set on hiring a wedding cake maker who lives a long way from your wedding, then you should of course expect an extra fee for delivery or travel.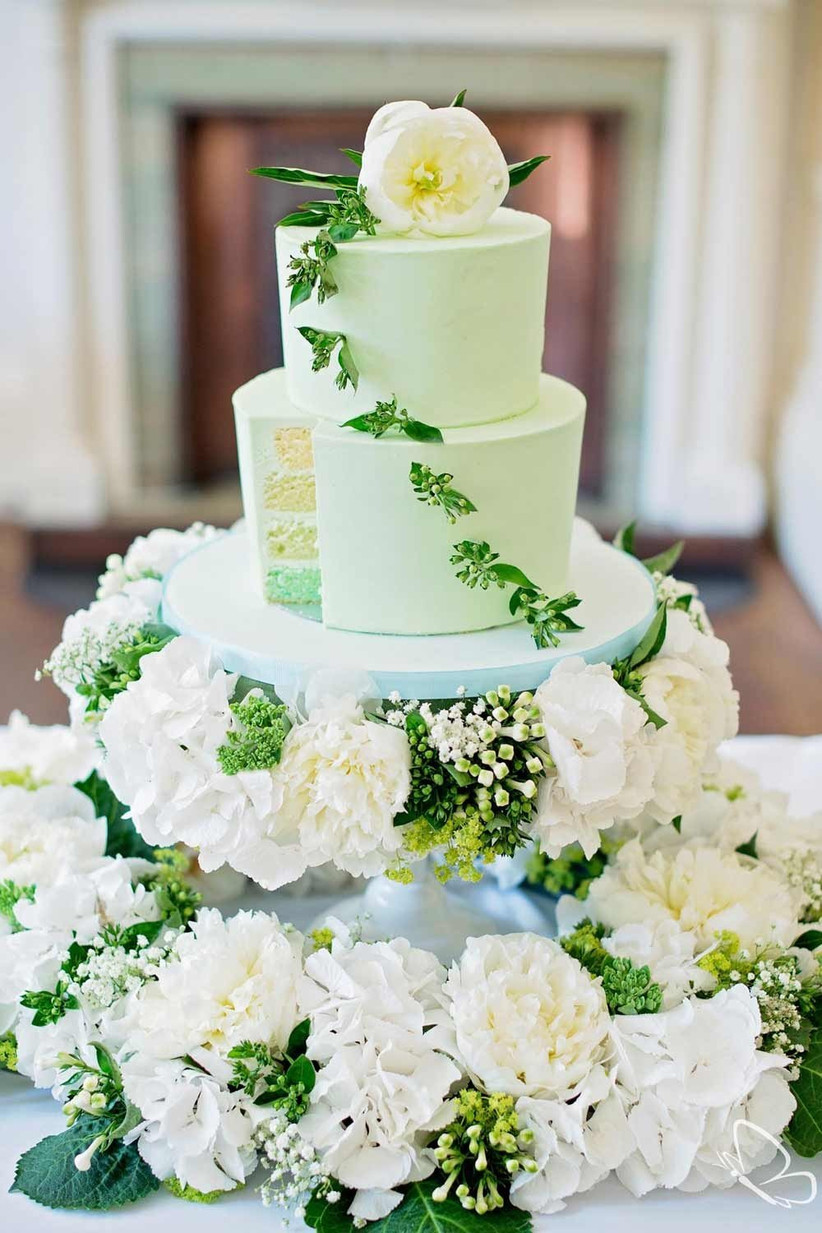 Image – Booootiful Cakes
For example, the team at Sugar High Cakes charge 50p per mile (round trip) for the delivery and set up of a cake. So even with the cost of delivery, your wedding location shouldn't impact the price too much.
READ MORE: The Most Amazing Wedding Cakes in the World
The Wedding Cake Size
The size of your wedding cake and sheer amount of people you need it to serve will have a big impact on the overall price. If you need a wedding cake that feeds at least 100 wedding guests, you're looking at a minimum of three to four tiers which, alone, will bring your cost up to around £400.
Consider what the cake is for. Are you using it for decorative purposes as a dessert table feature and not to serve to everyone, or are you using it in place of your pudding and therefore need one that serves every guest?
The Wedding Cake Design
Whilst the size of your wedding cake will be a factor in the pricing, the one thing which will have the most impact on how much your wedding cake costs you is the design you choose. Naked and semi-naked wedding cakes involve much less work than fondant and handmade sugar flowers, and the time that the cake takes to be made is closely connected to the price the supplier will charge.
READ MORE: Alternative Wedding Cakes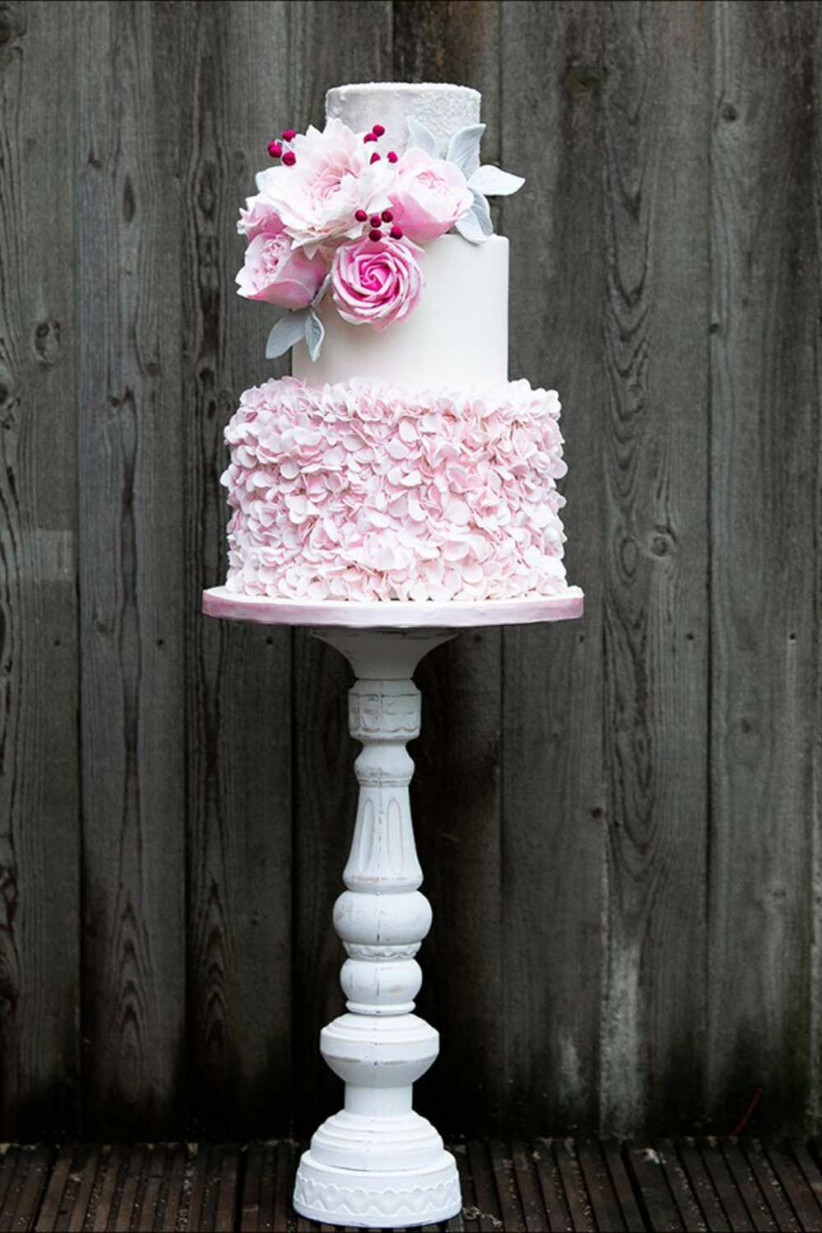 Image – Newington Cakes
Deluce Cakes advised: "As with any bespoke and unique product, the cost is considerably higher than the 'off the shelf' alternative. The cost of one wedding cake is determined by the amount of time it takes to design each bespoke cake to the client's specifications.
"One hand made sugar rose, for example, takes a very skilled person one hour to make per rose so if you're ordering a cake that's covered in sugar roses, you can see how the price goes up considerably. The more complex the design, the more expensive the cake."
What Can You Get for Your Money?
To make ordering your wedding cake as simple and straight forward as possible, we've put together a complete guide of what you can expect to get from a cake maker for prices ranging between £100 and over £1,000.
Whilst these prices aren't the same for every wedding cake supplier, they provide really clear guidelines for couples who have no idea what they can get for their budget.
Wedding Cakes Up to £100
For less than £100, you can expect a very simple, single tier wedding cake iced with buttercream (or left naked) as opposed to fondant. As this is the lower end of the spectrum, there's not much room for personalised details or big masterpieces, but with £100 to spend, you can expect a small, simple and pretty wedding cake that serves around 20 people.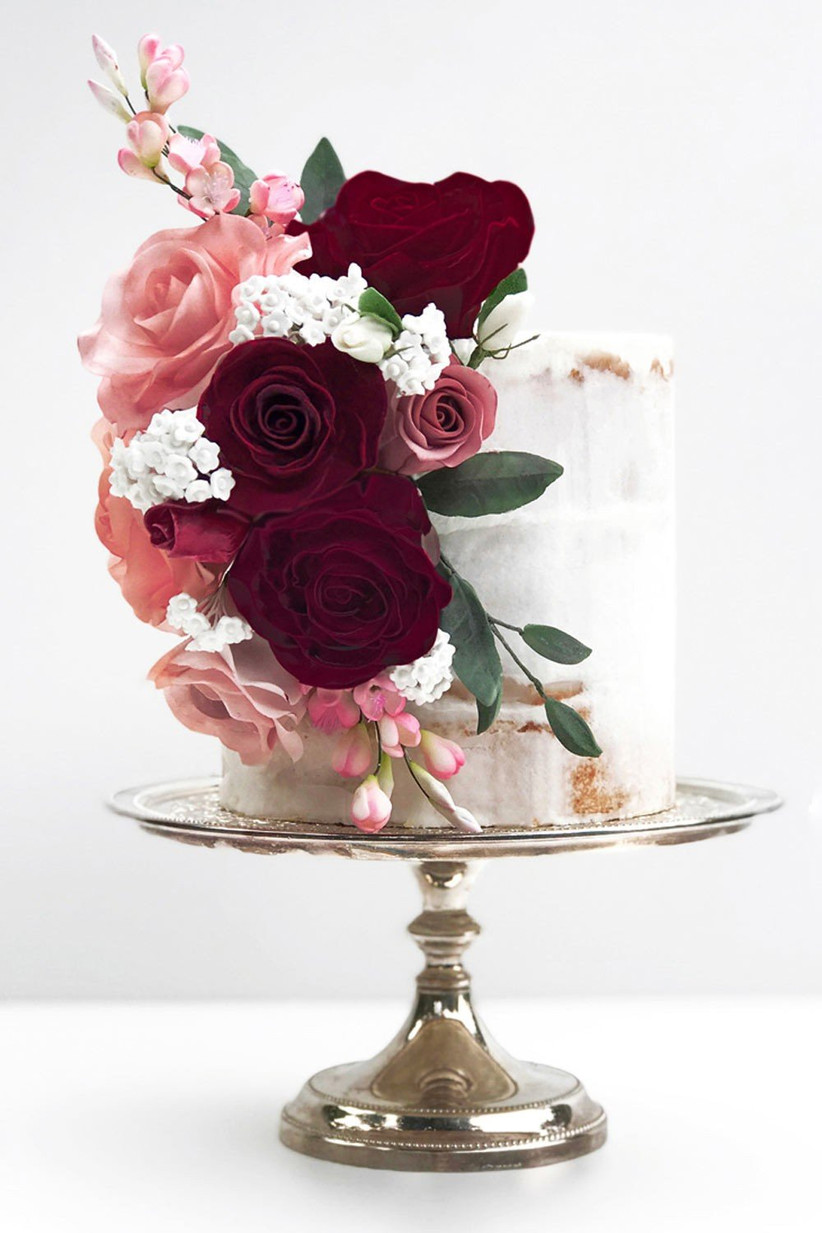 Image – Deluce Cakes
For orders as small as this, you would expect to speak with your wedding cake supplier over the phone or via email as opposed to having a full face-to-face consultation.
READ MORE: How to Plan a Wedding for £3,000
Wedding Cakes for £100 – £300
Upping your wedding cake budget to £300 gives a couple more options. If you're looking to feed a large wedding party, supermarket wedding cakes are a great fit for this kind of budget. Retailers such as Marks and Spencer and Waitrose offer a lovely variety of wedding cakes that serve up to 120 people. Whilst this is a great deal for couples planning a wedding on a budget, the cakes are mass-produced and are usually limited to basic flavours such as chocolate, lemon and vanilla.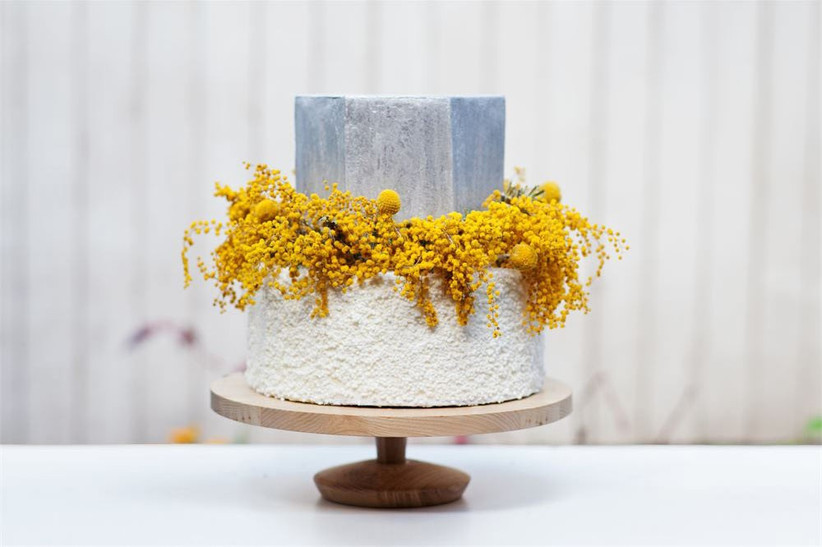 Image – CAKED by Carissa
If you're after a more bespoke wedding cake for £300, you can expect to afford a more detailed single tier wedding cake or a small two-tier cake with a simplistic or naked design that serves up to 50 people.
READ MORE: How to Plan a Wedding for £5,000
Wedding Cakes for £300 – £400
For up to £400, couples should expect to get a three tier wedding cake that serves up to 100 people. "The design of a three tier wedding cake for £400 is likely to be fairly basic and often the finish is buttercream, as opposed to fondant", Deluce Cakes add.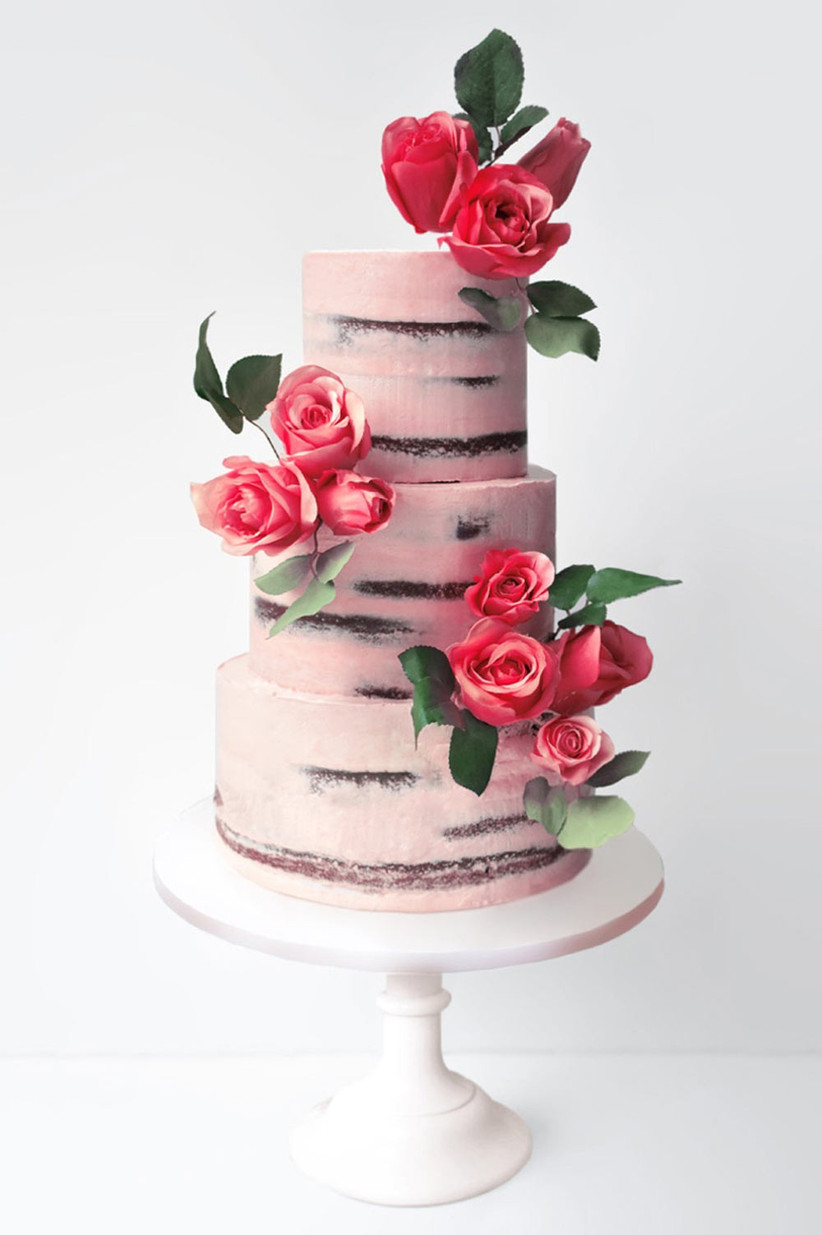 Image – Deluce Cakes
The team explained that there are a few ways wedding cake suppliers can cut costs on lower priced orders: "The finish will often be buttercream as opposed to fondant and fresh flowers can be used instead of sugar flowers for cakes in this price bracket to help keep the cost down."
READ MORE: The Prettiest Buttercream Wedding Cakes
Wedding Cakes for £500 – £600
The team at Ann's Designer Cakes explained that the design at this price range can be a lot more complex: "A good example of this price range would be our naked, royal iced swirl or drip wedding cakes. These cakes are simple in design but by using fresh fruits, berries or silk flowers, we are able to create something very beautiful and personal for a couple's wedding."
Image – Booootiful Cakes
Sugar High Cakes confirmed that this price bracket is the starting range for their three-tier fondant designer cakes which serve between 80-120 people. Couples with a £600 budget for their wedding cake can expect a lot more attention to detail, design work and more flavour choice than the lower brackets.
READ MORE: How to Plan a Wedding for £10,000
Wedding Cakes for £700 – £800
Bringing your wedding cake budget up to £800 really opens up your options. For this price, couples should expect at least three or four six inch tiers, sugar work and floral arrangements – plus other design elements.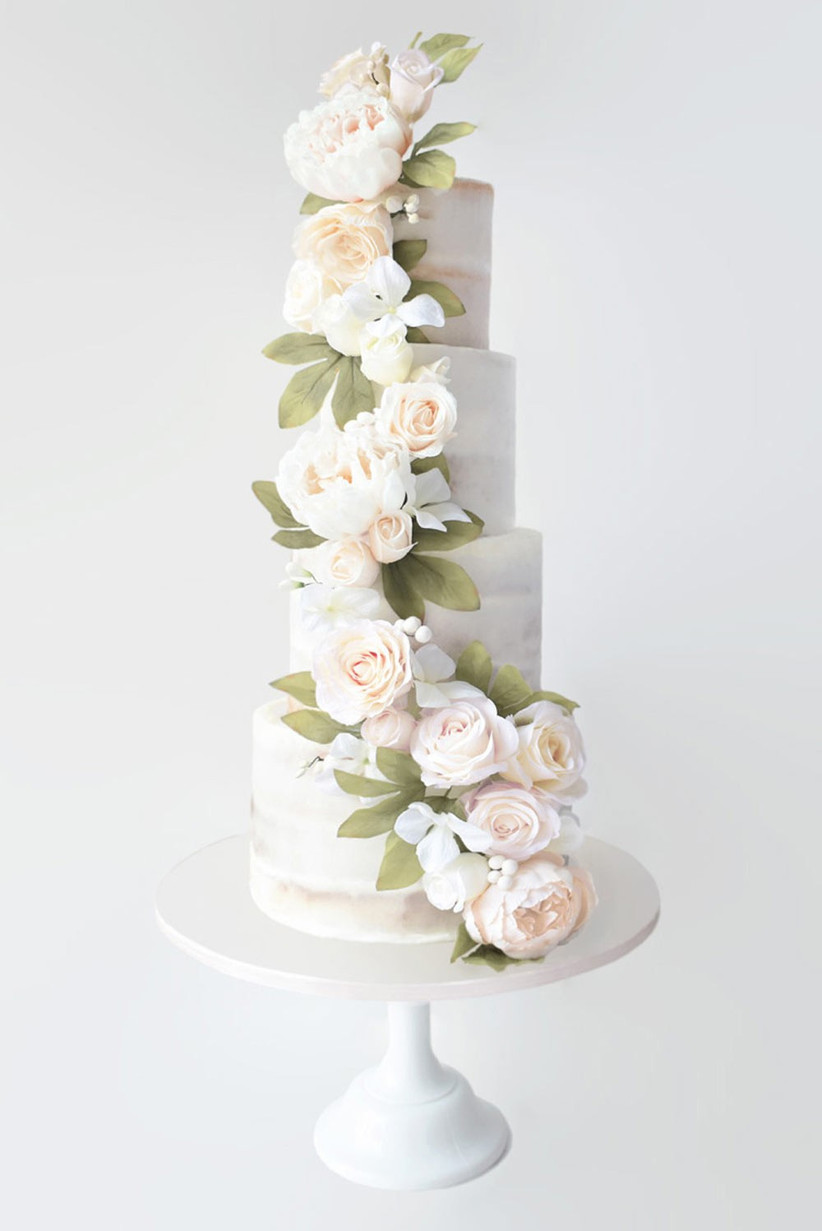 Image – Deluce Cakes
Sugar High Cakes see wedding cakes in this price bracket as 'showstoppers that take centre stage at a wedding' and also said that couples can expect added details such as handmade sugar flowers and a fondant icing finish.
READ MORE: How to Plan a Wedding for £25,000
Wedding Cakes for £900 – £1,000
Increasing your wedding cake budget to £1,000 will buy you even more design work and attention to detail. Sugar High Cakes say: "For this price you can expect most four tier cakes and some simpler five tier cakes to be on offer. These cakes will usually include some time-consuming elements such as extensive fondant fabric effects, hand piping designs or hand-painted elements."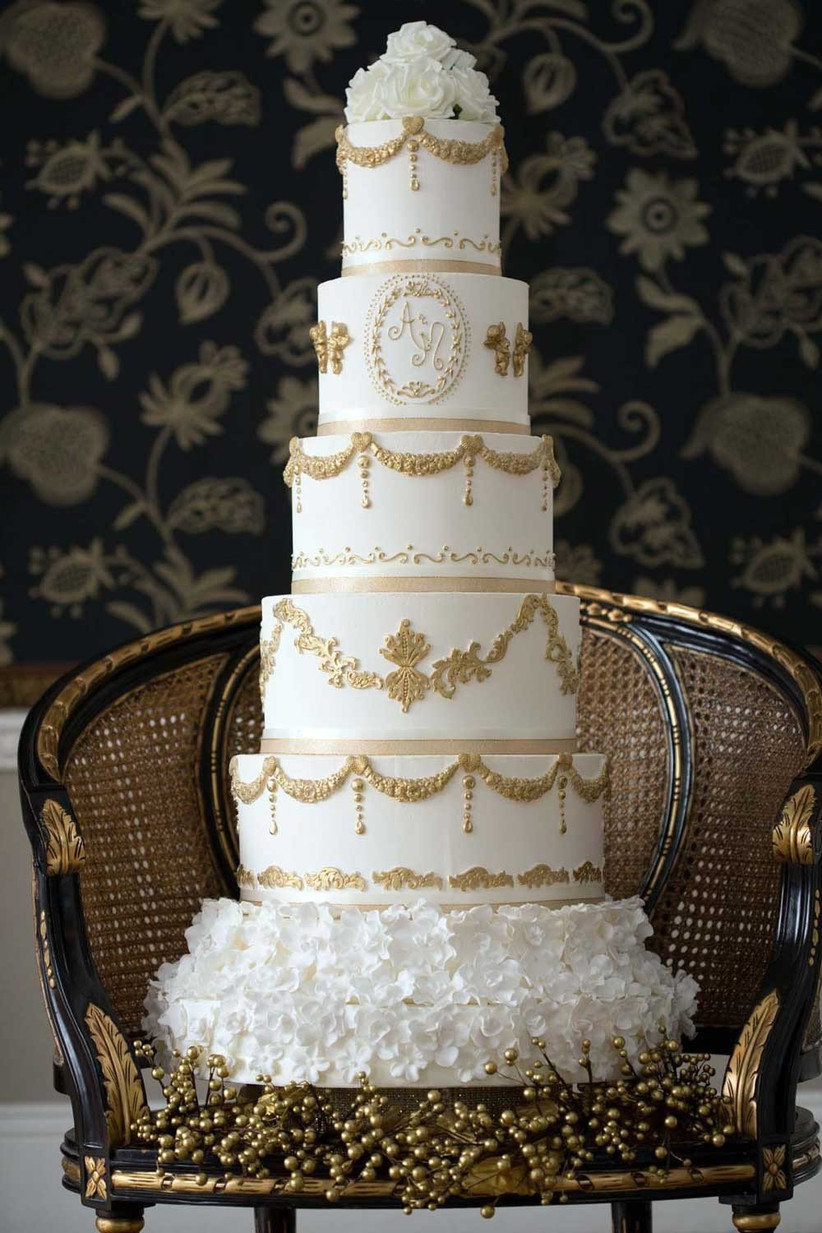 Image – Ann's Designer Cakes
Deluce Cakes added: "If a couple is expecting their wedding cake to be a real centrepiece at their reception and really stand out and be admired, they should expect to pay this price. Lots of intricate work goes into these cakes and they are often covered with lots of sugar work and detail."
READ MORE: How to Plan a Wedding for £27,000
Wedding Cakes Over £1,000
When you're budgeting over £1,000 for a wedding cake, you should expect something spectacular and the team at Ann's Designer Cakes agree: "This price range takes wedding cake designing to a whole new level. Clients should expect to receive two consultations; one initial meeting to discuss their requirements whilst tasting a range of cake flavours, followed by a second to view the cake design we've created and finalise the details.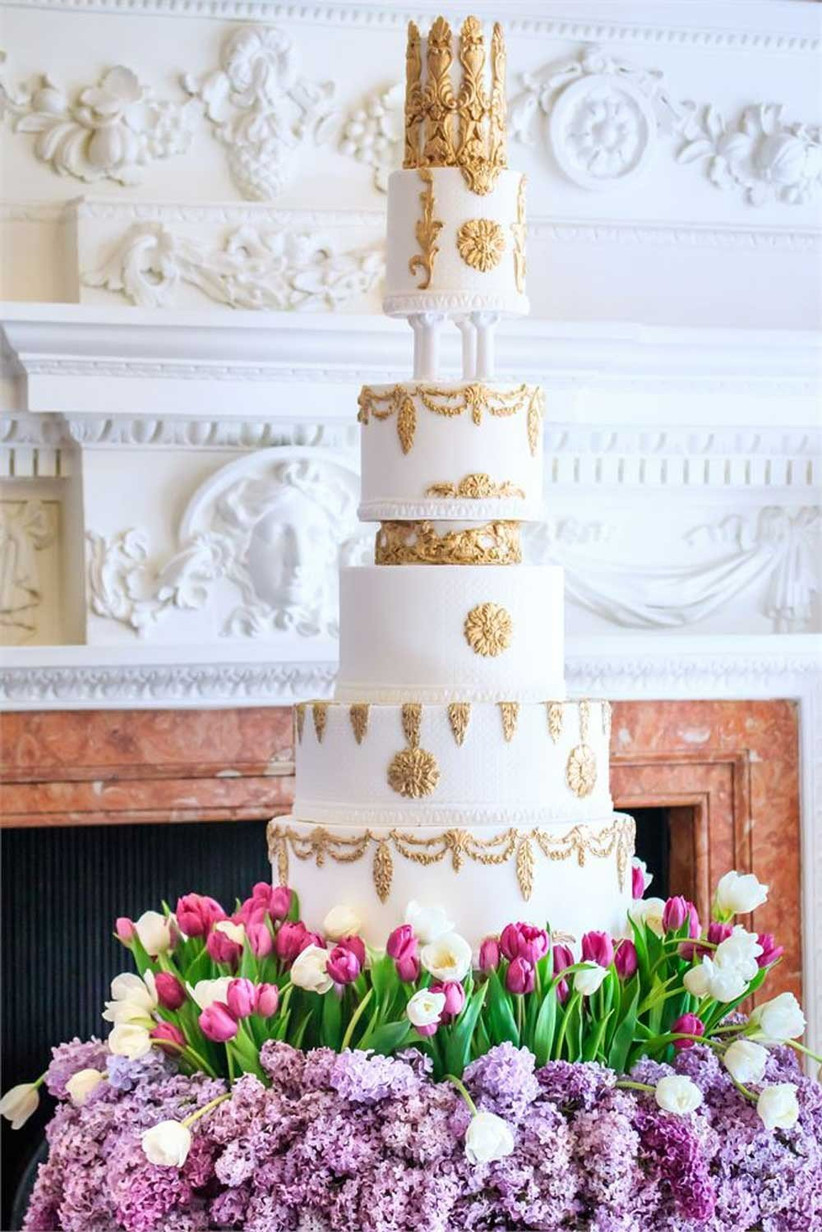 Image – Tees Bakery
"The possibilities are endless! These cakes start from seven tiers and the design of the cake can include a custom-made detailing and intricate personalised emblems along with bespoke handmade sugar flowers. We can also offer a reduced rate on additional items such as cake pops, cookies and favours for couples spending at this level."