Wedding Cake Prices: How Much Does a Wedding Cake Cost?
Curious about wedding cake prices? We asked the experts to explain wedding cake costs and what goes into their pricing
Shopping for your wedding cake is by far one of the most enjoyable tasks when planning a wedding – but how much does a wedding cake cost?
The thing about wedding cake cost in the UK is that there's a lot of variation depending on the kind of cake you want. It's not just about the size; although that does play a part; the style and finish can also affect the cost. The experience and location of your cake maker may influence the price, too.
Saying that, it is possible to get an idea of what to expect in terms of cost. We've spoken to the experts, including Laura Pike from Deluce Cakes, Kate Tynan from Little Button Bakery, Becky Hartt from Hartt cakes and more to get their insight, and and compiled a complete guide to the price of wedding cakes, which will help you and your partner feel satisfied that what you're paying is fair and reasonable, whatever your wedding budget.
We'll also give you a few ideas on how you can cut costs along the way!
How Much Should I Pay for My Wedding Cake?
There's no right answer to this question, as it depends entirely on how important the cake is to your celebration. If you're a big fan of baking or you have a bit of a sweet tooth, you may want to honour that by allocating more of your wedding budget to your cake.
If you're wondering why a wedding cake costs more than you expect, expert wedding cake artist Laura Pike, from Deluce Cakes, explains: "Wedding cakes cost what they do for the same reason a couture wedding dress costs more than a dress from Primark, or an oil painting costs more than a print.
"You are not buying something that is quickly and cheaply mass produced, like a supermarket cake is. You are commissioning a highly skilled and experienced professional to design and make something uniquely for you, and paying for the time it takes them to do that to a high standard."
How much you choose to spend on your wedding cake also depends on what the cake is for. Are you using it mostly for decorative purposes as a dessert table feature rather than serving to everyone, or are you using it in place of your dessert and therefore need enough cake to supply at least one slice to each guest?
Professional wedding cake maker Kate from Little Button Bakery shared with us the equation used to figure out the cost of a wedding cake:
Basic costs + cost of business overheads + cost of time + profit = price
Why Are Wedding Cakes More Expensive?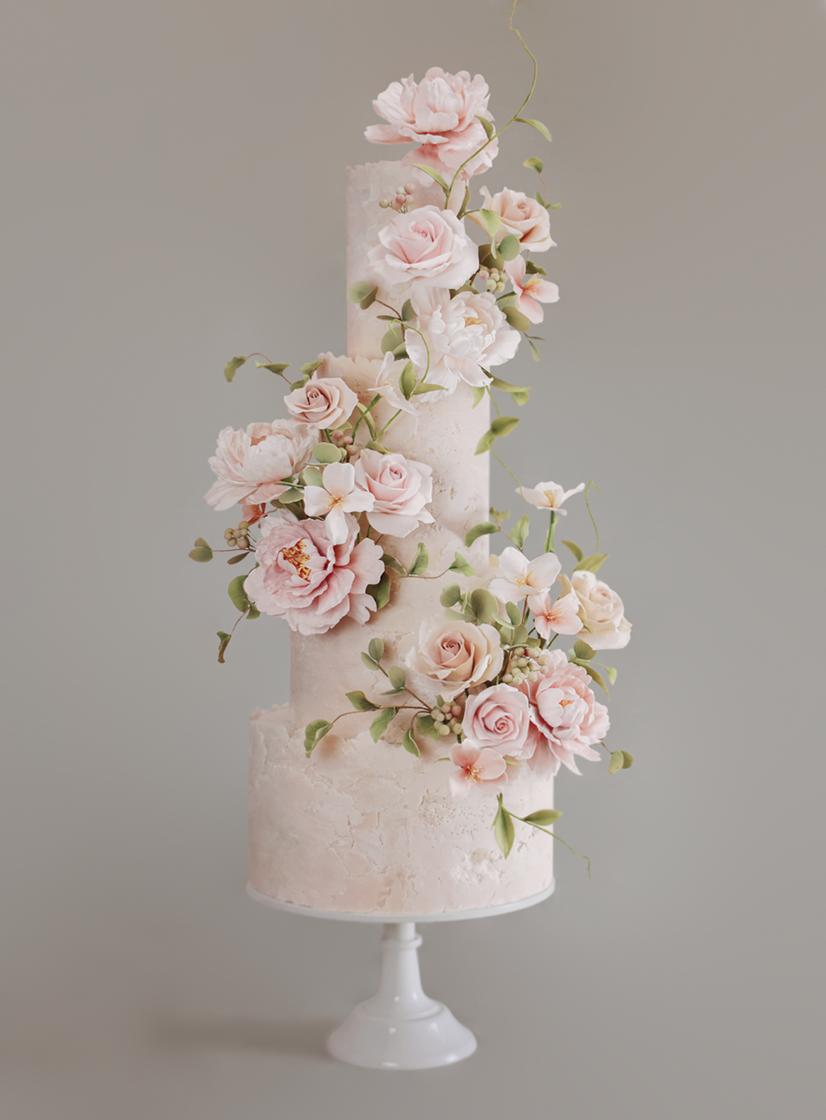 It's a commonly held belief that cake makers are quick to charge more for wedding cakes than celebration cakes. However, a closer examination reveals that this is not necessarily true.
Laura advises that: "A good wedding cake designer spends many hours communicating with you, understanding your personal style, sketching a unique design, organising your cake tasting, mixing huge amounts of batter made with natural, high-quality ingredients and baking them to perfection, carefully layering and constructing the tiers with the appropriate internal supports, before finally decorating and turning it into a delicious artistic centrepiece.
"And then they have to deliver it safely, before onsite unpackaging and assembly. From start to finish, that process takes days, even weeks if handmade sugar flowers, complex shapes and textures are involved."
Kate elaborates on this, "It is a common myth that cake designers charge more when they hear the word 'wedding', when in fact, a wedding cake and a celebration cake are a completely different product."
Wedding cakes usually tend to be larger and more elaborate in design than traditional cakes. They're also often designed to serve a larger amount of people, and therefore will take more time and money to prepare.
Kate also adds, "Wedding cakes require a huge amount of time from the initial contact to the final delivery.
"It is usually around 20-30 hours work in one wedding cake when you consider: admin time, researching designs, cake tasting and consultation, preparing and tweaking the final design, sourcing materials, liaising with other suppliers and the venue, baking, creating and finishing the cake, delivering and setting up the cake and checking in afterwards.
"It takes a huge amount of time and time is not a free commodity. Wedding cake designers will usually have spent years perfecting their craft. They will have spent thousands of pounds on equipment and training to be able to work to a high level. It is a hugely skilled task to create a wedding cake and the price point must reflect this."
What Factors Affect the Cost of a Wedding Cake?
Just like snowflakes, no two wedding cakes are ever the same - so no two wedding cakes are guaranteed to cost the same either! Wedding cake costs can vary greatly due to a number of factors:
1. Size
One of the most obvious factors affecting the price of wedding cakes is the size needed. A larger cake will need more ingredients, more time to prepare it, a more intricate design to ensure it remains upright and potentially more decorative details depending on the style that you've went for.
It's also important to bear in mind the amount of people you need to serve it to. If you need a wedding cake that feeds at least 100 wedding guests, you're looking at a minimum of three to four tiers which may bring the cost up to the price for a three tier wedding cake.
Becky from Hartt Cakes highlights the importance of portion size: "Would you choose coffee or dessert size? This depends if you are serving your cake as the dessert."
Laura from Deluce Cakes puts it simply: "It perhaps goes without saying that the larger the cake, the more ingredients and materials are needed to make it, and the heavier and more complex it is to transport and construct. The larger the cake, the higher the price."
2. Design
While size is a major factor in wedding cake pricing, the one thing which will have the most impact on how much your wedding cake costs you is the design you choose.
Naked wedding cakes, for example, can involve much less work than fondant and handmade sugar details, which will bring the price down. Any added details such as rice paper florals, sugar flowers, textured ganache and hand painted details will drive up the price, due to the time and skill it takes to create them.
Laura also offers some expert insight: "Wedding cakes are priced differently according to the type of decorative finish. A fully decorated, bespoke design costs more than a naked cake. That's because (except for fruit cake) every cake starts out as a filled and stacked naked cake underneath the external decoration.
"It then requires a different level of additional skill and experience to transform that cake into a work of art that perfectly complements the look and feel of the wedding. That process takes many hours. It is the skill of the artist, the uniqueness of the design and the time required to execute that design that you pay for."
3. Choice of Designer
Just like a wedding dress, the cost of a wedding cake can vary greatly depending on your designer.
For example, an amateur baker who loves to bake in their spare time and may use cheaper ingredients and freeze their cake to make it last longer is likely to charge considerably less than a cake maker with a high street storefront who has undertaken professional training and employs a team of staff.
"Don't dismiss a cake artist for their price as it's not just flour and eggs you are paying for," warns Becky. "It takes years of practice to get the skill and knowledge that we can give to your wedding cake. That's what you are paying for, not ingredients but the person behind the cake who will create a masterpiece just for you."
Kate agrees: "Your choice of cake designer can also influence cost. If you are choosing a highly regarded, luxury cake designer with 10 years' experience under their belt, they will charge more than someone who has only been in business for a year."
Kate also emphasises the importance of choosing the right cake designer for you: "Choose your wedding cake designer carefully. Make sure they tick all your boxes. Try their cakes and make sure you like them and chat to your cake designer to ensure they can fully meet your needs.
"Not all cake designers will make every style of cake. A bespoke wedding cake designer like myself would plan a unique wedding cake just for you but there are certain design elements I don't create e.g. sugar flowers. Others may have more of a 'brochure' you can choose a design from."
It will also impact the cost of a wedding cake if you choose to hire a fully qualified and popular cake designer.
Kate also offers her expert advice on how to determine that your wedding cake designer is fully qualified and worth investing in: "Firstly, look at their website. Do their images look high quality? Do they share reviews from happy couples? Is there information about the cake booking journey and what to expect?
"Next, look at their social media profiles. Do they back up what you have seen on their website? Are they active on there? Do they regularly share their work? Do they have reviews on Google? Are they good? Are you able to try their cakes? This will give you an understanding of the quality of ingredients they use and the attention to detail in their product and process.
"Are they recommended by other wedding suppliers are venues? Ask for other people's points of view. Have they worked with them before? Is the quality of their work good? Ask friends who are married who made their wedding cake and if they were happy with them."
4. Ingredients
Butter, eggs, flour, sugar - the cost of your wedding cake has to cover the cost of the ingredients used to make it. We all know how expensive butter is now, and that eggs are hard to come by.
This means that the type of cake you and your partner choose may cost extra if it contains extra ingredients. A fruit cake packed full of dried fruit or a cake that uses a liquor like rum to pack an extra punch is going to set you back more for these extra ingredients.
The quality of the ingredients will also impact the price. Cakes makers who advertise lower prices will have to save that money somewhere, and ingredients are the most convenient thing to reduce costs on. Whether it's using baking fat instead of real butter or using supermarket knock off brands, cheaper ingredients aren't hard to come by, but may compromise on taste.
Laura agrees with this, saying, "You can easily taste the difference between a mass-produced cake, with a long list of strange sounding ingredients, and a good quality cake from a reputable wedding cake maker with years of baking and recipe development experience. That's because they are made with natural, premium ingredients, which cost a lot more."
Not only that, the impact of Brexit and the cost of living crisis has had a huge impact on the price of wedding cake ingredients. Kate says, "The cost of ingredients and supplies have rocketed – some by over 50%, so cake prices have had to increase.
"Sourcing some products is also getting more difficult so that is also a worry and often we have to pay for expedited delivery or an inflated cost to get what we need."
5. Location of your wedding
The location of your wedding venue can have a big impact on the cost of your wedding cake.
First things first, we all know that the price of everything varies greatly depending on where you are in the country. Just think of how much more a pint of beer or glass of wine would cost in London than in a small town in Yorkshire!
The same rule applies when it comes to the average price of a wedding cake in the UK. A show-stopping centrepiece crafted for a city wedding in London will set you back more than the same cake for a countryside wedding in the Yorkshire Dales, as the cost of living is different in these areas.
There's also the cost of the transportation of the cake to think about, if you decide not to pick it up from your designer yourself. Kate says, "If your cake designer has to travel to your wedding venue, this can also add to the cost. So, it's something to consider if you are asking your cake maker to travel a distance to your wedding venue."
6. Time to Make the Cake
As the old saying goes, time is money, and the time taken to make a wedding cake can really vary depending on the size of the cake and the decorative elements involved.
"Usually, it is somewhere between 20-30 hours," says Kate. "Sometimes, less for more simple designs and sometimes more for more intricate designs e.g. sugar flower cakes. One sugar flower can take over an hour to make!"
"So I can offer a really high standard of service and product, I only make two wedding cakes per week maximum. Sometimes, only one, if it is a large or more complex order e.g. a dessert table."
Why Invest in a Good Quality Wedding Cake?
As with anything else in life, you get what you pay for with a wedding cake, and that most special of days is certainly not the time for a cake disaster!
Laura agrees, saying "A poor-quality wedding cake will not look impressive, will not be made with natural ingredients, will not taste good, and may not even stay upright. It's usually a once in a lifetime expenditure, and investing in quality is key to avoiding disappointment.
"Remember that a wedding cake is one of the key visual décor elements of a wedding. It is also food for every guest, and the cake cutting moment is likely to be captured by your photographer, framed and remembered forever.
"A beautiful, delicious wedding cake adds value on so many different levels and can have a huge impact, so it's important to work with an experienced and skilled professional who you can trust will meet expectations and deliver something worthy of such a special day. "
Kate also offers her advice: "If the cake is important to you, both in terms of appearance and taste, then you will be disappointed if you don't invest in a good quality cake as it won't live up to your expectations.
"For many couples, the wedding cake makes a huge statement on their wedding day. It is a time old wedding tradition to have a wedding cake. It will be on display prominently for all to see. If it's wonky, leaning or badly finished, your guests and you will notice. That's not what you want on your wedding day, so invest in a professional cake designer."
You also need to consider the certifications and qualifications of your wedding cake maker - an amateur baker might make a cheaper wedding cake, but do they have the requisite food hygiene certification? The last thing you want is guests getting sick from a cake that isn't properly cooked or has been made in unsuitable conditions.
What's the Average Cost of a Wedding Cake?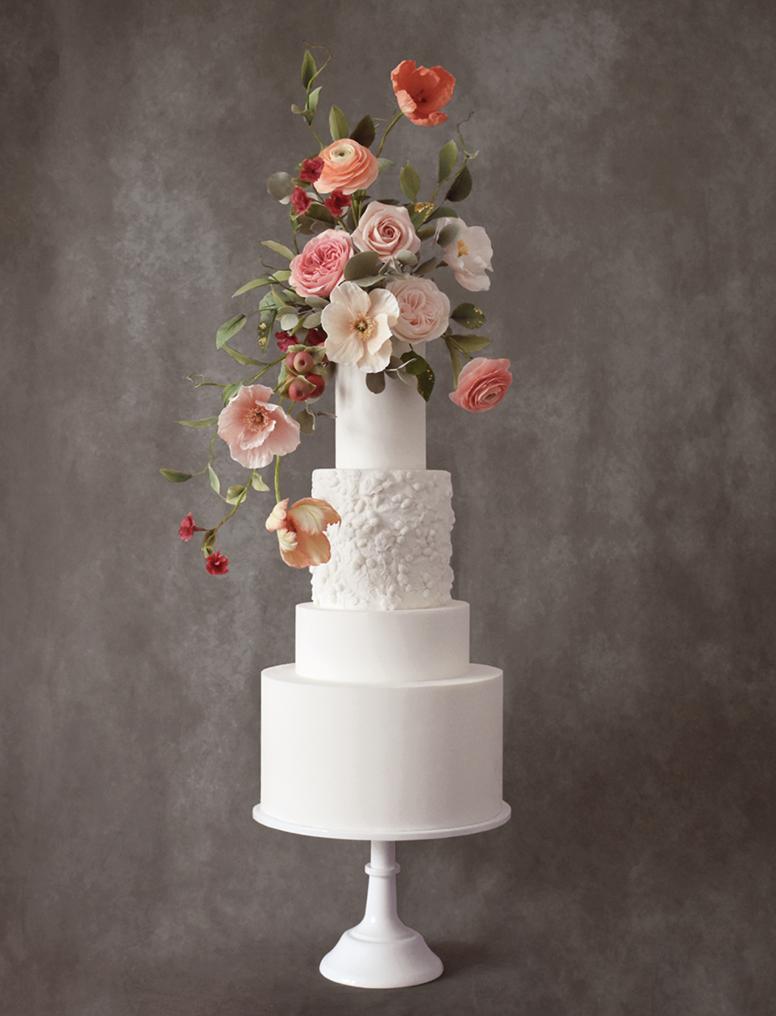 According to Becky, the cakes she creates, "on average cost from £450 to £750."
She provides some further insight into the average cake cost in the UK, saying "Hartt Cakes average price of a wedding cake in 2022 was £550. This reflects a three tiered cake that feeds either 100 coffee portions (1x1"slice), or 75 dessert portions (2x1"slice) with high texture details or hand painted flowers and fresh florals to match."
For those on a higher budget, you could be looking at a luxury wedding cake. Laura advises that: "Average prices for high end, luxury wedding cakes from a reputable cake artist in the UK will usually start from £700 upwards."
Reflecting on her pricing structure for wedding cakes at Deluce Cakes, Laura explains: ""Beautiful handmade sugar flowers are the Rolls Royce of wedding cake decorations and create the ultimate wow factor. They are painstakingly created, petal by petal, leaf by leaf and that is what Deluce Cakes is known for.
"Our average customers are couples who are looking to invest in something truly special, unique and memorable, and our average prices are upwards of £1,000. This reflects the superior quality of our bespoke creations and the enormous amount of time that goes into designing and making our beautiful centrepieces."
Kate reveals that: "For me, my wedding cakes start at £750 for iced cakes and £575 for semi naked cakes. The average spend for a wedding cake from me this year is around £900 though for an iced cake and semi naked cakes around £700 as an average.
"Mostly people come to me with a budget of between £800-£1,500 but I would class myself as higher end in terms of price."
Your wedding budget will greatly affect the type of cake you're planning to get, especially if you decide to allocate a certain percentage of your budget to your cake.
Cheaper Wedding Cake Options & Ideas
Working with a lower wedding budget can be tricky at times, especially in our current cost of living crisis. However, there are plenty of ways that you can save money on different aspects of your wedding day.
When it comes to cutting down your wedding cake costs, it's important to identify the aspects of the cake that are important to you. Would you rather have a smaller cake if it meant you could opt for high quality ingredients? Or perhaps your main goal is to feed everyone, therefore you'd want to focus more on the size of your cake.
If the cake itself isn't as important to you and your partner as the other elements of your wedding, you can opt for a smaller cake, or no cake at all! The beauty of your wedding day is that it is what you want it to be.
Laura give her expert advice: "Prioritising your wedding budget is key. If a beautiful wedding cake is important to you, make sure to add this towards the top of your priority list and save on other costs! A great way to do this is to have your wedding cake as the dessert, served with some seasonal fruits and a delicate scoop of ice-cream.
"You'll save a bit on the catering costs, and everybody will be able to enjoy a slice of your delicious show-stopping dessert! There are other sweet options such as cupcakes and doughnut towers if the expense of a wedding cake is not for you."
If you're dead set on having a cake, then Kate has some words of wisdom for you: "If you have a lower budget for your wedding cake, the most cost-effective option would be to have a semi naked style cake. However, these don't work for every venue, and I would avoid them in hot summer months, but they take less time to make so don't carry as high a cost.
Can I Make My Wedding Cake Myself?
One way people enjoy saving money on their wedding day is by taking things into their own hands, whether that's DIY wedding decorations, or mastering calligraphy for your invitations. If you're a lover of baking, or even consider yourself a pro, you might be considering baking your own cake to save a couple of pounds. However, there are a few things to think about before you hit up your local shop.
Firstly, you need to know what you're getting into. Kate says, "It's not for the faint hearted so make sure you know what you are getting into, and it will involve some set up time on the wedding day. A point to note on this, is that some venues will not allow cakes made by non-professionals due to insurance and food hygiene regulations, so do check with your venue first."
When it comes to making your cake, it's important to stick to a strict step-by-step routine, Start by planning your cake design, before choosing your recipe and gathering your ingredients and supplies. From then you can bake, decorate, assemble and transport your cake.
If you do decide to try your hand at baking your wedding cake, Jess from Meg Rivers DIY, a service that provides a plain wedding cake you can decorate yourself, has some tips: "You can do it simply with fresh or dried flowers and ribbon and it shouldn't cost you much at all.
"Hand painting your cake won't cost you much in supplies and there's plenty of edible paints, lustres and shimmer to choose from online and in your local cake decorating shop."
Meg Rivers DIY also offers the option to design a beautiful blank canvas wedding cake, which you can then decorate yourself. Jess says, "We've done the hard bit of baking a top quality cake using the best ingredients, we've iced it professionally and will deliver to your door for you to do the fun bit of decorating it to match your unique wedding theme." You would also need to transport it, so bear that in mind in your wedding day plans.
If you're working to a tight wedding budget make sure you've read our tips to staying on track with your budget.
Hitched consulted with several industry experts to create this article, including Laura Pike from Deluce Cakes, a Cordon Bleu trained pastry chef who founded her award-winning wedding cake business in 2015, Kate Tynan from Little Button Bakery, a multiple-award-winning wedding cake business established in 2012, and Becky Hartt from Hartt Cakes, who has been making wedding cakes professionally for over five years.