Wedding Photography Prices: Photography Costs Explained by the Experts
From editing and experience to equipment and staff - here's a complete guide to wedding photography prices and how much wedding photography costs
Hiring a wedding photographer is a non-negotiable for so many couples planning a wedding, but for those who have never hired one before, knowing wedding photographer costs and prices can be a bit of a minefield.
As with any industry, prices vary depending on a number of factors, but looking at the average price for wedding photography, along with expert insight from real wedding photographers can help couples understand what a good price for wedding photography is, and what their budget will get them.
Wedding Photography Prices: How Much Does a Wedding Photographer Cost & Why?
No matter what your wedding budget is, investing in your wedding photographer is always something we'd recommend. When you think back to your wedding in years to come, you'll love being able to revisit those cherished memories in your wedding photo album or slideshow - so capturing it properly is paramount.
To help you plan your budget properly, and ensure your expectations are on par with the industry, we've put together a guide to wedding photography prices which includes information on real photographers' prices and packages, as well as some background information on why photographers charge what they do.
Busting the myth that 'everything is pricier when you drop the W word' - we outline what really goes into deciding the cost of a wedding photographer and why they're well worth investing in.
How Much Does a Wedding Photographer Cost?
According to the results of our National Wedding Survey, the average cost of a wedding photographer in the UK last year was £1,300. However, it's important to remember that averages span a huge range of couples with different budgets and needs, in different locations.
When talking to several Hitched wedding photographers, their average photography spend varied from company to company. Some had average spends of £1,100, £200 less than the national average, while others had an average photography price of £2,000.
The price of your wedding photographer will depend on a number of factors such as hours hired, location, time of year and more - all of which we detail below. What's important is understanding the value of wedding photography, and deciding how important it is to you and your partner.
Wedding photographers charge not only for the time they're with you on the day, but for the hours spent researching editing and meeting with you, and more often than not, the more you spend with a photographer, the more you end up with - whether that's more hours of coverage, more edited pictures, a more experienced photographer or an additional shooter.
We usually recommend setting aside a minimum of 10% of your wedding budget for photography and videography, rising to more if you're very particular about pictures and videos. With the average UK wedding costing £18,400 that works out at around £1,840.
What Impacts the Cost of a Wedding Photographer?
There are lots of factors that can push the price of your wedding photography up or down, outside of just the services you choose. To get some expert insight, we've spoken to several professional wedding photographers who have given us an idea of what factors impact the cost of wedding photography.
1. Your Wedding Location
Just take a look at our wedding photographer supplier directory and you'll see that there's regional price variation. As a rule of thumb, London and the South East often work out the most expensive, and you'll also find that photographers in major cities tend to cost more.
If you don't book a wedding photographer who's based in the area where you're getting married (some photographers cover weddings nationally), may need to need to factor in their travel costs. Wedding photographer Joe Lillywhite says, "My prices do work out cheaper for local couples. My package price is for a 20 mile radius of Winchester.
"Outside of this area, I charge mileage and accommodation if required, although I try to keep these costs as minimal as possible so that they are as competitive as possible."
However, if you have fallen in love with the work of a wedding photographer from a different area, it might be worth paying those extra costs for photos you'll treasure, particularly if you want your pictures to be unique.
Joe continues, "I enjoy shooting weddings in different locations, it keeps me on my toes thinking about how to capture the day or looking for unique locations for couple shots. Many couples only consider wedding photographers who have shot in their venue before.
"I'd say to those couples: have a look around and chat to some other photographers - they may not be from the area, but that means they may bring something unique to your wedding."
2. The Time of Year
Peak and low season wedding months impact the cost of almost every wedding venue and supplier. Simply put, the more demand there is for a venue or service, the more it is likely to cost. During peak wedding season (which runs from May - September in the UK) or on a popular day of the week like a Saturday, wedding photographers will be in much higher demand and have less availability.
However, booking a wedding photographer during the week or in low season could see you snag a slightly lower price. Though it's important to remember that a wedding photographer's business and running costs don't fluctuate throughout the year, so don't assume that you're entitled to a bargain just because it's low season.
Many couples book their photographer at least a year in advance; some photographers offer a discount if you pay in full up-front - there's no harm in asking politely whether that's the case - but respect their answer.
3. Additional Equipment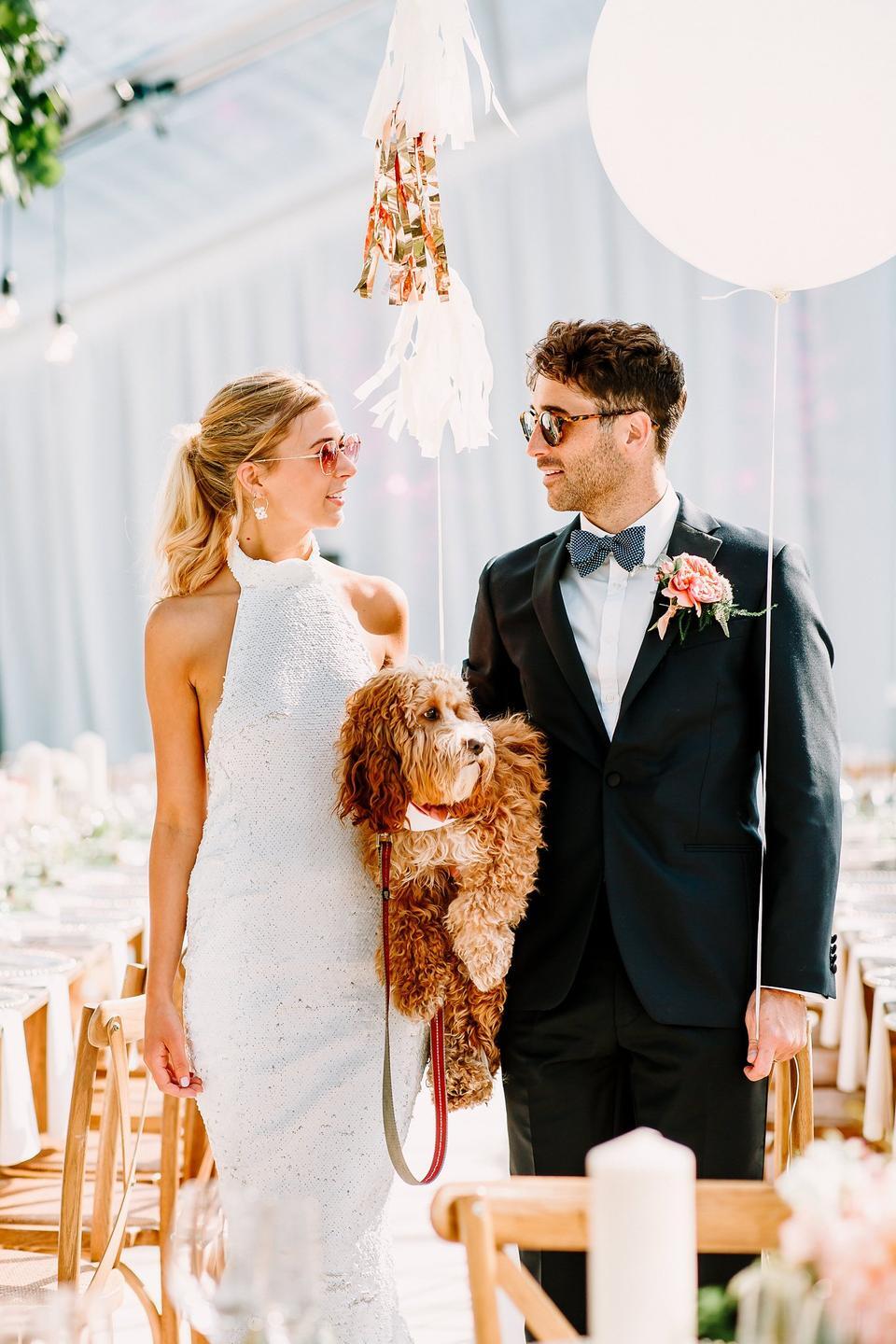 If your wedding photographer requires additional equipment to shoot your wedding, this is very likely to impact the cost of the package. As wedding photographer Jessy Papasavva points out, her costs include: "Cost of equipment, backup equipment, multiple lenses and cameras, lighting and more."
If you require wedding videography, a drone or additional equipment to shoot at a unique or particularly difficult location, this will all impact the cost of your wedding photography package.
4. Multiple Photographers
Do you want to make sure you have photos of both of you getting ready on the big day, or do you have a super-size guest list? Couples who want to ensure maximum, full coverage may want to consider hiring a photographer who shoots with an assistant second photographer, or 'second shooter'.
We have many wedding photography duos and teams listed on Hitched who work together on all of their weddings, but don't shy away from solo photographers if you'd like more than one. Many photographers have a network of other professionals who they frequently work with and will have a surcharge for adding an additional photographer to their package.
You can't expect to pay the same price and have two people working instead of one, but hiring double the shooters can really pay off in the end - for example, you can have photos of both you and your partner getting ready in the morning.
5. Number of Hours Shooting
Photographers charge for their time amongst other things, so the difference between a micro-wedding shoot of just a few hours, and a full day of coverage are going to be very different. Many photographers will have numerous wedding packages and tiers giving you options of how many hours shooting you'd like.
For example, Lisa, owner of Lisa Cowen Photography explains, "My full day photography option covers preparations, the ceremony and reception and up to the end of the first dance. My couples have the option to add on additional hours if they like, or choose my half-day option."
6. Photography Package Extras
Most wedding photography packages, at the very least, will include the time spent shooting, as well as an agreed number of edited images available either via a USB stick or in a password-protected online gallery.
However, if you want additional prints, canvases, a wedding photo album or any extras, it's going to impact the price. Most wedding photographers will offer a number of packages and outline any additional things that are included, but if something you really want isn't included in the package - just ask!
It's likely that your photographer will be more than happy to add things onto their standard packages after agreeing an additional fee. Joe explains, "I also offer photo films which are essentially the best photos from the day played in time to music. It's not a replacement to a videographer but more of an alternative for couples who are either not keen or have the budget for a videographer."
7. Photo Copyright
It's unlikely that your wedding photographer will charge you for any copyright fees - you want to have full ownership of your pictures without watermarks, so it's always worth checking your contract just to make sure.
David Kinally of Dotty Photography explains, "I spoke to a couple who paid roughly £850 for the day and thought they had a bargain. After the wedding, the photographer supplied them with 300+ images lined with watermarks.
"The couple asked when they would receive the non-watermarked digital images only to be told it would cost them £7 an image, racking up a bill of over £2,000 just to have the photos they thought they had already paid for. The photographer explained that the £850 was for him to attend the wedding and edit the photos but did not mention the cost of receiving the photos."
Whilst this is a rare instance, and not general practice for the majority of wedding photographers, asking the question will give you ultimate clarity.
8. The Level of Experience
Joe says: "A major factor on cost will be whether your wedding photographer is full time. There are many photographers who shoot weddings alongside other part or full-time jobs. This means they do not have the financial requirements of a full-time wedding photographer.
"A photographer who has a full-time job elsewhere can afford to offer wedding photography for a few hundred pounds. I started out this way to gain experience. Experience means a wedding photographer is more likely to understand and deal with testing situations more effectively. Photographs are such a huge part of the memories of the wedding you want confident you have the best person behind the camera."
Think carefully about pursuing this option - the skills you want in a wedding photographer aren't just about taking pictures. If there's one wedding supplier we'd highly recommend paying out for, it's your wedding photographer, and an experienced one at that.
You want someone who, having shot plenty of weddings before, understands which details to capture, as well as knowing how to get the best of out people, arrange group shots, deal with guests who don't like having their photo taken, be unobtrusive on the day and carry out precision editing afterwards, among many, many other wedding-specific skills.
What Do Wedding Photography Prices Include?
As with any wedding supplier category, each wedding photographer will include different things in their pricing. Some will offer all-inclusive packages which include everything you need, and others will offer a more bespoke 'build your own package' system.
These are things that a lot of wedding photographers include in their quotes, but it's a case-by-case profession so always check and ask the right questions.
1. Planning & Consultation
Wedding photography isn't a 'show up on the day and shoot' sort of job - that's actually one of the biggest misconceptions when it comes to this area of expertise. More often than not, wedding photographers will try to visit the wedding venue ahead of the big day to scope out the best areas to shoot, consider lighting in different places and plan the pictures out.
If they are unable to do this, they will at the very least research and communicate with the venue to try and plan their shoot virtually. As well as scoping out their location, photographers also have to organise group and couple shots with you. They will ask you what kind of photographs you want, whether or not you want group shots, and then plan the order and logistics of these pictures.
2. Editing & Packaging
Photographer Jessy Papasavva explains, "I take around 6,000 - 7,000 shots on a normal wedding day, which I then have to go through and edit. To do this, I have to go through all 7,000 images and choose the best 700 shots to edit. The editing itself, for me, takes between three and four days. I don't batch-edit my images, I do each one separately to ensure they are perfect."
Some photographers also include hard copy images and online galleries in their packages, all of which take time to put together. Photographer Philip Bedford explains, "All of my packages include a certain amount of hours of photography, all the professionally edited images on a USB within a beautiful wooden case, along with 50 photographic prints and a website gallery for friends and family to view online."
3. Travel & Exclusivity
Travel expenses are often included in a wedding photographer's quote, but if you are hiring a photographer to travel further than their usual catchment area, this may come at an additional charge. Another thing to take into consideration, is that some wedding photographers limit the number of weddings they shoot to ensure they dedicate enough time to each one.
Jessy explains, "Sometimes I'd need to travel to or from a wedding the night before or after, depending on location, so this means I usually limit the weddings I take on a year. I tend to accept around 30 but this can fluctuate."
4. Expertise & Skill
It sounds like an obvious one, but when you pay for a professional wedding photographer, you are paying for their time, expertise and skill. Jessy adds, "I've been doing this for 10 years now, so it's all about the experience you will receive. There isn't a venue or location that I wouldn't be able to create the best work for my couples.
"I've been put in almost all weather and lighting conditions and still able to create the same quality of work. So it's the experience and knowledge that my couples are paying for. A wedding day only happens once, so there is no going back to capture it better at another time. The risk that comes with that is huge, so a photographer must be very well prepared and focused for the entire day.
"I can't stress enough how important this is. People don't realise how intense photographing a wedding can be - I have to be focused and non-stop the entire day, stick to timings and be prepared to lead guests during group photos - and these are all things comes with experience."
Wedding Photography Price Lists & Packages in the UK
Remember, there are exceptions to every rule. These wedding photography price brackets will give you an idea of what to expect, but the factors we've outlined above will affect them.
£0 - 1,000
Couples with up to £1,000 to spend on their wedding photographer may find themselves compromising on shooting hours or the number of final edited images, as this is fairly low on the wedding photography price scale. However, there are options and you absolutely can have your wedding professionally photographed for under the £1,000 mark.
Philip Bedford explains, "My average couple spend is between £1,349 and £1,699, but I do have an option which offers four hours of professional wedding photography for £999 for couples who are on a tighter budget."
Another option comes from wedding photographers like Artypix who offer an hourly rate in the form of three tiers. They have Bronze, Silver and Gold packages, which are charged at £130, £160 and £230 respectively. Using a tier system like this gives couples with less budget flexibility to customise their package.
You could opt for three hours on the Gold package which gives you two photographers and a hand-crafted album, or a much longer day of shooting with the Bronze package where you'll get one photographer and an online gallery.
£1,000 - £1,500
Upping the budget to over £1,000 opens things up for couples. This also takes us into the bracket where our average wedding photography cost lies. Wedding photographer Lisa Cowen has been shooting weddings for more than 15 years and charges just above £1,000 for her services.
She says, "I charge £1,100 fora full day of wedding photography and clients can add on additional hours if they like. Along with the photography coverage itself, this price includes VAT and all expenses, processing, editing of the photos, access to a beautiful personalised online digital gallery and a high-grade USB flash drive."
For lighter wedding coverage with an incredible photographer, Jessy Papasavva offers a civil weddings package at £1,150, which gives couples four hours of coverage, 500 edited pictures, an online gallery and a USB presentation box.
Sitting at the higher end of this price bracket, Philip Bedford offers a similar wedding photography package that also includes some hard copy prints. His 'Option 1' package gives couples a full eight hours of shooting, professionally edited pictures and an online gallery for friends and family to view. He also provides a personalised USB presented in a beautiful wooden box, and 50 photographic prints.
£1,500 – £2,000
Samantha from Artypix told us she believes a good price for wedding photography is £1,500 for a full 10 hours of shooting. Many of our wedding photographers including Philip Bedford offer similar packages in this price bracket, and moving up towards the £2,000 mark can see you have a number of extras.
Philip's 'Option 2' and 'Option 3' both fall into this price bracket. With the first, which costs £1,799, couples will get all of the above as well as a personalised Graphic Studio book which displays between 50 and 75 of your wedding day pictures. And with his next package, at £1,899, you get the above, as well a a pre-wedding engagement shoot.
£2,000 – £2,500
Spending more than £2,000 on your wedding photography will ensure you receive a full days coverage and a good amount of professionally edited images. Some photographers who work more exclusively will position their main full-day package in this bracket, like Jessy Papasavva. Her average couple spend around £2,000 with her, and she charges £2,400 for a full day of ten hours' coverage.
With some photographers, moving into this price bracket will allow for a number of extras, and physical mementos. Philip Bedford's 'Option 4' package costs £2,199 and includes everything his other packages did (including that pre-wedding shoot!) as well as a parent copy of your picture book. This can be one A4 version, or two A5 versions depending on how many you'd like.
For wedding photographer Artypix, spending £2,300 with her will see you get ten hours of her top tier wedding package which includes a private online album, a USB with all images, a selection of images in a leather album and an additional shooter for your wedding.
£2,500 and Above
When spending more than £2,500, you should expect to have at least one big extra, whether that be an additional wedding photographer, an engagement shoot, a video or a fun add-on like a wedding photobooth.
Photographers who operate at the higher end of the scale agree, and their packages reflect that. Philip Bedford's most premium option costs £2,899 and includes a leather bound album, parent books, signed and framed prints and an additional wedding photographer on the day.
Jessy Papasavva's highest priced package stands a little less than this at £2,400, but she offers couples the chance to have an engagement shoot or second photographer for an additional £400, adding tremendous value to her already very comprehensive package.
So, there you have it, that's what you can expect when it comes to wedding photography prices - these shooters are worth their weight in gold and are worth every penny, but before you book one, here's the questions you must ask a wedding photographer.