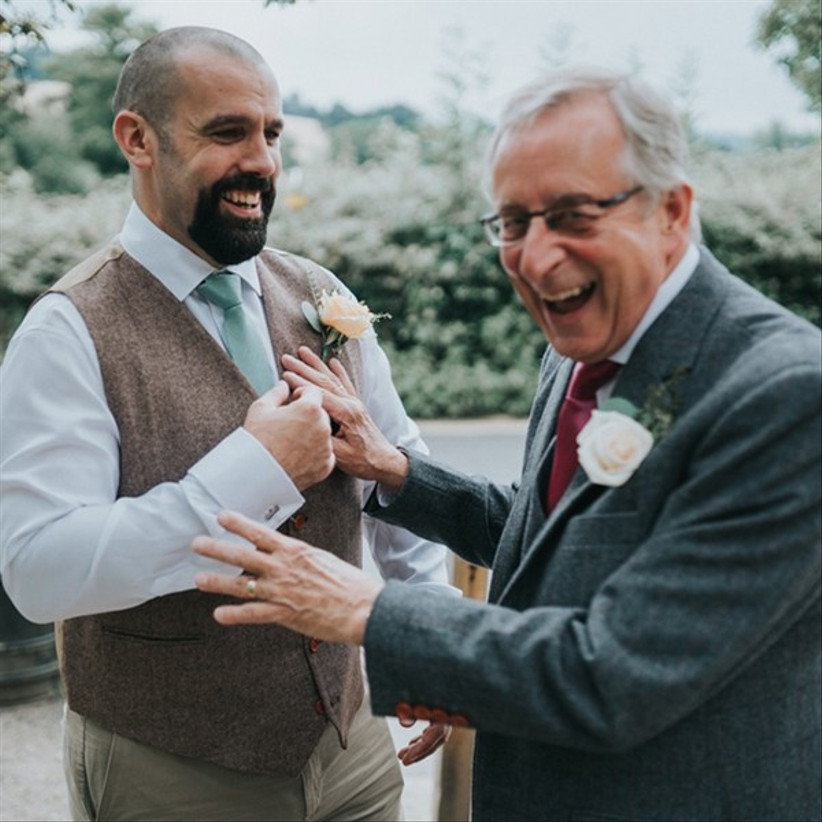 Money is often an incredibly difficult topic to talk about, but with the average wedding costing £32,273 it isn't something you can avoid discussing.
It can be necessary to ask family for help to pay for your wedding or to accept their offer of a financial contribution, but how do you approach asking your family, how do you handle it when parents do contribute to or pay for your wedding, and what's the best way for them to do so? Are you really going to have to put up with your mum dictating your wedding dress?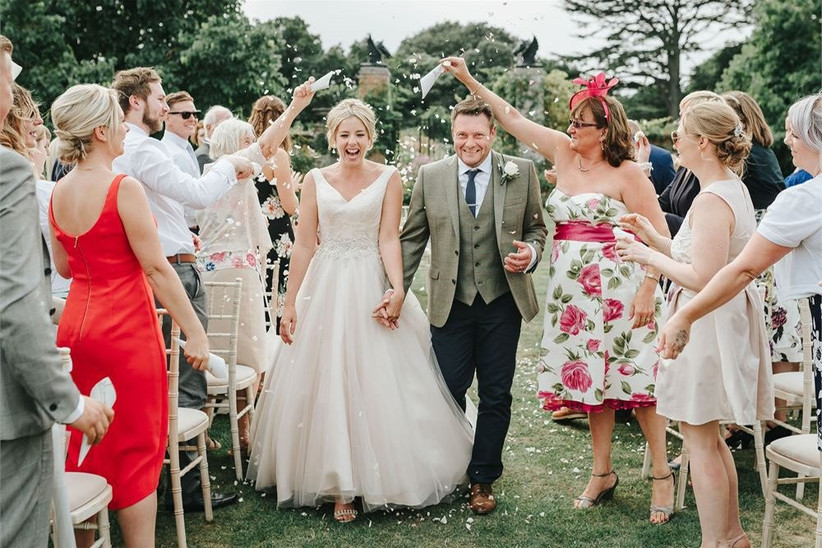 Image: Kelsie Low Photography
We've answered all the questions you've ever wanted to know about parents paying for your wedding, plus quizzed an expert on the etiquette of how to handle interfering parents during your wedding planning.
Are The Bride's Family Still Expected To Pay For The Wedding?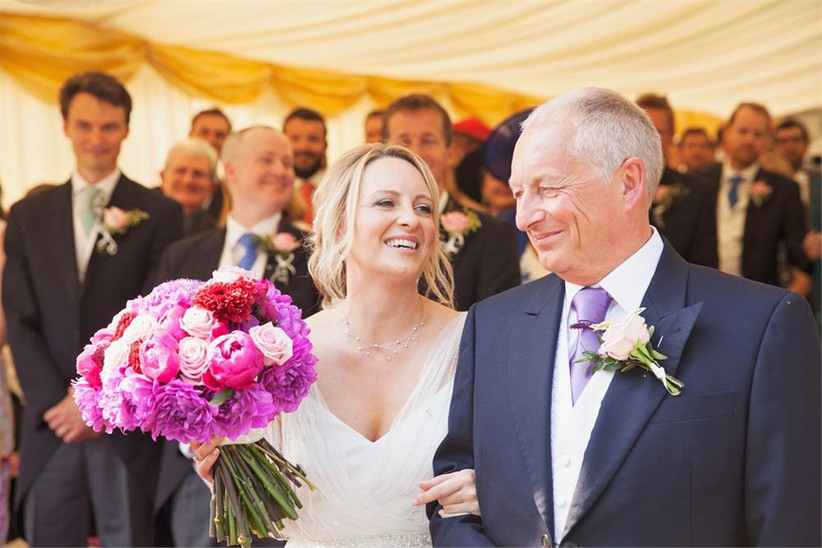 Image: Hayley Jayne Photography
It's always been traditional for the bride's family to foot the bill for the wedding, although many couples now see this rule as old-fashioned. Instead, it's become more common for couples to pay for the wedding themselves or accept a financial contribution from their families, rather than expect parents to pick up the whole bill.
READ MORE: 23 Things To Give Up Now To Save For Your Wedding
Celebrity wedding planner Mark Niemierko says that it should be a case of what each couple can afford.
"Tradition does still apply, but not massively nowadays. It depends on the couple's financial situation; many couples today are financially independent and don't necessarily need their parents to help them fund their wedding, but quite often the bride's family will still contribute to or pay for a substantial item, such as the wedding dress."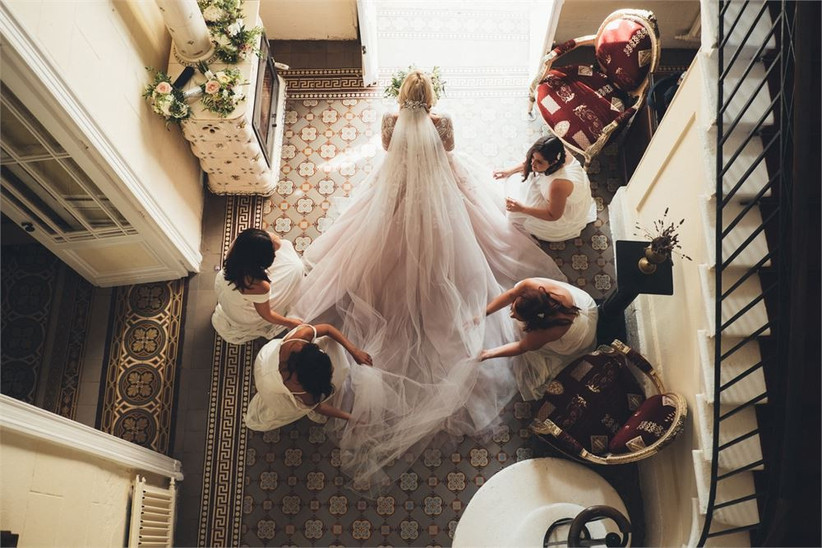 Image: Ivory Fayre Photography
If your family are traditional, there are certain costs that the bride and groom's family take responsibility for. These include the bride's family paying for the ceremony and reception, flowers and decorations, dress, photography, stationery and transportation. The groom and family traditionally pay for both the bride's rings, the bouquet, honeymoon, marriage license and suit hire, plus pay for the rehearsal dinner.
This is a matter to discuss as a couple and then talk to your parents about.
READ MORE: How To Plan An Amazing Wedding For £27,000
How Do You Ask Parents To Pay For Your Wedding?
You might decide that you need to ask your parents to help pay for your wedding, in which case there are several options you could take to approach this potentially uncomfortable topic.
Remember to never imply that that your parents are obliged to help you. The conversation should always start from a place of gratitude – thank them for how much they have already done to financially provide for you in your life and how grateful you'd be for their help now.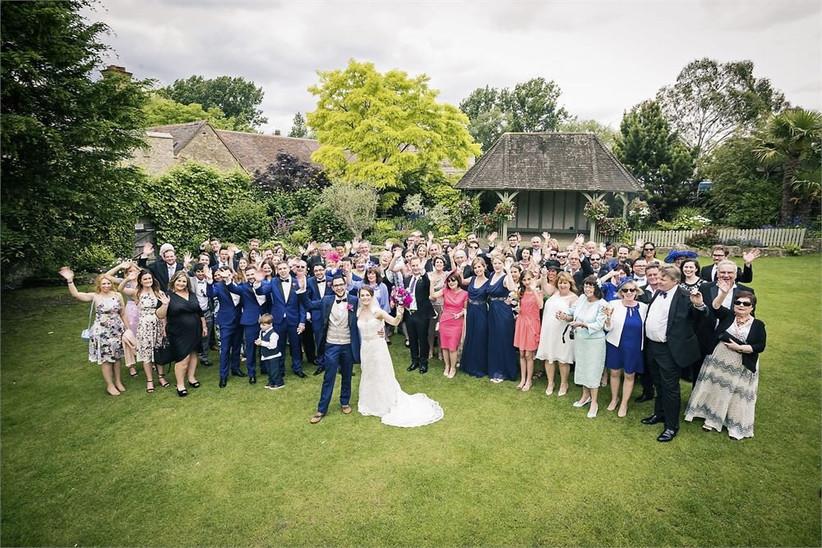 Image: Howling Basset
1. Ask Without Asking
If you want to take an indirect approach, ask parents to review your wedding budget. Lay out in a spreadsheet how much you expect to spend on each item, how much you plan to save for your wedding and how you'll cover your costs, then ask your parents for their advice. Most parents will be happy to share their financial savvy and it may be a natural approach into them offering to help you out with your costs. If they don't offer, use your discretion to judge whether it's because they are not in a position to.
READ MORE: UK Brides Reveal Their Top 10 Wedding Worries
2. Ask Them To Cover A Specific Cost
Offering to cover half the cost of the wedding without knowing exactly how much that will be can scare parents. They may be more comfortable to pay for a specific portion of the wedding, such as the wedding dress or the venue.
If your dad loves cars, you could ask him if he'd be willing to help pay for the cost of transport and ask him to help you pick out your wedding car. Similarly, you might have a mum who loves flowers and would relish the opportunity of helping design your bouquets and buying them for you. If there's no obvious link, state plainly that you've found a venue you love, for example, but can't afford it with your budget and would they be interested in helping.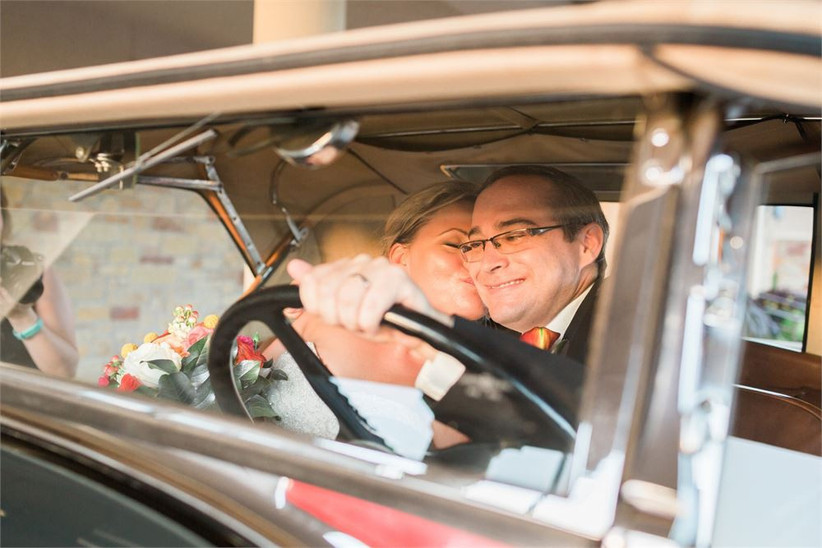 Image: La Belle Bella Photography
3. Ask How They Want To be Involved In The Wedding
This is another indirect approach that puts the ball in their court. Ask parents how they would like to be involved in your wedding planning and see if they mention money. If they don't, then aks if they would be able to financially contribute.
4. Ask Them To Cover The Cost Of Their Extras
If parents are set on adding to your guest list everyone from their old university chum to their current business associate then ask them to cover the cost of each additional head. Go to them with your budget and say, "We can afford to pay for 30 guests at £80-a-head. There's space for each set of parents to invite up to 20 of your own guests, but we would ask if you'd be happy to cover the cost of those extra guests."
READ MORE: The Best Way To Ask For Money Instead Of Wedding Gifts
Mark notes that if their extra guests have been a point of contention, explaining the cost of their meal and bar tab "may cool their enthusiasm" for the additions.
5. Ask Them Directly To Cover The Entire Wedding
Some parents will have saved for their child's wedding and be happy to cover the entire thing. Ask them directly and be very grateful if they say yes. A simple "Would you be happy to pay for our wedding?" will suffice.
What Are The Best Ways For Parents To Financially Contribute To The Wedding?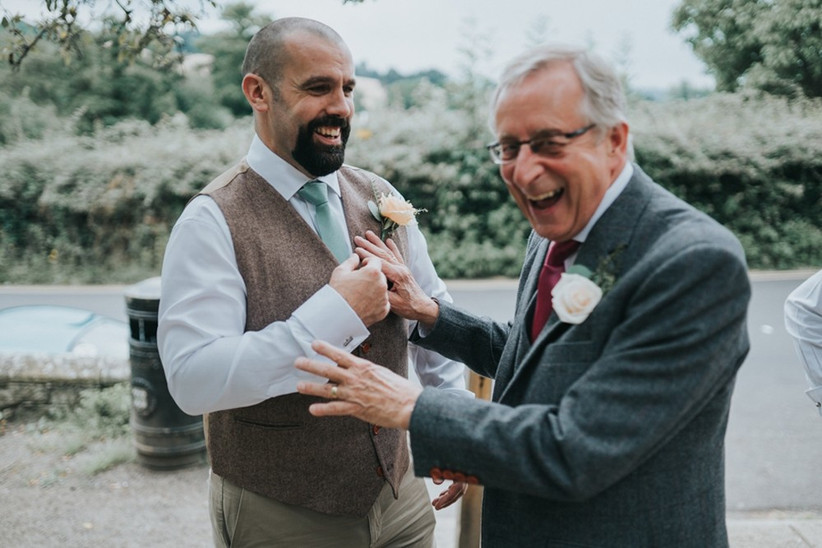 Image: Ivory Fayre Photography
If family wish to pay for all or a susbstantial part of the wedding, there are ways you can gift money to your children which are exempt from inheritance tax. Firstly, gifts are not counted towards the cost of your estate seven years after you give them. Before seven years, tax is charged at 40% given on gifts given in the three years before you die, and on a sliding scale from 3-7 years.
One thing you may not be aware of is that parents or grandparents can also give a "wedding gift" that is exempt from inheritance tax.
READ MORE: How To Plan The Perfect £10,000 Wedding
Every taxpayer has a £3,000 "gift allowance" each year, known as an annual exemption, where they can give away assets or cash up to this value without incurring inheritance tax. You can carry this allowance over from one tax year to the next, up to a value of £6,000.
On top of this, you can also give a "wedding gift" that is exempt from inheritance tax if it follows certain rules.
The wedding gift has to be made before, not after, the wedding and the wedding has to happen
If given to a child, the gift is worth £5,000 or less
If given to a grandchild or great-grandchild, the gift is worth £2,500 or less
If given to another relative or friend, the gift is worth £1,000 or less
It's best to speak to a legal or estate tax adviser first if you want to use this exemption.
Should Parents Get a Say in Wedding Planning if They're Paying?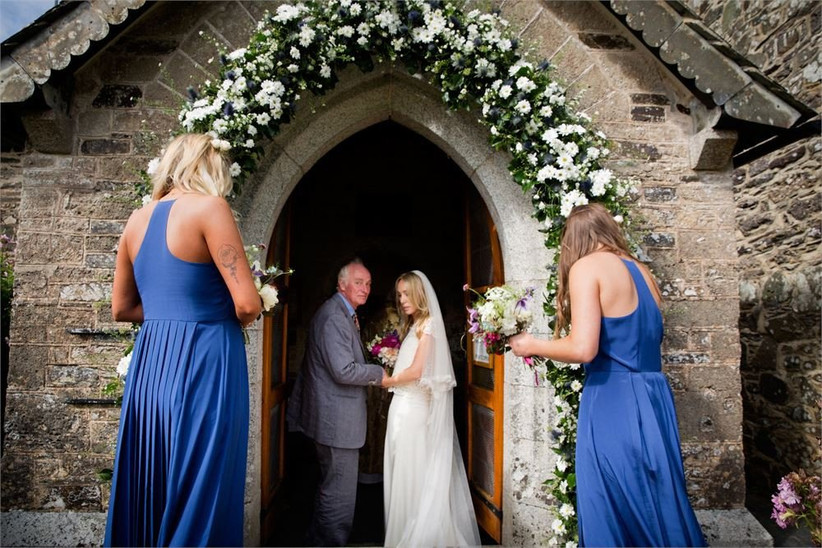 Image: Chris Giles Photography
According to wedding planner Mark, this is an absolute yes. "You should involve your parents on some scale! A wedding is about you, and essentially you are you because of your parents and your upbringing. You are creating a celebration of two families, so it should be about those families."
However, parents may feel that because they are picking up all or some of the bill, they should be able to add all their friends to the guest list or dictate your venue or dress choices. While it's a very generous gesture for parents to financially contribute, it can be a tricky balancing act keeping parents happy, allowing them input into your wedding and staying true to your own vision of your big day.
READ MORE: The Best Father Of The Bride Speech Examples
Mark has a clever trick for keeping parents happy and getting what you want.
"If you want to keep control, a good way to manage parental involvement is to give them choices. Invite your mum to the menu tasting, but decide ahead what you're going to try. Say you want to have beef – have two beef dishes on the menu and let your mum decide between the two. That way they're getting a say but you're happy with the outcome," he advises.
How to Compromise on Planning When Your Parents Are Paying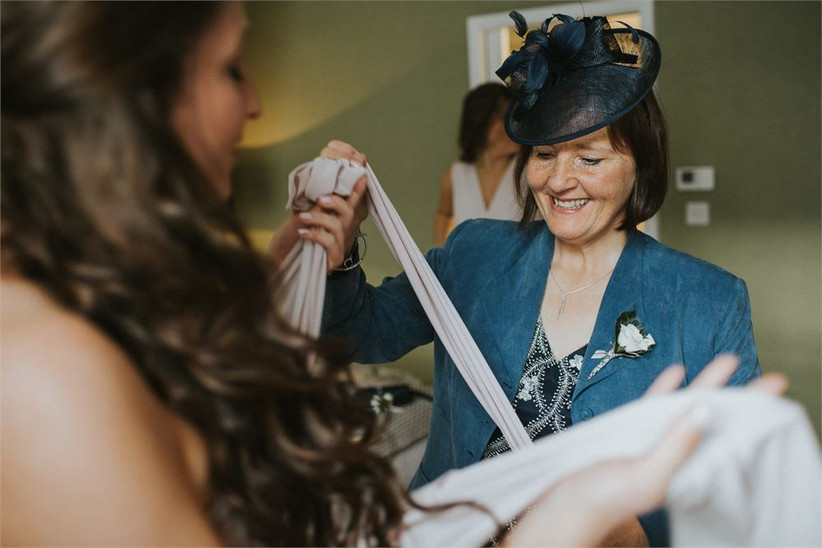 Image: Slawa Walczak Photography
Compromise is the key word here. Mark explains that tolerance is required on both sides if parents are exerting their influence.
"A good parent will understand that this is their child's wedding and they will want to make their own decisions. A good adult child will understand their parents still want to be involved and will say 'I'd still love your input," he says.
READ MORE: 9 Ways To Save On Your Wedding Stationery
Honour Traditions
"One of my couples stayed in the honeymoon suite at Claridges, as this is where their parents had their wedding reception. They didn't want their own reception there but still wanted to continue the Claridges tradition," Mark says. "It's a way to honour them (and even your grandparents) and create new family traditions. Ask them what they did at their wedding for ideas as a way to cushion the blow that you don't want their direct input." You could opt for the same cake flavour, wear your mother's dress or even just choose a similar design.
Involve Them In Tasks
A great task for the mother of the bride is to direct the RSVPs to her. She can record the RSVPs and feel like she's helping with the planning.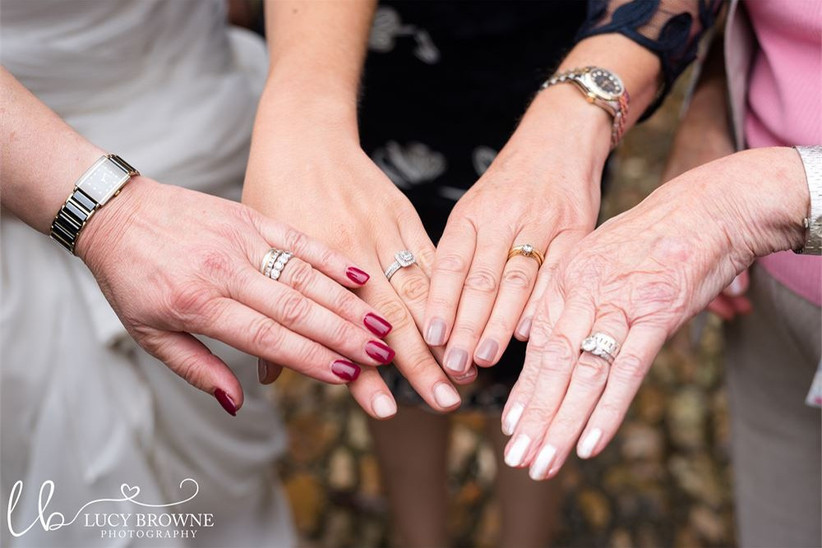 Image: Lucy Browne Photography
Don't Leave Someone Out
Giving you money and then feeling underappreciated can lead to resentment. Mark warns, " Don't forget the mother of the groom. The mother of the bride gets attention for her outfit, the father of the bride gives his daughter away and makes a speech – the mother of the groom can be a little left out.
"A good way to include her is to organise professional hair and makeup for her too on the morning of the wedding, even if it's in her own room to give the bride the space she needs to get ready on the morning of the wedding."
Find a Middle Ground
One of the biggest ways parents may want to influence the wedding is the guest list. Mark suggests that if you don't want your wedding full of people you don't know, then suggest an alternative.
"Have two celebrations. This works well if you have family in another country you're not close to, for example. Have your intimate wedding with your guest list, but throw another wedding celebration where your parents can invite their guests," he recommends.
If you're looking for ways to save money on your wedding, read about these hidden costs you might not know about and make sure you check out our pick of wedding decor under £10.