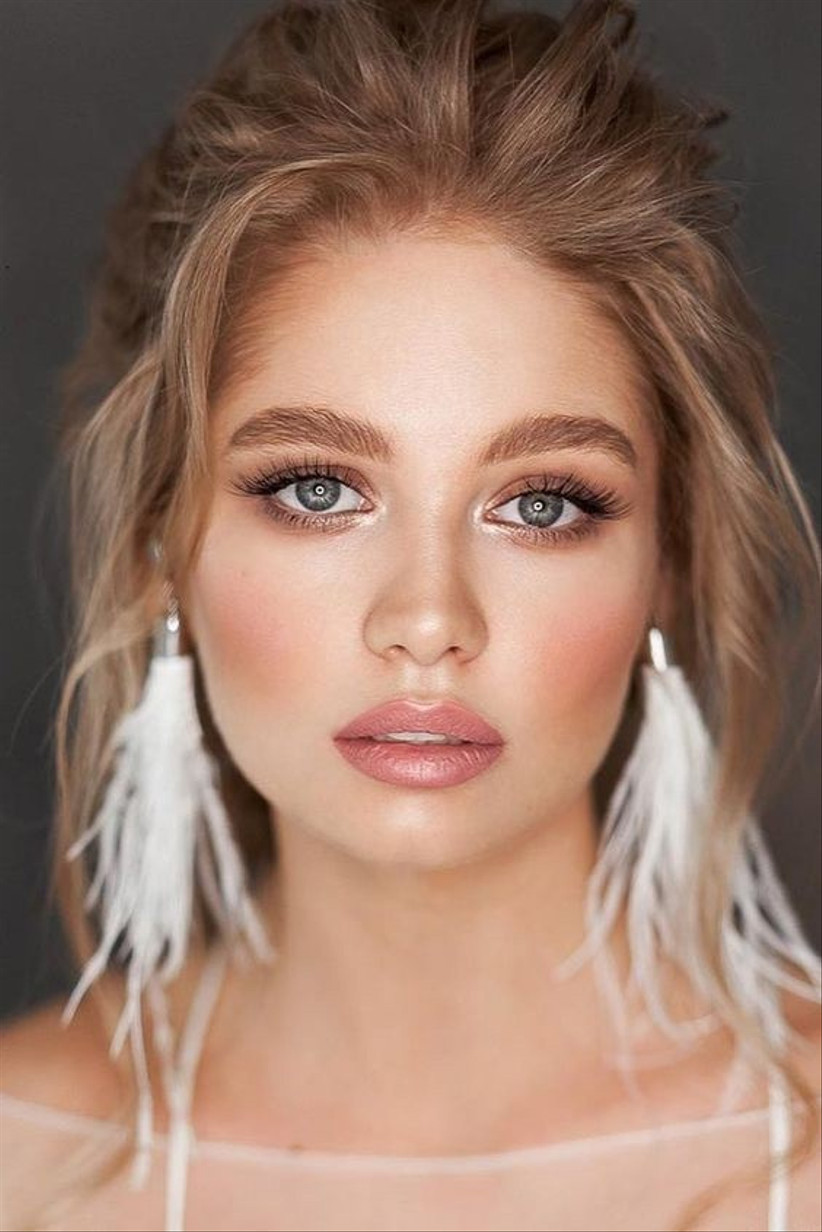 You've found your dream wedding dress, tracked down the perfect pair of wedding shoes and found a hairstylist to transform your locks on the morning of your wedding. All that's left to do now is decide on your wedding makeup look to tie the whole thing together!
Choosing the right makeup look for your big day might seem a little daunting, but with these beautiful wedding makeup ideas, the task will become a whole lot easier. We promise it's got nothing on sorting your guest list and table plan…
From subtle smoky eyes to contoured skin and even the odd red lip, here are all of the wedding makeup ideas you'll need to carry you through your big day, as well as some handy tips for how to achieve the perfect wedding day makeup look!
READ MORE: The Ultimate Bridal Beauty Countdown
All products were chosen independently by the Hitched editorial team. We may earn a commission for products purchased through some links in this article.
Wedding Makeup Ideas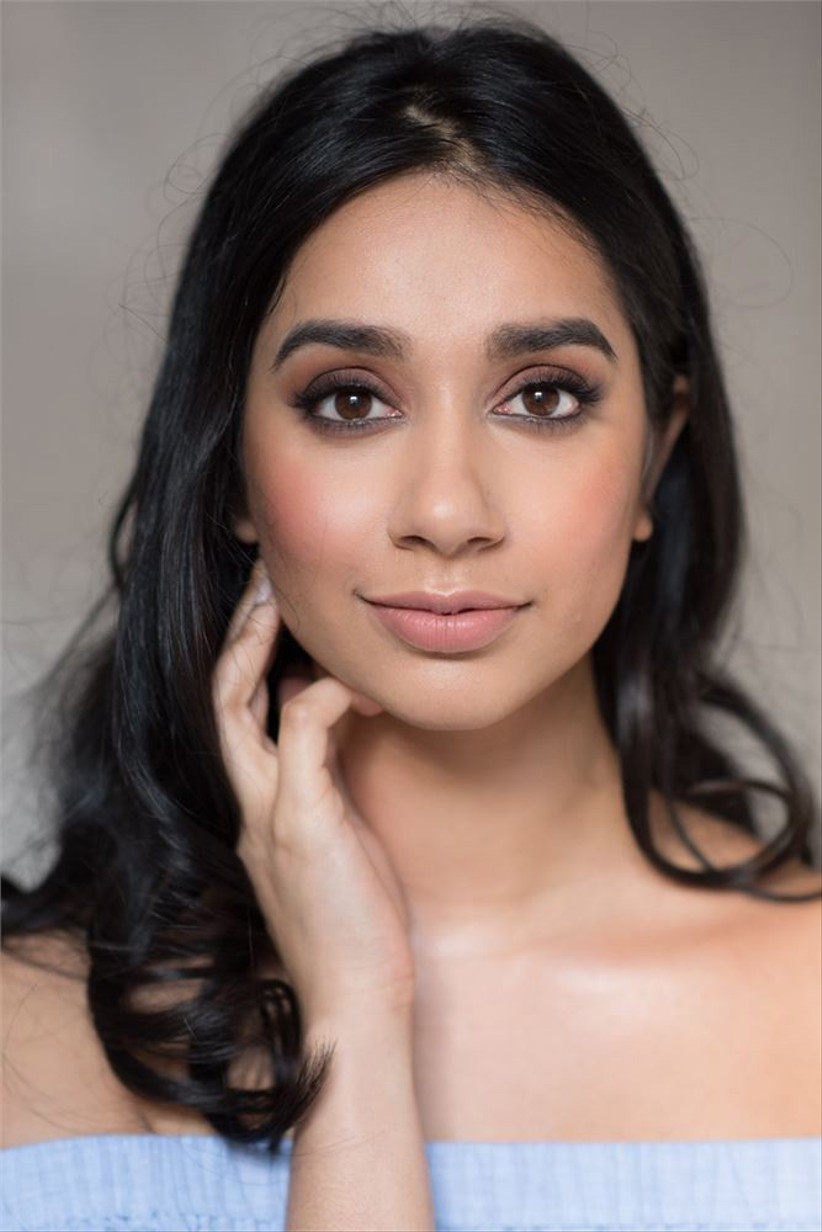 Image: Sylwia Kunysz
This smokey-eye and barely-there lip are so wedding appropriate, and the subtle pink blush will have you feeling fresh-faced and pretty.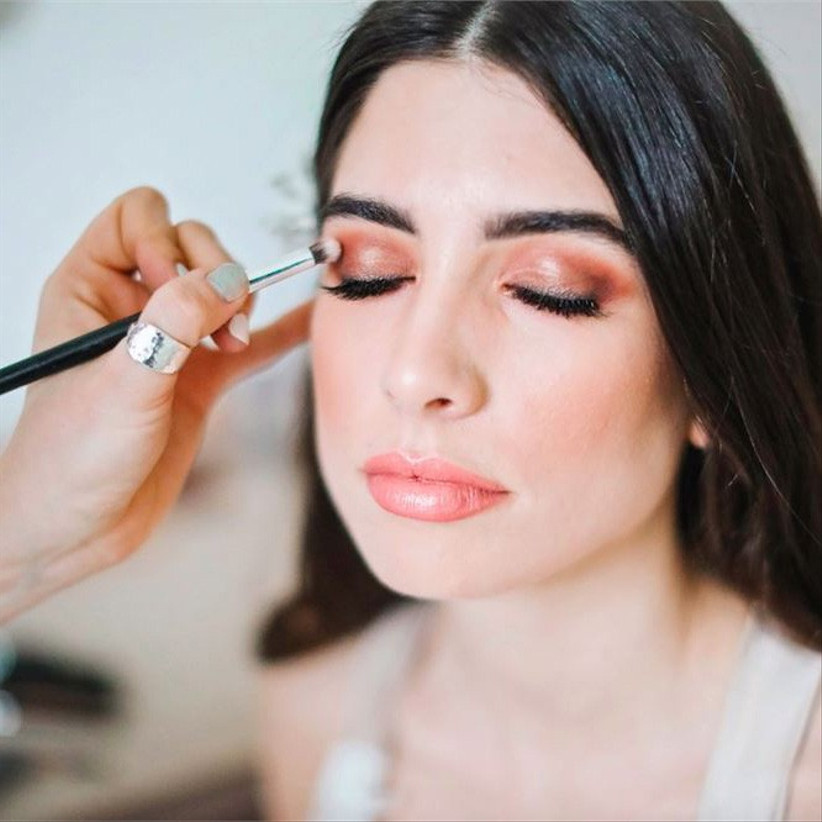 Image: The Bridal Stylists
A bronze smokey eye will work particularly well if you're getting married in the winter.
Paired with a glossy peach lip, this look will have you feeling a million dollars on your wedding day.
READ MORE: How to Prepare Your Skin for a Winter Wedding Day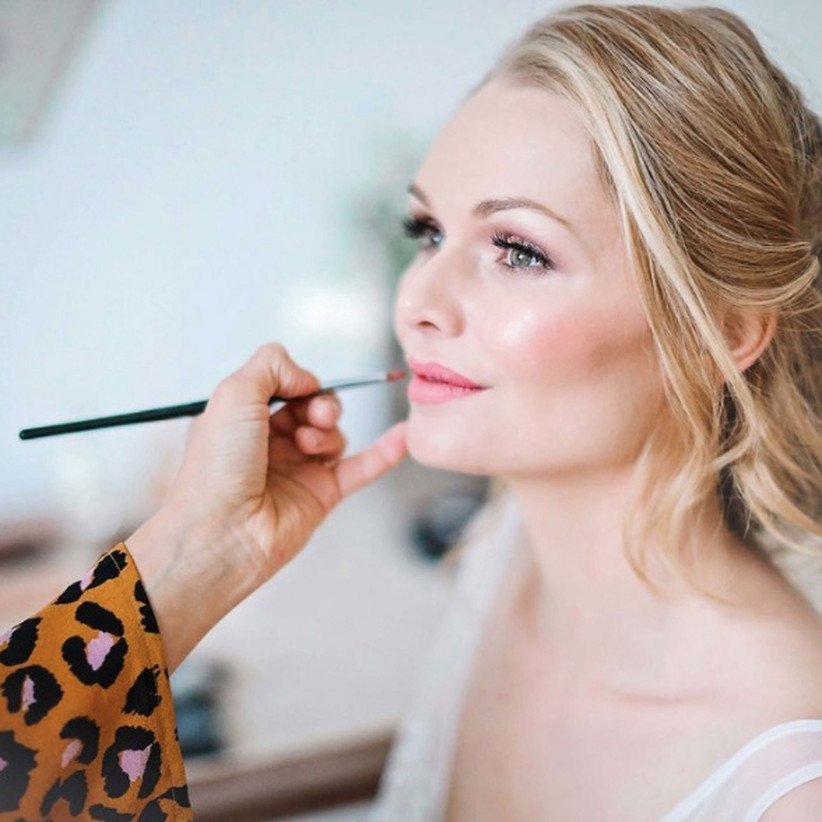 Image: The Bridal Stylists
Here, luscious lashes have been paired with a Barbie-pink lip and subtle blusher.
This wedding makeup idea will suit blonde brides particularly well.
READ MORE: The Best Simple Wedding Workouts That You Can Do at Home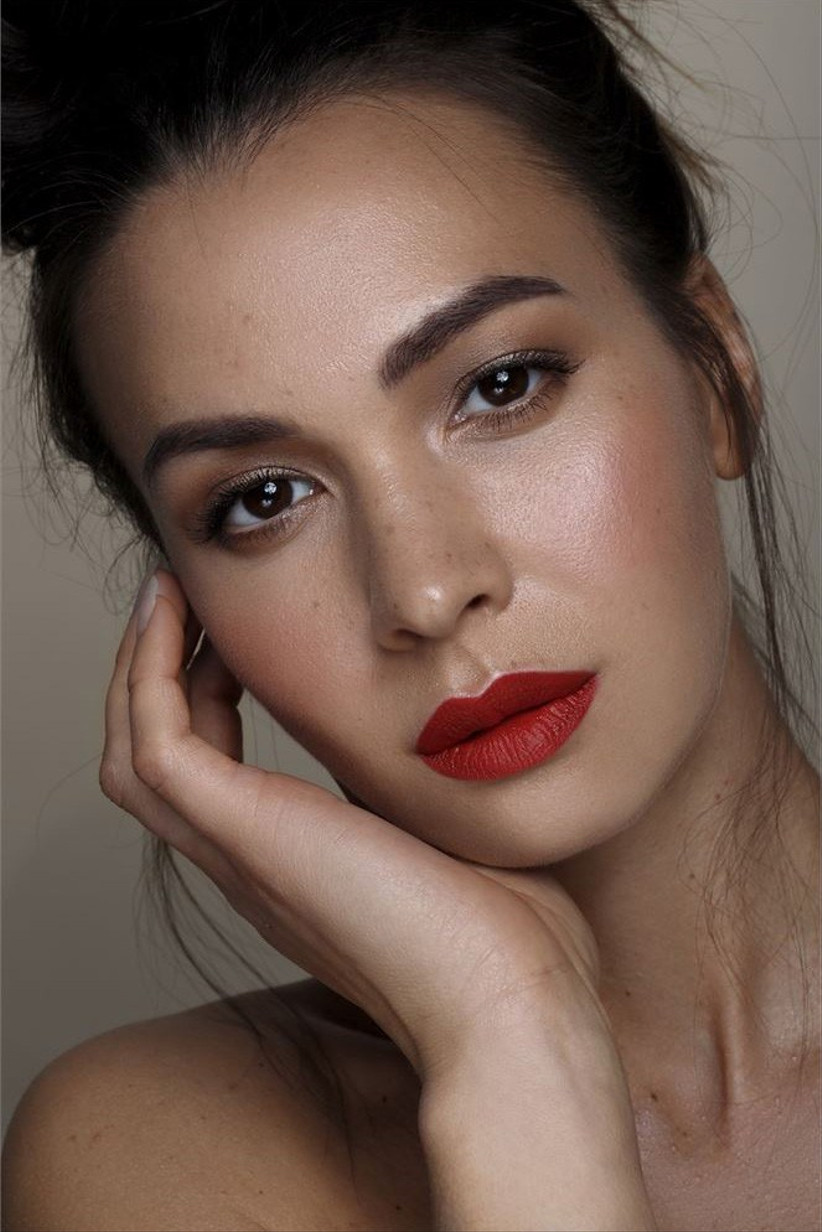 Image: Something Blue
There's nothing to say you can't don a bold red lip on your wedding day.
Keep your eyes subtle and your skin dewy to achieve a makeup look like this.
READ MORE: The Best Wedding Day Lipsticks, As Tested by Hitched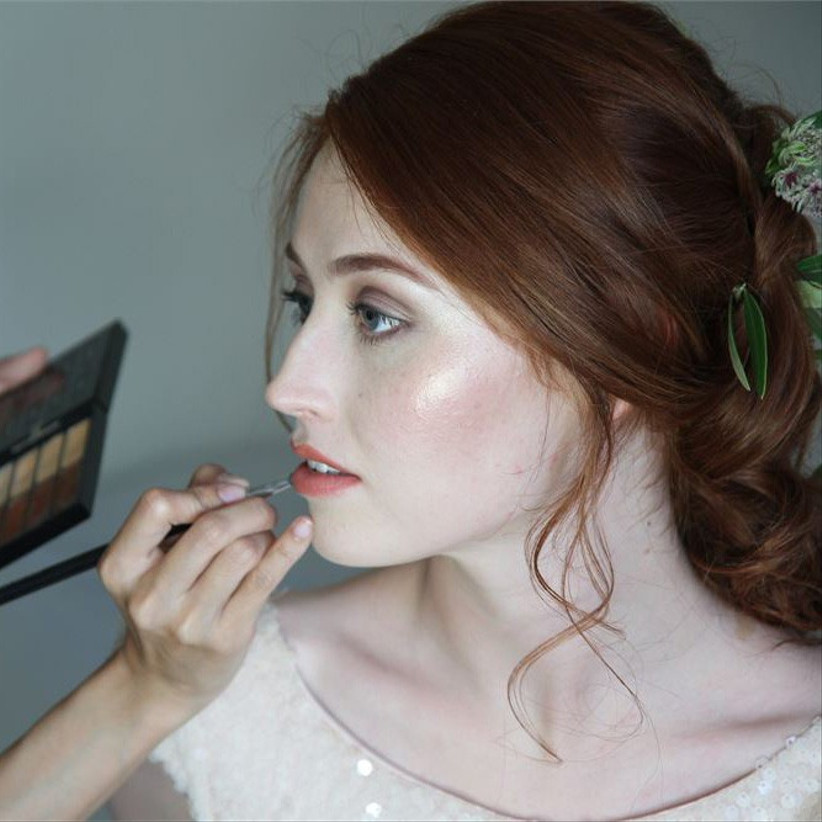 Image: The Bridal Stylists
Brides hosting a bohemian-inspired wedding day will love to match their boho wedding dress with a peach lip and cold-toned smokey eye.
Eyeshadow has been used here to define the eye socket and water-line, and a subtle highlight has been added to the cheekbones.
READ MORE: The Ultimate Guide to Wedding Themes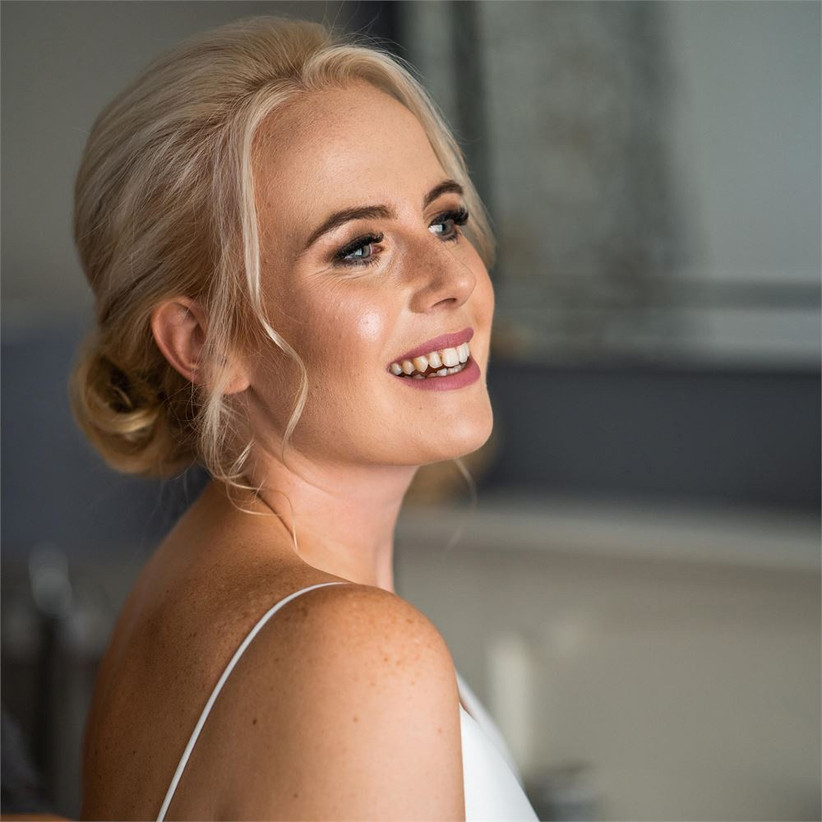 Image: Rebel Rock Hair & Makeup
This bride's features have been defined softly and she has a lit-from-within kind of glow.
Pop highlighter underneath your brows and on the apples of your cheeks to achieve something similar.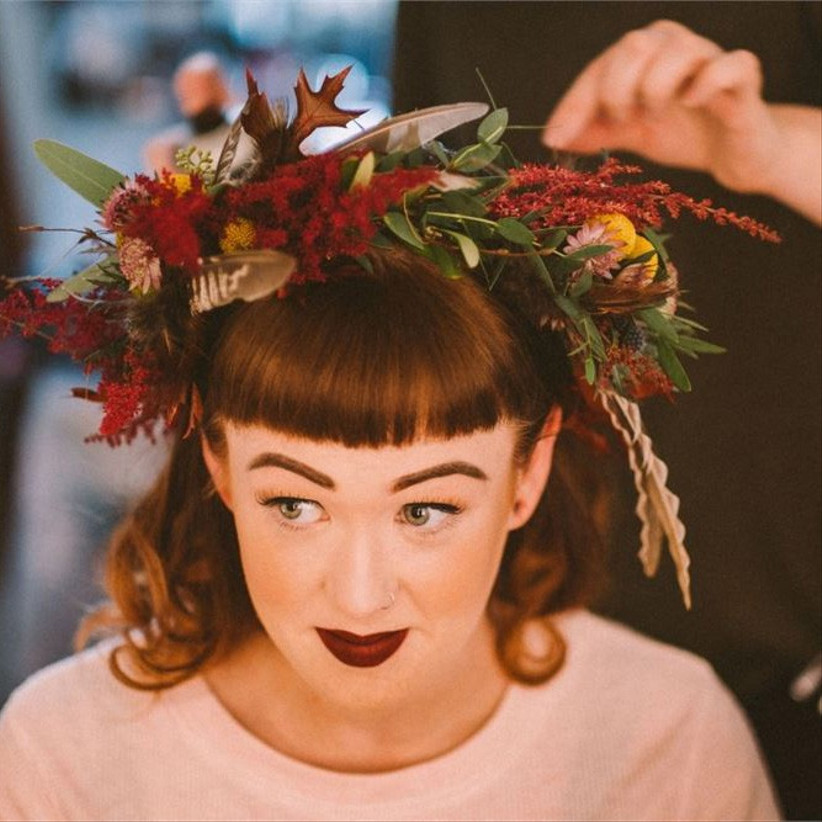 Image: Rebel Rock
How fabulous does this bride look?
Her bold brows complement her deep berry lips and statement headpiece perfectly.
Image: Make Me Bridal
If you're not one for wearing lashings of eyeliner, make your eyes pop with a lengthening mascara instead.
This fresh and soft makeup look would work particularly well if you're getting married abroad.
READ MORE: The Best Waterproof Mascaras for Emotional Brides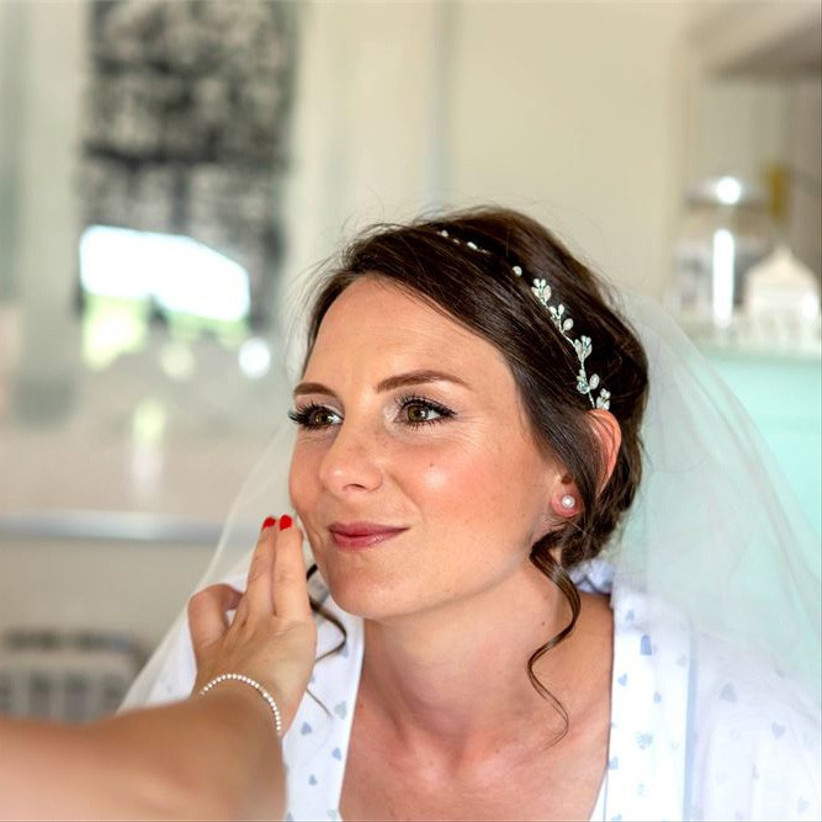 Image: Louise Makeup & Hair
Just how stunning does this bride look?
A "your lips but better" lip shade has been paired with shimmery, defined eyes for a look that'll pop on camera and IRL.
READ MORE: The 24 Wedding Photographs You Need to Capture
Image: Sylwia Kunysz
Yes, you can do no-makeup-makeup for your wedding.
If you go for a barely-there look like this, you'll want to ensure you choose a flawless foundation so that you look like you're glowing from the inside.
READ MORE: The Best Flawless Foundations for Your Wedding Day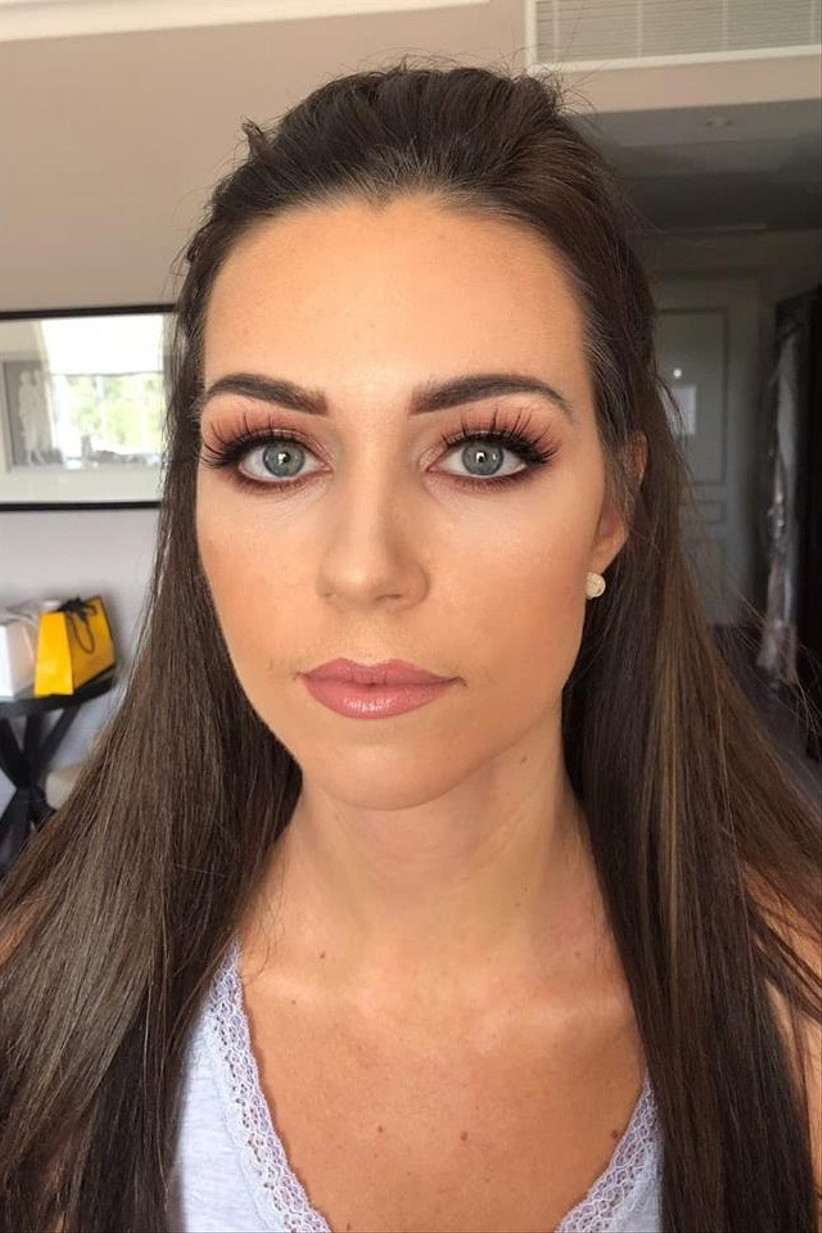 Image: Christiane Dowling
Have fun with your lashes on your wedding day and opt for something dramatic and bold.
We love this set which, paired with a defined brow and smokey eye, really make the bride's eyes stand out.
READ MORE: Should I Get Eyelash Extensions Before My Big Day?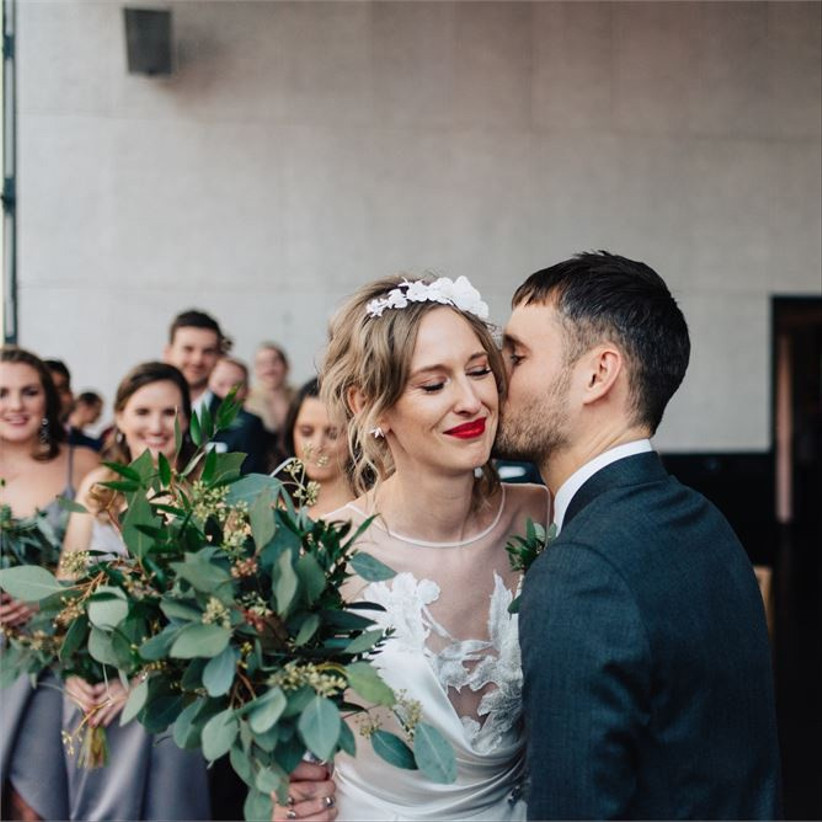 Image: Katie Howard
If you love a bold lip, you should seriously consider wearing one on your wedding day.
This bride's bright ruby red lip pops against the grey bridesmaid dresses and curled, blonde hair.
READ MORE: 17 Beautiful Updos for Your Big Day
Image: Christiane Dowling
A shimmery gold eyeshadow looks particularly fabulous on blondes or brides with auburn hair.
We love how the inner corner of the eye has been brightened with highlighter here – doing the same will ensure your eyes look fresh and pretty (no matter how little sleep you got the night before your wedding) in your wedding photographs.
If you're a lover of slightly heavier makeup, this could be the look for you.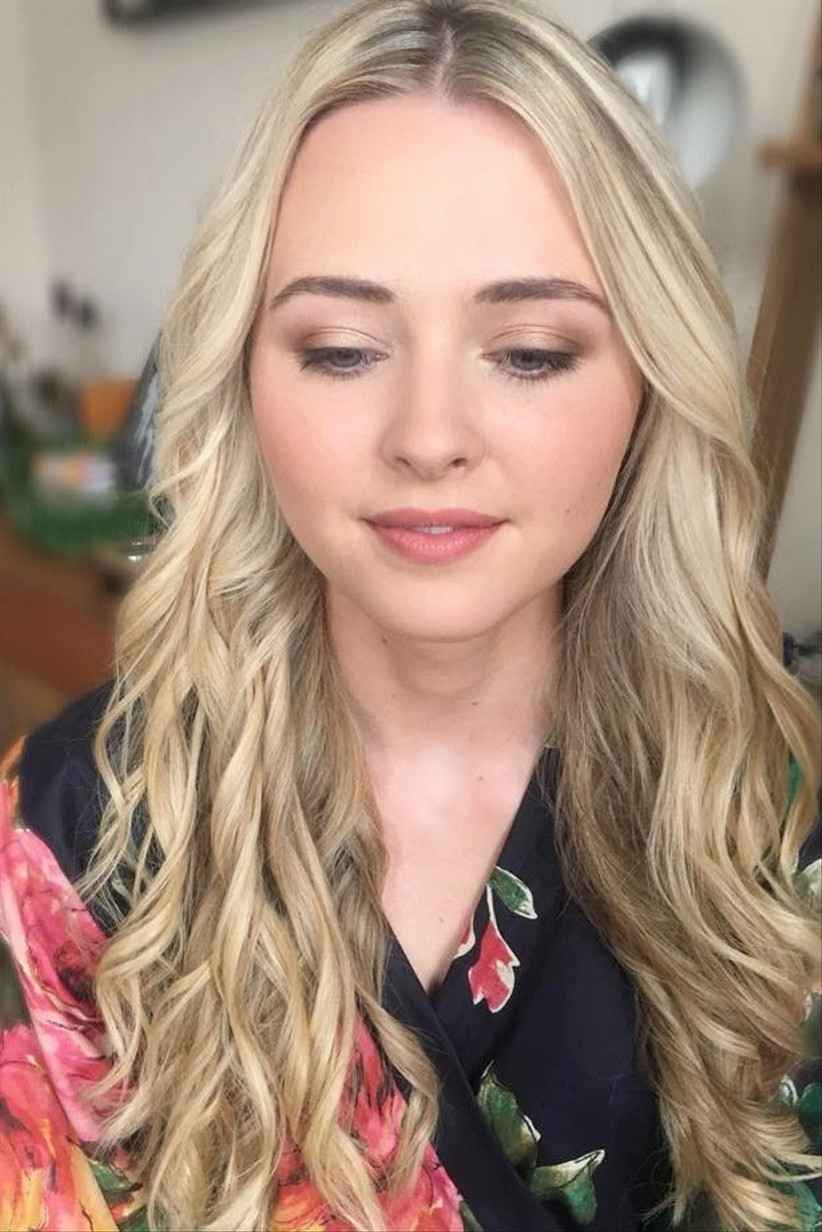 Image: Emma Dallimore
How about keeping everything matte and avoiding shimmer altogether?
This bride has done just that, and paired a matte smokey eye with natural, fluttery lashes and matte contouring. We're huge fans.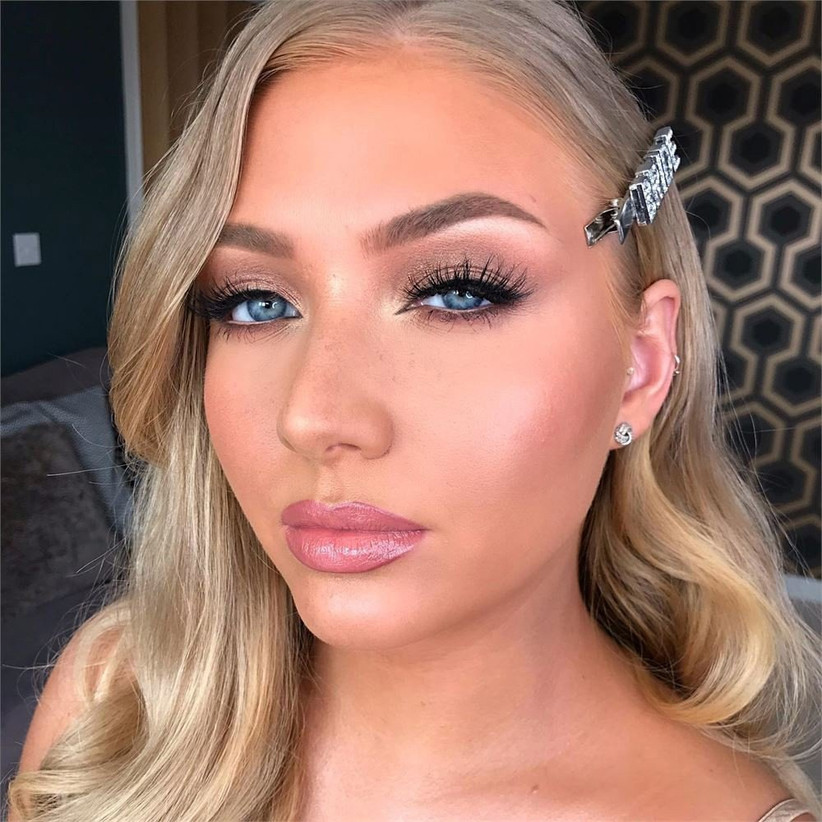 Image: Kate Glanfield
Winged liner can totally work on your wedding day, and if a cat-eye flick is your signature look, then this is your chance to ramp things up!
Pull the liner down into the inner-corners of your eye, then line your waterline with a nude or white pencil liner. Doing so will help you achieve that defined cat-eye you've been dreaming of.
READ MORE: The Best Eyebrow Kits to Use on Your Wedding Day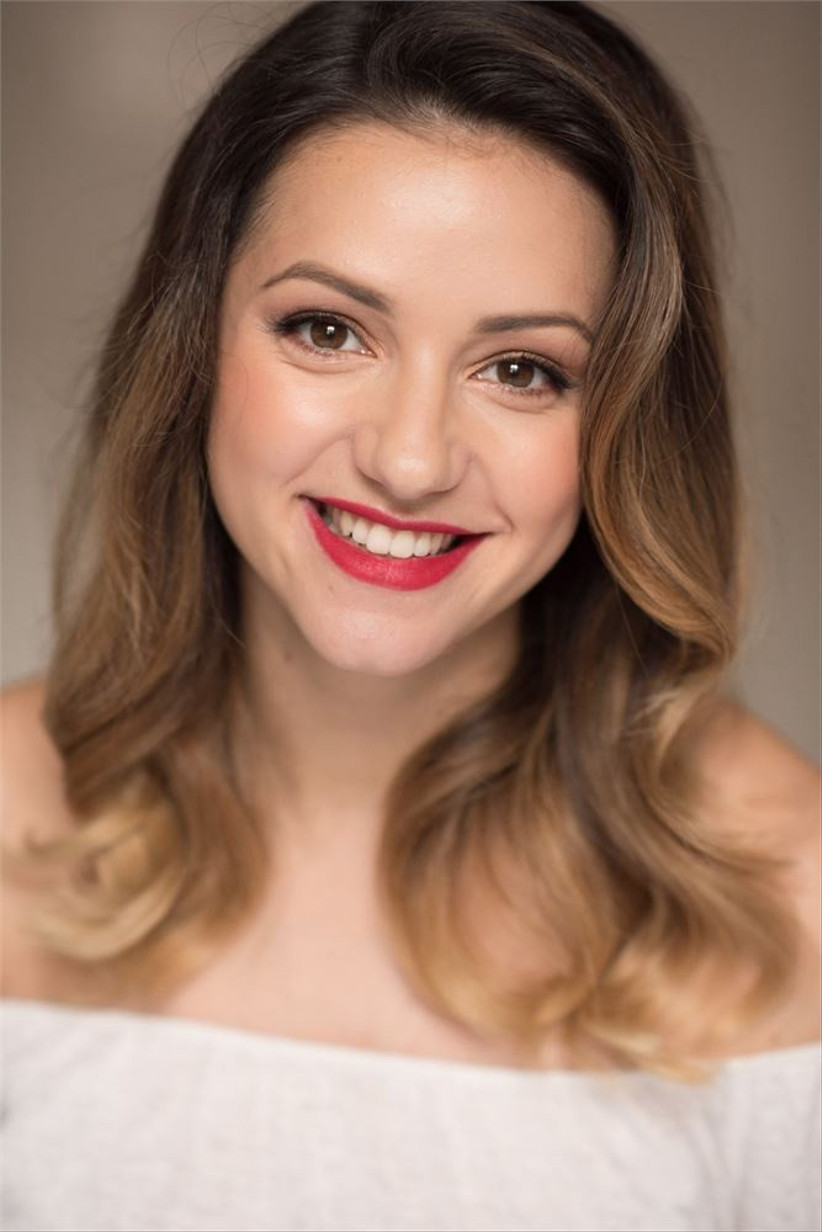 Image: Sylwia Kunysz
Play down the eyes and keep the focus on the lips as this bride has. Her structured brows and perfectly matte skin finish off the look perfectly.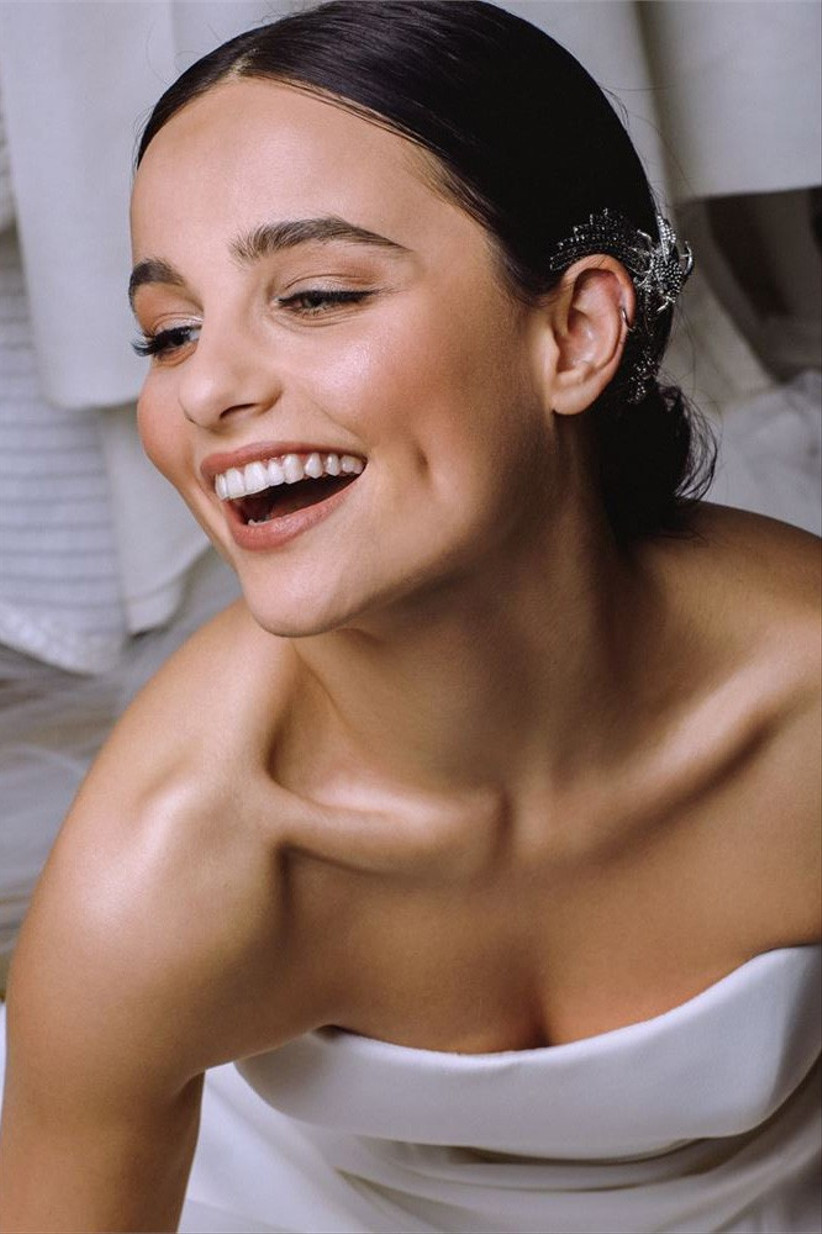 Image: Sylwia Kunysz
Load up on the highlighter and the liner while going soft and natural with the rest of your look.
A cream highlighter will help you achieve the glow that this bride has in abundance.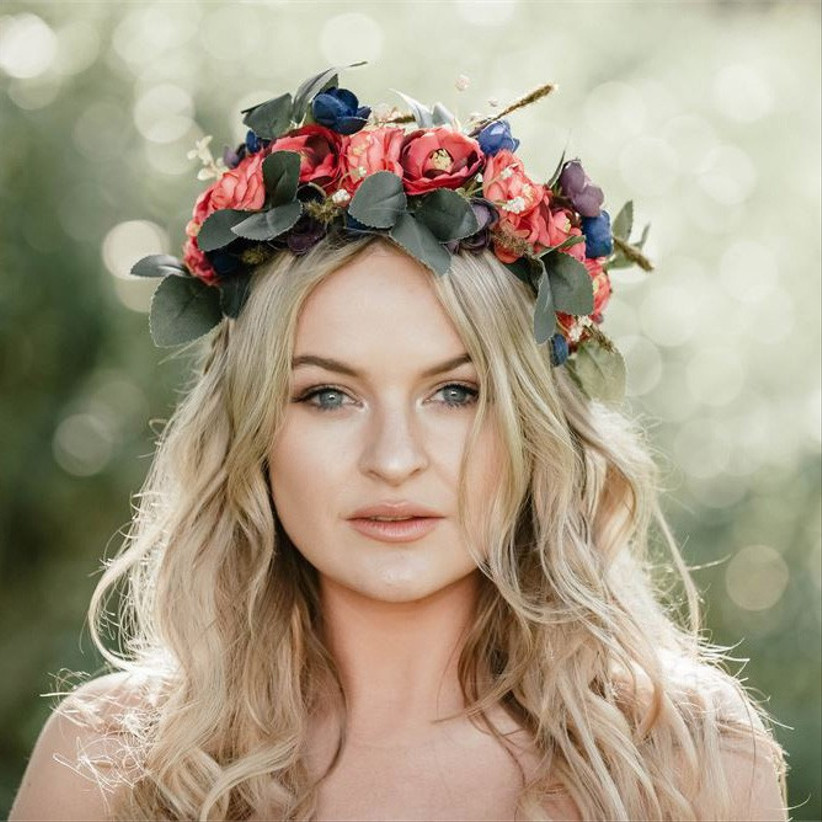 Image: Tia Bliss MUA
If you're planning a festival-themed wedding, your flower crown will be the focal point of your wedding day makeup look.
For that reason, you'll want to keep your makeup fresh, soft and fuss-free. We love how this slightly coral-toned lip has been paired with tousled hair, defined eyes and a sharp brow. What's not to love?
READ MORE: How to Plan a Festival Wedding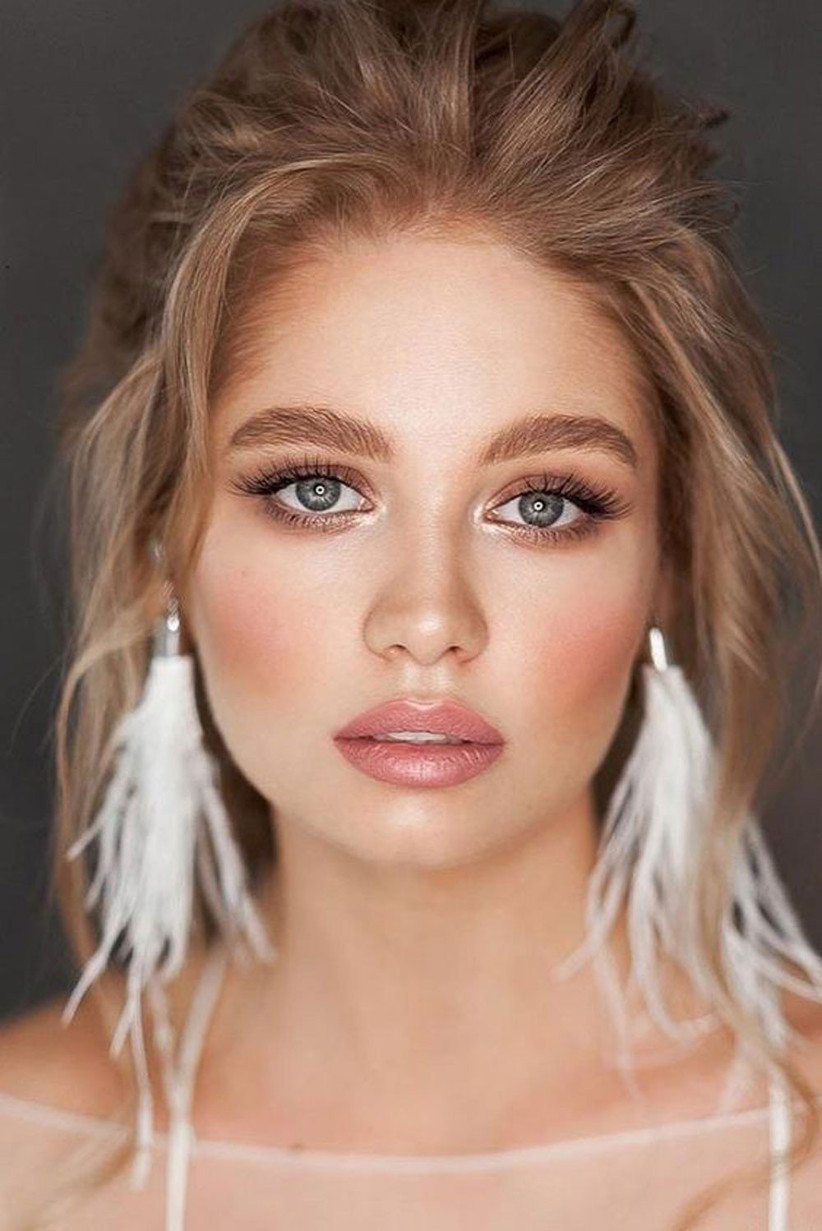 Image: Pinterest
Transform yourself into a bronzed and glowing goddess on your big day with a striking makeup look like this one.
The secret to this makeup look is lined lips, a fabulous highlighter plus some serious will-power to stop yourself from plucking your eyebrows before your big day.
READ MORE: How to Master Beach Wedding Hair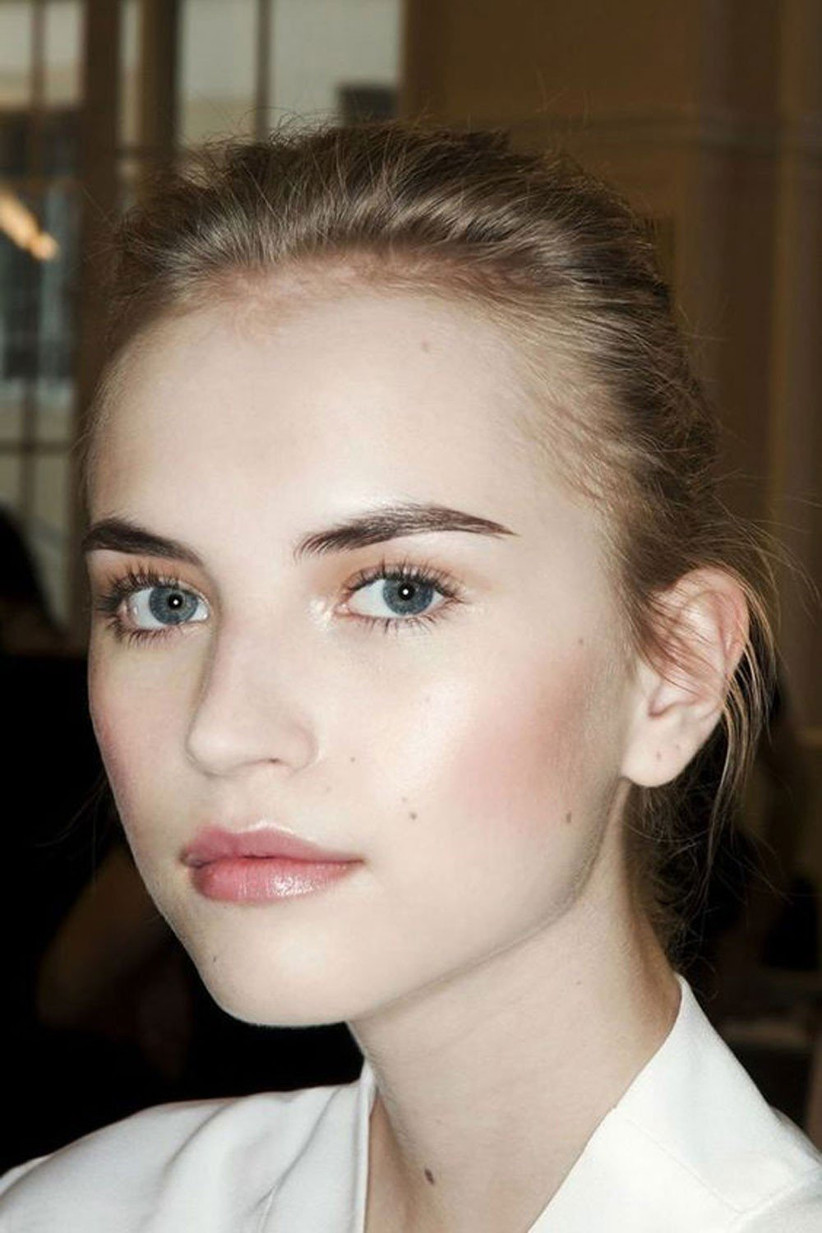 Image: Pinterest
This wedding makeup idea proves you can rock minimal but still go glam on your big day.
Sculpted brows plus fluttery lashes and perfectly glossy lips = the dream bridal combination.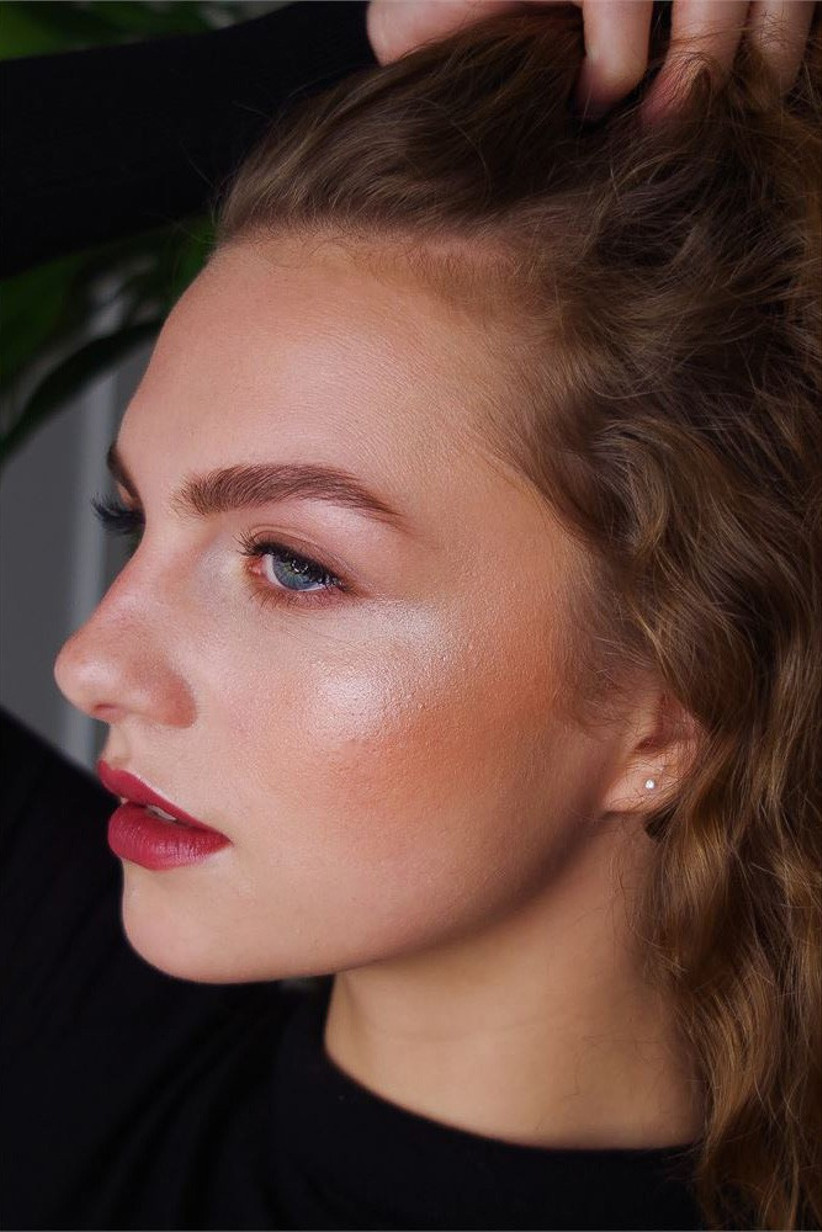 Image: Carla Francesca
A red lip is a classic look for a reason, and recent trends would suggest it looks even better when paired with bronzed skin and eyes.
Use a lip pencil to carve out the shape of your lips, fill with a matte shade and then press your lips against a tissue to dab any excess away.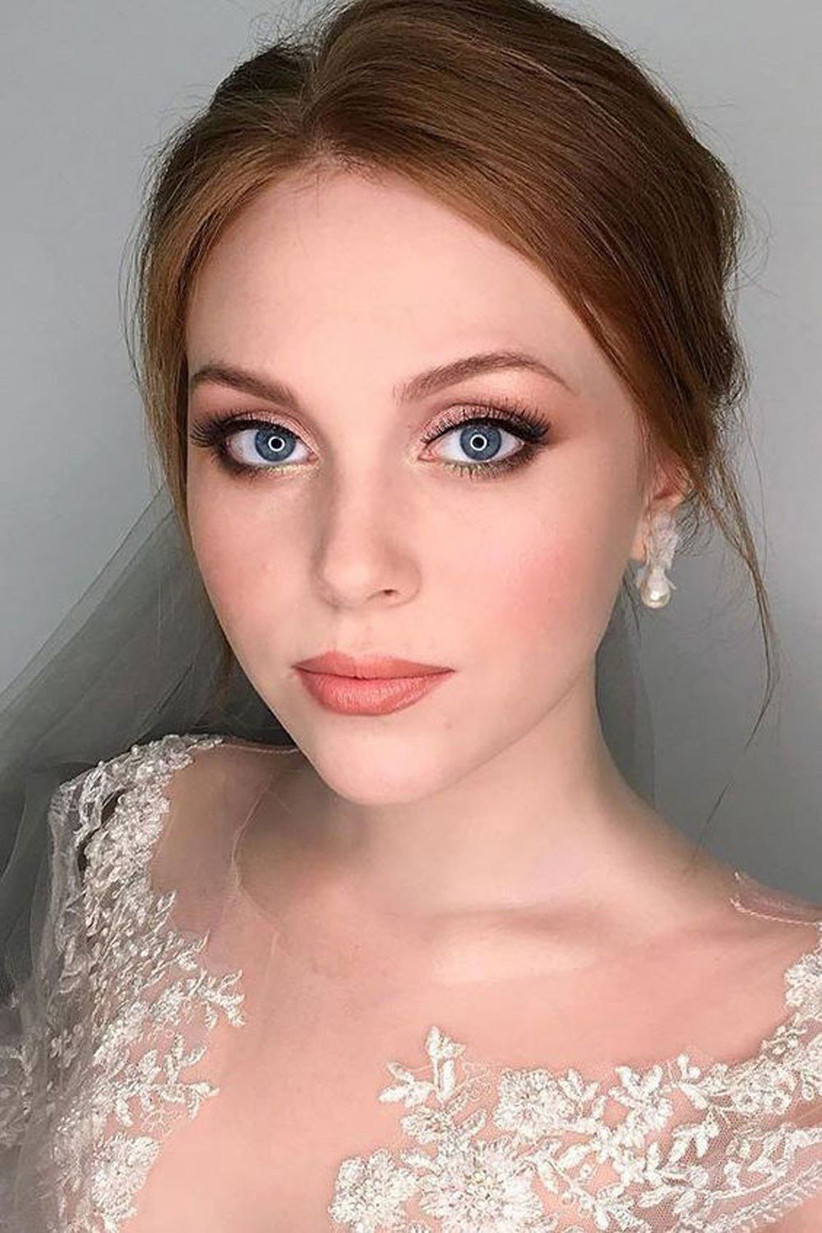 Image: Pinterest
This bride has managed to keep statement lashes looking chic by pairing them with a beautiful coral lip colour and plenty of shimmer.
Spring brides, this is a look for you.
READ MORE: 25 of the Prettiest Spring Wedding Ideas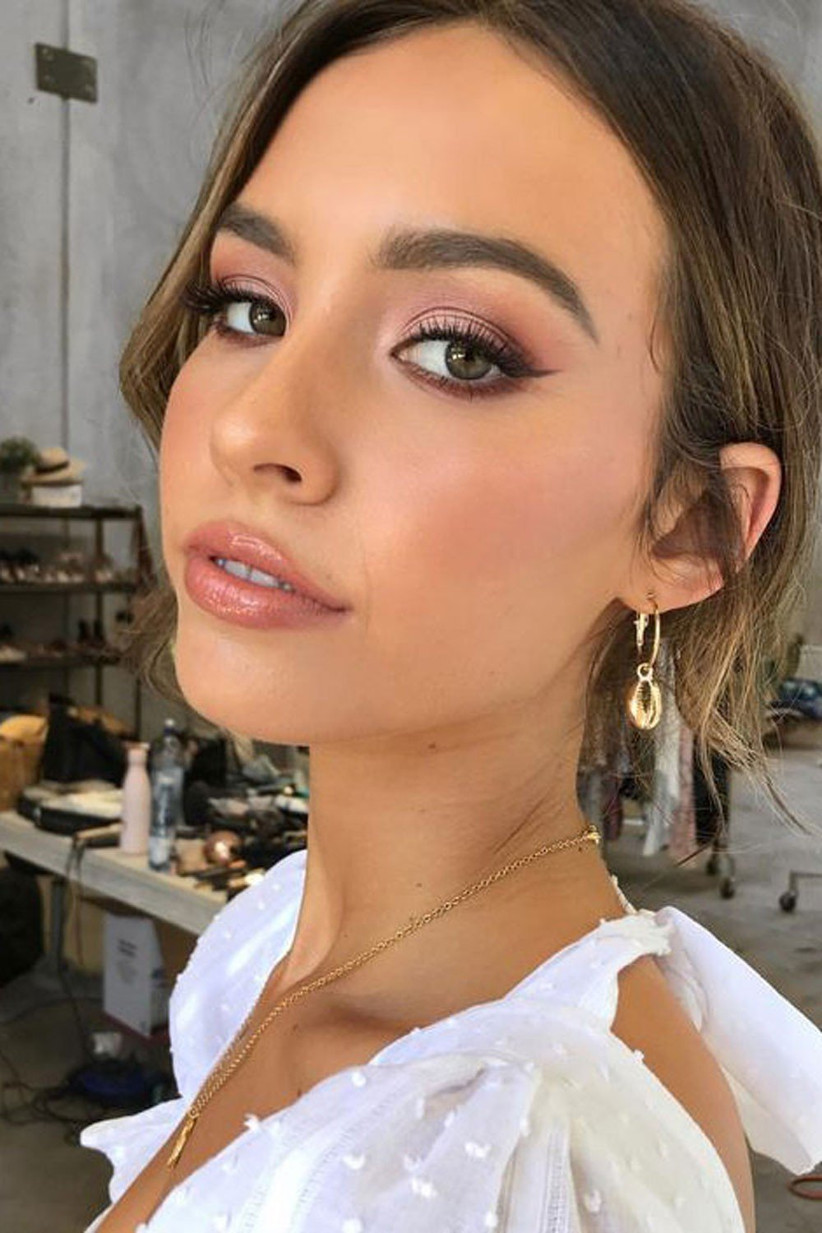 Image: Pinterest
This bride makes a serious case for the smokey under-eye by buffing her eyeshadow underneath the lash line.
Ensure your look doesn't appear too heavy by using your darkest eyeshadow shade and an angled brush to achieve your wing. It'll look a lot softer than a liquid liner will.
READ MORE: Should I Get Hair Extensions Before My Big Day?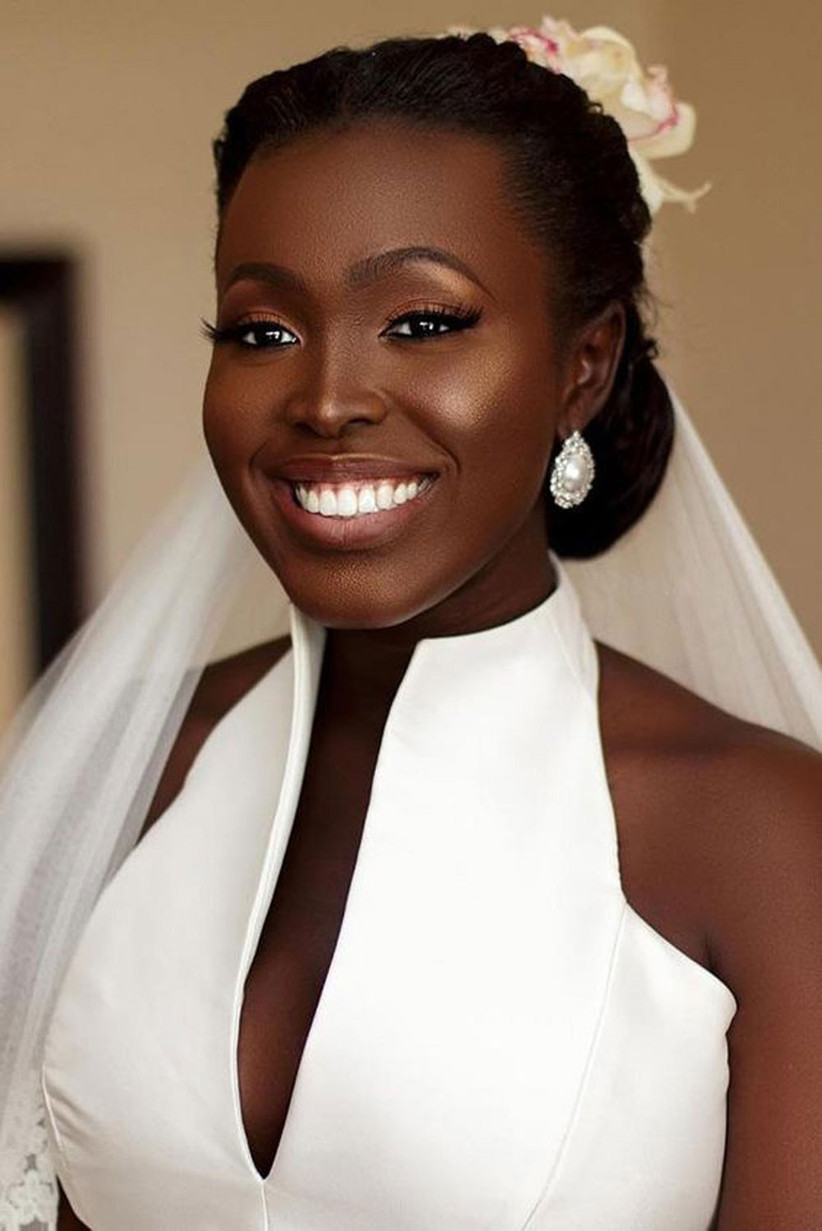 Image: Pinterest
Would you look at that glow! We love the golden hue of this highlighter with the bronze-toned eyeshadow.
We can't get enough of this makeup look.
READ MORE: 39 Bridal Beauty Hacks That'll Change Your Life Forever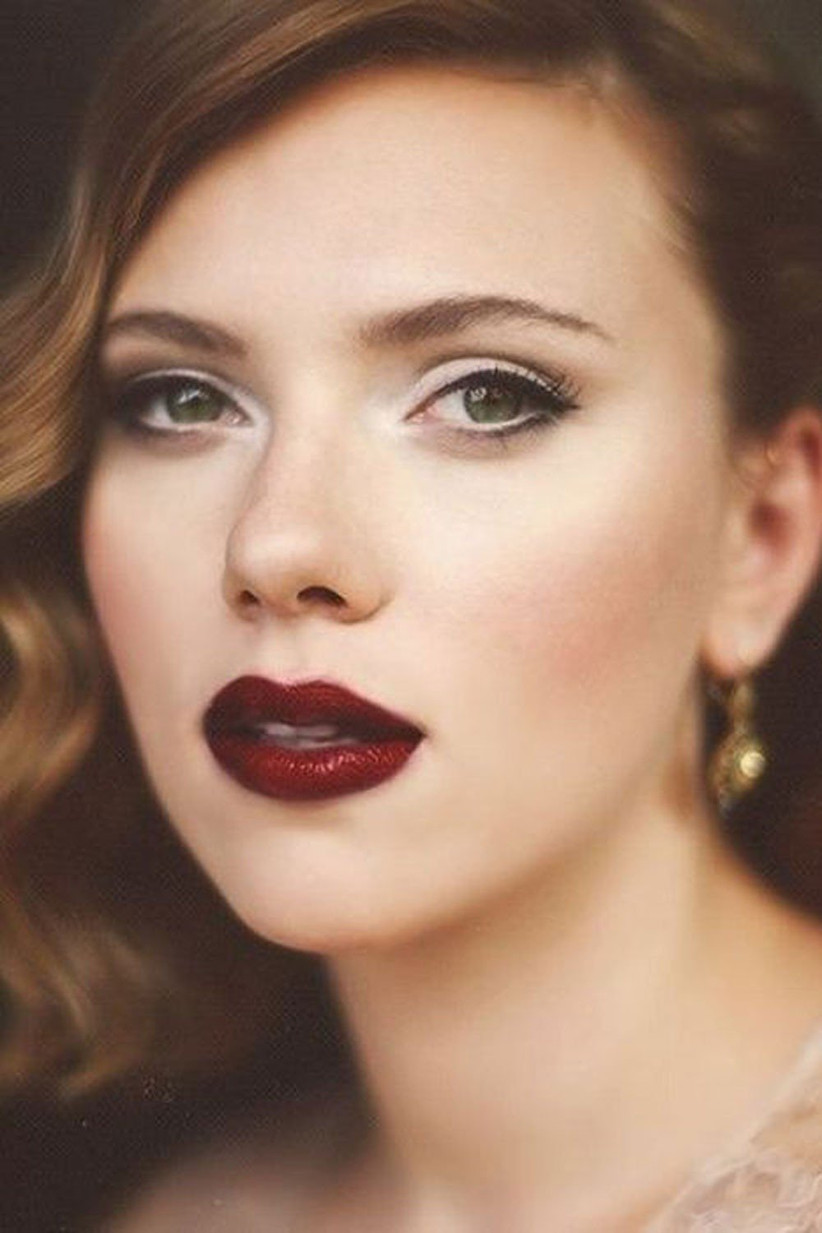 Image: Pinterest
Are you a vintage-loving bride hosting a vintage-themed wedding day?
Match your makeup look to your décor by pairing barely-there matte eyeshadow with winged eyeliner and a bold lip. Vintage curls and a side parting will really finish the look off.
READ MORE: 17 Beautiful Vintage-Inspired Wedding Dresses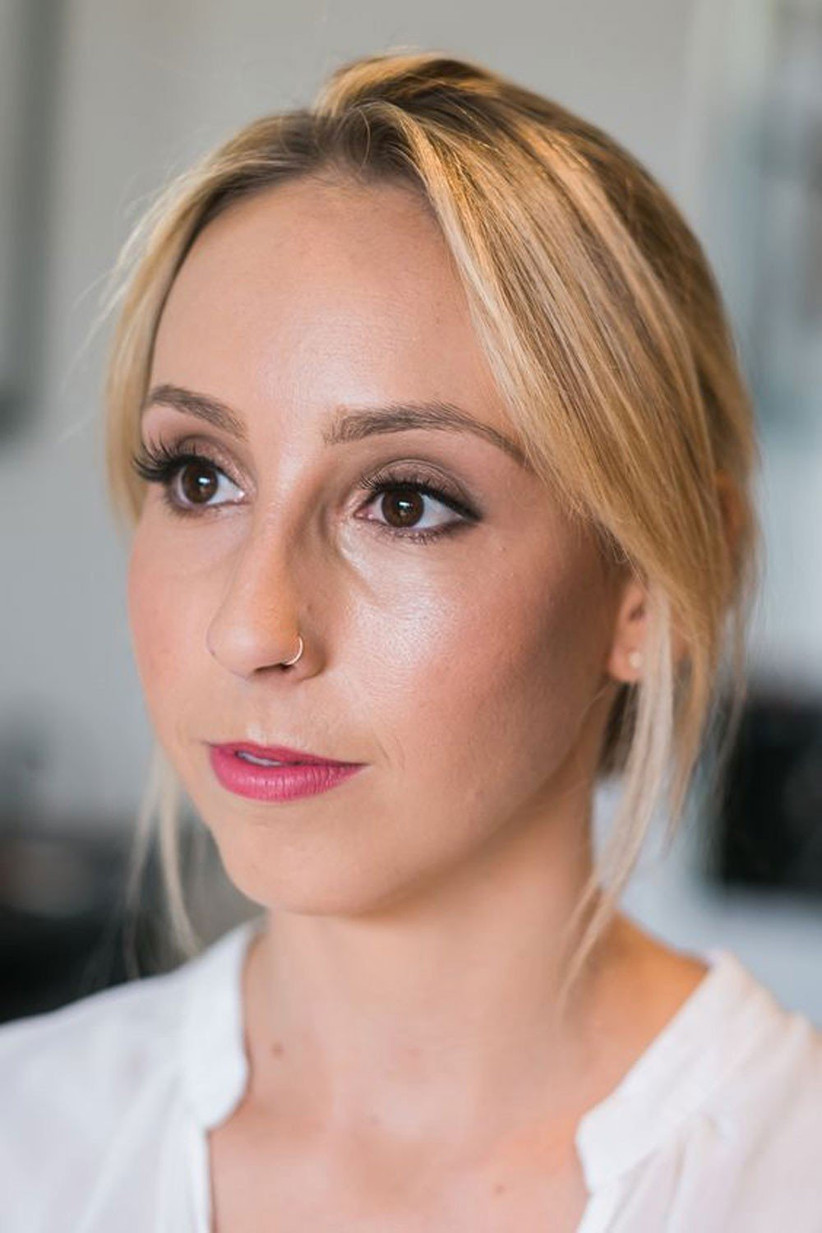 Image: Pinterest
Matte brown eyes and a popping pink lip will be a winning combo for your wedding day.
Take a cue from this bride and pair your pretty makeup look with an equally as stunning bridal updo.
READ MORE: The Ultimate Guide to Improving Your Hair & Nails Before Your Big Day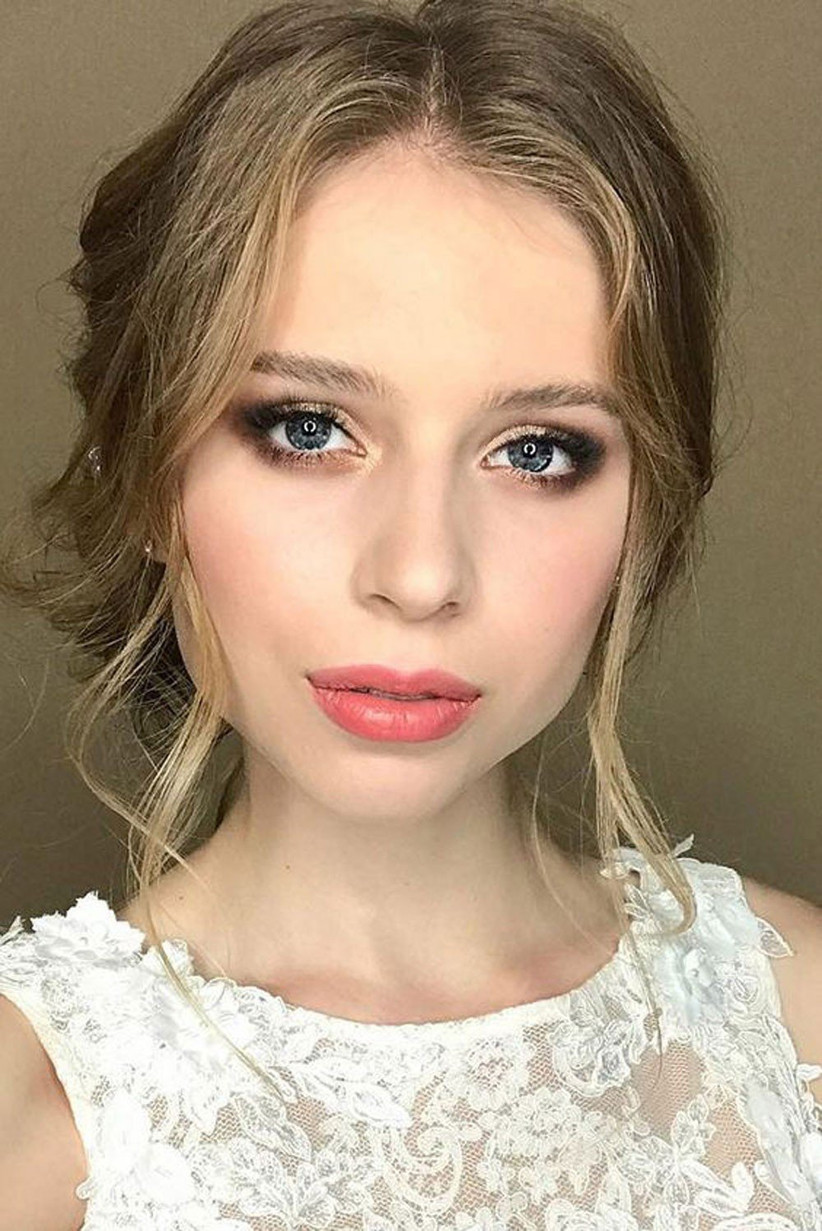 Image: Pinterest
A touch of shimmer on the eyelids plus a smokey under-eye and coral lip results in a makeup look which is sultry yet sweet.
This wedding makeup idea just screams romance, and would suit a whole host of wedding themes.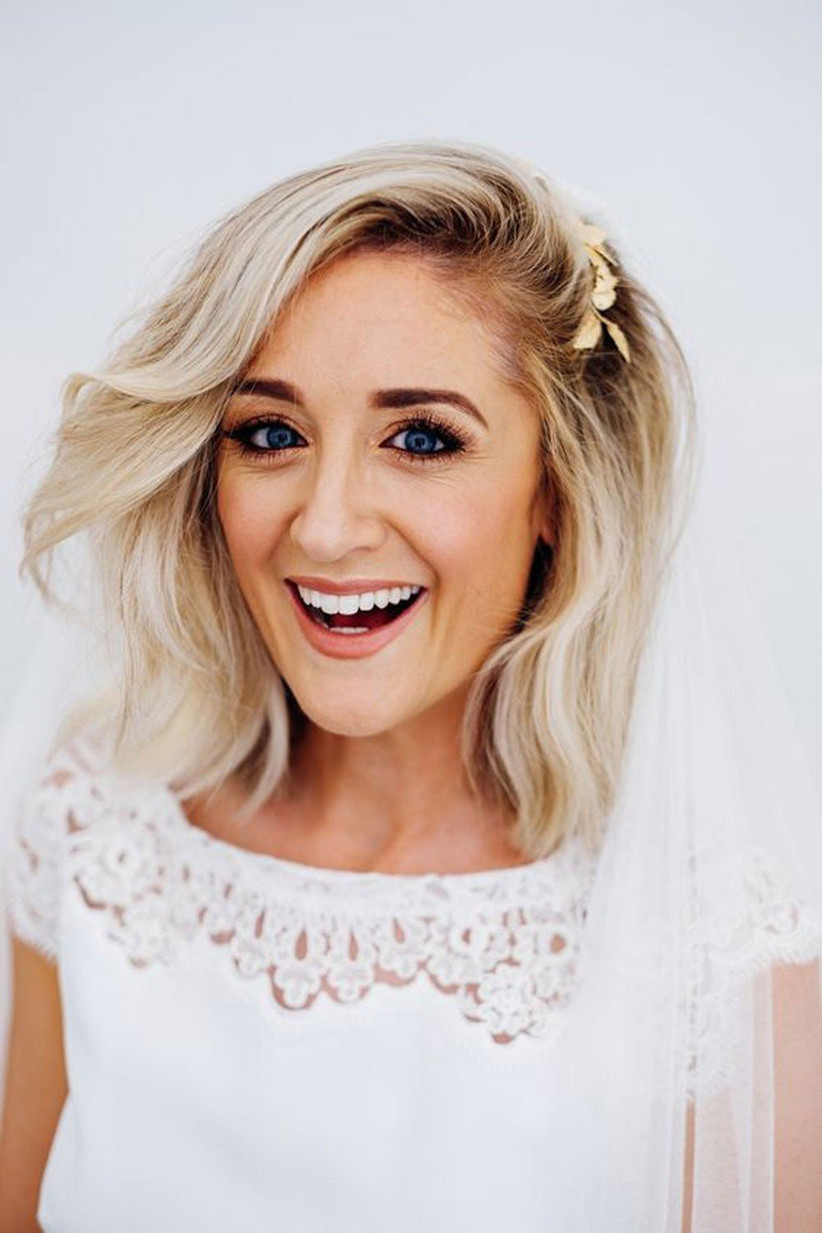 Image: Pinterest
This bride's coral lips and defined eyes are so wedding appropriate.
Why not consider getting your teeth whitened ahead of your big day to ensure you really feel your best?
READ MORE: 'Over Half of All Brides Consider Teeth Whitening Before Their Big Day' (& Other Wedding Facts)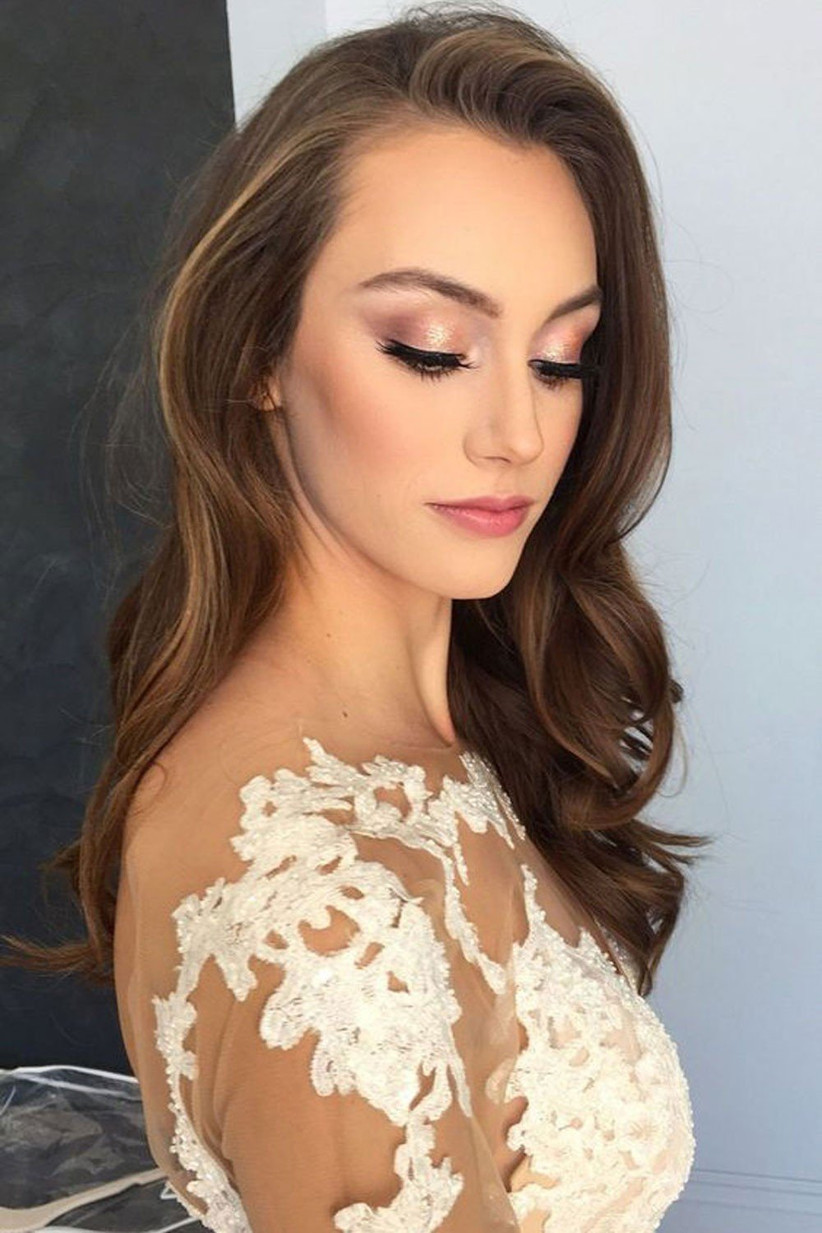 Image: Pinterest
A touch of glitter works a treat for really enhancing the eyes.
Add lashings of eyeliner, some fluttery false lashes and a subtle rosy lip to complete this look.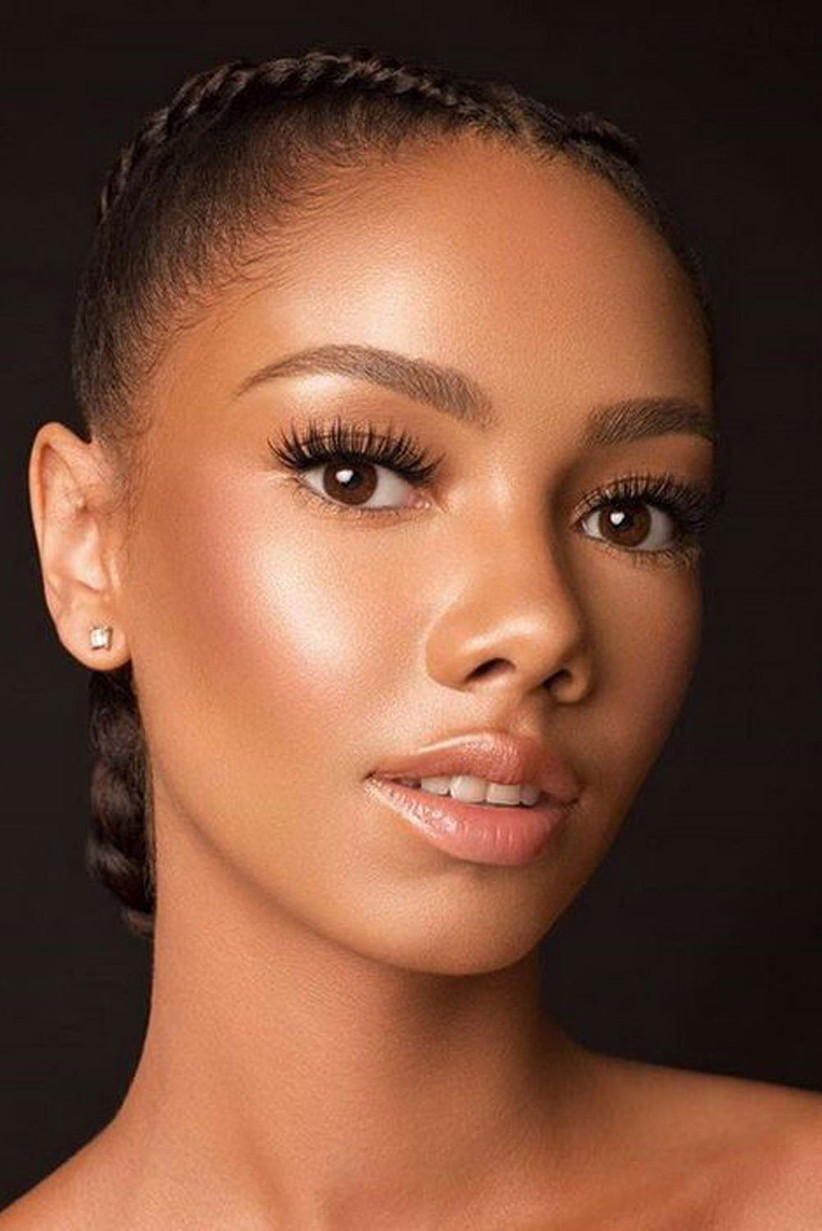 Image: Pinterest
Take a cue from this gorgeous bride and focus your makeup look on just one thing: your lashes.
Enhance your natural lashes by heading for extensions before your big day, or apply some false individual lashes on your wedding morning and top with lashings of mascara.
READ MORE: Tattooed Brides That'll Make You Want to Get Inked Before Your Big Day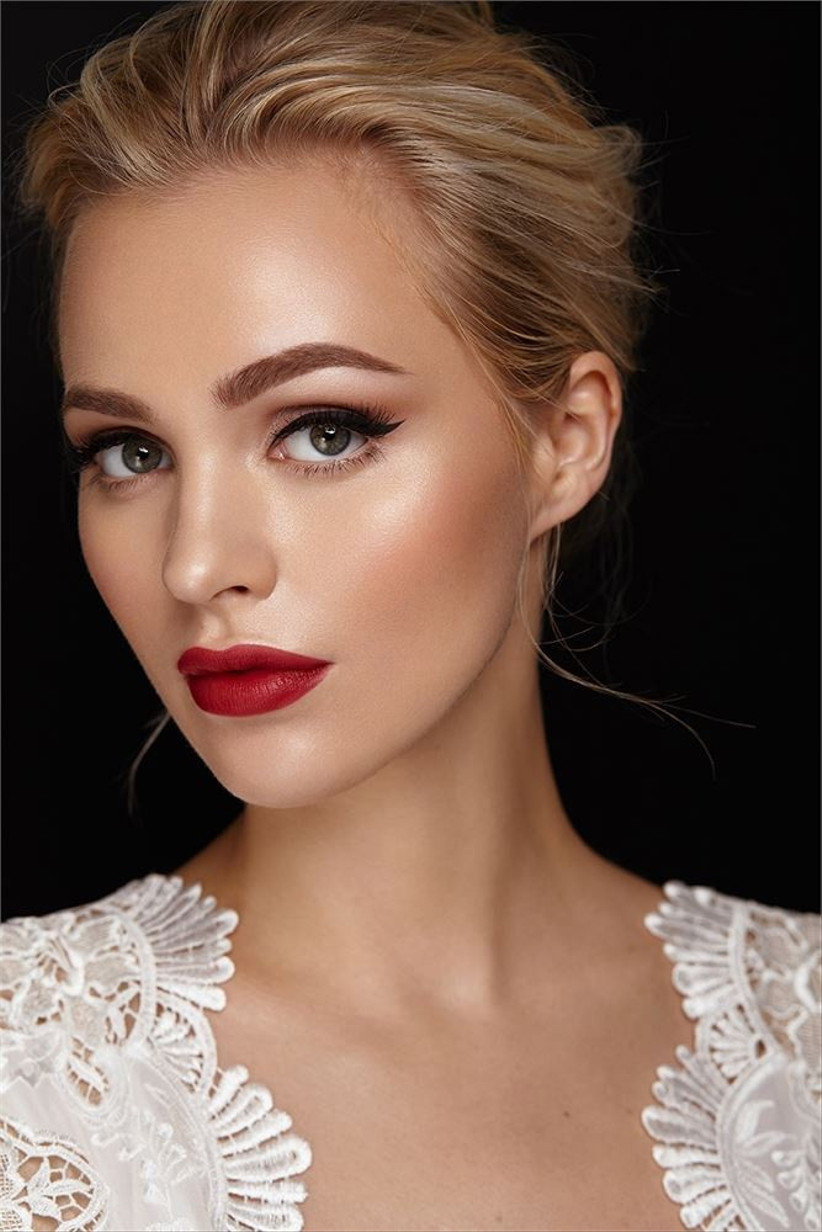 Image: BeYou
Many makeup artists will tell you that you should either choose a bold eye or a bold lip on your wedding day and every other.
Throw that rule out of the window and go for both! This look is high in drama – just make sure you use a tried and trusted primer and setting spray to keep everything in place.
READ MORE: The Best Fake Tans to Achieve a Wedding Day Glow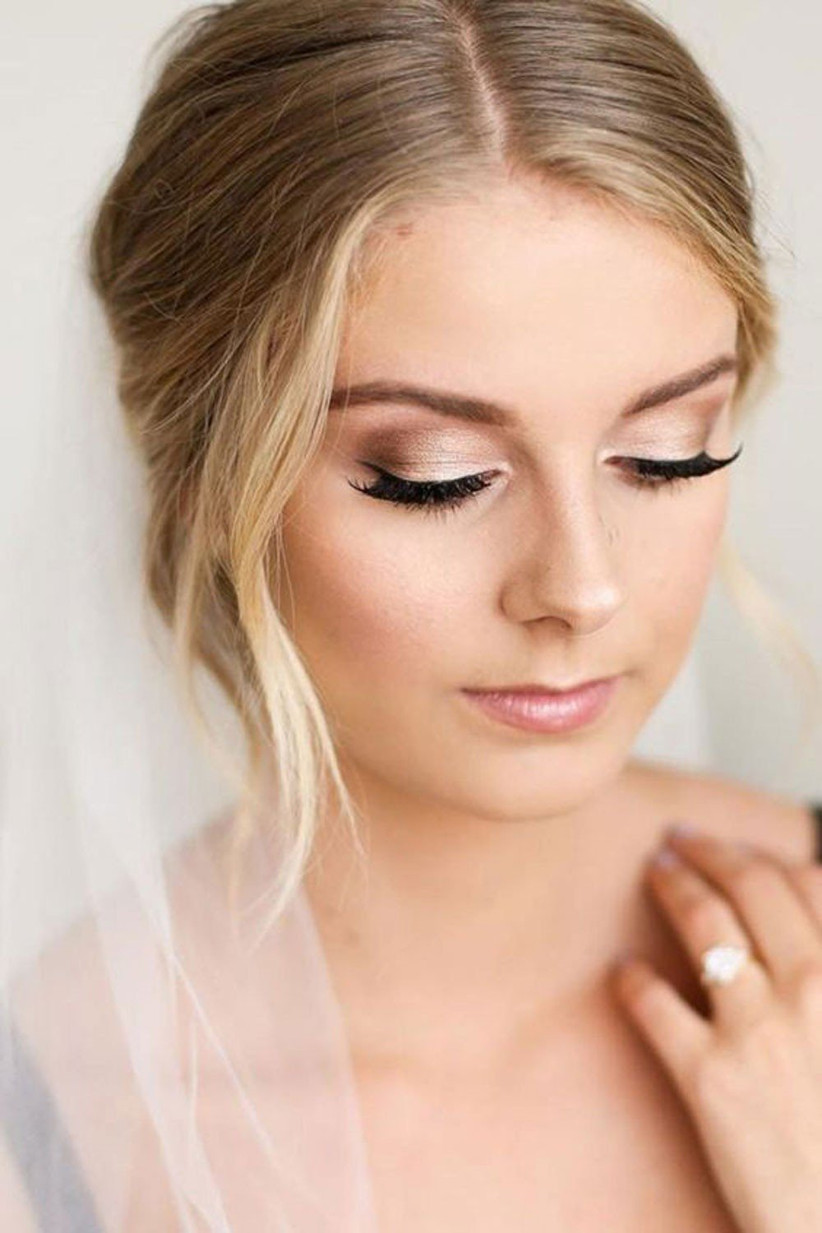 Image: Pinterest
This bride is queen of the glow.
Create this look by opting for an illuminating base over powder highlighters.
READ MORE: 15 of the Coolest Wedding Nail Art Designs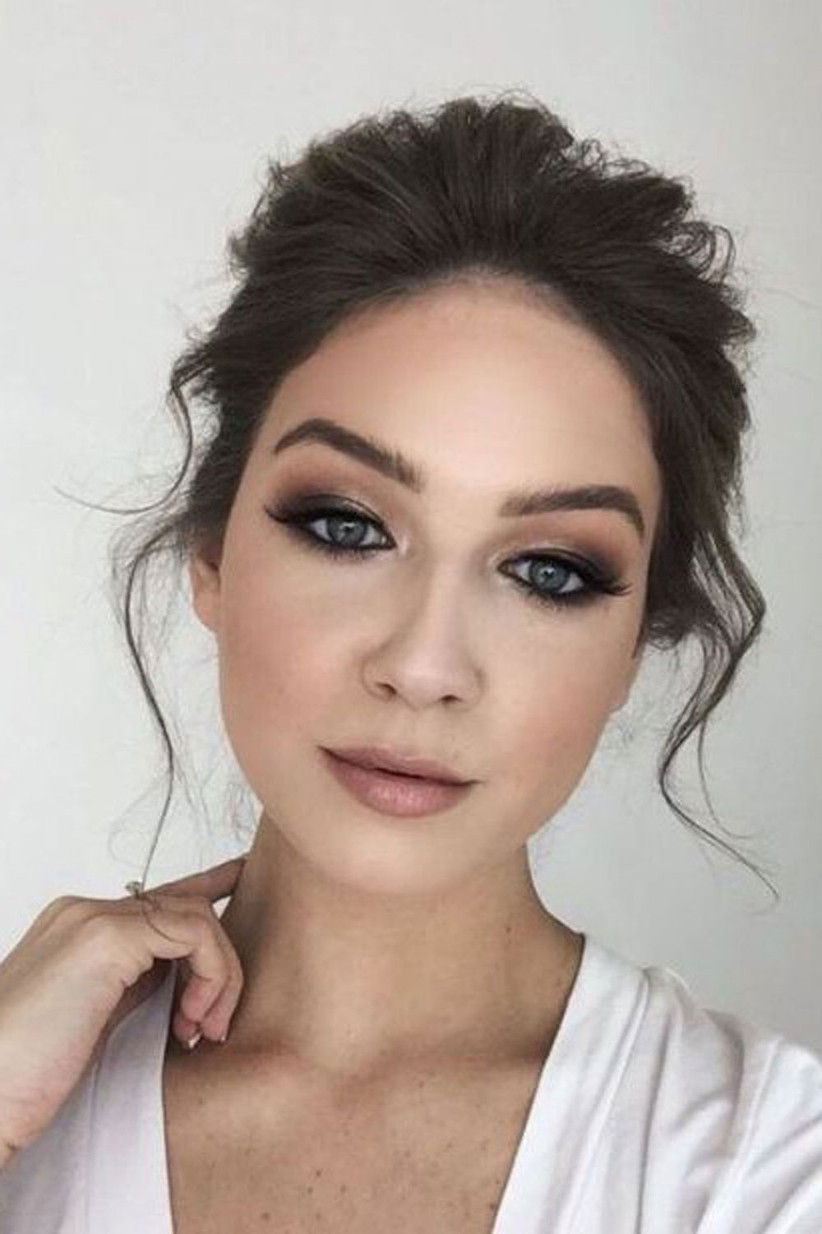 Image: Pinterest
If the thought of barely-there makeup makes you yawn, opt for charcoal smokey eyes like this bride has.
The cooler tones and washed-out lip result in the perfect mix of sophisticated bride meets city cool-girl.
READ MORE: 19 of the Best Wedding Venues in London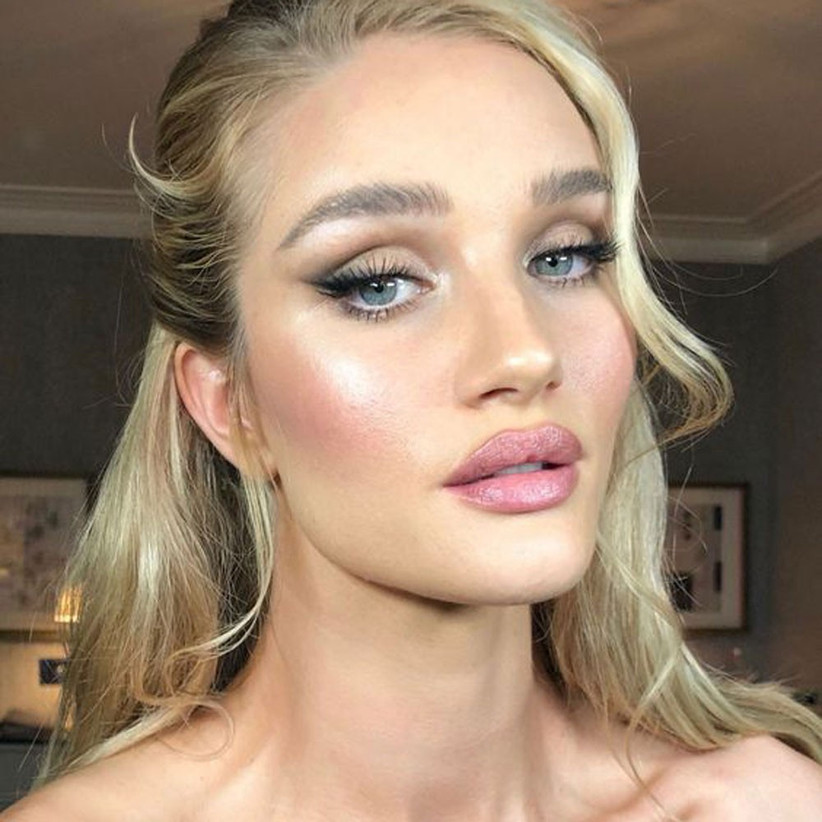 Image: Pinterest
Take inspiration from Rosie Huntington-Whiteley and channel a rosy, glowy makeup look on your big day.
Make your eyes pop by blending your darkest eyeshadow shade into eye socket and leaving the eyelid much more bare.
READ MORE: The Biggest Celebrity Engagements of 2019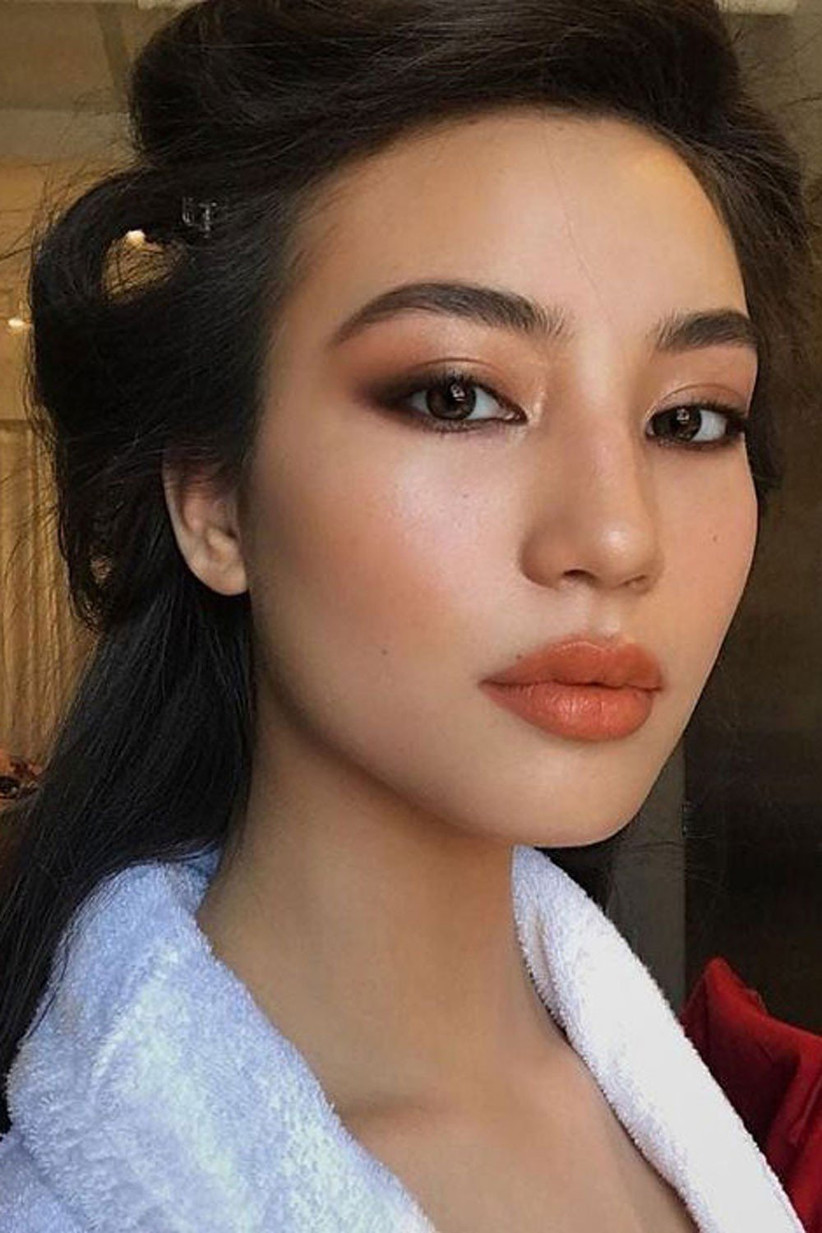 Image: Pinterest
If you're a lover of a nude lip but you want to amp things up on your big day, go for a subtly orange-toned lipstick.
Keep things matte to avoid a look which is too overpowering.
READ MORE: 50 of the Best Spas in the UK for Your Hen Do or Mini-Moon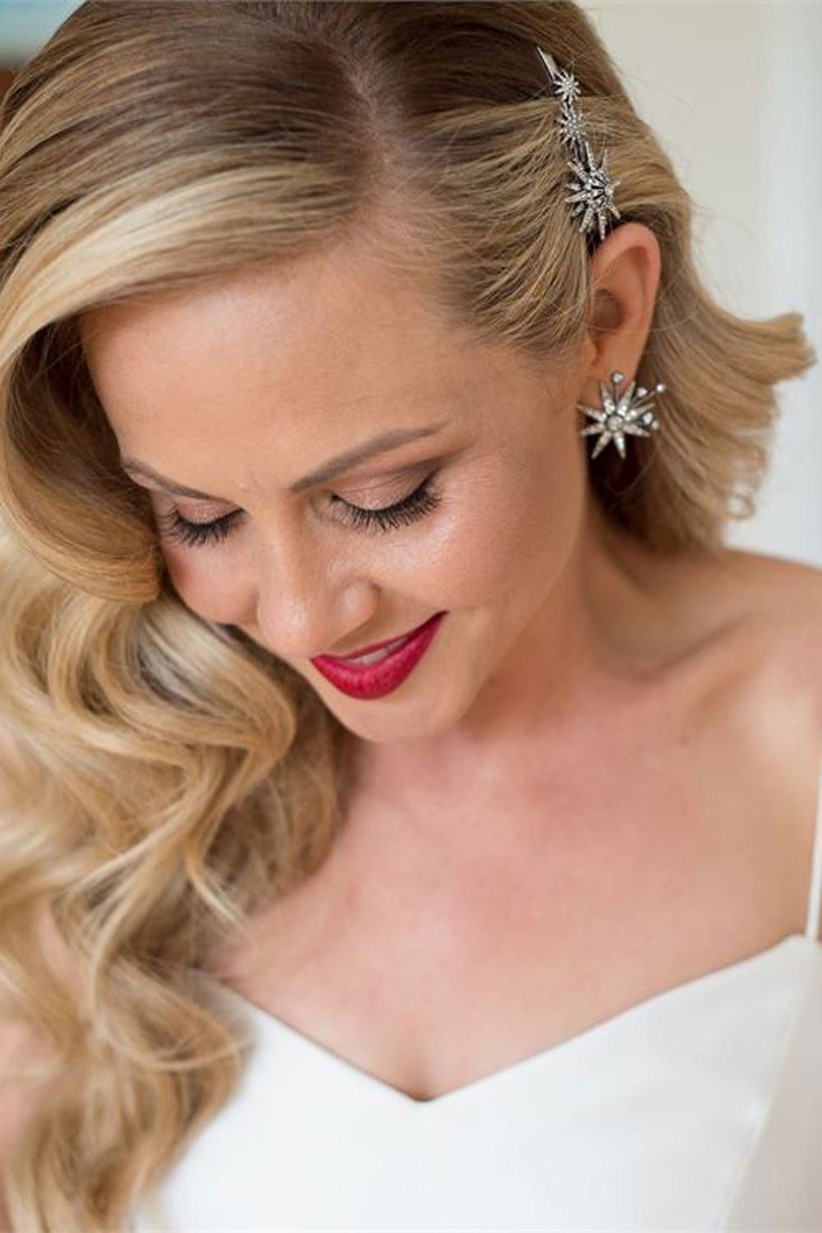 Image: Butterfly Hair & Makeup
This wedding makeup idea just screams Hollywood glamour.
Keep your lashes fluttery and your eyeshadow minimal to let the lip do all the talking.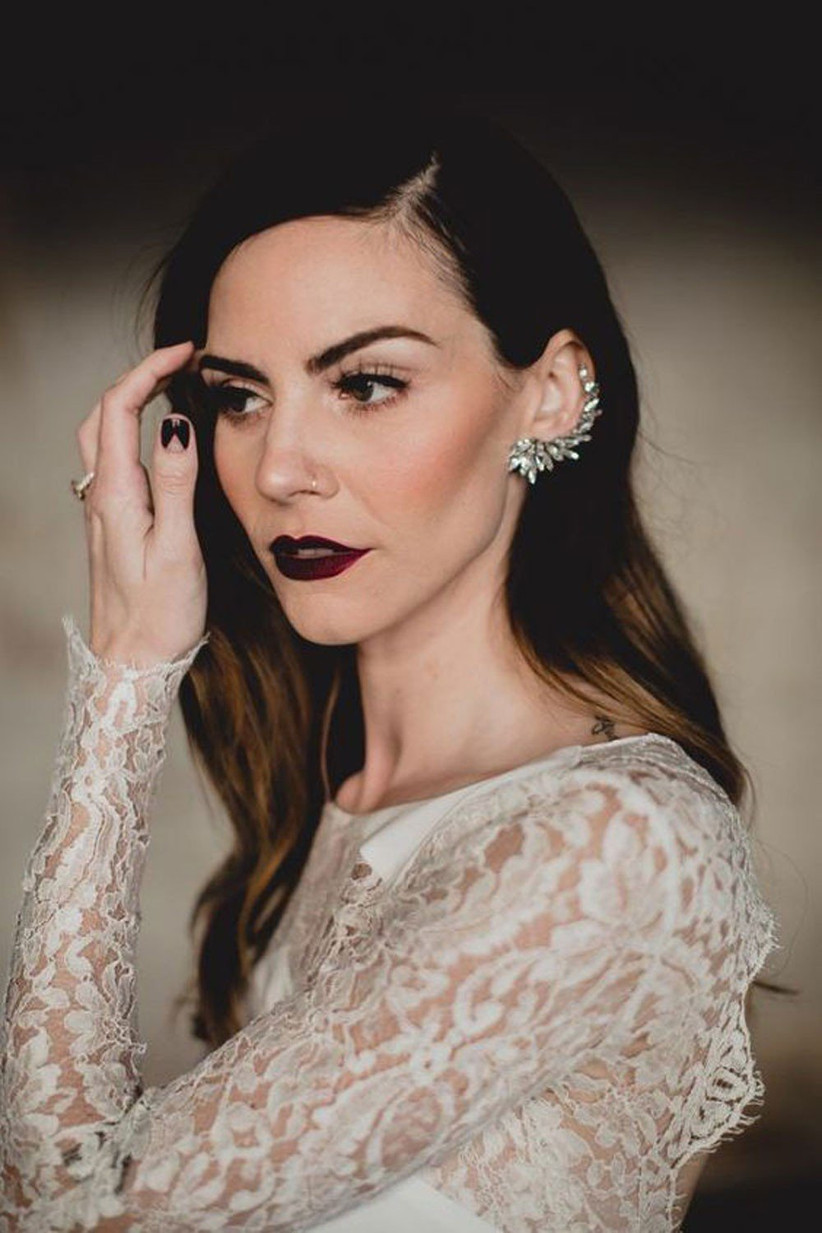 Image: Pinterest
If you're getting married at a rustic winter wedding venue, tie your makeup look in with your surroundings and opt for a deep berry lip.
The sharp contouring to this bride's cheeks really pulls the whole look together. Just remember to have one of your bridesmaids on lipstick smudge watch!
READ MORE: All the Bridesmaid Duties You Definitely Didn't Know About
How Do I Choose My Wedding Makeup?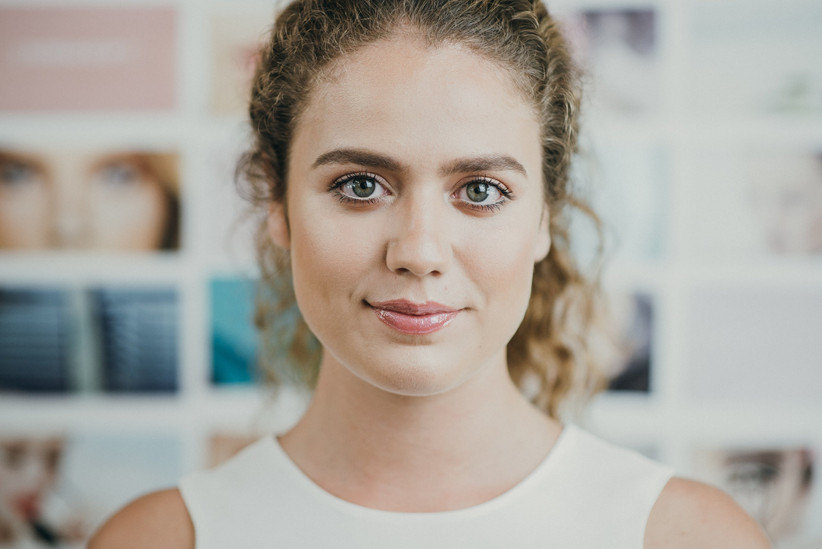 Which wedding makeup idea you go for is totally personal decision – but it can be a difficult decision to make! That said, there are a few things you can do to make your choice that little bit easier.
Firstly, make sure you do your research. Scour the web, Pinterest and Instagram and expose yourself to as much inspiration as possible. We hope this article is a good place to start!
Next, schedule a makeup trial where your artist will be able to recommend the looks which will suit your colouring and face shape. It's always helpful to chat to a professional, even if you end up doing your own makeup when the day rolls around.
Lastly, consider things like your wedding season, the style of your wedding venue and what your wedding dress looks like. All of these factors will influence your final wedding makeup look. Oh, and choose something which makes you feel beautiful and confident. That's the most important thing!
READ MORE: Is it Safe to Delay Your Period for Your Wedding Day?
How Can I Do My Own Wedding Makeup?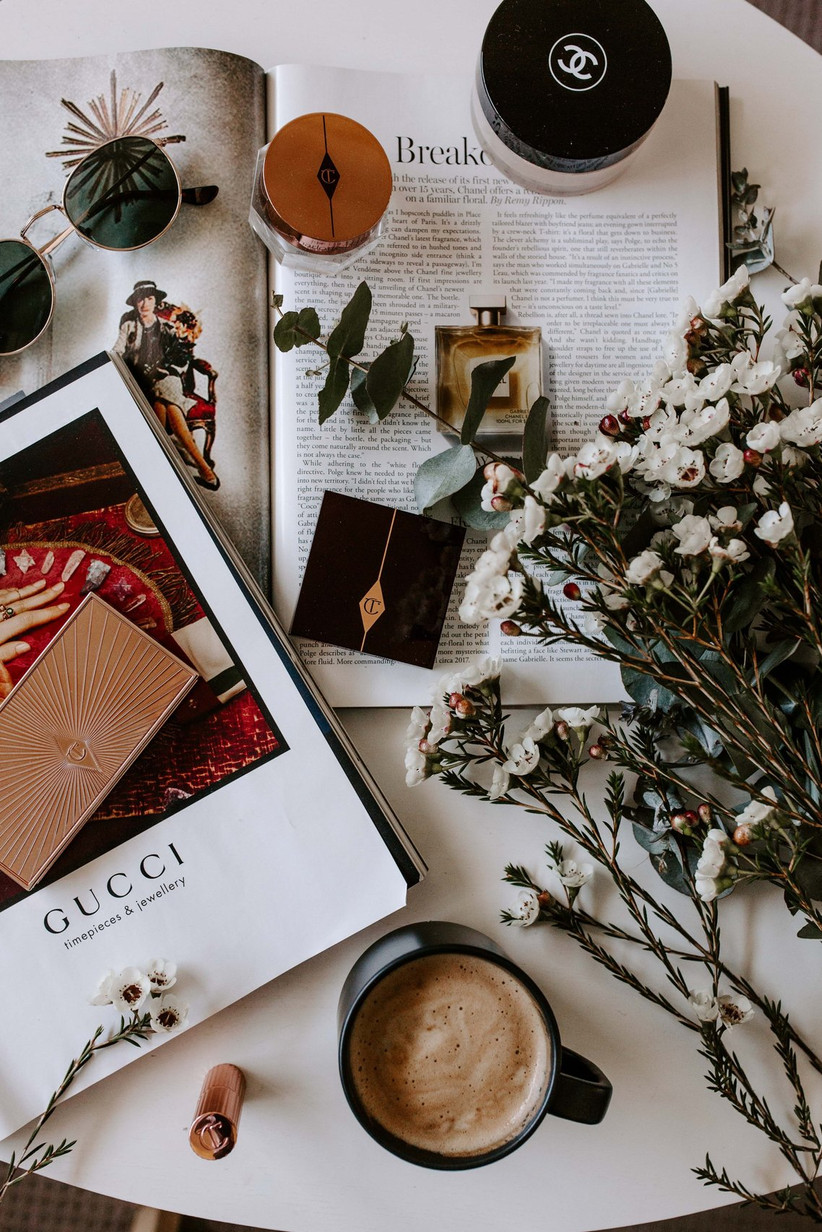 There's absolutely nothing which says you can't do your own wedding makeup. We'd actually recommend it if you're looking to save money on your wedding budget.
The main thing to remember here is to practice, practice and practice. You'll still need to spend lots of time collecting inspiration, and you might even want to go to a makeup trial to get a professional's advice.
Set a chunk of your budget aside to buy some lovely new makeup products, and practice your look multiple times before the big day. You need to know how your skincare products and foundation sit together, whether your lipstick will smudge and whether you'll need a mid-afternoon powder application!
READ MORE: Everything You Need to Know About Doing Your Own Wedding Hair & Makeup
How Much Does Wedding Makeup Cost?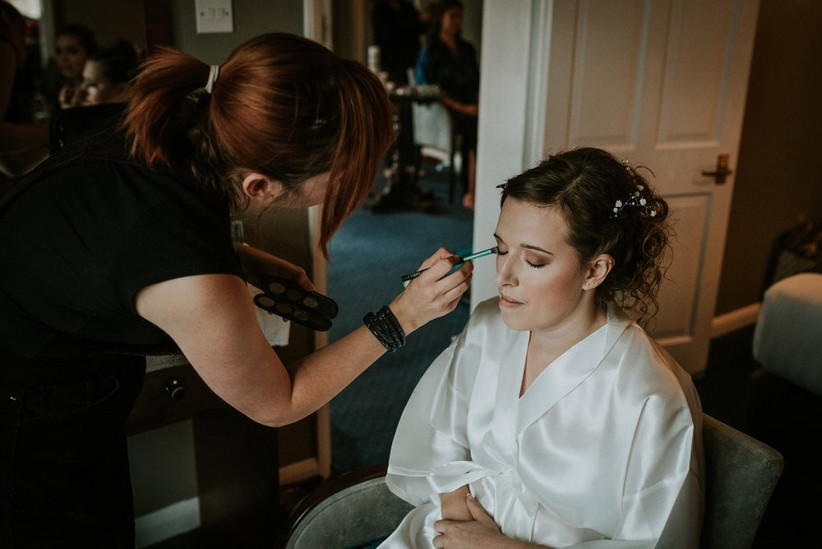 Image: Toni Searle Beauty
We'd recommend you set aside approximately £250 for your wedding makeup. This will comfortably get you one or two trials and your wedding day makeup application.
That said, there are quite a few things which will affect the price of your wedding makeup. These include: the level of expertise of the makeup artist, the distance they'll need to travel to get to your wedding venue and how many trials you're after.
You should also remember that if you want your bridal party to have their makeup done by the same artist and in the same style, that'll come at an extra cost.
READ MORE: The Prettiest Bridal Party Dressing Gowns & Pyjamas
Do I Have to Tip my Wedding Makeup Artist?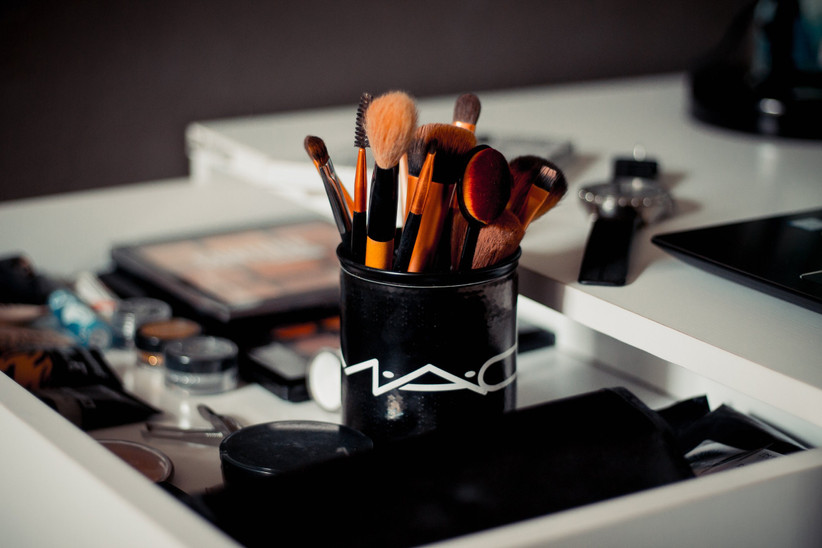 Common practise would suggest that tipping hair and makeup artists is expected. You're not expected to tip every single one of your wedding suppliers, but it is polite to tip your wedding makeup artist if they've done a good job.
It is common to tip approximately 15% of their total bill, and you should consider tipping a little extra if there's a beauty meltdown at the last minute (like your bridesmaid's curls drop and the artist has to re-do their hair).
Do You Get Your Hair or Makeup Done First for Your Wedding?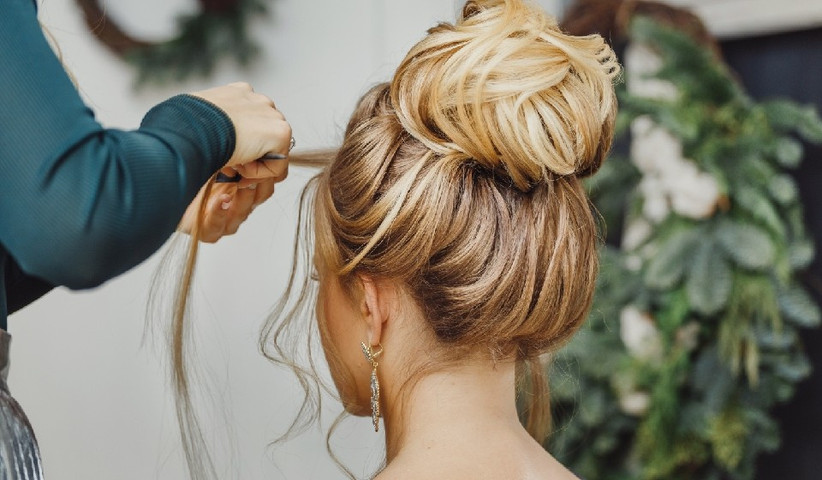 Image: Butterfly Hair & Makeup
This is a brilliant question, and one that lots of brides don't know the answer to. In an ideal world, your hairstyling would be done first, because hot styling tools might cause perspiration and any overspray from styling products can be wiped off the skin before starting.
That said, timings don't always work out perfectly, and if you can't get a slot with your hair stylist before your makeup artist arrives, it won't make too much difference to your finished look.
READ MORE: Tried & Tested Wedding Day Lipsticks
Which Brand is Best for Bridal Makeup?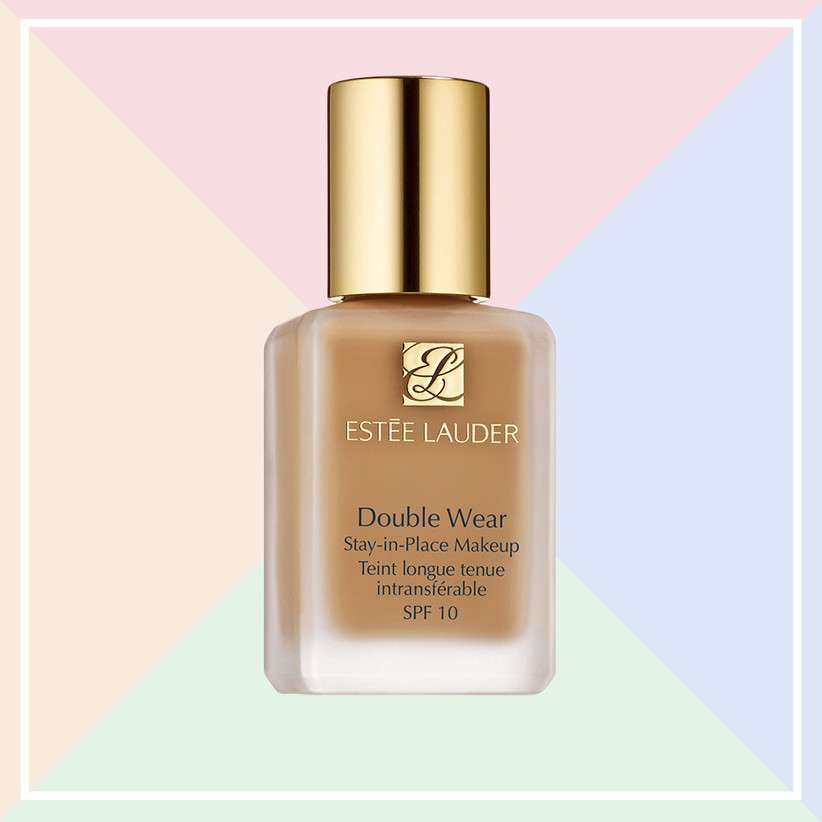 There are so many brands that do great bridal makeup products whatever your budget, but here at Hitched we do have some firm favourites.
Charlotte Tilbury's Unisex Tinted Moisturiser acts as a great, glowing base for your foundation (or a light, standalone product if you don't like to wear anything heavy), and Estee Lauder's Double Wear Foundation looks flawless when blended with a Real Techniques Expert Face Brush.
We're also huge fans of the Bobbi Brown Luxe Lip Colour in Pink Nude, or Maybelline's Superstay Matte Ink Liquid Lipstick in the shade 'Dreamer' if you're looking for a fabulous budget alternative.
What is the Difference Between Bridal Makeup and Regular Makeup?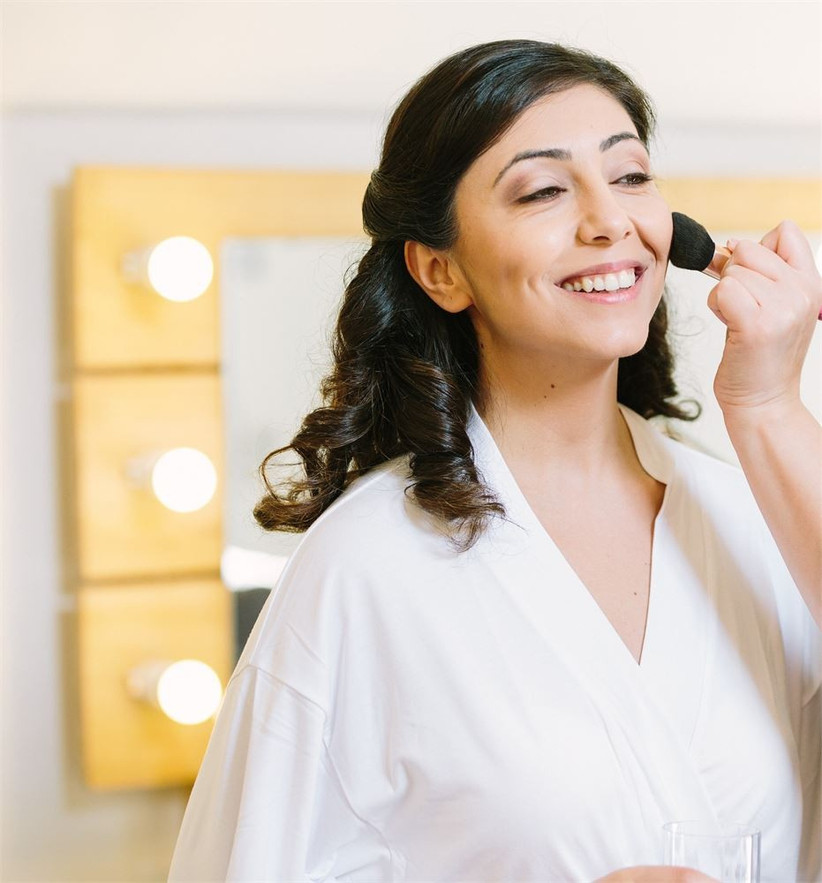 Image: Butterfly Hair & Makeup
Strictly speaking, there aren't any hard and fast rules, but your bridal makeup should be a little bit more special than your everyday makeup would be.
Whether that means wearing a little more, adding a pop of colour which you usually wouldn't or wearing something like fake eyelashes, there are lots of things you can do to make your features pop.
One of the main things to consider when it comes to your bridal makeup is that you'll be spending the entire day getting photographed. For that reason, you should choose products which will look great (and not wash you out) on camera – something you wouldn't usually have to think about.
Semi-matte skin will look best in photographs (it won't look shiny but it won't look flat, either), and powders with silica in should be avoided – they flashback white in photographs. You should also make sure you've got a bit of bronzer on (a camera's flash will make you appear paler than you actually are), and use three eyeshadow shades harmoniously to ensure your eyes look brighter and larger in pictures.
READ MORE: Our Top Photography Tips for Wedding Guests
How Long Before Your Wedding Should You Get Your Makeup Done?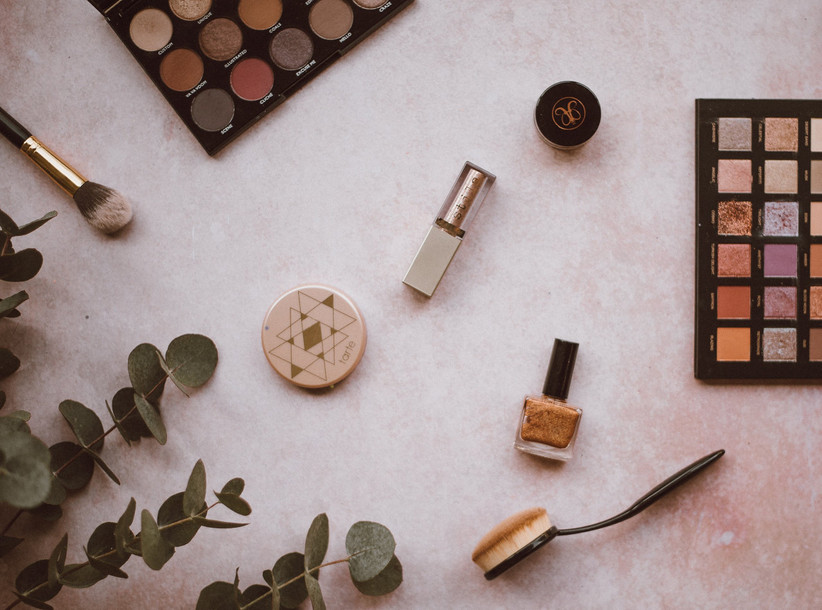 Strictly speaking, your wedding day makeup should take around 45 minutes to apply. It's also important to remember that you should be ready about an hour before your ceremony starts to give you time to take photographs with your bridesmaids and meet your registrar.
With that in mind, we'd recommend you get your makeup done two and a half hours before your ceremony commences, if your hair has already been done.
READ MORE: How to Get Perfect Hair & Nails Before Your Big Day
Now you're feeling suitably inspired by all of our wedding makeup ideas, you'll want to finalise the finishing touches. Check out our guide to wedding fragrance to get you smelling as fabulous as you look.