37 Wedding Makeup Ideas and Top Tips if You're Doing Your Own
Thinking of doing your own wedding makeup? We asked leading beauty experts for their tips for going DIY. Whatever your style, this is how to do your bridal makeup, including beauty looks to inspire you and the products you need to know
We have included third party products to help you navigate and enjoy life's biggest moments. Purchases made through links on this page may earn us a commission.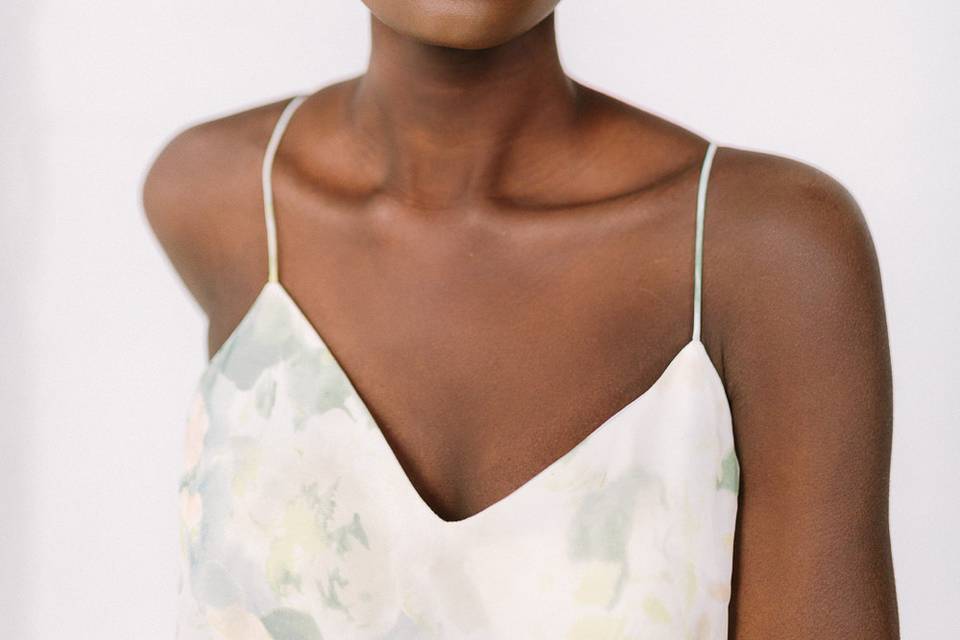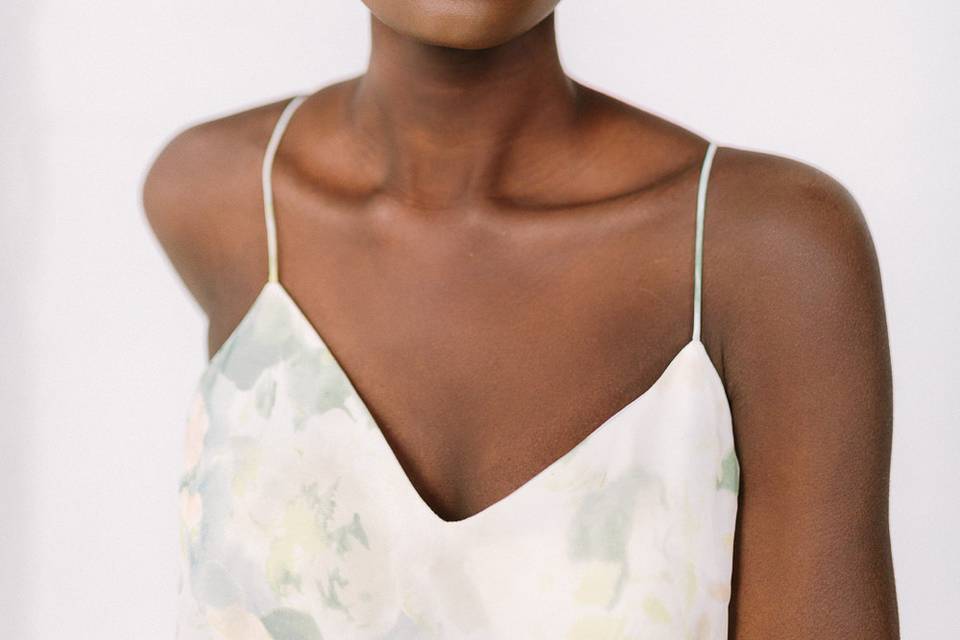 There's absolutely nothing which says you can't do your own wedding makeup. We'd actually recommend it if you're looking to save money on your wedding budget.
We'll be honest though: doing your own wedding makeup can be tricky. Unless you're already pro-level - or have nerves of steel - it can add an extra level of stress to your wedding morning.
That's why we've spoken to beauty industry experts for their DIY wedding makeup tips. From what wedding makeup products you should be using to how much you need to be applying, we've got you covered.
READ MORE
What to Consider If You're Doing Your Own Wedding Day Makeup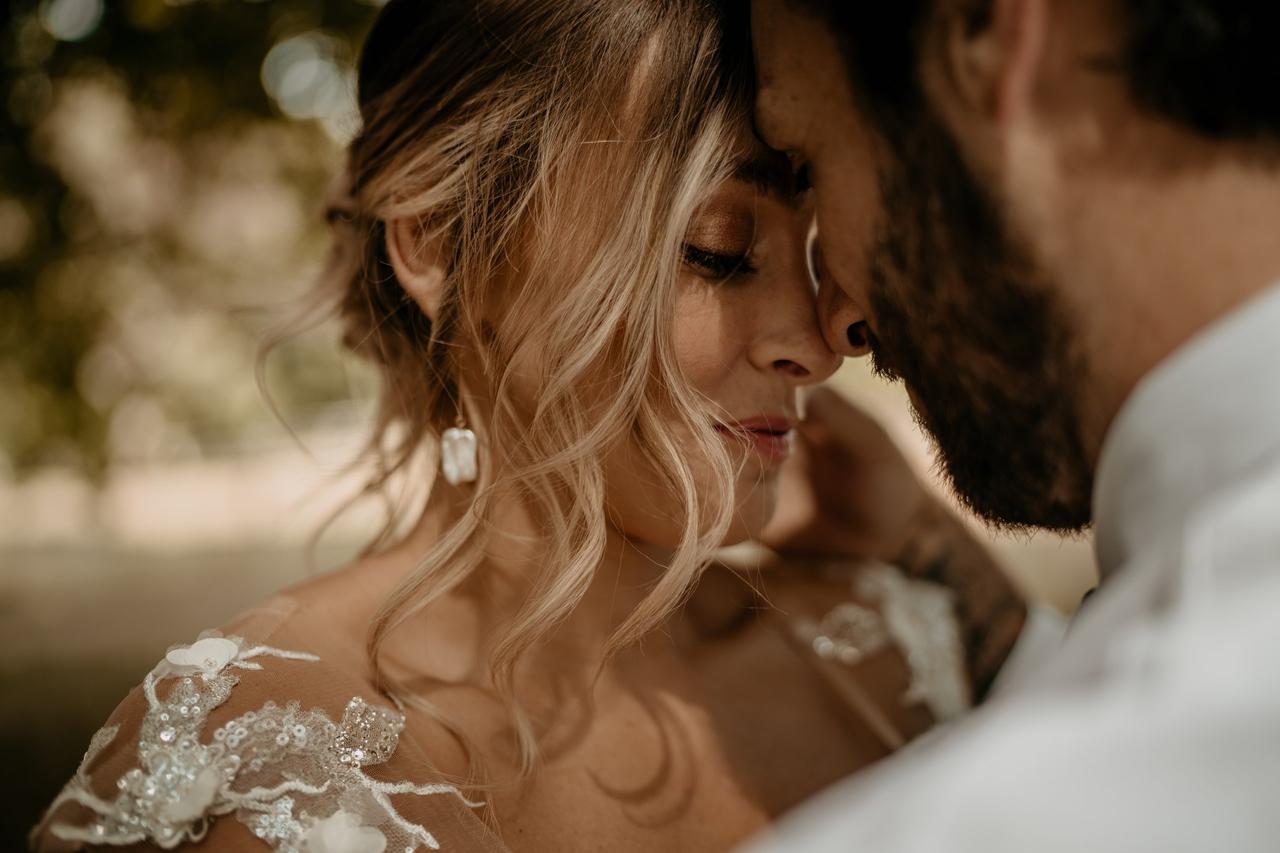 Which wedding makeup idea you go for is a totally personal decision – but it can be a difficult decision to make! That said, there are a few things you can do to make your choice that little bit easier.

Consider things like your wedding season, the style of your wedding venue and what your wedding dress looks like. All of these factors will influence your final wedding makeup look. Oh, and choose something which makes you feel beautiful and confident. That's the most important thing!

With the right preparation, you can go DIY and still achieve a gorgeous bridal look that suits your personal style - and looks as amazing in real life as it does in the photos. READ MORE: 17 Best Wedding Makeup Ideas for Black Brides
1. Do I Need to Prep My Skin?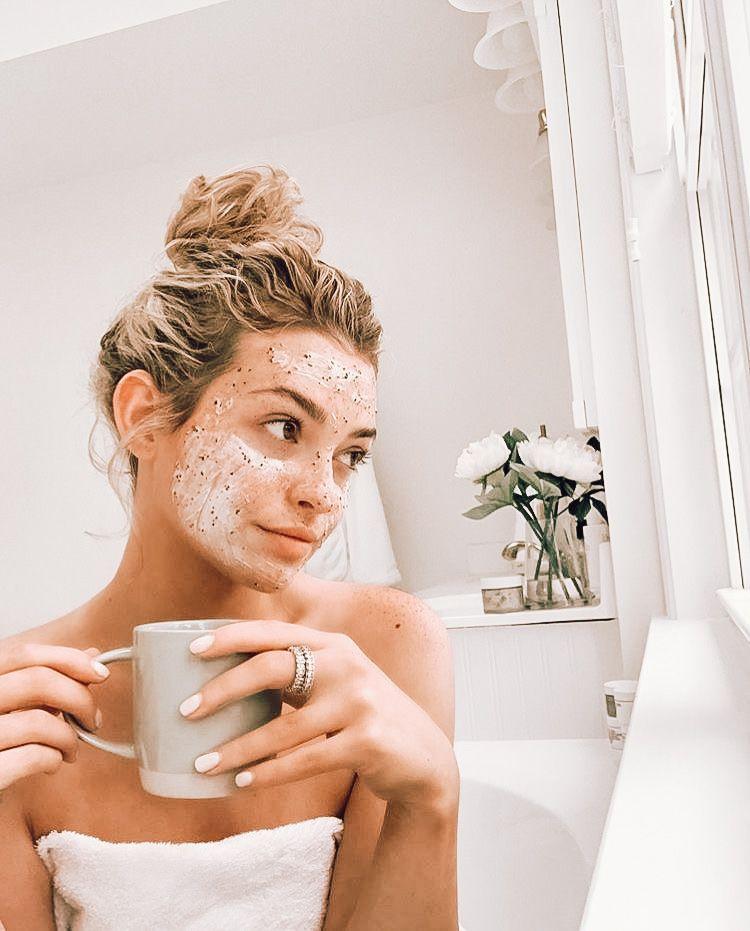 Your DIY makeup prep starts long before the wedding. 'A well-hydrated and smooth complexion is essential for flawless, beautiful make-up,' says Alicia Jackman, founder of skincare brand Holy Grail. 'Make sure you're taking care of your skin and using products to target your specific concerns well before your big day.'
This doesn't have to involve a complicated, multi-product routine - it could be as simple as investing in skincare with more active ingredients, or adding an extra step, such as a chemical exfoliator. 'Light exfoliation is key to a flake-free and even skin tone,' says Alicia. 'We recommend our Naturally Radiant AHA Skin Tonic (£21) to lighten discolouration, clear pores and combat flakiness.
'On the big day prep and hydrate your skin for a silky smooth base, ready for flawless make-up application.'
Want to splash out for the special day? 'If your budget allows, HydraFacials are an amazing way of illuminating and improving overall skin texture,' says leading professional bridal makeup artist Amy Rose Macdonald.
2. How Much Should I Practice?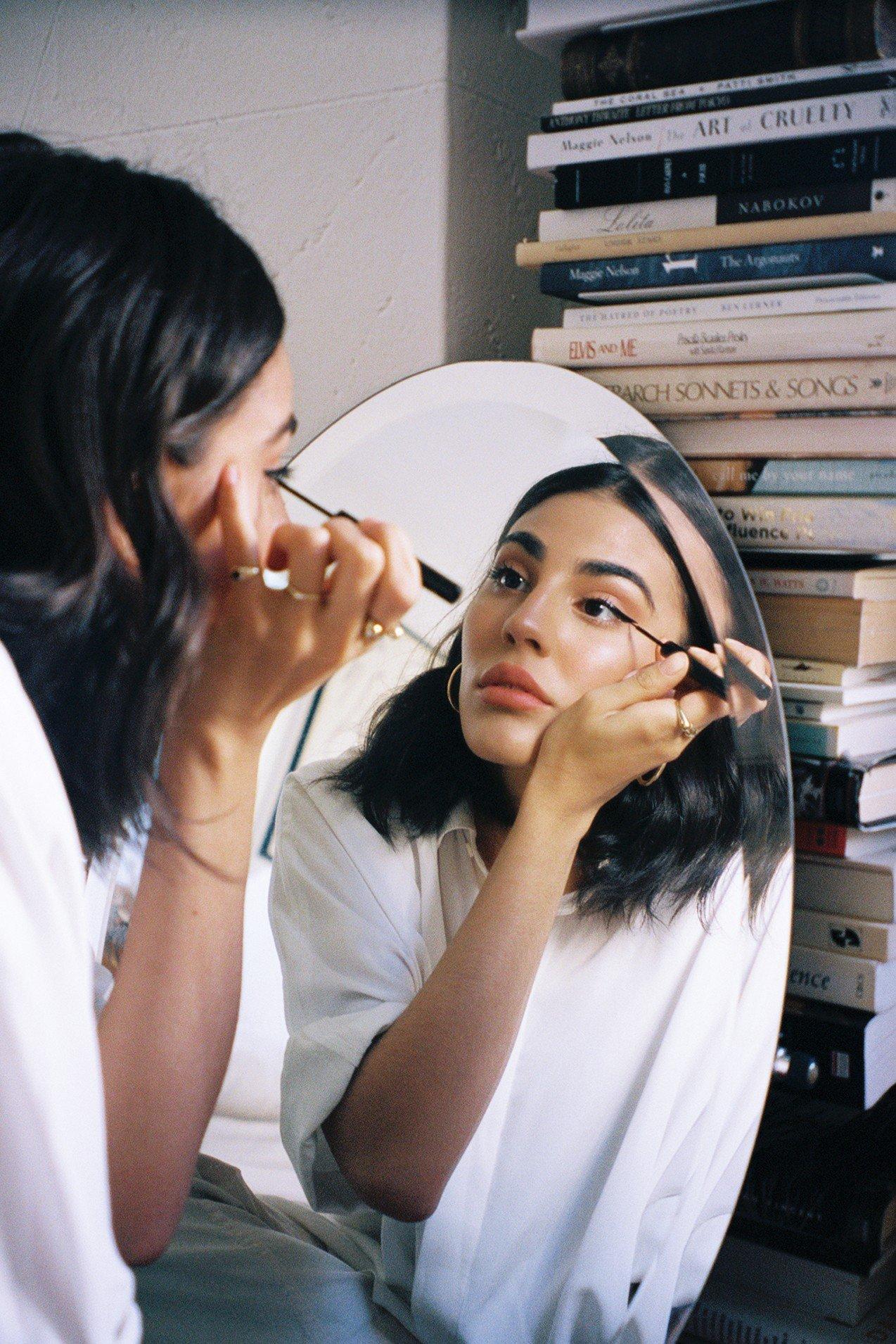 It's certainly worth checking out bridal beauty tutorials on social and YouTube, but don't feel you have to master a whole new range of techniques in order to create your wedding makeup look. This is particularly true of any high-impact elements that will be immediately noticeable if you don't nail them.
If a bride-to-be does not know how to apply lashes, I strongly recommend not using them at all,' says leading beauty professional Mahina Makeup. 'If done incorrectly, it can ruin the quality of the makeup.'
Amy Rose recommends trialling your chosen makeup look before the big day so you know it works for you. 'Get dressed up and go out in the look you have created and see how comfortable you feel,' she says. 'Check how it wears throughout the day and ask a friend or family member to take some candid photos of you (not just selfies at the best angles) as you want to see how it looks from different directions just as your guests and photographer will.'
3. What Should My Makeup Schedule Look Like On the Day?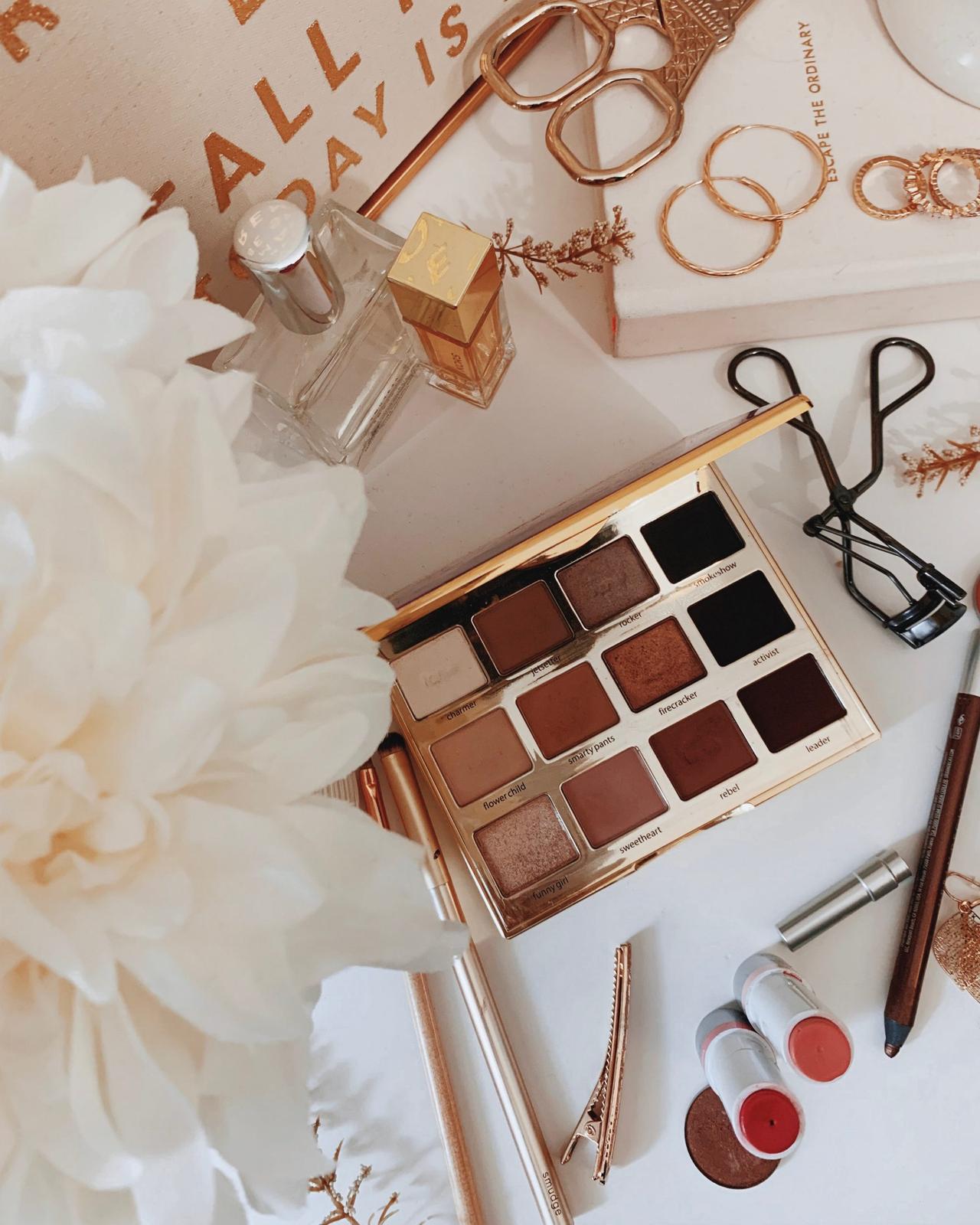 Your wedding day should be one of the best days of your life so make sure you have everything in place to make even stressful tasks fun!
'Getting ready can sometimes be a little hectic,' says Amy Rose. 'Be sure to create a calming little station solely for you. Lay out all of your products, make sure your brushes are clean and dry the night before, sip some bubbly and put on your favourite tunes!'
As you're planning out your schedule, include plenty of time for your DIY makeup. 'When it comes to wedding makeup, time and patience are key,' says Mahina. 'I would advise allowing two hours so that if any mistakes are made, they can be corrected.'
There's some controversy over whether to do wedding hair or makeup first - but to be honest, there are advantages and disadvantages to both. If you can, we say get your hair sorted first, so there's no chance of heated styling tools making your makeup smudge.
READ MORE: How to Get Rid of Back Acne Fast
4. How Much Makeup Should I Be Applying?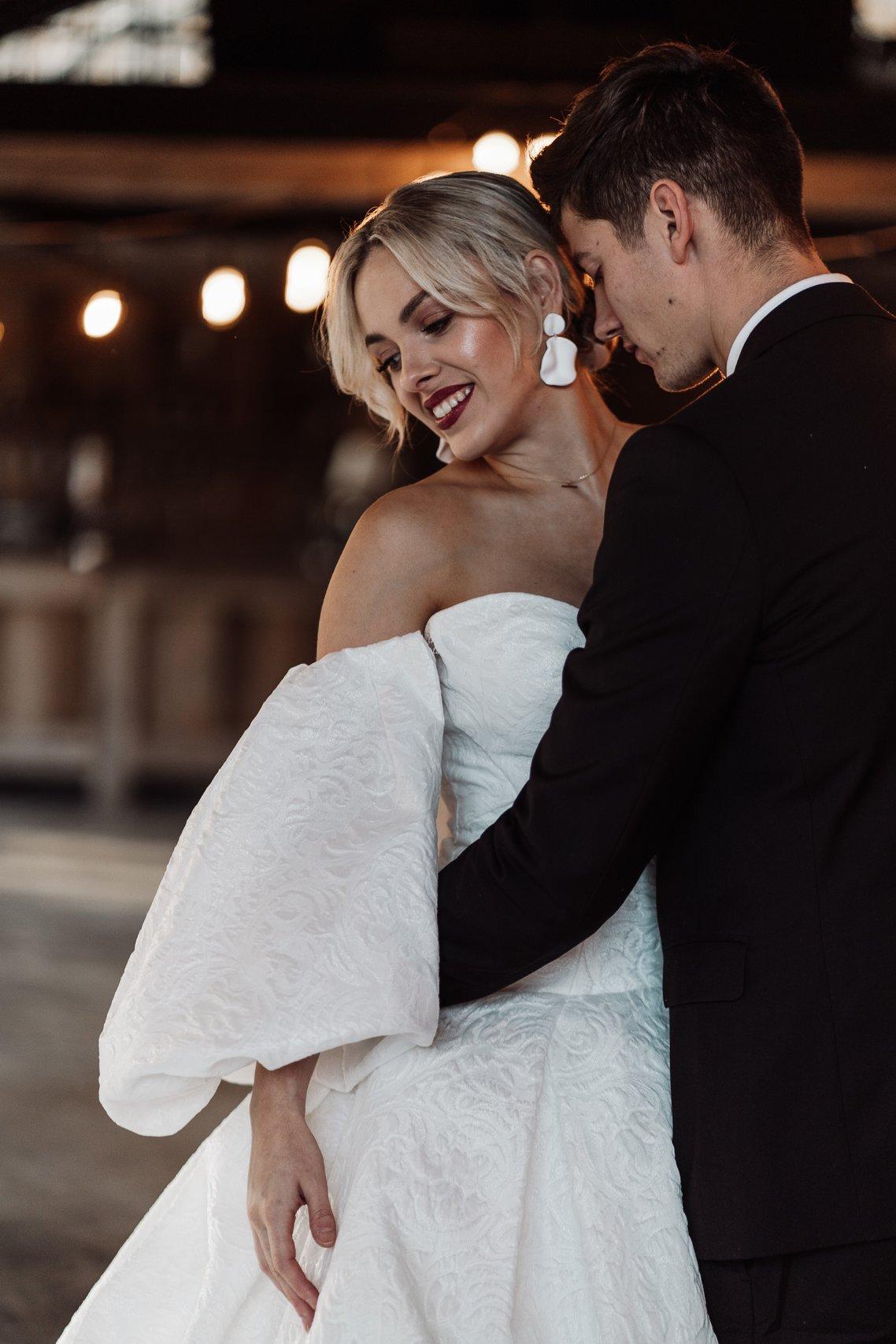 There's no right or wrong when it comes to bridal makeup looks as long as you feel comfortable. 'Your wedding day is the time to enhance your natural beauty and feel like the most beautiful, confident version of yourself', says Amy Rose.
If you're happy with your usual makeup look, you don't have to opt for something wildly different at your wedding. 'You feel more you when you are wearing your everyday makeup,' says Hollie Ellis, Bobbi Brown Pro Artist.
One of the main things to consider when it comes to your bridal makeup is that you'll be spending the entire day getting photographed. Amy Rose always advices brides to 'add a little more blush, bronzer or colour to the lips than usual to avoid you looking washed out in photos, especially if you are wearing a white or ivory dress.'
'I would recommend maybe just going a little more defined on the eyes, cheeks and lips to really make the makeup pop in photos and cover any redness on the skin for a photo-finish look,' says Hollie.
5. How Can I Make Sure My Makeup Lasts All Day?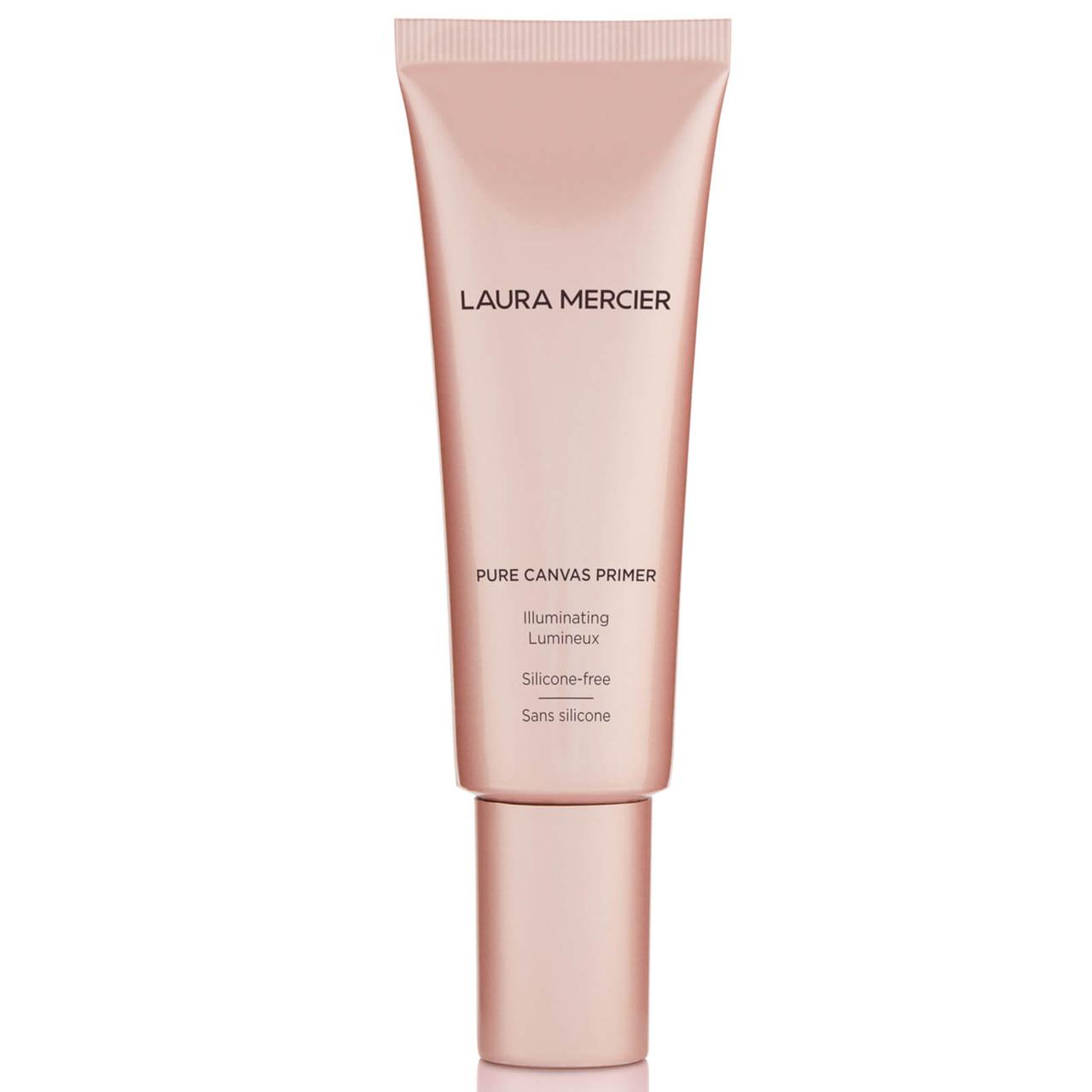 When it comes to bridal makeup, long-wearing formulations are the gold standard. After all, weddings can be long, and the last thing you want is migrating mascara or sliding eyeshadow, and this is true even if you're a makeup minimalist. This means a beauty shopping trip is in order, to put together a kit that'll go the distance.
That being said, if you are keen to use some of your current makeup bag favourites on the day, introduce a primer to keep them in place. 'Applying a thin layer of primer after your moisturiser will help to create a smooth even base for your foundation to sit on,' says Amy Rose.
Depending on your skin type and how you want your makeup to look there are different primers you should go for. If you have oilier skin she recommends NARS Pore & Shine Control Primer (£29) for helping to control excess shine. Want a gorgeous glow? 'Laura Mercier Pure Canvas Illuminating Primer (£34) will create a glowing radiant base for make-up.'
While primer will help keep your wedding makeup in place, setting spray offers extra protection for your look. Mahina swears by Morphe Continous Setting Mist (£16) and Urban Decay All Nighter Setting Mist (£12).
6. Which Foundation Is Best for Me?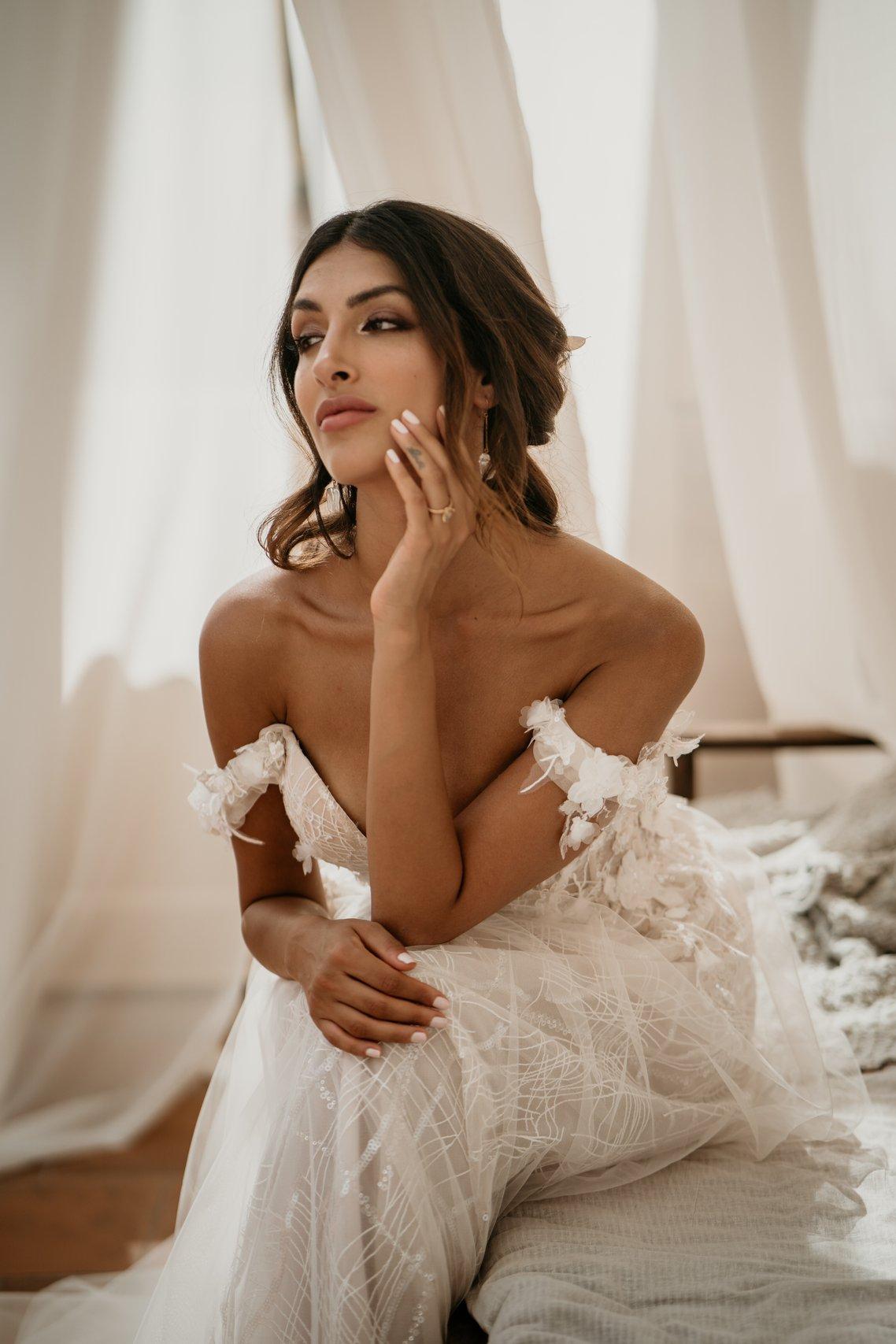 Unless you already have your ideal base, we suggest investing in the best foundation your budget allows, specifically tailored to your skin type, whether oily, dry or combination.
'For oily skin you are best to use an oil-free liquid foundation or mineral foundation. If your skin is naturally quite dry, try to stay away from powder products as they can accentuate dry skin and texture,' recommends Amy Rose. Her favourites are It Cosmetics Your Skin But Better CC+ Cream (£32.50) and Charlotte Tilbury Airbrush Flawless Foundation (£34).
Revolution Conceal & Hydrate Foundation is also a great option at only £9, plus it comes in a whopping 50 shades!
7. How Can I Avoid Flashback?
Stay away from face powders with silica if your wedding photographer will be taking pictures of you in the evening - these products can cause an eerie white 'flashback' in photos taken with a flash.
READ MORE: The Best Charlotte Tilbury Products: 15 Makeup Bestsellers Worth Your Money
8. Should I Be Wearing Blusher and/or Bronzer?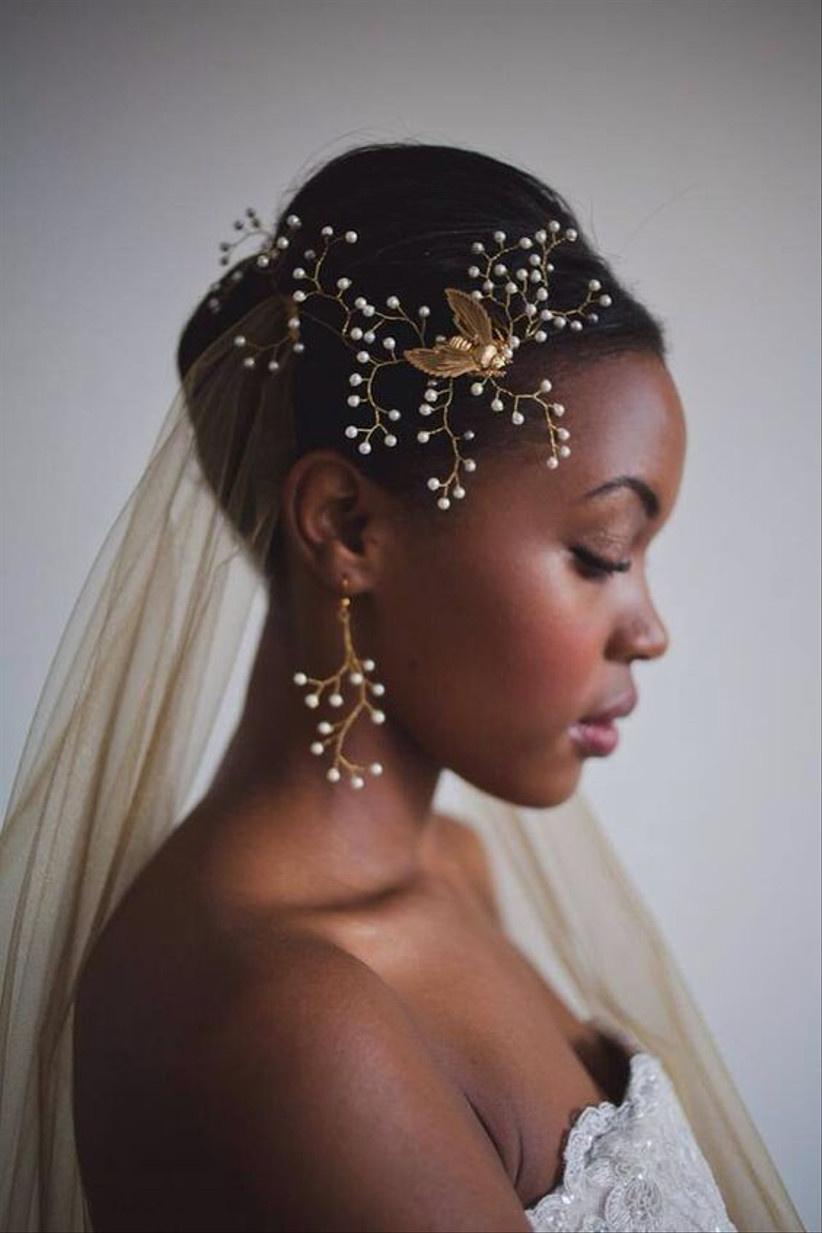 Even if you don't normally wear blusher, think about adding some to your bridal look. Forget the whole 'blushing bride' cliché - the reason is that a delicate wash of colour on your cheeks looks good in photos! You could also look at adding warmth through bronzer - but take some time for practice.
'Contouring or bronzing the skin is one of the many techniques brides try to do, and without practice, it can be placed in the wrong areas of the face,' says Hollie. 'At Bobbi Brown, we love to warm and bronze the face but in a more sun-kissed approach, which gives the skin that healthy glow with still a little structure.
'It's very simple, you place the bronzer where you naturally catch the sun, which is normally around the top of the forehead, across the cheeks and a little on the nose. Use a super fluffy brush so that the product isn't too strong on those areas, but more of a flush of colour'
9. How Do I Pick the Right Lipstick?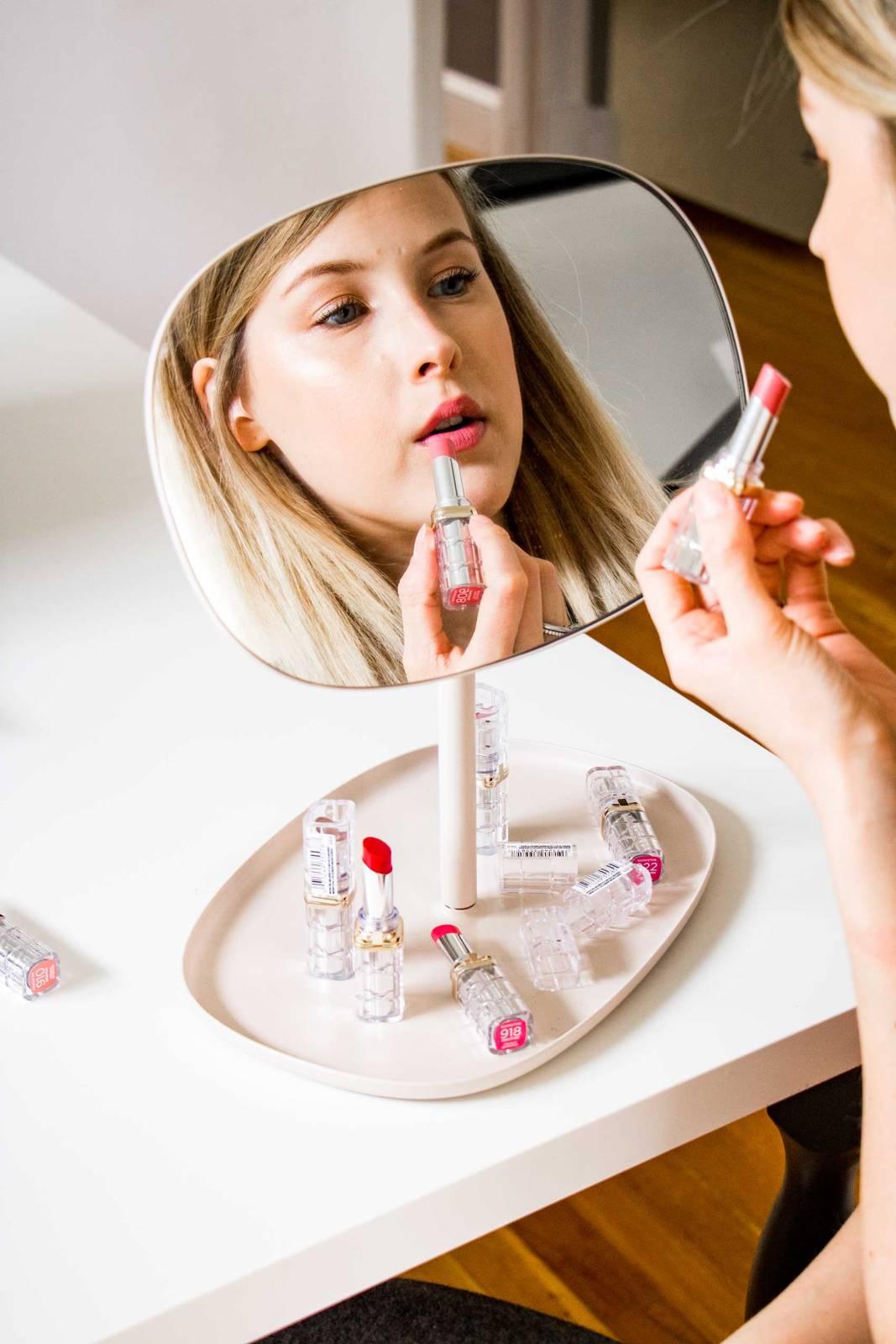 Lipsticks are the finishing touch to a beautiful face of makeup, and you want to make sure you're making the right decision. It's really trial and error until you find 'the one' so pucker up and get testing!
'There are so many factors to consider - natural lip colour, complexion and lip shape. I personally love a natural lip on a bride. It's low maintenance, easy to apply and flattering for all,' says Amy Rose.
'Teaming your lipstick with a matching lipliner is a great little tip to improve it's longevity. Using your lip liner colour over your entire lip before applying lipstick'.
10. Should I Wear False Lashes?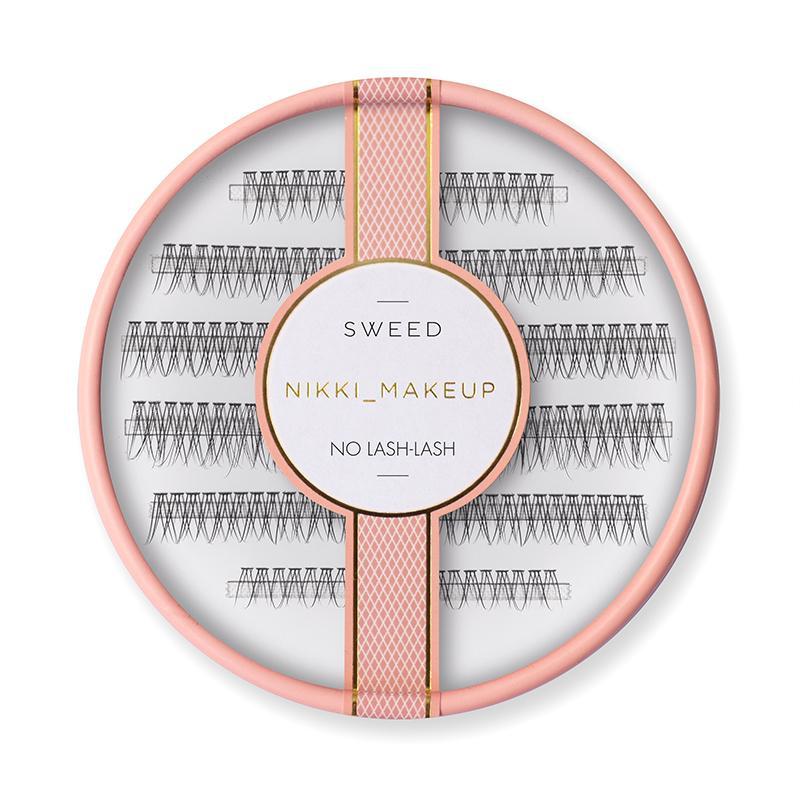 Applying false lashes can seem a little daunting but if you want to elevate your eye makeup to the next level they can create a beautiful fluttery look. Try opting for individual or corner lashes - 'not only are they easier to apply and less maintenance on the day, they also give a far more natural end result,' Amy Rose advices.
'Just adding a couple of strategically placed individual lashes on the outer corners of your eyes can make a huge difference!'
READ MORE: The Best False Lashes for Your Wedding Day
11. What Products Should I Keep on Hand All Day?
Whether you're changing your look or keeping it the same, have a touch-up kit on hand throughout the day. Amy Rose recommends it includes, 'blotting sheets so you can remove shine without building up product on your face, you can then follow with a light application of powder and your chosen lipstick to keep your pout on point'.
12. Should I Have an Evening Makeup Look?
Not to pile any more pressure on you, but it might be nice to switch up your makeup between day and night. We don't mean going for a full transformation, but a change or two to give you a different look. Adding a lip colour is one of the easiest glow-up ideas - check out Mahina's high-shine glosses for a glamorous addition.
13. What Tools Should I Be Using?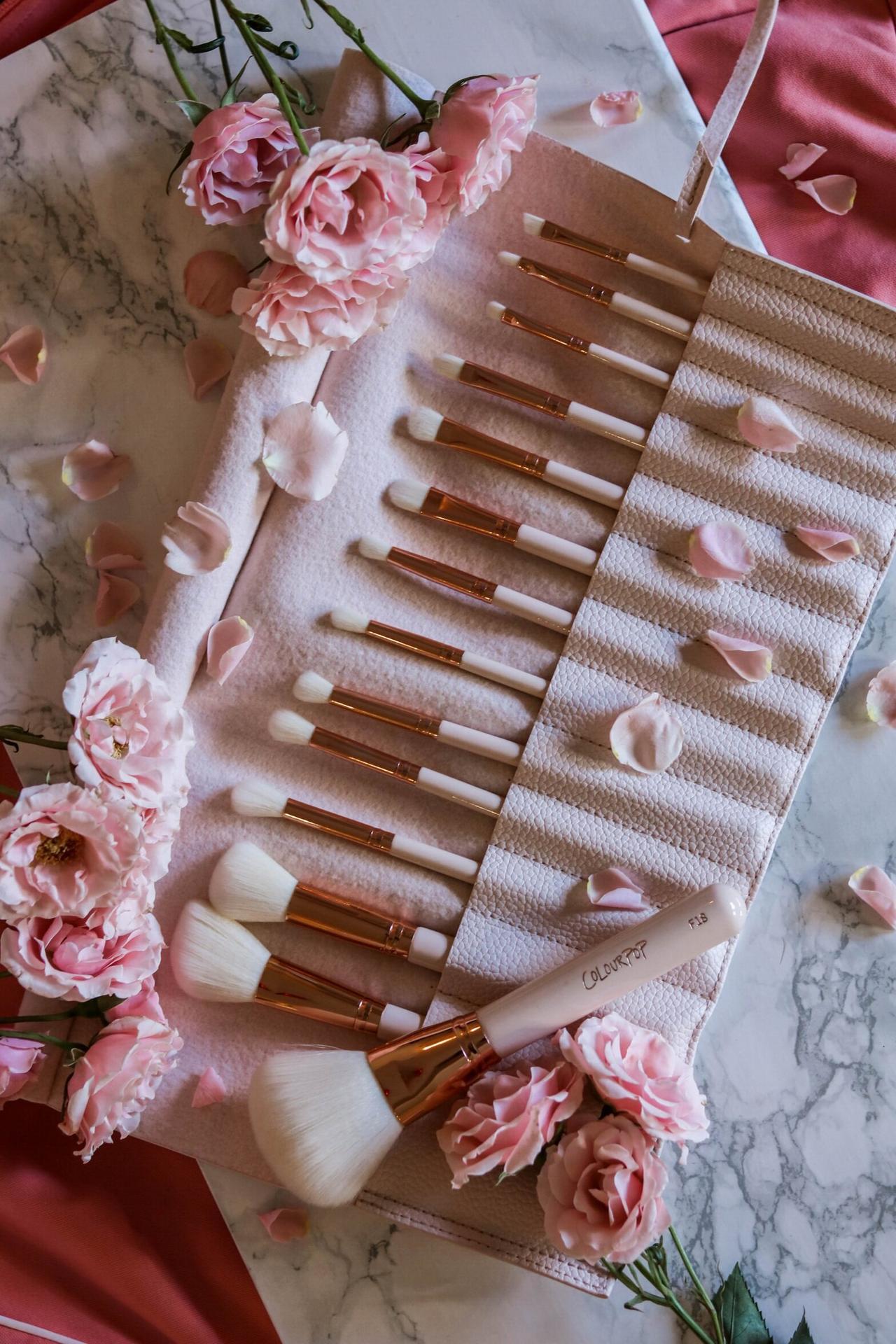 If your current makeup brushes are well-used, it's worth adding some new versions to your kit; the right makeup brush can make all the difference when it comes to application. If you just need to replace a couple of individual brushes, Bobbi Brown is a great option, particularly for eyes.
However, for a full makeup brush overhaul, you can get some excellent sets. Zoeva's Luxe Set (£115) has a perfect brush for every part of the face and technique you can imagine. Brides on a budget should check out Real Techniques - their Everyday Eye Essentials kit has professional-grade brushes for under £20.
But it's not just about the brushes. 'For the makeup to last all day, I would advise to use a Laura Mercier makeup puff (£14.50) - it will ensure a smooth and crease free base throughout the course of your big day,' says Mahina. And if you don't already use one, consider an eyelash curler, to really open up your eyes.
14. What Common Mistakes Should I Avoid?
As your wedding day is one of the most photographed days of your life, you'll want to avoid any common makeup mishaps or beauty regrets which is why Amy Rose recommends not trying to follow trends. 'One of the key things for a bride is to stay true to yourself, you don't want to necessarily look back in a few years' time and have your wedding photos scream the makeup trends of 2021'.
She also advices always keeping longevity in the forefront of your mind when deciding on what makeup look to go for. 'It's good to remember this is a day full of kisses and happy tears, so if you're not the sort of bride that is going to stop and think about re-touching your makeup then a darker eye or lip may not be right for you.'
Now you've got the technique nailed, look no further than this round up of the prettiest wedding makeup ideas for every kind of bride.
Wedding Makeup Ideas
1. Subtle Eyes and Pink Blush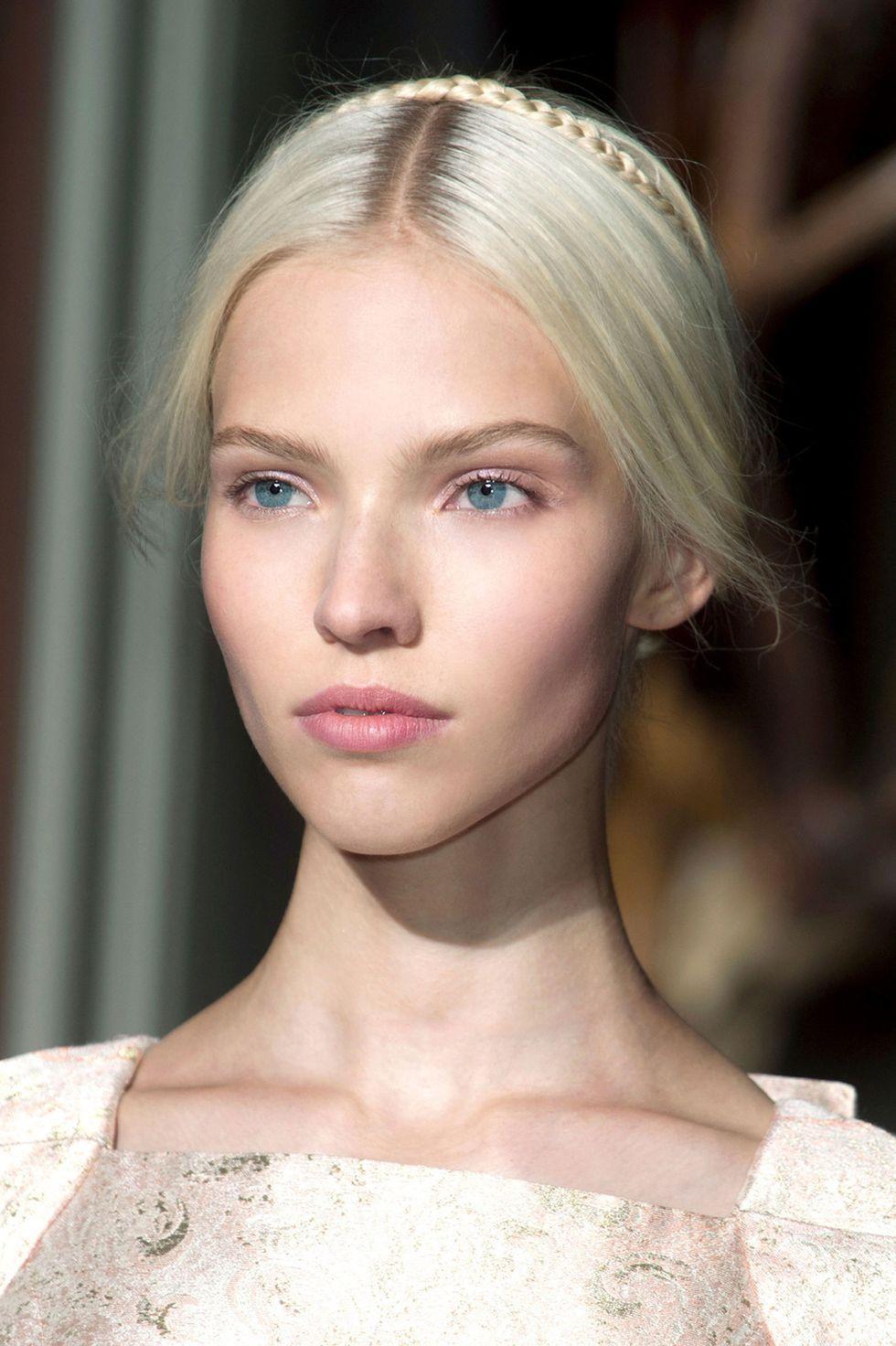 This natural-eye, barely-there lip and subtle pink blush will have you feeling fresh-faced and pretty.
It's a really easy look to achieve making it perfect for makeup beginners or those who prefer a light coverage.
2. Red Lip with Wispy Lashes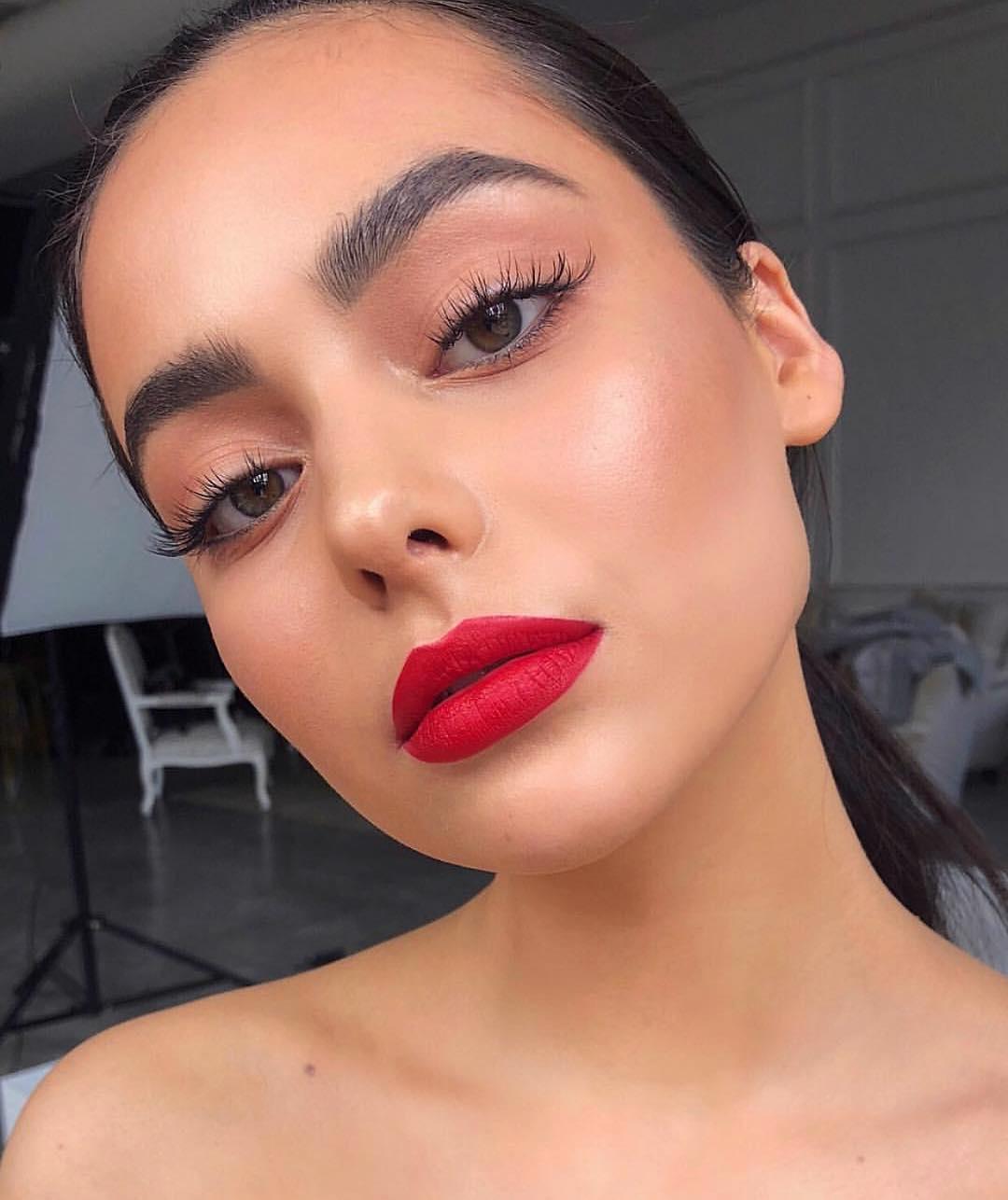 There's nothing to say you can't don a bold red lip on your wedding day.
Keep your eyes subtle with a wash of neutral shadow and finish the look off with some fluttery faux lashes.
3. Sparkling Embellishments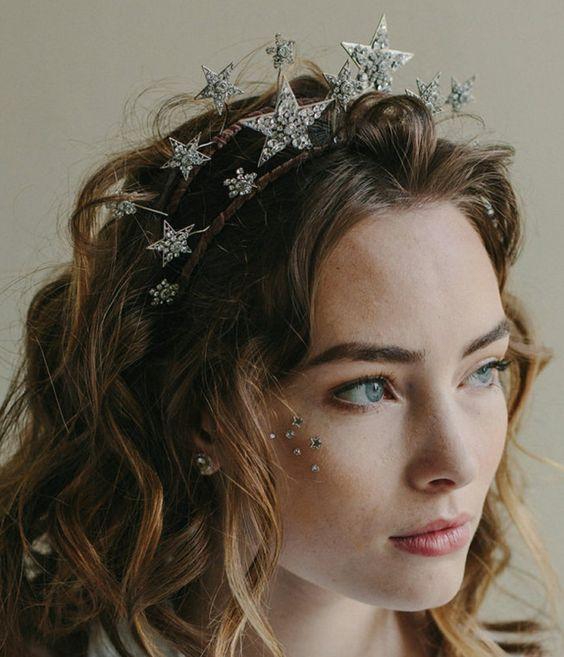 Brides hosting a bohemian or festival inspired wedding will love incorporating playful embellishments into their makeup.
Pop a few sequins or sprinkle glitter along your cheekbones or under your eyes to achieve something similar.
4. Ombre Eyeshadow with a Gradient Lip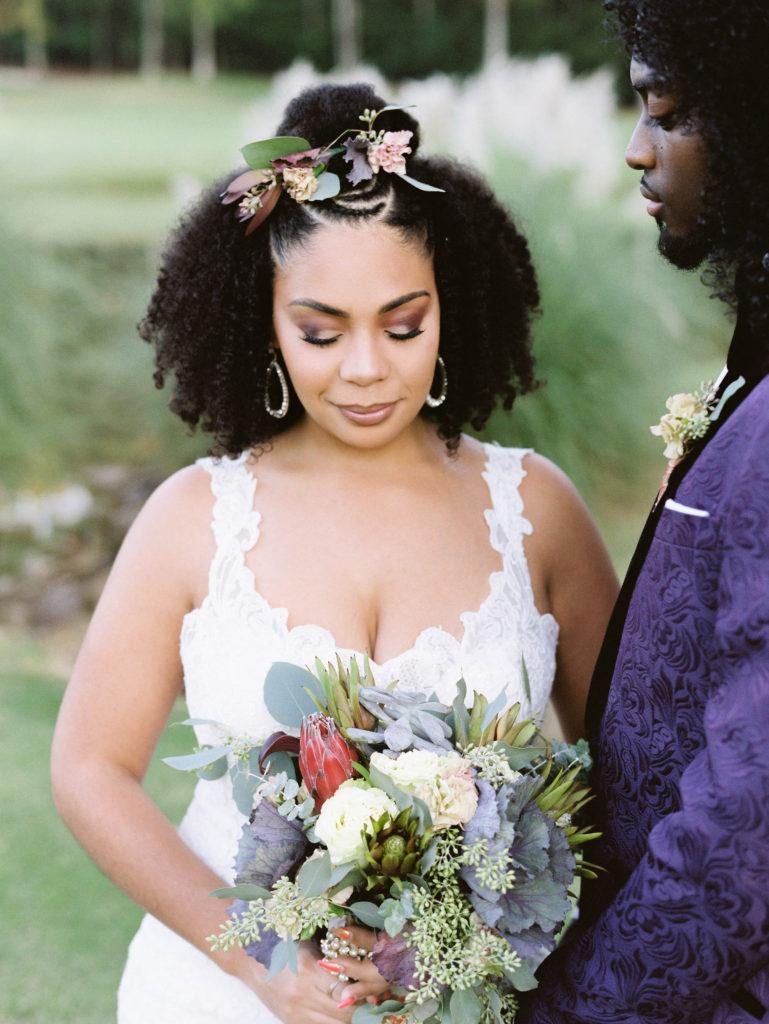 Mauve ombre eyeshadow and lush lashes give this bride a glamorous vibe and perfectly complement her bouquet and floral head piece.
A dark lipliner has also been used alongside a lighter lipstick to define the lips.
5. Shimmery Eyes and Fluffy Brows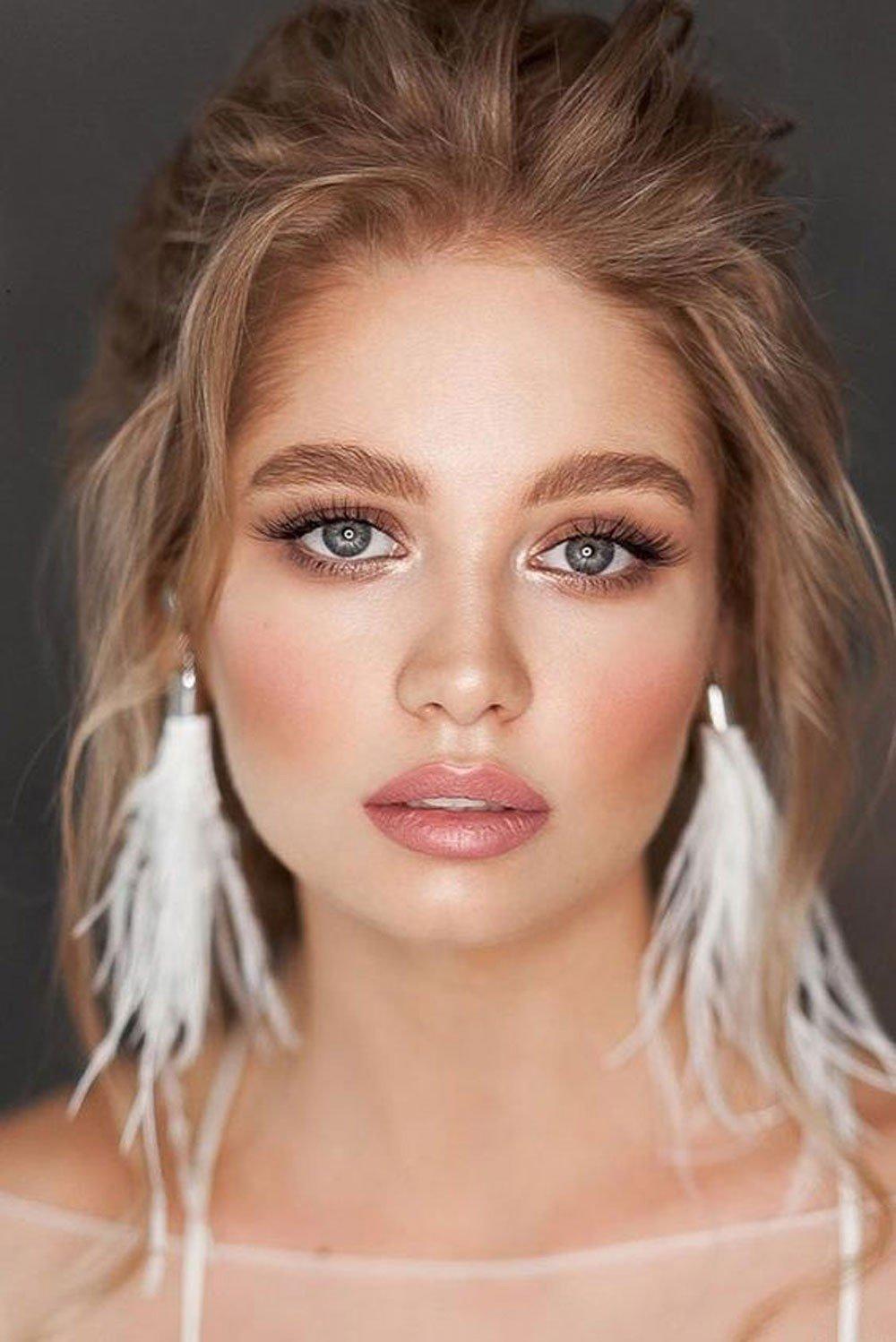 The secret to this makeup look is highlighter placed in the corners of your eyes which will open them up - plus some serious willpower to stop yourself from plucking your eyebrows before your big day.
READ MORE: How to Grow Thicker Eyebrows for Your Wedding Day
6. Smokey Eyes with Coral Lips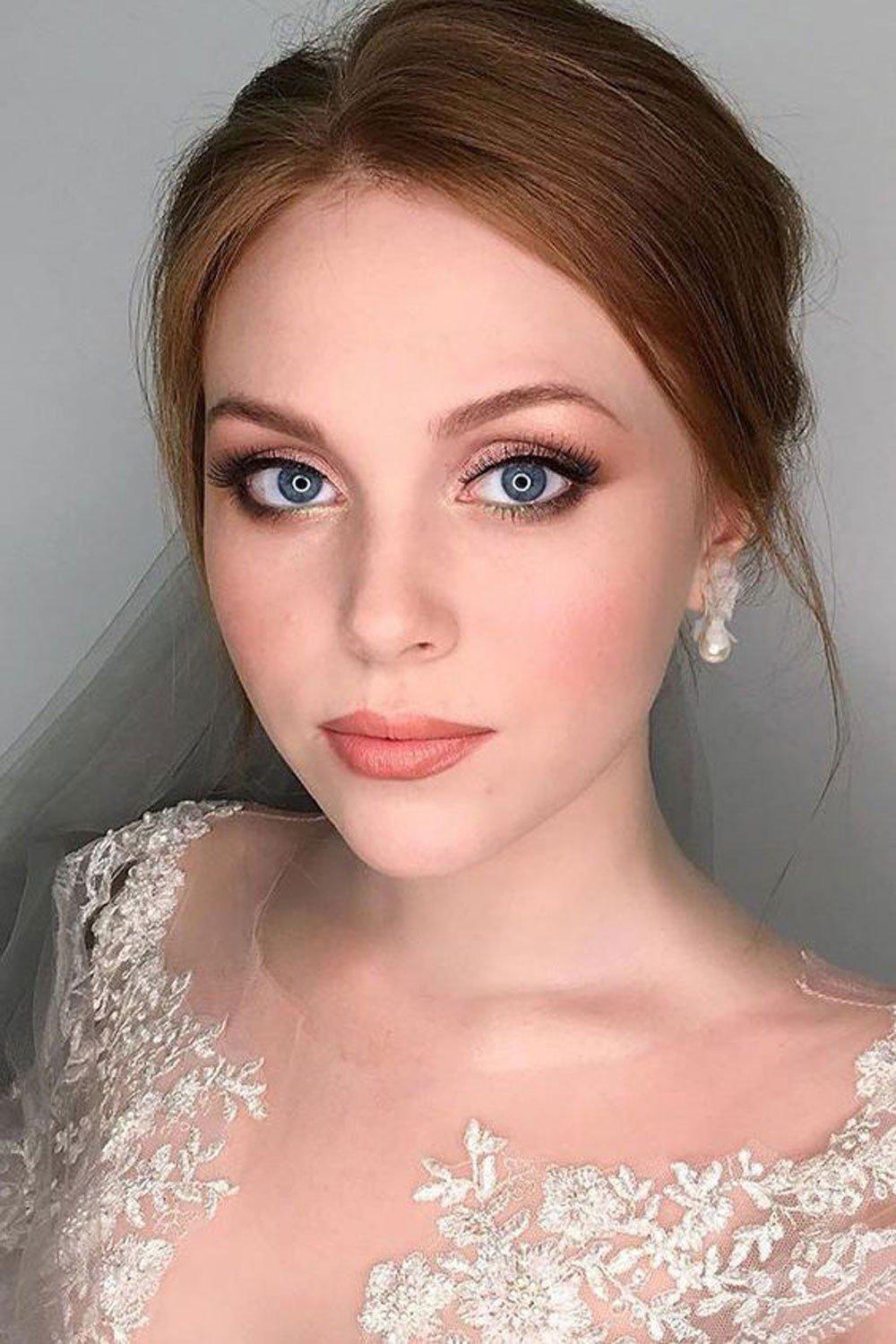 This bride has managed to keep statement smoky-eyes looking chic by pairing them with a beautiful coral lip colour and plenty of shimmer.
Spring brides, this is a look for you.
7. Gold Eyes with Brown Lips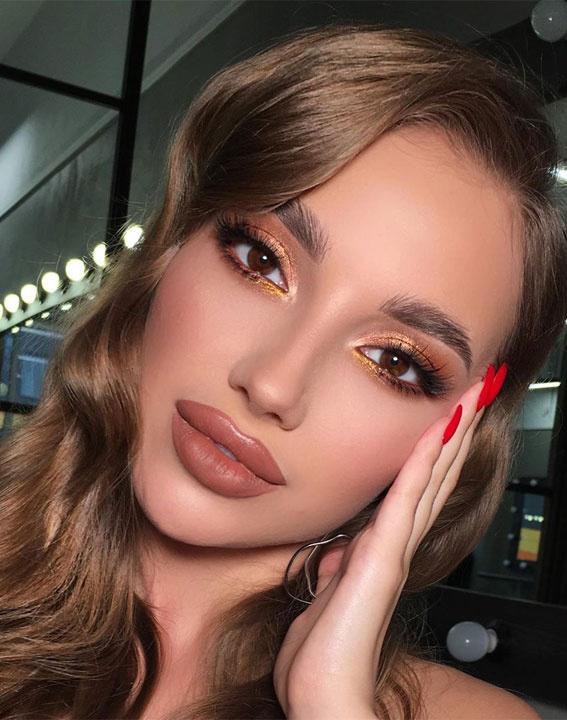 Consider adding glitter to your eyes for a gorgeous evening celebration. Sleek contour, gold sparkling lids, and a satin brown lipstick complete this party-ready look.
8. Cat Eye Winged Liner with Glossy Lips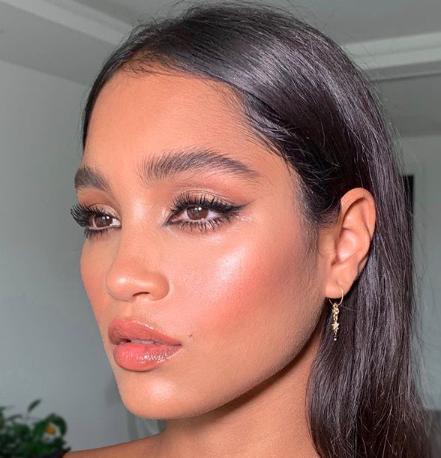 We love the way this winged liner creates a feline eye look without being too much.
Paired with face-framing fluffy brows, dewy skin and a nude glossy lip make for a gorgeous glowing bride.
9. Sheer Skin and Bronze Lids
Sheer coverage allows for this bride's beautiful freckles to take centre stage, plus shimmery bronze lids complement her hair colour perfectly.
This is a gorgeous option for a summer wedding as it allows your skin to breathe.
10. Matte Brown Eyes with a Bright Pink Lip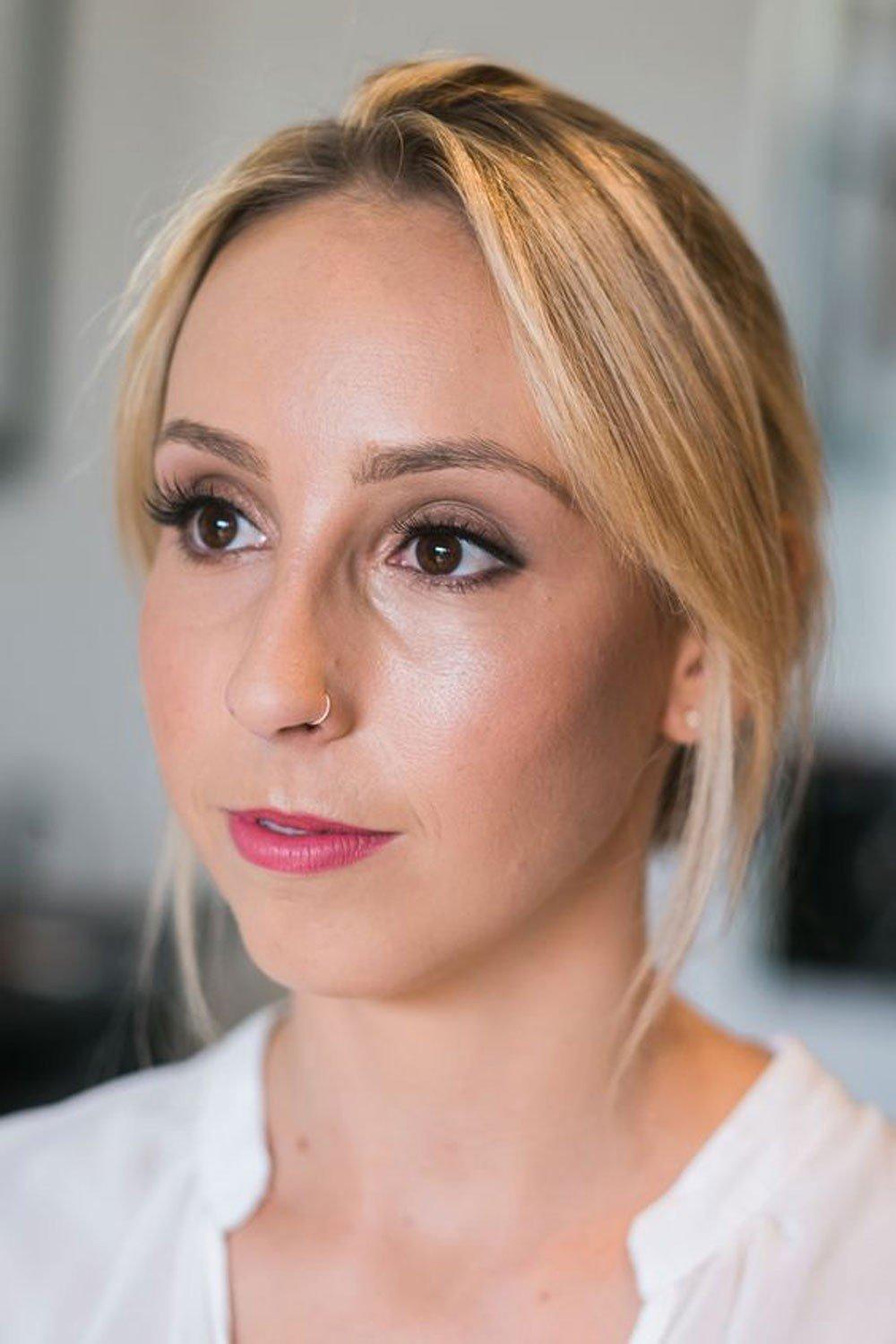 Matte brown eyes and a popping pink lip is a winning combo for your wedding day that will suit all skin tones.
Take a cue from this bride and pair your pretty makeup look with an up-do.
READ MORE: 38 Wedding Updo Ideas for Every Bride
11. Radiant Complexion with a Subtle Smoky Eye
Take inspiration from Rosie Huntington-Whiteley and channel a rosy, glowy makeup look on your big day.
Make your eyes pop by blending your darkest eyeshadow shade into the eye socket and leaving the eyelid bare or with a creamy, light coloured eyeshadow.
12. Orange Lips with Coral Blush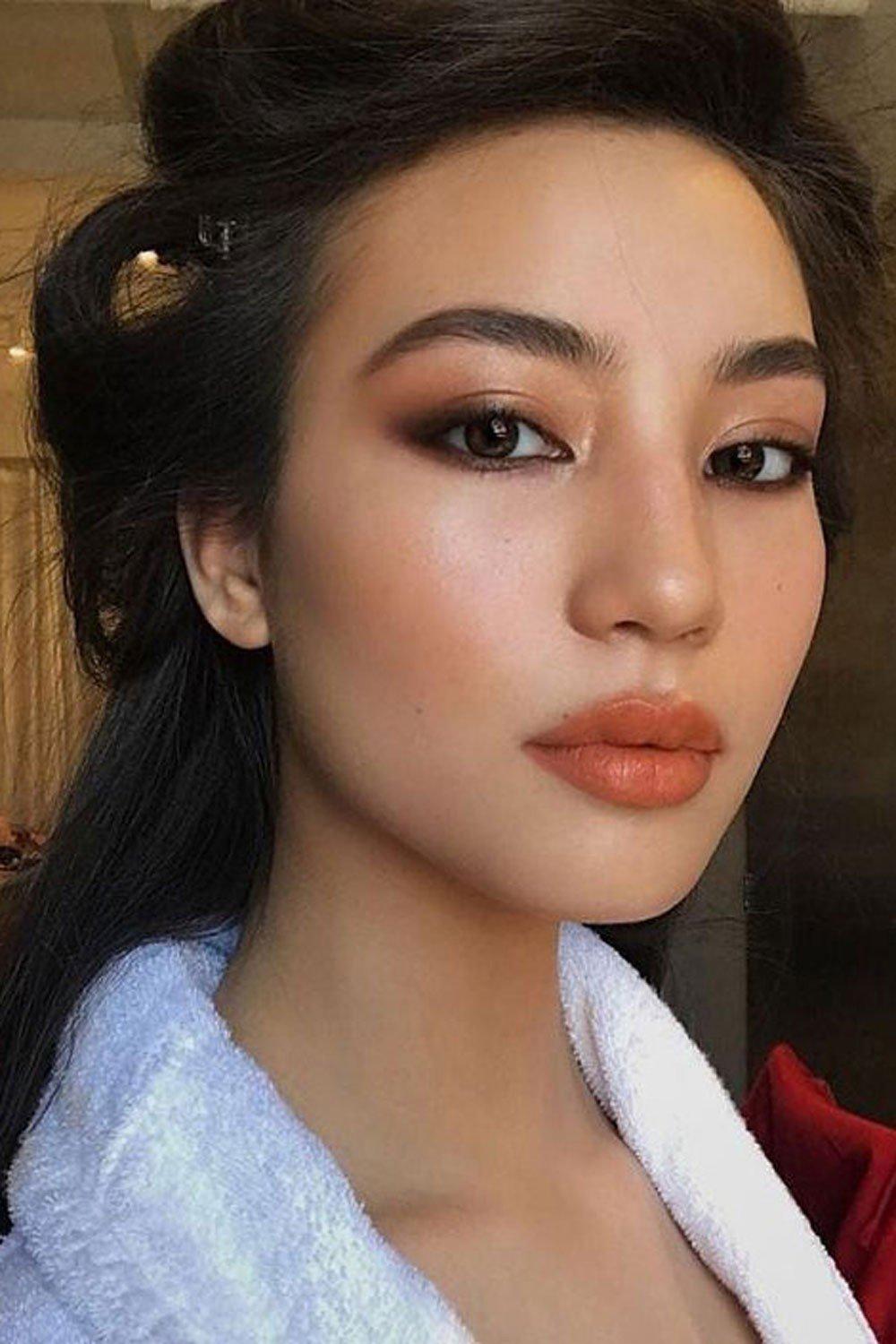 If you're a lover of a nude lip but you want to amp things up on your big day, go for a subtly orange-toned lipstick.
Keep things matte to avoid a look which is too overpowering.
13. Matching Pink Tones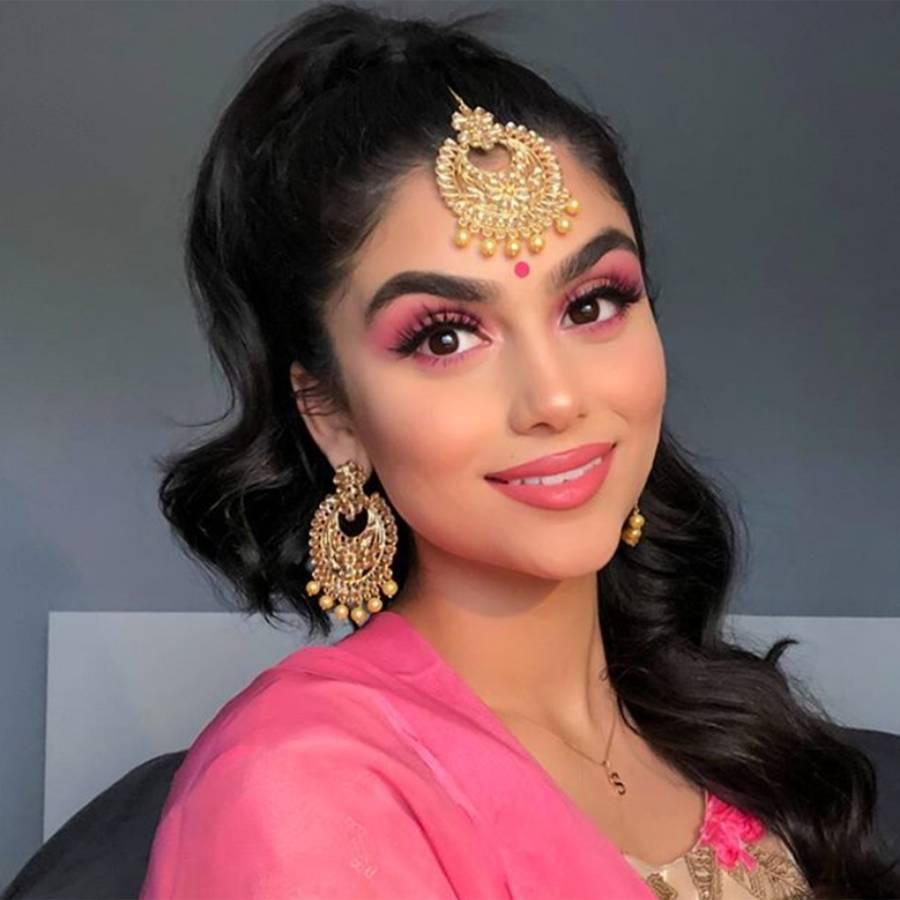 If you plan on wearing a vibrant outfit on the big day, colour co-coordinating your makeup to match is a great way to tie everything together.
This bride's pretty pink eyeshadow and lipstick look exquisite with the opulent ensemble.
14. Contoured Cheeks with a Deep Berry Lip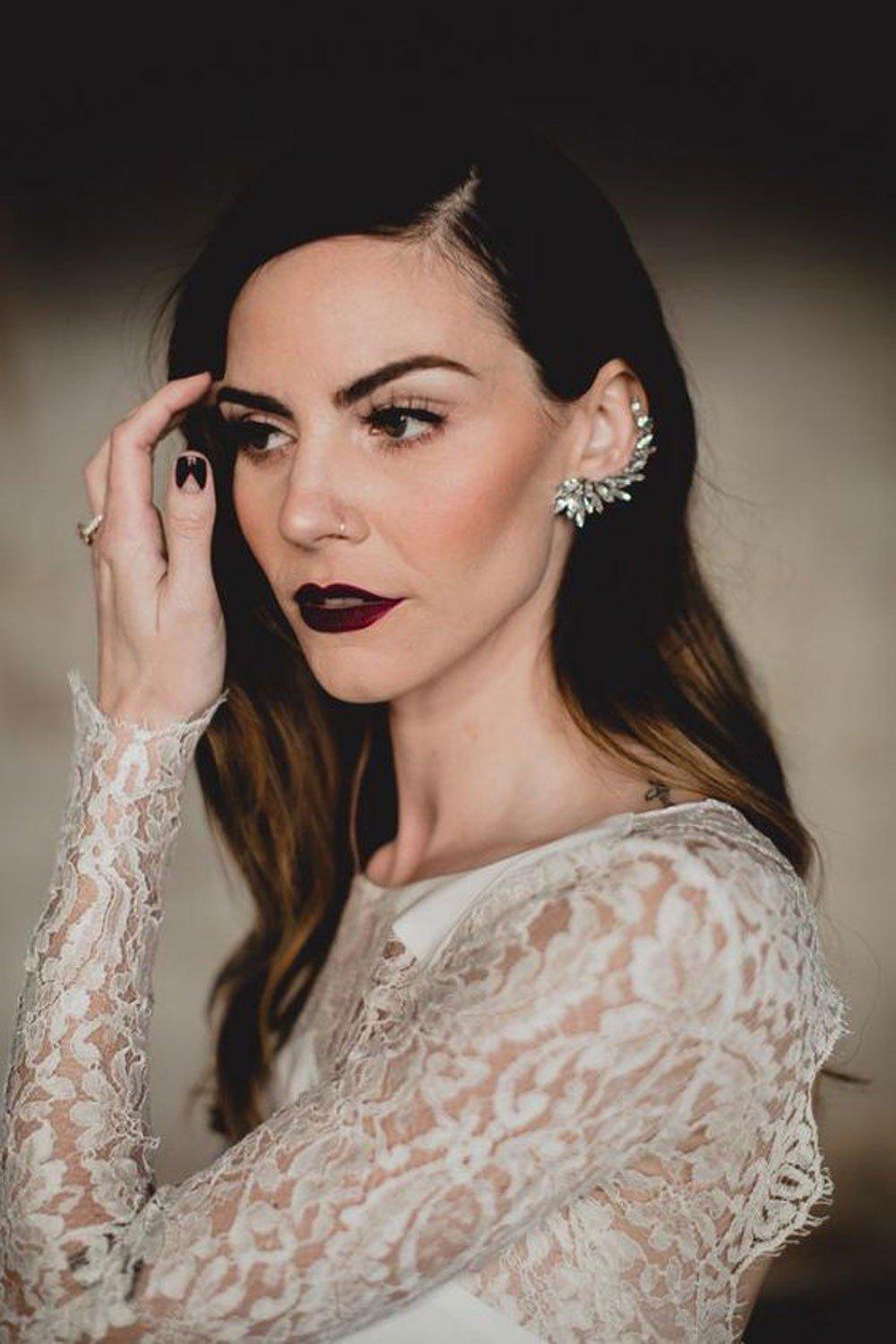 If you're getting married at a rustic winter wedding venue, tie your makeup look in with your surroundings and opt for a deep berry lip.
The sharp contouring to this bride's cheeks really pulls the whole look together. Just remember to have one of your bridesmaids on lipstick smudge watch!
READ MORE: 23 Best Bridal Lipsticks for the Ultimate Wedding Day Look
15. Neutral Palette with Grey Lids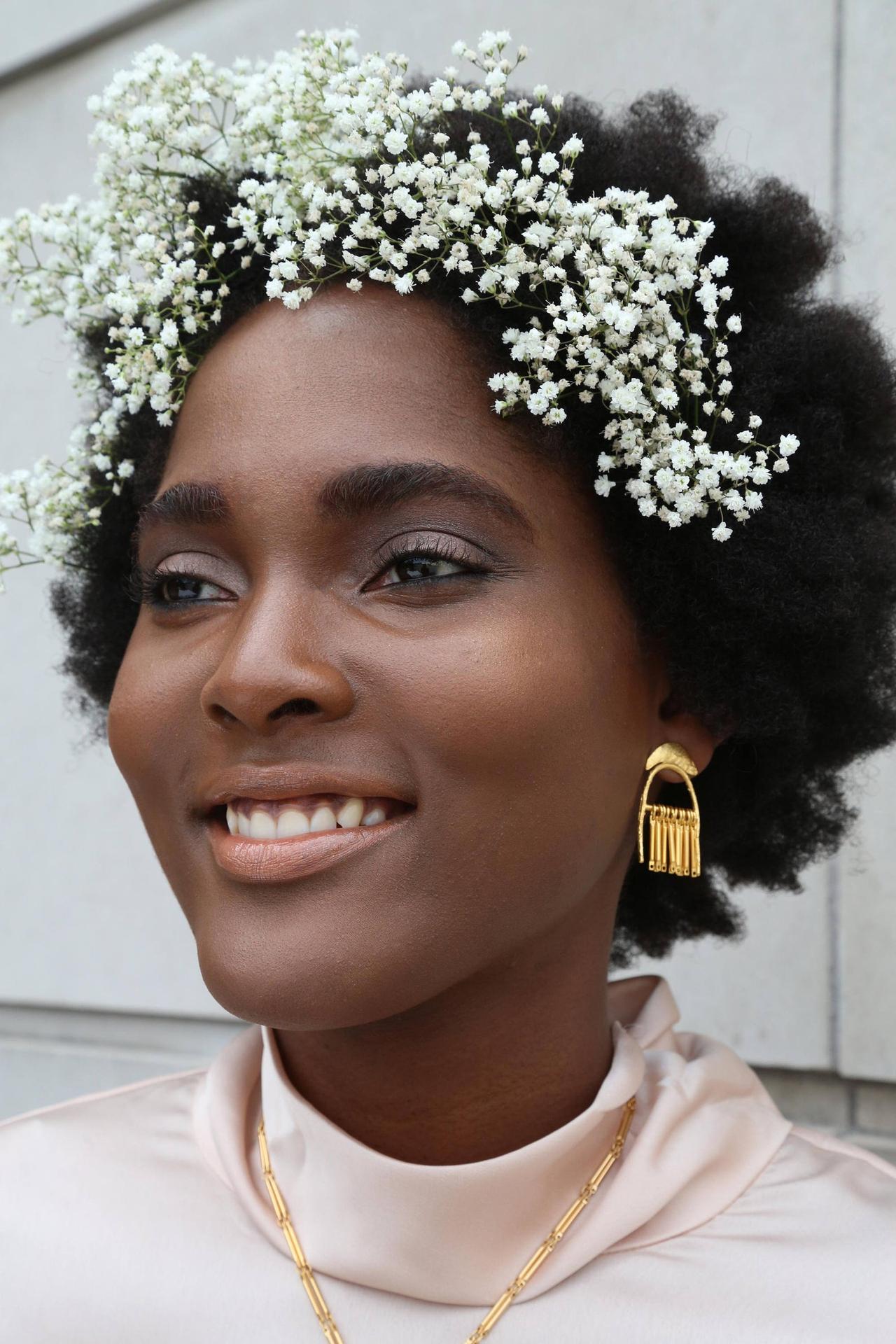 Keep your complexion and lips natural but add a little drama with a wash of charcoal shadow across your lids. It'll give the effect of a smokey eye without having to do any complicated blending.
16. Golden Smokey-Eye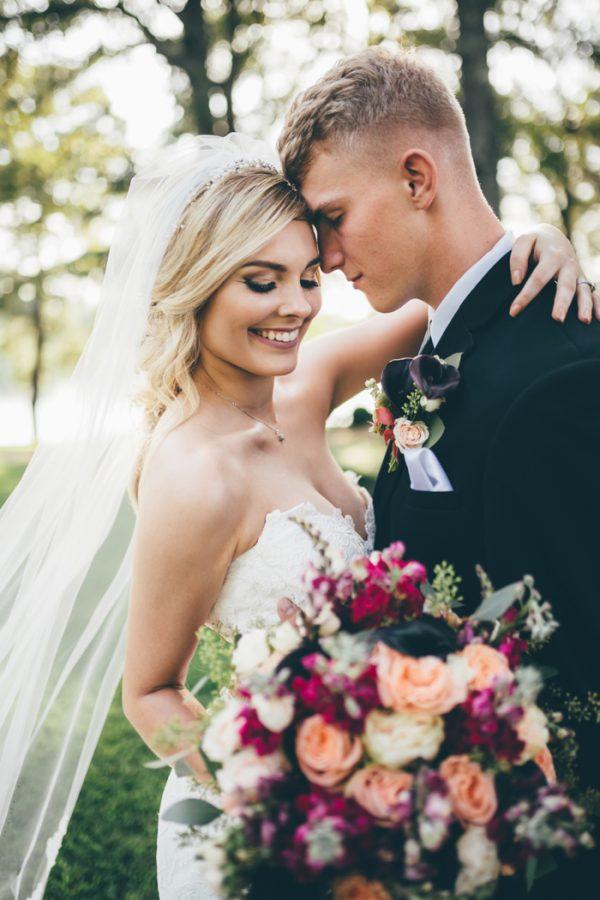 Mix up the classic dark smokey eye with a golden take on it, resulting in a makeup look which is sultry yet sweet.
Play the lips down with a subtle pink matte lipstick.
17. Natural Face and Lips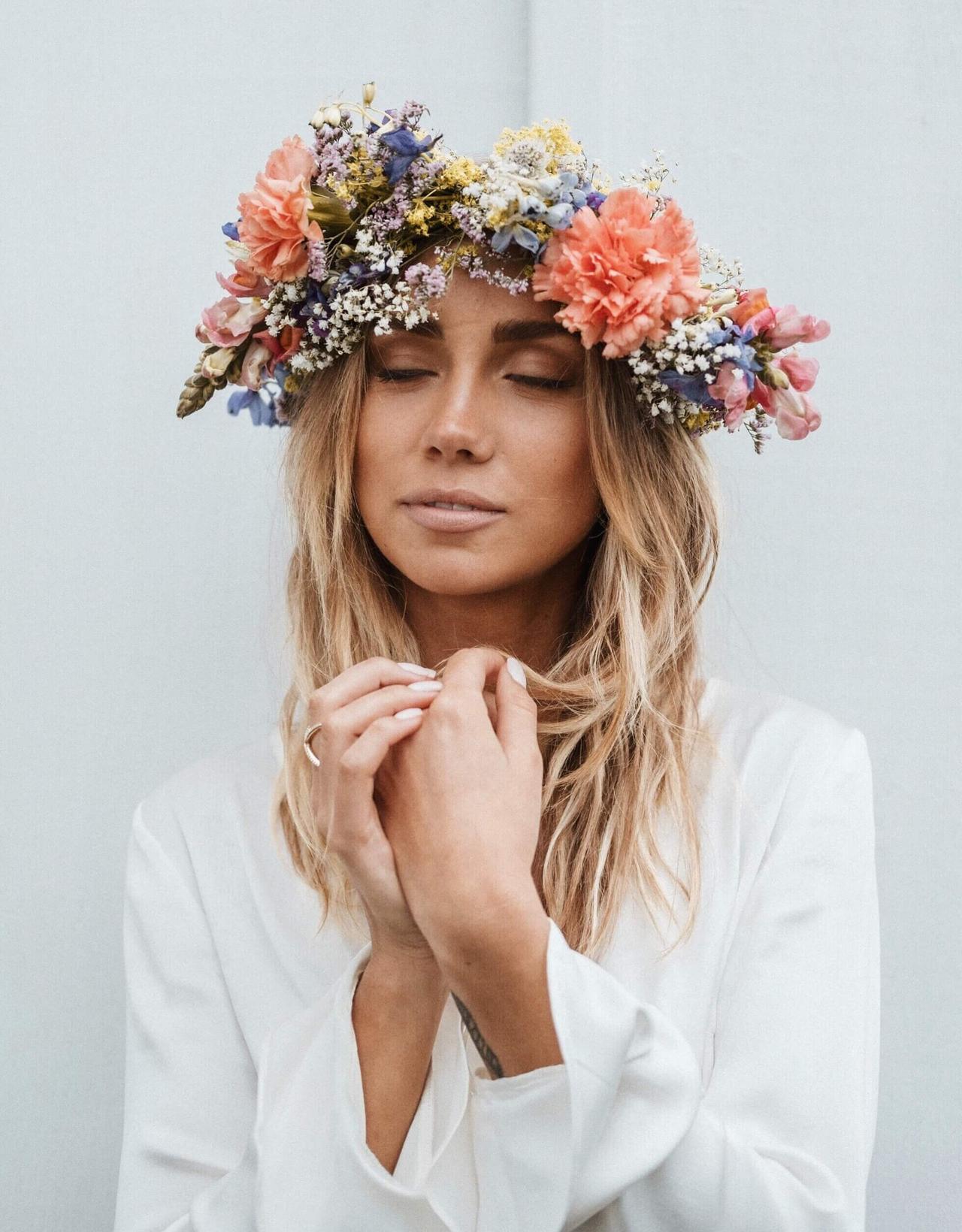 If you're planning to wear an elaborate flower crown on your wedding day, you'll want it to be the focal point of your makeup look.
Keep your makeup soft, fresh and fuss-free. We love this nude lip and tousled hair combo.
18. Brown Winged Eyeliner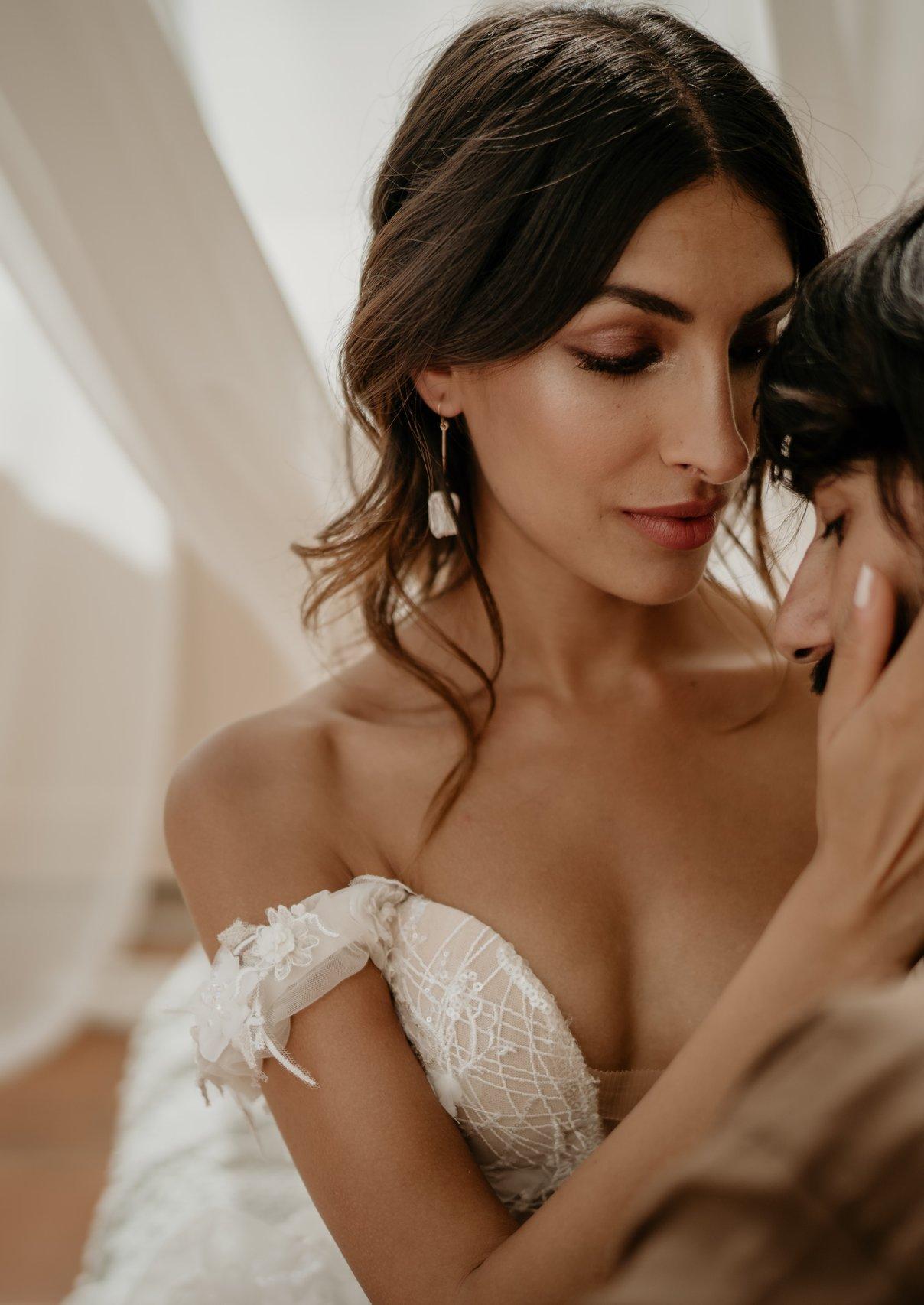 Brown eyeliner works as a clever contour for your eyes, giving the illusion of thicker and fuller lashes in your wedding photographs.
It's also a lot more forgiving than dramatic black liner, creating a softer, more romantic look.
19. Hot Pink Lip with Full Lashes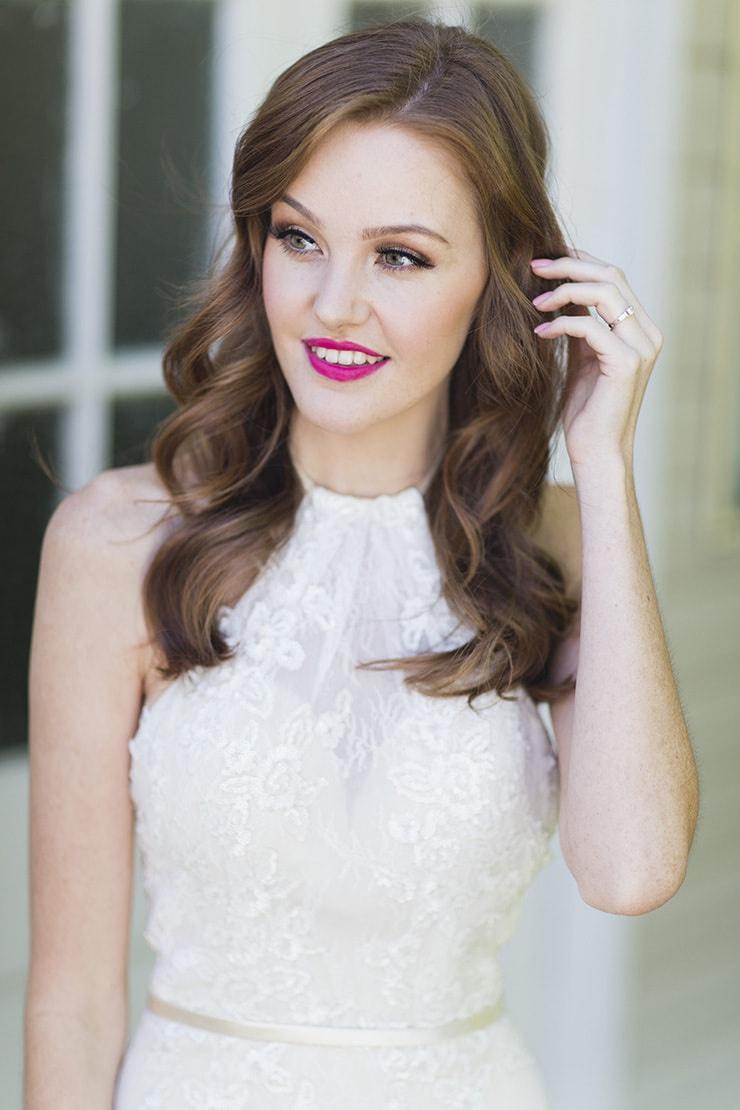 Here, luscious lashes have been paired with a Barbie-pink lip and structured brows.
This hot splash of colour is the perfect makeup for a summer wedding and we think it would contrast beautifully with a bright bouquet of flowers.
READ MORE: Summer Weddings: 56 Gorgeous, Inspiring Ideas Your Guests Will Love
20. Gold Lids and Balmy Lips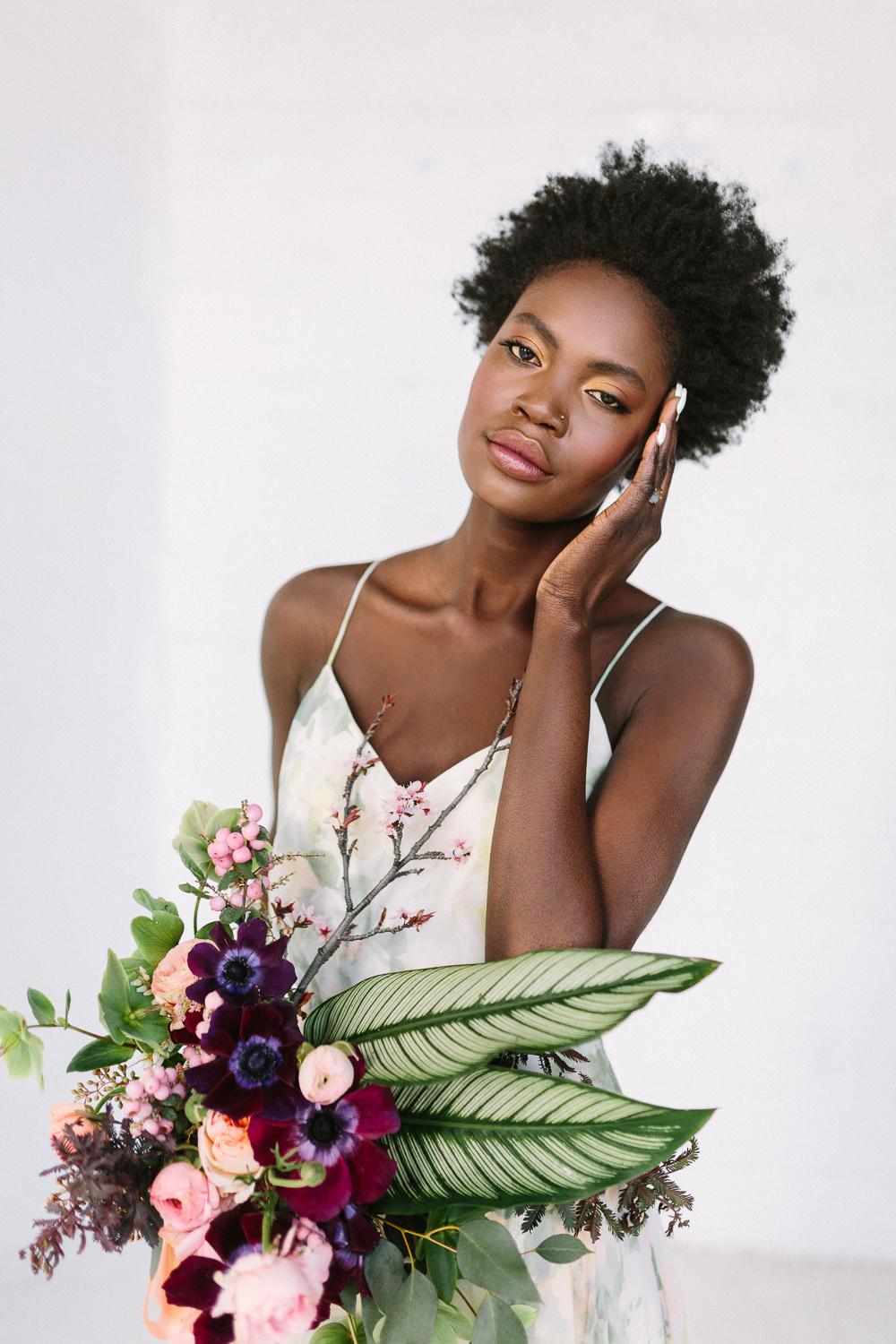 We're in awe of this makeup look where sultry gold eyes meet a simple lip balm pout for a youthful and fresh face.
It's a timeless choice for your wedding that will work for any time of day.
21. Shimmery Eyes with a Soft Berry Lip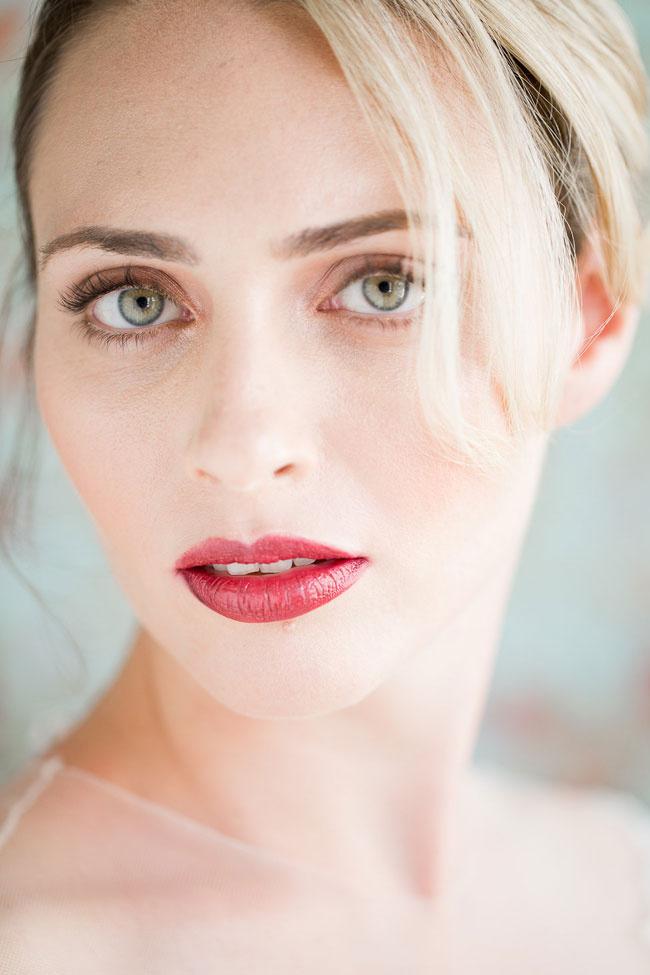 Berry coloured lipsticks don't have to be deep, dark and dramatic - opt for a rosy red shade with a satin finish if you're after a softer look.
It'll still provide that pop of colour without being overbearing.
22. Glowy Complexion with Long Lashes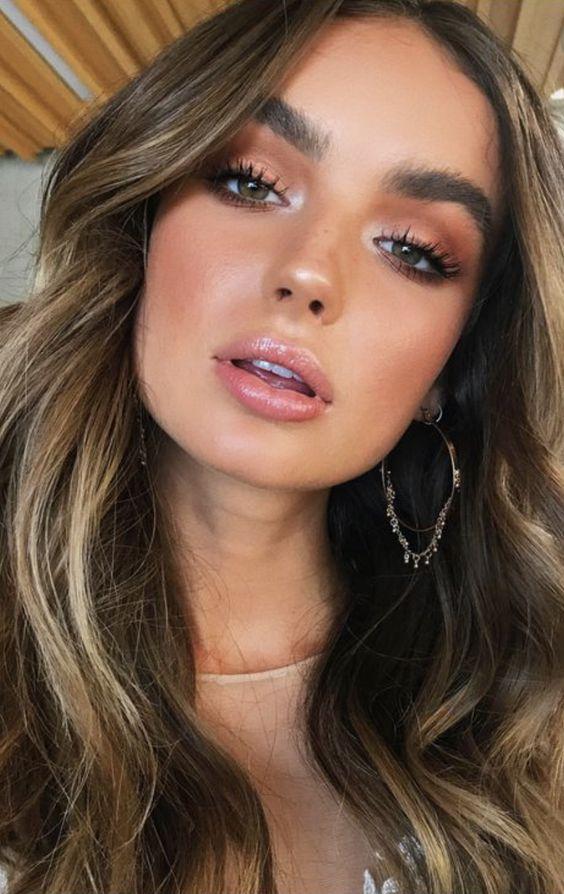 If you're not one for wearing lashes of eyeliner, make your eyes pop with a lengthening mascara instead.
This radiant makeup look has lots of highlighter and would work particularly well if you're getting married in sunnier climes.
23. Dark Eyeliner with a Peachy Lip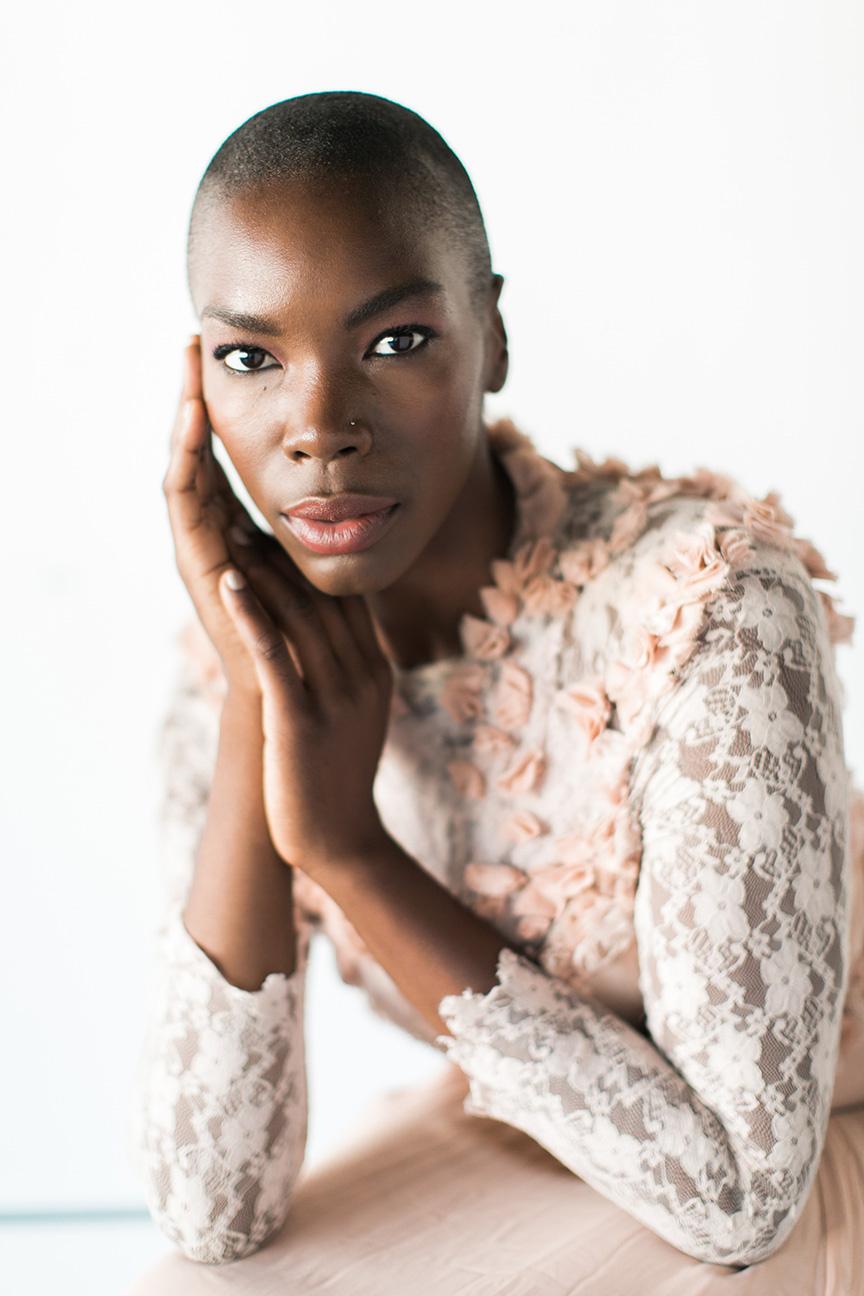 This elegant look is clean and classic, with black pencil lined eyes and a soft peachy lipstick.
It's the perfect compliment to a sophisticated bride and wedding day, especially paired with a long-sleeved lace dress.
24. Blue and Brown Cut Crease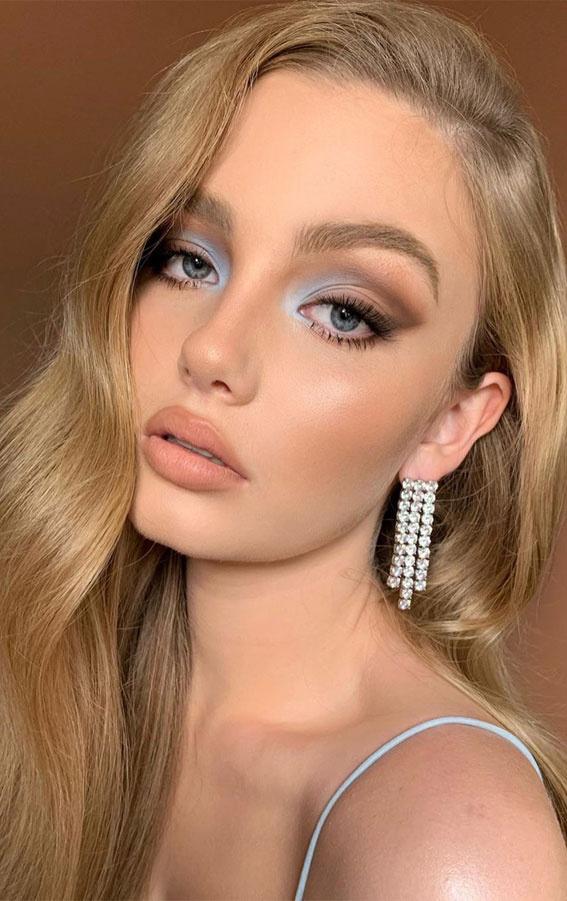 Why not incorporate something blue on your wedding day into your makeup?
This cut crease combines a lighter shade of blue eyeshadow with a line of darker brown across the crease of your eyelid making your eyes appear wider.
25. Barely-There Makeup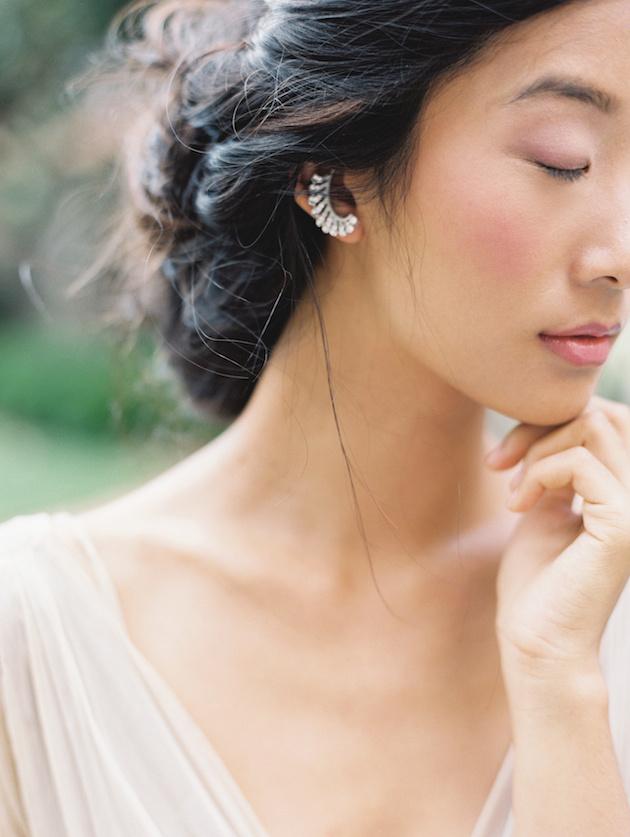 Yes, you can do no-makeup makeup for your wedding day.
If you go for a barely-there ethereal look like this, you'll want to ensure you choose a flawless foundation so that you look like you're glowing from the inside.
26. Sunset Shades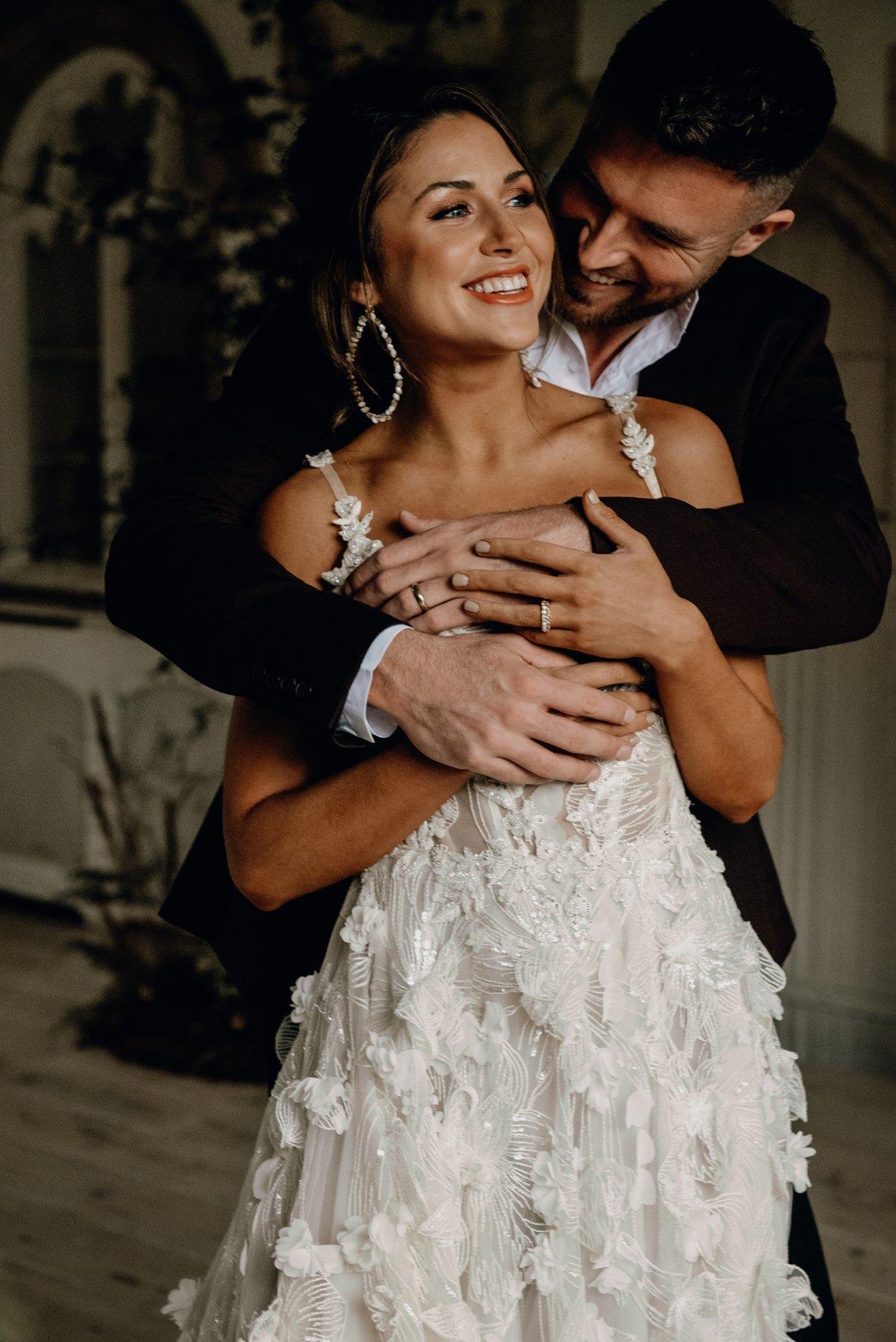 Warm browns and coral hues make a fitting combination for a tropical destination wedding.
We adore this look paired with shell earrings and a delicate floral dress - it has gorgeous sunset ceremony all over it!
READ MORE: 43 Totally Tropical Weddings Ideas Featuring Flamingos and Pineapples
27. Smokey Under Eye with Glossy Lips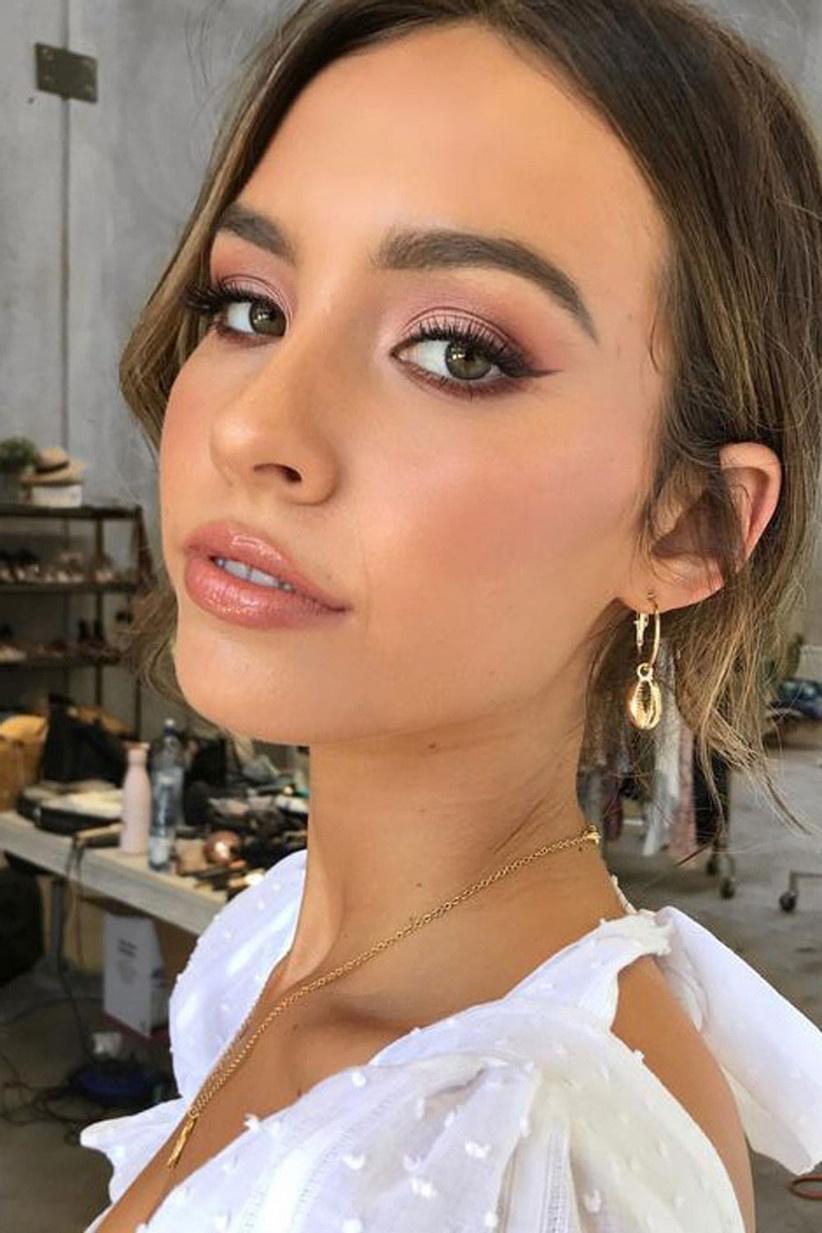 This bride makes a serious case for the smokey under-eye by buffing her eyeshadow underneath the lash line.
Ensure your look doesn't appear too heavy by using your darkest eyeshadow shade and an angled brush to achieve your wing. It'll look a lot softer than a liquid liner will.
28. Themed Makeup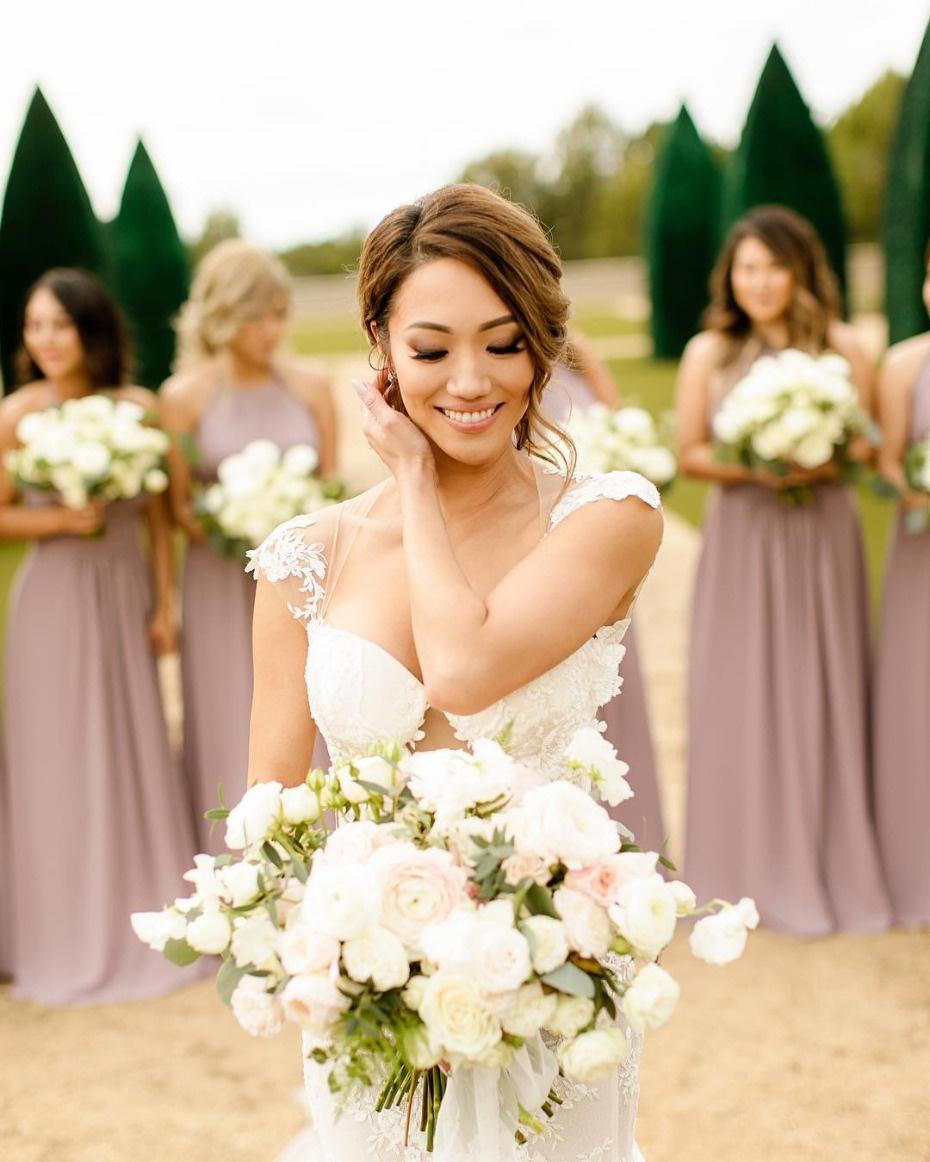 A brilliant idea to tie your wedding theme together is to match your makeup to the colour your bridesmaids will be wearing.
This bride has paired a gorgeous taupe eyeshadow to the bridesmaids dresses which looks stunning contrasted with the fresh white roses.
29. Retro Glam with a Bold Red Lip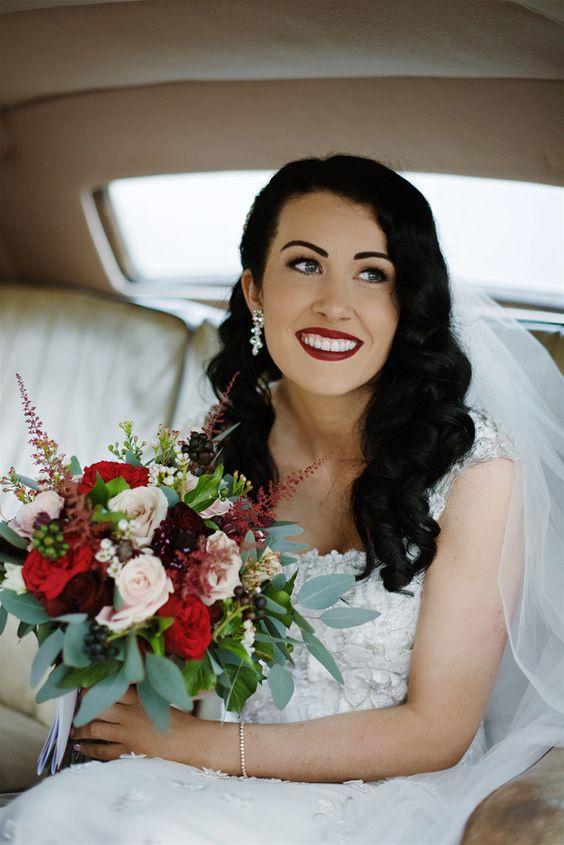 Are you a vintage-loving bride? This look oozes Hollywood glamour with winged liner, a bold red lip and a matte complexion.
Vintage curls and a side parting will really finish the look off.
30. Golden Glow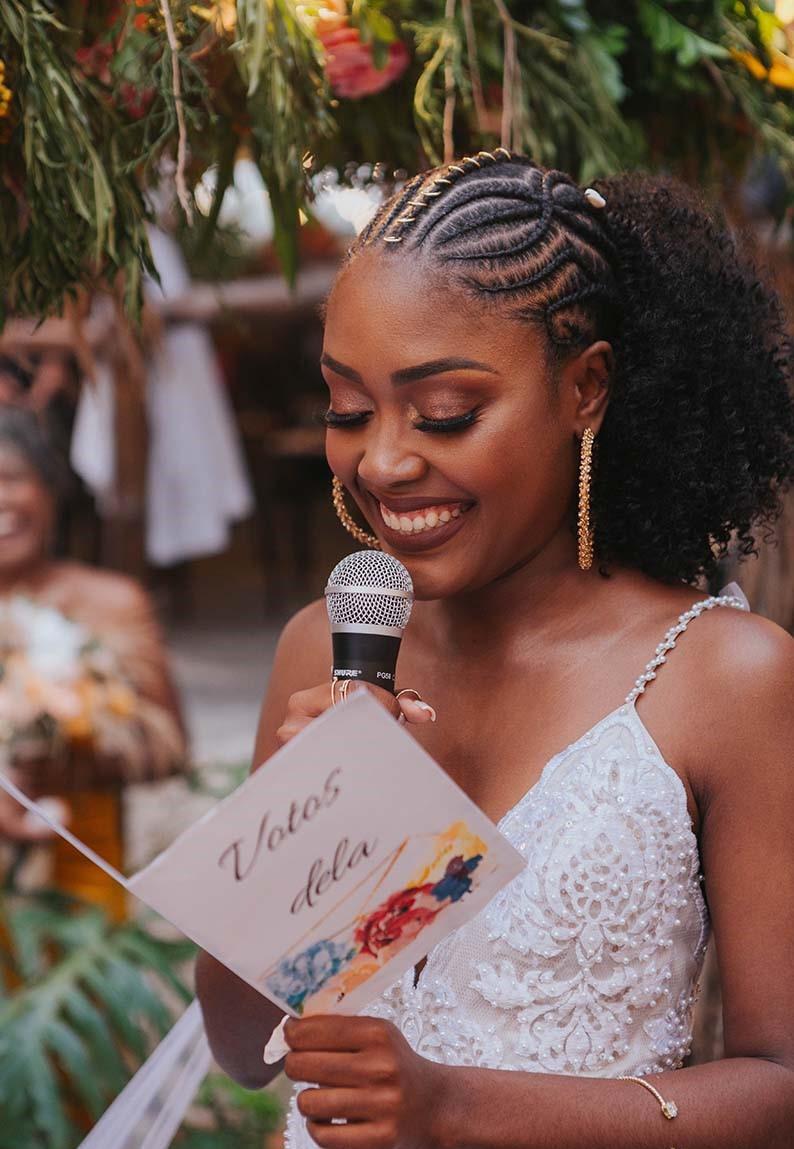 This bride's skin is a aglow with gilded gold radiance which matches perfectly with the gold accessories.
Try using a yellow toned highlight across your cheekbones, nose and inner eyes to achieve a similar look.
31. Bronzed Skin with Red and Yellow Ombre Eyes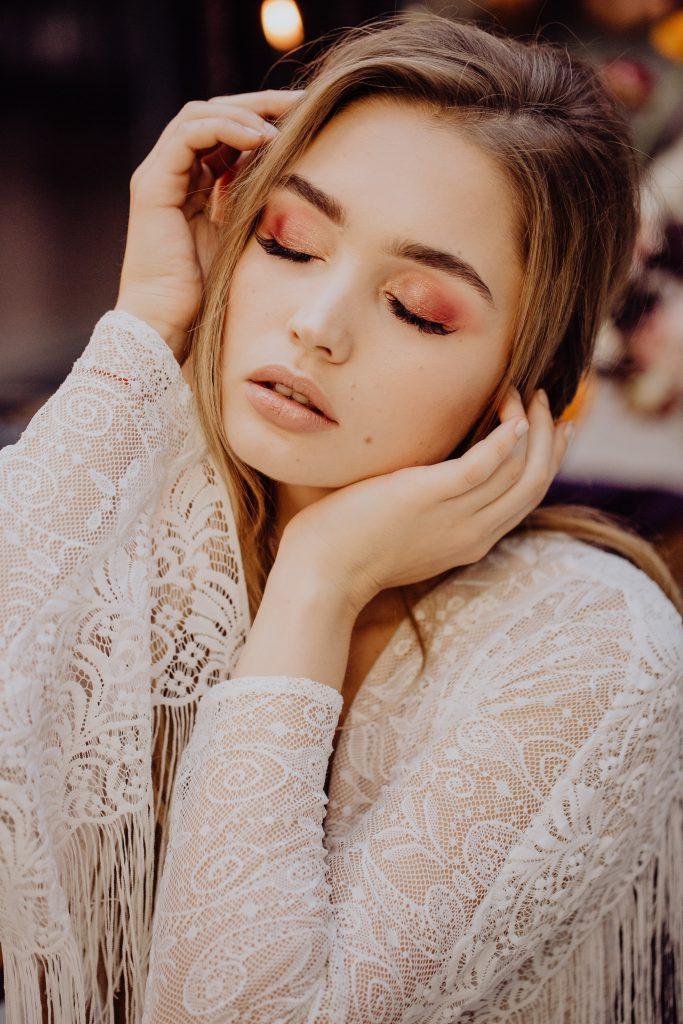 We can't get enough of this sunset gradient eyeshadow paired with sun kissed skin - it's perfect for a beach wedding!
Achieve the look with shimmery red and yellow shadow on the lids and a dusting of bronzer across your forehead, cheeks and nose.
READ MORE: 17 Beautiful Natural Wedding Makeup Ideas
32. Golden Lids with a Classic Red Lip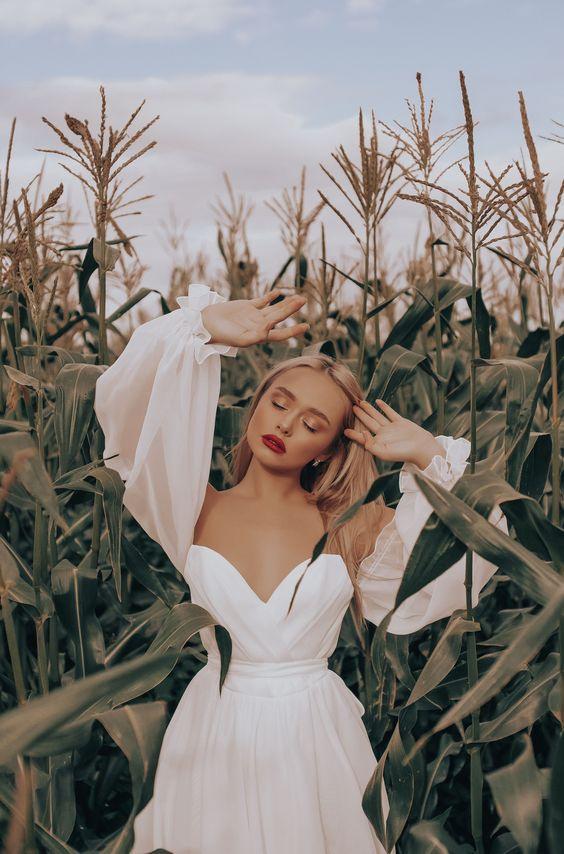 Romantic red lipstick married with gorgeously glowy golden eyeshadow creates a stunning look for any bride.
You could even keep the eyeshadow the same throughout the day, switching up the lippy from a nude to this sultry red for the evening.
33. Classic Neutrals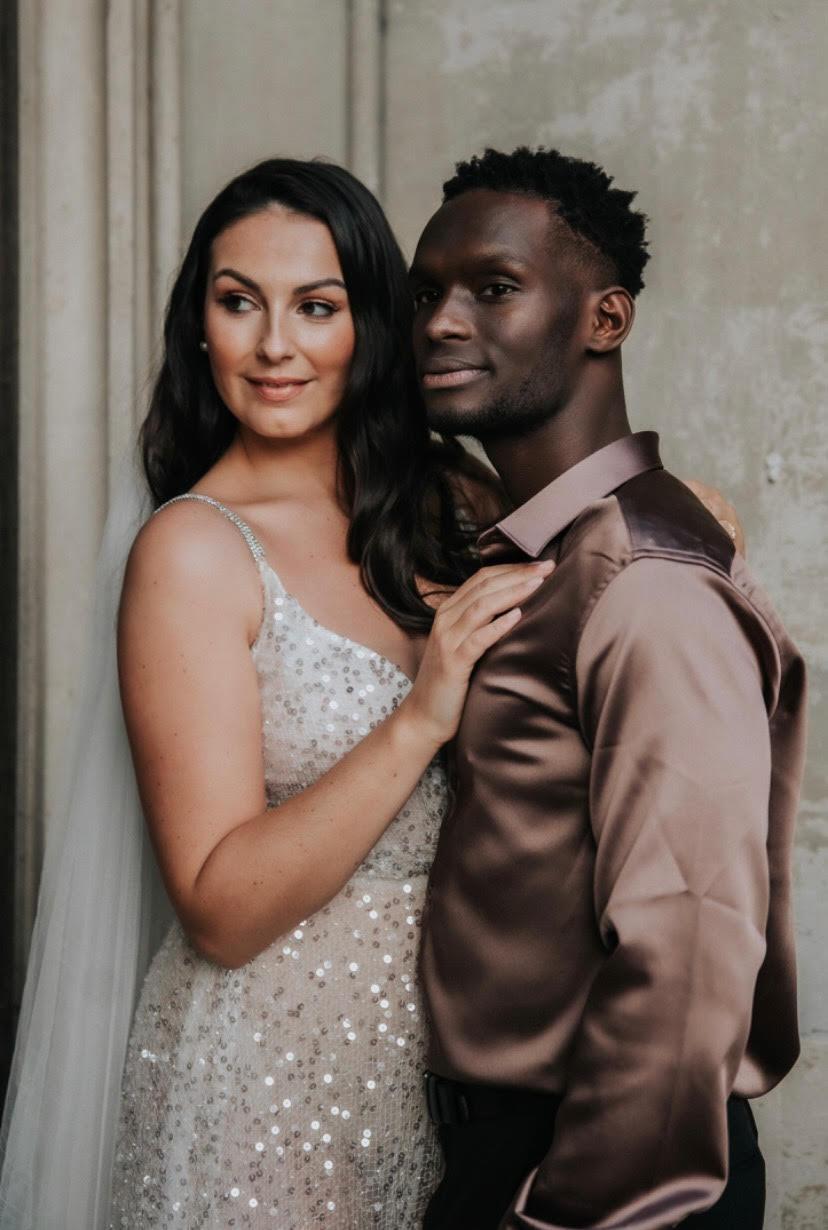 You can't go wrong with this elegant, chic makeup. Softly defined features, a subtle glow and a nude lip are the perfect pairings for a sophisticated wedding day.
34. Lilac Lids with a Rosy Glow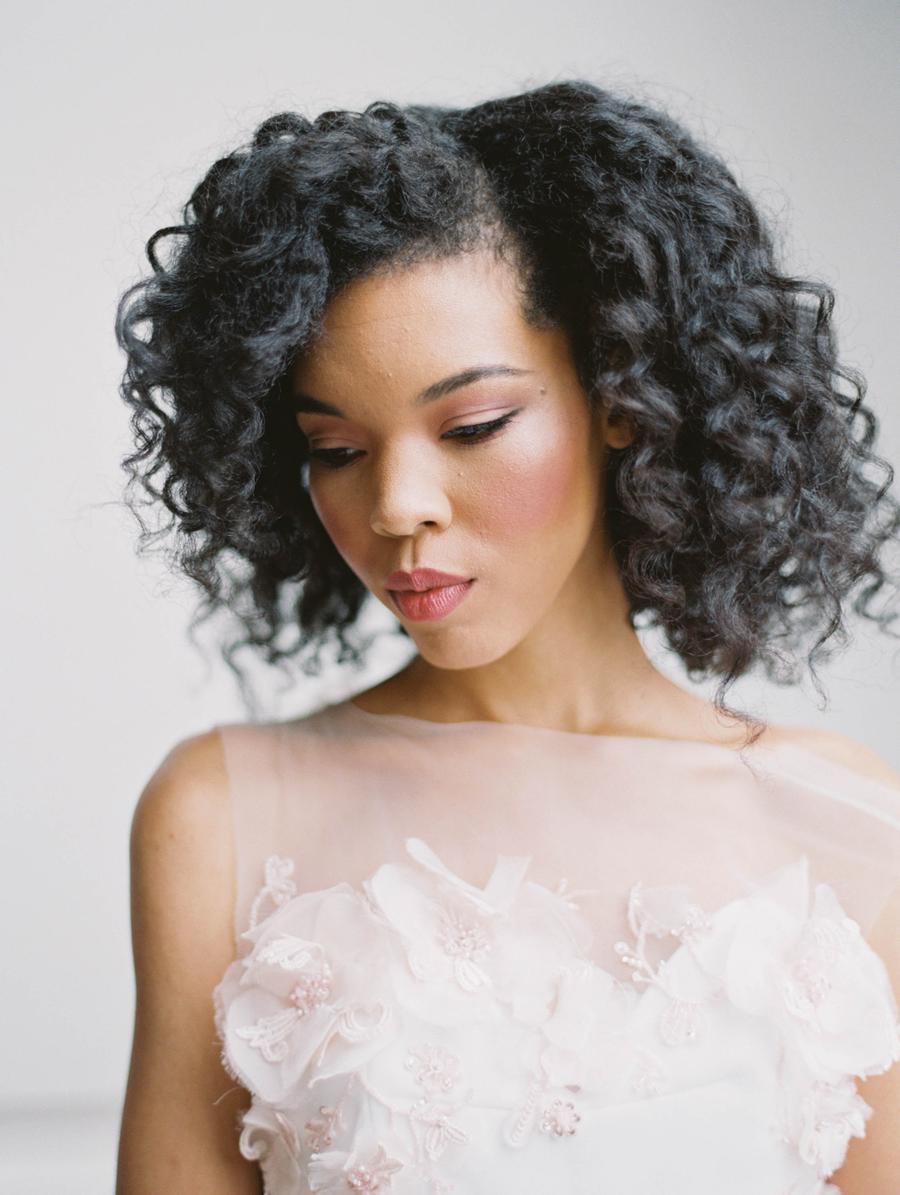 Lavender hued eyelids, pretty pink blush and rosy lips makes for a fabulously feminine look.
We suggest using a cream formulated blush so you can build the blusher until it reaches the desired effect.
35. Metallic Lids with Bold Brows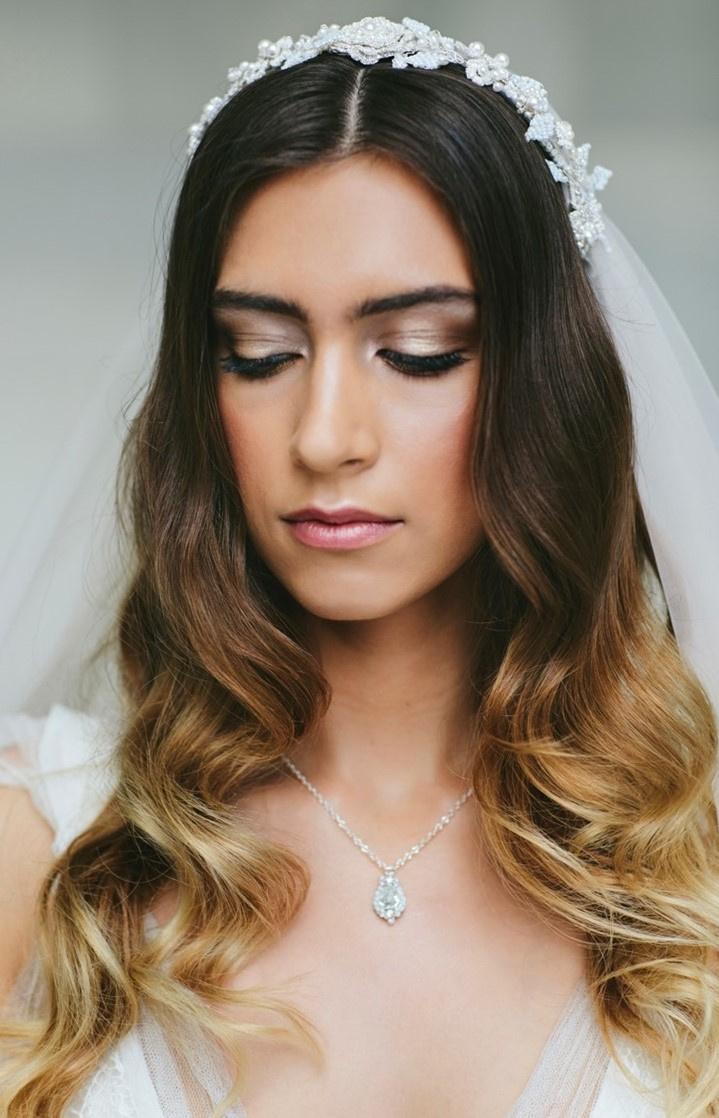 We love the way this shimmery silver eyeshadow is blended all the way up to this bride's stand-out brows.
It frames the face beautifully and ensures your eye look can be seen from all angles.
36. Thin Winged Eyeliner with Full Lashes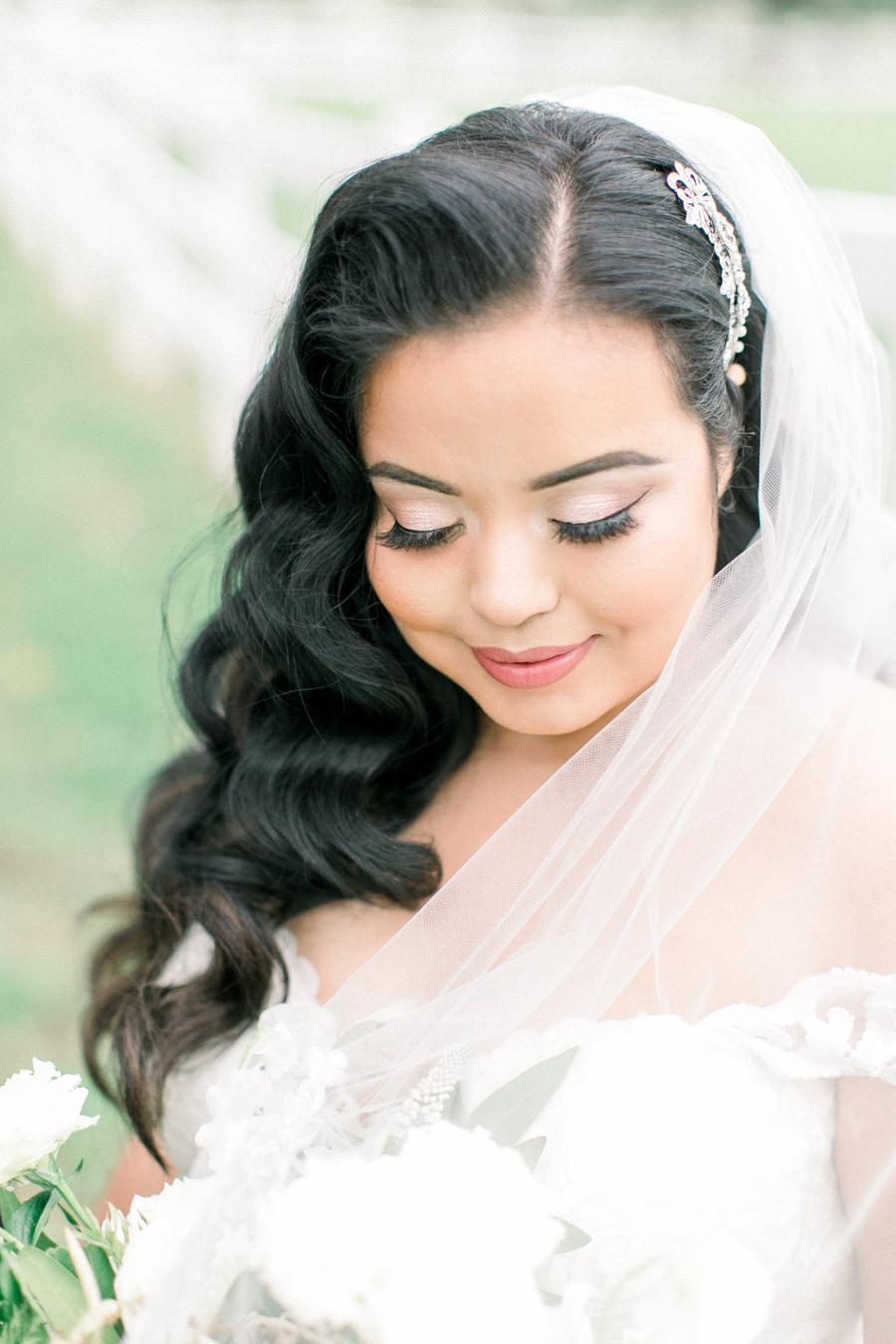 If you know you want to wear faux lashes on your wedding day a great tip for effortless application is to pair it with a thin winged liner.
Taking a black liquid liner follow the band along your lash line, winging it out and up towards your brow. This will hide any messy glue or an obvious eyelash band.
37. Natural Tones with Emerald Eyes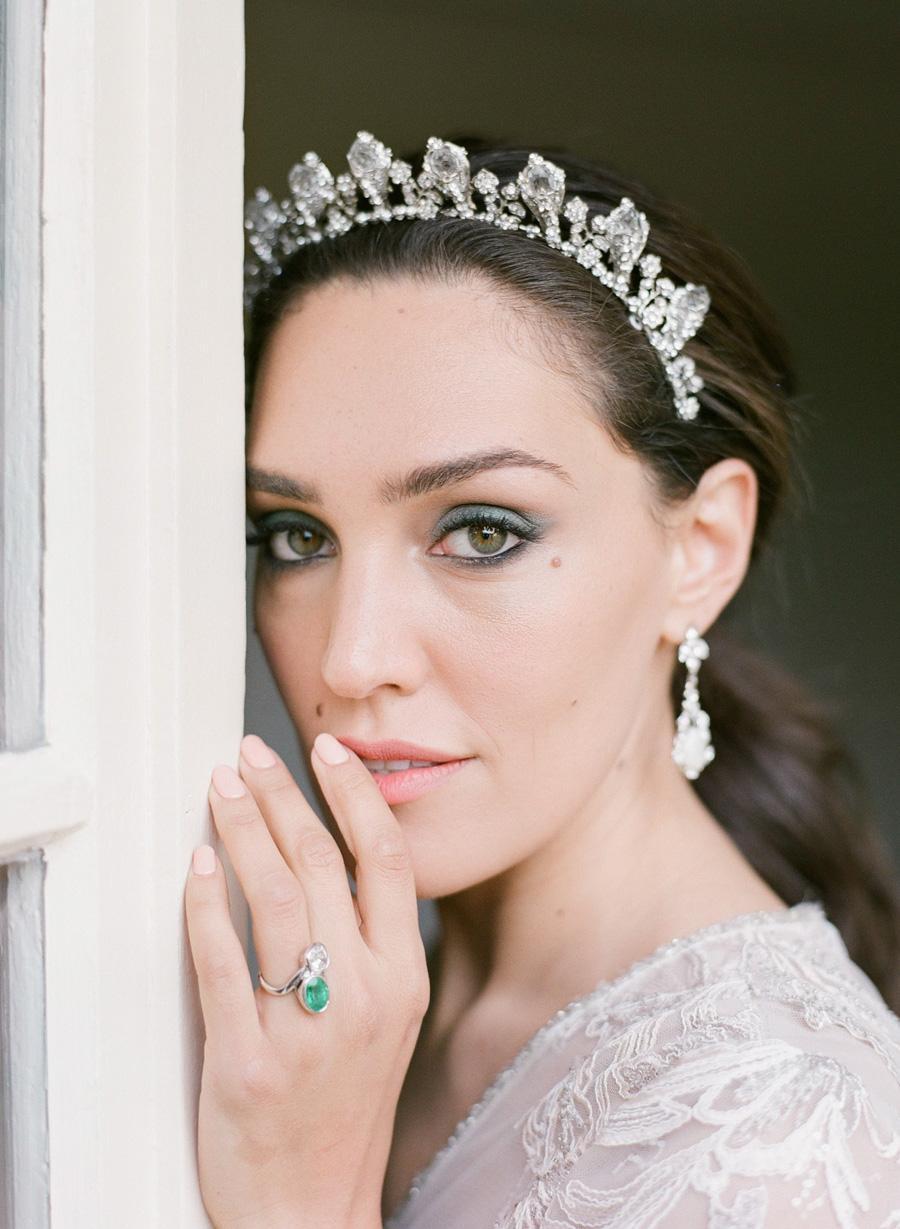 With simple mascara, a matte complexion and peach lips, the real show stopper of this makeup look is the emerald eyeshadow.
We love how it complements this bride's green eyes and gorgeous verdant ring.
READ MORE: How to Get Perfect Hair & Nails Before Your Big Day
Now you're feeling suitably inspired by all of our wedding makeup ideas, you'll want to finalise the finishing touches. Check out our guide to wedding fragrance to get you smelling as fabulous as you look.