The Best Wedding Makeup Ideas & Inspiration from Real Brides
From defined ombre lips to glowy contoured skin, browse the best wedding makeup ideas and inspiration on real brides
We have included third party products to help you navigate and enjoy life's biggest moments. Purchases made through links on this page may earn us a commission.
Although many planning decisions will be based on the latest wedding trends of the moment, your wedding makeup is unlikely to follow suit. Choosing how to do your makeup for your wedding is much more about your personal style, preferences and overall wedding theme.
Of course, there are some makeup trends you may want to incorporate in your look, but on the whole, bridal makeup is completely driven by the individual. Having said that, there are so many different wedding makeup looks and styles for you to choose from, so where do you begin?
Well, the first thing you need to do, much like choosing the best wedding hairstyle, is to look at as many real wedding makeup looks as possible to see what styles you like, and which ones aren't for you. For some, natural wedding makeup will be a must, with glowy, dewy skin and a glossed lip. For others, it'll be full glam, stunning lashes and a red lip.
To help you decide what bridal makeup is right for you, we've rounded up our favourite styles on real nearlyweds for you to browse.
Wedding Makeup: 37 Flawless Wedding Makeup Looks on Real Brides
Our guide has been split into natural wedding makeup ideas, more unique and stand-out bridal makeup, and a range of expert tips and advice from expert makeup artists which cover how to do your own makeup (if budget doesn't cover an MUA), and how to choose your style.
Choosing makeup for weddings is a big decision, and this inspiration will definitely make it easier, but if you're really unsure of what you want, we recommend speaking to a professional wedding makeup artist and booking a trial or consultation. They are the experts, and the best people to seek advice from.
Natural Wedding Makeup Inspiration
1. Natural Wedding Makeup With Bushy Brow
Your brows help to frame and shape your face, and if you're into trends, we love the bushy brows one right now. The makeup is so subtle and natural, letting the brows be the star of the show. We're obsessed with this sleek look by Something Blue Hair & Makeup.
2. Light Eyeshadow & Glossy Lips
Using eyeshadow to add highlights is a great way to add glamour to a more natural wedding makeup look, and Emily Grosvenor has done it perfectly here. The eyeshadow highlights the corner of this nearlywed's eyes, and the glossy lip creates a reflection of its own.
3. Simple Wedding Makeup With Bright Lip
Simple wedding makeup looks can be completely brought to life by adding a bright lip. Amy Rose Makeup have chosen the perfect shade to complete this wedding makeup - the orange-toned lip works as a great contrast to the bride's bright blonde hair and white accessories. We love how minimal the brow and eyelash makeup is as well, allowing the lip to really shine.
4. Matte Lip Wedding Makeup
Natural wedding makeup looks work so well with a matte lip, as it has more of a subtle finish than a glossy or satin product does. The colour chosen here by makeup artist Lauren McCabe works so well with the bride's skin tone and hair and we love the warm colours used to highlight the cheeks.
5. Sheer Natural Wedding Makeup With Glowy SKin
Natural wedding makeup and glowy skin go hand in hand, and we think this look by The Bridal Stylists is a perfect example of how you can look fresh and glamorous without wearing tonnes of product. The lip and cheek colours share a similar tone, adding cohesion to the overall look, and the addition of sheer, darker eyeshadow adds a hint of drama.
6. Nude Wedding Makeup With Cat Eyes
Makeup artist Amy Goode has combined a super natural makeup look, including glowy skin, illuminating highlighter and nude lips, with a striking jet black cat eye - and we're really feeling it. Because the skin and lips are so natural and neutral, the eyeliner detail on the eyes stands out even more.
If you're wearing a sexy wedding dress and want a sultry eye look to go with, this is the inspo for you.
7. Sunkissed Skin Wedding Makeup
We love a glowy skin moment, and Lauren McCabe has nailed that here. Highlighting and contouring in all the right places, this makeup artist has added so much depth to this look, which still looks effortless nonetheless.
8. Statement Brows & Natural Skin
The key to a natural wedding makeup look is to highlight just one or two key features, and we're so glad Amy Rose chose to highlight this bride's incredible brows. By keeping the skin and lips natural and simple, and not overdoing it on the lashes, this makeup artist has allowed one of the bride's features to stand out the most.
9. Shimmering Eyelids & a Glossy Lip
Nudes and neutrals are the perfect colour palette for anyone who wants natural wedding makeup, but that doesn't mean you have to shy away from anything sparkly. The light eyeshadow that May WIlliams has used here reflect the light so beautifully, and will look amazing in photographs. Because of the neutral shade, it's still really fitting for a natural look.
10. Mini-Winged Eyeliner Wedding Makeup Look
Another May Williams look we're obsessed with is this natural wedding makeup. The skin makeup is so sheer, you can still see the bride's gorgeous moles that give her face character, and the freckles on her nose. We also like the fact that the makeup artist has paired a super natural barely-there skin look with a sassy winged eyeliner.
11. Natural Wedding Makeup With Nude Ombre Lip
We love an ombre lip, but it's often seen in matte, heavily lined lipstick looks. If you want a more natural makeup look, ask your makeup artist to top your ombre lip with a gloss. This helps to soften the colour and make the ombre transition more subtle. Amy Goode has done this here with nude colours, but you could do something similar with red and nude, or pink with a paler pink.
12. Ombre Eyeshadow & Sun Kissed Skin
If you prefer a matte look for your eyeshadow and skin, use this makeup look by Lauren McCabe as your inspiration. The ombre eyeshadow is so perfectly crafted, blending from a light nude, into a dark muddy brown. A similar method has been applied to the lips, but with a contrasting glossy finish instead of matte.
13. Blended Eyeshadow & Natural Brows
Wedding day makeup should always enhance your natural features, and we're loving the way The Bridal Stylists have embraced this nearlywed's incredible natural brows, and enhanced their eyes by contrasting the green colour with a dark, warm shade of eye shadow.
14. Natural Makeup Look With Glossy Lip & Fluffy Lashes
Natural wedding makeup can still involve a lash and some shine, as Slayyed by Sam showcases here. They have used a small, fluffy eyelash extension to build on the bride's natural lashes without them looking unnatural. The skin is glowing and dewy, which always works well when paired with a shiny clear lip.
15. Simple Vintage Wedding Makeup
For anyone planning a vintage wedding, why not bring the theme into your bridal makeup, using this Lipstick and Curls look as inspo. The defined eyebrows are synonymous with the vintage era, and it's not a retro makeup look without a striking red lip, is it?
16. Natural Bridal Makeup With Orange Lip
From a statement red lip to a statement orange one - and boy do we love this look. Orange is such a bold colour, and it's the perfect shade to add wow-factor to natural wedding makeup. Love, love, love - thank you Bruno Dinora!
17. Natural Makeup With Glowy Skin
Skin, skin, skin - that's the focal point of this beautiful wedding makeup look by Amy Rose Makeup. A subtle hint of blush and highlighter work wonders to emphasis dewy, glowing skin.
18. Glamorous Wedding Makeup With Red Lip
Glossy and to-die-for are the words that come to mind when we look at this reflective deep red lip crafted by makeup artist Lauren McCabe. The rich colour would suit a winter wedding, paired with a rustic bouquet and bridal cover up.
Unique Wedding Makeup Looks You Can Copy
19. Celestial Jewel Bridal Makeup
Are you a fan of all things celestial? If so, why not give this Makeup by Alison look a go on your wedding day? You could go all-out with the stars and jewels everywhere, or opt for just a few subtle details under the eyes.
20. Gold Eye Wedding Makeup
Gold is timeless when it comes to eyeshadow - whether you want big sweeps of it, or a subtle hint of sparkle, be inspired by this beautiful look by Something Blue Hair & Makeup. It's made even more glamorous when paired with gold jewellery and accessories like this newlywed has done here. For more inspo, browse the best wedding makeup ideas for black brides here.
21. Natural Makeup With Under Eye Detail
Another way to wear gold eye makeup on your wedding day is to use it under your eyes. Make Me Bridal have given this bride's very natural and pretty wedding makeup a subtle glow-up with the addition of gold liquid eyeliner under the bottom lash line. To make it even more noticeable, they've brought it right into the corner of the eye, too, adding additional elements that highlight the inner eye.
22. Smokey Eyeshadow & Eyeliner
For a more defined eye look on your special day, use Beautiful You Makeup Artist's example shown here. Using pencil eyeliner and smoky eyeshadows, they have created real drama around the eye. Pairing this with a dark nude lip works really well - but if you'd prefer a colour, red recommend red tones over pink for a sexier look.
23. Sparkly Eyeshadow & Contour Combo
Another one of our favourite wedding makeup looks by Beautiful You is this one. You can see the makeup artists have used darker colours across the whole look, with browns and dark reds running through the contoured cheeks and lined lip, and contrasted that with cooler shades of silver and lilac on the eye.
This wedding makeup look would be ideal for a glamorous winter wedding, paired with lots of sparkly accessories.
24. Heavily Lined Red Lip Wedding Makeup
As the guys who brought you the best wedding lipsticks review, you already know we're always here for a lip moment, which is just one of the reasons why we adore this makeup look by Laura Kate Artistry. The eyeshadow is silver and sparkly, and a subtle lash is always a welcomed treat, but it's the red lip that we're most drawn to.
The makeup artist has used a deep, rich red tone which works really well with gold jewellery and rosy cheeks, and we admire the way they've masterfully overlined the lip whilst still keeping a truly natural shape. Perfection.
25. Smokey Eyeshadow With Pearl Detail
One way to really make your wedding makeup stand out is by adding soft, pretty pearls to a striking smoky eye. We love the contrast between bold and beautiful, and could see this looking incredible on anyone wearing a pearl wedding dress or pearl wedding shoes.
Stephanie Graham is the MUA behind this wedding makeup look, and we can't get enough of it.
26. Sexy Winged Eyeliner Wedding Makeup
Bold wedding makeup doesn't have to mean bags of colour or a face full of products, in fact, it could be as simple as a statement eyeliner look, as shown by Wedding Day MUA. Here, they have used black eyeliner to create a fully winged eye. Rather than just applying it to the top lid, they have also carried the eyeliner across the bottom, too, creating a full circumference of liner around the entire eye.
Specifically for those with blue or green eyes, this kind of makeup technique will really make your eyes stand out and. For a softer look, pair with dewy skin, a natural brow and a subtle gloss lip. For something more bold, you could pair this eye with a full contour and lined lip in a colour of your choice.
27. Glowy Metallic Wedding Makeup Look
If you're a glamorous person who loves a sparkling look, consider wedding makeup inspired by Neon Velvet's look here. The MUAs have used shimmering golds and pinks to highlight all the beautiful features on this nearlywed's face. From the glimmering eyeshadow, to the pretty pink lip, to the perfectly placed nose contour, this look is undeniably glam.
28. Red & Gold Glamorous Wedding Makeup
Are there any colour combinations more glamorous than red and gold? We think not, and this look from Makeup by Chandni proves that. Golds have been used across both the eyelids and cheekbones here, to add a bit of sparkle to the face, and the shiny metallics are contrasted perfectly by two things - a bold winged eyeliner and a matte red lip.
29. Matching Flowers & Eyeshadow Makeup
If you're one of those nearlyweds who loves everything to match, why not coordinate your eyeshadow colour to your wedding flowers like Melissa Hair and Makeup have done for this bride? The vibrant lilac colours in the flowers are beautifully emulated in the grey-meets-purple eyeshadow, and we love that they've taken it across the whole eyelid. Gorgeous!
30. Bright Eyeshadow & Lip Combo
Speaking of matching, we love it when wedding makeup artists match the eyeshadow colours to lip tints, especially when using vibrant coral tones like Makeup by Chandni has used here. The peachy colours bring a really fun element to this wedding makeup look, and bringing the eyeshadow colour along the bottom lash line as well as on the eyelid creates even more of a statement.
31. Pink Eyeliner Wedding Makeup
From one bold eye look to another, check out this striking wedding makeup look by Makeup by Juancy. Proving that you don't need to go big everywhere to have your makeup stand out, this MUA has created an incredibly memorable makeup look with one key standout feature - the pink liquid eyeliner.
It's perfect for those who want to add a pop of colour to their makeup but aren't a fan of full-eyelid coverage, and it also allows you to keep the rest of your makeup super natural. The eyelashes, brows and skin are all super natural and dewy, leaving the eyeliner to remain star of the show.
32. Bright Pink Wedding Makeup Look
More is more with this bright pink look by Bruno Dinora. Even though pinks have been used on the eyes, cheeks and lip, all three areas of this wedding makeup look have used different tones and textures, contrasting in the best way possible. The eyes have a shimmery finish to them, while the cheeks are powdered matte and the lips have been glossed.
Personally, we love the mixing of tones and textures, but you could very easily add more cohesion to this look by having a dewy finish for all by using liquid products for the cheeks and eyes, or giving the lips a matte finish in line with the eyes and cheeks.
33. Subtle Lilac Lid & Eye Liner
You've seen our branding, so you know that if we're adding a pop of colour to our wedding makeup, it's going to be a chic lilac like Leanne Hart Makeup Artist has used here on this nearlywed. The purple ombre is so soft and subtle, with eyes open, you'll only just see the hint of colour. But as this bride looks down, you can see the beautiful shades transcend.
34. Wedding Makeup With Vibrant Purple Lip
If you want to keep the rest of your makeup fairly simple, but want something striking, why not opt for a vibrant lip in a less common colour like purple. Neon Velvet have mastered the art of the ombre lip, taking this bride's lip from pink in the centre, to a luscious purple on the outside.
35. Ombre Lip & Smokey Winged Eye
Another way to do an ombre lip with more natural colours is to line the outer corners of your lip with a dark nude (brown tones work really well!), and then brush it into a pinkier tone as you get to the middle, just like Wedding Day MUA have done here.
Pair this with a smoky winged eye and you're truly good to go. This wedding makeup look works particularly well for glamorous wedding themes as it's classy without using too many techniques or products.
36. Natural Wedding Makeup With Red Eyeliner
For the complete opposite approach, check out what Michelle G Makeup Artist has done here. Contrasting super natural wedding makeup with a bright red eyeliner, this wedding makeup is perfect for those who want a modern makeup look that no one will be expecting.
Swap the red for any colour you like and match it to your wedding theme, bridesmaid dresses or flowers.
37. Soft Smokey Eye With Brown Tones
A soft smoky eye is a great way to vamp up your bridal makeup look, without looking too 'big night out'. We love this sexy smoky eye by Make Me Bridal.
How to Do Makeup for a Wedding?
When deciding on your look, booking your makeup artist and picking your products, there's plenty you need to know first. Here, we have expert tips on how to do makeup for a wedding, whether you're doing it yourself, or enlisting the help of an expert MUA.
1. Pick a Look You're Comfortable With
Wedding makeup is one area of beauty that's not particularly trend-led so don't feel you have to buy into all the latest beauty looks just because they're the style of the moment.
"Wedding makeup is about choosing a look that you are comfortable with and that enhances your features rather than being overly concerned about being on-trend," says makeup artist and brand founder Aimee Connolly. "Your wedding day is not the time to try new things, so stick to products that you already know work well on your skin, especially when it comes to your foundation."
Makeup artist Ruby Hammer agrees, adding that wedding makeup should make you look like an enhanced version of your normal self. "On your wedding day you're exempt from regular beauty trends. It's all about the uniqueness of you and what you want to achieve with your wedding makeup," she says.
"We have learnt to embrace our uniqueness and not necessarily follow trends and I think on your wedding day, more than ever, this is important."
2. Book a Wedding Makeup Trial
If you're booking a makeup artist for your wedding, arrange a trial makeup session with them. Not only will this help you to decide exactly how you want your wedding makeup, it's also a chance to check that you gel with the MUA you've chosen. They'll be with you on one of the biggest days of your life, so you want to get on well and feel comfortable around them.
We suggest holding your makeup trial around three months before your wedding – before things get really hectic, but hopefully once you've got your outfit and hair planned, so you know all three work together.
Go to your makeup trial prepared with ideas of how you want to look so your MUA has an idea of your wedding makeup vision. Take a photo of your outfit too, so they can work out your overall vibe for the day. We also have this list of questions to ask your makeup artist to ensure you cover everything in the trial.
3. Prepare Your Skin
"Never skip your skin prep," cautions Amy. "Well-prepped skin means your makeup glides on smoother and has a better chance of lasting."
Use a hydrating moisturiser and a primer ahead of makeup - it really does make all the difference.
4. Choose Your Wedding Lipstick Wisely
With all the kissing, drinking and snacking you'll (hopefully) be doing on your big day, you'll definitely need to reapply your lipstick regularly, so take this into consideration when choosing your wedding lipstick.
"Try and pick a lipstick you know you love," advises Aimee. She suggests sticking with a formula you know is comfortable for you so you know how it wears and that it's not drying.
Makeup artist Lisa Caldognetto recommends choosing the texture you like and then finding a shade. "Hydrating lipsticks need more top-ups, while mattes are more long-wearing," she says.
While people traditionally wear a nude lip on their wedding day, Ruby points out there's no reason you can't go for a statement-making red - but it does come with a caution: "Red is classic and there's a shade for everyone - but beware this is high maintenance and you'll need to take time to top-up in front of a mirror throughout the day," she says.
"Also, a bold colour means you have to keep your eye on it to keep it from leaving traces on your partner or glasses, or your hair sticking to it." She points out that nude is easy to reapply throughout the day and is a fail-safe option. "Finding the perfect nude can feel overwhelming, so speak to someone over the counter at your favourite makeup brand and they'll be able to help," Ruby adds.
If lipstick feels intimidating (especially if you don't wear it normally) a gloss could work well for you. "Lip gloss effortlessly elevates any look," says Lisa. "It smooths lip texture whilst giving you a juicy pout, it's easy to reapply throughout the day and gloss complements all kinds of makeup looks, anything from a sultry smoky eye to a bohemian sprinkle of shimmer."
6. Use a Tubing Mascara
We all know weddings are weepy occasions, and we also all know that waterproof mascaras rarely stand up to their non-waterproof counterparts. Enter tubing mascaras. These formulas wrap each lash in a tube rather than coating it like traditional mascara, which means they are less likely to smudge or flake because there are fewer layers.
7. Use Setting Products
Many of us don't use setting sprays or powders in day-to-day life, but your wedding day is the one occasion you shouldn't scrimp. Translucent powder is great for staying power and will photograph well, according to Ruby.
Aimee agrees, telling us: "When you use powder products to set your cream products in place, you're ensuring nothing moves around and your products stay exactly where they need to be throughout the day."
Doing Your Own Makeup for Weddings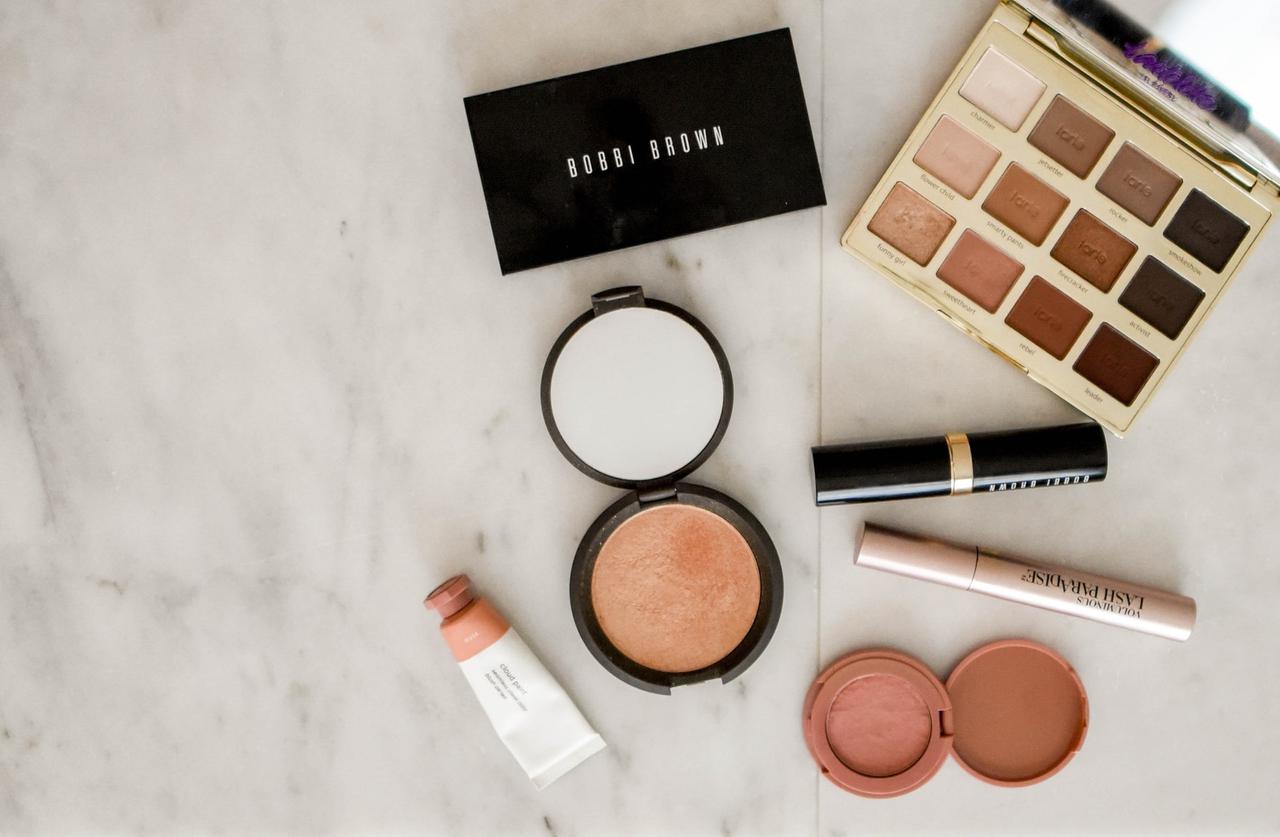 Doing your own wedding makeup can add an extra element of stress to your day, so if you feel you'll be in a flap, we'd recommend calling in a professional. Hiring a pro will take away a potential stress on the day. Have you ever tried applying liquid liner with shaking hands? Not recommended.
"If you are able to hand the job over to someone you trust and you like their work and you can afford it, I always recommend doing so," says Ruby. "Having your make-up done is a perk. Enjoy it! It adds a special occasion feel as it's not something you do every day."
Doing your own wedding makeup is certainly a bold choice, but not out of the question. Kate Middleton did her own wedding makeup, for example. Not that the wedding budget was an issue for Kate, but doing your own wedding makeup saves money, plus nobody knows your face better than you. There are a few tricks of the trade that the pros want you to know ahead of your wedding day.
1. Practice Makes Perfect
Just like you wouldn't try on your dress for the first time on the wedding morning, it pays to practice your make-up look a few times before the big day itself.
It's especially helpful to choose a look you're familiar with creating. "Go for something that is within your comfort zone," Lisa says. "Don't do a red lip if you have never worn one. Take the time to practice the makeup look and time yourself so you know how long you need to get ready on the day."
2. Book a Lesson With a Pro
This was Kate Middleton's trick. Ahead of her wedding she reportedly had a makeup lesson with MUA Hannah Martin, which is something Aimee recommends too. "If you can book in with a makeup artist for a lesson do so, but if not, there are tons of online tutorials you can follow. If you know what you are sitting down to do, there's less room for stress or panic on your wedding morning."
3. Use Makeup You Know Works For You
Along the same lines of opting for a look you know suits you, be sure to use makeup you know suits your skin. "Your wedding day is not the day to try new things, so stick to products that you already know work well on your skin, especially when it comes to your foundation," Aimee says.
4. Don't Forget Your Body
You'll be concentrating on blending your base and making sure your mascara hasn't smudged, but make sure to spend some time on your body too. "Don't forget to add some glow to your body." says Lisa, "Exfoliate, moisturise and pop your highlighter on your décolletage, shoulders, the centre of the back (with help!) and down your legs, depending on which of these areas are on show based on the cut of your dress." See our pre-wedding skincare guide here.
5. Take Photos
Your makeup may look great in the mirror, but it can end up looking totally different in the photos or video from your day. "Practice your makeup in different lighting and take photos of your finished work – indoors and outdoors," says Ruby. "Photos and videos can change how your makeup looks so you want to make sure what you have done looks good in all settings."
Now you have your makeup sorted, it's time to think about your hair. Browse our gallery of the best half up half down wedding hairstyles, and if you are going down the DIY route, we've tried and tested the best hair curlers as well - read our honest reviews on which ones are worth the spend...