Wedding Season: The Cheapest Wedding Dates You Need to Know About
Find out everything you need to know about wedding seasons, including the cheapest and most expensive months and days to get married
Wedding season is something that will have a huge impact on the cost of your wedding. Booking a wedding venue in high wedding season can see the cost of your wedding soar. Couples looking to be savvy with their wedding budget will be glad to know that, by being clever with your wedding dates, you can save big time on your venue cost.
If you're looking for affordable wedding venues near you, there are some simple tips and tricks that can vastly reduce this cost – and all it takes is being smart with the day and month of your wedding. Typically your wedding venue is one of the first things you should book on your wedding checklist, which means you should start researching as soon as possible to ensure that you get your dream venue on a date that works for you at the best price.
Discover the cheapest time to book a venue and save yourself hundreds (or even thousands) of pounds!
What is Wedding Season?
Wedding season refers to the time of year when the majority of weddings take place. It often differs from country to country as different continents experience seasons at different times.
When is Wedding Season?
Wedding season in the UK will fall at a different time to that in Australia or America. There are some similarities between wedding seasons across the globe however - one being that they tend to always fall during warmer months.
When is Wedding Season in the UK?
In the UK, wedding season runs between May and October, with the most popular months to get married being July and August. This is due to the weather which is (supposedly) much nicer during these months. The height of summer is by far the most popular time in the UK for weddings due to the warm weather and the fact that it coincides with most school holidays. If you do want to get married in wedding season, but are getting married abroad, it's important to check what the wedding season is in the country you want to get married in.
When is Wedding Season in the USA?
If you are planning on getting married in the United States, for example, you'll find that their weddings peak in June and September. The wedding season in the states will also depend on the region.
In the Midwest, Southwest and the South, August and July are actually considered to be off-season because of how sweltering the heat can be.
In the Northeast and East Coast, late spring and early fall (Autumn) are considered to be the most popular times to get married as the weather is warm, but not as humid as it is in the summer. Winters in these areas can be extremely cold so if you're a lover of the snow, you could definitely catch a deal in the colder months.
In the mountainous regions of America, summer is considered peak wedding season. Because of the high altitude, you are almost always guaranteed a breeze at a mountainous wedding so getting married in the height of summer won't feel like a heatwave wedding.
Pros and Cons of Wedding Season
Pros: Getting married during wedding season in the UK comes with its benefits. The main benefit is the good weather. Whilst a good forecast is never truly guaranteed in Great Britain, you are far more likely to avoid rain and attract some sunshine if you get married in the summer months.
As well as the good weather, wedding season falls during the school summer holidays. This allows you to consider weekday weddings (which are much more cost effective) as friends and family members may already have booked time off with their children.
Cons: The main con to getting married in the height of wedding season is the cost. When there is a higher demand for wedding venues, naturally the price is going to rise. You're also going to be in a situation where a lot of your guests will be attending a number of weddings that season and being a wedding guest doesn't come cheap.
There's always a risk that guests will feel disgruntled at attending another wedding this summer - but if they're a good enough friend or a close family member, this shouldn't be an issue. Another con for getting married in wedding season is that you still aren't guaranteed the good weather. We can all remember a rainy day in August - it happens!
How Can I Save Money on My Wedding Venue?
There's lots of little ways you can save money on your wedding venue, such as choosing a venue with no corkage or opting for non-exclusive use, but without question the biggest way to save money on your wedding venue is to be clever with your wedding date.
Getting a deal on your venue and trying to book a Saturday in August are two plans that just don't mix. Saturday is the most popular day of the week to get married, and August is the most popular wedding month. When venues are in high demand, the price, naturally, is pushed up. The way to avoid higher venue hire costs is to be smart about when you have your wedding. Here's what we mean by that:
1. Low Season Weddings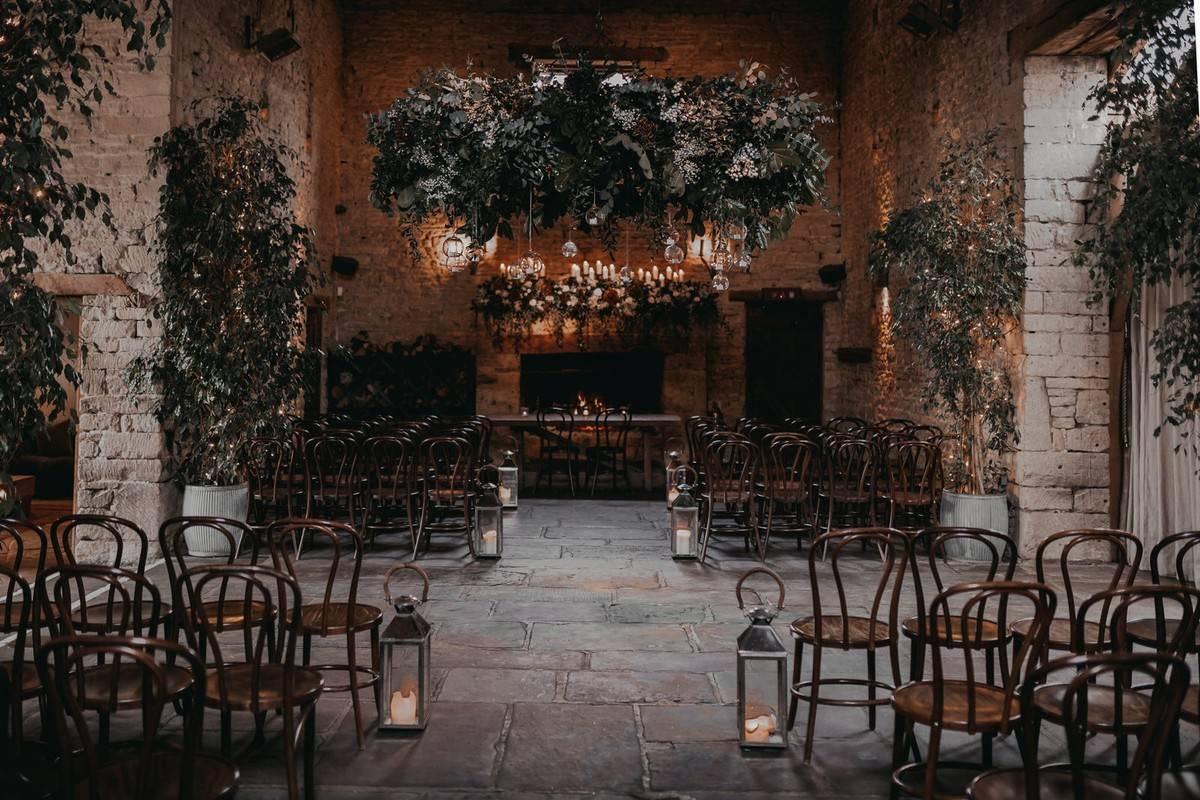 'Wedding season' runs from May to October, with the most popular months to get married (peak wedding season) being July and August. The summer months, when the weather is (supposedly) nicest, will be the most expensive to book, so if you choose a wedding date from November to April, you could save yourself big bucks. Narrow it down even further and a December, January, February or March date will be the cheapest to book.
Here's an example: the beautiful Cripps Barn has a hire price of £8,050 on a Saturday in August 2023, but a Saturday in February 2023 is £4,050. That's a saving of £4,000 just by choosing a low-season date!
READ MORE: The Best Newly-Opened Wedding Venues
On top of your venue being cheaper, suppliers will often be cheaper too as they're in less demand and you can negotiate a good price. Many photographers will offer cheaper rates in the low season, as will wedding caterers, hair and make-up artists, DJs and car hire. You could save yourself a huge amount across your wedding budget by being date savvy.
Now, we know you might have your heart set on a summer barn wedding, but you'll need to be flexible if that doesn't work with your budget. That doesn't mean having a less amazing wedding, it just means being more creative.
You might dismiss certain venues at certain times of year, such as a barn in winter, because you assume it might be chilly, but this often isn't the case. Speak to individual venues to see what facilities they have on offer as most are set up to offer the same level of service and experience year-round.
READ MORE: 21 of the Best Marquee Wedding Venues to Hire in the UK
A barn or marquee, for example, might have heaters inside, a fire pit outside to keep the outside area toasty (which could double as a great s'mores making area!), and be able to provide blankets and mulled wine to keep guests warm as the party continues. Who wouldn't love that! Inside they'll have their own gorgeous Christmas decorations set up which could save you money on décor, a win-win.
2. Midweek Weddings
Like low-season weddings, getting hitched on a Monday to Thursday is considerably cheaper than weekend weddings because there's less demand for them.
The downside to a midweek wedding is that your guests will need to take a day off work and younger guests would need to take a day off school. You could work round this by choosing a midweek date during school holidays. For example, Tuesday 21st February 2023 at Cripps Barn is just £2,000 for venue hire – compare that to the £8,050 for a Saturday in August!
Not only will a popular venue be cheaper if you host it on a Monday, Tuesday, Wednesday or Thursday, it's more likely to be available.
READ MORE: 37 Ways to Save Money on Your Wedding
As guests will have to take time off, a midweek date best suits a more intimate-sized wedding. If only close family and friends are coming, a small wedding venue would suit you perfectly. If you want something more informal, then a pub wedding venue could be right for you. Midweek weddings are absolutely perfect for teachers and school professionals who have the holidays off.
If having a midweek wedding isn't feasible, then often you can still get a saving on a Friday or Sunday wedding date. When you've found a few wedding venues near you that you like, get quotes from each of them and compare.
3. Morning Weddings
That's right, even the time of day you marry can save you money. A morning wedding followed by a brunch or lunch means that a venue can also host an afternoon/evening do and they can do you a good deal. If you aren't that interested in having a DJ and after-party and would much rather just do a nice meal with friends and family, a morning wedding might be ideal. You could also consider a twilight wedding!
Seasonal Wedding Dates To Avoid
As well as a Saturday in wedding season, there are other dates worth avoiding. We've put together a huge list of wedding dates you should avoid from now until 2023, which includes Easter weekends and bank holidays when demand is also high. Compare your potential wedding date to this to see if there's a clash.
However, this can also work in your favour... If you're not a superstitious couple, how about a Friday the 13th date? Lots of couples think it's bad luck to marry then but, if you don't believe that, a Friday the 13th date could save you thousands.
Low Wedding Season: Venue Special Offers
Here are just a few examples of how much money you can save by choosing a midweek or low season wedding date; you can find lots more on our wedding venue special offers page.
Bredenbury Court Barns, Herefordshire
Bredenbury Court Barns are offering up to 65% off their normal price for 'off peak' and midweek wedding dates. That's a huge discount and a great opportunity to save some money on your wedding venue.
Eshott Hall, Northumberland
Eshott Park in Northumberland offer an exclusive winter wedding package including exclusive use of the venue for around £7,000 or £7,950 for a wintery Saturday wedding.
READ MORE: Perfect Rustic Wedding Venues
Wotton House, Surrey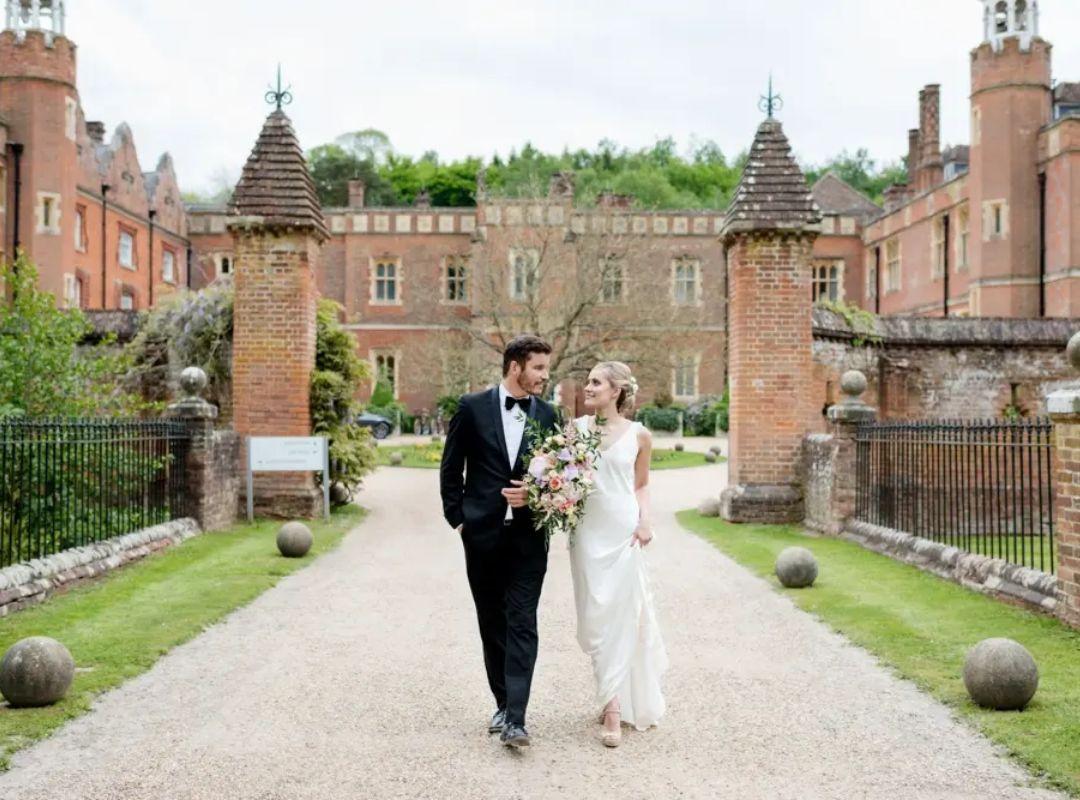 One night's stay for the newlyweds in the romantic Wotton House is included in their super Sunday deal. You can also hire the venue for a magical winter wedding on New Year's Eve. It'll be a night that no one will ever forget!
Denbies Wine Estate, Surrey
The largest vineyard in England is a unique setting for your wedding. The atrium and garden room at Denbies Wine Estate would look beautiful lit with candles and fairy lights if you took advantage of their winter wedding offer which applies for January, February and March weddings.
Stoke by Nayland Hotel With Golf and Spa, Essex
Offering couples an absolute steal of a deal, Stoke by Nayland Hotel are running a special mid-week wedding package running from Sunday-Thursday for less than £5,000 - and you get so much included!
After you've looked at everything you need to consider when choosing a venue, explore our round ups of our favourite wedding venues in Cornwall, the best in Norfolk and the top venue picks in Essex.