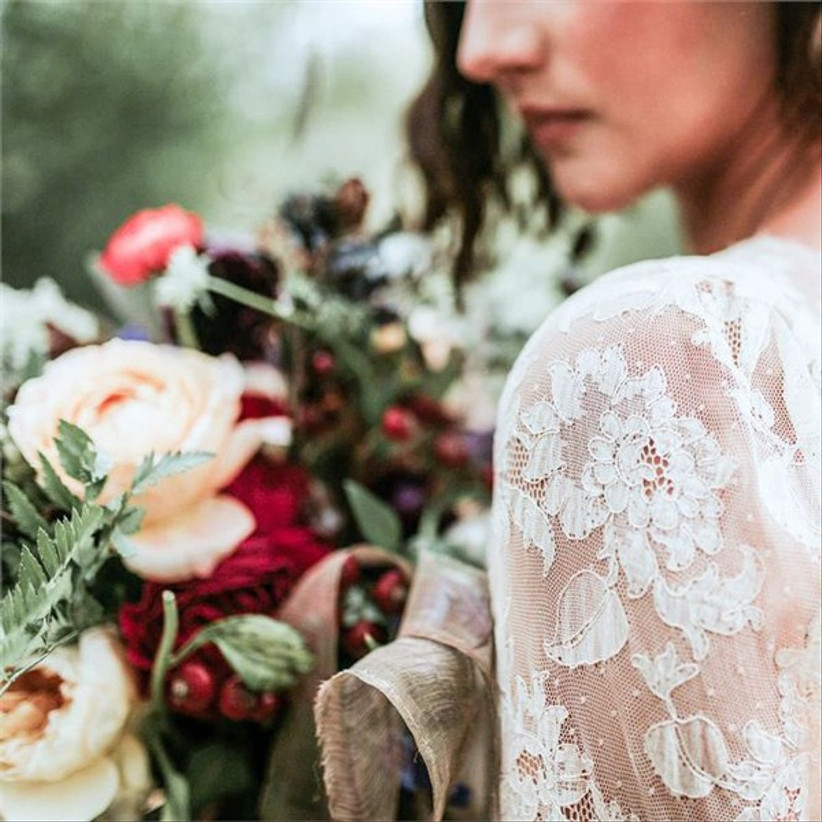 Whether you're after a few simple bouquets for your maids or an entire floral arrangement for your venue, floristry is something that will almost certainly play a part in your wedding. But how much should wedding flowers cost?
With so many variations of orders, it's really hard to put price brackets on how much your wedding flowers should cost, but to give you some guidelines we've spoken to a range of professional florists, who offer all kinds of services, to give you the best idea of wedding flower prices.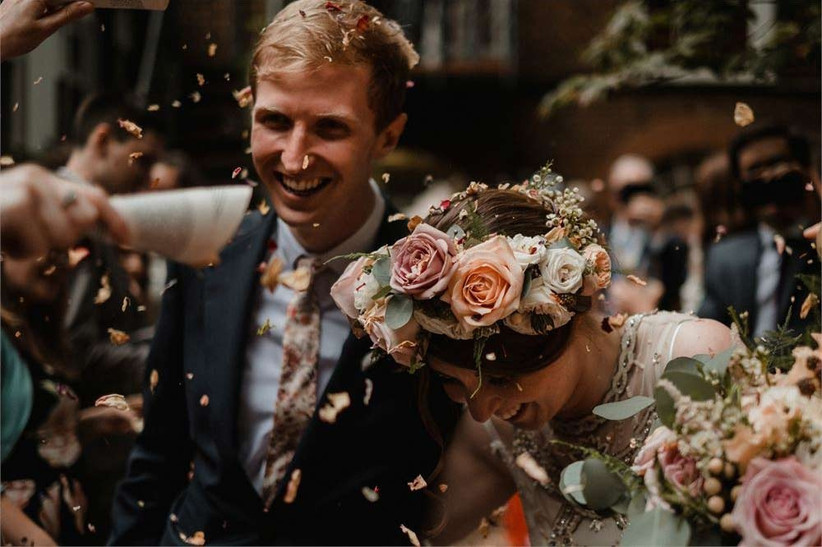 Image – Herbert and Isles
READ MORE: Expert Tips For Choosing Your Wedding Flowers
What's the Average Spend For Wedding Flowers?
This is almost an impossible question to answer, with levels of services varying so much, but Charlotte from Herbert and Isles says: "We find that weddings tend to start on an average of £1,200-£1,500, although we offer bespoke packages for all weddings."
Coming in at a similar number, the team at Pesh Flowers advised that couples should expect an order for bridal party flowers and some venue décor to come in at upwards of £1,000.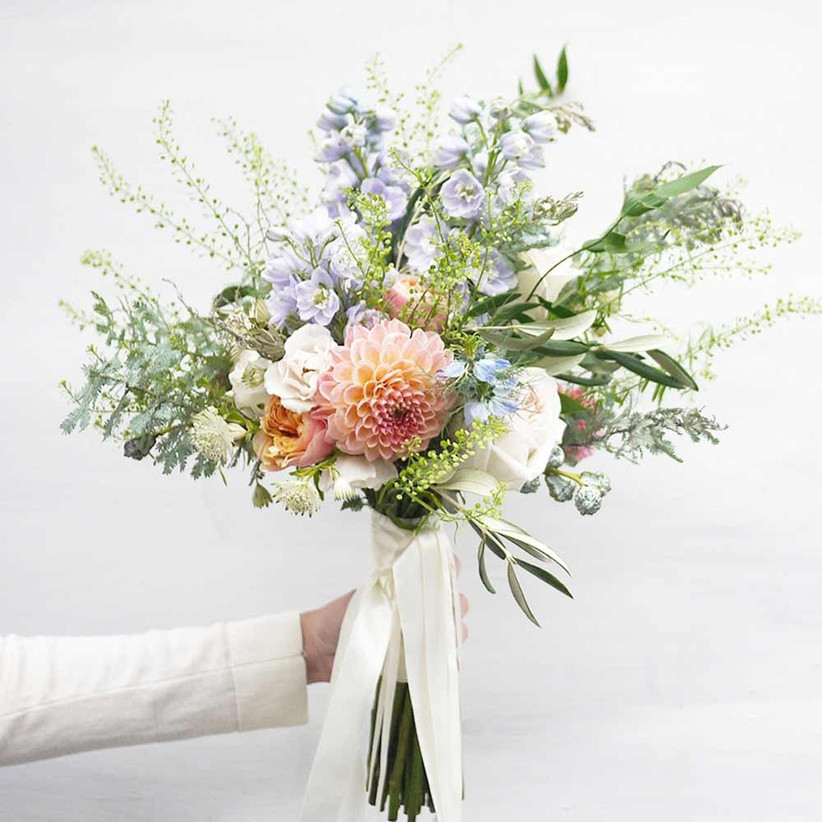 Image – Lavender and Rose
READ MORE: Essential Questions to Ask Your Wedding Florist
To help couples get a better idea of what to expect, Rosie from Lavender and Rose says: "Something that's really helpful as a florist is when your clients are really upfront and open about their budget from the start. Once your florist knows what you're able to spend with them, they can design something that will look beautiful, but within your budget.
"It's worth knowing that from our experience most florists will charge around three times the wholesale value of a stem. At first this may seem ludicrous, but when you consider they have to order, collect, condition, get them to their 'peak bloom', arrange, deliver and install them – you begin to understand where the extra cost comes in", Rosie adds.
What Factors Will Affect the Cost of Wedding Flowers?
When it comes to your floristry order, there are three main areas that can impact the total cost of your wedding flowers; where your wedding is (and where your chosen florist is based), the time of year you're getting married and the floral order itself.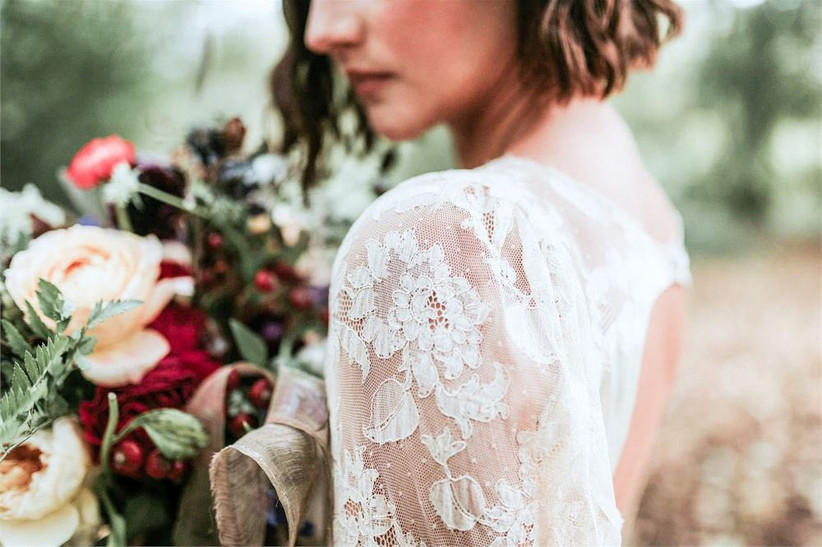 Image – Blooming Haus
READ MORE: How to Choose Your Bridesmaid Bouquets
Our experts have given us an insight into these three areas, and some advice on how to tackle the risk of high costs.
Location
Whilst it may not be the biggest factor in flower pricing, the location of both your wedding and your florist can absolutely affect the cost of your order. The team at Herbert and Isles say: "As florists on the move we are able to travel far and wide for weddings, however if the wedding is quite far then your delivery charge will depend on how big the distance is for us to travel."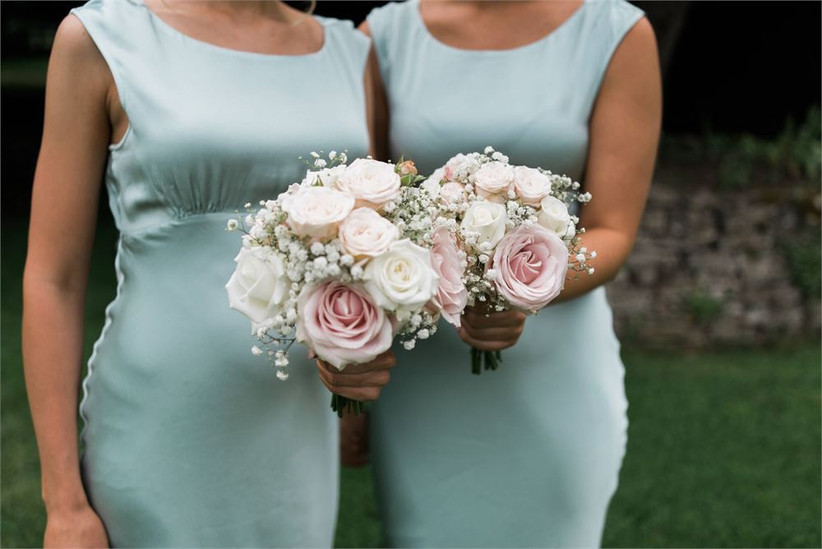 Image – Sonning Flowers
Blooming Haus told us that although location was fairly irrelevant when pricing up orders, "it has a relevancy if the wedding takes place outside of our perimeter (M25)" – making it well worth checking whether or not your dream florist will charge you extra for traveling.
READ MORE: 23 Floral Wedding Ideas
Florists Sonning Flowers said that it isn't so much the location of the wedding that affects their prices, but the style of location that could cause an increase in prices: "Some venues don't need a lot of decoration, for example country manor houses, however venues such as marquees and blank canvases are likely to require more décor, making it more expensive".
Wedding Date
One common theme amongst all of our experts was that rising prices during certain times of year wasn't down to high wedding seasons, but instead due to changes in the flower market.
READ MORE: Our Guide to Seasonal Wedding Flowers
Blooming Haus explained: "For example, red roses around Valentine's Day are always going to be more costly, or if you are getting married between Christmas and New Year then your selection of flowers can be limited and again, more expensive.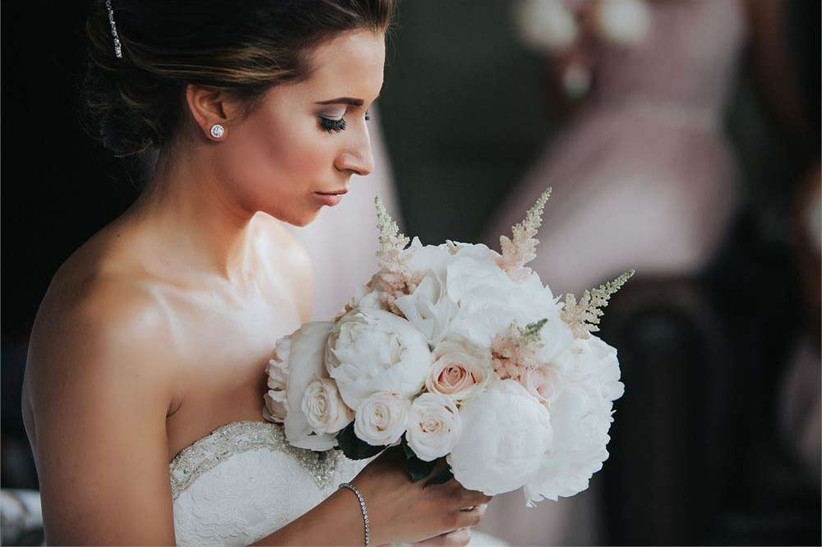 Image – Sonning Flowers
READ MORE: Wedding Flower Names Explained
"Stick to seasonal blooms, they will be at their most beautiful and less expensive when they are in season. Most of our couples let us have free rein over the selection of blooms as long as we stick to their colour scheme – meaning they are getting the most beautiful selection for their money."
Your Order
The size, style and details of your flower order will undoubtedly be the biggest factor when your florist prices up what you've asked for.
Rosie from Lavender and Rose shared the reasons behind this: "The scale of your brief will hugely affect the cost of your flowers. Lots of couples now want something which will make their wedding stand out – like hanging installations or wall designs. These, you might have guessed it, come at more of a cost than your bog standard table displays!"
Image – Blooming Haus
READ MORE: Wedding Bouquet Styles Explained
Adding to this, Herbert and Isles advised: "The more designs you are after, the more you'll spend on your flowers, but if you do have a budget you want to stick to then it's always best to consider the main areas of the ceremony or venue first.
"Even though it may sound more costly to have a few large, dramatic pieces such as floral archways and garlands, it's more impressive to your guests and they stand out a lot more than smaller designs.
"Our best advice would be to let your florist know your budget if you have one in mind – it will save time and a good florist will be able to help you by offering advice of what they can provide within that price."
What Can You Get For Your Budget?
£0 – £250
Most of our experts agreed that for the top end of this price bracket (£250), you should be able to get an order which includes a bridal bouquet, two bridesmaid bouquets, five button holes and two corsages.
READ MORE: How to Plan a Wedding for £3,000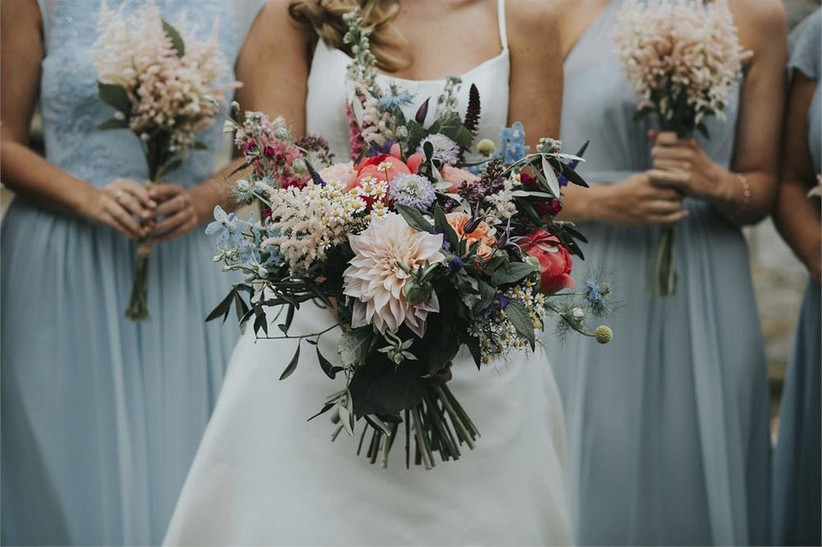 Image – Herbert and Isles
If you're not keen to splash the cash on your wedding flowers and just want the basics, this is a pretty good place to start. Prices will vary depending on the types of flowers, sizes of bouquets and the other aspects we mentioned above – but this is a good guideline of prices to approach a florist with.
£250 – £500
Mandy from Sonning Flowers told us that upping the budget to £500 means you can consider including some table centrepieces in your order.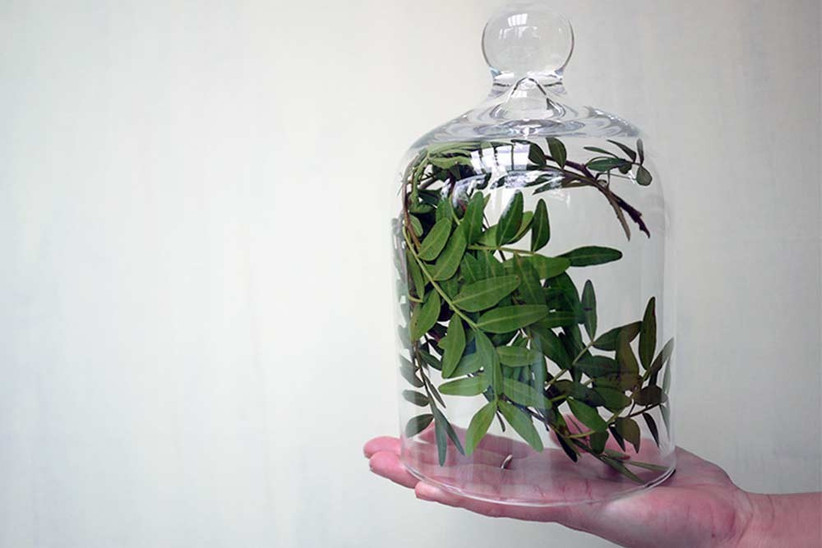 Image – Lavender and Rose
READ MORE: How to Plan a Wedding for £5,000
For up to £500, you should expect to order bouquets for you, your bridesmaids, corsages and button holes and some simple table décor – until you up the budget slightly, the table decorations are likely to be simple greenery, and you may not be able to get one for every table, depending on how many guests you're having.
£500 – £750
According to the team at Pesh Flowers, upping your budget to £750 should give you room to include a statement piece at the wedding.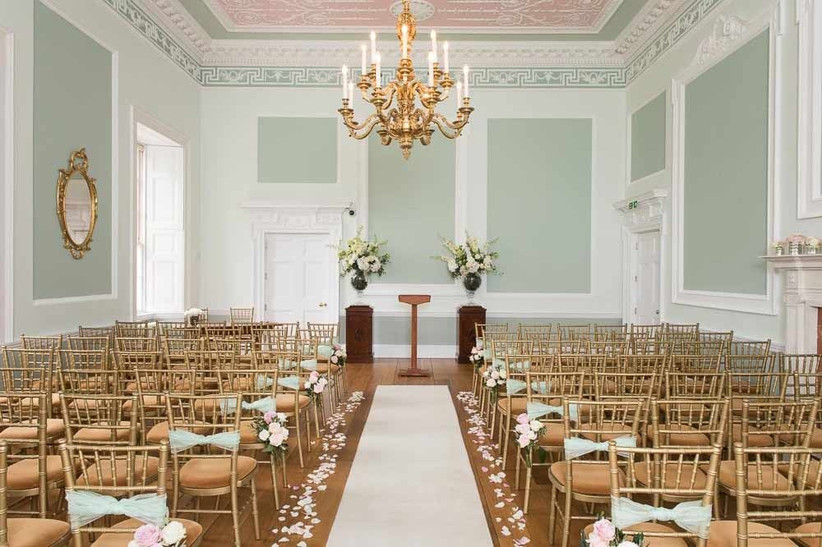 Image – Sonning Flowers
READ MORE: How to Plan a Wedding for £10,000
They suggest that this higher budget should allow for all the bridal party flowers including button holes and corsages for the men, floral centrepieces for your reception tables and one larger floral display or aisle decor.
£750 – £1,000
Upping the budget to almost £1,000, Rosie from Lavender and Rose explained that couples can really start to think about venue décor as well as bouquets and bridal party accessories.
READ MORE: How to Plan a Wedding for £25,000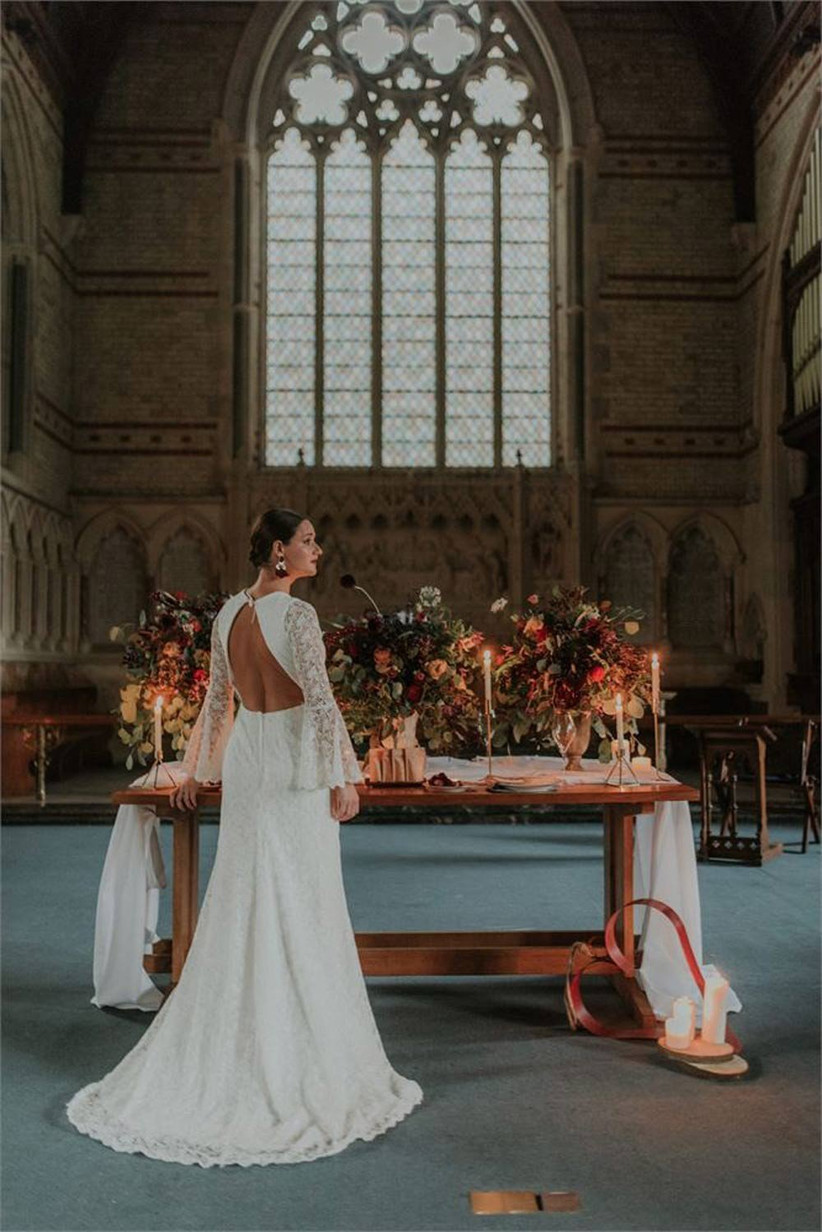 Image – Blooming Haus
"We'd include bridal and bridesmaid bouquets, button holes, corsages, table centrepieces, ceremony urns, bud vases and up to nine small hanging foliage hoops to decorate the venue with" she said.
Depending on the flowers you choose, £1,000 should give you the opportunity to really get creative with your florist in creating some really beautiful displays.
£1,000 and Over
The team at Blooming Haus confirmed that for over £1,000 couples should expect something similar to the below: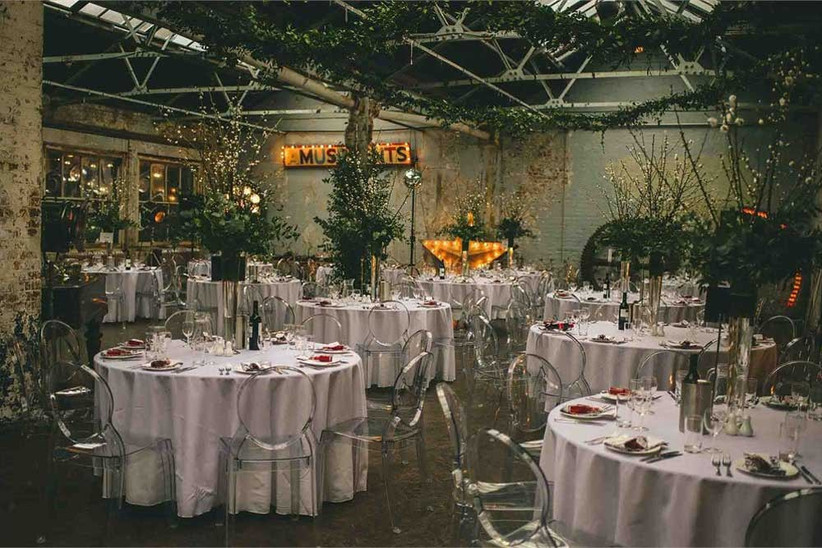 "Full design package including colour and flower research to match the couple's choice, consultation with the couple and at the venue, up to six hours of designing and a range of floral arrangements."
READ MORE: How to Plan a Wedding for £27,000
Charlotte from Herbert and Isles also added that for £1,000 and above, "couples should expect all of their bridal party bouquets and accessories, table designs, ceremony flowers and floral installations such as chandeliers, flower balls, garlands and archways.
"If your budget is endless, your list can be too!"
For more budget planning – be sure to check out our guide to wedding photography prices!