19 Things You Need to Know Before Your Hair And Makeup Trial
Wondering if you really need a wedding hair and makeup trial? We spoke to the experts to find out (spoiler: you do)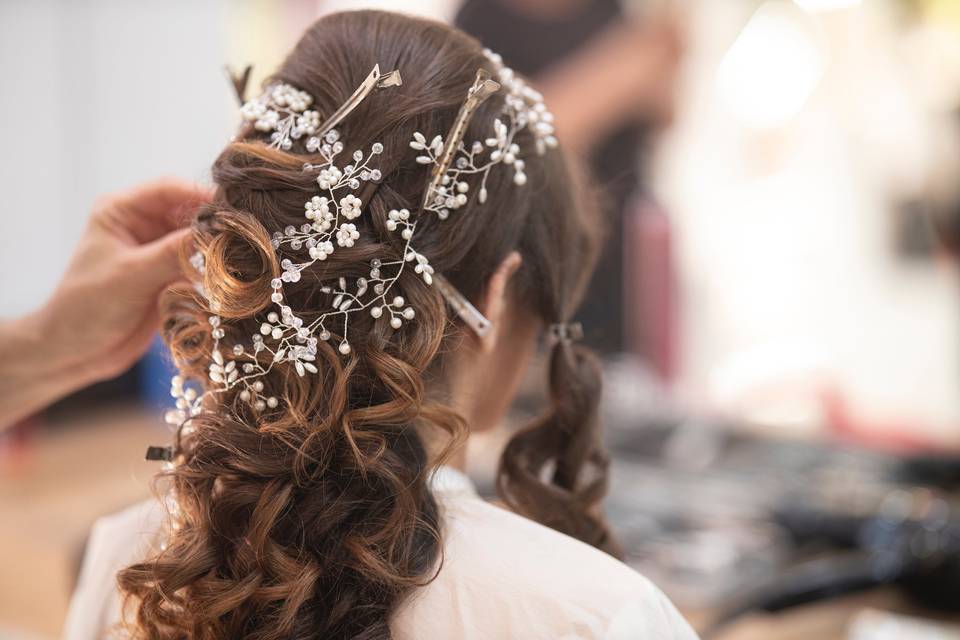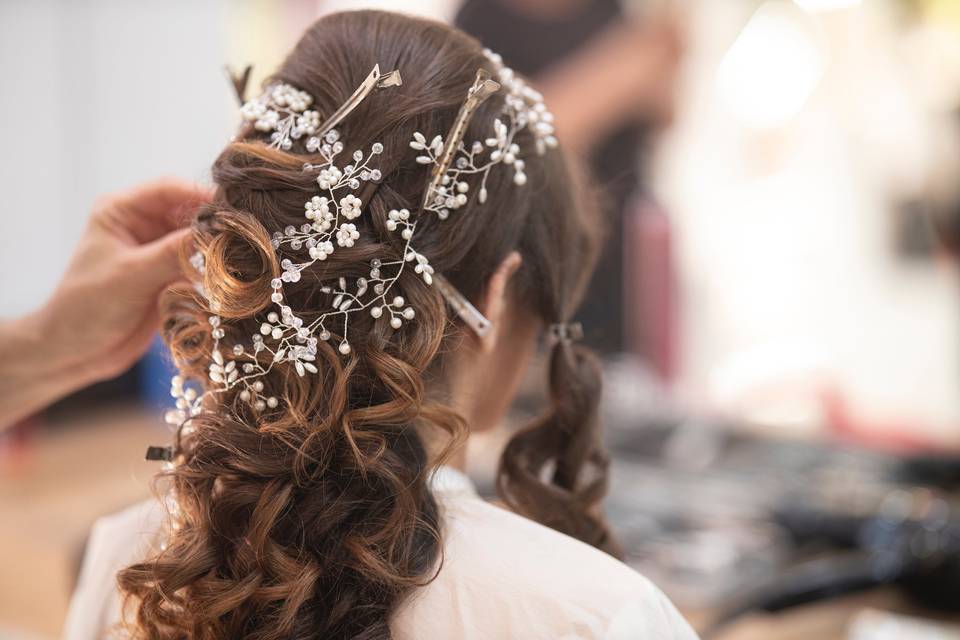 Not to be dramatic, but your wedding day hair and makeup is likely to be your most photographed look of all time. Which makes your wedding hair and makeup trial a key date in your wedding-planning diary.
You might be questioning if you need to book a wedding hair and makeup trial and wondering if it's an unnecessary expense. All the wedding hair and makeup pros we spoke to said yes, a trial is essential. Unless you're going for a very simple wedding hairstyle that you know works for you and lasts well in your hair (such as a bouncy blow dry), or you're doing your own makeup and painting your face the same way you do every day, a trial is essential.
Why Do I Need A Wedding Hair And Makeup Trial?
1. To Help You Decide On Your Wedding Hair And Makeup
If you've got a Pinterest board overflowing with hair and bridal makeup inspiration and you just can't decide between all the gorgeous looks, a trial will help you find the one that works for you.
Your hair stylist and makeup artist (MUA) will be able to advise which will work for you, which won't, how well the look will last and if it's achievable for you.
Once you've seen all the different looks on yourself, you'll have a much clearer idea of which suits you, plus your glam team will be able to let you know which will work with your dress.
2. To Help You Relax
Once you've had your hair and makeup trial, you'll feel much more relaxed, knowing you'll be happy with your look on the big day, confident that you'll be looking like your best self. "A trial takes off some pressure on the day, wondering if you'll like your look," agrees wedding hair and makeup specialist Claire Guy.
3. To Work Out The Timings Of Your Day
Knowing exactly how long your wedding hair and makeup will take allows you to plan your wedding morning. Allocating time for eating, showering, and photos with your wedding party will be much easier when you know how much of your morning will be taken up in the glam hot seat.
4. To Check If The Look Lasts
There's nothing more annoying than your hair dropping half way through the day, or your foundation disappearing into nothing. Having a trial allows you to see how both elements last to ensure you'll look as picture perfect at the end of the night as you did walking down the aisle.
5. To See If You Gel With Your Glam Team
Given that you'll be spending one of the most memorable mornings of your life with your MUA and hair stylist, it pays to make sure you get on well.
"Your trial is a great way to get to know your artist and for us to get to know you," agrees bridal hair and makeup specialist Sarah Nicholls. "It also helps you feel more comfortable on the day," she adds.
Your glam team will of course be totally professional, but it's still great to check you feel comfortable with them. On that note, if you're shy around new people, meeting a new person before the wedding day is another way to ease big day nerves.
When Should I Book My Wedding Hair And Makeup Trial?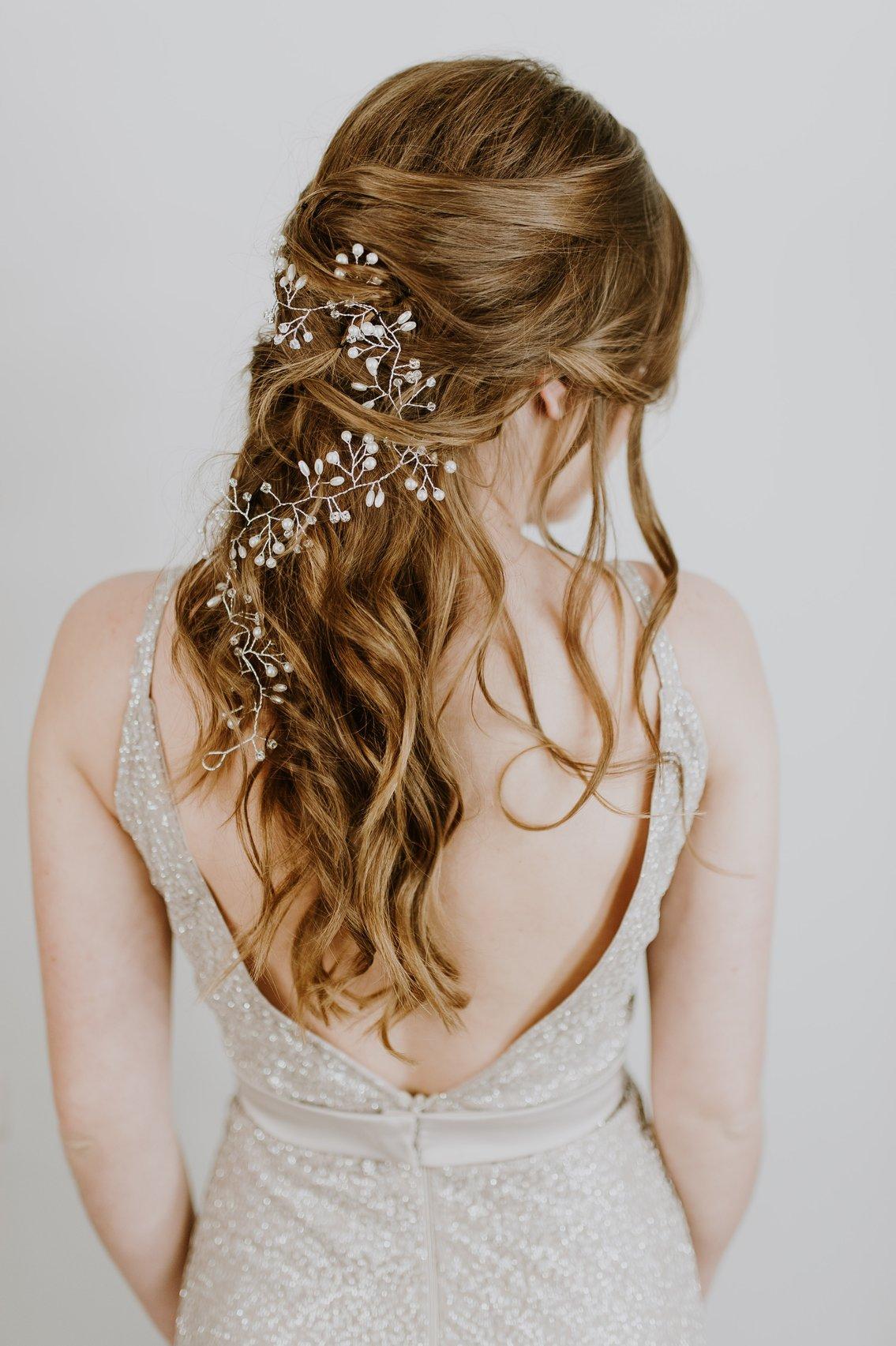 Clare recommends having your hair trial two to four months before your wedding day (see our wedding planning timeline here), or closer to the date if you need to grow your hair to get the style that you're after. Book your makeup trial for the same day as your hair trial if possible, that way you can see how the whole look works together.
Two to four months is also a good amount of time if you're not happy and need to go back to the beauty drawing board.
We suggest waiting until you have your wedding dress decided for your trials, as this will likely dictate if you go for hair up or hair down and the kind of makeup look you plump for.
Accessories are crucial in deciding your hair look too - if you've always had your heart set on a tiara or flower crown, make this known to your stylist so they can ensure it works with your style of choice.
As for timings, we'd recommend booking your trial first thing in the morning, so you can see if it lasts all day. Better still, book it on the day of another event (your hen do, for example) to see if it can stand up to partying.
How Much Does A Wedding Hair And Makeup Trial Cost?
Be prepared that your wedding hair and makeup trial will likely cost as much as your actual wedding day appointment. It's the same amount of time and work for your stylist, even though it's just a practice run for you. It might even be more work for them, as you might try several different looks.
Some stylists and MUAs include the trial as part of the package, so check if this is the case with your chosen professional.
"While wedding hair and makeup may seem expensive, not only are you paying for your stylist's expertise but you are also paying for professional products, tax, national insurance and administration," says Claire.
Should I Tip At My Wedding Hair and Makeup Trial?
This one is up to you. We understand you might feel awkward about not tipping, knowing this person is going to be with you on the wedding morning and this could impact their opinion of you, but don't fret.
"Tips are always nice and appreciated but never expected," says Claire. "It's completely up to the individual. The service should be the same regardless of whether you tip or not," she reassures.
How Long Will My Hair And Makeup Trial Take?
Set aside a couple of hours for your trial. "I allow two hours," confirms Claire. "It doesn't often take that long but I wouldn't want anyone to feel rushed."
Allowing extra time means you can try a variety of looks if one doesn't suit.
How To Prepare For Your Wedding Hair And Makeup Trial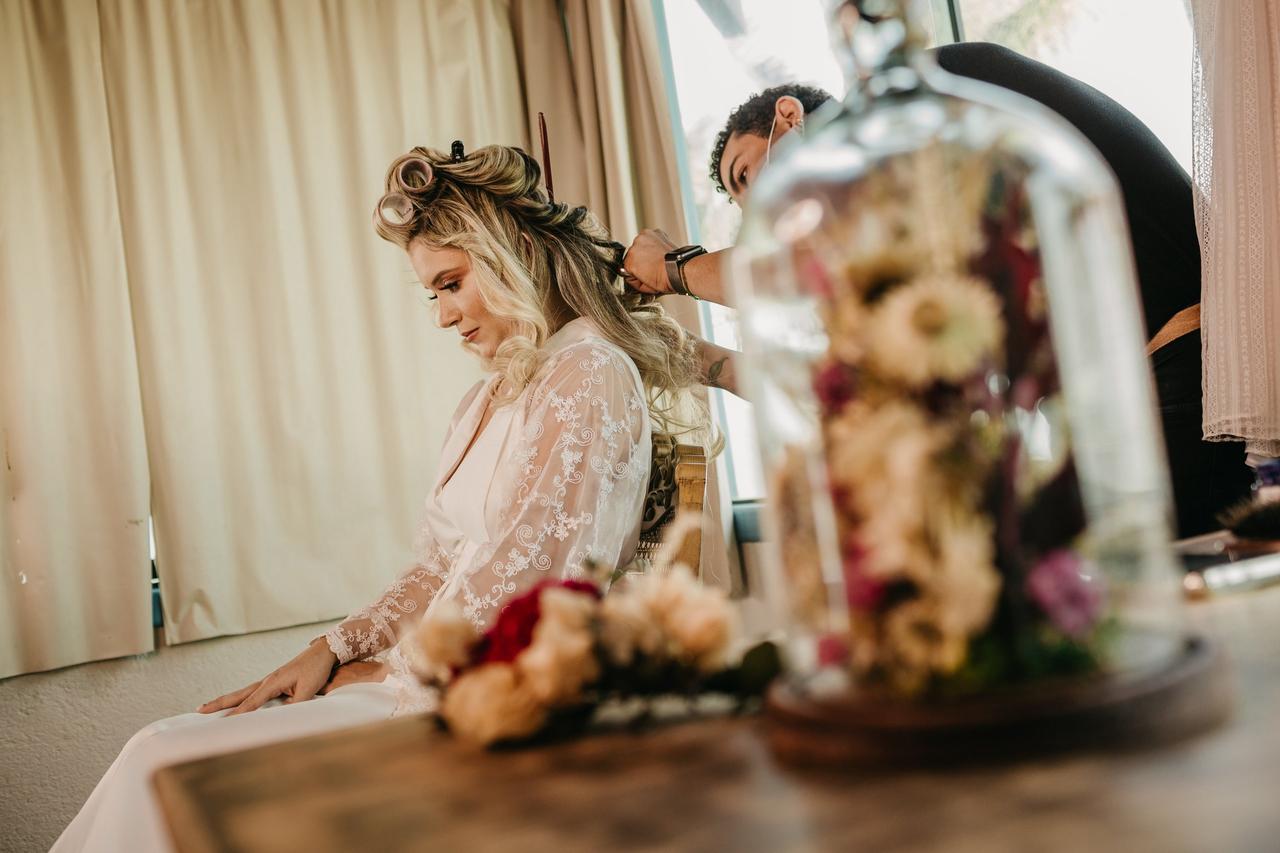 1. Do Your Research
Arrive at your trial with at least five different ideas for hair and makeup that you can show your MUA and hair stylist. A variety of looks will help your glam squad visualise the look you're after. You may not look exactly like the photos, but it acts as solid inspiration.
"Look at the social media accounts and website of your bridal hairstylist and makeup artist before your trial," says Claire. "This way you know the skill set of your team and that your desired look can actually be done by them.
"Another tip is to look for pictures of hair in a similar colour to yours. Braids will often show more in blonde hair than in darker hair tones, however accessories tend to stand out more in darker hair," Claire advises.
2. Watch The Clock
As noted, time how long your chosen look takes so you can plan your wedding morning prep.
3. Come Prepared
If you're not having both the trials on the same day, try and recreate your wedding makeup for your hair trial, and your wedding hair for your makeup trial, so you can see how the whole look comes together
4. Have Your Colour Done Before Your Hair Trial
If your roots need a touch up or you're planning on having some fresh highlights put through your hair, do this before your trial. The colour of your hair can make a big difference to how your choice of style looks. Having your hair coloured in advance of your hair trial will show you exactly how it's going to look.
5. Apply Self Tan
Of the same token, if you're planning on being a bronzed goddess (naturally, or by way of a spray tan), self-tan before your makeup trial to make sure the makeup your MUA applies works with a tan. A highlighter that looks fab on alabaster skin might be too stark on a deeper skin tone.
6. Take Plenty Of Photos
You'll look so lovely you'll want to take dozens of selfies - and there's a good reason to. Photos from every angle, in all different lights will show you how your look photographs and what your hair looks like from the back and sides too. An essential, don't you know?
7. Take A Photo Of Your Wedding Dress With You
Claire advises taking a photo of your dress to your beauty trials so your glam team know what they're working with. ​​
8. Wash Your Hair The Day Before
"It is preferable for you to wash and dry your hair the day before the trial rather than on the day of the trial as freshly washed hair can sometimes be too silky," advises Sarah Nicholls.
What To Do If You're Not Happy After Your Wedding Beauty Trial
It's not nice to think you might have a bad experience at your beauty trial, but don't be discouraged if you end up less than happy with your look – the point of a trial is to test everything out.
Ideally you should broach any misgivings in person, at the time of the trial so you can iron things out. But if that makes you uncomfortable, send an email giving very specific details about what you're unhappy with, as soon as possible after the trial and rebook another trial
Be honest and open, and don't worry about letting your glam squad know that your look is not as you'd originally hoped for. They're professionals and won't be offended.
If you feel you and your stylist or makeup artist won't be able to find the right look for you, let them know, firmly and politely as soon as possible, though be prepared this might forfeit any deposit you've paid.
Overall the trial should be a nerve-easing, exciting and positive experience - so enjoy every minute and treat it like a serious self-care session during a somewhat stressful time.
Still undecided on your bridal beauty look? Browse our round up of the best half up half down wedding hairstyles to inspire you!