22 Large Wedding Venues with Space for 200 to 2,000 Guests
Whether you're inviting 200 or 2,000 guests, these large wedding venues are sure to give you what you're looking for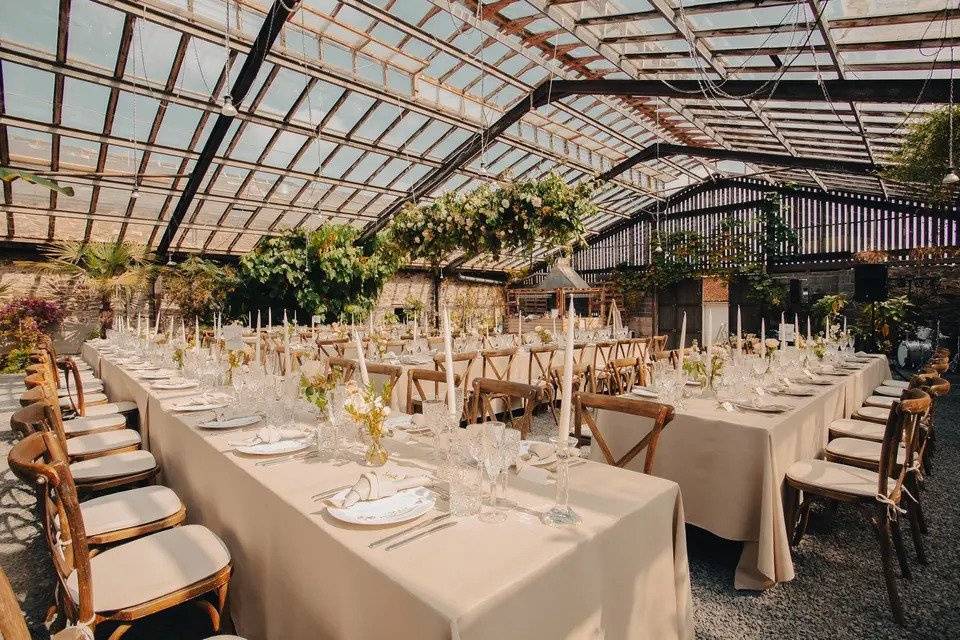 Whether you're super popular, have a massive family or just can't bear the thought of crossing any names off your guest list, we have a list of amazing large wedding venues that could be perfect for your big day.
As well as a seriously stunning setting, there are lots of important factors to take into account when it comes to choosing big wedding venues. From checking the on-site parking and ensuring there's good transport links, to booking a wedding venue with accommodation for your guests and factoring in corkage fees, capacity is one thing you can cross off your wedding checklist now after reading this.
If you've been searching large wedding venues near me and not had much luck with the results, fear not, as we're on hand to help. Our roundup includes large luxury wedding venues worth splashing out on, as well as ones with great deals and packages, so there is something for every size of wedding budget.
Large Wedding Venues For All Your Family & Friends
Regardless of whether you have hundreds or thousands on your wedding guest list, you'll be able to host all of your friends and family in one of these beautiful, large capacity wedding venues in the UK. And if you're in a hurry, skip to the capacity that best matches
Large Wedding Venues For 500 Guests or More
Couples looking for large wedding venues for 500 guests or more will love these show-stopping selections. In this case, bigger is definitely better as some of these exclusive spots can host weddings of up to 1,000!
1. Titanic Hotel Liverpool - Liverpool, Merseyside
Located on Stanley Dock in Liverpool, couples who are looking for an industrial style wedding venue should look no further than the Titanic Hotel, because large luxury wedding venues like this don't come around all too often.
Formerly a 1950s warehouse, the building has been renovated to a gold standard, boasting 153 guest rooms, a restaurant and the Maya Blue Wellness Spa. The property is licenced for civil ceremonies and couples can make use of spaces such as West Bay or the intimate Titanic Staircase to tie the knot.
This large wedding reception venue accommodates up to 500 seated guests. Wedding parties dining in the Rum Warehouse can expect steel pillars, exposed brick ceilings and floor-to-ceiling windows which will provide stunning views across the Stanley Dock.
Capacity: Up to 500
Pricing: From £9,740
2. Victoria Warehouse - Manchester, Greater Manchester
There's no shortage of wedding venues in Manchester, but one that really stands out is Victoria Warehouse. The industrial yet totally romantic ambience within the venue is just mind-blowing and you can host your wedding here with as many as 1,000 guests on your invite list.
There are a number of spaces available to hire, from The Bays and The Archives to The Cellars and The Cotton Sheds - all completely versatile to fit with any theme you're planning.
The Victoria Warehouse team host only one event per day, so you can be guaranteed that you'll have their full devotion during your celebration. As far as large wedding venues go, they don't come much bigger than this place which can house up to 1,000 guests!
Capacity: Up to 1,000
Pricing: Menus from £60
3. Radisson Blu Perth - Scone, Perthshire
When we say Radisson Blu Perth is able to accommodate for large weddings, we mean it, as this place is another one of those large wedding venues that can host up to 1,000 guests.
This beautiful wedding venue located in Perth boasts the largest function room in this part of Scotland, hosting enormous celebrations in their Ballroom.
Set amongst three acres of gorgeous gardens and just mere moments away from the town centre, a coach and a railway station, there are so many easy transport links for your guests, no matter where it is they are travelling from.
With plenty of space for seated guests, dance floors, live music, photographs and dining, you won't want to miss out on this beautiful Scottish wedding venue.
Capacity: Up to 1,000
Pricing: Menus from £50
Deals: This large capacity wedding venue has a permanent promotion offering couples a 3% discount on all bookings through Hitched.
4. Kensington Palace - West London, Greater London
If you're keen on browsing large wedding venues that are fit for royalty, be sure to check out the famous Kensington Palace. There's so much on offer here - the rich history of the venue and spectacular infrastructure are just two of the many selling points here.
Kensington Palace can host weddings with up to 800 guests and has a real timeless and elegant feel to it. The happy couple have a choice of spaces where they can say their vows, including The Entrance Hall and The King's Gallery. What else would you expect from a property that's been home to royalty both past and present!
If you decide to opt for a wedding in the warmer months at this venue, you and your guests can make full use of Kensington Palace's beautiful and lush gardens. Be sure to book early, as this is one of the most exclusive wedding venues in London.
Capacity: Up to 800
Pricing: £POA
5. Old Thorns Manor Hotel, Golf & Country Estate - Liphook, Hampshire
When choosing large wedding venues, it's important to think about accommodation too, and the Old Thorns Manor Hotel, Golf & Country Estate has this detail all figured out. There are 150 hotel rooms, 10 glamping eco pods and 51 self-catering apartments available, more than enough rooms for everyone to stay the night.
As for the wedding day facilities, there are a number of function rooms at Old Thorns Manor, boasting magnificent views across the South Downs National Park. We also love the idea of an alfresco ceremony with 400 loved ones in the Walled Garden - while those looking for large wedding venues for 500 guests can look to the Ballroom which can seat that number of guests comfortably.
A variety of wedding packages are available to purchase here, each one designed by the expert on-site team, who will also help to tailor and curate elements of your day to your unique tastes.
Capacity: Up to 500
Pricing: £POA
6. Sandon Hall - Stafford, Staffordshire
A once-in-a-lifetime wedding requires once-in-a-lifetime large luxury wedding venues, and we reckon Sandon Hall could be the one for you. This neo-Jacobean mansion can be found in the middle of the beautiful Staffordshire countryside and is available for you to hire exclusively to celebrate with your loved ones.
Both civil and religious ceremonies are catered for here, with the Library and Temple Garden hosting non-religious ceremonies, and a Grade II listed chapel is only a short drive away for religious vows and celebrations. No matter your type of ceremony, be sure to head out to the property's 50 acre grounds to take some luscious wedding photos.
Another huge benefit is this venue's easy access to the M1 and M6, meaning that it's ultra-convenient for wedding guests to get to, no matter where they're coming from.
Capacity: Up to 1,000
Pricing: From £4,500
7. Christ Church Spitalfields - East London, Greater London
Located in the midst of East London's hustle and bustle is the incredible Spitalfields Venue. This totally breath-taking building is dressed head-to-toe in the most beautiful architecture and has a sought after London location that makes guest commutes so easy.
The large wedding venue holds parties of up to 600 guests with ease and is the perfect location for a big celebration. Oak panels and detailed chandeliers give the space a warm and regal feel, and the Baroque backdrop is perfect for dining in style.
The stunning Hawksmoor designed Church is the perfect backdrop for your wedding breakfast, before you and your guests make your way to the vaulted Crypt for an evening full of dancing.
Capacity: Up to 600
Pricing: From £12,000
Large Wedding Venues For 400 Guests
Planning a wedding for up to 400 wedding guests? Fear not, we've found large capacity wedding venues in the UK which can accommodate for 400+ guests - and it's not just their big rooms which will impress you...
8. The Natural History Museum - West London, Greater London
Loved by tourists and Londoners alike, the Natural History Museum is the ideal unusual wedding venue, and a very large one at that! Although its maximum capacity for weddings is 1,000, their iconic Hintze Hall can accommodate 450 of your nearest and dearest comfortably.
At this museum wedding venue, you'll find 12 separate galleries licensed for civil ceremonies. The Hintze Hall is the venue's largest space, with the museum's dramatic entrance forming the backdrop of all your ceremony pictures. From here, you can move to the Fossil Room for your reception drinks while your evening guests arrive.
The Natural History Museum hosts up to 150 events per year, so you can be sure that the resident events team knows what they're doing. You'll also gain access to an expert network of suppliers recommended by the museum.
There are plenty of large wedding venues in London, but this one is guaranteed to make your wedding day one to remember.
Capacity: Up to 1,000 (450 indoors)
Pricing: From £13,000
9. The Old Course Hotel - St. Andrew's, Fife and Angus
Large wedding venues rarely come more grand than this. Overlooking the Swilcan Bridge and the West Sands beach, The Old Course Hotel is one of the most romantic wedding venues in Scotland. Prepare to work with a team of expert wedding planners who will be on hand to help you design every aspect of your perfect day.
The Hall of Champions can seat up to 450 guests at this large capacity wedding venue, making it perfect for your ceremony and later on in the day when you'll need the space for dancing. Moreover, if you're a golf lover this sporting wedding venue is home to a world renowned course so it would be a crime not to play a few rounds before the big day.
If golf isn't your thing, head over to the Kohler Waters Spa complete with a swimming pool, thermal suite, rooftop hot tub and beauty room - there truly is something for everyone.
Capacity: Up to 450
Pricing: Menus from £150
10. Vale Resort - Hensol, Vale of Glamorgan
If you're after large capacity wedding venues in Wales, the Vale Resort is a stunning setting, able to host celebrations of up to 400 guests. This gorgeous venue will give your day a sense of timeless charm combined with modern luxury, ideal for all tastes.
Located in the Welsh countryside and just a short drive from Cardiff city centre, the four-star luxury resort has so much to offer, from landscaped gardens ideal for photographs to an impressive 143 bedrooms for overnight accommodation.
You'll even have a dedicated team of wedding co-ordinators on hand to help you with your wedding plans from start to finish which will be a blessing with a large guest list - trust us.
Capacity: Up to 400
Pricing: £POA
11. The Glasshouse at ANRAN: Luxury Boutique Venue – Ashburton, Devon
The Glasshouse at ANRAN is one of those gorgeous large wedding venues with a difference, making this a great venue to choose if you want a memorable day for you and your loved ones.
The options of how to have your wedding day are endless here, whether you go for cocktails at the lake, a wedding breakfast in The Glass House or a hog roast in the Hay Barn. If your guest list is on the larger side, try trailing a long table and chairs along the lake so you and your friends and family can enjoy alfresco dining in the warmer months.
Plus, if the weather takes a turn you can continue the celebrations in their marquee, which can host up to 400 people.
Capacity: Up to 400
Pricing: From £14,000
12. Bristol Harbour Hotel – Clifton, Bristol
The Bristol Harbour Hotel is a truly spectacular wedding venue licensed for marriage ceremonies of up to 400 people. Here you can enjoy the beautiful décor and take some truly stunning wedding photos.
You can choose to enjoy the whole day at the hotel, or opt to hold only parts of your day here - but with a private bar, dance floor, and state-of-the-art spa on site we don't know why you'd want to go anywhere else. It's truly one of those large luxury wedding venues that'll have every one of your guests feeling like a VIP.
The impressive architecture is one of the most unique and impressive features about the building. The hotel was designed by architect William Bruce Gingell, who was said to have been inspired by Sansovino's 16th century venetian Library. All you'll have to do is look up at the wonderfully intricate ceilings to see why.
Capacity: Up to 400
Pricing: Menus from £65
13. One Great George Street - South West London
Large wedding venues in London don't come much fancier than One Great George Street.
With a capacity of up to 400 guests, you and your partner can enjoy the most lavish of celebrations without having to worry about cutting back on the guest list.
The tall, mesmerising ceilings are breath-taking and are guaranteed to impress your guests on the day. The lavish décor continues through to each room, with chandeliers, gold accents and grand architecture everywhere you look.
Capacity: Up to 400
Pricing: From £20,000
Large Wedding Venues For 300 Guests
Couples looking for large wedding venues for 300 guests will adore these picks. They are large enough to host your lavish celebrations, but won't have the room feeling empty like a wedding venue for 1,000 guests might.
14. Blenheim Palace - Woodstock, Oxfordshire
Located in the exquisitely beautiful Oxfordshire countryside is Blenheim Palace, a large capacity wedding venue which is guaranteed to blow you away. From the grand exterior to the 2,000 acres of picturesque landscape, there is very little this venue can't offer you.
The Great Hall, Saloon & Long Library package is great for weddings of up to 300 people, but if you want a larger guest list there's enough room for a marquee in the gorgeous grounds which can accommodate weddings of up to 2,000 people.
If you want to combine practicalities with character, large wedding venues like this can kill two birds with one stone. Steeped in history and able to accommodate large weddings, this place does it all!
Capacity: Up to 2,000 (300 indoors)
Pricing: From £5,000
15. Worton Hall - Oxfordshire
There aren't many large wedding venues in the UK which have as much charm and warmth as Worton Hall in Oxfordshire.
This Cotswolds wedding venue is every bit magical as it is stylish, and can accommodate weddings of 60, up to just under 300.
No matter the size of your nuptials, one thing is guaranteed here, and that's the amazing food. From BBQ feasts to rustic banquets, no one will be left hungry or dissatisfied here.
Capacity: Up to 300
Pricing: From £2,750
16. Farnham Castle - Farnham, Surrey
Dating back to the 12th century, Farnham Castle is steeped in history and has been home to many a celebration so why not add your wedding day to the list? Surrounded by manicured gardens and scenic woodland, it's a really romantic venue choice for your celebration.
The large Surrey venue boasts five ceremony spaces, including two historic chapels and receptions take place in The Great Hall where you can celebrate with up to 300 guests in the evening. You'll also have a honeymoon suite for your first night as newlyweds, complete with a cosy refurbished fireplace.
Capacity: Up to 300 (250 day guests)
Pricing: Menus from £135
17. The Waldorf Hilton - Central London, Greater London
If you're obsessed with the idea of having a 1920s style wedding, consider the Waldorf Hilton as the stylish setting that will help you recreate the glamour of the jazz age at your wedding. One of the most iconic large wedding venues in London, this spot can host up to 360 guests for the sit down meal, and up to 500 guests for your evening reception.
You're guaranteed delicious food, fine wine and a stylish setting if you opt for a wedding here, offering a banquet of British European cuisine in the historic Palm Court. Not only that, but the Waldorf Hilton is located right in the heart of London's theatre district, making this one of the UK's most easily reachable wedding venues.
Capacity: Up to 360 (500 evening guests)
Pricing: Menus from £135
18. Froyle Park - Alton, Hampshire
Froyle Park is a gorgeous historic wedding venue set within 80 acres of picturesque parkland and boasts a history dating all the way back to 1086.
The Grand Ballroom can host up to 300 guests and there is no corkage fee, so it makes providing drink for so many people much more affordable. If you prefer a more intimate venue, then the Great Hall and Outdoor Dome are also available to tie the knot in, the latter of which comes with some pretty awesome views across the Hampshire countryside.
When it's time for dinner, you have the choice between dining on the team of in-house caterers' three and six course menus, or bringing in your own external caterers. If privacy is your thing, you can enjoy full exclusive hire of the venue all throughout your day.
Capacity: Up to 300
Pricing: From £5,000
Large Wedding Venues For 200 Guests
Speaking about wedding venues for 200 guests seems small having just discussed ones that host almost 1,000 guests, but these large capacity wedding venues have the perfect balance. They're large enough to host a wedding of a couple of hundred guests, but intimate enough to give that super special feeling as you walk in. Prepare to be wowed!
19. St Audries Park - Somerset
Large wedding venues with charm and character don't come around too often, which is why we'd recommend bagging a booking at St Audries Park in Somerset.
Nestled in the endless West Country countryside, this venue is surrounded by beauty, but the prettiness doesn't stop with the setting.
Indoors, there are many beautifully decorated rooms and spaces for you to celebrate in. And if you fancy some city celebrations before or after the wedding, Bristol isn't too far away.
Capacity: Up to 250
Pricing: Menus from £100
20. Kindred - West London
One of the most stylish large wedding venues in London - in our opinion - is Kindred.
This swanky venue has everything stylish and city-loving couples could need from a big wedding venue.
Inside, there are a plethora of spaces to celebrate in, from the elegant library room to the grand hall. The options are endless, and you and your guests can explore it all until 2am - we do love a late licence, and this is a real rarity in London.
Capacity: Up to 240
Pricing: Menus from £56
21. Danesfield House Hotel & Spa – Marlow, Buckinghamshire
Danesfield House Hotel and Spa is a magnificent stately home nestled in 65 acres of stunning grounds, and one of the most charming large wedding venues in the UK.
Here you'll find four beautiful rooms licensed for civil ceremonies on offer, and a marquee for wedding receptions of up to 200 guests, giving you the option to tailor your day to your tastes and preferences.
If you're planning a summer wedding, you can exchange vows on the site's beautiful grounds complete with botanical plants and stunning views of the Bucks countryside, before hosting a cocktail party on the lawn.
Marrying here means you'll get complimentary accommodation on the night of your wedding and a one month spa membership. What a lovely touch.
Capacity: Up to 200
Pricing: Menus from £149
22. Gosfield Hall - Gosfield, Essex
Fancy wedding in luxury outside of the city? If so, we recommend Gosfield Hall goes on your shortlist of large wedding venues.
This venue is located in Essex and has an interesting history, as it was a former Royal residence. Now, it's used for functions and show stopping wedding ceremonies.
If you like to make an entrance, then check out Queen Charlotte's Oak Panelled Gallery for a beautiful ceremony with an extra dramatic 120 foot long aisle. If you'd rather have a breath of fresh air, then there's also the option to tie the knot outside in the grounds.
Fun-filled receptions can take place in the resident ballroom, which can hold up to 250 merry makers. When all the dancing is done, you and your guests can catch some sleep in one of the 23 suites.
Capacity: Up to 250
Pricing: Menus from £100
How to Decorate a Large Wedding Venue?
Decorating a large capacity wedding venue can seem like a daunting task, however some quick tricks will help you feel less overwhelmed. Laura Horwell from large wedding venue Sandon Hall advises, "Using consistent colour, florals and dressing throughout the space and the whole event. This allows clients to create continuity and flow throughout the whole celebration."
How to Fill a Large Wedding Venue?
There are few things that look worse in a large function room than large empty spaces. In order to avoid this, Laura has some words of wisdom for nearlyweds, "Use the space wisely, don't push tables and chairs too closely together which allows for a much more comfortable experience. Also, we love florals and candles - it's the perfect way to keep a space fresh and light."
How to Make a Large Wedding Venue Feel Intimate?
Wondering how to make a large wedding look smaller?
We get it, sometimes, the bigger the space, the more impersonal it can feel. However, Laura reassures that this can easily be avoided. She says, "Include everyone! Our venue has the most beautiful staircase and we start off the wedding breakfast with the most fabulous entrance of our wedding couples.
"By choosing an upbeat song & asking everyone who can to be standing and cheering for our newlyweds, it really makes everyone a part of such a special moment on the day."
If you're keen to browse some more large venues near you, be sure to read through our list of castle wedding venues, all of which can accommodate a large guest list.