Your wedding dress will be one of the most important purchases of your life – but it doesn't have to be the most expensive.
Head to your local high street or pop online and you can find thousands of cheap wedding dresses that are a snip of the price of a boutique but look just as good.
We've rounded up our favourite 60 cheap wedding dresses from the high street and online boutiques. If you don't see your perfect dress here, then check out some of the brands we've included and we're sure you'll find one.
Phase Eight, & Other Stories, Zara and even H&M are all great places to start your high street hunt. ASOS, Chi Chi London and US brands like Reformation also have loads of choice.
You'll find shops like Selfridges and Matches Fashion also feature on this list. You might also be shocked to find that lots of designer dresses are well within your price range if you've a £750 budget to play with.
We'll split the dresses up by budget, so whether you've got £100 or £1,000, you'll find your dream high street wedding dress. Happy dress shopping!
The Best High Street Wedding Dresses Under £100
1. Pretty Lavish Keisha Cowl Neck Maxi Dress - £85, ASOS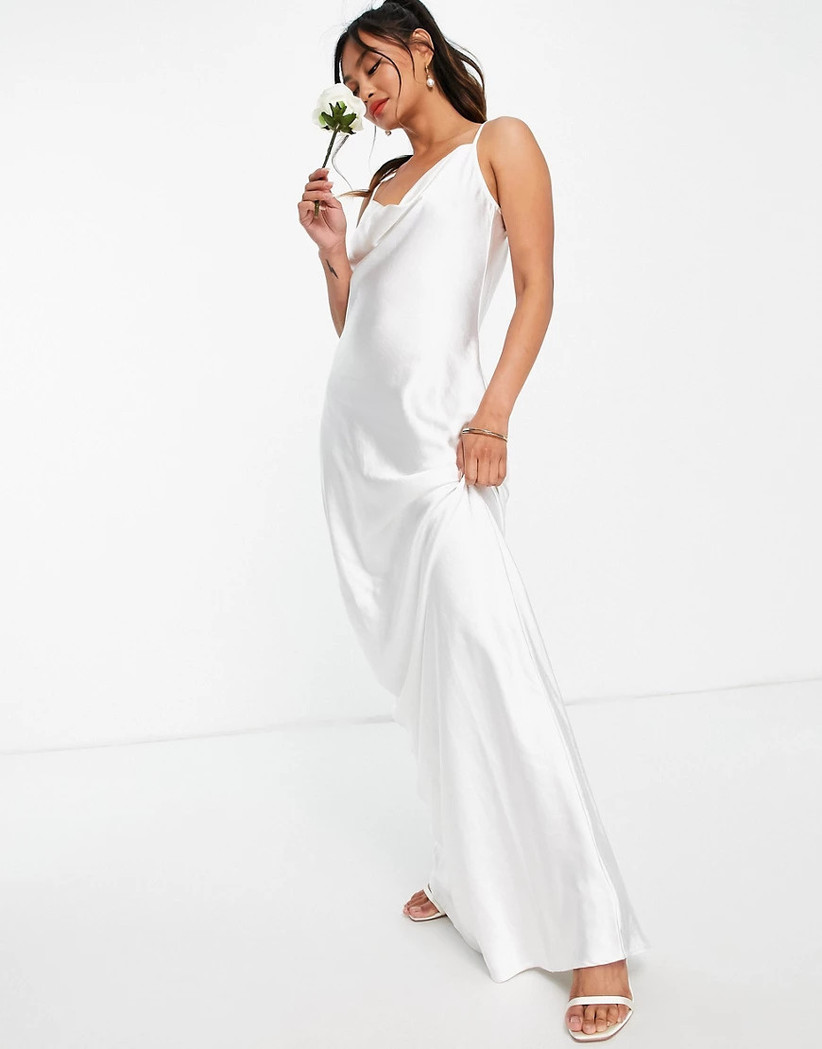 We can't quite believe that this gorgeous satin wedding dress from ASOS costs less than £100! It looks so expensive and your guests will never know that your wedding dress was such a bargain. Team this elegant slip dress with simple accessories for a modern, minimalistic bridal look.
2. Vila Bridal Lace Maxi Dress - £60, ASOS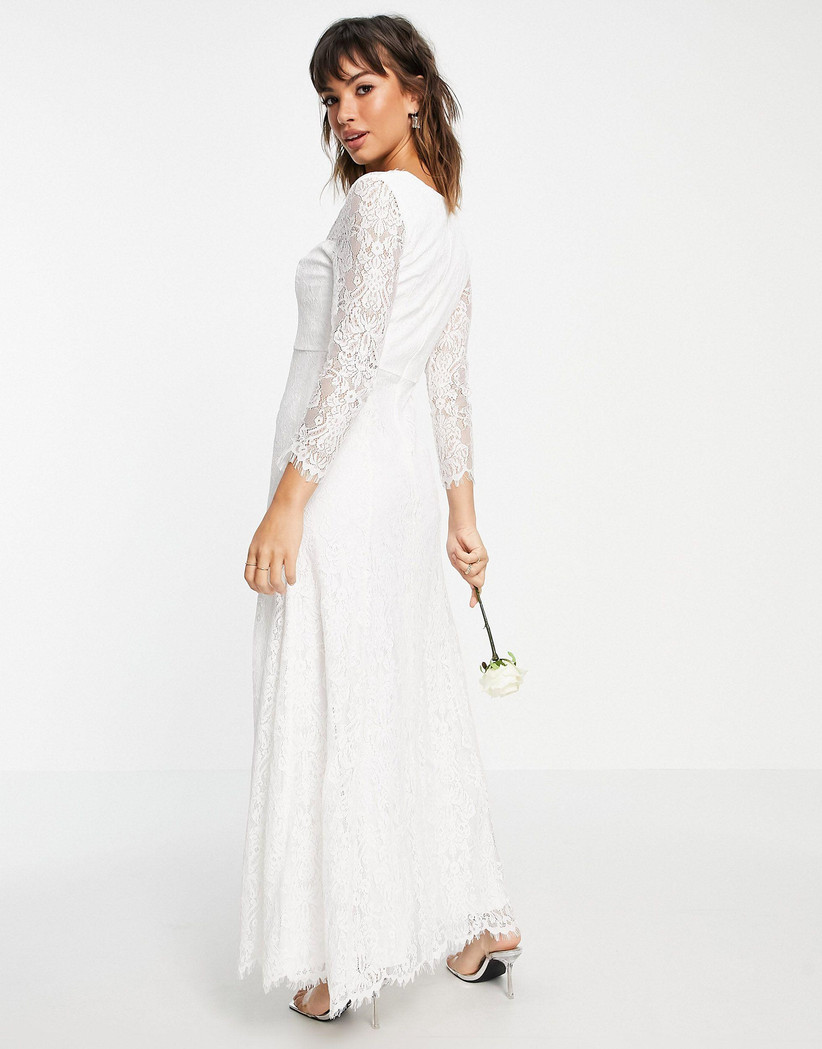 If you're after more a classic lace style, you can't beat the price of this £60 ASOS gown. Featuring all-over lace that starts at the pretty V-neck and leads down into sheer sleeves, this is a great choice for brides who are looking for a little bit of coverage and would really suit an autumn or winter wedding.
3. Silk Bridal Dress with Lace Trim – £99.99, Zara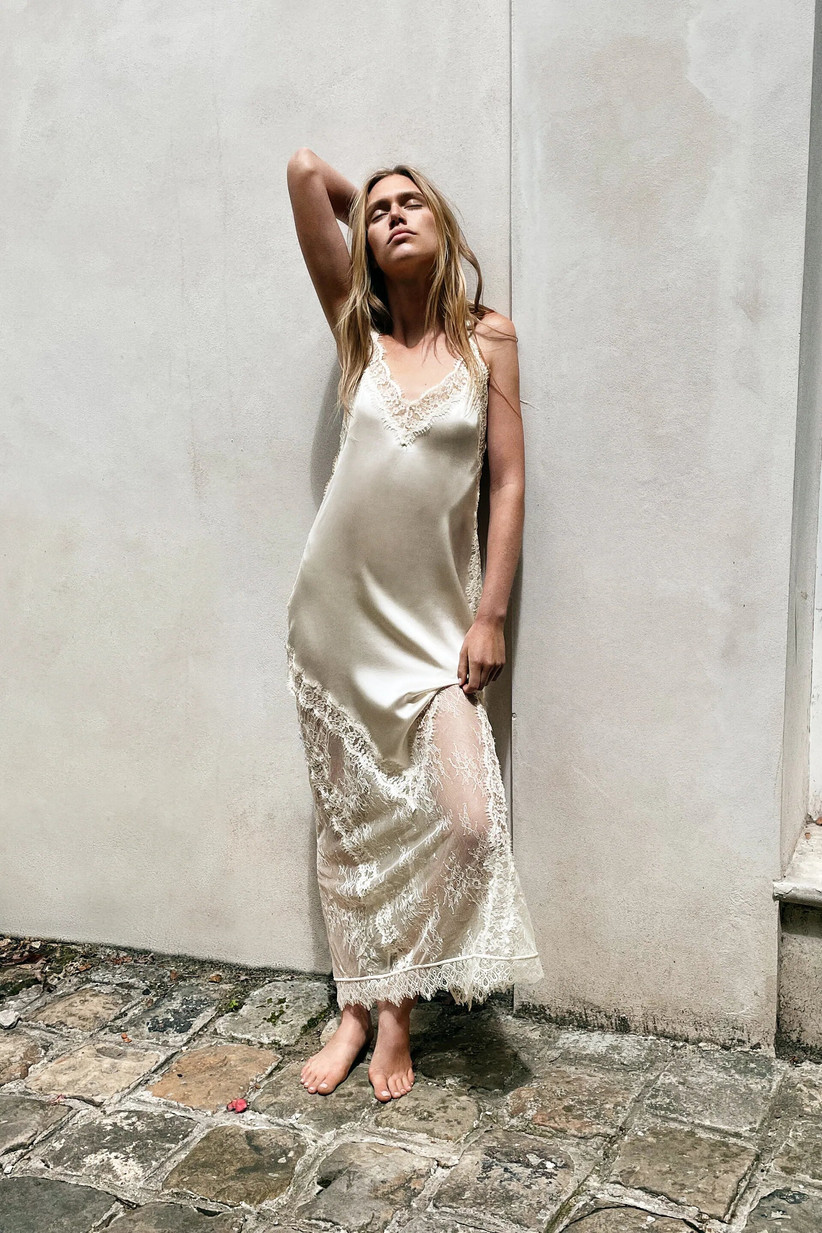 On the opposite end of the scale is this lacy, slip dress number from Zara which is for brides who don't mind all eyes on them! Zara have launched a bridal range consisting of lingerie, accessories and two incredibly beautiful wedding dresses. We love this relaxed, silk number for laid-back celebrations and, coming in at just under £100, it's a real winner.
4. Ruffled Side Slit Midi Dress – £95, & Other Stories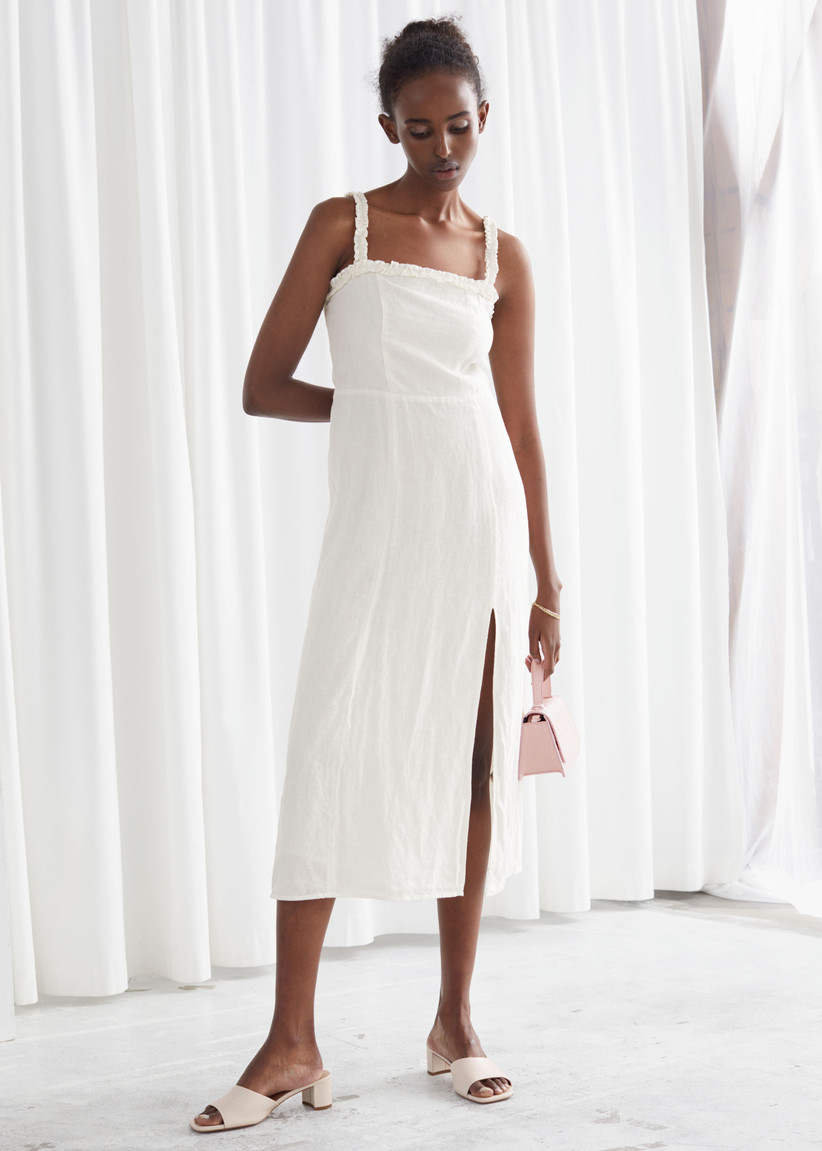 Calling all beach brides! This side slit midi dress from & Other Stories is the ideal gown for you. We love the on-trend square neck, the ruffled straps and how the fit of the gown is tailored yet relaxed.
READ MORE: The 10 Biggest Wedding Dress Trends for 2021
5. Anaya With Love Bardot Tulle Dress - £75, Next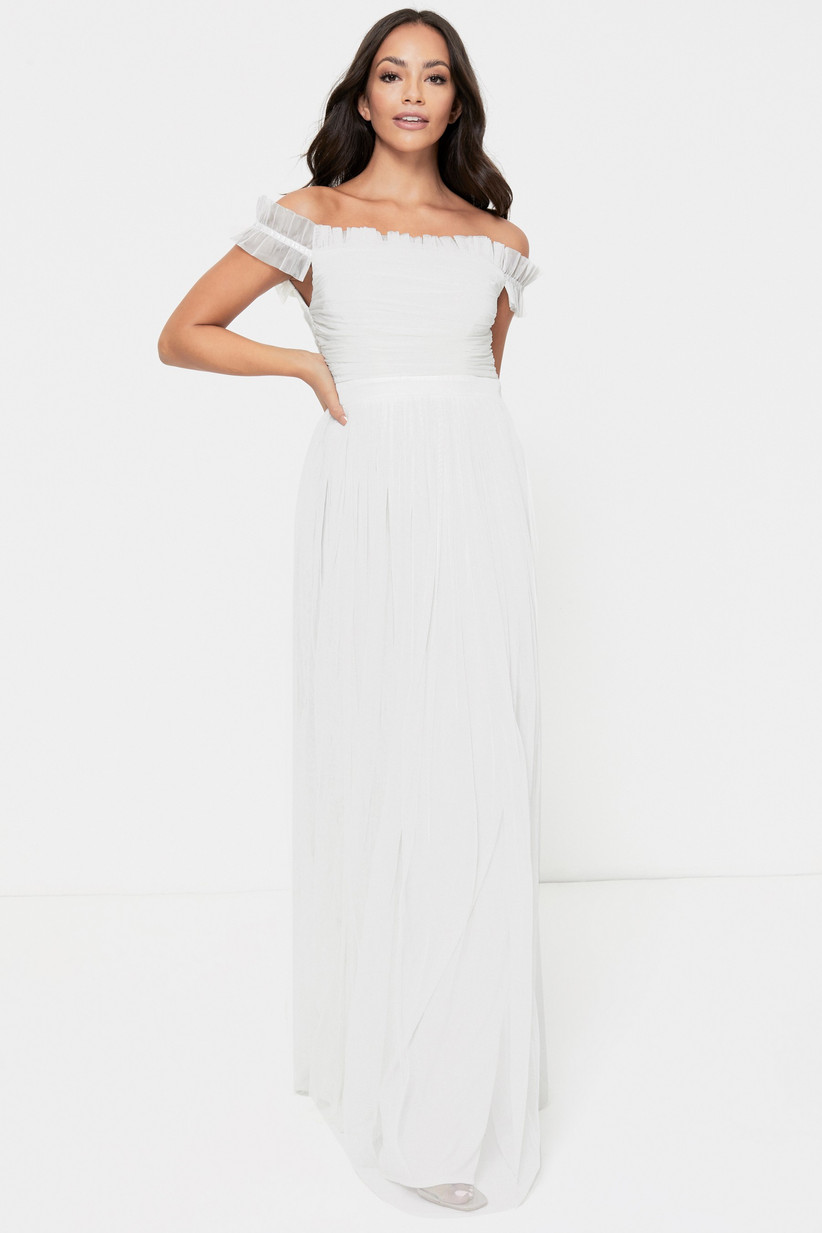 Anaya With Love, sister brand of occasionwear label Maya, have a gorgeous collection of tulle maxi dresses which will look truly spectacular on your wedding day. The Bardot dress is a bargain at only £75 - your guests won't know you nabbed this beauty for under £100!
6. Maya Scoop Back Satin Bridal Dress With Train - £85, Next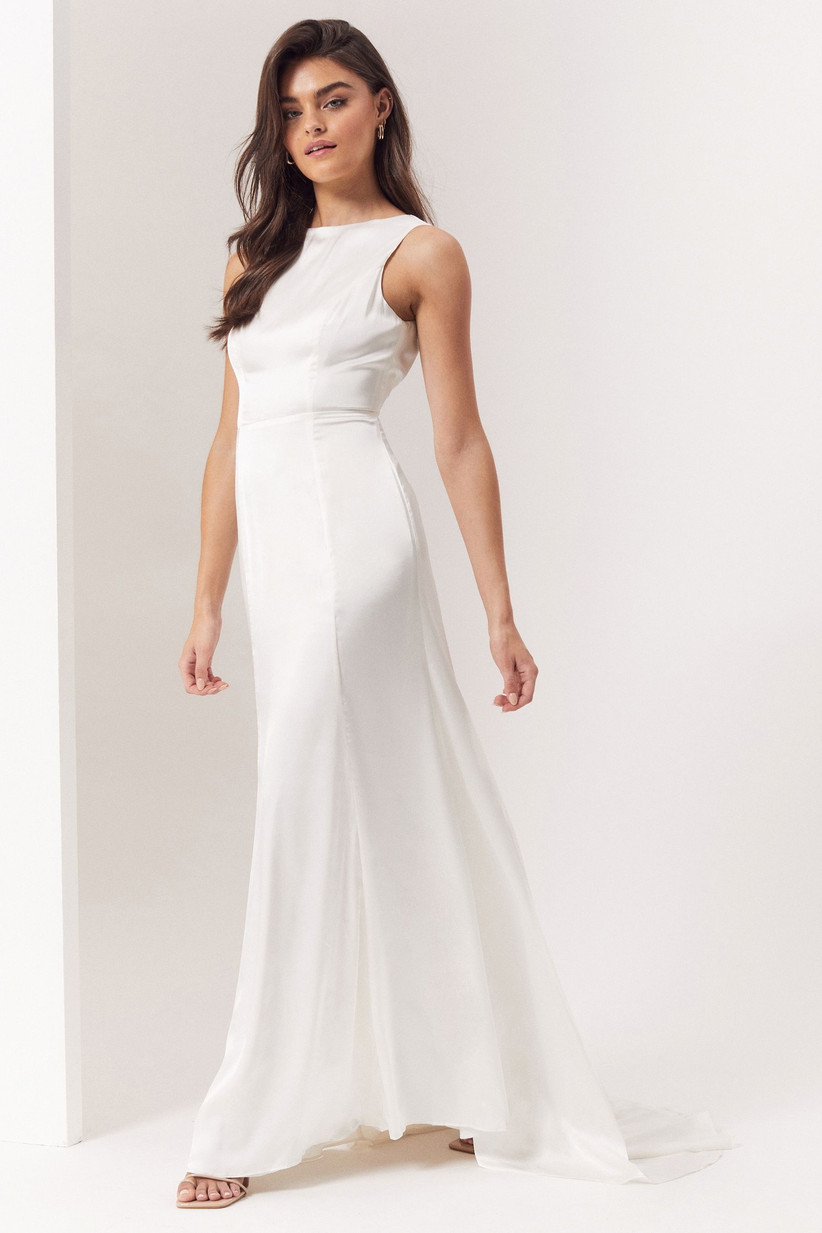 Speaking of Maya, you'll rarely find such a stunning dress with a train at this price point. This satin dress is clean and fresh from the front with a high neckline, but the back features a gorgeous scoop back which looks amazing with any up or down hairstyle.
7. Satin Dress – £49.99, H&M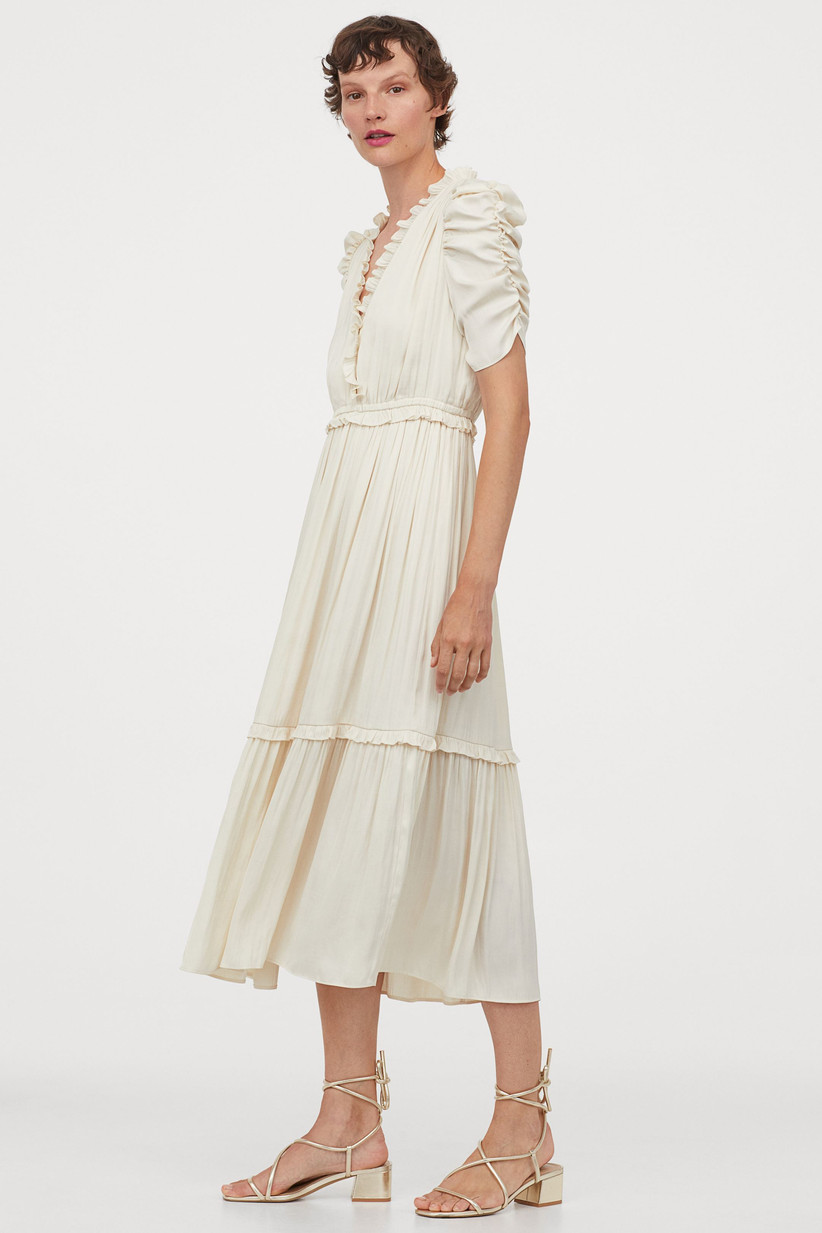 Whether you're getting married in a registry office or in your back garden, sometimes a casual wedding dress is just right. This frill-trimmed, tiered satin dress from H&M is the perfect pick for laidback nuptials and would look stunning with a simple wildflower bouquet.
8. Plunge Neckline Wedding Dress – £40, Boohoo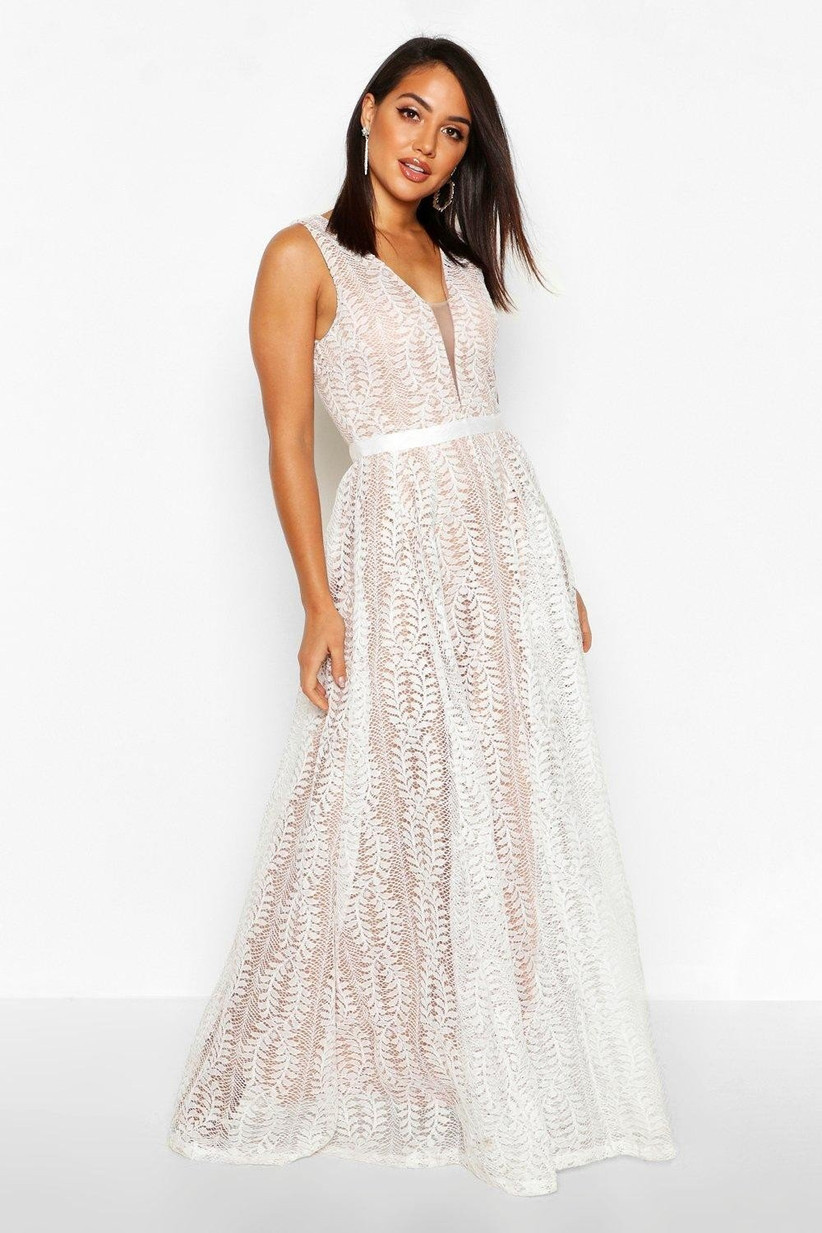 Priced at a modest £40, this plunging lace wedding dress from Boohoo is super stylish. The detailed fabric makes the dress feel much more expensive than it really is and you'll only need simple jewellery to complete this pretty bridal look.
9. Joanna Hope Dip Hem Lace Dress - £95, Marisota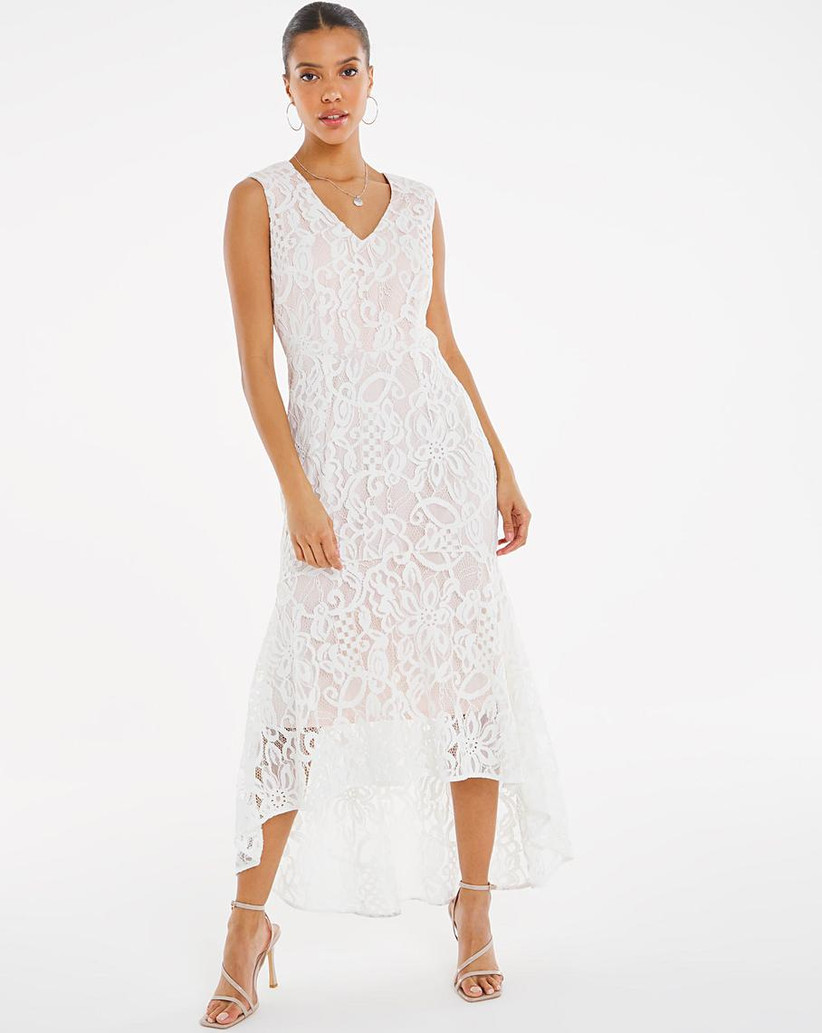 Chic and elegant, this corded lace dress looks infinitely more expensive than it is. We love this for warmer spring and summer days, thanks to the sleeveless silhouette and dipped hem. For brides who have sustainability on their mind, this is a dream dress to get dyed in the colour of choice afterwards and be able to wear time and again to remember your wedding day.
READ MORE:
30 Beach Wedding Dresses Perfect for a Destination Wedding
10. Lace Long Sleeve Midi Dress - £85, Chi Chi London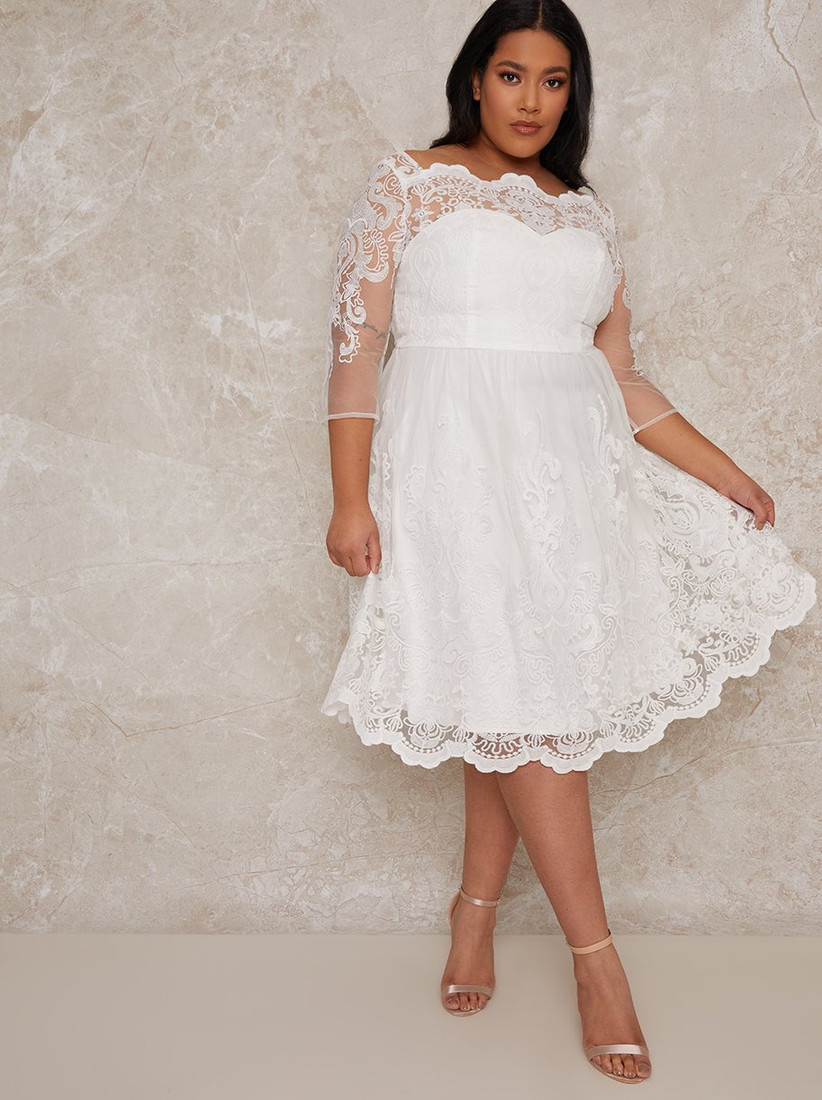 If you want a shorter dress, this lace Bardot dress is a total dream. The beautiful sweetheart neckline with sheer embroidered overlay makes it great for a civil ceremony where you want elegance and sophistication but also a slightly more informal look.
11. Asymmetric Bow Midi Dress - £90, Lavish Alice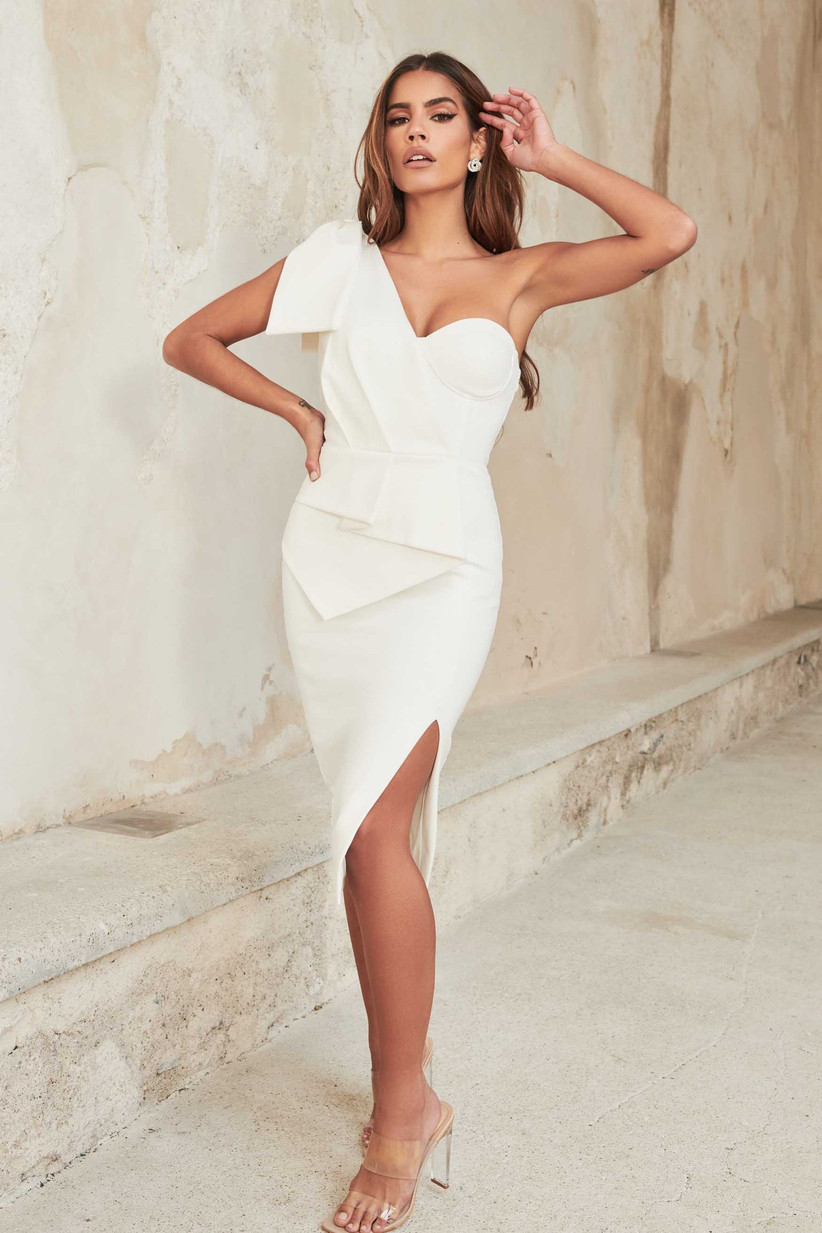 If something more architectural and statement is your style, you can't go wrong with this Lavish Alice dress. It brings glamour in the most contemporary way and features an on-trend bow at the shoulder. We can totally see it at a chic city wedding.
12. Pleated Cape Detail Maxi Dress - £40, Boohoo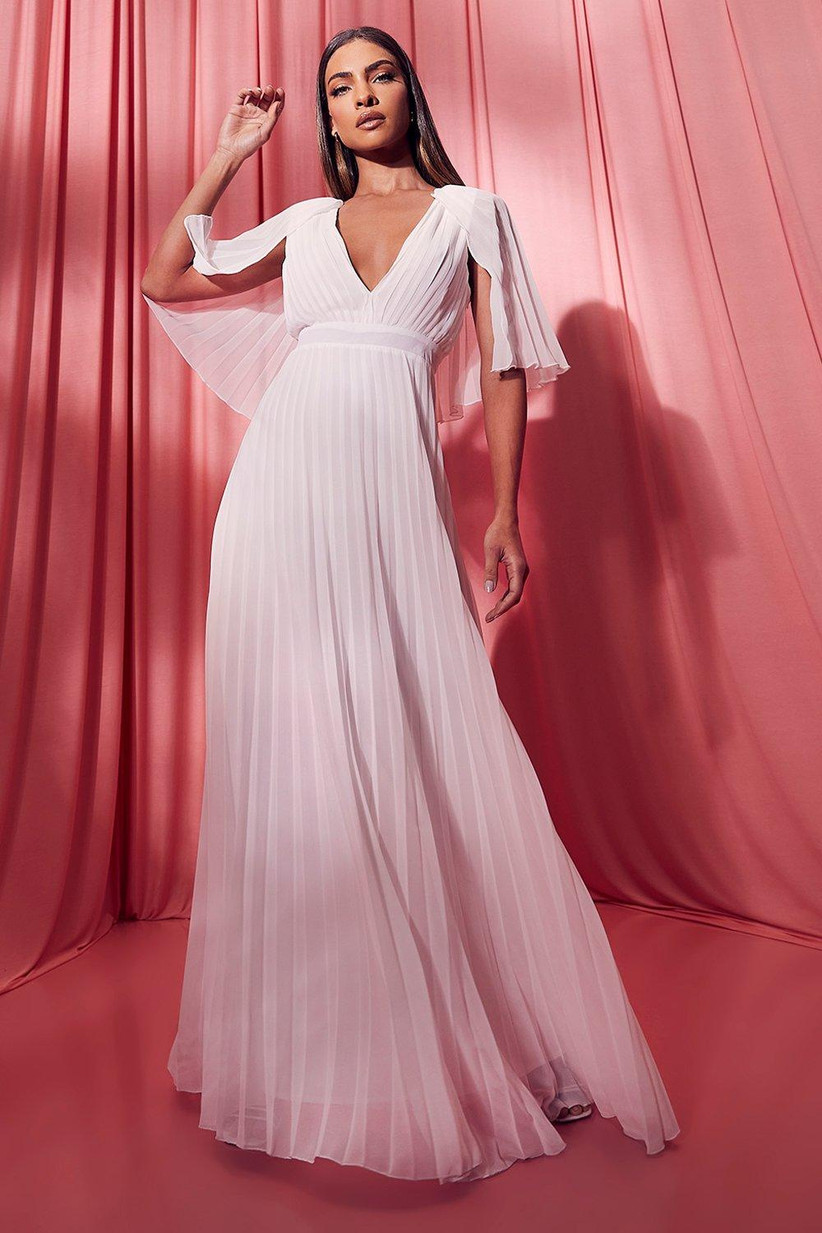 Don't be fooled by the pink backdrop, this dress is a soft ivory colour and is absolutely beautiful. With boho and Grecian vibes, this pleated, caped dress is for brides who want to make a real entrance and it would look perfect with a flower crown and a wildflower bouquet.
13. Vicarmela Maxi Dress - £74.99, Vila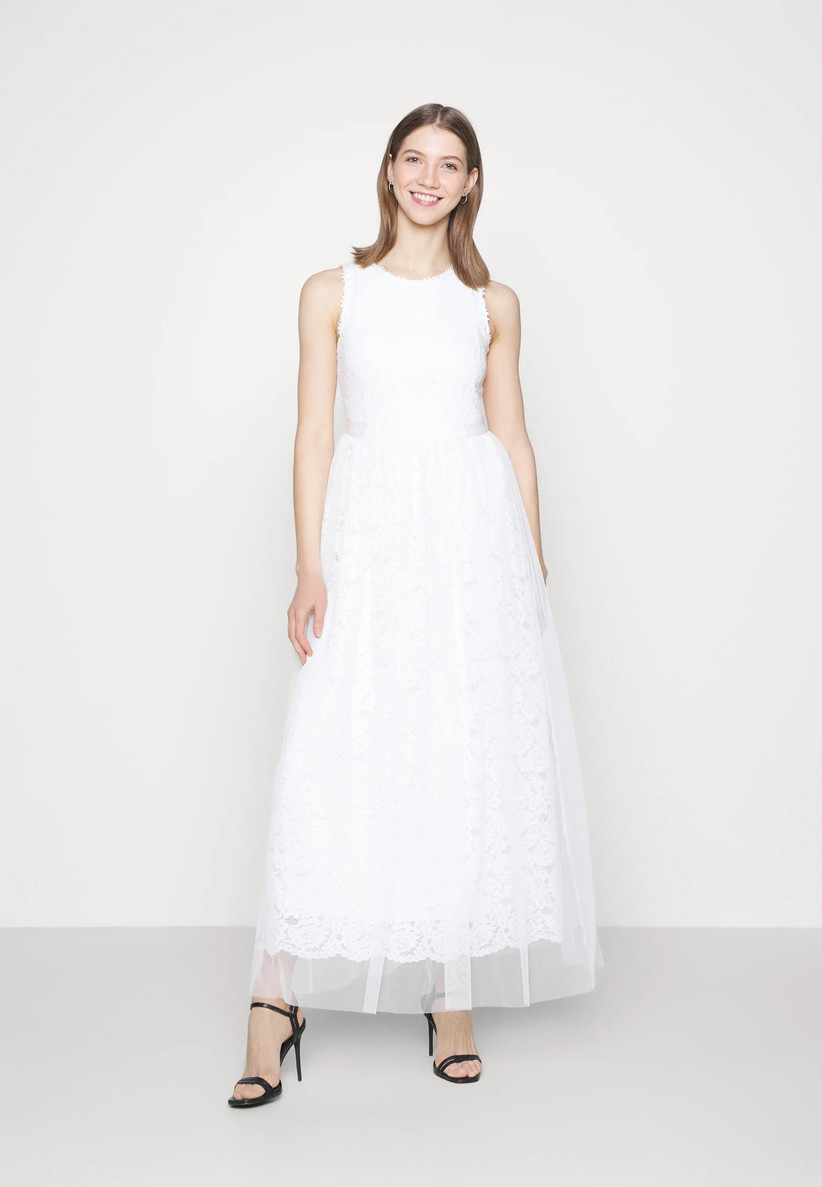 Detailed lace contrasts beautifully with the simple shape of this dress from Vila online at Zalando. The Scandi brand nail the laidback chic bridal style so popular on Instagram while retaining a timeless feel that won't feel dated when you look back at your wedding photos in years to come.
14. Sequin Knot Front Maxi Dress - £50, Boohoo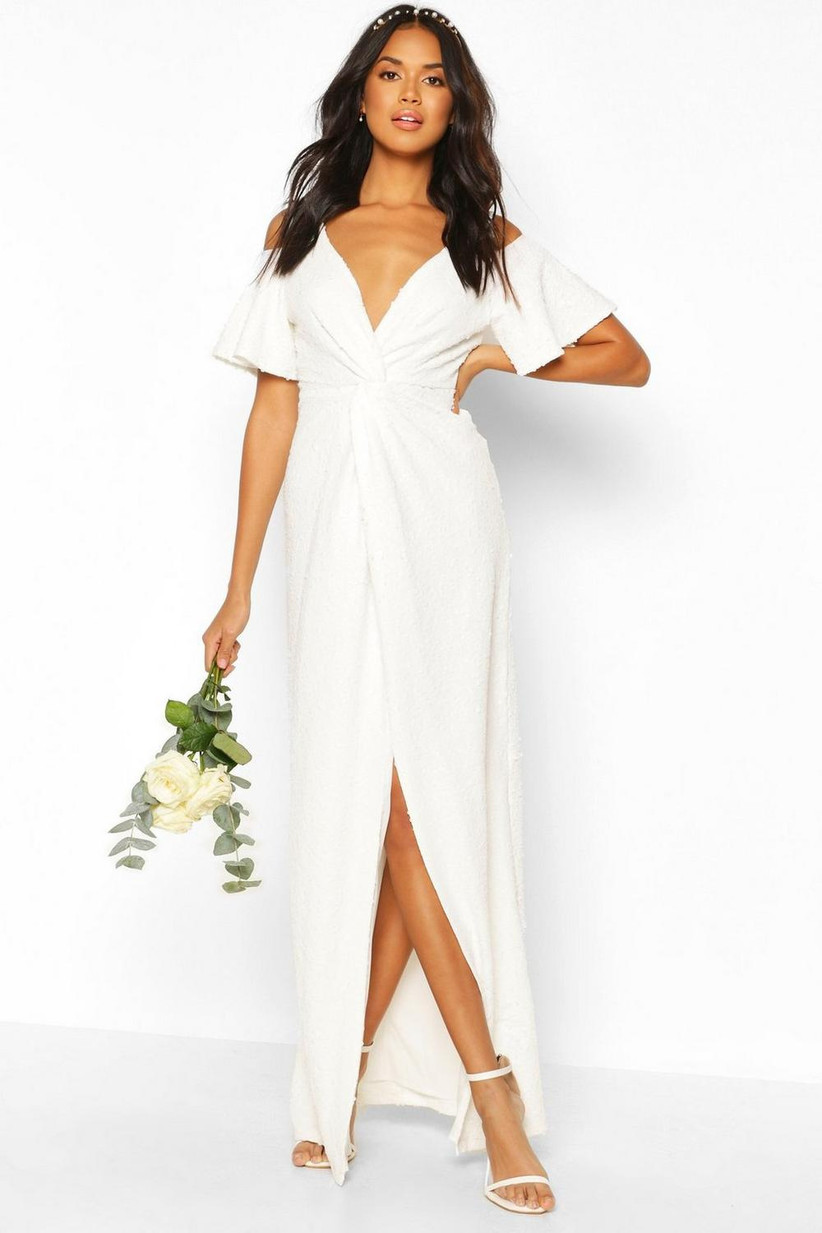 We love this sexy, stylish and purse-friendly gown from Boohoo. The shoulder cut outs are fun and feminine while the all-over sequins are seriously fun and would suit a bride who's after something a little different. This would work really well for a reception as it catches the lights on the dancefloor and also look stunning barefoot at a beach wedding with tousled hair and minimal wedding makeup.
15. Vila Bridal Cami Smock Dress - £65, ASOS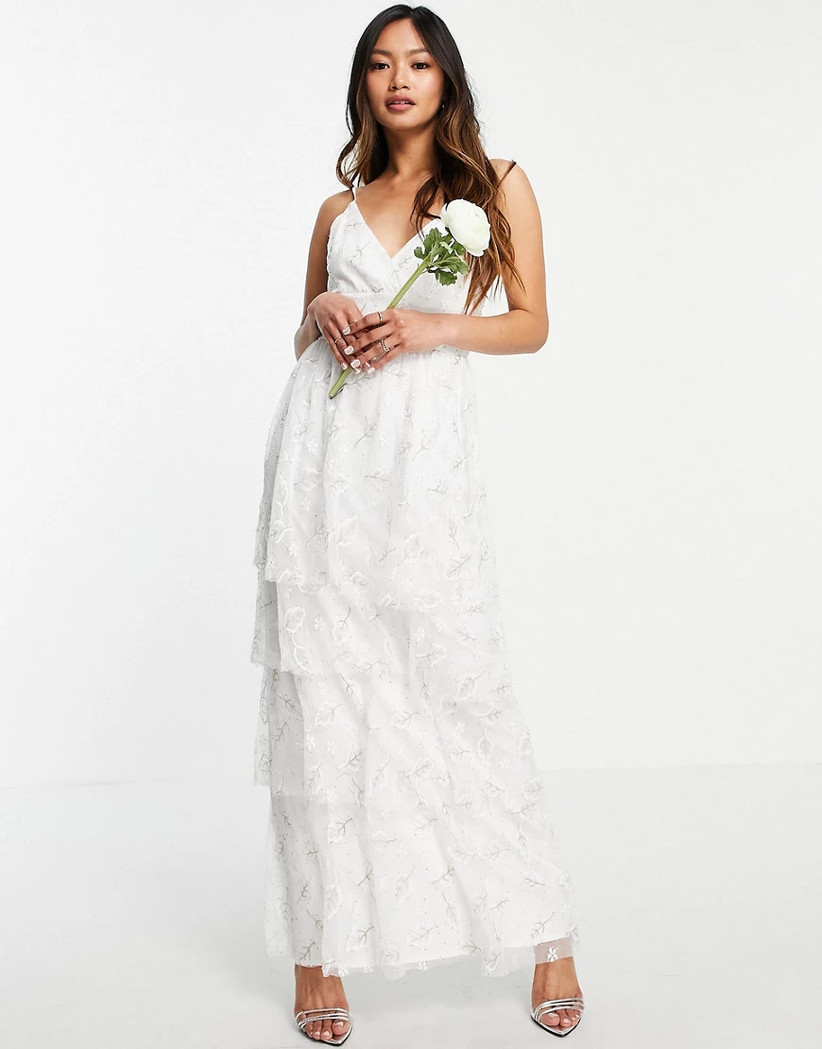 Boho brides need look no further. With delicate floral embroidery, a soft tiered skirt and smock-style top, this dress looks and moves beautifully when you walk and is a dream on hot days. If you're having a floral-inspired wedding, this dress would fit perfectly.
16. Maya Petite Bridal Maxi Tulle Dress - £85, ASOS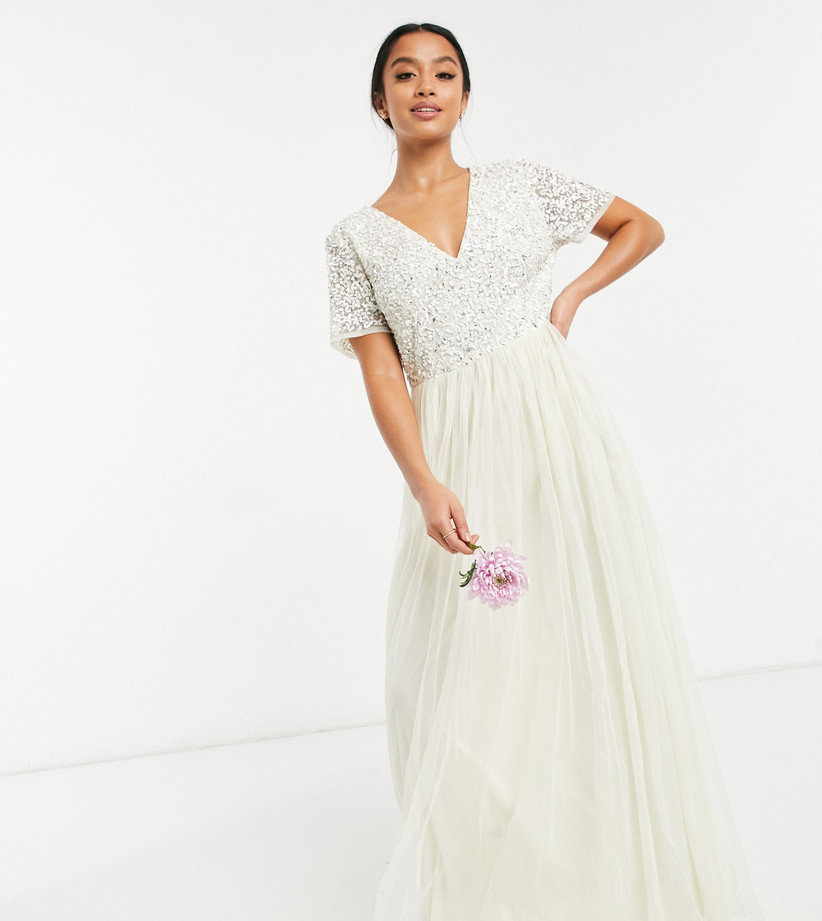 Are you a petite bride? This tulle wedding dress from the petite range at ASOS is a great option if you want a floor-sweeping design. The flattering pleats will draw the eye down, rather than across, creating the illusion of longer legs.
The Best High Street Wedding Dresses Under £250
17. Long Silk Bridal Dress – £159, Zara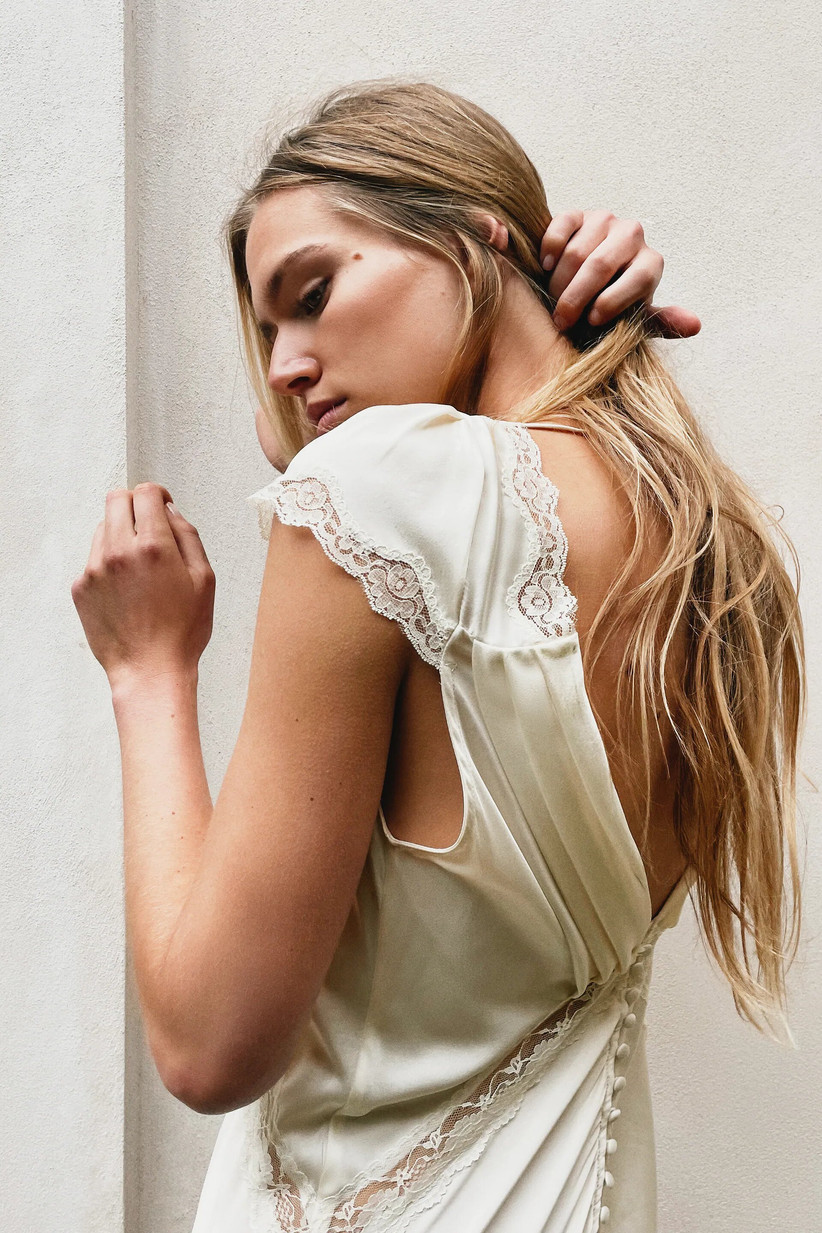 We're also obsessed with this long silk dress from Zara's bridal range. Low-key and with vintage influences, it's a timeless design that will never go out of trend. Pair with tousled hair and a fresh face of makeup for a pretty look.
18. Ruched Halter Neck Maxi Wedding Dress – £120, ASOS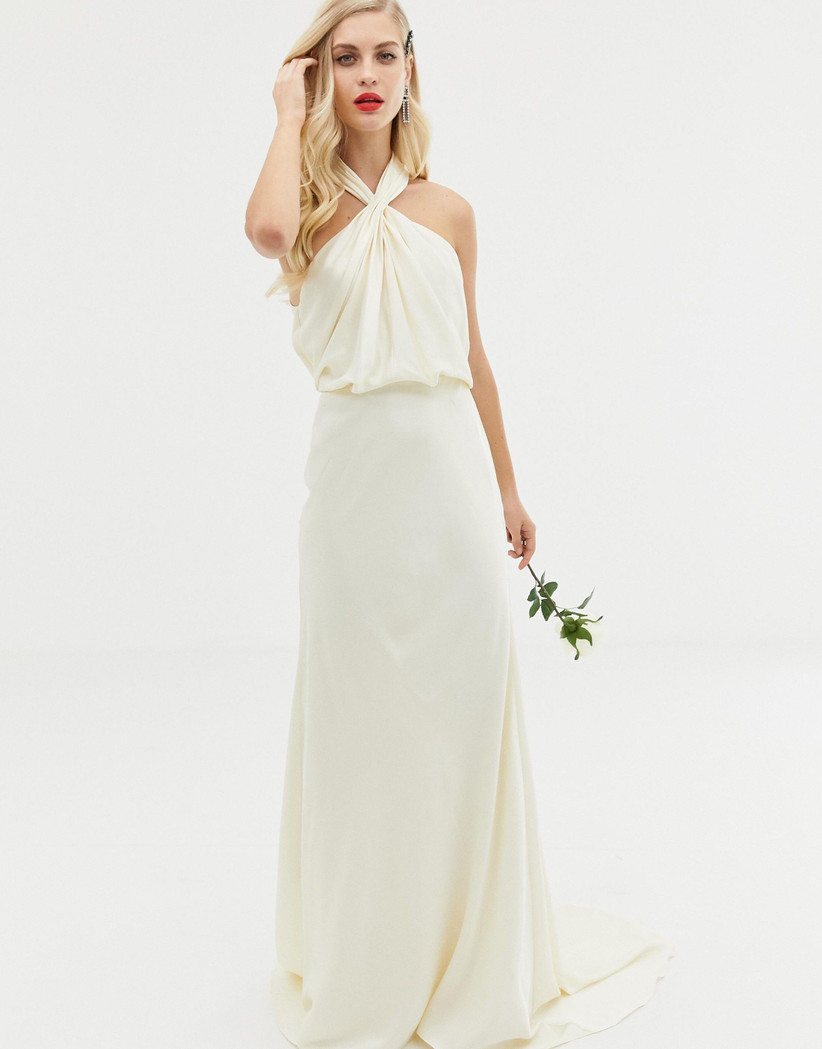 ASOS has your on-trend styles covered, and with luxe attention to detail this beautiful gown could not be more perfect for the most important day of your life.
The lightweight, woven fabric skims the body and falls effortlessly to the ground, while the halter neck and ruched front are two timeless features. This dress would be just as perfect at your beach wedding as it would be for your celebration at a stately home venue.
19. Maisie Dress – £195, Chi Chi London
A total snip at under £200, this all-over embroidered gown from Chi Chi London would easily look at home in a high-end bridal boutique. With a fit and flare silhouette and bardot neckline with chiffon sleeves, the Maisie gown strikes the perfect balance between traditional and modern vibes.
20. Long Sleeve Maxi Dress With Trail - £199, Coast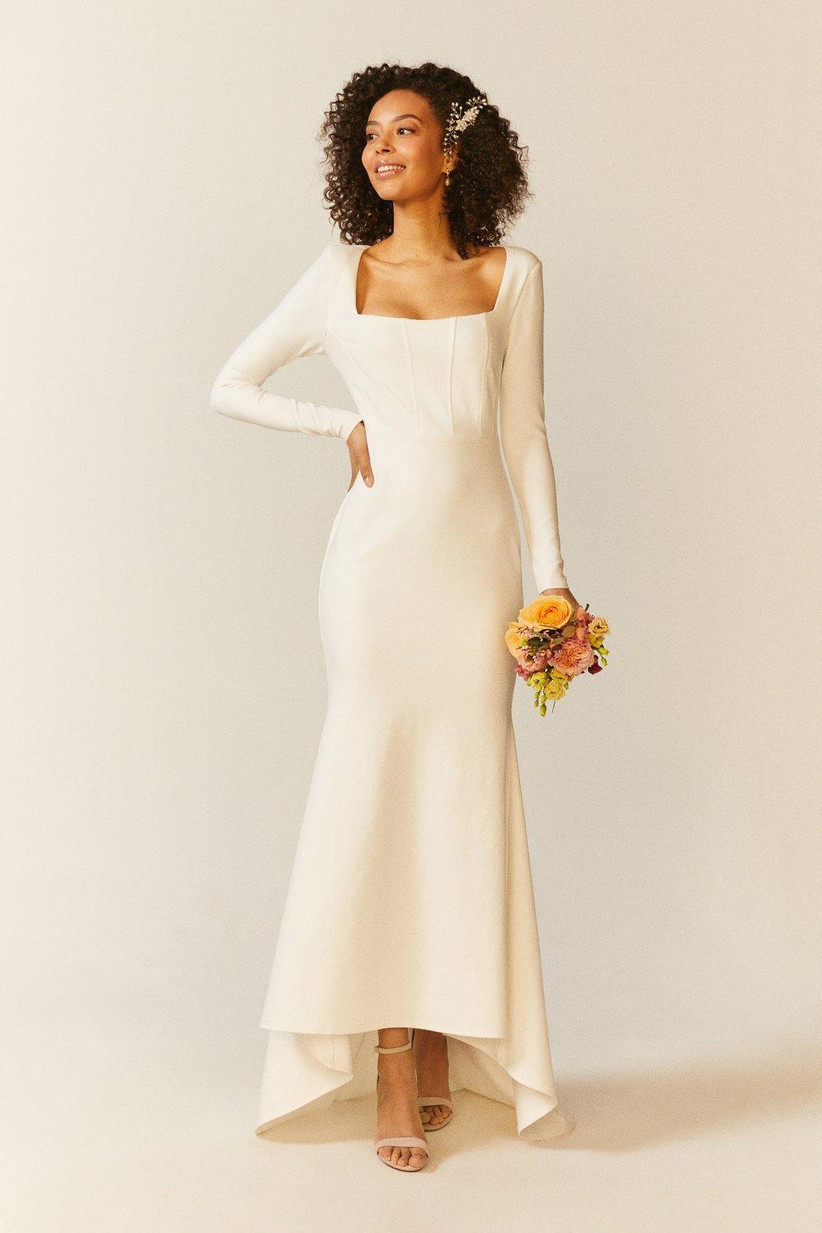 If you're looking for something different, how about this fitted bodice wedding dress with a on-trend square neckline? It's sophisticated and modern but with lots of details to love: there's a cut-out back, fabric-covered buttons that emphasise curves, and a flowing fishtail hem that will look incredible down the aisle.
21. Bella Bardot Maxi Dress - £110, Jarlo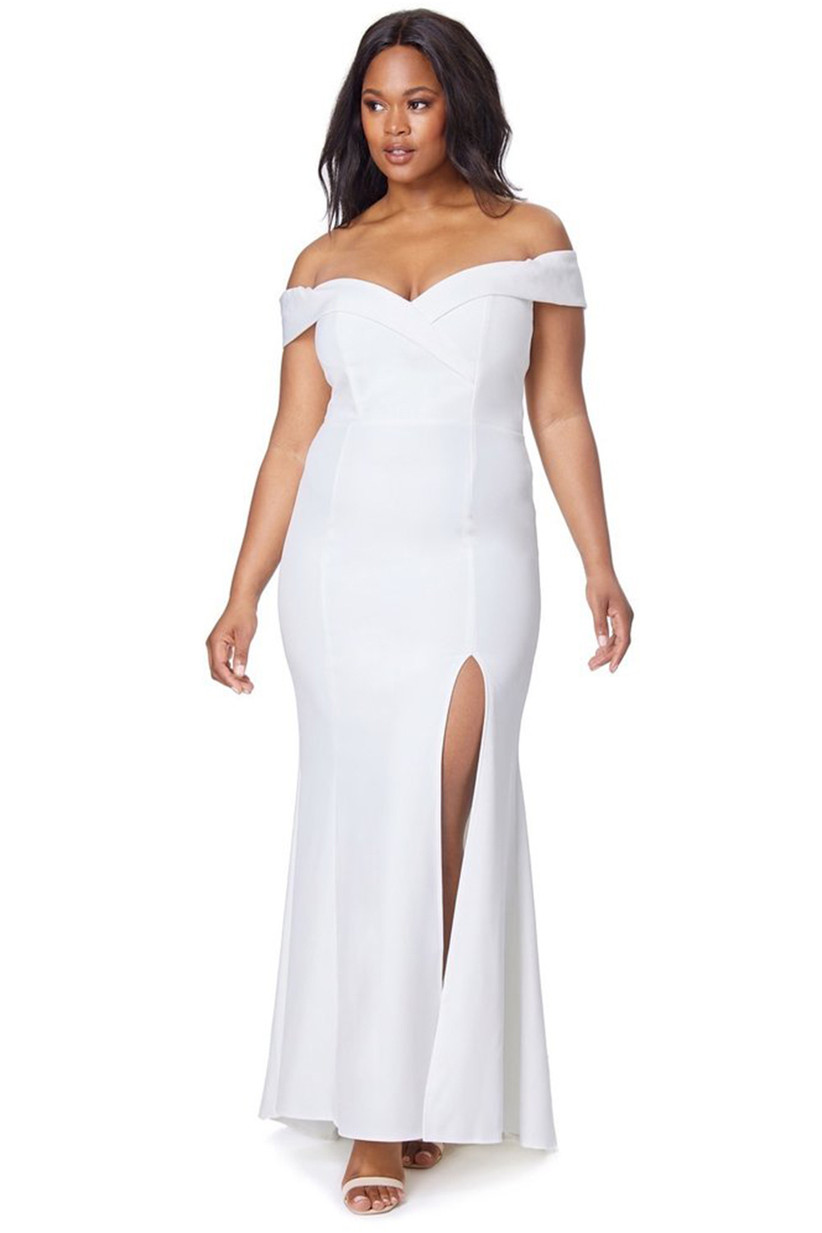 Jarlo is a fantastic brand for figure-hugging dresses that flatter all shapes and sizes – you can choose to view their designs on different height and body type models so you can work out how it would look on you. We love the curve-enhancing Bardot dress with thigh split and fishtail train.
22. Cecily Halter Neck Maxi Dress - £105, Jarlo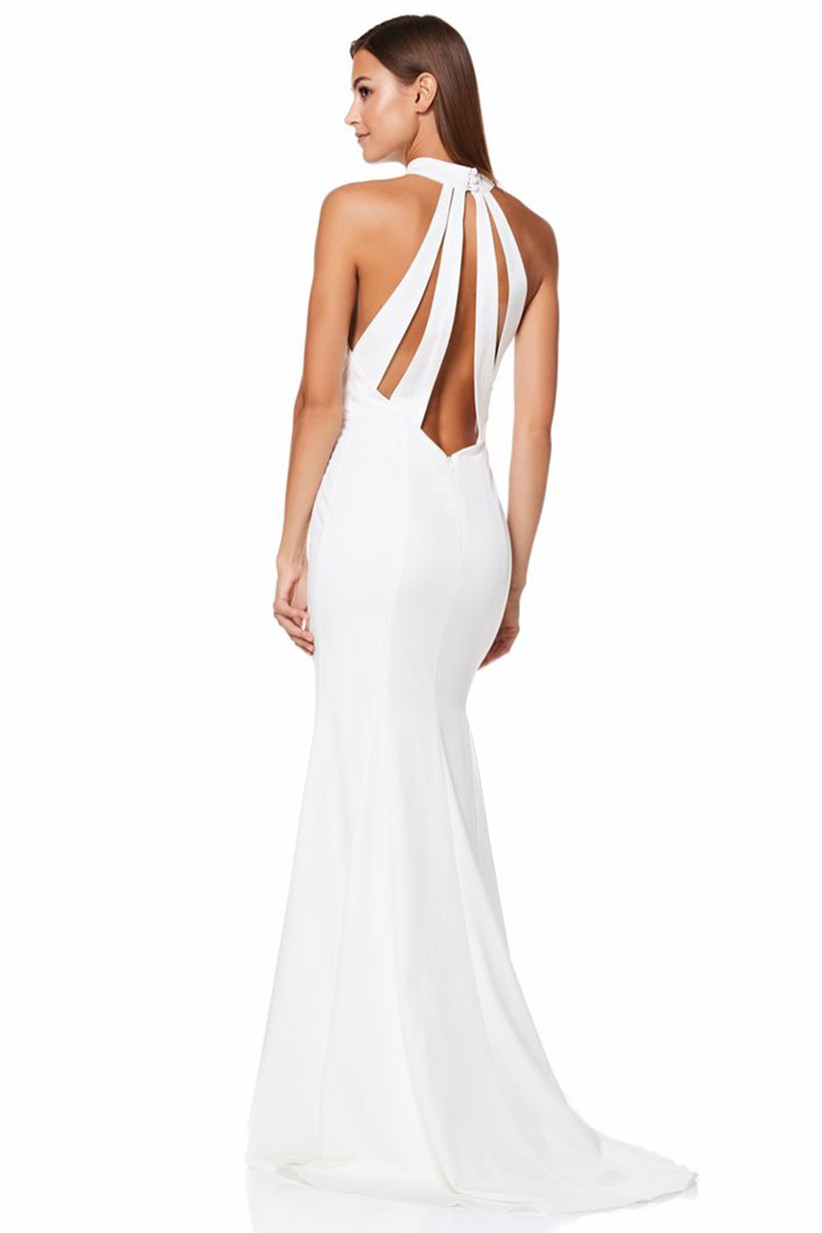 Another stand-out dress from Jarlo is the Cecily halter neck. Simple, elegant and chic from the front, as you turn around you'll reveal the beautiful back strap detail. Pair this wedding dress with the right accessories and you'll be sure to make a statement. We're thinking barely there heels and silver jewellery would work a treat!
23. Aurelia Bodice Cami Gown - £235, Needle & Thread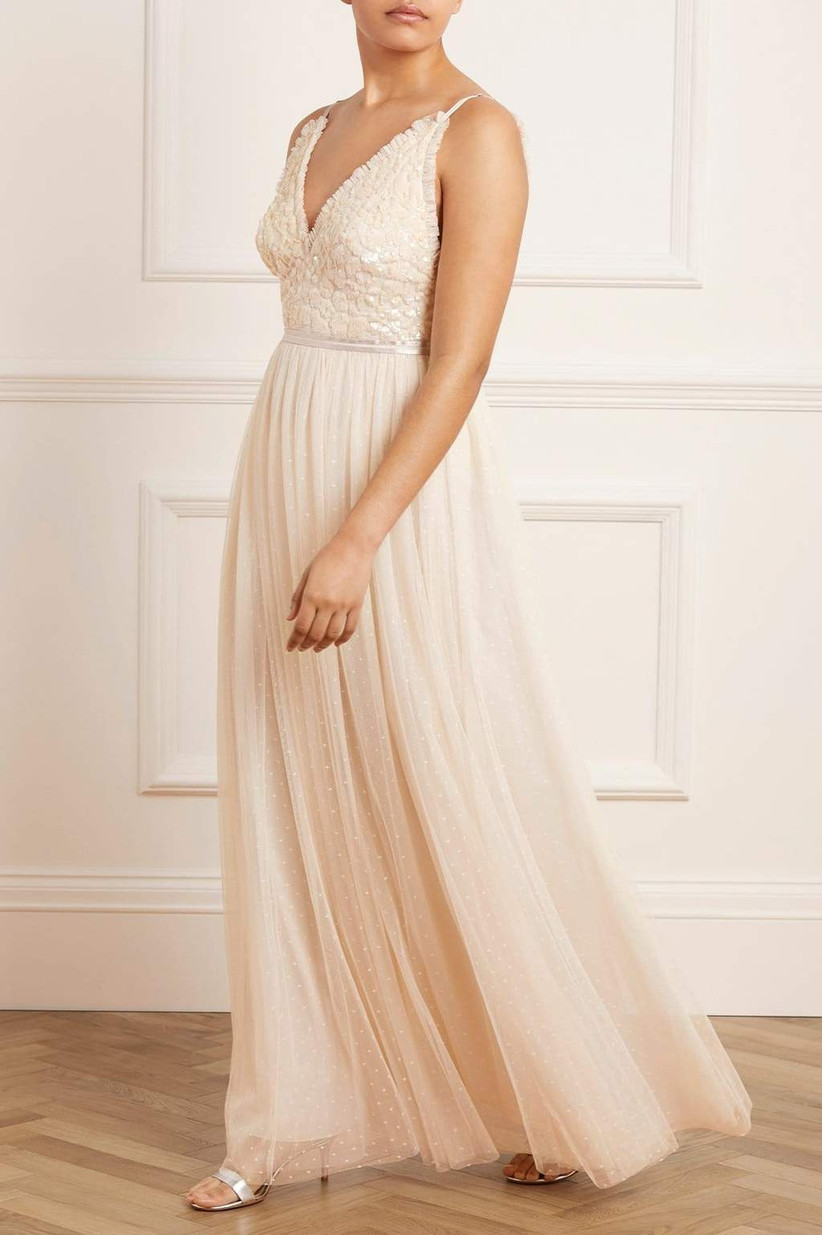 Adorned with shimmering sequins in different iridescent tones, the bodice on this dress is jaw-droppingly beautiful and gently flows down into a soft tulle full length skirt. Add in the satin ribbon trim at the waistline and you've got a gorgeous combination of textures that brings this gown to life and really helps you make an entrance!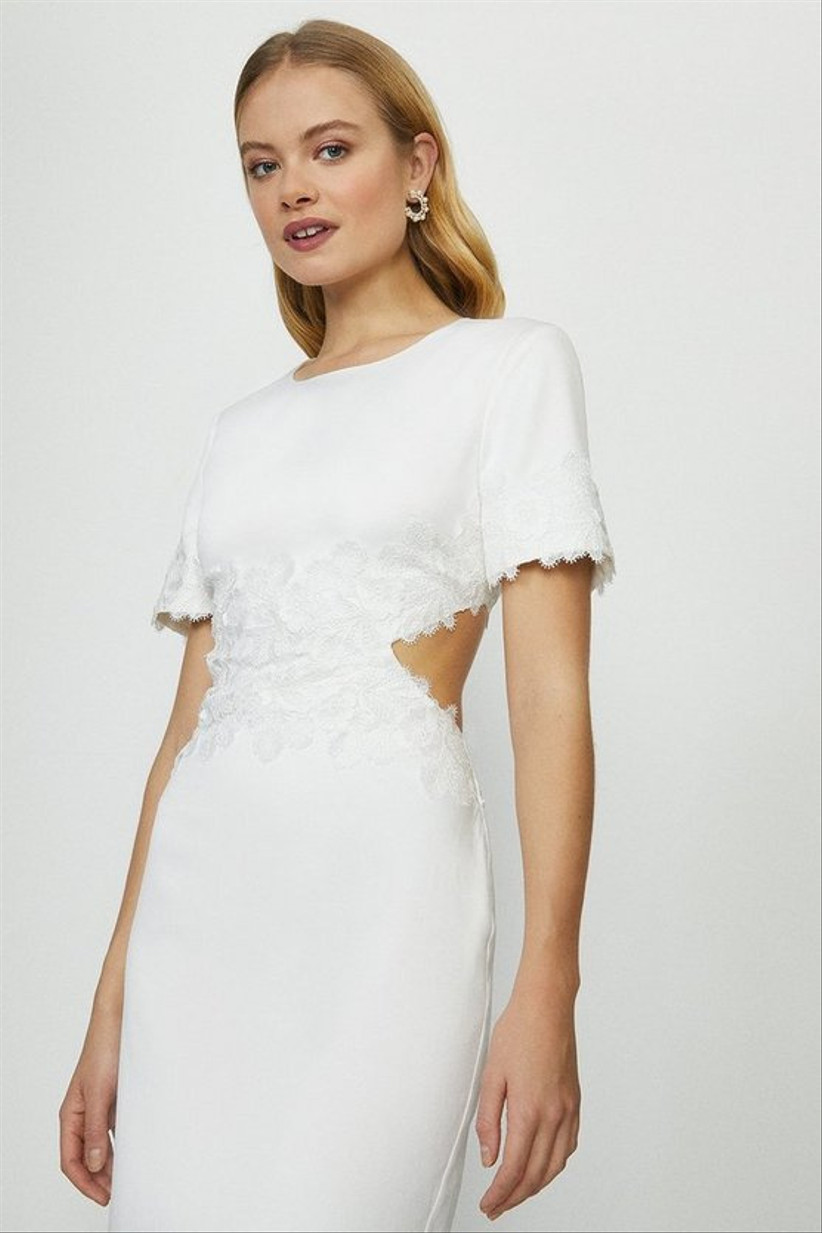 Two-piece wedding dresses are among the biggest trends for 2022, but if you're not ready to bear all quite yet, why not try this cut-out lace wedding dress? It's sexy in a sophisticated way and has the most gorgeous fabric-covered buttons all down the back.
25. Livi Dress – £140, Chi Chi London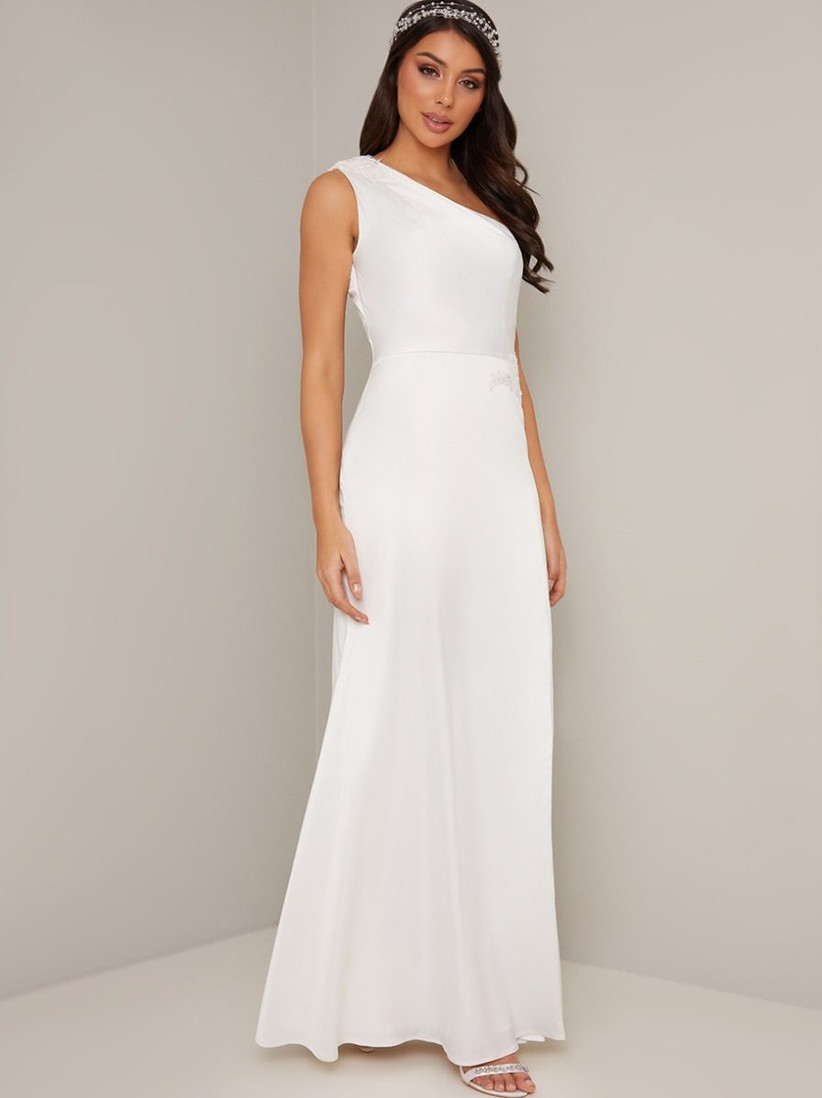 We love this one-shoulder satin design from Chi Chi London. Shoulder and waist embellishments give this simple gown just the right amount of detail and draw the eye to your face and curves - ideal! We also love the sexy side split that's just perfect for showing off your bridal shoes.
READ MORE: The Emotional Stages of Choosing Your Wedding Dress
26. Sophia Plunge Lace Wedding Dress – £135, ASOS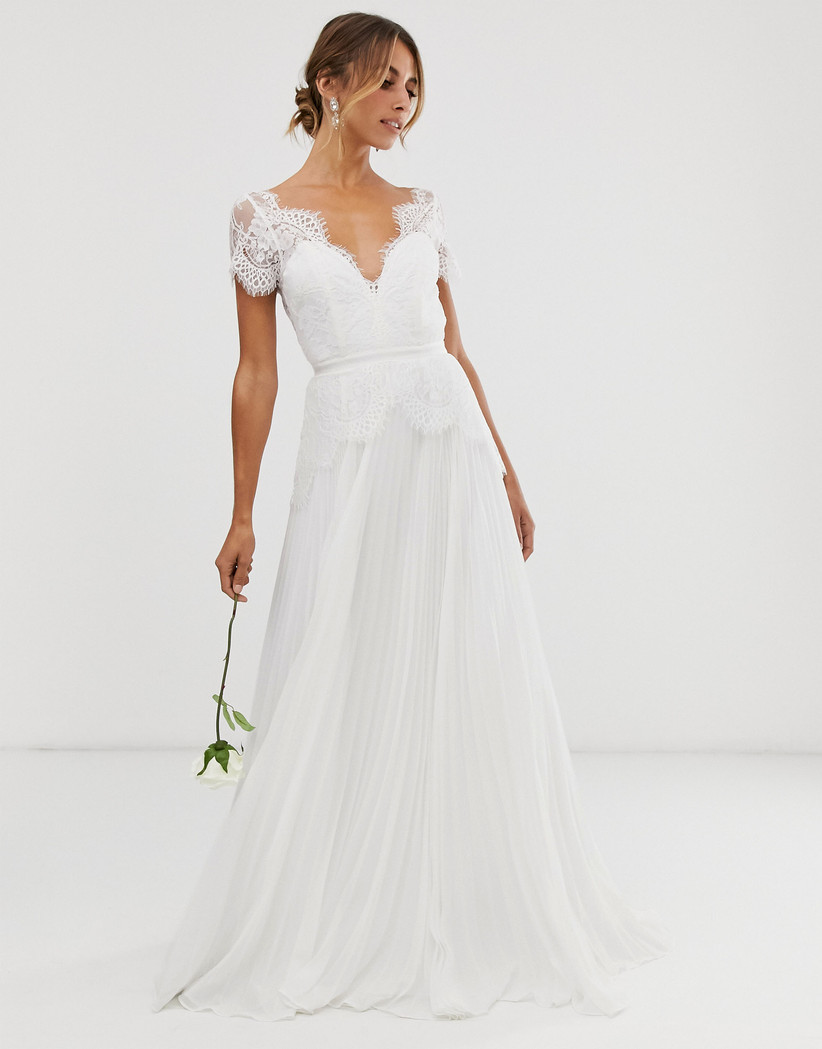 If you're a fan of the traditional look but aren't keen on traditional bridal boutique prices, check out the Sophia gown from ASOS. Featuring a classic lace bodice with cap sleeves and a floaty A-line skirt, none of your guests will suspect it came from this high street favourite.
27. Jenna Dress - £195, Chi Chi London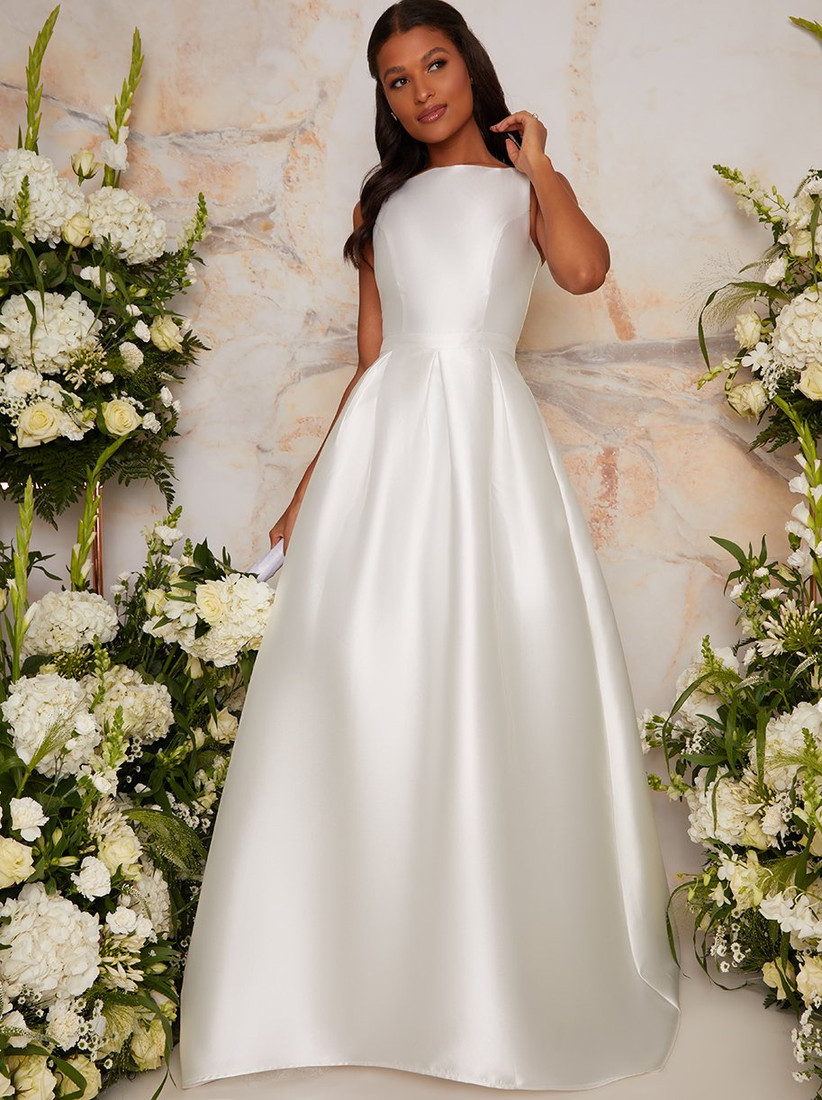 Structured gowns are made for a fairytale wedding, and we adore the full maxi skirt, scoop neck and sleeveless bodice on this gown. With a high shine finish all the way down to the beautiful train, it's a truly eye-catching look.
28. Carrington Chiffon Smocked Dress - £215, Kitri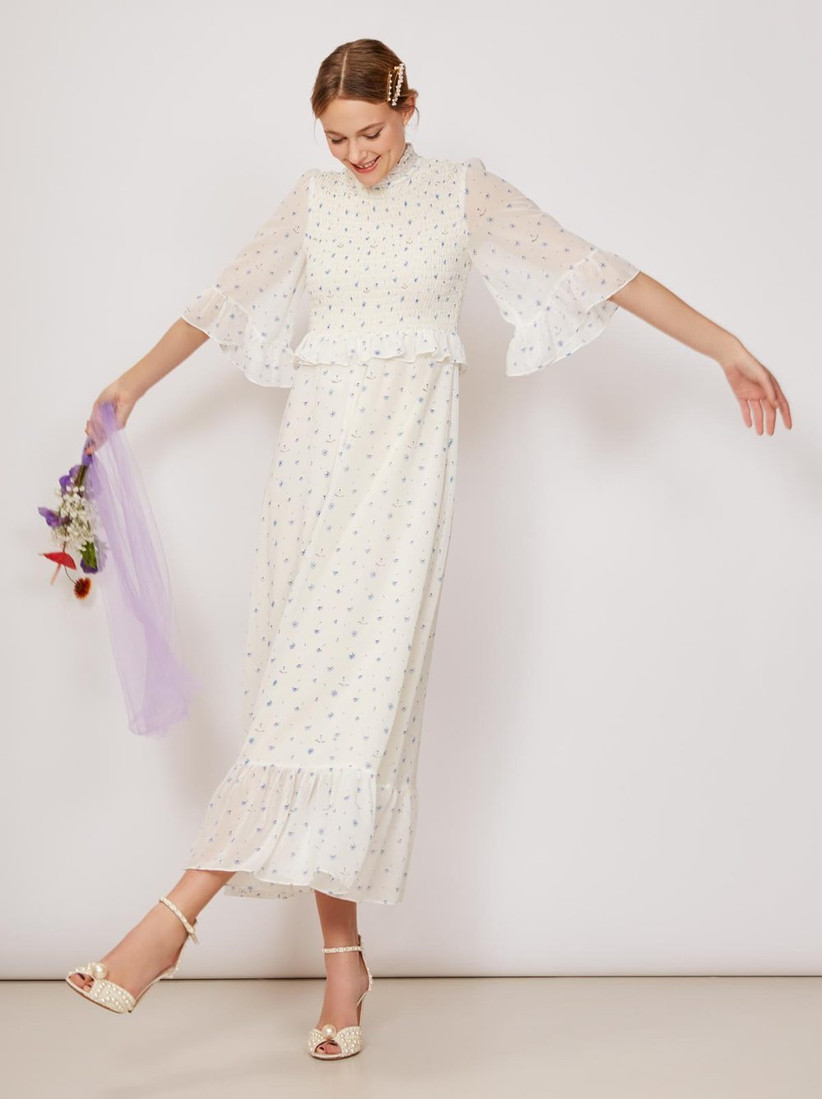 Kitri create seriously stylish pieces that won't break the bank. How about incorporating 'something blue' into your outfit with the Carrington dress? Made from lightweight recycled chiffon to ensure ultimate comfort on your big day, it's also crafted from an exclusive in-house daisy print.
29. Lace Halter Neck Maxi Wedding Dress – £120, ASOS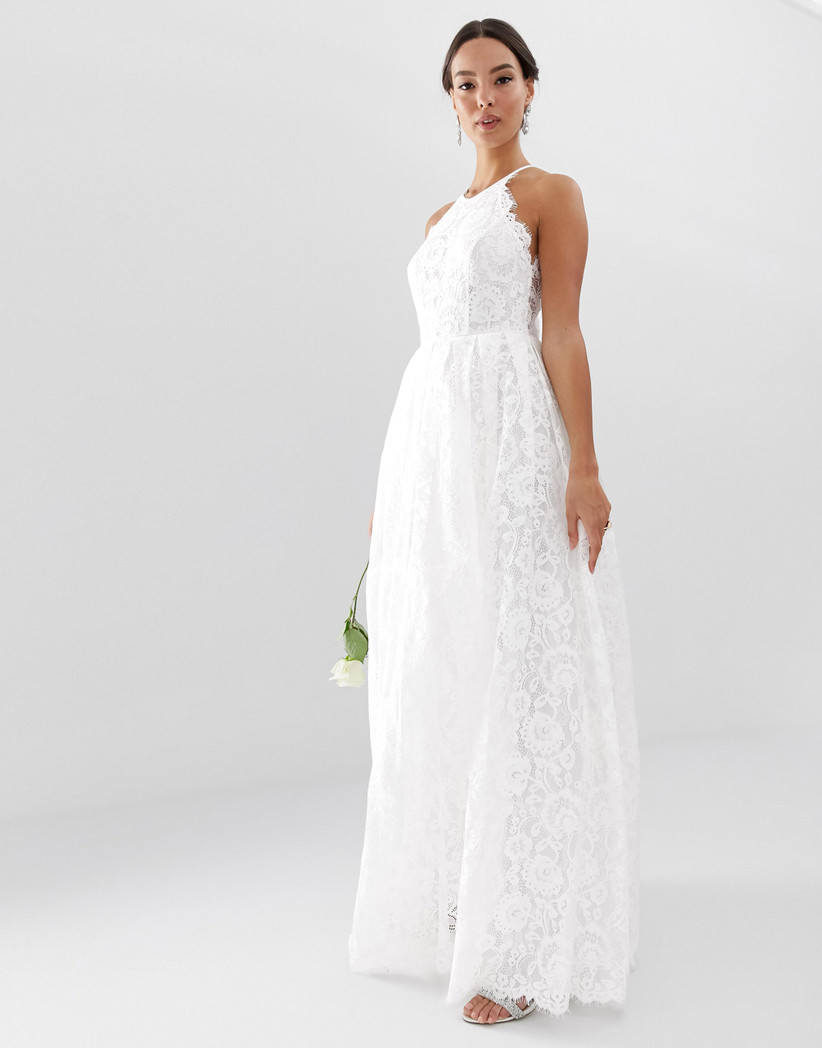 Meghan Markle brought halter neck styles back when she rocked that Stella McCartney gown at her wedding reception and we're more than happy to follow her fashion lead. We love this lace take on the trend by ASOS, the lace skirt is long enough to look classic while leaving plenty of room for your dancing feet to move freely across the dance floor!
30. Coco Sequin Wedding Gown - £249, Little Mistress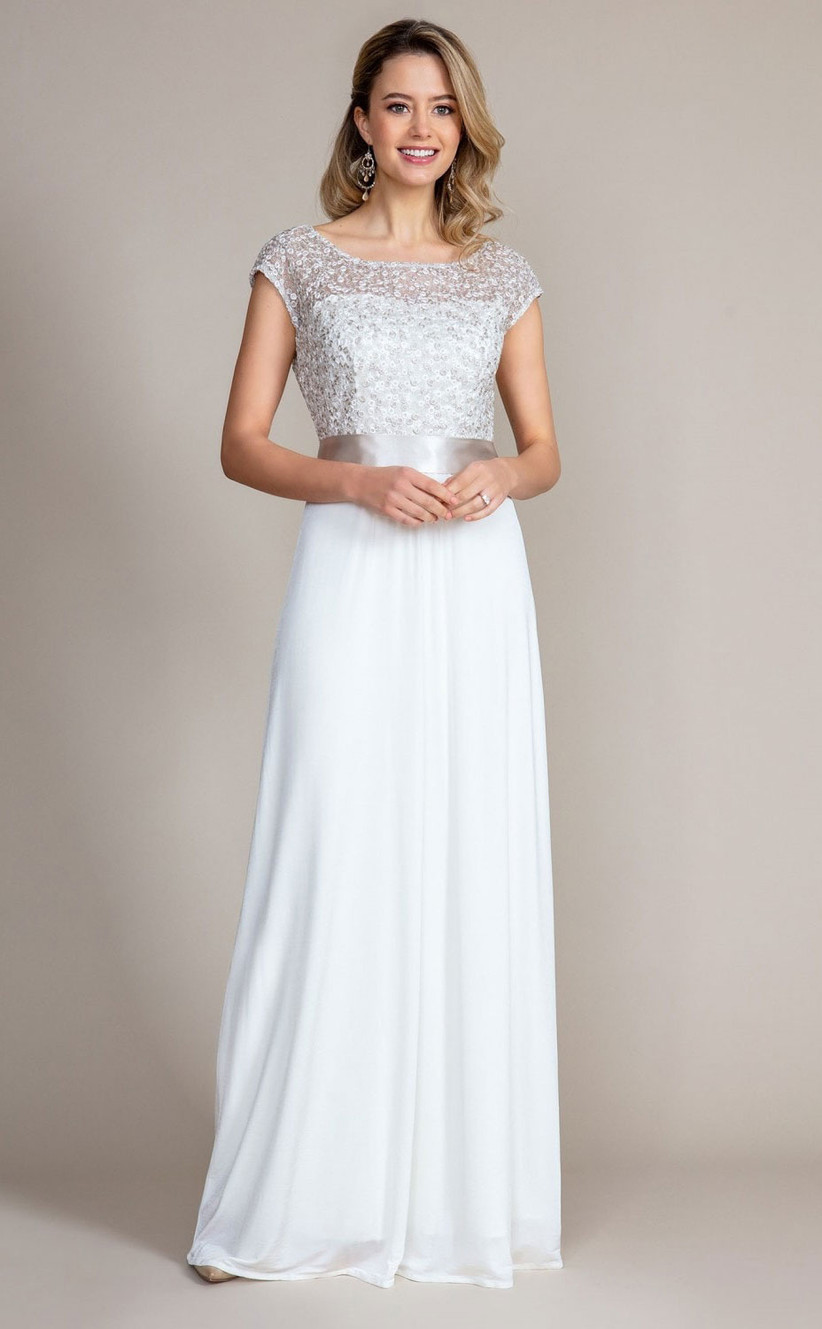 Sequin bodice, a flowing skirt and a satin sash give this gown from Little Mistress a classic bridal feel that will look right at home anywhere from your local village church to a beach in the Caribbean. We adore the bow, it'll look gorgeous as you walk down the aisle and stand at the altar.
READ MORE: 31 Perfect Plus Size Wedding Dresses
31. Nikita Dress - £248, Reformation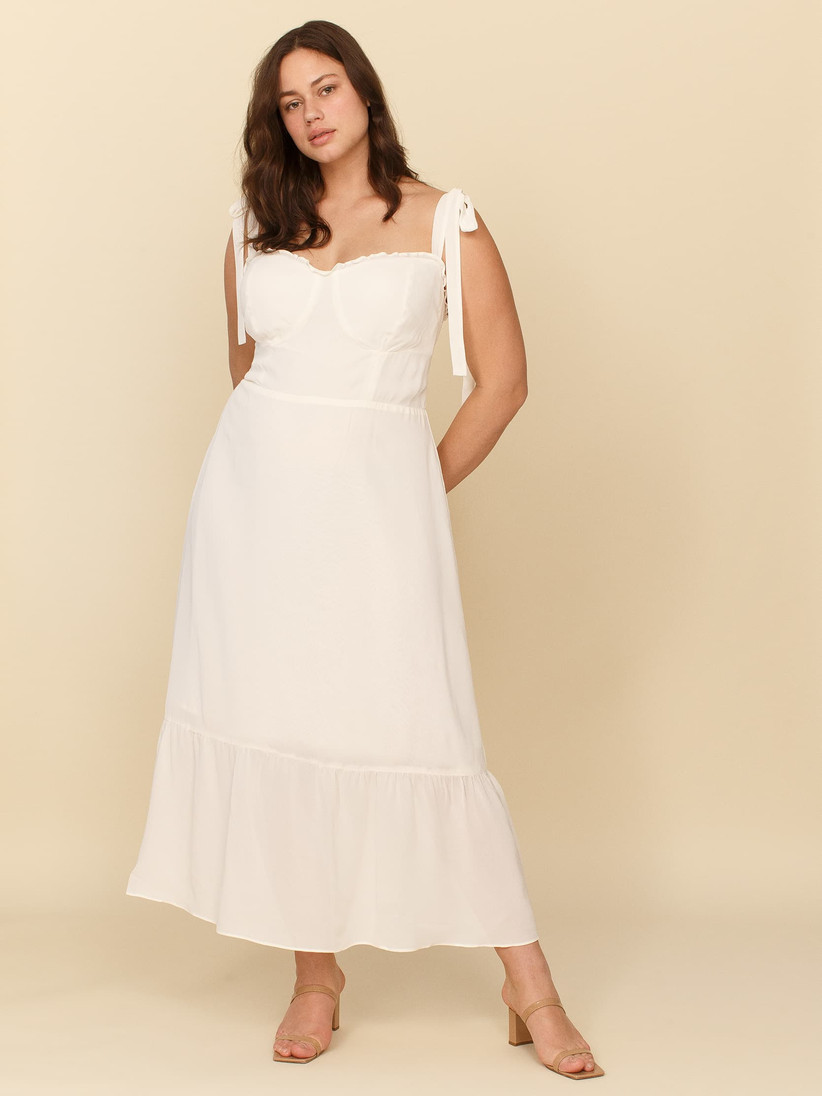 Reformation dresses are staples for honeymoons and this cute, relaxed dress is ideal for a destination wedding in the sunshine. It has the most adorable bow straps and ruffled neckline, plus a comfortable trumpet skirt that will keep you cool and you can move around in. You can get it in straight size and plus size options.
32. Kate Plunge Maxi Dress - £120, Pretty Lavish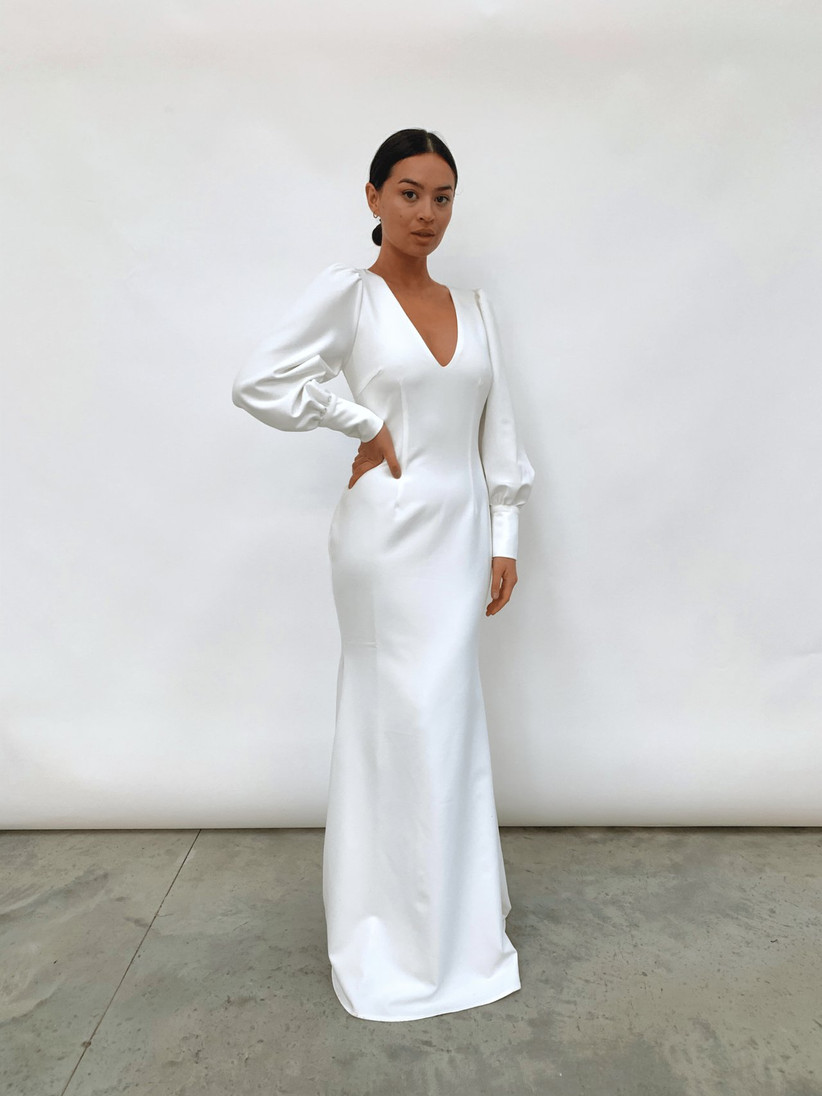 Hello, balloon sleeves! Made from lightweight stretch crepe, this dress is really flattering on curves. The details sell it even more: soft puff shoulders lead down to detailed buttoned cuffs add that touch of elegance and that plunge neckline is enviably sexy.
33. Satin Wedding Dress – £120, H&M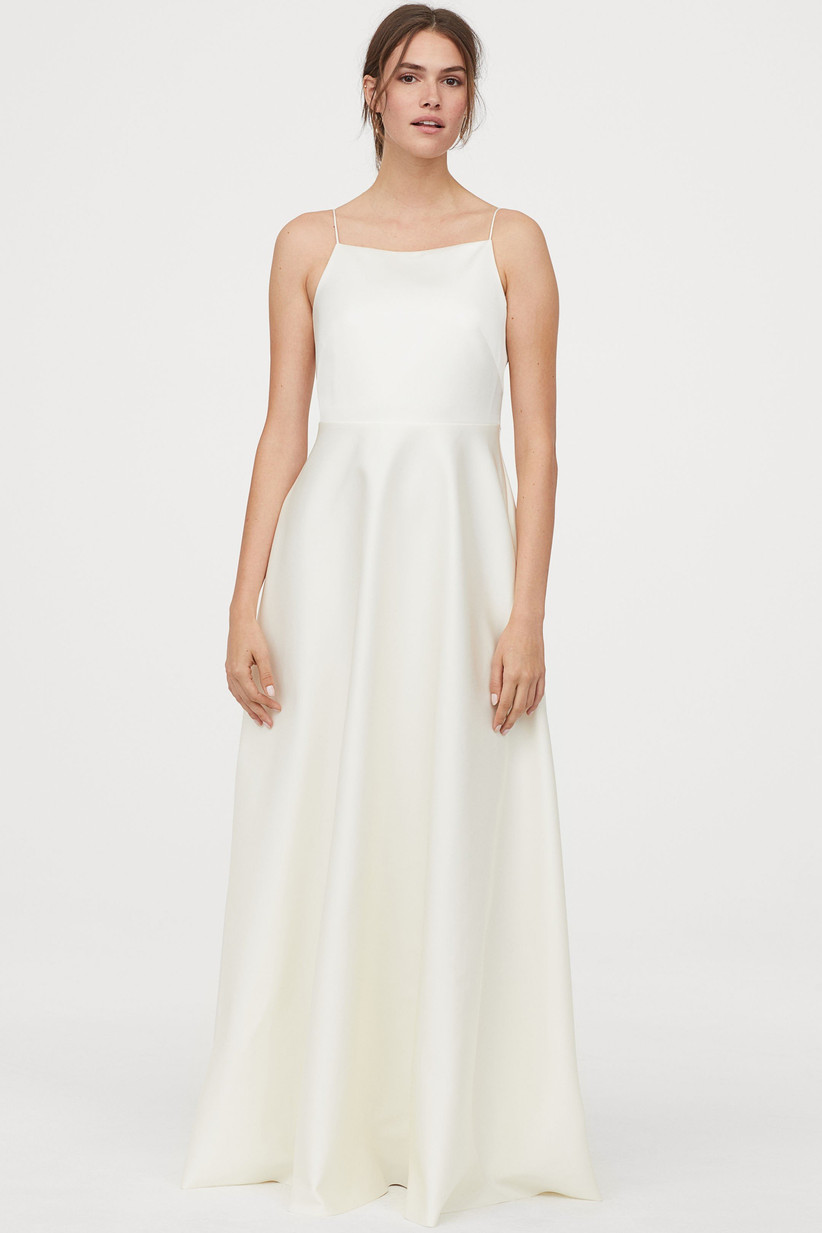 This H&M dress is truly elegant and looks hundreds of pounds more expensive than its price tag – under £150! The necklines are really interesting: a straight one at the front and a deep V at the back. We love the mix of modest with a flash of flesh from behind.
34. Tiered Tulle Wedding Dress - £225, Chi Chi London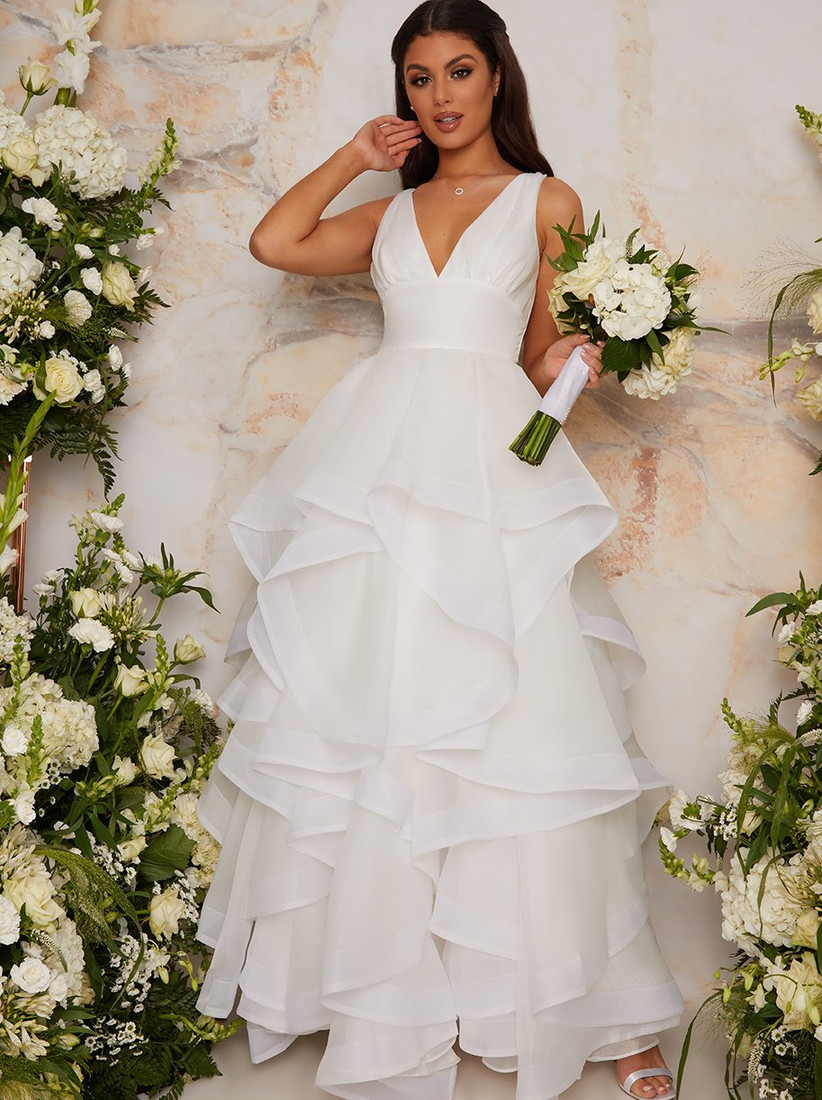 With a flowing, tiered tulle skirt this dress is the height of romance and femininity. The deep plunge makes this a contemporary take on a fairy tale dress and is totally on trend. If you want to go extra on your big day, this would suit perfectly.
READ MORE: 19 Wedding Dresses With Pockets
35. Elecia Fringe Wedding Dress - £250, Phase Eight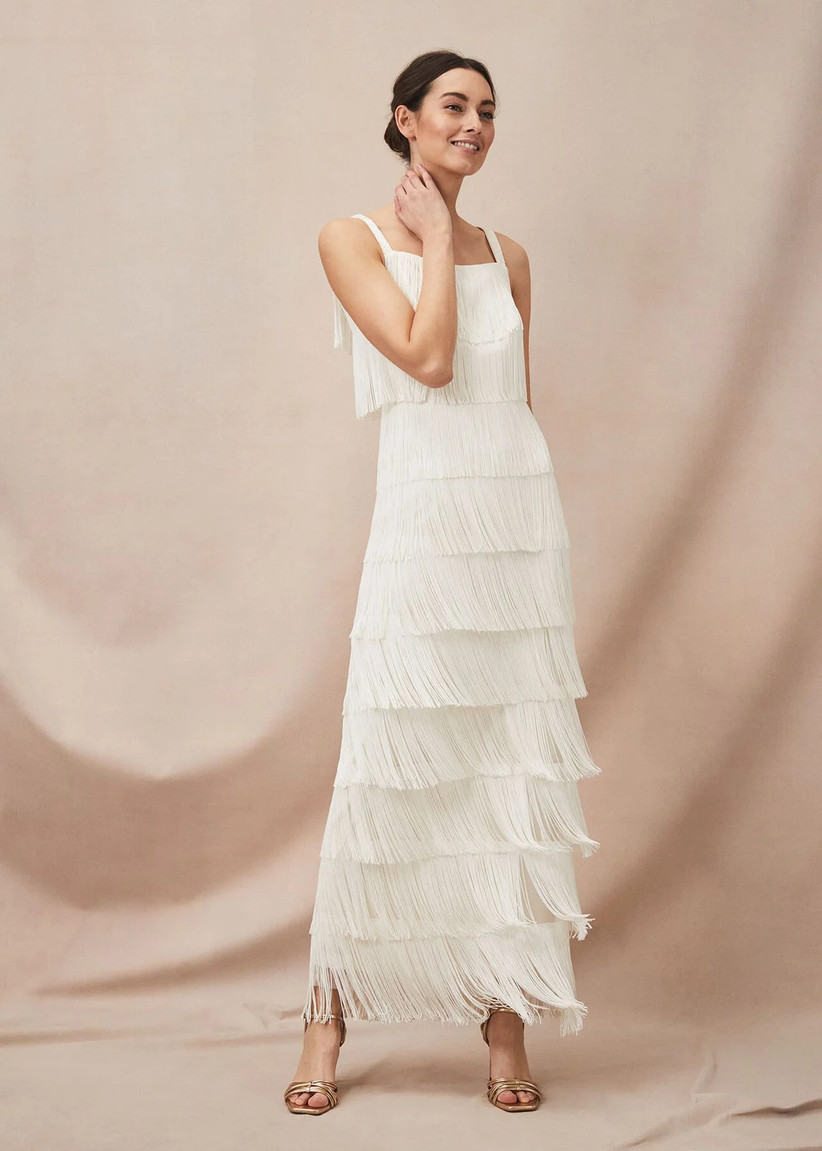 This fringed wedding dress from Phase Eight is fun, unique and will make you want to head straight to the dance floor for a twirl. The square neckline and relaxed fit gives this dress an air of effortlessness and would look stunning paired with gold accessories.
36. Hanah Dress - £155, Chi Chi London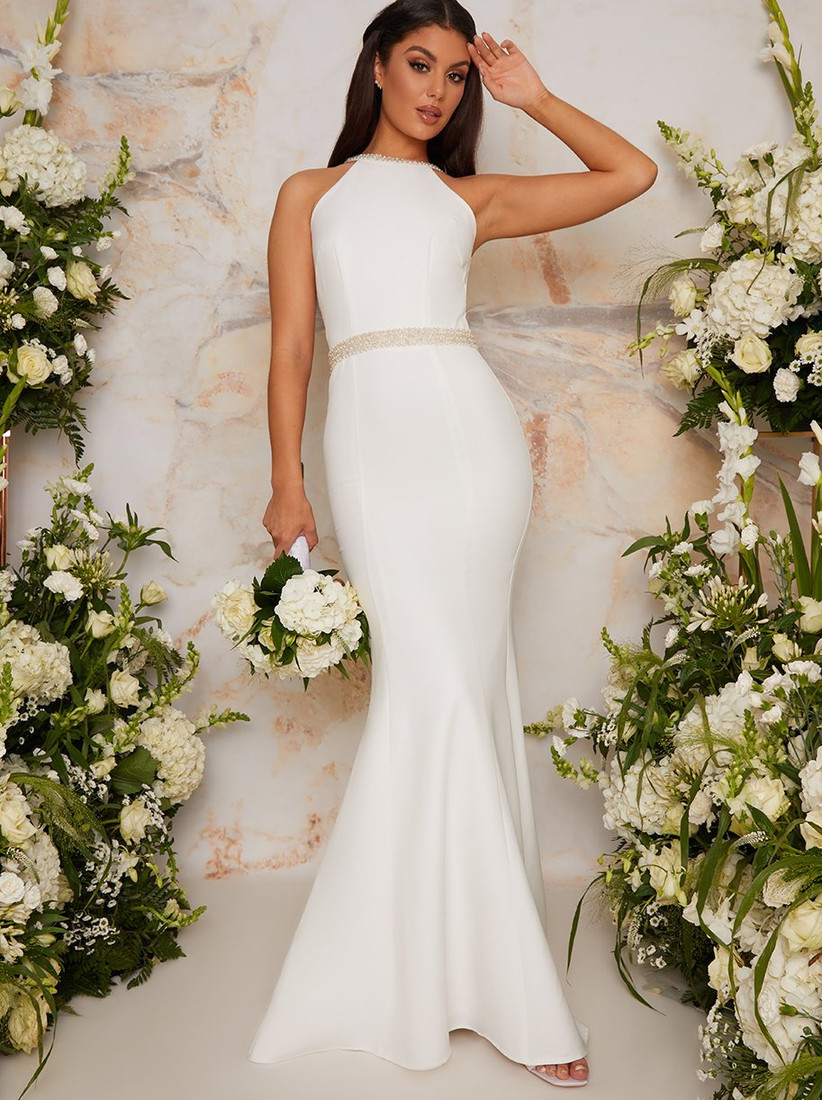 Once again Chi Chi London have knocked it out the park. This dress comes in at just over £150 but features an intricately beaded waist and neckline and gorgeous, lined fishtail skirt. The bodice features delicate sheer panels and a deep V on the back which makes bums look AMAZING.
The Best High Street Wedding Dresses Under £500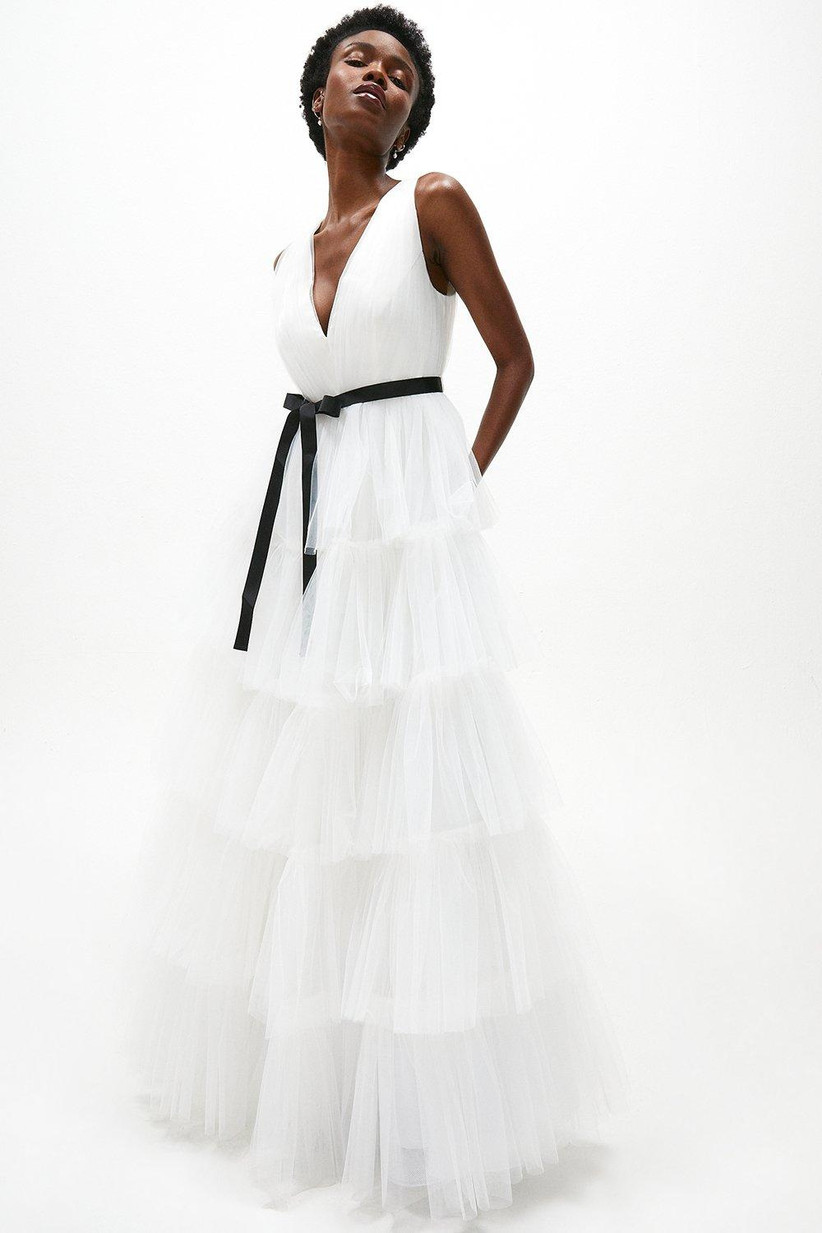 Coast did it - they created the dream wedding dress! How romantic is the tiered, tulle skirt, which is nipped in by the contrasting black waist tie. You'll feel like a princess wearing this.
38. Skye Dress - £275, Rixo
A dreamy Rixo wedding dress for under £500? Be still our beating hearts! We're loving the simple silhouette, shoulder bows and subtle embroidered detailing, plus at just £275 there's plenty of room left in the budget for some show-stopping heels to complete the look.
39. Lecce Dress – £435, Reformation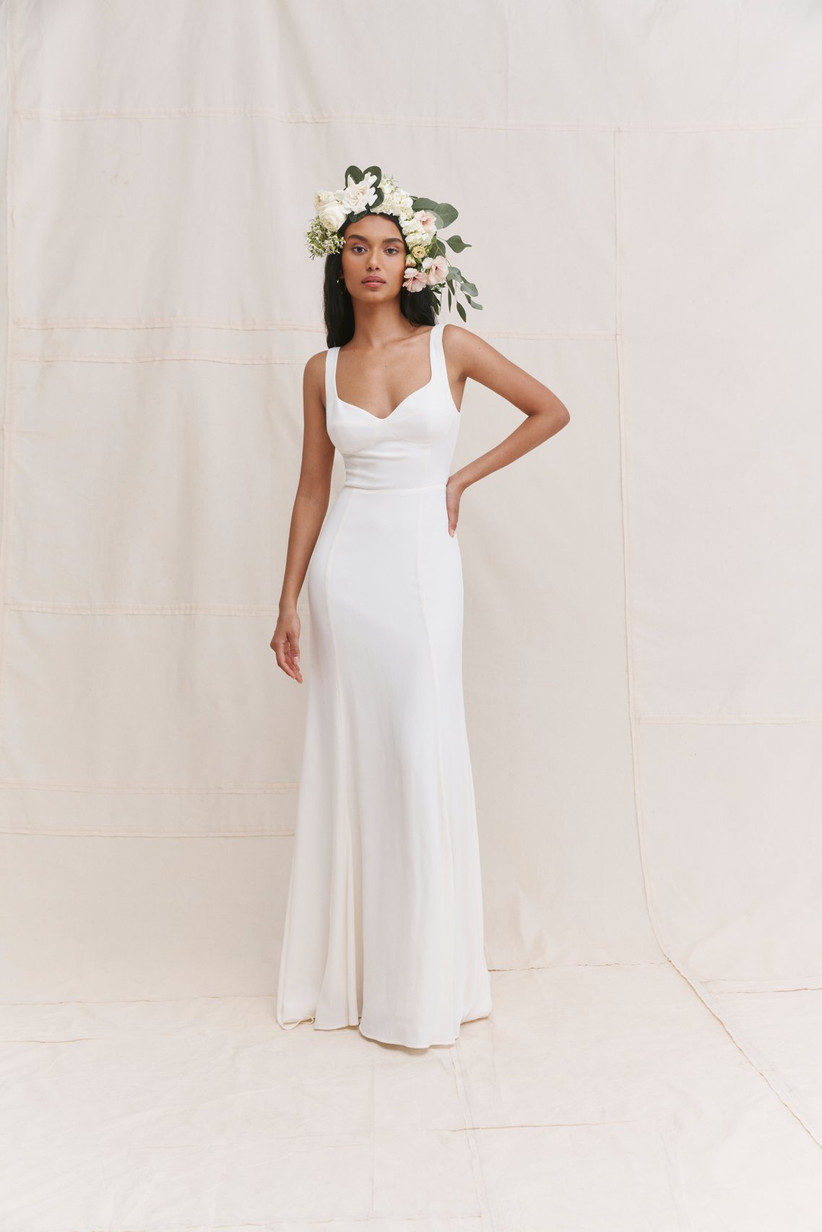 This simple gown from Reformation is perfect for brides who want a more affordable wedding dress without compromising on style. The elegant silhouette and understated style lends itself perfectly to bolder accessories.
READ MORE: Our Favourite Lace Wedding Dresses
40. Genevieve Ruffle Gown - £450, Needle & Thread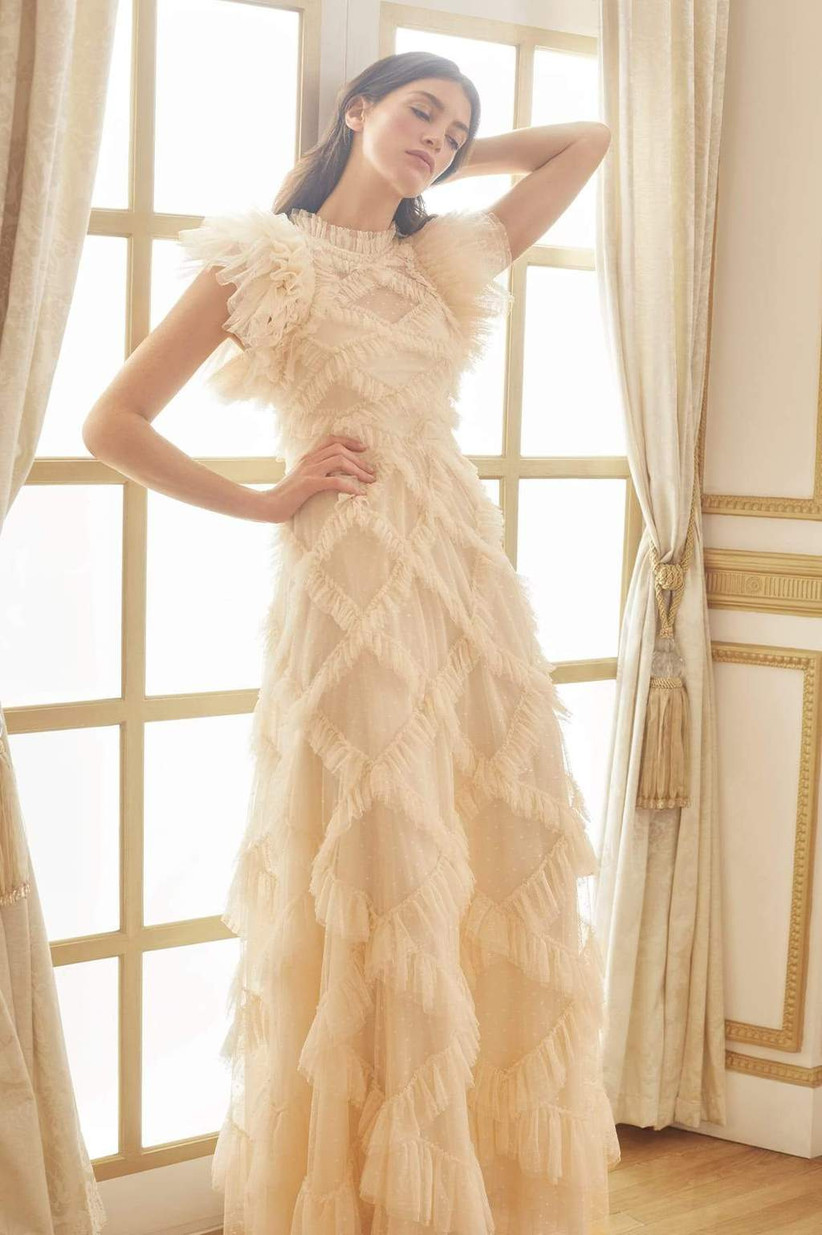 Inspired by 1930s Hollywood glamour, this statement gown is crafted with multiple layers of ruffled, frothy tulle sculpted for dramatic effect. It has a wonderful diamond tulle design and a delicate dotted pattern that work so well with the Champagne colour.
41. Laurie Lace and Tulle Bardot Bridal Dress - £359, Monsoon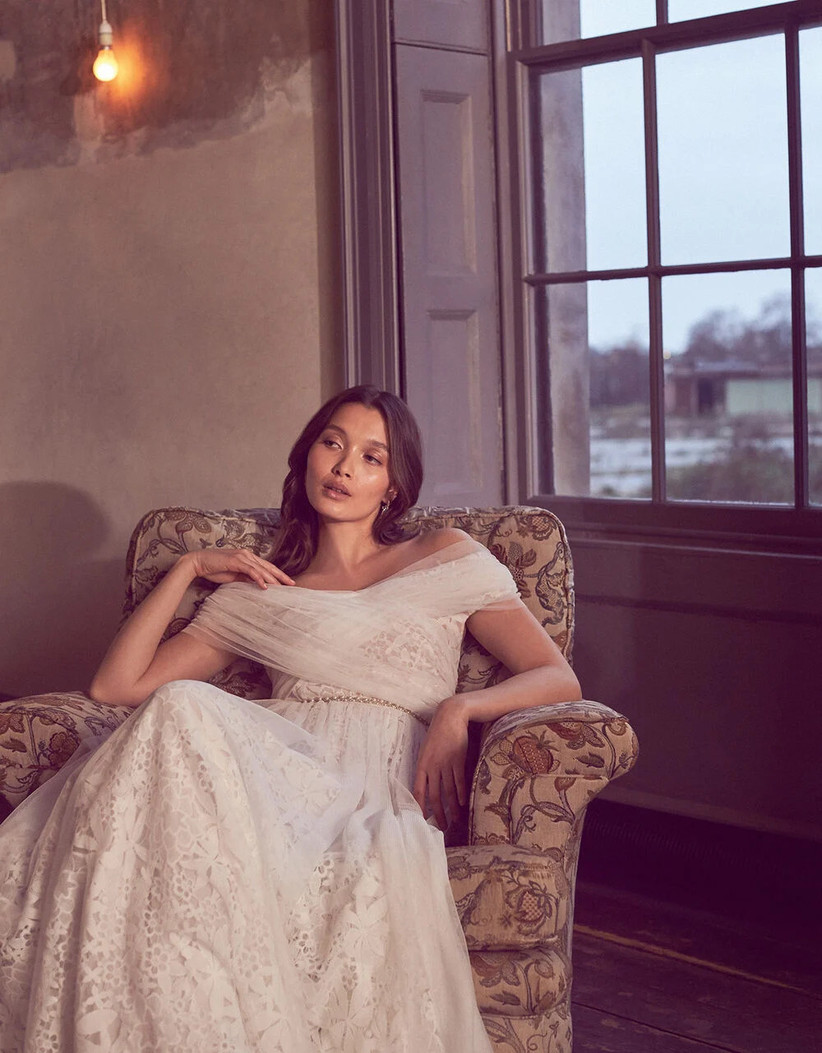 This Bardot gown is the definition of understated glamour. The airy, layered tulle and floral lace create an angelic, regal feel. The waist is trimmed with shimmering faux-pearls, adding a delicately pretty finishing touch.
42. Delphine Dress – £395, Ghost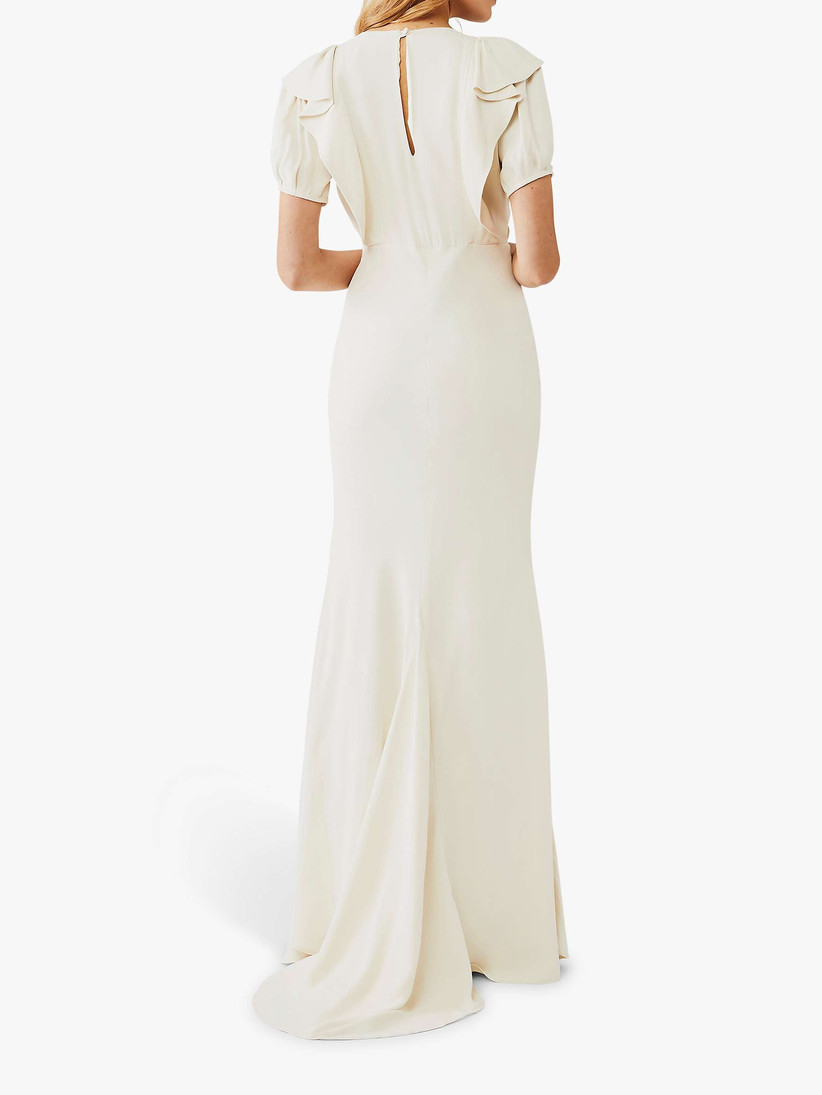 Boho meets vintage in this latest offering from Ghost's Cloud Dancer collection. The Delphine dress features the most divine frill detailing around the shoulders and bodice. Cut in an effortlessly flattering silhouette, this gown will move with your body so you can dance all evening.
43. Poppy Embroidered Dress – £450, Phase Eight
There's a modern look to this Phase Eight dress that works really well with the timeless all-over lace. The sleeves are flattering on every body type and those hems trimmed with contrast satin edging make this dress much more expensive than it is. Don't miss the semi-sheer back and cute buttons!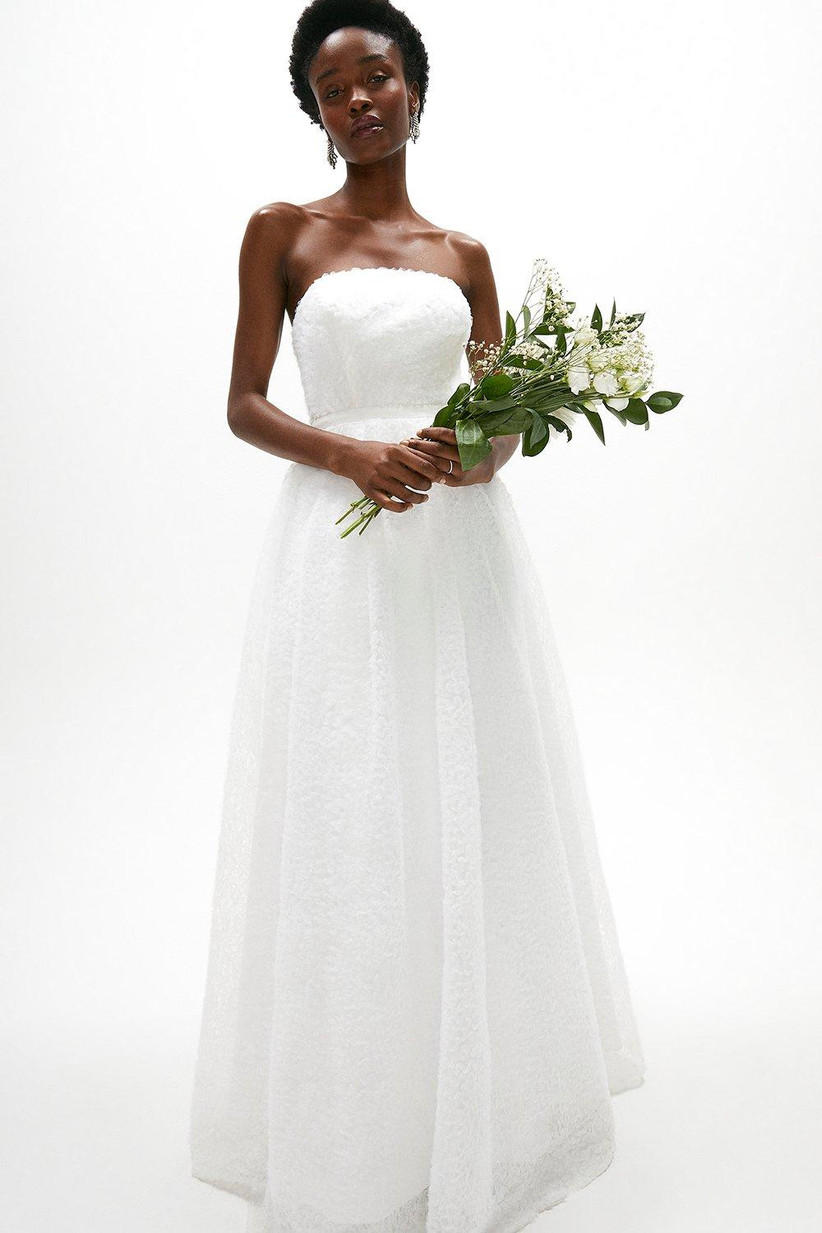 Strapless wedding dresses will never go out of style and, for the price, this Coast gown is one of the best quality you can get. The voluminous skirt and textured fabric elevate this beyond your standard bandeau dress and you'll love the ballgown swish!
45. Sophie Beaded Floral Dress - £499, Monsoon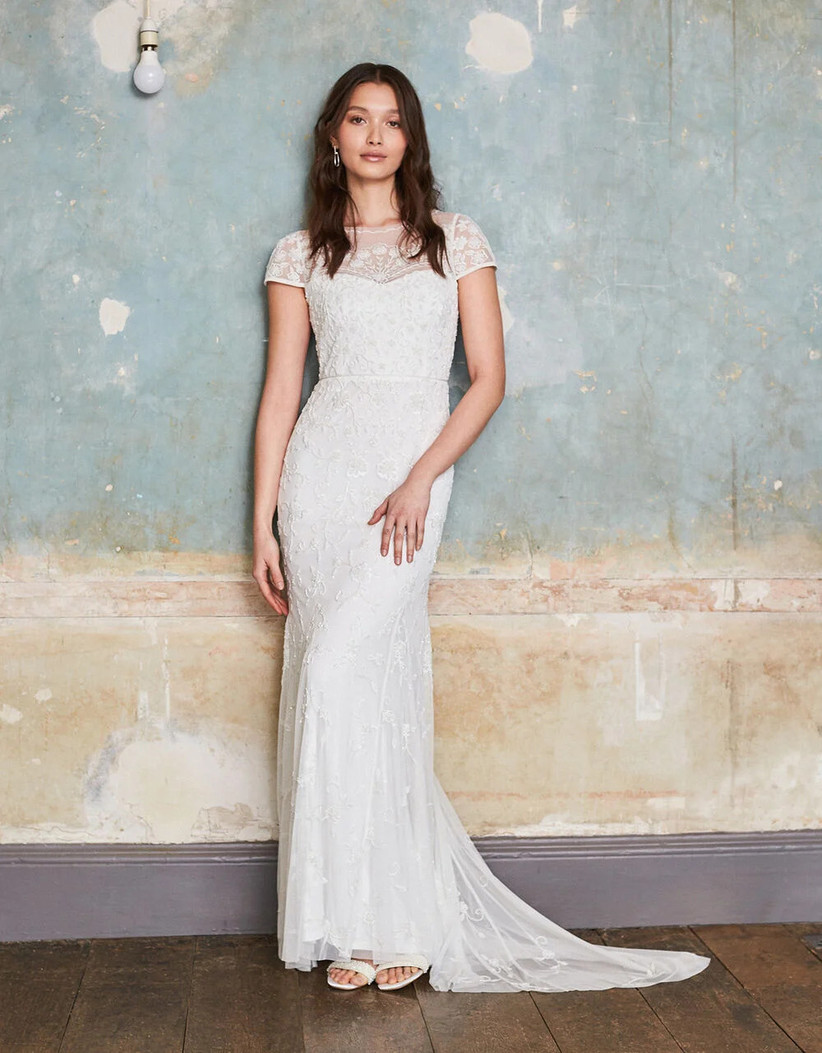 For under £500, this Monsoon dress is crafted with the most amazing embroidery and beading. The intricate floral design continues all over this slim-cut dress and right down the long train (a fabulous touch!). You'll want to keep this as an heirloom for future generations.
46. Anastasia Jumpsuit – £499, Constellation Âme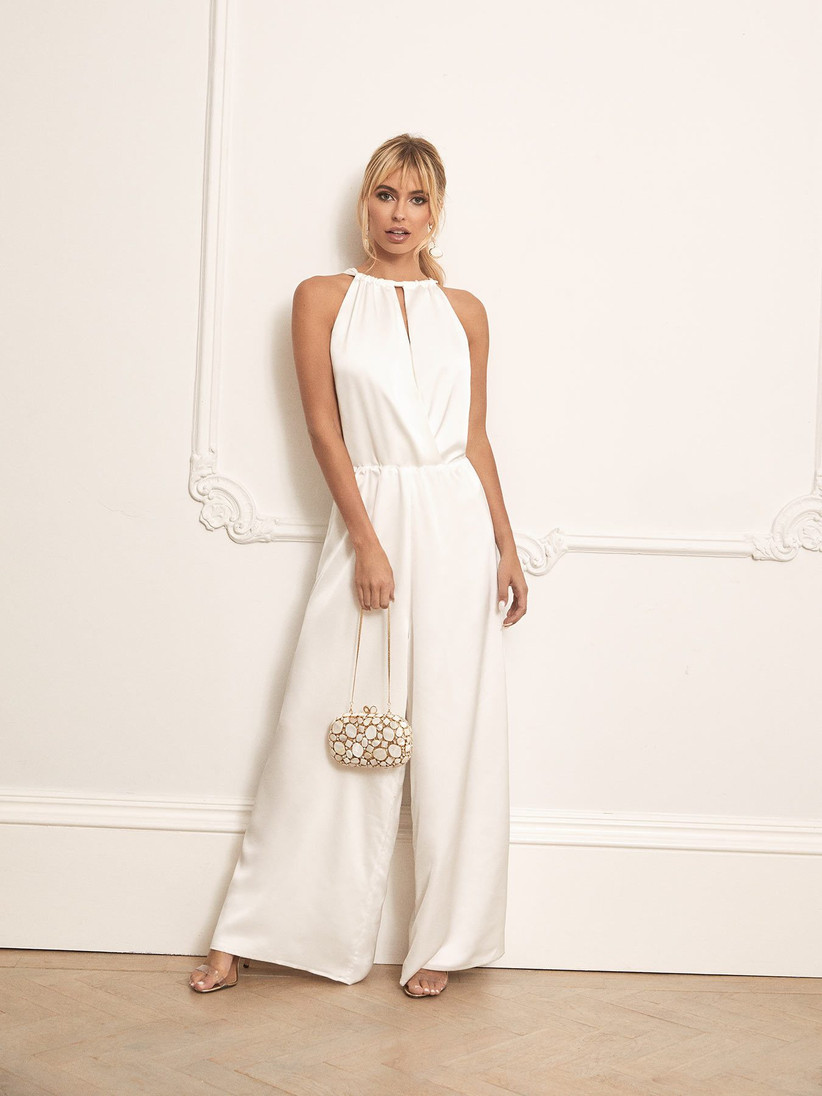 Don't fancy wearing an actual wedding dress? We've got you covered with this satin, wide leg jumpsuit. We love the halter neck and gathered waist, and could totally see this at a city registry office wedding with a pair of killer heels.
47. Sander Dress – $390, BHLDN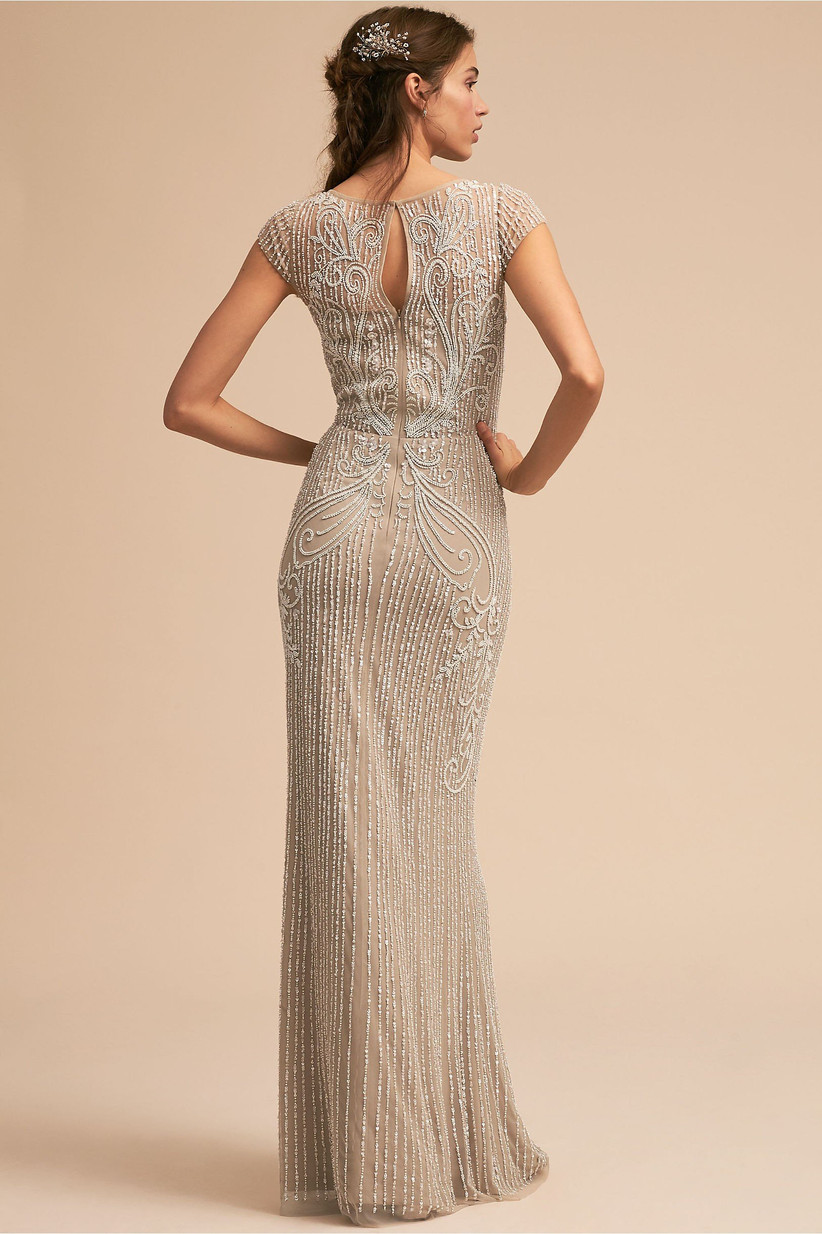 BHLDN isn't technically a UK high street store – it's the US-based sister brand to Anthropologie. That does mean that you'll have to get it delivered, but for these gorgeous dresses it's worth it. The Sanders dress is a chic, body-skimming V-neck dress covered in beading that has a truly vintage vibe.
READ MORE: 30 Colourful Wedding Dresses
48. Naomi Embellished Cape Dress - £499, Monsoon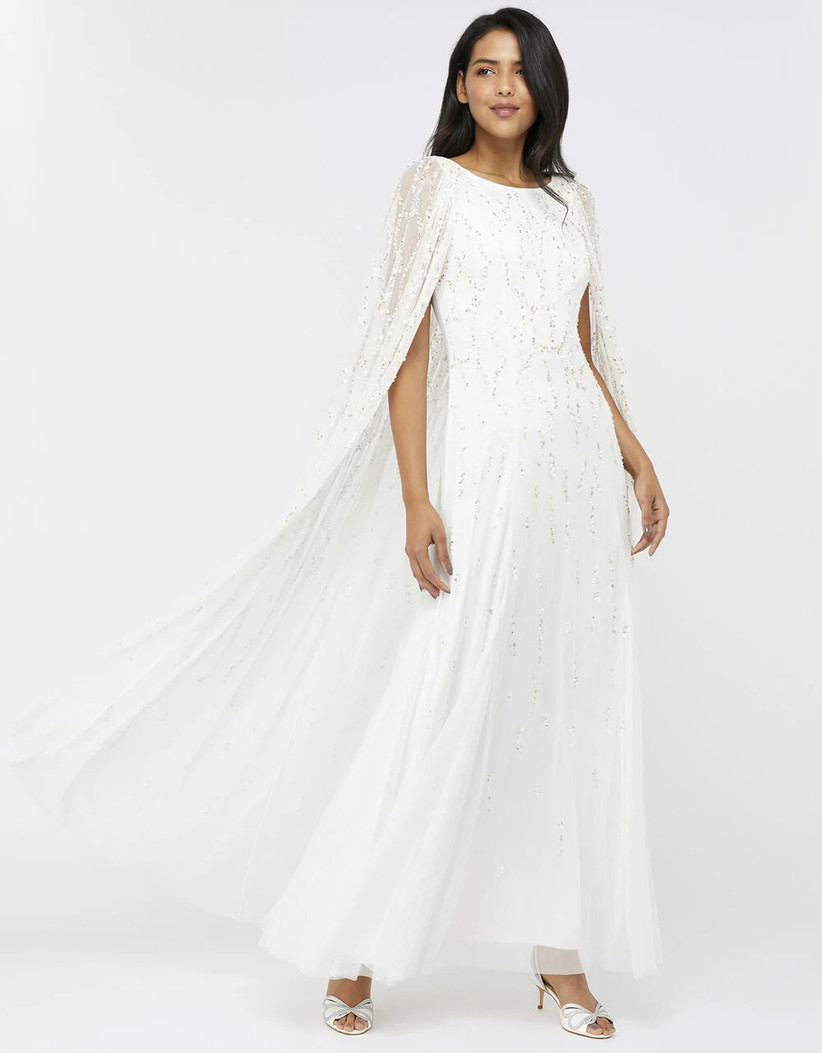 With a shimmering, maxi-length cape, you'll mesmerise your guests in this Naomi dress. It's contemporary and cool with a hefty dose of fun. Just wait until you're swirling round the dancefloor in it! The sequins are gold, fyi, which give it a really warm energy too.
49. Bellerose Dress – £295, Ghost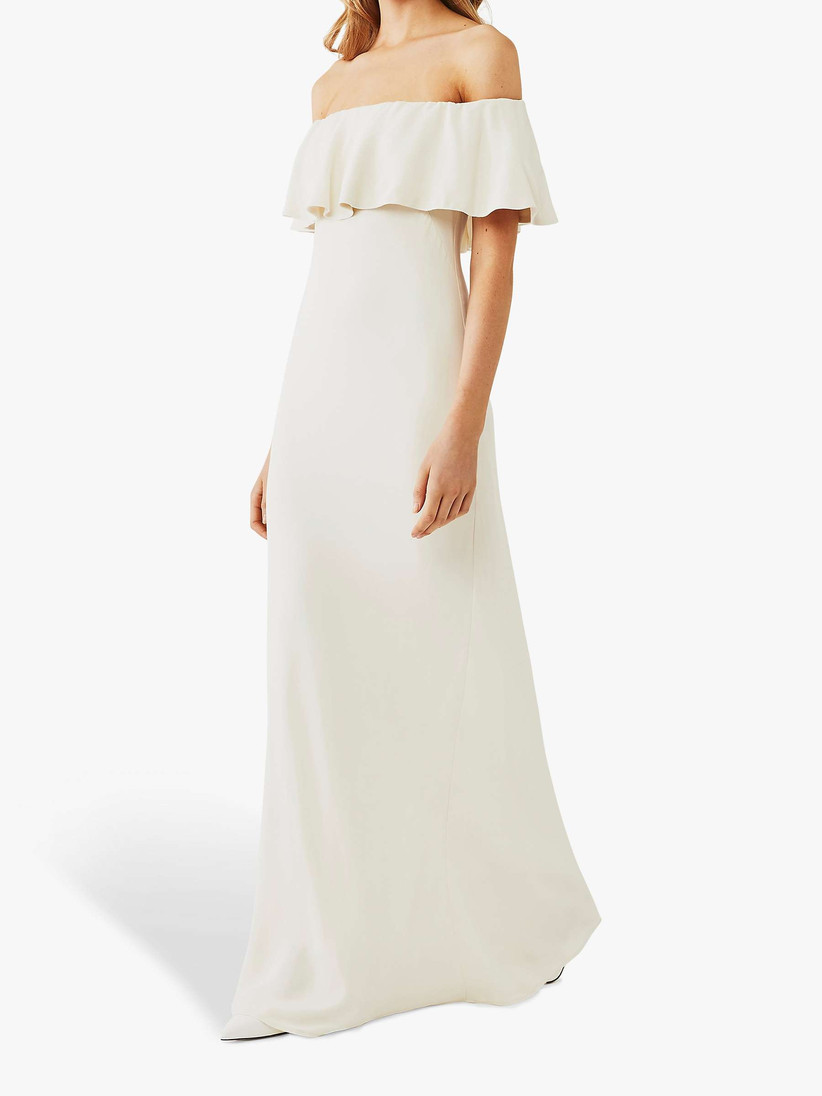 For under £300, there's little on the high street that's as elegant and beautifully created for this price tag. We adore this contemporary and sleek off-the-shoulder dress, which draws the eye with the statement shoulder frill and then sculpts down the body.
50. Tyler Dress - £300, Chi Chi London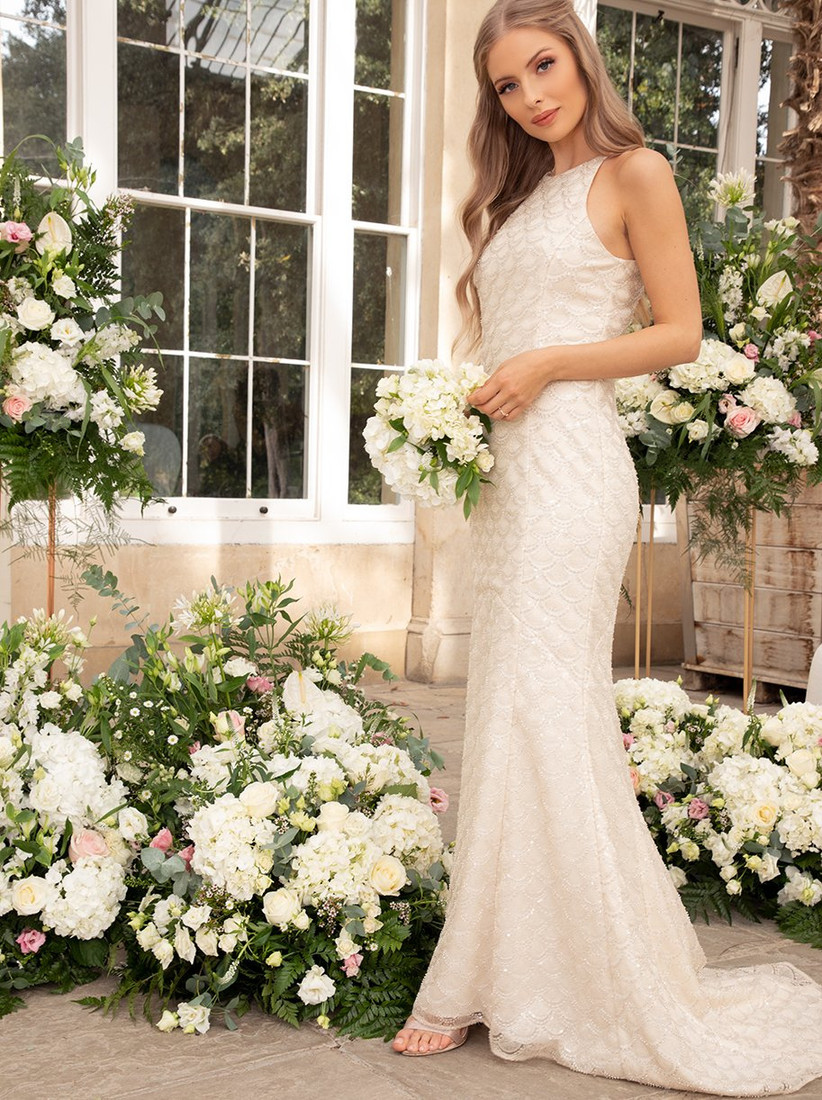 Embrace an Art Deco, Great Gatsby vibe in this embellished dress. It comes in a soft ivory colour which looks beautiful on tanned skin and the scalloped sequins create an optical illusion that flatters your silhouette. Top it off with that halter neckline and you've got a winner.
51. Leaf Guipure Maxi Dress – £450, Self-Portrait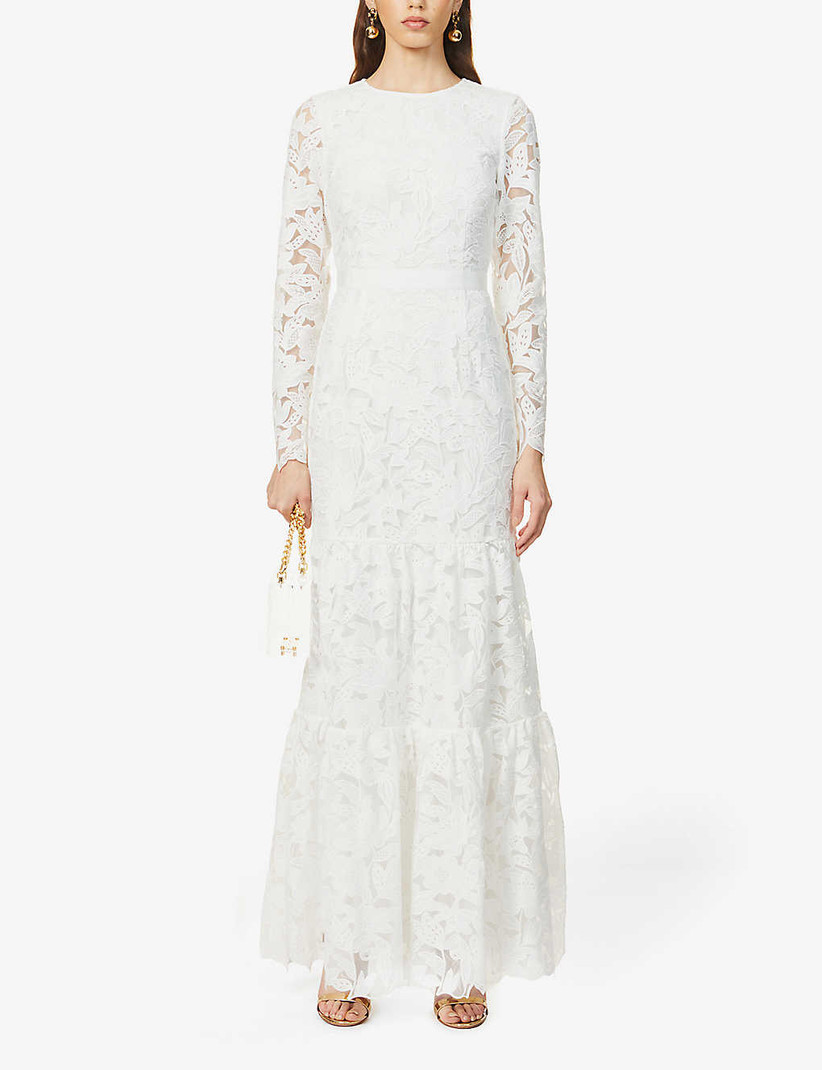 Modern brides will love this tiered, long-sleeve guipure lace dress from Self-Portrait. The graphic lace offers up a contemporary take on traditional bridal lace while the modest high neckline gives it a timeless appeal that will never date.
52. Rosa Frill Dress – £395, Ghost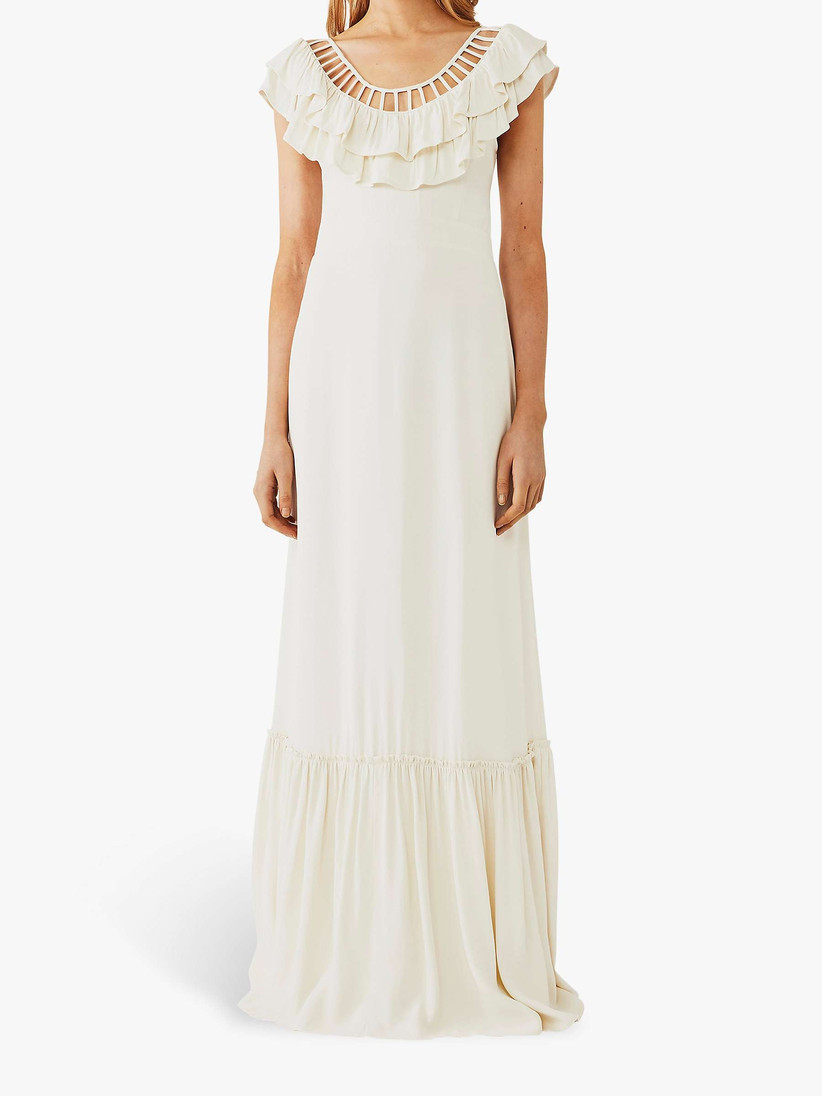 Look at that neckline! With its statement cut-out ruffle detailing, the Rosa dress is crying out for a destination or summer wedding. It's cool, contemporary and moves like a dream. You won't regret wearing this on a sunny beach as you say "I do".
53. Kate Beaded Floral Bridal Dress - £499, Monsoon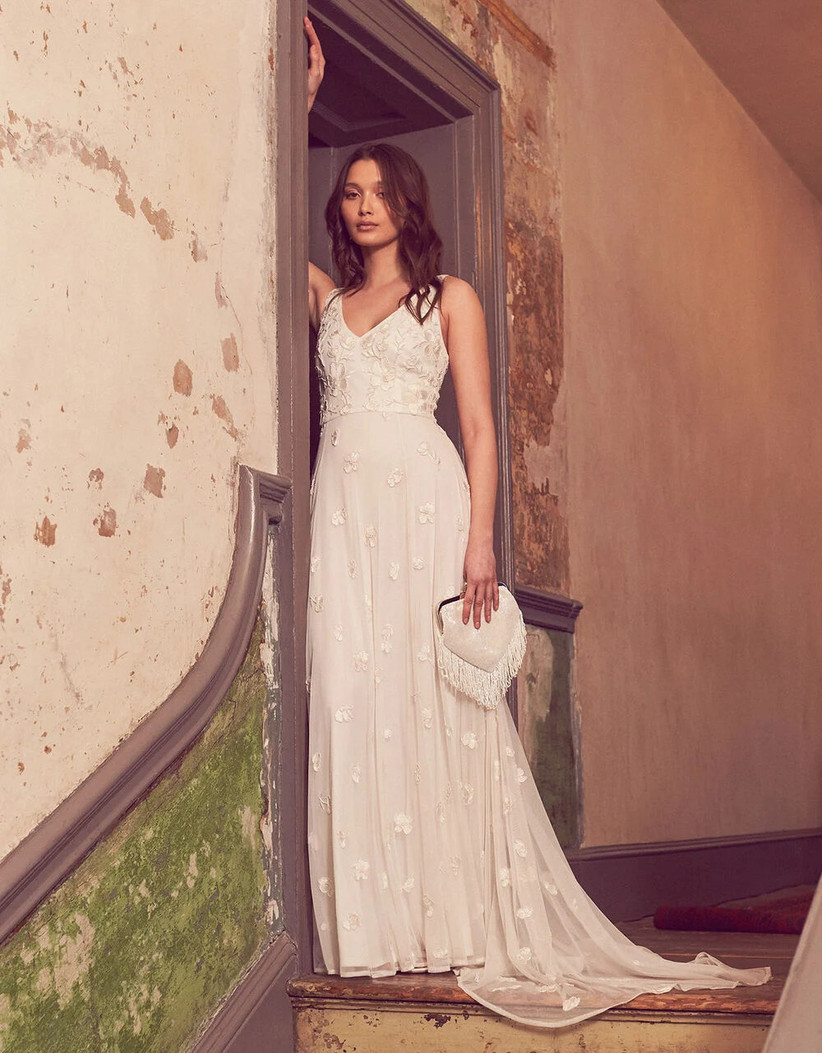 Calling all boho brides! This wedding dress is about to make all of your laidback, flower-child wedding dreams comes true. We're obsessed with the beaded 3D flowers and would so be pairing this with a wild and wonderful bouquet.
54. Turin Dress – £350, Reformation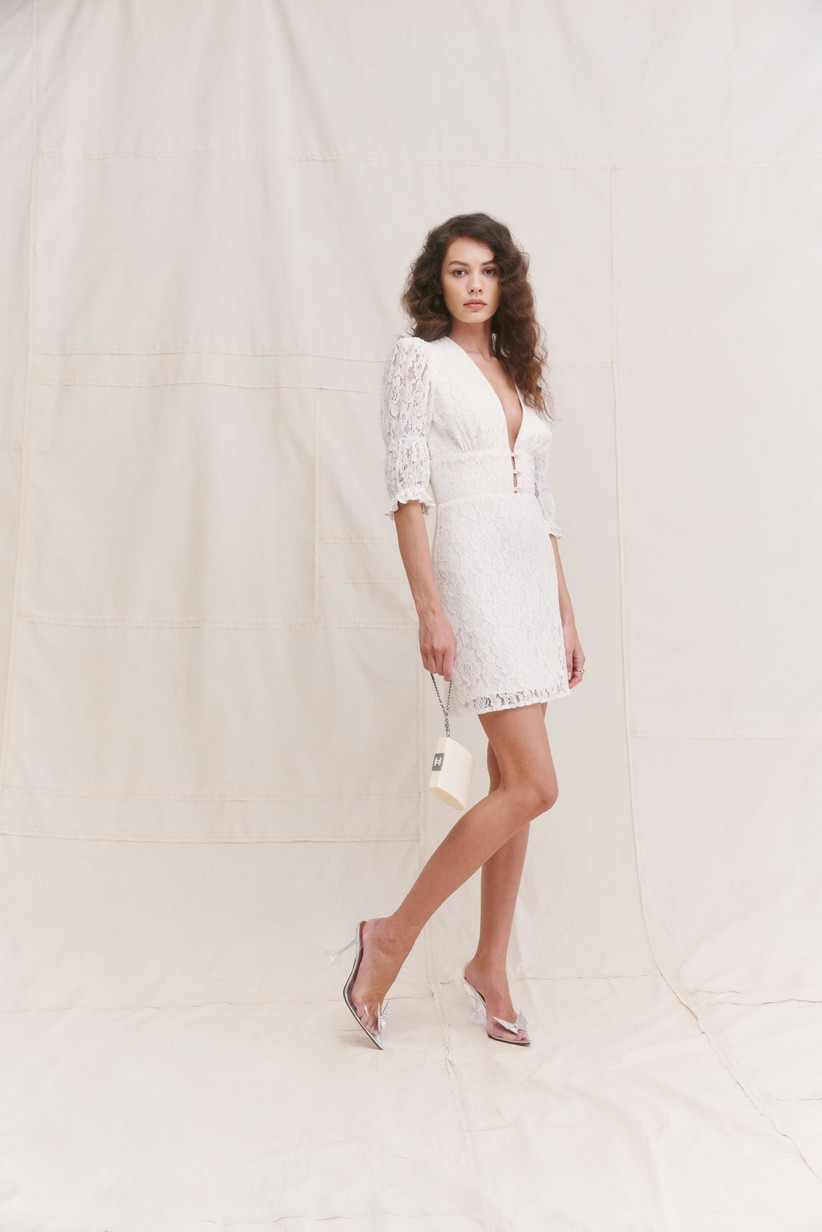 Sassy but still undeniably bridal, the Turin dress strikes the perfect balance. We love how the shorter length and daring neckline is totally offset by the classic lace fabric and demure frilled sleeves. It's ideal for brides who like to surprise with their sartorial decisions.
The Best High Street Wedding Dresses Under £1,000
55. Jeanne Dress – £599, Constellation Âme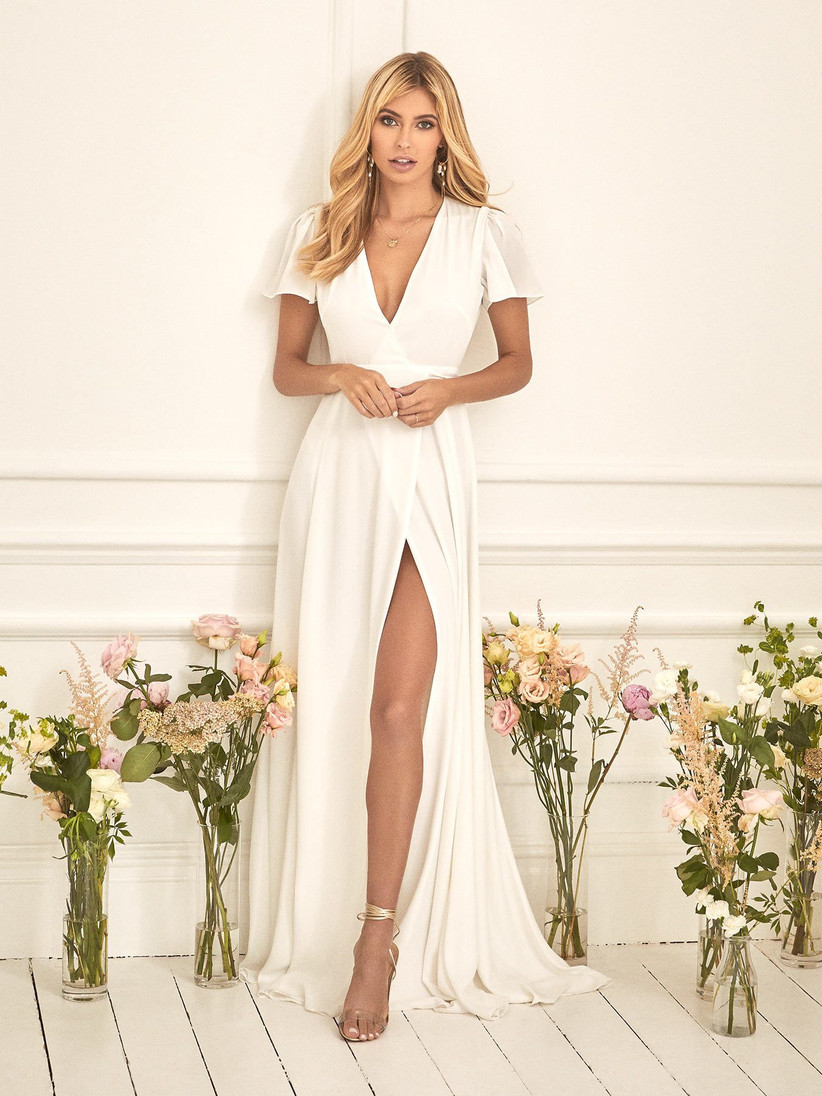 British brand Constellation Âme really know a thing or two about creating simple, chic designs that look and feel expensive. Just because they look pricey though, it doesn't mean they are. The stunning wrap-over Jeanne dress is a bargain at just £599!
56. Candice Dress - £650, Rixo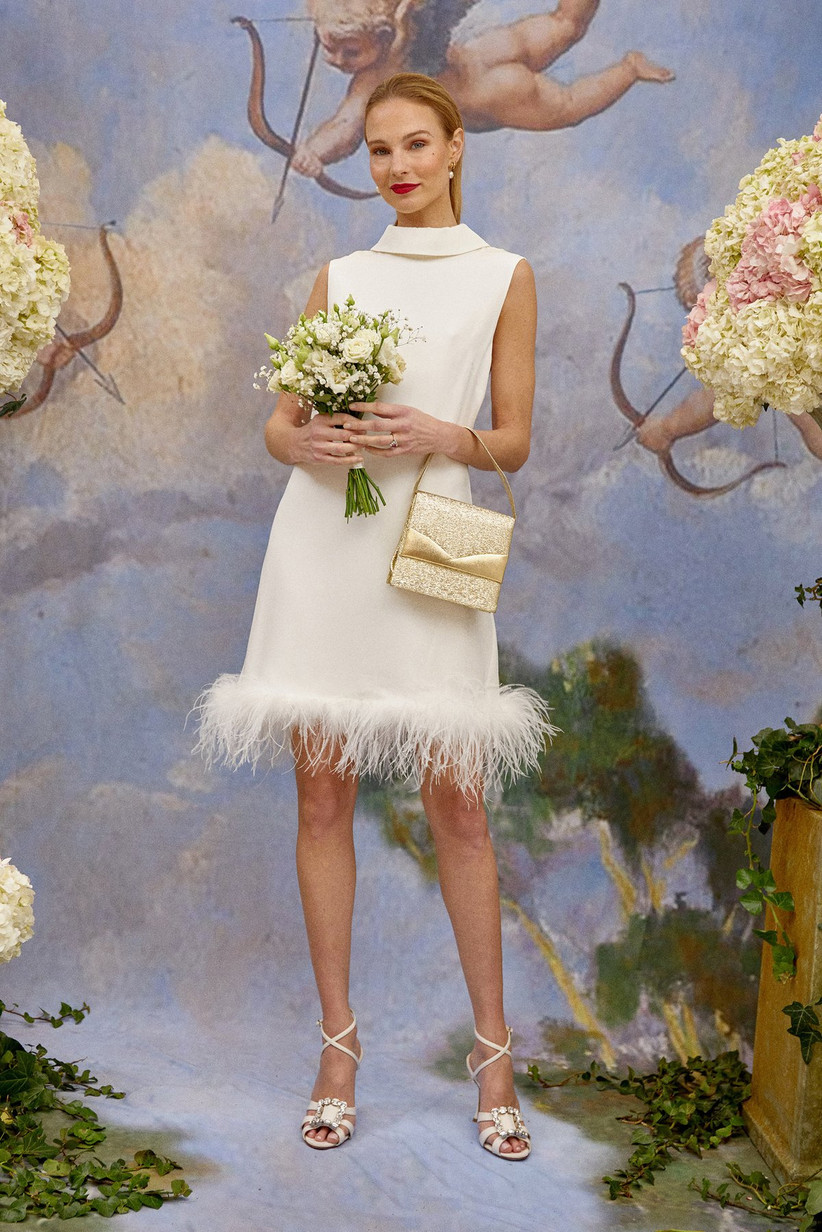 If you've been swooning after the feather trim trend as much as we have it doesn't get much better than this 60s-style silk shift dress. Make like the Rixo team and pop on a red lip for the ultimate vintage inspired look. None left in your size? Book in with their dedicated bridal specialist to enquire about a made to order dress.
57. Lunette Blossom Ankle Gown - £525, Needle & Thread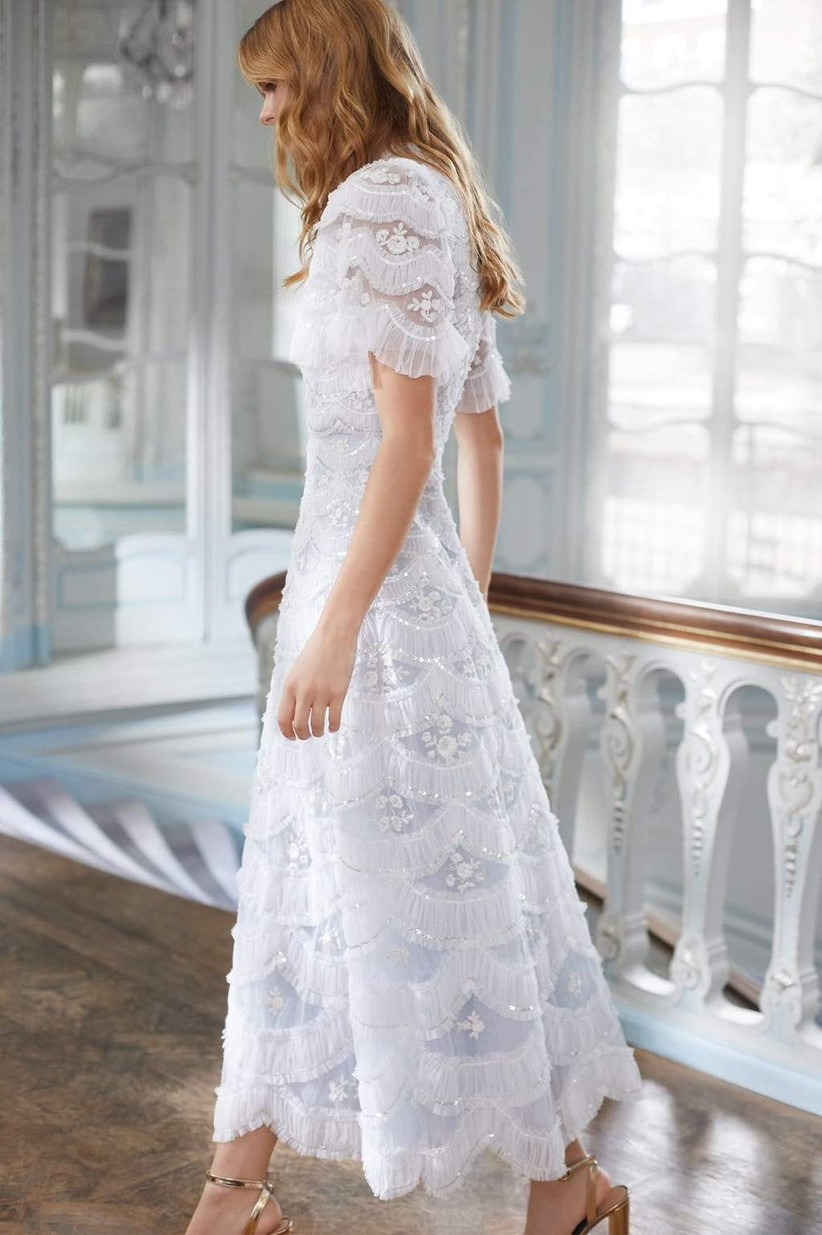 Inspired by traditional Wedgewood ceramics, this gown boasts a beautiful pale blue hue that sets it apart. It's has a romantic, vintage aesthetic with floral embroidery motifs, shimmering sequins and delicately gathered tulle scallop borders with contrasting ivory detail. It'll take you beautifully from day to night.
58. Cordette Dress - £975, Rixo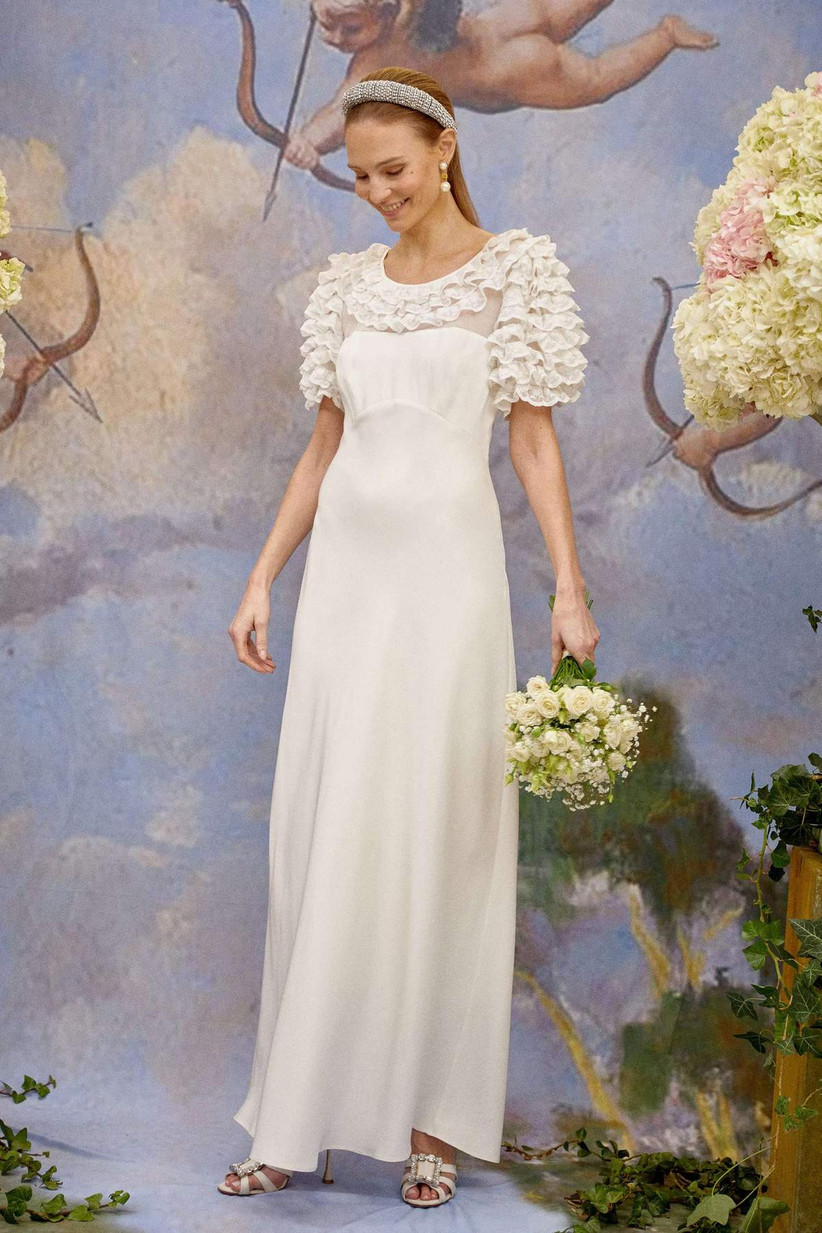 We couldn't resit adding this gorgeous satin back and silk crepe Rixo wedding dress to our round-up. The ruffled neckline and sleeves add interest to the sleek gown and you'll be hard pressed to find anyone who's had a dress quite like this.
59. Gwyneth Puff Sleeved Tulle Dress - £900, Molly Goddard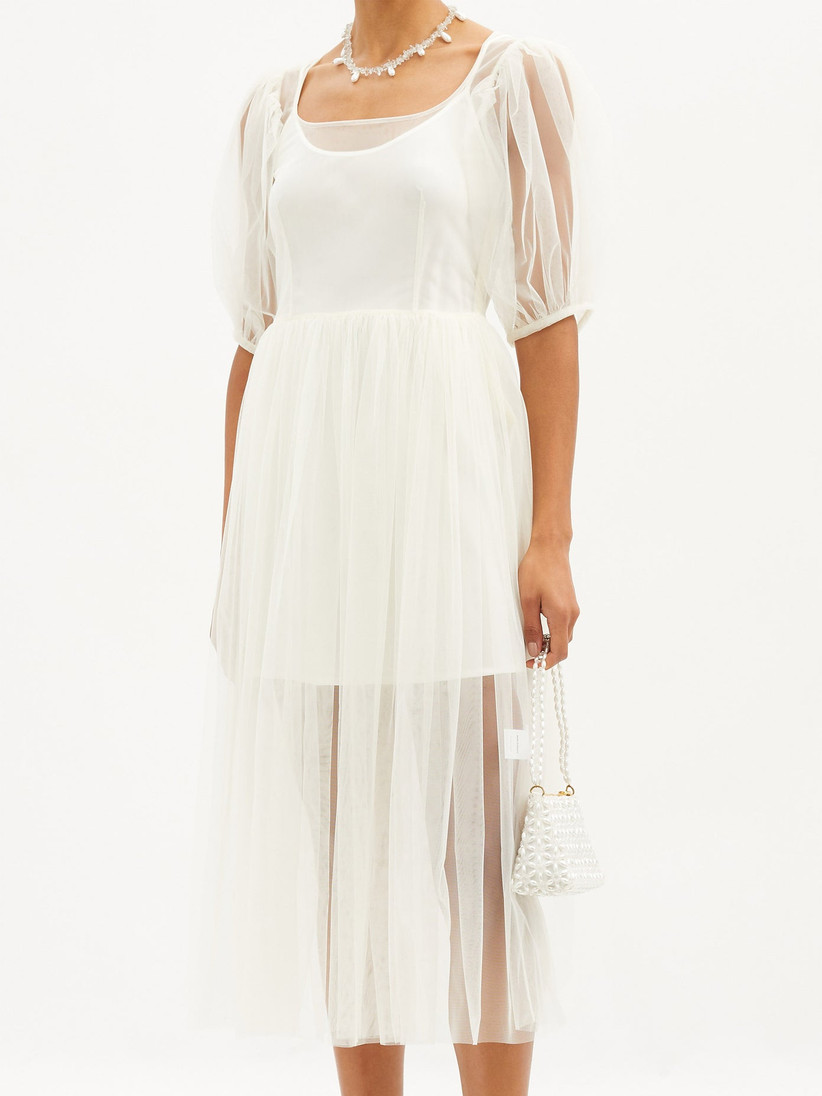 You've probably lusted after Molly Goddard's creations after watching Jodie Comer rock a pink dress from the designer in Killing Eve, and at just under £1000 you can get your hands on one too with this dress at Matches Fashion. In true Molly Goddard style it features gorgeous puff sleeves, pleated tulle and a gathered waist.
60. Pearl Rose Cami Gown - £650, Needle & Thread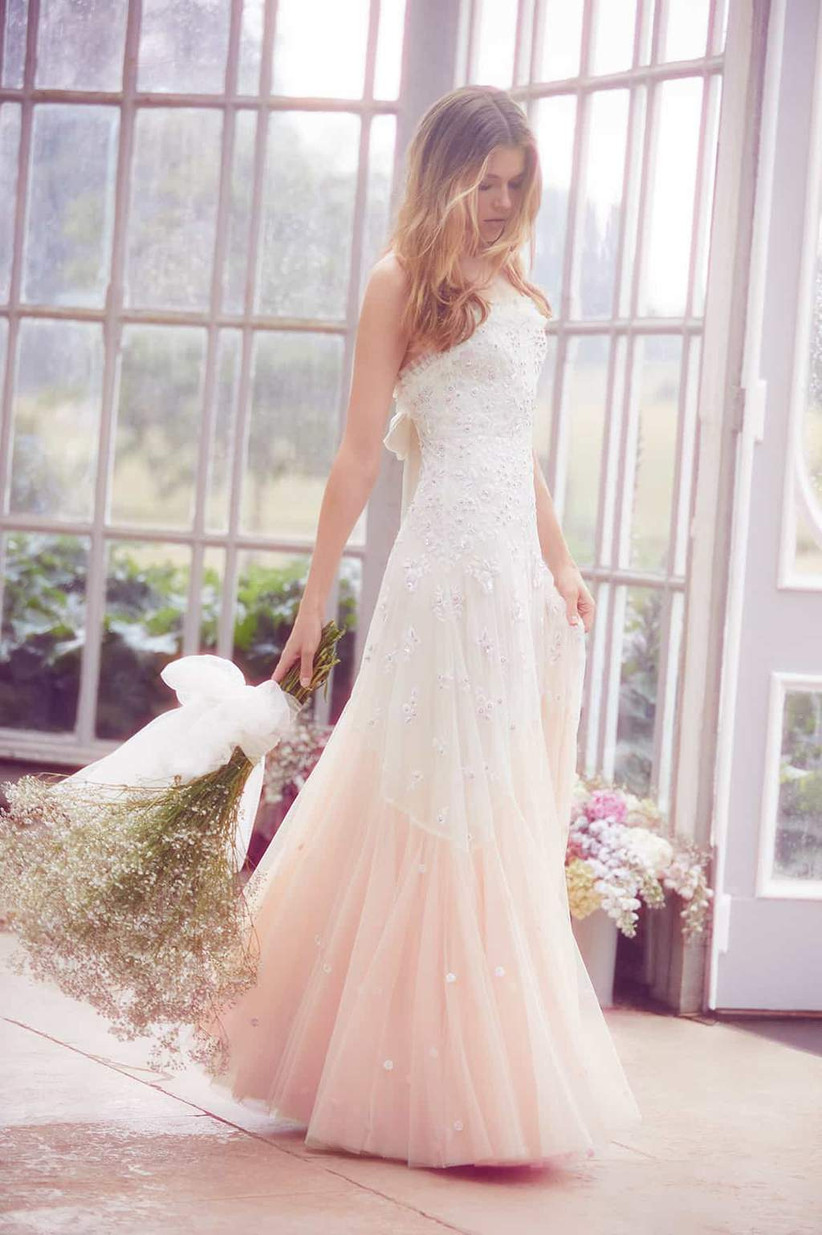 Needle & Thread nail it when it comes to beading and sequins, and this pink tulle wedding dress is no exception. We love the detachable satin bow at the back and the all-over embellishments that will look stunning if you're planning to feature twinkling fairy lights in your wedding.
READ MORE: The Best Wedding Dresses Under £1,000
Before you go shopping, make sure you read our essential list of 43 mistakes not to make when choosing your wedding dress, featuring advice from Second Chance Dresses' Olivia Buckland and Say Yes To The Dress' David Emmanuel.