How Much Should You Spend on an Engagement Ring?
Thinking of popping the question but wondering how much you should spend on the ring? There's no one-size-fits-all approach – but here are some options to inform you search.
We have included third party products to help you navigate and enjoy life's biggest moments. Purchases made through links on this page may earn us a commission.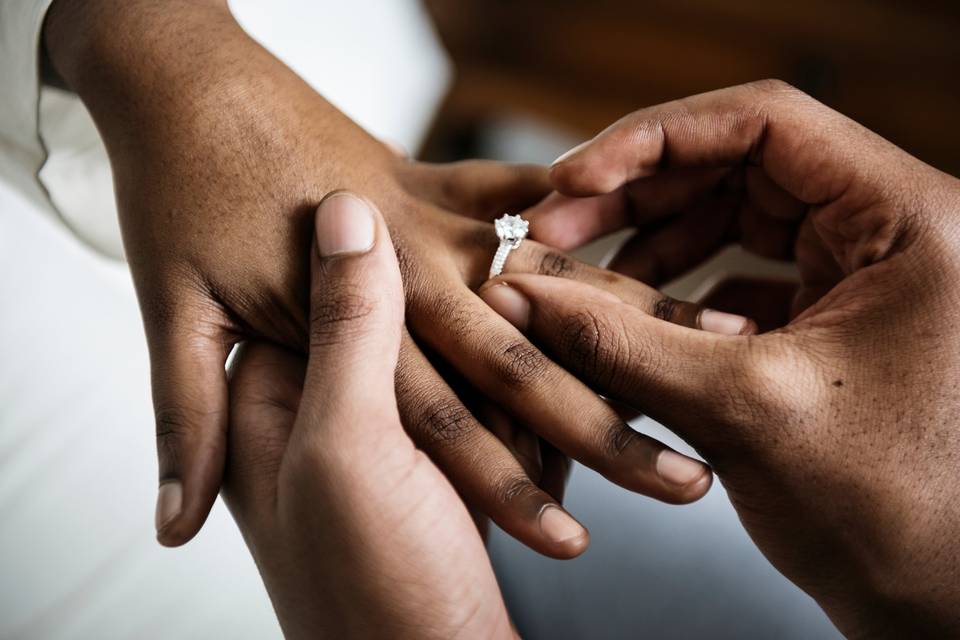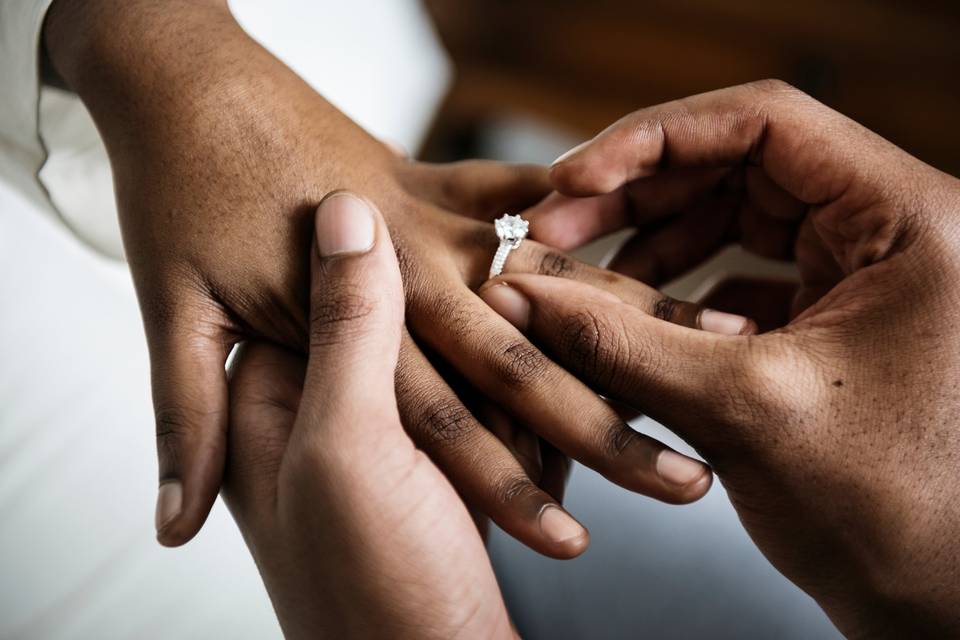 The question of how much you should spend on an engagement ring is a difficult one to answer. Whether you've got a full brief of desired cut, colour and clarity from your fiancé-to-be, or are trying to guess the type of band they'll love while maintaining the element of surprise, a definitive answer doesn't really exist.
So much of the budget for an engagement ring depends on external factors, from your salary and how many financial commitments you have, to the type of ring you want to buy and how long you plan to save for before you propose. It's no surprise that the process of buying an engagement ring is usually made up of equal parts excitement and stress – especially as it's often one of the biggest investments you'll ever make.
While everyone's magic number is different, there are several helpful ways to approach the price of engagement rings with confidence and to prevent you from getting sucked into a whirlwind of complicated calculations and frustration. We've broken them down in detail here. From the real deal behind the 'three months' salary' ethos to insights and averages from the experts, here are the options you could consider when picking a figure to aim for.
READ MORE:
Option 1: The Traditional Amount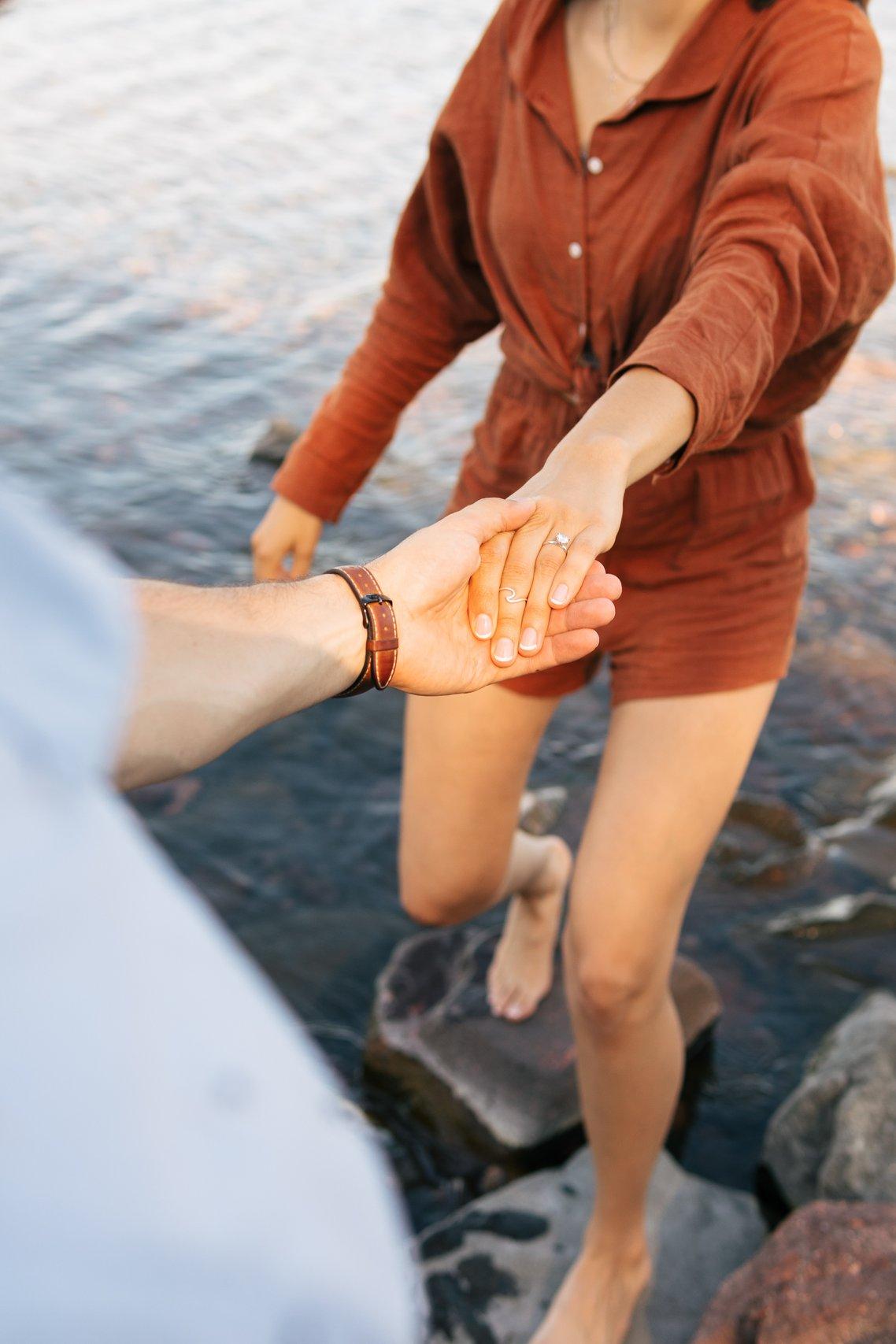 You've probably heard the phrase 'three month's salary' bandied about already, and yes, you can use this as a guideline for how much you should spend on an engagement ring. However, before you take it as gospel, you should know that this 'rule' was created as the result of an advertising drive from luxury diamond retailer De Beers – who obviously had a vested interest in parting consumers from their hard-earned cash.
In the 1930s, they put out a campaign encouraging people to spend a single month's salary, which increased to two months in the 1980s. This was followed by ads which eventually led to the contemporary three month figure. It's become a mantra that many still choose to follow to this day – but there's absolutely no obligation to fall in line.
Considering that the average salary in the UK today is around £585 per week (or around £2,535 per month), that would put a typical engagement ring budget at £7,605. You can find thousands of stunning designs for far less, so don't panic if this is far too steep.
Option 2: The National Average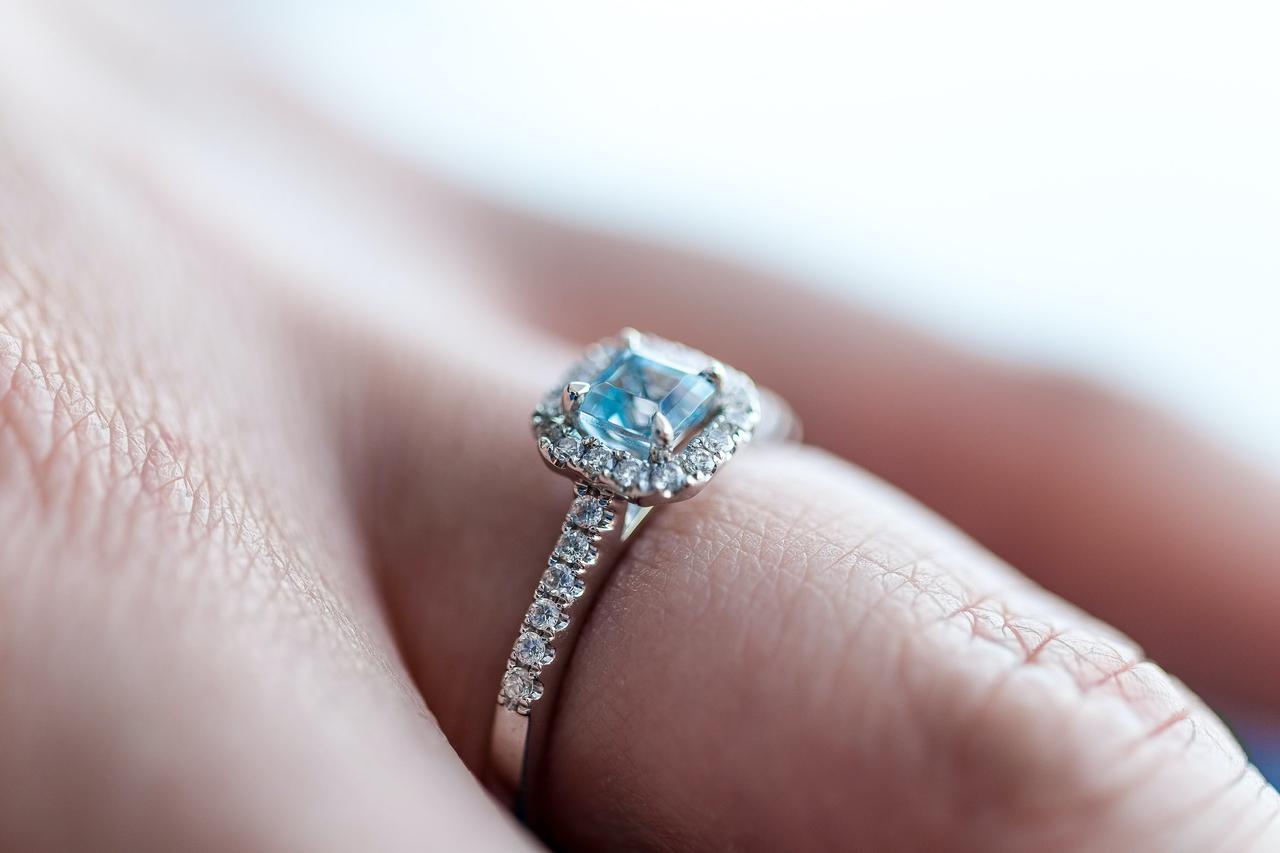 According to our most recent National Wedding Survey, the average amount spent on an engagement ring was £2,419 (yes, it is okay to breathe an audible sigh of relief after reading that £7,000 figure above).
Knowing how much everyone else is spending is a) super interesting, and b) useful as a generic rule of thumb. However, other research suggests that even the 'average' average varies. A prior poll of 2,000 people, conducted by insurance company Protect Your Bubble, reports that the average amount spend on an engagement ring is £1,483, so you see how drastically the number can vary.
Basically, don't feel you have to be 'wedded' (sorry) to the national average as your benchmark. As with any aspect of your relationship, what works for other couples doesn't necessarily translate for you and your partner.
READ MORE: 25 Ways to Propose at Home: The Most Romantic Ways to Pop the Question
Option 3: The Expert's View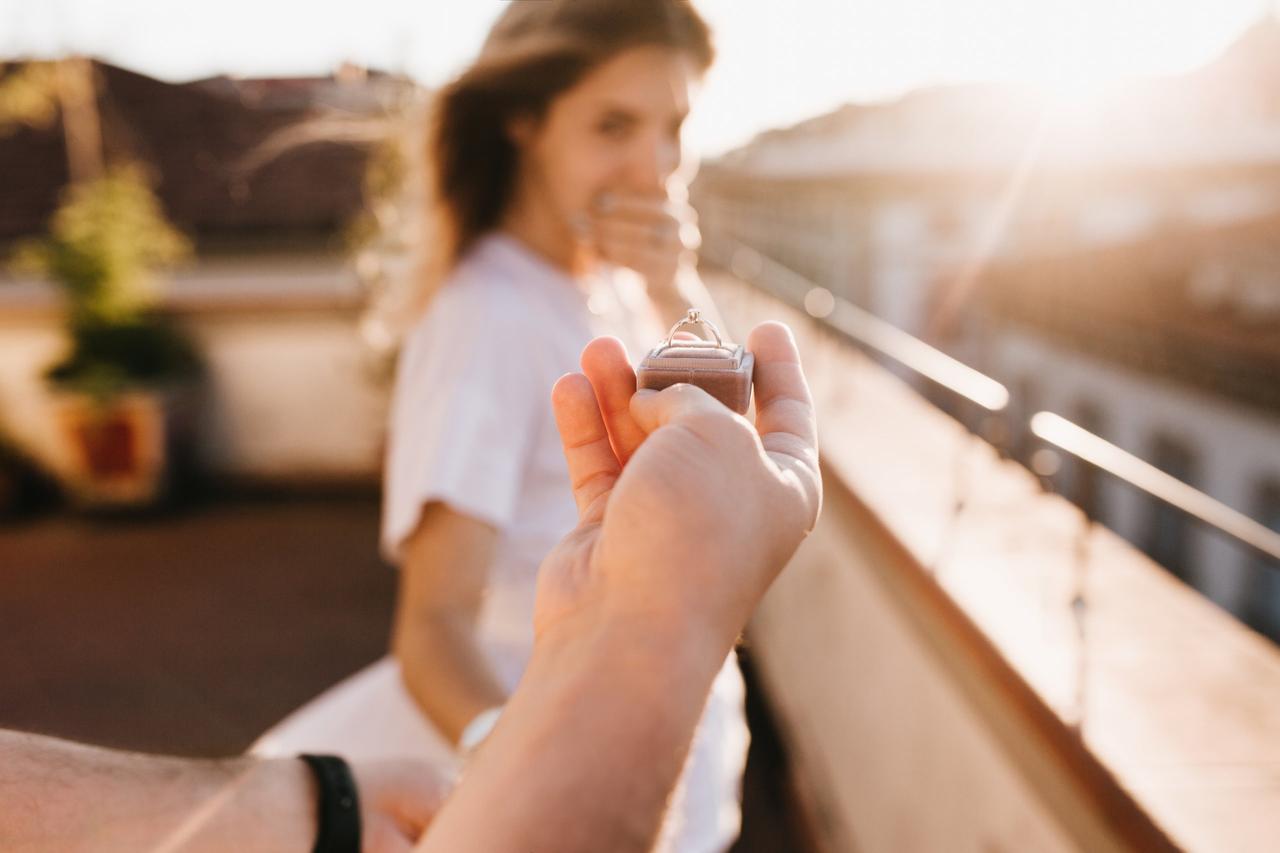 'Our typical customer spends anything between £2,000 to £4,000 on an engagement ring,' says Jerome Brustlein, chief operating officer at ethical jewellery brand Fenton & Co, which specialises in precious gemstones. 'However, we have some customers with smaller budget that also find their perfect ring; for example, our aquamarines are a more affordable stone, but are just as beautiful.'
'We believe that there is no "one size fits all" and it is important to focus on the sentimental value of the ring for the wearer,' he adds. 'In our opinion, the three months' salary rule is antiquated and we are happy to see that mentalities here changed. We recently conducted a poll on our Instagram channel asking followers what they thought you should spend on an engagement ring; the general consensus from the replies was that a ring should be an investment, with sentimental value but without breaking the bank.'
Lorna Haddon, head of diamonds and jewellery at Beaverbrooks, agrees: 'There are so many different options when choosing a ring, from the design and metal of the band through to the cut, colour, clarity and carat of the sparkling diamond.
'We do everything we can to help our customers pick the perfect ring for their partner. For us it's not about how much you "should" spend, it's finding the ring that's right for you, your partner and your budget. This runs through the whole ring buying process in store and on our website.'
Emily Newman, Head of Design at Lark & Berry, makers of sustainably-sourced cultured diamond fine jewellery, says that engagement ring spend at their company varies greatly, 'from £2,500 to £18,000, but the most common budget is around £5,000.'
'The average on a more general "off the shelf" engagement ring is £6,000,' she adds. 'We give our customers better value at this price point because we offer a bespoke service that allows you to create not only the ring of your dreams, but also one that is more sustainable and completely ethical.'
READ MORE: 60 Romantic and Unique Proposal Ideas
Option 4: The Pound Stretcher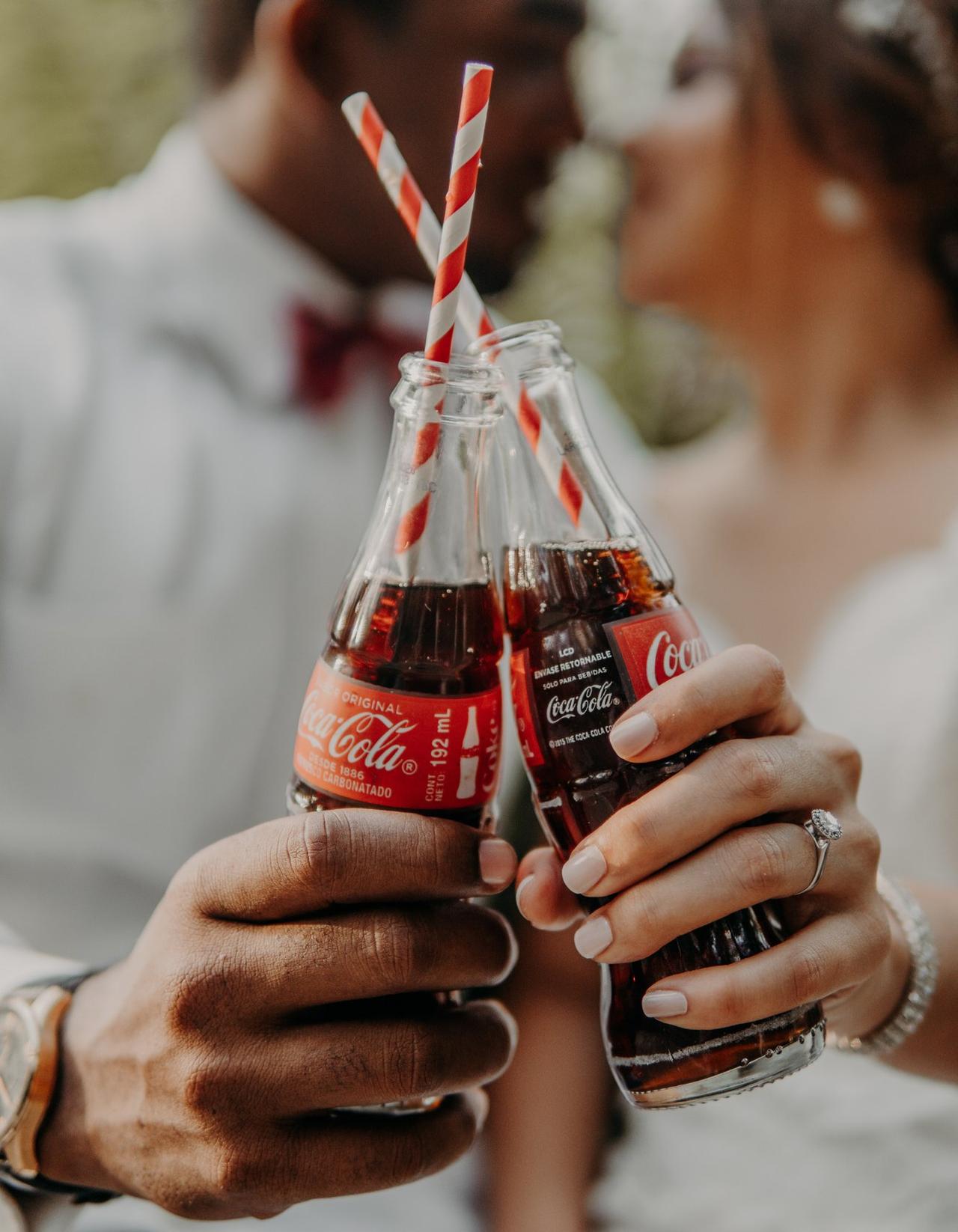 If you already have a look and feel in mind, but are worried that your budget might not stretch, Emily says that there are always clever ways to get more bang for your buck if you shop savvy and know what to look for.
'The weight of the metal will affect the price, as will the size and quality of the diamond,' she explains. 'If you lower the colour or clarity of the diamond by one increment, this can help greatly, especially if you go from a colourless F to near colourless G. This will not affect the look of the ring as it is very hard to tell the difference, and you will save money.'
Jerome points out that while diamonds are traditional, other stones such as rubies, garnets and emeralds can be just as stunning – and save you money.
'At Fenton we focus on surface area rather than typical carat weight, which allows you to get a better value for money versus diamonds (as the gemstone will look bigger on the finger),' he says.
'Another thing that is important to look for: a nice colour that is evenly spread across the stone, a nice cut, a good size to weight ratio (to get 'more stone for your money') and not too included – although gemstones will always have some inclusions, it is what makes them special as they are all unique.'
In terms of metal, platinum is typically the most expensive. However, there are some areas where you shouldn't cut corners: 'I often recommend using platinum for a white metal instead of white gold,' says Emily. 'You may save a little with white gold in the short term, but you will end up spending more in the future as the ring will need re-polishing and plating every few years (plus platinum is harder wearing).'
READ MORE: 5 Proposal Pictures Tips from a Professional Photographer
Option 5: The Low-Risk Option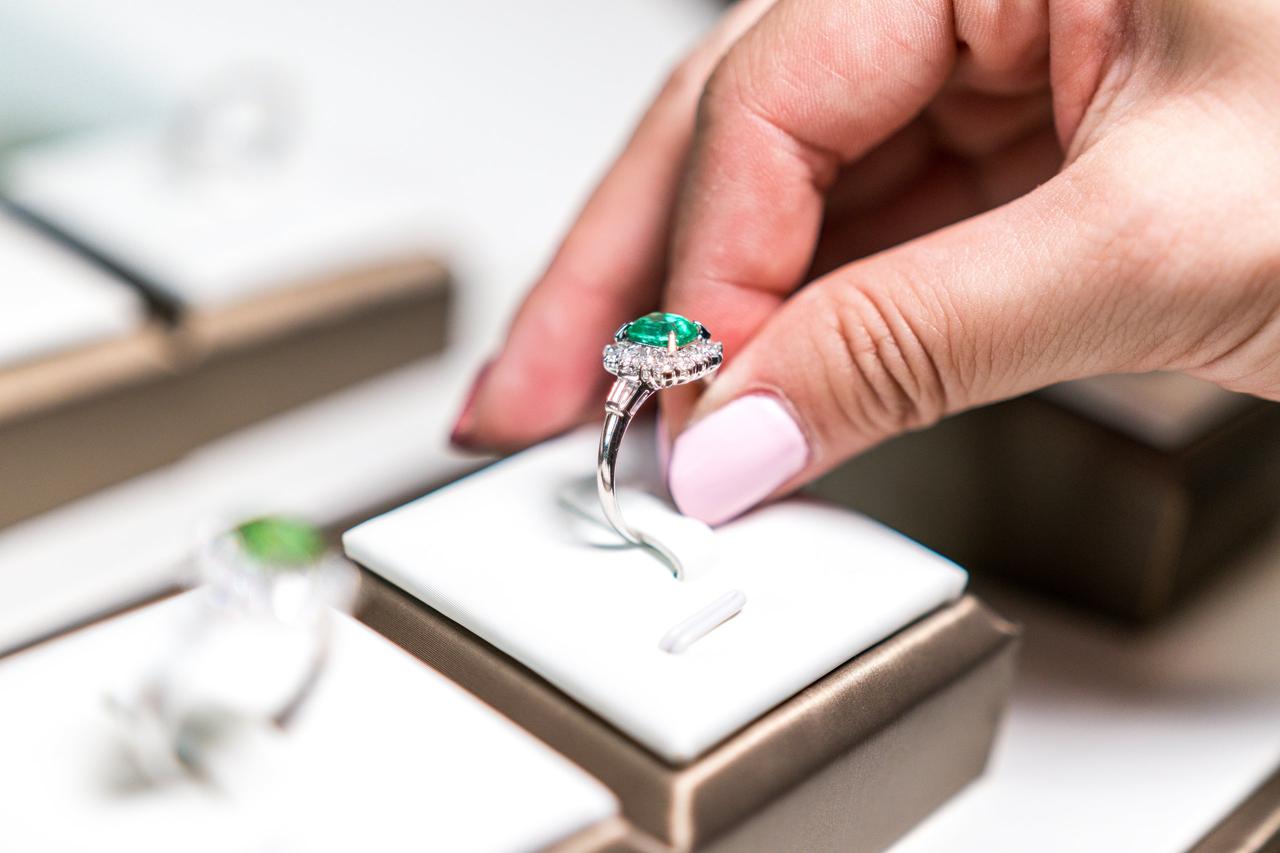 Ever heard of a proposal ring? If not, it's a concept you might want to consider – a temporary placeholder engagement ring that you get down on one knee with when you pop the question, and then replace with a permanent engagement ring that you select with your other half's input.
Lorna from Beaverbrooks says proposal rings are ideal for customers who might be uncertain of what their partner would like. 'These cubic zirconia replicas of diamond engagement rings start from just £40 and allow nervous proposers to pop the question with a beautiful ring without the worry of spending on something not to their taste,' she says. 'Once the proposal has taken place, couples can visit a store to choose the perfect ring together.'
Proposal rings usually cost less than £50, so are great low-outlay option if you have no idea what type of ring your partner would like. It saves you having to ask them and spoil the surprise you're planning. Some jewellers will even redeem the cost of the temporary band against the real engagement ring if you buy it with them and still allow you to keep the original as a memento.
Option 6: Nothing At All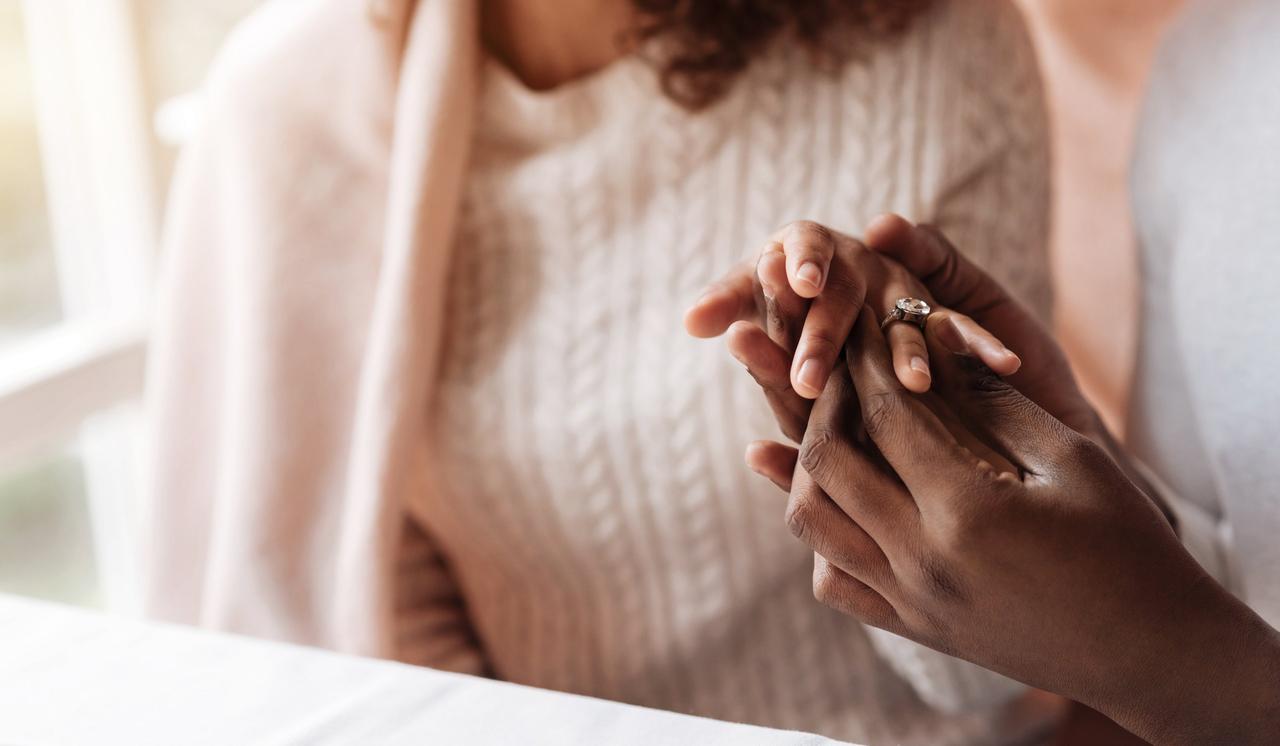 Okay, so this is a real opinion divider, but don't forget that you are allowed to propose without a ring. Whether you invest in one later because you want your partner to choose, or you decide as a pair that you'd rather the money was spent elsewhere. Some people, especially if they're highly financially conscious, feel uncomfortable and even guilty about their partner spending so much on an item that's just for them, so if you suspect that yours might feel this way, it's an important conversation to have.
Even if you've been together for years and you think you know them inside and out, their reaction might play out how you'd predict so prepare yourself for every possible outcome. Remember, because of the expectations society instils in us all, they've probably spent their whole life imagining a ring as a key part of any proposal.
However, under the right circumstances, a proposal without an engagement ring can feel even more spontaneous and romantic; it's just a celebration of your love in that exact moment, without any pretence or flash.
READ MORE: The Best Engagement Announcement Ideas: 21 Ways to Break the News
Option 7: The Only One That Really Matters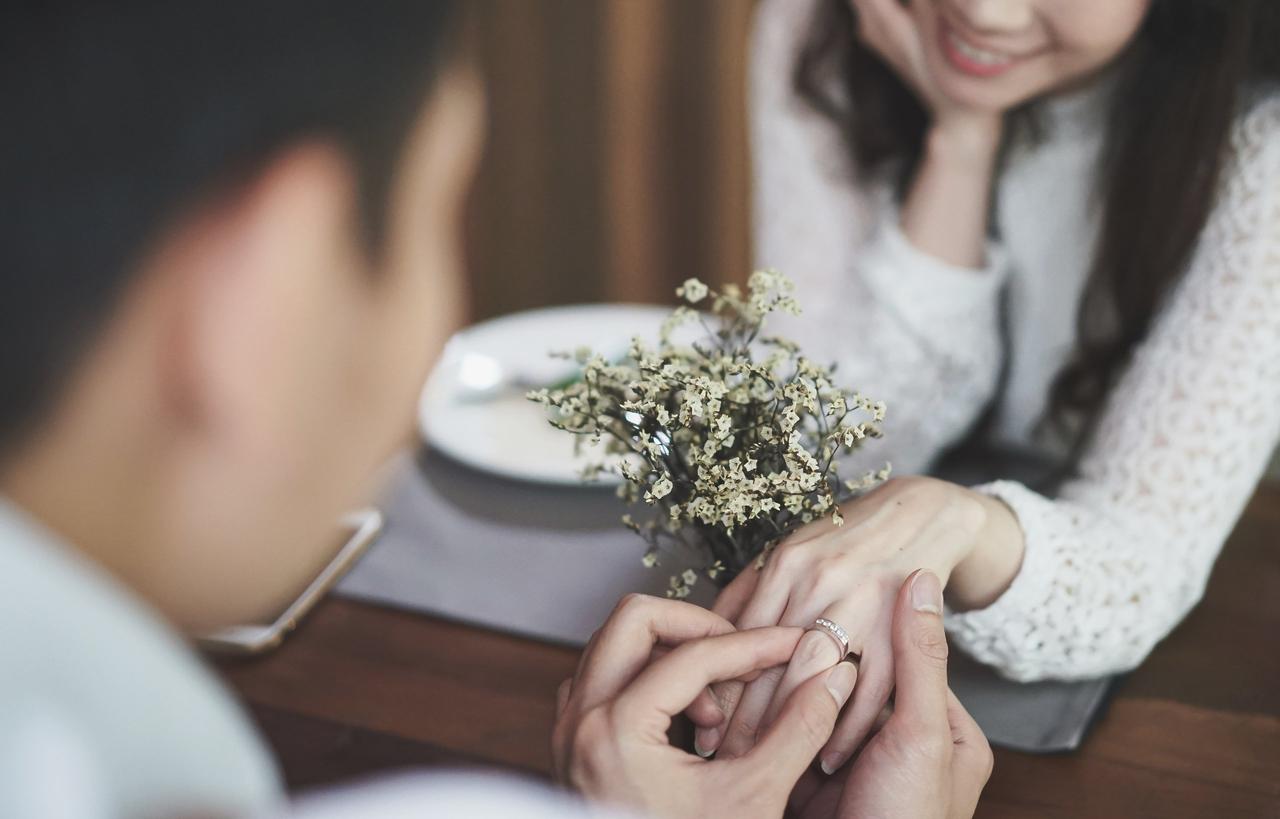 So you've read this whole article and you're still thinking 'so how much should you spend on an engagement ring? Well, we did warn you at the beginning – an exact figure is something that we can't give you, because no two people's journey looks the same.
In today's world, the only real rule is that there are no rules: maybe you and your partner split the cost between you, maybe you inherit a family heirloom or track down a gorgeous antique rather than buying new. The classic round-cut solitaire diamond is a wonderful choice, but it doesn't have to be the choice you make – and it's certainly not worth starting a marriage in major debt to acquire.
There are resources out there that will take your actual income and outgoings into account (money.co.uk's engagement ring calculator is a good place to start), but what it really comes down to is what you can actually afford, and what type of ring will mean the most. Be honest with yourself, be realistic and above all else, try to enjoy the process. After all, it's not something you're planning on doing again in a hurry.
Ultimately, an engagement ring is just a symbol of what you already know, and that's that you want to spend the rest of your life with this amazing person. When you think about it, you can't really put a price on that.
5 Ways To Get A Great Deal on an Engagement Ring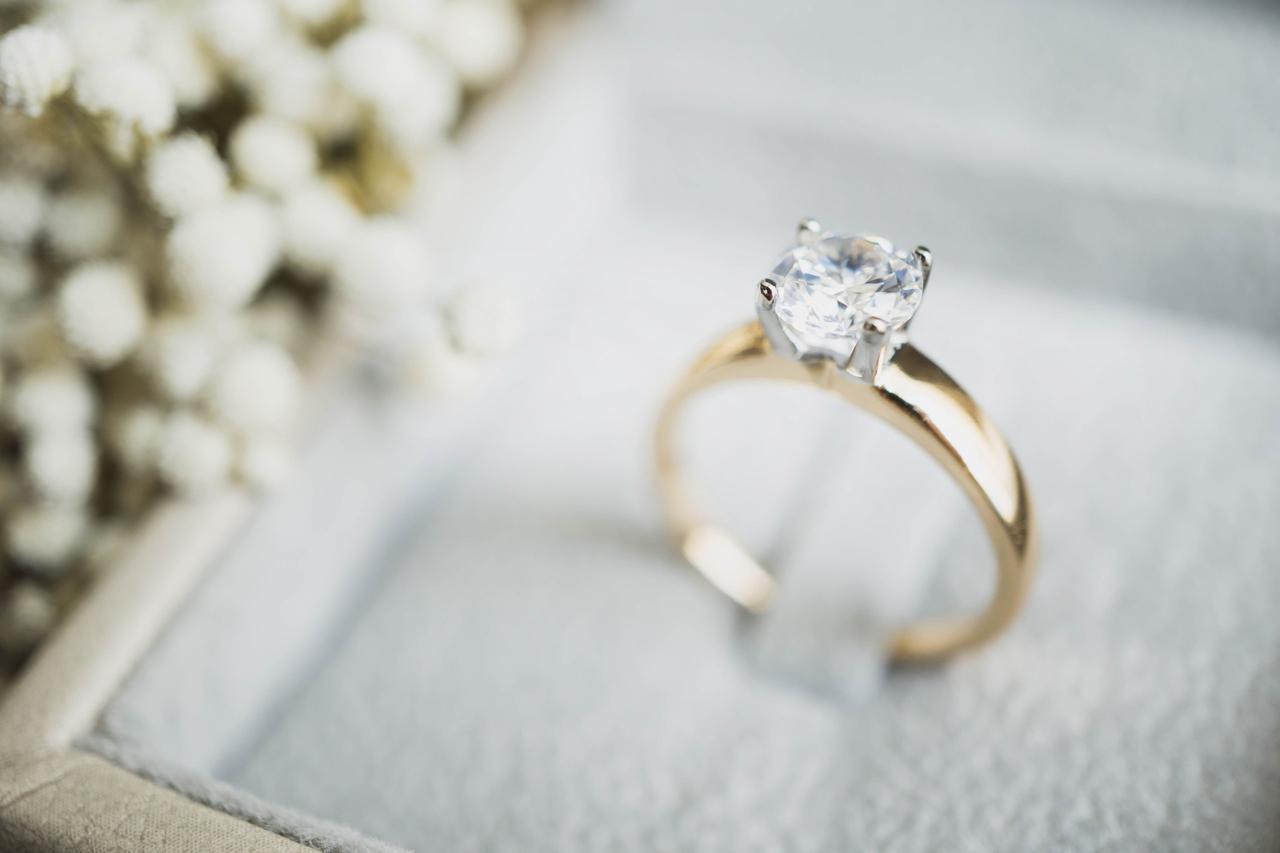 1. Stick to Your Guns
Once you've eventually settled on a budget, don't be pushed into adding extras or making changes that will cost more. There are lovely engagement rings out there at every price point; a good jeweller will showcase what you can have for your budget rather than trying to upsell you features that you can't afford and offer you the fairest price they can.
2. Work Out the Cost-to-Value
One big solitaire diamond is usually cheaper than lots of smaller stones, and experts say that the cut of a stone is the most important. If the cut is good, you can afford to be more flexible on the other 'four C's' (that's colour, clarity and carat). Remember that if you can't tell the difference between two diamonds of differing quality, most other people won't be able to either – as long as your fiancée loves it, does it really matter?
3. Look Online
It's not uncommon to feel you have to see the ring in person before you buy, but online jewellers have majorly upped their game in recent years and they often work out cheaper. If you're concerned about authenticity, stick to well-established retailers and check for GIA certification on their listings. Oh, and consult the returns policy before you hit purchase – if the ring arrives and it's not what you envisaged, you can always send it back.
4. Time It Wisely
The most popular times of year to propose are typically Valentine's Day and Christmas, so you're not likely to find any amazing discounts or deals during these periods. Consider buying during a slower month (summer is often a quieter time) and you might luck out with a sale, or at least be able to haggle more successfully.
5. Go Vintage
Not only are vintage rings much more likely to be unique and sentimental, because of their pre-loved status, they typically cost less too. Tracking the perfect one down requires a little more research and effort, but the right ring will absolutely be worth the work.
Got your eye on an eco-friendly option? Check out these gorgeous moissanite engagement rings.