Flower Girls: Everything You Need to Know
If you are unsure what a flower girl should do, what they wear, whether to buy them a gift and what their role in the wedding is then our guide is here to help!
We have included third party products to help you navigate and enjoy life's biggest moments. Purchases made through links on this page may earn us a commission.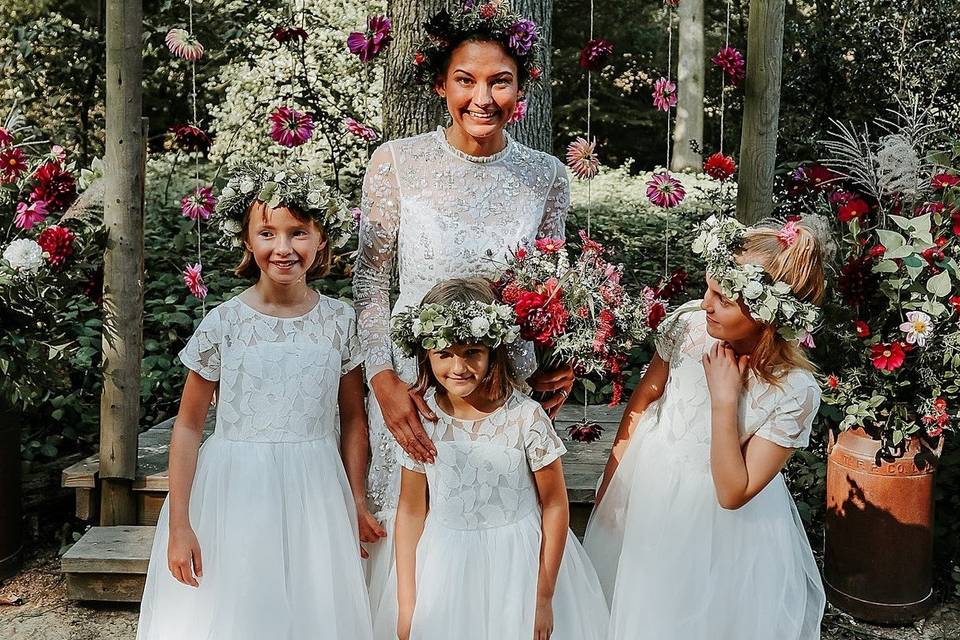 The role of a flower girl is all about being charming and adorable – it's a sweet way to incorporate younger children into your wedding. Got a super cute niece or nephew? Or maybe you want to include one of the wedding party's little ones? Then this is the role for them.
Jo Wilford, of Joanna Wilford Weddings, says: "Flower Girls are usually related to the couple in some way – it could be nieces, nephews or even a godchild. It's a kind gesture Ito include them in your wedding, but remember, it's not imperative!" The role has changed over the years, and as with everything to do with your wedding – you can change things up to suit your style and vibe when it comes to what the flower girl does.
A flower girl is typically the youngest person in the wedding party and precedes the bride down the aisle (after the maids). In the main, their role is to set a happy tone and scatter petals as they go, or carrying a posy. Some couples choose to give their flower girl a wand, or you could even use bubbles - whatever works for the ceremony vibe you're creating.
On the big day itself, you should decide with the parents of the flower girl what they will do pre-ceremony. If the mother of the flower girl is one of your bridesmaids, then she might enjoy being part of the 'getting ready festivities'. However, if she is too young to appreciate this, or if the thought of a little one running around is stressing you out, then just ask for them to get ready with their family – and they should then just arrive that the ceremony early and ready to start the flower girl duties!
Browse wedding outfits for children here, if you're searching for the perfect flower girl outfit.
A Brief History of Flower Girls
Although flower girls – and their counterparts, page boys – became a popular part of the bridal entourage in Victorian times, their appearance in the wedding party is a custom that can be traced back all the way back to ancient Rome. They would carry bunches of wheat and various herbs, which would be sprinkled on the ground for the couple to walk across; this wedding tradition symbolised good luck and fertility. In the Medieval era, the flower girl would carry garlic too, to ward off any bad spirits or people with ill intent.
In Elizabethan times, scattering rose petals along the path of the bride became popular – in fact, it was often the case that petals would be scattered from the bride's home all the way to the church. It was in the Victorian era that the role of the flower girl began to look similar to what we know today. In this period, they wore simple white dresses and would carry a basket of fresh flowers or a floral hoop (which symbolised never ending love). They were still known to symbolise fertility and offer good luck to the bride and groom.
Flower Girl Alternatives
It is your big day, so if you don't want to stick with tradition, then you really don't have to. Maybe you don't have younger relatives, or maybe you want it to be more of an adult only affair. Whatever the reason, you can still place someone else in the role. We love seeing flower guys, putting a twist on the tradition, and throwing petals down before the bride makes her entrance. And we also adore the idea of asking older relatives to take part in this special way. Your Flower Gran or Flower Pa will be equally as adorable and fun taking on this task – not to mention how touched they will be to be part of the ceremony.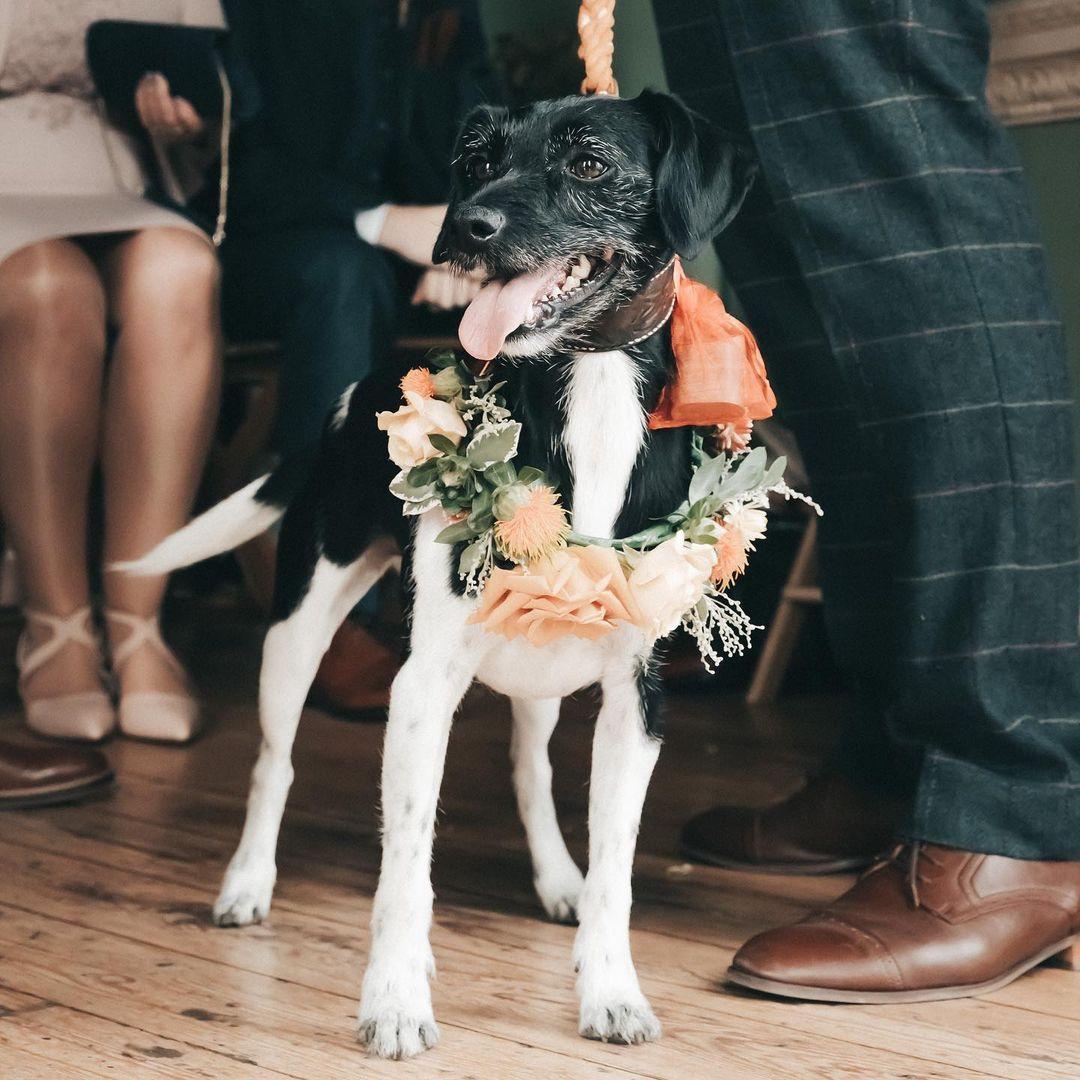 For something completely different, if you have a pawsome pet, maybe you want to consider a Flower Pooch? Yes it's a total novelty, but it is also guaranteed to make your guests smile and it will create some really cute photo opportunities, too. If they are really well trained, pop a flower hoop over their head and call them to walk down the aisle. Otherwise, one of the bridal party can accompany them, with a florally dressed lead to finish the look. Here are the best wedding outfits for dogs, if you're tempted...
We've also seen beer guys - handing out bottles to the guests ahead of the ceremony. Whilst we'd never say no to a beer, if you're considering that as a flower girl alternative, make sure you check your venue's rules on corkage!
Flower Girl FAQs
How Old Should the Flower Girl(s) Be?
There are no really strict rules here, but if you are going down the traditional route, then your Flower Girl should be the youngest member of the wedding party; usually between the ages of four and eight. If you have someone a little younger in mind, maybe one of their parents could accompany them to make sure things go off without a hitch!
How Many Flower Girls Can I Have?
Traditionally you would just have a single flower girl, but you don't have to stick with this! "You can have as many as you like," says Jo Wilford, "but just bear in mind that keeping numbers down is better. I would have no more than four." Otherwise you might run the risk of chaos with a herd of flower girls stampeding down your aisle! Older children might prefer the role of bridesmaid.
What Should the Flower Girl Wear?
There are so many options here! You could select a plain white dress, as it the conventional option, or you could get them a smaller version or your bridesmaids' dress – or something in the same fabric or colour. Or as a mixture of the two, a pretty white gown with a ribbon around the waist in the wedding colours. Here are some of our top picks….
Flower Girl Outfits
Marshmallow Taffeta Flower Girl Dress - £59, Le Petit Bateau
This super cute style of flower girl dress is perfect for weddings with a laidback and relaxed vibe. We adore the layering and the delicate taffeta.
Flower Girl Dress Style 69597 - £POA, Ronald Joyce
Available in white, ivory or Champagne, this mini version of a ballgown wedding dress will make the ideal counterpart for a princess bride. Made from gorgeous layers of tulle, it comes in a range of sizes from age 2 to 12.
Baby Tulle Bridesmaid Dress in Yellow - £32, Monsoon
If you want to create a super-pretty mix and match pastel bridal party, Monsoon has an amazing variety of different dresses for all ages in dreamy complementary colours. We especially like the Baby Tulle Bridesmaid Dress in Yellow, from Monsoon.
Who Should Pay for the Flower Girl's Outfit?
There really is no right or wrong answer to this question. All that matters is that, when you first discuss inviting your flower girl to be part of your wedding with their parents, you have a discussion about this element. Be upfront and if you would like them to contribute to the dress, then ask them, or if you are happy with them wearing whatever they would wear to the wedding anyway, make that clear. If you are paying for the dress (and picking it) make sure the parents are happy with what you choose and are expecting their child to wear. And remember - little ones grow rapidly!
If We Don't Want a Flower Girl, How Can We Include Younger Family Members?
There are plenty of ways to include kids in your wedding and make them a special part of the day without them having to be a traditional flower girl. For example, you could ask them to greet guests as they arrive, or you could even have them handing out the order of service alongside (or instead of) ushers. You may even want them to show guest which side they should sit on. Any confident readers could be asked to read a short poem or verse.
Should We Get Our Flower Girl a Gift?
Again, there is no right or wrong answer here. If you are getting gifts for other members of the wedding party, then it might be a nice idea. You could get them a small keepsake, maybe an age appropriate toy, or the gift could even be an activity pack to keep them entertained at the reception. We've got lots of lovely flower girl gifts right here.
Do Flower Girls Have to Come to the Reception?
This is a tough question. Jo Wilford suggests that they should be invited: "Yes you do need to invite them, even if it is an adult only reception. They don't sit on the top table but stay with their parents." Before you invite the child to be part of the wedding party, if you really don't want them at the reception, you have to chat to their parents from the outset and see how they feel about this. It can be tough to have the conversation about having no children at your wedding, but be mindful you are asking for them to participate in part of it, and it could be tricky for the parents to arrange childcare.
Now you know everything you need to know about flower girls, what about learning more about the maid of honour role?