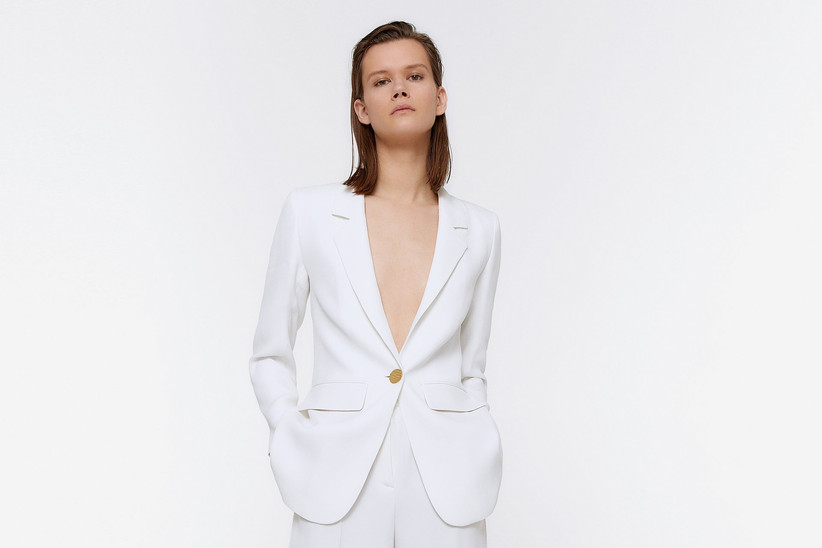 There's never been a better time for wedding suits for women. Tailored two-pieces have been all over catwalks, red carpets and the smartest Insta grids for the last couple of seasons - and it's a trend that translates beautifully to weddings. Of course, we'll always love wedding dresses. Wedding suits for women are about a particular mood: effortlessly cool and insouciant; glamour with an edge; sexiness shot through with extra sophistication.
We're clearly not talking about your typical office suit. These are powerfully elegant silhouettes, whether sleek and figure-skimming or with volume to spare. And while this may be a high-fashion look, the right wedding suit stands the test of time. After all, Bianca Jagger's 1971 tuxedo and skirt combo remains a fixture in round-ups of the best A-list wedding outfits. You don't need a Jagger-sized budget. Where the catwalks lead, the high street follows, so you can easily get suiting that looks aspirational but is in fact affordable.
We've picked out the wedding suits for women that meet our strict cool-yet-timeless criteria, both designer and high street. Get ready to fall in love with bridal tailoring.
NB: We have included third party products to help you navigate and enjoy life's biggest moments. Purchases made through links on this page may earn us a commission.
READ MORE:
1. Clapton Stretch Cady Jacket & Morissey Tuxedo Stretch Trouser - £595 & £395, Joseph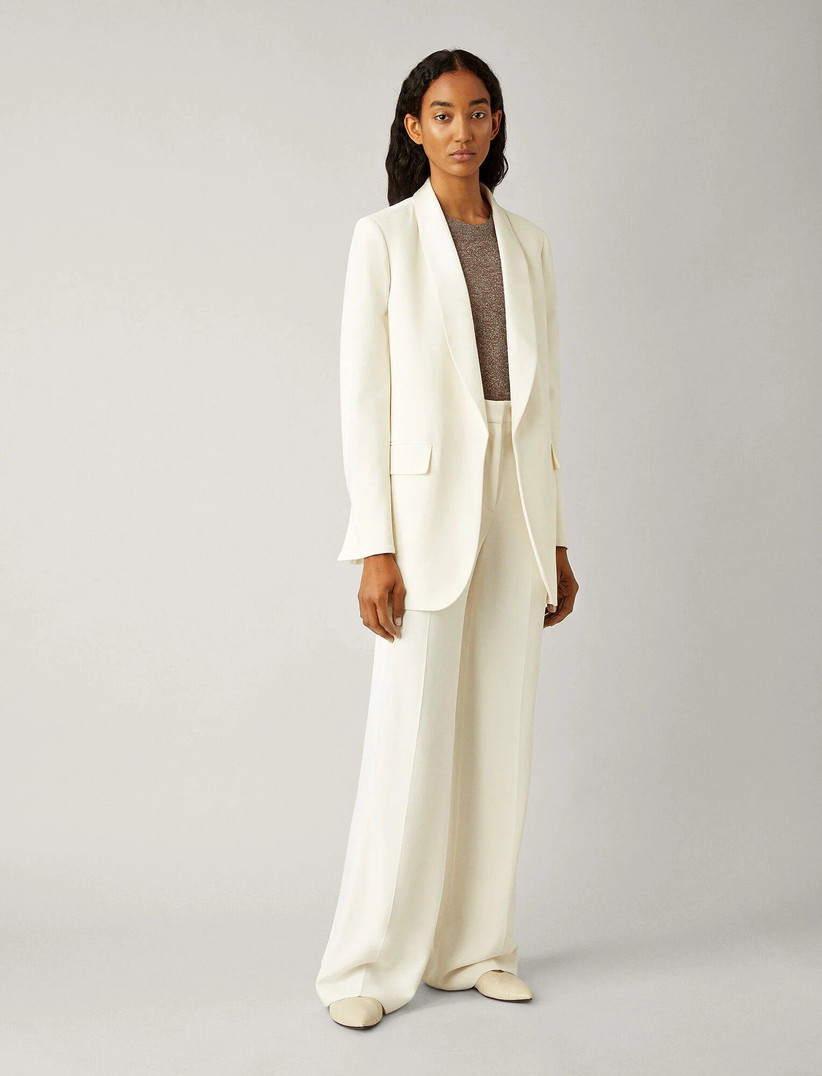 Luxury British brand Joseph is your go-to for impeccable tailoring that references the trends. This jacket and trouser combination creates a flowing silhouette that's effortlessly chic, with sophisticated details including a tuxedo-style satin stripe on the trousers. We'd style it with a silk cami top.
2. Atol Style 110 - £POA, Pronovias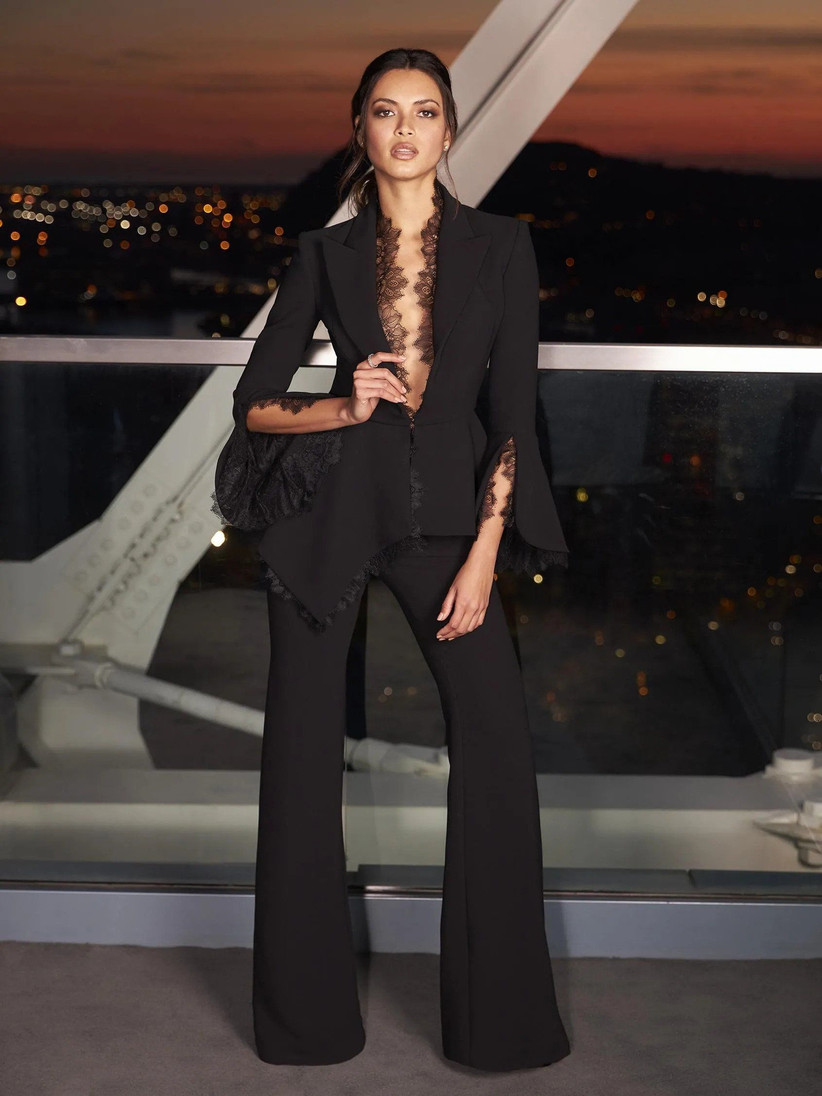 We're playing our wildcard early with this Pronovias suit. Yes, it's black, but the bride wearing white is a tradition, not a rule. The fitted jacket with lace trim has the same undeniable sexiness as the brand's wedding dresses - this is one for stopping traffic.
3. Structured Blazer & Palazzo Pants - £59.99 & £49.99, Mango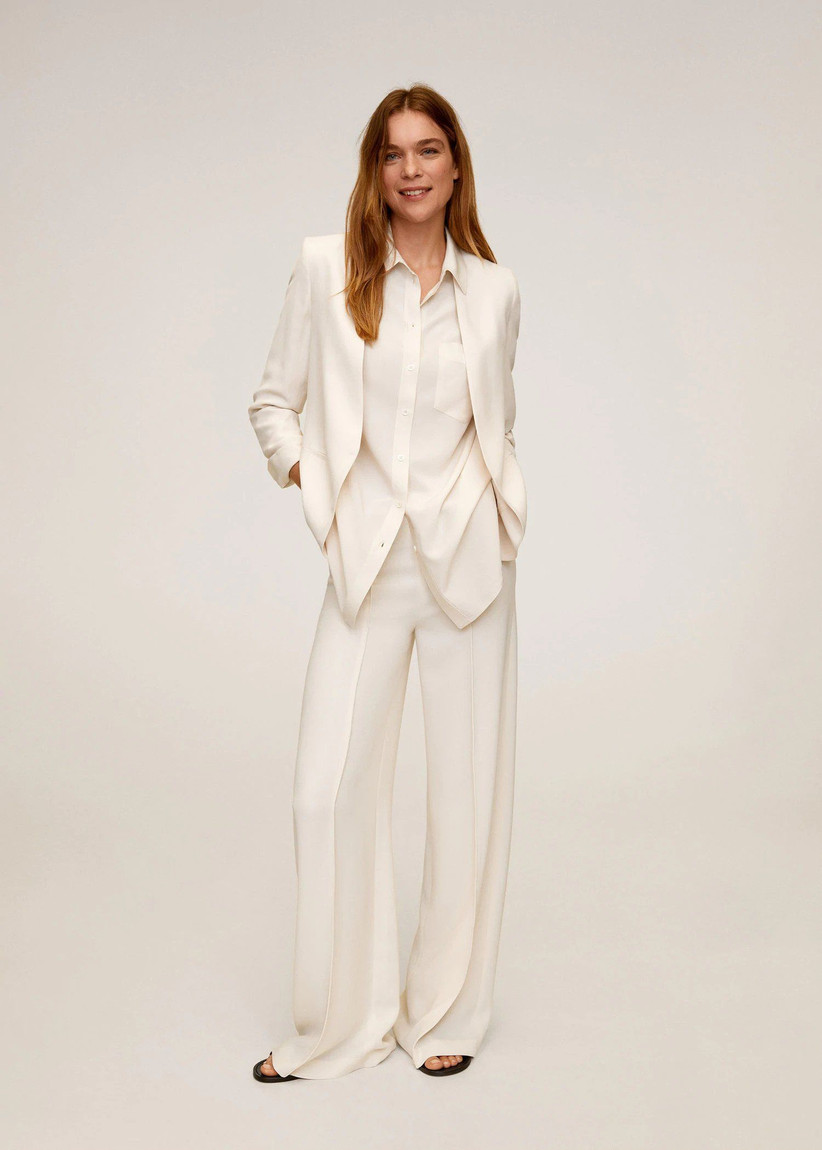 Trust Mango to come up with something affordable and chic. The slimline, lapel-less blazer works perfectly against the fluid palazzo pants. This would be just the thing for a spring wedding - light, fresh and so very flattering.
READ MORE: The 53 Best Wedding Dresses on the High Street
4. Piped Printed Cady Blazer & Straight-Leg Pants - £1,290 & £655, Off-White at Net-a-Porter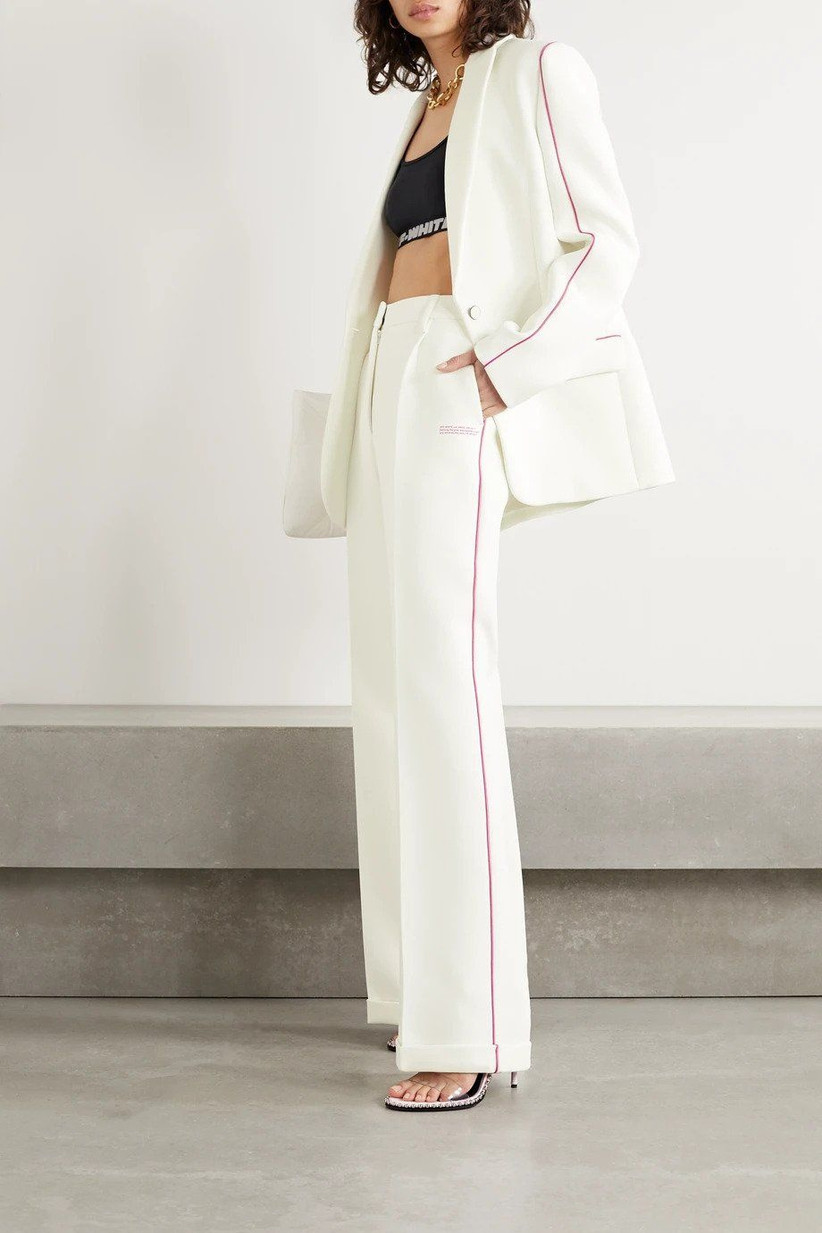 This Off-White look is a luxe streetwear take on the trend, with sportswear-inflected pink piping and 'informal' printed on the back. The brand suggests pairing it with a sports bra - go for it if that's your style, but to make it more bridal, we'd go with a plain cami.
5. Amato Tux Tailored Jacket & Wedding Suit Trousers - £64 & £49, French Connection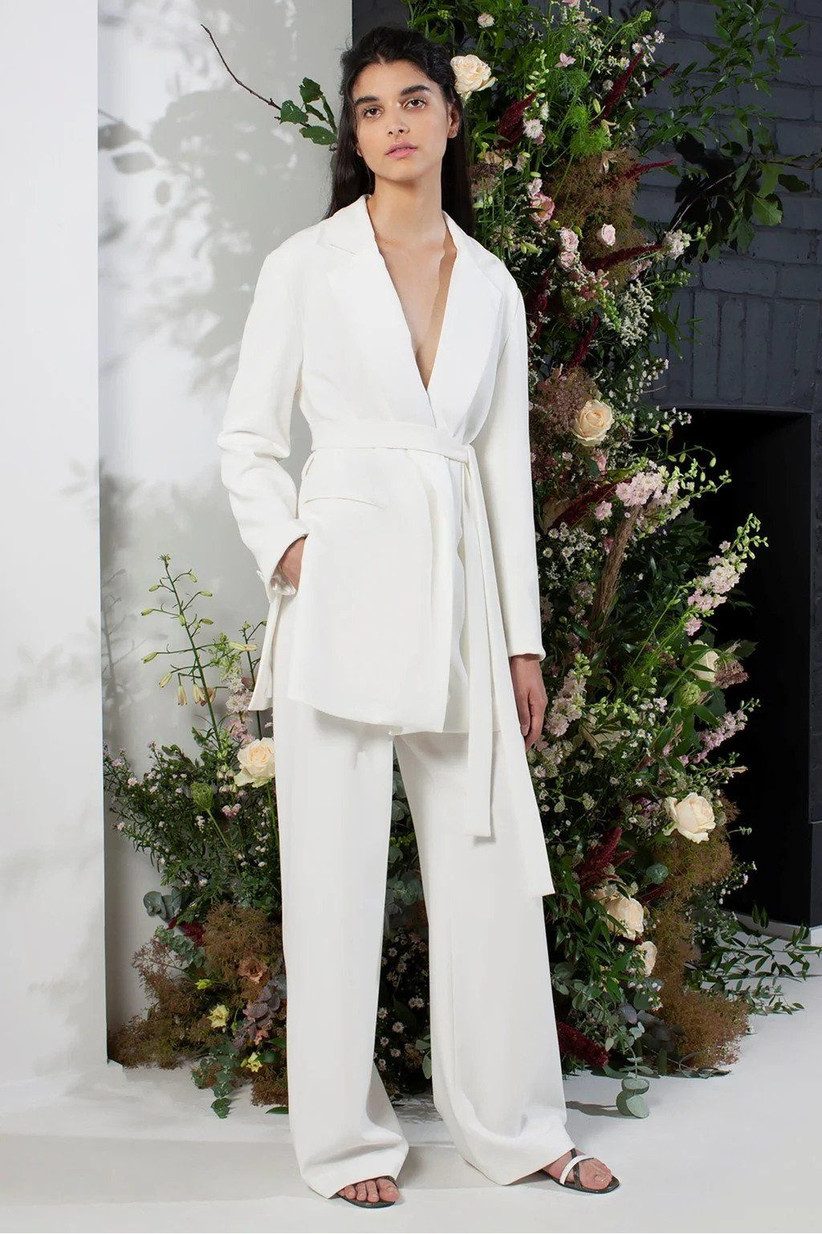 French Connection's bridal collection gives classics a fashion-forward makeover. The Amato wedding suit is one of our favourite looks, from the sinuous lines of the tux jacket to the shape of the wide-leg trousers. Swap the jacket for a party-perfect top for the evening, to show off the satin waistband of the trousers.
6. Double-Breasted Tweed Jacket & Bouclé Skirt - £1690 & £1095, Balmain at Farfetch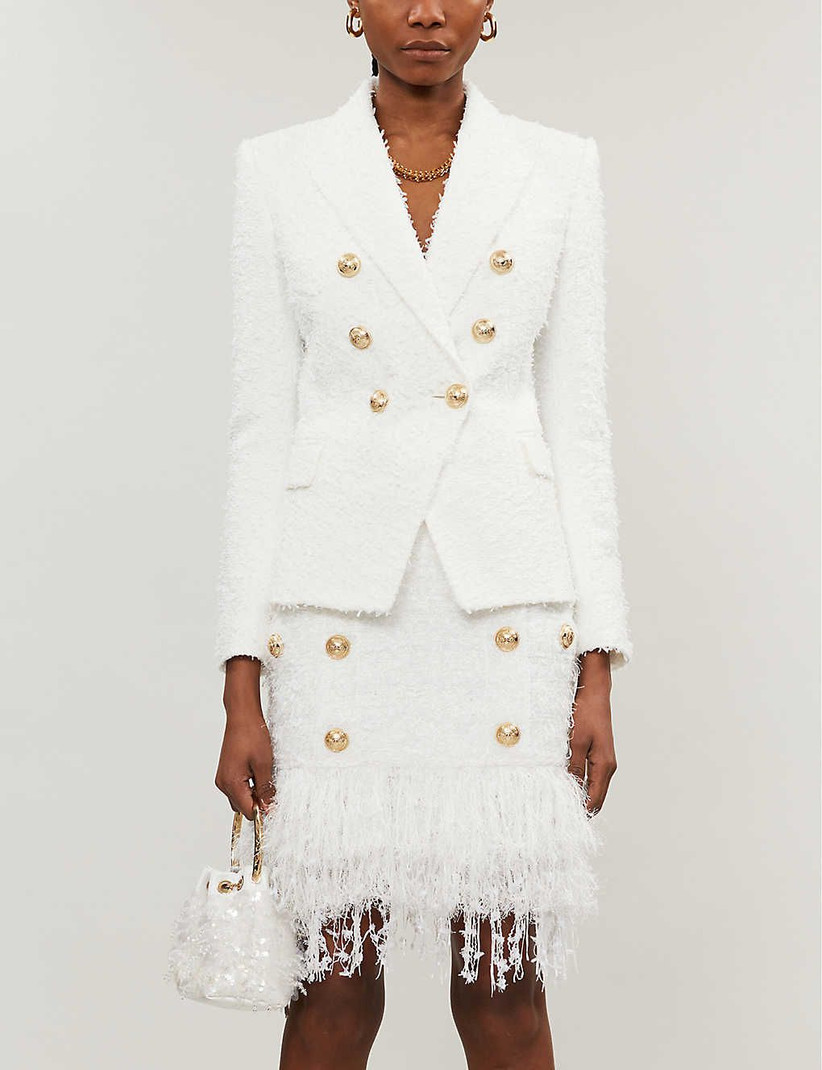 Wedding suits for women aren't all about trousers. This fuzzy tweed blazer and high-waist skirt combine for an elegant bridal look. The frill hem and fringing on the skirt take it out of ladies-who-lunch territory - always a possibility with tweed - bringing a fresh, playful feel.
READ MORE: 23 Designer Wedding Shoes That Are Worth Blowing The Budget For
7. Annie Wedding Blazer & Trouser - £299 & £229, Whistles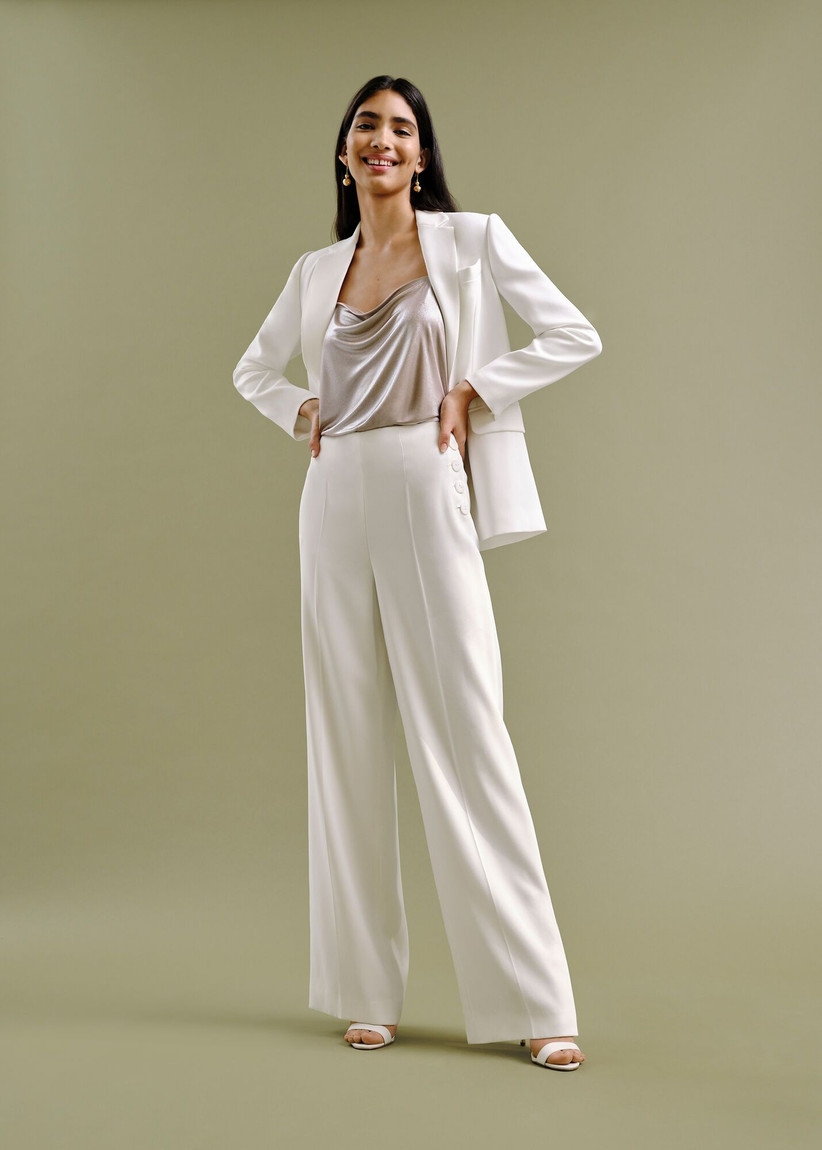 The cut of Whistles' Annie wedding suit is flattering, with a slight nip to the waist of the jacket. We love the metallic mini cami they've styled it with, but this is almost out of stock on the site - check out ASOS for similar styles.
8. Puff Sleeve Blazer & Tapered Trousers - £68 & £45, River Island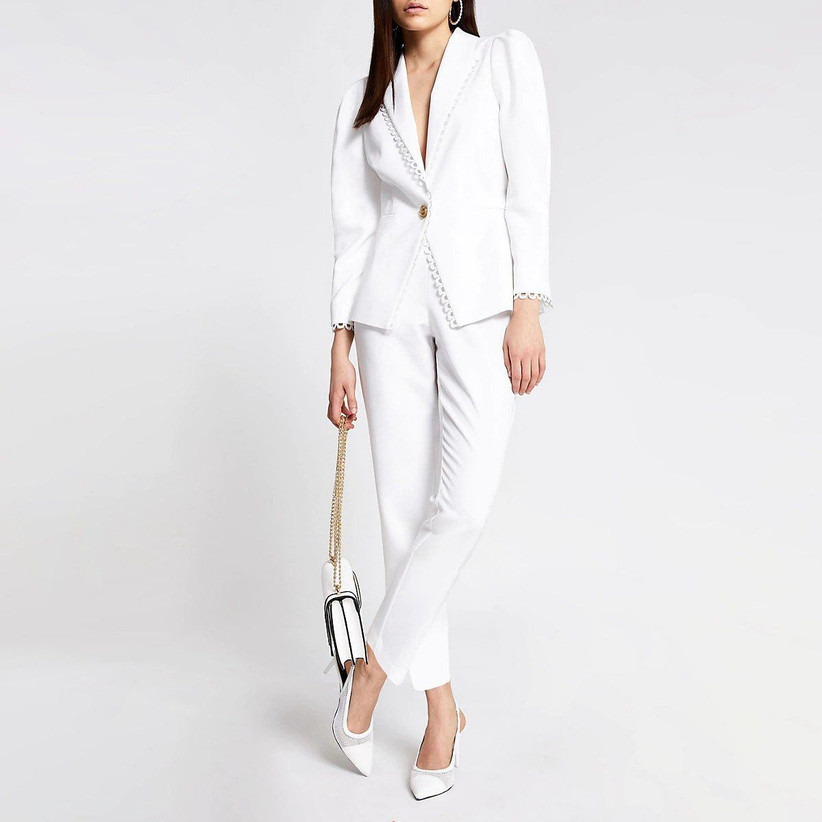 The puff sleeves on this River Island jacket give a nod to the statement-sleeve trend without going over the top. That volume is balanced beautifully by the tapered trousers - overall, very Audrey Hepburn does 2021.
9. Wool & Mohair Blazer & Trousers - £1,005 & £430, Max Mara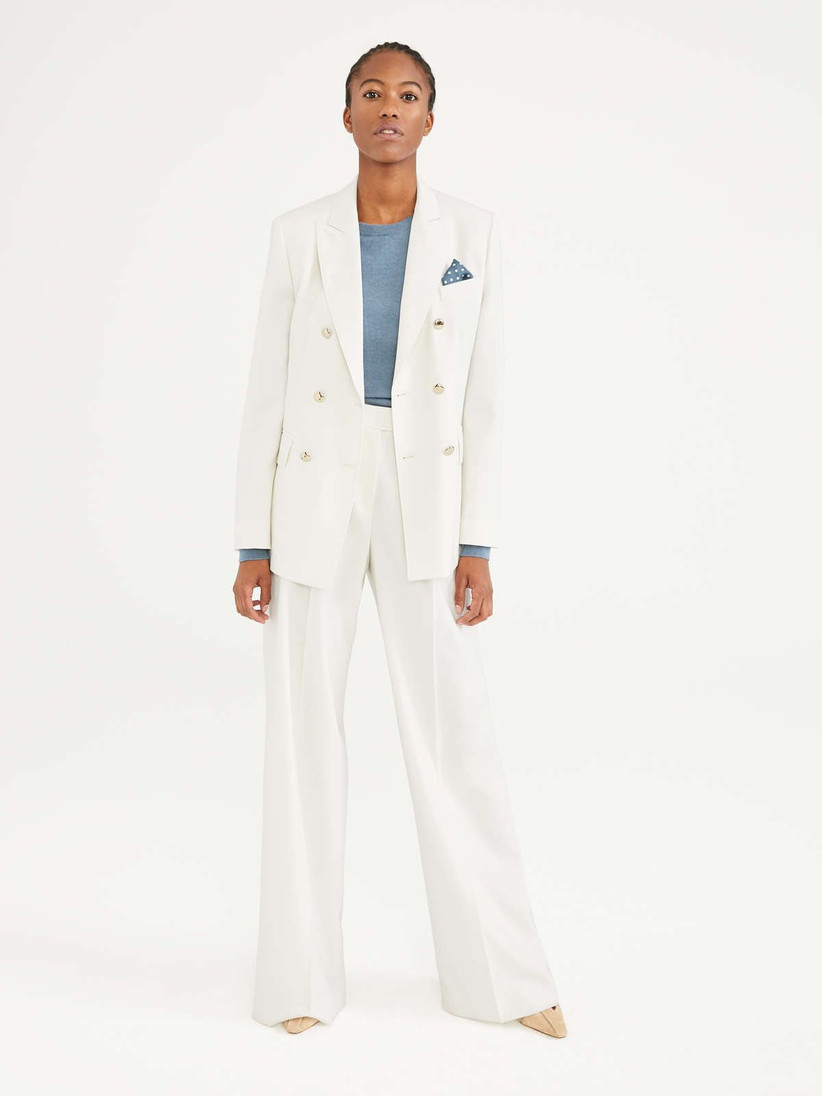 Max Mara is the brand to know for blazers, which makes them an ideal fashion destination for wedding suits for women. This blazer and trouser combination is a pared-back, high-quality take on the tailoring trend, and it's a joy to style - add bold accessories, for example, or keep it simple and classic.
10. Buttons Tweed Blazer & Skirt - £59.99 & £25.99, Mango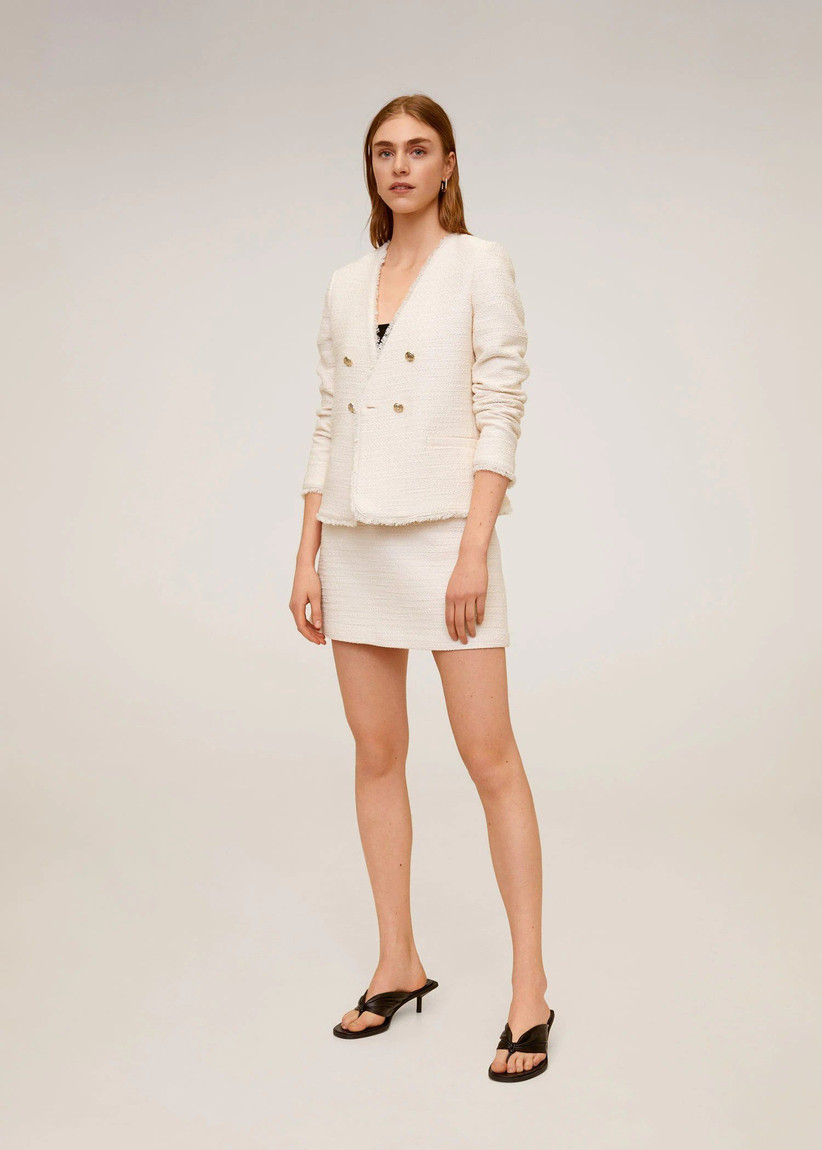 If you can wear short wedding dresses, you can wear a short wedding suit! The mini skirt adds a sophisticated sexiness to the elegant blazer - whether you choose heels or flats, this is a strong look.
11. Proteus Blazer & Amy Skirt - $3,200 (£2,625 approx.) & $1,900 (£1,560 approx.), Gabriela Hearst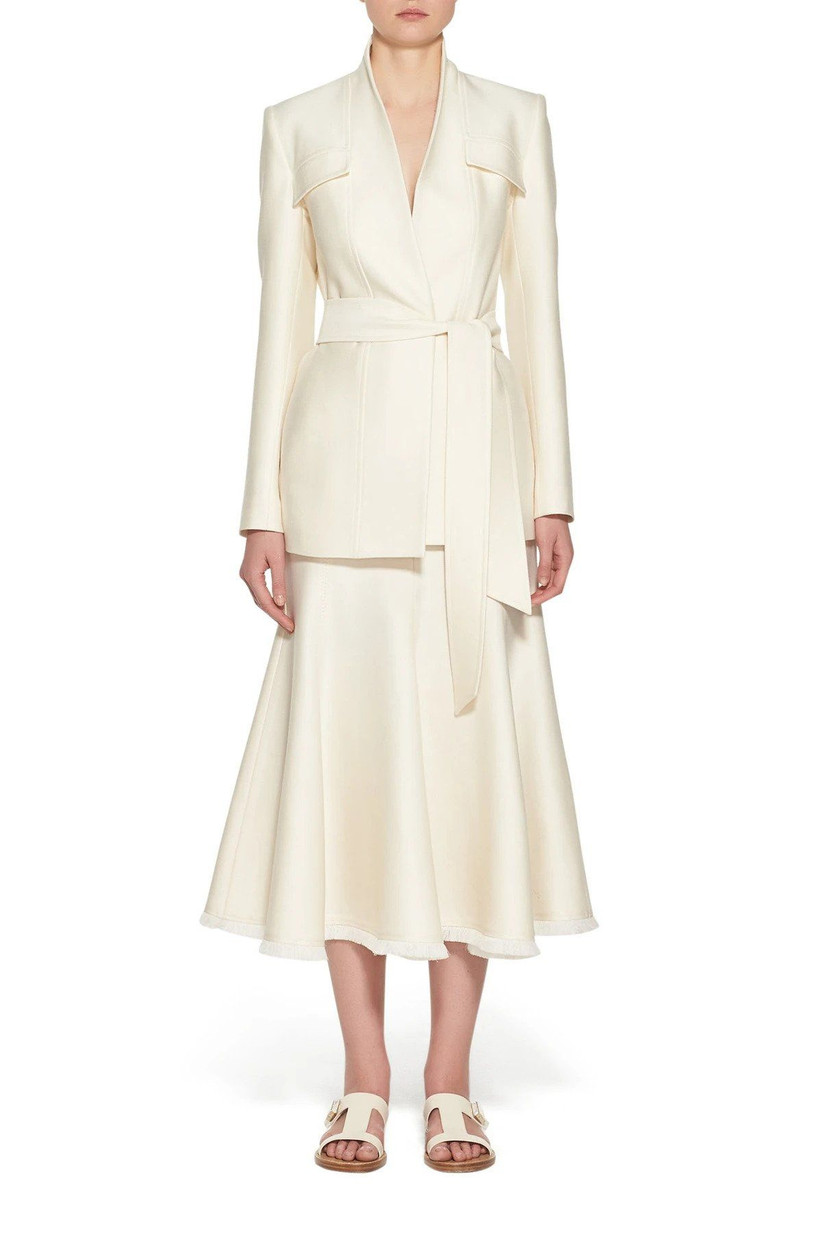 Gabriela Hearst is renowned for the understated elegance of her designs, all crafted from luxe fabrics. This blazer and skirt is a case in point, combining to create an easy-to-wear, timelessly chic silhouette. We'd wear both pieces again and again long after the wedding.
12. Linen-Blend Blazer & Shorts - £95 & £55, & Other Stories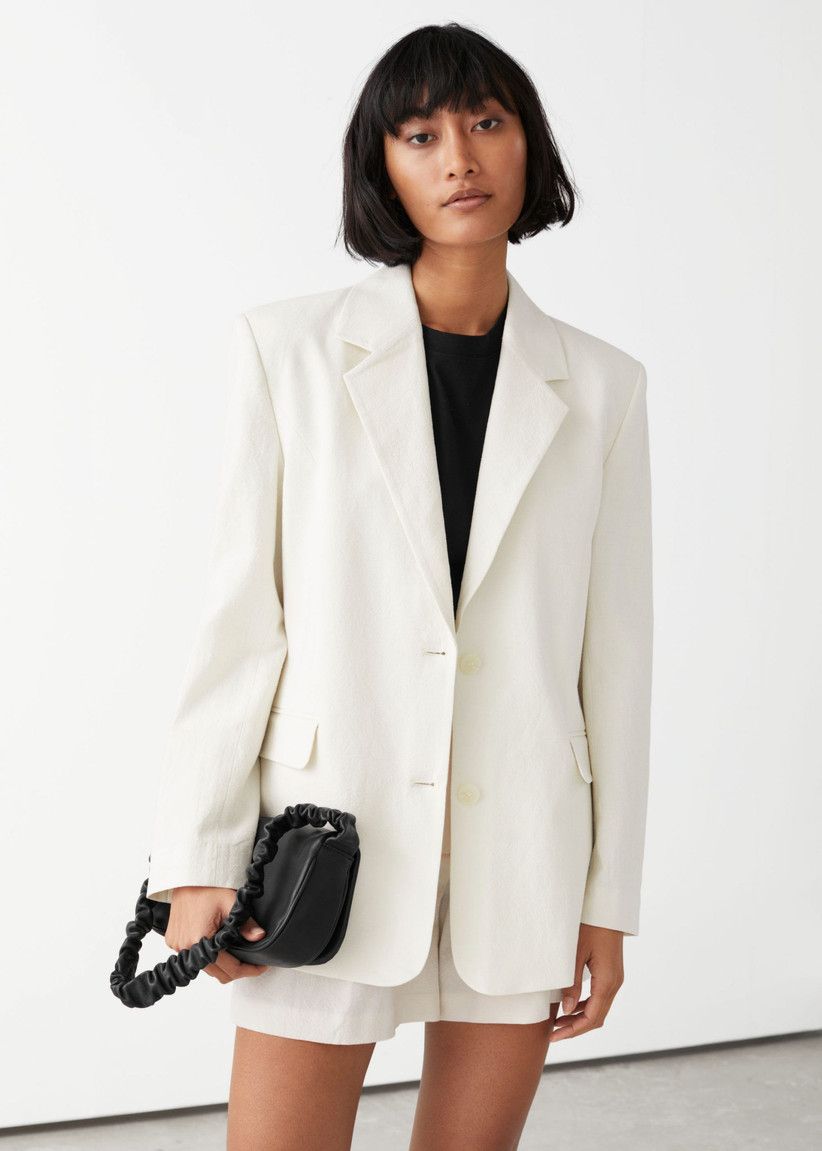 When put together, this linen blazer and these shorts exude the kind of covetable cool we love for summer city weddings - it has us dreaming of Paris in June.
READ MORE: The 20 Best Modern Wedding Venues in the UK
13. Blenheim Satin Bridal Jacket & Satin Trousers - £595, Galvan London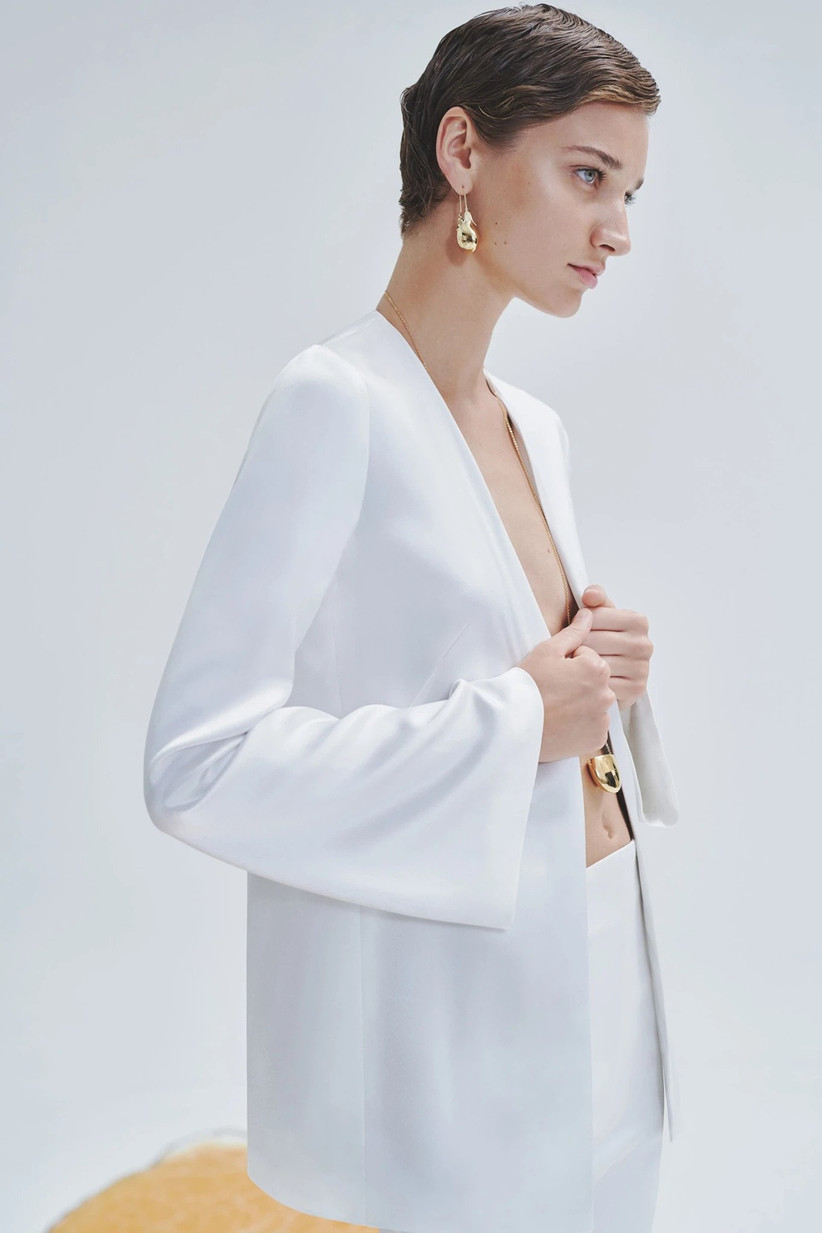 This Galvan London jacket, as seen on Rosie Huntington-Whiteley, proves that simplicity can be glamorous. Created from satin, that perfect cut - narrow sleeves against sharp shoulders - speaks for itself. The brand suggest pairing it with their high-waisted satin trousers for a comprehensively chic effect.
14. Sequinned Jersey Blazer & Flared Pants - £445 & £255, Norma Kamali at Net a Porter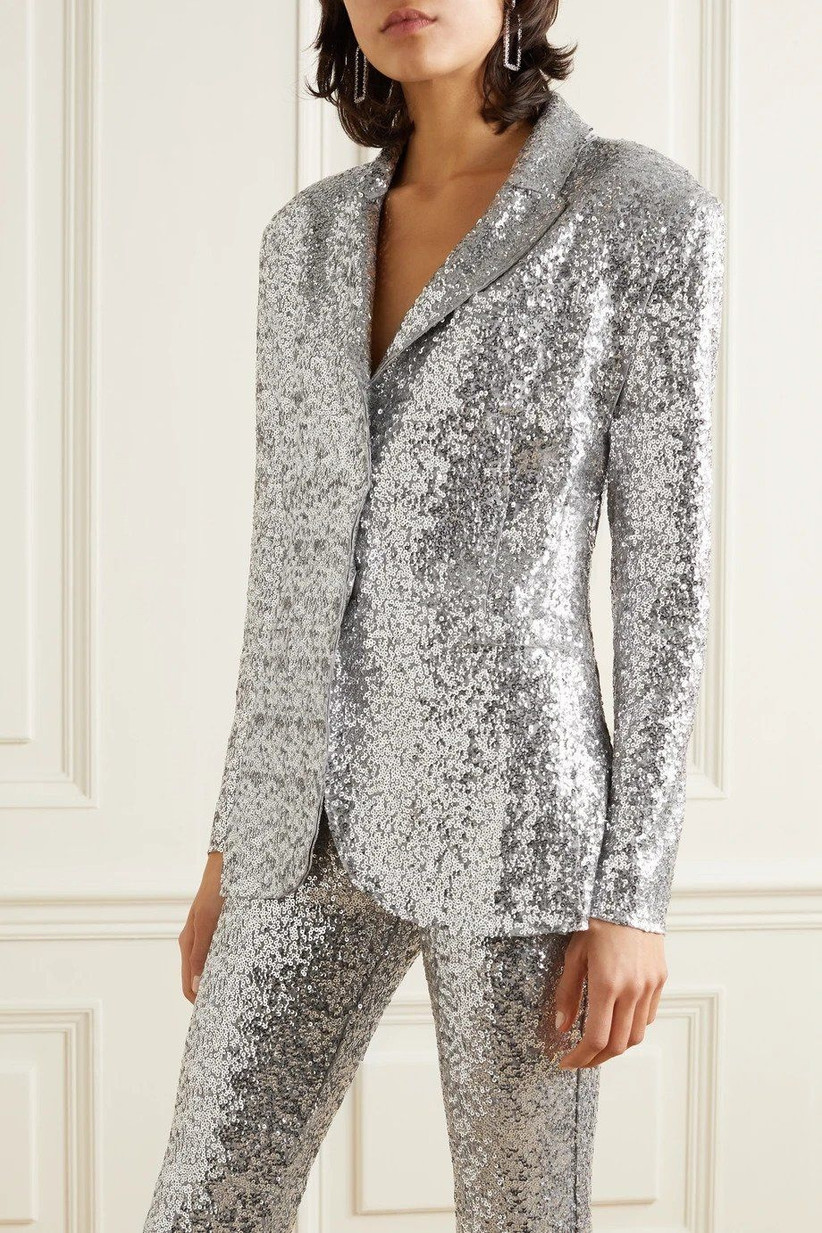 This is a strong look, but if you're not afraid of sparkle, Norma Kamali's sequin blazer and matching trouser could be just what you're looking for. The slim fit is very chic - we're thinking of it as sophisticated disco.
15. Cape Jacket & Satin Trousers - £1,090 & £520, Alberta Ferretti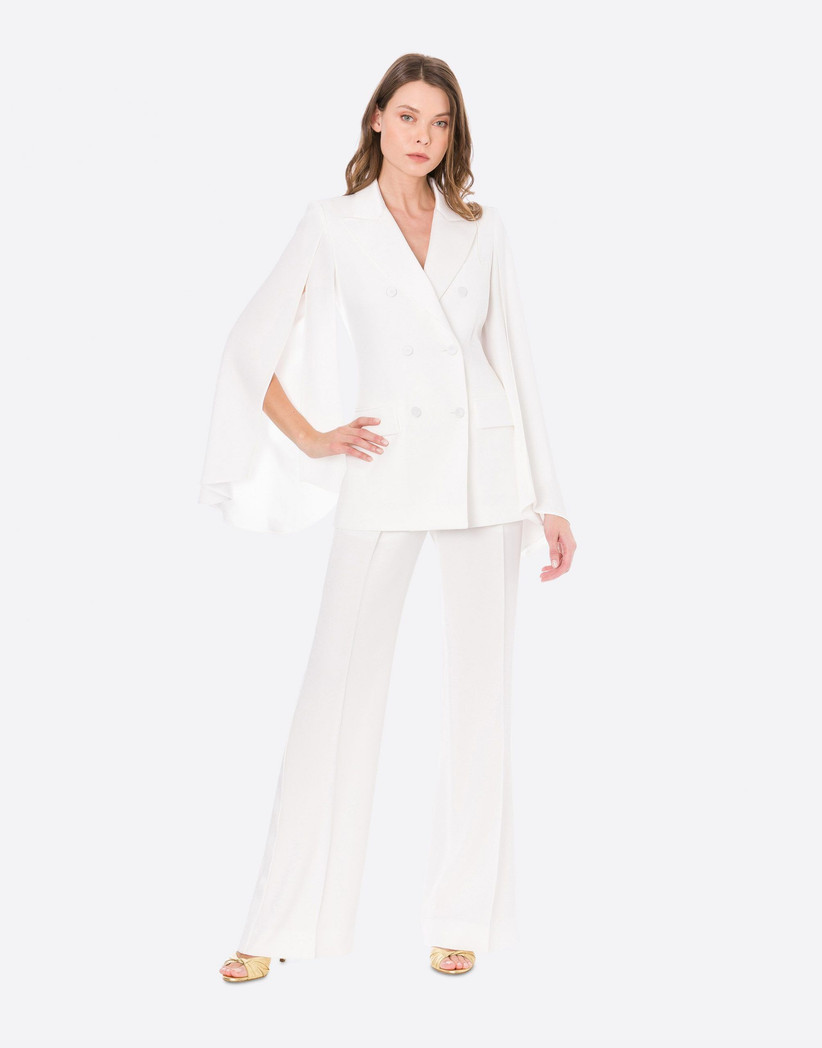 The statement sleeve trend doesn't have to mean puffed - the cape sleeves on this Albertta Ferretti jacket stand out through their graceful fluidity. Wear with the matching satin trouser for a classic bridal look with a twist.
16. Tailored Blazer & Straight-Leg Pants - £350 & £200, Essentiel Antwerp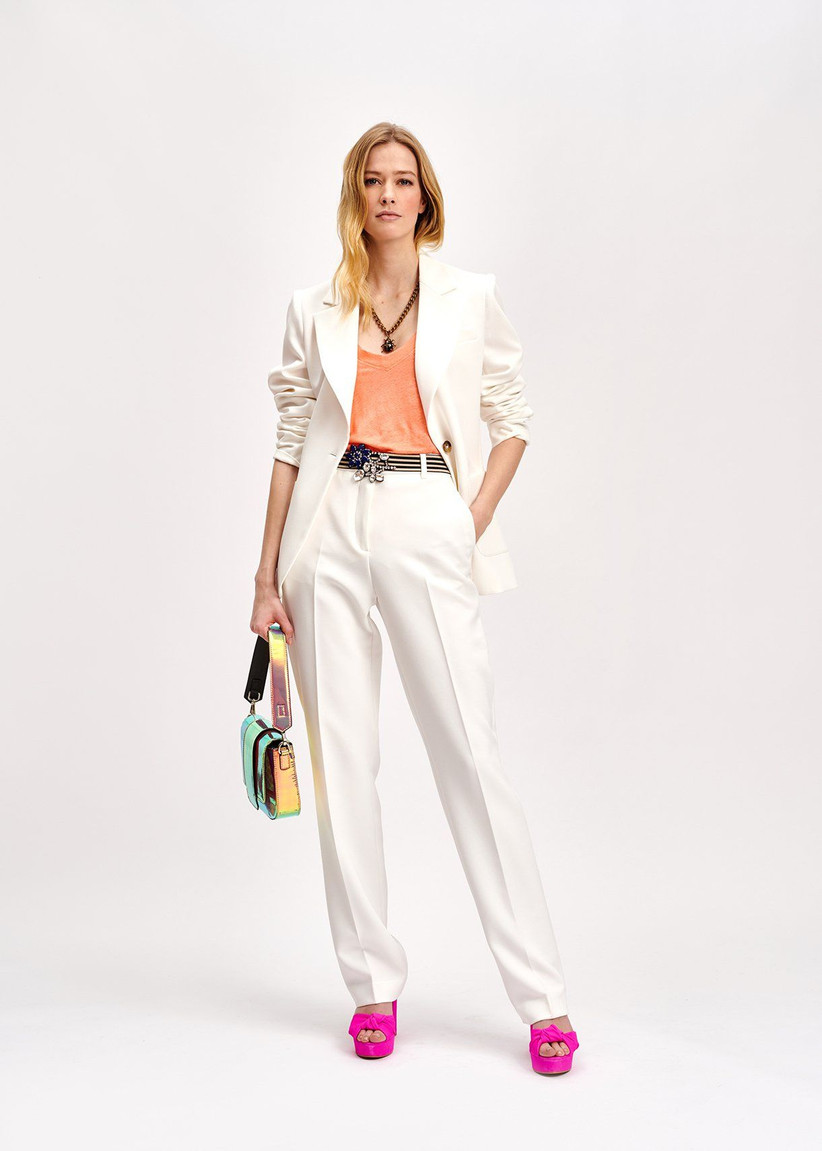 Ideal for a laidback affair, Essentiel Antwerp's off-white blazer and trousers are on the smart side of smart casual. Please do wear the jacket like the model, with the sleeves pushed up - that gives you an overall effect of insouciant fashion savvy.
READ MORE: 21 of the Best Casual Wedding Dresses for Laidback Brides
17. Sari Jacket & Gustavo Trousers - €160 (£140 approx.) & €95 (£85 approx.), Sézane
Sézane is the brand that injects our wardrobes with effortless French cool, so if that's the bridal aesthetic you want, look no further than their nude jacket and trouser. The hint of pink is delicately pretty, and we love that flowing shawl collar.
18. Vaska Blazer & Mikli Shorts - £276 & £300, Alexis at Revolve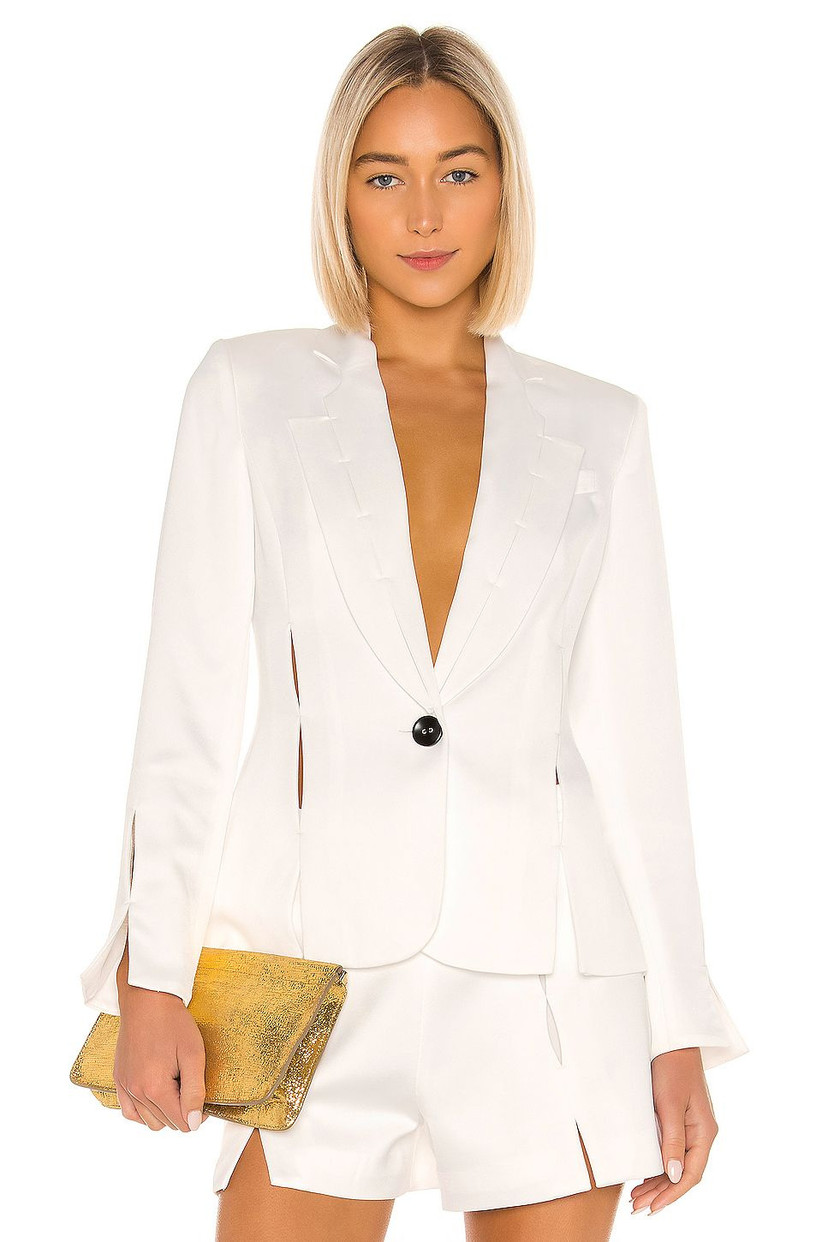 We do love a shorts suit for summer weddings, and this Alexis look has plenty of attitude thanks to the slits throughout the design. The mid-weight crepe fabric adds fluidity and sits beautifully.
19. Eden Suit Jacket & Éclair Crepe Trouser - £1,345 & £770, Pallas x Claire Thomson-Jonville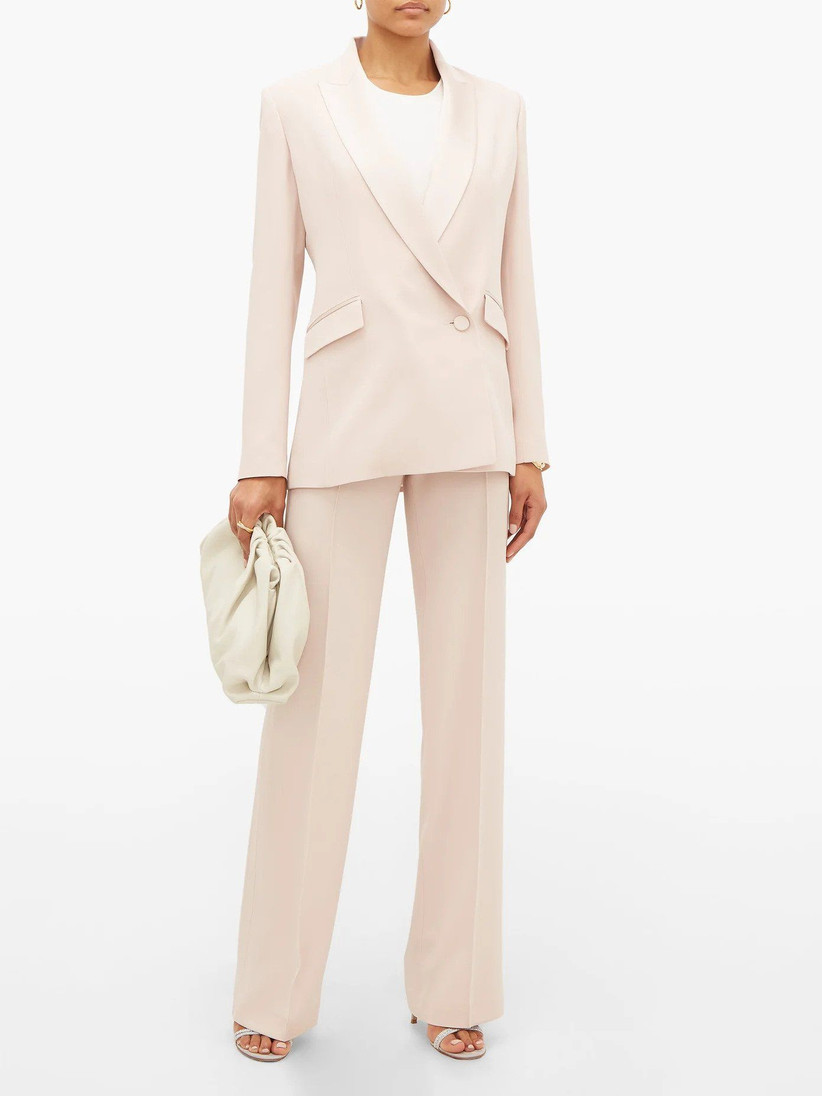 The collaboration between leading Parisian tailors Pallas and fashion editor Claire Thomson-Jonville has resulted in some quite extraordinarily chic tailoring. Take this beautiful blush trouser suit: each piece exemplifies contemporary elegance, with pared-back details and clean lines.
20. Double-Breasted Jacket & Tailored Twill Trousers - £24.99 & £19.99, H&M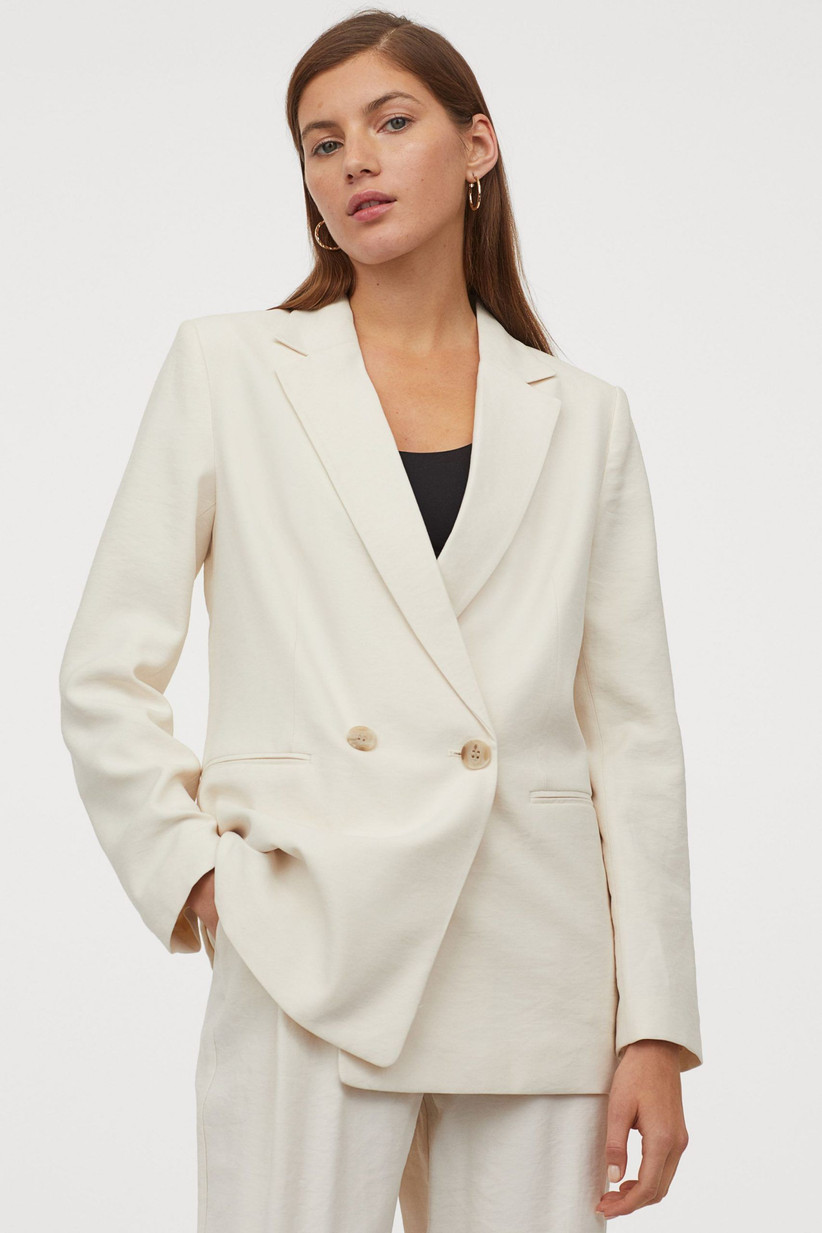 This H&M suit is ideal if you're searching for wedding suits for women on a budget - and it has the potential to look a lot more expensive than it is. Firstly, have it tailored to your shape; the success of a suit is all in the fit. Every figure is unique, so no off-the-peg suit can perfectly fit without tweaks, whatever the price. Secondly, try it out with different accessories - gold will go best with the cream shade.
READ MORE: How to Make a Wedding Budget: 7 Easy Steps to Staying on Track
21. Satin Blazer & Trousers - £50 & £40, Monki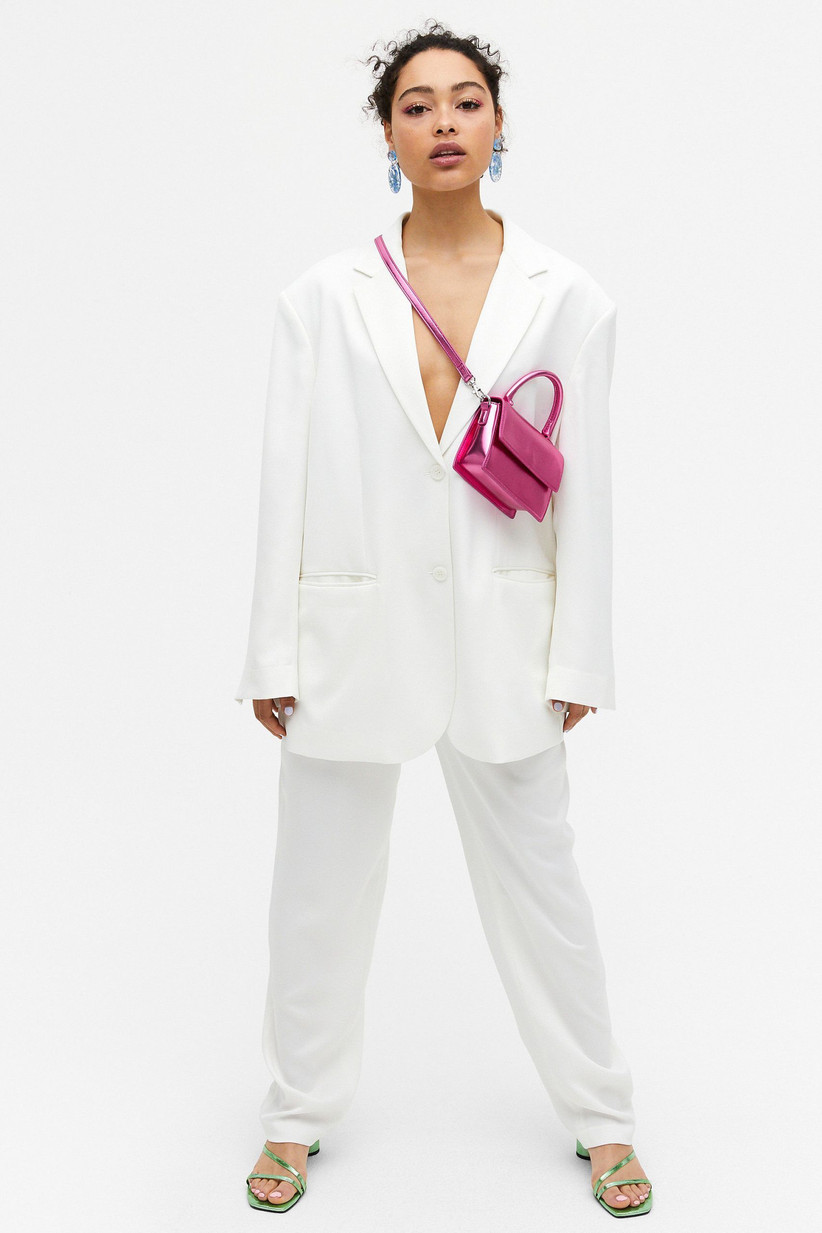 We do love an oversized blazer, and Monki's satin version is particularly delightful. The trouser shape is spot on - with a slim fit, the jacket would be too much, but the relaxed shape makes the whole silhouette work from top to toe.
22. Puff Sleeve Jacket & Tapered Trousers - £80 & £39, Lavish Alice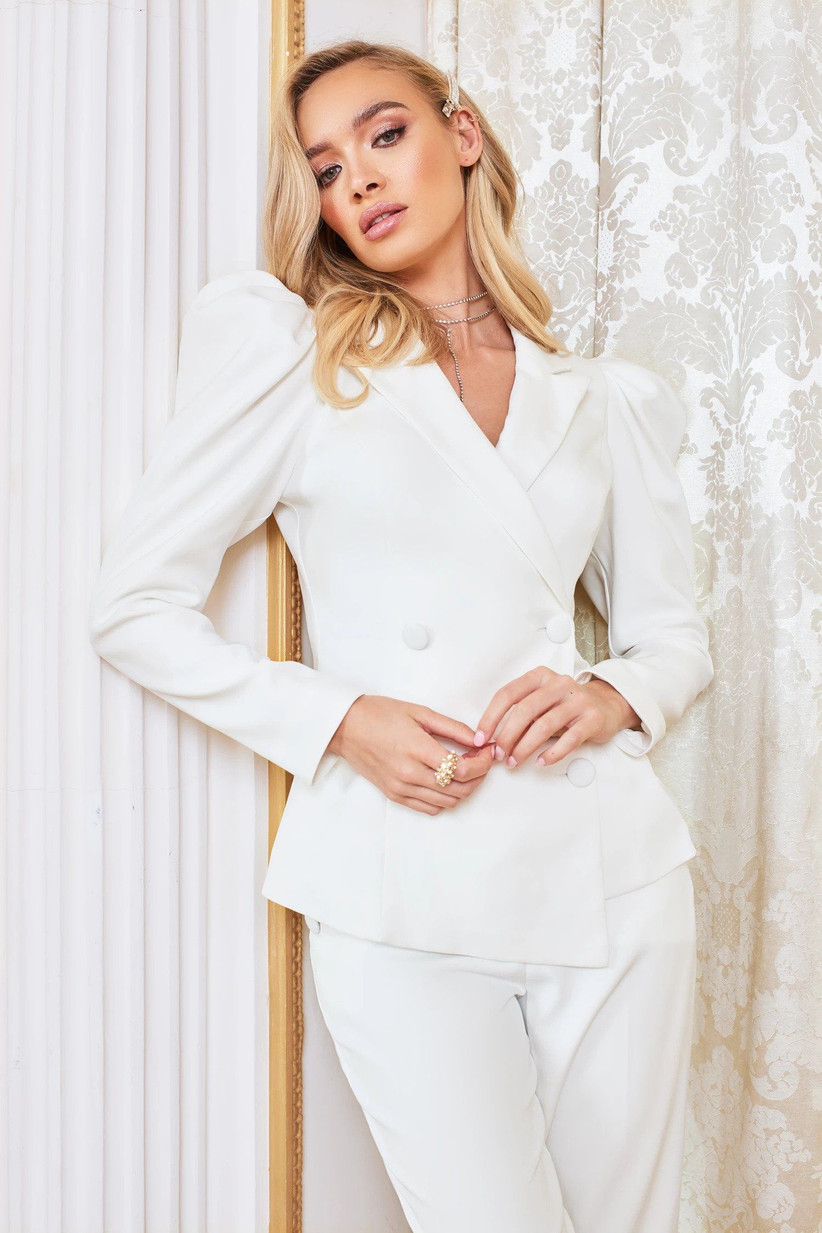 What a glorious silhouette - this is power dressing, bridal style. The puffed shoulders of this Lavish Alice jacket lead into a flattering nipped-in waist, a look that works wonderfully with the tapered trousers. We say go bold with your accessories with this one.
23. Miller Double-Breasted Blazer & Aubrie Wide Leg Trousers - £640 & £365, Veronica Beard at Harvey Nichols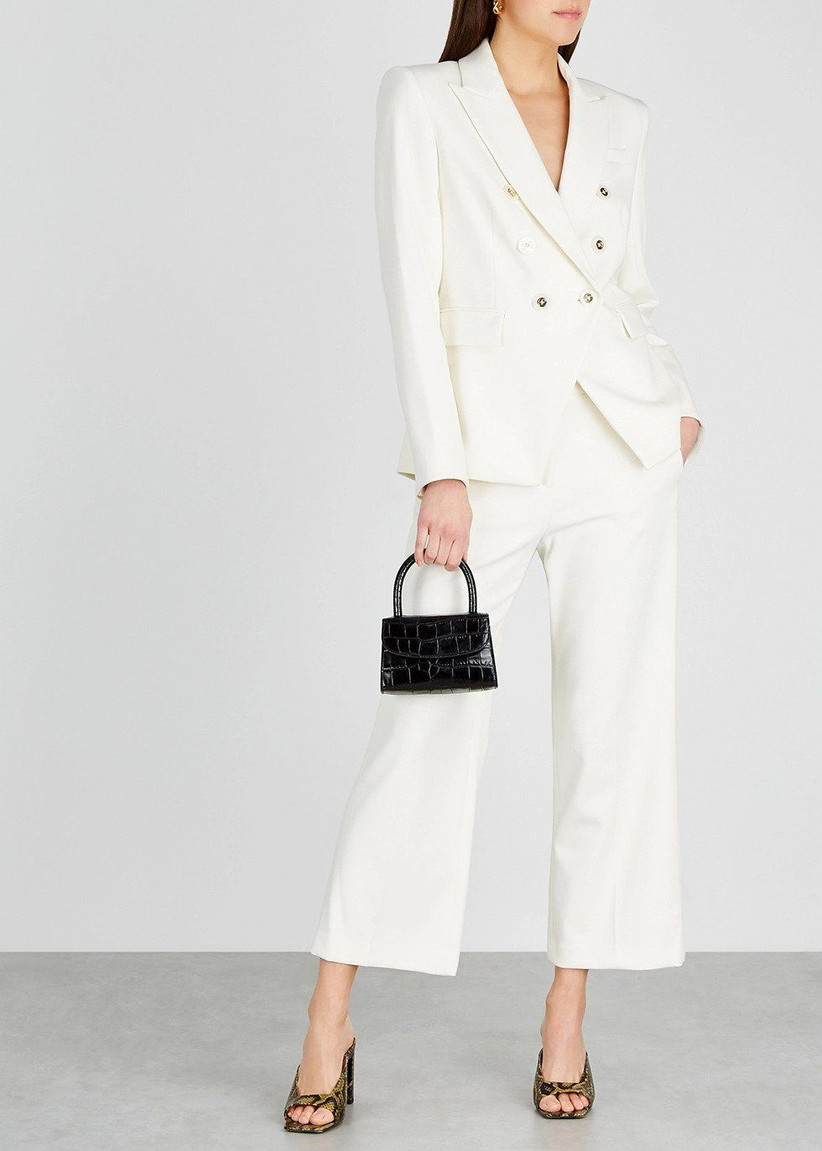 You may have noticed that we've been talking a lot about jackets in this wedding suits for women edit - what can we say, we're suckers for a gorgeous blazer. But when it comes to this ivory Veronica Beard suit, we're focusing on the trousers. Yes, the jacket is fabulous, with divine buttons. But it's fair to say that these might be the most perfect wide leg cropped trousers we've ever seen. Buy and wear again - so chic.
24. Satin Boxed Jacket & Flared Pant - $1,150 each (£940 approx.), Lein Studio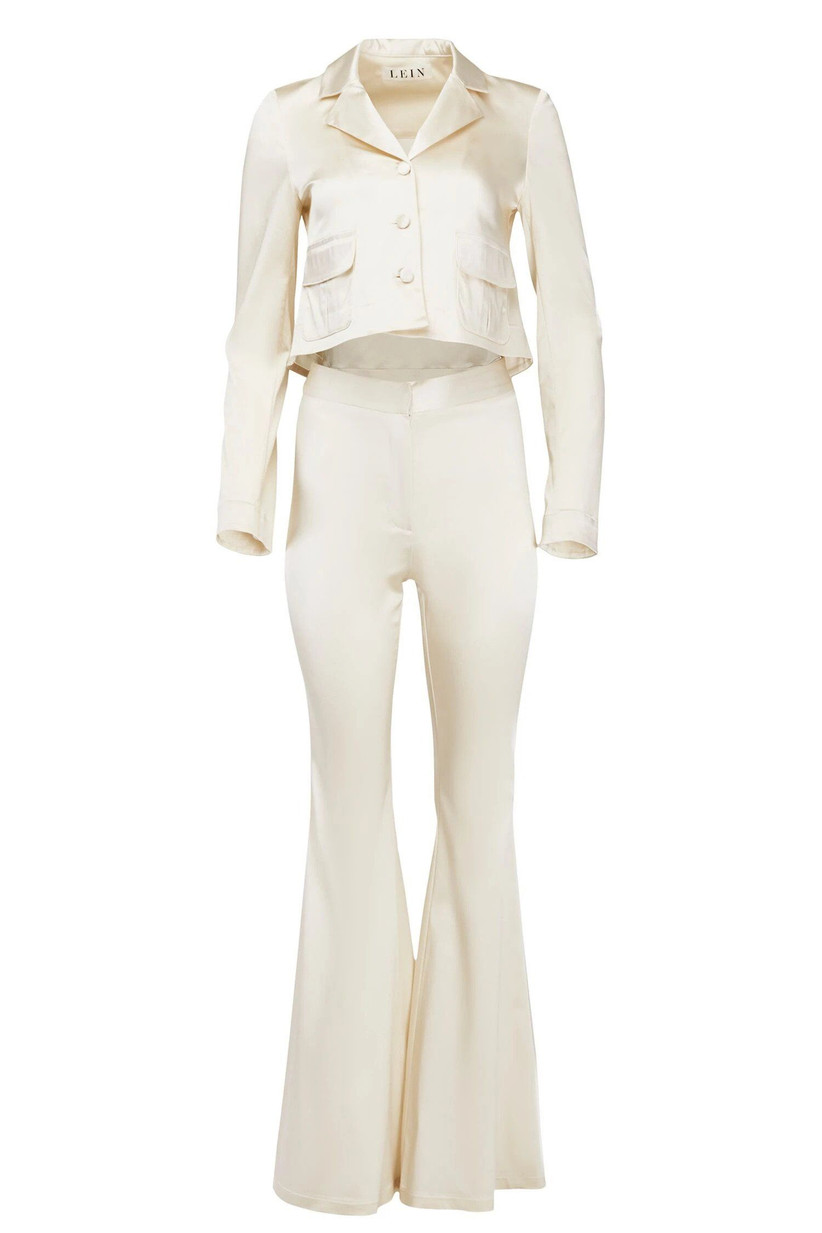 New York's Lein Studio are known for their fashion-forward bridalwear, and this boxed jacket and flares combination references the so-now '70s influence. With a plethora of longline jackets out there at the moment, a cropped version really stands out - for the right reasons.
25. Blazer & Trousers with Pleats - £180 & £120, Uterqüe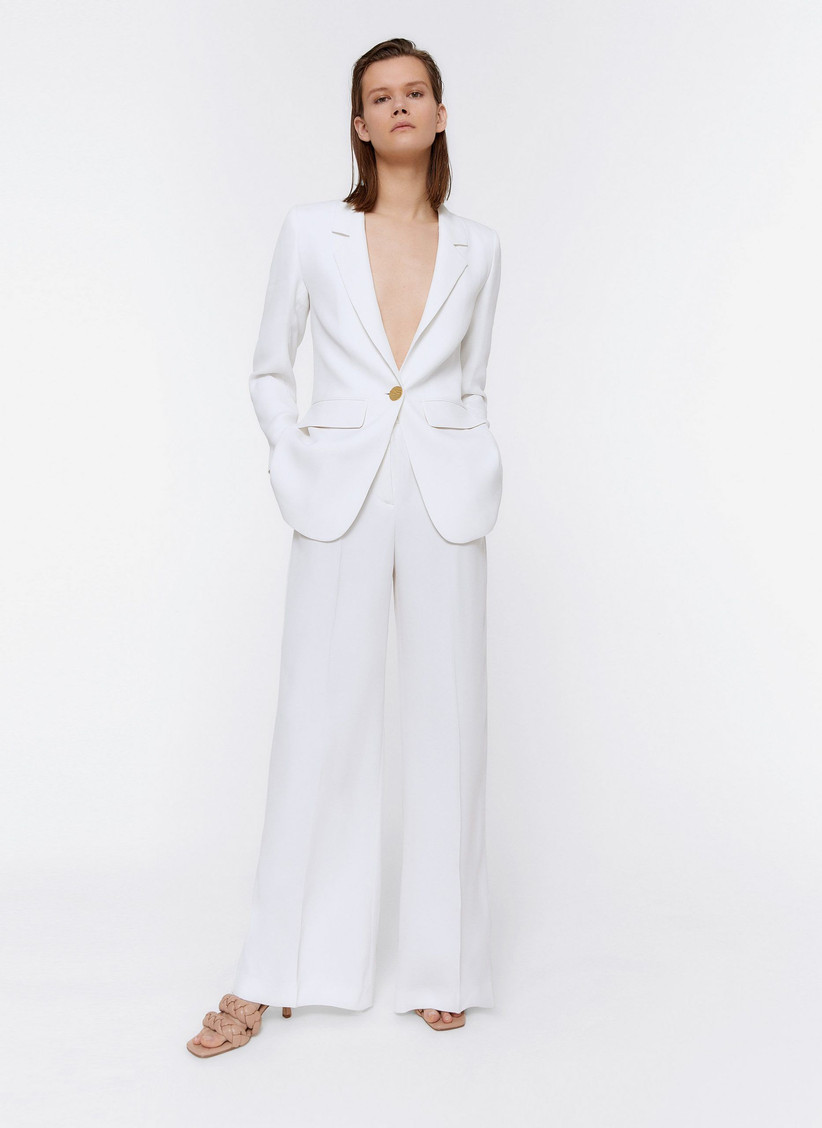 This one-button wonder from Uterqüe, Zara's sophisticated sister brand, is giving us strong summer in the city vibes. We love the figure-skimming silhouette of the jacket against the wide-leg trousers.
READ MORE: 23 High Street Wedding Shoes That Look Seriously High End
26. Leaf Crepe Jacket & Cigarette Trouser - £1,370 & £575, Alexander McQueen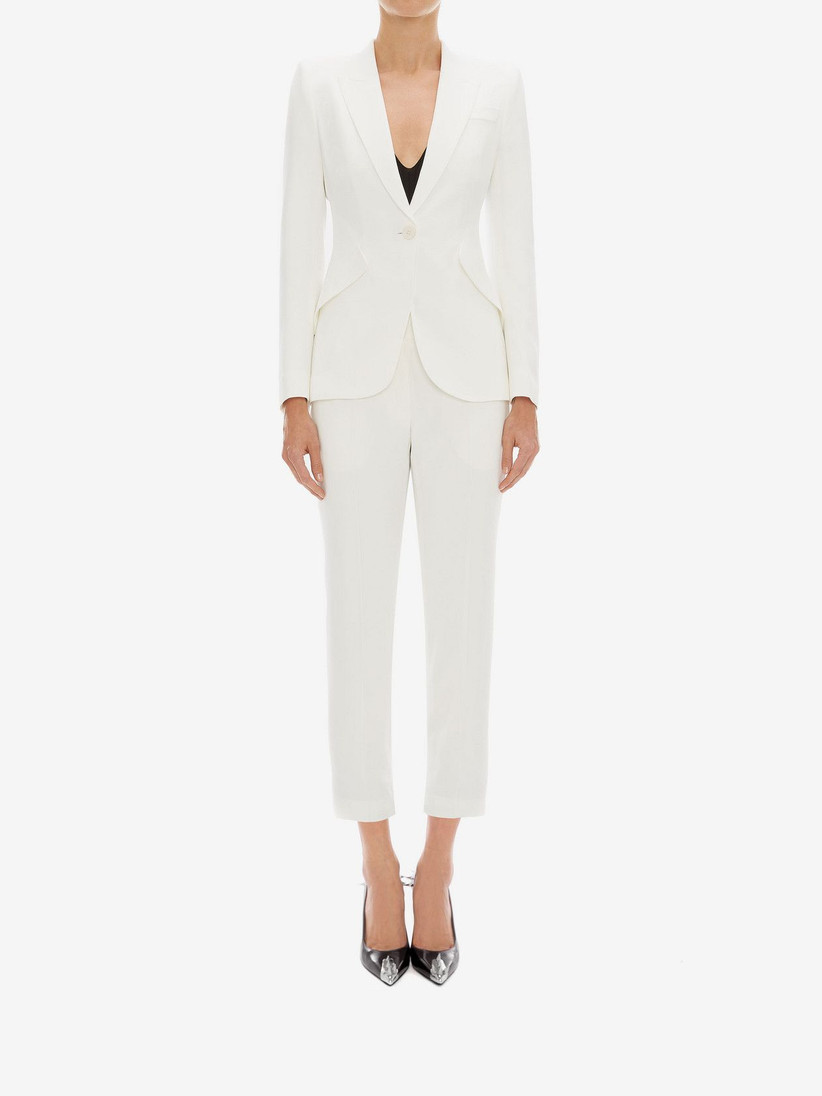 If you're looking for an investment piece, this impeccable Alexander McQueen suit could be it. It's a classic look, perfectly executed. The sharp silhouette is boosted by light padding in the jacket shoulders.
27. Cropped Tailored Blazer & Trousers - £95 & £75, & Other Stories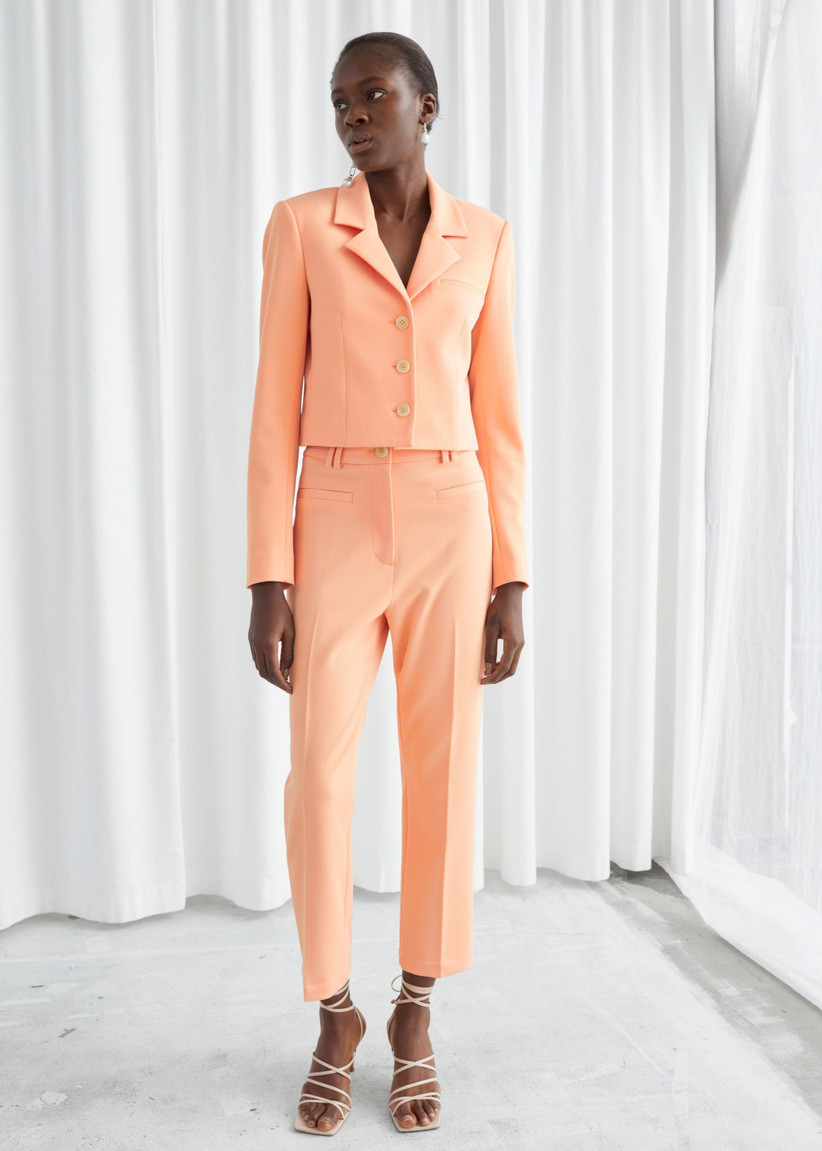 We loved the mustard suit Emily Rajatowski wore to her wedding ceremony. However, instead of a straight copy, we're going for a tribute - this orange ensemble from & Other Stories. The look has the same insouciance, but the colour gives it extra zing, and the cropped silhouette feels super-fresh.
28. One-Shoulder Blazer & Miniskirt - £742 & £395, Matériel Tbilisi at MyTheresa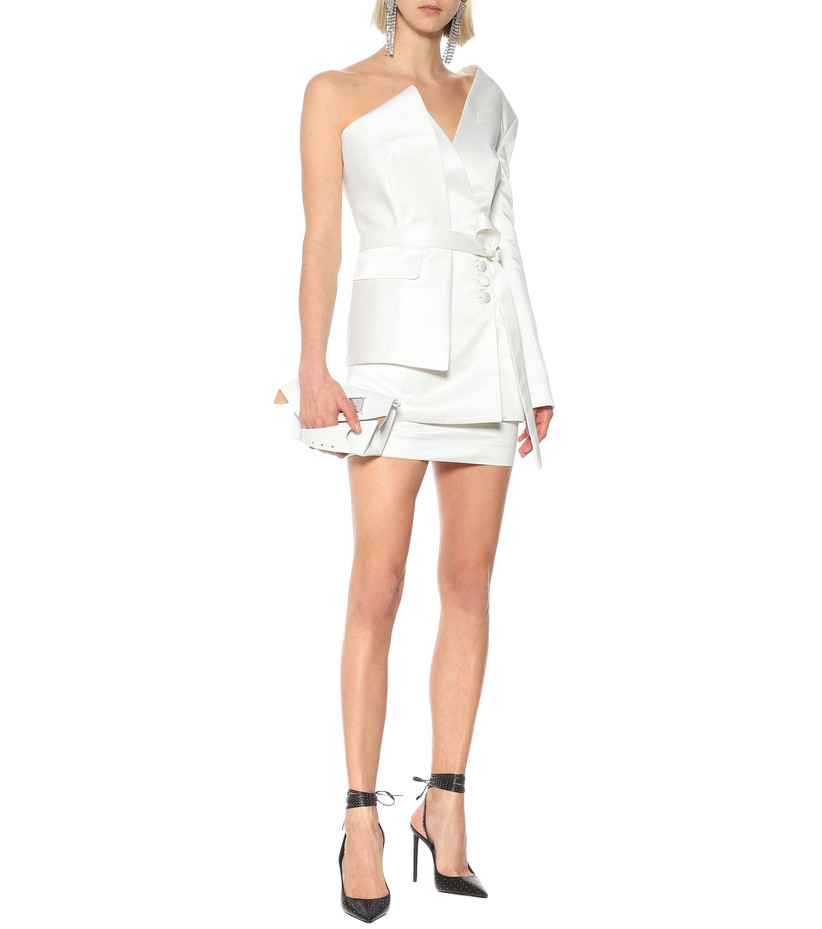 It's a classic, re-imagined: Matériel Tbilisi have given the blazer a glam-over by transforming the style into this asymmetric, one-shoulder piece. Worn with a matching miniskirt, this is a sexy, confident look - or you could even update it further and wear with white cigarette pants.
29. Edie Blazer & Trousers - £235 & £125, Reiss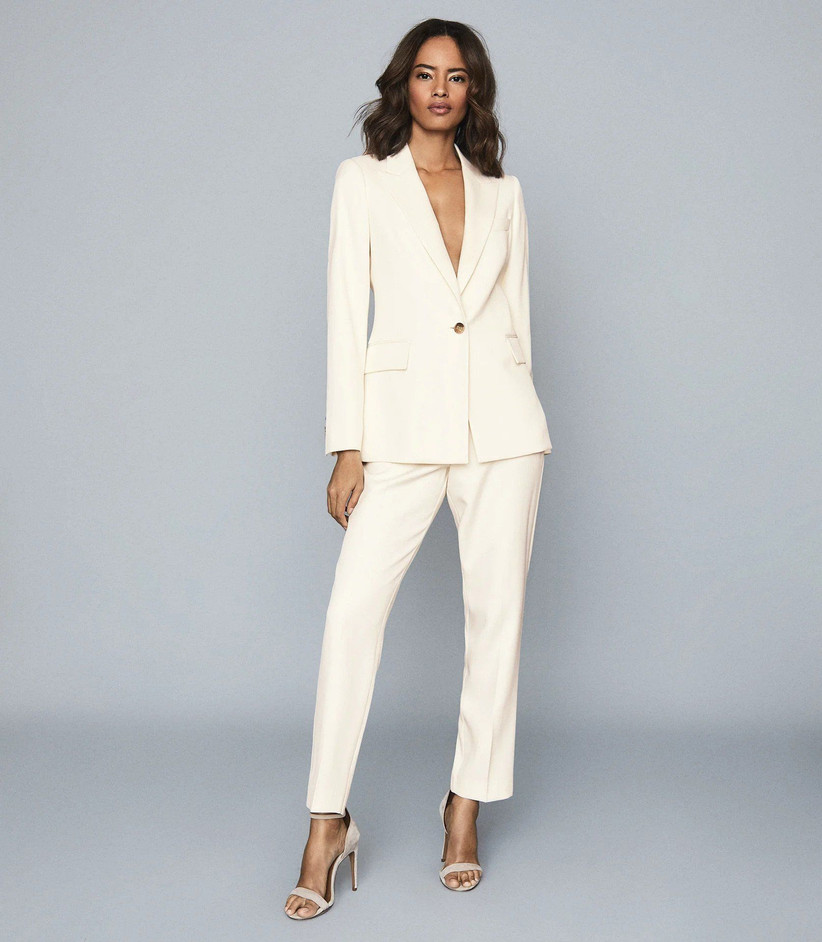 Calling all minimalist brides, we may have found a high street version of your dream look! The Edie suit is clean and simple, so you can accessorize at will or keep it pared-back. Reiss are know for a quality of tailoring that exceeds the price, so expect it to feel much more expensive than it is.
30. Striped Blazer & Wide-Leg Trousers - £2,019 & £960, Alexandre Vauthier at FarFetch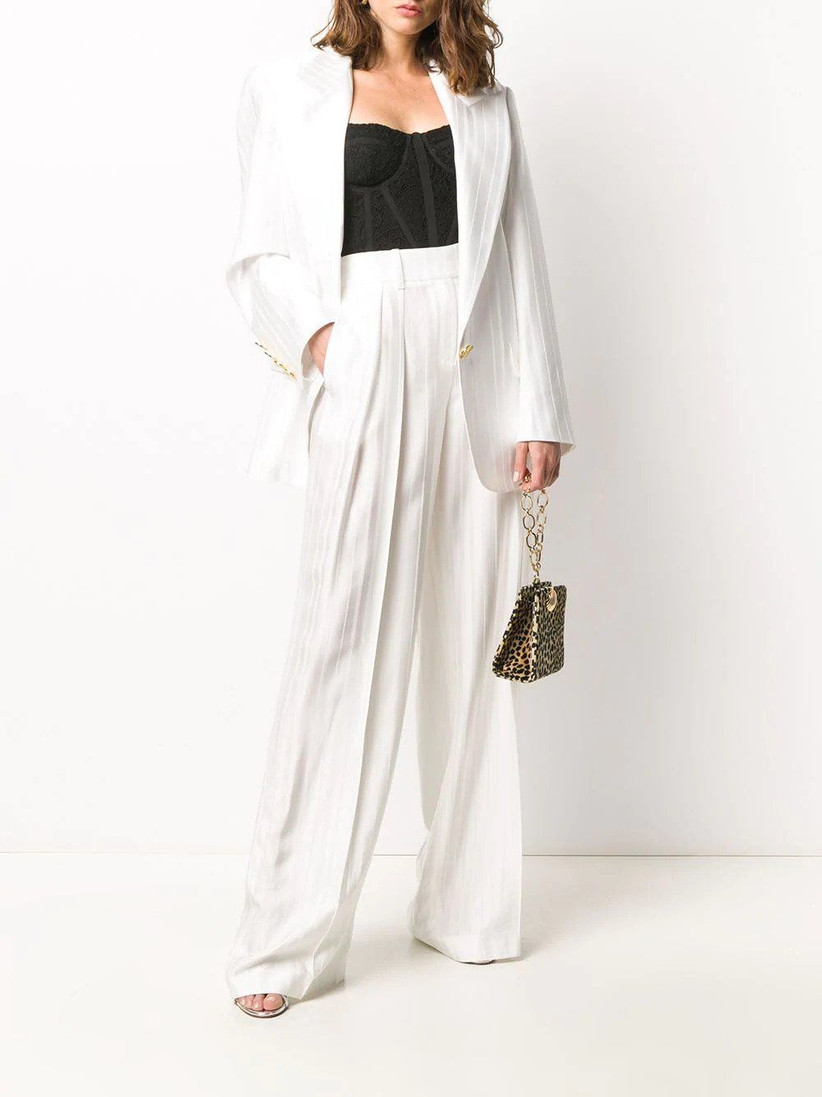 This new-season Alexandre Vauthier suit feels so fresh. Pin stripes are usually associated with masculine tailoring, so having them on a fluid silhouette in pure white is a stroke of genius. We also love the way it's styled with a contrasting bustier.
READ MORE: Alternative Wedding Dresses: The Best Statement Styles
31. Bow-Trim Blazer & Pleated Midi Skirt - £1,030 & £865, Alessandra Rich at Selfridges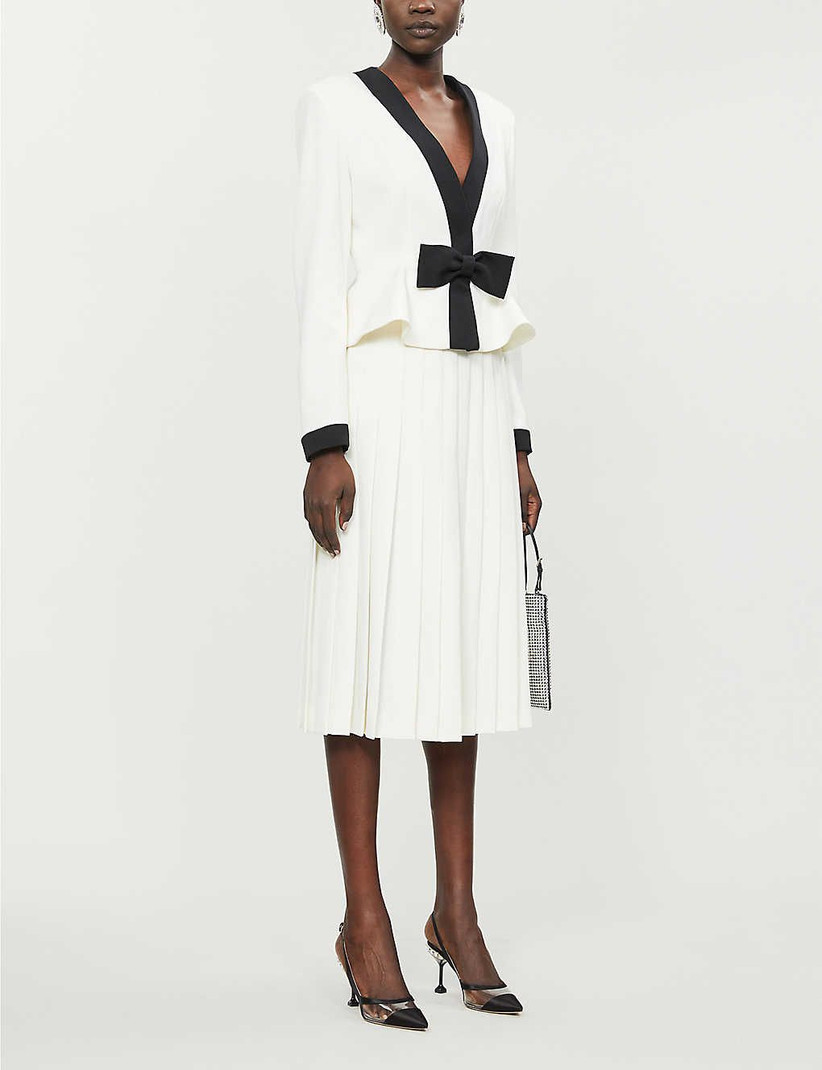 Are we cheating by calling a jacket and pleated skirt a suit? Honestly, when it results something as elegant as this Alessandra Rich outfit, we're happy to bend the fashion rules. We love the black trim of the jacket, and the pleated skirt feels so refined.
32. Karina Jacket & Sonja Trousers - €1,000 & €770, Cecilie Bahnsen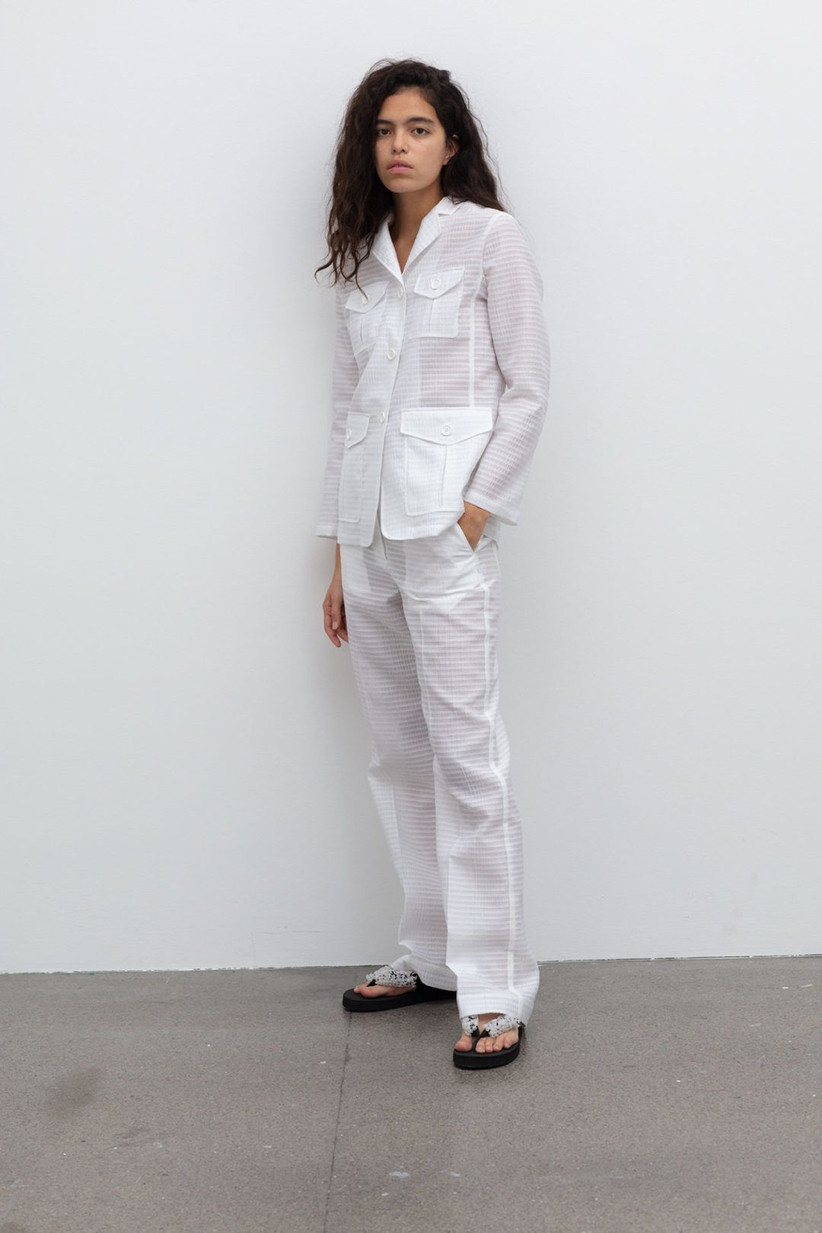 Let's take a walk on the quirky side with Cecilie Bahnsen's seersucker jacket and trousers. This cool Danish designer often uses unexpected fabrics in her work, and we think the outfit is perfect for a cutting-edge bridal look.
33. Linen Waistcoat & Wide-Leg Trousers - £69.95 & £59.95, Massimo Dutti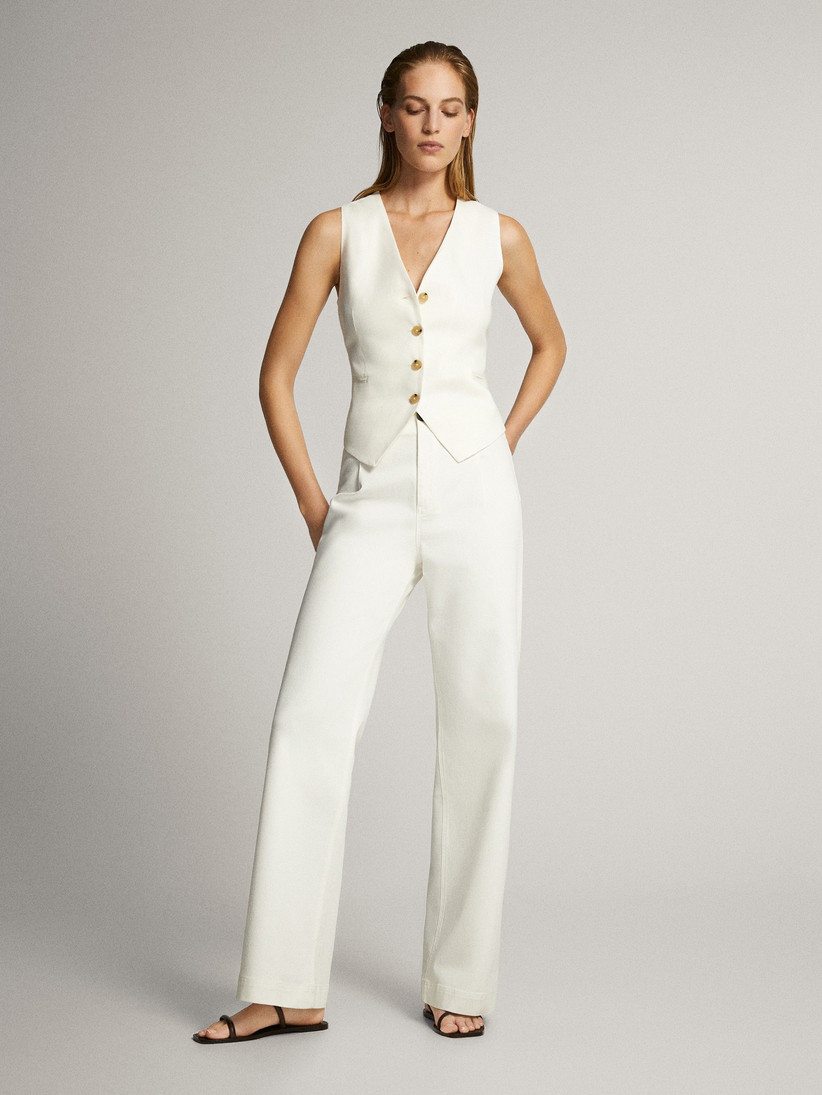 For a summer wedding, why not go sleeveless? Paired with the wide-leg trousers, this Massimo Dutti waistcoat gives you a sleek silhouette for a polished bridal look. To avoid getting chilly as evening draws in, there's also a matching blazer.
You'll need some sexy shoes to go with your wedding suit, but that doesn't have to mean a pair that'll leave you limping by the end of the party. Check out our guide to the most comfortable wedding shoes -these are the styles that feel as fantastic as they look.