20 Chic Women's Wedding Suits for a Powerful W-Day Look
There are no 'have tos' when it comes to weddings, and that goes for your outfit too. These women's wedding suits will have you tempted to ditch the dress in no time...
We have included third party products to help you navigate and enjoy life's biggest moments. Purchases made through links on this page may earn us a commission.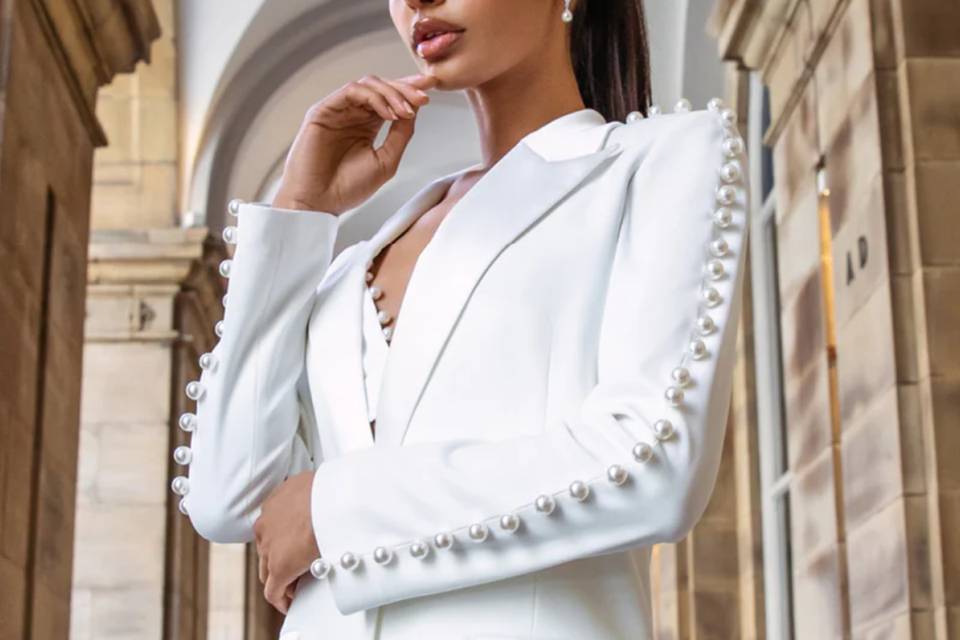 There's never been a better time for wedding suits for women. Tailored two-pieces have been all over catwalks, red carpets, and the coolest Insta grids for the last couple of seasons - and it's a trend that translates beautifully to weddings.
Of course, we'll always love wedding dresses, but wedding suits and wedding jumpsuits for women are about a particular mood: effortlessly cool and insouciant; glamour with an edge; sexiness shot through with extra sophistication.
We're clearly not talking about your typical office suit. These are powerfully elegant silhouettes, whether sleek and figure-skimming or with volume to spare. And while this may be a high-fashion look, the right wedding suit stands the test of time.
After all, Bianca Jagger's 1971 tuxedo and skirt combo remains a fixture in round-ups of A-list wedding outfits. The best bit? You don't need a Jagger-sized budget. Where the catwalks lead, the high street follows, so you can easily get suiting that looks aspirational but is in fact affordable.
Wedding Suits for Women: 20 Stylish & Powerful Bridal Trouser Suits
To help you on your search for the ultimate wedding suits for ladies, we've picked out the wedding suits for women that meet our strict cool-yet-timeless criteria, both designer and high street. Get ready to fall in love with bridal tailoring.
1. Lace Bridal Trouser Suit - £300 & £200, Mango
We're kicking off our wedding suits for women edit with a bang by featuring this Guipure suit jacket and trouser set from Mango. The suit jacket costs £300, and the trousers are £200, meaning you can bag this entire look for £500.
The lace wedding trouser suit is part of Mango's online capsule collection and is a truly premium product.
The lace used is thick and of high quality, and the product comes fully ironed, so there's little need for steaming yourself.
Sizing: XS - XL
Expert Take: We're here for a sheer moment, and daring nearlyweds should be too. However, if you're not into the sheerness, a white cami can be added to the top, and lining to the trousers to make this look a little more modest.
2. Female Wedding Suit With Brooch Detail - £2,850 & £690, Alexander McQueen
If you're looking for wedding ladies suits from designer fashion houses, look to brands like Alexander McQueen who create the most incredible tailored wedding suits for women.
For a truly elegant look, we love styles like this crystal embellished jacket and leaf crepe trouser combo. The sparkly brooch is timeless and classic, and the trousers are simple and stylish enough to be worn again with other outfits after the wedding is over.
The blazer has slanted pockets which really accentuate the figure of whoever is wearing it and the crisp white colour is oh so chic.
Sizing: UK 4 - UK 14 (UK 18 in the trousers)
Expert Take: This kind of timeless brooch detail would look gorgeous on both older and younger nearlyweds alike. We love it for a city-centre registry office wedding.
3. Tatum Women's Wedding Suit Style Jumpsuit - £POA, Justin Alexander
There is something so original about this suit by Justin Alexander and we love it! The draped back gives it a hint of a dress style while keeping the general suit shape, making it both classic and fresh at the same time.
It may technically be a wedding jumpsuit - so we're slightly breaking the rules, but with the jacket and lapels, it's channelling women's suit for a wedding to us...
Sizing: Dependent on stockists.
Expert Take: We're all about getting a bit more bang for your buck here at Hitched, and this women's suit for a wedding does just that. The jumpsuit itself is actually has a camisole top, and the caped jacket is actually a separate piece. Keep the jacket on for your ceremony and formal pictures, and whip it off at the reception for a fun cami jumpsuit that you can boogie all night in.
4. Classic Satin Wedding Suit for Women - £149 & £79, Coast
For a classic women's wedding suits look, opt for a style like this satin blazer and trouser combo from Coast.
We love Coast for their brilliant high street wedding dresses, and their wedding suits for women collection is just as impressive.
This pearlescent satin blazer and straight leg trouser suit is minimalist understated.
Sizing: UK 8 - UK 18
Expert Take: With wedding suits for women, sometimes the simpler the design, the more expensive they look and that's definitely the case here. Pair with pearl jewellery and pearl wedding shoes for a really stylish finish.
5. Open Back Bridal Trouser Suit - £1,040 & £520, Max Mara
Luckily for those who like to stand out, female wedding suits in the UK offer stand-out pieces as well as the classic white tailored designs.
One of our favourite women's suits for a wedding in this edit is this Max Mara outfit.
The Pasta silk blend blazer has the most unique open-back detail and split sleeves, making it a total show-stopper to look at, and the Tebano silk blend trousers complete the outfit perfectly. Both pieces can be worn separately with white or black accompaniments for more pared-back nearlyweds, but rocking them together would definitely be our preference.
Sizing: UK 2 - UK 18
Expert Take: The fit of this suit tends to come up a little small, so we'd recommend ordering a size up to your usual size and having it altered if needed.
6. Pink Women's Trouser Suit With Designer Details - £2,168 & £1,045, Net-A-Porter
As much as we love high street wedding attire, you just can't beat designer wedding suits for women, and this pink Versace trouser suit proves it.
The virgin wool blazer and matching trousers are tailoring at its absolute best. The all-over Versace branding may be a bit much for some, but when it's Barbie pink and looks like that, we're here for it.
The buttons on the blazer and cuffs have the signature Versace branding on them, just in case anyone was unsure where it's from...
Sizing: UK 6 - UK 16
Expert Take: Whether it's a pink wedding dress or women's wedding suit, we love nearlyweds who dare to wear colour on their big day.
7. Charlotte Blazer & Trousers - £295 & £190, Nadine Merabi
We're suckers for a pair of perfectly fitting trousers, but when it comes to this stylish Nadine Merabi suit, we're focusing on the pearl-adorned women's blazer. The embellishments are a seriously cool addition, guaranteed to gain attention with guests as you walk down the aisle.
Of course, the matching trousers perfectly complete the look and the front seam detail is very much appreciated. To complete the look even further, why not add the Charlotte white bra top to the mix as well.
Sizing: UK 6 - UK 18
Expert Take: Pearl wedding dresses are a huge trend right now, and applying that trend to wedding suits for women is a no-brainer in our opinion.
8. Strapless Peplum Women's Wedding Suit - £POA, Pronovias
Love the idea of a strapless wedding dress but want something less traditional? If so, women's trouser suits like this Pronovias design are well worth considering.
More unique than the classic wedding suits for women, this two piece set combines the essence of a strapless wedding dress with the coolness of a trouser suit.
The rippled peplum gives a natural curved silhouette to anyone who wears it and the embroidery adds to the elegance of the design.
Sizing: Dependent on stockists.
Expert Take: The benefit of wedding ladies suits like this is that it has elements of a wedding dress like the strapless neckline and long train that feel really bridal, whilst allowing nearlyweds to rock a super trendy wide leg trouser. From the back, it looks like a gown, and from the front, it's a female wedding suit.
9. Feathered Women's Skirt Suit - £109 & £79, Warehouse
Women's suits for weddings don't have to consist of a blazer and trousers. We actually have a real soft spot for women's skirt suits and love them for wedding days.
This feather cuff blazer and feathered mini skirt combo from Warehouse is one of the coolest wedding suits for ladies we've seen, and could be worn as a hen do outfit or at the wedding itself.
Feathered wedding dresses are all the rage right now, but buying a two-piece skirt set instead means your money is going further, as you can separate each piece to wear with other items of clothing once the wedding has taken place.
Sizing: UK 6 - UK 16
Expert Take: We love a feather here at Hitched, but remember that items like this are hand wash only - you don't want to go spoiling all that pretty detail in the washing machine now, do you?
10. Satin Shirt Style Women's Wedding Suit - £79 & £69, Ghost
Love the quiet luxury look? If so, you will adore this satin shirt and wide leg trouser suit from Ghost.
There is something so effortless about loose-fitting women's wedding suits like this that make them look and feel much more expensive than they actually are.
You can bag this combo for less than £150 and convince people it cost a great deal more!
Sizing: XS - XXXL
Expert Take: The greatest favour you can do yourself on your wedding day is ensure your outfit is comfortable, and we couldn't think of anything more fitting for that brief than bridal trouser suits like this one.
11. Glossy Satin Female Wedding Suit - £1,195 & £725, Galvan London
From one satin wedding trouser suit to another - let us introduce you to the sculpted bridal blazer and trousers from Galvan London.
Known for their impeccable tailoring and luxurious women's trouser suits for weddings, Galvan London did not disappoint with this co-ord.
The satin suit is designed in an off-white colour to complement all skin tones, but can also be purchased in blood red, pine and black for a more alternative wedding look.
Sizing: UK 6 - UK 16
Expert Take: If you're into the anti-wedding trend, we recommend taking a look at the pine colour as it's so rich and pigmented and would look incredible at an autumn or winter wedding - or as a bridesmaid choice.
12. Ivory Soft Joaquin Blazer & Morissey Trousers - £649 & £423, Joseph
Another really elegant and simple wedding suit for women is the Joaquim blazer and Morissey trousers from Joseph. This bridal trouser suit is made from textured fabric that adds lovely subtle detail to your overall wedding day look.
The warmer colour is ideal for those who don't want to wear a stark white and prefer something more subdued.
Sizing: UK 4 - UK 16
Expert Take: Because of the warm tone, we'd encourage nearlyweds to test camisole tops and bodysuits in autumnal shades if they want to add a pop of colour to their look.
13. Double Breasted Womens Wedding Blazer Suit - £1,263 & £566, Victoria Beckham
If there's any celebrity whose style we'd steal when it comes to tailored suits, it's Victoria Beckham. That woman knows how to rock a suit so it's no wonder her high rise trousers and double breasted blazer have gone down so well at Hitched HQ.
The trousers have a subtle kick-flare to them and a thick high waistband, while the blazer has double breast fasten and exaggerated lapels for a super fashionable feel.
Sizing: UK 4 - UK 14
Expert Take: for an added detail we don't often see, take a closer look at the seams of the trousers. They have an incredibly unique layer on either side and will really ensure you stand out on your wedding day.
14. Sparkly Women's Wedding Suit With Lace Detail - £260 & £180, Nadine Merabi
We're huge fans of Nadine Merabi for stellar hen party outfits and engagement party dresses, and when you see their women's trouser suits for weddings, you'll understand why we're a fan of those, too!
Let's start with the Camilla trouser and blazer set. The design has the essence of a wedding dress with its lace and sequin details, but the tailoring of a really chic bridal trouser suit. That's the perfect combination if you ask us.
Sizing: UK 6 - UK 18
Expert Take: For us, the lining on the blazer around the pockets and lapels really elevates this wedding trouser suit and makes it look far pricier than it actually is.
15. Bridal Trouser Suit & Top in Crepe - £POA, Pronovias
We're so here for this minimalist crepe top and trouser set from Pronovias.
We love how this female wedding suit can be dressed up for a glitzy nearlywed, or dressed down for those who prefer a more pared-back look.
This model has worn beautifully embellished gloves with the outfit, and finished it off with a simple belt - we love that style of accessorising.
Sizing: Dependent on stockists.
Expert Take: If you're getting married in summer and want a trouser suit that gives you space to breathe, styles like this that are loose fitting are the best option for you.
16. Waistcoat Wedding Suit Set - £49.99 & £45.99, Mango
Waistcoats and trouser sets are really fashionable at the moment, and we love the idea of nearlyweds wearing them as a modern take on bridal trouser suits in the UK.
This Mango waistcoat and wide leg trouser suit is a brilliant option for wedding day outfits and would look amazing at a city-centre summer wedding.
Sizing: XS - XXL
Expert Take: For a super cool look, order the waistcoat in a size up. They look amazing when oversized!
17. Baby Blue Women's Trouser Suit With Waistcoat - £775, £550 & £445, Ami Paris
If you're a fan of the three-piece suit but want something with an edge, look to Ami Paris and their baby blue three piece suit.
Their wool blend collection offers a blazer, waistcoat and wide leg trousers in this gorgeous baby blue colour, meaning your outfit could act as your something blue.
Sizing: UK 4 - UK 16 (XXS - XL on the waistcoat)
Expert Take: If you're not into female wedding suits this is a brilliant non binary wedding outfit option!
18. Leaf Crepe Elegant Women's Wedding Suit - £1,690 & £690
Simple, elegant and sophisticated, this Alexander McQueen outfit has to be one of our favourites in the edit.
The cut and tailoring of each piece is so precise and we love nothing more than an iron line on a wide leg trouser.
However, if you prefer an ankle length trouser for your women's suit look, there is also a cigarette trouser which you can opt for instead of the wide leg ones.
Sizing: UK 4 - UK 18
Expert Take:
19. Meghan White Women's Suit Blazer & Trousers - £275 & £195, Nadine Merabi
Let's take a walk on the quirky side with Nadine Merabi's Meghan blazer and trousers. This cool designer often includes contemporary elements in her work, and we think this outfit is perfect for a cutting-edge bridal look.
Sizing: UK 6 - UK 18
Expert Take: This fabric mimics the classic boucle finish which we think looks ultra expensive.
20. Amaliah Lace Wedding Jumpsuit - £259, Phase Eight
We love this romantic wedding jumpsuit, featuring delicate floral lace that will leave your partner swooning at the altar. Even the adjustable belt has matching lace and adds to the chic style of this outfit.
Sizing: UK 6 - UK 18
Expert Take: The illusion neckline and trouser hem give this trouser look character, while the lace keeps it feeling classic and romantic.
What is a Women's Wedding Suit?
Typically, a wedding suit for women consists of a tailored jacket or blazer, and trousers, a skirt or shorts. You can choose for your bridal suit to be in white or ivory, but it's totally fine to go for a colour too - you only have to see these non-traditional celebrity wedding outfits to understand the impact of a coloured wedding suit. Emily Ratajkowski stunned in a mustard yellow suit from Zara, and Laura Whitmore opted for a wedding suit too.
What to Look for in a Wedding Suit for Women?
When you're choosing the perfect wedding suit for your big day, you're going to want to make sure you invest as much as you can afford to, to ensure the tailoring looks as slick and as stylish as possible. Even if you are going for a high street bridal outfit, make sure you allocate some of your budget to get it tailored to you if you can so the fit is perfect. Try it on with your wedding shoes to make sure it falls just right, and style it up (or down!) with the perfect accessories.
How to Style a Wedding Suit?
This is going to depend on your own personal style, but you could explore a bridal headband if you still want a traditional wedding vibe, or go for a bold wedding lipstick to vamp up the look a little. There's no right or wrong way to style a wedding suit for a woman - it's all about expressing your own personal style and staying true to yourself.
Can You Hire Women's Trouser Suits For a Wedding?
While most of the brands above don't offer hire services, websites like Hire Street UK and John Lewis Fashion Rental have plenty of wedding worthy options. Moss Bros also offer wedding suit hire and many of their pieces would work for non binary wedding suit looks or a more oversized women's look.
Can I Wear a Bridal Suit to My Wedding?
Uh, yes, of course you can! You can wear whatever you want to your wedding, and if you are a woman who wants to rock a wedding suit, go for it! You're going to look incredible.
You'll need some sexy shoes to go with your wedding suit, but that doesn't have to mean a pair that'll leave you limping by the end of the party. Check out our guide to the most comfortable wedding shoes - these are the styles that feel as fantastic as they look.