47 Rustic Wedding Ideas That'll Bring Your Vision to Life
From whimsical wood finishes and charming venues, to rustic decorations and live music - these rustic wedding ideas are all must-haves
We have included third party products to help you navigate and enjoy life's biggest moments. Purchases made through links on this page may earn us a commission.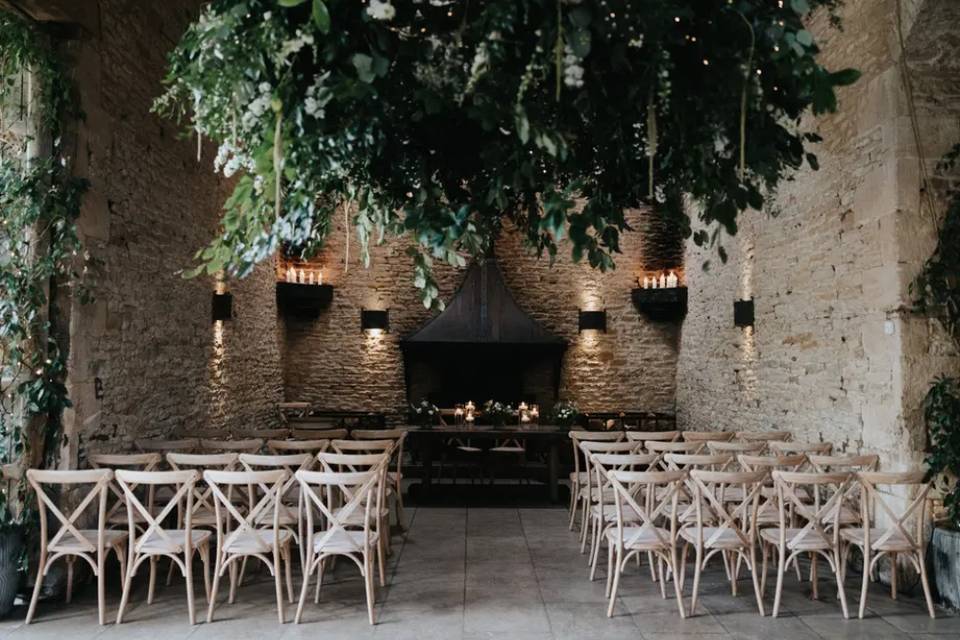 If you're planning a charming, quaint rustic wedding and need some inspiration, you've come to the right place. This guide is bursting with rustic wedding ideas you'll want to copy immediately. Though rustic weddings have been popular for years now, they've had a serious glow-up recently and have never looked so chic.
Gone are the days where rustic wedding ideas were solely about wooden beams and kitsch bunting. Now, rustic themed weddings are known for being chic and seriously stylish. Whether you're looking to embrace the rustic wedding themes fully, or want just a few rustic wedding decor ideas, this guide has everything you need to know.
Ready to embrace one of our favourite wedding themes ever?
Rustic Wedding Ideas: 47 Ways to Nail a Rustic Themed Wedding
From budget rustic ideas that won't stretch the wedding budget, to rustic wedding decoration ideas that are super unique, we have all the inspo you need to bring your vision to life. What's more, we've even spoken to the experts to get tips on rustic wedding cakes, styling advice and flower ideas that'll help you nail this theme.
Rustic Wedding Venue Ideas
1. Choose a Barn Wedding Venue
If you're planning a rustic-themed wedding day then a barn wedding venue like Cripps Barn is the perfect setting. By choosing a venue that suits your wedding style, you'll naturally spend less on hiring décor items to get it looking exactly as you want.
Professional wedding planners Atelier Weddings have plenty of experience organising rustic affairs, and say, "As wedding planners, we have seen countless wedding themes and ideas that have left a lasting impression on the guests and the couple themselves.
"Summer and rustic weddings are two of the most popular themes that my clients love, and, to us, rustic weddings are all about the venue. I'd advise couples to opt for a barn venue that has exposed wooden beams and exudes rustic charm."
2. Say 'I Do' in a Rustic Farm Venue
For a spot even more charming, why not get married at a rustic farm wedding venue like Silchester Farm instead? Animal lovers will adore this rustic wedding idea and, similarly to barns, farms make the perfect backdrop for rustic wedding themes.
Many farm wedding venues have converted functional spaces into incredible wedding rooms. You will find a huge variety too, with the choice of charming and brick-built rustic farm venues, as well as industrial-style venues in ironclad converted outbuildings.
3. Tie the Knot in a Rustic Warehouse
Speaking of industrial, why not break the mould and play out your rustic wedding theme in a warehouse wedding venue like Small Beer Brewery? You may think we're bonkers, but steel beams, brick walls and blank canvases actually make for a great base when trying to bring rustic wedding ideas to life.
Choosing a wedding venue like this will give your rustic wedding theme a hint of modernity and a bit of an edge to the traditionally-envisioned rustic vibe.
What's more, if you want the chance to let your creative juices flow and completely transform a wedding venue, a blank canvas industrial warehouse is the perfect backdrop for you. Many of these style venues come as dry-hire which means you can bring in more rustic wedding suppliers than you ever thought possible!
4. Get Married in a Tipi
If you're trying to merge your best summer wedding ideas with all of our rustic wedding ideas, it makes complete sense to get married in a tipi or yurt wedding venue. Of course, tipis work wonderfully at festival-themed weddings, but they can work just as well for rustic weddings, too. We love the set up here at Elmbridge Farm.
What's more, rustic wedding themes work perfectly with festival-style celebrations so why not combine the two and throw a brilliant rustic festival wedding? More often than not, these types of festival wedding venues are located on big plots of land, so you can fully live out that outdoor theme and have plenty of food trucks and games.
If a barn wedding venue isn't quite your thing, break the rules and opt for something a little less traditional. Tipis and yurts are amazing blank canvases, allowing you to be totally creative and design your very own rustic wedding wonderland.
5. Have an Outdoor Wedding Ceremony
How sweet is this outdoor pergola at Cornish Tipi Weddings?
An outdoor wedding ceremony in a gorgeous garden or woodland wedding venue is one of our favourite rustic wedding ideas for so many reasons. The first is that, as we know, pulling off a rustic wedding theme is all about the surroundings, and tall trees and a woodland aisle are about as magical as they come.
The second reason is that, for couples who want to save on rustic decorations, having a gorgeous and ready-made outdoor wedding setting does most of the work for you. Of course, you may choose to add a few things here and there to spruce up the plot, but the rustic ambiance will already be there because of the surroundings.
And finally, there's no guarantee it won't rain on your wedding day, or be a little gloomy. We do live in the UK after all. So, having a rustic wedding theme as opposed to a summery one means that, if the clouds make an appearance, it's okay. And if a bit of rain falls, you can whip out a rustic canopy to keep everyone dry.
It really is a win-win hosting a rustic wedding outdoors, but if you are worried about the weather, we have a guide to the best month to get married based on the UK weather.
6. Get Married on a Lake
Is there anything more relaxing than being by a peaceful lake? We're pretty sure the answer to that is no, and the stunning lake at Cornish Tipi Weddings is no exception. Here, couples have the choice to have a legal wedding ceremony by their private lake, or get married somewhere else on the grounds and have a private photoshoot down there.
Row peacefully in their rustic wooden boat, or simply pose next to the calming waters for the ultimate rustic wedding feel.
7. Sit at Long Wooden Tables
To give your rustic wedding venue even more of a relaxed feel, why not ask your venue if they can swap formal, round tables for long wooden ones instead? It'll give your wedding breakfast more of a rustic feel to it and make your three courses feel a little more informal and sociable.
It'll also make planning your guest seating plan that bit easier with rows to decide on, as opposed to putting everyone into groups of six, eight or 10. And with this style, you can still have a top table, or keep it super casual and sit in the rows with the rest of your guests.
We love the set up here at Grangefield Cripps Co, it feels super rustic but glamorous at the same time.
8. Have Your Ceremony in the Woods
We're obsessed with the woodland setting at Marshwood Manor - it is so whimsical and captivating, just imagine getting married there! Having a wedding ceremony in the middle of woodlands is not only super romantic and invigorating, but it also completely ties in with a rustic wedding theme. The décor is practically done for you and we adore the long aisle and wooden logs for guests to sit on.
9. Walk Down a Rustic Wooden Aisle
Some of your most important wedding pictures will be of the moments captured as you and your partner say 'I do' at the end of the aisle. Because of that, go the extra mile and choose a really authentically rustic wedding aisle like this outdoor one at Marshwood Manor.
The wooden walkway is beautifully decorated with outdoor rugs and florals, but even without all of that, it would still suit a rustic wedding theme perfectly.
10. Choose a Venue With an Indoor Fire
When you think of a rustic setting, open fires with logs burning are always one of the first things to come to mind, and there's no reason why you can't have that at your wedding. Stone Barn has its very own log-burning open fire in one of there ceremony rooms. Just imagine getting married in a room like this when you throw your rustic winter wedding!
11. Take Your Guests Glamping
While its open fire is perfect for cosy winter wedding themes, the outdoor glamping facilities at Stone Barn suit rustic summer weddings to a tee. What's more outdoorsy, fun and of course, rustic, than you and your guests glamping after a day of wedding fun?
12. Have a Chill Out Zone
Rustic weddings are notoriously more laid-back and informal than other wedding themes, so having a wedding venue that has a designated chill out area is ideal. We love this cosy space at Tithe Barn - it's a lovely section where guests can mingle between speeches, enjoy their rustic canapes or sip on their DIY cocktails.
Rustic Wedding Décor Ideas
13. Use Rustic Wood for Your Table Names
Little details like having rustic wooden table names will really help you to bring your rustic wedding to life. You can use table names made out of wood, like these ones, or you could opt for wooden card holders, and use them to house paper or card table names instead. Whatever you choose, adding that wooden element to your table names is such a lovely finishing touch.
14. Have a Lit-Up Backdrop
We love a lighting moment at a wedding, and this light bulb backdrop at rustic wedding venue Bower in the Wood is one of our favourites, ever. The gorgeous oversized bulbs against the dark wooden backdrop create such a charming, rustic ambiance, and we love that it's been paired with dark chairs and fresh green foliage.
15. Use Logs as Placemats
And it's not just backdrops that Bower in the Wood do well. Their outdoor wooden tables are every bit rustic and we can't stop obsessing over their tree trunk placemats. They are chunky and make a big rustic statement, and again, paired with fresh green foliage really adds to the outdoorsy, nature feel, proving that wedding table decorations don't need to cost the world to look stunning.
This wedding venue was made for rustic themes - we just love it all!
16. Embrace Autumnal Colours
Rustic wedding ideas and themes can be done in a multitude of colours, but none do the job quite like autumnal tones. Warm rusty oranges and deep, neutral brows really do elevate a rustic wedding theme and we particularly love the styling done here by By Rebecca Brennan Brown.
Pairing the warm tones with brass cutlery and tinted glasses really takes this tablescape to the next level, and the deep shades mean that the crisp white menus and tablecloth really stand out.
17. Use Mix and Match Flowers & Jars
When it comes to your wedding tablescapes, having a rustic theme means you can really embrace the mixing and matching. We love the way the jars and flowers on these tables at The Coach House have been mixed and matched. The key to doing this well is to ensure that everything you choose has a similar vibe, that way it won't look random and messy. On the contrary, it'll look stylish and chic.
18. Serve Drinks in Rustic Tins
If you want a more relaxed feel, try out this rustic wedding idea pictured at Cornish Tipi Weddings. Pop all of your drinks into big industrial tins or containers and use a sign to ensure people know they can help themselves. Not only does this save venue staff having to serve everyone, but it could even be turned into a bit of a DIY drinks station if you added in toppers and mixers. Fun!
19. Go Big on Foliage Instalments
You can never have too much foliage at a wedding. Even if you're not embracing a botanical wedding theme, there's always room for more greenery. And this is especially the case when getting married in a rustic wedding venue, because they are some of the most fun to dress up.
Stone walls, wooden beams and cosy lighting are perfect accompaniments to greenery and foliage, as showcased here at the stunning Stone Barn. Foliage can be put together in a way that doesn't look pristine or perfect, in fact, it looks so much better when done that way - which is why it suits rustic themes so much.
20. Use a Wooden Rustic Seating Plan
Like with the table names, having rustic wedding décor ideas like a wooden seating plan really do bring the theme together. What we love about this wooden seating plan is that it can be reused or repurposed at different times throughout your wedding day, and even after the wedding.
The board is made from solid wood (which you can have personalised depending on the shade and type of wood you want), and then the seating plan information is pegged onto the hessian string. This board could start the day as your welcome sign, then be used as your rustic wedding seating chart, and later be transformed into an unusual guest book or notice board.
21. Use Rustic Place Settings
Hessian and neutral place settings are key to nailing the rustic wedding theme. Simple rustic wedding ideas like this are so easy to put into practise, and again, can be reused after the wedding is over. We also love the way this place setting contrasts against this chalkboard food menu - chalkboards suit rustic wedding themes perfectly so this is a great pairing.
22. Use Macramé as Table Runners
Macramé is very much associated with boho themed weddings, but it's actually one of our favourite rustic wedding ideas. The two themes work really well together, and if you want your rustic wedding to feel more whimsical and chic, macramé is the way to go.
We say, out with the table runners, and in with the macramé! We adore the set up put together here by Nya Rue Events. The cream macramé contrasts beautifully with the dark oak, and it's a great example of how brighter colours can be used to make a rustic wedding theme really pop.
23. Put Fairy Lights Everywhere
On the ceiling, around the banisters, in the flowers, across the bar. When we say put fairy lights everywhere, we mean it! The guys at Stone Barn know how to create a gorgeous atmosphere with fairy lights - just look at how stunning they look on the ceiling. Adding fairy lights is a rustic wedding idea that won't be going out of fashion any time soon, or ever to be honest.
24. Use Foliage On the Tables
If you want a more traditional rustic feel for your tables, instead of macramé, opt for foliage instead. You can use real foliage or faux leaves - both will look really nice. You may even find some decorative hire companies will rent out faux foliage at really reasonable rates.
Just look how much the greenery pops against the neutral tones of the woods here at Cripps Barn.
25. Swap Chairs for Wooden Benches
Similarly to their indoor options, Cripps Barn has several outdoor spaces perfect for that rustic wedding theme. To really embrace the theme, we love the idea of swapping chairs for wooden benches. It's a summer wedding idea that links to the rustic theme really nicely and is a great shout if you're keen to embrace a more informal wedding ceremony style.
26. Use Candles for Ambiance
If you're after a more romantic-meets-rustic feel for your wedding, candles are the best way to add a cost and charming ambiance. Whether it's for your wedding pictures alone, or you have them as one of your main wedding decorations, candles are a must-have rustic wedding idea.
The way that Nya Rue Events has set up this shoot for one of her couples is stunning - we'd highly recommend copying!
27. Have Rustic Wedding Signs
Whether it's your wedding welcome sign, or just little signs around your venue, keeping them inline with your theme will really bring the look of your wedding to life. This sign would suit a rustic theme wedding so well, but you could also transform your own piece of wood into a sign if you were on a tighter budget.
28. Send Wooden Save the Dates
Save the dates are the first impression your guests have of your wedding, so those hosting a rustic day will want to send out save the dates that represent that theme. These save the dates are perfect for rustic weddings, and the fact that they are magnets makes them super practical too. No one will lose that!
If you love that idea, you can browse more save the date magnets here.
29. Give Out Tree Trunk Favours
Wedding favours are not for everyone, but if you are planning on handing some out, nothing says rustic wedding quite like these tree trunk candles. And anyone after some budget rustic wedding ideas will love the fact that these can be bought in bulk with prices starting from just 19p per unit.
Keen for more? Check out all of these wedding favours under £1.
Rustic Wedding Entertainment Ideas
30. Give Everyone Sparklers
Similarly to the candles, sparklers add a really romantic ambiance to any wedding, but especially one with a rustic theme to it. It's also something that can double up as wedding guest entertainment, as well as helping to create some really unique and memorable shots.
This couple tied the knot at Marshwood Manor. Imagine their woodland surroundings paired with these sparklers - just magical.
31. Offer Confetti Bags
Confetti pictures are so popular at weddings of all styles and themes, and for good reason. This is also a great budget rustic wedding idea as confetti is really reasonably priced and the cost of it, compared to the effect it has, makes it worth every penny.
These help yourself confetti bags at Bower in the Wood are so cute - the brown paper bags are synonymous with rustic weddings and are also really reasonable to buy.
32. Sit Around a Bonfire
If you find yourself getting married at a wedding venue like Cripps Barn, you and your guests can spend the evening around the outdoor bonfire pit - how cool is that? Toast marshmallows, listen to live music or just sit and mingle - whatever you choose to do, doing it around an open fire makes it all the more cosy (and rustic, of course!).
33. Have a Wooden Polaroid Station
Not only do polaroid stations like this one look great, but they also double up as great wedding entertainment for your guests as well. All you need is a polaroid camera, Polaroids and a cosy corner in your venue and you have a ready-made station.
Another way to maximise on this rustic wedding idea is to have your guests sign their pictures with messages, making it a cute alternative guest book as well.
34. Set Up a Rustic Grazing Table
Having a grazing table at your wedding is a must if you're going for the rustic vibe, and we love this one at Marshwood Manor. The wooden crates and vintage accessories add to the theme so well and makes for a lovely picture moment too.
35. Have Your Speeches Outdoors
Embracing the outdoors is something we'd always recommend at a rustic wedding, so why not take your wedding speeches outside and have them in a more casual setting? Flipping the format is a unique and completely free way to make your wedding more memorable and interesting.
36. Have a Live Guitarist
Rustic wedding themes are all about the ambiance, and there's no better vibe than a live acoustic guitarist playing at your wedding. 24 Live Acoustic offers guitar soloist and duos for weddings and milestone events, and with more than 600 songs in their repertoire, you're bound to love their stuff.
37. Play Vintage Garden Games
Having some cool, rustic outdoor wedding games for your guests to play with is a great way to keep them entertained, and they look lovely, too! Buy the games or hire them from a company like Girl Friday Games and give your guests plenty to do.
38. Invite Some Animals
What's more rustic than having a bunch of gorgeous animals at your wedding? Whether you have dogs at the wedding or embrace the furry friends at your farm venue, adding animals into the mix is a real crowd pleaser.
And if you love alpacas as much as we do, you'll love the work that Charnwood Forest Alpacas do. They transport their beautiful alpacas to your venue for your guests to pet them and make a new furry friend.
Rustic Wedding Cake Ideas
Florina from wedding cake company, Let Them Eat Cake, has years of experience in the industry, and knows a thing or two about working to a rustic wedding theme.
She says, "Rustic wedding cakes can bring a warm, inviting charm to your special day. Combining elements of a countryside feel with a modern approach, rustic cakes are the perfect choice for couples hoping for a cosy, down-to-earth atmosphere.
"Get creative and adorn your cake with chunky textured buttercream, dried foliage, pressed wildflowers, and seasonal fruits like pears and figs, or dare to bare all and go for a naked or semi naked wedding cake.
"No matter what details you choose, your rustic wedding cake is sure to be a hit at your reception. For a truly unique cake, choose a rustic and trust that with such a forgiving style, it will always be 'just right.'"
Here are some of our favourite rustic wedding cake ideas you just have to try.
39. Have a Naked Wedding Cake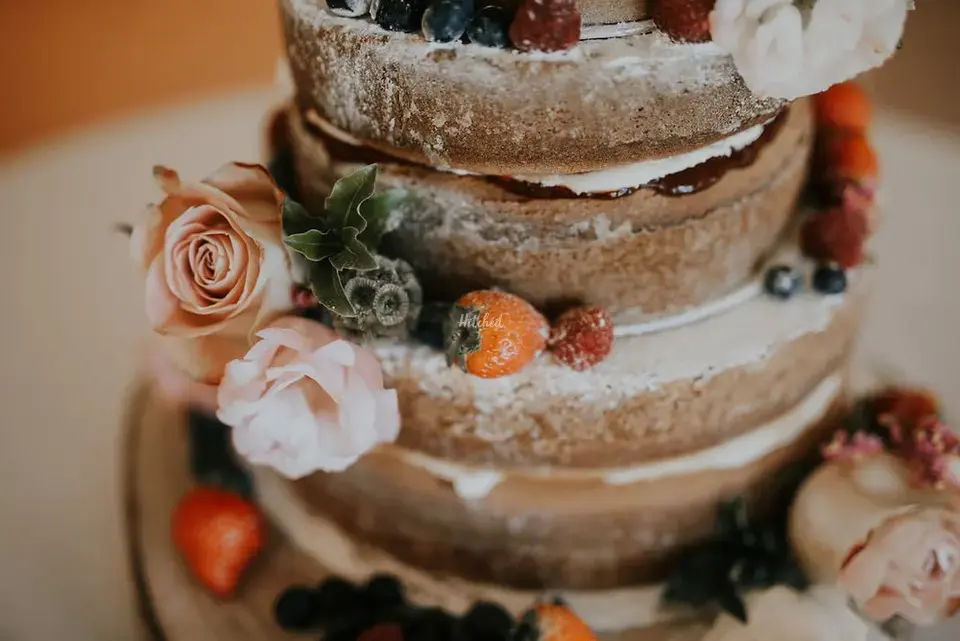 Naked wedding cakes are probably the cake style most synonymous with rustic wedding themes. They're the cake version exposed-brick wooden beams, making them perfect for couples embracing the rustic theme.
Adorning your naked wedding cake with fresh fruit, flowers and, of course, icing sugar, is a great way to add to the rustic feel of the cake, and placing it on a wooden cake stand is the perfect way to complete the look.
We love this one, made by Florina at Let Them Eat Cake because the icing sugar has been dusted over the fruit, adding to the overall look, and we love the way the icing and jam seeps out at the side - it really doesn't get more rustic than this!
40. Go Semi-Naked With Buttercream
If you're not into the fully-naked look, ask your wedding cake maker to go semi-naked. The smears of buttercream half-expose the interior layers of the cake, but still give that rustic feel. We love this design made by the team at Kake Bakery, because the crisp, white icing adds a hint of glamour whilst still keeping in with the rustic theme.
The placement of the foliage and greenery also add to the rustic theme because they have been expertly positioned to look rustic - that's real artistry there.
41. Include Buttercream Florals
Having your cake maker use buttercream to create florals instead of sugared fondant gives it much more of a rustic feel. If you're set on having a wedding cake with flowers, but still want it to look and feel rustic, this is definitely the way to go.
The delicate smears of buttercream have been expertly positioned to create a floral look, and we love the way the icing has been used to add a 3D element to the design. The pastel colours work really well for a chic-meets-rustic theme, but you could use brighter, or more muted tones if that better suits your theme.
This design from Let Them Eat Cake could then be finished off with a rustic wedding cake stand.
42. Have Florals Painted On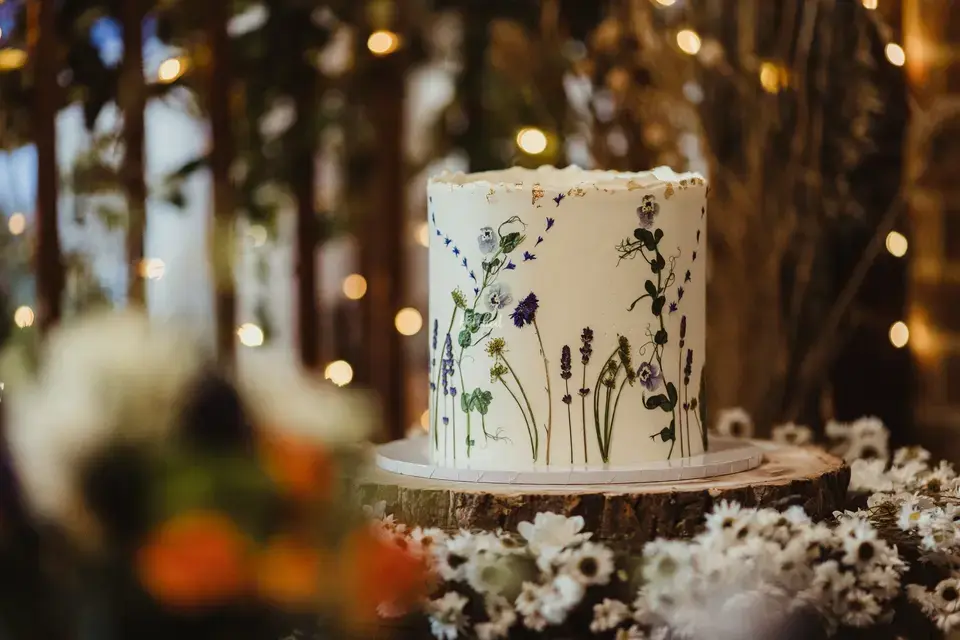 As flowers are one of the best ways to live out a wedding theme, why not have your cake maker paint rustic florals onto your cake just like the talented Olivia Bakes has done here? Proving that single tier wedding cakes can be just as incredible as enormous ones, this delicate and whimsical design gives a nod to rustic vibes whilst still looking gorgeously pretty.
Not all rustic wedding décor ideas have to have an unfinished feel to them, so if you prefer pretty precision, but still want to live out the rustic vibe, this could be the design inspo for you.
43. Use Dried Flowers & Petals
And finally, keeping in with the floral theme, is this beautiful rustic wedding cake made by Kake Bakery. Is there anything more rustic than using actual dried flowers in your wedding cake design? We think not. This is a perfect example of how to live out a rustic wedding theme in the spring, paying homage to gorgeous yellow florals and pretty daisies.
Rustic Wedding Flower Ideas
Sarah Ogden from Horseshoe Flowers is an expert in dried flower arrangements and has shared with us her best advice for couples who want to embrace rustic wedding flowers.
44. Have Dried Rustic Flowers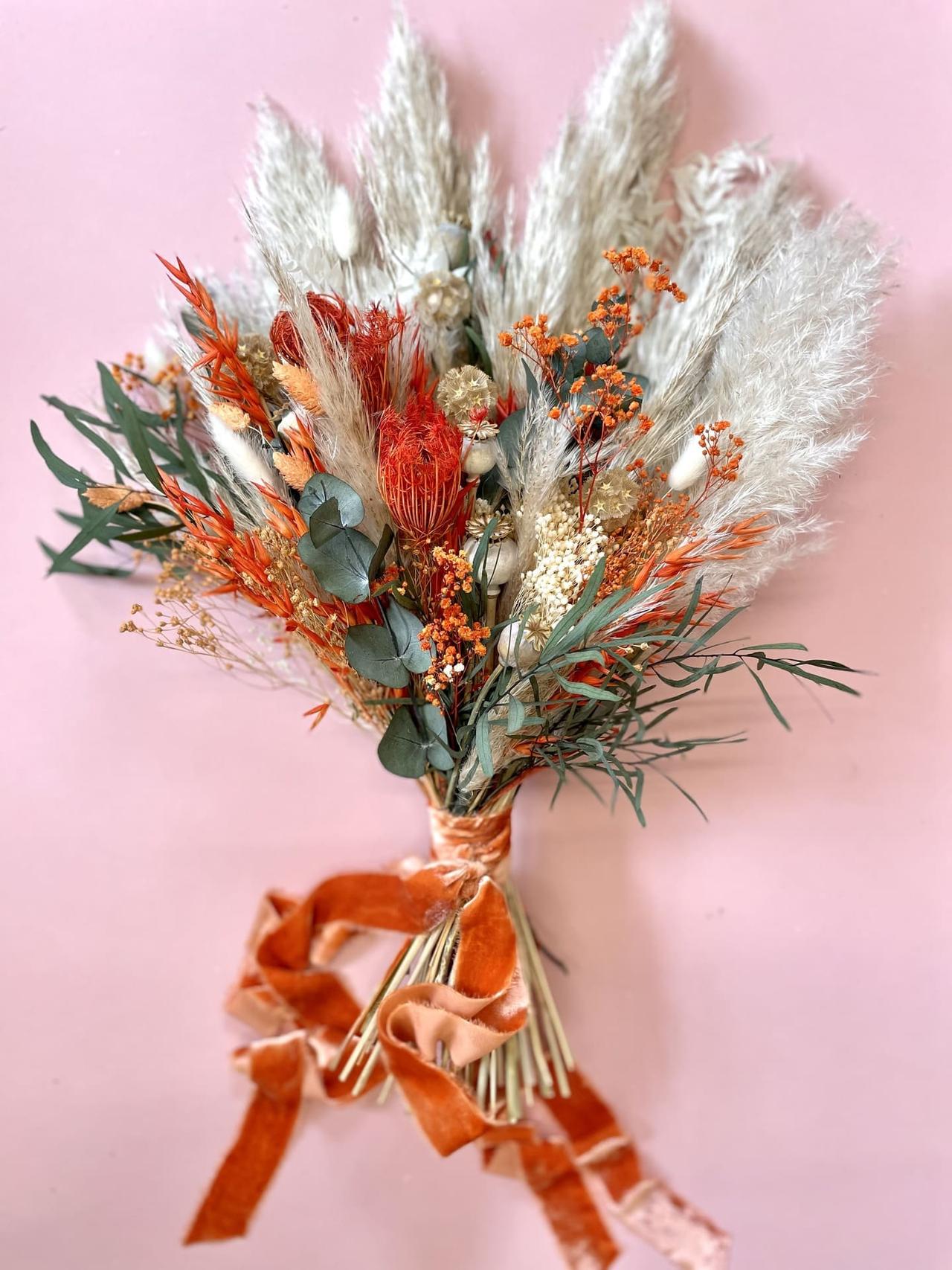 Sarah says, "Dried flowers are perfect for a rustic theme wedding. What rustic wedding would be complete without dried pampas grasses blowing in the breeze? I think the colours are less important than the style of the flowers. To ensure a rustic look, I would choose dried flowers and grasses such as wheat and oats and pampas grasses, all flowers that are found growing naturally in the wild."
45. Rustic Wedding Flower Colour Palettes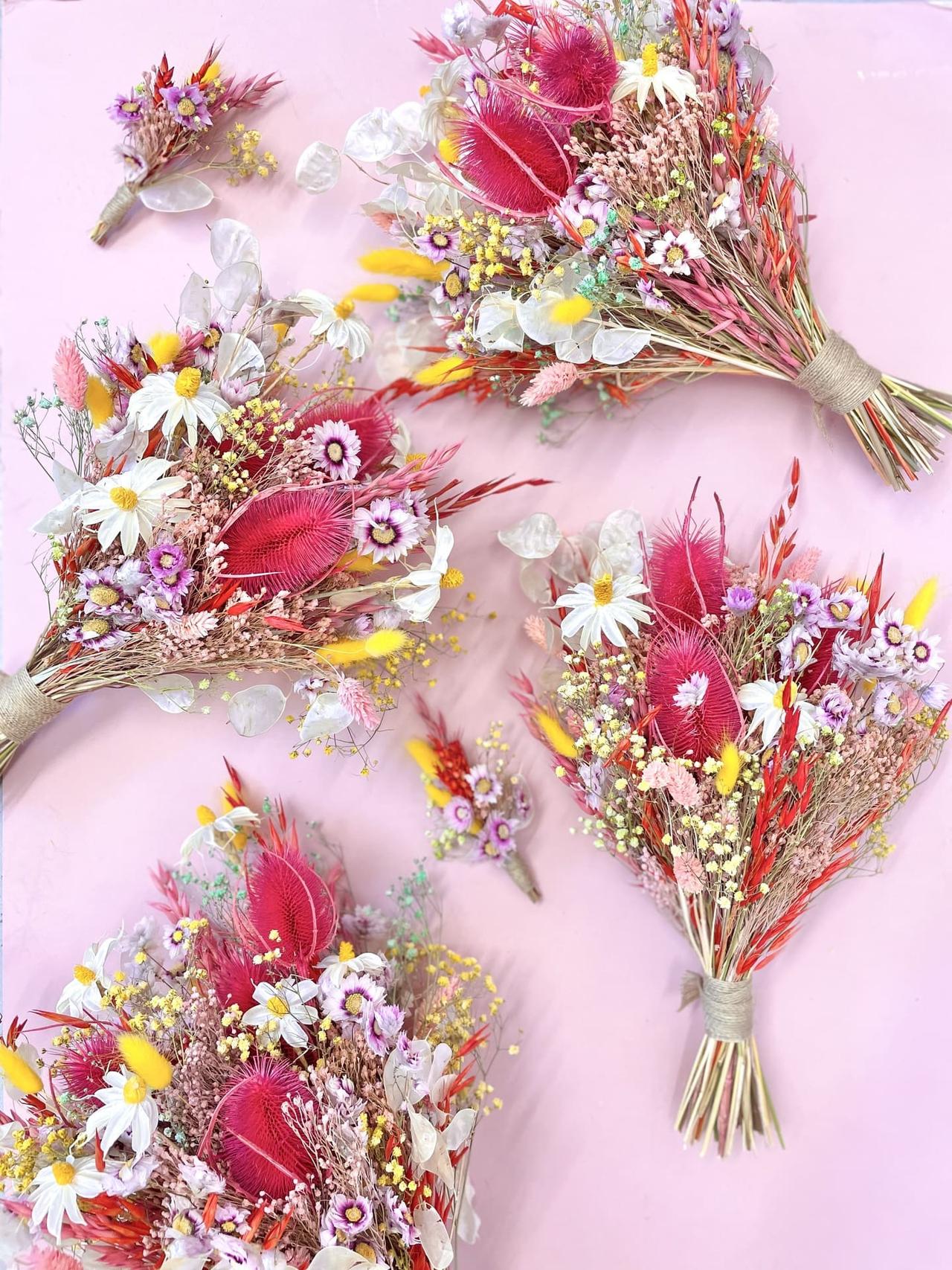 But it's not just style - Sarah explains the impact that different colour palettes can have on rustic wedding themes, "For your colour palette, you can stick with a natural toned colour palette with touches of autumnal shades, sage greens, burnt oranges and browns with touches of red and yellow or even go for a much more colourful wildflower foraged look - taking inspiration from flowers that grow in wildflower meadows.
46. Rustic Wedding Flower Finishes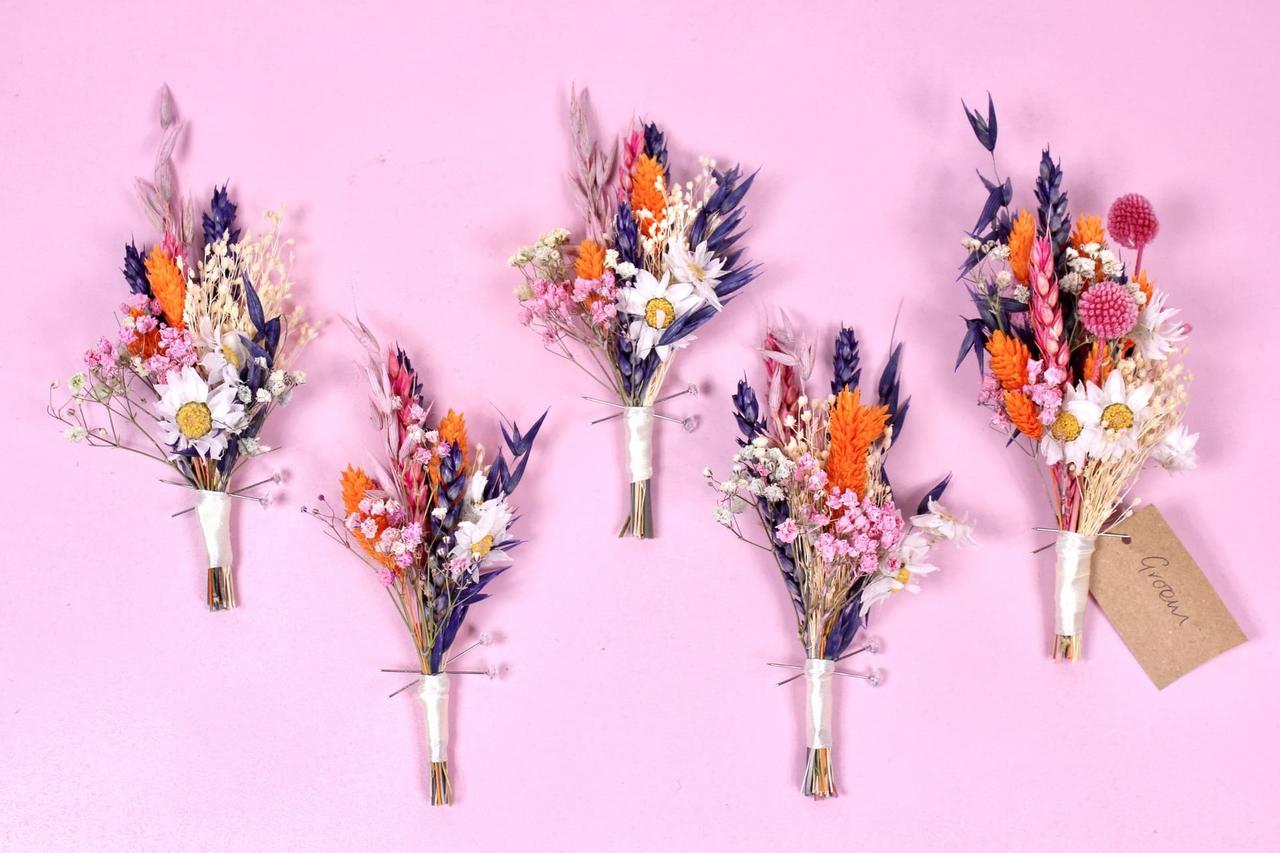 Sarah points out that accessories can also help emphasise a rustic theme when it comes to your flowers. She says, "Whether you choose a natural relaxed autumnal look or a brighter colourful palette, I would focus on the finishings for your bouquets. Think of beautiful rustic hessian ribbons or string to finish your flowers, adding another rustic detail."
Hannah from Bouquets n Bunches adds, "My tip for styling rustic wedding flowers would be to include fabric in your bouquets. For example, why not use some pretty old style lace, perhaps one that matches your lace wedding dress and use it as finishing ribbon?"
47. Go Big on Instalments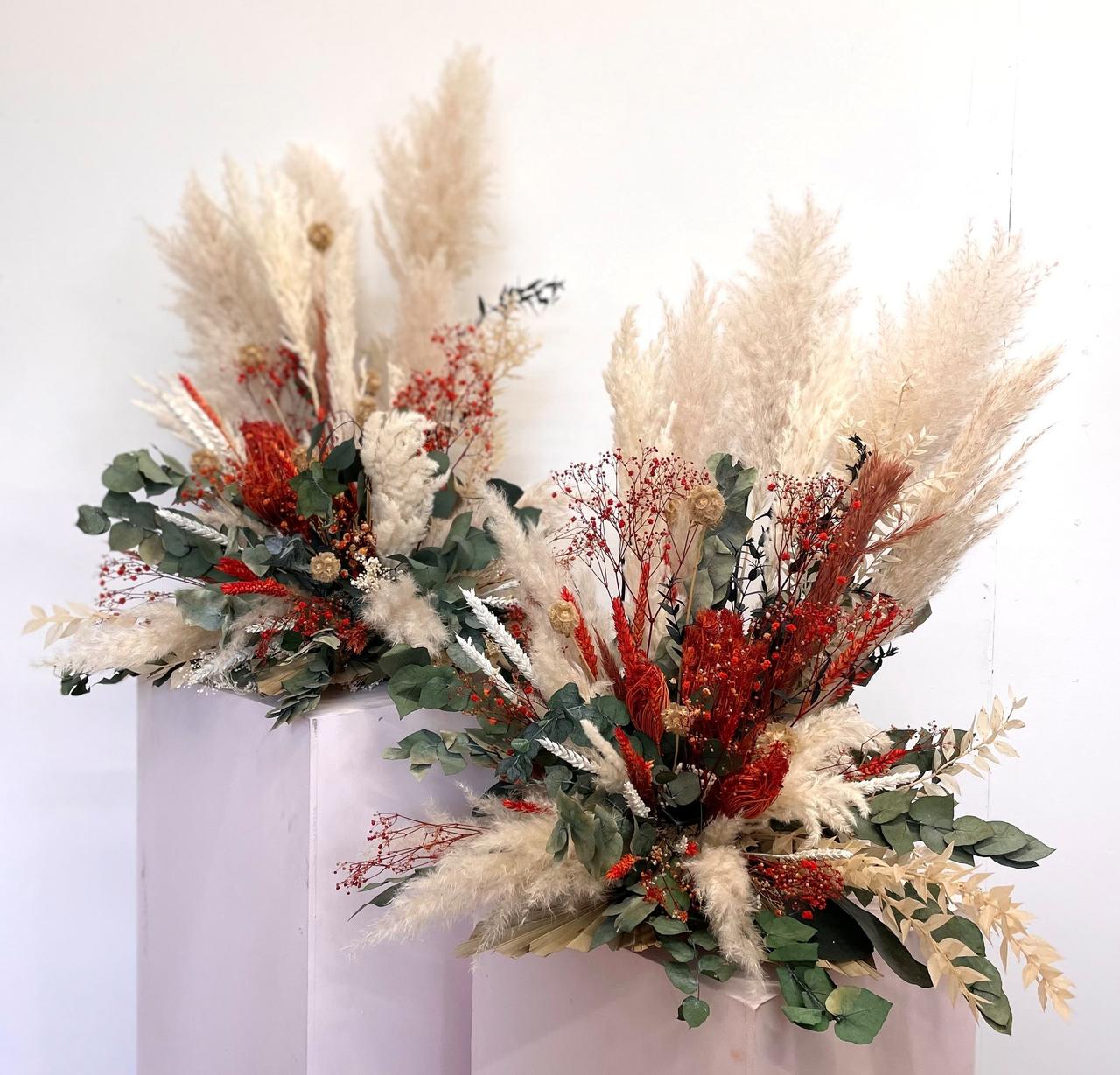 You all know by now how much we love big floral instalments, and Sarah agrees, "In terms of styles - I would choose floor standing arrangements that look like wild flowers growing out of the ground. These could be used down the aisle, to give the illusion of walking down through a meadow and then moved to other parts of the reception such as at the foot of the top table.
"We are seeing lots of installation pieces trending, specifically flower hoops, which can be hanging in groups of three from the ceiling of your venue or arranged on the walls if you are getting married in a barn."