Rustic Wedding Ideas: 45 Breathtaking Ideas for Your Big Day
Add no end of rustic charm to your big day with these beautiful rustic wedding ideas
We have included third party products to help you navigate and enjoy life's biggest moments. Purchases made through links on this page may earn us a commission.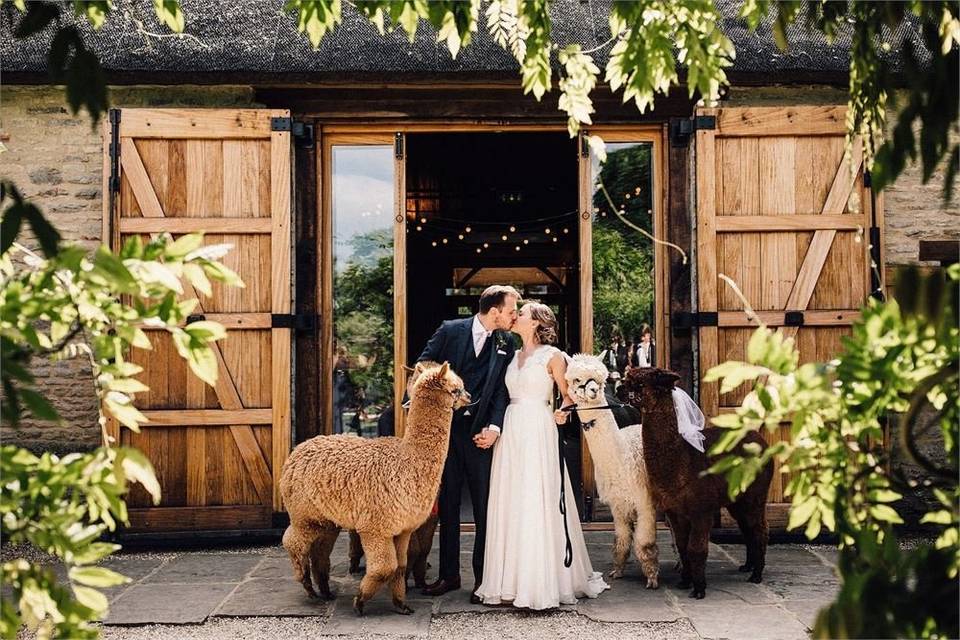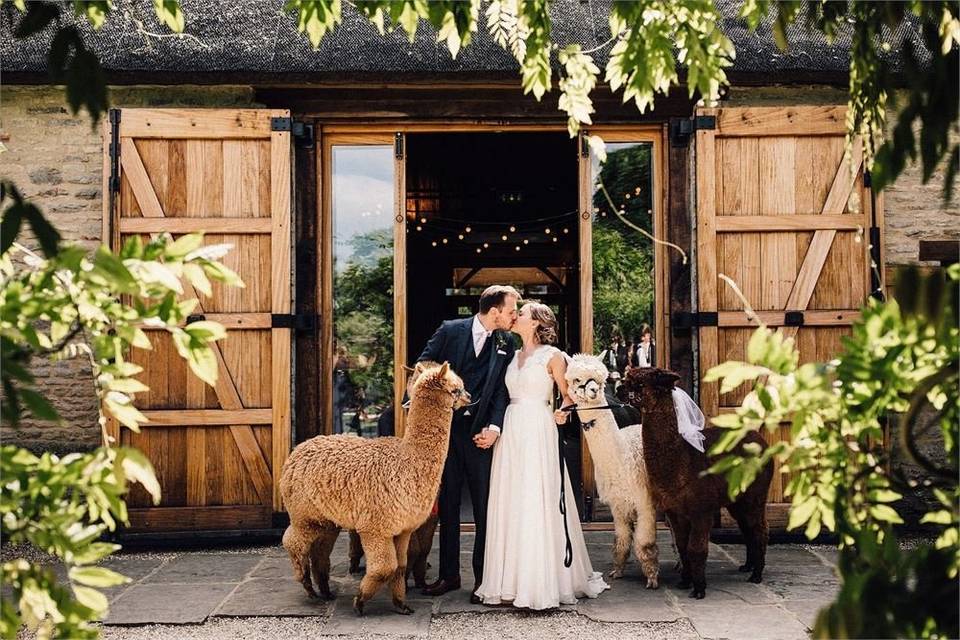 If thoughts of a laid-back wedding in the countryside fill your heart with joy then a rustic wedding could be the perfect wedding style for you.
Although the trend has been kicking around for a while now, rustic weddings have never looked so chic. We're totally obsessed with everything they encompass, from the ever-popular barn wedding venue to rustic wedding bouquets, hessian table runners and fairy lights aplenty.
Here, we round-up our favourite rustic wedding ideas which will bring your wedding day to life and look fabulous in your photographs. It's time to feel inspired…
READ MORE: The Ultimate Guide to Wedding Themes
NB: We have included third party products to help you navigate and enjoy life's biggest moments. Purchases made through links on this page may earn us a commission.
1. Choose a Rustic Barn Wedding Venue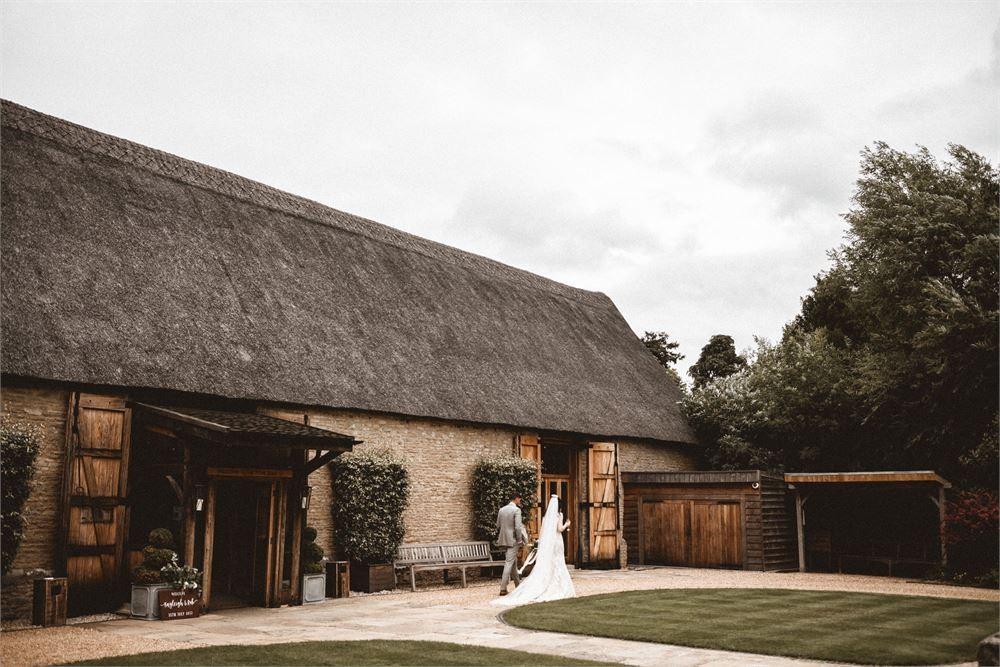 Image: Tythe Barn
If you're planning a rustic-themed wedding day then a barn wedding venue is the perfect setting.
By choosing a venue that suits your wedding style, you'll naturally spend less on décor items to get it looking exactly as you want.
We're huge fans of The Tythe Barn in Oxfordshire. It's just begging for you to host your rustic wedding day there.
2. Get Married in a Tipi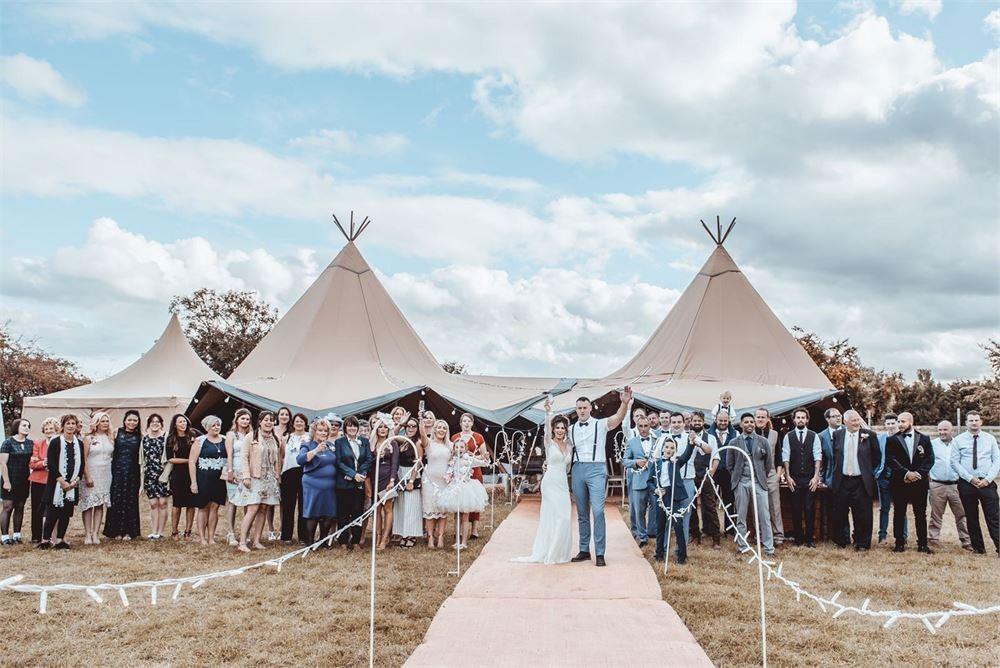 Image: Tipis at Beaumont Hall
Of course, tipis work wonderfully at festival-themed weddings, but they can work just as well for rustic weddings too!
If a barn wedding venue isn't quite your thing, break the rules and opt for something a little less traditional. Tipis and yurts are amazing blank canvases, allowing you to be totally creative and design your very own rustic wedding wonderland.
How gorgeous is this tipi wedding venue? It sits in the heart of Hertfordshire and we're totally in love.
3. Host Your Ceremony Outside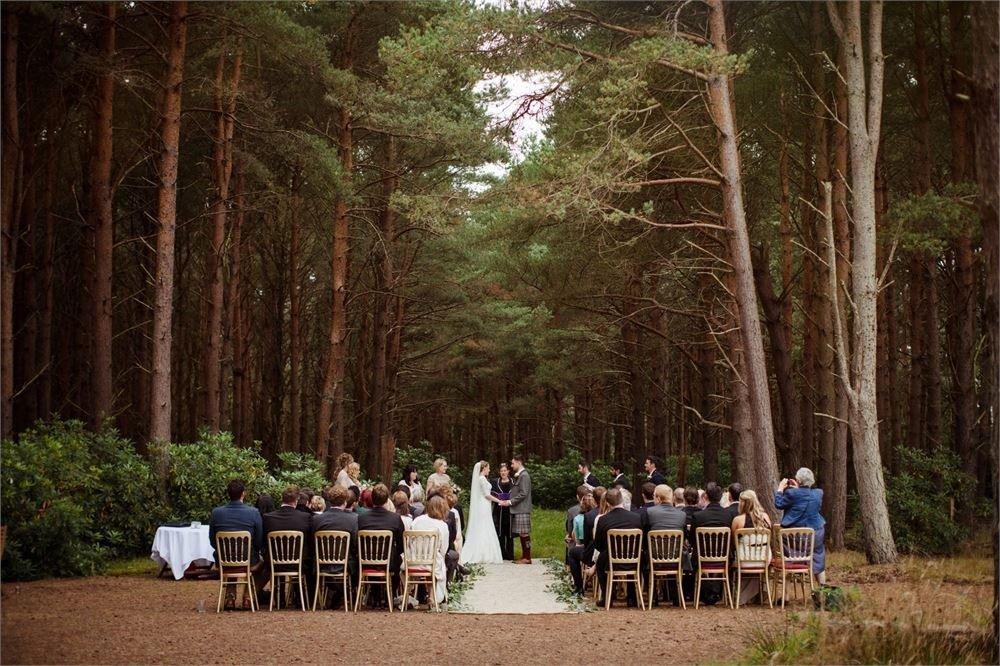 Image: Harvest Moon Holidays
A wedding ceremony surrounded by gardens or woodland will be sure to put an enchanting and rustic twist on any big day.
Use hay bales or stripped-back wooden chairs for your guests to sit on – you could even consider laying carpets and blankets down the aisle!
READ MORE: The Best Outdoor Wedding Venues
4. Play Old-School Party Games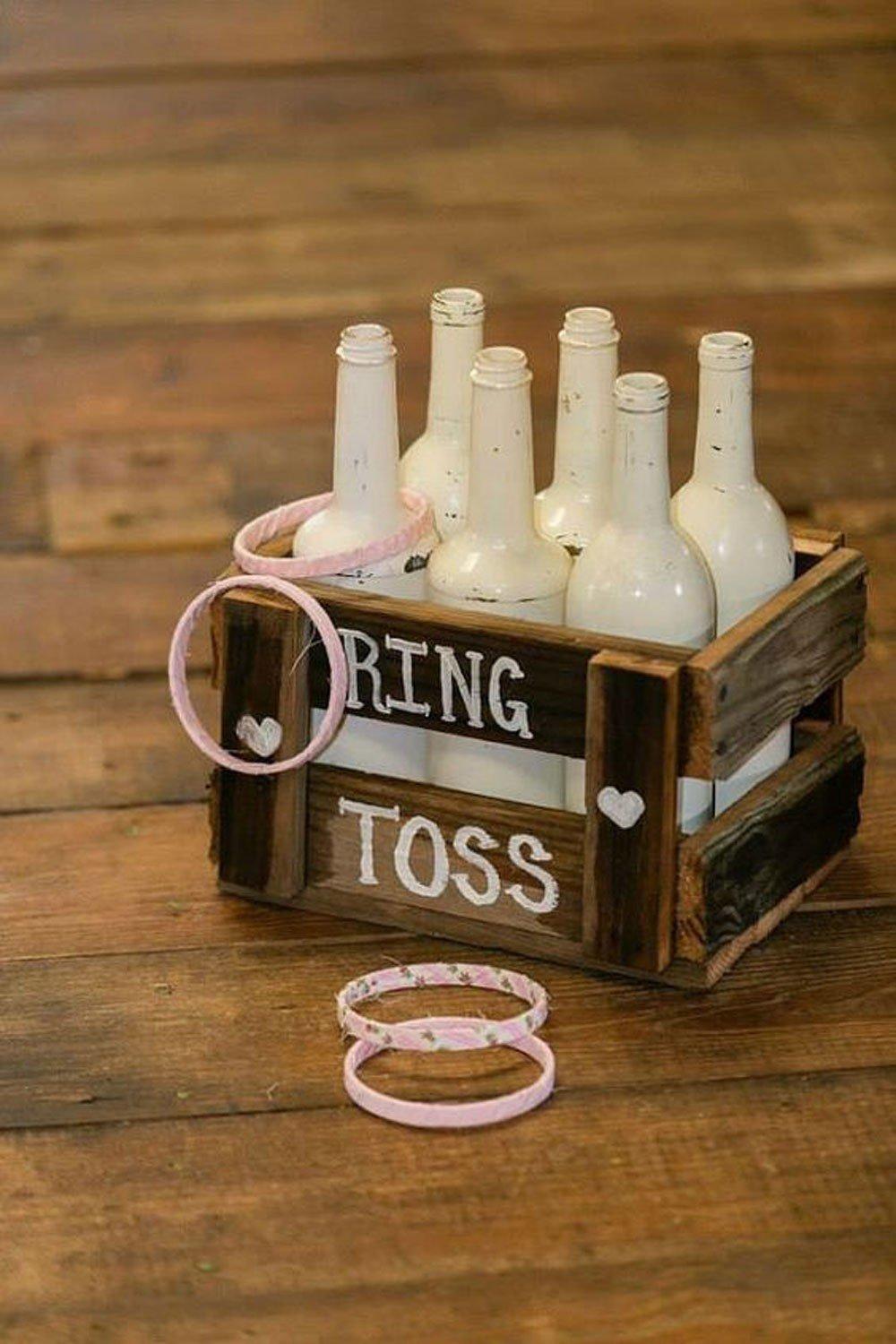 Image: Pinterest
How cute is this wedding game idea?! Anything wooden and shabby chic will add to your rustic wedding theme, so this cute painted wooden box certainly does the trick.
Not only will this rustic wedding idea keep the kids at your wedding entertained for hours, but it's super cheap to put together too! Ideal.
READ MORE: 50 Totally Free Wedding Ideas
5. Create Chill-Out Areas for Your Guests
Image: Pinterest
There's no better way to add endless rustic vibes to your wedding than with tents, blankets and cushions outside.
Create a rustic chill-out area outside at your wedding for when your guests need a little break from dancing.
6. Choose a Semi-Naked Wedding Cake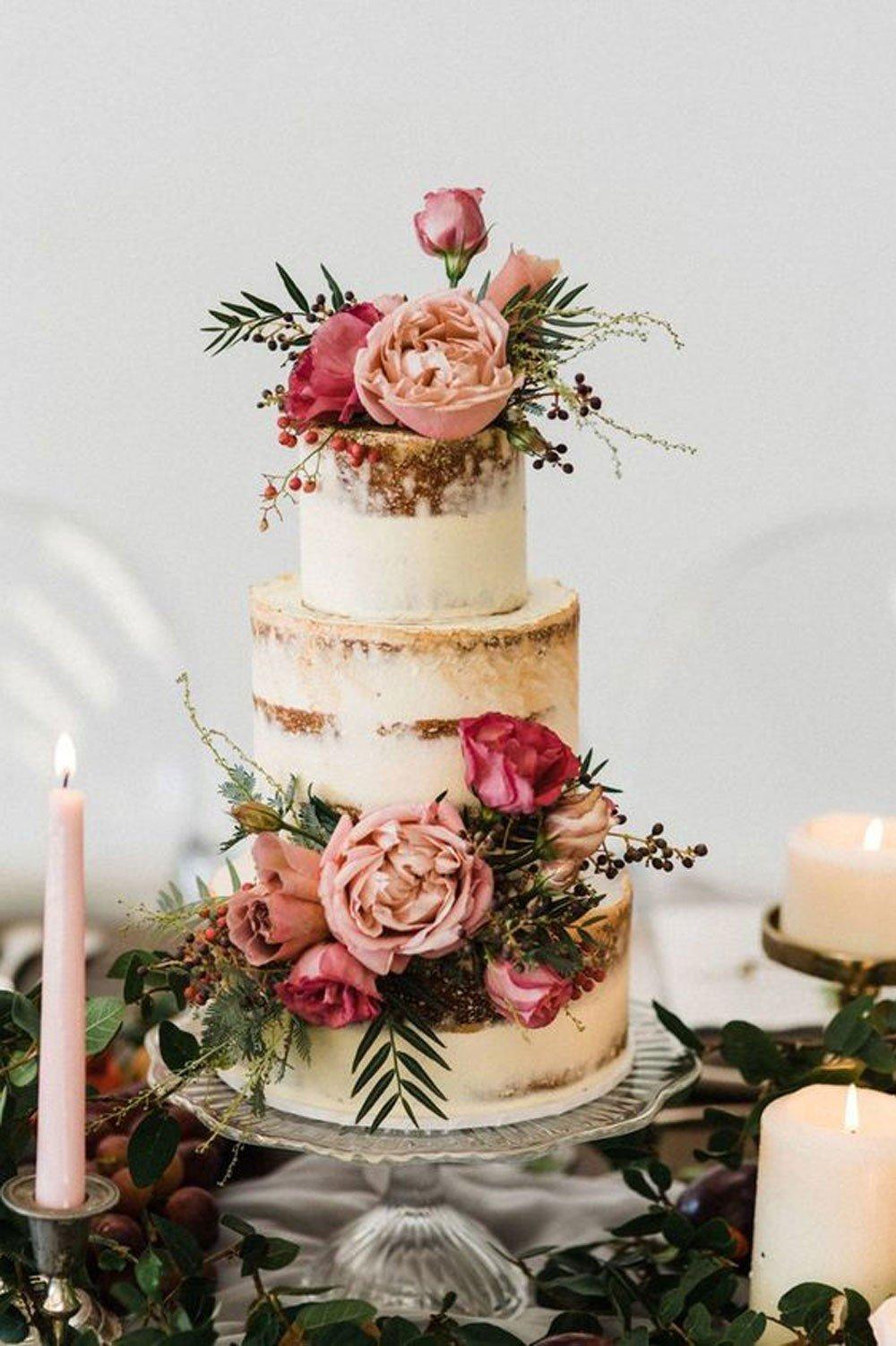 Image: Pinterest
We've all seen naked wedding cakes rise in popularity over the last couple of years, but 2019 is the time for its more demure cousin, the semi-naked wedding cake, to make an appearance.
A semi-naked wedding cake is when a naked cake is partially covered in buttercream giving a more rustic edge to the design.
READ MORE: The Most Beautiful Semi-Naked Wedding Cakes for Every Wedding Theme
7. Stand Your Wedding Cake on a Log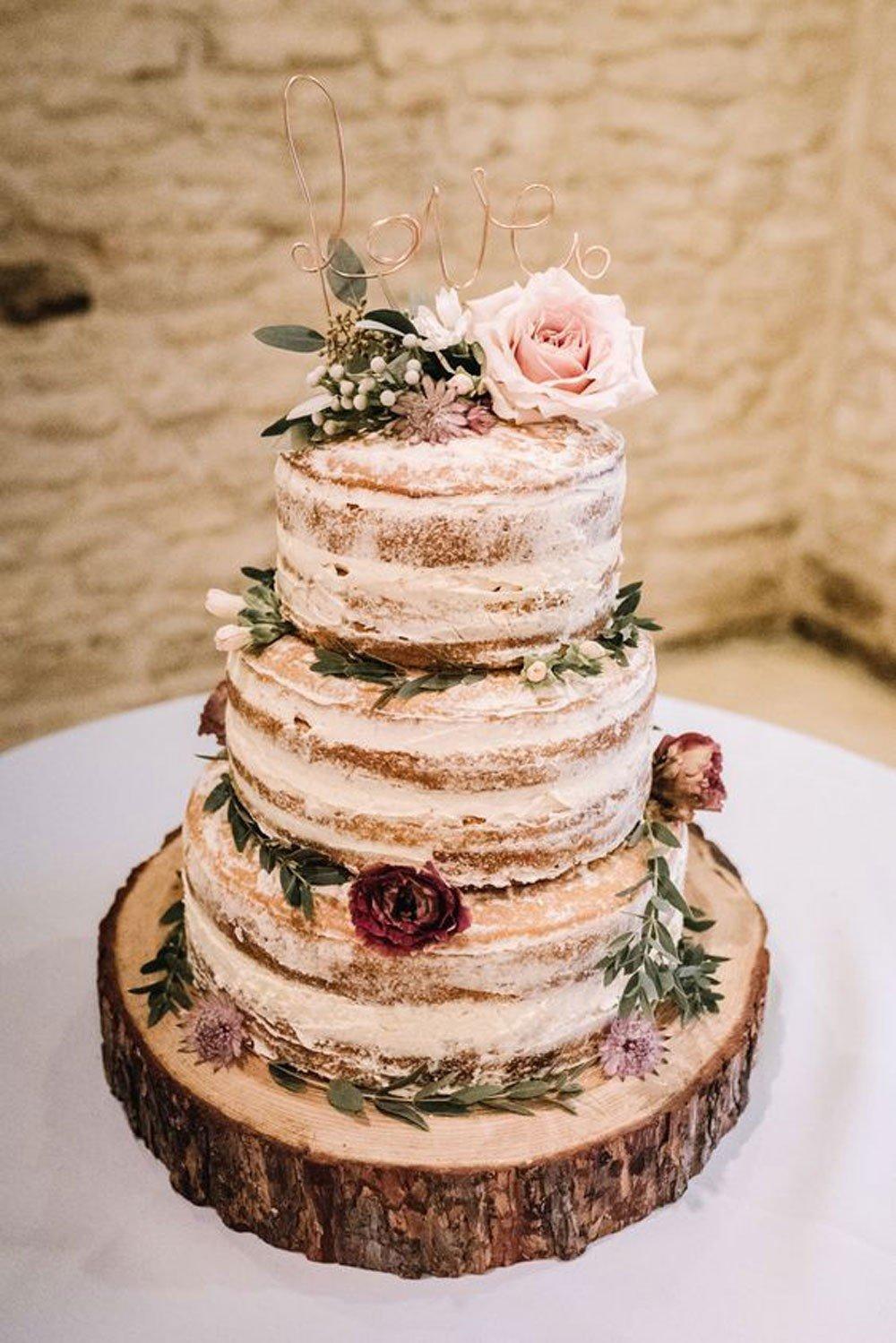 Image: Pinterest
Once you've got your hands on your semi-naked wedding cake, you'll want to stand it on a slice of log.
This can look super pretty – particularly if you pop some foliage and rustic flowers around the outside!
READ MORE: 27 Adorable Cake Toppers for Every Couple
8. Use Logs for Your Place Names, Too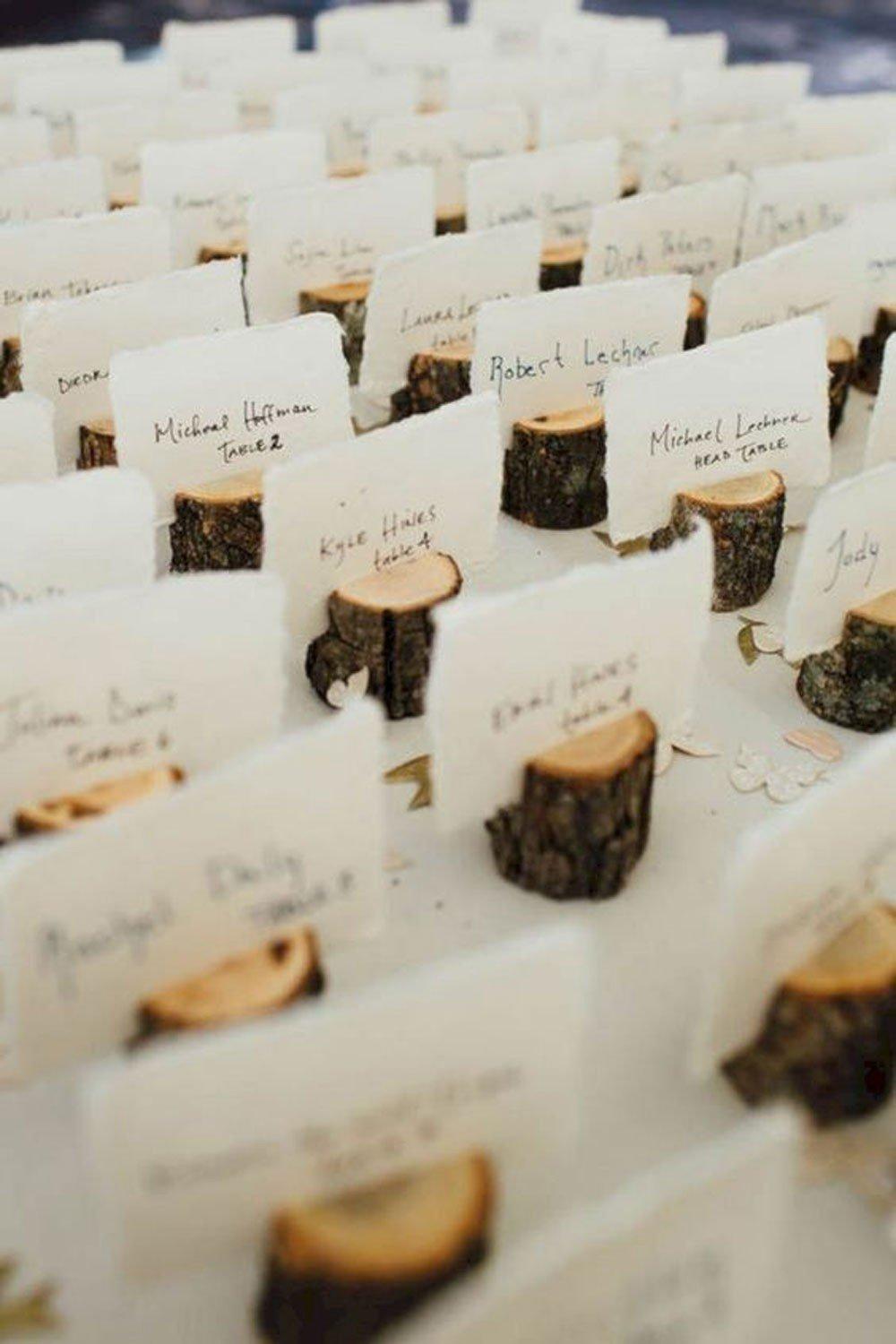 Image: Pinterest
Logs are not just useful for standing your wedding cake on, but for acting as place name holders, too.
We love these adorable place names. They'll cost next to nothing and will be a lovely little rustic memento for your wedding guests to take home.
READ MORE: Our Edit of the Prettiest Wedding Place Cards
9. Choose Wooden Table Numbers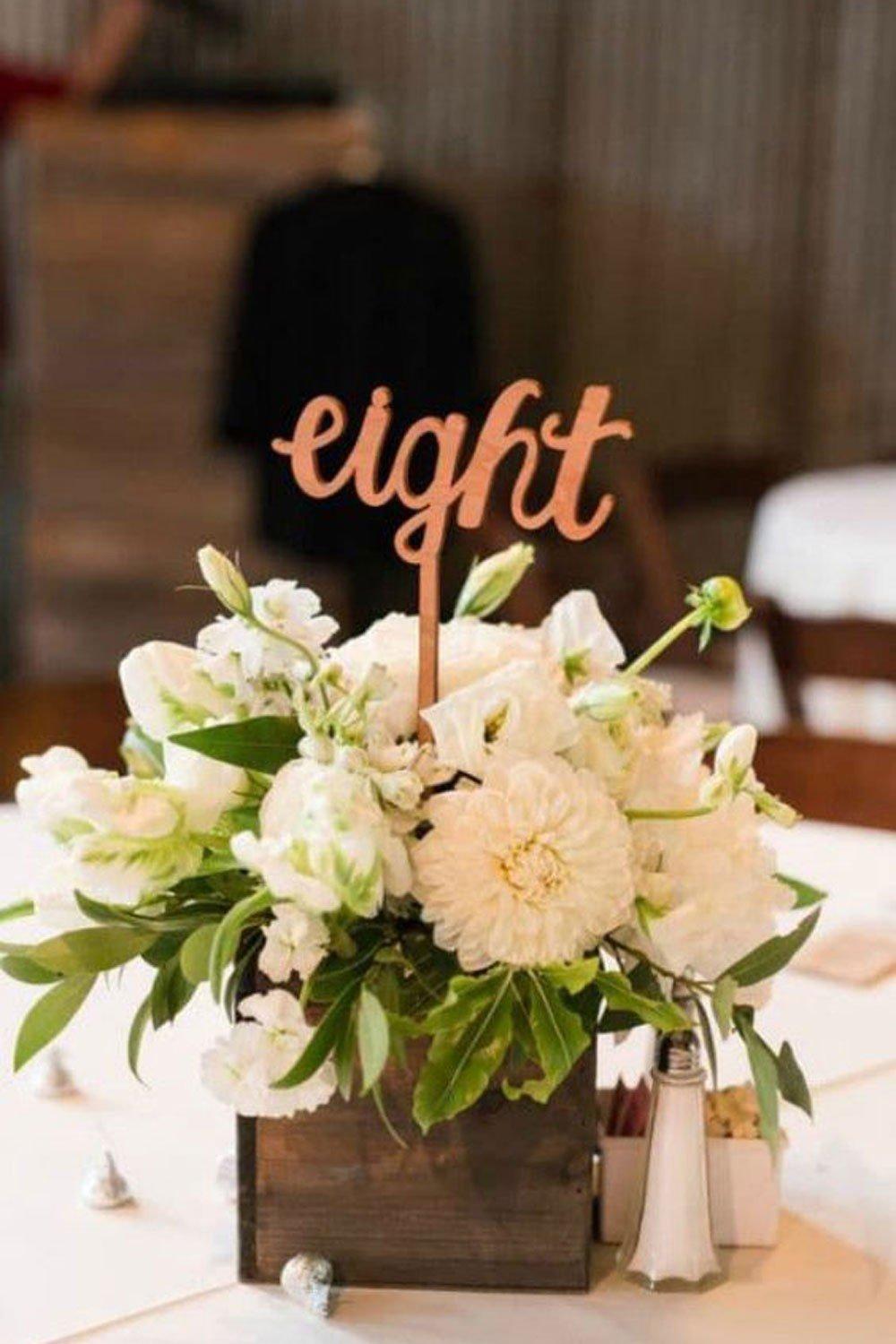 Image: Pinterest
Wooden table numbers cut in a gorgeous calligraphy font will really make every table stand out at your wedding reception.
Pop them into potted plants or even watering cans filled with wildflowers (more on that later) to make them pop.
10. Swap Vases for Jam Jars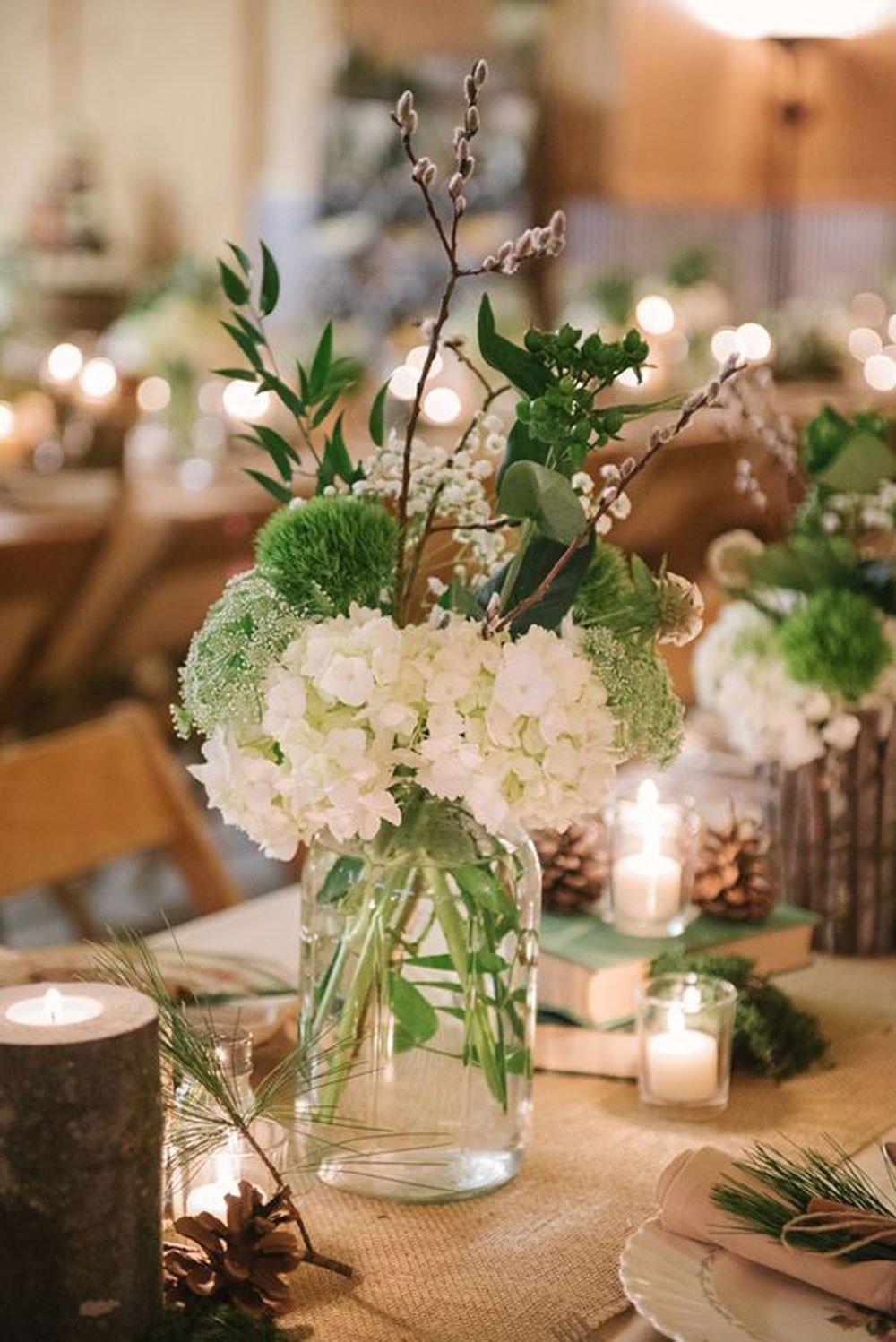 Image: Pinterest
Swapping vases for jam jars is not only a great budget hack but it will also give your tables a pretty, rustic edge.
Wrap the vases in hessian and tie with a string to add to the rustic style.
If you are feeling overwhelmed at how much work you have to do then this is a great task to ask your wedding party to help with.
READ MORE: Bridesmaid Duties Explained
11. Choose a Rustic Flower Arrangement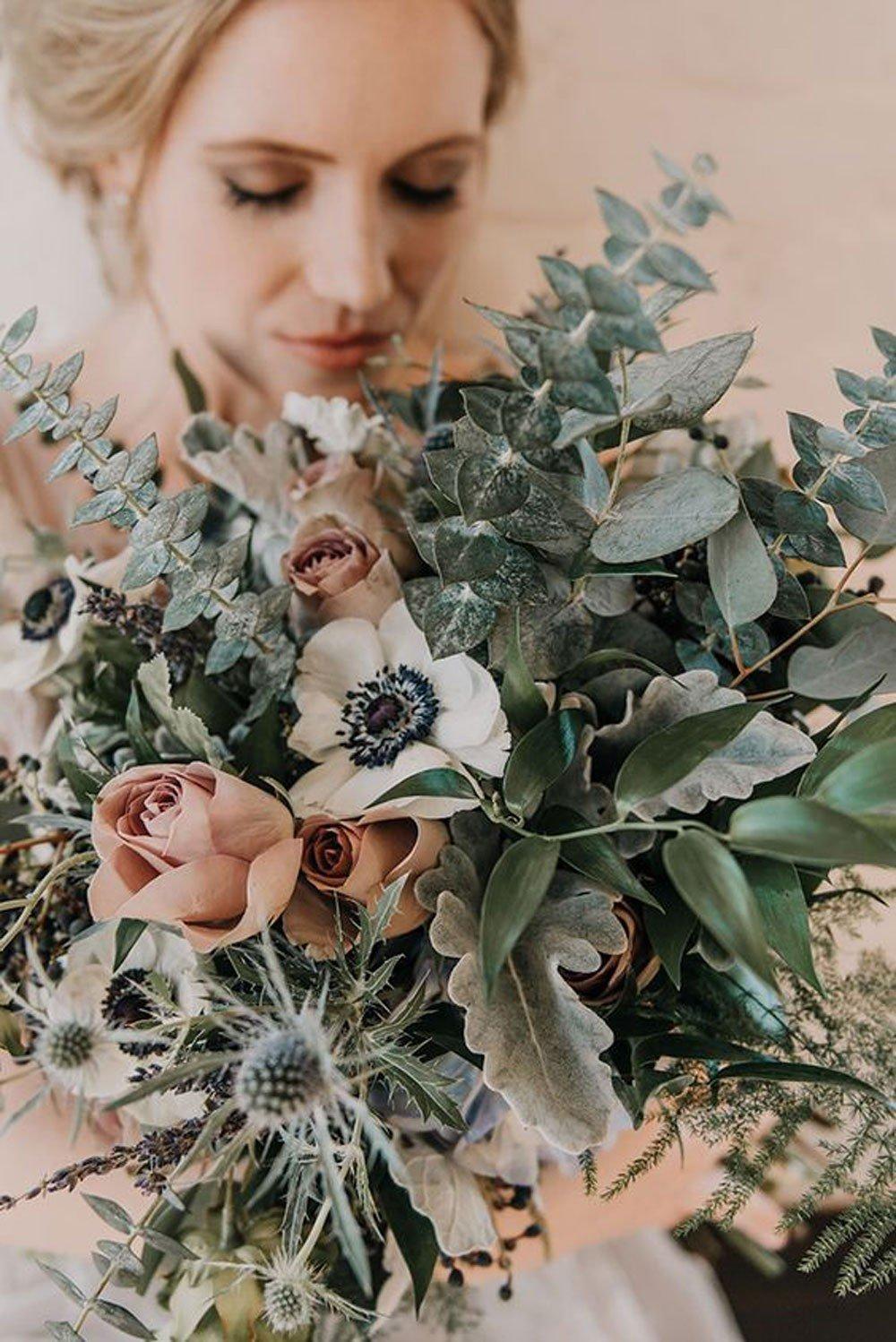 Image: Pinterest
So much can be added to your rustic wedding theme if you choose the right flowers.
When it comes to a bouquet, speak to your florist to get tips and advice on how to create the perfect rustic bouquet. Avoid flowers that sit neatly such as peonies, and instead opt for roses, hydrangeas and lots of trailing foliage. You can't go far wrong with a gorgeous cascading bouquet!
READ MORE: How Much do Wedding Flowers ACTUALLY Cost?
12. Consider a Boho Wedding Dress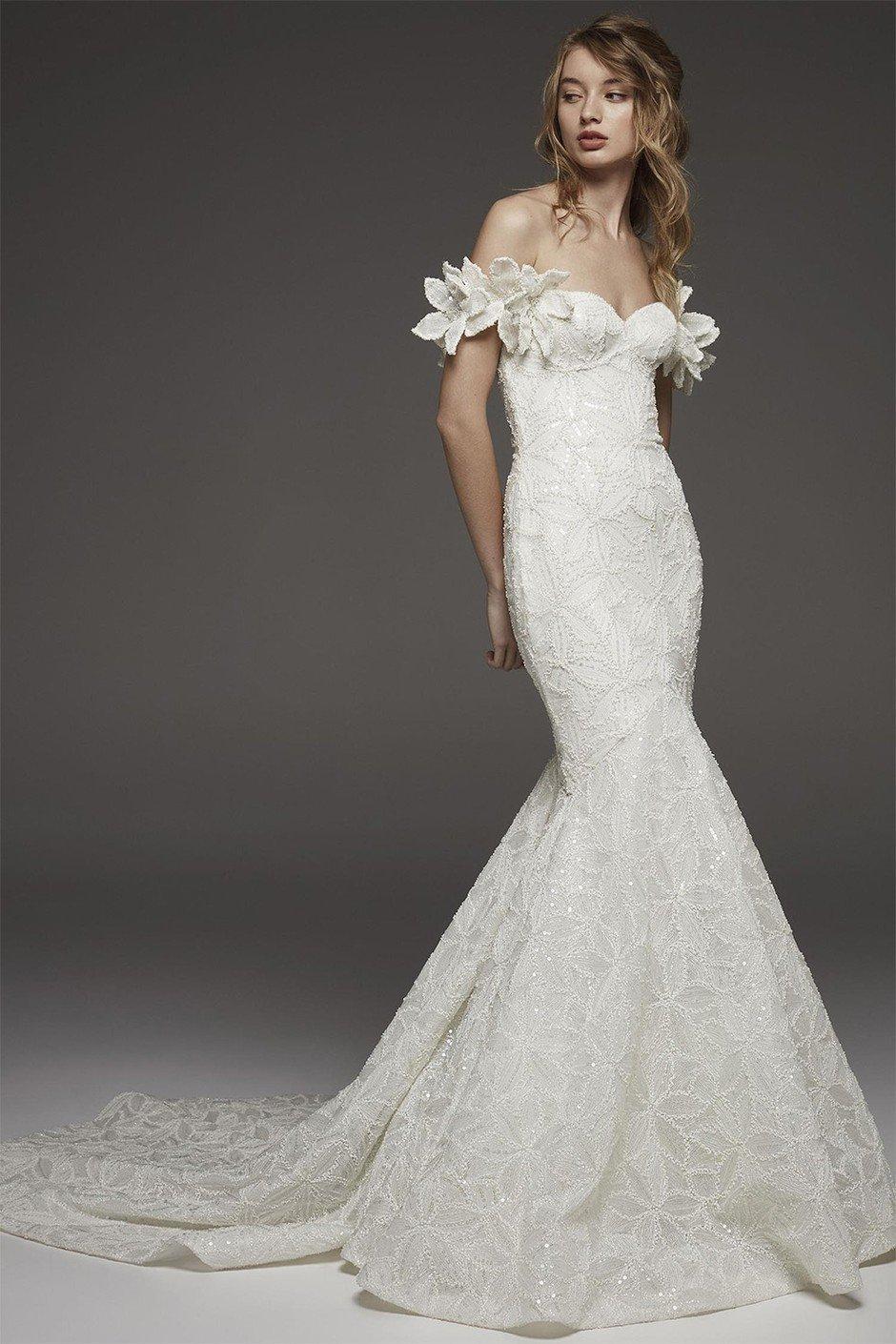 There's no better way to tie your rustic wedding together than by choosing a boho wedding dress. Boho wedding dresses are relaxed, carefree and romantic and often feature lots of lace and embroidery.
We adore the Hechizo dress by Atelier Pronovias. It is perfectly unique and boasts off-the-shoulder floral detailing. What's not to love?
13. Wear a Rustic Flower Crown in Your Hair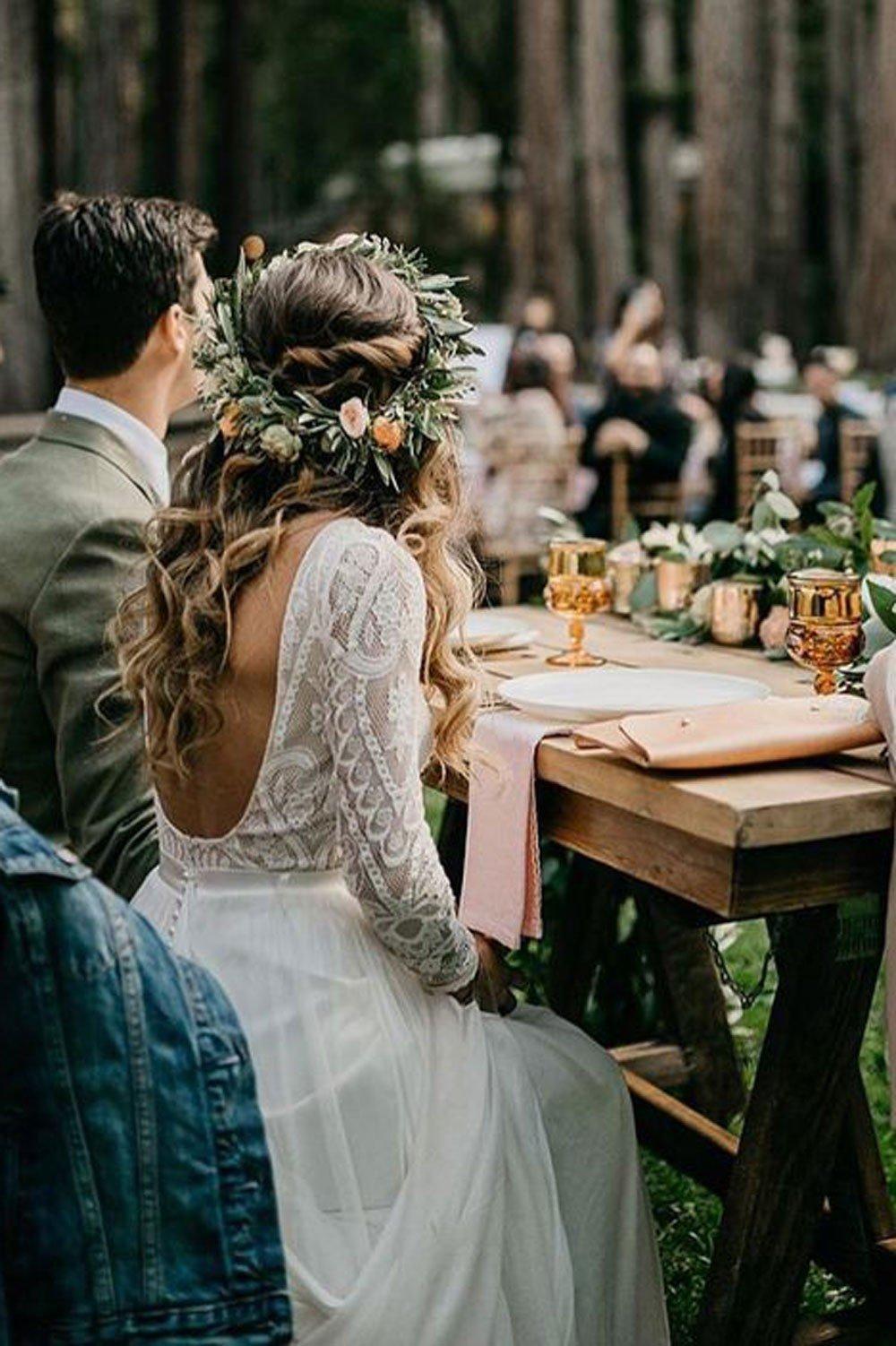 Image: Pinterest
Brides with a boho wedding dress will look beautiful pairing it with a flower crown – your inner-hippy will be dancing with joy!
Wear a flower crown instead of a traditional wedding veil – you could ask your florist to create one or follow our guide to trying your hand at creating your own!
14. Opt for Rustic Groomswear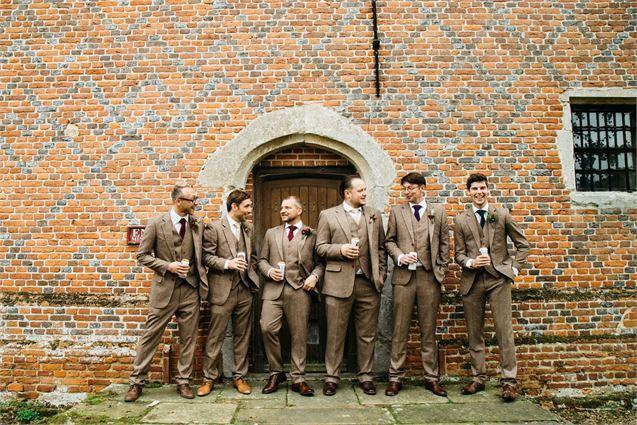 Image: Eskuvo Wedding Films
It's not just the bride that can opt for rustic-inspired attire. Grooms and their groomsmen can also really embrace this style.
Consider a tweed suit or something in a lighter coloured fabric as opposed to the traditional black, grey and navy. You can team this look with a rustic button hole and brown leather shoes – how fab do these groomsmen look?!
READ MORE: Rustic Groomswear Styling Advice
15. Include Woodland Animal Motifs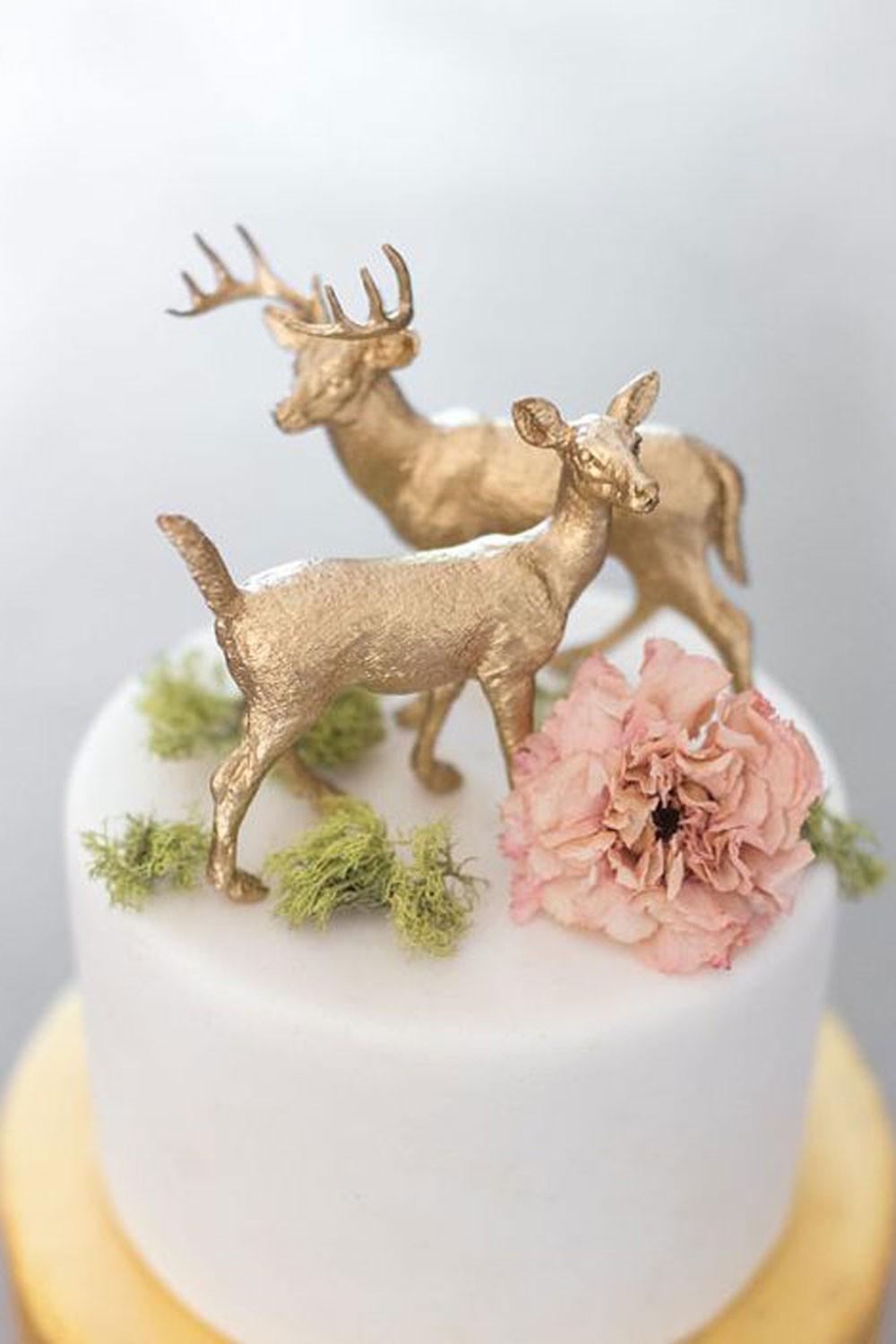 Image: Pinterest
If you love the idea of a rustic wedding day but you want something a little more glamorous, consider working more closely toward a woodland wedding theme.
You'll have all the style of a rustic wedding but with the luxe addition of leafy green tones and woodland animal motifs. We love these gorgeous gold deer cake toppers which make a sophisticated addition to either a rustic or woodland wedding theme.
16. Say It With a Sign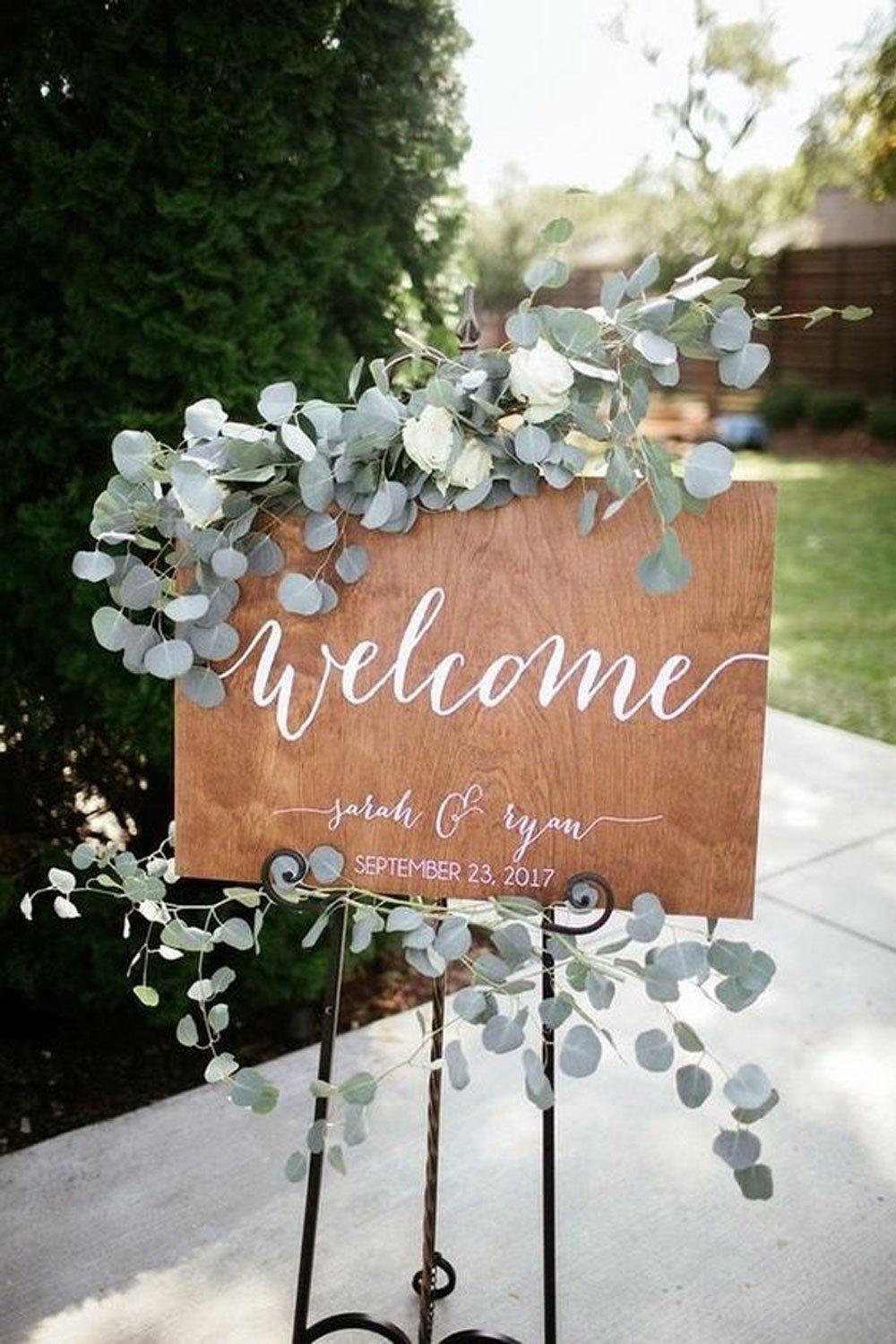 Image: Pinterest
Here at Hitched HQ we're huge fans of a good old wedding sign. A welcome sign is the first thing your guests will see when they arrive at your wedding, so make sure it gives them a taster for the theme of the rest of the day.
We love this rustic wedding sign – it is wooden with pretty white calligraphy and draping foliage. In other words: it's rustic perfection!
17. Ditch the Table Cloths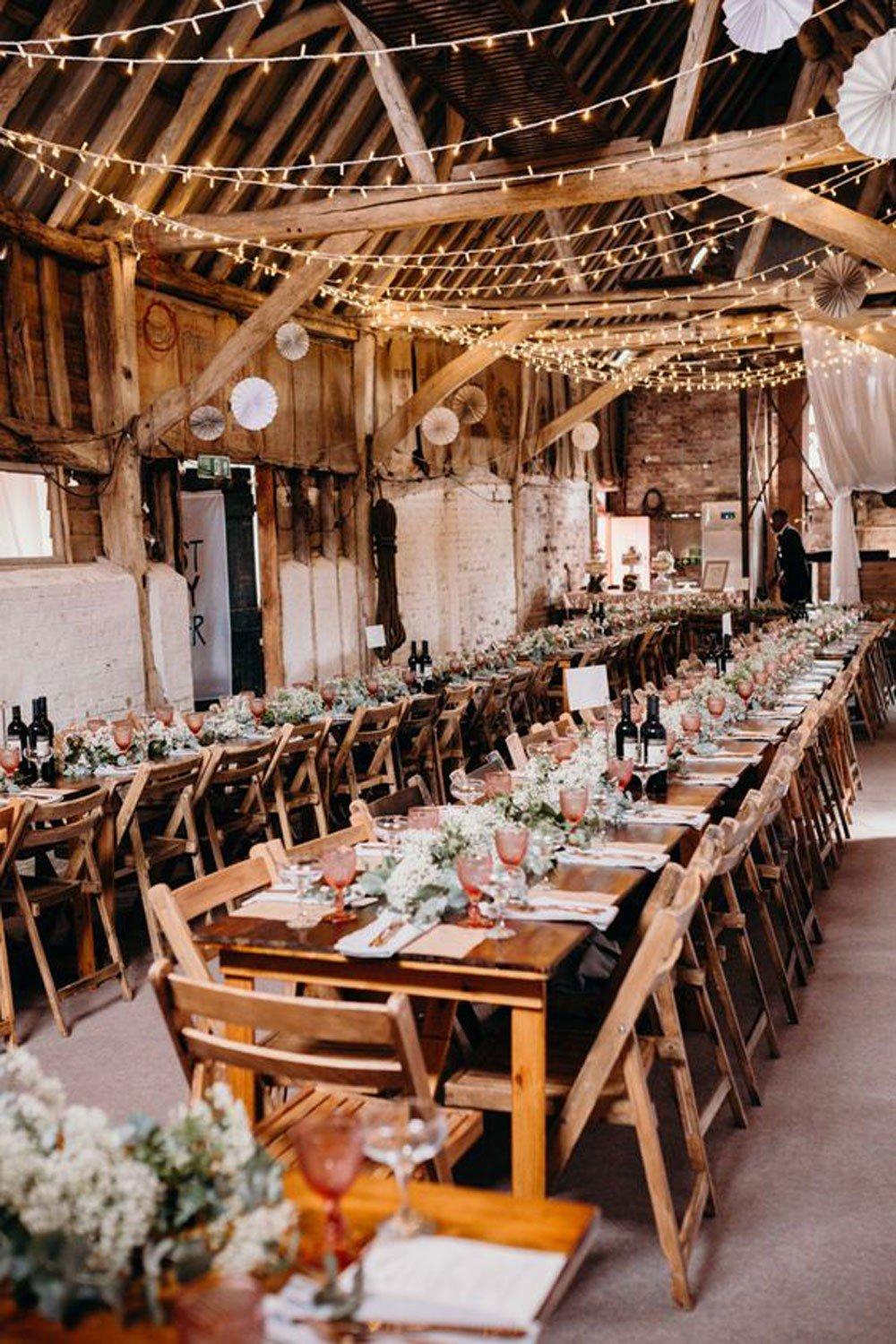 Image: Pinterest
If your wedding venue has gorgeous tables then don't hide them under a table cloth.
This photo shows just how stunning a wooden reception table can look with the right décor.
18. Make Your Own Rustic Backdrops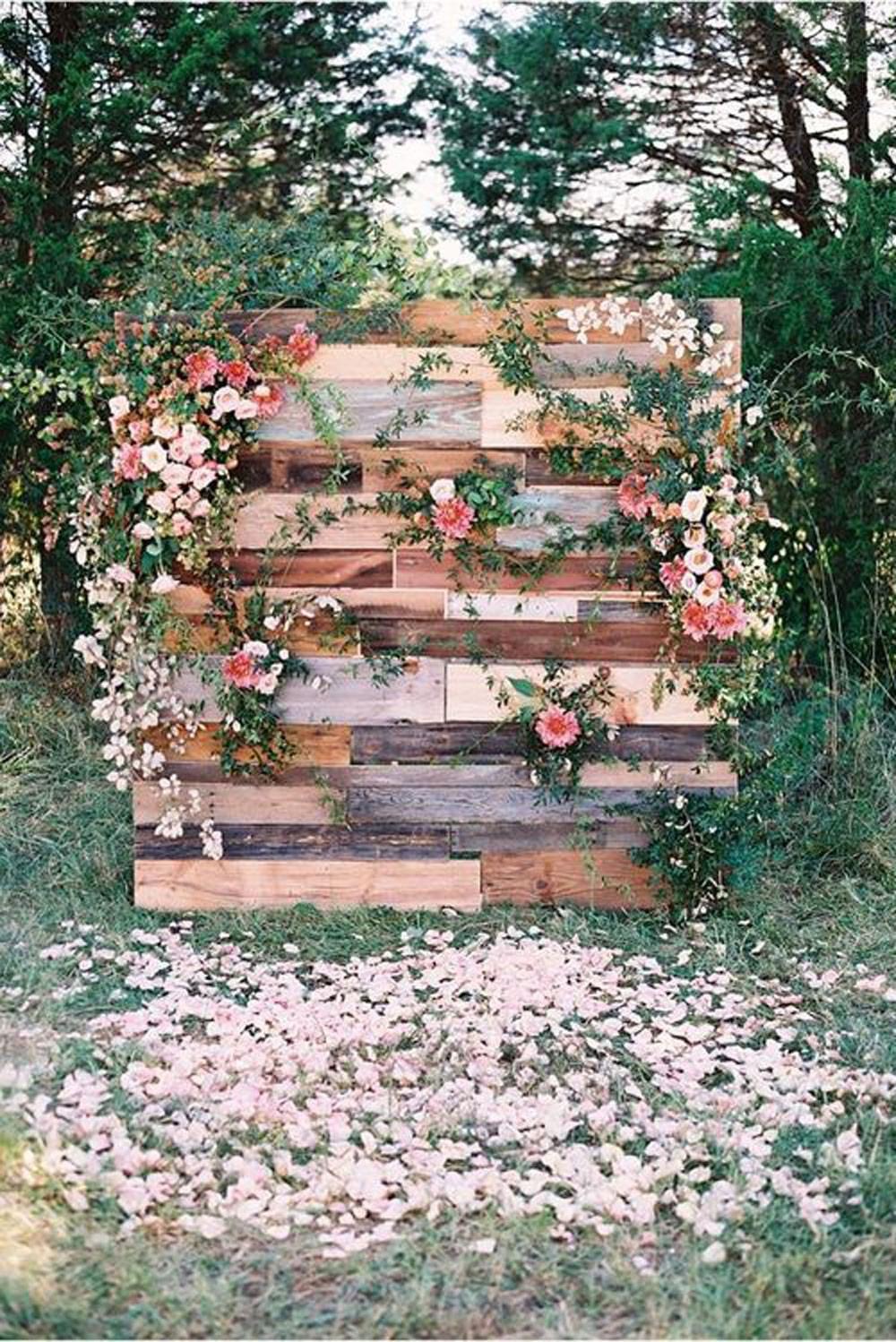 Image: Pinterest
Forget the photo booth, a rustic wedding is the perfect opportunity to craft your own rustic photo backdrop using pieces of wood and rustic flowers.
We've never seen anything more Instagrammable than this gorgeous creation.
19. Use *All* The Fairy Lights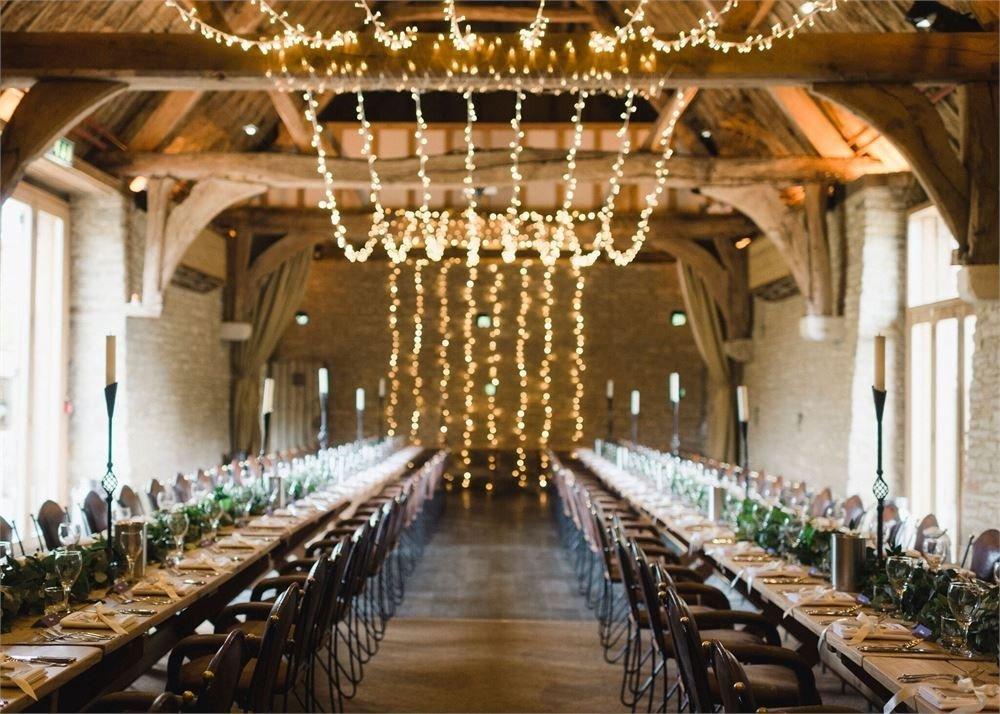 Image: Tythe Barn
Lighting will make or break your wedding atmosphere, so why not add a warm glow by hanging fairy lights?
In our humble opinion, you can never have too many. They look great both inside and outside your wedding venue (particularly if you're serving food or playing games outside).
We love this fairy light-covered ceiling at the Tythe Barn in Oxfordshire.
20) Add a Warm Glow With Candles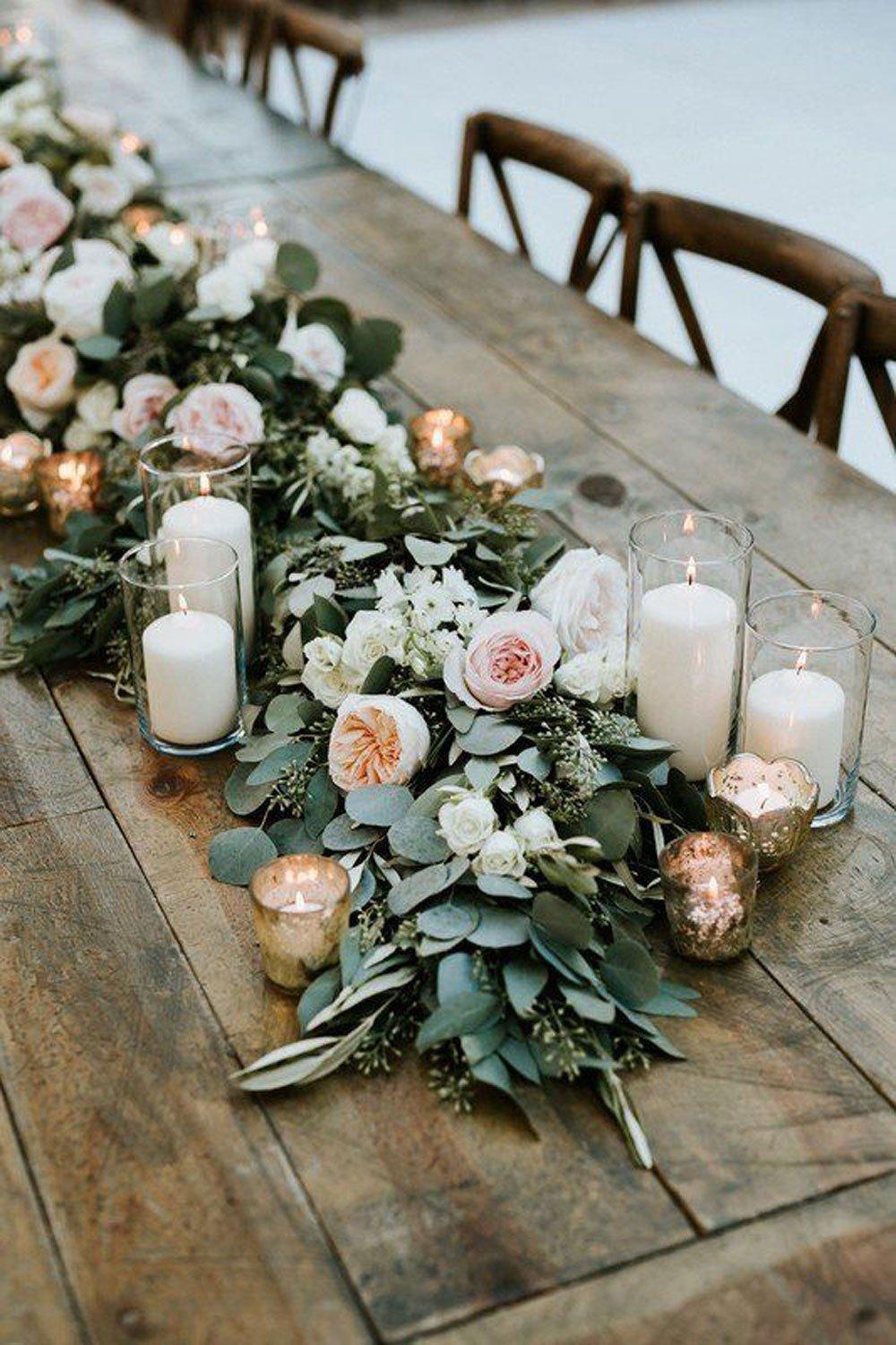 Image: Pinterest
Candles add a cosy and romantic feel to your day and are another great lighting option.
Just bear in mind – some venues might have restrictions on naked flames. Before you start to think about where you can use candles, check with your venue as to whether it's allowed.
READ MORE: Questions to Ask Your Wedding Venue Before You Book
21. Try Our DIY Food Wedding Favours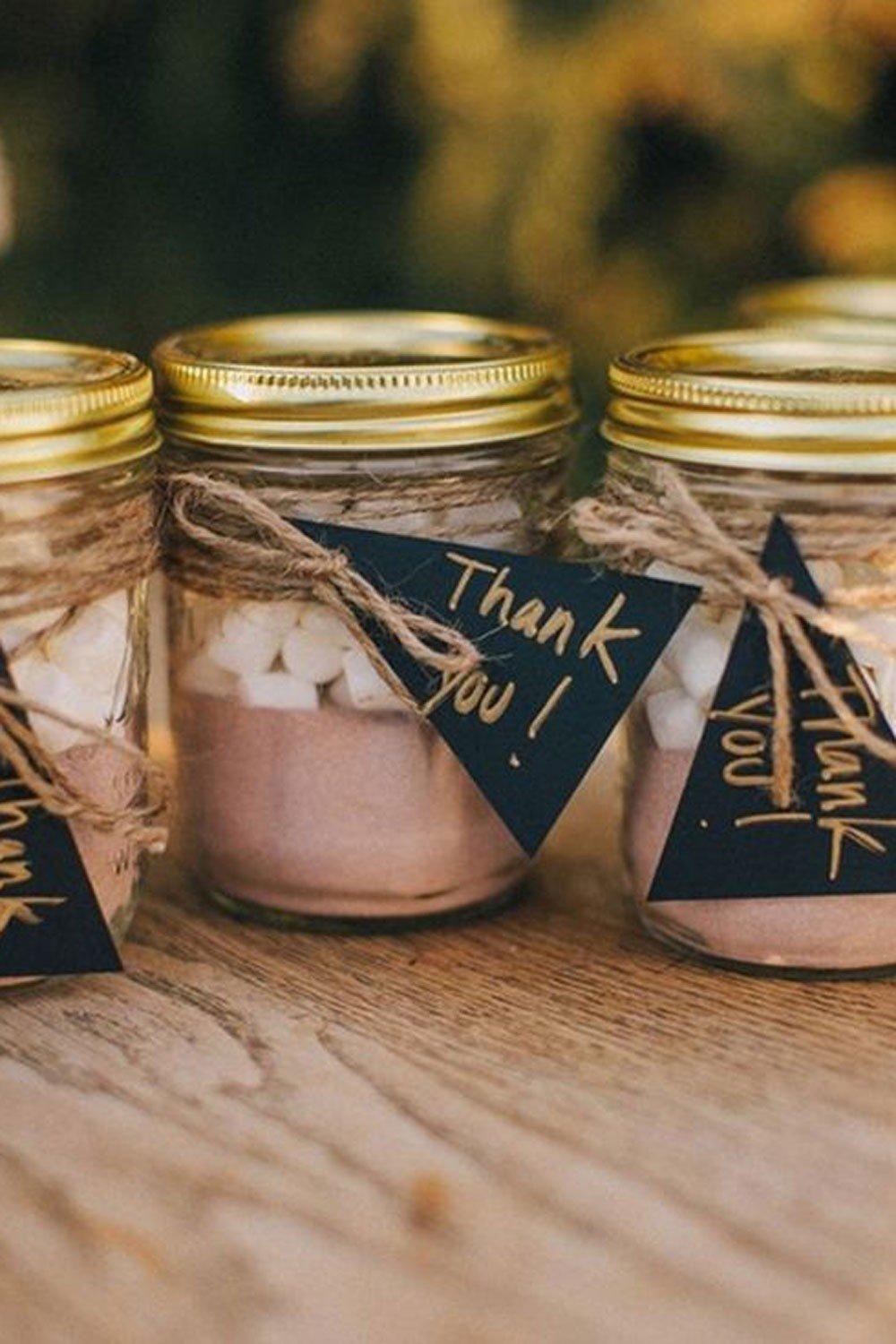 Image: Pinterest
Homemade wedding favours are a super-cute addition to your reception tables.
These hot chocolate and marshmallow wedding favours with bespoke "thank you" labels are great for a rustic wedding theme.
Find out how to make them (as well as fudge hearts and fruit-infused gin and vodka) here!
22. Consider Succulent Wedding Favours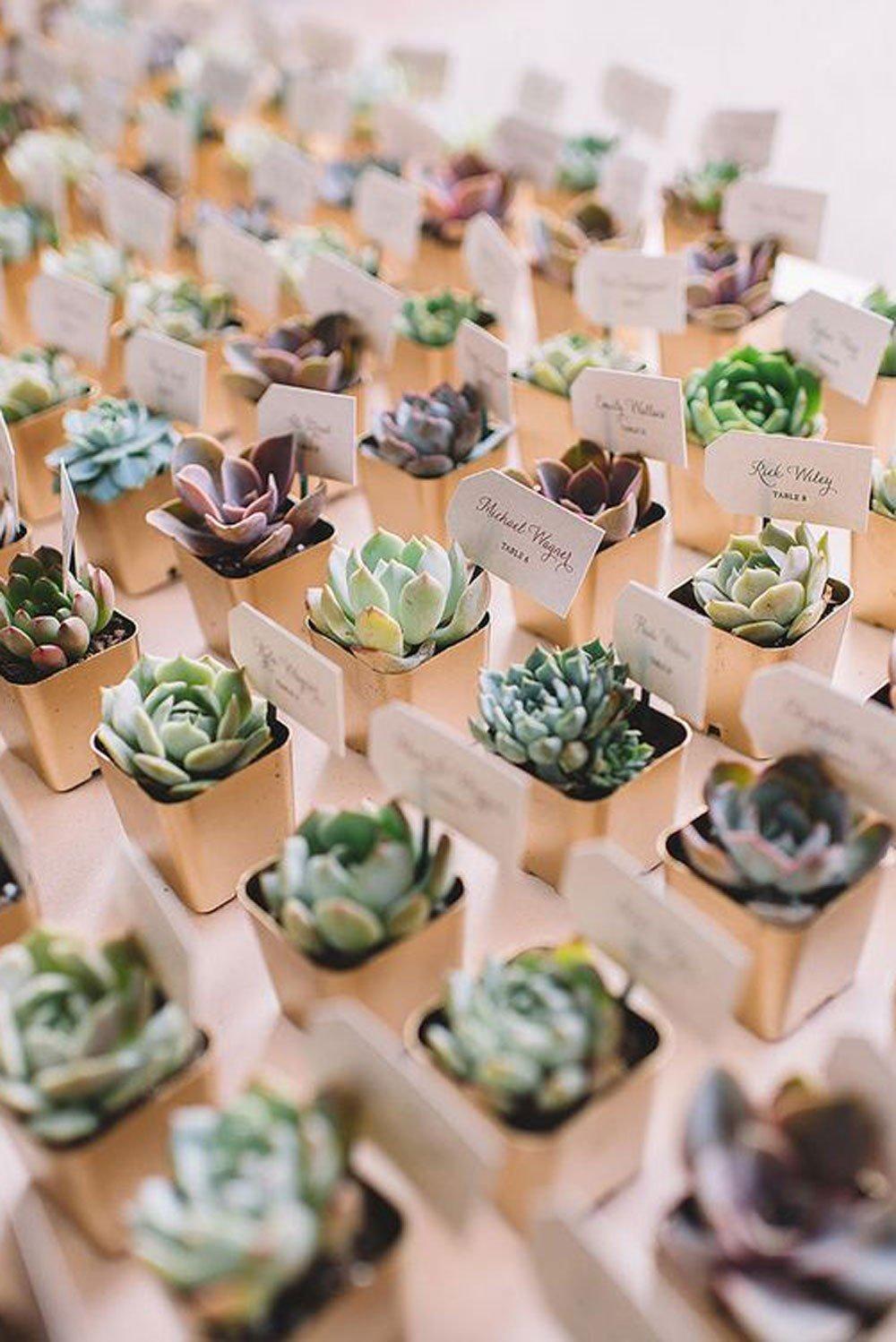 Image: Pinterest
If you're after a wedding favour that your guests will be able to keep for long after the wedding, succulents are a great idea!
Lay out enough succulents in plant pots for everyone to take home on a rustic wooden table. As they watch them grow they'll be constantly reminded of your special day.
READ MORE: The Most Beautiful Botanical Wedding Stationery
23. Get a Cheese Wedding Cake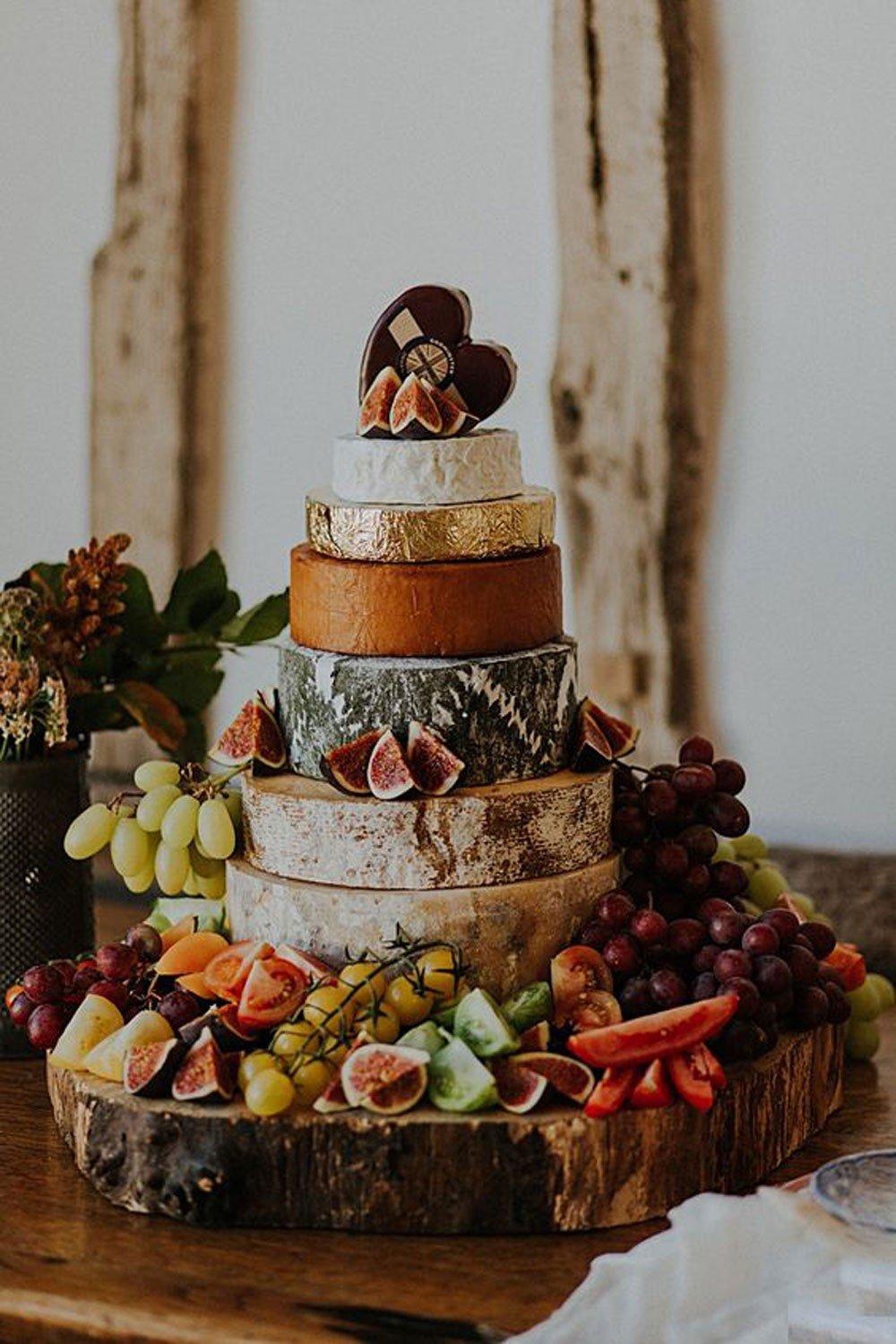 Image: Pinterest
If you have a savoury tooth then scrap the semi-naked wedding cake and opt for a cheese cake surrounded by bread, crackers and your favourite chutneys.
If you love this idea but would still like a traditional wedding cake, why not purchase a smaller cheese wedding cake as part of your evening food?
READ MORE: The Best Alternative Food & Drink Ideas
24. Take Photos With Animals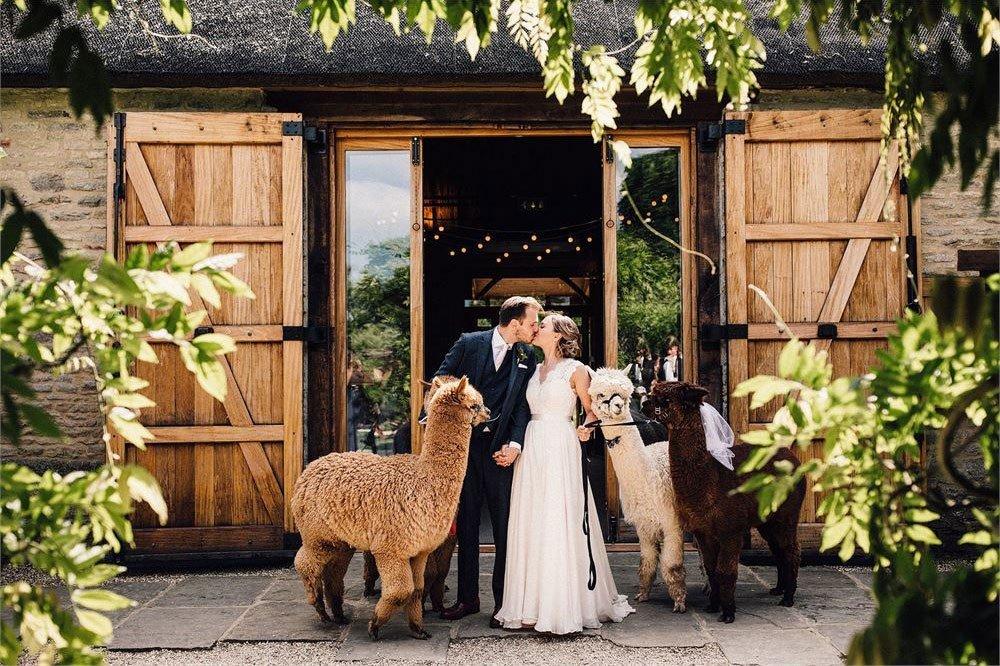 Image: Tythe Barn
Calling all animal lovers! This rustic wedding idea is for you.
If you have chosen a rustic farm wedding venue that has animals then why not take the opportunity to shoot some amazing pictures? This bride and groom couldn't look more rustic-chic if they tried.
READ MORE: The Cutest Pictures of Animals at Weddings
25. Hire Rustic Chairs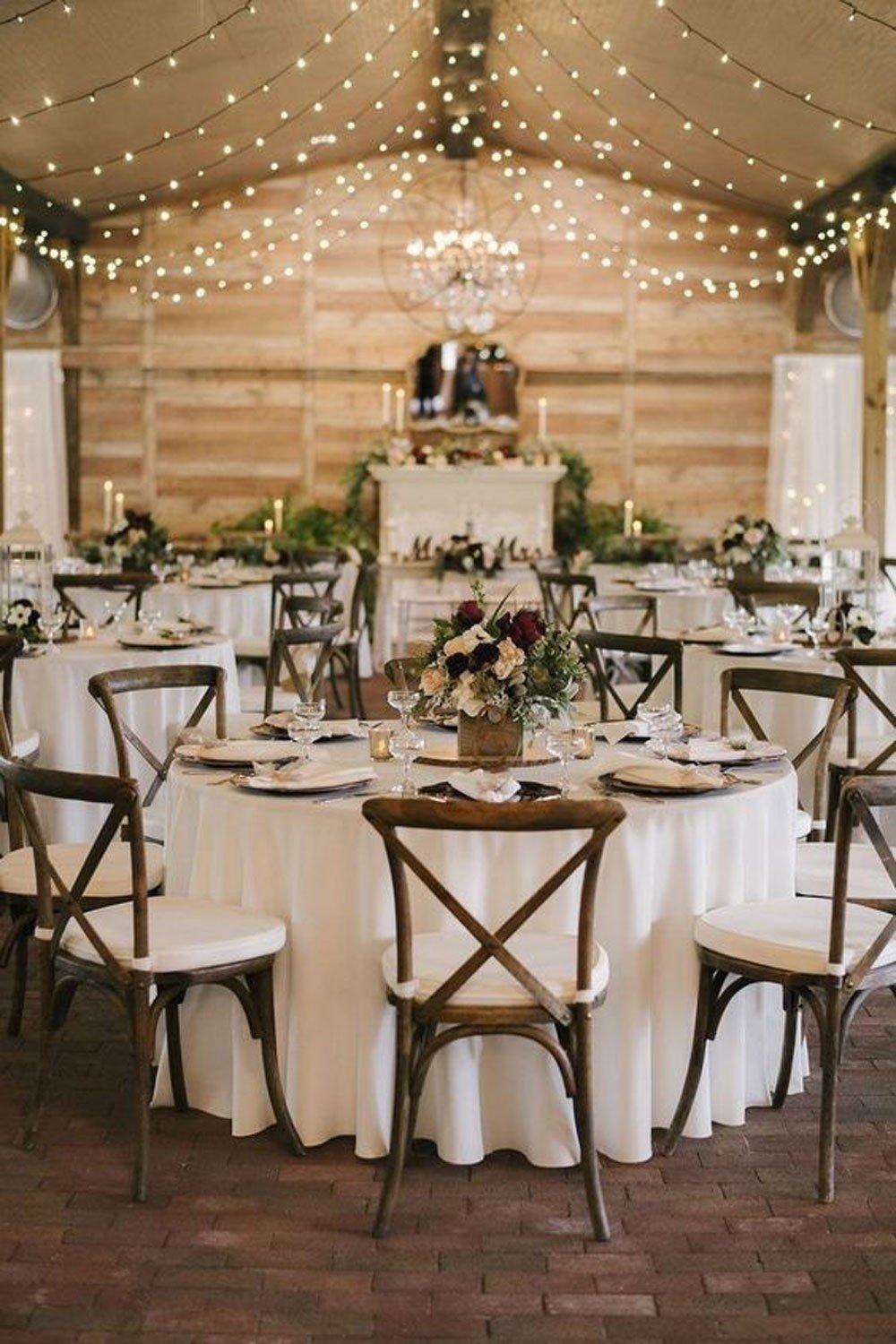 Image: Pinterest
Forget chair covers, sashes and bows – there's nothing rustic about that!
Hire some vintage wooden chairs and decorate them with wooden signs, greenery and foliage instead. There's no better way to embrace your theme!
26. Use Hessian Table Runners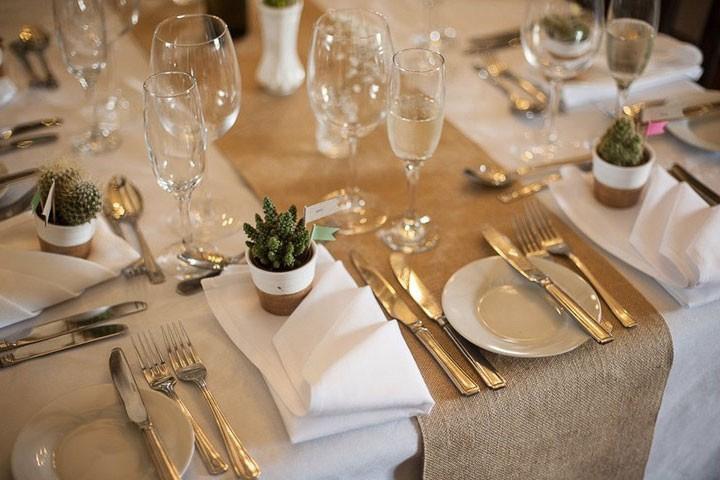 Image: Black Horse Beamish
Hessian table runners are a simple and cost-effective way of transforming a plain white table cloth or uncovered table.
This table decorated with cactus wedding favours is so gorgeous!
27. Use Drinks Dispensers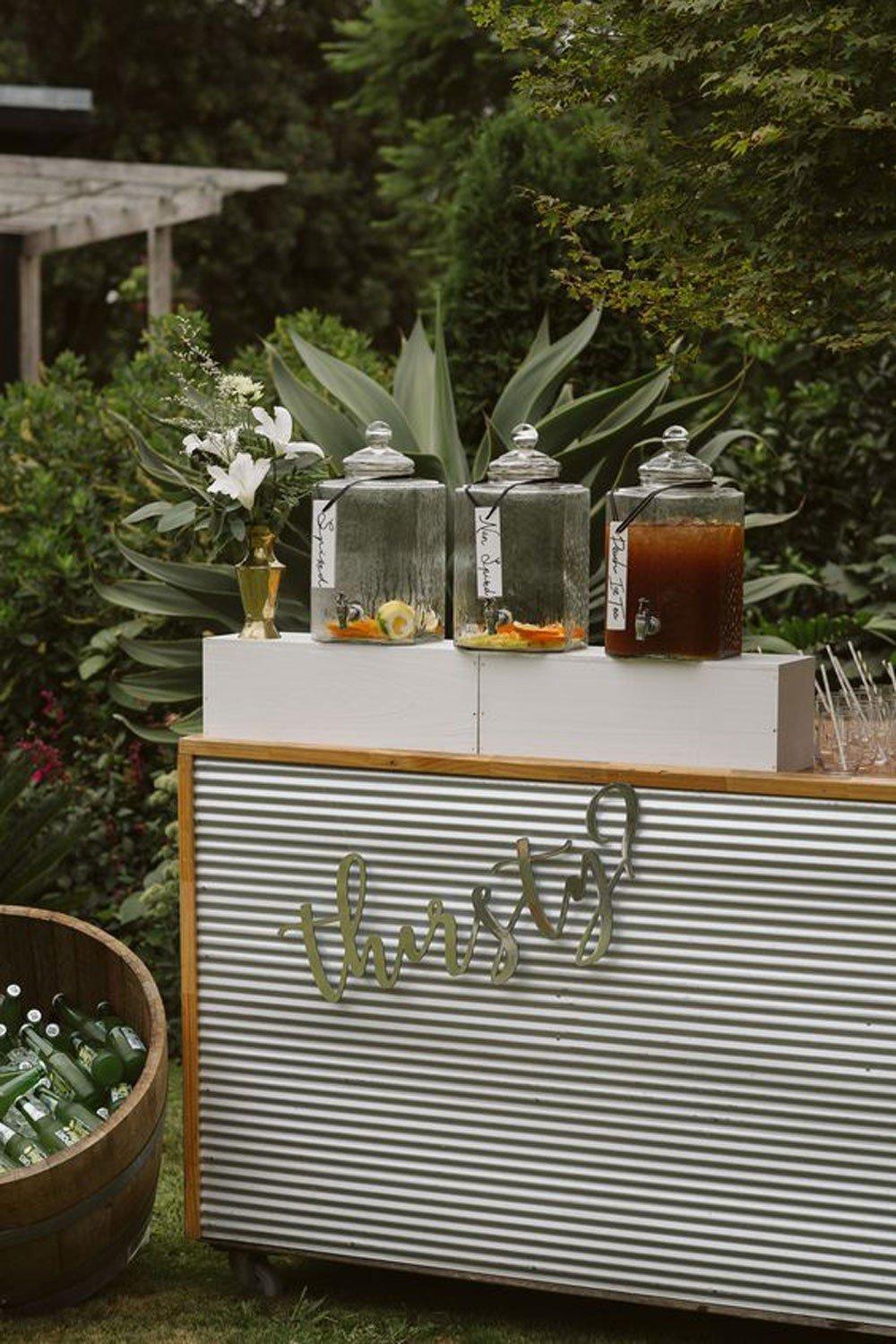 Image: Pinterest
Even your drinks can be rustic – who'd have thought it? If you're providing your own wedding drinks then serve a variety of soft drinks or bespoke wedding cocktails in clear dispensers.
Fill the dispensers with fruit, create your own labels and display them on a table covered in rustic flowers and foliage.
READ MORE: The Best Wedding Cocktails to Serve at Your Wedding
28. Create Rustic Place Settings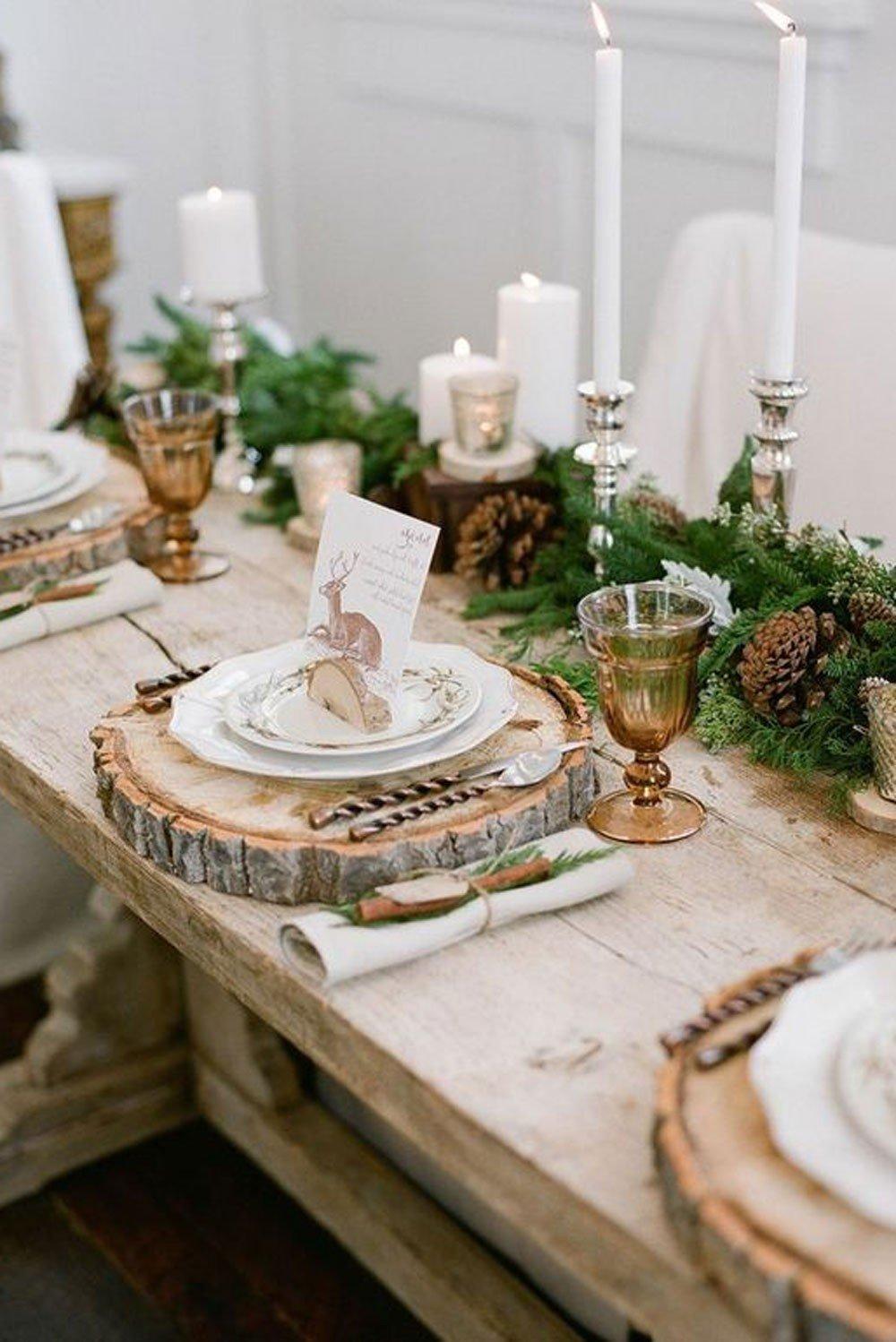 Image: Pinterest
Use matte gold tones, log place mats, pine cones, vintage crockery and mismatched glassware on your tables to create the perfect rustic place setting.
We adore this set-up complete with deer motifs and candelabra.
READ MORE: 19 of the Prettiest Place Settings
29. Choose a Wooden Guest Book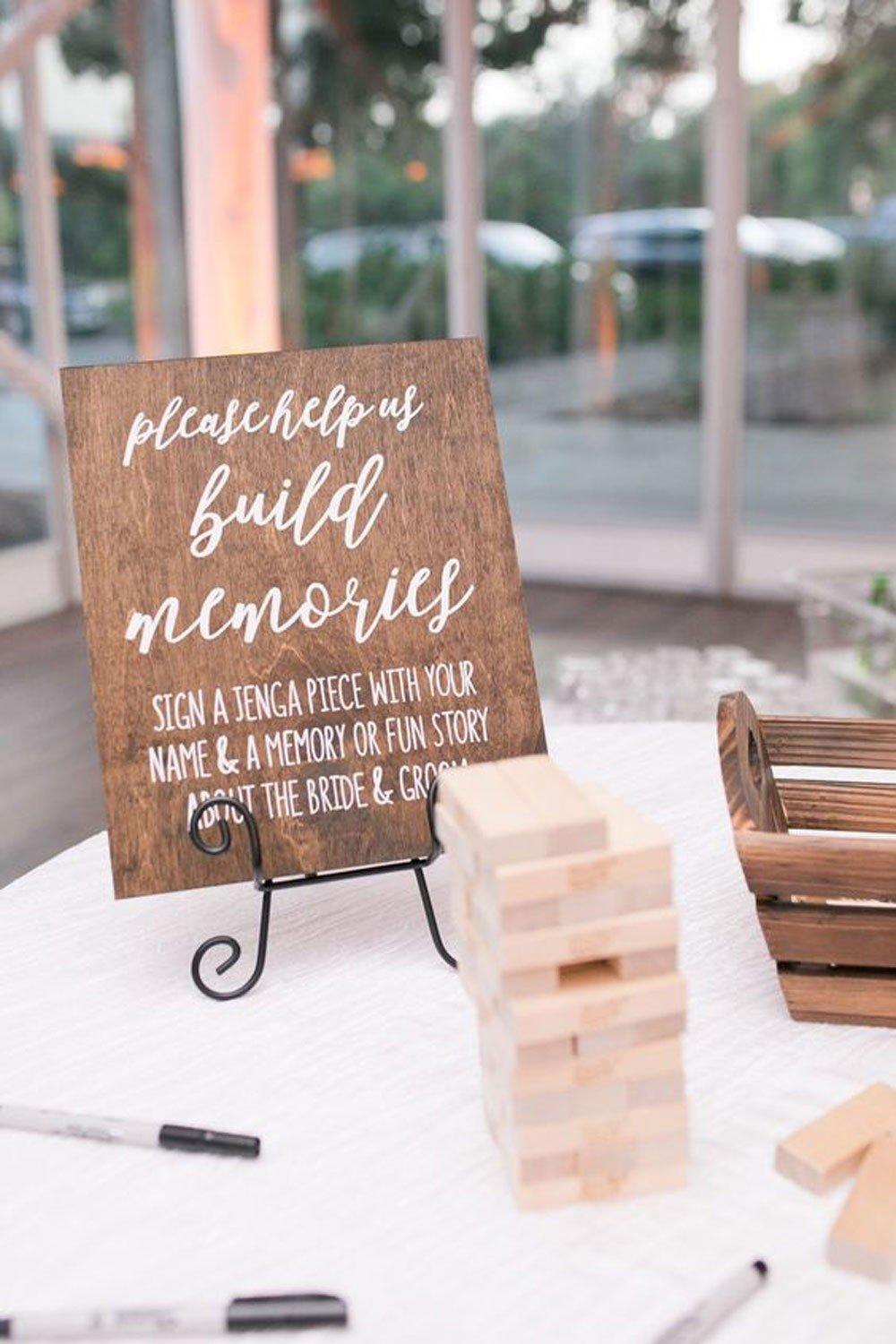 Image: Pinterest
Scrap the traditional paper guest book if you're on the hunt for rustic wedding ideas and choose this fun alternative.
Guests can write their names and a wedding memory on a Jenga brick and start to stack them up! Not only will you love to play your memory-filled game on Jenga for years after your wedding, but your guests won't want to leave without signing it!
30. Try a Polaroid Guest Book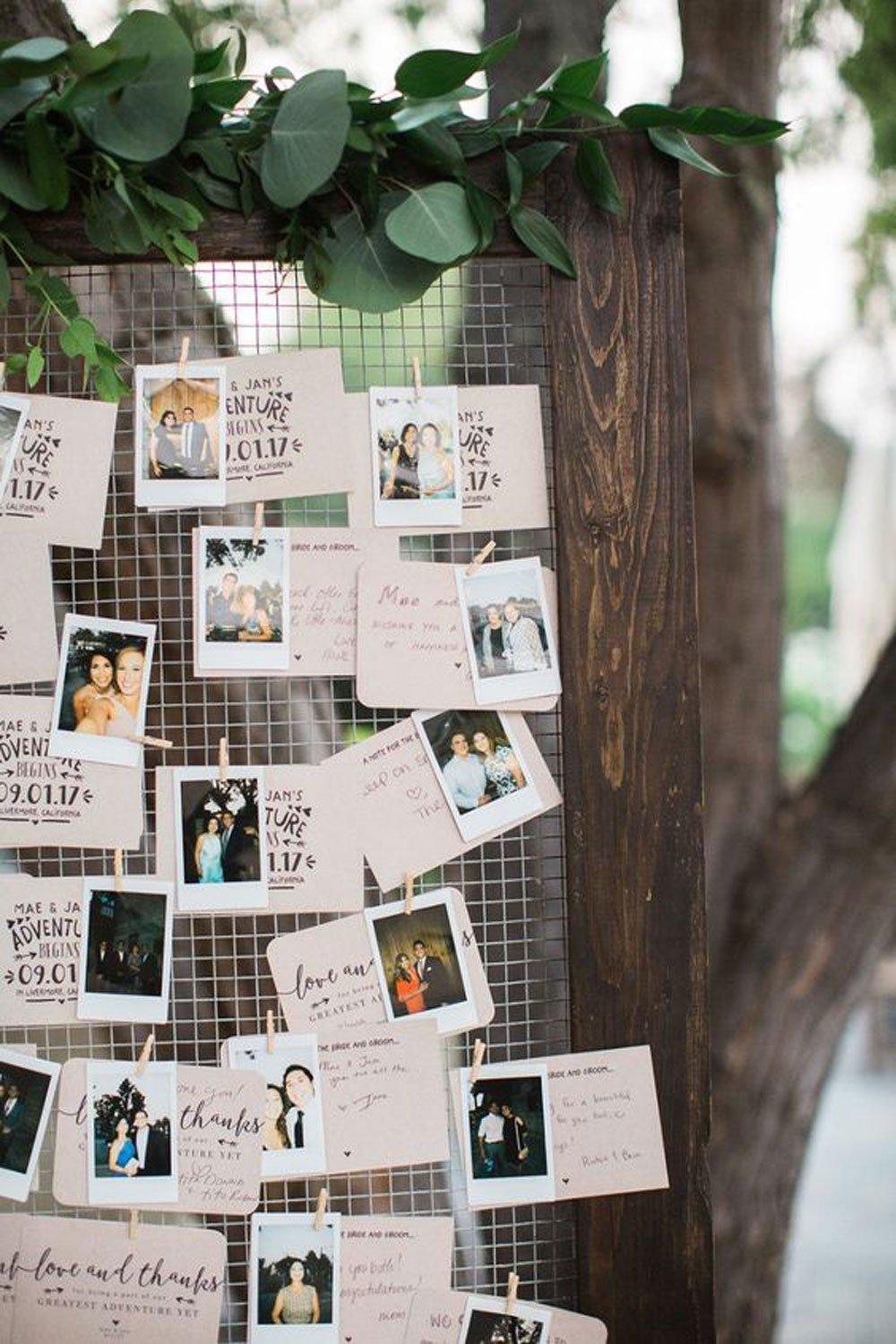 Image: Pinterest
Alternatively, this Polaroid guest book idea is a lovely, rustic touch. Leave a pin board or wire memo board out at your reception alongside a Polaroid camera.
Your guests can take a photo of themselves, sign them and pin them up. This is such an amazing idea.
READ MORE: Top Photography Tips for Wedding Guests
31. Write Your Order of the Day on a Wooden Pallet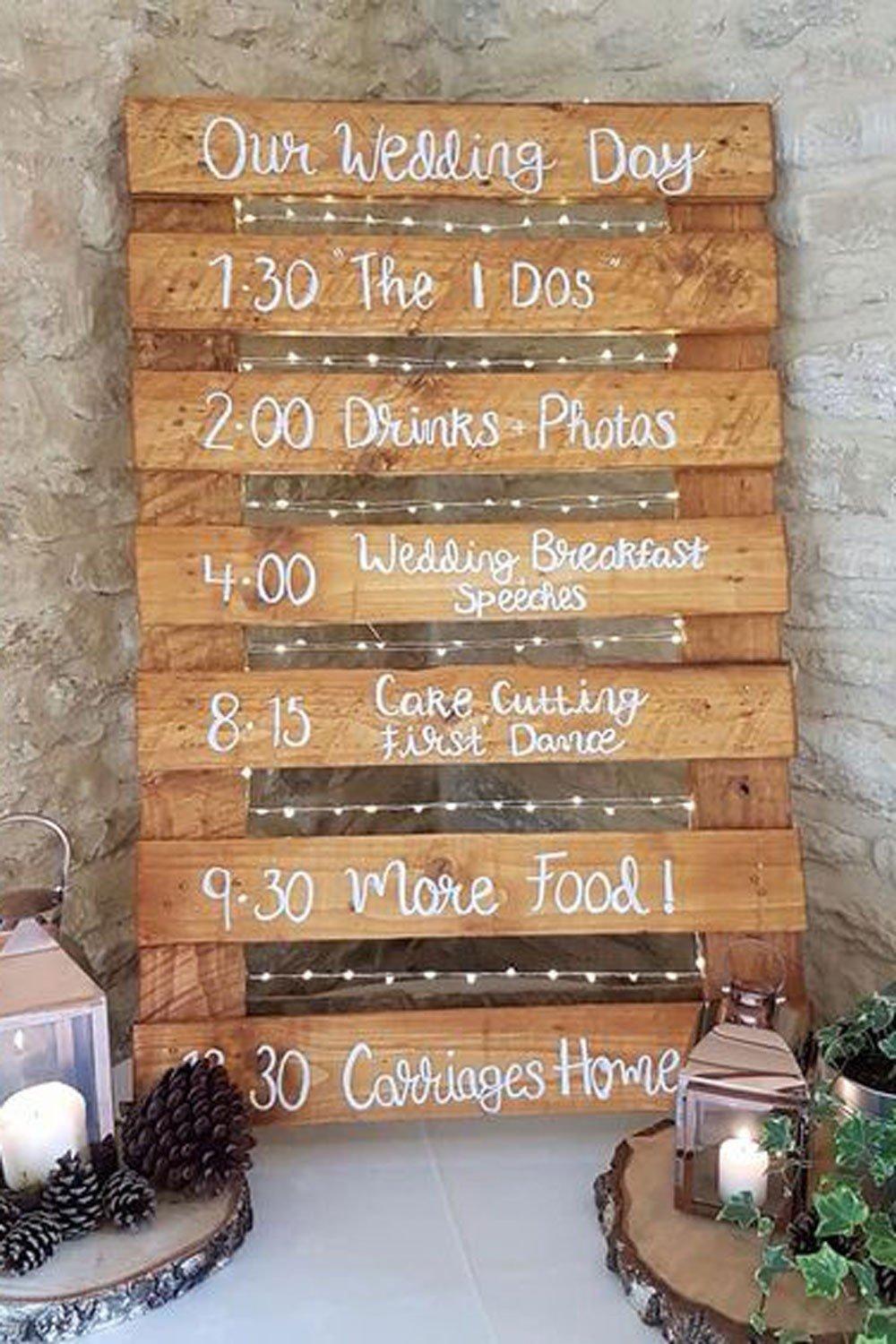 Image: Pinterest
Your guests will be super grateful for you letting them know where they need to be and when on your wedding day, and we can't think of a more beautifully rustic way to display the information than on a wooden pallet.
Not only can you pick one of these up for next to nothing, but it'll look amazing as one of the first things your guests see.
READ MORE: 17 Things Guests Hate Most About Weddings
32. Tie Your Wedding Invites with String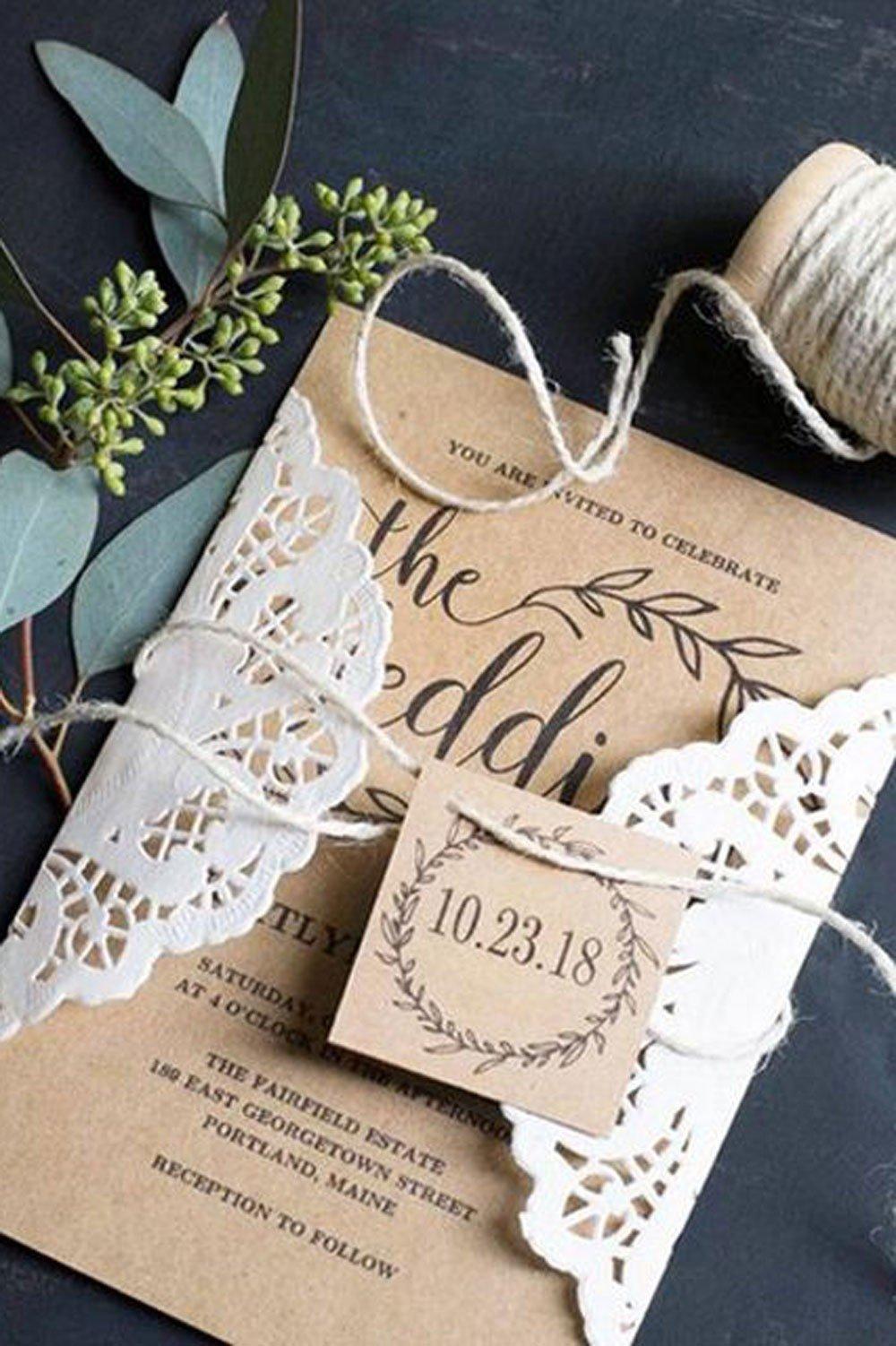 Image: Pinterest
Nothing looks more rustic than brown garden string, so why not tie it in a bow around your invites for a lovely finishing touch?
It'll act as a gentle nod towards your wedding theme before your guests have even arrived at your venue!
READ MORE: Hobbycraft Reveal Their Three Most Popular Wedding Invite Themes
33. Do the Same With Your Menus!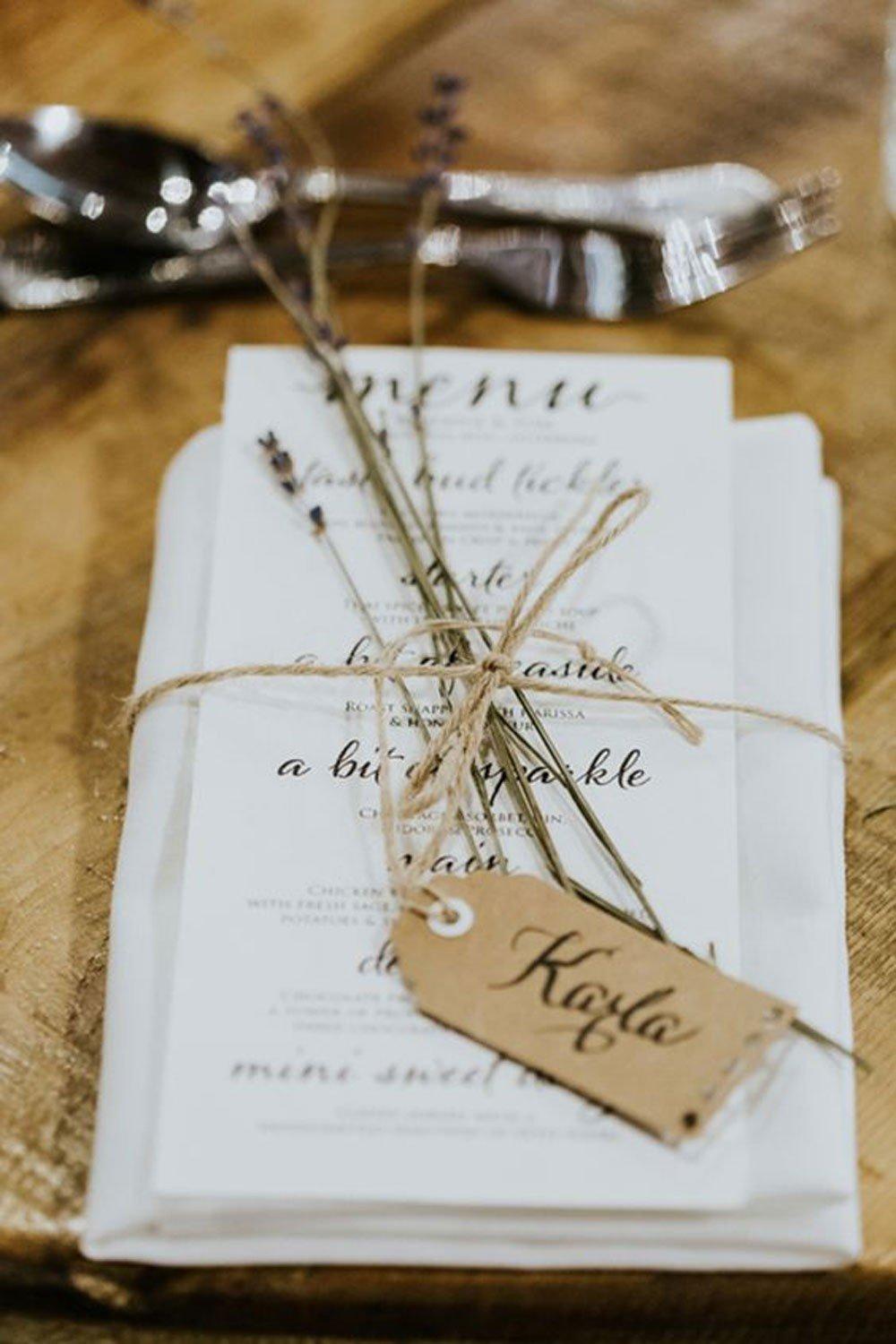 Image: Pinterest
The brilliant uses of string don't end there – you can tie it around your wedding menus too. We love how each guest has been given a bundle with their napkin and menu at this wedding.
Tie brown paper labels to your string bow to act as place names and pop some foliage or dried lavender underneath.
READ MORE: Everything You Need to Know About Wedding Catering
34. Have a Sparkler Send-Off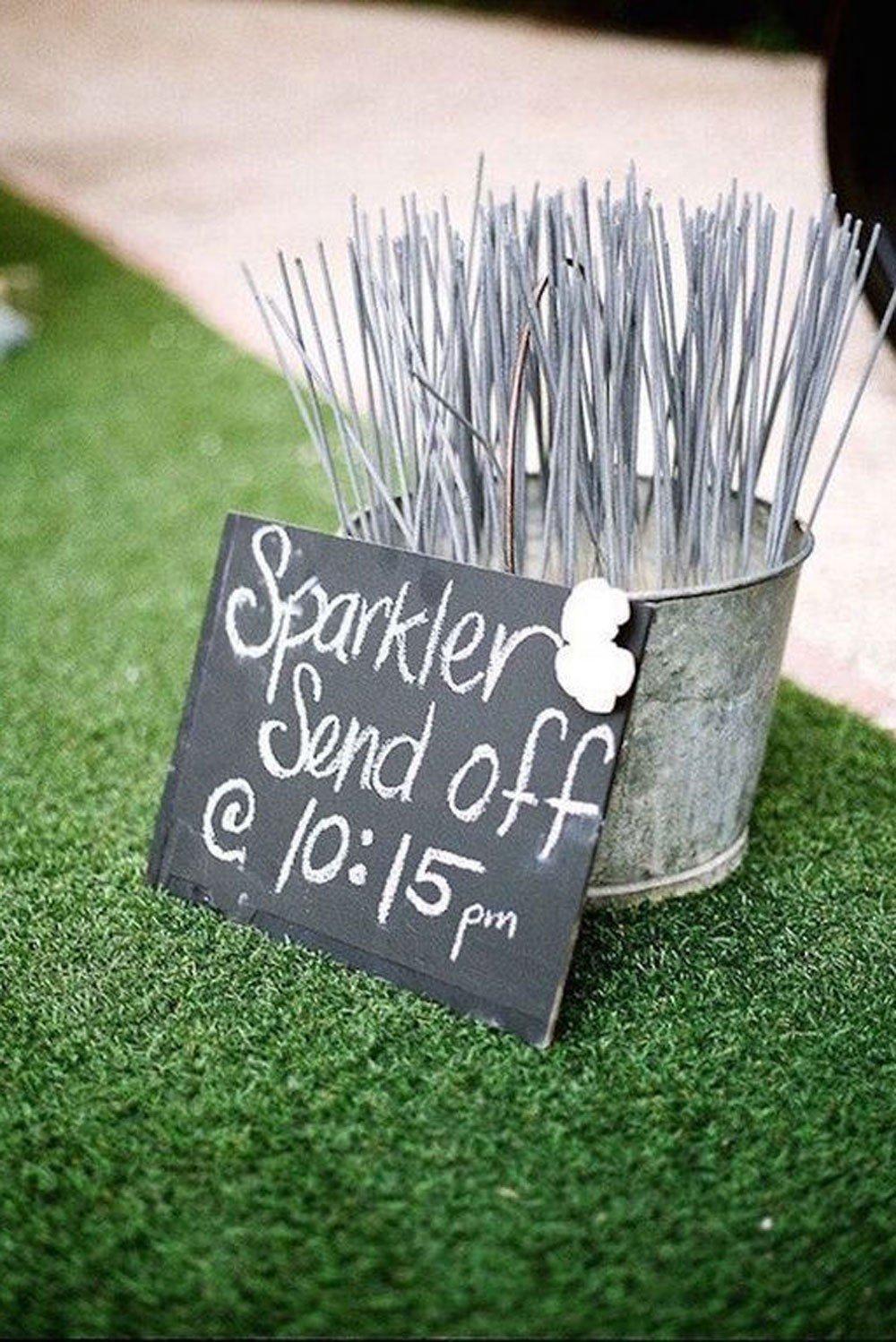 Image: Pinterest
What a cute idea! If much of your rustic wedding day is taking place outside, leave out a bucket of sparklers for the end of the night.
Display a chalk board next to the bucket with the time of the send-off before lighting them ahead of everyone going home. You're sure to capture some beautiful wedding photographs if you do this.
35. Have a Live Folk Band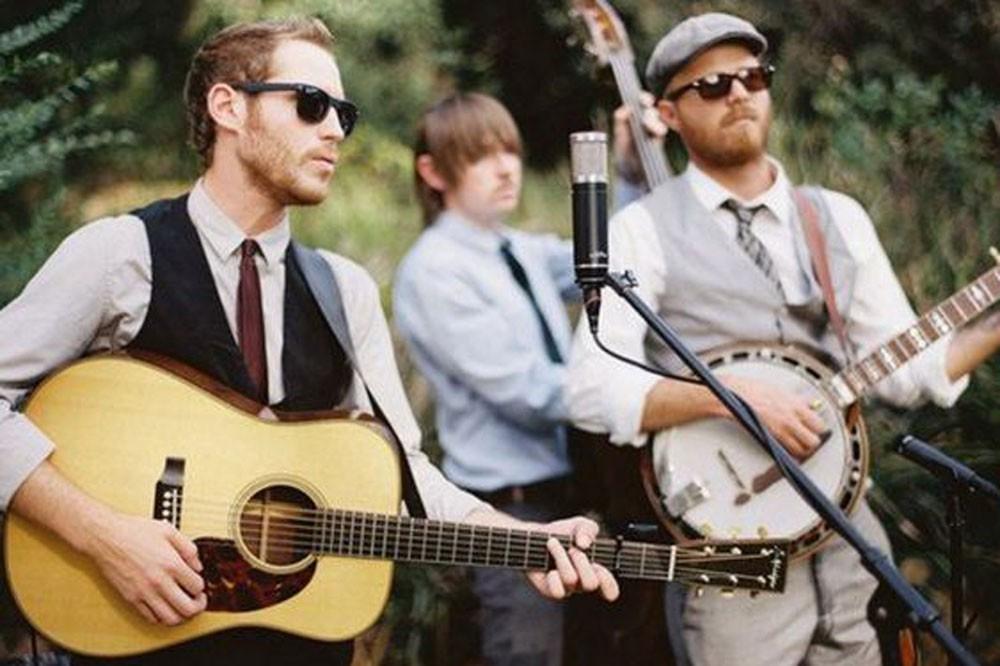 Image: Pinterest
Live wedding bands might work with almost every wedding theme, but if you really want to pull out all the stops with your rustic wedding day, choose a folk band to play throughout the day.
The folk genre will fit perfectly with the vibe of the day, and if they dress in a similar way to these guys, they'll perfectly complement your rustic groomswear!
READ MORE: 25 Questions to Ask Your Live Wedding Band Before You Book
36. Decorate the Outdoor Space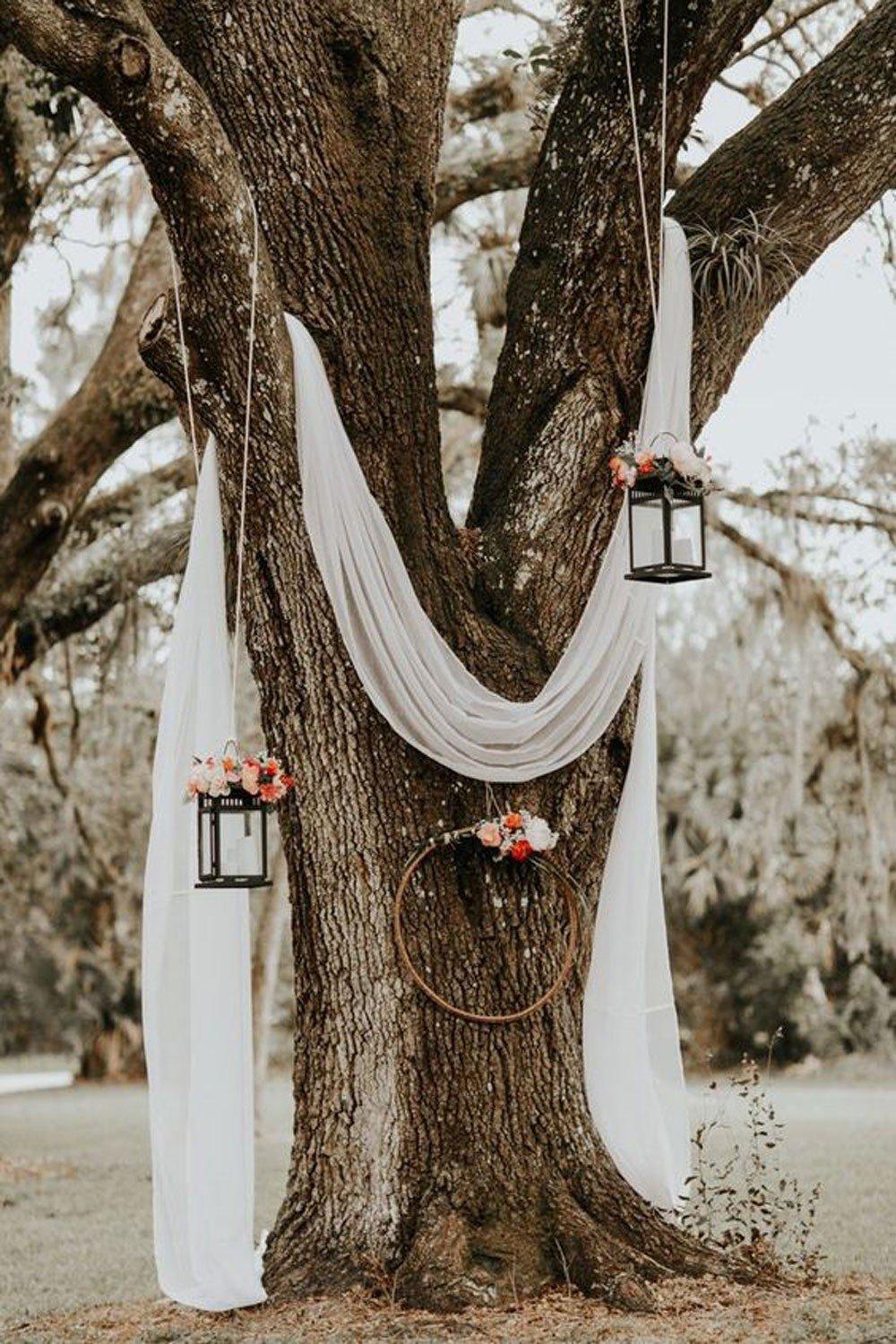 Image: Pinterest
Your decision to host a rustic wedding day pretty much gives you free-reign when it comes to decorating the outdoor space at your venue.
Simple additions to the gardens and grounds like fabric and lanterns hanging from the trees don't have to cost a bomb but can look really beautiful. How gorgeous is this set up?
37. Put Blankets Out in Case Your Guests Get Cold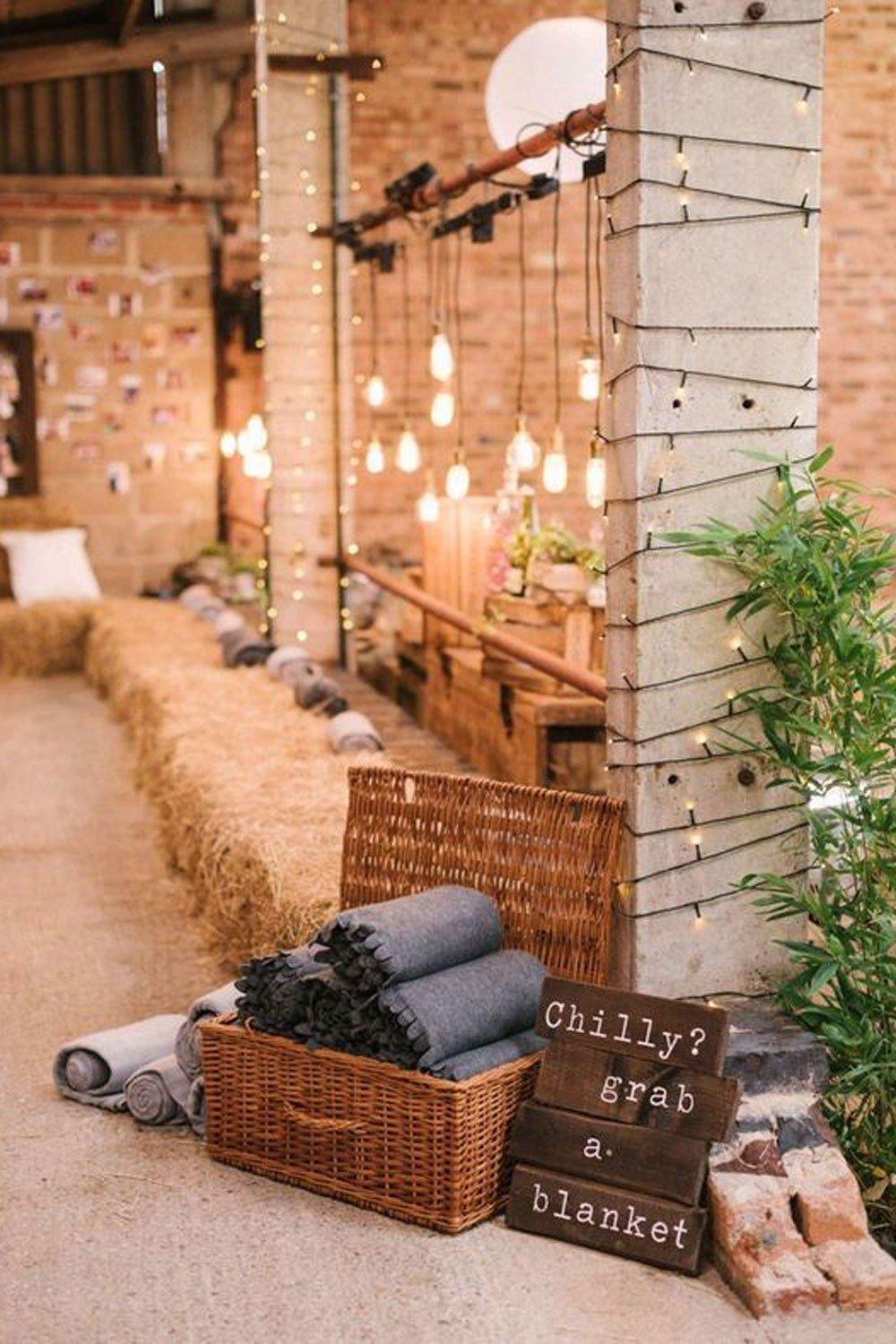 Image: Pinterest
We're totally obsessed with this rustic wedding idea. If your barn wedding venue is largely outside, pop out a picnic basket full of blankets for your guests to use if they get cold.
We love the rustic wooden wedding sign which is propped up next to this hamper. What a cute idea!
38. Hire Light-Up Letters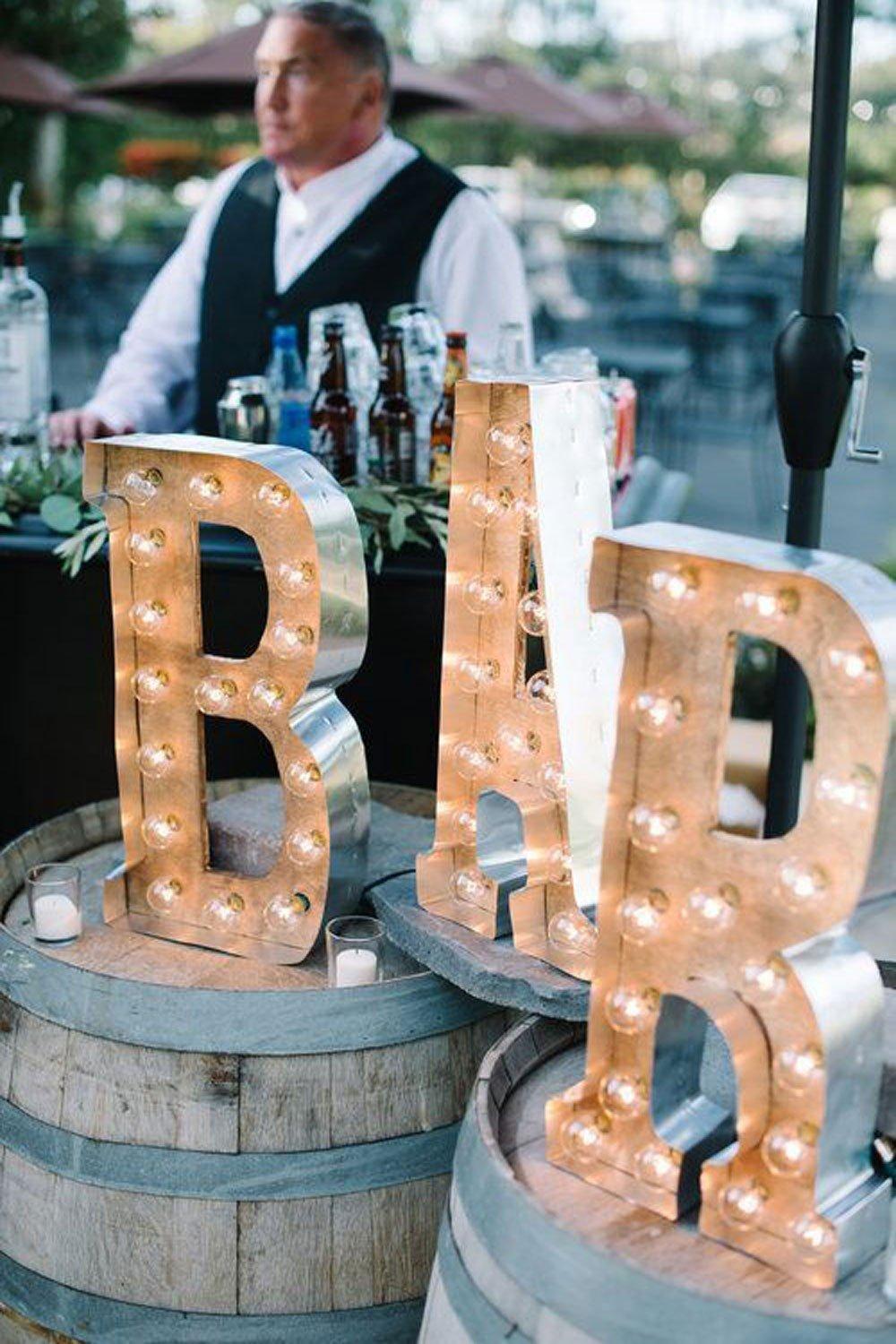 Image: Pinterest
Light up letters can add a warm and glowing atmosphere to your wedding day and can help transform your wedding venue for the evening. Just make sure you get some amazing photos that you can treasure forever!
39. Get Creative With Your Decorations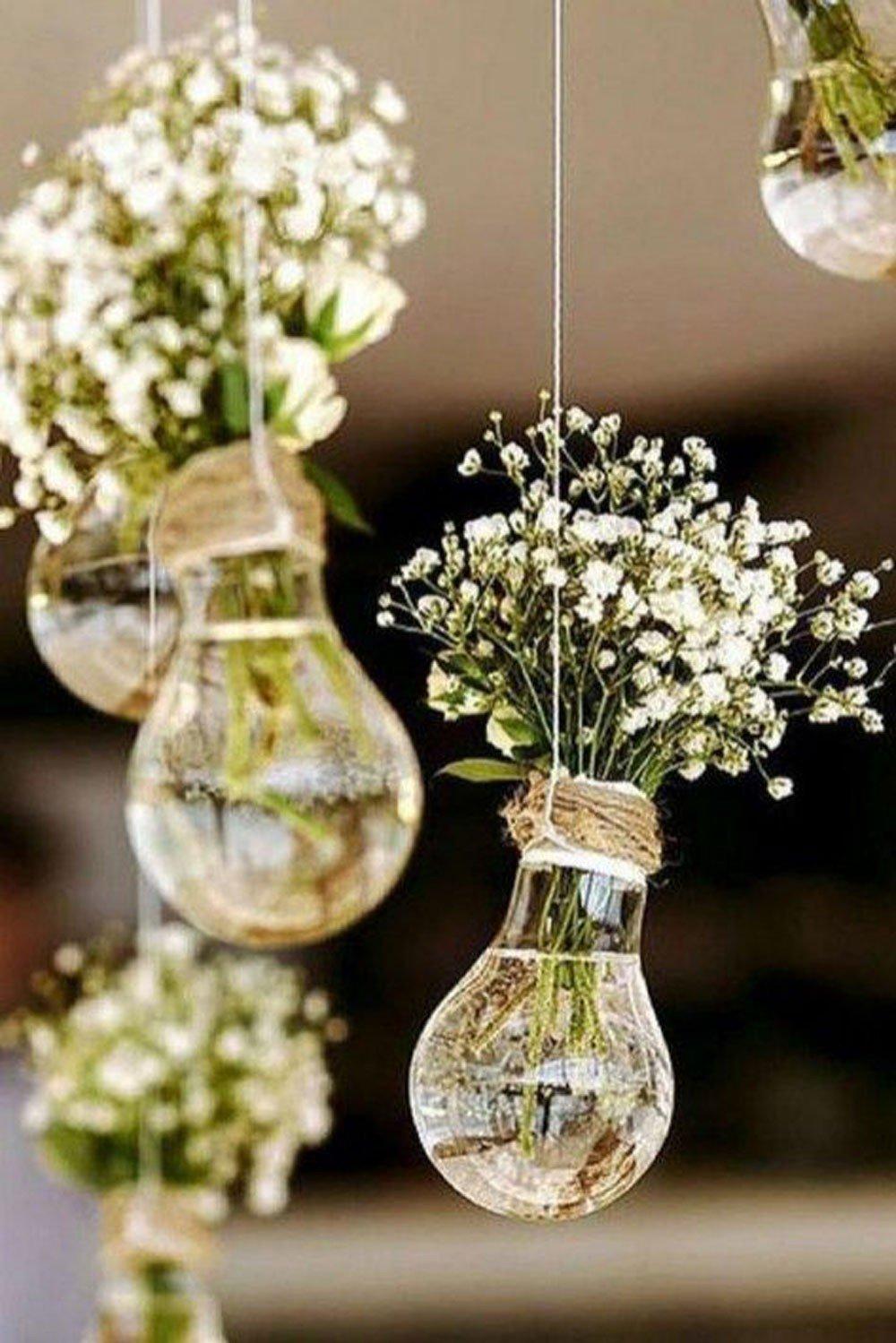 Image: Pinterest
Empty light bulbs stuffed with wildflowers are a beautiful addition to any rustic wedding.
Hang them from the trees for guests to admire in an al fresco reception.
40. Pop Flowers in Watering Cans?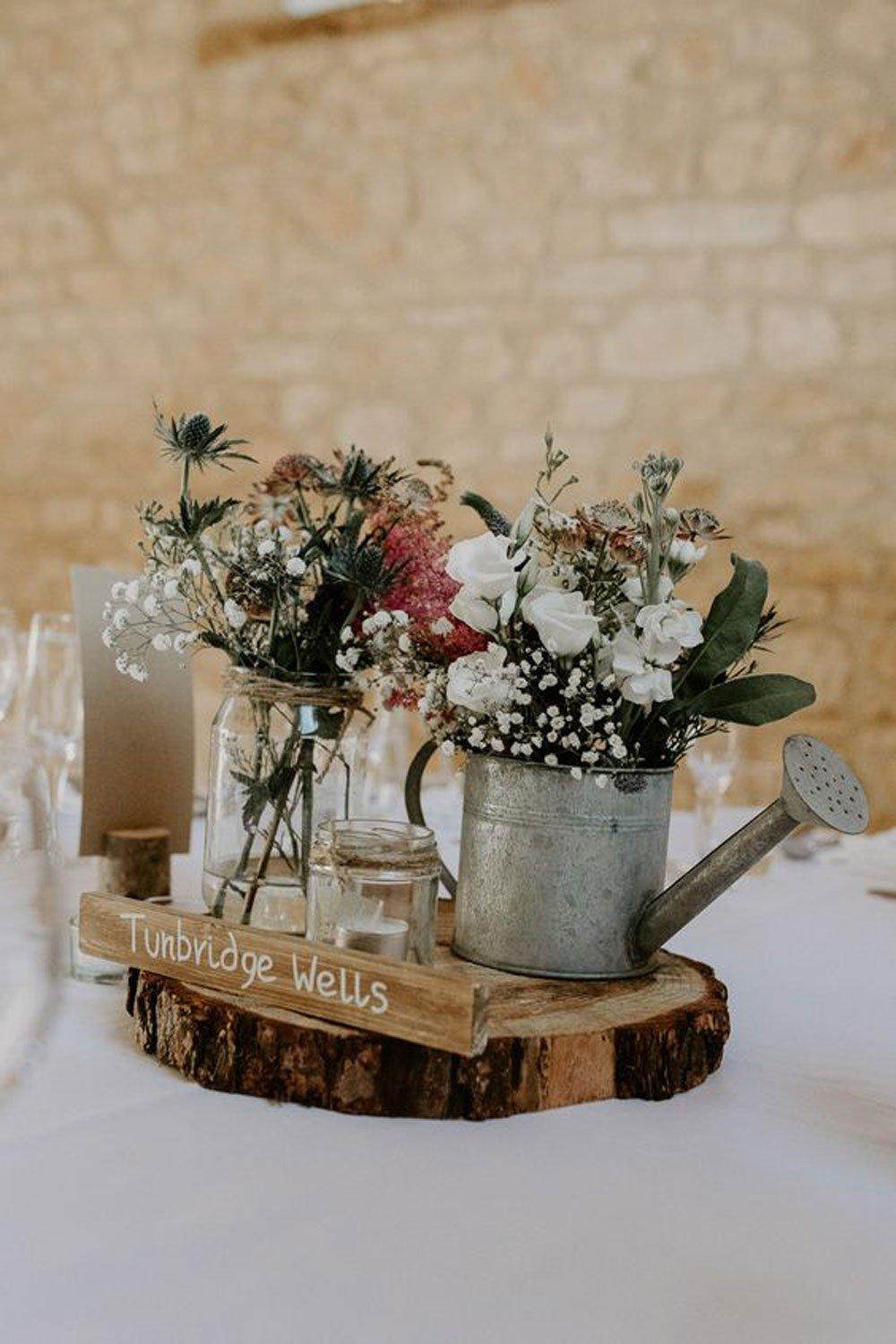 Image: Pinterest
Re-purpose old watering cans by planting wildflowers and herbs in them.
Stand them on logs to act as rustic table centrepieces or dot them around outside to bring your garden area to life.
41. Dress Your Wedding Party in Rose Gold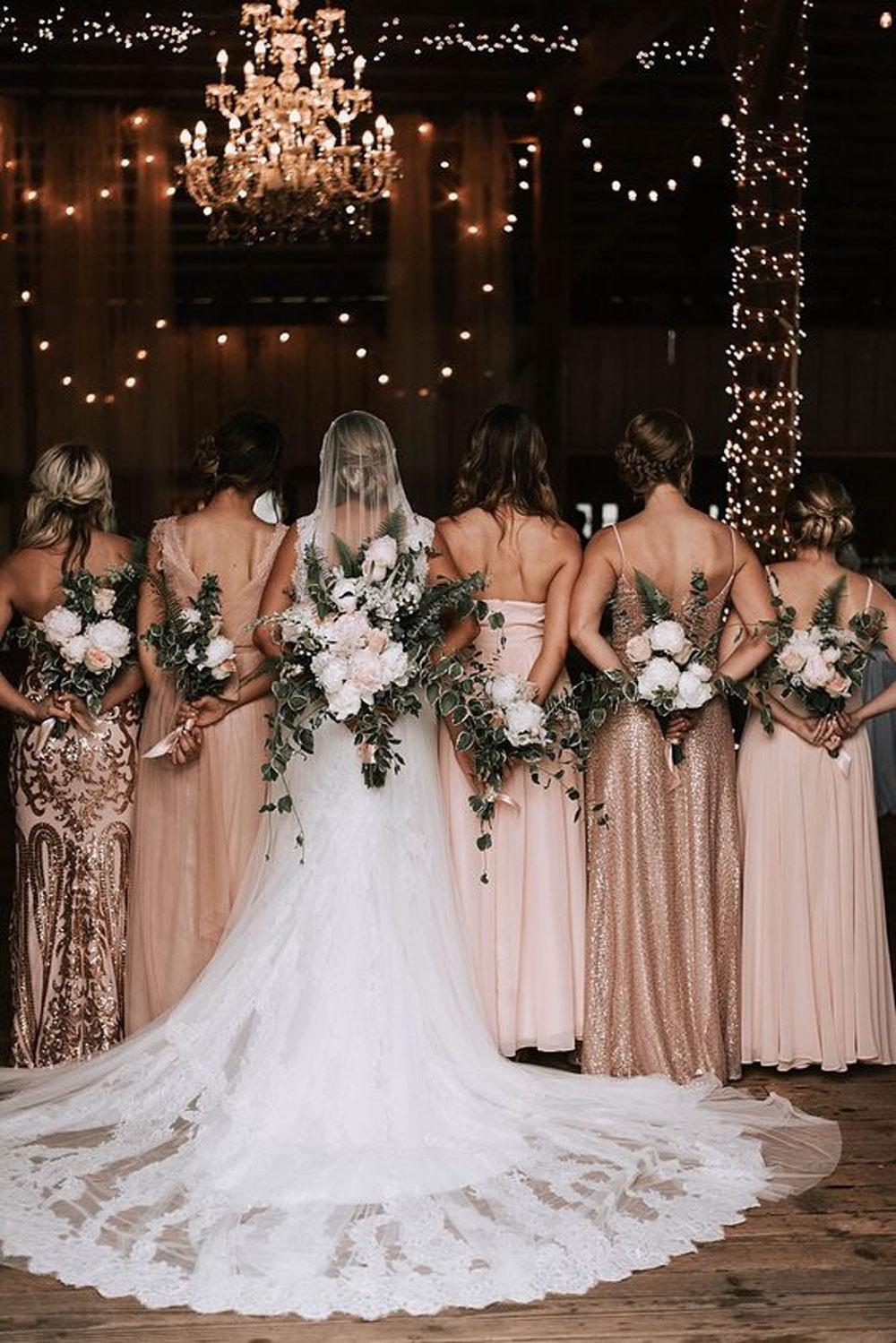 Image: Pinterest
Of course, there's a whole host of colour schemes which can fit to a rustic wedding theme, but how amazing do these rose gold bridesmaid dresses look at this rustic wedding?
Rose gold sequins will complement fairy lights perfectly, and warm tones will work fabulously with the overall vibe of the day.
READ MORE: The Ultimate Rose Gold Wedding Guide
42. Pin Up Photos of You and Your Guests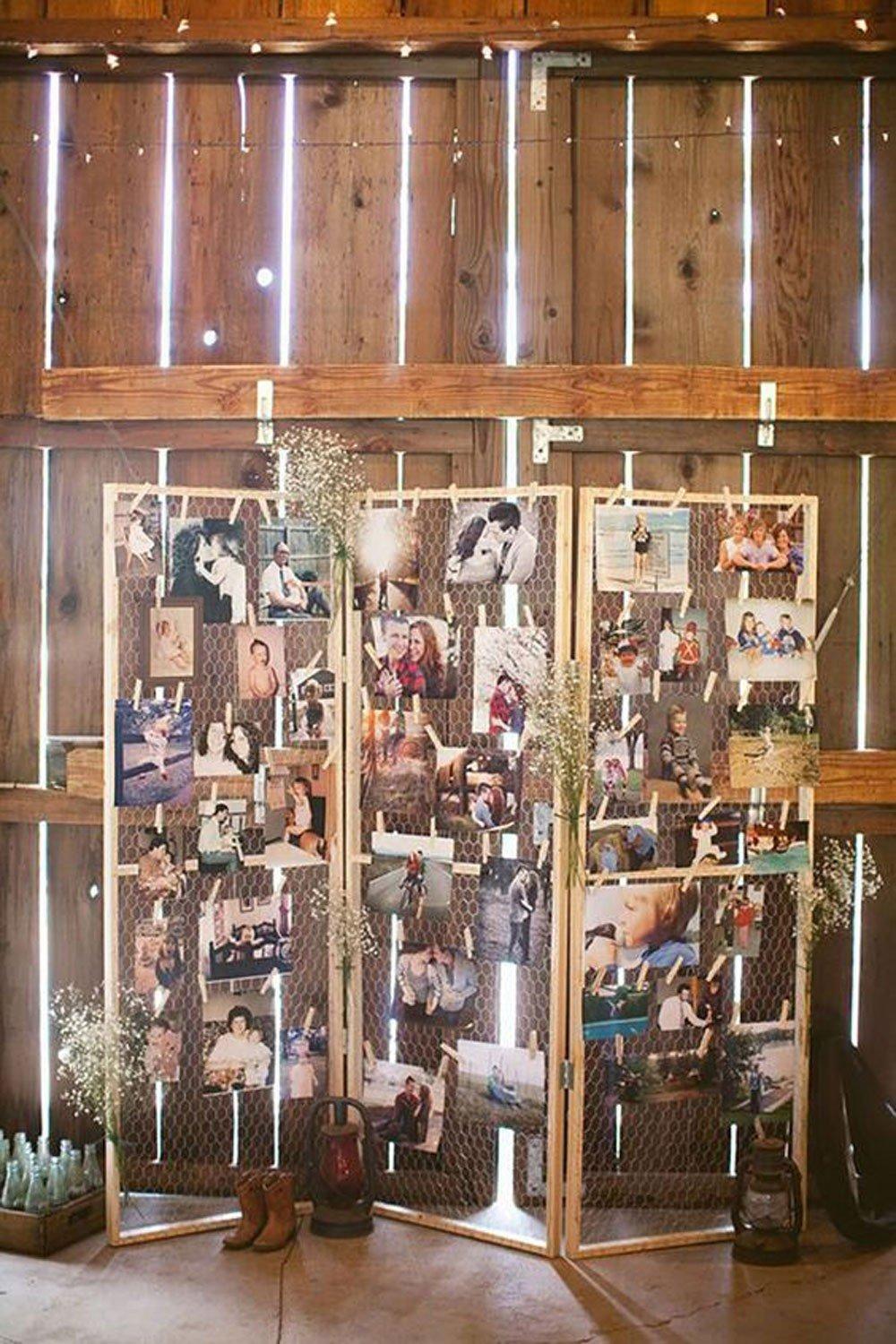 Image: Pinterest
A photo wall fashioned from an old wooden partition is the ultimate statement rustic décor idea.
Attach dried flowers or fairy lights to the backdrop before pinning up Polaroid photos of you and your guests (or you and your partner throughout your lives!) They'll love to head on over and see what they can spot.
43. Consider a Rustic Dessert Table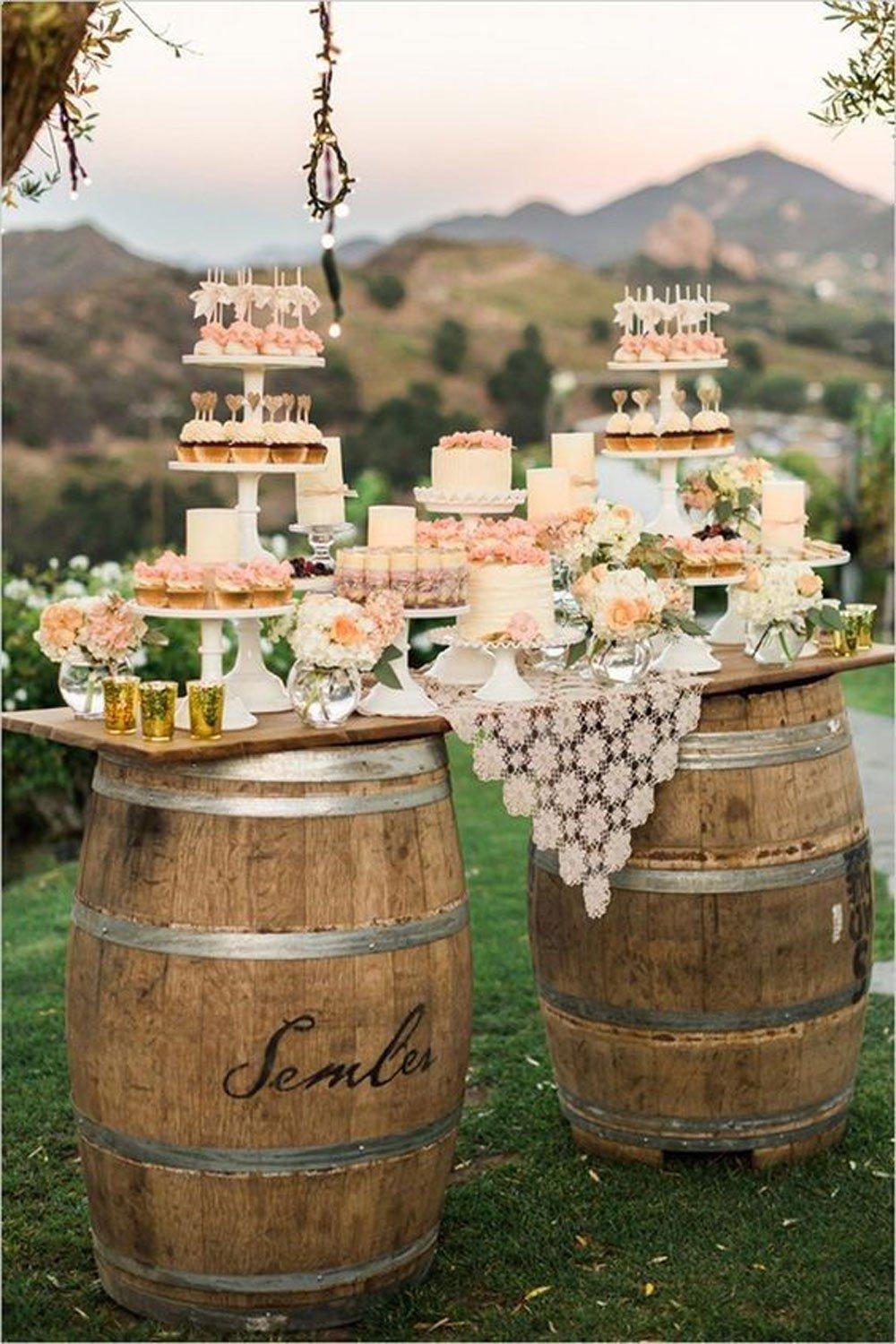 Image: Pinterest
Dessert tables are a great way of mixing up your wedding breakfast a little bit. Serve the first two courses in the traditional way before directing everyone outside to an amazing array of sweet treats.
Displaying your cakes and desserts on barrels, wooden tables or tree logs (with plenty of rustic flowers thrown in for good measure) will ensure the whole thing remains in keeping with your theme.
READ MORE: The Best Wedding Dessert Table Ideas
44. Mismatch Your Furniture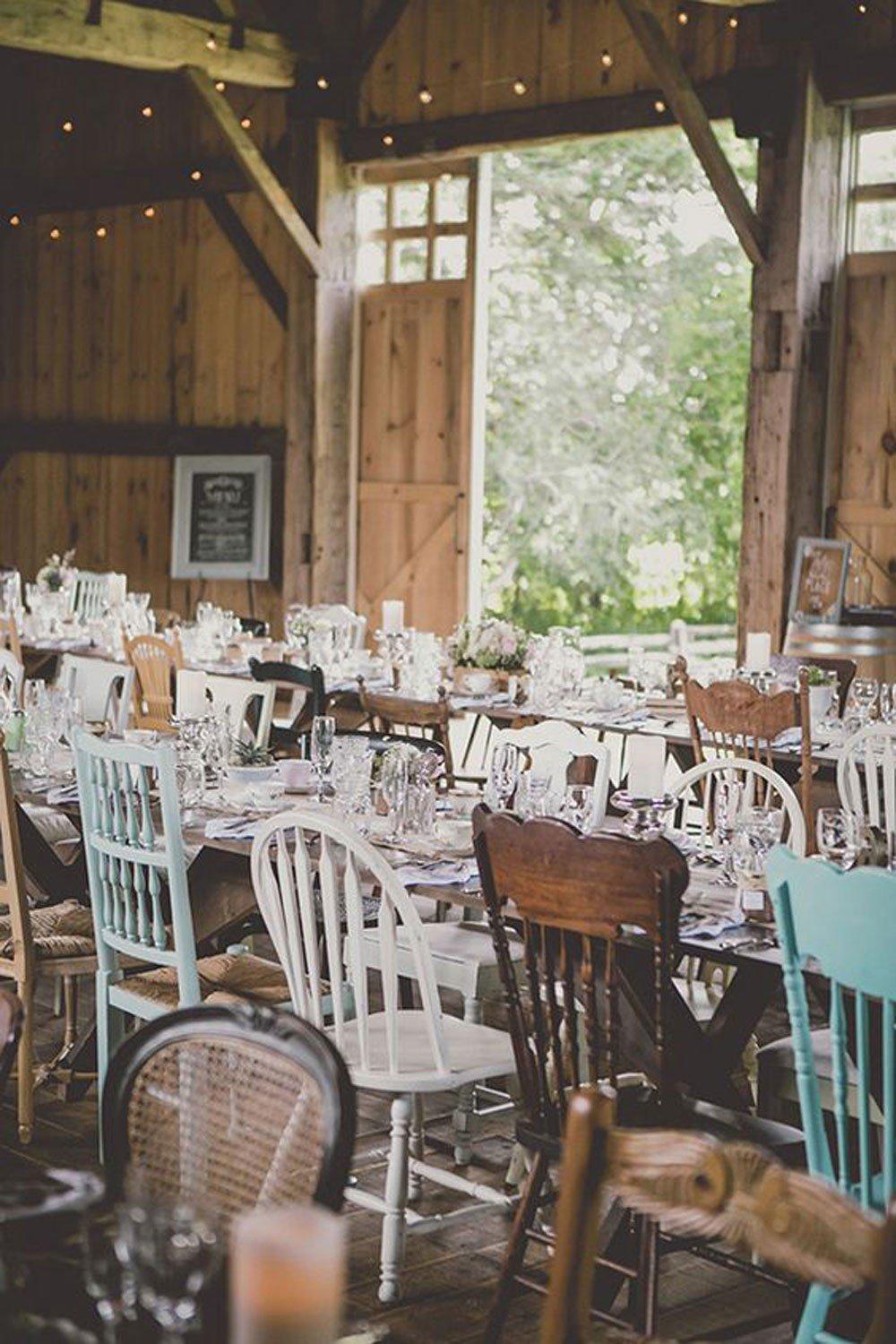 Image: Pinterest
Mismatched chairs and centrepieces have a laidback feel that will perfectly complement the surrounding barn or rolling hills.
The best part is they'll hardly cost you anything to source.
45. Fashion Sunflower Button Holes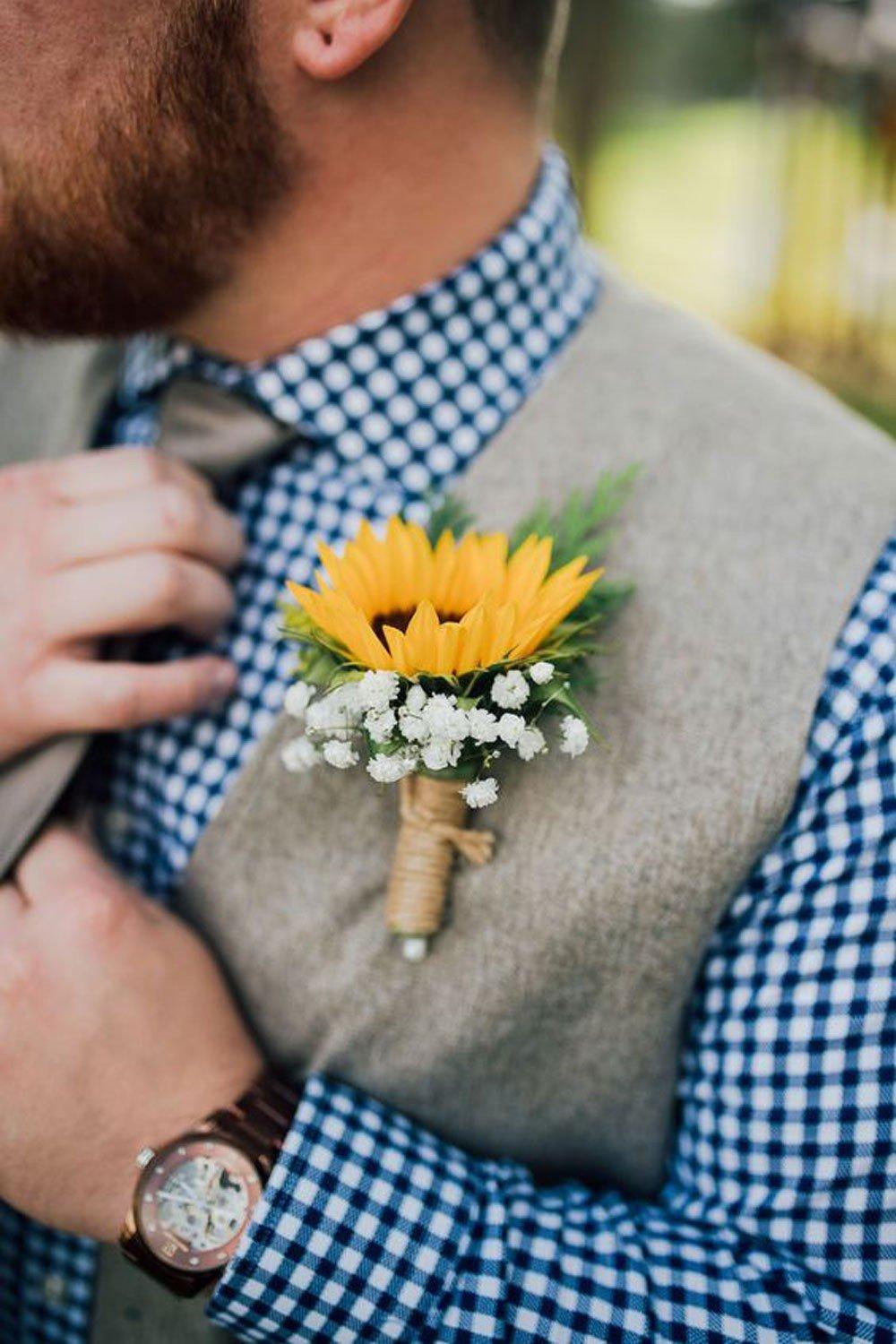 Image: Pinterest
A sunflower buttonhole accented with lovely wildflowers adds rustic flair to an otherwise simple and laid-back groom outfit. Tied up with brown garden string, it couldn't look more countryside-appropriate!
READ MORE: Fun & Alternative Buttonhole Ideas
Not quite convinced by a rustic wedding? How about taking a look at our round-up of the hottest wedding themes of the year? Something else might tickle your fancy…