45 Beautiful Tablescape Ideas: The Best Wedding Table Decorations
From wedding centrepieces to place cards and confetti, read these 45 gorgeous wedding table decoration ideas before you buy any décor!
We have included third party products to help you navigate and enjoy life's biggest moments. Purchases made through links on this page may earn us a commission.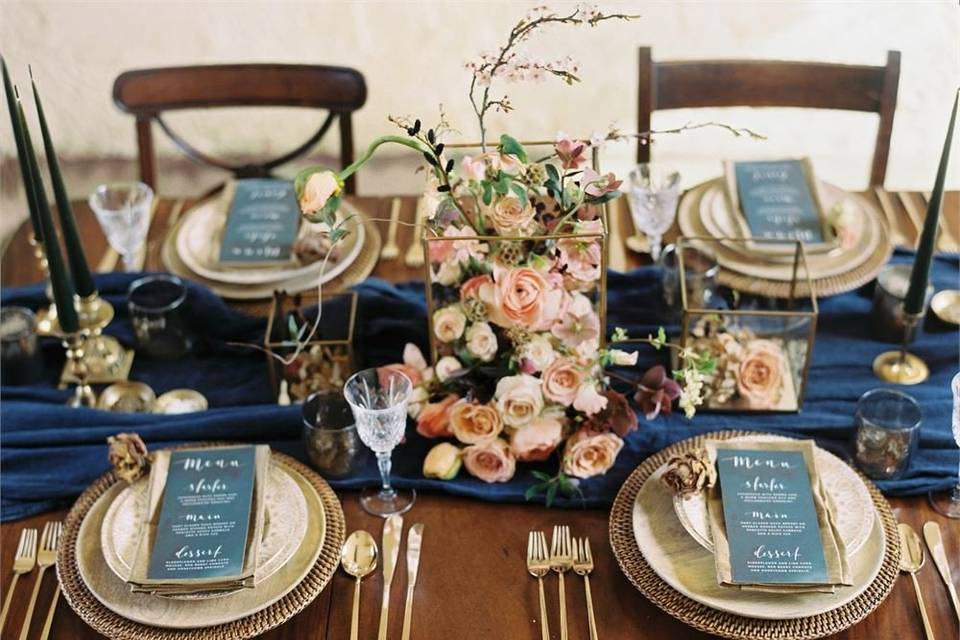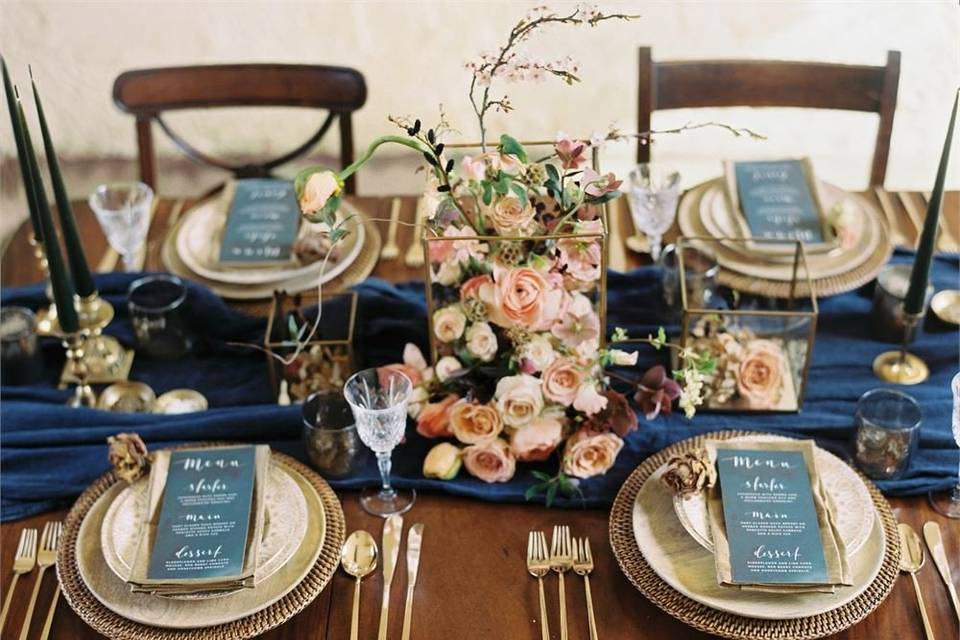 Planning your wedding reception décor is a really fun part of your wedding planning prep. Your wedding table decorations – from centrepieces to table runners and even napkin choices – allow you to show off your theme, colour palette and creativity.
Whether you personalise your wedding with funny table names, make a dramatic statement with a grand centrepiece or DIY your wedding favours, we have loads of ideas to inspire you.
If you're on a tight budget, cheap wedding table decorations can bring a venue to life; if you can splash out, your candles, flowers and favours will be the perfect finishing touches.
Your guests will spend a significant portion of the reception at their table so put in as much effort as you would for all your other décor. Think about using complementary and accent colours to your palette, and adding height, light, scent and interest to the table (but nothing so high it stops people speaking across the table!)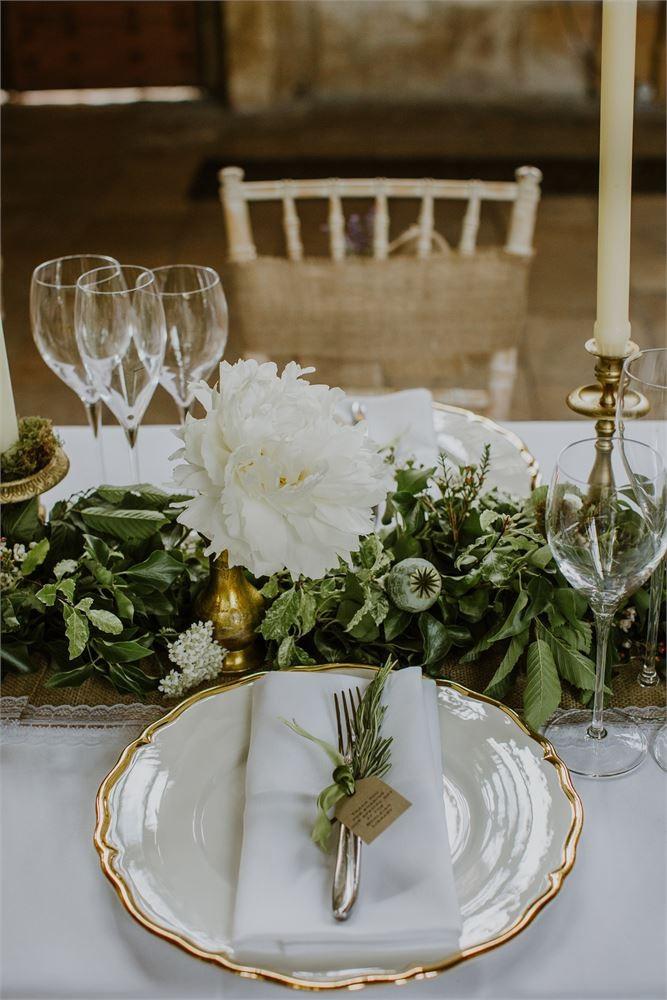 Here are our 45 favourite wedding table decoration ideas:
Wedding Centrepieces
Your caterers or venue will normally provide white or ivory tablecloths as a blank canvas to decorate. At a minimum, each table will need a centrepiece and table name or number, and each place setting will have a place card, wedding favour, napkin, and some additional flourishes, such as a spring of rosemary on top of your menu.
The easiest way to immediately add vibrancy and interest to your wedding tables is with a centrepiece. Here are some of our favourite wedding centrepiece ideas.
1. Build up different levels of candles in jars and lanterns for a warm, modern look that's great with metallics and plenty of green foliage. You'll need to check if you're allowed naked flames at your venue, otherwise use LED candles. We're obsessed with these dripping gold candle holders from Not On The High Street for a contemporary, glamorous display.
READ MORE: 50 DIY Wedding Centrepiece Ideas
2. For a rustic wedding centrepiece, logs look amazing. How cool is this personalised log centrepiece that doubles as a vase for these wildflowers! These were handmade by the couple, but you can buy a similar style here.
3. For more wooden looks, try vintage looking wooden crates, a personalised rustic birch vase or slices of log as a base for flowers and candles.
4. Photo frames don't need to be just for photos! Although obviously they're great for that (or displaying table names), we love the idea of filling them with a peacock feather for a stunning vintage idea. It works so well with the purple and gold colour scheme. These frames are resting on brass easels – just £2!
READ MORE: 19 IKEA Decor Hacks You Have to Try
5. Mini easels are great for holding polaroids as part of a country chic centrepiece. Pop photos of your happiest moments in them for a unique, personalised table display. These ones are a bargain for less than £2 each from Etsy!
READ MORE: 39 Wedding Favours for £1 or Less
6. Fill a birdcage with flowers for a great rustic or vintage wedding centrepiece idea. White cages suit a crown of gypsophila around the base, while metallic ones work with quirky touches like a pocket watch nestled in the middle or a large candle.
7. Small vases and mason jars filled with wildflowers are beautiful as wedding centrepieces.
To turn them into a more dramatic centrepiece, we love this idea of placing them on a base of vintage books. Stacks of your favourite hardback novels (or even random ones from a second-hand shop) work equally as well on their own.
8. Fairylights aren't just for the ceiling. Fill a lantern or fishbowl with them for a cute look as the night draws in. It's perfect for autumn or winter weddings. Make your own using this set of battery-operated firefly lights.
READ MORE: 21 Vintage Wedding Décor Ideas
9. Add bunting to your top table decorations. We love Ginger Ray's 'Just Married' hessian bunting for only £13.99.
10. Got a sweet tooth? Marshmallows are a delicious centrepiece alternative. Either fill jars with them or turn them into a cute display like this grass one. They can even double as a small wedding favour.
READ MORE: 17 Fun Ideas For Your Wedding Reception
Floral Table Decorations
Flower centrepieces naturally add elegance and romance to your reception tables, but you don't need to go for one big display. With subtle floral and foliage additions, you can transform your table.
11. Your florist package will likely include floral centrepieces for your tables, usually the same flowers as your bouquets with more foliage. You can save money by re-using your ceremony flowers for your reception flowers if there's enough time to move them over.
12. We absolutely love tall floral centrepieces that have space underneath for guests to keep the conversation going.
This works well year round as it's adaptable to each season, for example, use pussy willow branches as your base in winter, or birch branches painted white.
READ MORE: How Much Do Wedding Flowers Really Cost?
13. Succulents make as good wedding table decorations as they do wedding favours. We love the one in the little gold terrarium – a large terrarium can make an amazing centrepiece.
14. Try potted herbs as centrepieces. They add gorgeous scent to your table, as well as colour if you choose a herb like lavender.
Try to match your herbs with the seasons: mint and basil are fantastic for spring and summer, hardier herbs like rosemary and thyme work for autumn and winter.
15. For something completely different, a hanging floral installation creates interest, texture and scent above the table if having too many flowers on it might look too cluttered.
We adore these opulent garlands of white orchids if you have the budget – if not, faux flowers are a great alternative and you can easily hire them!
READ MORE: 23 Ways to Add More Flowers to Your Wedding
16. In spring and summer, a smaller selection of vibrant wildflowers is enough to bring a table to life. Choose bright-coloured blooms like cornflowers, foxgloves, cowslips or poppies that are simple but statement.
17. Use fruit to add a whole other dimension to your floral displays. Obviously, avoid soft fruit like berries, but autumn really suits apples, pears and pomegranates, plus vegetables like marrows and little squashes mixed with golden leaves.
18. Winter wedding? Combine pine cones with wintry foliage like boughs of holly, branches of fir, mistletoe and Poinsettia leaves. Fake snow and candy canes give it that little extra festive touch.
Table Runners
If you're holding a wedding dinner with long tables instead of lots of round ones, a table runner is a great way to jazz up a white tablecloth and thread in your colour scheme.
19. Look for accent colours from your flowers for your wedding table runners. Think fabrics like chiffon, silk or linen to add interest to the table, and decide if you want them to run off the end of the table or be the exact length.
Amazon, Etsy and eBay are fab for ready-made table runners – but it's just as easy to head to a fabric shop (even IKEA!), buy the lengths you need, lay them out and leave the edges natural or tie with a ribbon.
20. If you're looking for a rustic table runner, lace and hessian are your best friends. Top with small jars of wildflowers for a boho touch.
21. Boho brides, is there anything more free-spirited and cool than a macramé table runner? You can get them custom-made to the length of table you need for great value on Etsy.
22. Table runners are a great chance to add texture to a plain table. We adore using a long strip of velvet as table runner – it looks so chic! Once again, Etsy is your go-to for any colour you could imagine.
READ MORE: Your Ultimate Month-by-Month Wedding Checklist
23. Not all table runners need to be fabric. How stunning is this bold rose and foliage display against the rustic wooden table underneath. It's accentuated here with tealights and candles in clear and metallic holders.
24. What about incorporating your favourite book? We never advocate ripping up books, but if you find a tatty version in a charity shop, sticking the pages together can be a cool way of giving your favourite story a new life as a rustic table runner.
If you don't want to DIY your own, we love these circular ones and you can request your favourite books.
Table Names and Numbers
Your guests need to know where they're sitting! Alongside place cards, you'll need a seating chart with corresponding names or numbers on the table. They don't have to be a boring addition to your wedding table decorations – especially with these table number holder ideas.
25. A super easy DIY way to display your table numbers is on old wine bottles. You can either leave them as they are, spray paint them gold, or fill them with flowers.
READ MORE: 47 Fun and Unique Wedding Table Names
26. If you're having an outdoor or summer wedding, embrace the nature theme with leaves as your table markers. It's an eco-friendly way to number your tables and lots of exotic leaves are more than big enough!
27. Mini chalkboards are ideal for table numbers and you can use extras to label your dessert table, card table, buffets and more.
28. Photo frames are really versatile for naming and numbering tables. Ikea's Lerboda picture frames are £3.50 each and can easily be filled with dried flowers, photographs or leaves. All you need do then is write on the table numbers. We love this chic metallic frame from H&M the most.
29. Hold printed table numbers in the same style and colours as your invites in mini easels.
Table Confetti
You'll likely have had a shower of confetti over you as you walked out your ceremony. Now it's time to continue that theme with some confetti as a wedding table decoration. It can instantly jazz up a plain white tablecloth.
30. What better confetti than personalised confetti! You can choose from nine colours including gold, silver or rose gold glitter for these table confetti pieces that can be personalised with whatever names or short message you'd prefer.
31. Make a quick impact with wooden table confetti – it's a bestseller on Etsy for a reason! We adore this love heart design.
32. Table crystals add glitz and shimmer to your reception tables easily and cheaply. As a replacement to confetti, they definitely have one big advantage – they're so much easier to clear off tables at the end of the night!
33. For a winter wedding, these mini bells make for a super fun confetti alternative! It won't just be the young guests who love rolling these around the table.
READ MORE: How to Make Your Own DIY Confetti Cones
34. And of course, the classic petal confetti must get a mention. Made from biodegradable dried petals, it's the eco-friendly option. Go for an accent colour that complements with your overall flower theme.
Place Cards
We've got a huge number of ideas for your traditional place cards. Here are some ideas for place settings that'll make a big impact that you might not have thought of.
35. Give your guests a pot plant as a wedding favour and a place setting. It kills two birds with one stone and they'll have something to plant back at home to remember the day.
READ MORE: The Prettiest Wedding Place Cards
36. We've got quite the thing for wax seals at Hitched – aren't they stunning? Amplify a plain place card with a bit of calligraphy, a gold wax seal and a leaf. Simple.
37. Heck, why not go for a big leaf as the whole place card? It's environmentally-friendly to choose something biodegradable over paper or plastic, and it adds a cool, tropical vibe to the table.
38. Doesn't that look as pretty as a peach. Wedding table decorations can be a simple as a peach used to hold your place cards as long as it works with your theme.
40. Little vases can make a big statement. Here the couple have used thistles – ideal for a Scottish wedding. You could follow the theme with other traditional flowers, such as the daffodil for Wales, rose for England etc, depending on where you're from as a couple.
READ MORE: 20 Ways to Display Flat Place Cards
41. Pine cones aren't just for Christmas – use them any time of year as an easy way to hold your place cards.
Place Setting Garnishes
There are plenty of quick things you can do to make your place settings more beautiful. It depends whether you put your wedding favours on top of the place setting or not. If not, then these simple wedding table decorations will transform your place settings.
42. A piece of fruit like these satsumas immediately adds vibrant colour and scent to your wedding table. Adapt to the seasons so the fruit is cheaper and fresher: apricots and kiwi fruit in spring; cherries, peaches and nectarines in summer; apples, grapes, plums and figs in autumn; lemons, pears and pomegranates in winter.
READ MORE: 26 Personalised Wedding Favours Your Guests Will Love
43. Most venues will provide tablecloths and napkins for you in your package. However, you can up the ante with some gorgeous personalised napkins on your place settings.
44. A bit of coloured muslin tied with a ribbon and topped with a sprig of herbs or leaves is fantastic for rustic weddings. You can DIY these so easily or buy ready-cut squares of muslin.
45. Acrylic is one of the hottest trends for this year. We love this acrylic menu which will work with any colour scheme or theme.
If you're looking for more reception decor ideas, check out our favourite wedding decor under £10.