45 Stunning Floral Wedding Cakes
We've rounded up 45 of our favourite floral wedding cakes, perfect for adding even more beautiful flower power to your big day
We have included third party products to help you navigate and enjoy life's biggest moments. Purchases made through links on this page may earn us a commission.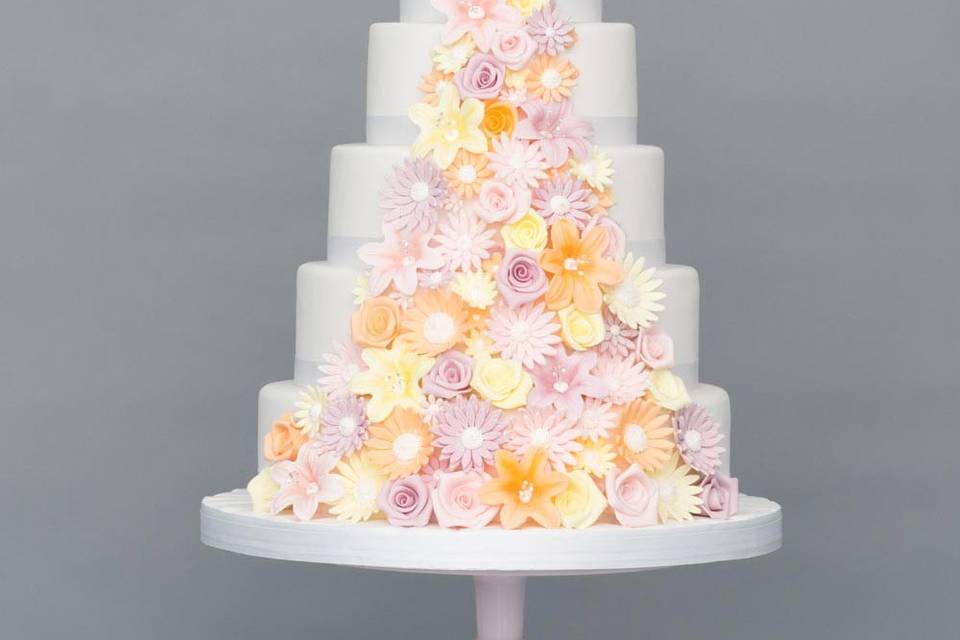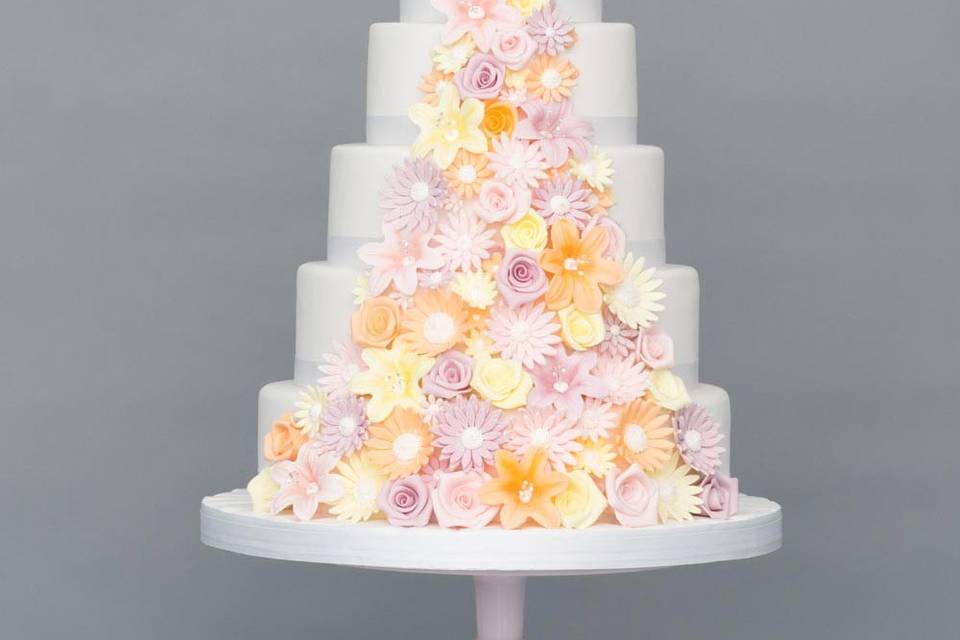 Floral wedding cakes are a great way to add even more flowery detail to your wedding. If you're looking for more floral wedding ideas, consider picking a cake covered in beautiful blooms.
We've rounded up 45 of our favourites from some seriously talented wedding cake makers across the UK.
Charlotte Emily Cake Design
As if this amazing, five tiered wedding cake from Charlotte Emily Cake Design wasn't enough, check out the fancy wedding cake stand too! We love how the simplicty of the cake lets the incredible floral detail do all the talking.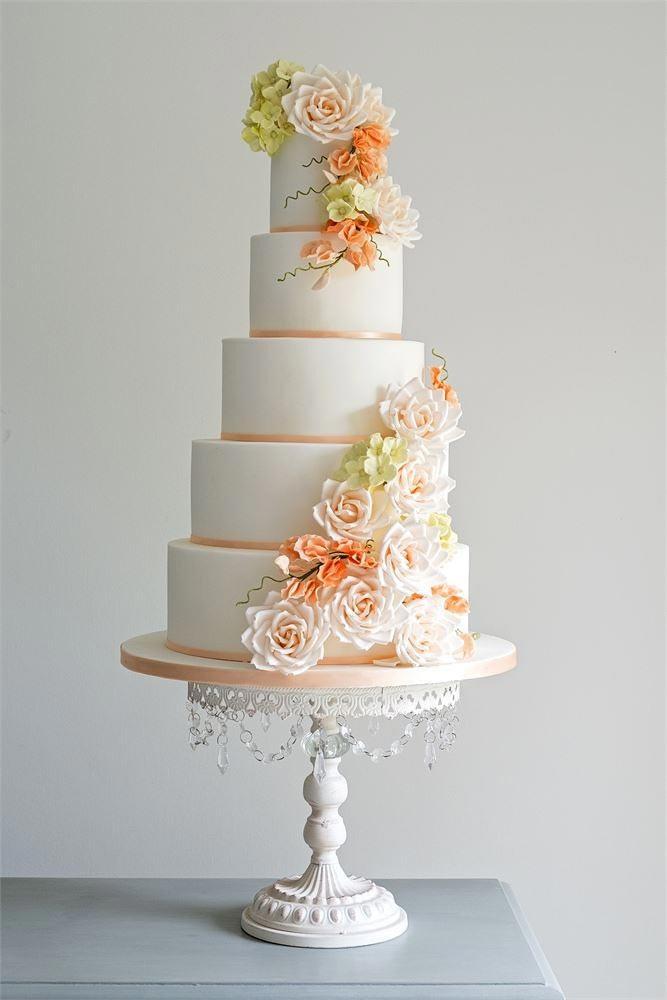 If you don't have a wedding colour scheme, or you just want to keep things simple, this white cake is beautifully subtle. It's four tiers with elegant orchid detail cascading down the side.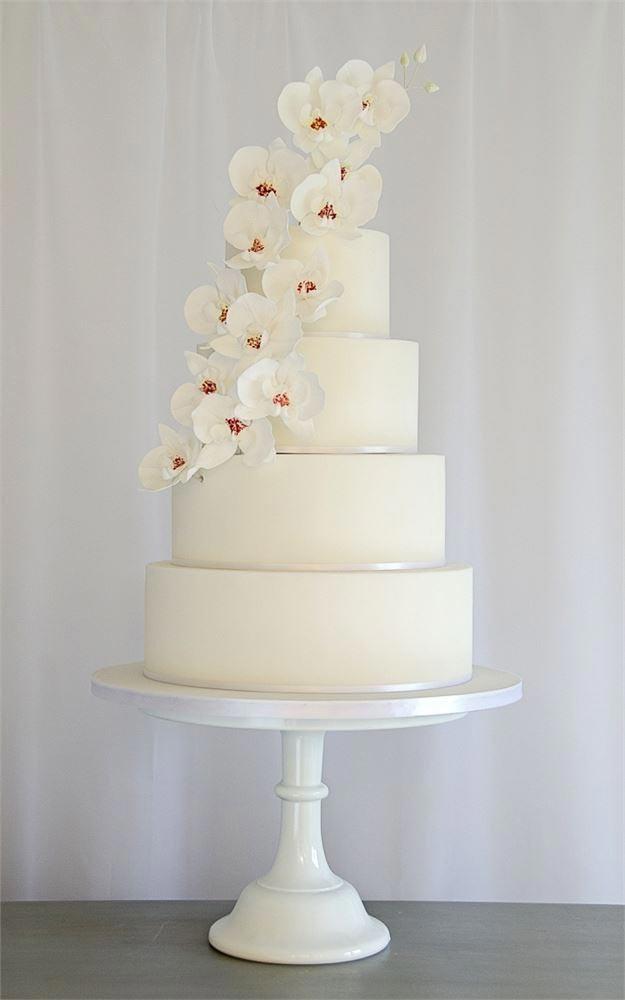 Couples who want to follow the recent wedding trend of metallic wedding cakes will love this creation – the silver top tier grabs your attention and you can't miss the beautiful rose decoration. Switch it for a flower that matches your colour scheme for a coordinated look.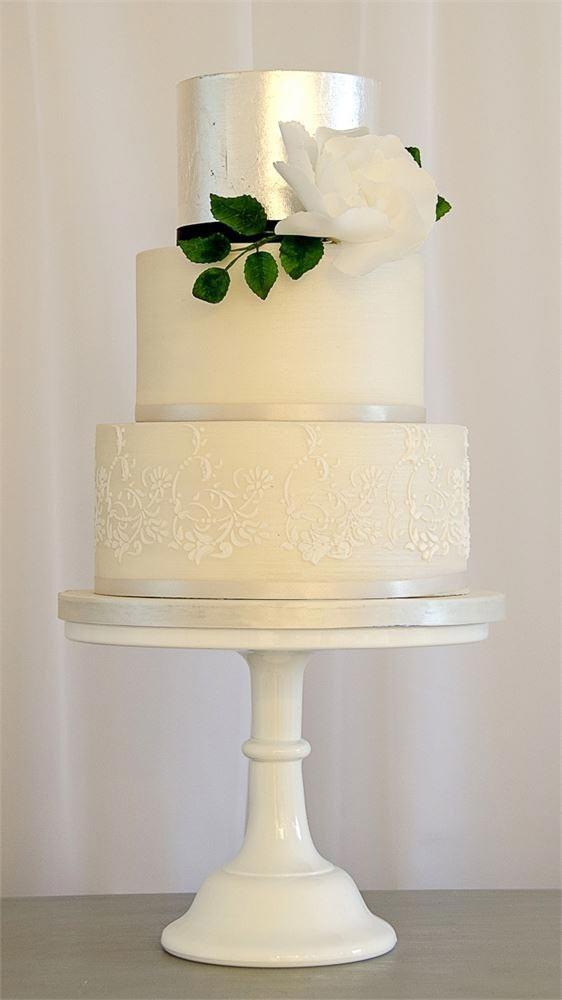 Personalise your floral wedding cake by adding your initials – this creation has been styled to look like a chalkboard and features a hessian trim, perfect for a rustic themed wedding celebration.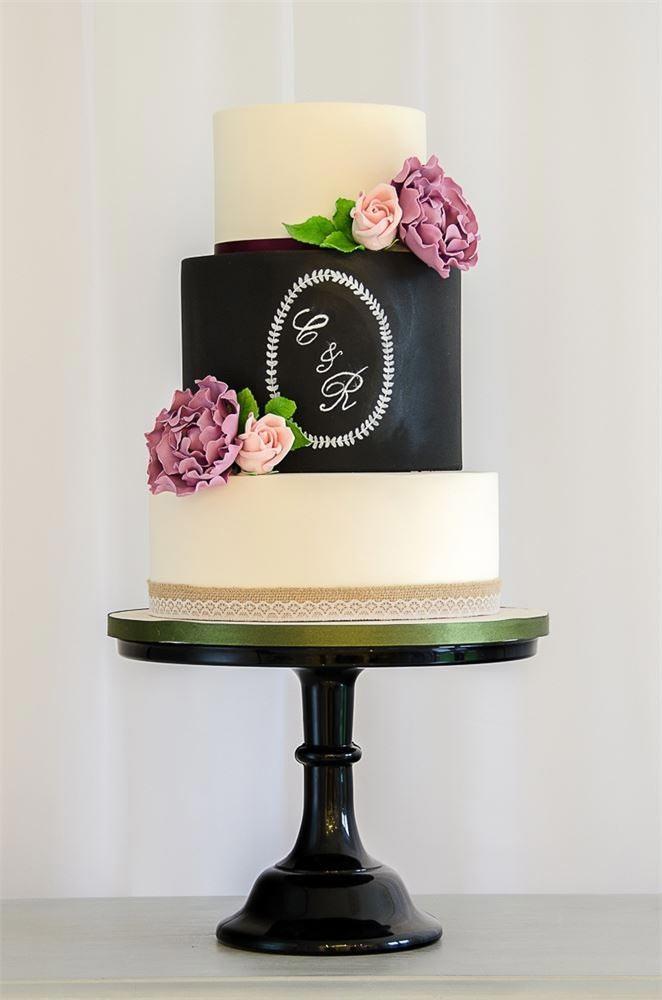 Cupcakes are a great alternative to the traditional wedding cake, and allow you to have a mix of wedding cake flavours so there's something to suit everyone. We love how these elegant cupcakes are topped with pretty white flowers with metallic centres.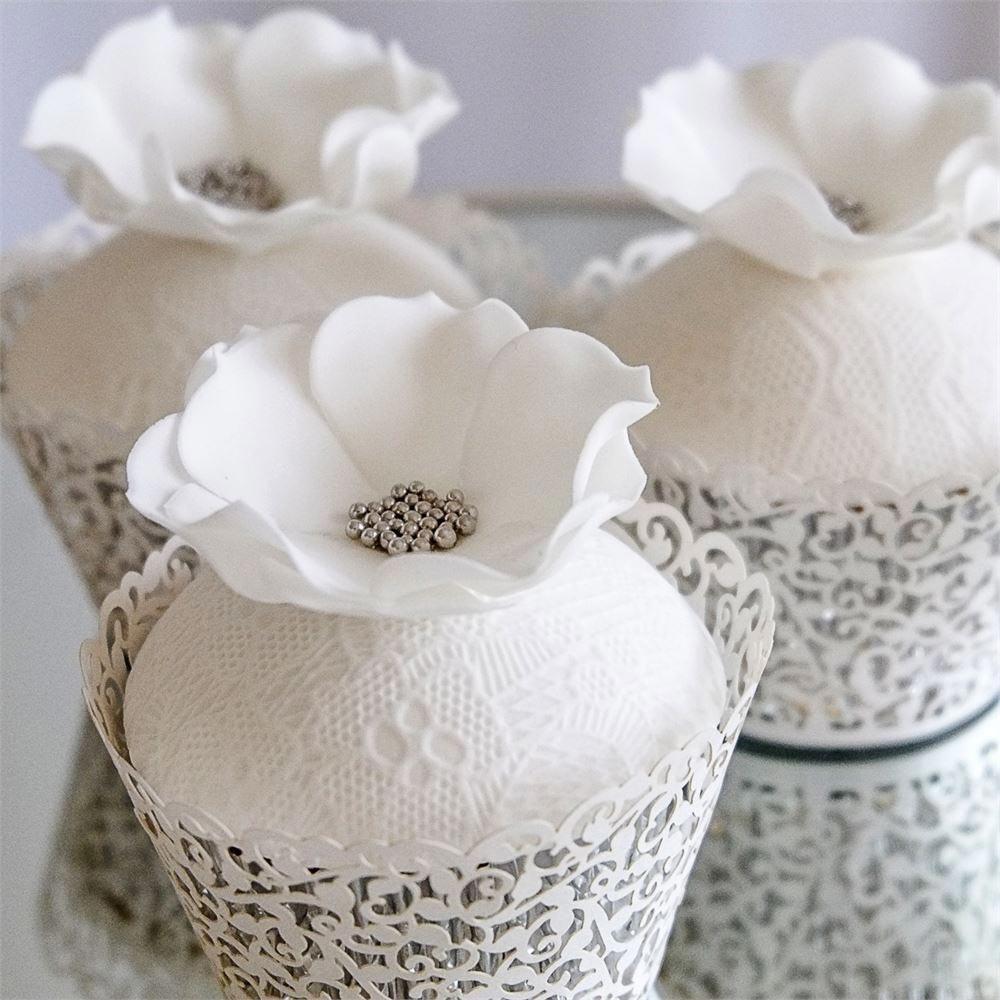 Cakes by Kit
Brides who are carrying a sunflower bouquet can match their blooms to their cake with this wonderfully summery wedding cake from Cakes by Kit.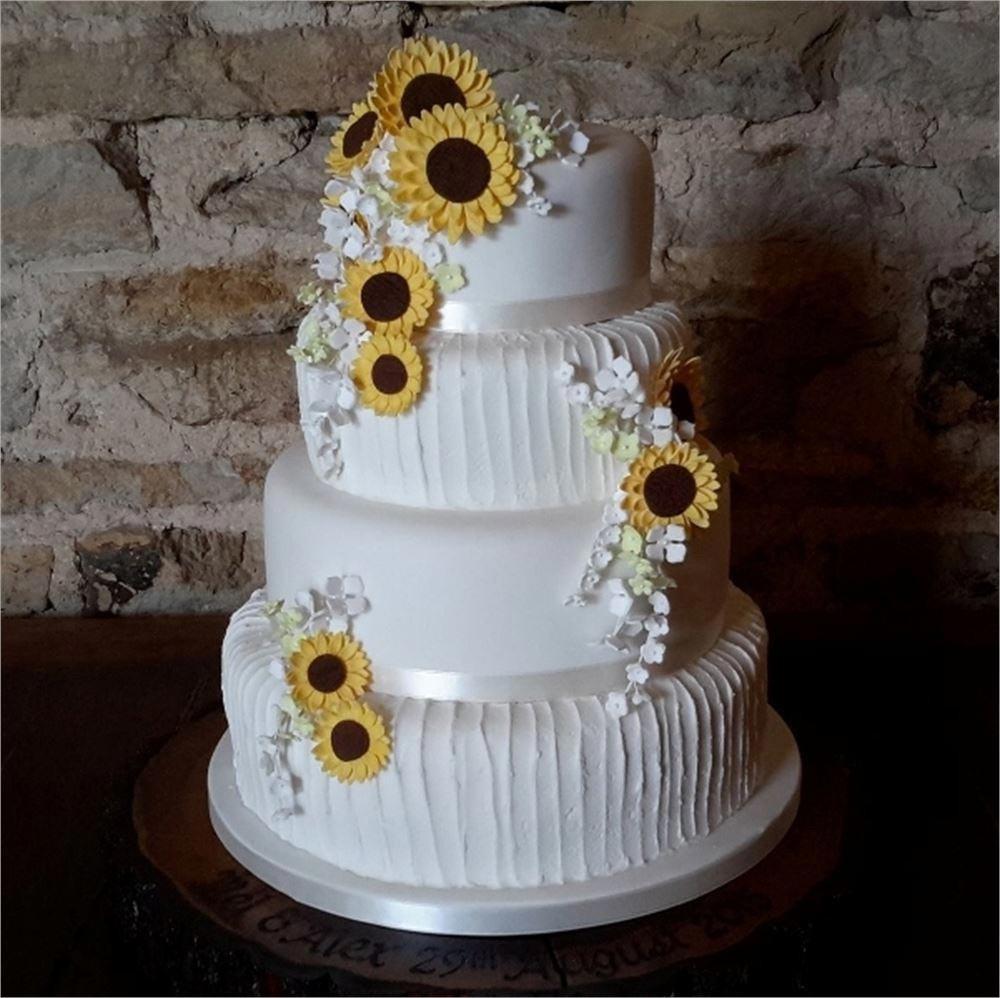 If you're looking for vintage wedding ideas, what about this pretty pale blue cake which features summer flowers and festive bunting that would look right at home at a wedding with a vintage theme.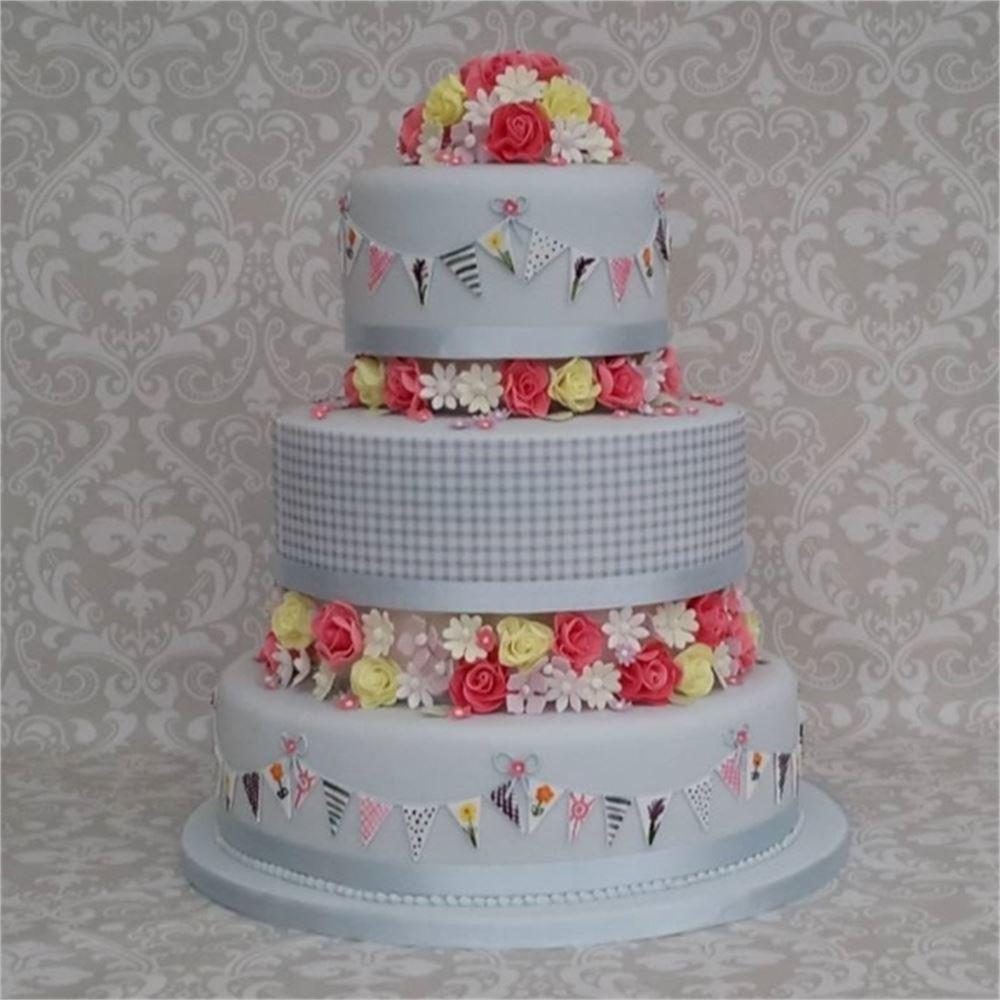 This pale green wedding cake is extra pretty – the tiny, pink tinted flowers scattered all over the cake add a delicate twist to the idea of adding flowers to your cake.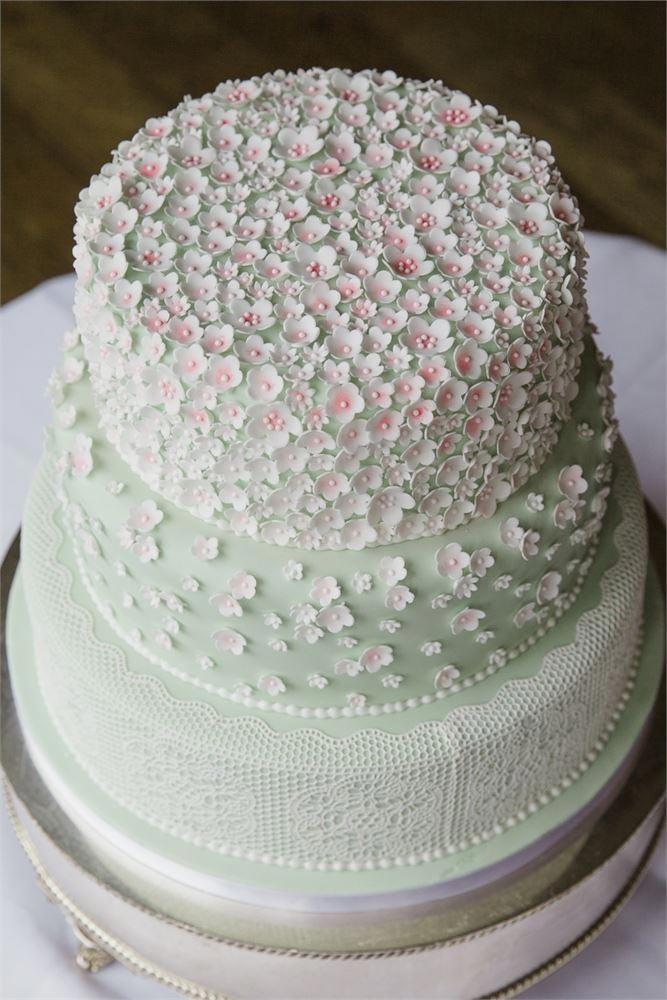 Couples who are having a spring wedding will love this wedding cake, adorned with branches, blossom and butterflies. It's a more unusual wedding cake and everyone will be amazed by it.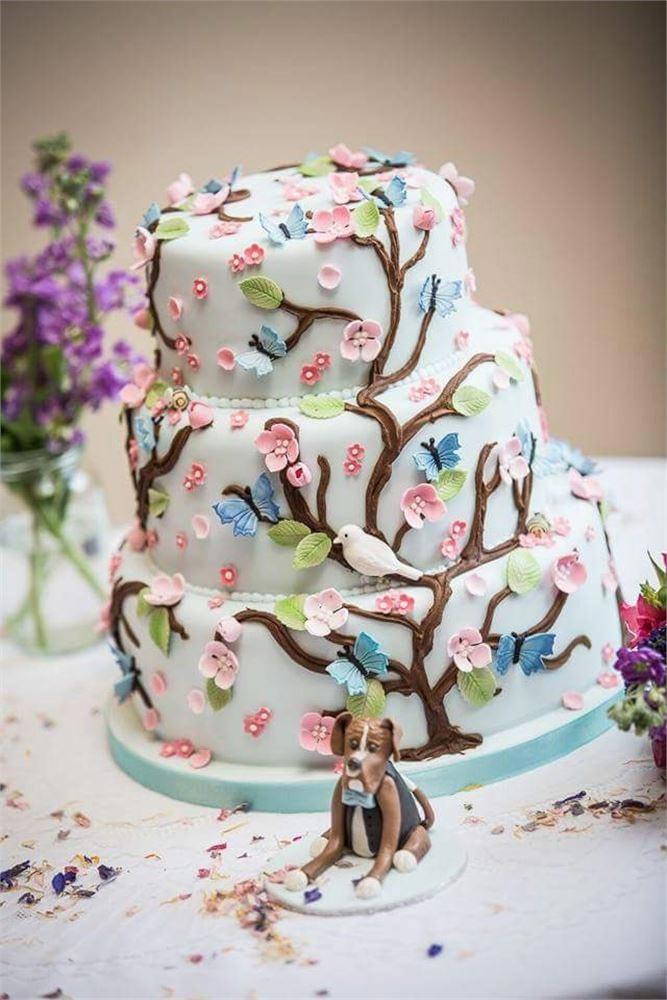 Those that like the idea of an unusual wedding cake will also love this bluebell and hydrangea inspired creation – the base tier looks as though it's made by hundreds of hydrangea blooms and the bluebell motif is good enough to eat. This cake is ideal for a wedding at a woodland wedding venue.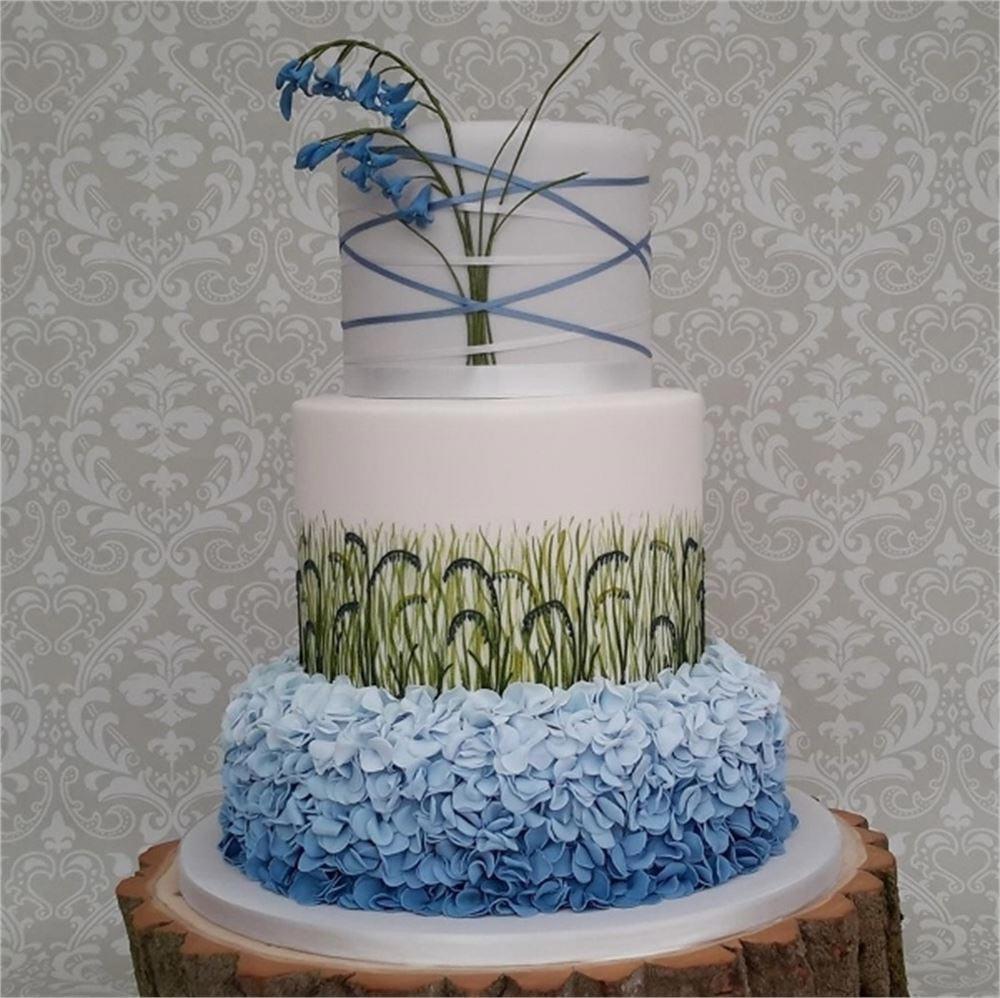 GC Couture
Floral wedding cakes don't have to be overpowering – we love the delicate daisy detail on this GC Couture creation. The bright yellow detailing paired with the subtle lilac is an unusual but eye-catching combo.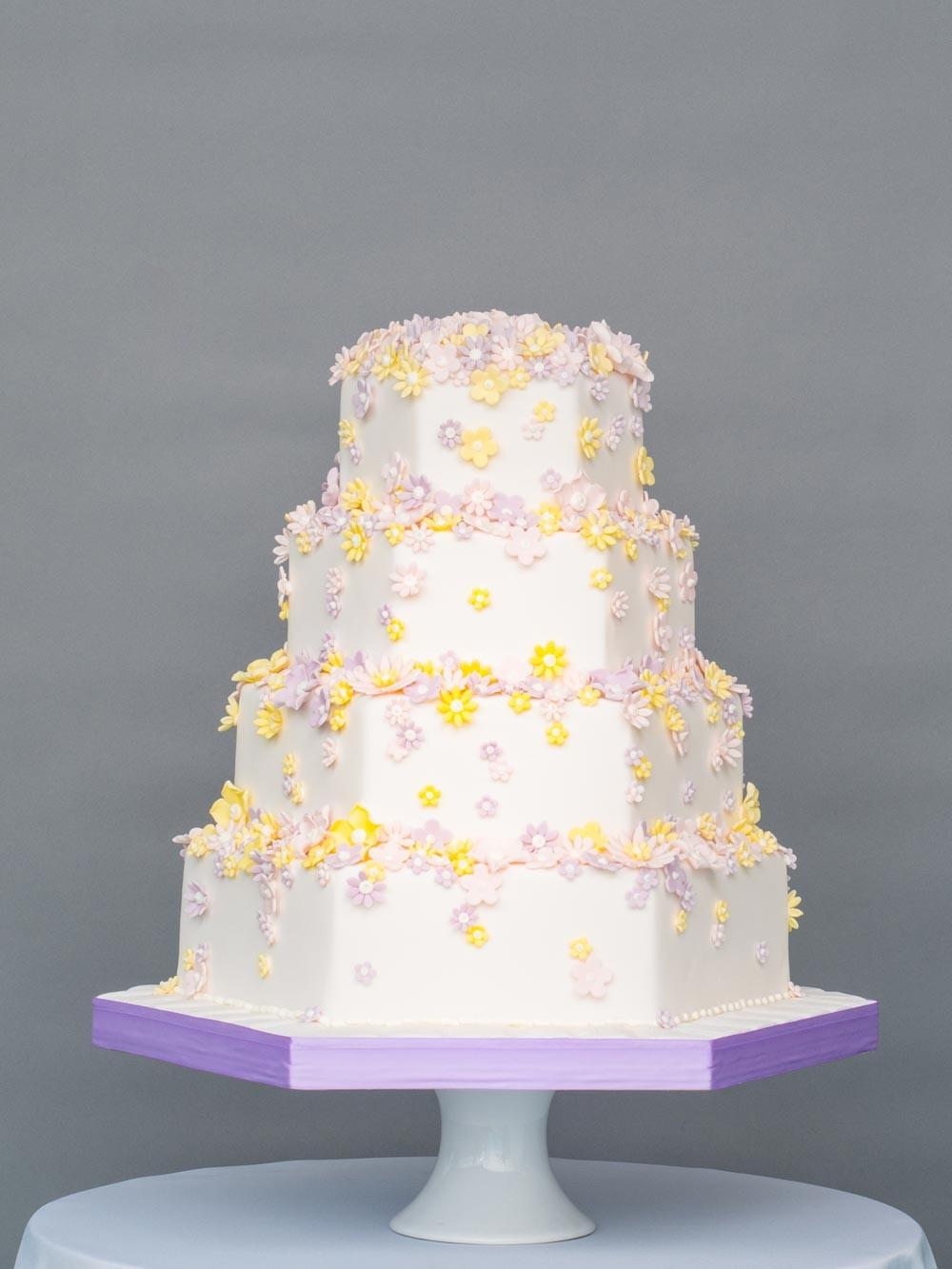 Credit: GC Couture – Beautiful Blooms
The Cheryl cake has a pyramid of pretty floral detailing which leads the eye up to the top of the cake. Make the most of this by picking a unique wedding cake topper to add the perfect finishing touch.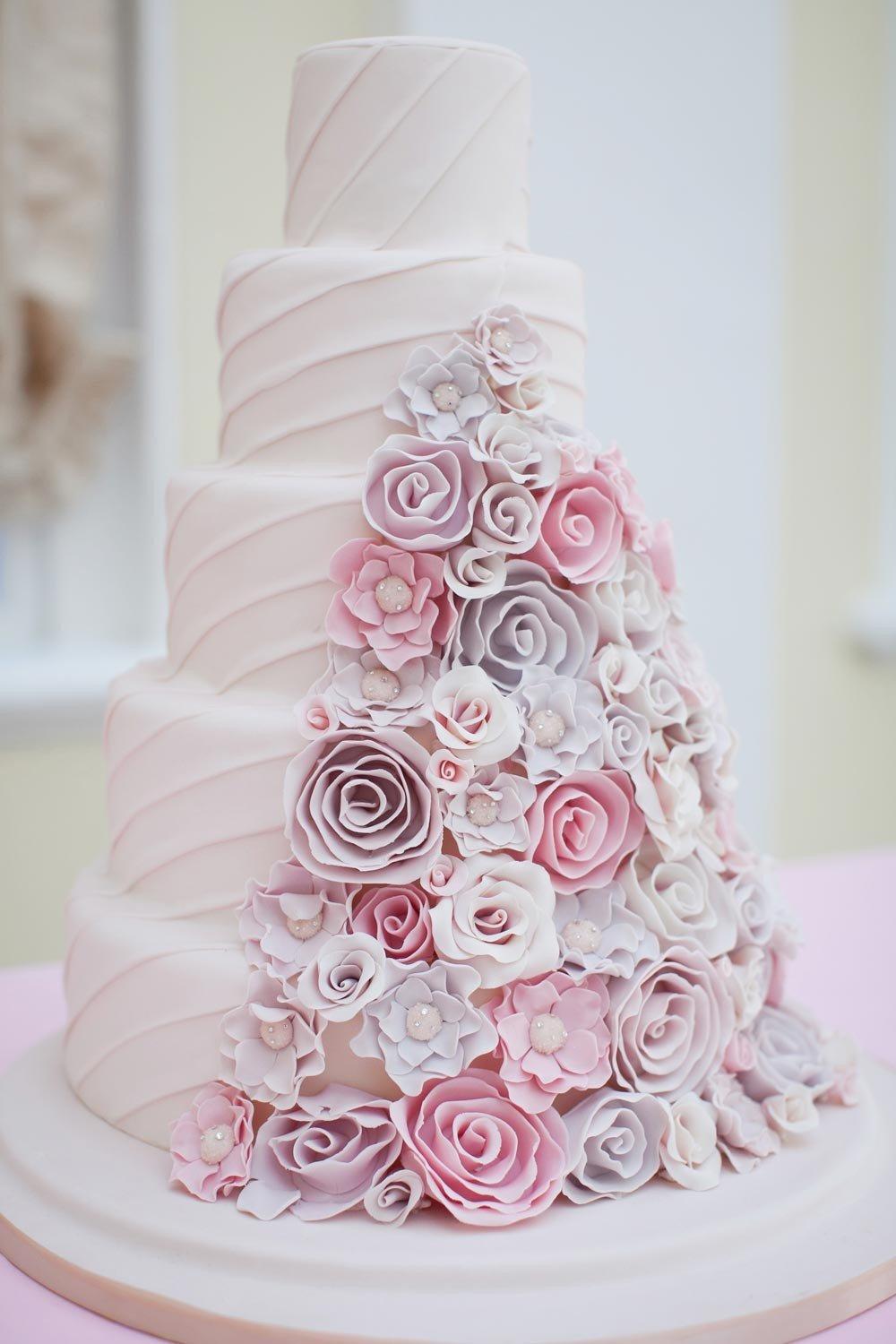 Credit: GC Couture – Cheryl
This pastel pink cake is perfect for a spring wedding – the colourful flowers would actually look stunning at an Easter wedding party. Add a chocolate cake filling if it is an Easter wedding cake!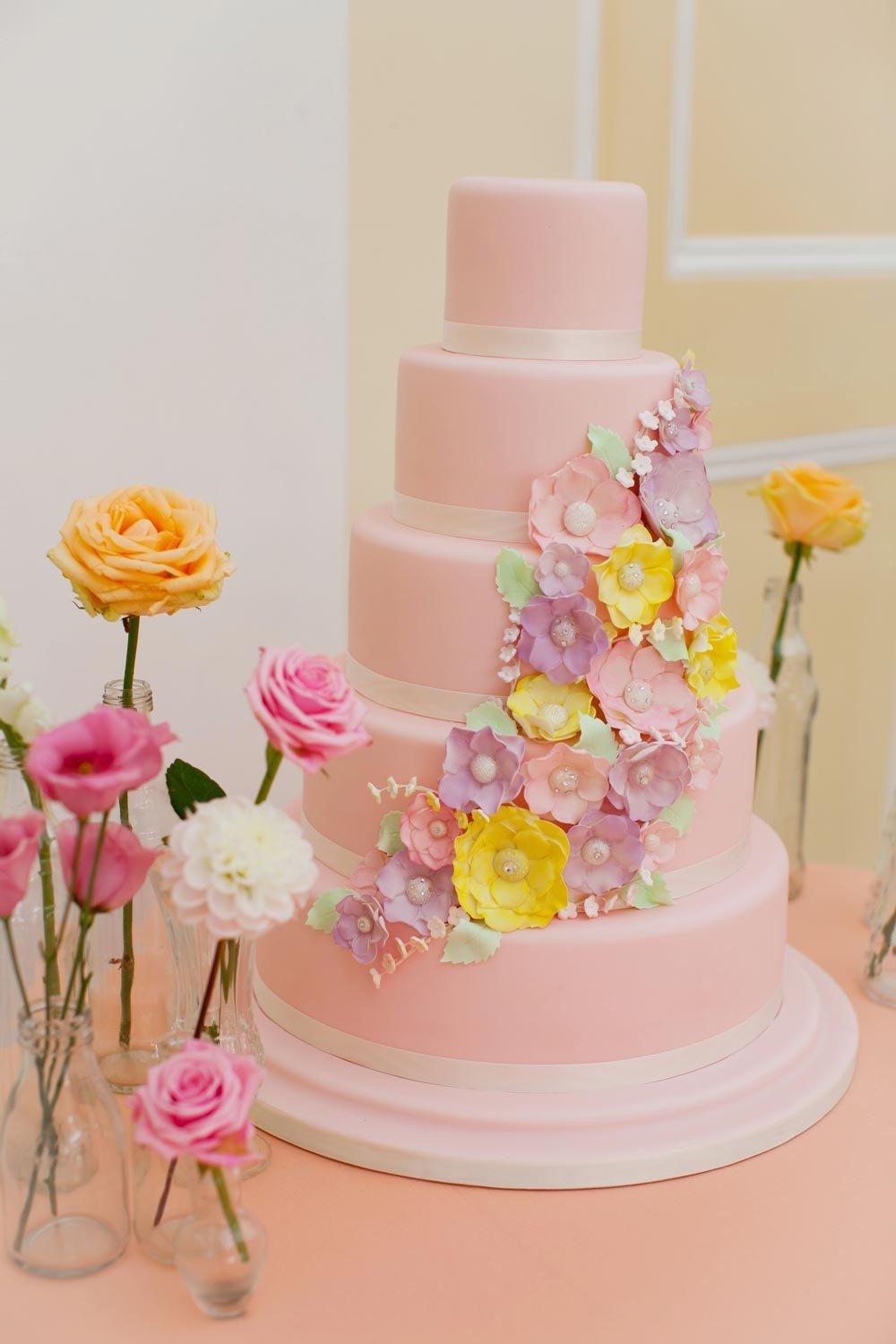 Credit: GC Couture – Cindy
Delight your guests as they take their seats for the wedding breakfast by leaving a beautiful flower adorned cupcake at everyone's place. Match the flower on the top to your wedding colours.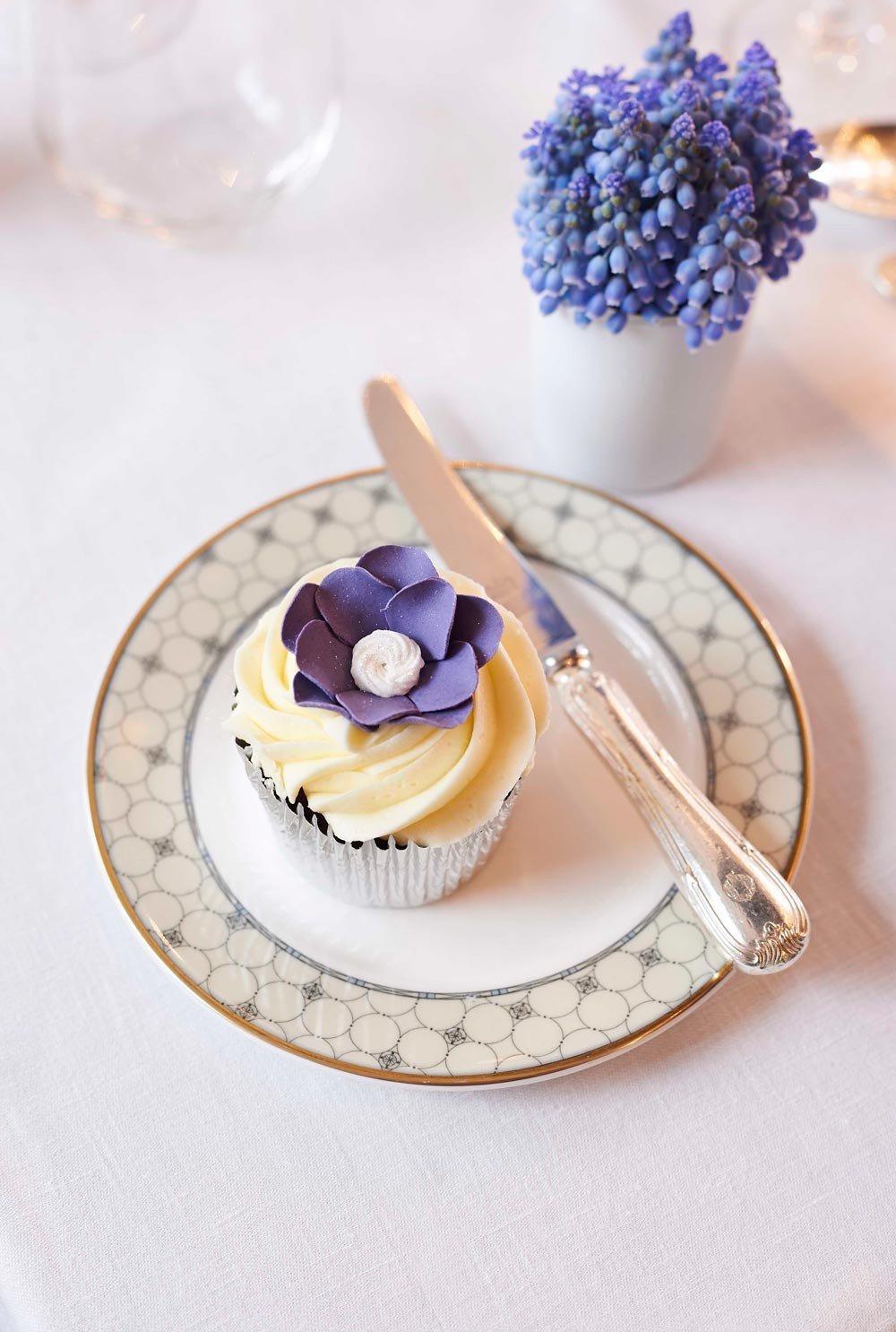 Glamorous brides and grooms will adore this Art Deco style wedding cake. The black and gold detailing is super-luxe and the flowers keep it from being too simple. Consider this cake if you've already picked out the perfect 1920s style wedding dress.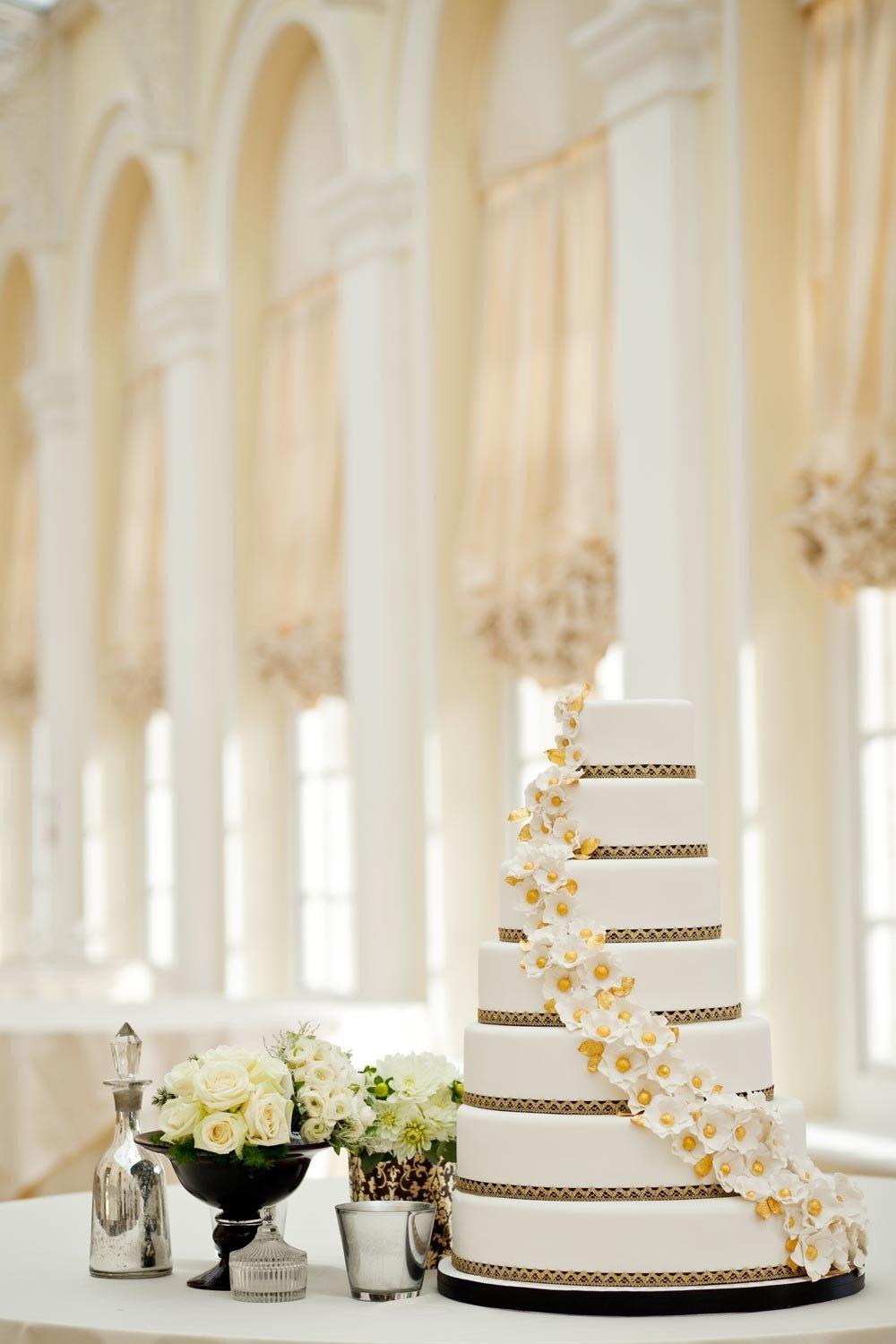 Credit: GC Couture – Madonna
Colourful couples will adore this yellow, pink and blue wedding cake. The pretty pearly detail, lace trimming and colourful flowers give the cake a quirky, retro feel.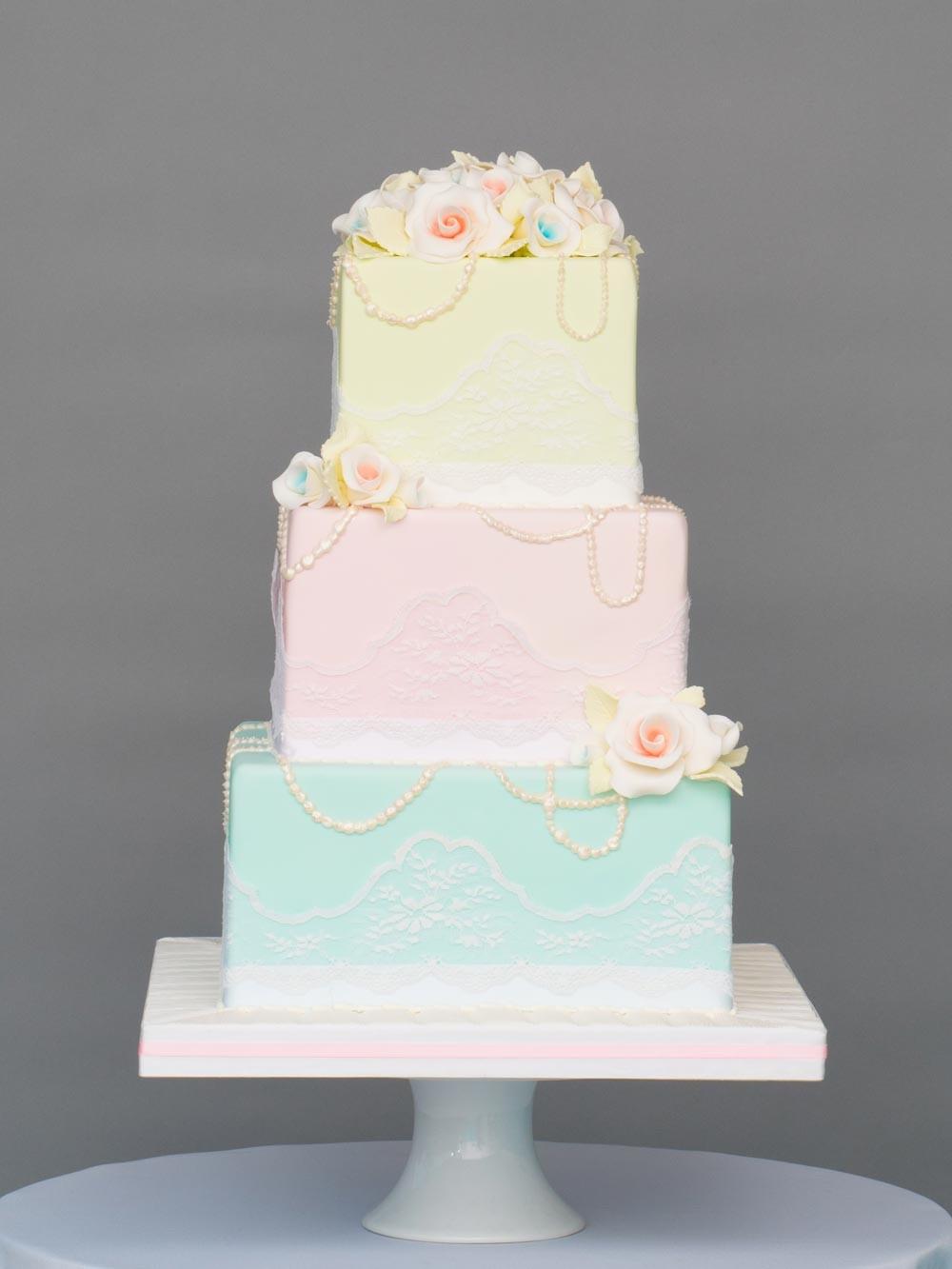 Credit: GC Couture – Spring Love
How incredible is this beautiful birdcage style wedding cake? It's ideal for a vintage wedding party but you might not want to cut into it. Browse our round up of the world's most amazing wedding cakes for more inspiring ideas.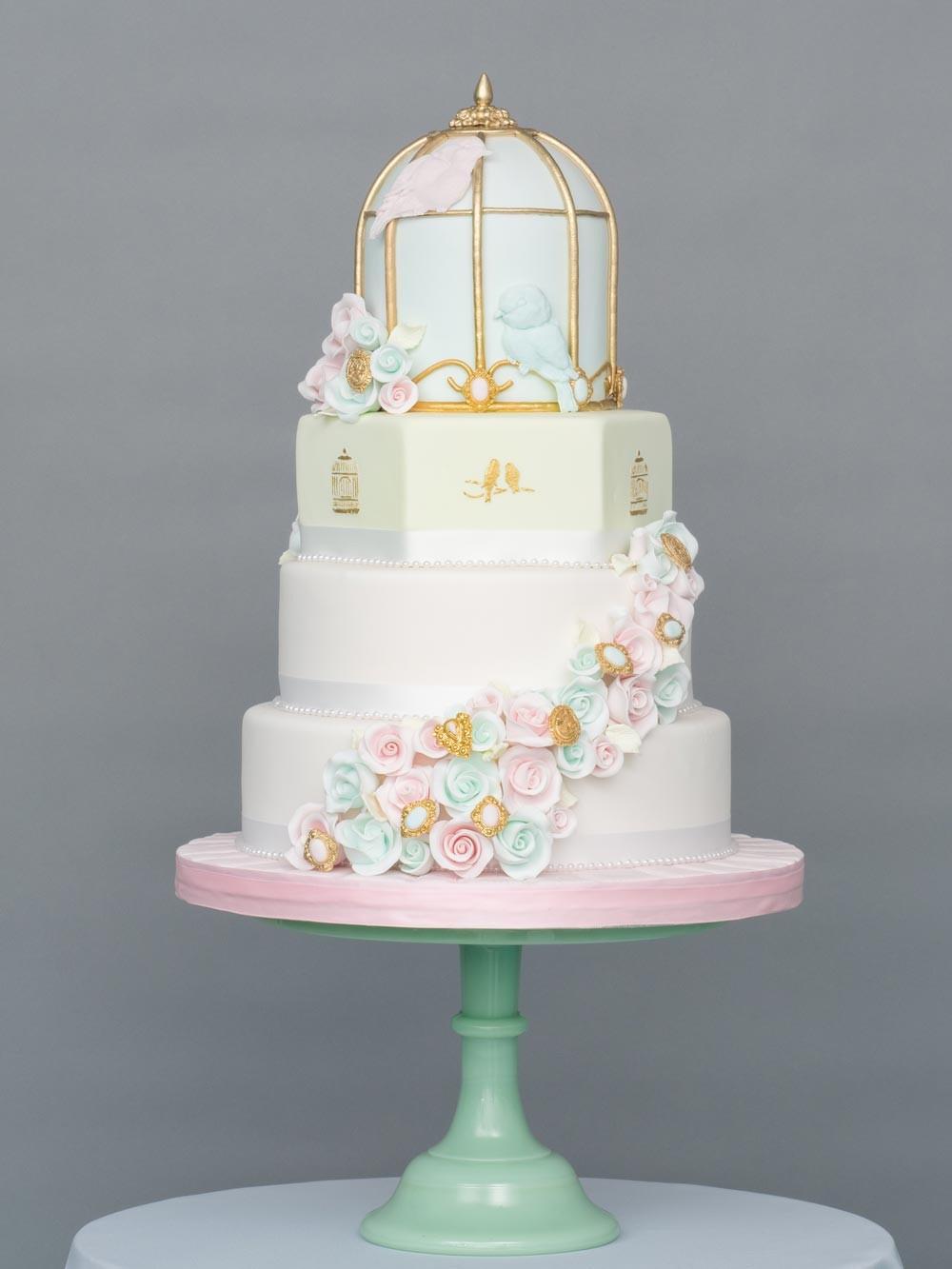 Credit: GC Couture – Springtime Sweethearts
Those after a more simple style will love the Stephanie – it's perfect if you've got a large wedding party as all the tiers will mean there's plenty of delectable cake to go around.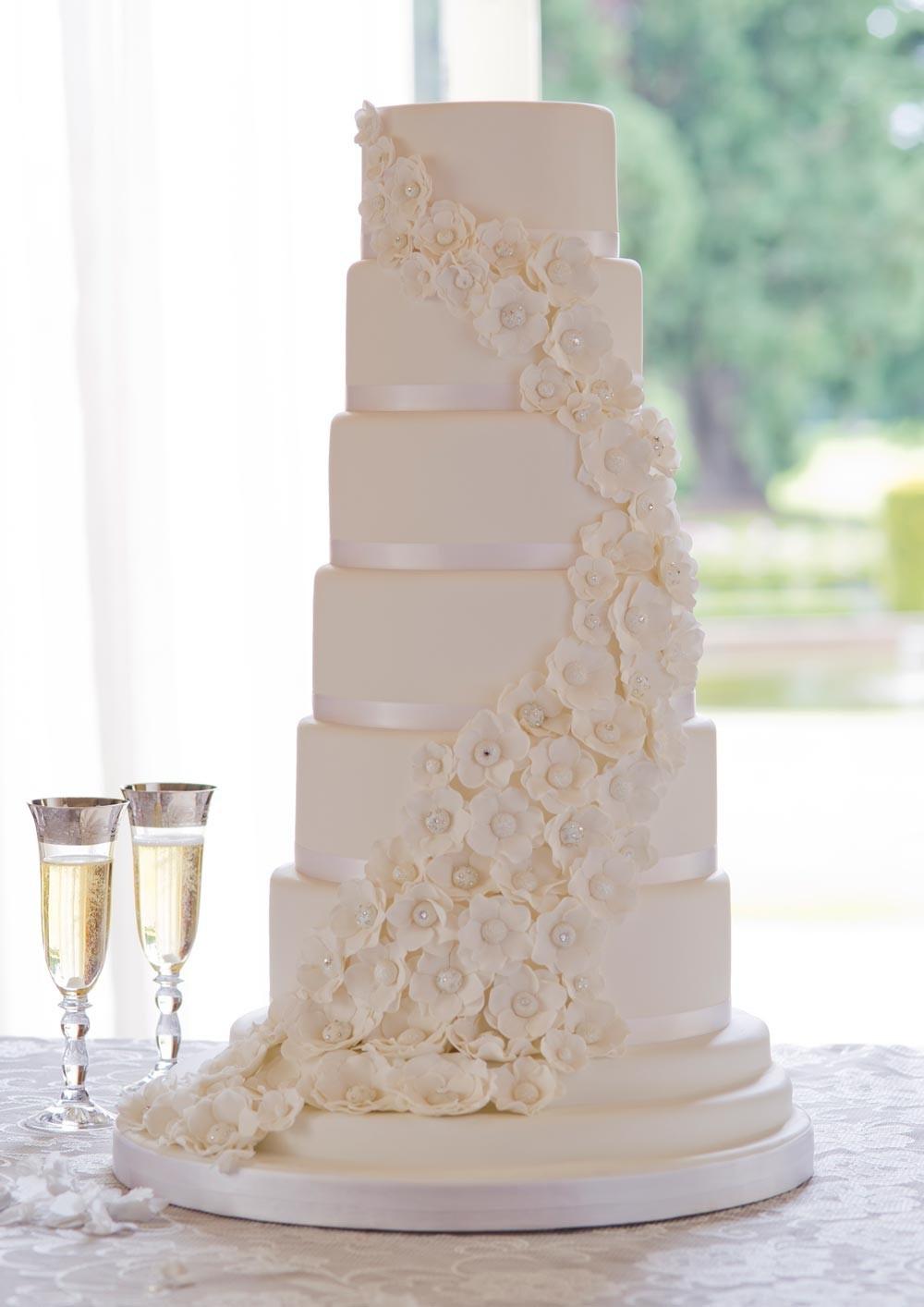 Credit: GC Couture – Stephanie
We can feel our mouths watering as soon as we look at this beautiful six tiered wedding cake, adorned with a cascade of flowers in pretty, summery shades. If you love the look but don't need that much cake, a key question to ask your wedding cake maker is whether they can add in some polystyrene layers for extra height.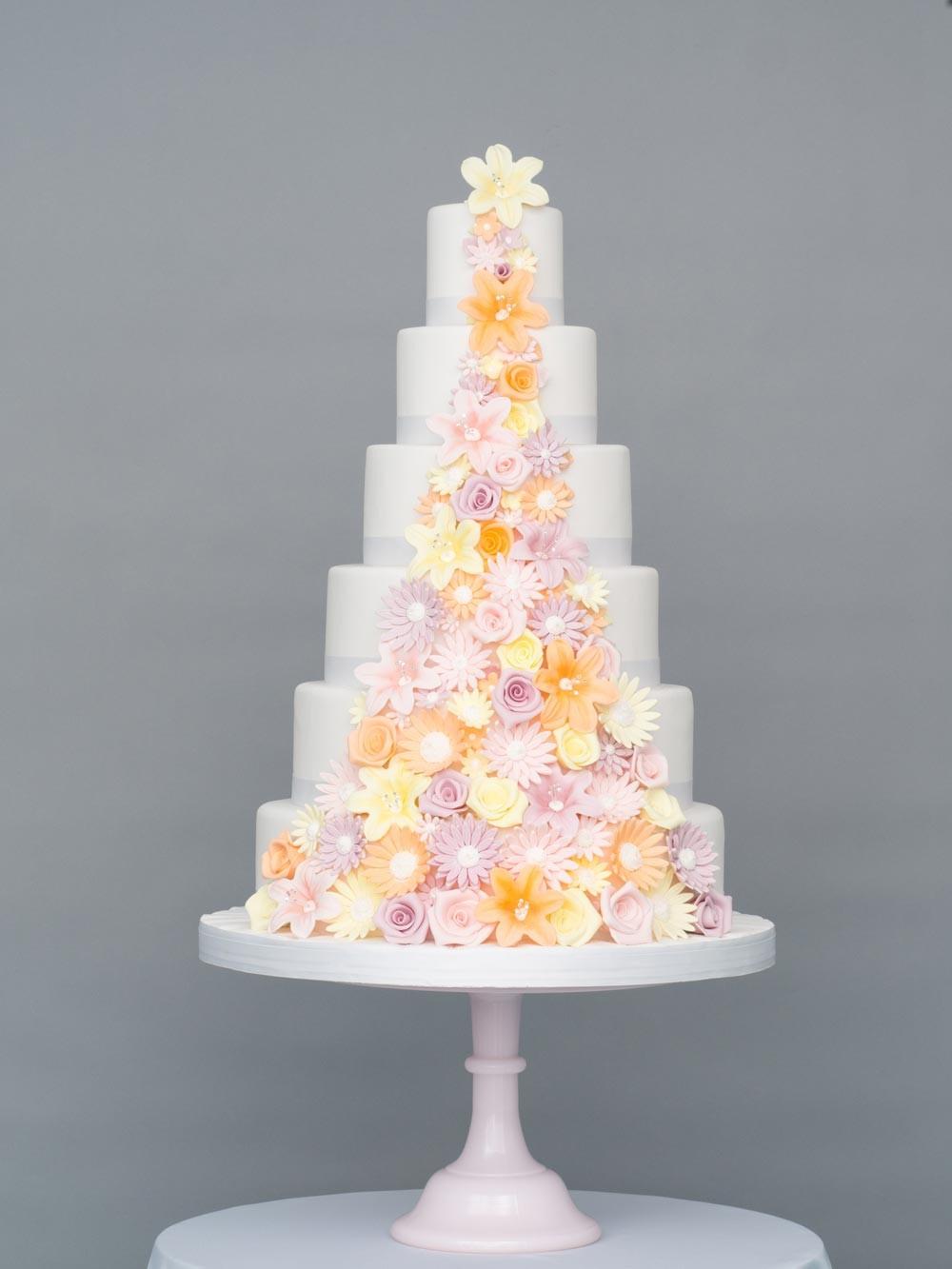 Credit: GC Couture – Summer Passion 
If your wedding cake has stands between each tier, decorate them with fresh or sugar flowers to dress up the blank space. We love the way this pink and white cake is displayed on a treat table with matching goodies and fresh blooms.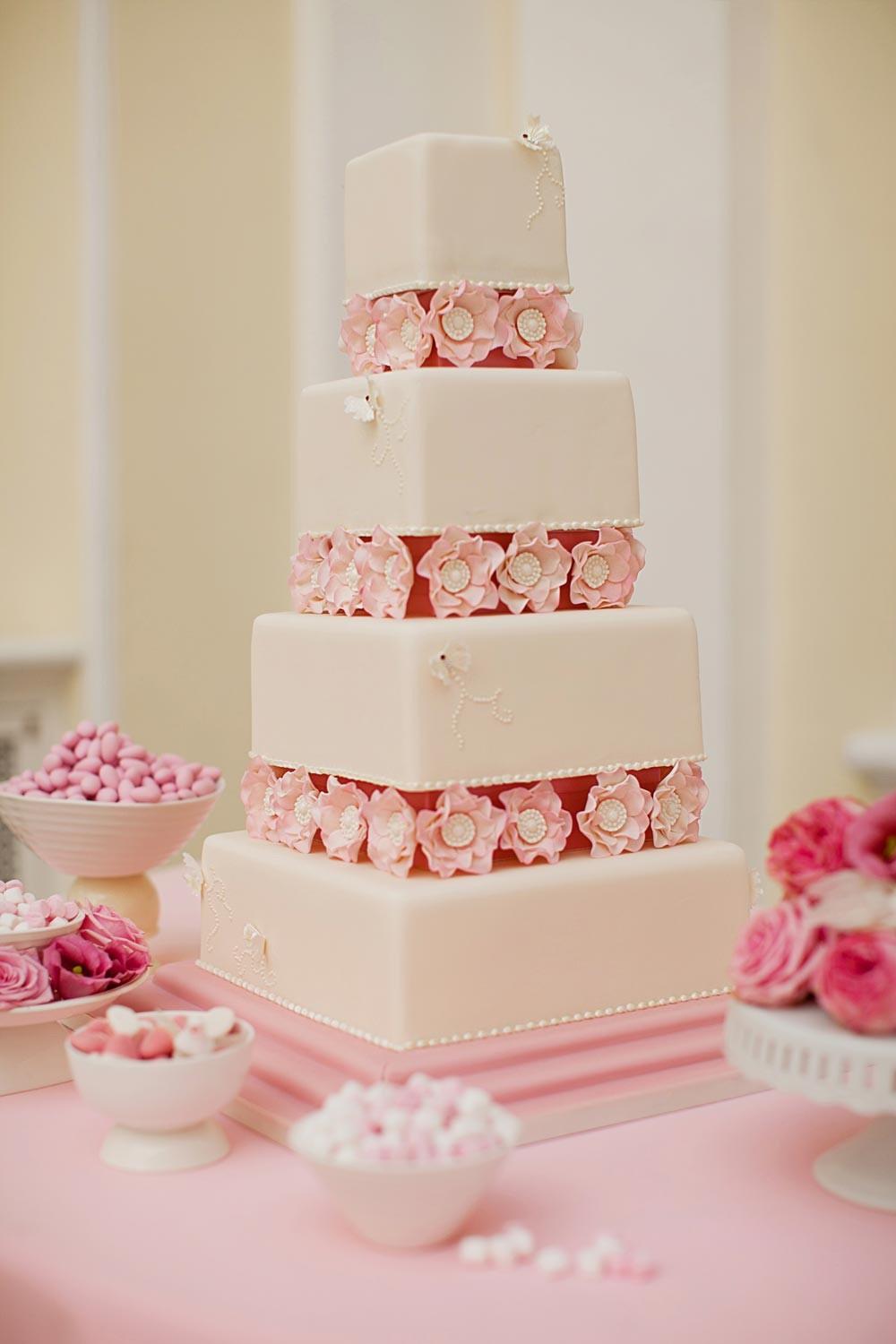 Credit: GC Couture – Whitney
Cocoa and Whey
Put a twist on the traditional wedding cake by dressing it up with a colourful cascade of roses that snake their way around the tiers, like this one from Cocoa and Whey. For a contemporary update, why not consider asking for the flowers to be in an ombre colour palette?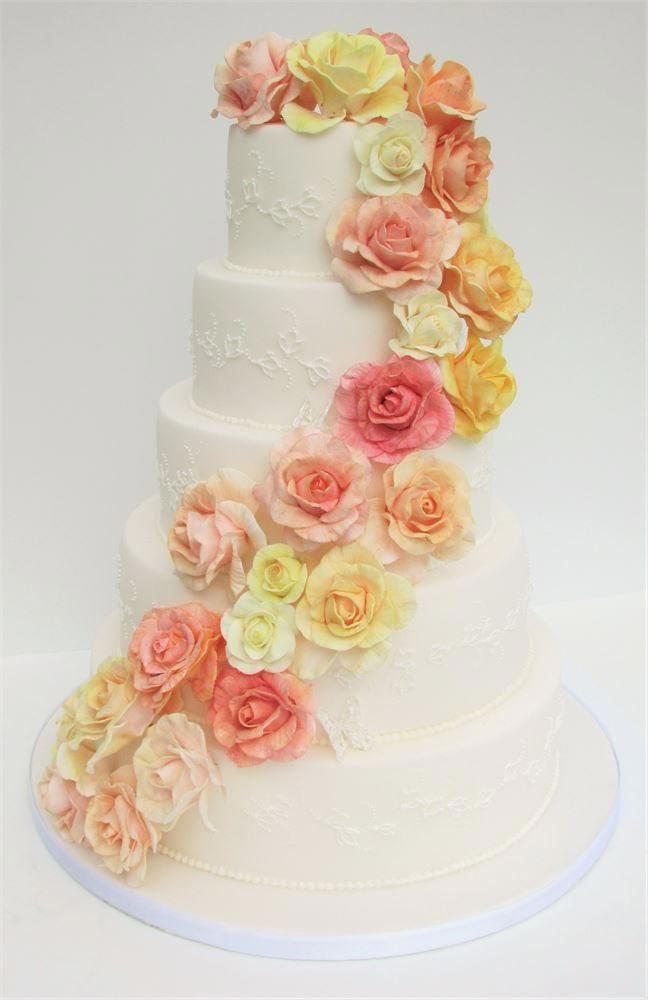 Elizabeth's Cake Emporium
If you're a fan of tradition, you'll love this beautifully decorated wedding cake from Elizabeth's Cake Emporium. Why not ask if the subtle lace detailing on the cake can match the lace of your wedding dress?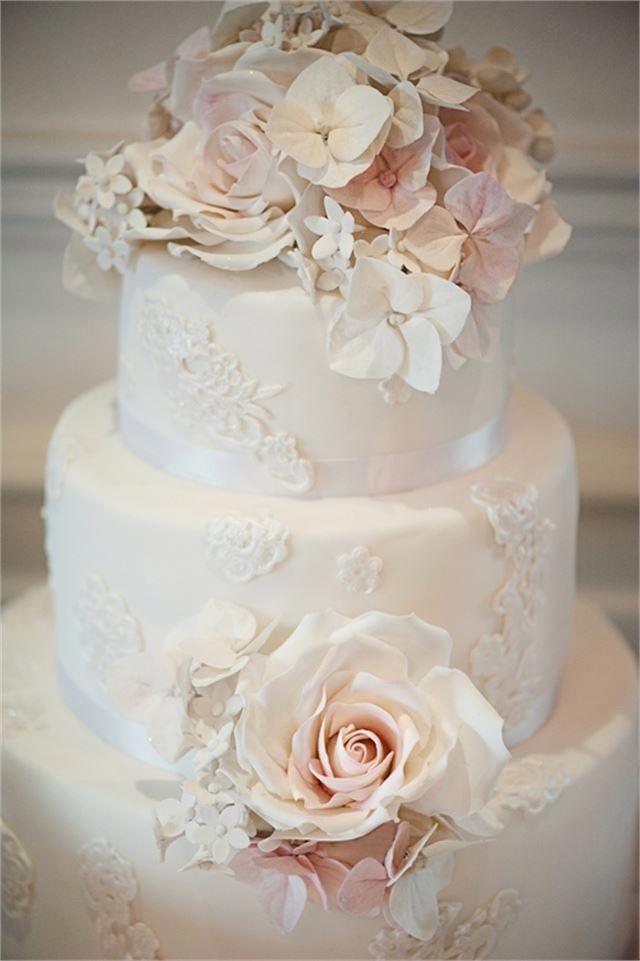 Fabulously Floral Cakes
Your guests will be left open-mouthed when they spot this orchid themed wedding cake, complete with a shiny silver tier, by Fabulously Floral Cakes.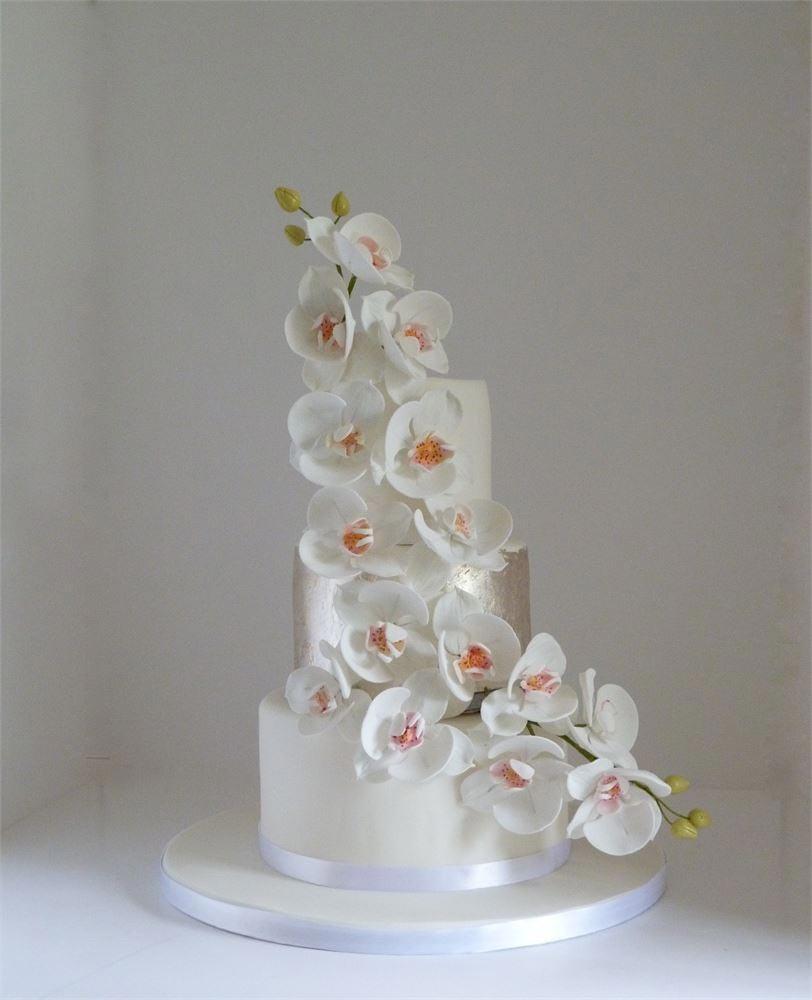 This elegant cake is perfect for a reception at a seriously glamorous wedding venue – the gilt frame gives the cake an expensive feel. Why not match it by displaying your table plan in a similar frame?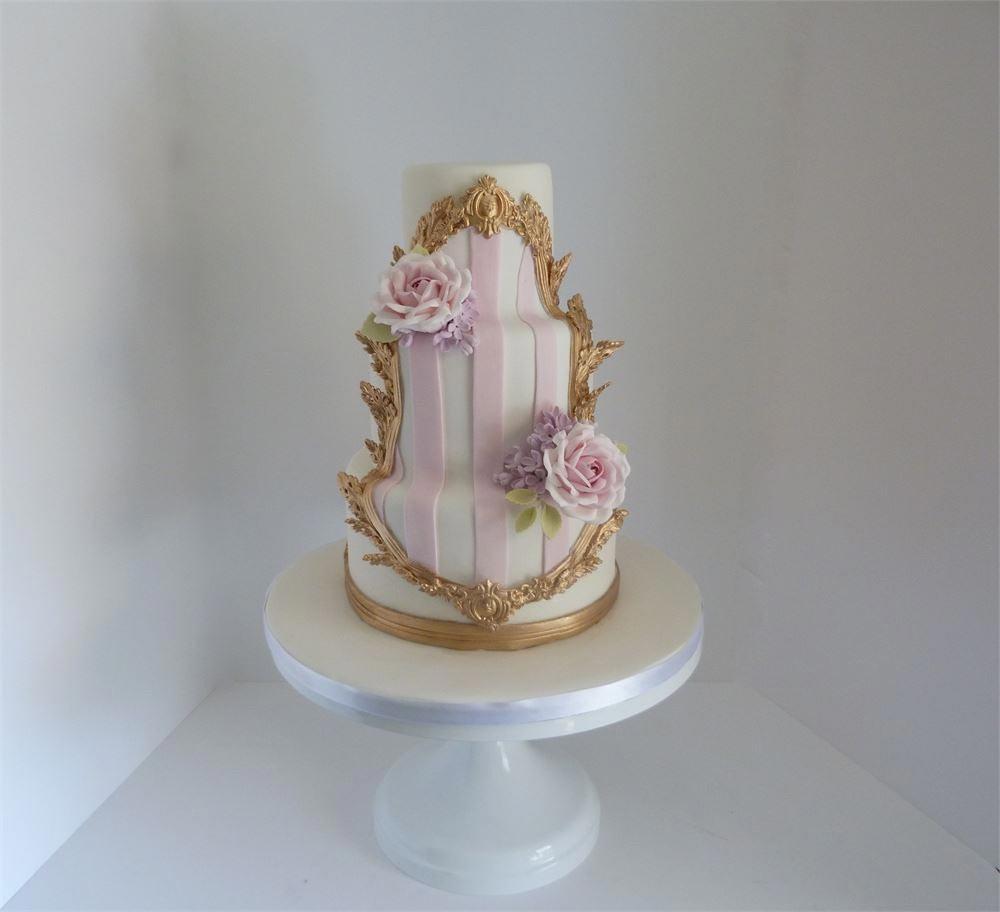 Ginger & Cacao
Arty couples will love this unusual wedding cake from Ginger & Cacao that looks as though it belongs in an oil painting. The rich colour palette is perfectly complemented by fresh flowers – pick blooms that match your bouquet.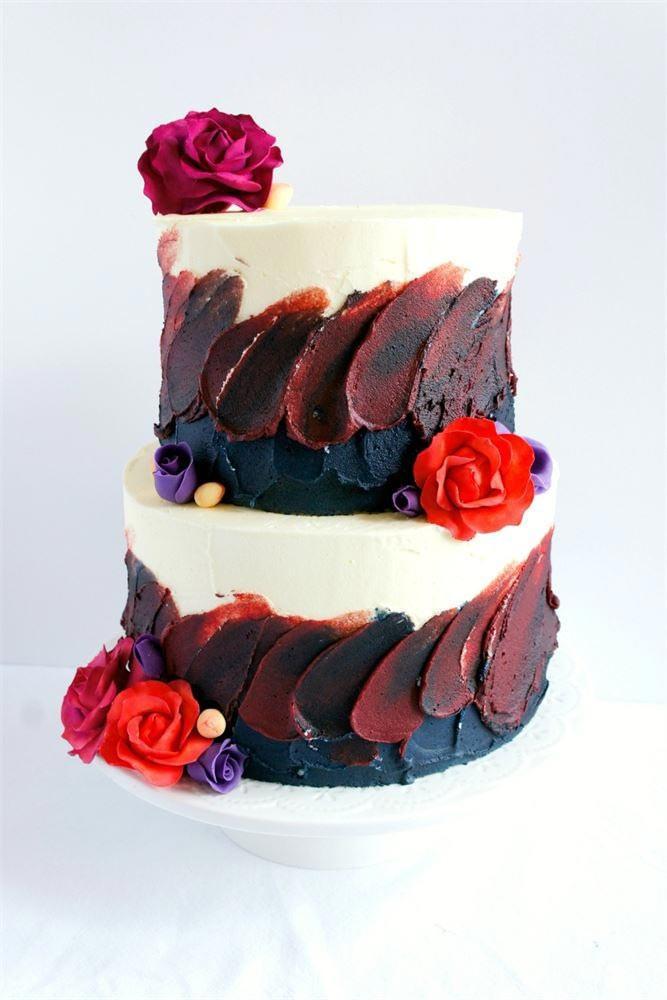 Jeanette's Great Cakes
Fans of flowers will fall head over heels for this ivory beauty by Jeanette's Great Cakes. The pomander on top of the cake is a great idea if you're looking for an unusual wedding cake topper idea.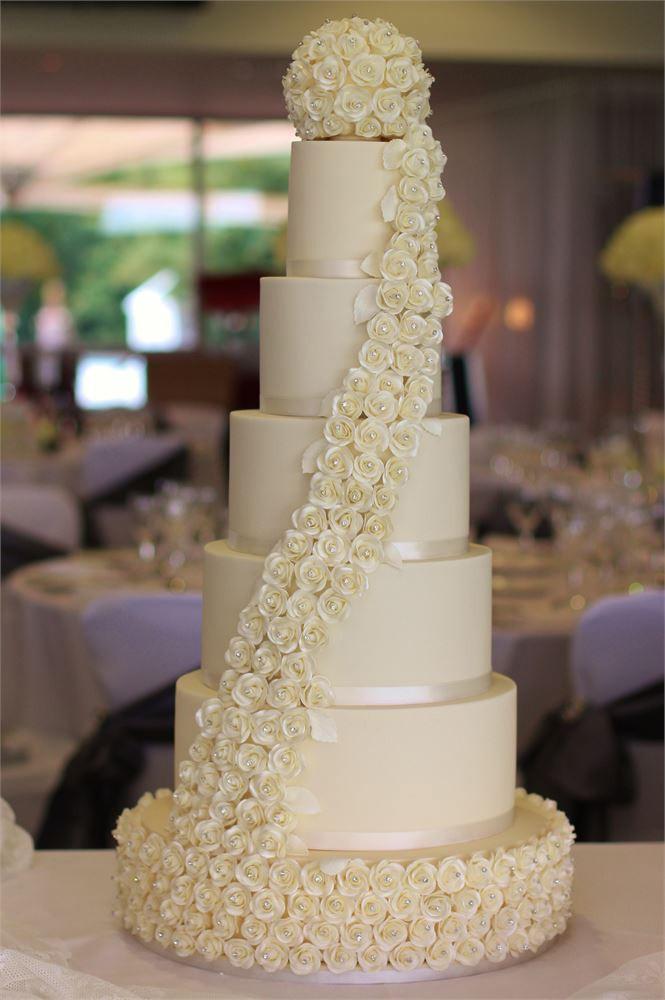 How cute is this yellow wedding cake covered in daisies? This is the perfect choice if you don't want formal fresh flowers or you feel like roses are too dressy for you.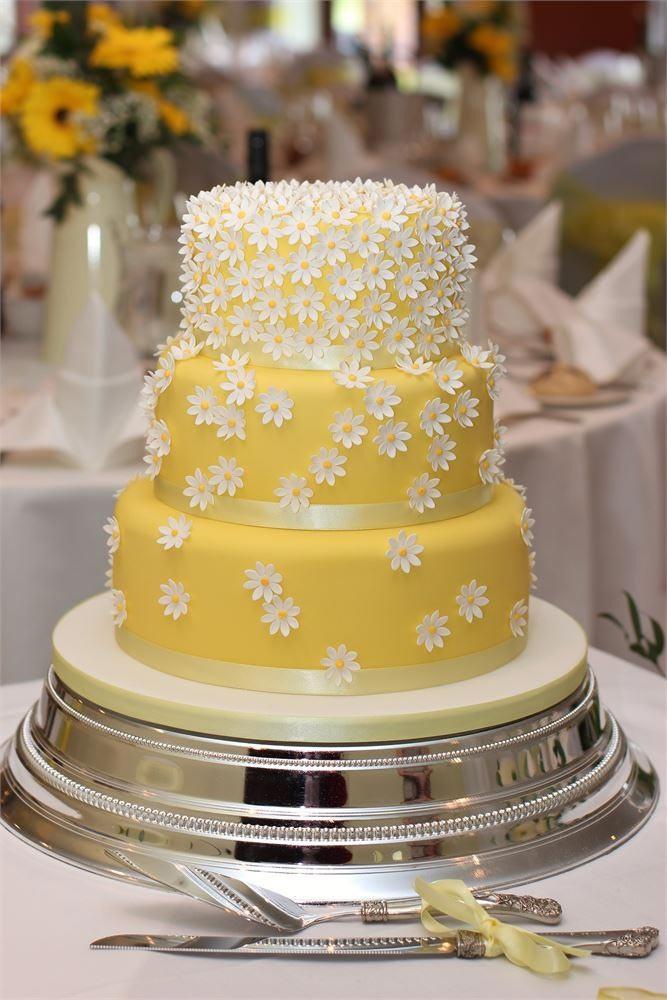 However, if you love the romance of roses, this lace and rose adorned creation is simply stunning. The grey tones will suit all colour schemes too.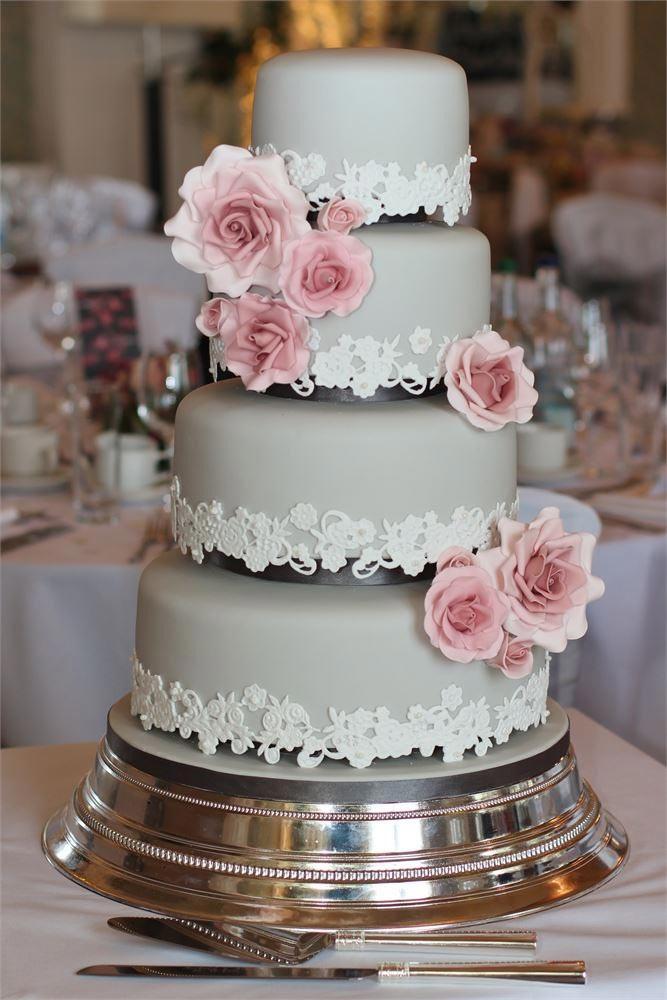 Bring your woodland wedding theme to life with this beautiful cake decorated with delicate daffodils and blooming vines.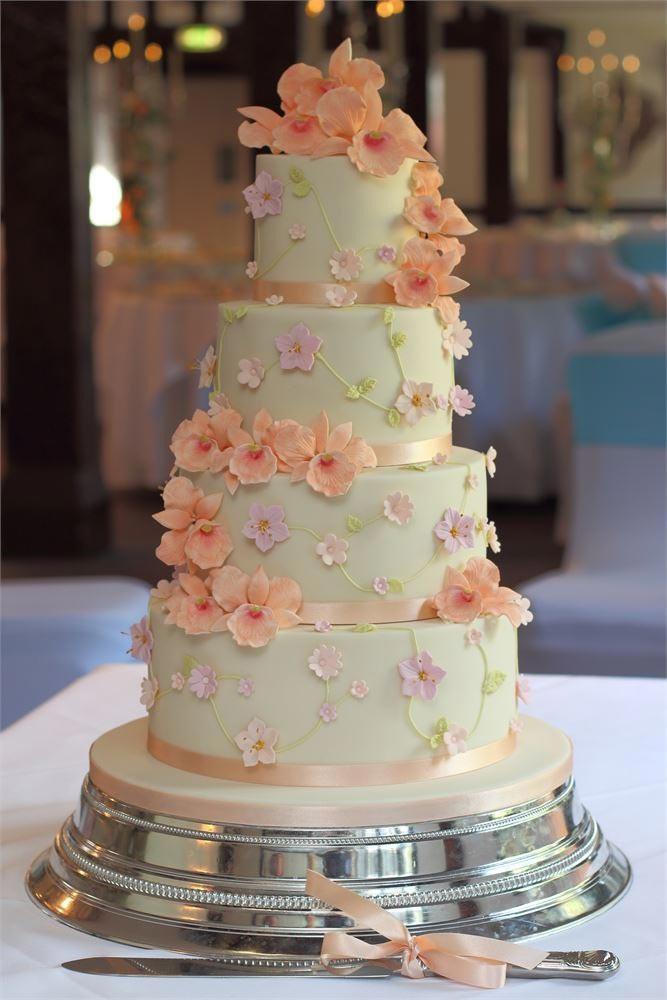 Once you've picked the perfect floral wedding cake, browse our edit of the best wedding cake knives to add to the 'cutting the cake' photo and to become your own family heirloom!