45 Winter Wedding Ideas for a Cosy & Chic Celebration
Here we have your one-stop-shop for planning the dreamiest winter wedding, with ideas, inspiration and decorations that'll help you realise your vision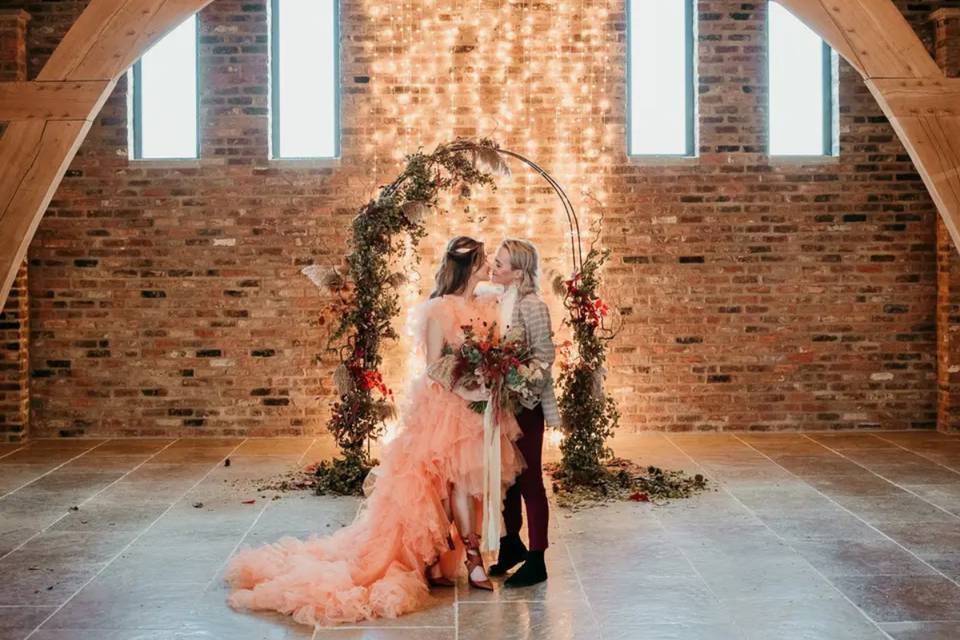 If you're planning a wedding in the colder months, it's likely you'll be on the hunt for winter wedding ideas to make your day stand out from all the rest. Sounds like you? If so, you're in the right place.
As well as bringing you all of the most unique wedding ideas and awesome wedding entertainment picks, we're also pretty good when it comes to season-specific inspo, and winter weddings just happens to be one of our favourite topics to talk about.
Whether you're planning a complete winter wonderland wedding and want all the ideas, or you're just looking for some winter wedding ideas to add to your already-amazing plans, you're bound to find inspiration here.
Winter Wedding Ideas, Themes & Decorations for a Winter Wonderland Wedding
We've got ideas for those planning a winter wedding on a budget, Christmas ideas for a winter wedding in December, as well as plenty of inspiration for those dreamy January and February celebrations.
We've even put together some of the coolest winter wedding themes for those who have no idea where to start, as well as winter wedding decorations for couples looking for festive finishing touches.
Prepare to cosy up to the dreamy world of winter wonderland of weddings...
Winter Wedding Decorations & Ideas
When it comes to winter wedding decorations and venue ideas, they don't get much better than the ones we've lined up for you. From hanging florals to candles galore, these winter wedding ideas will help you to transform your venue into a festive wonderland.
1. Floral Winter Wedding Arch
Nothing says winter themed wedding quite like winter flowers - it's one of those things you can incorporate into a winter wedding in December, January or February - and to take it to that next level, we love the idea of asking your florist to arrange them into a gorgeous floral arch for you to get married in front of.
This winter wedding arch at The Oakwood at Ryther is the perfect example of how winter-themed blooms can completely transform an altar. The florist here has paired crisp foliage with netral dried flowers to create the ultimate wintery decoration - we're obsessed!
2. Hanging Florals
While we're on the topic of flowers, it'd be criminal not to share the hanging florals here at Dewsall Court. Using winter-themed green foliage and hanging it from the ceiling of your wedding venue can completely transform a room, turning it into a winter wonderland wedding setting.
By hanging florals from the ceiling, you give the illusion that the room is smaller, making it feel cosy and festive, and it also means you have less work to do decorating the tables, as you want to avoid having too much going on.
3. Woodland Decor
From hanging foliage which covers the whole ceiling, to something that's quite the opposite, but has just as much of an impact. At The Tythe Barn Launton, the venue have decorated their brick barn with arching twigs and branches to create a winter woodland feel, and we absolutely love it.
The delicacy of the branches makes for an understated nod to a winter wedding theme and ties in perfectly with the dainty fairy lights.
4. Fairy Lights
Fairy lights, as you will probably know, are absolutely incredible at creating an atmospheric vibe in any room, especially at winter. Nothing says festive quite like twinkling lights that remind us all of our Christmas tree, so take our advice, if you're planning a winter wedding in December, make sure your venue has some fairy lights on hand.
We adore the fairy light display at The Normans - they're known for the incredible light backdrop at the end of their altar, it's so impressive.
5. Festive Light Installations
The Oakwood at Ryther also has an impressive fairy lights backdrop, but what really caught our eye were the unique light installations which hang above the aisle. Hanging light decorations like this can transform any venue into a winter wedding setting and will look amazing in your pictures.
6. Light-Up Baubles
Another example of gorgeous lighting at winter weddings is this display of light-up baubles at Dewsall Court. Here, they have combined the light-up baubles with fairy lights and foliage, but the baubles alone would elevate any winter wedding theme, and the subtle nod to Christmas makes it the perfect decoration idea for couples planning winter weddings in December.
7. Bow-Back Chairs
If you're having a winter wedding in December and want to pay homage to the festive season (without doing anything too literal), why not add sweet bows onto the back of your chairs - wrapping them up like presents under the tree? We love the rich rust-orange colour used on these chairs at South Causey Inn, as they contrast perfectly with the dark black colour of the chairs.
Having a colour as warm as this helps to create a cosy ambiance, and it's a great idea for anyone planning a winter wedding on a budget, as tying these bows is something you can totally do yourself with shop-bought ribbons.
8. Winter Wedding Chair Flowers
For a more natural wedding chair decoration look, consider adding winter flowers and foliage to the back of your chairs. We love the way these rustic wedding chairs have been decorated at Swancar Farm Country House - the pastel green colour of the leaves suits a winter wedding theme perfectly and the bride's foliage crown ties in perfectly.
9. Candles, Plenty of Them
We've all heard of tablescapes, but let us introduce you to candlescapes...
Getting the table decor at winter weddings right is vital to nailing the theme, and one way to ensure the perfect amount of ambiance is to line your tables with candles, and lots of them! Candles give a room an instant wintery feel, and we love the way that wedding planner Ella Hartig has paired tall candelabras with smaller tea lights, filling the room with the feeling of romantic flickering lights.
Top tip from us - use candles with wintery scents like cinnamon, mulled wine and pine for the ultimate winter wedding feel.
10. Faux Fur Warmers
If you're planning a winter wedding in a barn or semi-open space, you may worry that your guests will get a bit chilly - but one (very stylish!) way to overcome that is to add faux fur warmers to the back of your chairs, just like the ones here at The Dragon's Gate.
Whether you opt for individual fur warmers, or cosy blankets for guests to share, it's a great way to keep everyone warm whilst still in-keeping with your winter wedding theme.
11. Fresh Mistletoe
What better way to pay homage to a winter wedding in December than adding a flirty sprig of mistletoe to your place settings? We love this idea from Ambience Venue Styling of using fresh foliage to adorn guest place settings - it's such a small detail that makes the world of difference.
They have used a different bloom, but for winter wedding themes, we reckon you should add a bit of mistletoe to your tablescape and encourage your guests to spread them love. It's a great ice-breaker and your single friends may thank you for it...
12. Winter Berry Decor
You could spend a fortune on lavish, elaborate winter table decorations, we're here for that. But, if you're planning a winter wedding on a budget, look to fresh (or faux!) winter berries for table decorations. This spread, put together by Disco Dining, proves that simple centrepieces can pack an equally impressive punch when done right.
13. Rugs, Rugs, Rugs
You may be thinking, rugs? At a wedding? Really? Yes, really. In fact, adding rugs and soft furnishings to winter weddings works both practically and aesthetically. Practically, it warms up the room, which can be especially handy if you're getting married in an industrial venue which gets cold in the winter.
And aesthetically, it helps to create a really warm, cosy atmosphere, making your venue feel like a super fancy home away from home. It's also a great way to add colour to a winter wedding venue without it costing you a fortune. These red toned rugs at The Dragon's Gate venue really complete the look here.
14. Statement Staircases
If you want a serious 'wow' moment at your winter wedding, work with your florist and venue to create a statement winter wedding themed staircase for you to make your grand entrance on. We're in love with what the team at Caribou Events have done here - it's a real show-stopper.
Not only will this cement your winter wedding theme, but it'll also act as an amazing picture moment for your guests to snap some killer shots - once you've got yours, of course. Choosing crisp, white flowers which suit the season will make all the difference here.
15. Cosy Chill Out Zones
Make your guests feel at home at your winter with a cosy chill out zone for the evening do. How cool is the nest bar at Dewsall Court? It's perfect for evening drinks under the stars on a crisp winter day - it's the kind of hangout that would feel cost even at a winter wedding in February!
The fur blankets and festive lighting make it feel cosy and cute - something which you could do to almost any hang out zone to transform it.
16. Frosted Signs
When you think about the weather at winter weddings in January and February specifically, you think of frost and ice, and one way you can bring this into your wedding is by using frosted perspex for your wedding signs and stationery.
These signs by Inketch Ltd pair a translucent, frosted background, with simple white text to create the ultimate winter wedding signs. This couple have used this for their welcome sign, table plan, table numbers, guest book sign and more.
You could even take this one step further and have frosted tissue paper incorporated into your wedding stationery so it ties in with what you want to do on the day. We do love a bit of matchy-matchy.
17. Winter Wedding Bouquets
A super easy and simple idea for couples planning a winter wedding on a budget, is to incorporate something wintery and festive into your wedding flowers, and bouquets are a perfect opportunity for this. Nya Rue Events put together a wedding for this newlywed, who decided to add pine cones into their bouquet to give it a winter feel.
18. Winter Wedding Dresses
If you're planning on wearing a wedding dress to your winter themed wedding, you'll want to choose something which goes with the frosty vibe. This newlywed who tied the knot at Swancar Farm Country House has chosen the perfect winter wedding dress for her nuptials.
You can find more winter wedding dress inspo here.
19. Velvet Wedding Suit
Can you think of a better fabric for a winter wedding suit than velvet? This stylish groom has opted for a jet black velvet suit for his special day, and we love the fact that his partner has gone for a wedding suit to match - tres chic. But that doesn't surprise us - this wedding was styled by Poppy Sienna Events who's known for her great taste.
20. Sparkly Bridesmaid Dresses
Whether you're a bridesmaid or you're just after a winter wedding guest dress, we urge you to take inspiration from these cool chicks at Garthmyl Hall. Their mix and match sparkly bridesmaid dresses are to-die-for - we love the cool and neutral colours and the fact that they've opted for similar silhouettes in different styles.
21. Winter Wedding Hair Accessories
Anyone looking for that finishing touch when getting ready for their winter wedding should look to hair accessories. Wildflower Hair Company know how to incorporate a winter wedding theme into a hairstyle, and this half up half down wedding hair do proves it.
Winter Wedding Themes & Inspiration
For broader ideas, check out these winter wedding themes. You can use them as your winter wedding inspiration when coming up with your colour schemes and overall look and feel - and there's something for everyone, whether you're going all out or planning a winter wedding on a budget.
22. Monochrome
Nothing says winter wedding like a monochrome colour scheme, and no one does that better than the team at Aswarby Rectory. The stark white flowers, candles and menus contrast beautifully with the jet black tablecloth, and we love that they've opted for grey plates to match the cutlery. Just stunning.
23. Bohemian Winter
Boho and rustic wedding themes tend to be used more for autumn, spring and summer weddings - but we actually love them for a winter wedding theme, especially when done like this. This ceremony room at South Causey Inn has been decorated perfectly for a bohemian themed winter wedding.
The light wooden benches and dried pampas grass florals really lend themselves to winter weddings, and the candles just add to the overall cosiness.
24. Starry Night
We love a celestial themed wedding, and even more so when it's embraced in the winter months. How cool is this altar decor at The Oakwood at Ryther? The metallic moon paired with the neon sign is so on trend.
Moons and stars make the perfect winter wedding decorations and you can start work on the theme early with our edit of the best celestial wedding stationery sets.
25. All White Everything
Want to talk about a versatile venue? This is actually The Oakwood at Ryther, too - just styled completely differently.
We are big fans of white florals at weddings, and love when couples are brave enough to go the whole way with a colour scheme. The fluffy white florals make us think of snow or angel's wings, and they go so well with the white twinkling fairy lights.
26. Christmas Red
This display by Ella Hartig is a perfect example of how you can embrace festive colours at a winter wedding without it feeling too obviously-Christmassy. You could even go with this style of red colour scheme for a winter wedding in January, to keep the festivities flowing.
The red has been used sparingly here, in the napkins, chair backs and lightly in the florals, but it's just enough for guests to notice and appreciate the theme.
28. Glam Black & Gold
If you're planning an elegant winter themed wedding, consider adding metallics into your colour scheme. Donna WInning Events has styled this winter wedding to perfection, pairing black and gold to create the ultimate luxe look.
Black candles are striking anyway, as they contrast with their own flames, but putting them in gold holders is just genius. Not to mention the contrast between the black and silver plates. Who said you can't mix and match metallics? Not us, that's for sure.
29. Winter Neutrals
If you're a 'less is more' kind of couple, consider a charming venue like Stone Barn. It's natural and cream walls and chairs work really well for winter weddings, as they create a cool and neutral backdrop for your day.
The fireplace and candles add warmth to the room and mean that little to no additional decor is needed.
30. Festive Banquet
From 'less is more', to a completely realised vision, let us introduce you to Windout Barn and this incredible festive banquet set up. Nothing says winter wedding like a full on banquet room, and there's something so wintery and warm about the way things have been set up here.
From the long benches and feasting tables, to the hanging bouquets and beams, it just screams winter wedding to us.
Winter Woodland
Another theme that's usually reserved for autumn weddings is woodland - but we love the way Westacott Weddings and Events have transformed these breakfast tables to become the ultimate winter woodland centrepieces.
Imagine your guests' faces when they see that you have actual trees in the centre of your tables - and you already know how we feel about hanging baubles - love...
32. Ice, Ice, Baby
If you're serious about a winter wedding theme, and are interested in eloping, then consider a conversation with destination wedding planners Weddings in Iceland. Where better to say 'I do' than the home of literal ice?
Food & Drink Winter Wedding Idea
Now you have the theme and décor sorted, it's time to talk about another really important aspect of the day - your food and drink.
The key to nailing a winter wedding is to ensure every aspect of the day fits the theme, and we've got some of the best food and drink winter wedding ideas for you to incorporate into your day.
33. A Winter Carvery
When you think about dinners in the colder months, nothing warms the soul quite like a carvery roast, so why not serve one up at your winter wedding?
You could have your wedding caterers carve up your favourite cut of meat for your guests live, to create some drama to the plating experience, or serve large cuts on each table for the guests to carve into themselves, just like this set up by wedding caterers Mike and Ollie.
34. Roasted Veggies
And it's not just meat eaters who can enjoy the warm feeling of a roast at your wedding. Mike and Ollie also serve up amazing vegetarian and vegan roast options, including their roasted butternut squash, and sharing roasted cauliflower with garlic, pictured here.
Roasted anything with a glass of red wine is just what the doctor ordered for your dreamy winter wedding, right?
35. Pie & Mash
We're speaking for ourselves mostly here, but who doesn't love a good old pie and mash in the winter? It's the perfect hearty food to serve up at your winter wedding and the best bit is that pie fillings are so versatile now, there's something to suit all dietary needs, too. You can even get gluten free pastry so no one will miss out on all that pie and mash goodness.
We love the look of this one by Mesa Catering - the bed of mash looks so smooth and creamy and you can't forget a good dollop of gravy now can you?
36. Grazing Tables
If a formal, sit-down meal isn't for you, or you're looking for some inspiration for your evening food, we can't stress how good of an idea it'd be to have cheese and meat platters.
Charcuterie is every person's dream after a few drinks, and with vegan, veggie and dairy-free alternatives widely available, you can create incredible wedding grazing tables that have something for everyone.
This spread by Baba Ganoush Catering has it all, including some dried fruits which are so seasonal and perfect for winter wedding themes.
37. Charcuterie Cones
If your wedding guests need their food on-the-go (you know, the 'I danced all night and forgot to eat' kind of people), these mini charcuterie cones are absolute genius.
Made by Fork and Field catering, they take charcuterie to a whole new level, allowing guests to grab a cone and snack as they dance. Brilliant!
38. Mini Yorkshire Canapes
After the genius idea of charcuterie cones, we didn't think it could get any better, but Fork and Field are a creative bunch and had us gasping when we saw these mini Yorkshire pud canapes.
Bite-size and perfect for the season, there's no better time to serve these delights than at a winter wedding in December, but those getting married in January and February should totally consider them too - everyone feels so down after the Christmas high, so serve these to remind your guests of their favourite roast dinner treat.
39. Dessert Table
Your wedding dessert table provides a great opportunity to embrace your winter wedding theme.
If you're planning a winter wedding on a budget and can't get too creative with ingredients, use this display by Donna Winning Events and add sprigs of winter blooms to mason jars to give it that wintery feel.
40. Winter Choccies
One of the best things about winter weddings in the UK is that it's guaranteed to be cold, so you can go wild with serving choccies, knowing there's no risk they'll melt.
There's nothing us Brits love more than cracking open the chocolates in winter, so we love the idea of carrying this through to your wedding puds.
These wintery chocolates at Wollaton Hall and Deer Park have been displayed so beautifully and look really winter. We particularly love the triangular chocolates with antler-like chocolate horns - so cute.
41. Frosty Shards Cake
When it comes to your wedding cake, there's so much you can do with a winter wedding theme. We love it when couples think outside the box, and that's exactly what's happened here with this cake at Wollaton Hall and Deer Park.
The nod to winter is subtle, and we love the way the shards of pastel icing look like pink shards of ice - it's really clever and so unique.
42. Festive Fruit Cake
For a more straightforward nod to your winter wedding theme, look to this Cakes by Mrs F design. Choose a dark colour like this navy for your wedding cake and adorn it with fresh festive fruit.
Adding gold to it adds to the glamour of the design and the asymmetric drips give an elevated alternative to the more traditional drip wedding cakes.
43. Live Fire Cocktails
Add some drama to your wedding drinks with a bar like Mr Flavour Drinks who can really get your guests hearts racing. What better way to warm the room up at a winter wedding than serving cocktails that are literally on fire.
44. Spiced Cocktails
Spices such as cardamom, star anise and cinnamon make you instantly think of winter in the UK and the festive season, so we suggest adding these to your wedding cocktails of choice, just like Lettice Events have done here.
It's one of those winter wedding ideas which is really easy and cheap to execute, but makes all the difference to your guests and their experience.
45. Dried Fragrant Fruit
We're finishing this roundup with another super easy and budget-friendly winter wedding idea - it couldn't be easier, and Hops and Beans are showcasing it perfectly in the picture above.
Add a winter wedding flair to your drinks to your drinks of choice by pinning some dried festive fruit to the side. Not only does it look super wintery and cute, but it also adds to the fragrance of the drink. Think dried oranges, figs and lemons and you'll be onto a winner.
To help you ensure your winter wedding is bang on trend, check out the biggest wedding trends for the year ahead - you'll definitely want to include some in your own wedding plans.