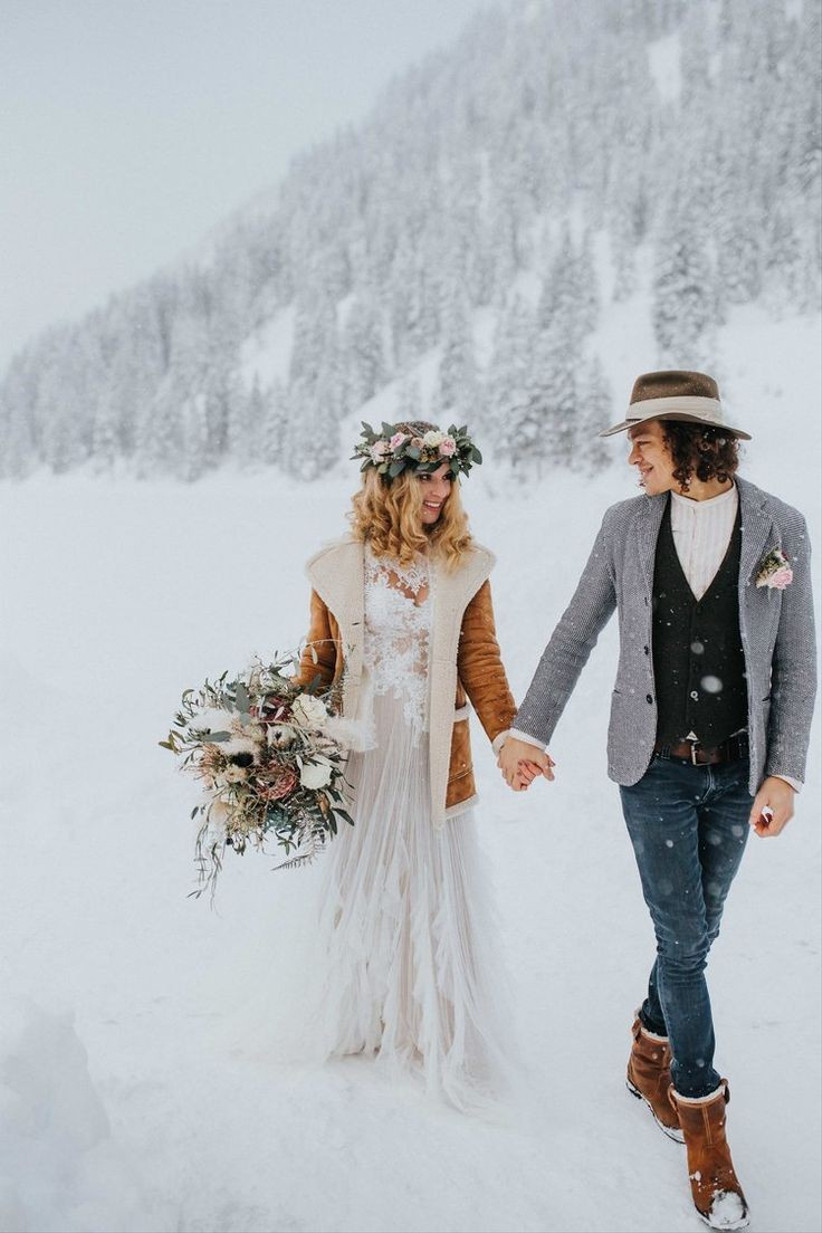 Winter is such a magical time of year to tie the knot – from crisp weather and festive entertainment to glamorous colour schemes, there's just so much to embrace.
Throwing a winter wedding is fast catching up with summer as the most popular time to say 'I do'. The nights might be darker, but the sparkles are brighter, atmosphere merrier and the whole day is bursting with romance. Not to mention that lots of wedding dates will be much cheaper!
But winter weddings aren't necessarily as straightforward as summer ones. To help you have the most smooth-running and stress-free day possible, we've rounded up 21 winter wedding tips, from what to wear to how to get a discount on your venue.
If you decide that a winter wedding is for you, then we've handily got 40 winter wedding inspiration ideas too!
21 Winter Wedding Tips
A winter wedding is full of advantages that you might not have even thought about yet. From cheaper prices to bags of atmosphere (hello, fairy lights!), here's exactly how to make a winter wedding work for you.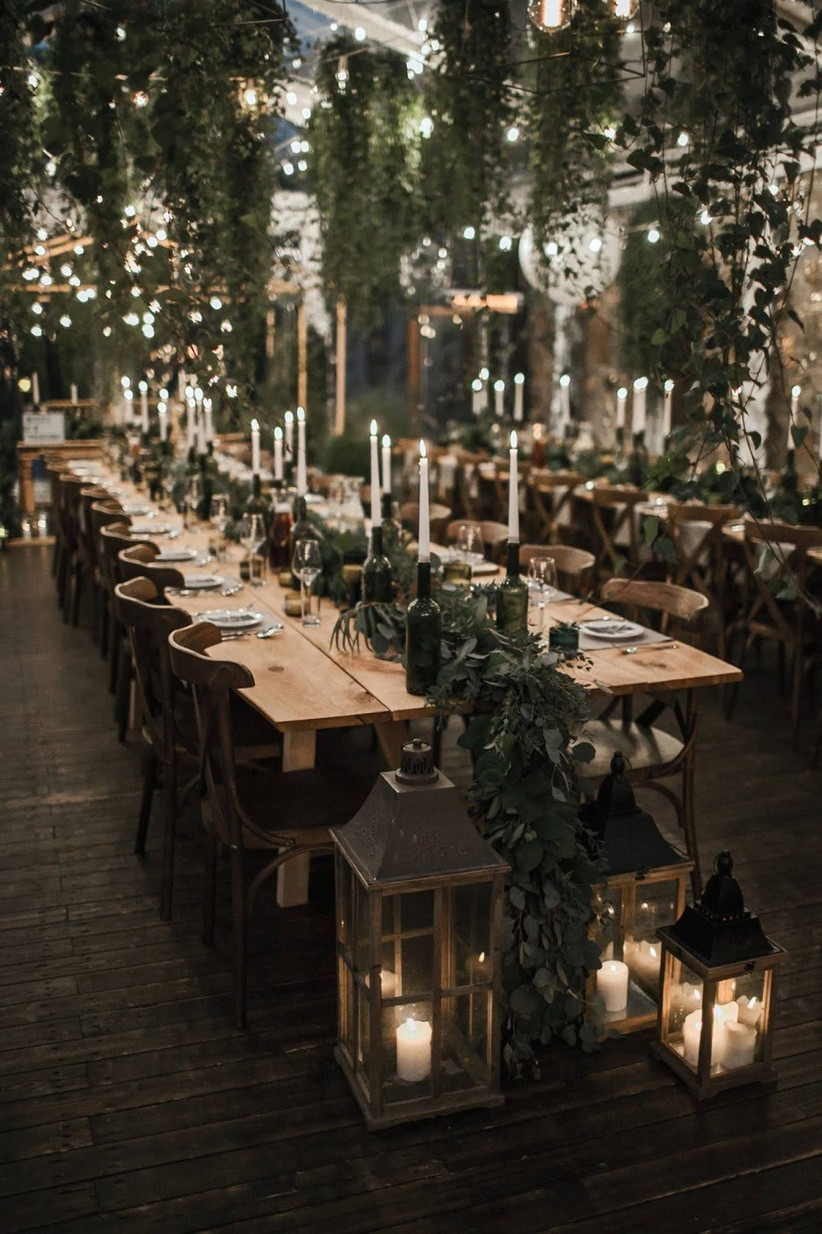 Image: Pinterest
Winter Wedding Venue Tips
Your venue plays one of the biggest parts when it comes to shaping your wedding, so you need to make sure you book one that's truly fit for a winter celebration. Explore our list of the best winter wedding venues and then keep these tips in mind.
1. Visit your Venue at Night
Most venue showrounds take place during the daytime, but at a winter wedding, the majority of your reception will take place once the sun's gone down. Arrange a visit to your venue in the evening when you can see what kind of lighting they have, and whether the vibe is cosy and inviting. After you've booked, ask if your photographer can see it too in the evening so they can plan their shots.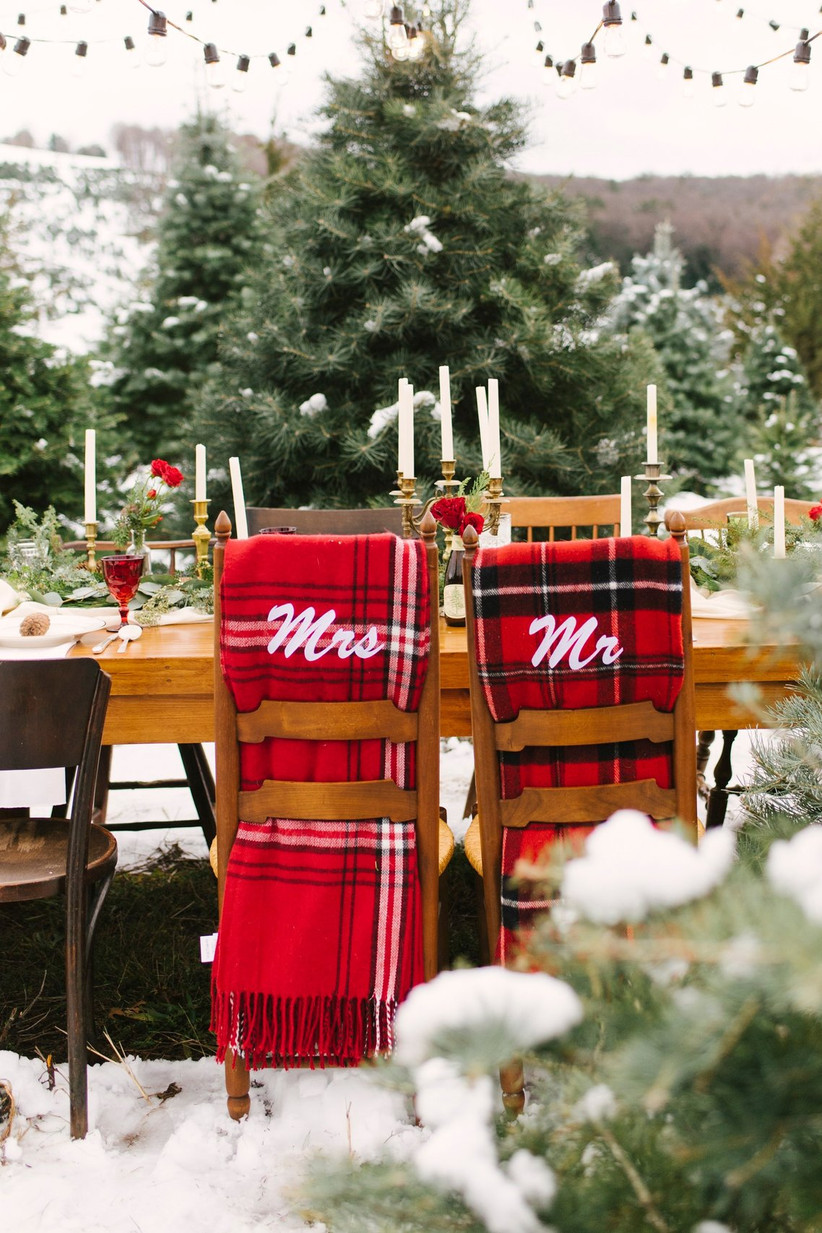 Image: Pinterest
2. See if You Can Negotiate a Deal
Winter wedding dates in January and February are usually off-peak so they'll be cheaper than a summer date. You'll likely have more choice of caterers and suppliers too as it isn't the busy season. If your venue/supplier wants to secure your booking, you might be able to negotiate with them further – whether that's money off or something extra thrown in for free. You might be able to get a further discount on guest accommodation too.
READ MORE: The Best Winter Wedding Venues
However, consider your date carefully. The dates closest to Christmas and New Year tend to be expensive, but they also might cause problems with guests getting time off work. At that time of year, people get booked up quickly with parties and family events so get invites out early and consider whether a weekend or weekday wedding would work best for guests.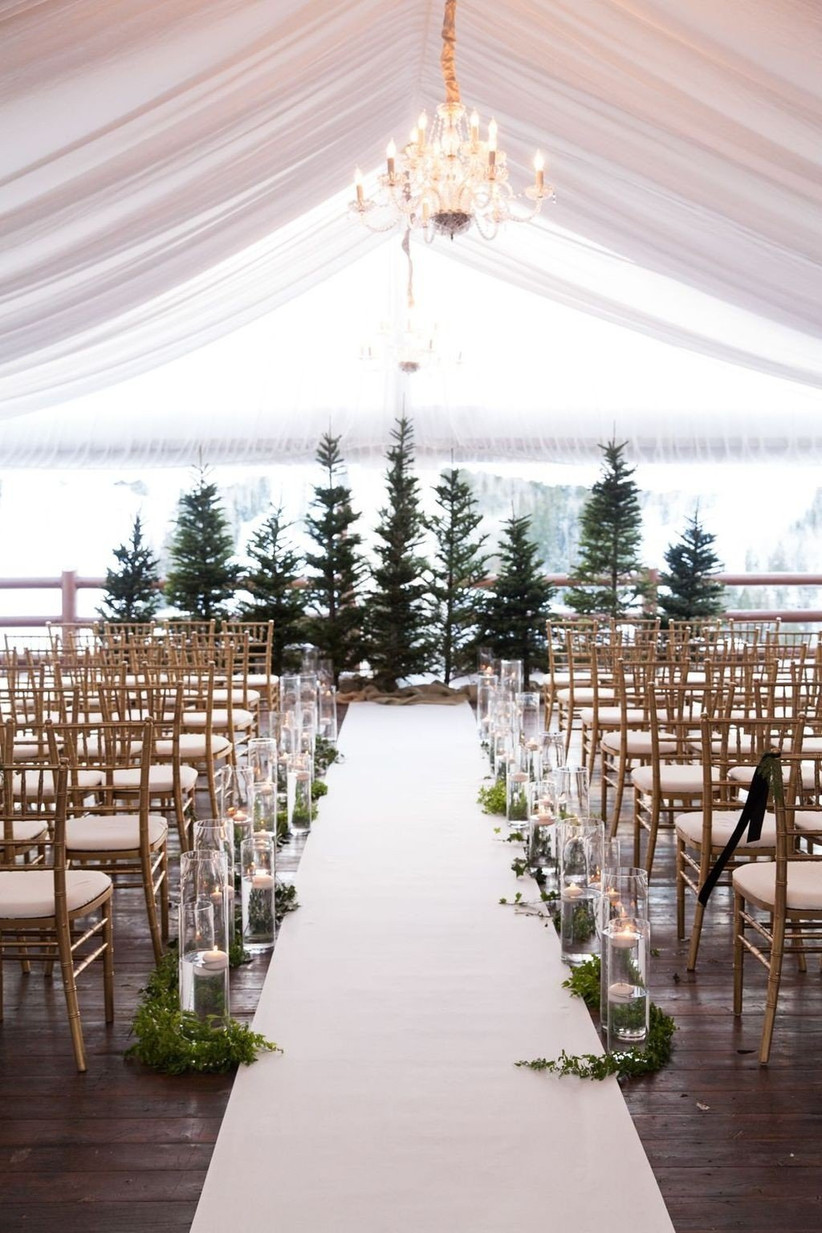 Image: Pinterest
3. Plan an Alternative for Bad Weather
Ask your venue what they'll do if there's bad snow, for example. What if one of your suppliers is unable to get there? Is there somewhere suitable for guests to park? Will there be somewhere the photographer can still take photos? For guests that smoke, is there somewhere alternative they can go?
4. Allow Extra Travel Time
If it's raining heavily, there'll be more people out in their cars, which means more traffic on the roads. Worse is if you get stuck in a snow drift! Give yourself peace of mind with extra time to travel to the venue, and mention on your invites that guests may need to leave contingency time.
READ MORE: 20 Ways to Keep Guests Warm at Your Winter Wedding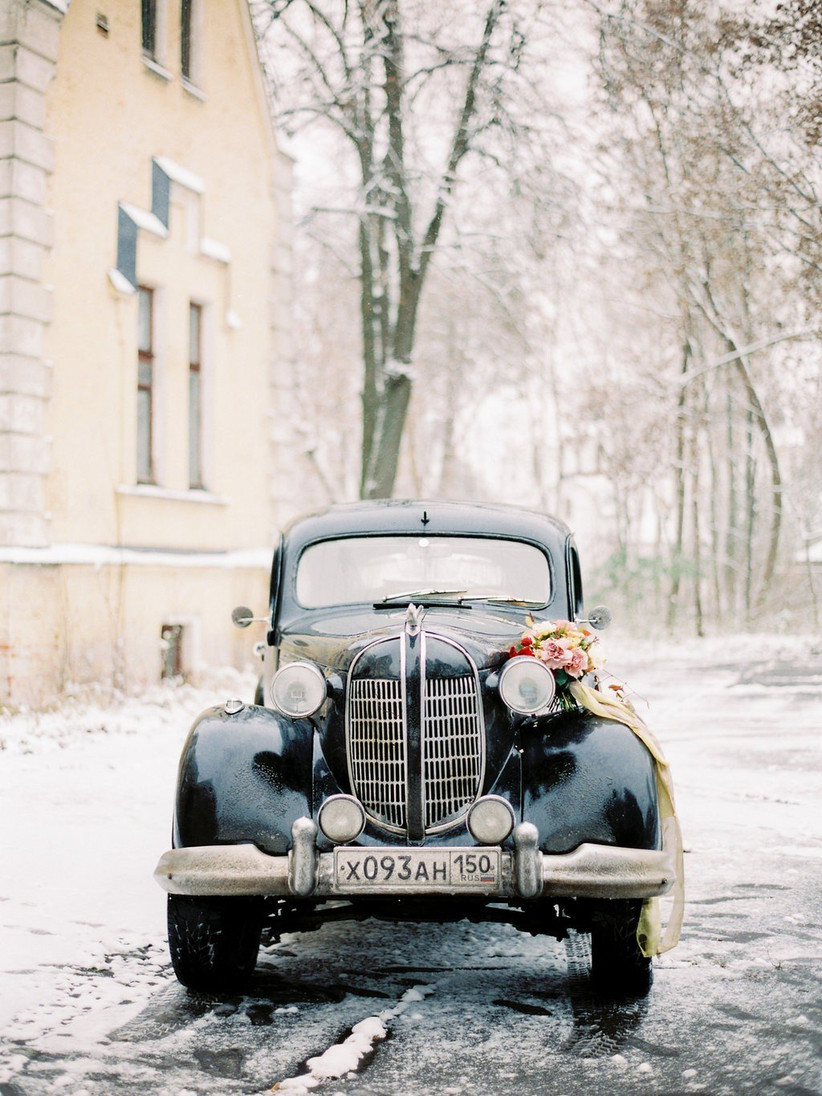 Image: Pinterest
5. Consider the Same Venue for Your Ceremony and Reception
You'll solve half your travel problems if you hold your ceremony and reception in the same venue. Then guests won't have to travel between the two, which could take a while in bad weather. Even better if they can all stay over too.
6. Suss Out the Venue's Heating
Your wedding venue will be experienced at getting the heating just right, but if it's a barn or marquee venue, it can be a little trickier. Ask them what their plan is for heating the venue and if they have any outdoor heaters for those who want fresh air. Advise guests in your invite if they need to wrap up warm and seat older guests away from doorways with drafts. A warm drink, like mulled wine, on arrival helps too!
READ MORE: Our Favourite Wedding Venues in Scotland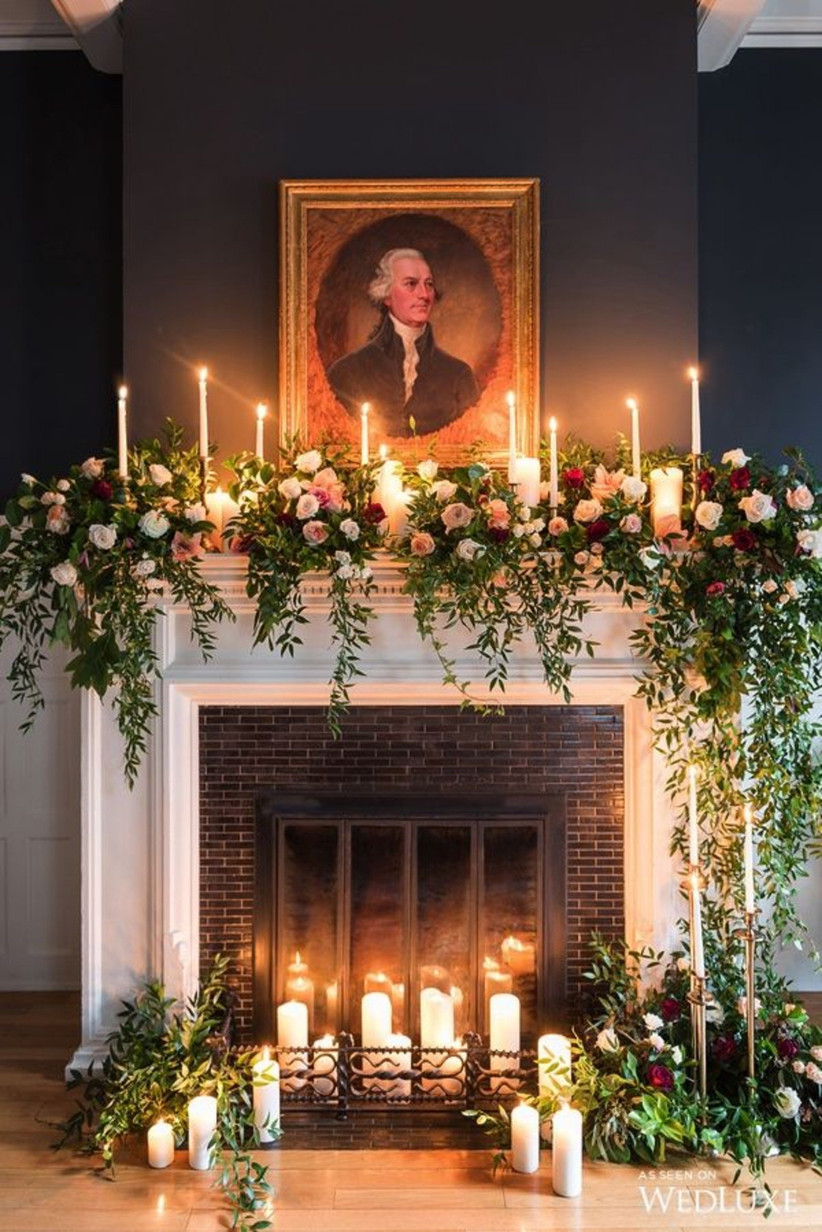 Image: Pinterest
7. Check What Decorations Are Already Up
If it's before or just after Christmas, your venue may have decorations up. They should be able to show you some pictures of last year's to give you the gist of what to expect. If you don't like them, ask whether you're allowed to take them down. You don't want something that clashes with your vision.
8. Get Wedding Insurance
We'd recommend it whatever time of year, but wedding insurance is particularly important in winter. You'll need to cover yourself against storms and snow, plus if any suppliers let you down.
READ MORE: The Best Winter Wedding Dresses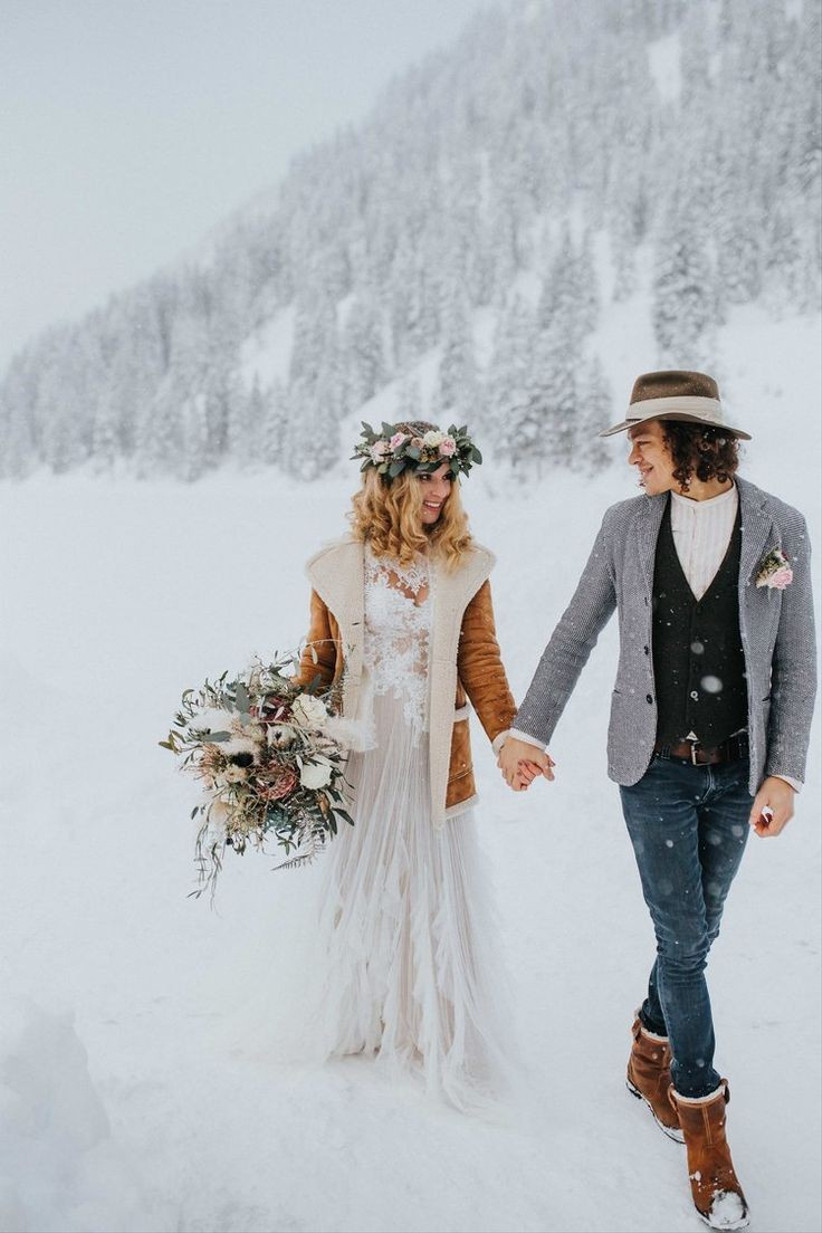 Image: Pinterest
Winter Wedding Style Tips
Scroll down for some of our favourite winter wedding dresses. With metallics, beading, beautiful sleeves and more, they'll spark some ideas for you. To make sure your whole bridal party looks its best on the day, read these tips below.
9. Layer Up!
Layers and accessories will keep brides and bridesmaids warm. Capes are one of the biggest 2019 trends, or consider a faux fur stole, chic shrug, white tuxedo-style jacket, cool leather jacket or embroidered denim jacket. For bridesmaids, try a pashmina, capelet or bolero. Take it off inside and while you're dancing so you don't get hot.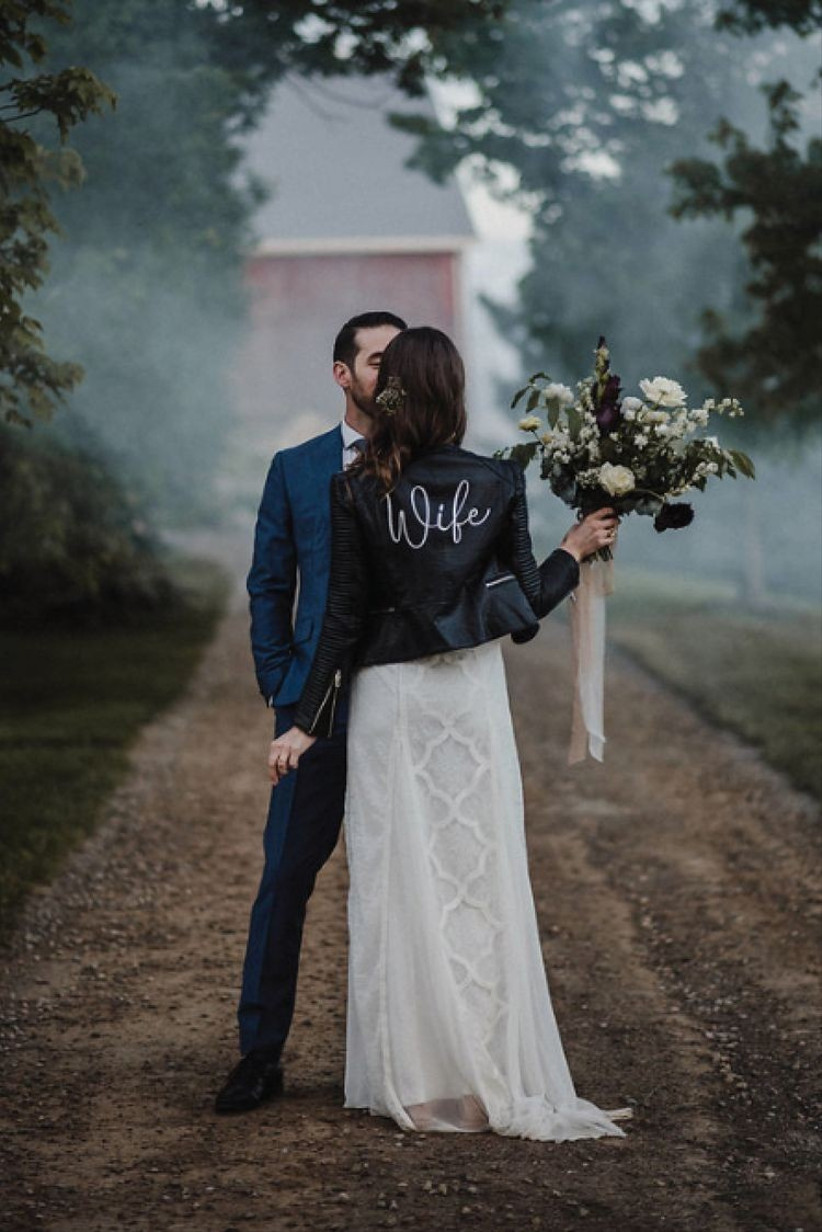 Image: Pinterest
10. Sneak in Extra Heat
Wear tights underneath your dress if your legs won't be visible. Get your Maid of Honour to carry handwarmers to heat up icy hands before your wedding photos. Obviously, long-sleeve dresses will keep arms from getting chilly.
READ MORE: 35 Winter Wedding Guest Dress Ideas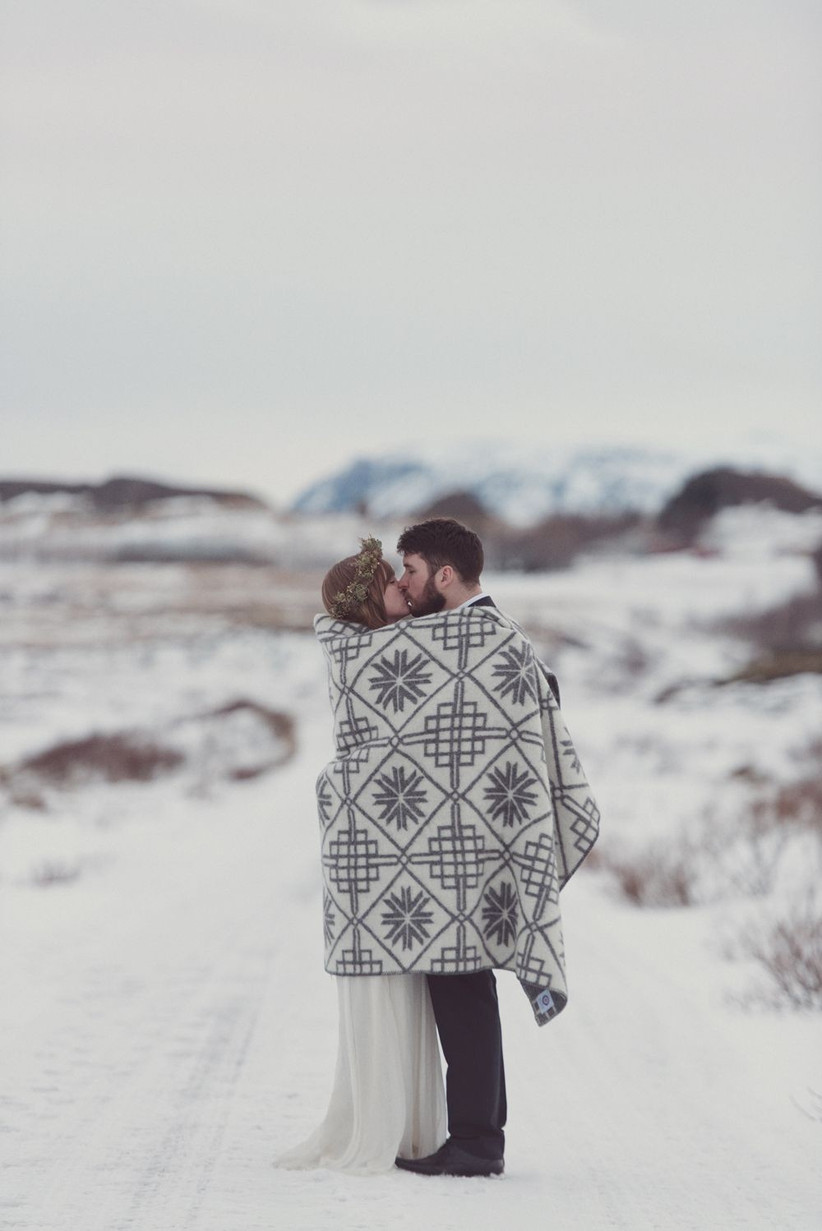 Image: Pinterest
11. Protect Your Shoes
Spray shoe protector on leather and suede shoes. If you're going outdoors for photos, have heel protectors to stop you sinking into the mud or have a spare pair of block or wedge heels handy. Even better, could you hide a pair of wellies under a big dress? It'll keep your feet snug and dry.
READ MORE: 16 Questions You're Sick of Hearing While Planning a Winter Wedding
Image: Pinterest
12. Think Textures For Grooms
Thick fabrics like velvet, tweed and tartan are warm and look incredibly chic on grooms and groomsmen. Dark hues are made for crisp weather, and patterns look fab at rustic weddings. if you want to stand out, icy blues and pale grey can look striking.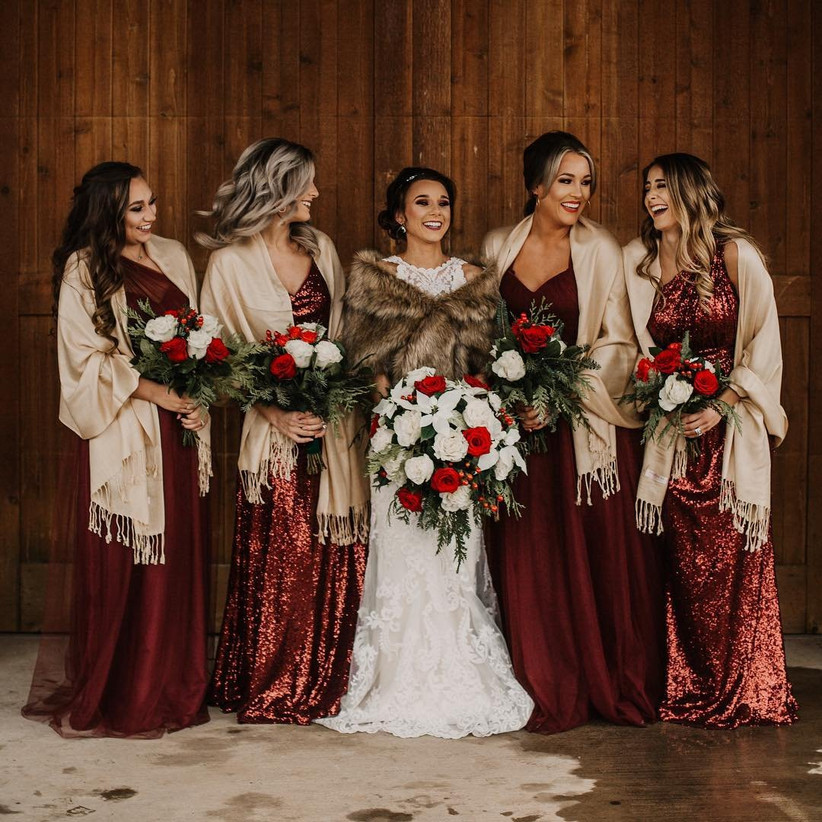 Image: Revelry
13. Opt for Sequins
Sequin or beaded bridesmaid dresses are ideal for winter. They'll sparkle under all the lights and look amazing in photos. For the bride, beading on your dress and on your hair accessories add glitz and glam.
READ MORE: 33 Stunning Festive Wedding Cakes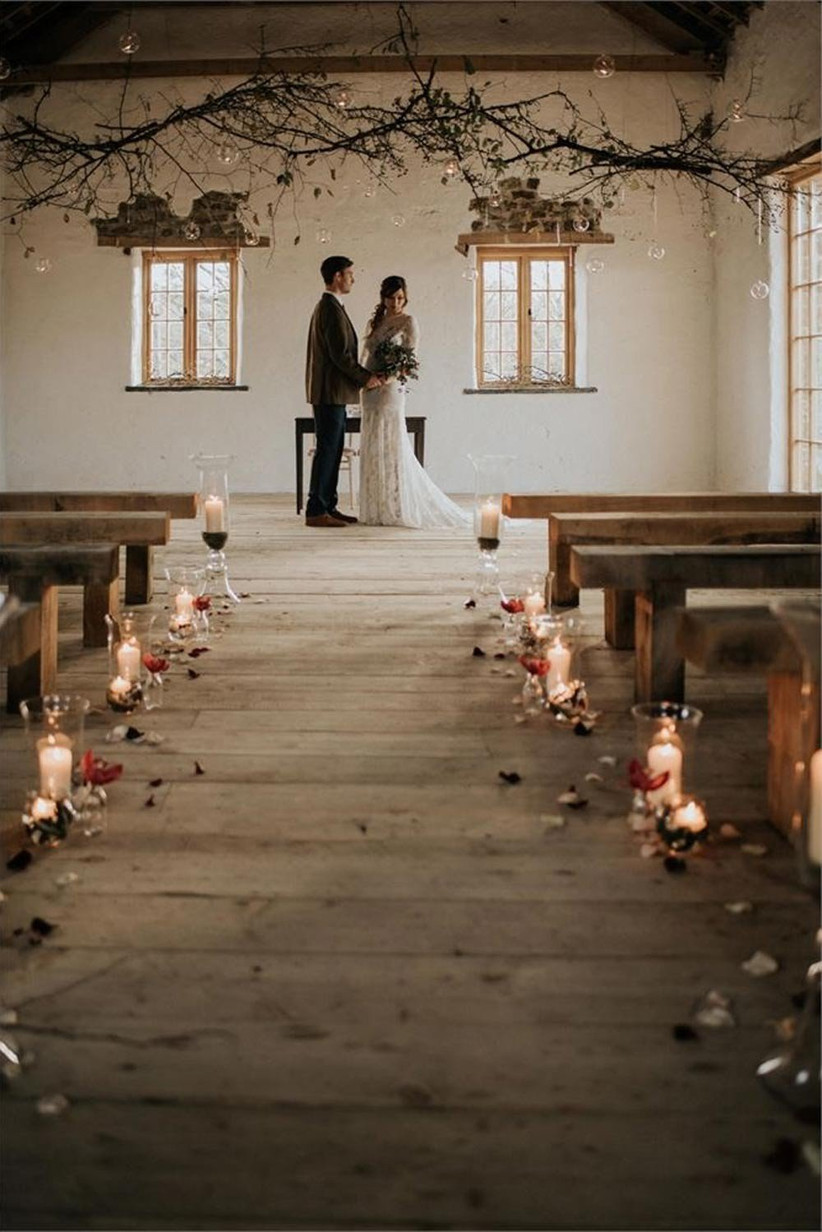 Image: Launcells Barton
Winter Wedding Reception Tips
During December and early January, you might get lucky with some amazing free decorations at your venue as part of their Christmas displays. But there's so many gorgeous and interesting ways to dress up your venue – you just need to remember these things below.
14. Candles are Your Best Friend
Candles create a romantic mood once it gets dark; include candles of different heights and thickness in your centrepieces, fireplaces, windowsills and even in lanterns for your aisle décor for a warm glow. Check if your venue allows naked flames, otherwise use LED candles and fairylights instead.
15. Set Up a Coat Check
A coat check is pretty essential from December to February. Guests will thank you for taking heavy coasts, scarves, gloves and hats off their hands, plus any wet umbrellas.
READ MORE: The Most Incredible Seasonal Wedding Flower Ideas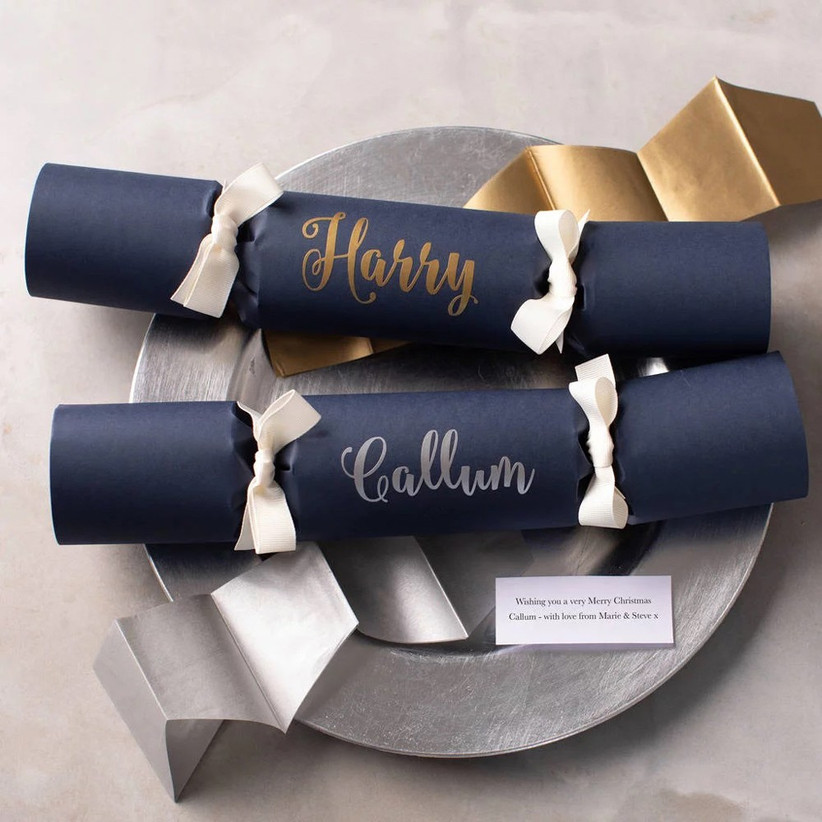 Image: Not On The High Street
16. Choose Winter Wedding Favours
Embrace the festive time of year with wintry wedding favours. Sparklers, candy canes, mulled wine spices, mini bottles of Baileys, hot chocolate kits, crackers, chocolate coins, personalised candles, s'mores, glittery cupcakes…the options are endless.
READ MORE: 50 Christmas Wedding Ideas to Transform Your Big Day
17. Theme Your Entertainment
A few Christmas songs chucked in the playlist in December is all well and good. But there's plenty you can do to make your entertainment magical in winter. How about a glitter station by the dance floor? A hot chocolate station is fab for kids who can add their own toppings. Wrap everyone up and go outside for a giant fireworks display. A live swing band has that intimate feel that winter weddings need.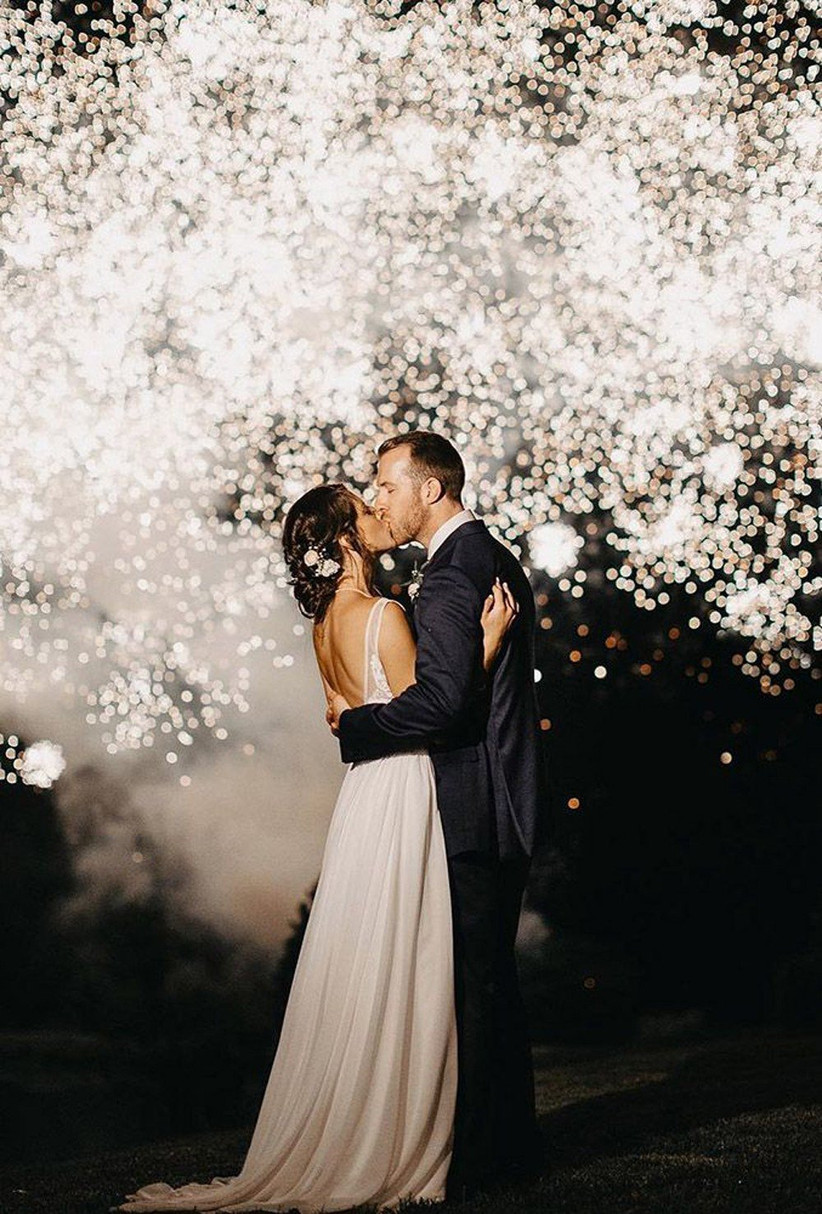 Image: Pinterest
18. Go the Whole Hog
To create a whole winter wonderland fantasy, hire carol singers to welcome everyone to the ceremony and stilt-walkers in ice-themed costumes for your guests arrival. Set up the entrance way with pine trees and a fur coat for a Narnia-inspired take. Arrive on a horse-drawn sleigh. Project winter scenes onto your walls and decorate with ice sculptures and vodka luges. The only limit is your budget – heck, you can even hire your own ice rink!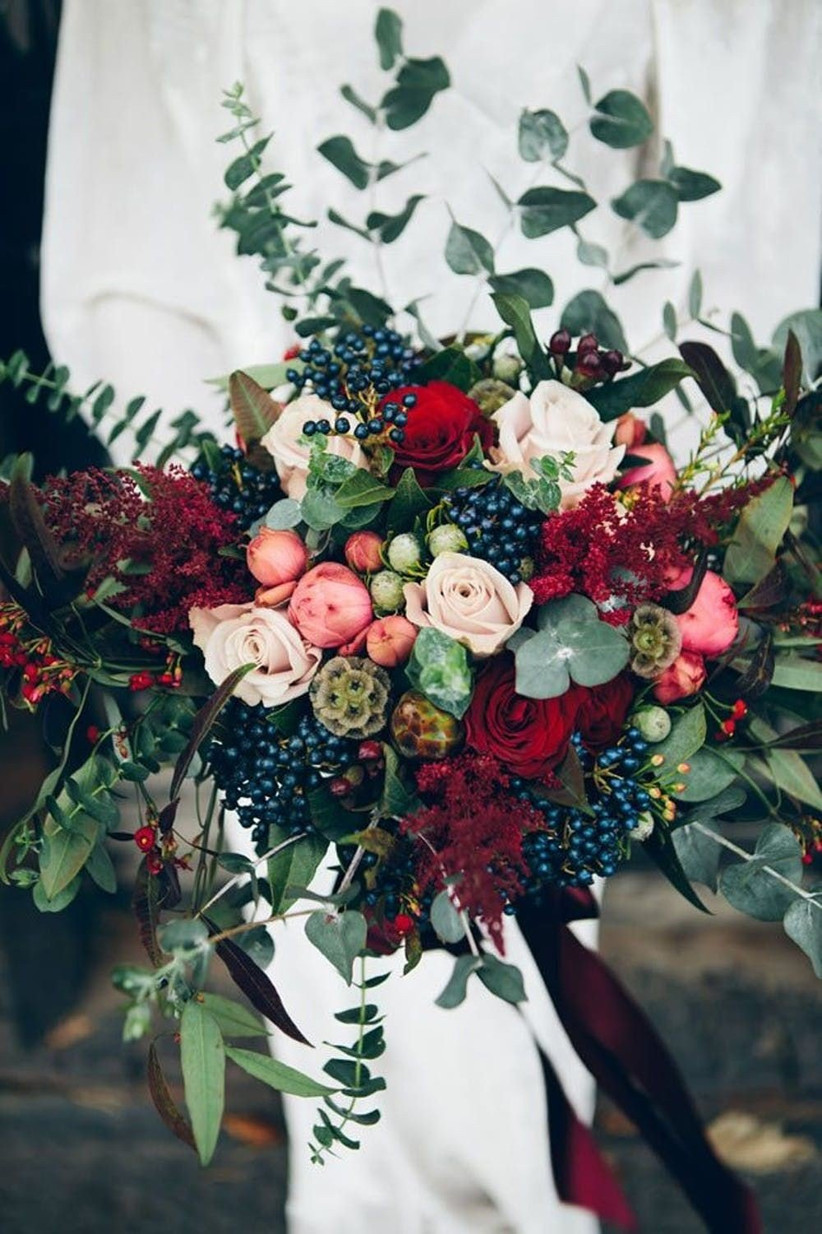 Image: Pinterest
19. Suit Your Flowers to the Season
Tropical, out-of-season flowers will need to be flown in and won't look their best or be cheap. Embrace seasonal blooms for your bouquet and arrangements, and stick to classic whites and dramatic reds. Wintry foliage, like ivy, springs of yew, holly and hypericum berries look gorgeous.
20. Add Warm Touches
Guests will appreciate a basket of blankets or pashminas to pick from if they fancy heading outside or get chilly in their seat. Having hot drinks always on hand will help too. Start with a mulled wine on arrival, finish your meal with a liqueur coffee or hot toddy, and have the caterers put on an urn of tea or coffee for the evening.
READ MORE: 47 Fun Table Names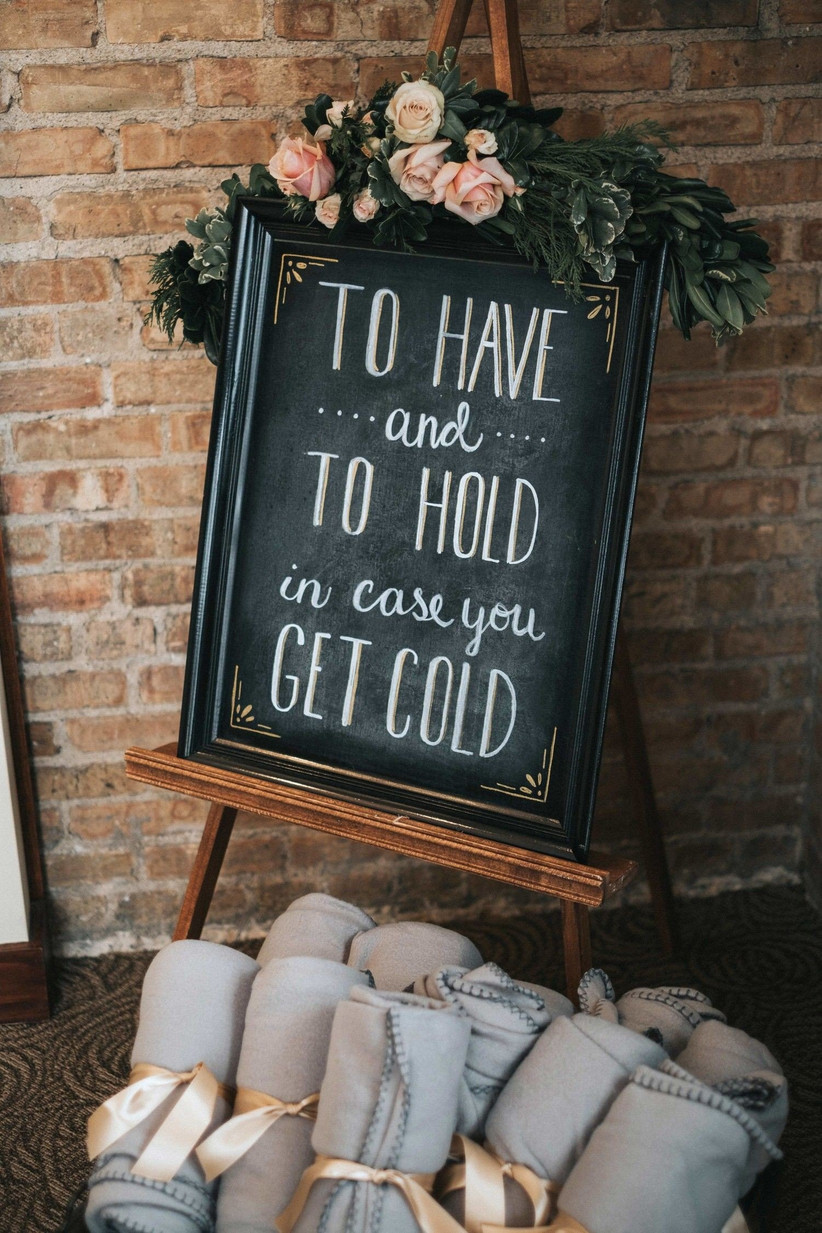 Image: Pinterest
21. Research a Good Photographer
You can get everything right décor-wise but if your photographer isn't experienced at shooting in low light, your photos can be lacklustre. Ask to see examples of their work in bad weather and at night to get a feel for what they can do. Low light and candlelight can be incredibly flattering so don't panic about it not being a bright, sunny day!

Winter Wedding Inspiration and Ideas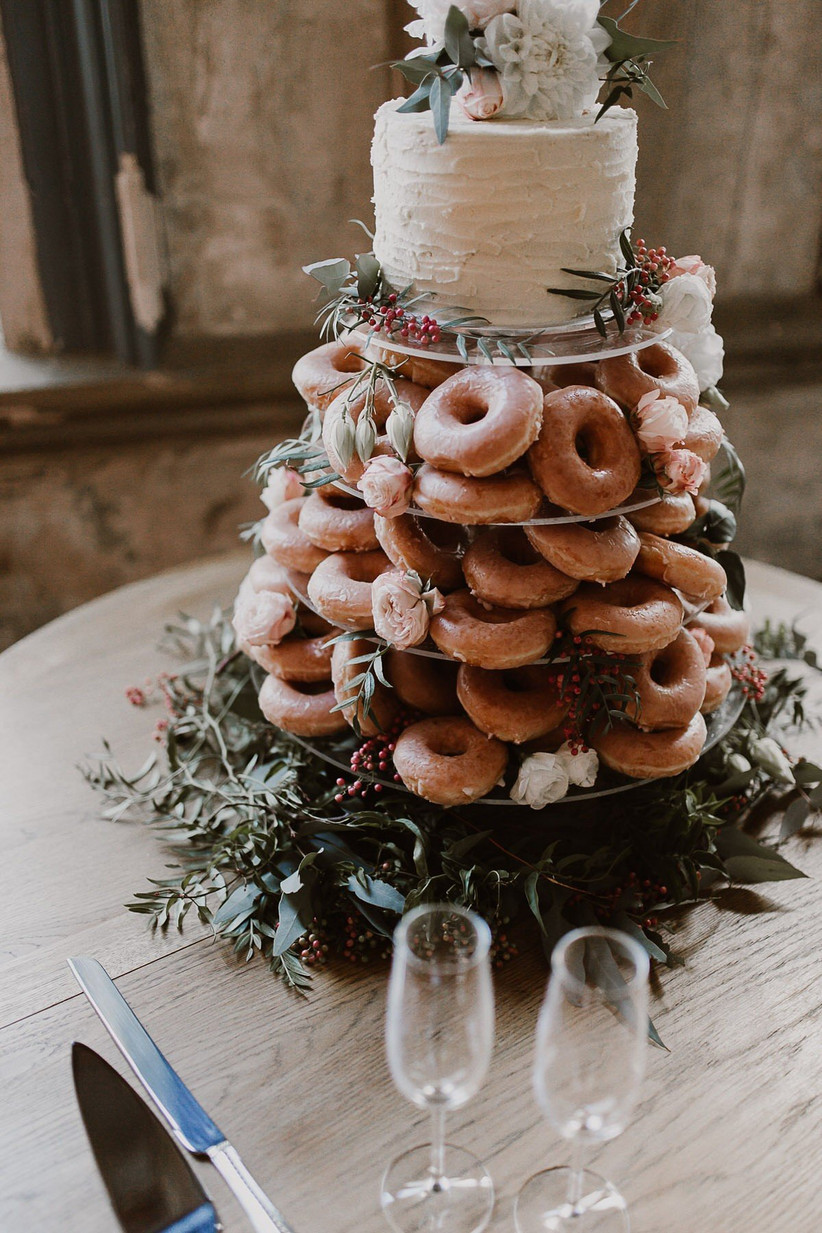 Image: Pinterest
Now you know what to consider when finding your winter wedding venue, choosing your wedding day outfits and adding the finishing touches to your festive reception.
But what about your décor? Winter weddings have so much potential and choice when it comes to colour schemes and decoration themes – we've rounded up our favourite looks, and they're seriously pretty!

READ MORE: How to Pick Your Wedding Colour Scheme
Winter Wedding Themes and Colour Schemes
All White Everything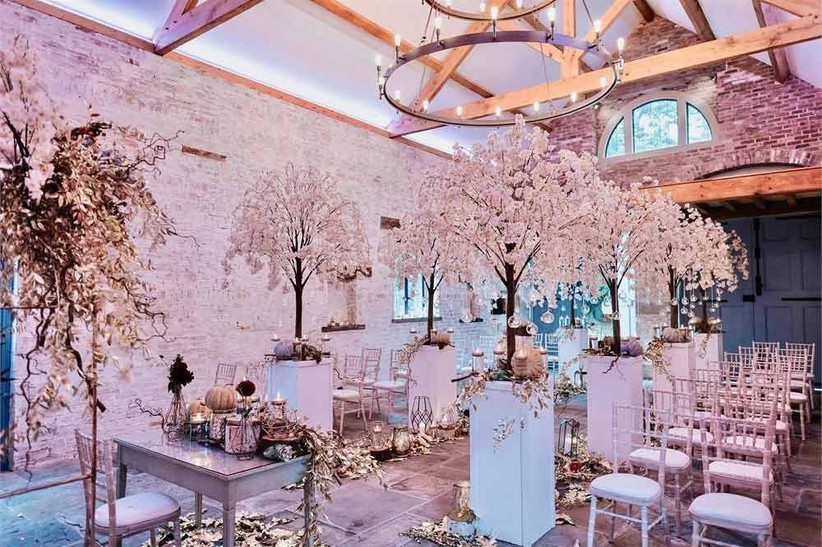 Image: Dorfold Hall
One of the most fabulous winter wedding colour schemes is classic white. This coach house has been filled with white blossom trees, fairy lights, candles, and white chairs. It's super glamorous.
Rustic and Cosy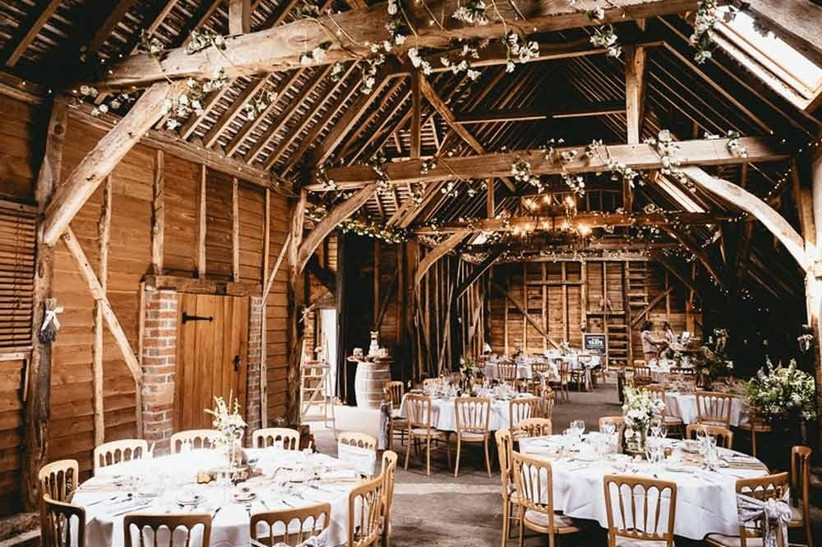 Image: The Barn at Herons Farm
We love the rustic, inviting layout here – the vines wrapped around the wooden beams and scattered fairy lights really give it that winter wedding feel. Keep it unfussy (no tinsel etc) and let the ambience of the oak barn shine through.
READ MORE: 45 Rustic Wedding Ideas
Metallic Glamour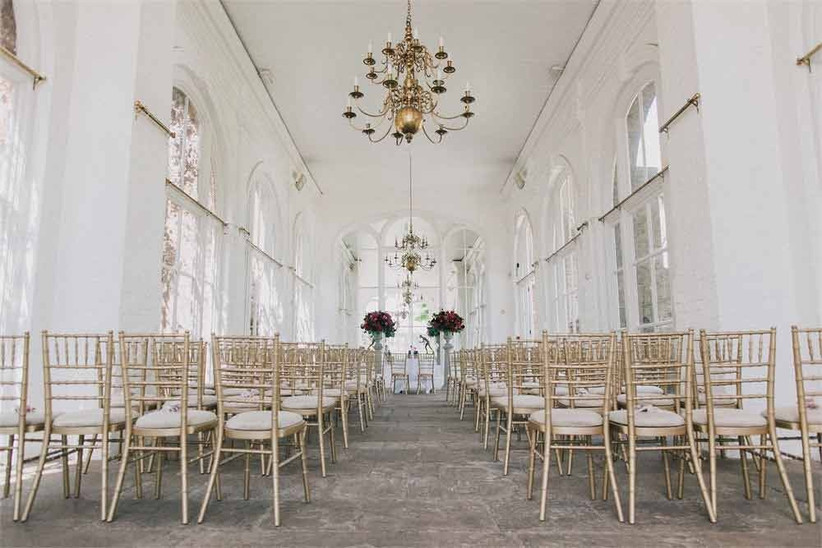 Image: Nicholas Lau Photography
Going back to the metallic glamour of winter – is there any prettier setting than this wedding ceremony? The gold chairs work beautifully against the white backdrop and that chandelier finishes the theme off perfectly! Use lots of dramatic burgundy and deep purple touches, like flowers and bridesmaid dresses, to really make the metallics sing.
Christmas is Coming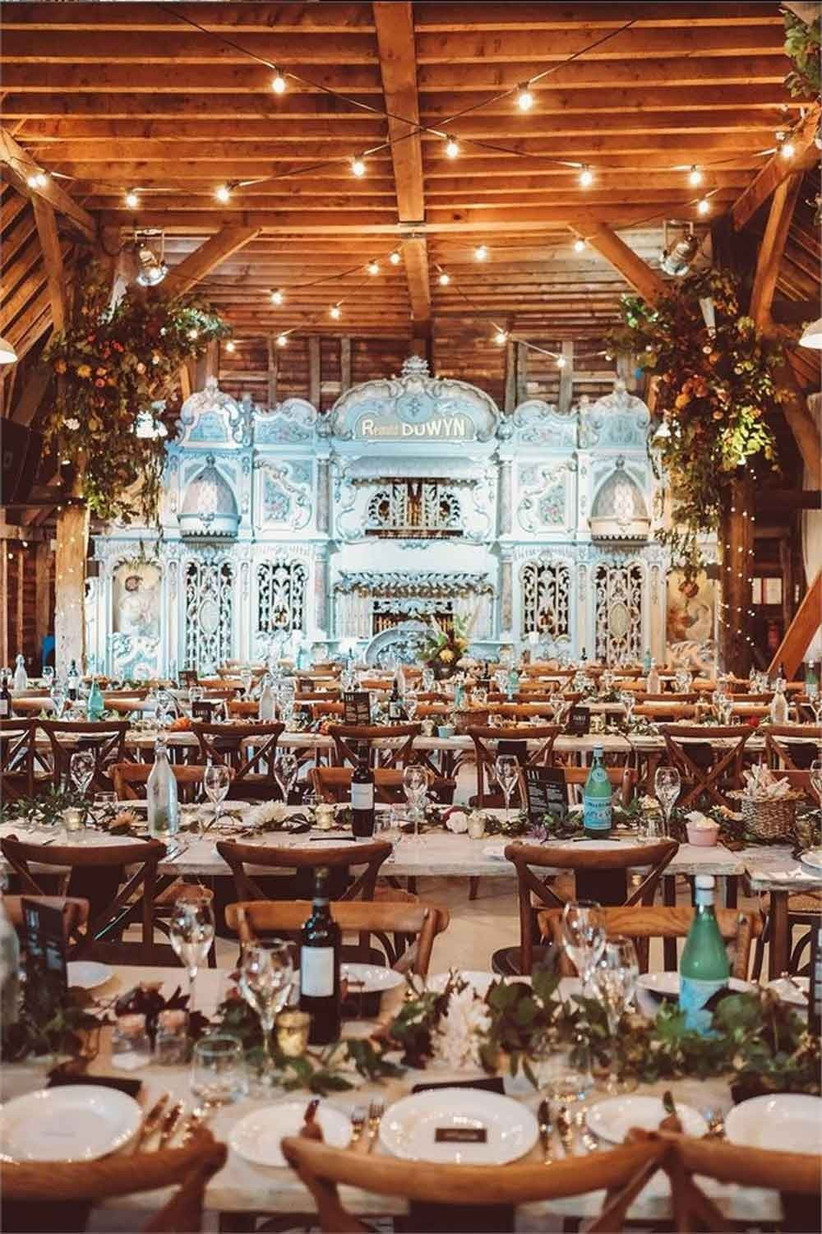 Image: Preston Court
If your wedding is around the Christmas period, why not use that to your advantage? The décor here is beyond festive. Everything from the intricate fairy lights to the festive foliage and wooden chairs just screams winter wonderland. You can go totally retro too if you wanted to add a twist – what about multi-coloured string lights, big baubles and stockings as wedding favours?
READ MORE: 20 Cheap Wedding Venues in the UK
Modern Winter Wonderland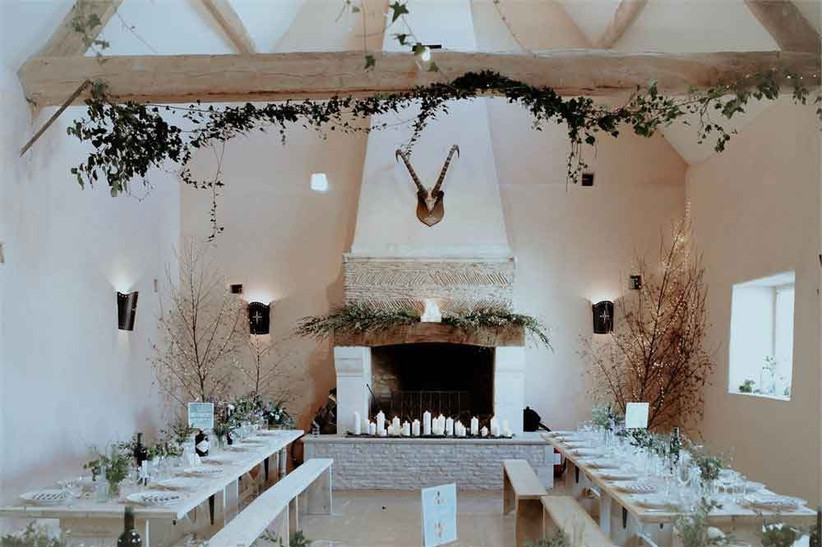 Image: Oxleaze Barn
For a more modern vibe, go simple and striking with a white colour scheme and accents of contrasting green foliage. Keep your tables really simple and use branches, pampas grass and dried flowers for a contemporary feel. Splashes of emerald and gold can keep it fresh.

Winter Wedding Food and Drink
Comforting Roast Dinner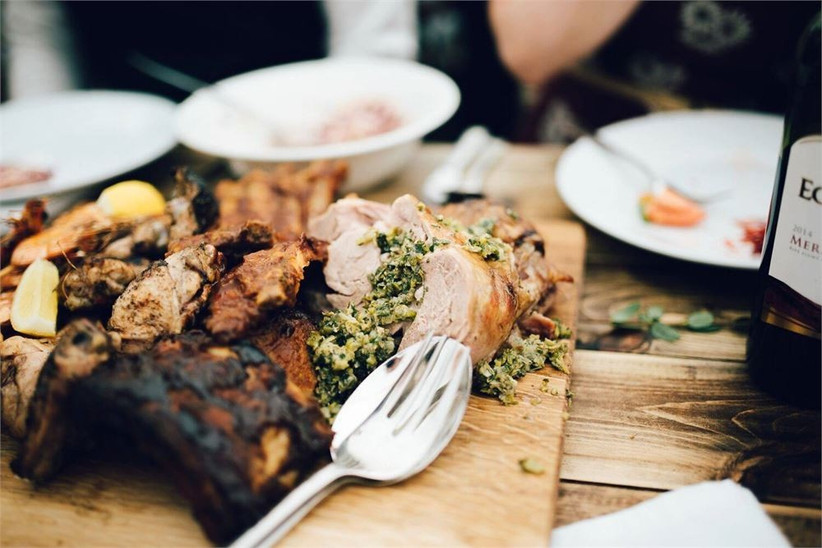 Image: Ross & Ross Food
Dainty canapes are lovely, but when it's chilly outside, guests want comfort food. A cheese fondue or mini beef yorkshire puddings for canapes; a roasted joint, carved at the table, for the main; a sticky toffee pudding for dessert. Winner.
READ MORE: 39 Cheap Wedding Favours for £1 or Less
Warming Evening Snacks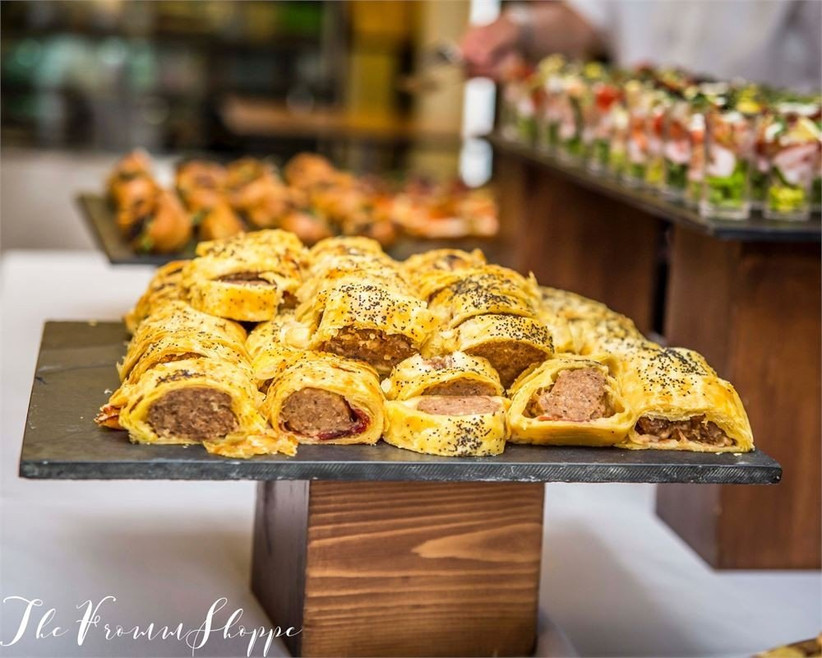 Image: Absolute Hog Roast
Before your guests head off into the cold night, serve something warm at the end of the reception. A hog roast, bacon rolls, sausage rolls and cheese toasties are all ideal.
Hot Chocolate Station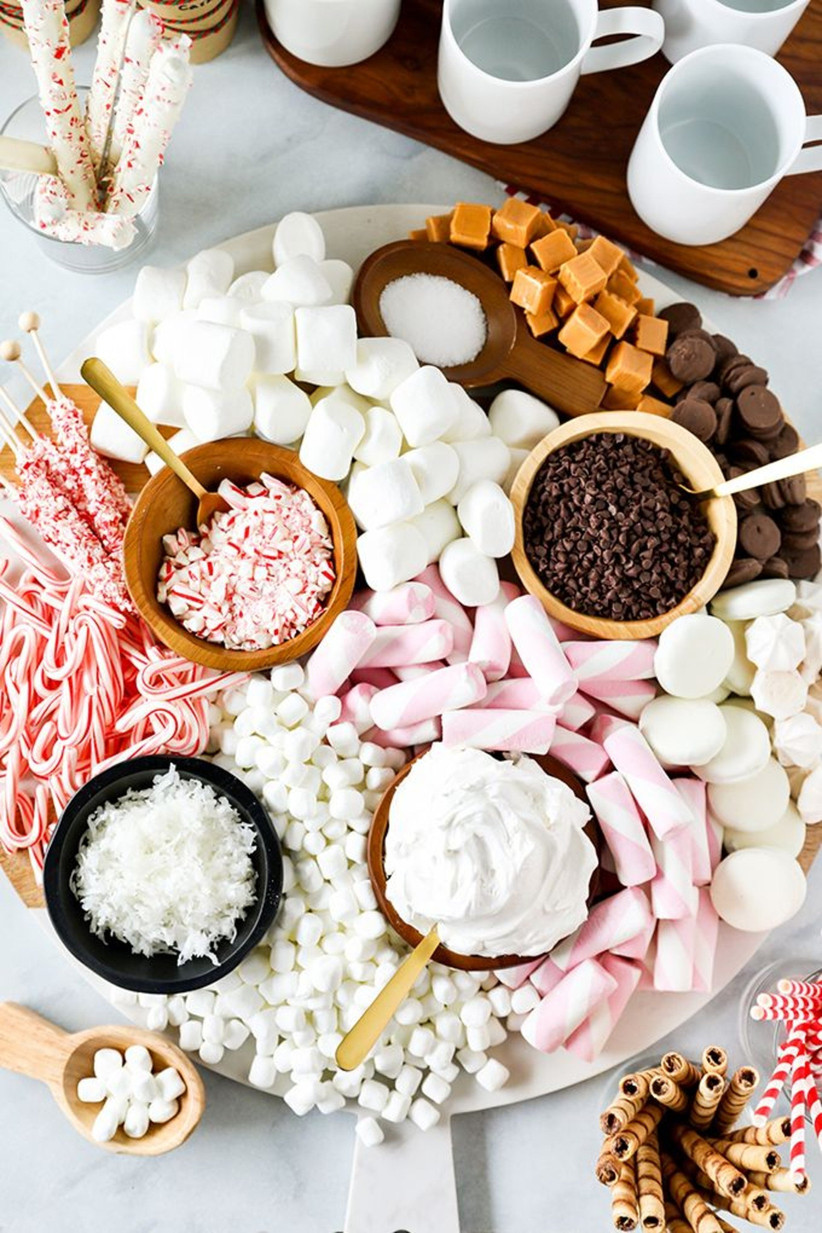 Image: Pinterest
Whipped cream, crushed candy canes, crumbled gingerbread biscuits, flakes, marshmallows: have them all ready to top some creamy hot chocolate with.
READ MORE: 3 DIY Foodie Wedding Favours
Signature Cocktails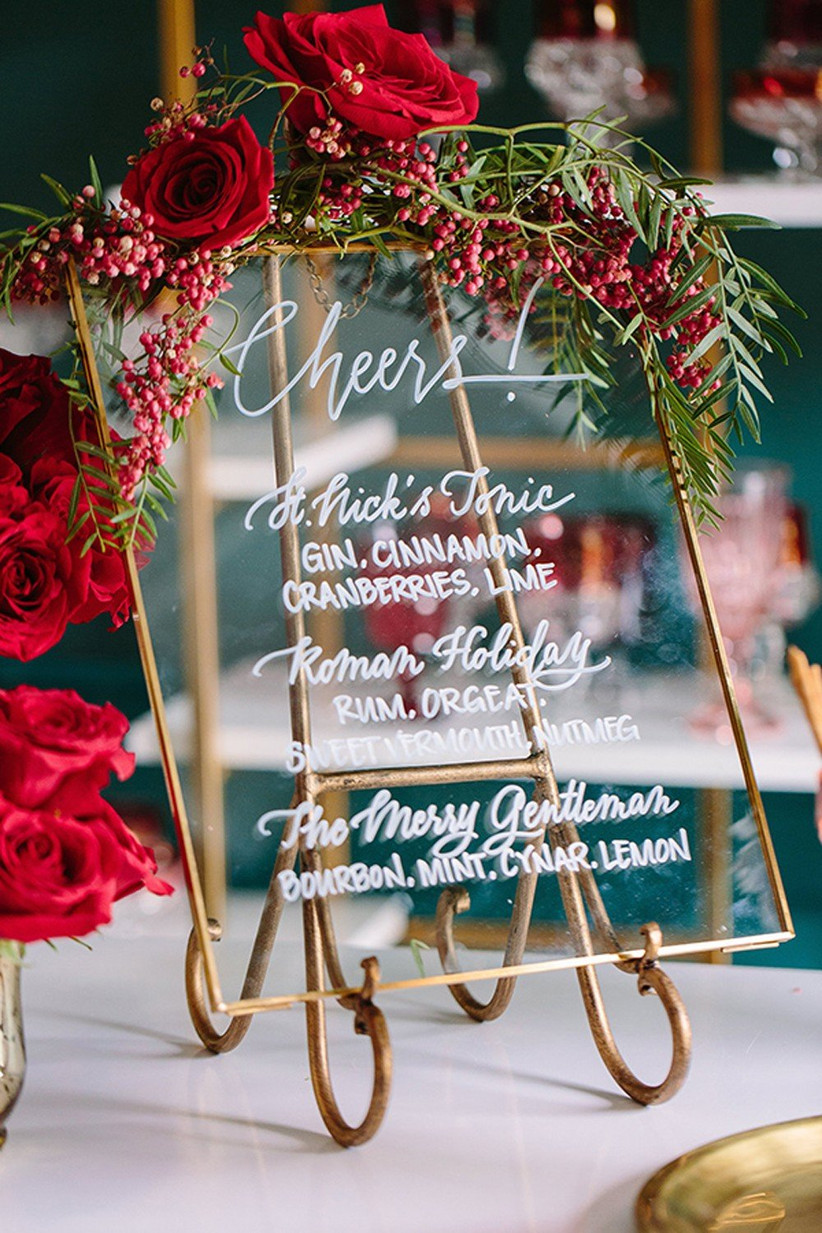 Image: Pinterest
Mulled wine is a great arrival drink, and your signature cocktails can be festive too. Instead of just serving Champagne for your toast, how about adding a splash of pomegranate juice or Cointreau? Rhubarb negronis, chai latte martinis, and ginger margaritas all have that Christmassy-spice twist.
Festive Food Favours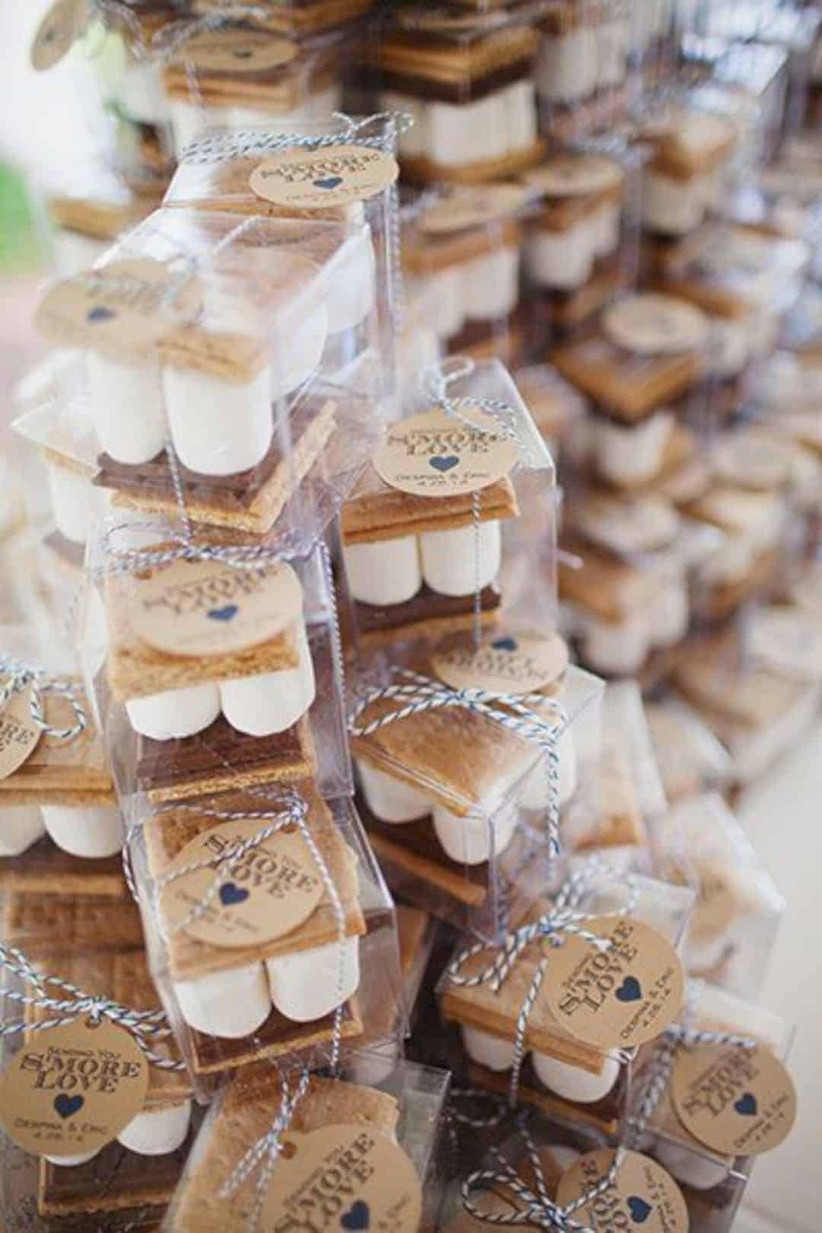 Image: Pinterest
Easy to DIY, you can wrap up your own homemade mince pies, fudge, truffles, nougat or snowman biscuits. Otherwise hot chocolate mixes or s'mores kits are delicious to take home.

Winter Wedding Décor Ideas
Fairy Lights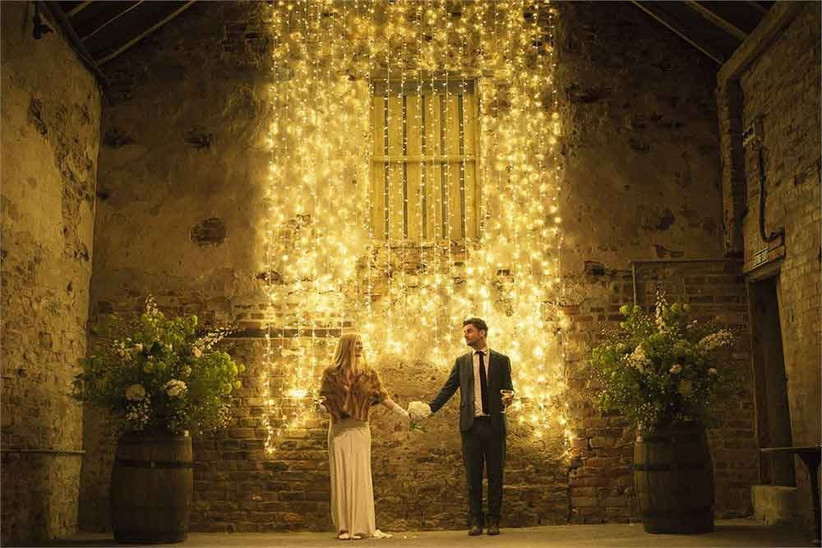 Image: The Normans
This fairy light wall makes for such a romantic backdrop when it comes to the wedding pictures and it's wonderful to look at, too. Wrap fairy lights around bannisters and beams, put inside lanterns as part of centrepieces, hang from trees, or use them to line paths.
READ MORE: The Best Wedding Décor for £10 or Less
Candles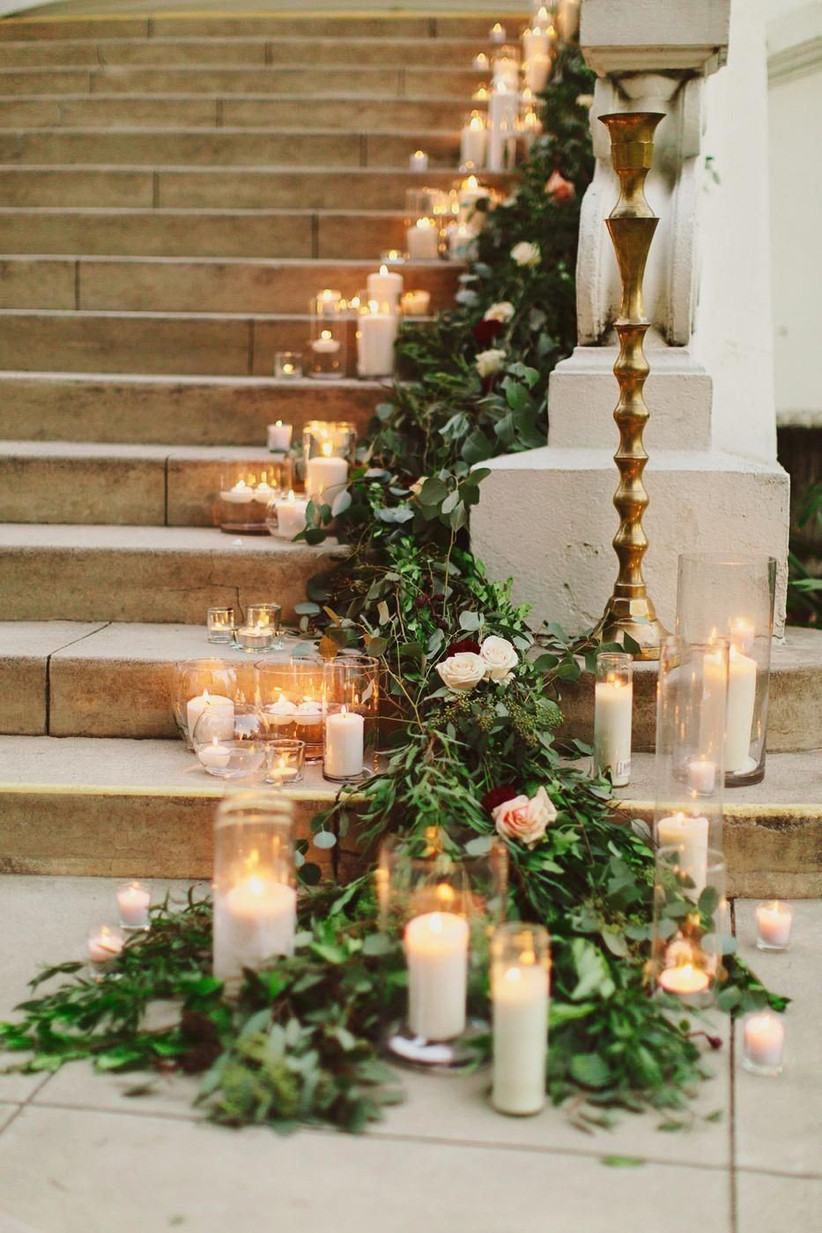 Image: Pinterest
If there's one thing that can add to a wonderful, wintry atmosphere, it's a candle-lit room. Add a slightly gothic vibe to your wedding venue by using mounted candles on the wall or in candelabras on tables. Give as wedding favours, fill fireplaces, or light paths and staircases.
Winter Florals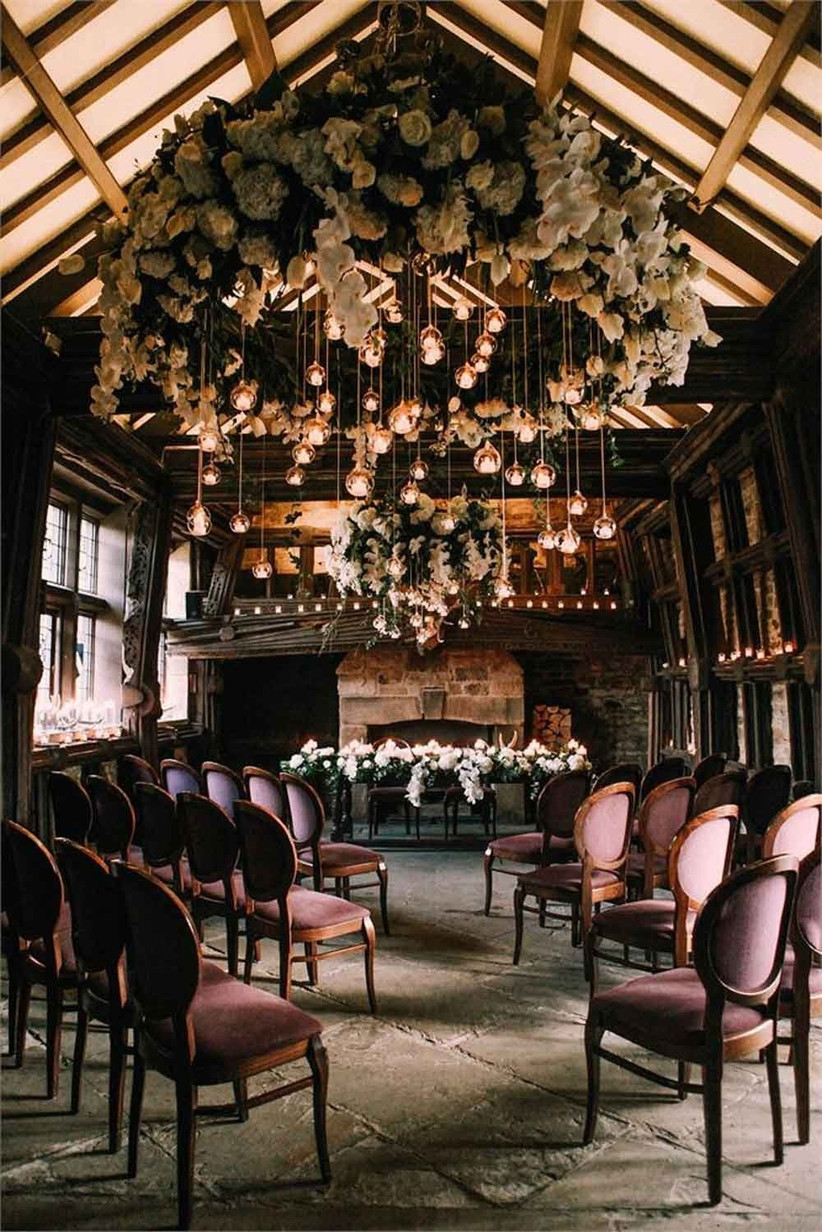 Image: Upper House Hayfield 
If you're a floral-loving kind of couple, fear not, because floral décor is NOT off the cards for you. This is the perfect example, as the floral lighting is the dreamiest winter wedding addition of them all. The hanging light bulbs look like baubles, giving it that ultimate Christmas feel. And don't forget, a sprig of mistletoe here and there doesn't hurt!
Arches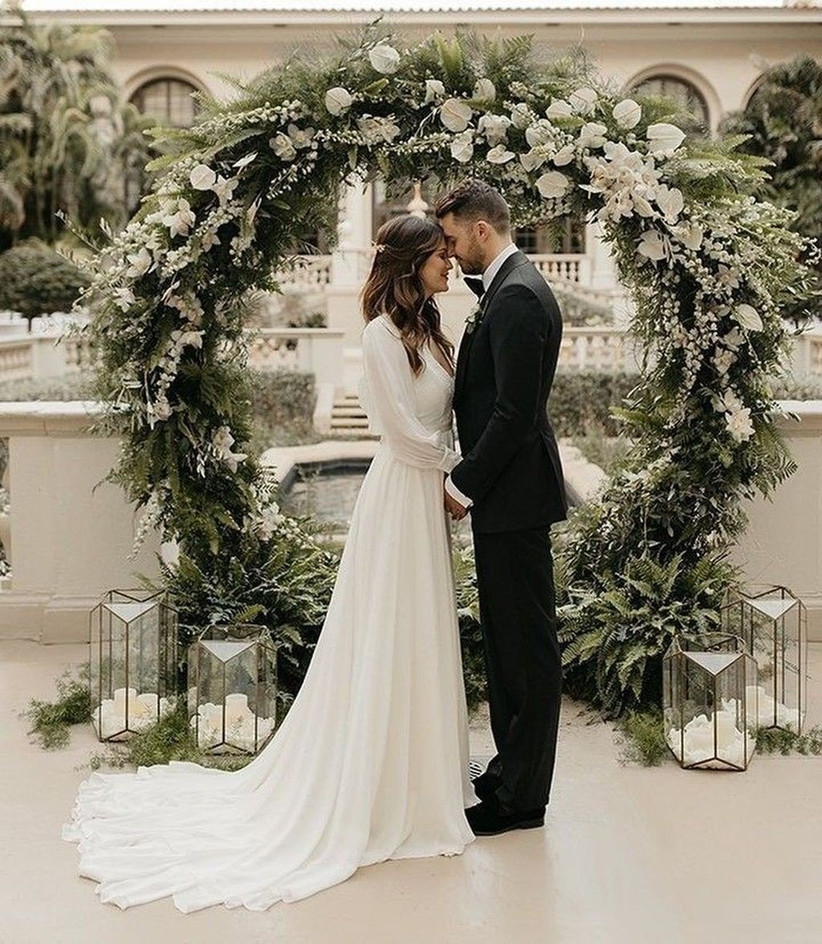 Image: Pinterest
Add a wintery wedding arch to your ceremony if you want to really impress your guests. This one is the perfect addition to any winter wedding – especially if you're going with that all-white décor theme.
READ MORE: The Prettiest Wedding Arches You'll Ever See
Pine Cones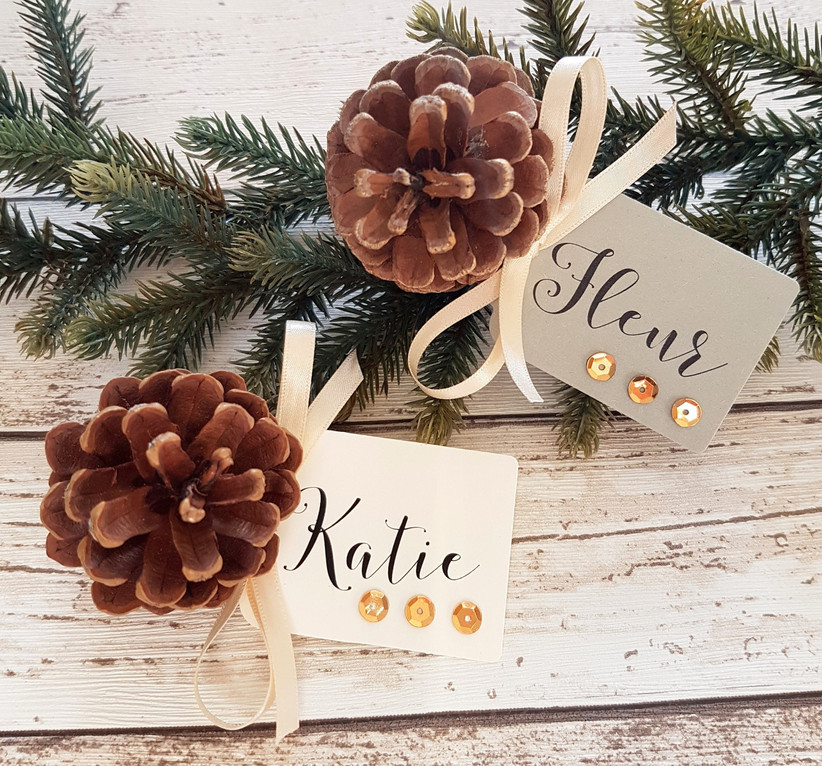 Image: Etsy
Pine cones are easy to get your hands on at this time of year and versatile. Use to hold flat place cards, heap in a bowl for a cute centrepiece or decoration around your cake.
Sparkler Send Off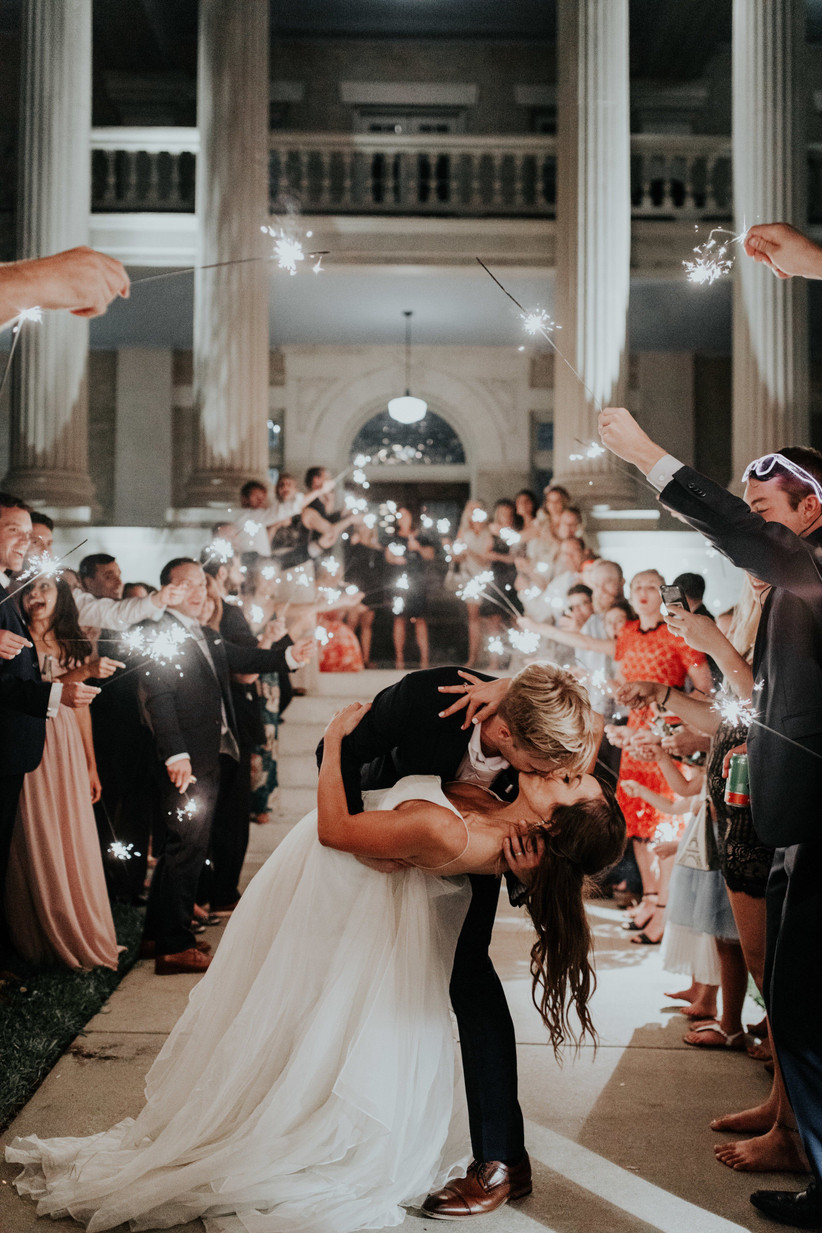 Image: Pinterest
Sparklers are at their most dazzling against a really dark sky. Have your guests line up as the carriages arrive and light your path down to your car. It makes the most amazing wedding photos.

Winter Wedding Cakes
Metallic Winter Wedding Cake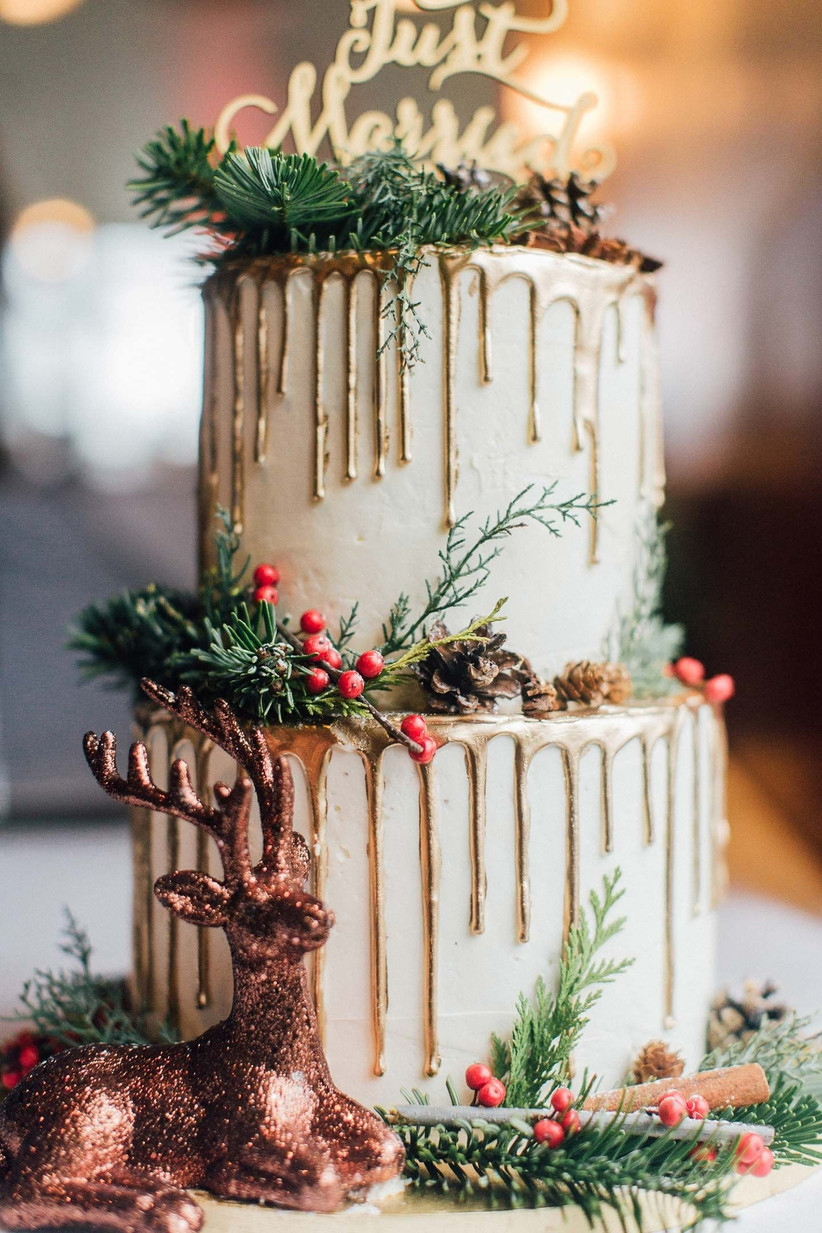 Image: Pinterest
If you want to add some glamour to your winter wedding cake, why not opt for a white and gold style, just like this cake? The drip effect and fir and pine cone toppers make it the dreamiest choice for a metallic wedding cake.
READ MORE: The Most Amazing Cake Makers in London
White Winter Wedding Cake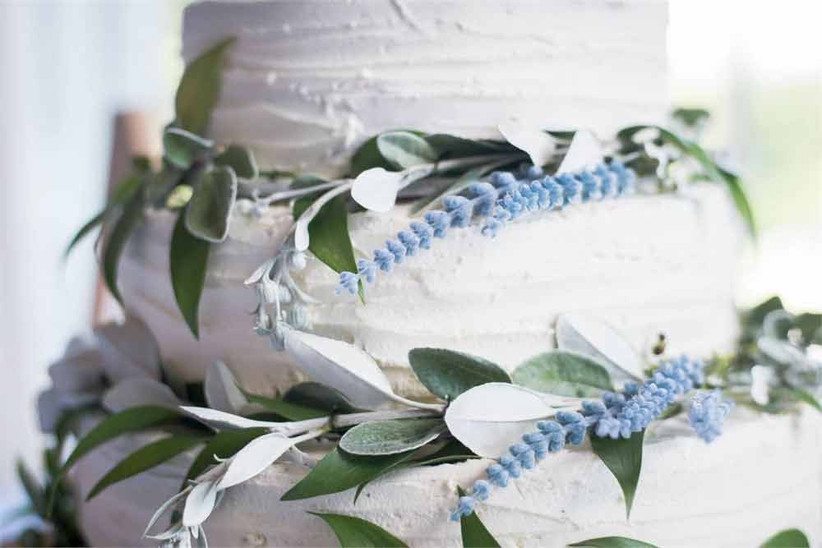 Image: Jenny Maden Photography
For the all-white theme, we're huge fans of a buttercream wedding cake. The crisp, white colour is brought to life with the help of greenery and pastel blue lavender – a strong choice for a winter wedding cake.
Rustic Winter Wedding Cake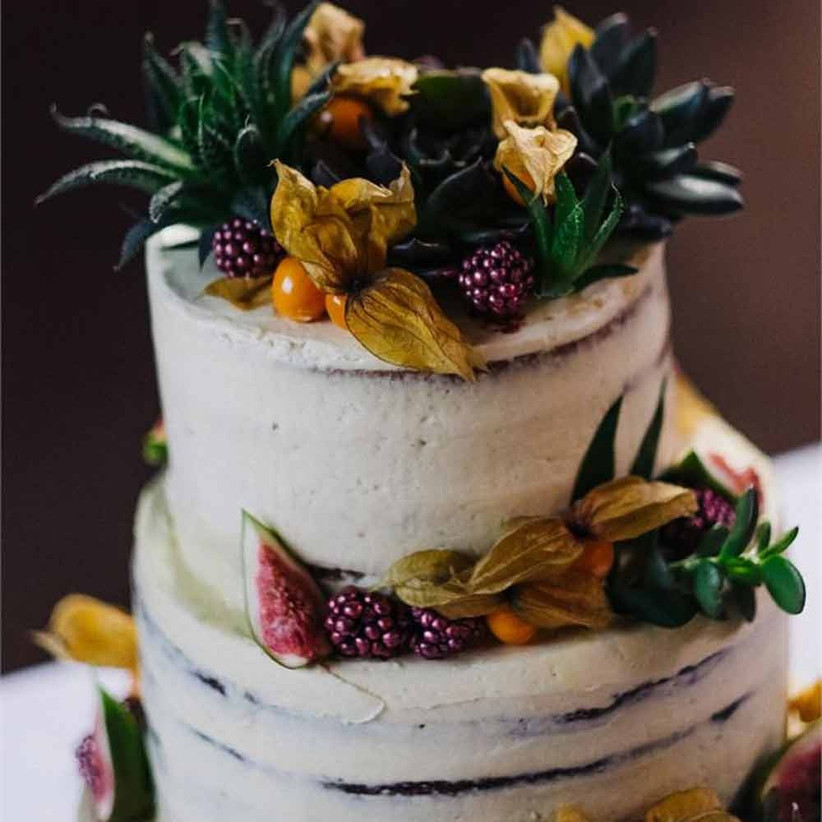 Image: Black Swan Studios
If rustic is your theme, why not have a cake with a semi-naked finish and some fruity toppers? The colours and choice of toppings is up to you, but figs, blackberries, cherries, pears and physalis are perfect.
Marble Winter Wedding Cake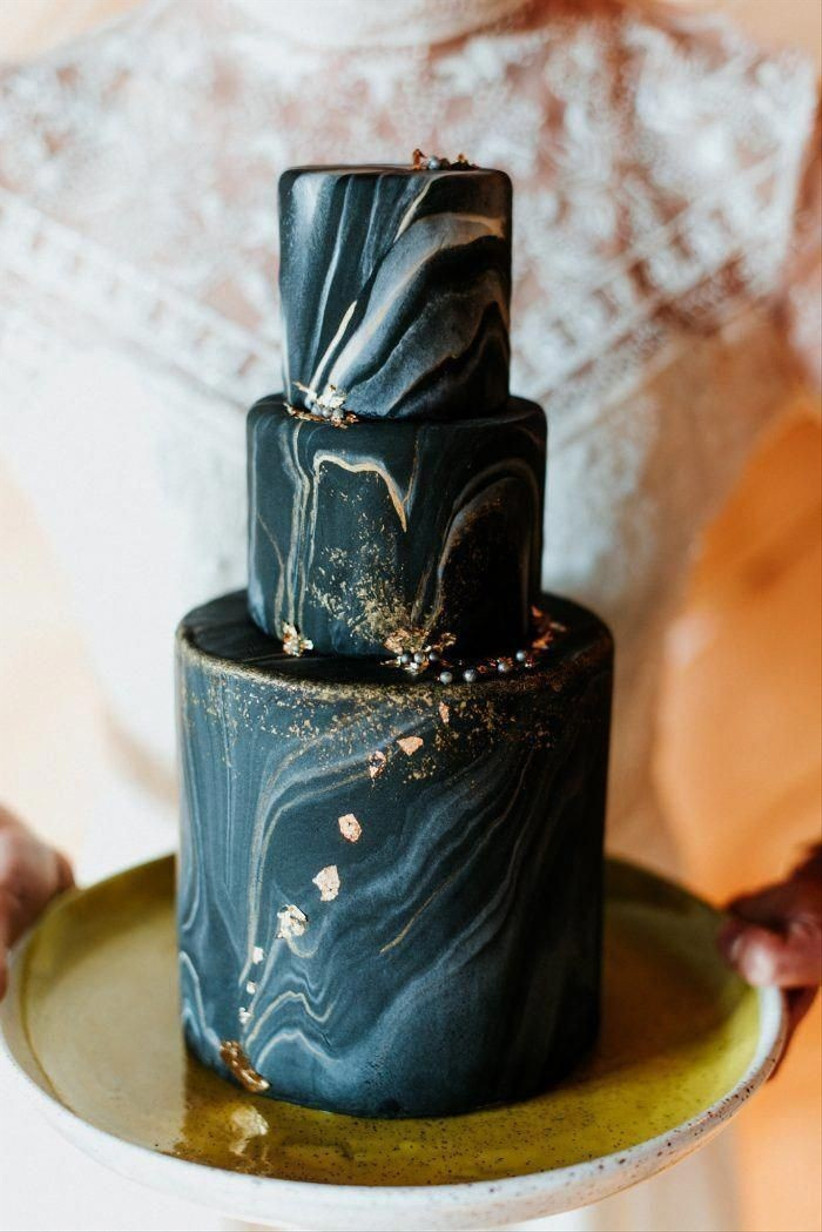 Image: Pinterest
Winter suits lots of darker, moodier colours too, like forest greens, burgundy and navy. Bring them to life with a marble effect and metallic accents, like this striking cake.
READ MORE: 37 Delicious Wedding Cake Alternatives

Winter Wedding Dresses
Gold and Feathered Winter Wedding Dress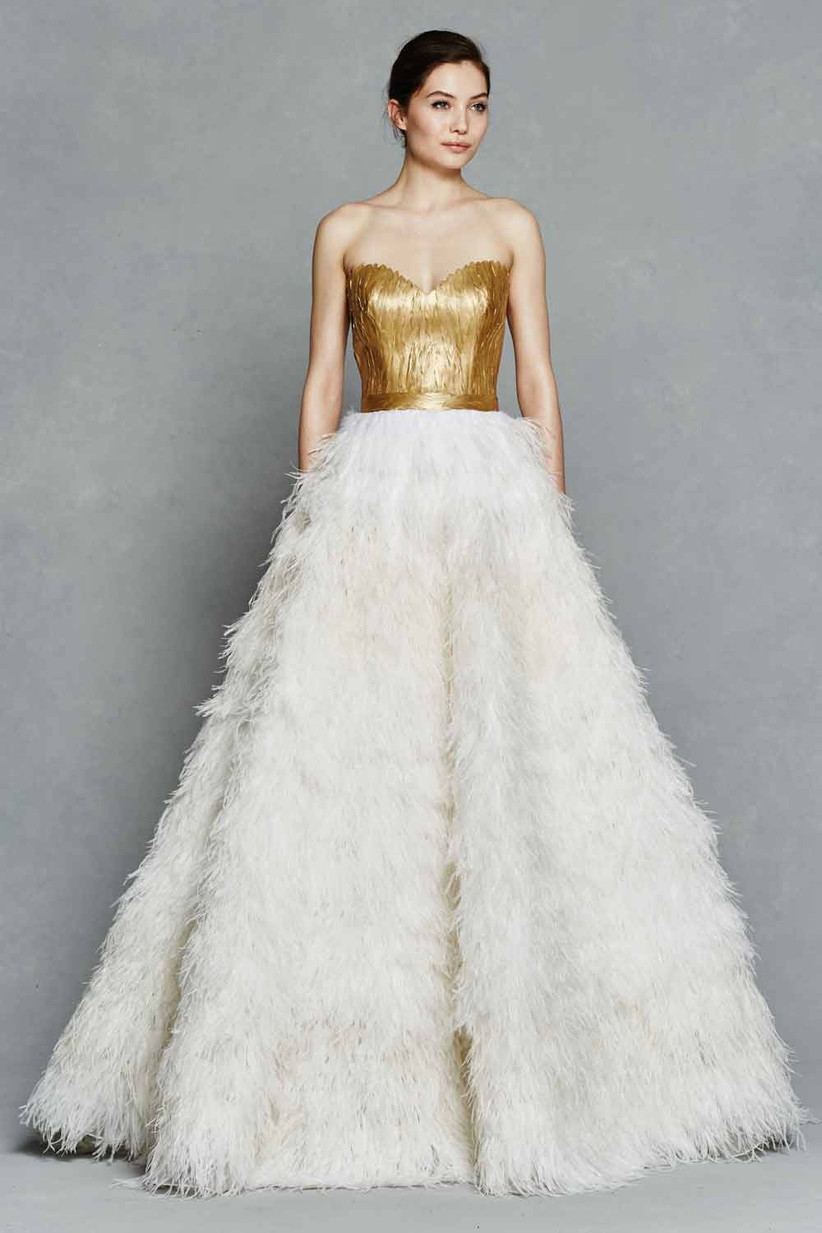 Gold is such a festive colour, as well as being totally glamorous – so why not embrace that in your choice of winter wedding dress? Olga by Kelly Faetanini does just that, and also incorporates another of our favourite festive fashion choices, feathers. This gown really is something very, very special!
READ MORE: The Best Winter Wedding Dresses
Long Sleeved Winter Wedding Dress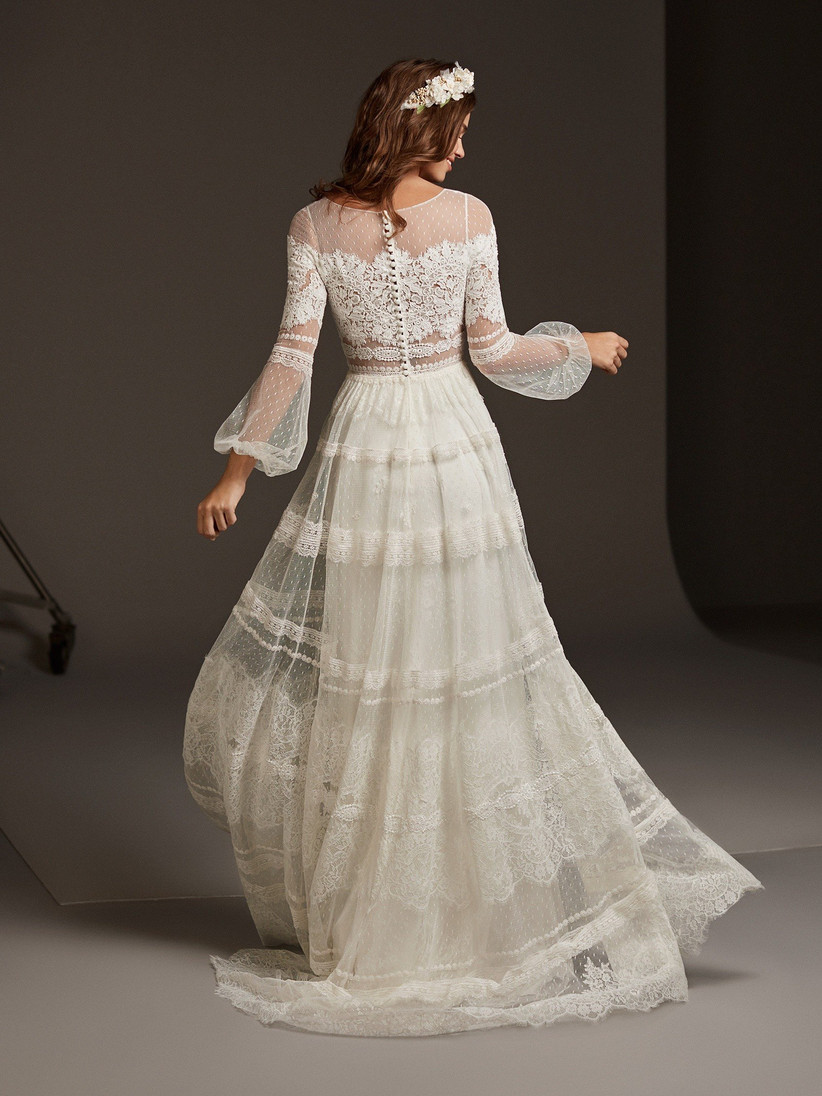 This intricate, long sleeved gown from Pronovias is delicate and detailed – everything a winter wedding dress should be! The sleeves won't make you feel constricted but they'll give you just that extra little bit of coverage.
Statement Train Winter Wedding Dress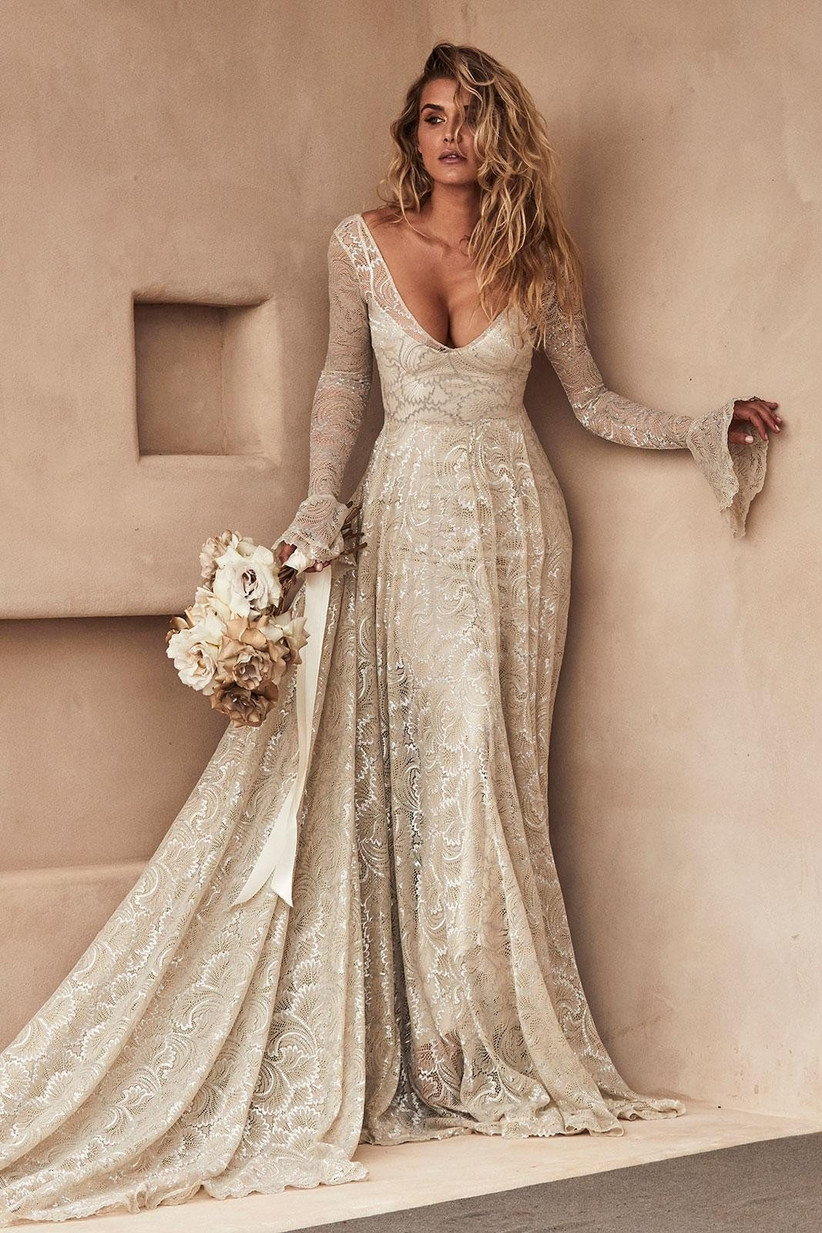 Winter weddings are all about drama and theatre, so choose a statement train like the one on the Bea dress from Grace Loves Lace. This dress is threaded through with champagne and silver threads to create a majestic shimmering lace effect.
Chic Winter Wedding Suit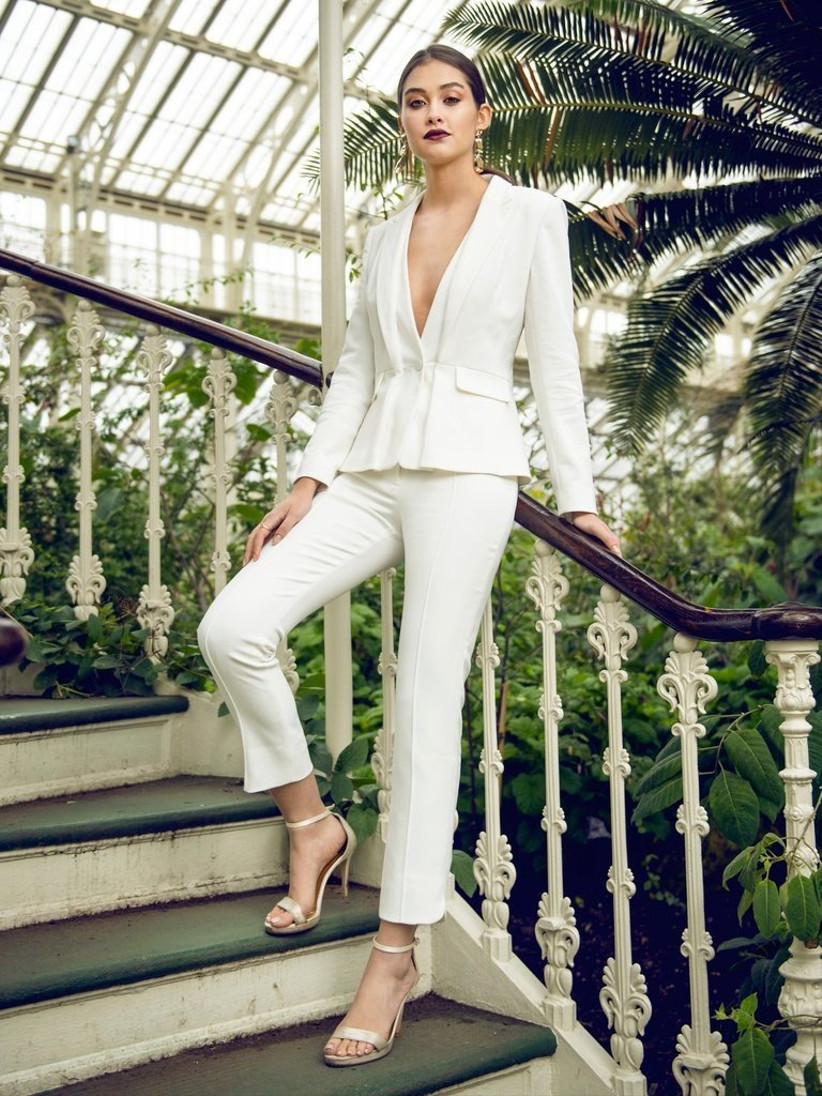 If you're the kind of bride who wants to push boundaries with your wedding day look, why not dare to be different in this sharp Catherine Deane suit? The cropped Milani trousers and chic Maxi jacket are seriously bold and contemporary. You'll glide down the aisle.
READ MORE: 17 Glitzy Gold Wedding Dresses
Beaded Winter Wedding Dress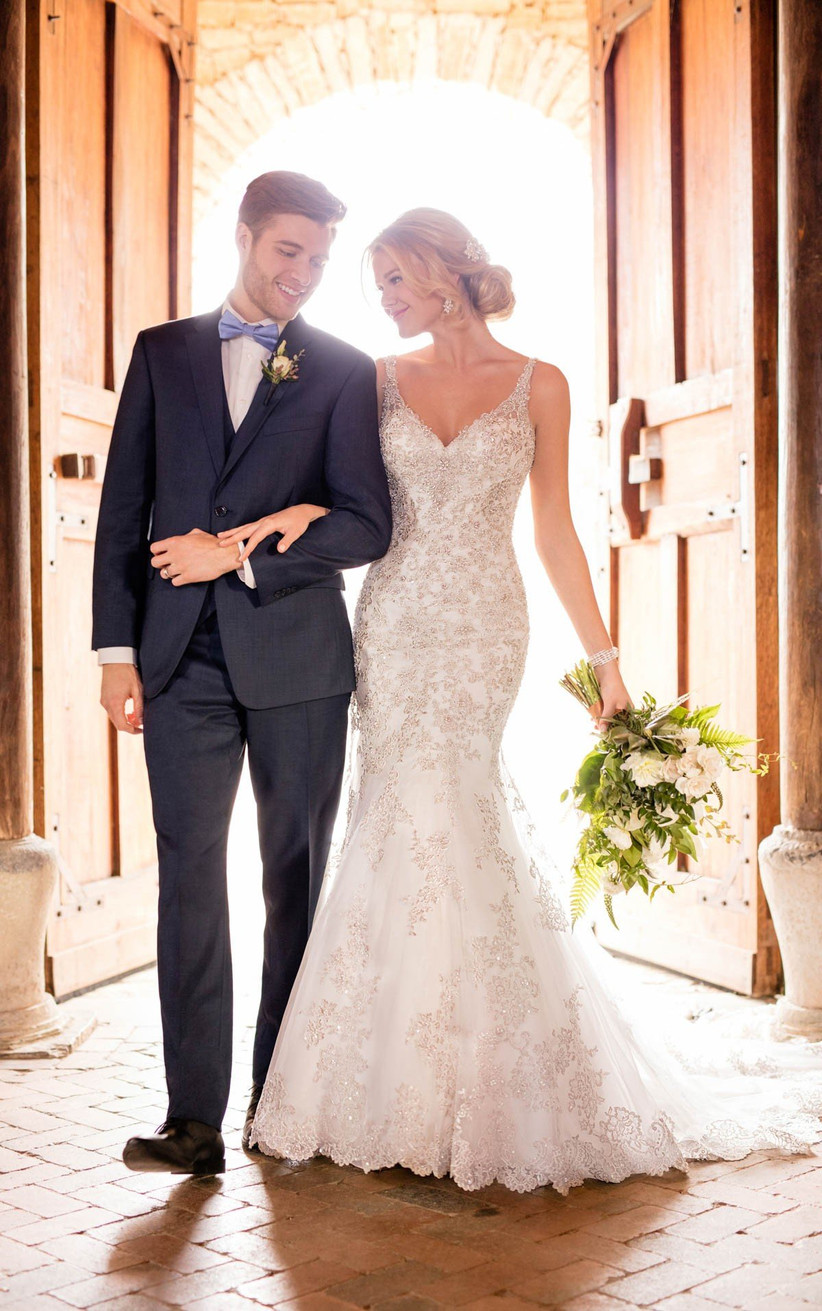 Adorned with pearl beadwork, diamantes and Swarovski crystal buttons, this Essense of Australia dress is a shining example of a perfect sparkling winter wedding dress. Look for crystals, beads and sequins so that you shimmer under the fairy lights.
Winter Wedding Veil Inspiration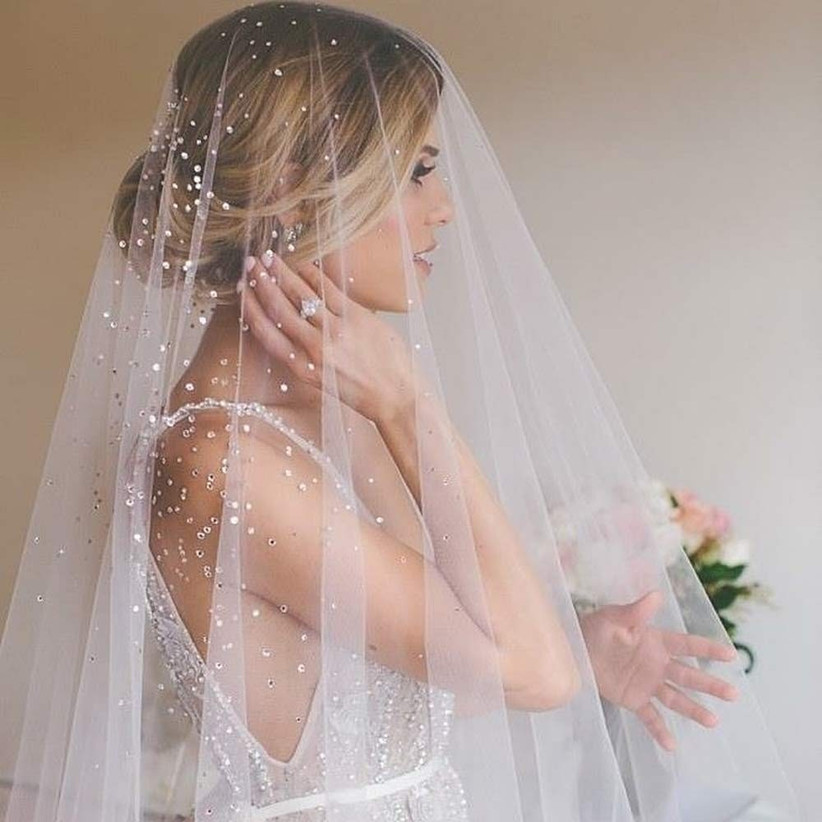 Image: Natalie Kamal
Brides looking to wear a veil on their wedding day will love what this bride-to-be has done with her look. The beautiful detailed veil really complements her overall look and hair-up style, and the sparkles on the veil itself really suit the winter theme.

Winter Bridesmaid Dresses
Embroidered Winter Bridesmaid Dresses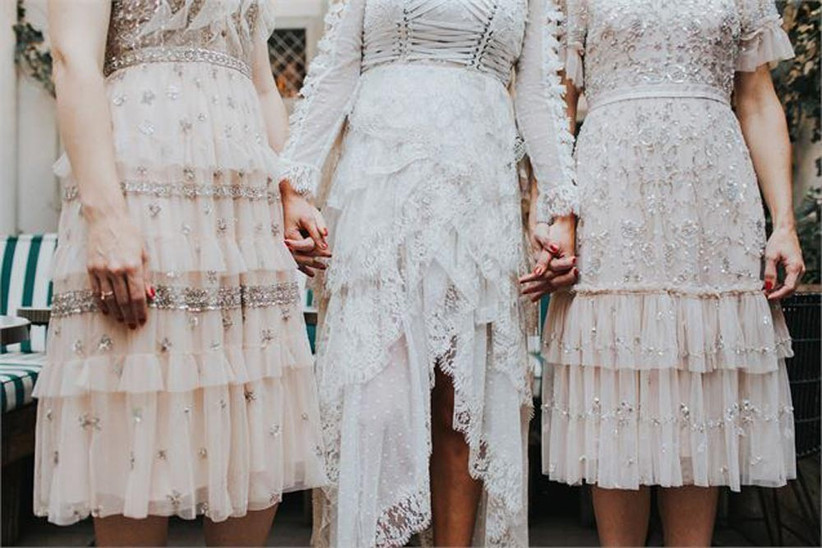 Image: We Heart Pictures
An on-trend theme for winter bridesmaid dresses is lots of embroidery – just like these two maids at The Groucho Club have on their dresses. The sparkles really accentuate the winter theme and not to mention how incredible they look next to that show-stopping wedding dress.
READ MORE: 42 of the Best Bridesmaid Dresses for 2019
Lace Winter Bridesmaid Dresses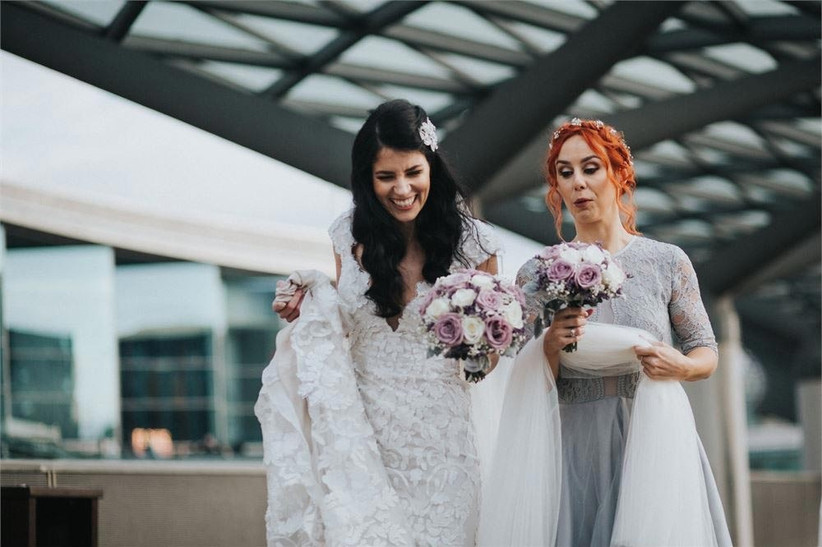 Image: KN Vision
This grey, lace bridesmaid dress makes for a really stunning winter bridesmaid dress. The detail on the bodice is subtle, and the colour is super pretty. Scalloped and sheer lace are a great fabric choice for winter and this picture proves it.
Mix and Match Winter Bridesmaid Dresses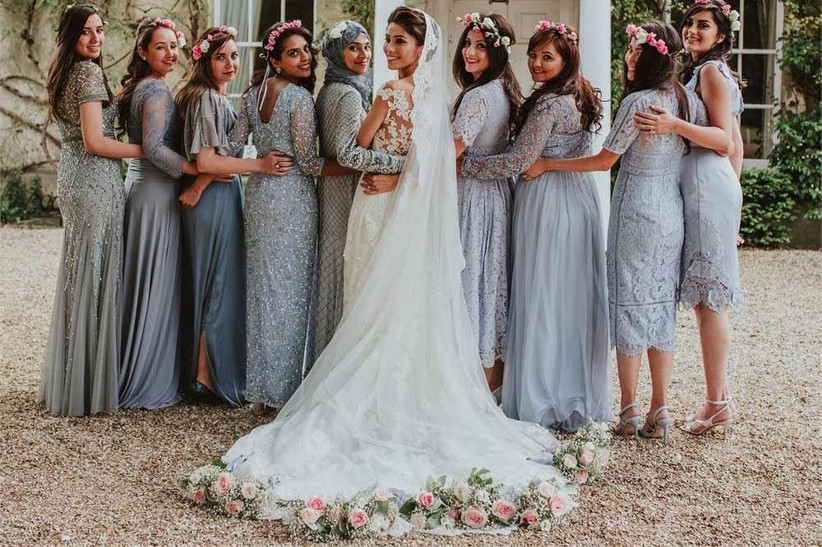 Image: Dominika Miechowska Photography
If you can't decide on one winter bridesmaid dress, why not have all of your gorgeous bridesmaids in different dresses that all complement each other? The mix between lace, embellishment and that phenomenal colour palette – going from silver to lavender through grey and mink – really is amazing!
READ MORE: 17 Times Mix and Match Bridesmaids Gave Us Style Goals
Wintry Coloured Bridesmaid Dresses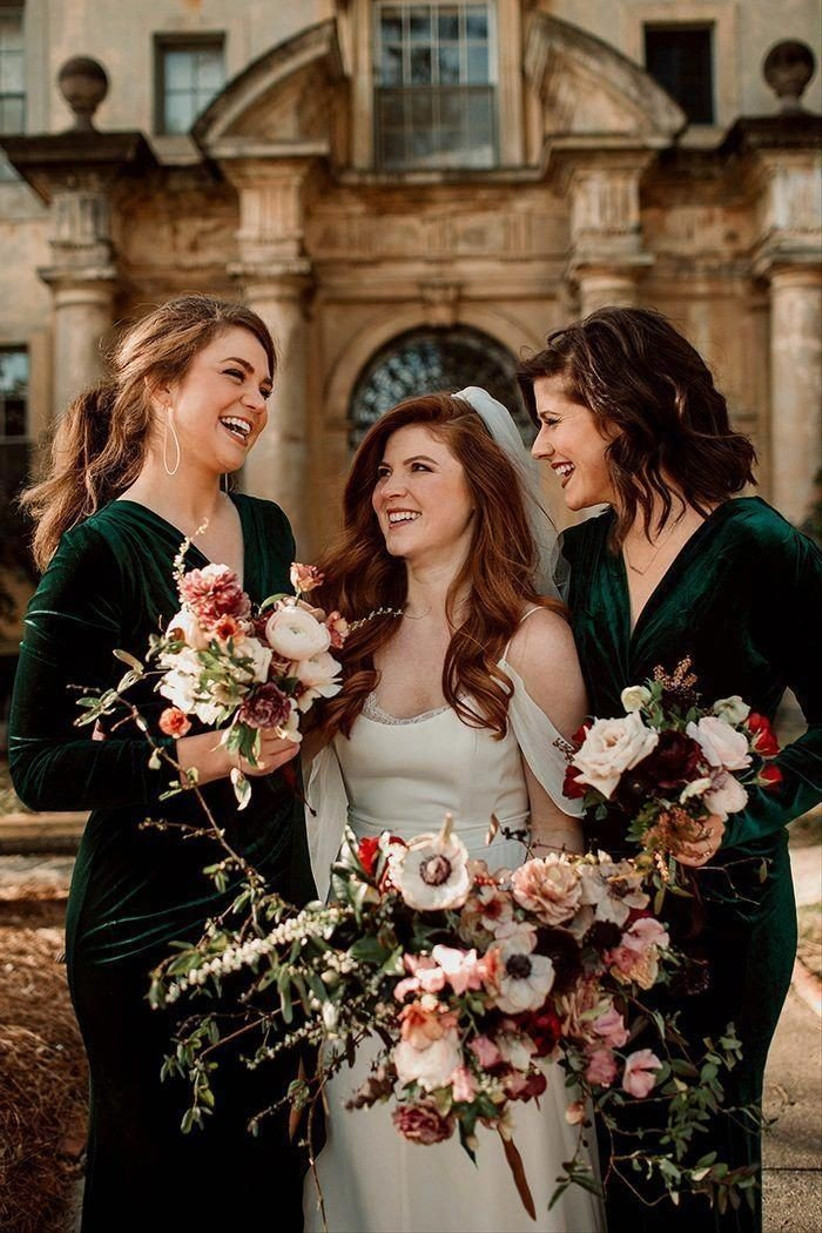 Image: Pinterest
Stick to the darker end of the spectrum in winter. Navy bridesmaid dresses, bottle green dresses and cranberry red dresses all look amazing. Metallic shoes and accessories add a much needed highlight and warmth. The ones above are in velvet too – one of our favourite fabrics for winter.

Winter Wedding Hair and Makeup
Natural Winter Wedding Hair and Makeup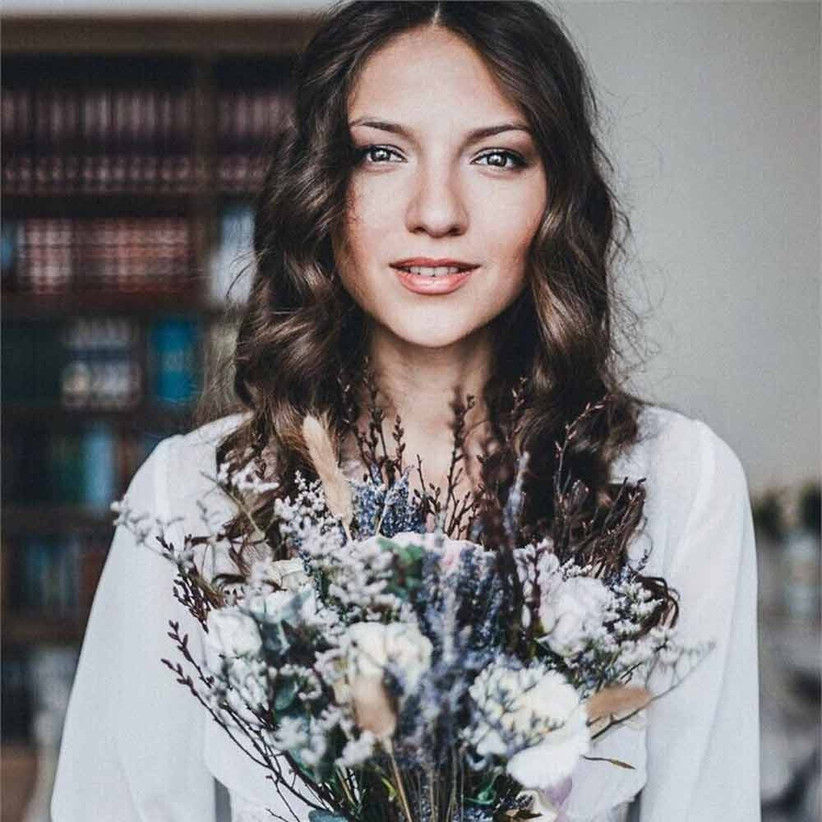 Image: Marina Mazza
This bride has opted for brushed-out, gentle waves, paired with neutral makeup. The tinted lip and soft, smoky eye really are a gorgeous combo for a bride who wants to stay looking natural and fresh on her wedding day.
READ MORE: 37 Gorgeous Wedding Makeup Ideas
Glamorous Winter Wedding Makeup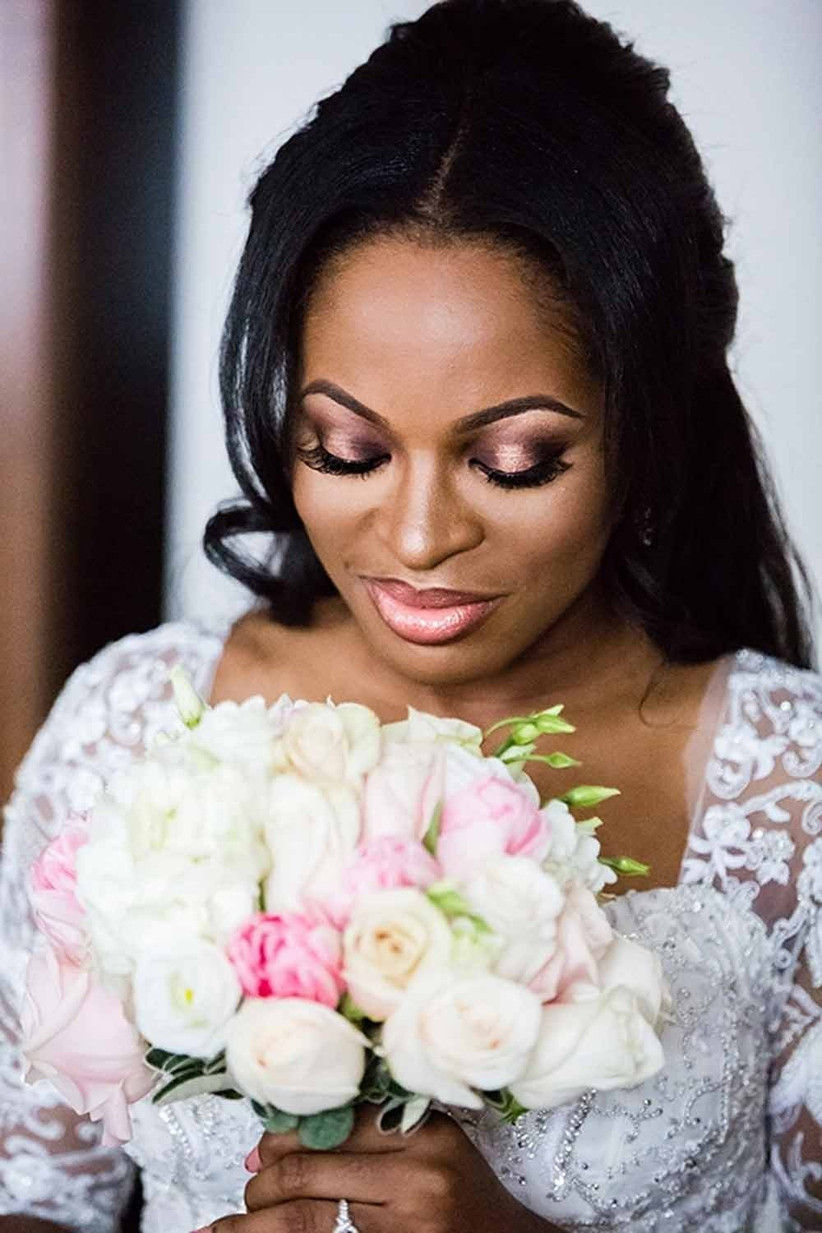 Image: Gomes Photography
This bride's beautiful look is feminine and fabulous. The warm metallic shade of her eye shadow is perfectly matched with the blush pink lip and natural complexion. Metallics on your eyes and as a highlighter will really pop and shimmer under lights.
Edgy Winter Wedding Hair and Makeup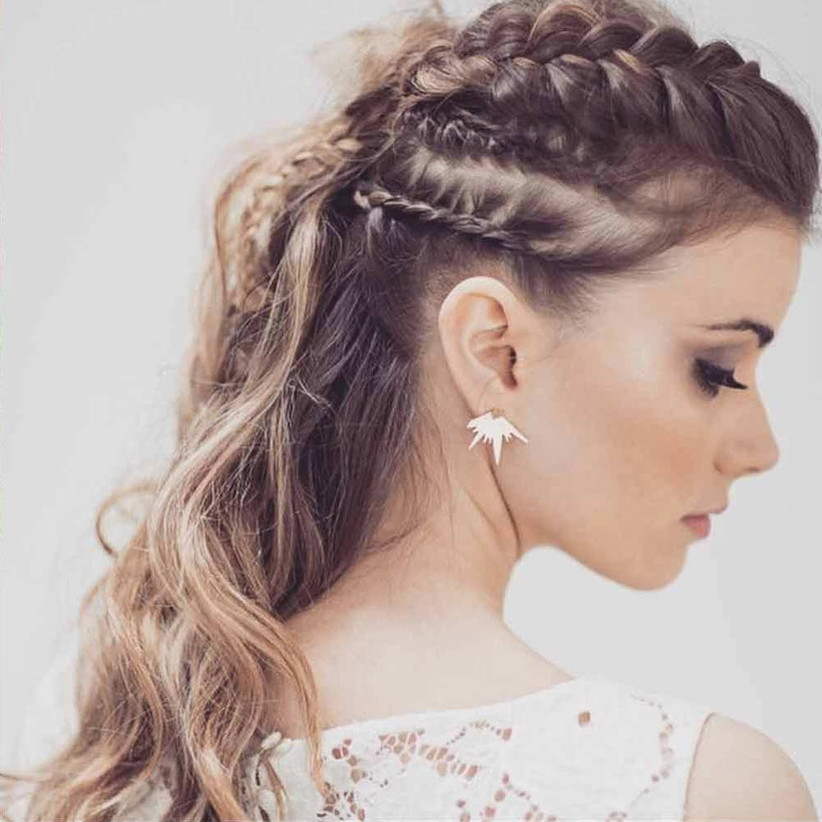 Image: Make Me Bridal
Brides wanting to make a statement on their big day will adore this French plait half-up, half-down style. The long lashes and grey eye shadow add more drama to the look and we just love those earrings!
READ MORE: DIY Wedding Makeup Inspiration

Winter Groomswear
Traditional Winter Groomswear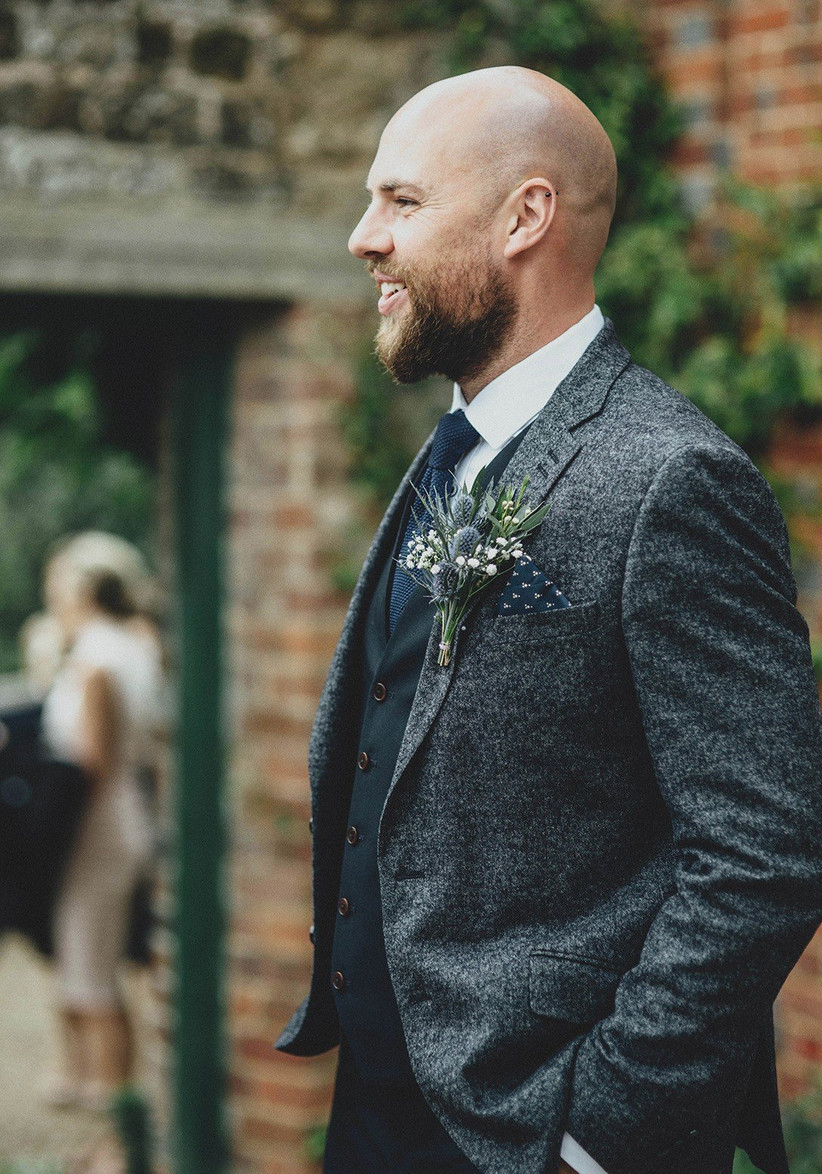 Image: Pinterest
For a really strong and traditional look, consider a handsome navy suit in thick tweed, combined with a plain waistcoast. It looks super smart, and you can find it in lots of different shades and fabrics to fit different wedding colour schemes.
READ MORE: Seasonal Groomswear – Styling Tips for Each Season
Velvet Winter Groomswear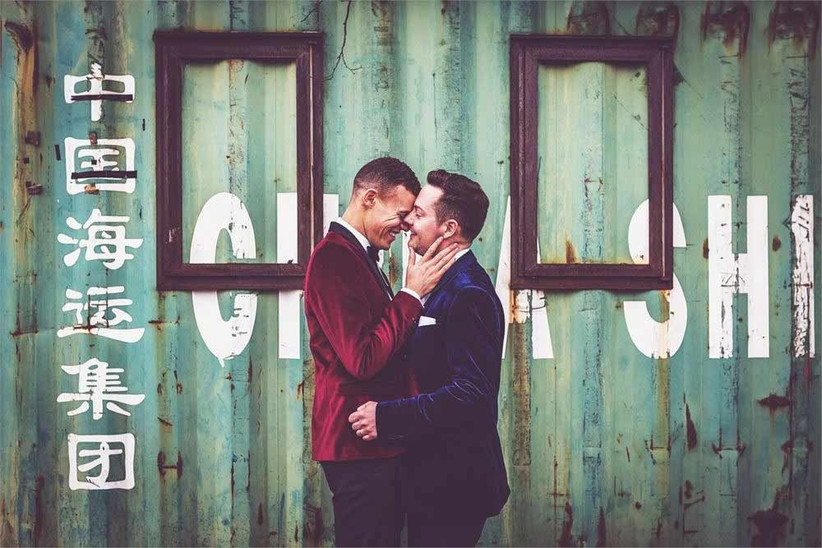 Image: Steve Grogan Photography
These two gorgeous grooms have both opted for velvet suit jackets, and they look just incredible. We love the contrasting colours and the way the light reflects off of the fabric.
Seasonal Winter Groomswear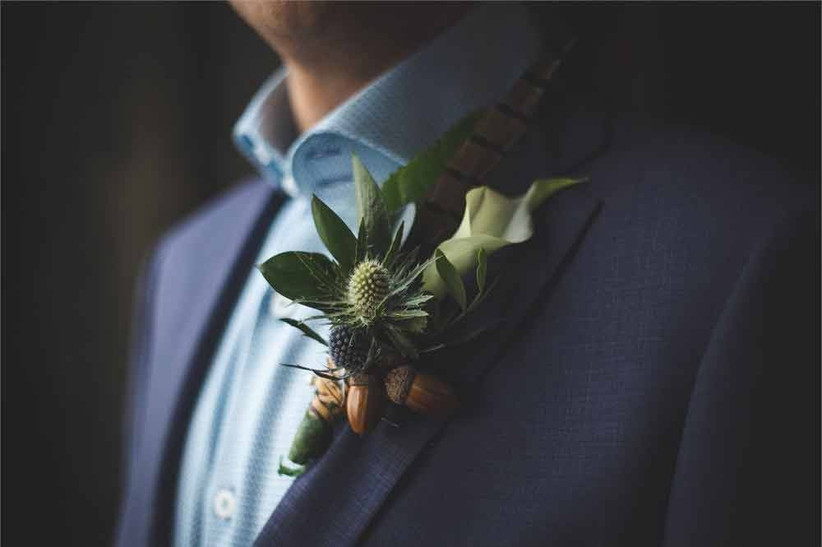 Image: Imagications Photography
Winter groomswear doesn't just have to be reflected in the suit you wear. This groom's buttonhole is super seasonal and really reflects the theme of a winter wedding.

Winter Wedding Stationery
Metallic Wedding Stationery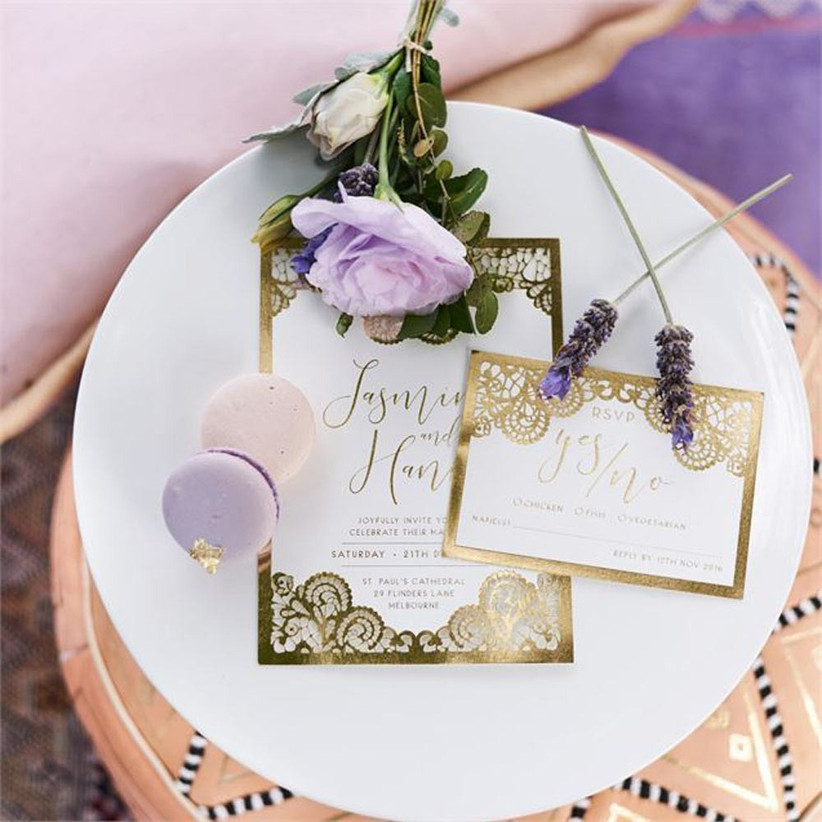 Image: Adorn Invitations
Metallics are a lovely theme for a winter wedding. The gold foil used in this stationery along with the intricate laser cutting is perfect for couples who are planning a really glamorous do.
READ MORE: The Ultimate Guide to Wedding Invite Wording
Marble Wedding Stationery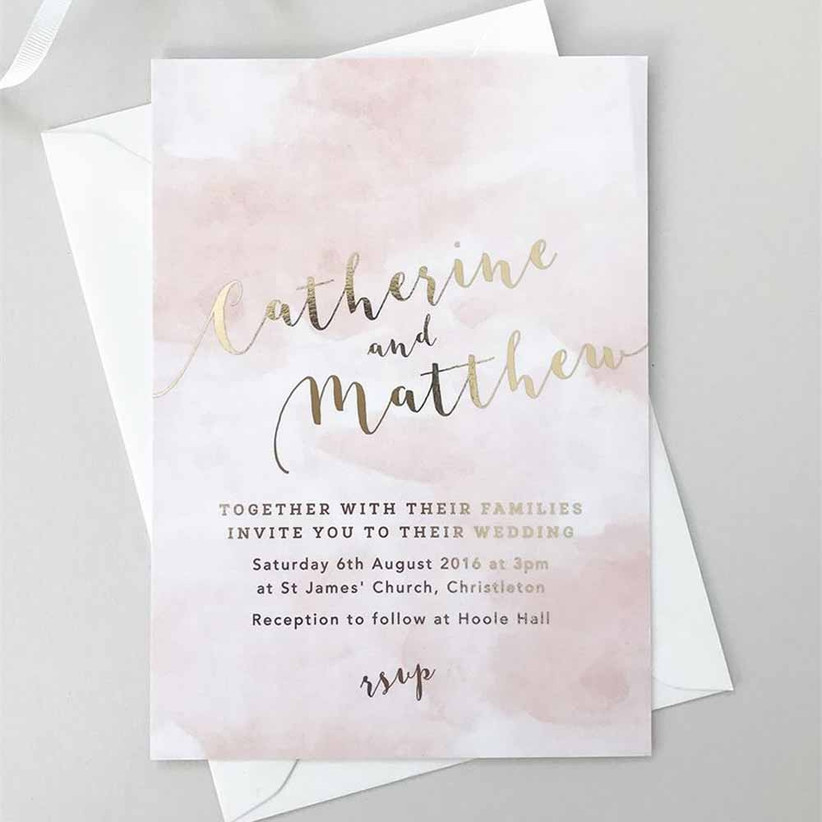 Image: Project Pretty
Those of you who are planning a stylish, minimalist winter wedding should definitely consider marble prints for your wedding stationery – it's really on-trend and looks fabulous with a hint of metallic, just like this style by
Monochrome Wedding Stationery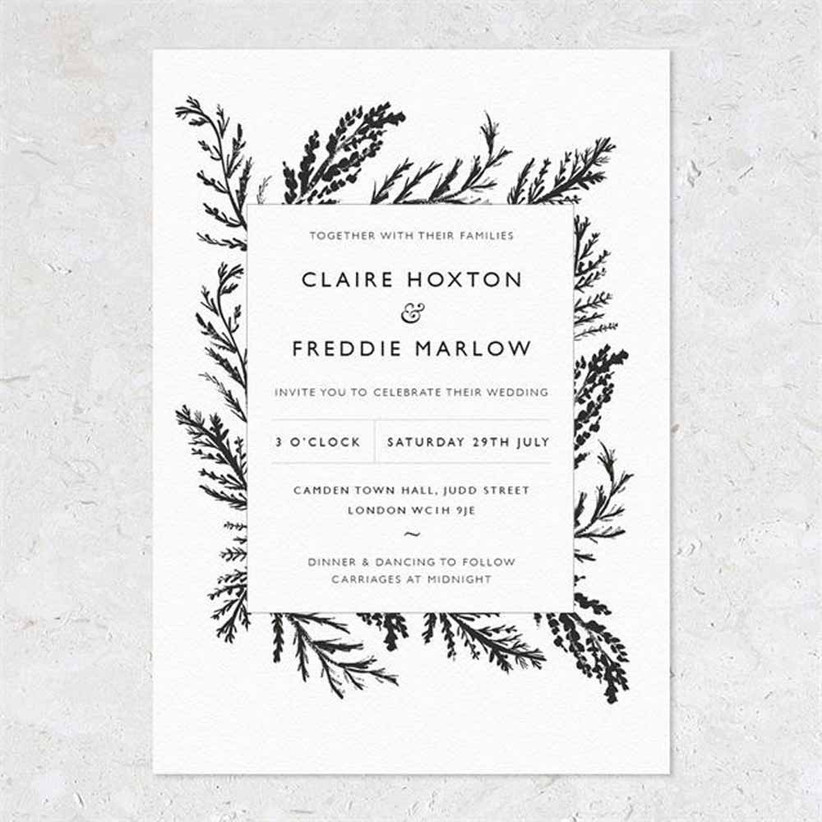 Image: Studio Sophie
A simple black and white theme for your stationery is also really fitting to a winter wedding celebration. The leafy print on this design is really pretty and complements the bold and simplistic font.
READ MORE: Marble Wedding Ideas
Floral Wedding Stationery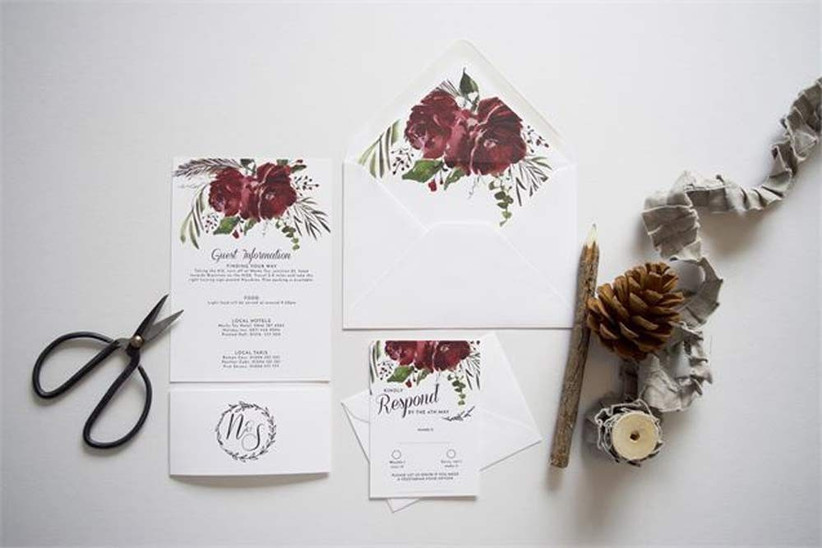 Image: Wonderland Invites
Floral wedding stationery designs aren't just limited to spring and summer weddings. This design uses dark red and green colours to illustrate a seriously pretty wedding invitation and RSVP. The colours have a subtle festive feel, making them the perfect choice for a winter wedding.
To kick off the planning for your winter wedding, find your perfect venue with our pick of the best winter wedding venues.