36 Naked Wedding Cakes for Stylish Celebrations
A naked wedding cake is usually associated with rustic celebrations - but we're here to show you that an exposed sponge bake can work at all kinds of wedding, with the most beautiful designs from simply chic to full-on fabulous
We have included third party products to help you navigate and enjoy life's biggest moments. Purchases made through links on this page may earn us a commission.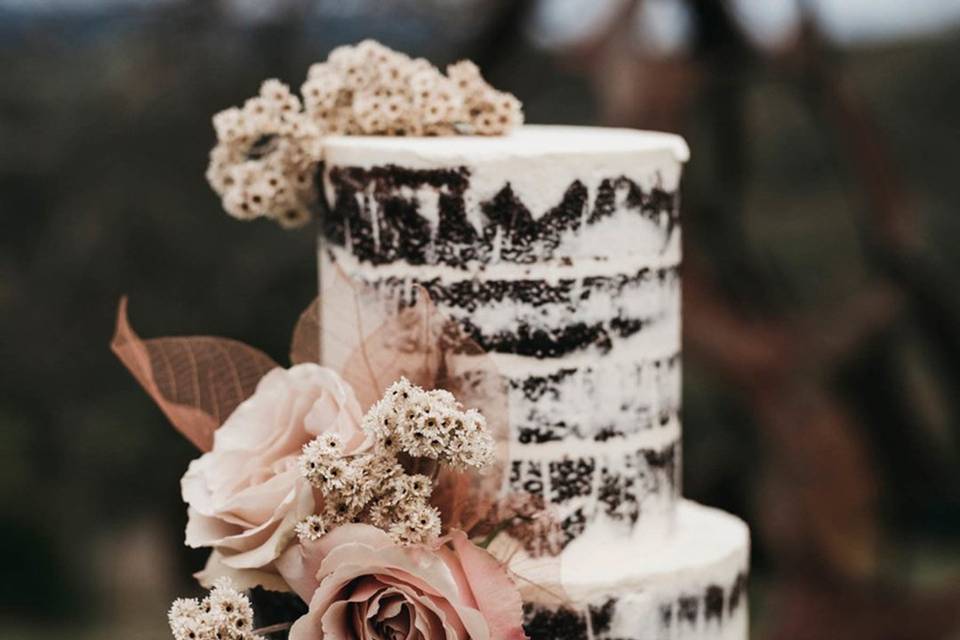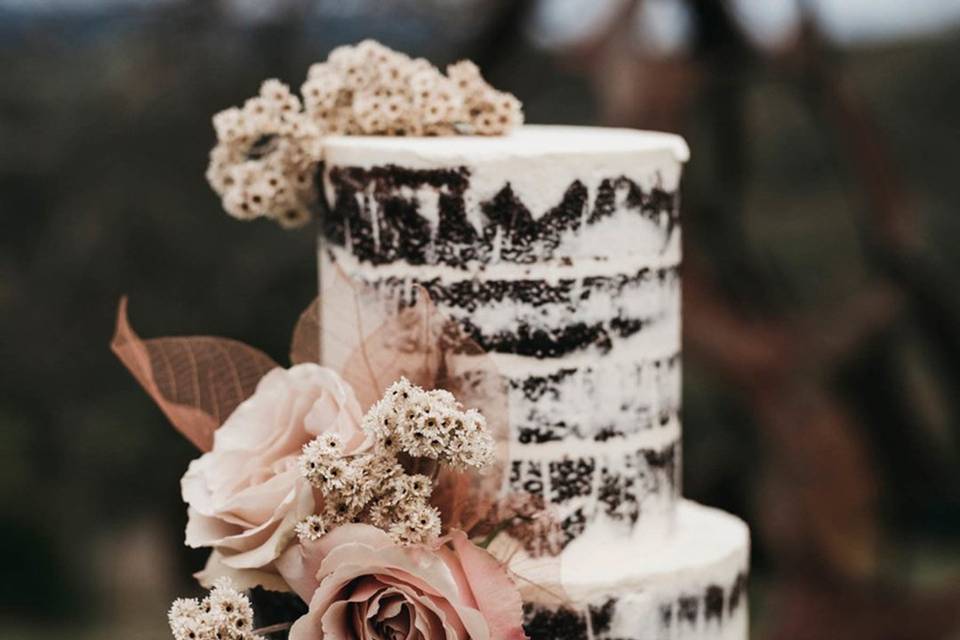 Naked bakes burst onto the wedding scene a few years ago as a trend at rustic celebrations. Since then, the naked wedding cake has come on leaps and bounds in terms of flavours and designs, making it a show-stopping treat whatever your reception style.
So what is this rather sexily named treat? "A classic naked cake is an undressed cake," explains Pia Cato of the award-winning Vanilla Pod Bakery. "It's a delicious sponge sandwiched with a filling and no external icing." You don't have to go fully 'naked' with your cake. Semi-naked bakes, with a thin layer of buttercream that lets the sponge peek out, are also very popular.
A non- or semi-iced cake may sound very plain - in fact, naked wedding cakes are anything but! If your dream wedding cakes involve plenty of decoration, having a plain base means the décor possibilities are even more exciting.
"My favourite thing about naked cakes is that they are so versatile," says Pia. "From boho chic to black tie affairs, naked and semi-naked cakes look equally gorgeous in all types of settings. I like to think of the cake as the canvas and then design the decorations from there, whether that's using fresh flowers, fresh fruit or something completely different! I particularly like using separators too. These are placed in between the tiers and we fill the spaces with beautiful flowers and fresh fruit. It makes for an elegant but dramatic look."
Naked wedding cakes don't just look amazing - they can give guests a taste sensation, too, and you can really get creative with the flavours. "One of our most popular options is a lemon-based bottom tier, Victoria Sandwich in the middle and a salted caramel top tier," says Pia. "A lot of our couples also opt for a delicious chocolate middle tier."
Get ready for some gorgeous naked wedding cake inspiration - if you manage to get through it without getting serious cake cravings, you're stronger than we are.
READ MORE
1. Double-Flavour Wedding Cake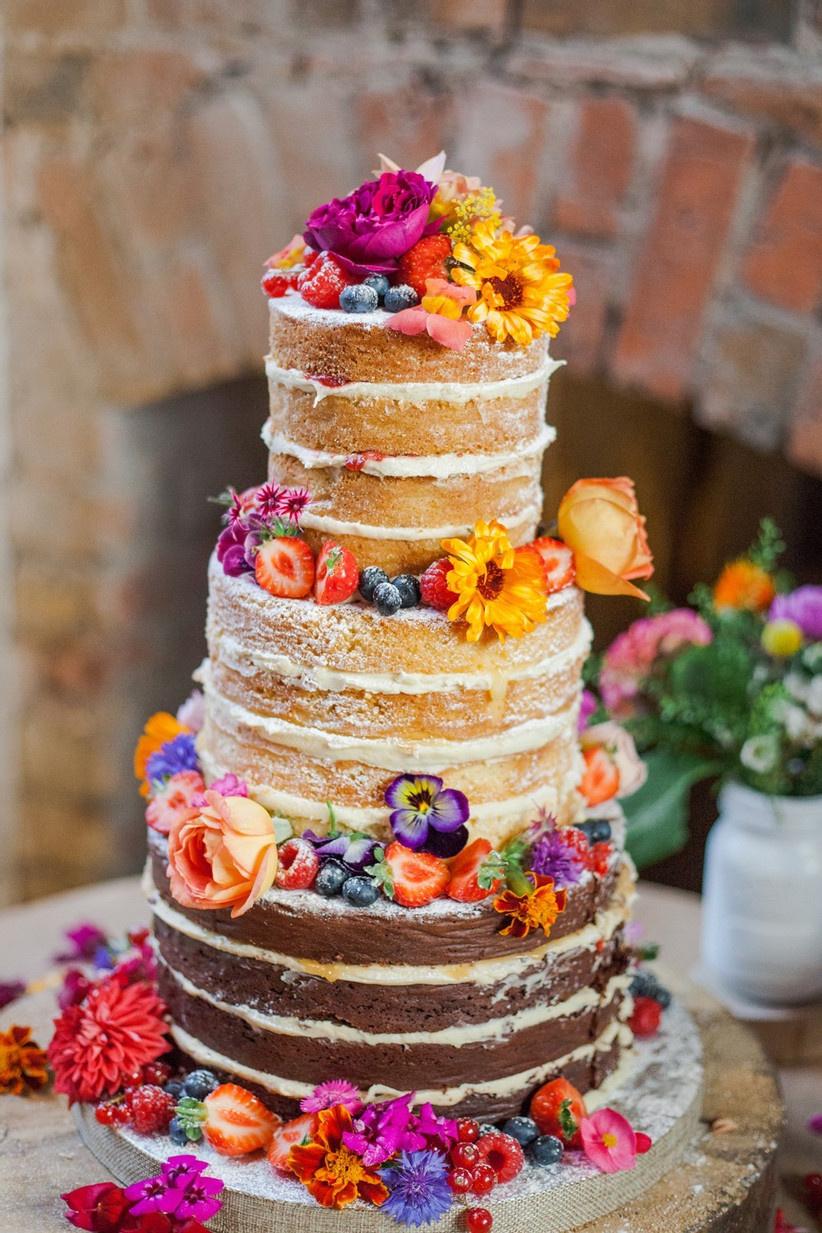 Who says naked cakes have to be one single flavour? This multi-layer bake has both chocolate and vanilla, making it a real crowd-pleaser.
2. Elegant Naked Wedding Cake
The smudge-effect icing here feels so chic, and we love the way the cake is decorated with just four repeating elements. It's a look that wouldn't be out of place at contemporary city wedding or a smart country house celebration.
3. Naked Cake with Metallic Drips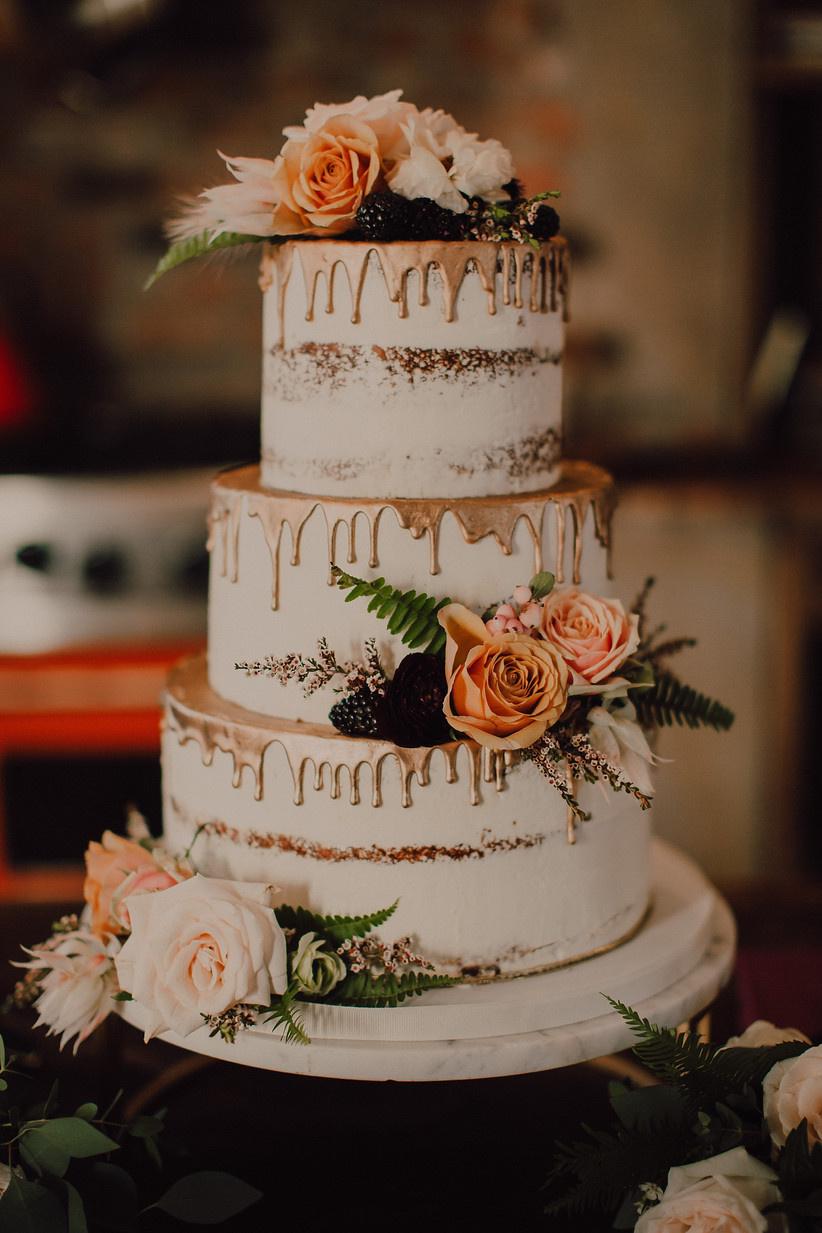 This bake brings together two hot wedding cake looks - the semi-naked sponge and the metallic drip cake - to create a laidback yet glamorous effect.
READ MORE: 63 Incredible Wedding Cake Ideas to Inspire You
4. Spring Naked Wedding Cake
If you prefer a pared-back style, choose a naked wedding cake with a clean silhouette and add minimum decoration in spring-appropriate colours - simplicity can be stunning!
5. Naked Cake with Colourful Layers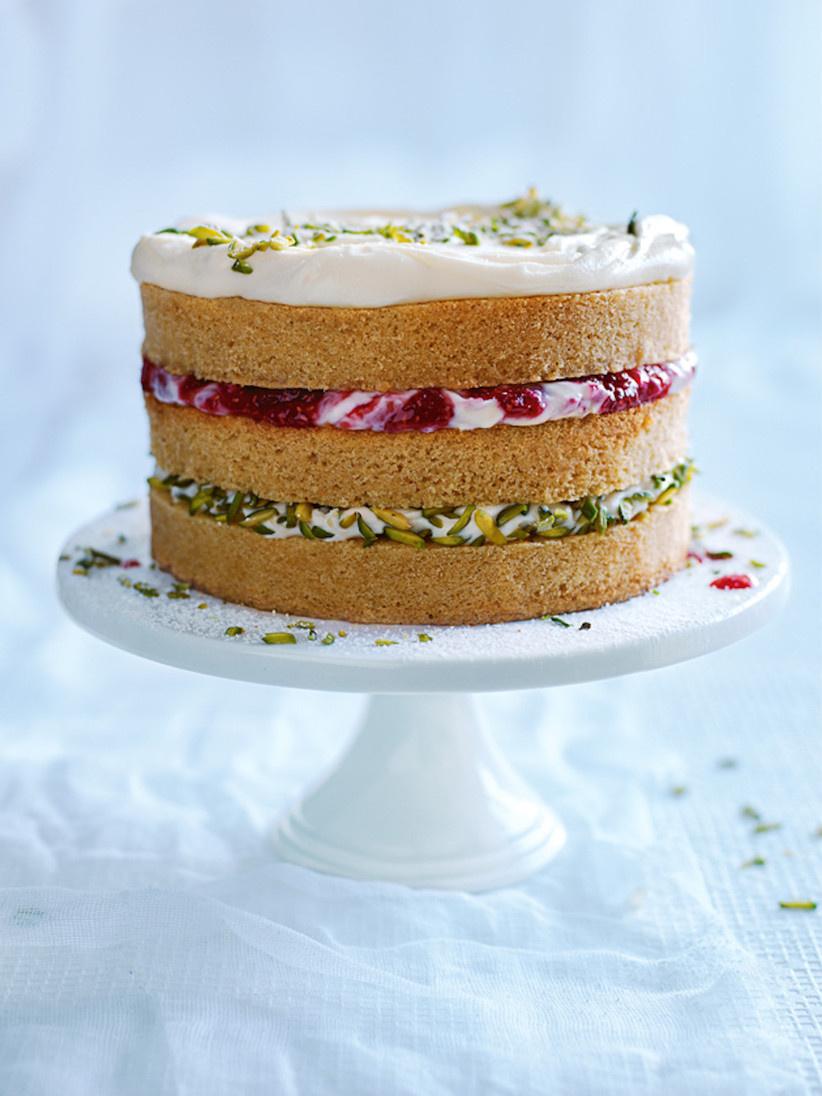 What a genius twist on the classic naked cake: rather than adding interest through decoration, have filling in different colours between the layers.
6. Naked Wedding Cake with Single Floral Decoration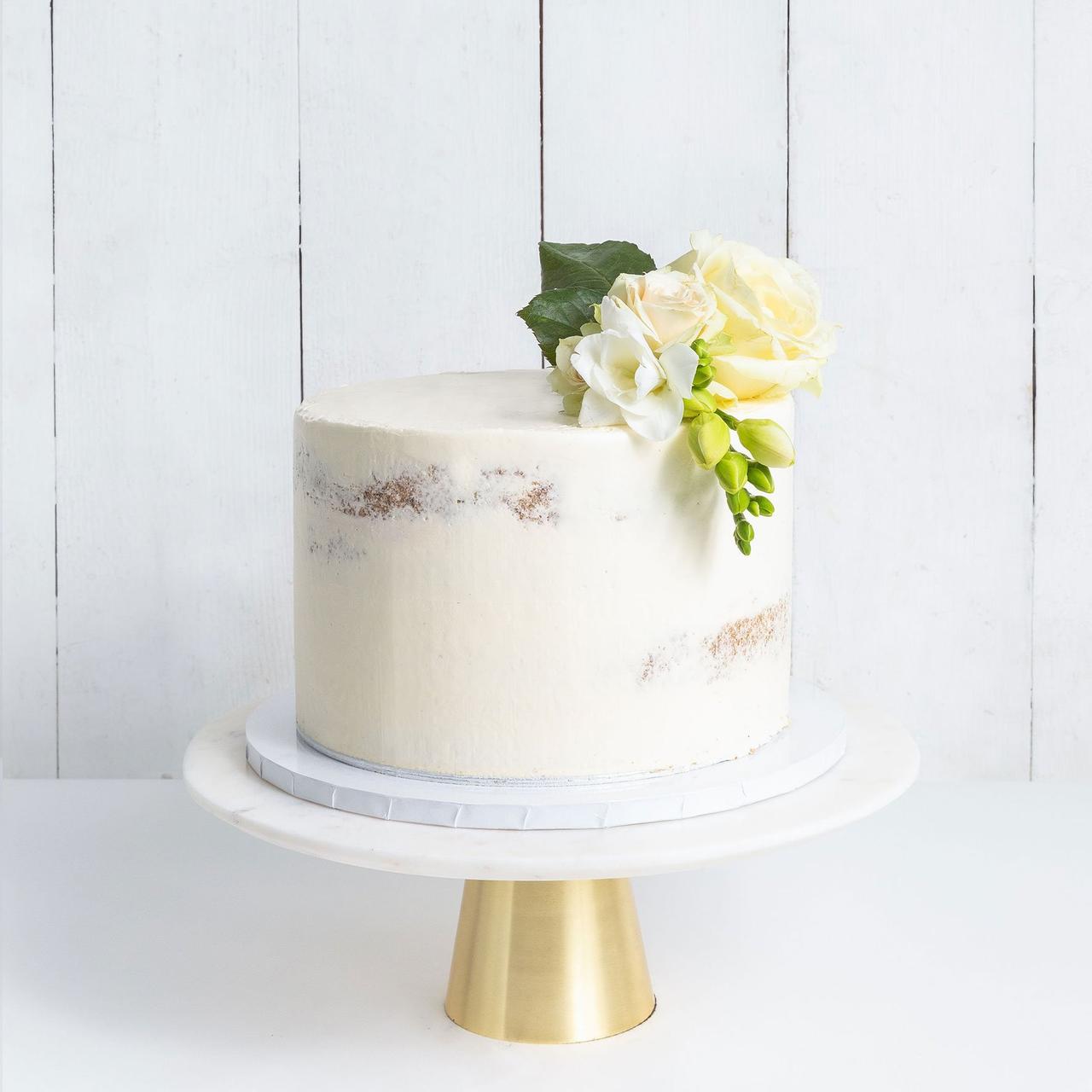 A floral naked wedding cake doesn't have to mean a riot of flowers. A single, beautiful floral arrangement can have plenty of impact without overwhelming the bake - this is particularly true if you're having a small wedding cake.
7. Winter Naked Wedding Cake
Frosty white is always a winner when it comes to winter, and the foliage of different textures adds interest.
READ MORE: 21 Winter Wedding Tips: How to Plan the Ultimate Winter Wedding
8. Rustic Naked Cake with Topper
You can still have a cake topper with a naked wedding cake - just choose something delicate that won't take away from the bake.
9. Individual Naked Cakes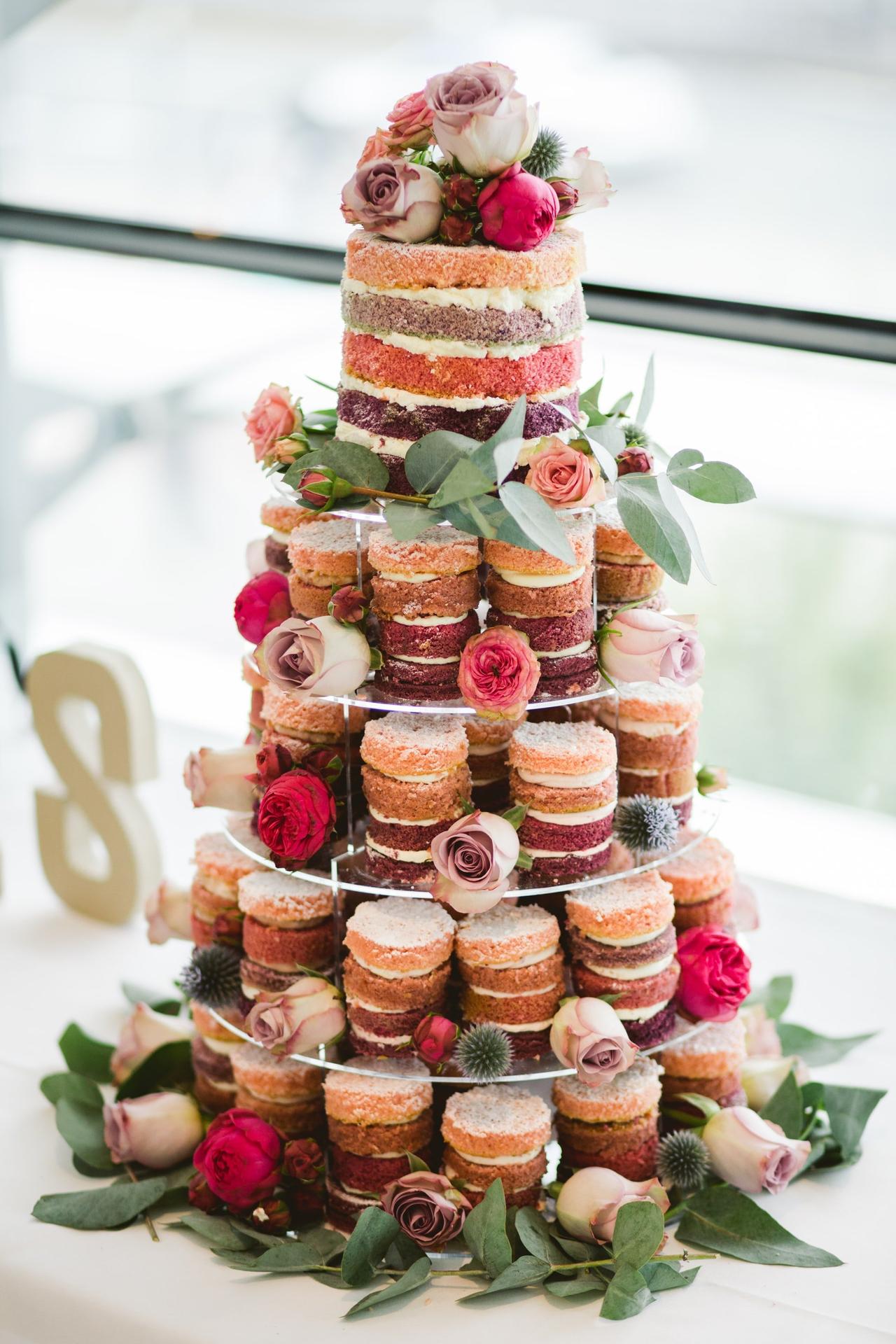 If your wedding cake is your pudding course, why not have individual cakes, rather than one big bake? You can always have a slightly larger version at the top of the display for cutting.
10. Naked Cake with Dark Sponge
As this semi-naked cake shows, having a darker sponge sets up more of a cool contrast with the white icing.
READ MORE: 55 Unique Flavours Your Guests Will Never Forget
11. Naked Cake with Candied Orange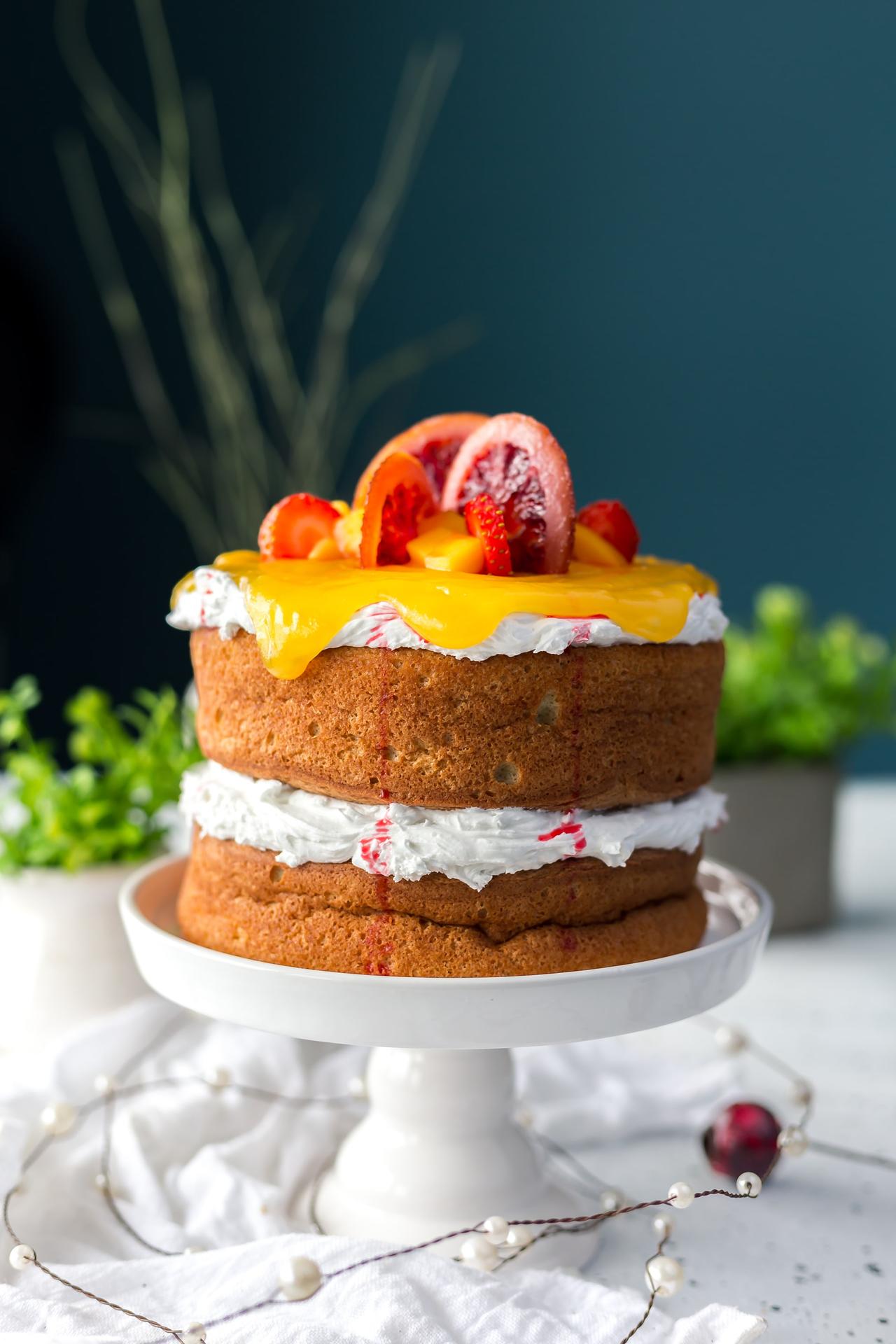 Of course, berries are the only fruits that work well with a naked cake. As this bake shows, candied orange brings warmth to a simple sponge.
12. Naked Cake with Peonies
Choosing luxe flowers really elevates a naked wedding cake, as here with these blowsy, beautiful peonies.
13. Naked Wedding Cake with Caramel Drips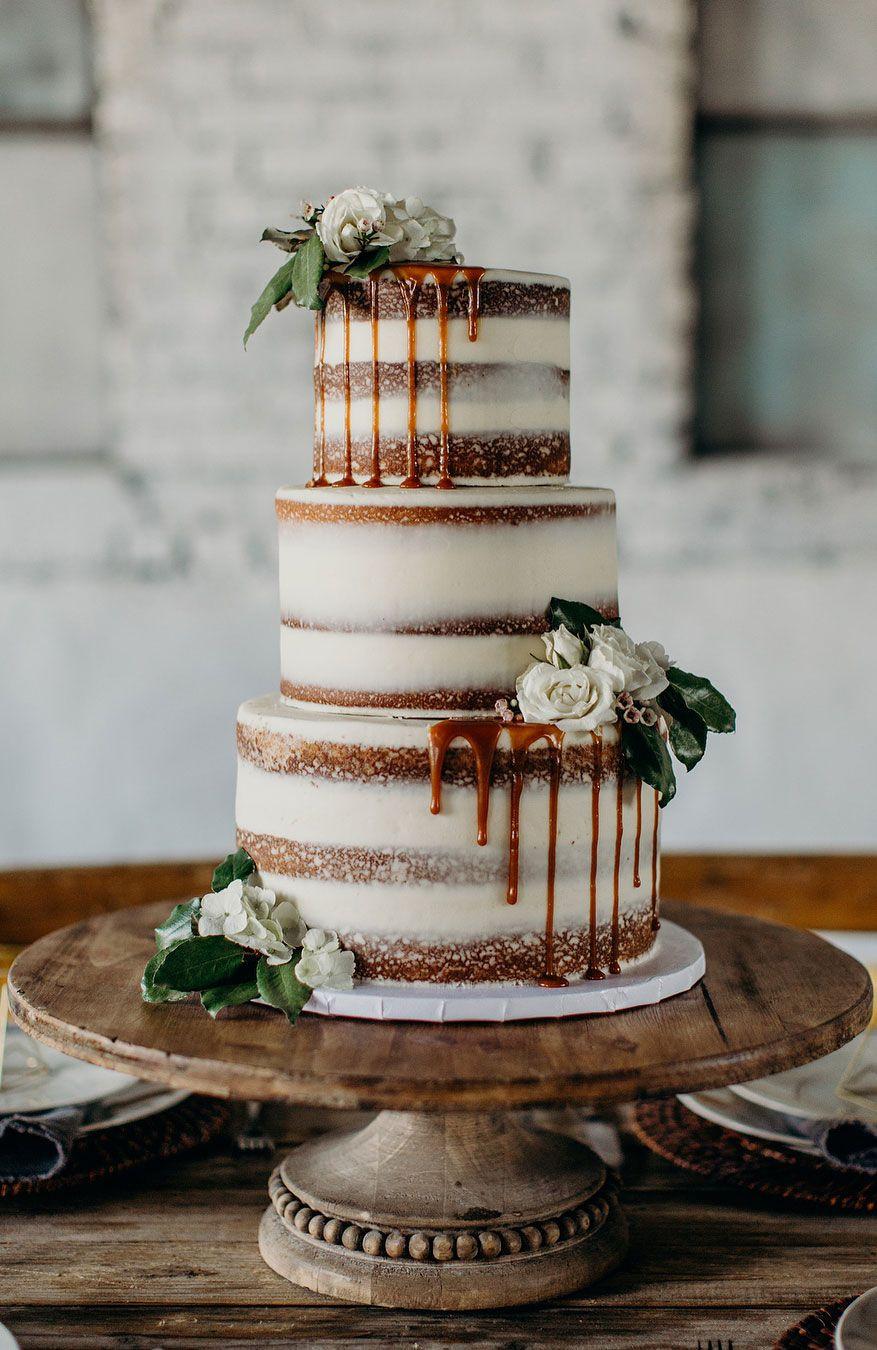 This gorgeous cake shows the effect you can get when you have just a few judiciously arranged flowers and some come-hither drips, giving the exposed sponge a magical makeover.
14. Autumn Naked Wedding Cake
The autumnal tones and fruits really elevate this naked cake into a bake that's perfectly suited to an elegant wedding.
READ MORE: 33 Questions to Ask Your Wedding Cake Maker
15. Naked Cake with Whipped Buttercream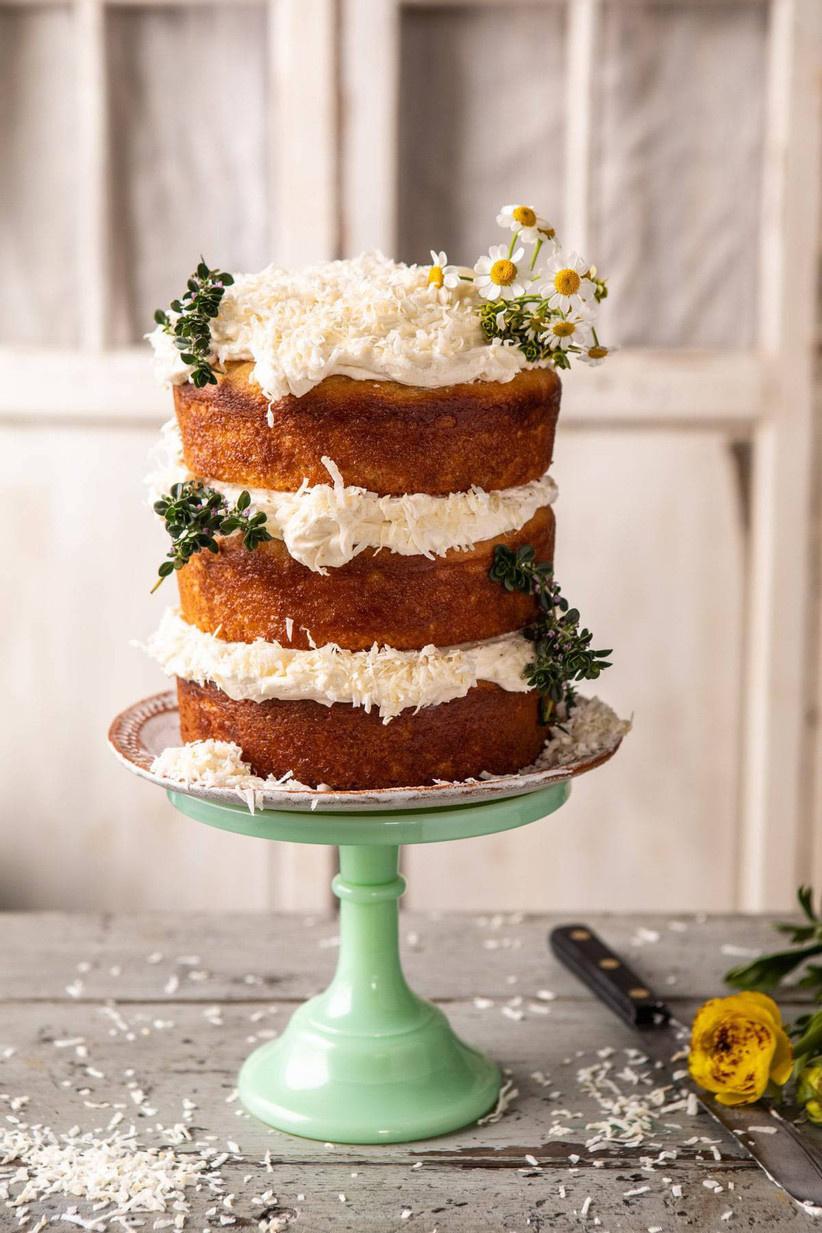 It's the clever use of texture that makes this naked cake so tempting. First, you have that whipped buttercream filling, which looks plumped-up and moreish; then coconut curls fall like delicate frills.
16. Naked Cake with Autumn Foliage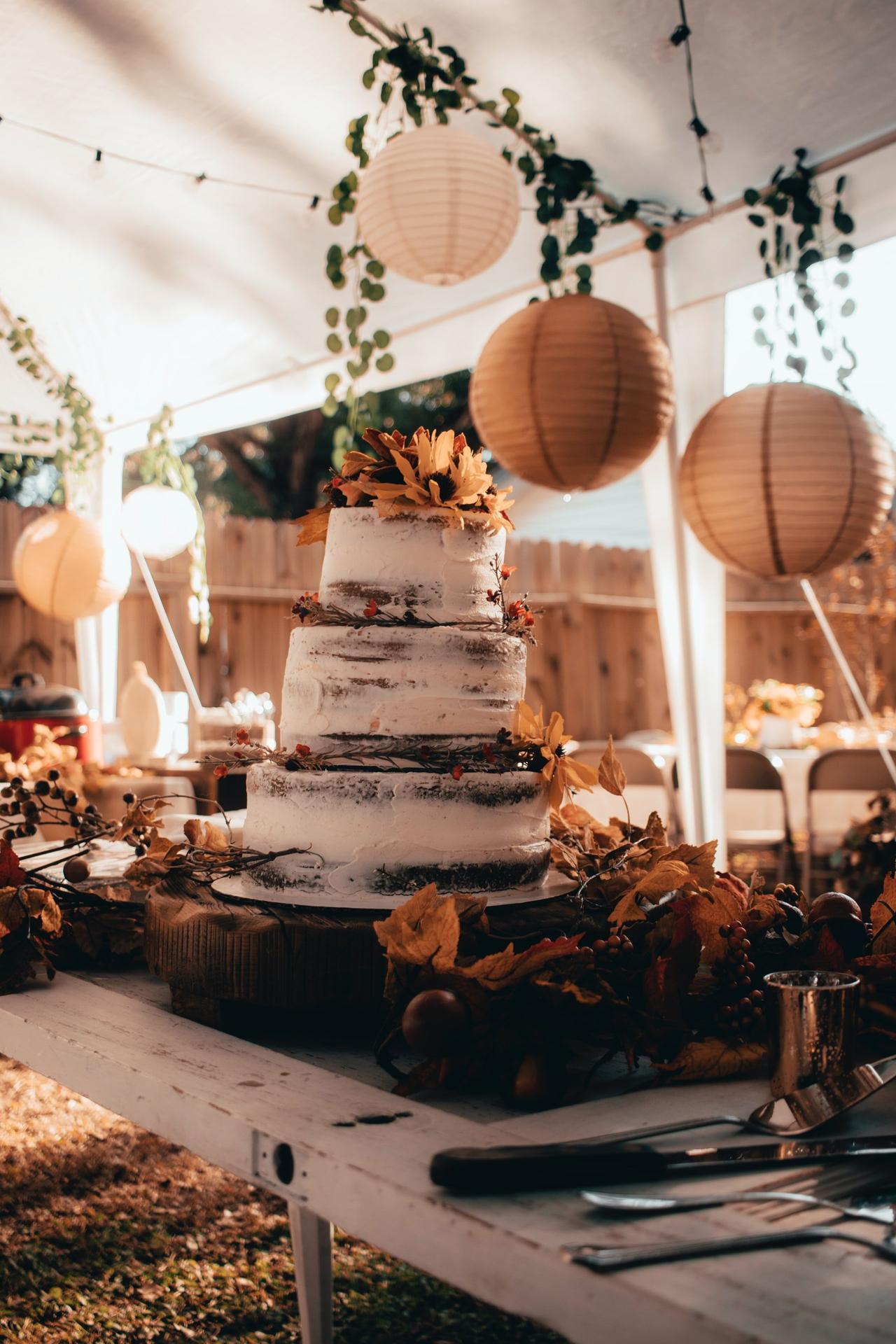 Think foliage, and most people imagine greenery. However, leaves in autumn hues of brown and orange add real warmth to a naked cake, and incorporating these colours roots a wedding in this beautiful season.
17. Naked Cake with Animal Topper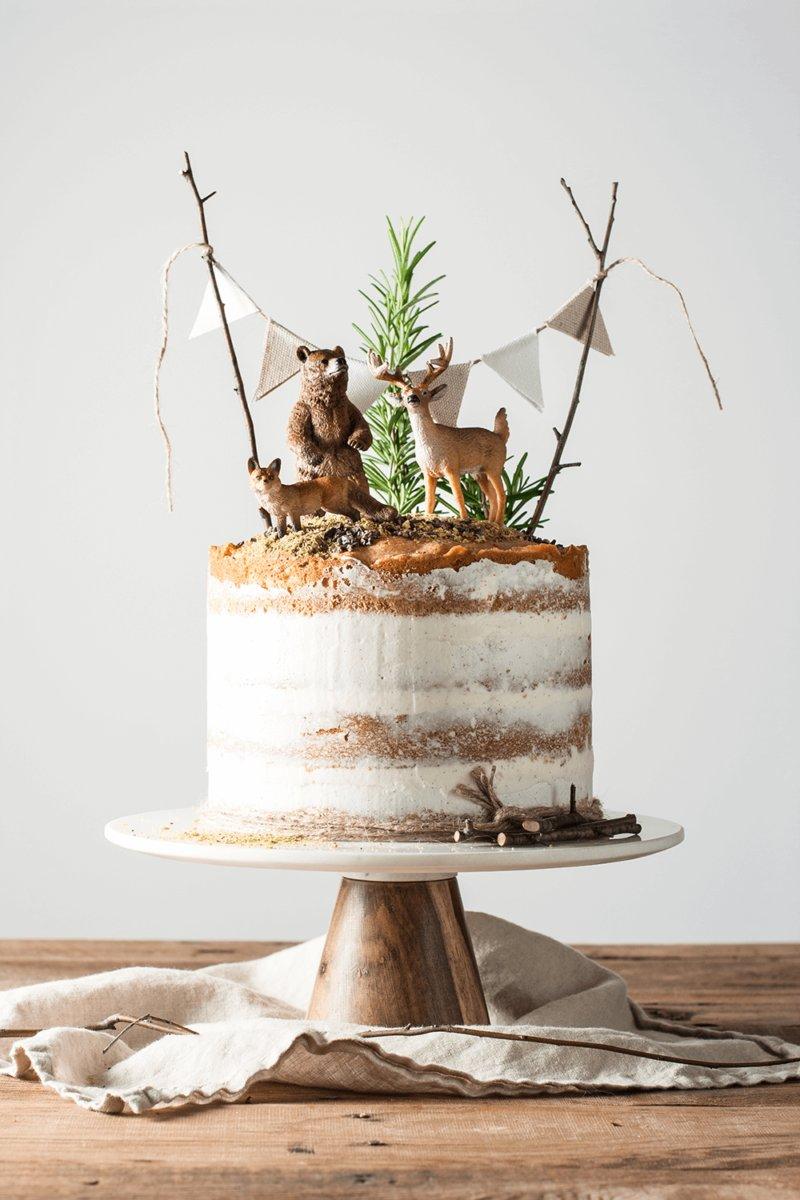 If you're going rustic at your wedding, why not have fun with it? Use your naked cake as the base for a whimsical woodland scene, for a playful yet still chic effect.
READ MORE: 18 Funny Cake Toppers That Will Have Your Guests Giggling
18. Black Forest Naked Cake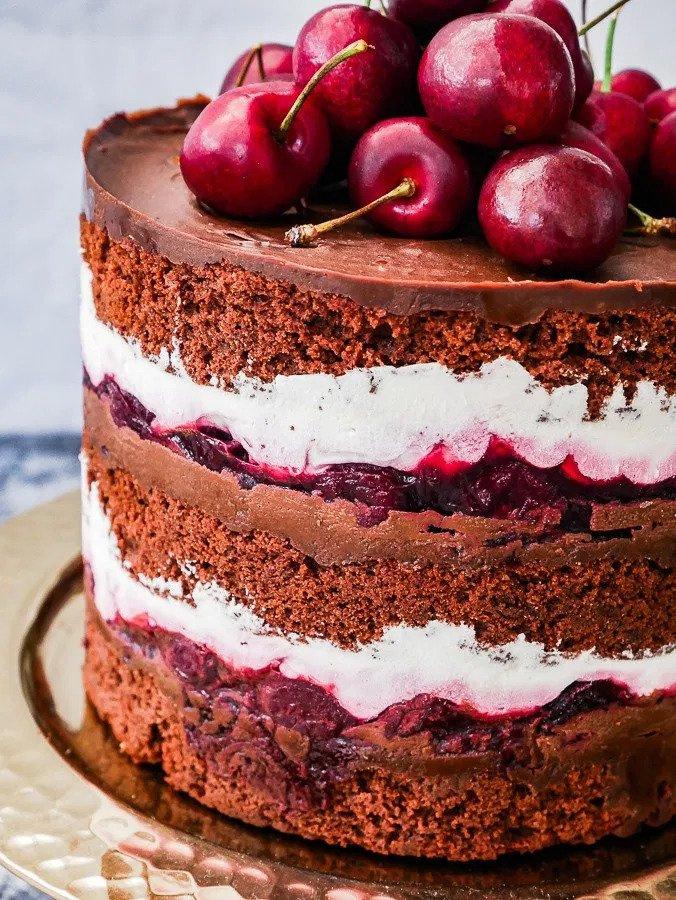 This amazing cake would be a showstopper at any wedding. If you're thinking of going DIY with your cake, you'll find the recipe at What Charlotte Baked.
19. Naked Wedding Cake with Dried Foliage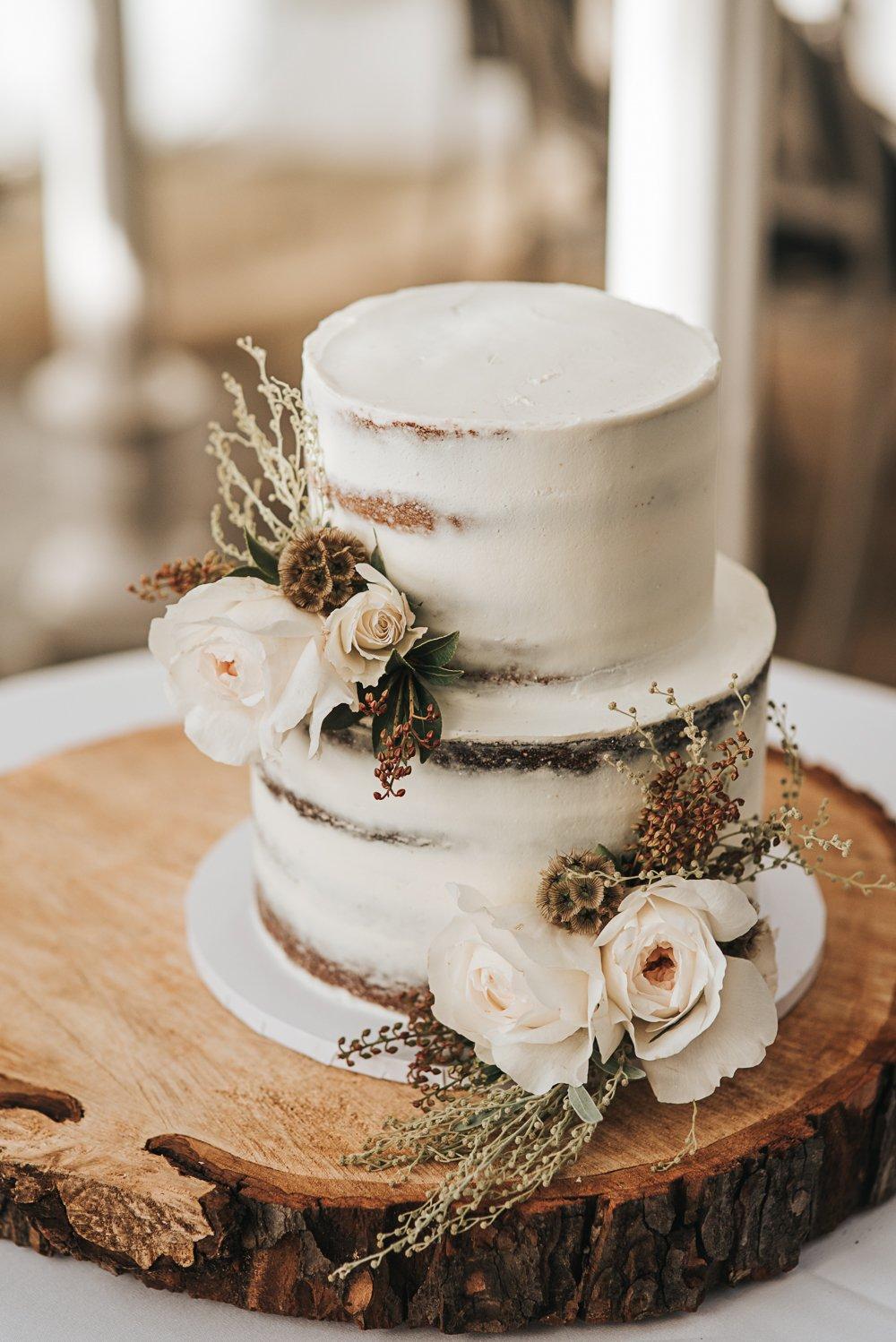 Dried foliage can create a rustic-chic effect, particularly if you stick to earthy tones.
20. Pastel Naked Wedding Cake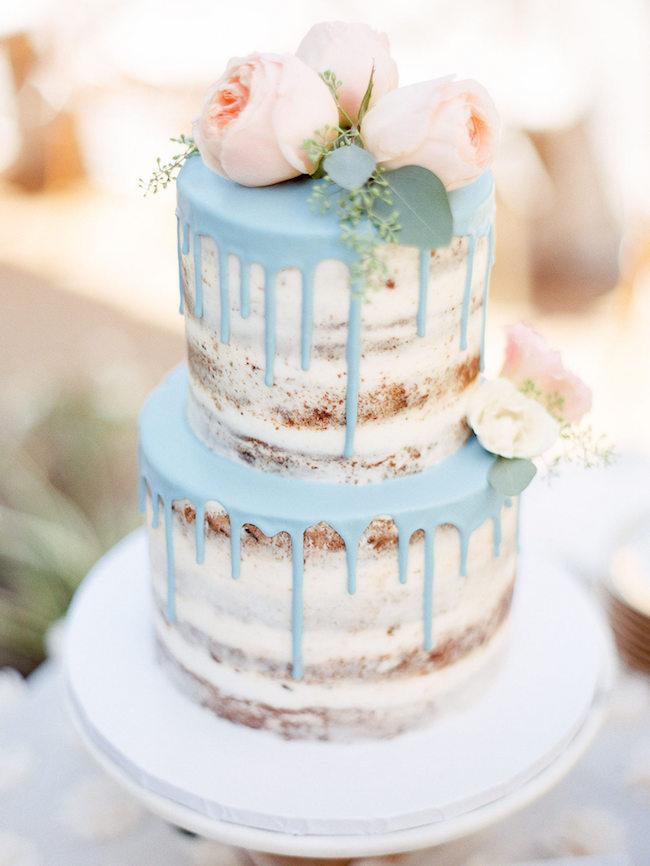 This is such a lovely way to decorate a naked cake: pretty blue drip icing that could also do double-duty as your 'something blue'!
21. Burnt Orange Naked Wedding Cake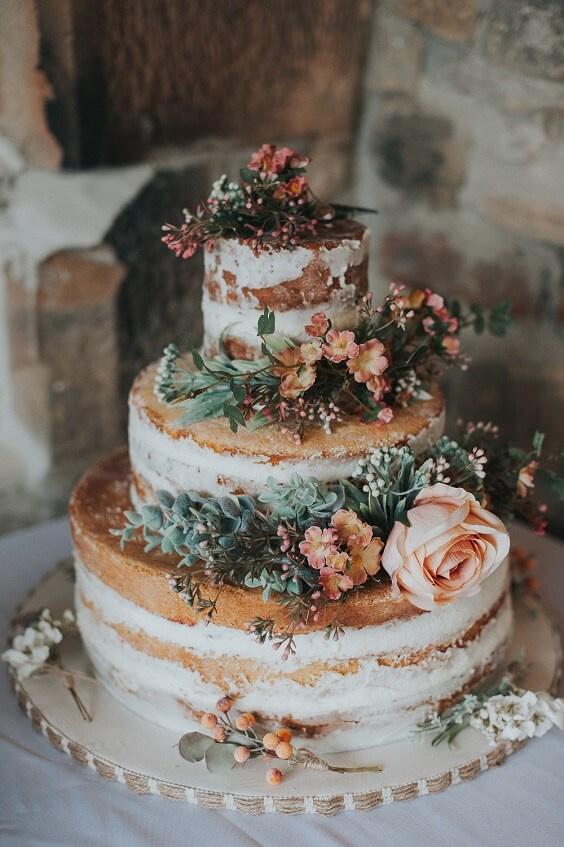 Burnt orange is a lovely shade for a wedding cake, particularly when paired with elegant sage green.
READ MORE: Wedding Cake Prices: How Much Does a Wedding Cake Cost?
22. Cookies & Cream Naked Wedding Cake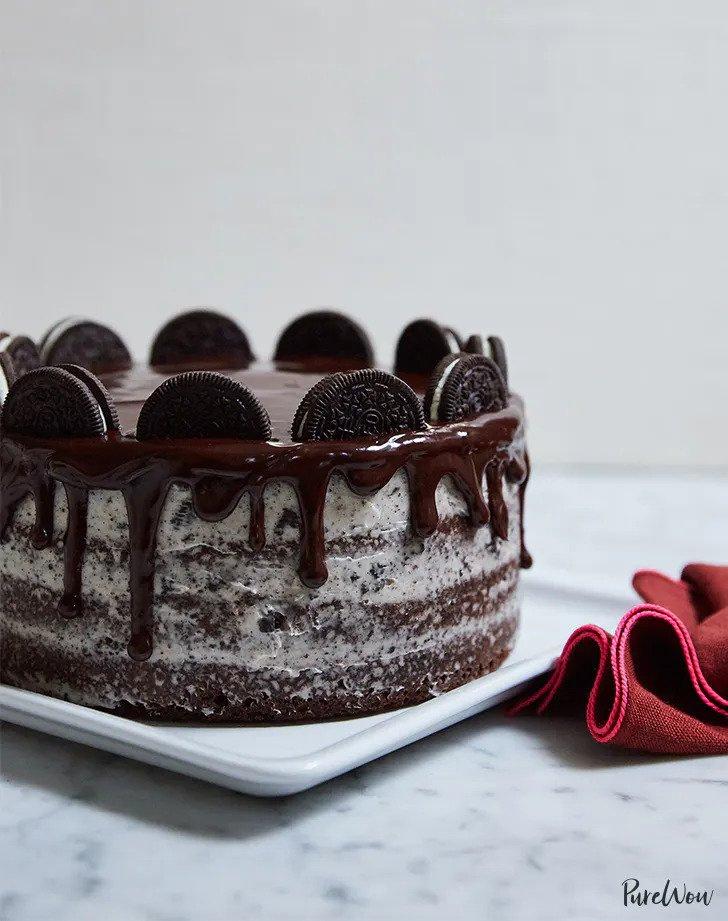 Cookies and cream has fast attained modern classic status as a cake flavour - and now it's made its way over to naked cakes. We predict guests asking for second helpings.
23. Naked Wedding Cake with Textured Decorations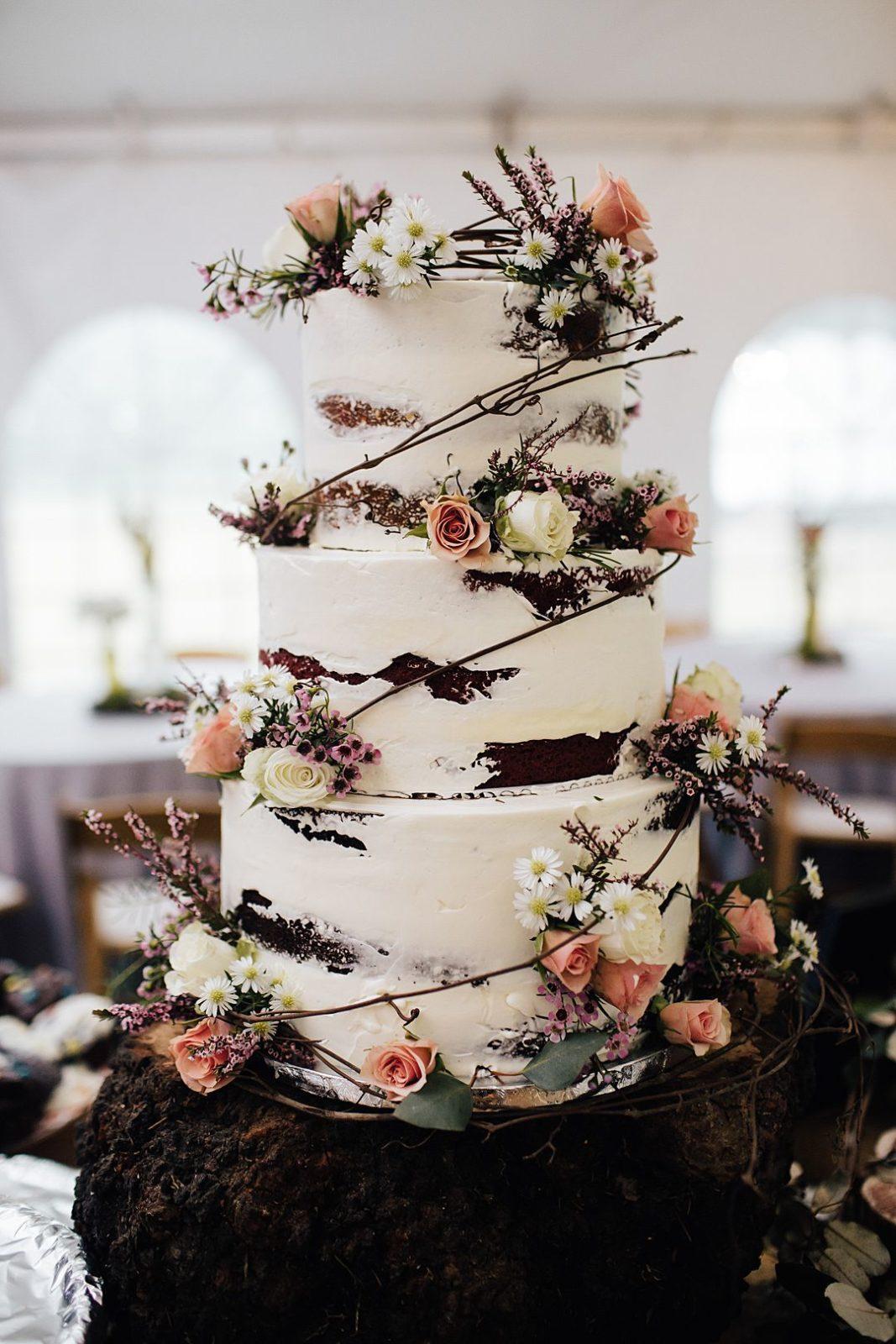 The use of thin branches here is so clever, bringing added texture to the semi-naked cake and contrasting with the delicate flowers.
24. Unusual Naked Cake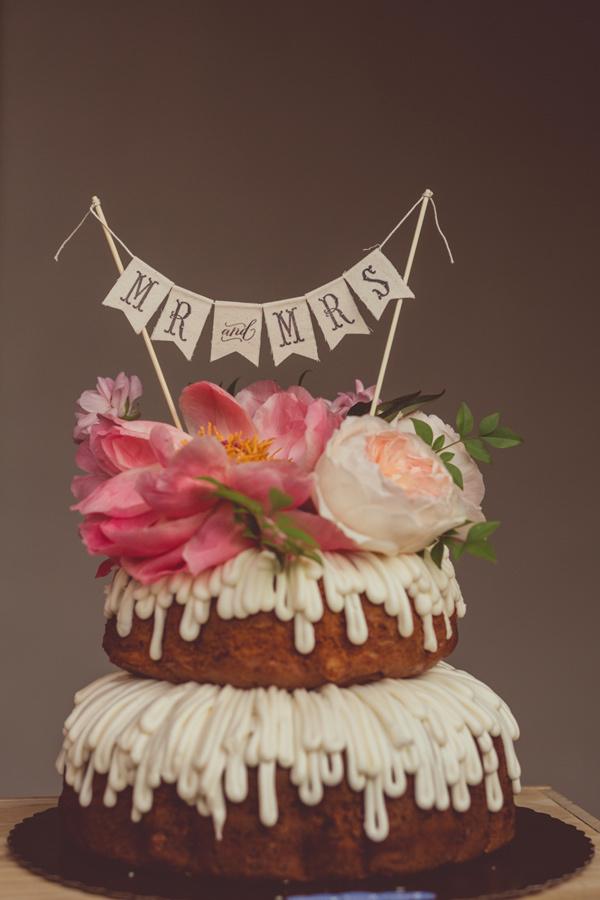 Want an exposed bake with a difference? We love this twist on the traditional naked cake, with looped icing at the sides. The oversized flowers are perfect finishing touches.
25. Naked Cake with Strawberries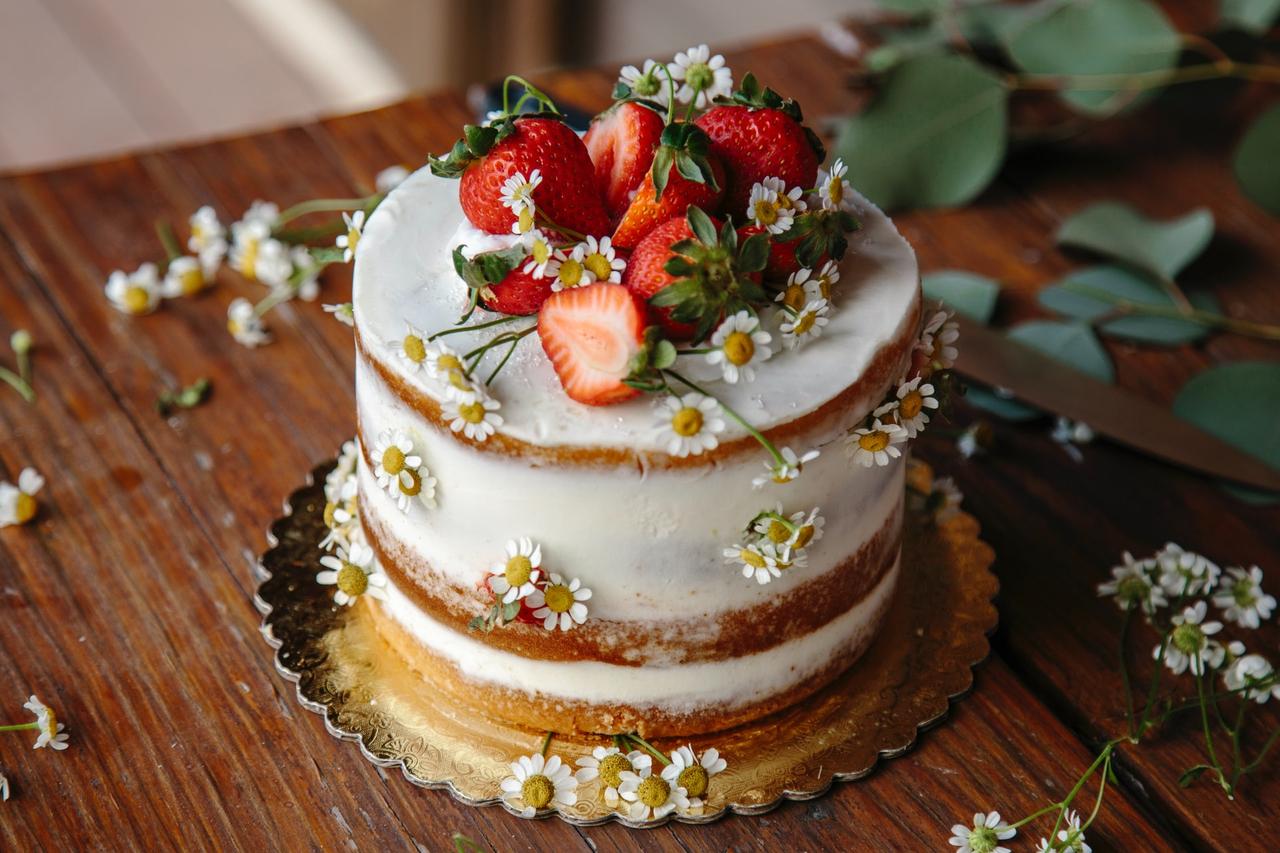 The strawberry is the quintessential summer fruit in the UK. Pair them with a scattering of daisies, and you have a naked cake that calls to mind sunny days and Pimm's on the lawn.
READ MORE: Summer Weddings: 56 Gorgeous, Inspiring Ideas Your Guests Will Love
26. Naked Cake with Figs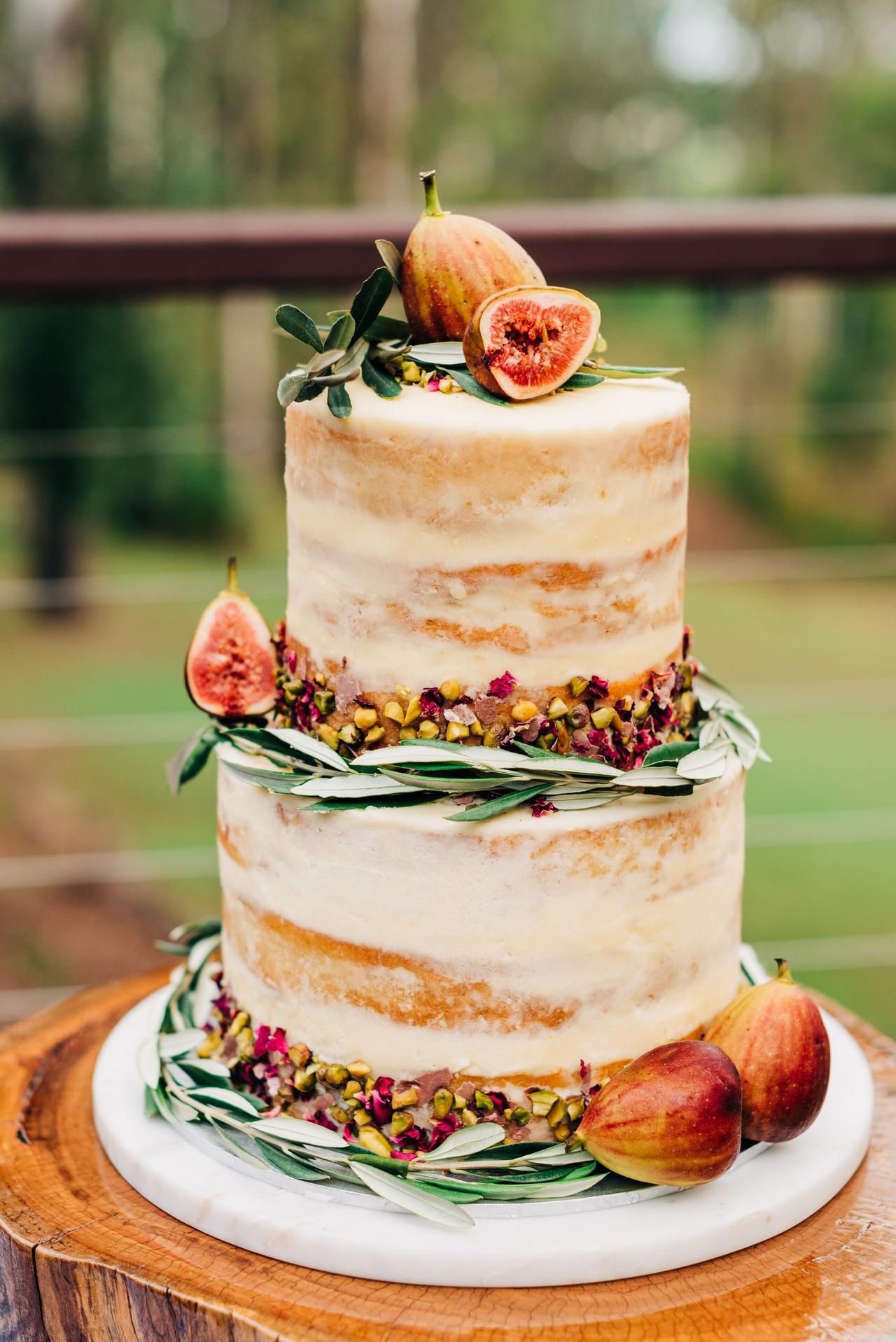 Don't be afraid to think outside the box when it comes to decorating your wedding cake with fruit. As seen here, figs can make for glorious statement décor.
27. Chocolate Naked Cake with Figs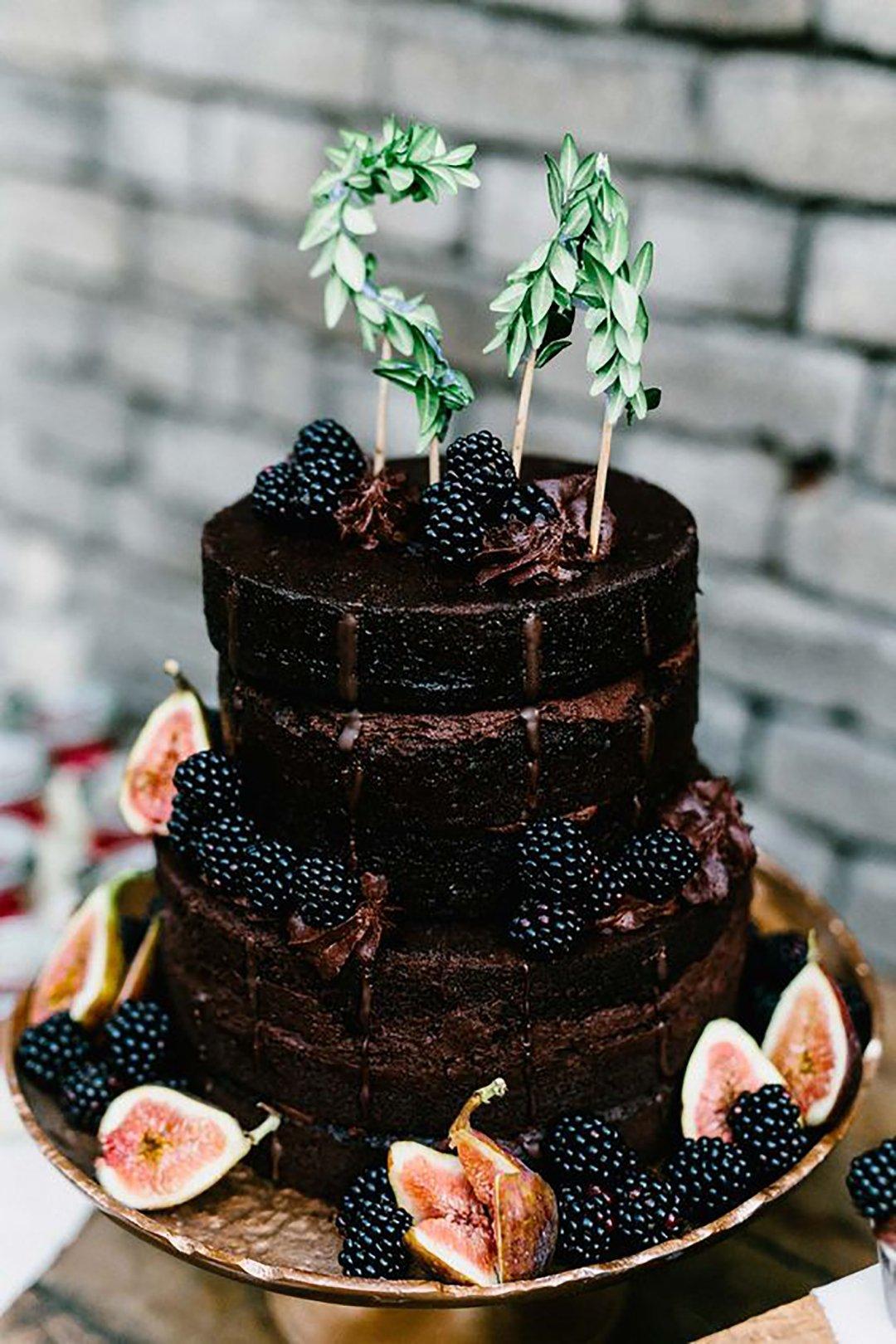 Sticking with the figs idea, try pairing them with a rich chocolate naked cake for a cool colour contrast. That foliage cake topper looks particularly lovely atop the bake.
28. Carrot Semi-Naked Cake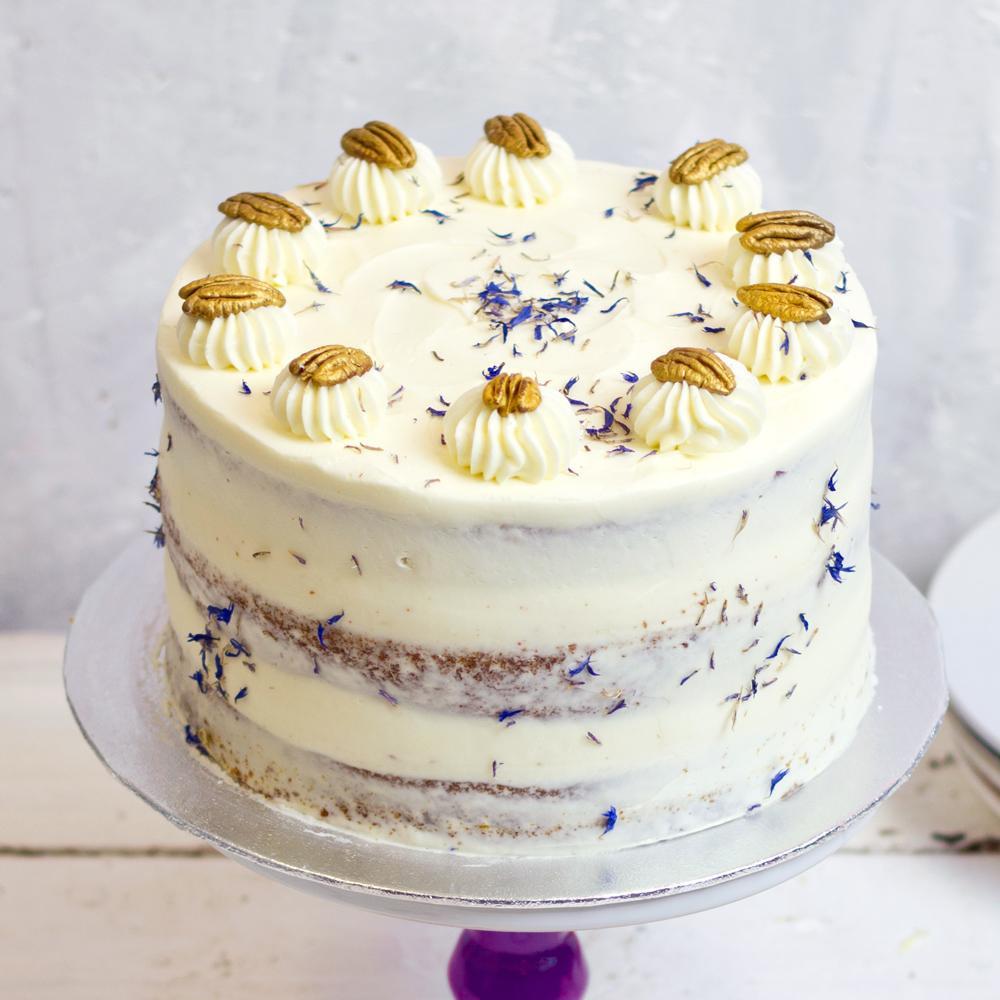 The amount of buttercream icing on the outside pushes this into semi-naked cake territory, but we just had to include it for the unusual finish and the fact that it's carrot cake, a flavour not often tasted in wedding cakes (even though it should be).
29. Vegan Naked Cake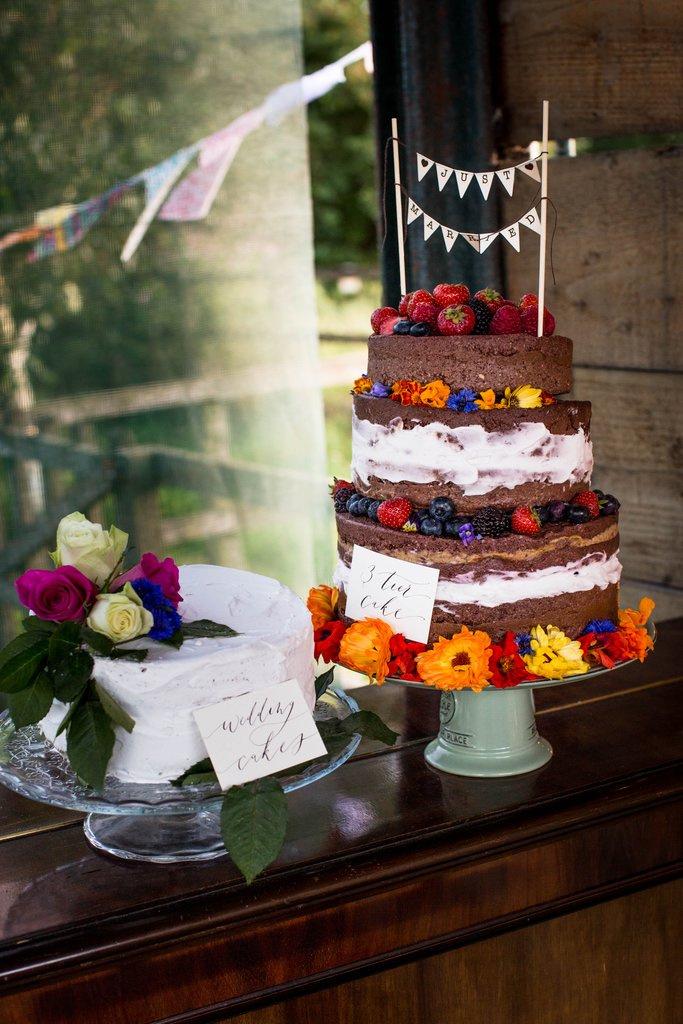 Naked cakes can be suitable for vegans. Free from gluten, dairy and refined sugar, this no-bake wedding cake looks pretty as a picture.
READ MORE: The 14 Best Vegan Wedding Cakes in London
30. Naked Cake with Mini Doughnuts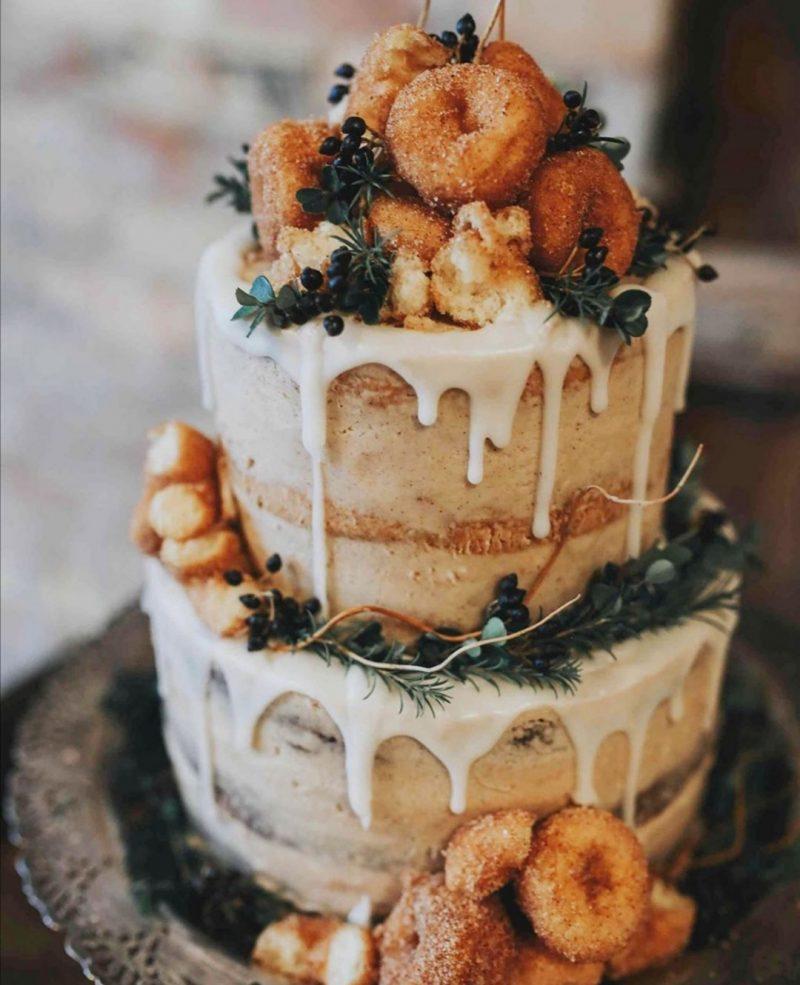 If you love doughnuts as much as we do, ask your baker to include some in your cake design, for an indulgent treat. After all, if you can't have a doughnut-covered cake on your wedding day, when can you?
31. Naked Rainbow Confetti Cake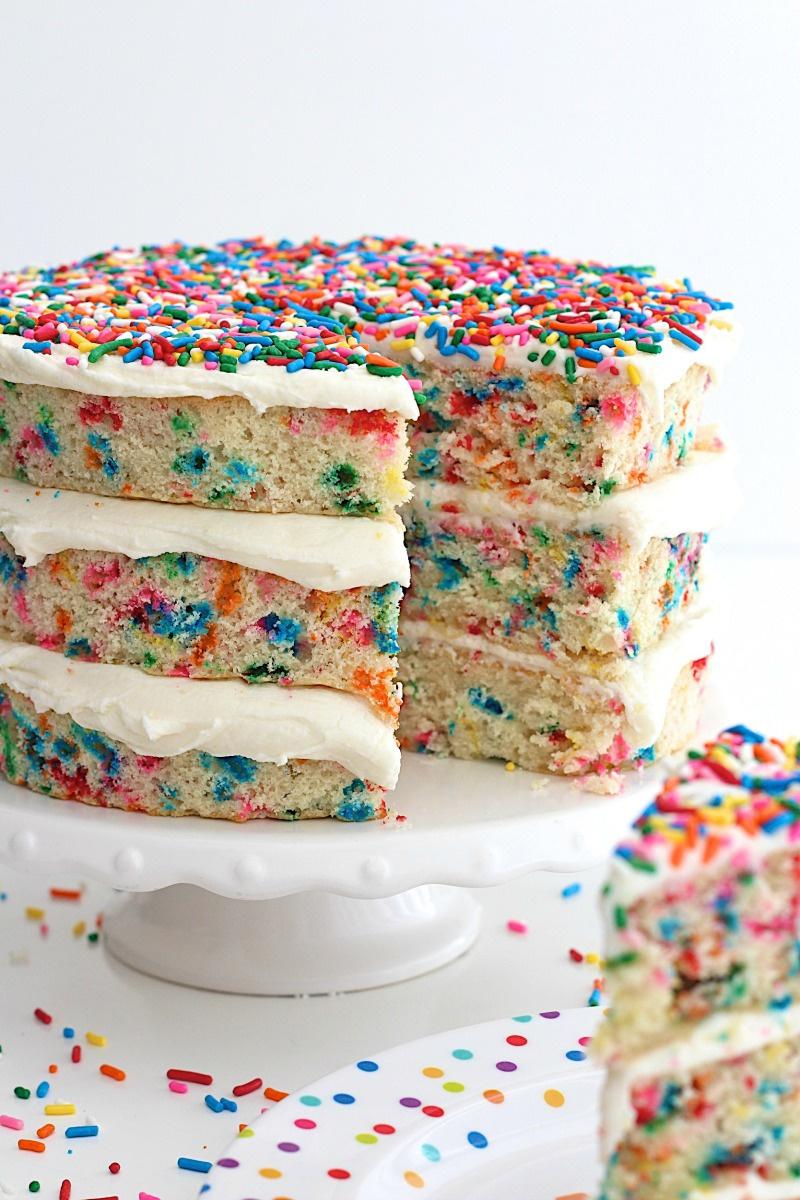 Take your wedding cake in a fun, playful direction with a naked bake studded with all the colours of the rainbow. Is it a bit children's party? Yes - but in the best possible way, and you can elevate it by having grown-up flavours for the sponge.
32. Naked Cake with Colourful Sponge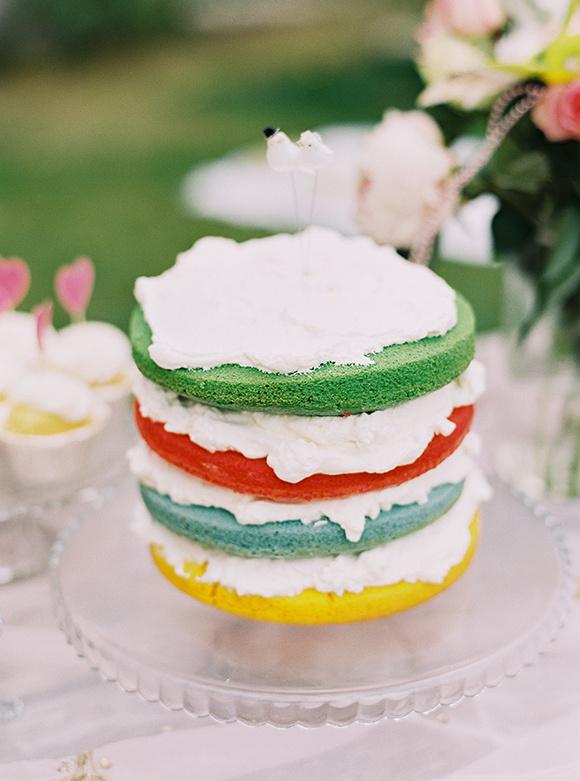 For another exuberant naked cake look, have a different colour for each sponge layer - we love the way this design has plenty of filling, which makes it feel so decadent!
33. Naked Cake with Gold Leaf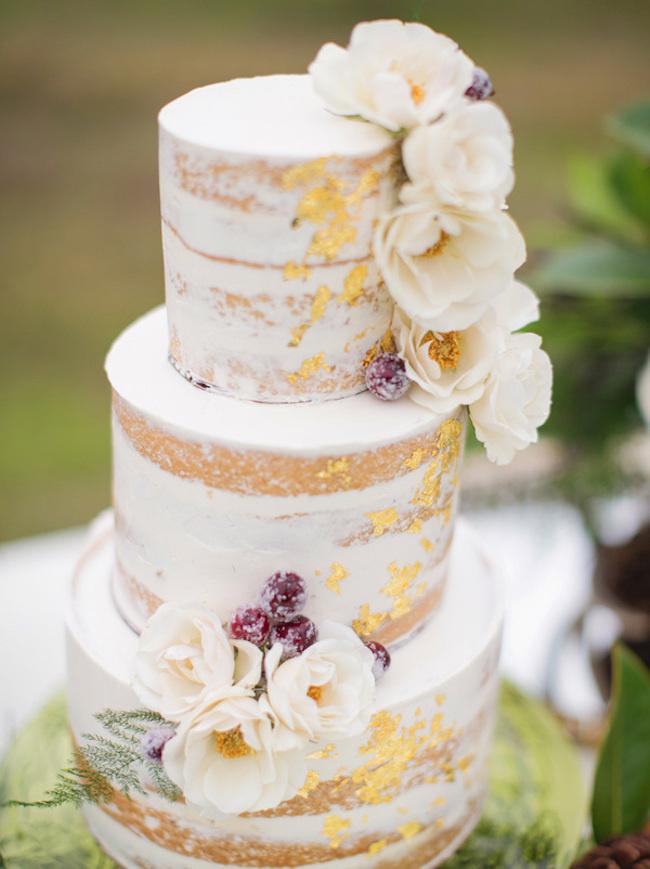 Add a note of glamour to your wedding cake with some gold leaf detailing, for a laidback-luxe feel.
READ MORE: Vintage Wedding Decor: 36 Beautiful Ideas for Your Reception
34. Minimalist Chocolate Naked Cake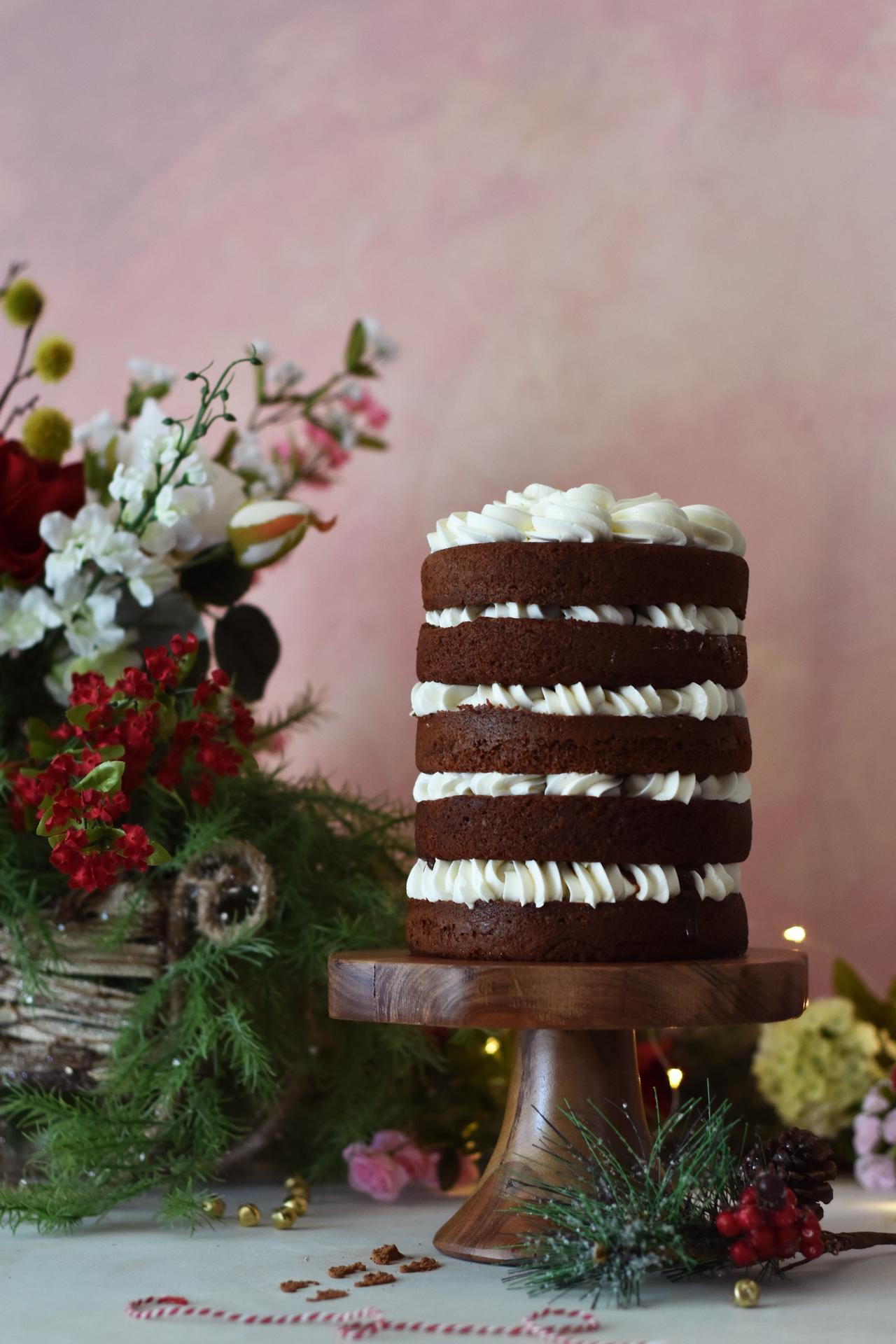 Sometimes it's best to let a great bake speak for itself. This chocolate sponge with a contrast filling needs no embellishments to make an impact.
35. Romantic Naked Wedding Cake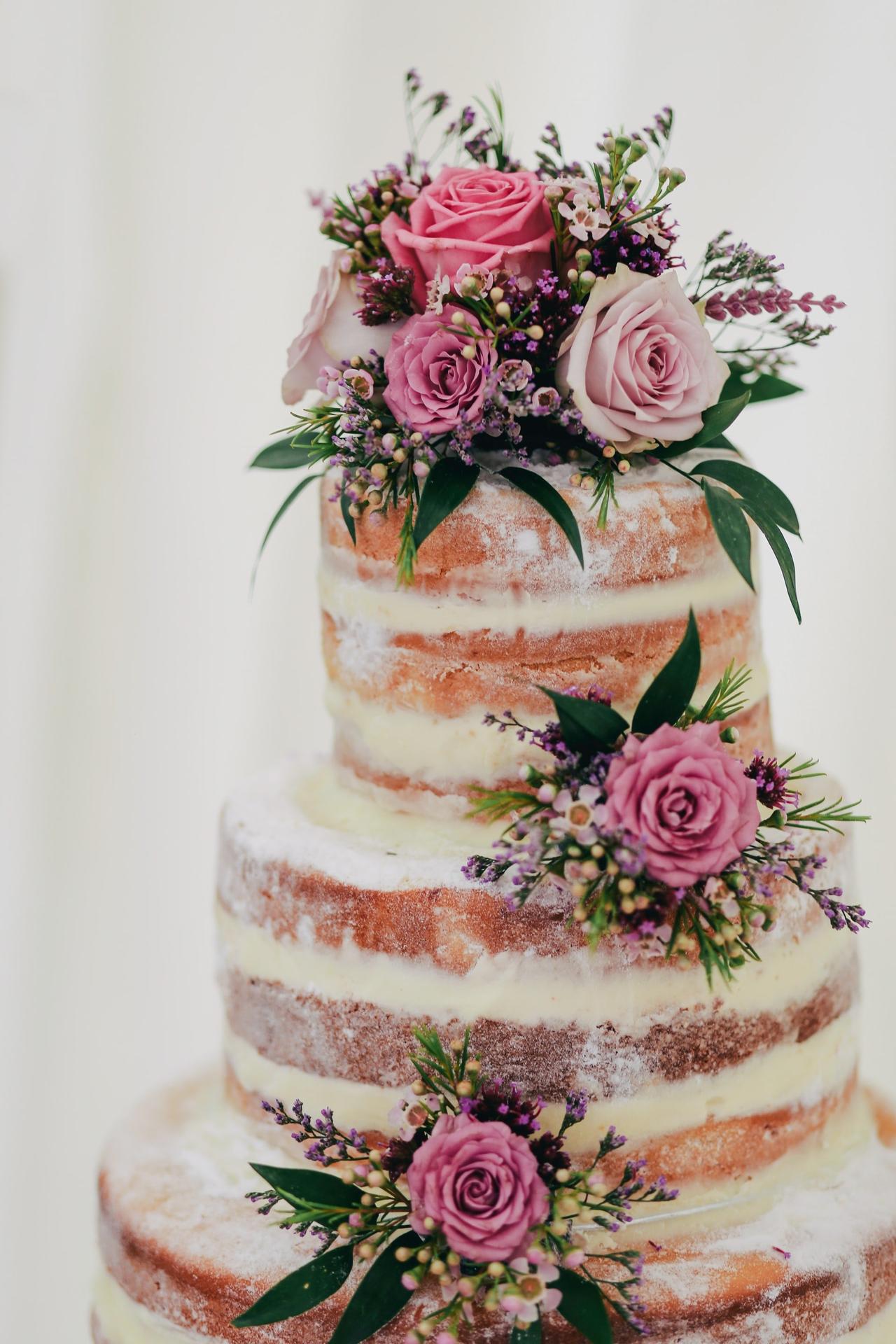 What says romance more than the prettiest of pink roses? The flowers look divine against the sugar-dusted naked cake.
36. Multiple Naked Wedding Cakes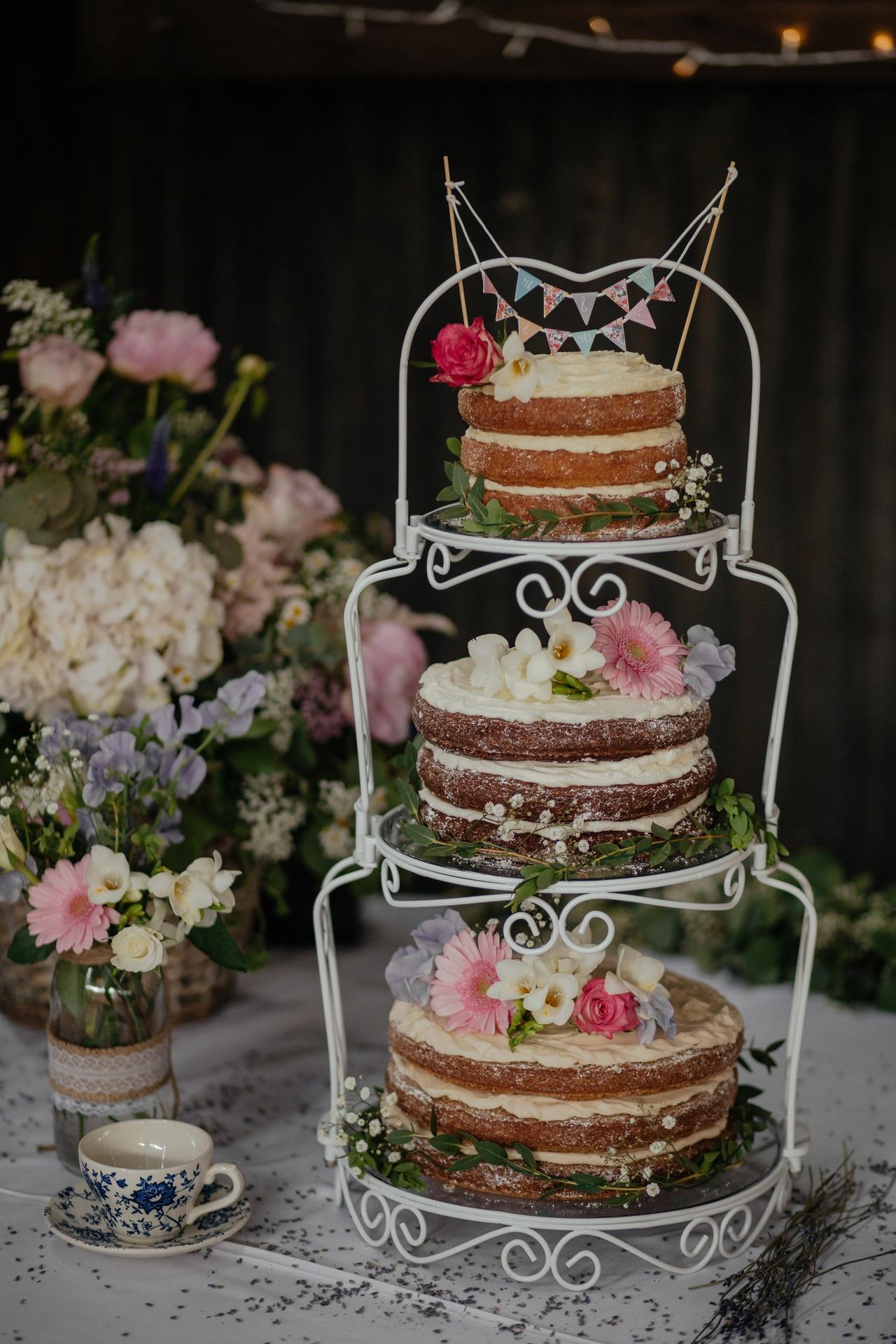 As an alternative to a tall wedding cake with multiple layers, why not have several smaller cakes, each with a different flavour? The three-level stand brings them together.
You don't have to stop at cake to give your guests a sugar rush. We explain how to set up your own super-cute wedding sweet table.