21 of the Best Rustic Farm Wedding Venues in the UK
If you're looking for a rustic wedding venue with a difference, why not consider a farm wedding venue? We've rounded up 22 our favourite farm spots to say 'I do' in the UK
We have included third party products to help you navigate and enjoy life's biggest moments. Purchases made through links on this page may earn us a commission.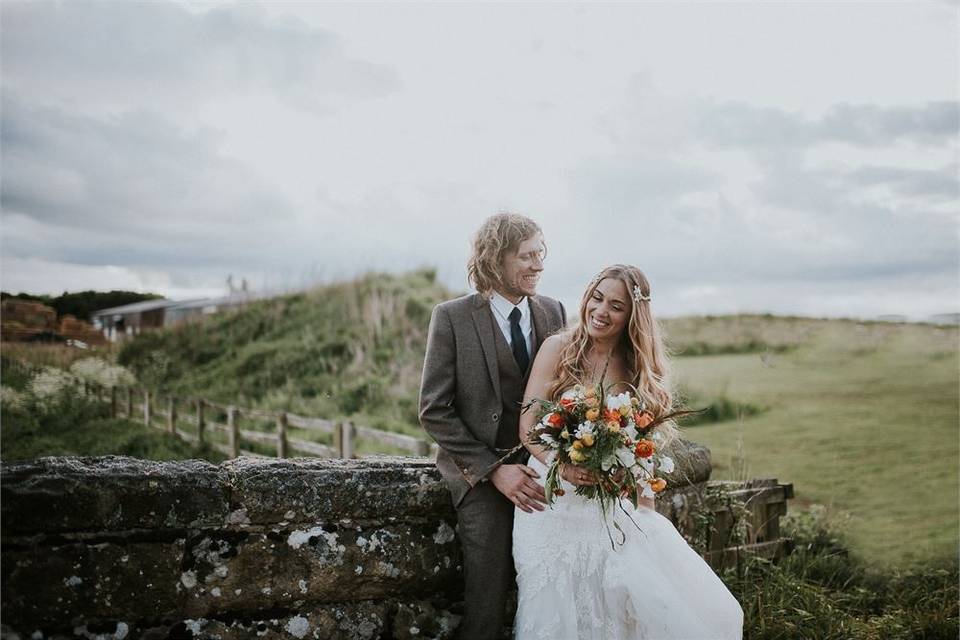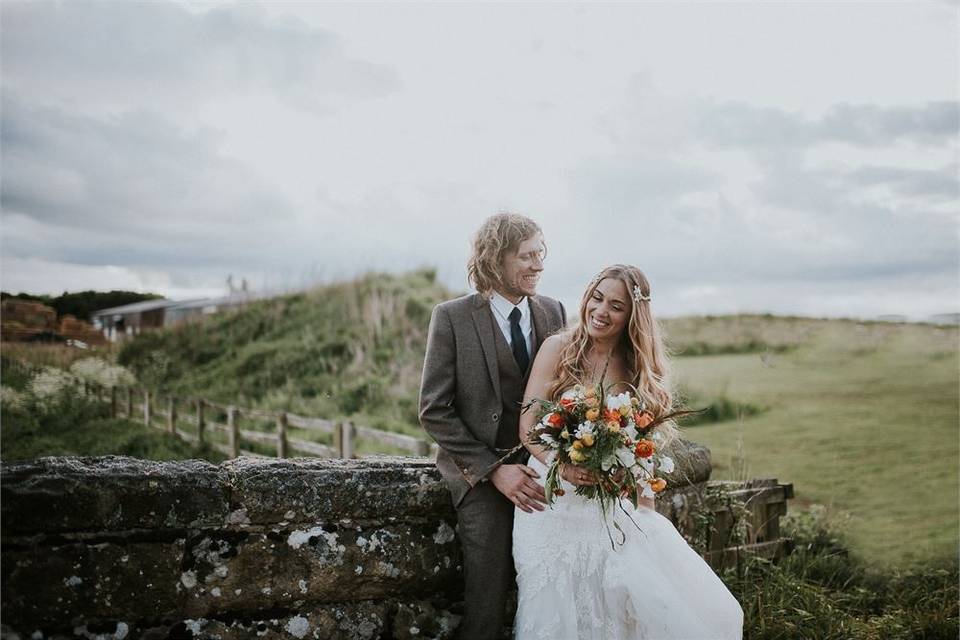 Whether it's a converted farmhouse or a beautiful barn wedding venue, there's nothing more magical or picturesque than hosting a wedding in a rustic farm environment.
Marrying at a farm can lend itself to a completely unique experience for you and your guests. The picturesque surroundings make for some Insta-worthy wedding snaps, while the flexibility many farm spaces offer means you can plan the wedding day you want.
Just remember that if it's a working farm, you'll want to make sure it's set up for a wedding – including everything from if they have electricity to whether they have toilet facilities available for your guests.
We've searched high and low to round up the best farm wedding venues from every corner of the UK. These venues showcase the rural charm of a farm wedding including animals, haystacks, tractors and, of course, some beautiful, rustic barns. Someone pass the fairy lights!
1. Cogges Manor Farm – Oxfordshire
This popular Oxfordshire wedding venue offers two beautiful 17th century barns and a manor house, set in an idyllic and rural location in the countryside. At Cogges Manor Farm, along with plenty of outdoor space to hold your celebrations, you can even include the farm animals in your wedding pictures.
The spacious Wheat Barn, with its refurbished stone floor, can accommodate up to 200 guests. The more intimate and adjacent Barley Barn can seat 60 guests or is an ideal choice to use as a dance or ceremony area. Each barn can be hired separately, or together.
2. The Tythe Barn Launton – Oxfordshire
The Tythe Barn Launton is located on a family-run farm and is full of charm, making it perfectly suited to a rustic wedding theme.  Fully licensed for civil ceremonies, you can choose between saying 'I do' in the stunning gardens or the romantic main barn.
The 14th century converted barn serves as the perfect backdrop for an idyllic wedding in all seasons. There's also the adjoining Cowshed, which seats between 40 and 165 guests, giving you two fantastic areas to entertain your guests in.
3. The Normans – York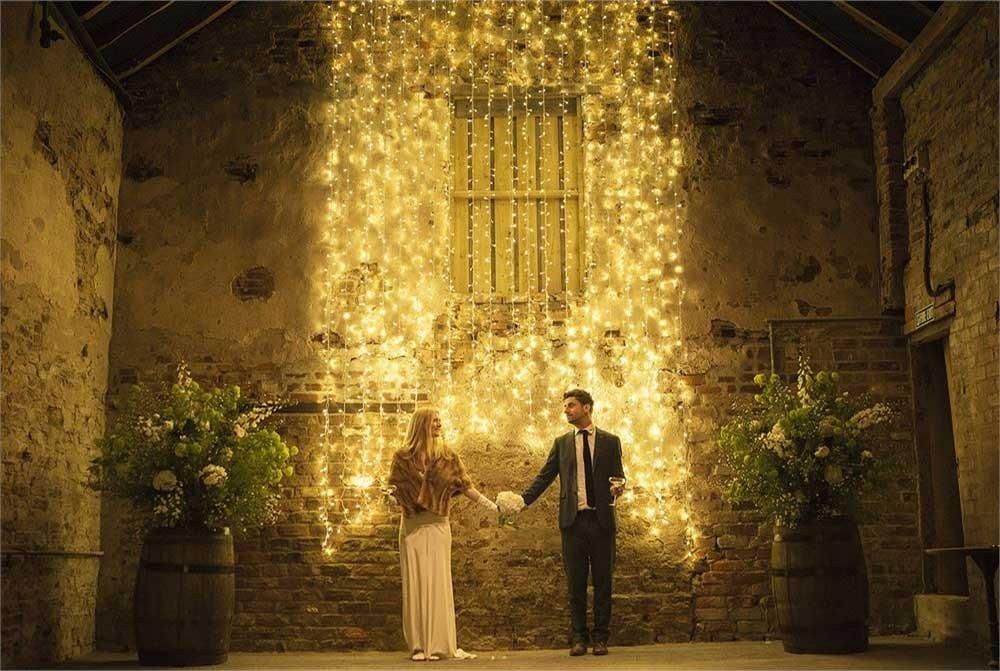 Labelling themselves as the 'country cool' wedding venue, The Normans in North Yorkshire is situated on a gorgeous 18th century farm. You can say 'I do' in its fully licensed Ceremony Barn, against a backdrop of exposed brickwork, high vaulted ceilings and cascading fairy lights.
Later, you and your guests can enjoy celebratory drinks in their south-facing courtyard, or take a seat on the quirky cow stalls  – both of which lend themselves to brilliant photo opportunities!
4. Aldwick Court Farm & Vineyard – Bristol
Aldwick Court Farm offers a beautiful setting for your big day. Located in the North Somerset countryside, it's overlooked by the impressive Mendip Hills and has the plus of being a charming English vineyard.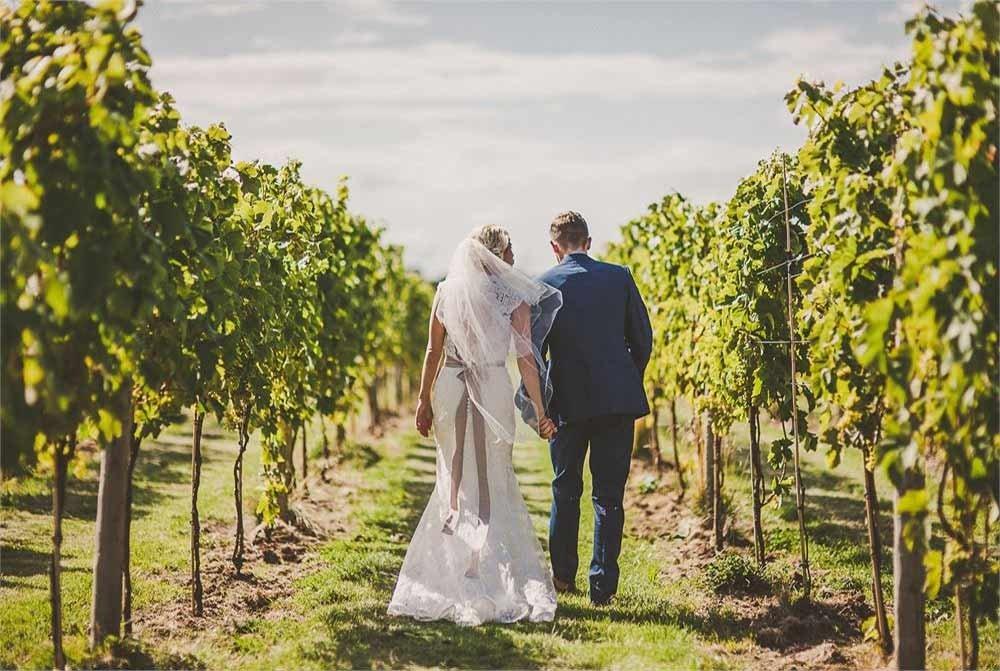 This farm wedding venue boasts two romantic and versatile barns. With exposed timber beams, a brick-walled bar and beautiful views across the grounds, vineyard and countryside, the barns are perfect for weddings all year round.
5. Manor Hill Farm – Worcestershire
Manor Hill House is a contemporary wedding venue, set in landscaped gardens. Offering four beautiful reception rooms to marry in the venue is surrounded by the beautiful rural Worcestershire countryside.
Although not technically a farm, the venue is home to a beautiful horse and has a farm-like feel to it. They also offer bespoke catering options and exert the perfect combination of countryside settings and modern décor.
6. Northside Farm – Northumberland
Northside Farm in Northumberland is an idyllic spot for rustic weddings. The charming décor includes exposed brickwork in the barn and a delightful farmyard setting – it's everything you'd want from a wedding venue.
The venue is offered on an exclusive-use basis, which means you don't need to worry about onlookers and other wedding parties. When it comes to accommodation for your guests, there are 10 wigwams in the orchard too, so you can carry on the celebrations until the early hours.
7. Odo's Barn – Kent
Odo's Barn in Kent is a charming 15th century tithe barn, with a touch of modern décor that really sets it apart from other farm wedding venues. The centerpieces are its beautiful gold chandeliers, which hang from the elegantly beamed roof.
The farm wedding venue is also surrounded by its own medieval moat, while the large south-facing terrace can accommodate 120 guests. The peaceful grass meadow can also be used for camping or as a backdrop for some breathtaking photos.
8. Doxford Barns – Northumberland
At Doxford Barns in Northumberland, couples have the opportunity to exclusively hire the barn for between one and three days. Situated on a 550-acre private country estate, the venue also has a luxurious bridal suite and seven self-catering cottages that can sleep up to 40 of your guests.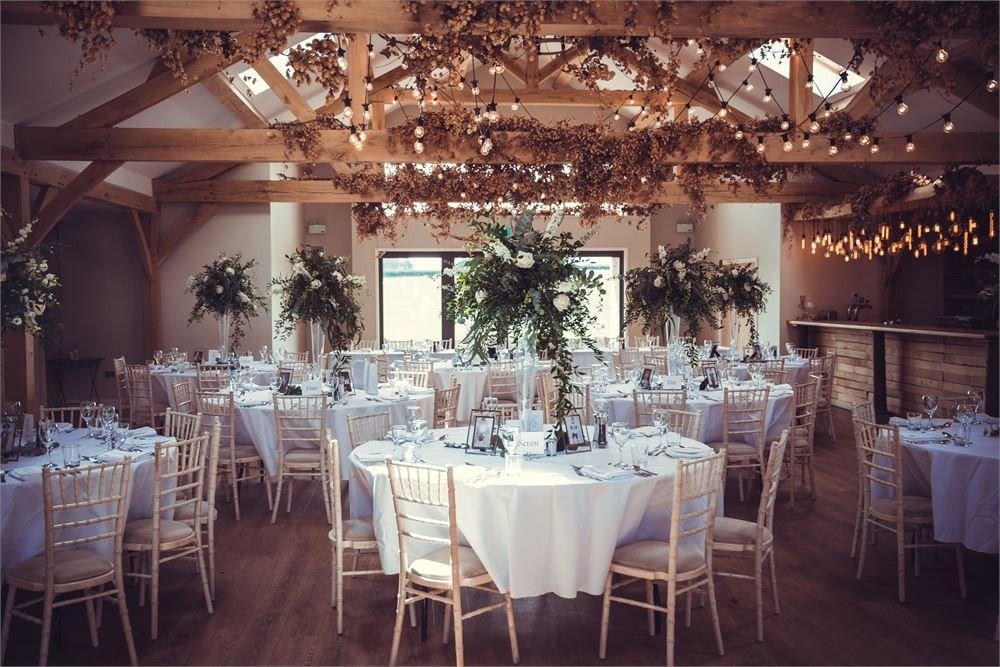 The Threshing Hall is filled with original features and festoon lighting, to create a romantic setting for ceremonies of up to 160 guests. The Great Barn – a romantic space cocooned around a spectacular oak frame – is another option for couples looking for a rustic setting for their celebrations.
9. Heaton House Farm – Cheshire
Heaton House Farm is a family-run wedding venue in Cheshire. Set within 165 acres of beautiful English countryside, it boasts impressive views of rolling hills as well as the farm's residents, including horses and sheep.
The wedding venue is home to two sandstone barns which are interlinked, giving couples the choice on how they want to arrange their ceremony and wedding breakfast. If you choose to say 'I do' at Heaton House Farm you're in safe hands – the owners work with each couple individually to make their special day as unique as possible.
10. Owen House Wedding Barn – Cheshire
Owen House Wedding Barn was converted into a wedding venue in 2013 and is surrounded by Cheshire countryside. The picturesque barn includes rustic seating and the perfect romantic setting to say your vows. The farm-inspired decor, including haystacks and a flower-covered pagoda, is perfect for your all-important wedding snaps.
Owen House go above and beyond to ensure their couples have the happiest day of their lives. From inviting you along to a wine tasting evening before the wedding to help you choose the perfect vino, to letting you bring your pet to the pre-wedding breakfast, you'll leave feeling like part of the family!
11. Swallows Nest Barn – Warwickshire
Located on the edge of the Cotswolds, Swallows Nest Barn combines traditional barn character with modern chic styling. The 19th century barn has a charming, rustic vibe perfect for couples looking for a Pinterest-perfect wedding venue!
As well as looking beautiful in the day time, Swallows Nest Barn transforms itself at night. The romantic setting looks beautiful with its dimmed lights at night, and the outdoor courtyard is perfect for evening drinks.
12. Burley Manor – Hampshire
Although not technically a farm, Burley Manor is situated next door to a deer sanctuary that's home to a herd of native red deer, so we had to include them in our roundup! The venue, which can host up to 80 guests for a seated meal, has beamed, vaulted ceilings making it airy and bright for spring and summer weddings.
In the colder months, Burley Manor's floor-to-ceiling traditional brick chimneys and roaring log fires create a warm and welcoming atmosphere. Their converted barn is simple and quirky and serves up stunning food. Speaking of which, foodies will love the menu on offer, which is filled with deliciously seasonal British produce suffused with the flavours of the Mediterranean.
13. Hadsham Farm – Oxfordshire
Hadsham Farm, located in the Oxfordshire countryside, offers a stunning versatile space that can be decorated however you desire. With spectacular views of the lake and beyond, the venue allows you to enjoy your wedding breakfast in the middle of a wilderness.
Hadsham Farm provides a breathtaking setting, as well as the most important things you'll need to host a rustic wedding day – from tipis and fairy lights to the all-important sound system.
14. Oaktree Farm – Newark
The beautiful Oaktree Farm is nestled in between the Nottinghamshire and Lincolnshire countryside and is just 10 miles north of the historic market town of Newark-on-Trent. With rural surroundings and a cool stretch tent, this is the perfect venue for a couple seeking a rustic festival vibe.
As you might expect from a farm wedding venue, you and your guests will be greeted by the friendly sheep, alpacas and cows at Oaktree Farm. Festoon lighting illuminates the field outside the tent, and your guests will love to gather around the fire pit as the night draws in on your celebrations.
15. Tewin Bury Farm Hotel – Hertfordshire

Surrounded by the charming Hertfordshire countryside, Tewin Bury Farm, a 17th century farmhouse, is a beautiful setting for a wedding. The venue offers four different spaces to get married in, so you and your other half can choose the perfect location for your special day. For smaller, intimate settings, the Stable can host up to 70 seated guests, while the Millstream can host 60.

The Tythe Barn is ideal for weddings with up to 150 guests, and for larger weddings the Meadow Barn is a contemporary space that can seat up to 350 with room for a dance floor and band. Each of Tewin Bury Farm's spaces have their own private ceremony area, including a private bar, gardens and reception facilities.
16. Elmbridge Farm – Worcestershire
Set deep in the heart of the Worcestershire countryside, and surrounded by 50 acres of beautiful fields and forest, Elmbridge Farm is a rural haven for your dream wedding setting.
Overlooking a serene lake, the large and inviting tipi tent could make a magical place for you to celebrate saying 'I do' to that special someone. The tipi is also a blank canvas, and allows you to bring your personality to the fore, making it a unique and memorable experience.
17. Hillside Farm – Warwickshire
Nestled at the very edge of the Cotswolds is Hillside Farm. The DIY farm wedding venue offers unspoiled views, a relaxed ambiance and the ability to host your wedding, your way.
Rather than offering set wedding packages, Hillside Farm allows you the flexibility to create your wedding the way you always dreamt it. Surrounded by natural beauty in the charming Warwickshire countryside, you'll be spoilt for choice when capturing your wedding photos.
18. Richwill Farm – Essex
Richwill Farm is nestled in several acres of beautifully secluded Essex countryside. With panoramic views, the stunning timber-framed barns at this farm wedding venue makes it an unforgettable location.
Based in the pretty village of Wix, the 19th century main barn includes a reception area, separate lodge-style bar and private gallery area, while the Courtyard Barn – overlooking the lake – is ideal for smaller weddings.
19. Newlands Bishop Farm – West Midlands
Newlands Bishop Farm is a working farm in the week, while on the weekend it comes alive for weddings. A versatile venue, located in the West Midlands countryside, Newlands Bishop Farm is just a short drive from Solihull.
Newlands Bishop Farm has a large field with a double linked tipi – the perfect spot for you and your guests to dance the night away. The surrounding landscaped gardens are ideal for those important wedding pictures and for children to explore.
20. Huntsmill Farm
Whether you're saying your vows in its picturesque courtyard or posing for pictures in their wheat fields, Huntsmill Farm is a stunning location for a farm wedding. Positioned in the stunning Buckinghamshire countryside, the views will make your day a memorable one.
The venue's bare-brick barns, which come as a blank canvas for you to decorate how you wish, are the perfect setting for your ceremony and reception.
21. Winkworth Farm – Wiltshire
Winkworth Farm is a family-owned eco-friendly wedding venue. Set at the edge of the Cotswolds, it's situated near the charming market town of Malmesbury. The venue is surrounded by luscious lawns, herbaceous borders, sunken gardens, and an organic meadow.
The beautifully renovated 17th-century Cotswold stone barn is nestled within the tranquil setting of 210 acres of organic pasture.  The venue is licensed to hold ceremonies in a number of locations, including the Threshing Barn, which can accommodate 200 seated guests on one level. The Long Barn and the outdoor Cotswold Stone Roundhouse are both ideal for ceremonies with up to 150 guests.
For more stylish places to get married, check out our edit of the prettiest rustic wedding venues.