27 of the Best Barn Wedding Venues: Our Favourite Barns to Say 'I Do'
Find your dream barn wedding venue in our round-up of the most gorgeous rustic barn locations in the country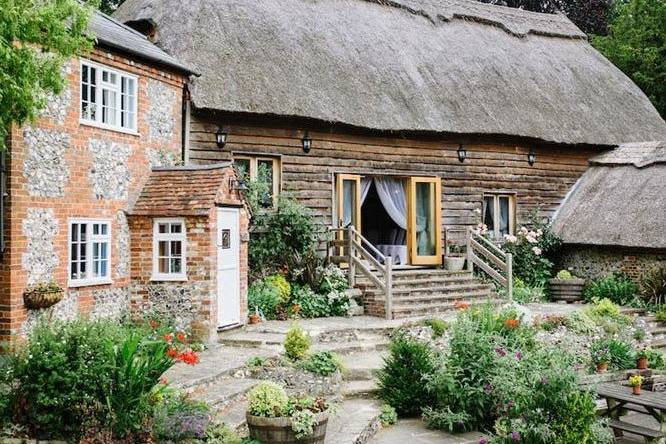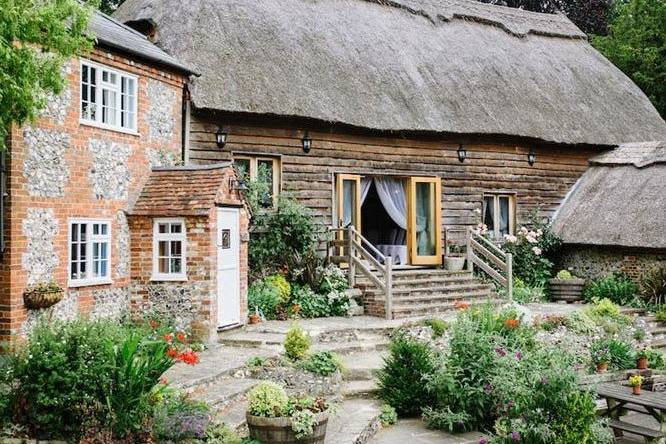 Barn wedding venues are a choice that will never go out of fashion – and for good reason.
Bursting with charm and character, barn venues offer couples a romantic ambiance that other venue styles just cannot compete with. Whether you're looking for a historic estate that dates back hundreds of years, a family-owned organic farm, or a modern take on a timeless classic, you will find numerous barn and rustic wedding venues from Cumbria to Kent.
However, with so many options in the UK, it can be hard to make a decision on which one is the perfect place for you and your partner to tie the knot.
To help you out, we've rounded up our favourite barn wedding venues across England and Wales. Some feature exposed brick walls and vaulted rafters, while others come with marquee tents and animal sidekicks, and can be paired with celebrations ranging from boho to traditional. Which one would you pick?
READ MORE: The Best Affordable Wedding Venues
1. Cripps Barn – Gloucestershire
This Gloucestershire wedding venue sits in a lovely countryside location and boasts stunning views of rolling fields.
If it's total tradition you're after then Cripps Barn could be the place for you – our favourite features include the flagstone floors, rustic beams and a romantic, open fireplace.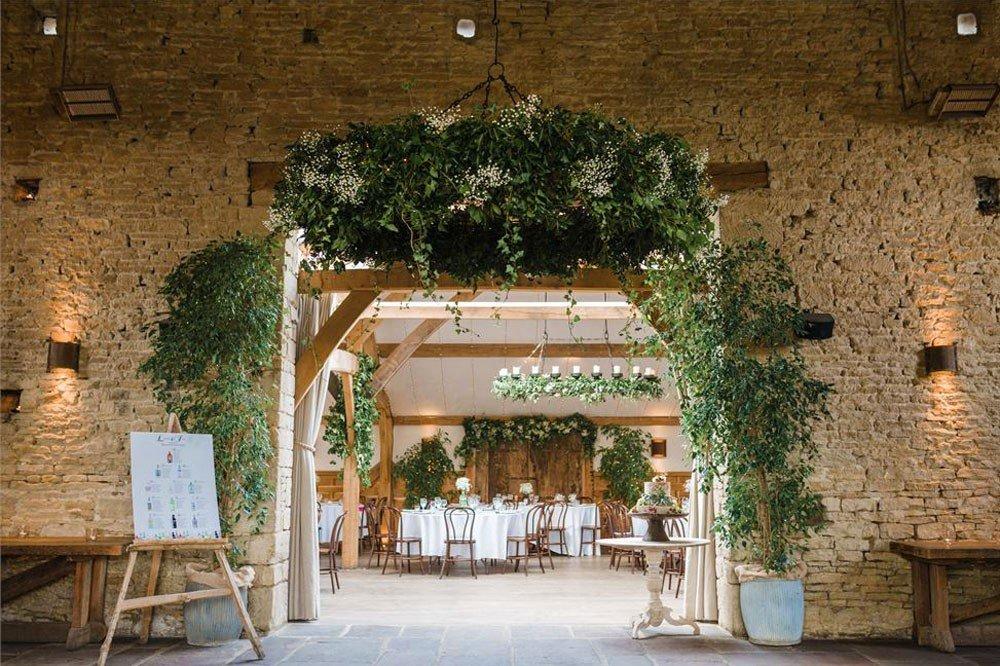 You will have the choice of saying 'I do' either inside or outside beneath an oak structure in an enchanting glade in their woods.
Why not go all out with the outdoor wedding theme and make the most of the free camping for your guests, fire pits on the terraces and a fantastic bonfire?
These features will create such stunning wedding photographs.
Find Out More

READ MORE: The Most Magical Outdoor Wedding Venues
2. Colville Hall – Essex
Colville Hall is a barn wedding venue situated in the charming and historic White Roding village in Essex.
The venue itself consists of two barns: one for the wedding breakfast and one for the civil ceremony (or drinks reception), and can cater for weddings of up to 200 guests.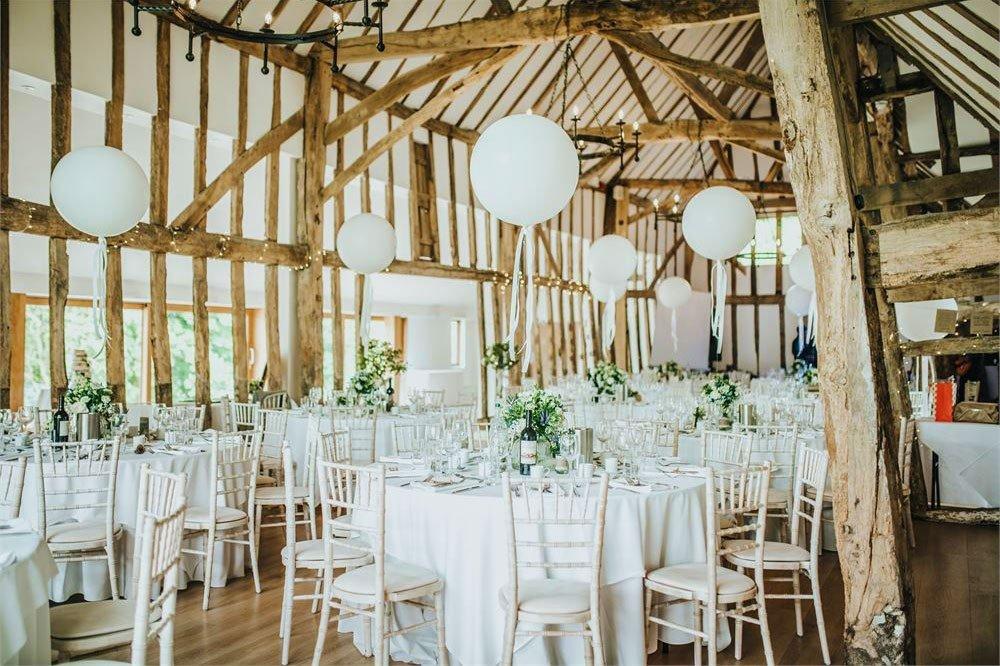 With 10 acres of formal, manicured gardens, the grounds at Colville Hall are the perfect backdrop for stunning wedding pictures.
This unique group of thatched barns is suited for weddings all-year-round so no matter the season, you're guaranteed a gorgeous wedding day.
READ MORE: Our Favourite Wedding Venues in Essex
3. Cain Manor – Surrey
Cain Manor is one of six, exclusive wedding venues owned by Bijou which is sure to inject no end of romance and glamour into your wedding day.
It's a delightful Elizabethan Manor House which is available for exclusive hire throughout the year and nestled within a private forest near to Farnham.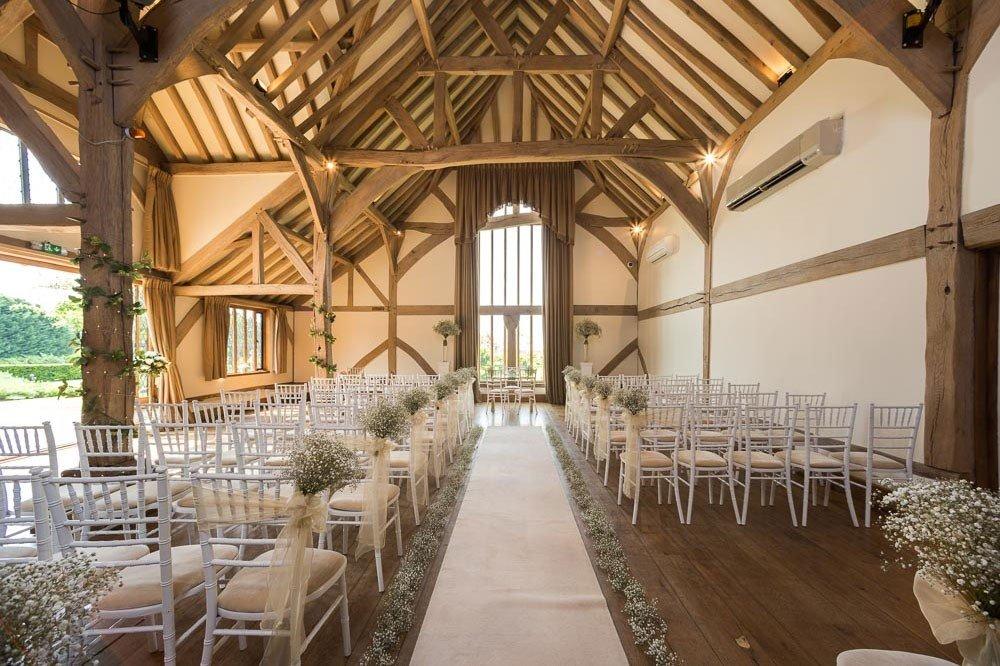 You and your guests will enjoy stunning views over the North Downs as you tuck into a delicious wedding breakfast in the Music Room. After eating, there are plenty of cosy nooks and crannies for your guests to enjoy – it is a total home-away-from-home.
What's more, you'll be able to host your guests overnight and enjoy a hearty breakfast with your nearest and dearest the following morning. Perfection!
Find Out More

READ MORE: The Best Wedding Venues with Accommodation
4. Tythe Barn – Oxfordshire
Located in the most beautiful, rural setting, the Tythe Barn in Launton, Oxfordshire, is a truly magical place to get married.
Family-run, the team at the Tythe Barn are dedicated and passionate about every wedding they organise and are there to ensure your wedding is an exceptional celebration.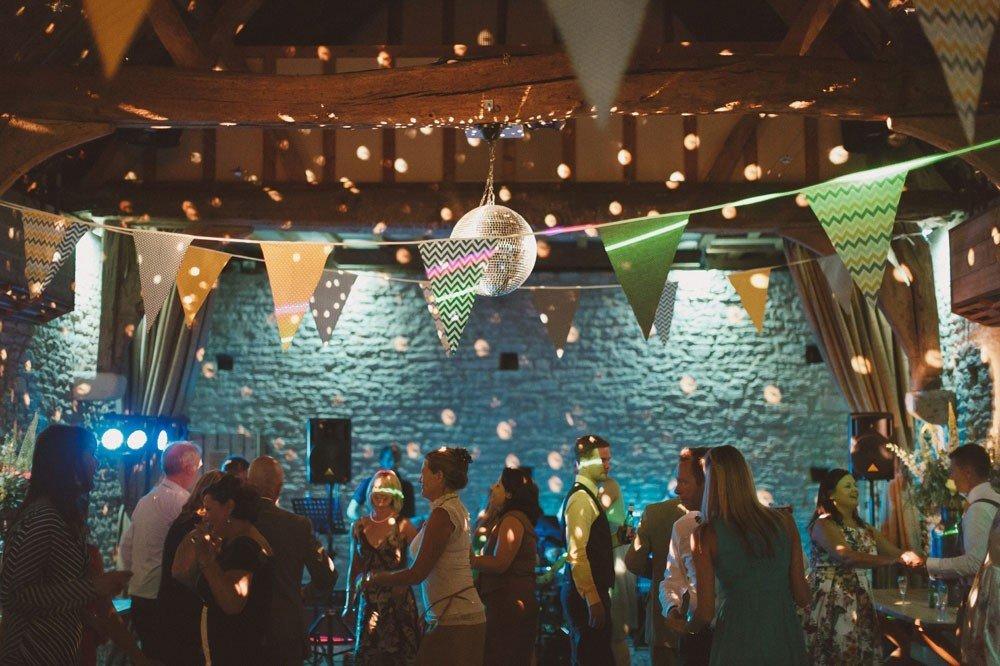 Made up of two buildings, the Tythe Barn and adjoining Cowshed can seat anywhere between 40 and 165 guests for a wedding breakfast and can both accommodate for parties of up to 200 wedding guests for an evening celebration.
Find Out More

READ MORE: Our Pick of the Best Wedding Venues in Oxfordshire
5. Eden Barn – Cumbria
Couples who want a barn wedding venue that still feels light, airy and has a modern flair to it will adore Eden Barn in Cumbria.
This gorgeous, light, brick barn is beautifully decorated and has the wow-factor that is bound to impress your guests.
READ MORE: The Most Glamorous Wedding Venues in the Country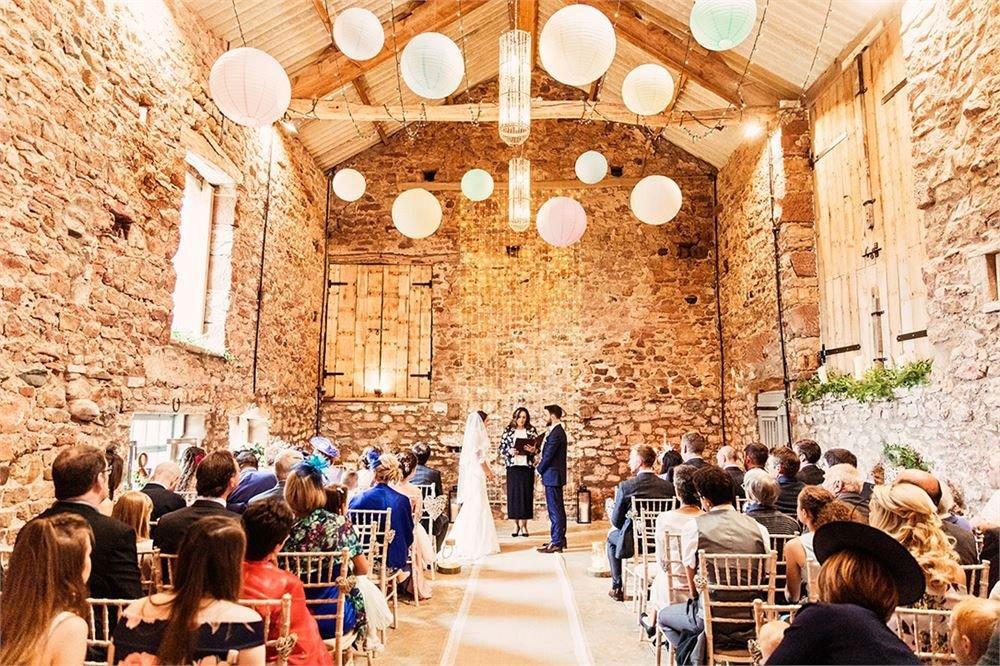 The barn can host weddings of up to 140 day guests and that number can be extended for evening receptions.
As well as charging no corkage fee and having a car park on site, the venue is also within close proximity to a number of beautiful, historic churches for couples who want a religious ceremony beforehand. What's not to love?
Find Out More

READ MORE: Stunning Wedding Venues in Cumbria
6. Hazel Gap Barn – Nottinghamshire
Hazel Gap Barn is a beautiful rustic wedding venue made up of two traditional red brick farm buildings – the barn itself and the authentic farmhouse – which stand either side of the enchanting walled courtyard.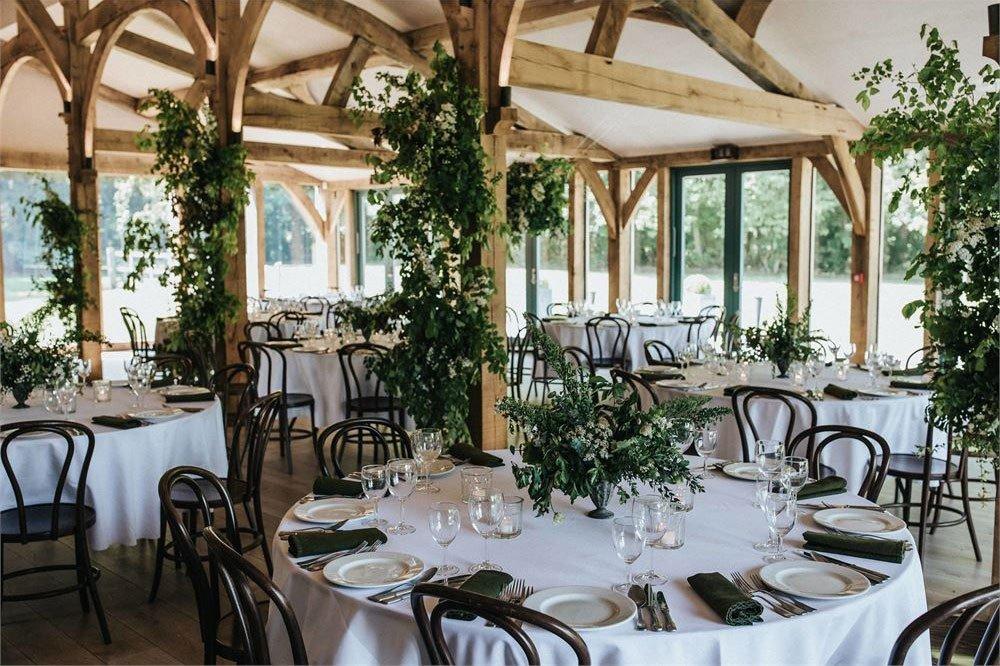 By day, this barn wedding venue is a charming, rustic setting and by night, Hazel Gap Barn becomes a majestic, fairy light-adorned wedding venue oozing romance.
Available for exclusive use, this is a venue not to be overlooked.
Find Out More

READ MORE: Our Favourite Wedding Venues in Nottinghamshire
7. Tall John's House – Powys
If you're after a new wedding venue which not many couples will have tied the knot in before, Tall John's House could be just the ticket.
Nestled among the Welsh hills sits this newly restored barn wedding venue, an enchanting hideaway complete with lofty beams, romantic slit windows and gorgeous exposed brickwork.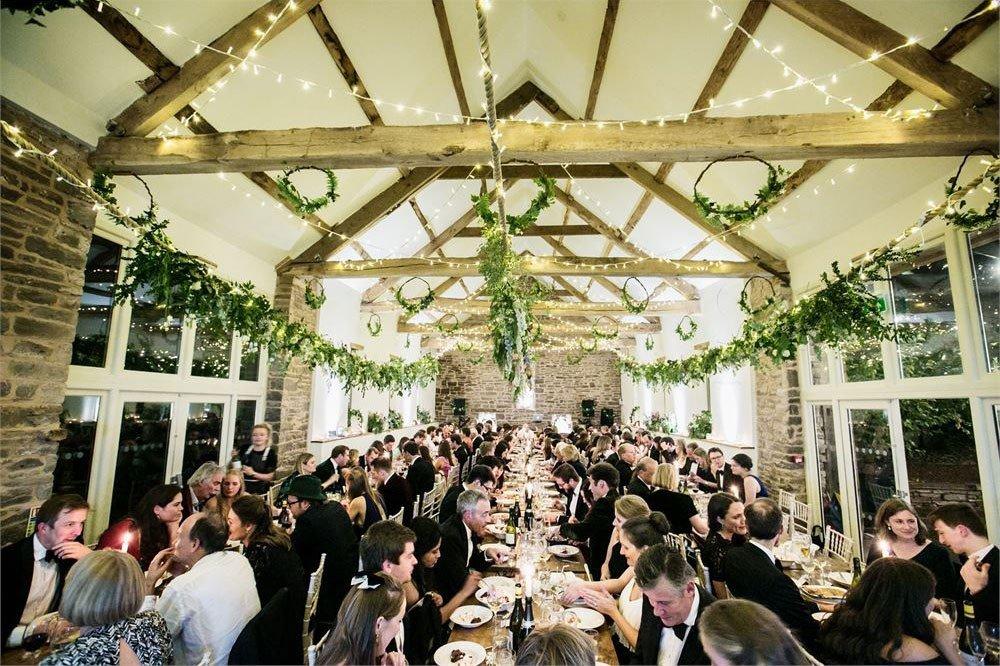 The barn is a total blank canvas to style as you wish.
It comes with access to courtyards on either side of the barn and a stunning walled garden which would be perfect for pre-dinner drinks and wedding photographs.
Couples looking to say 'I do' in Wales should definitely pay this place a visit.
Find Out More

READ MORE: The Most Wonderful Welsh Wedding Venues
8. Wyresdale Park – Lancashire
Wyresdale Park is a family-run estate in the heart of Nicky Nook, Lancashire. It boasts a country house, a boating lake and a collection of barns which would make the most beautiful of rustic wedding venues.
Exchange your vows in the Ceremony Barn before heading through to the White Barn for dinner. It has high ceilings, a balcony, original beams and old stables, and it is full of character. Light the wood burner and dance the night away.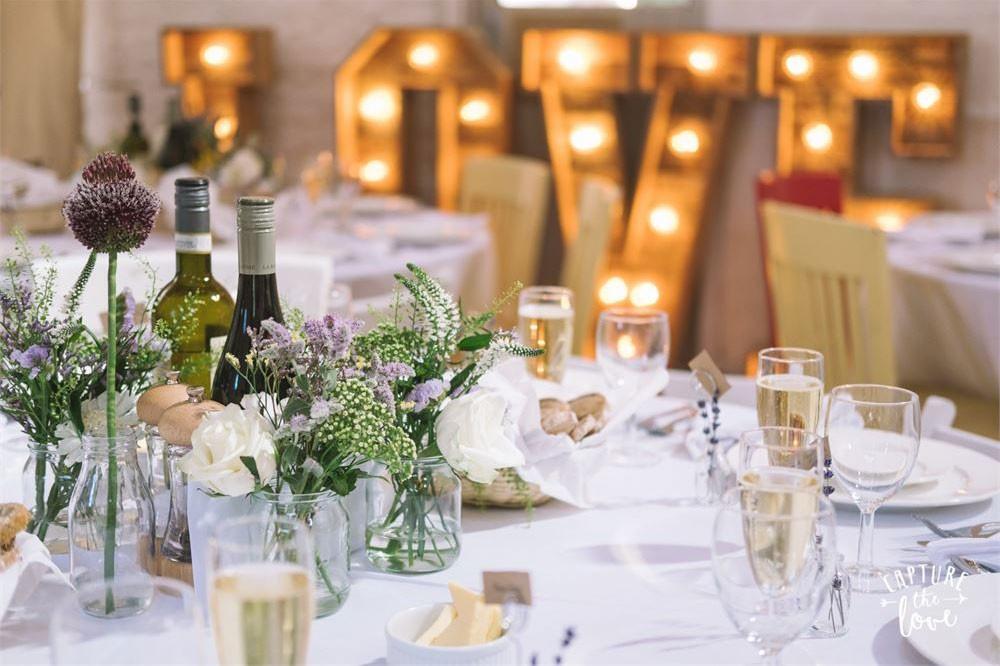 Perhaps the most unique of Wyresdale's features is its glamping offering. The estate has two very beautiful glamping sites to choose from – your guest will love to spend the night in bell tents, raised on timber decks and set within an old orchard.
9. The Barn at The Crown Inn – Oxfordshire
Nestled in the rural Chiltern Valley in Oxfordshire lies The Barn at The Crown Inn, a 15th Century wedding venue bursting with character and charm.
This former coaching inn has been beautifully restored into what is now a gorgeous place for couples to say their vows.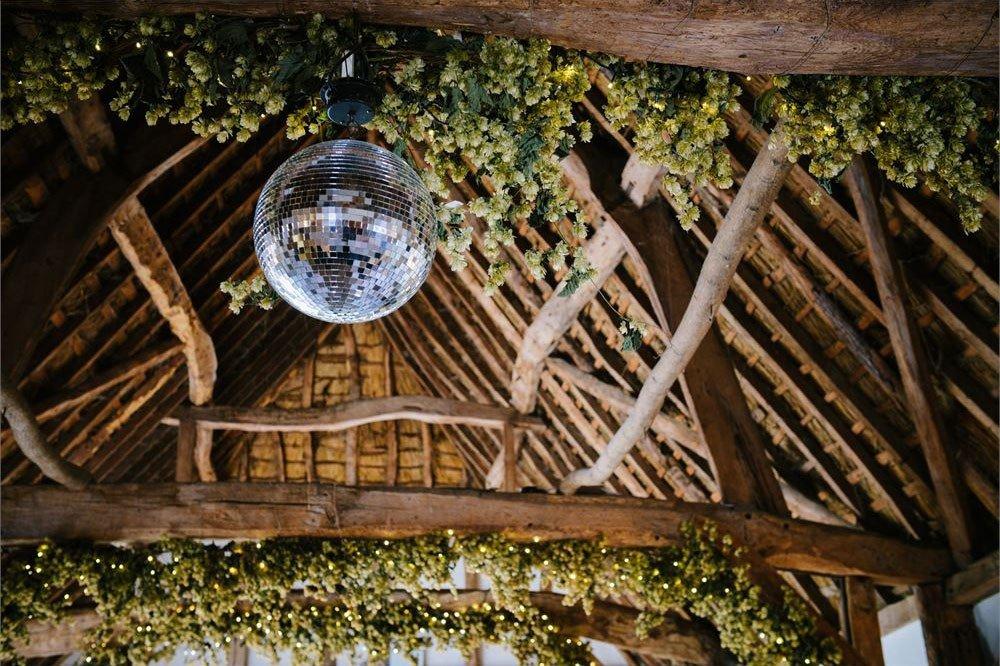 The décor at The Crown Inn is very traditional for a barn wedding venue – perfect for couples who want a really authentic, rustic-looking wedding.
The barn can accommodate weddings of up to 80 day guests and 110 evening guests so there's no need to hold back on invitations.
Find Out More

READ MORE: Countryside Wedding Venues You Don't Want to Miss
10. Healey Barn – Northumberland
If you're looking for a really romantic place to get married, Healey Barn could be the venue for you.
From the long barn ceremony room lit with over 100 candles to the oak-roofed dining room with a charming feel, this barn wedding venue is bursting with romantic vibes that will make your wedding day as magical as it can be.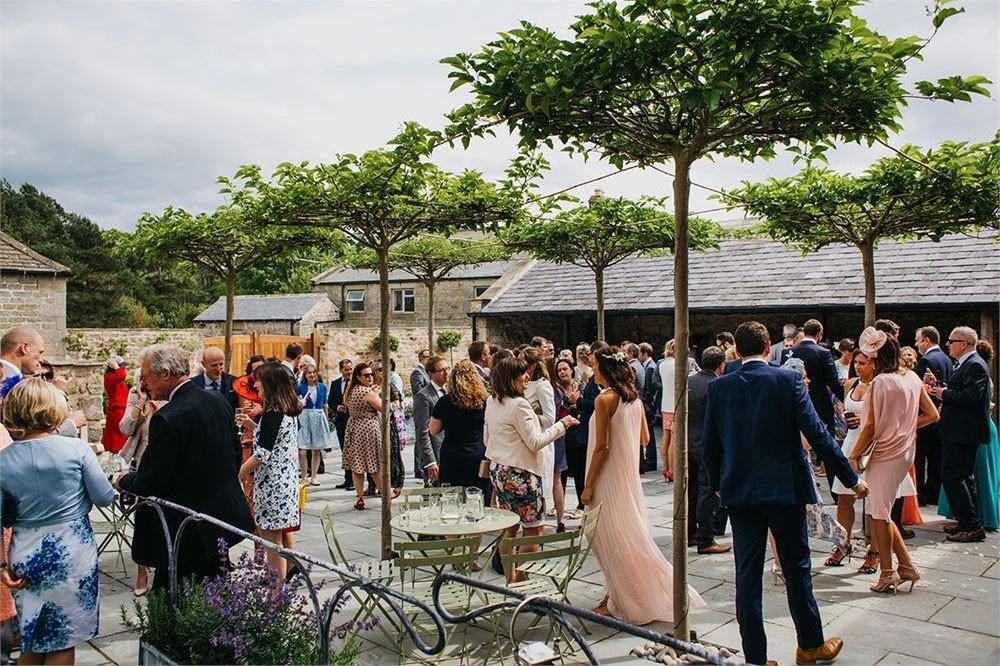 As well as the gorgeous interiors, Healey Barn also offers an array of lovely outdoor spaces for couples to enjoy, including a sheltered courtyard and beautiful greenery.
READ MORE: Our Pick of the Best Wedding Venues in Northumberland
11. Pimhill Barn – Shropshire
If you choose Pimhill Barn, you'll be getting married at one of the most sought after farm wedding venues around.
This venue is perfect for small and intimate wedding ceremonies but works just as well for up to 250 guests, and it is a total blank canvas. You'll be free to choose all of your own suppliers, meaning you can have exactly the wedding you always imagined.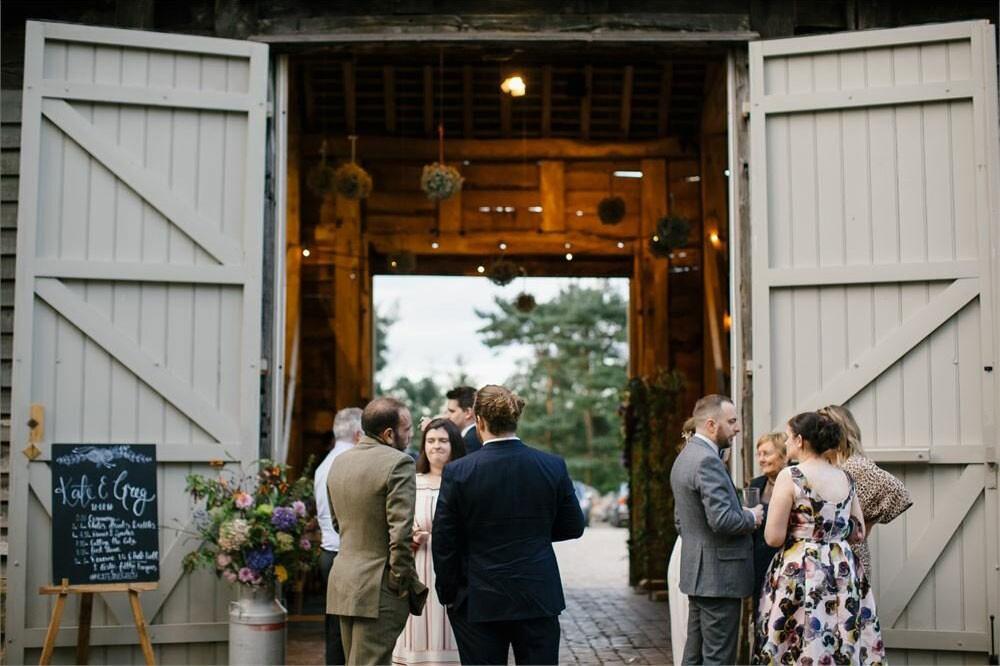 What's more, two nights' accommodation in the Courthouse (a stunning building which sleeps up to four) is included with exclusive hire of this countryside wedding venue. There's so much to love!
READ MORE: Our Favourite Wedding Venues in Shropshire
12. The Carriage Hall – Nottinghamshire
Carriage Hall in Nottinghamshire was once a railway station goods shed that's now been transformed and restored into a unique wedding venue with a true barn feel.
The Victorian building boasts original character and is surrounded by dreamy private grounds that are perfect for capturing memorable wedding pictures.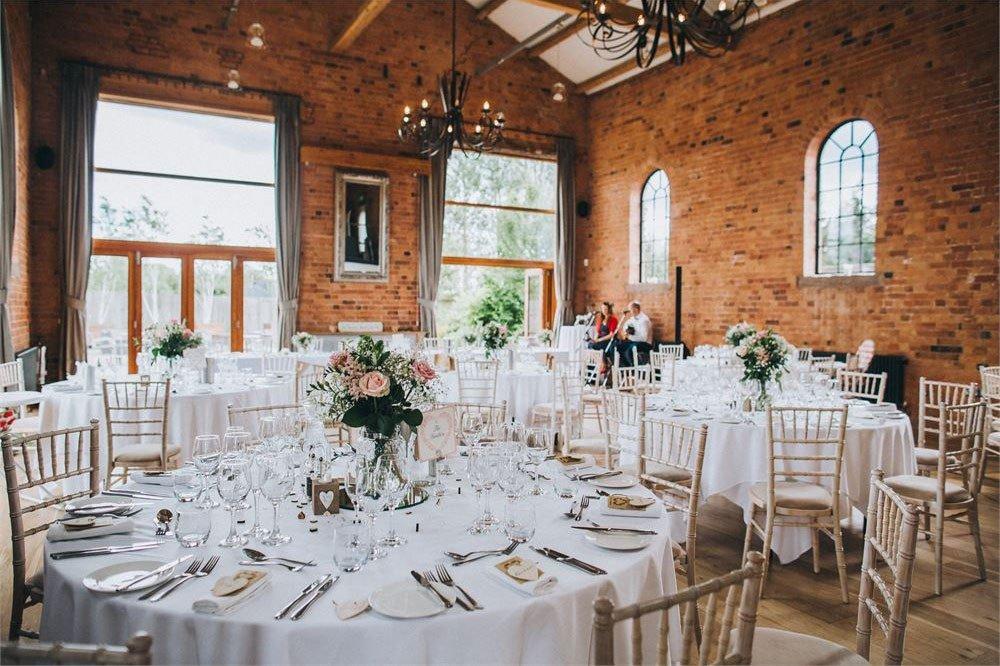 On the grounds are three beautifully hand-crafted shepherd huts, one of which is the bridal suite where you and your partner can spend your first night as a married couple.
Along with this, there are three areas within the venue that are licenced for civil ceremonies, giving couples a variety of choice when it comes to booking a wedding at The Carriage Hall.
READ MORE: Gorgeous Outdoor Wedding Venue Ideas
13. Dorney Court – Windsor
Dorney Court is a beautiful countryside wedding venue in the heart of Buckinghamshire with the capacity to host your entire wedding day.
The ceremony itself can take place in the St. James the Less Church, before you host a gorgeous reception in the newly-restored Coach House Barn.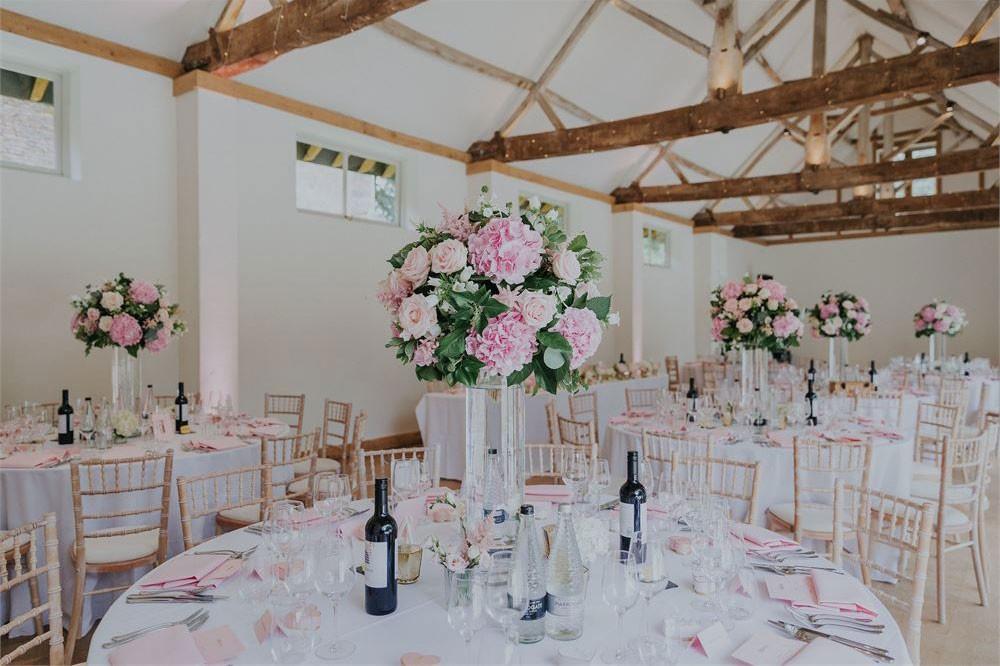 The barn has been beautifully renovated, and despite the refined, modern design, the building's historic charm has been retained.
Dorney Court can be used for ceremonies with up to 200 guests and dining for up to 120. For the reception, the barn can accommodate up to 250 people.
14. Stock Farm Wedding & Events Barn – Cheshire
Set within beautiful farmland on the edge of Tatton Park, Stock Farm is a beautiful wedding venue.
The barn is an exclusive location with countryside views and complete privacy – it is perfect for a larger guest list since there's plenty of room for up to 350 people to party the night away!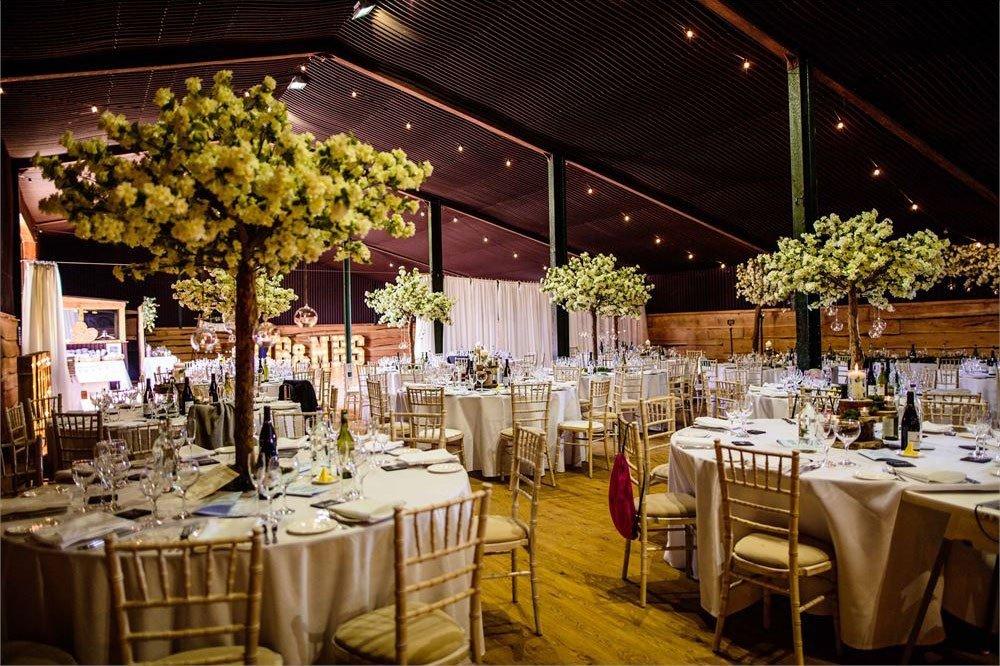 We love the rustic bar which is lit by stunning festoon lighting, and the fact that you can get married outside if you're blessed with sunny weather! This place is definitely worth a look.
15. Long Furlong Barn – West Sussex
Dreaming of getting married in the West Sussex countryside? Look no further than Long Furlong Barn, a stunning barn wedding venue which will be exclusively yours on your wedding day.
While the lawns and neighbouring countryside make for the perfect summer wedding backdrop, the romantic barn – complete with snuggly rustic seating and fairy-lit ceiling – is magical in the winter.
This Cart Shed & Granary barn can host weddings and civil ceremonies for up to 150 guests, and the luxury bridal suite (which is the most perfect place to spend your first night as a married couple) will be included in the hire.
16. The Cow Shed - Cornwall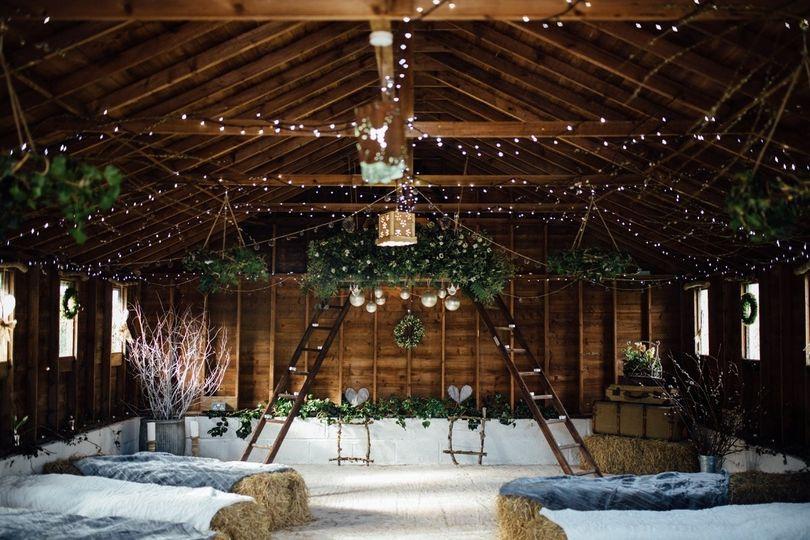 The Cow Shed at Freathy Farmhouse is a romantic venue tucked into the Cornish countryside. Situated just minutes from the ocean but surrounded by rolling hills, the farm has everything you need for a scenic celebration.
The Cow Shed consists of a barn, an old milking parlour, and a vintage farmhouse. The American-style barn has a rustic-chic ambiance and fairy lights that drape dreamily from the rafters.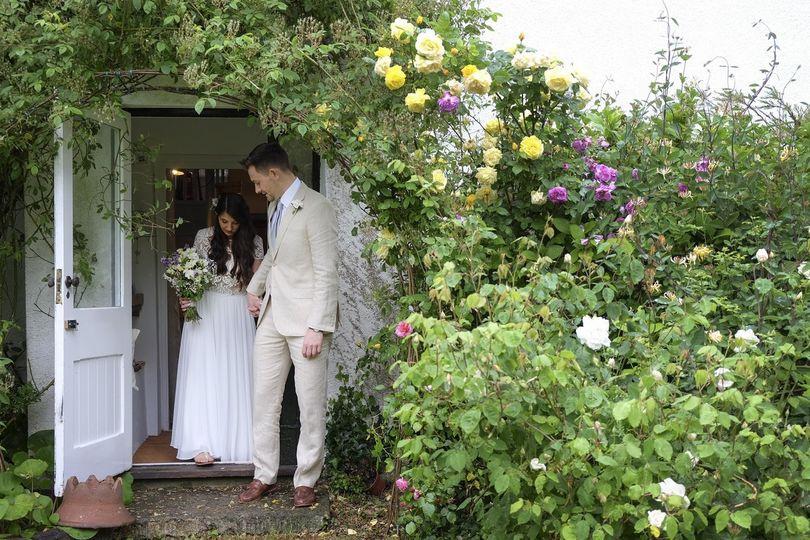 Accommodating 80 guests, The Cow Shed is best for intimate weddings. The idyllic setting will ensure privacy as you tie the knot with the love of your life.
17. Odo's Barn - Kent
Nestled in the Garden of England, Odo's Barn is a picturesque Kent location for your nuptials.
This 15th-century tithe barn boasts original beam ceilings and even a medieval moat. Talk about feeling like royalty!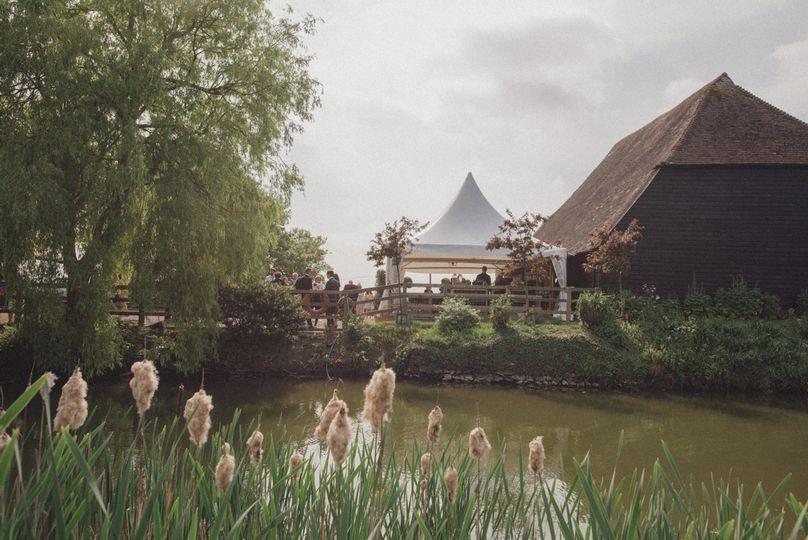 Awash in centuries-old charm, Odo's Barn still has modern touches. These include an outdoor terrace, a rustic bar, and Italian chandeliers that were commissioned especially for the venue.
18. Dodford Manor - Northamptonshire
Dodford Manor is an award-winning country house situated in the rolling hills of Northamptonshire.
This 17th-century stone and oak barn has been fully restored and welcomes you and 170 guests for civil ceremonies. Step back in time and experience the rural tranquillity of this breathtaking manor.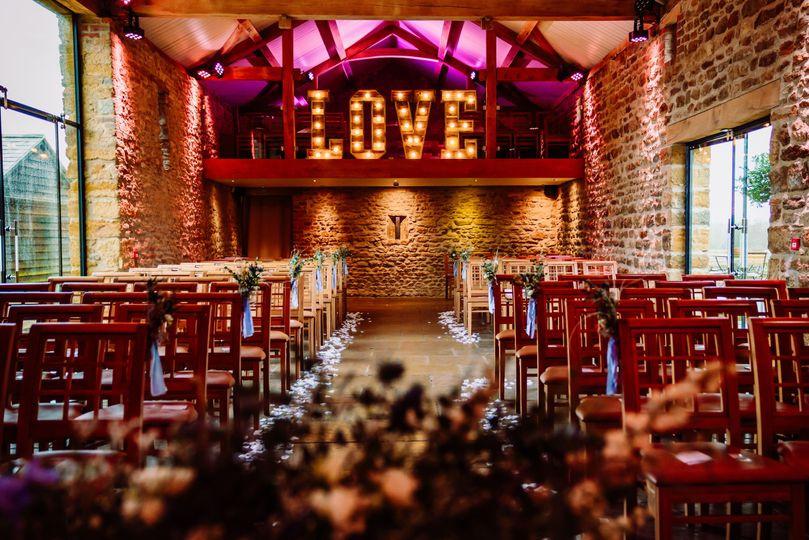 The wedding team at Dodford Manor is down-to-earth and will ensure that your special occasion goes off without a hitch. They don't charge a corkage fee and can help you secure delicious local cuisine for your wedding breakfast.
19. The Oak Tree of Peover - Cheshire
Surrounded by enchanting woodland, The Oak Tree of Peover is a stunning spot for your Cheshire wedding.
This oak-framed barn is licensed for civil ceremonies in both its indoor Ladybird Room and outdoor Pavilion. The venue accommodates 108 seated guests and 180 for evening receptions. During the festivities, you will enjoy exclusive access to the property as well as a private wedding suite.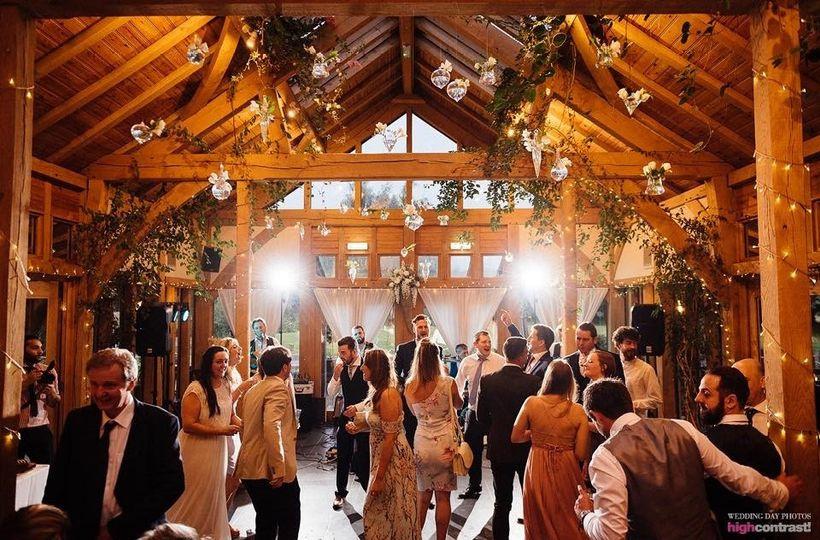 Draped with fairy lights and spiralling foliage, The Oak Tree of Peover comes already decorated for your boho wedding. The space can be adorned for celebrations from shabby-chic to vintage and has a list of handpicked local suppliers for all your needs.
20. MKII - East London
A barn venue might not be what one thinks of when they hear London wedding, but MKII provides a contemporary twist on the traditional setting.
Now an industrial warehouse, MKII once housed the cows that grazed on nearby Hackney and Walthamstow Marshes. It has since been converted into a quirky barn venue for adventurous urban couples.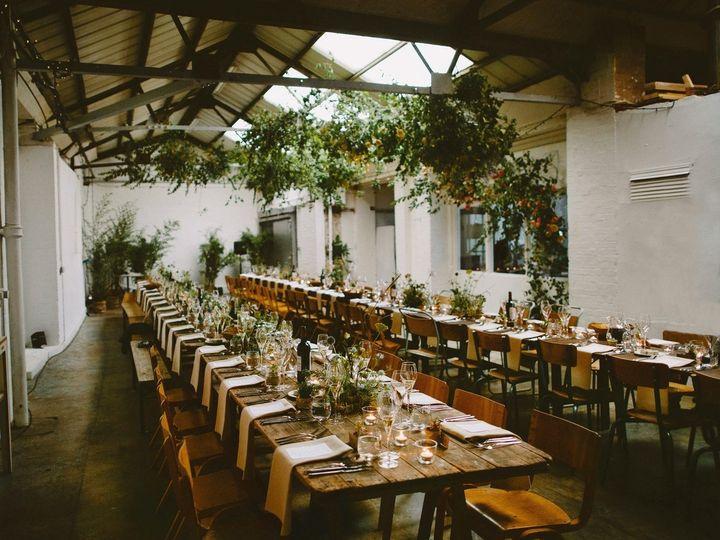 Featuring a pristine white interior, MKII is a blank canvas that can be decorated to suit your preferences. The unique barn can hold up to 110 people and is available for three-day rentals.
21. Grangefields – Cripps & Co - Derbyshire

Tucked down a long private road in Derbyshire you will find the luxurious Grangefields – Cripps & Co. With three separate spaces and a courtyard, this venue is a versatile choice for your celebration.
Granglefields – Cripps & Co.'s ceremony room is characterized by breathtaking beams and exposed brick walls. After tying the knot, you can dine on delicious cuisine in the Dutch Barn, which houses a barbecue, rotisserie, and pizza oven.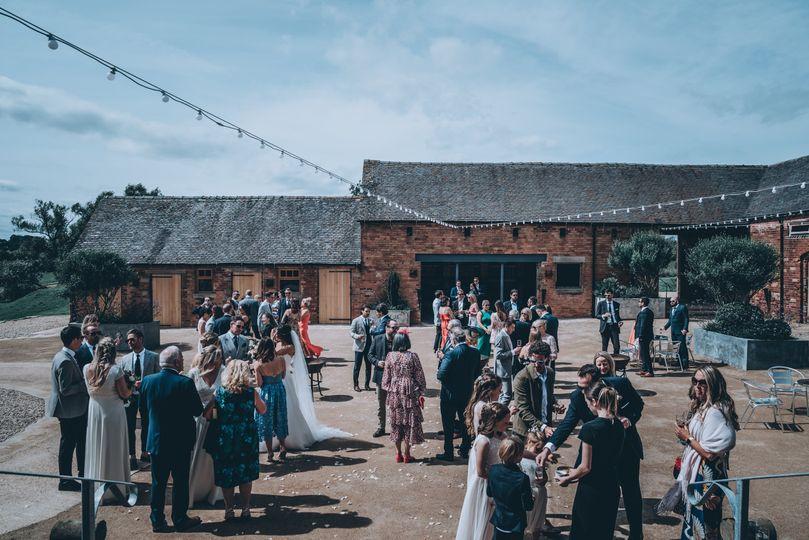 This brand-new venue has special touches that set it apart. In the courtyard, it even boasts an Argentinian ASADO, which can be used for cooking during the warm summer months and as a firepit during the cool seasons.
22. The Octagon Barn - Norfolk
Built in the late 1600s, The Octagon Barn is a spectacular wedding venue nestled in the Norwich countryside.
We adore this venue's impressive octagon-shaped vaulted ceiling, which gives the barn its name. Underneath this unique fixture, you can tie the knot surrounded by historic brick walls.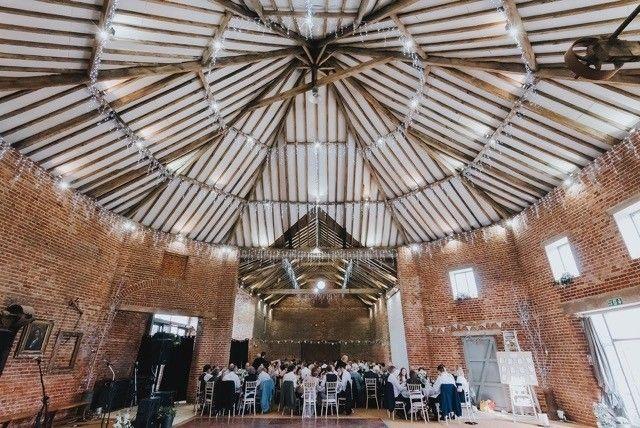 The Octagon Barn can seat 250 for civil ceremonies, while 350 can mingle comfortably during buffet-style wedding breakfasts. The venue is situated close to Little Plumstead Church and also features an enclosed garden.
23. Tudor Barn Eltham - South East London
Tudor Barn Eltham combines a secluded parkland backdrop with close proximity to South East London.
This 16th-century barn is all that is left of a country manor built by William Roper in 1525. Few genuine Tudor barns survive from this era, and Tudor Barn Eltham is the only one in London. Overlooking a medieval moat, it is sure to have you feeling like royalty on your big day.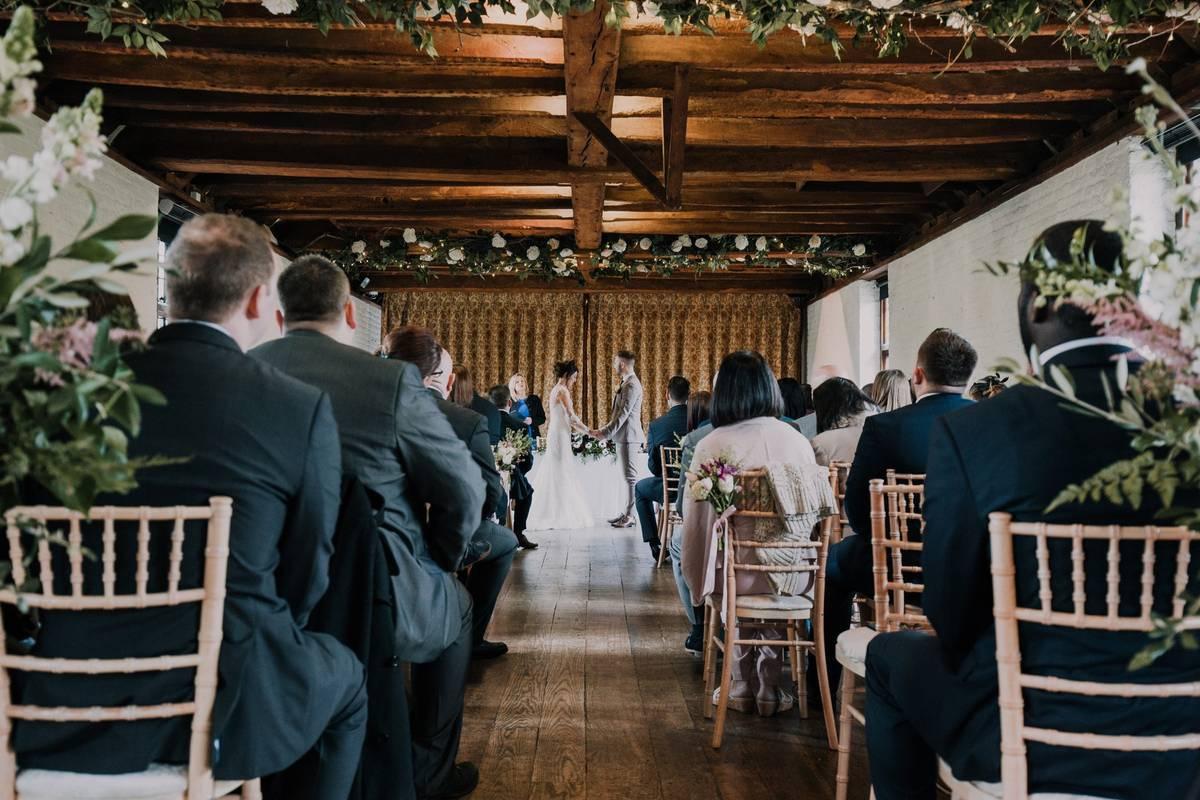 With its original beams, white brick walls, and enchanting stained glass windows, Tudor Barn Eltham is right out of a fairy tale. The dedicated staff will help with all the arrangements so that you can relax and enjoy your romantic experience.
24. Huntstile Organic Farm - Somerset
Easily mistaken for Hobbiton, Huntstile Organic Farm is a charming barn venue nestled on a working organic farm in the heart of Somerset.
Providing breathtaking views of the Quantocks, this location epitomizes bucolic beauty. A short walk away, you will find an ancient stone circle, where you can take pictures with your loved ones.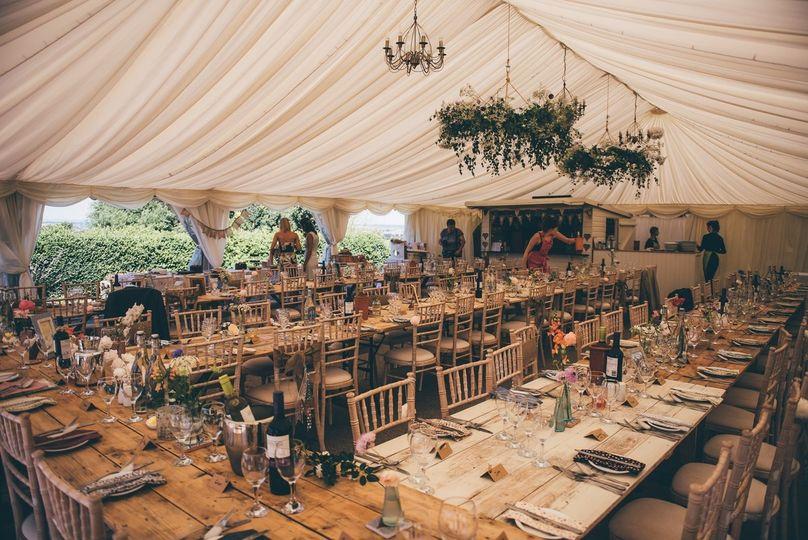 Tie the knot in the Garden Room or the nearby village of Goathurst, where a church overlooks a stream. Afterwards, the in-house chefs will cook you a fresh and delicious dinner that is served in the delightful dining marquee.
25. Nancarrow - Cornwall
Nancarrow is a Cornish hidden gem that sits on 100 acres of family-owned organic farmland.
The property consists of five fully-renovated barns that can be used for different aspects of your celebration. The Rusty Barn is licensed for civil ceremonies, while wedding breakfasts are held in the Oak Barn.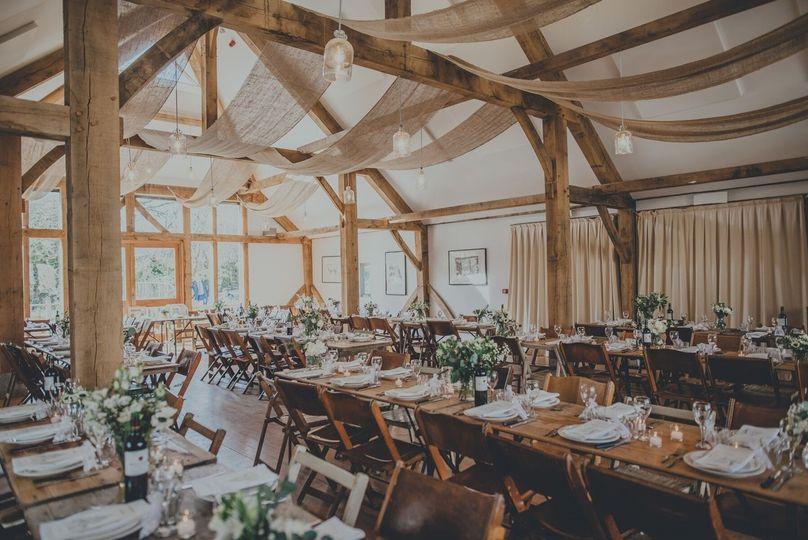 We love Nancarrow because it can serve as a getaway for you and your wedding guests. The farm welcomes 22 people in 11 en-suite bedrooms, and in the summer months offers two furnished Shepherd's Huts. A bridal suite, Old Mill living area, and courtyard make this a truly all-inclusive venue.
26. The Oak Barn, Frame Farm - Kent
Surrounded by 22 acres of sheep fields, The Oak Barn, Frame Farm is a tranquil setting for Kent weddings.
Dating back to 1607, Frame Farm comprises two reception areas, The Oak Barn and The Byre, and five Weaver's Cottages. The impressive Oak Barn features a cathedral ceiling, glass frontage, and spectacular exposed beams.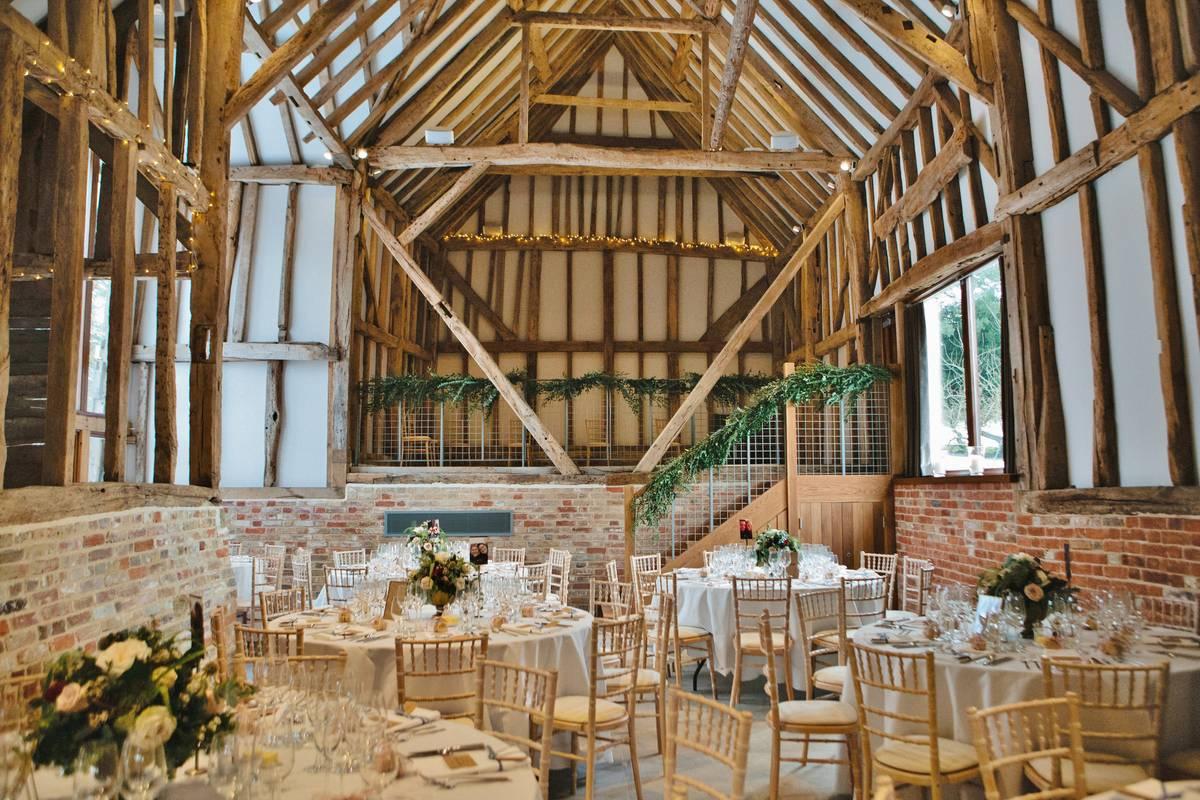 The Oak Barn, Frame Farm can accommodate 135 for wedding breakfasts and 200 for evening receptions. After the festivities, you and your new spouse can cuddle up with a glass of bubbly in one of the Weaver's Cottages and enjoy a romantic overnight experience.
27. Alcumlow Wedding Barn - Cheshire
Alcumlow Wedding Barn is a stunning wedding venue situated serenely in the Cheshire countryside.
Tie the knot in the rustic wedding barn, or marry your partner outside in a deconstructed chapel made from floating windows and brick flooring.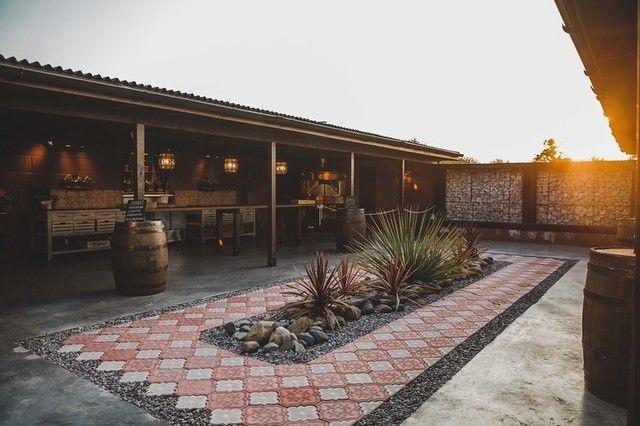 Boasting a stone courtyard, Italian pizza oven, eclectic bar, and Spanish-style al fresco seating area, Alcumlow Wedding Barn is a unique and elegant spot for your celebration.
For more gorgeous venue inspiration, be sure to check out our selection of charming rustic wedding venues!