Summer Weddings: 56 Gorgeous, Inspiring Ideas Your Guests Will Love
Wondering how you can put the finishing touches to your summer wedding? From tropical leaf place cards and fresh coconut water to the best ways to include wellies if it rains, these ideas will make the most of the season.
We have included third party products to help you navigate and enjoy life's biggest moments. Purchases made through links on this page may earn us a commission.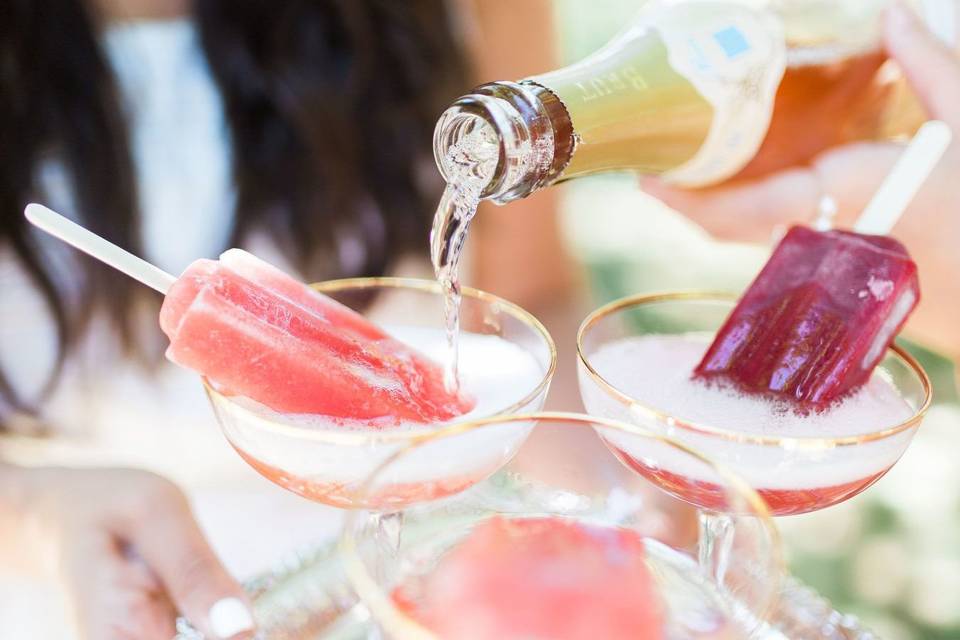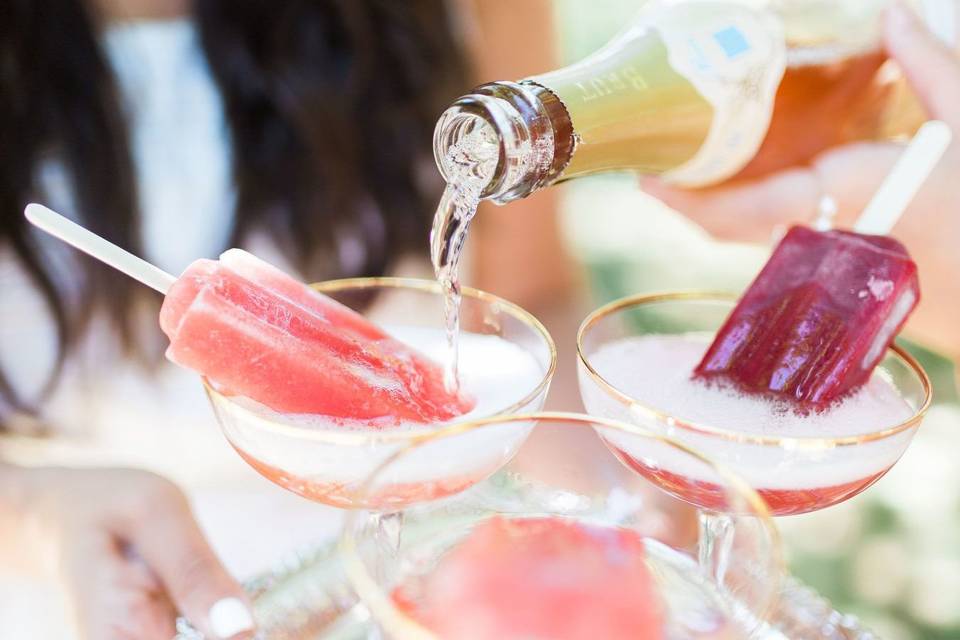 Summer is the most popular time of the year to say 'I do'. The glorious weather, blossoming flowers and greenery, and pretty themes are just some of the many reasons why summer weddings are amazing.
With lots of weddings taking place between June and August, you'll want yours to stand out, which is why we've pulled together the best summer wedding ideas - some classic, and some creative and unexpected that your guests will adore!
Being totally realisitc - it's Britian, the sun isn't guaranteed. That's why you'll find 56 summer wedding ideas, from frosé bars for scorching days to matching wellies when the weather turns.
Enjoy these fun, sunny, playful ideas and make the most of saying your vows in Britain's favourite wedding season.
READ MORE
Summer Wedding Ceremony Ideas
1. Have an Outdoor Ceremony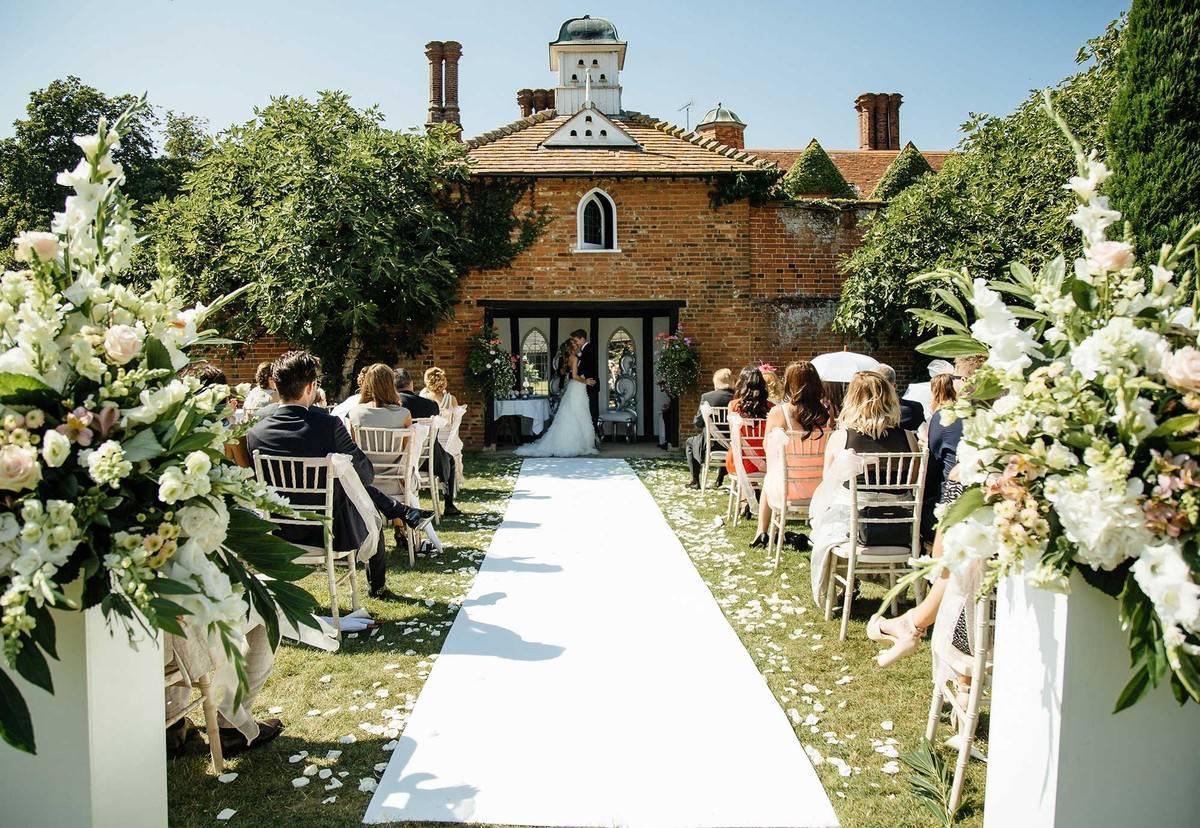 Make the most of the time of year by getting married outside. Outdoor wedding venues have the potential to look stunning – just make sure you have an indoor alternative or back up marquee just in case the British weather defies you.
2. Choose a Festival Theme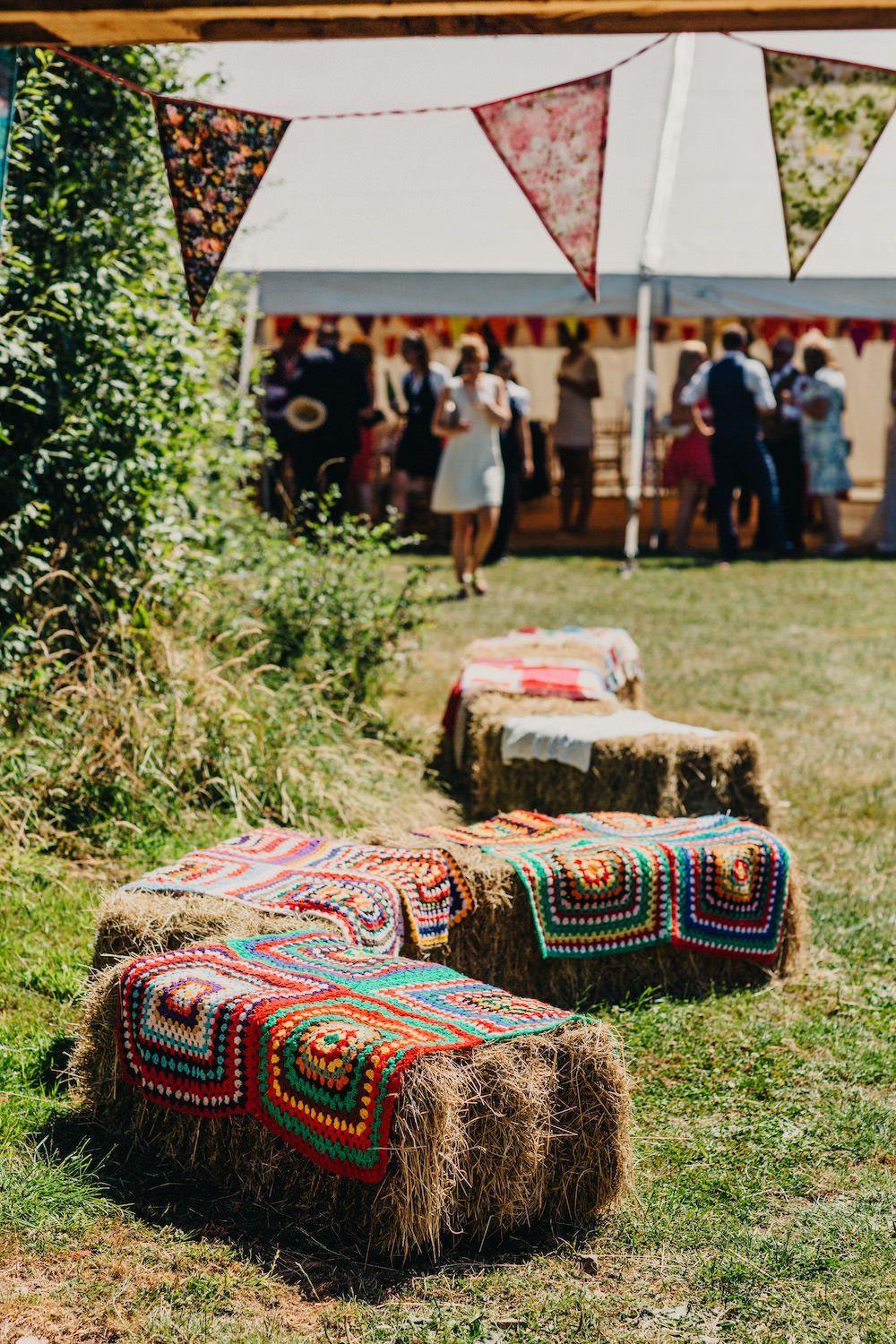 Planning a festival wedding is becoming increasingly popular and can be done in a variety of ways. You could have the reception in a green field with lots of hay bales as seating and a casual dress code, or you could go all out and have a live band play on a stage or even funky tipis. The choice is yours.
3. Hire a Glass Venue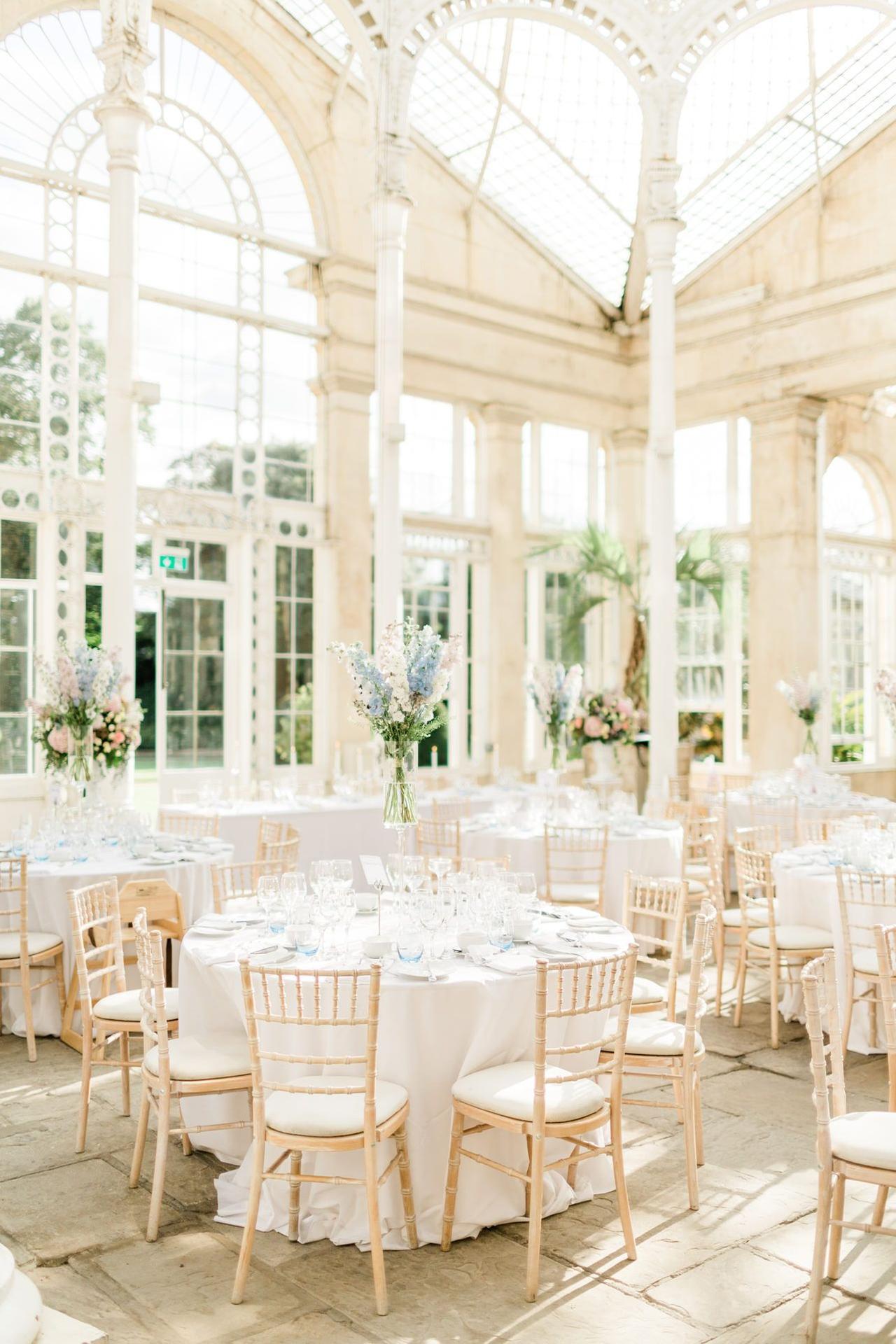 Having your ceremony or reception in a room with a glass ceiling or walls keeps the room so bright and allows tonnes of natural light to pour in. The last thing you want at your summer wedding is to get married in a dark room. If you can draw back the walls to allow the outside in, even better!
4. Make Welcome Bags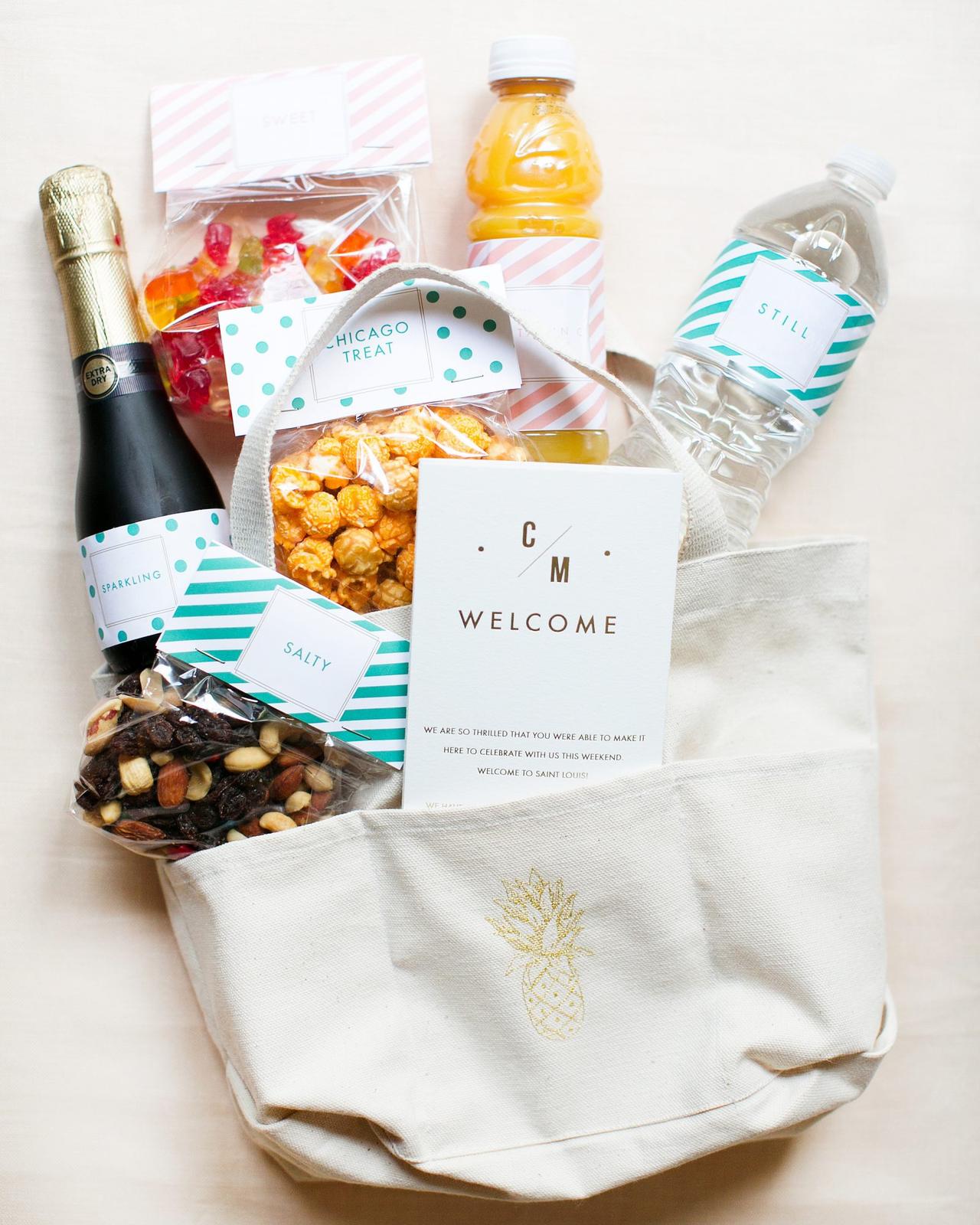 Either leave a small bag on each guest's seat or place them in hotel rooms on arrival if they're staying over. You can include things such as bottled water, a hand fan, small bottles of suncream, and a little snack. Do the same for kids and include a little colouring or puzzle book to occupy them until the ceremony starts.
5. Create a Romantic Walkway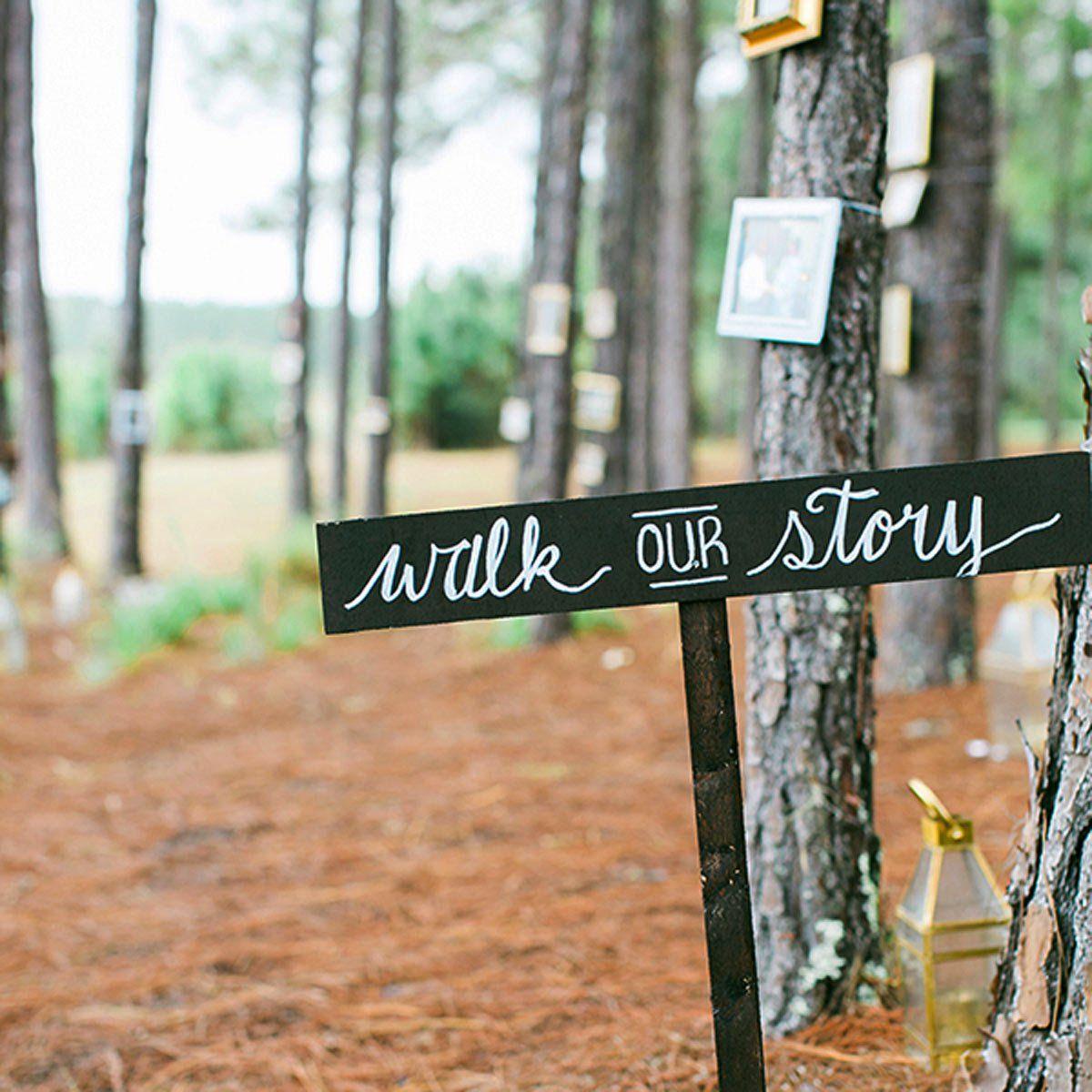 If you have some grounds around your venue (or it's outside in woodland), lead guests on a romantic walk towards your ceremony space. We love the idea of telling your love story in pictures and little signs tied to trees along the path. No trees? No problem! Put up wooden signs or lean up wooden pallets for a cute, rustic look.
6. Show Some Skin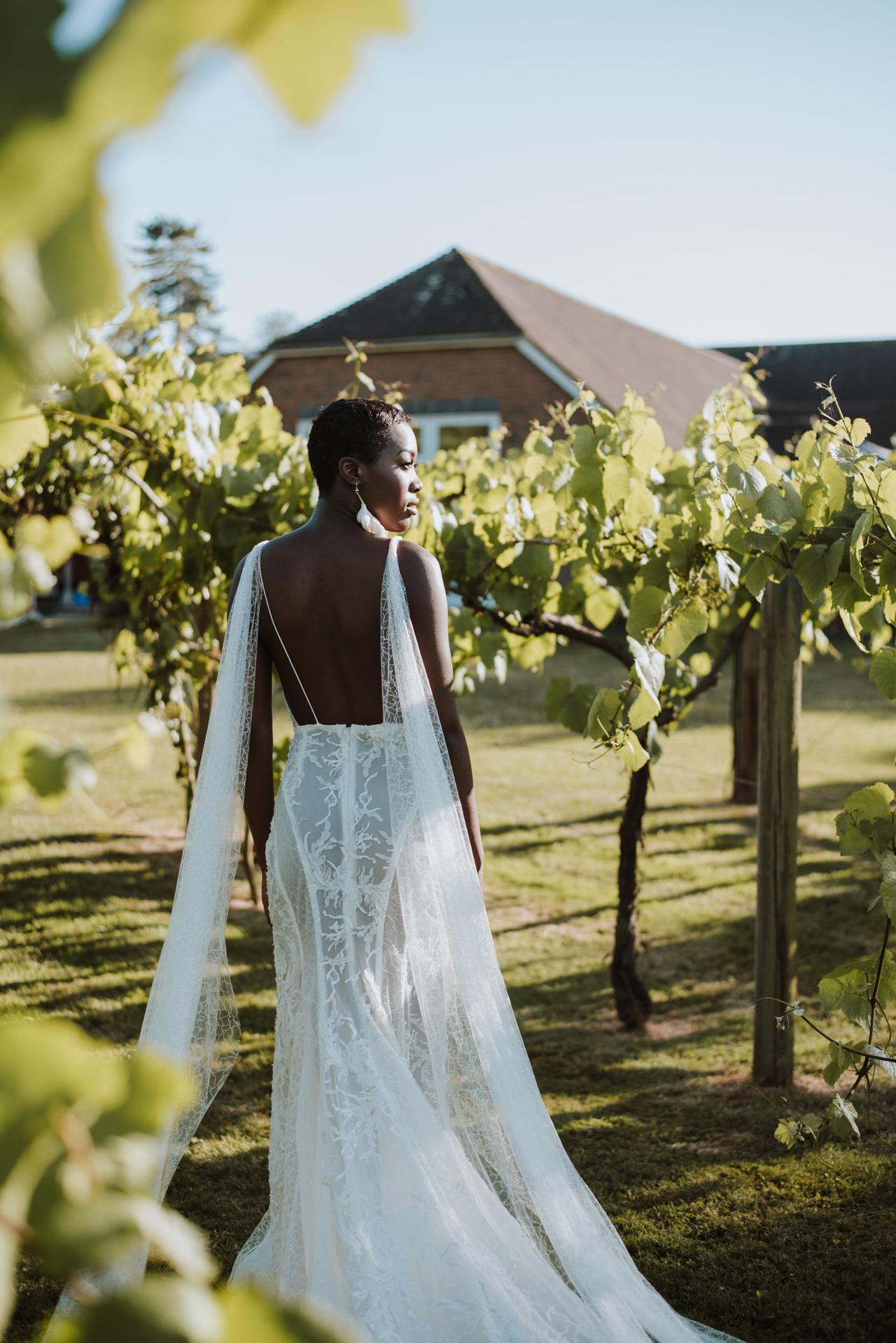 With the sun out, you might not want to wear a heavy, full-length dress to your ceremony. Try a tea-length dress or floaty, boho alternative. They're easy to wear, super flattering, and completely season-appropriate. You'll look stunning and be as cool as a cucumber all day.
7. Embrace Summery Colour Schemes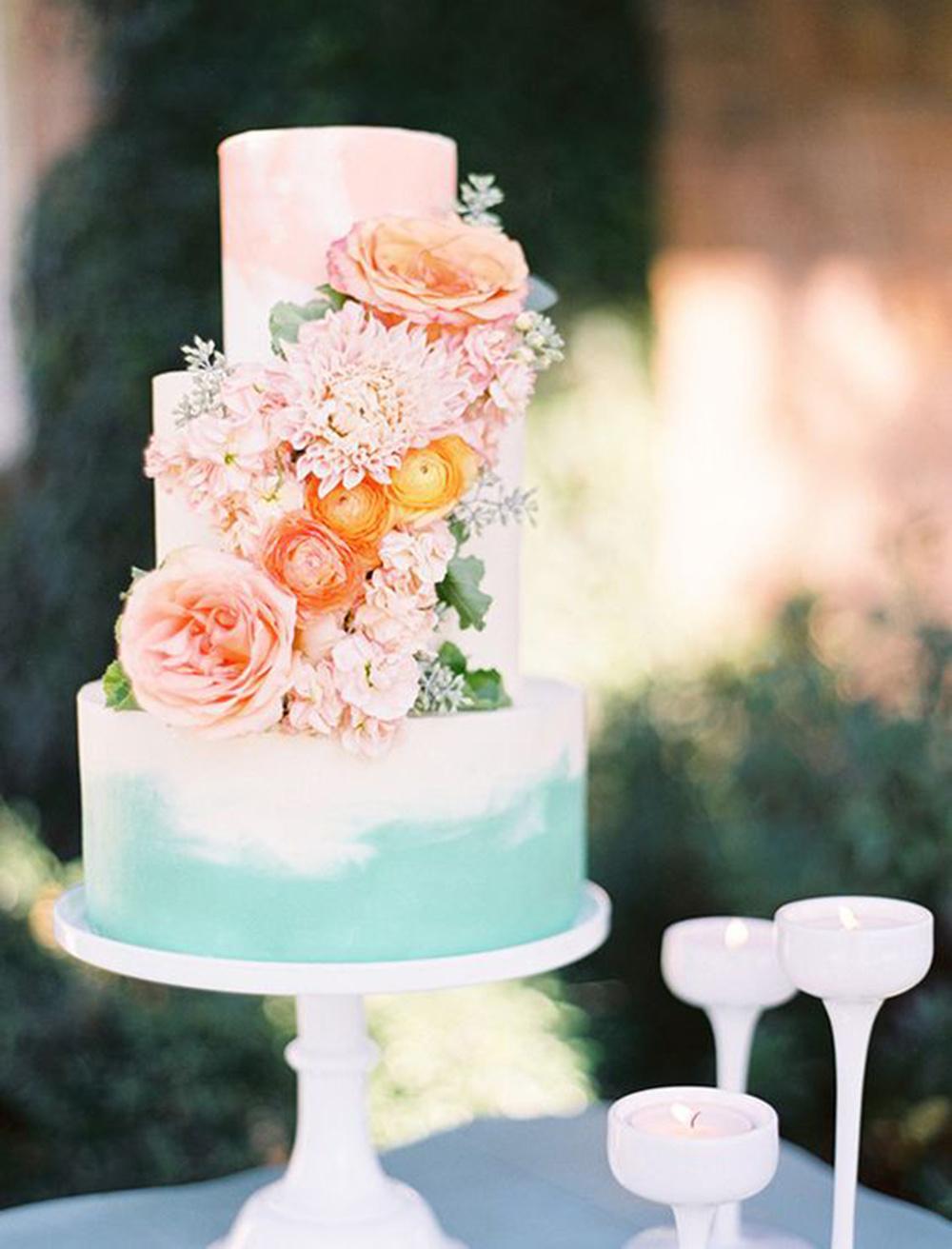 Coral and sage with pops of tropical tones; cinnamon and gold; pineapple and sorbet shades; seaside blue; rustic neutrals; cool metallics and icy pastels; sherbet brights with contrasting white: summer is the season to go full on on a colour scheme. Things that seem too bright or out of place in spring and autumn fit right in during sunnier days. White with fresh, green foliage and hints of gold looks even more chic somehow. Classic colours like burgundy and blush, or navy and peach feel warm and contemporary.
8. Wear Braided Hairstyles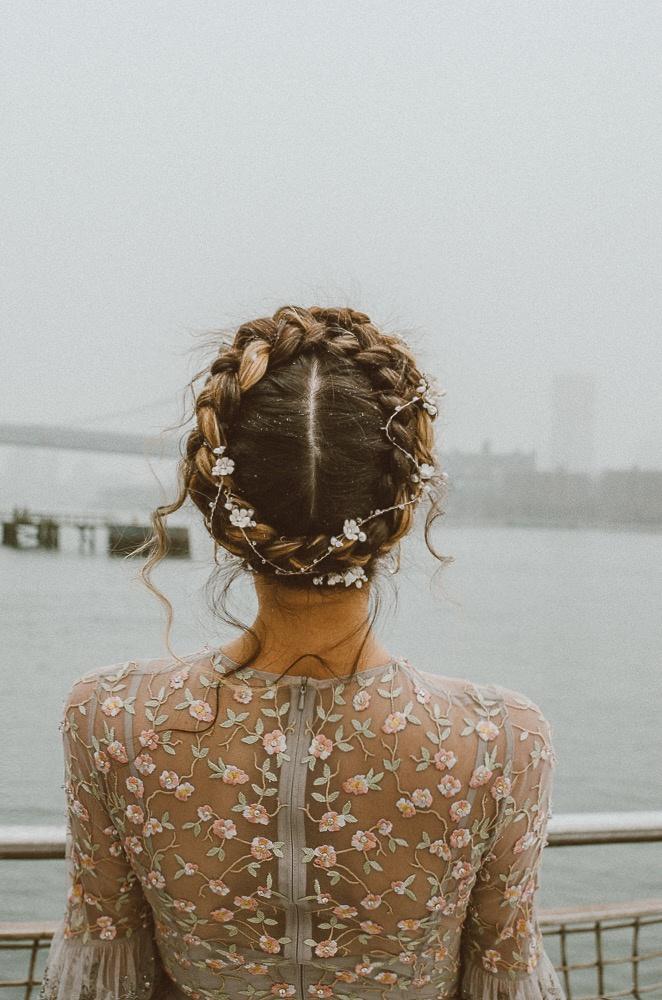 Nothing is more horrible than hair sticking to a sweaty neck - especially in wedding photos. Whether it's you, your bridesmaids, or the entire bridal party, rocking braided wedding hair is an amazing idea. The style comes in plenty of different variations so there will definitely be one that tickles your fancy and it'll go so well with the weather.
9. Pick Coloured Suits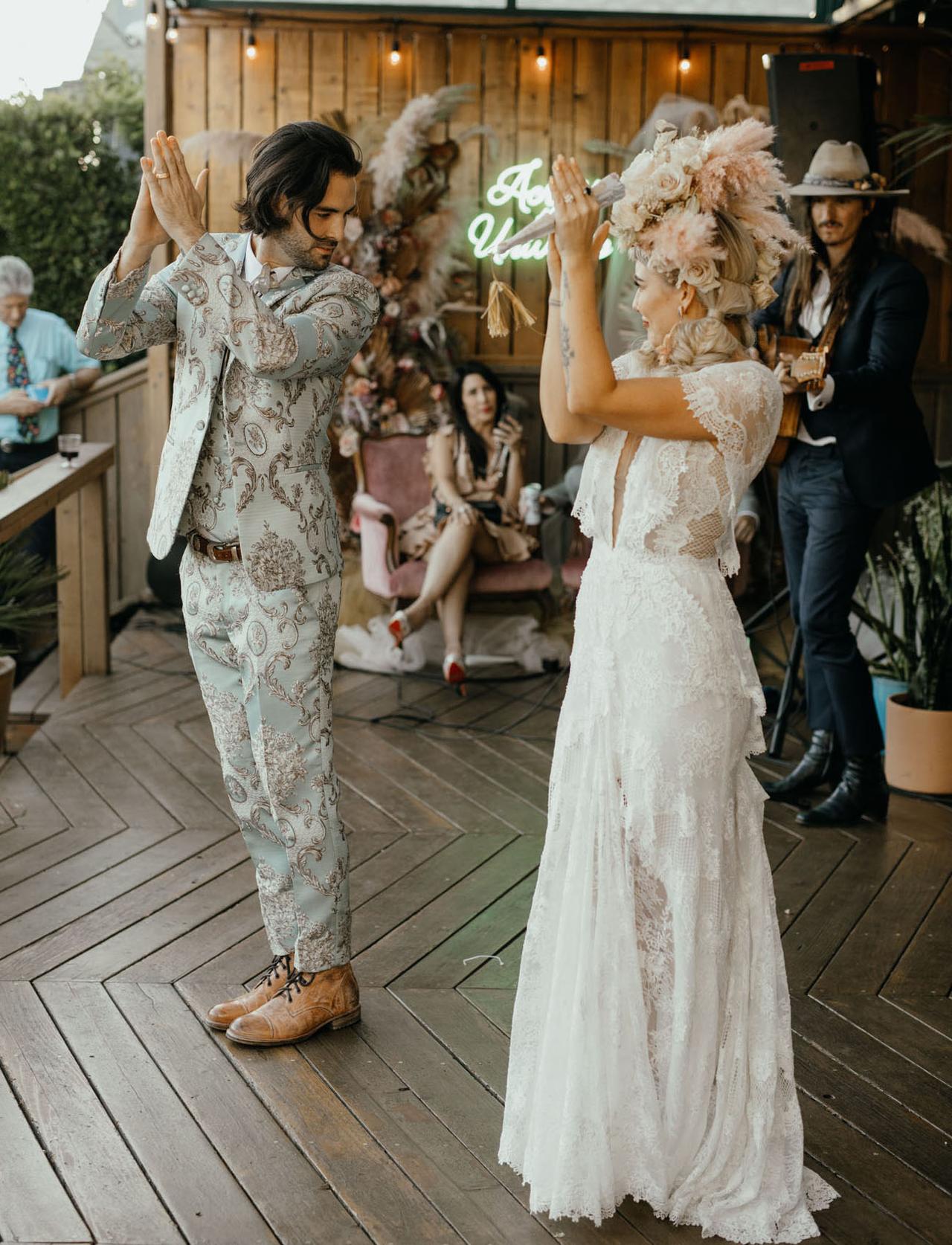 Although a lot of grooms choose to wear black suits, lighter and brighter colours such as cream, green, yellow and duck egg blue can look just as smart and are even better suited to the summer months. You can match the groomsmen to your colour scheme or have them wear patterned suits which feature a complementary colour.
READ MORE: How to Throw an Amazing Wedding After Party
10. Don't Be Afraid to Go Sheer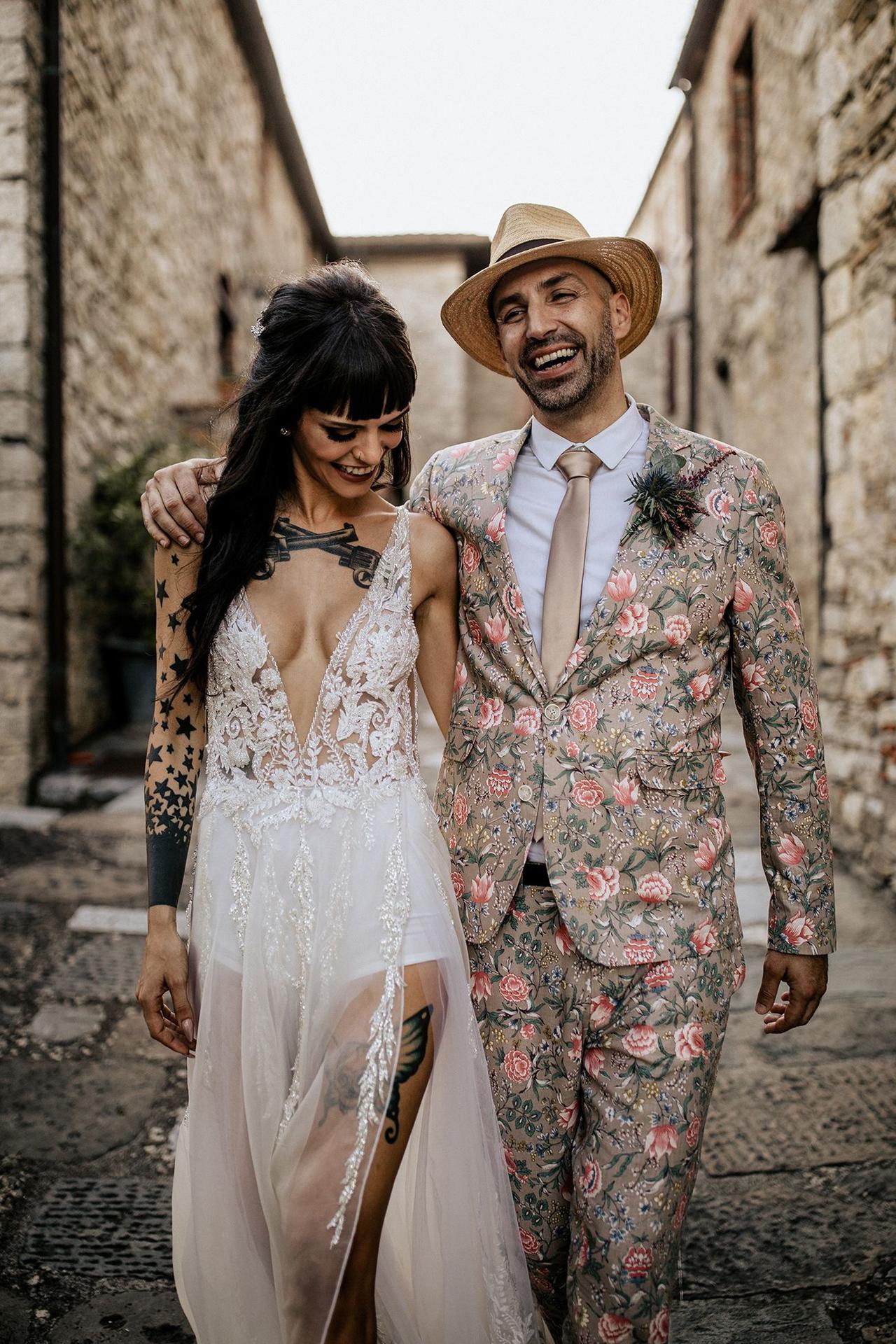 If it's hot or you're having a destination wedding, go for a sheer dress to keep cool. Alternatively, buy a dress with an overskirt that you can remove for the reception - you get two dresses in one!
11. Match Wellies to Dresses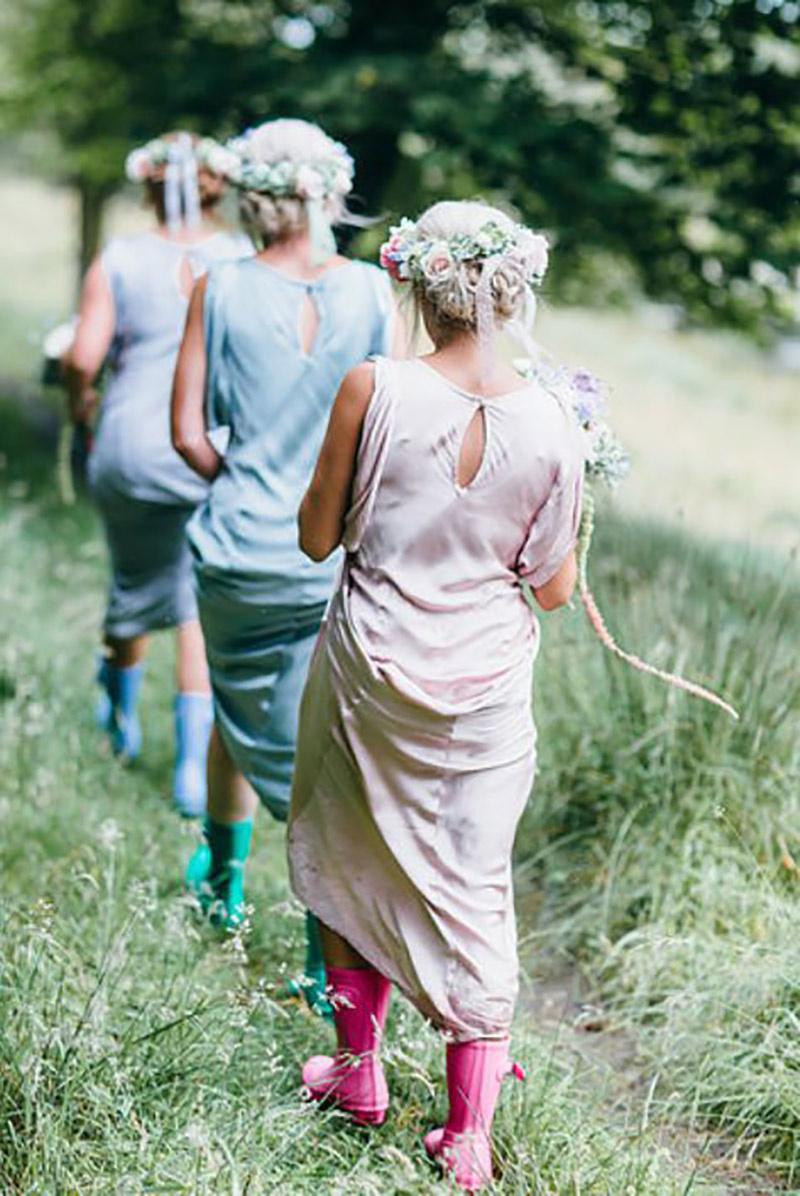 In case the anticipated sunny weather does fool you and the clouds do what they do best, make the most of rain on your wedding day and have a pair of glam wellies on hand to make sure nothing stops you from having the time of your life! If you get them for your bridesmaids, match them to their dresses.
Summer Wedding Décor
12. Bunting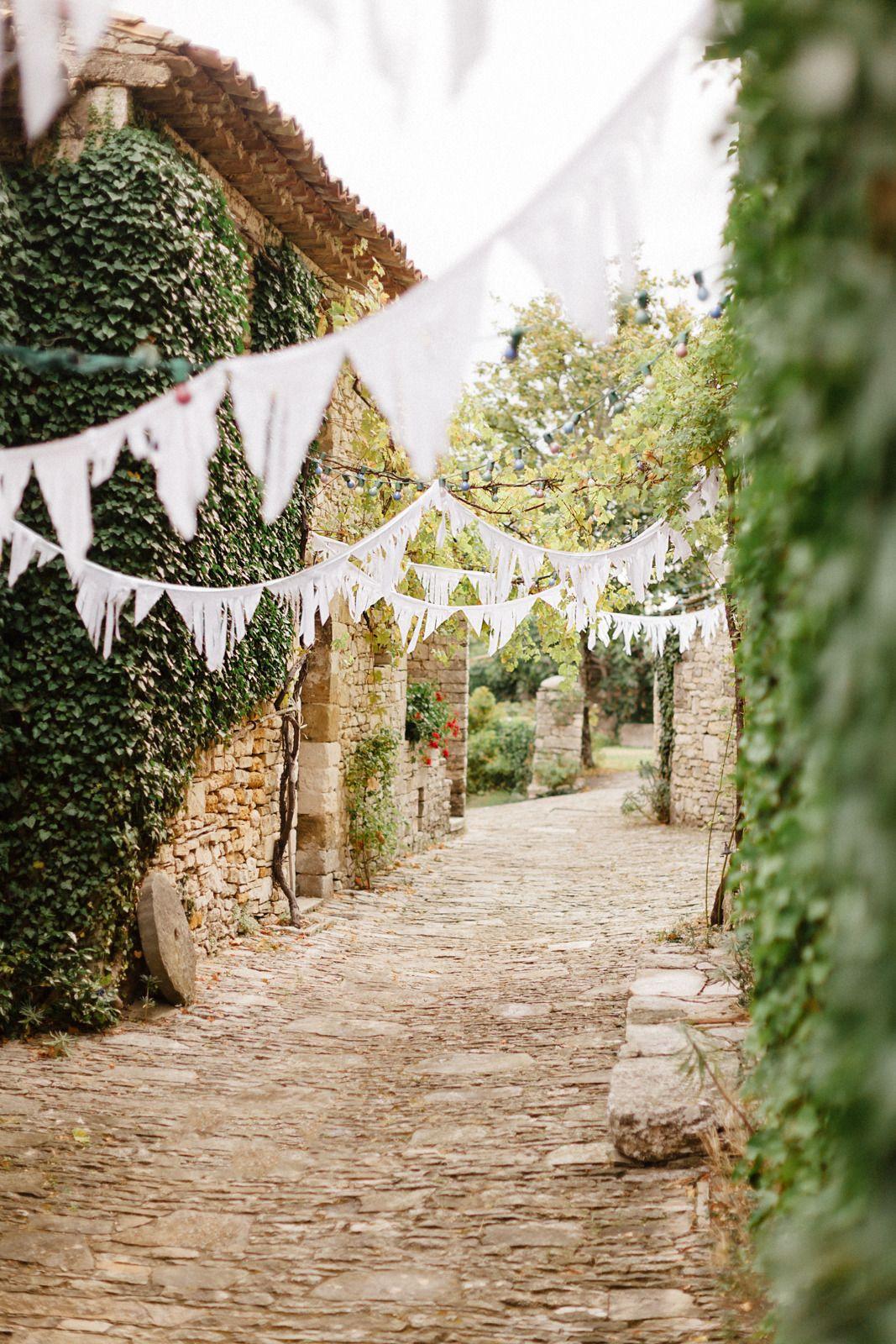 Bunting is mostly associated with vintage weddings – which is a really popular theme. There are loads of ways which you can choose to include bunting in your day, and we even have a DIY guide to making your own bunting if you're feeling creative.
13. Pretty Parasols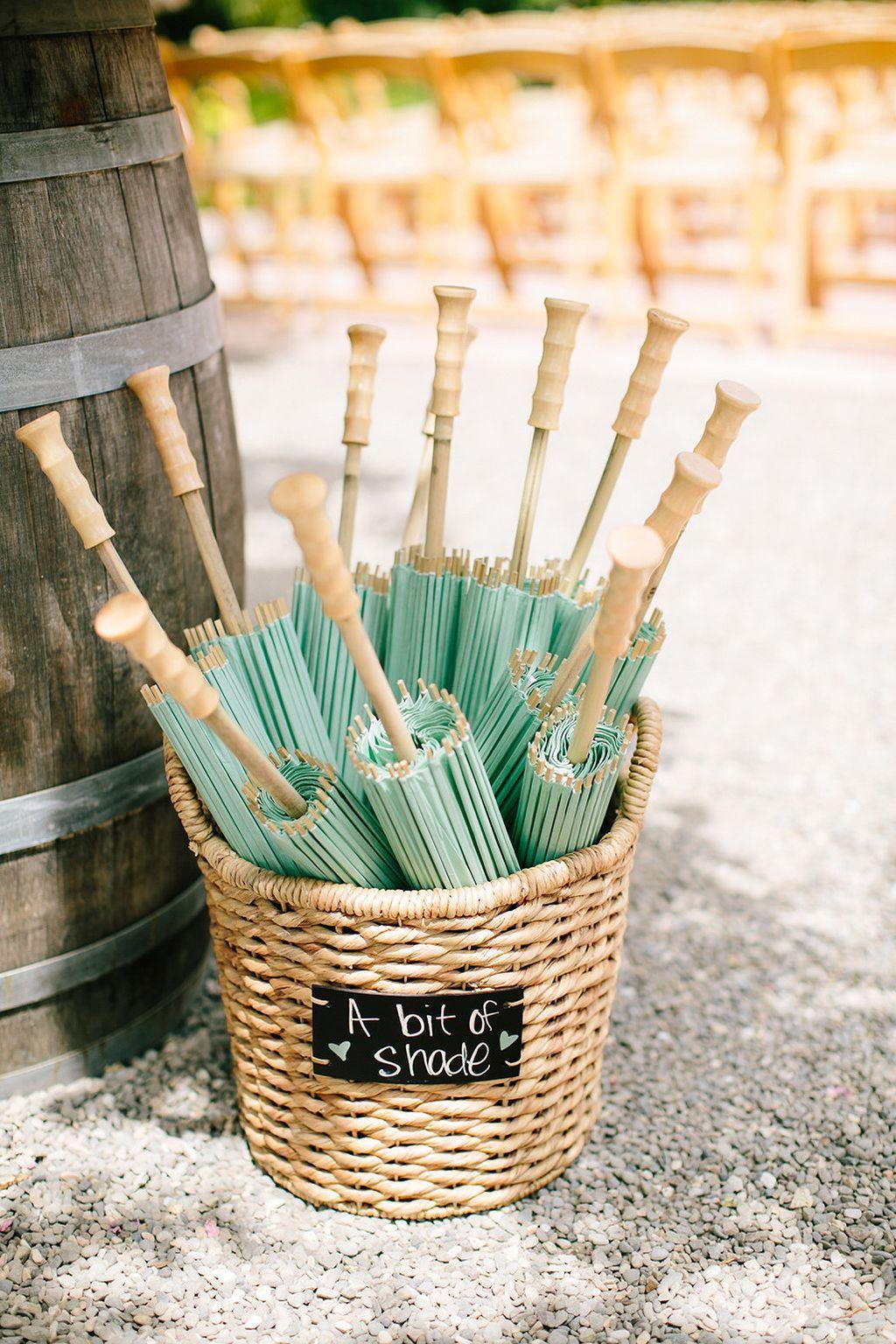 Get your hands on some stylish parasols that each guest can use out in the sunshine to shade themselves. Not only are they practical – but they look super pretty and cute. You can even get mini ones for the mini-guests. Guests can also make an archway out of parasols for when you walk back down the aisle together.
14. Fresh Fruit Tablescapes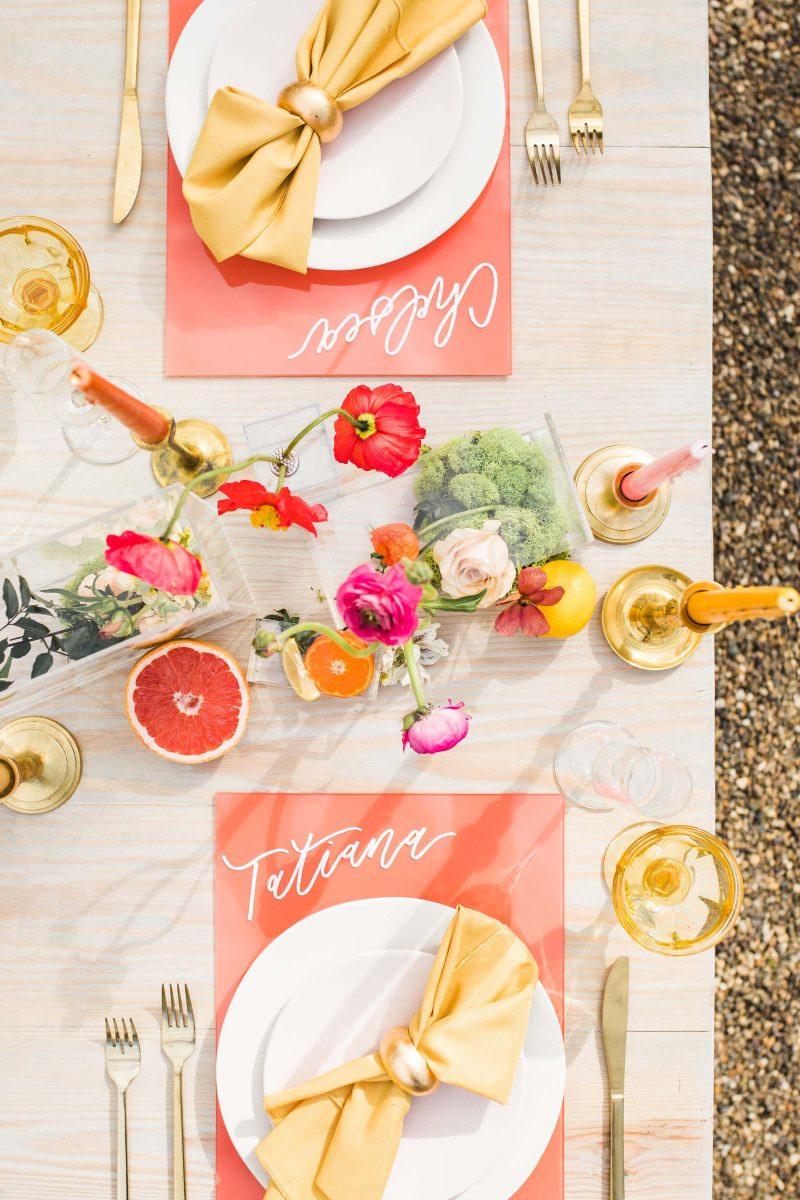 Citrus fruits look incredible with sunny, summer colour schemes. Think lemons for an Amalfi coast feel, and cut grapefruits for an amazing scent as well as colour. Soft fruits looks brilliant too, like bowlfuls of berries and cherries, or even fresh pineapples dotted around tables.
15. Tropical Place Cards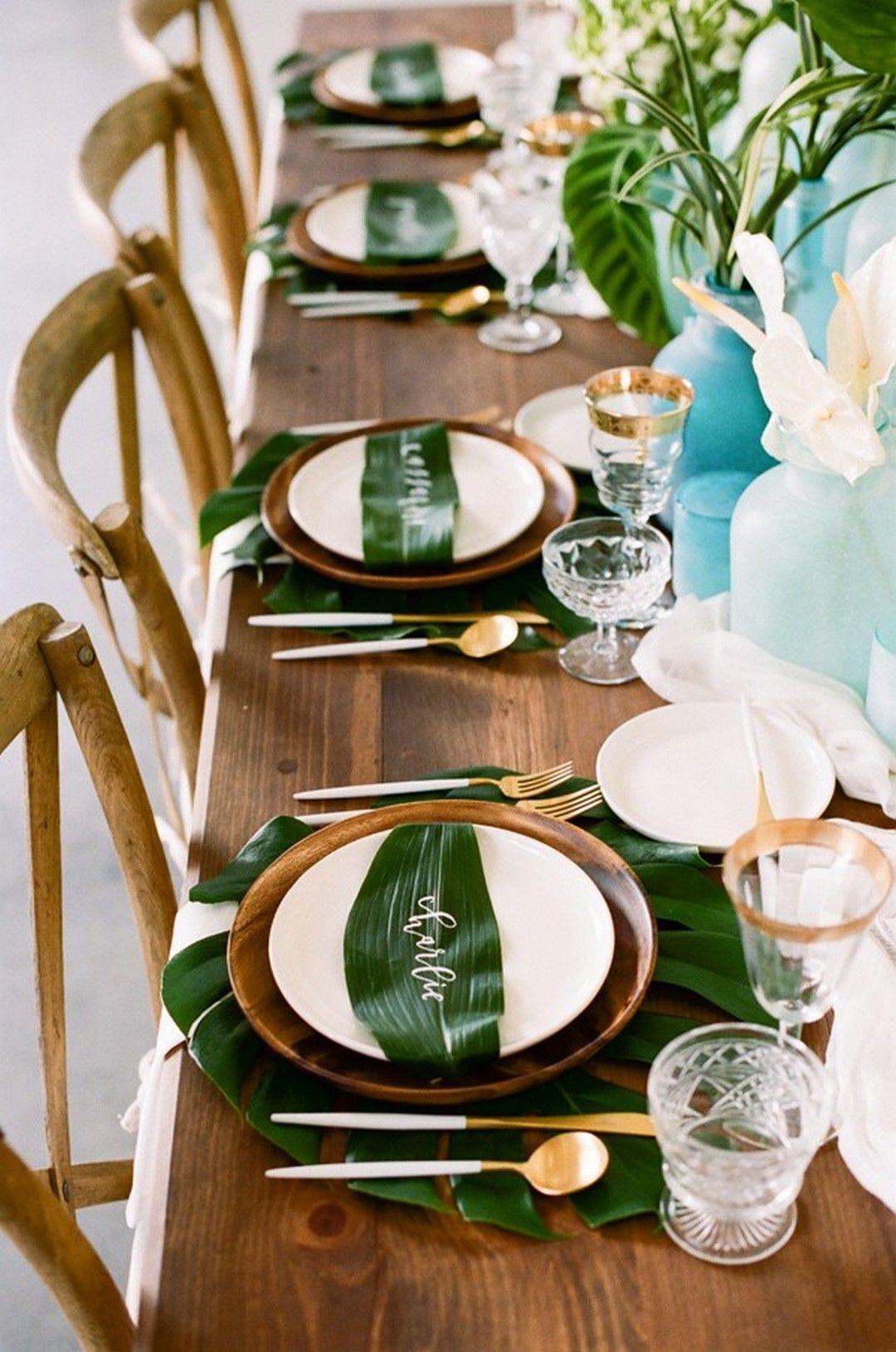 Tropical leaves make for amazing place cards and seating plans. What can we say? We're suckers for a monstera or palm leaf. Serve them underneath clear charger plates or on top as place cards with names written on in gold. If you want to go *really* out there, you can make a huge ceiling display with tropical plant leaves. It's super on-trend above the head table.
16. Hat Wall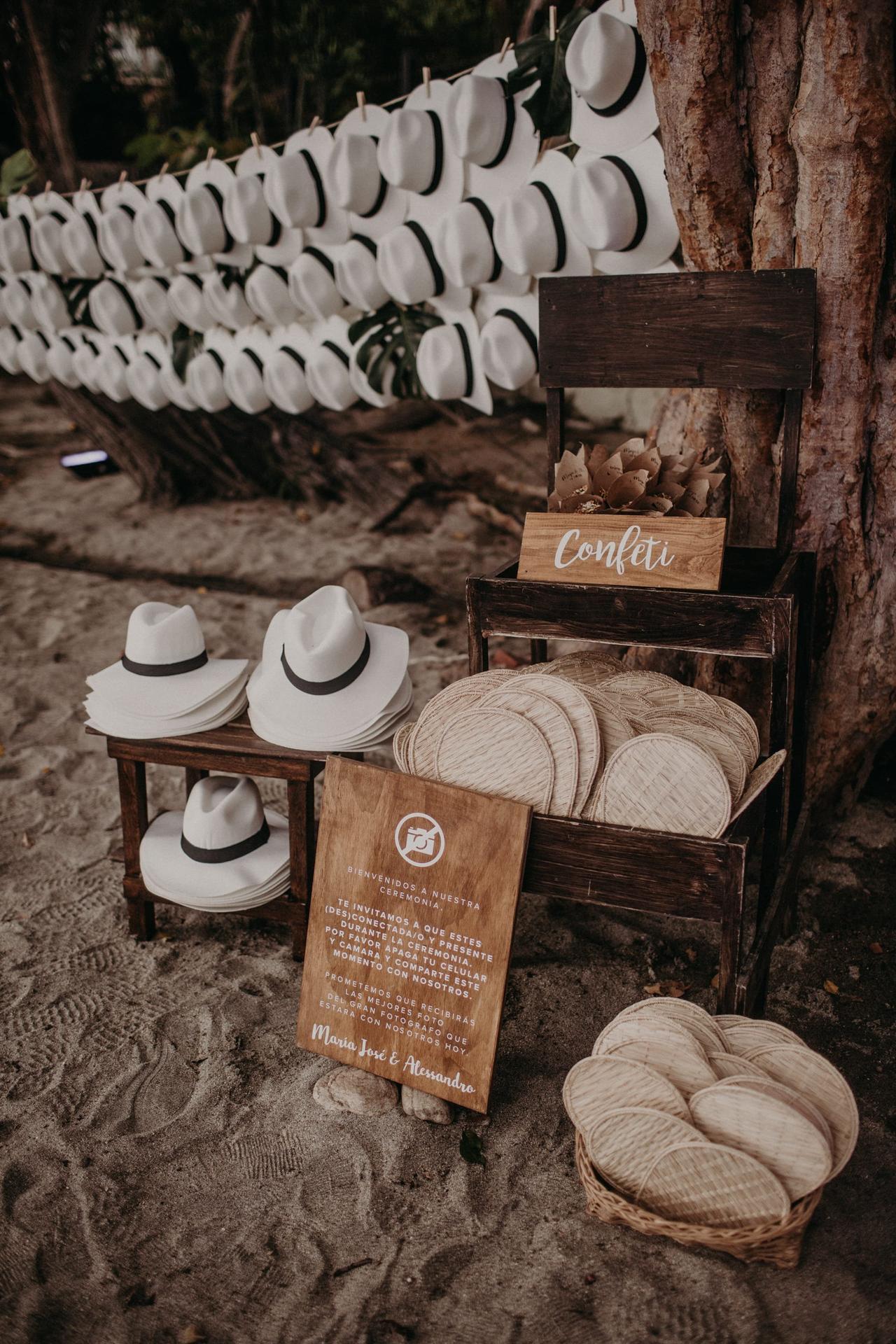 Sunny days mean your guests will love nothing more than a hat to cover their heads. Some guests will be wearing fascinators, but others may enjoy a basket or wall of hats that they can pick from. Fit them to your theme, like fedoras, panama hats, straw boaters or cowboy hats. They make awesome favours!
17. Fun Glasswear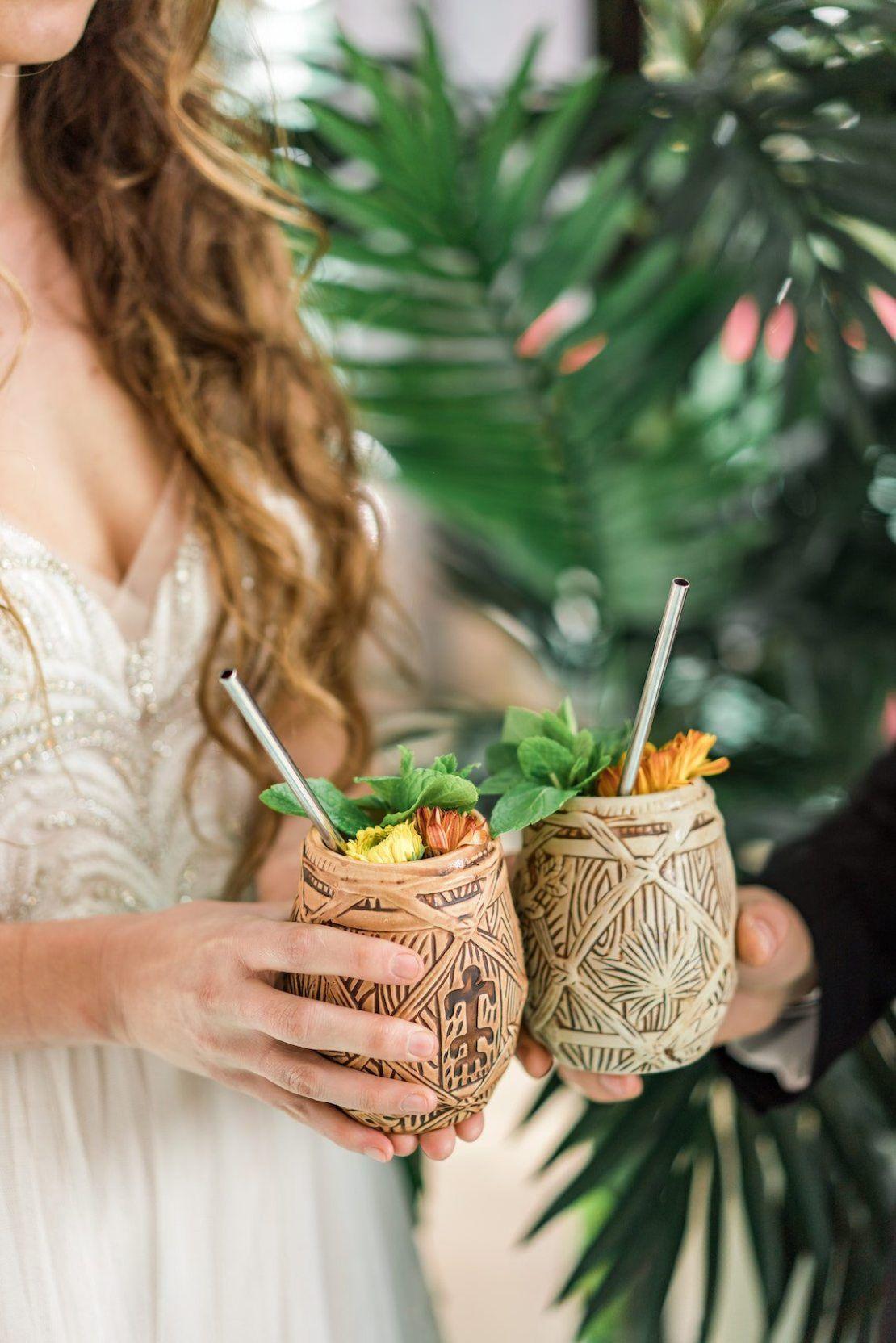 Think tiki glasses, patterned mason jars, and pineapple-shaped cups. Match them with bamboo vases for the centrepieces and add a technicolour, tropical tiki vibe to your day.
18. Dinner Under the Stars

A gorgeous lighting display makes al fresco dining such a romantic option. You can dine, drink and dance into the night, with the feel of twinkling stars around you. If you can't afford a big display like this, strings of fairy and festoon lighting will create a wonderful atmosphere too.
19. Pom Poms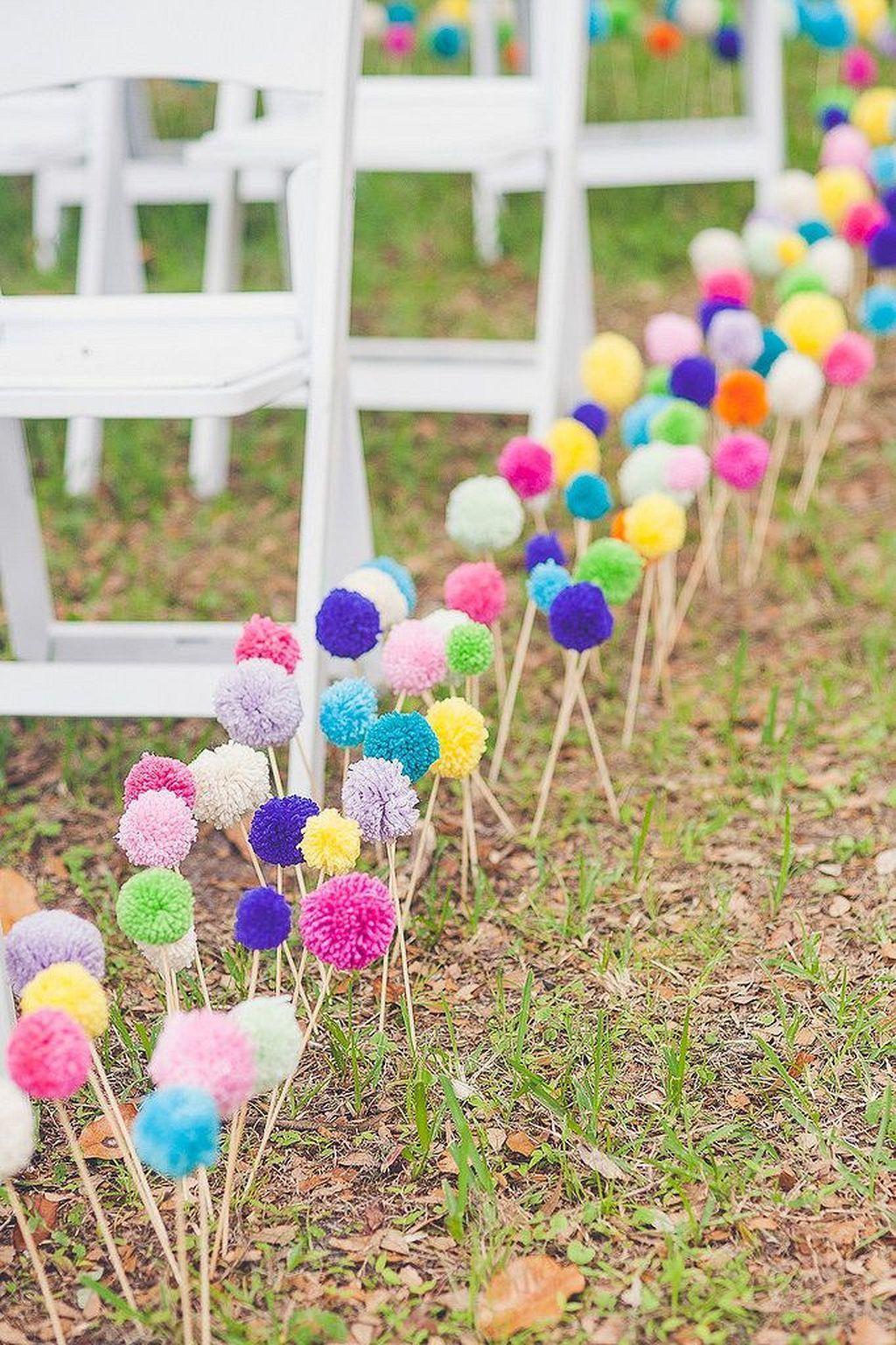 Pom poms are so cute looking and can really jazz up any venue at a really low-cost price. You could even get crafty and make them yourselves with your other half or even your bridesmaids if you fancy a DIY hen party.
They can be used as aisle decorations, in whimsical centrepieces or larger ones can hang from ceilings and around doorways.
20. Relief Station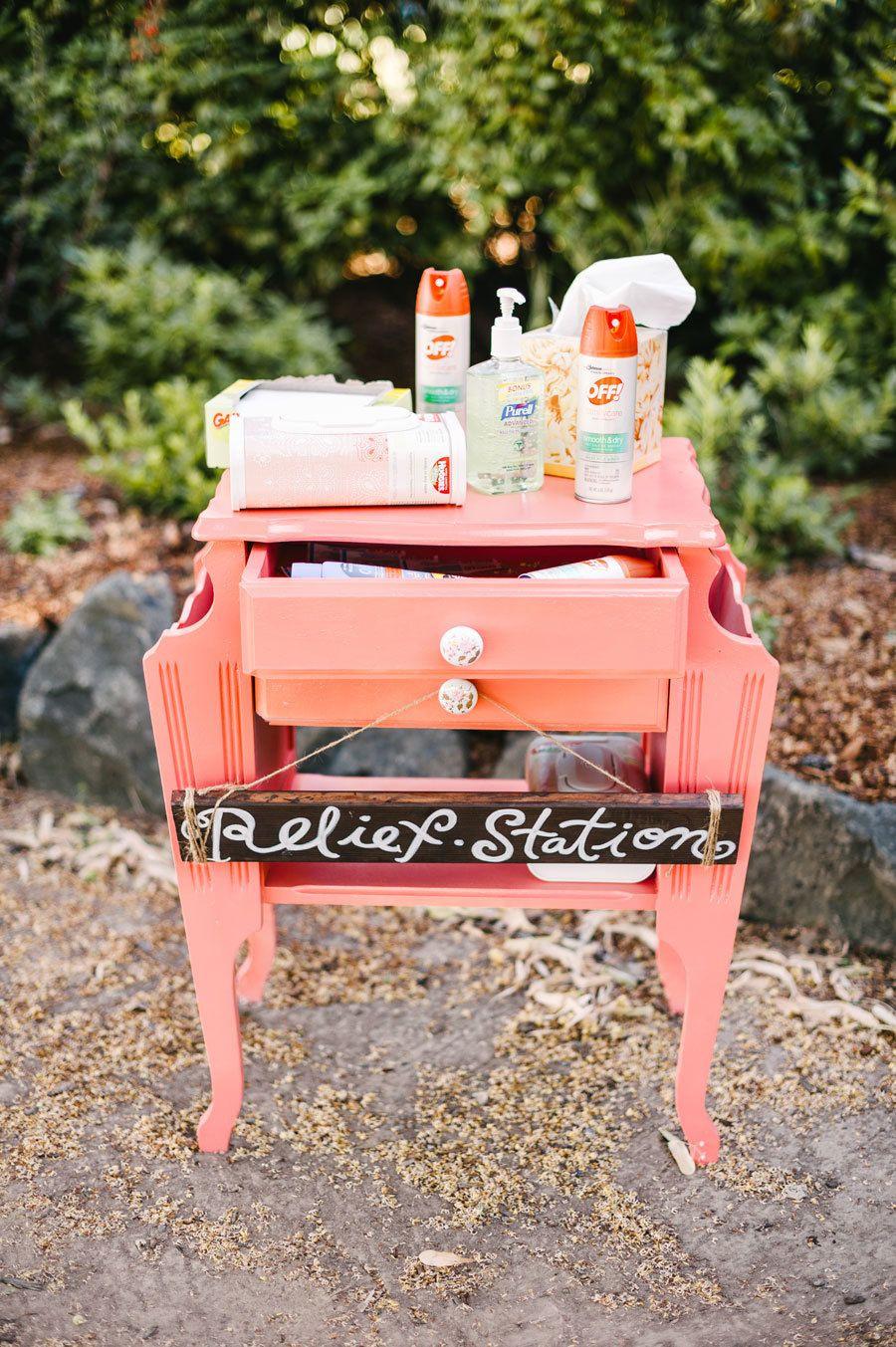 Set up a relief station with everything your guests might need to beat the heat in summer: suncream, insect repellent for outdoor weddings, and hand sanitiser. We suggest you complement this with some extra bits in the bathrooms, like deodorant, body spray, individual mints or gum, cheap hair bands, face wipes, blotting sheets, bobby pins and hairspray.
READ MORE: 40 Black Wedding Photographers to Have on Your Radar
21. Paddling Pool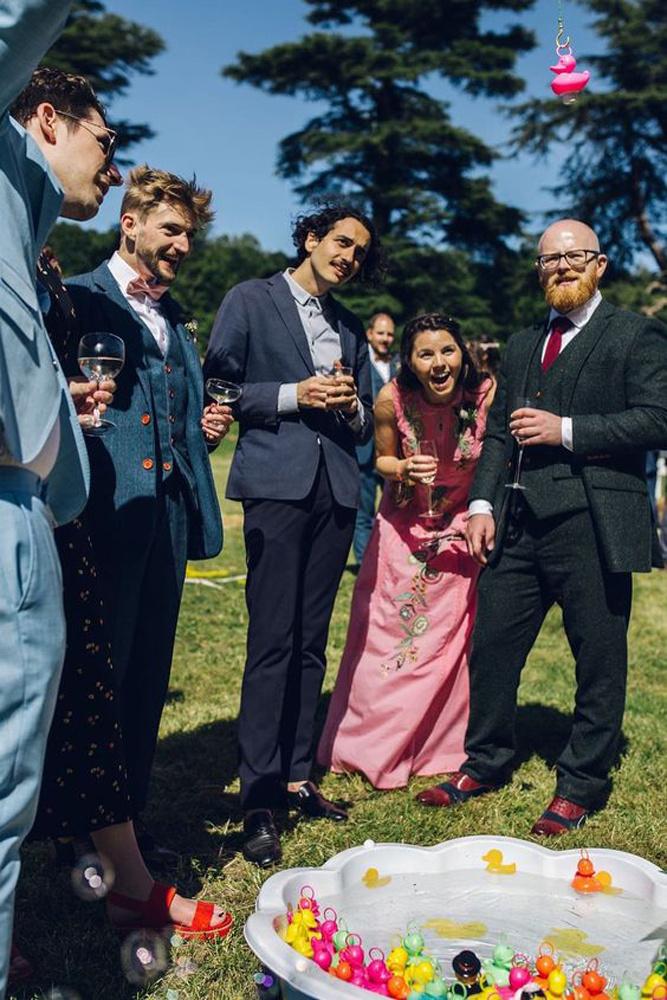 Whether you use it for a game of hook a duck or for little guests to splash warm feet, a paddling pool is a cute and fun idea.
22. Pool Floats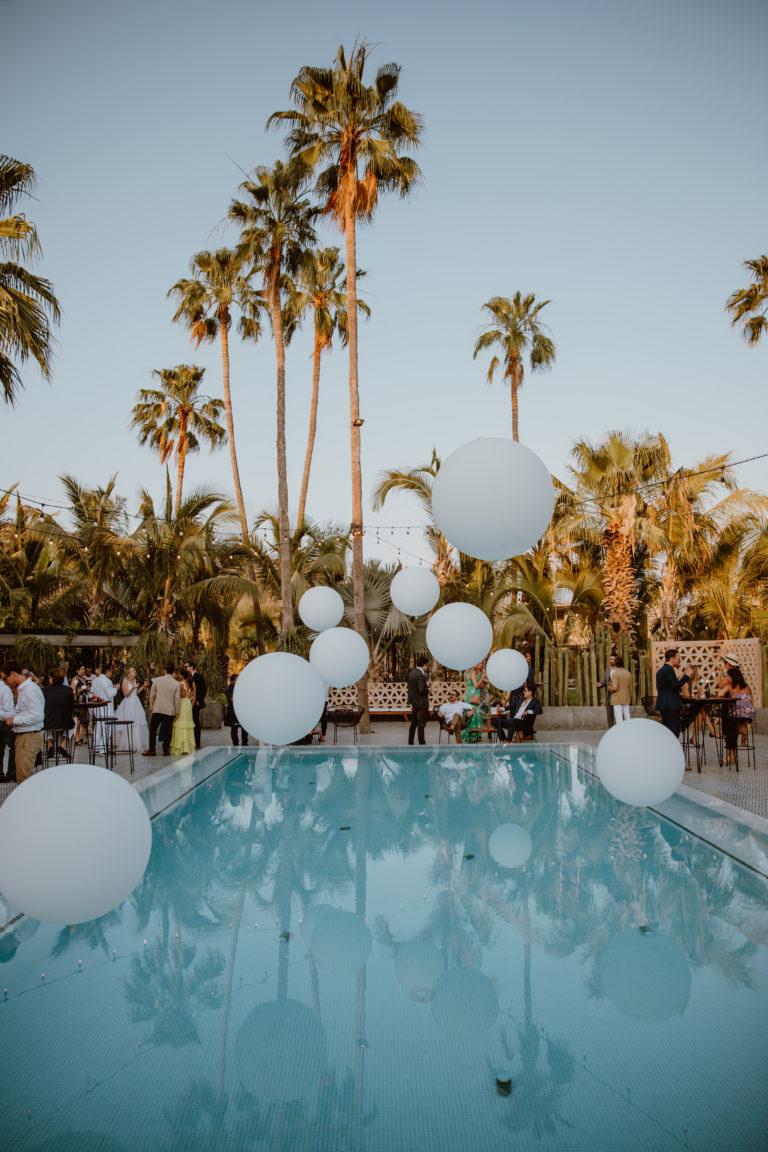 If your venue has an outdoor pool, fill the pool with fun floats, candles, balloons, clear beach balls and flowers. You might not be encouraging your guests to jump in, but it's going to make for some awesome Instagrammable photos.
23. Al Fresco Bar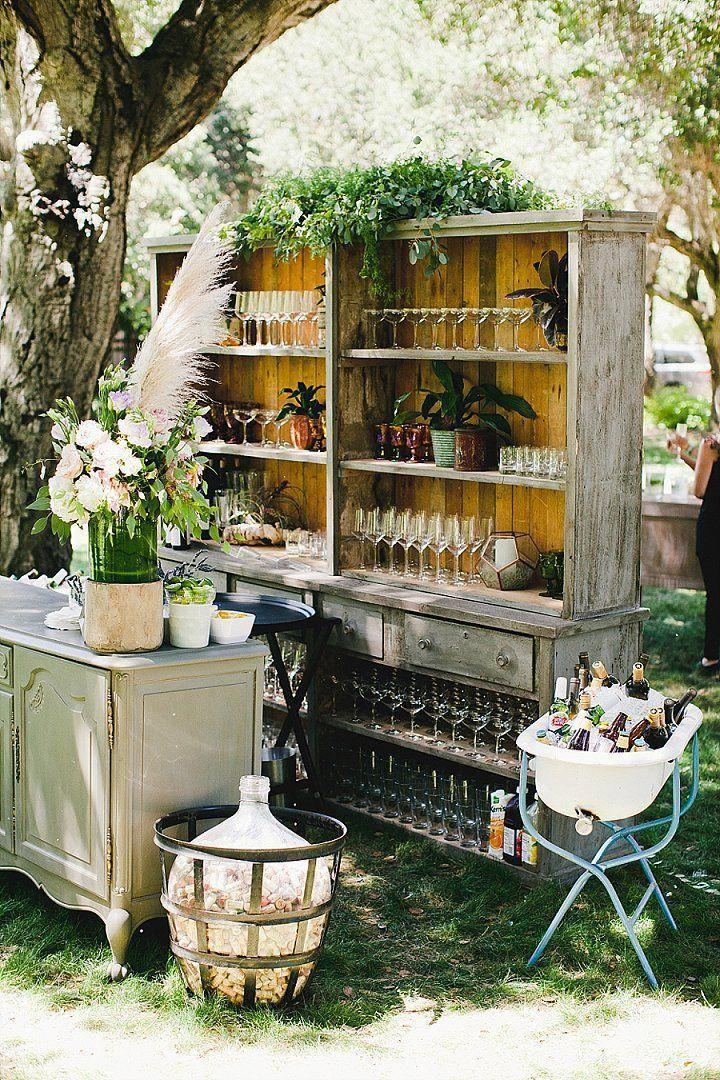 An old dresser makes a superb serve-yourself bar (check if you're allowed to bring your own booze to your venue or you might need to hire a mobile bar). We adore all the variety of beautiful glassware at this bar. Note the cute bucket full of ice, which is a brilliant way to serve bottles of beer.
24. Pastel Colours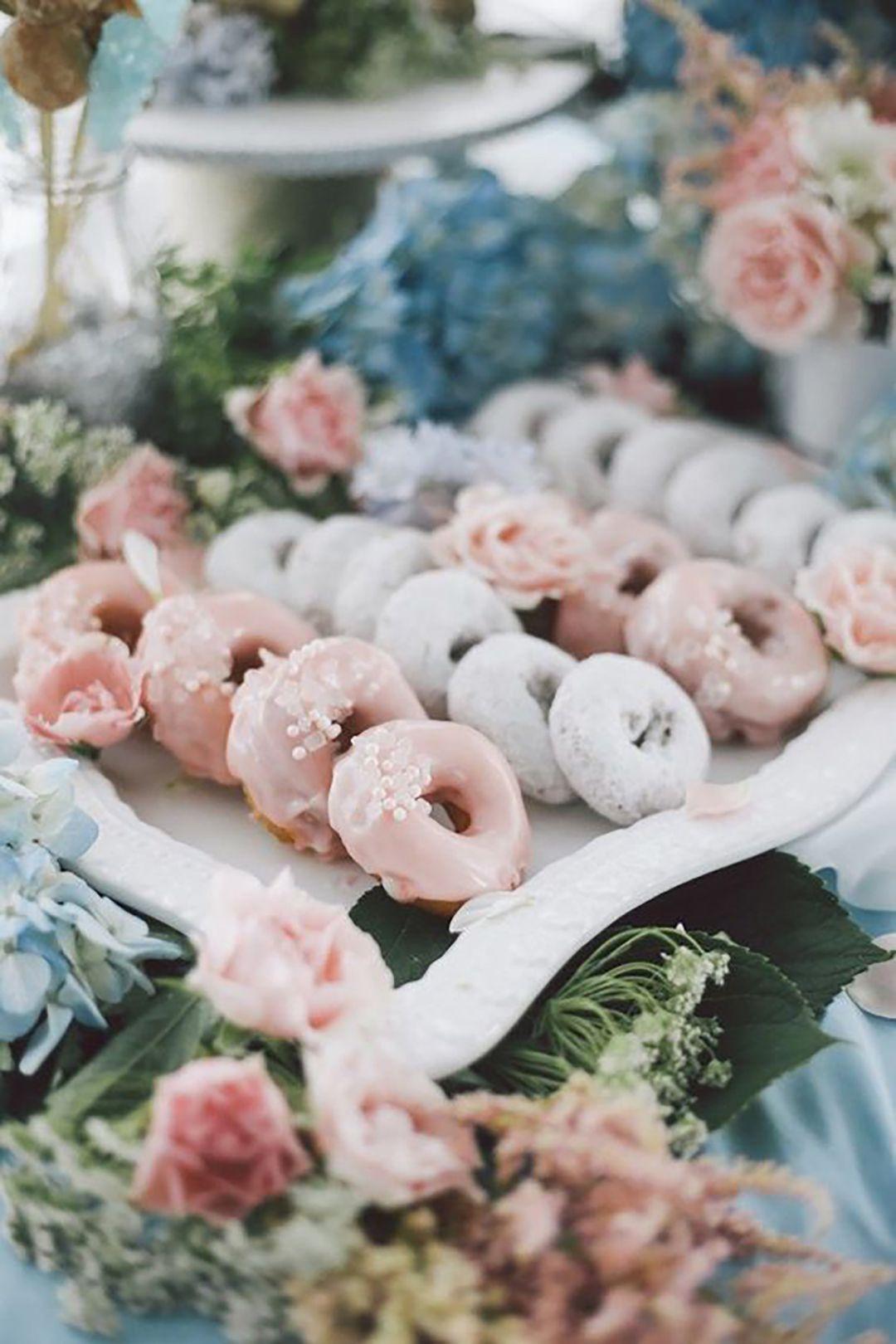 If vibrant shades aren't quite your thing, but you still want to rock and roll with a summer wedding, use pastel shades to give a softer and more shabby-chic theme. They are just as summery and work so well together.
Using pastel colours means you can combine a larger number of different ones because they look better together than different bright colours.
25. Balloons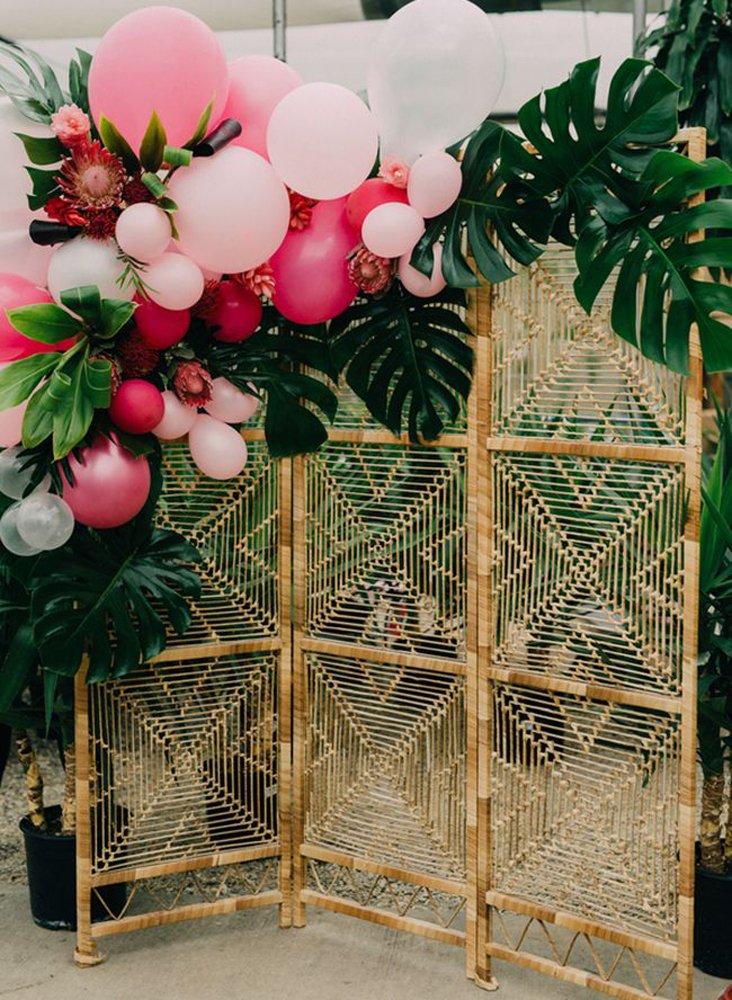 Balloons make amazing backdrops, especially if you have a blank canvas venue. Alternatively, lots of big, small and see-through balloons make beautiful ceiling arrangements. You can even arrange to pop them above the dance floor so that multi-coloured confetti falls on your guests. That will make an amazing shot.
26. Candle Display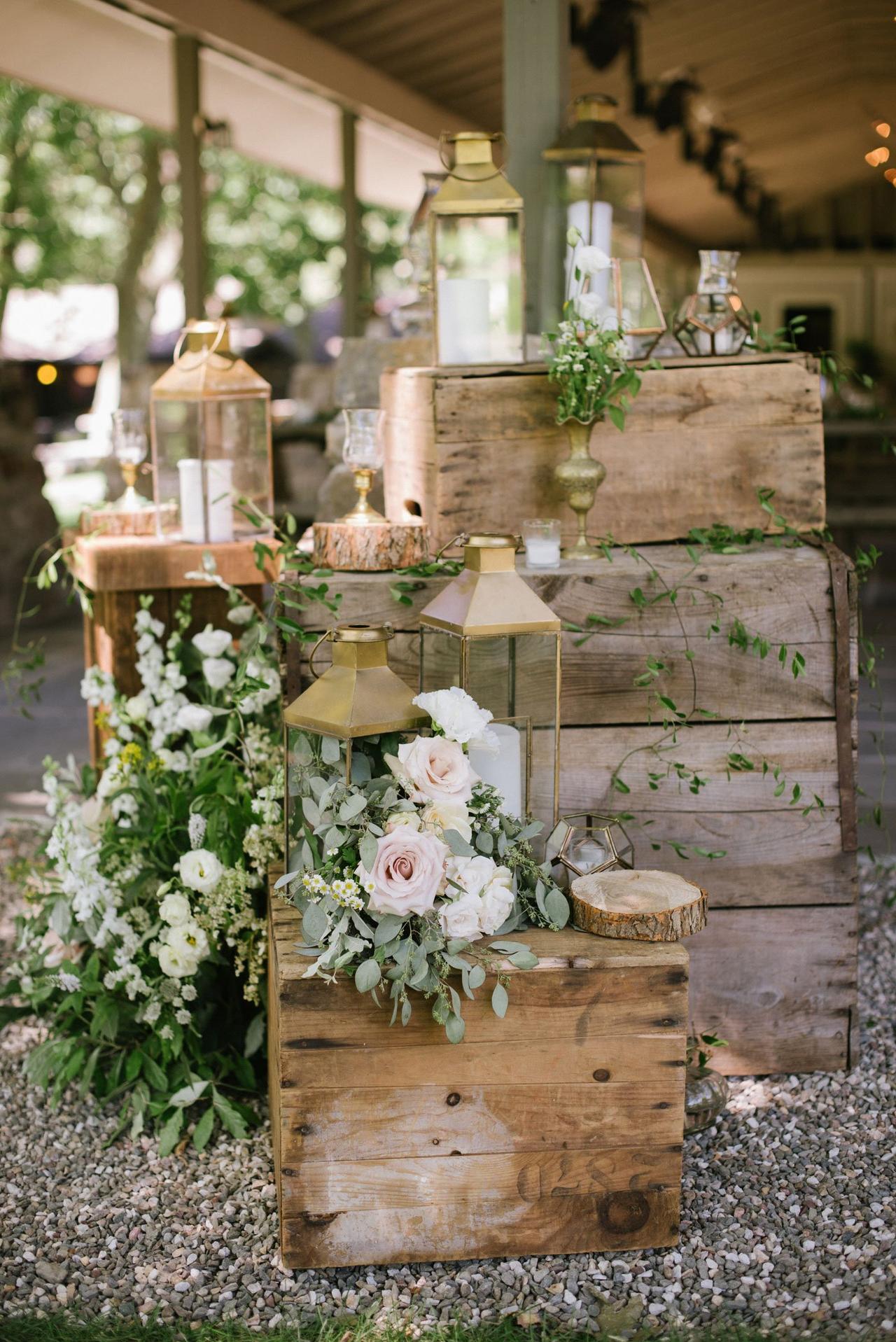 A rustic candle display looks so good during the day and only gets better when you light it up as the sun starts to set. Top tip: mix in a few citronella candles among outdoor displays to keep midges and bugs away.
27. Eco-Friendly Confetti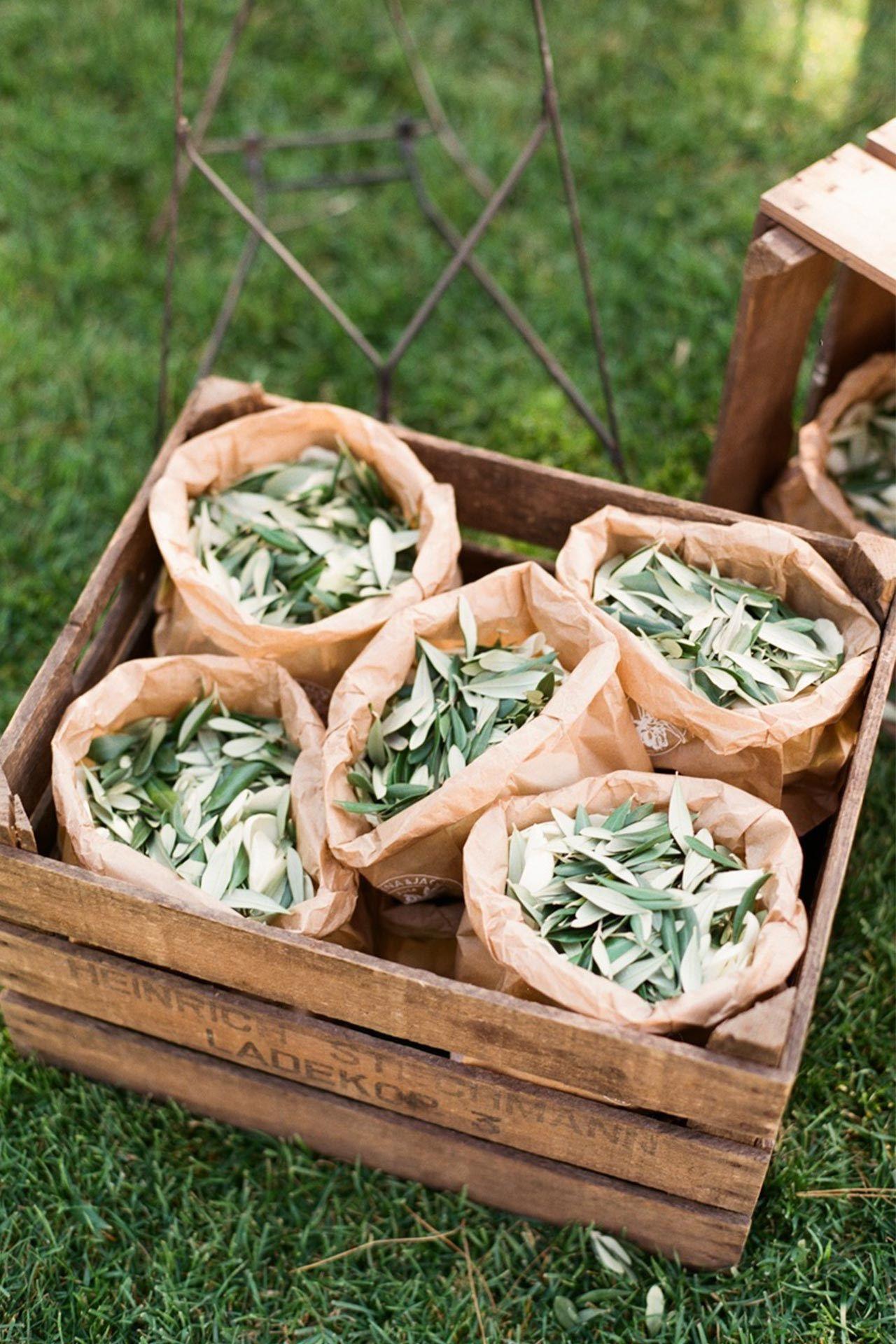 A popular alternative to paper confetti is biodegradable petal confetti, but there's plenty of other things you can use too. How about rustic bags of olive leaves or even eco-friendly bubbles?
28. Wooden Signs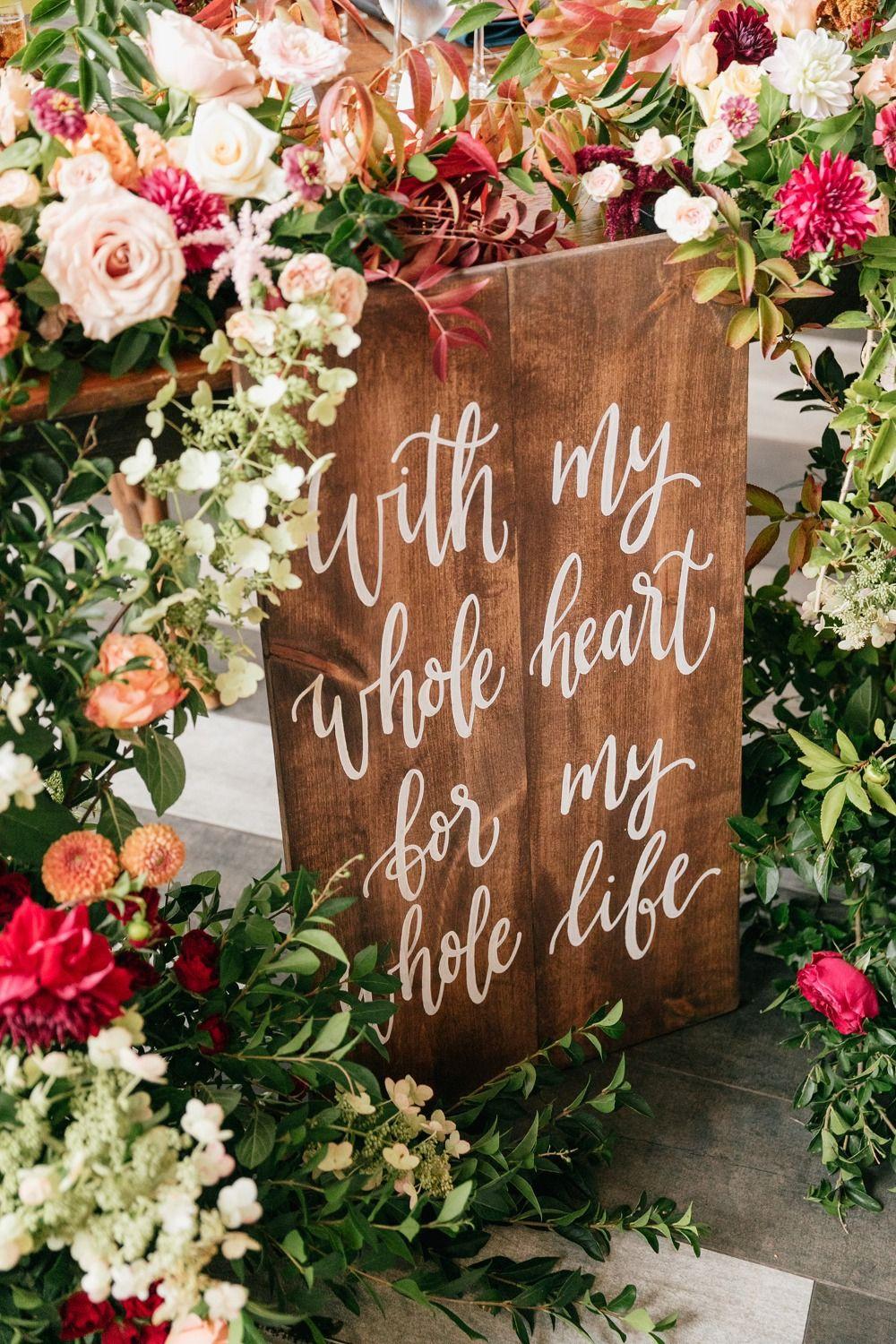 Let your guests know where they're heading with plenty of rustic, wooden signs. If you're marrying in a tipi or barn, you might be moving between spaces so you'll need to point out the toilet, bar, dance floor and more. How pretty is this one, surrounded by fresh flowers.
29. Sunglasses Box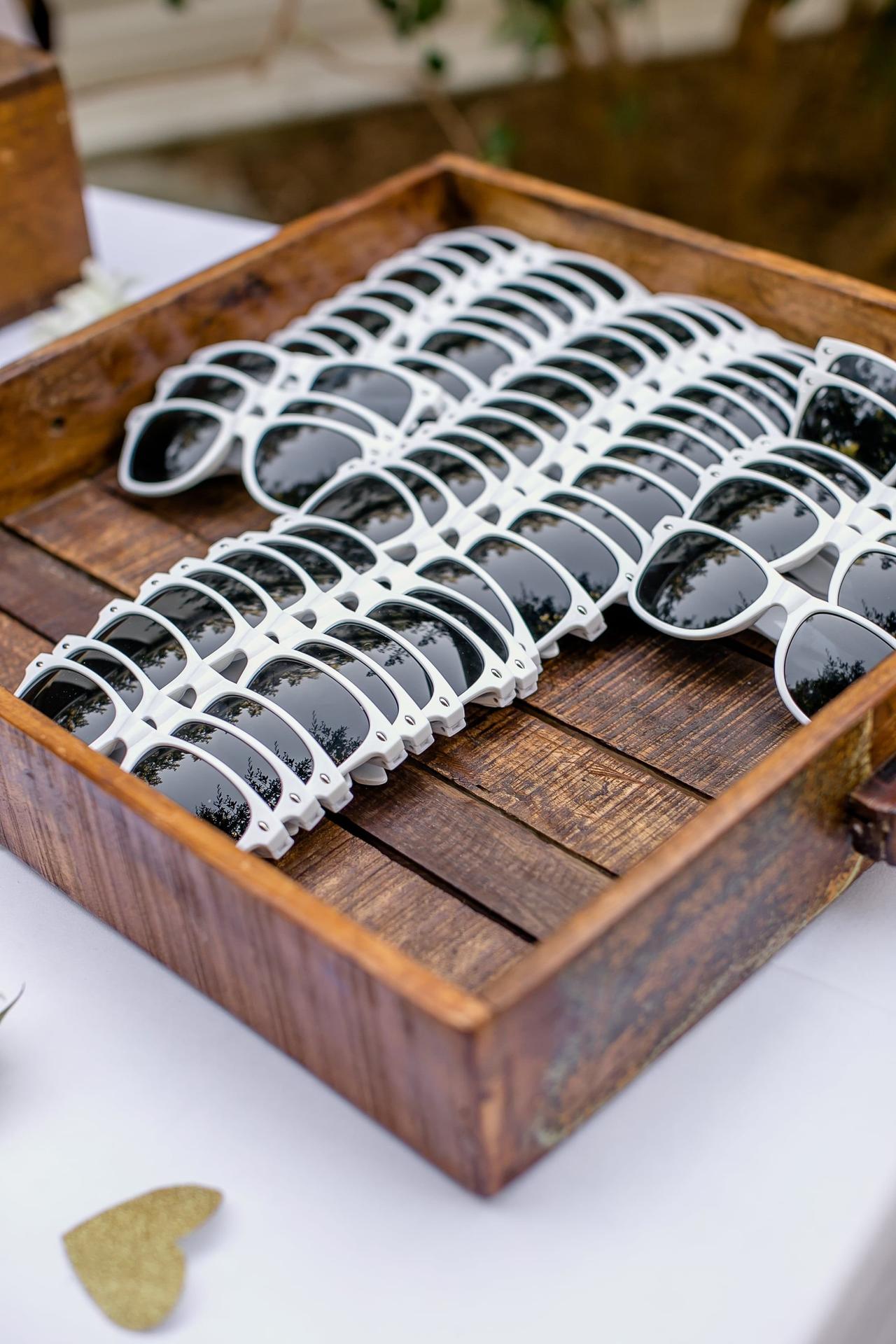 If your ceremony or reception is outdoors, have a sunglasses box at the entrance with flashy shades in both men's, women's and children's designs to ensure that no guest misses a single moment of your day because the sun was in their eyes. And they will also look like super cool men in black wedding guests.
30. Flip-Flops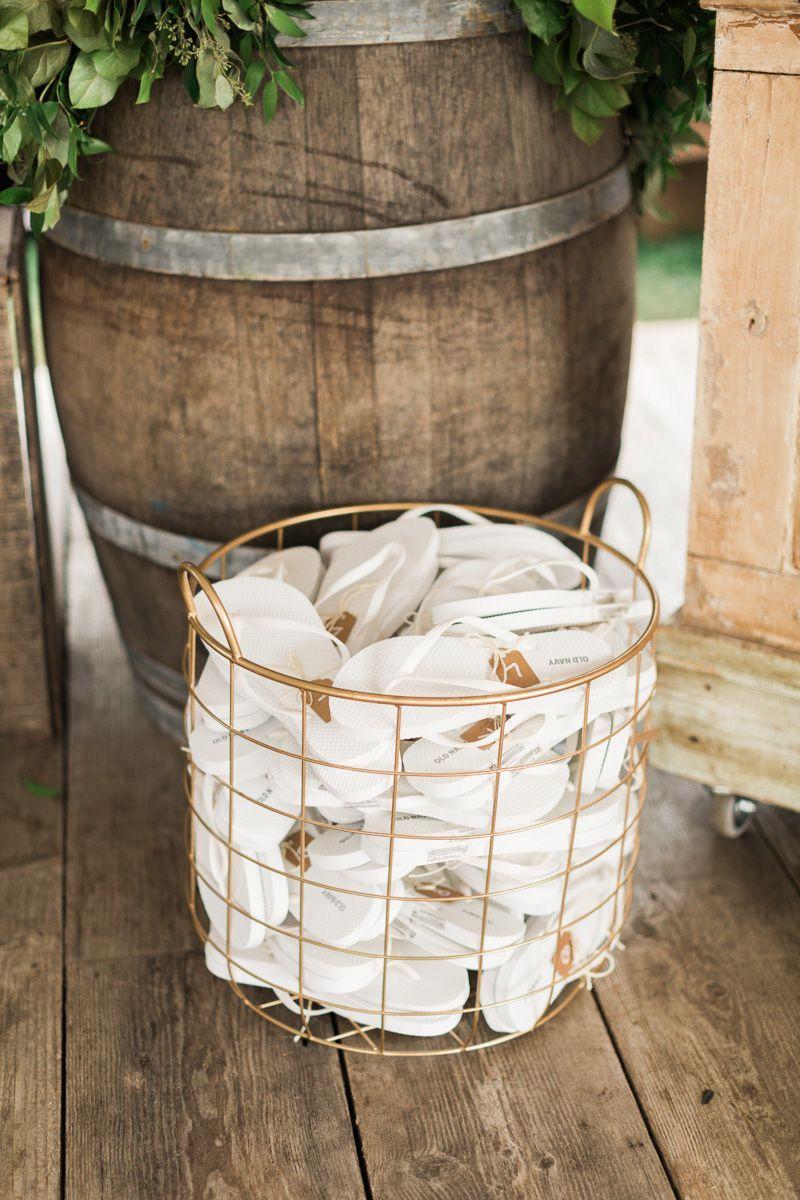 With the sun shining, and the party not stopping, a box of flip-flops for your guests could literally be a godsend. It means that everyone can be comfy and cool while enjoying every last bit of your wedding day.
READ MORE: 18 Cute Dessert Table Ideas
31. Shaded Seating Area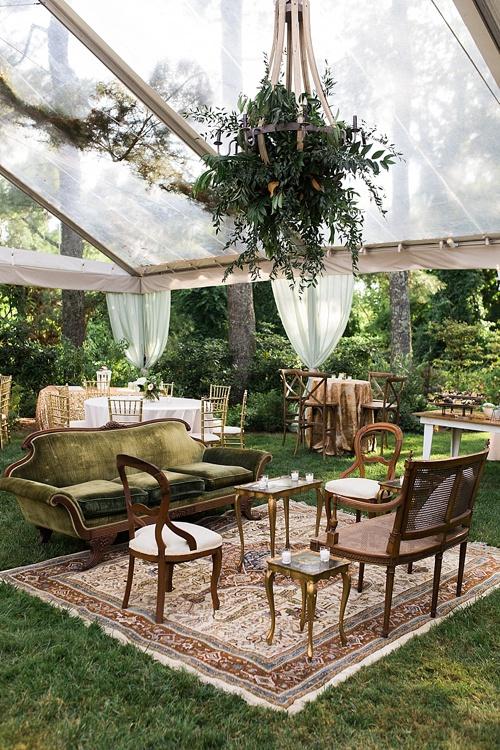 A lounge area to relax is a must at a wedding (older guests love it for a bit of peace and quiet to have a chat). At a summer wedding, you'll want somewhere with shade too. Set lots of comfy chairs and rugs underneath a covered area.
Summer Wedding Flowers
32. Petal Aisle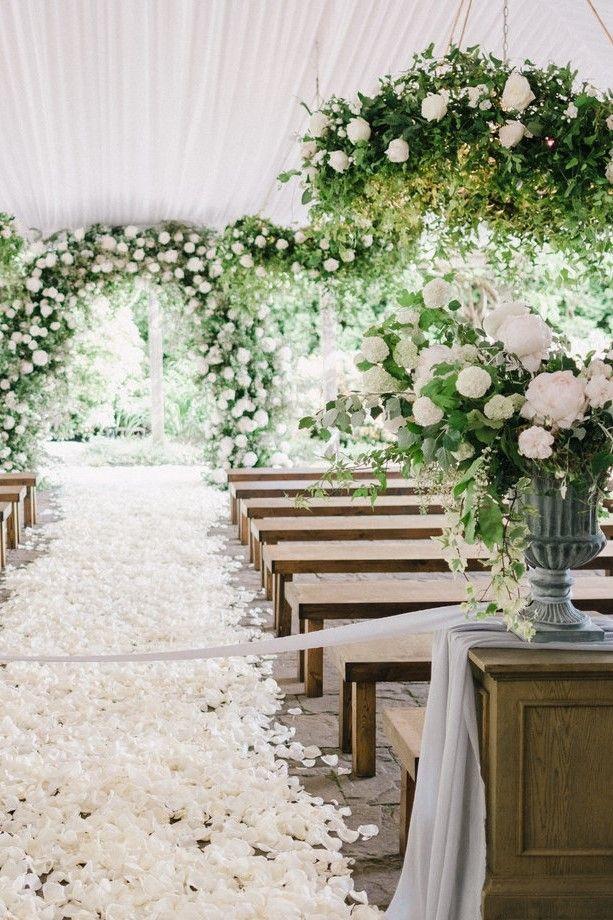 Aisle runners come in all shapes and sizes, depending on how creative you want to be, but we all know how pretty flowers are, so just imagine how pretty they can look in an aisle. Gather petals of your favourite flower, or one that matches your bridal bouquets, and cover your aisle.
33. Bright Flower Bouquets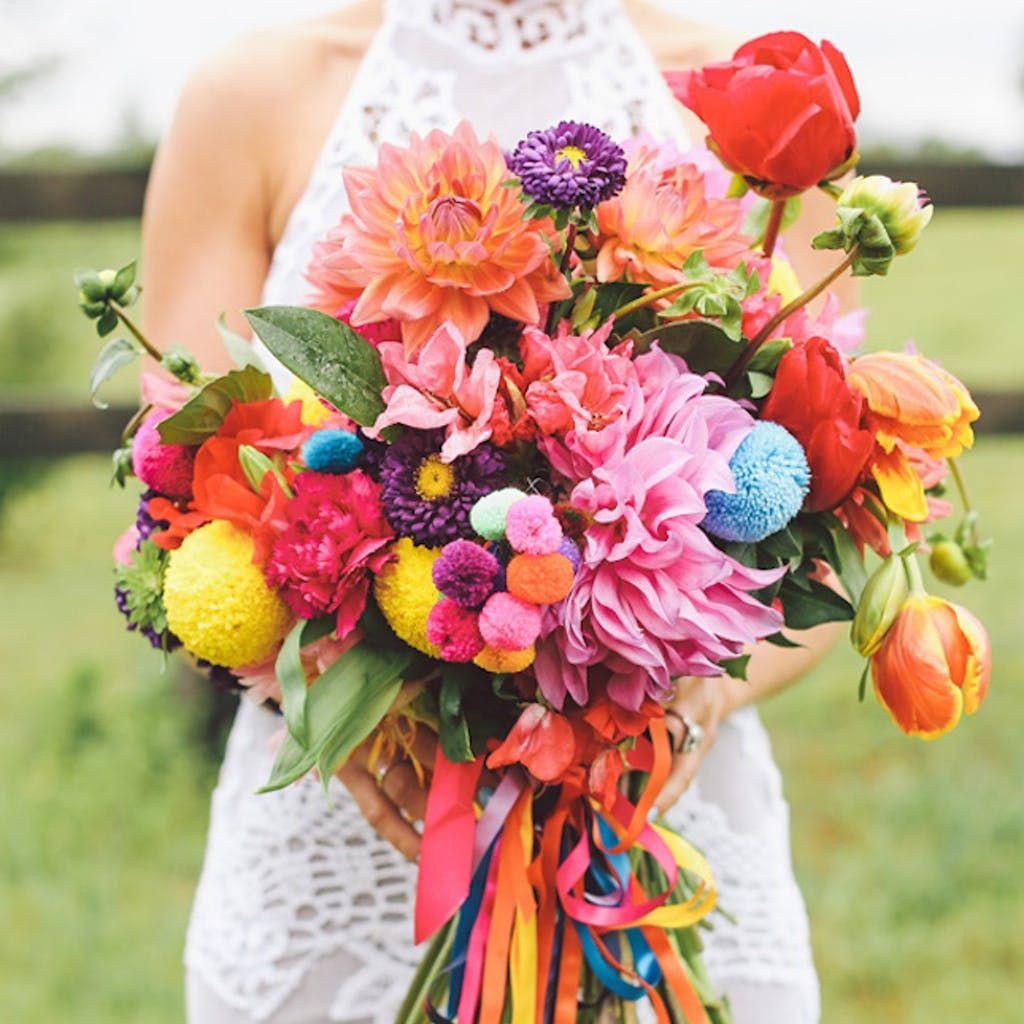 Vibrant colours are a very summery thing, so why not incorporate that into your wedding flowers and use eye-catching colours that match your theme, but also match the season you're marrying in.
34. Flowery Centrepieces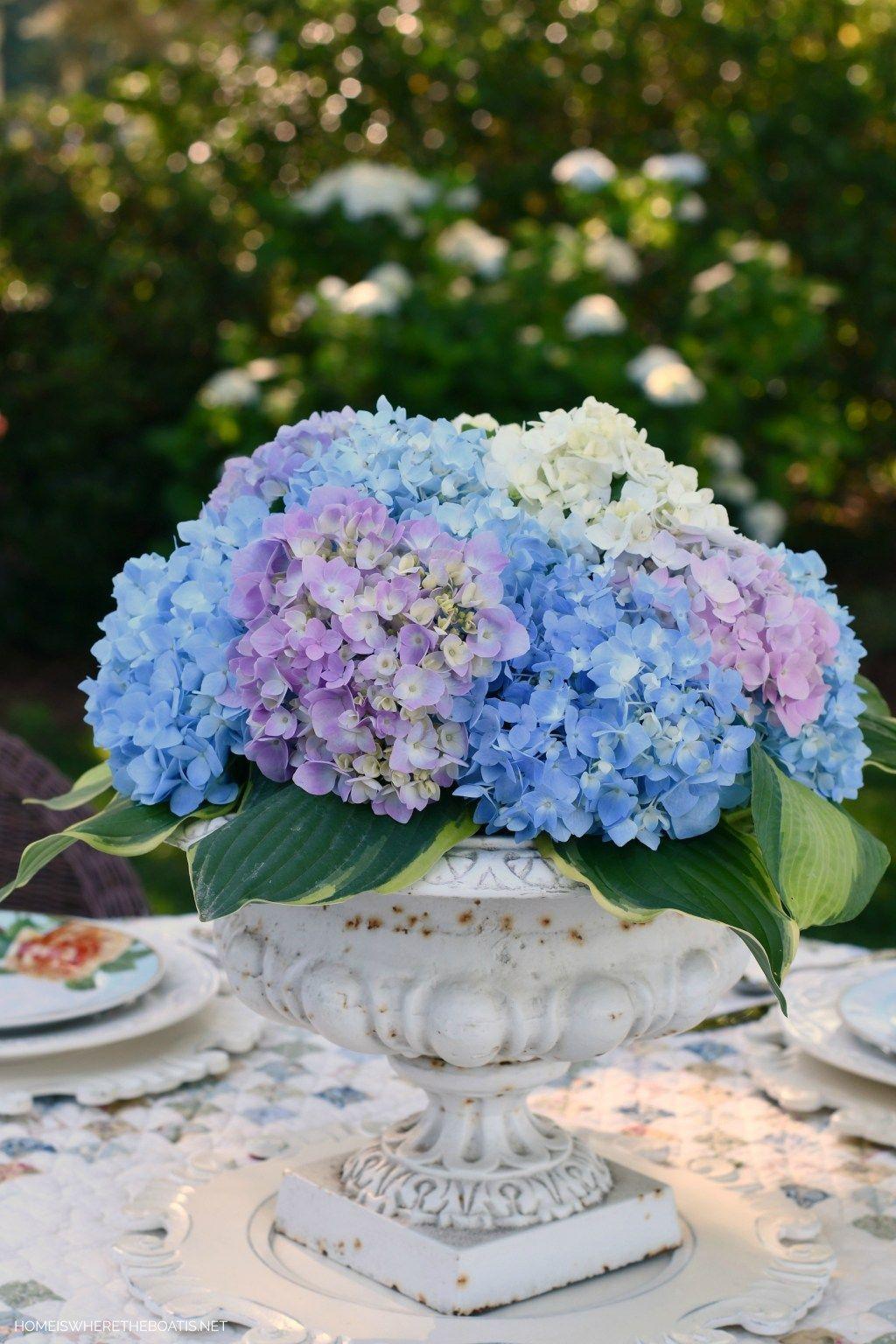 Lots and lots and lots of flowers in your centrepieces will show your guests what a summer wedding really looks like. You could have them all as the same, or you could experiment with different variations of flower, or different colours using the same flower.
35. Floral Staircase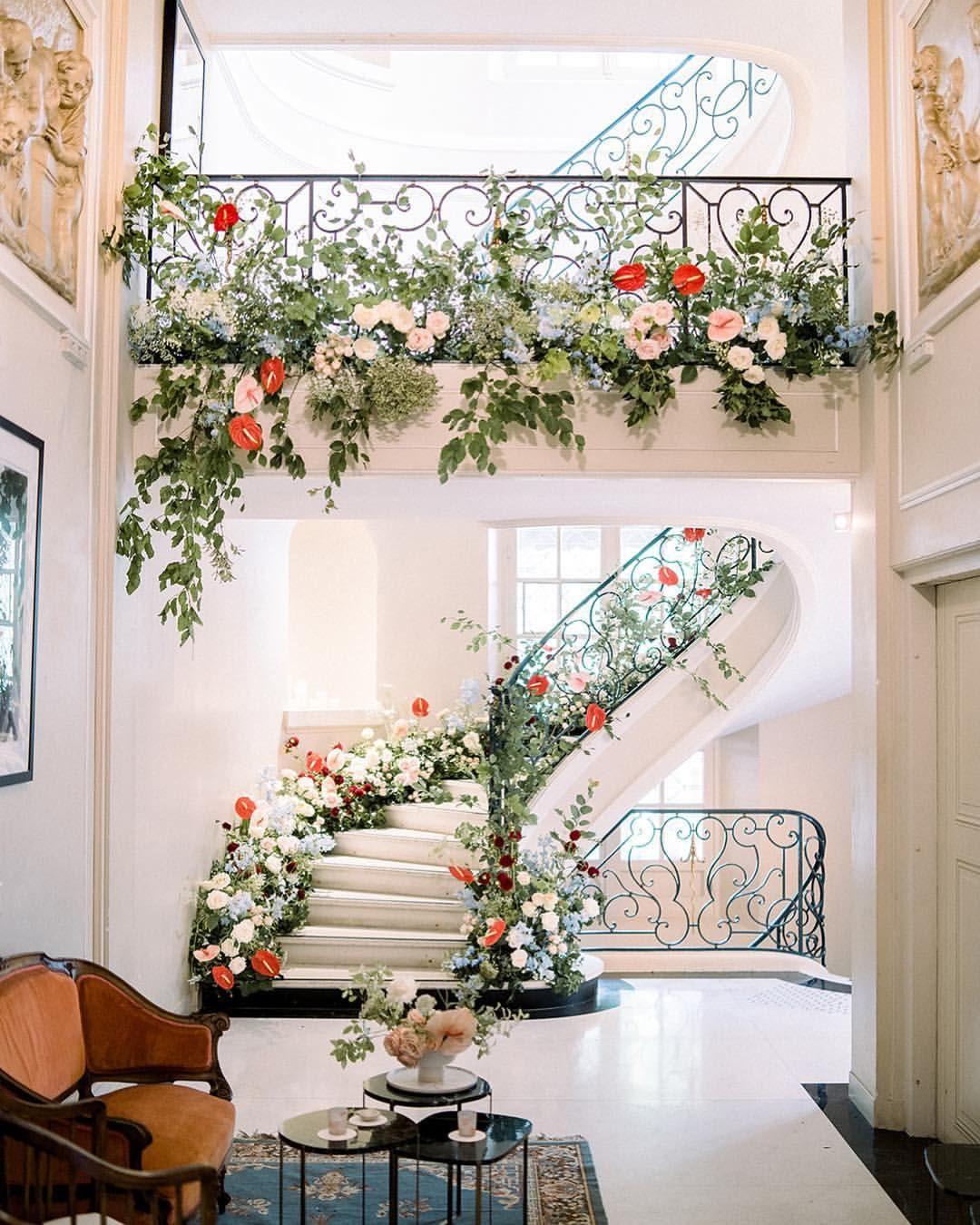 Romance is key in any wedding and you can't get props much more romantic than a floral staircase. Walking down this on your wedding day will make you feel like a true princess and it will look so stunning in the wedding pictures. Try punctuating white and neutral flowers with pops of colour like these red anthuriums.
36. Floral Cake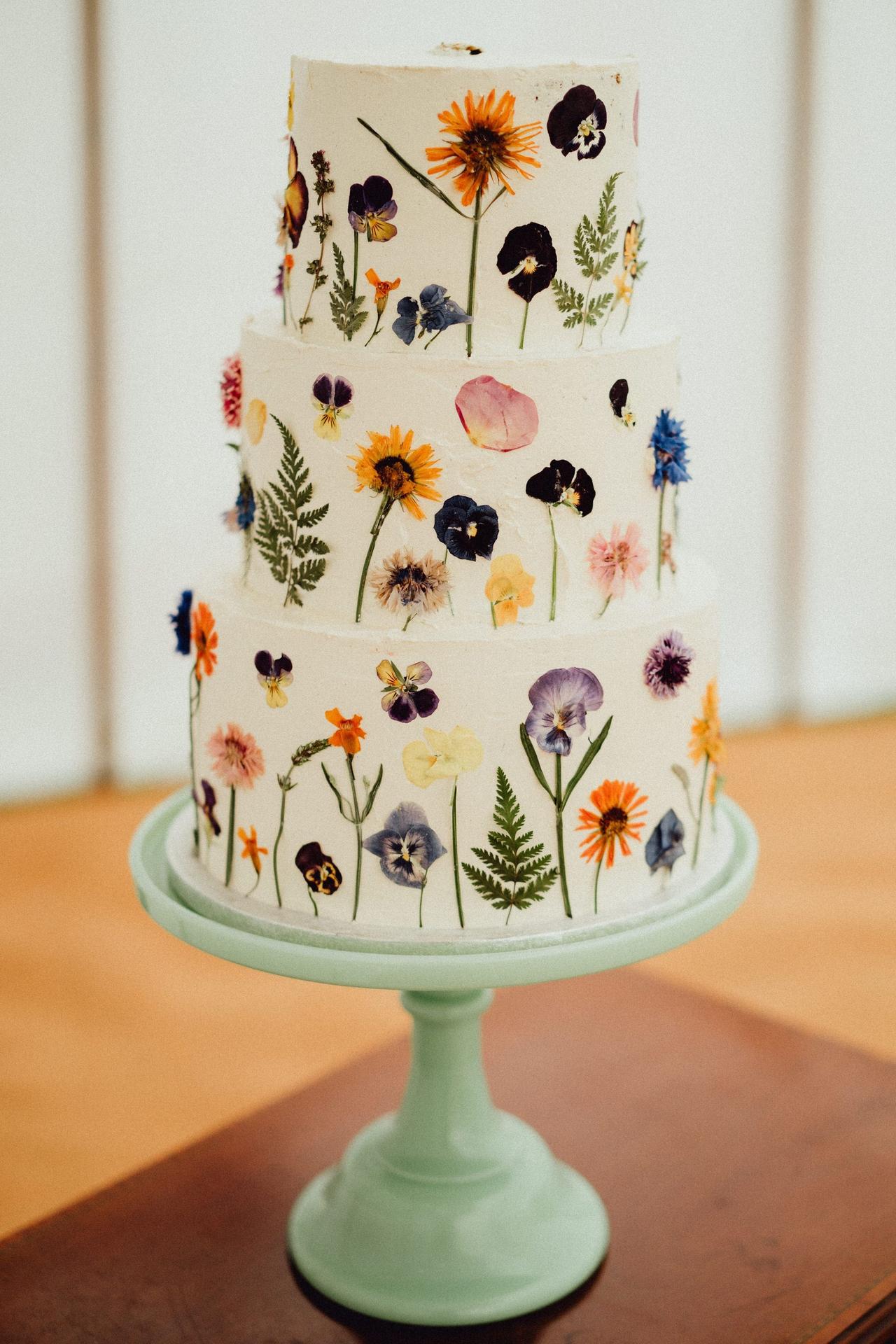 Floral wedding cakes are the perfect edible addition to your summery wedding with the copious amounts of designs available. The possibilities are endless and the final product will taste fabulous. We're still completely obsessed with pressed wildflower decorations, but don't ignore floral flavours too, like rose, hibiscus, elderflower and violet.
37. Flower Installation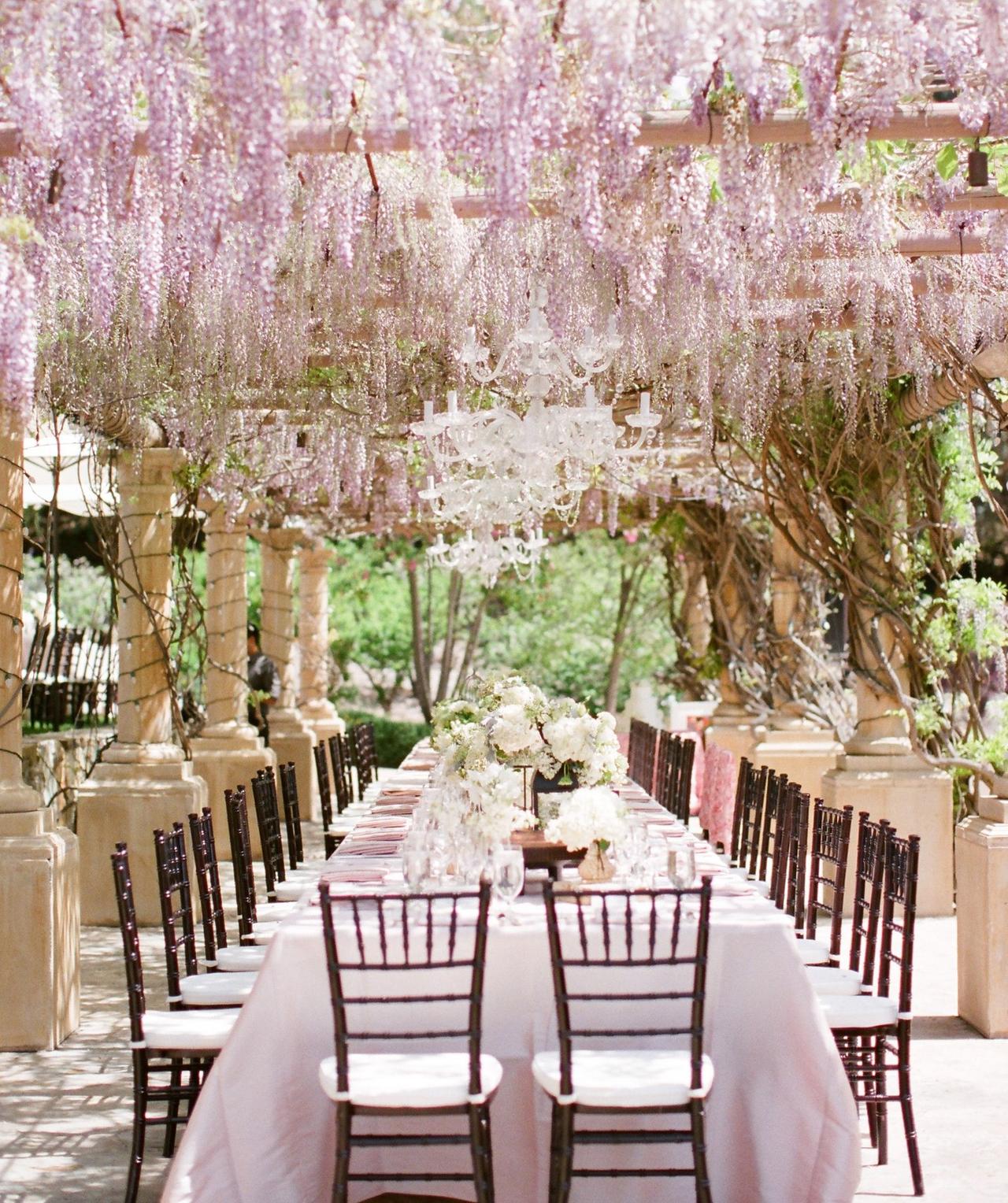 Is there anything more beautiful than wisteria? You can create a hanging installation of any kind of flower, but we love a ceiling full of fresh or artificial wisteria. It's seriously summery and smells amazing (use strategically placed reed diffusers around your seating area if you have fake flowers to add a beautiful scent). Your guests won't be able to stop Instagramming it!
38. Floral Stationery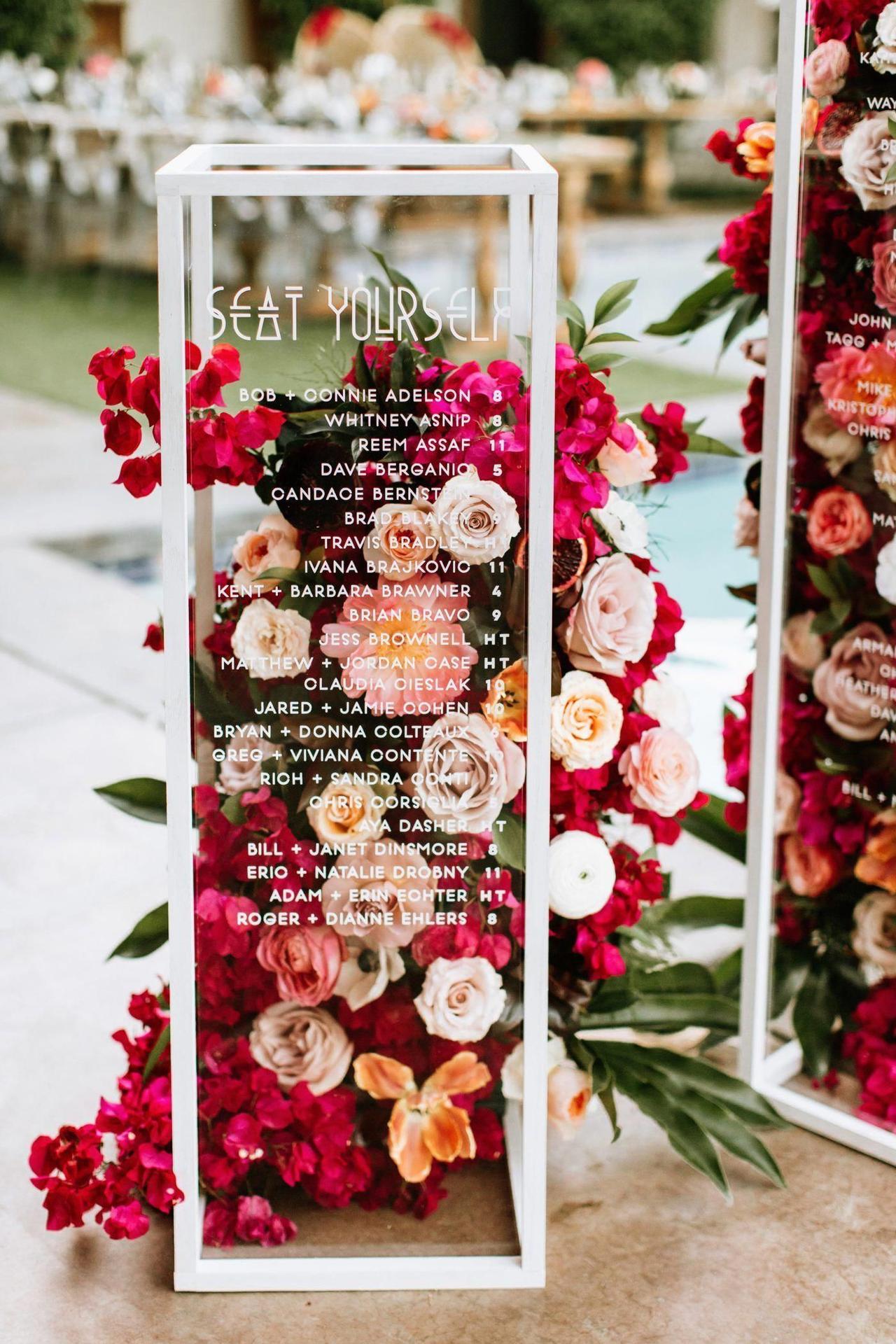 Make sure your stationery is floral themed too, whether they illustrate the invites and menus or are the backdrop to a gorgeous acrylic seating plan like this.
Summer Wedding Entertainment
39. Outdoor Games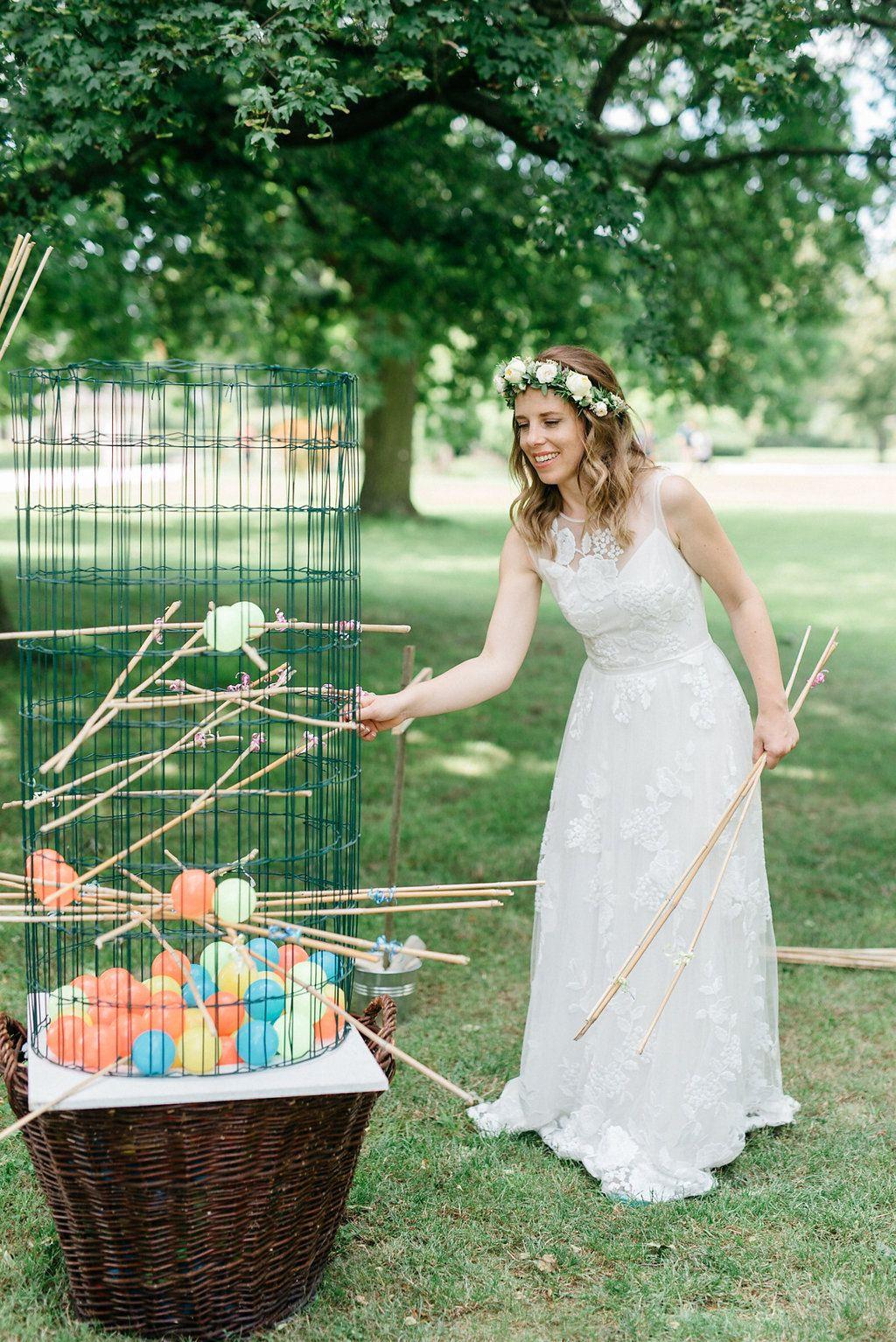 If you're planning a country garden wedding to embrace the hopefully sunny weather, having some outdoor activities for your guests to enjoy can be a really cute way to entertain everyone. This works especially well if you have an early ceremony and have a few hours of outdoor daylight to enjoy. Lots of venues are more than happy for you to hire games, or bring 'props' for guests of all ages to have a total ball at your wedding.
40. Outdoor First Dance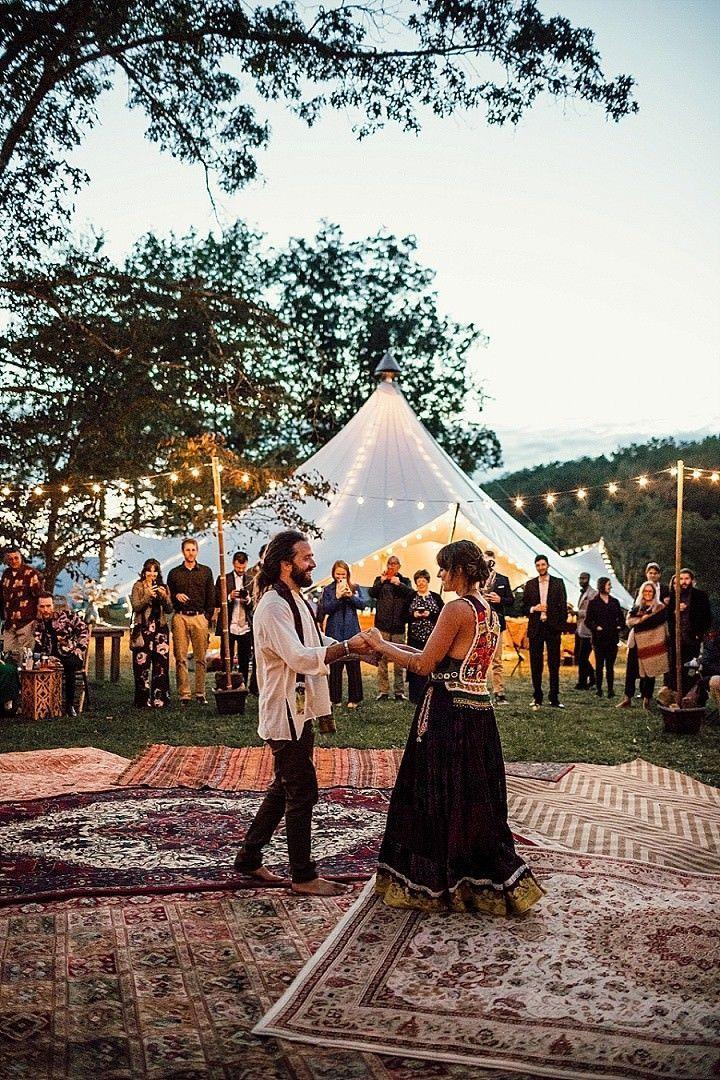 No matter the weather, have your first dance outside. Rain or shine, summer weddings are about being in the outdoors. With a decent sound-system and your loved ones surrounding you, there is no reason why you shouldn't enjoy that moment in the fresh air.
READ MORE: 36 Gorgeous Vintage Wedding Ideas
41. Beauty Station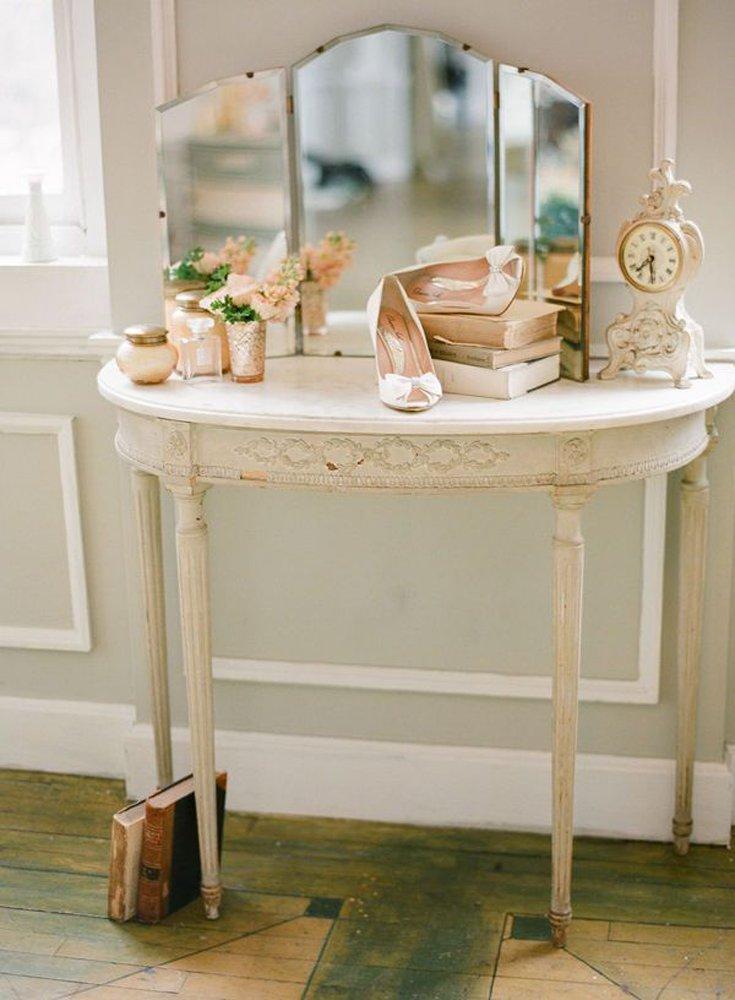 Having a beauty station at the reception is especially relevant if your reception is outdoors in the heat. This gives guests a chance to freshen up and get back to dancing as quickly as possible. All you need is a pretty table, mirror and some essentials such as deodorant, face wipes, perfume, and anything else your guests may desire.
42. Outdoor Photobooth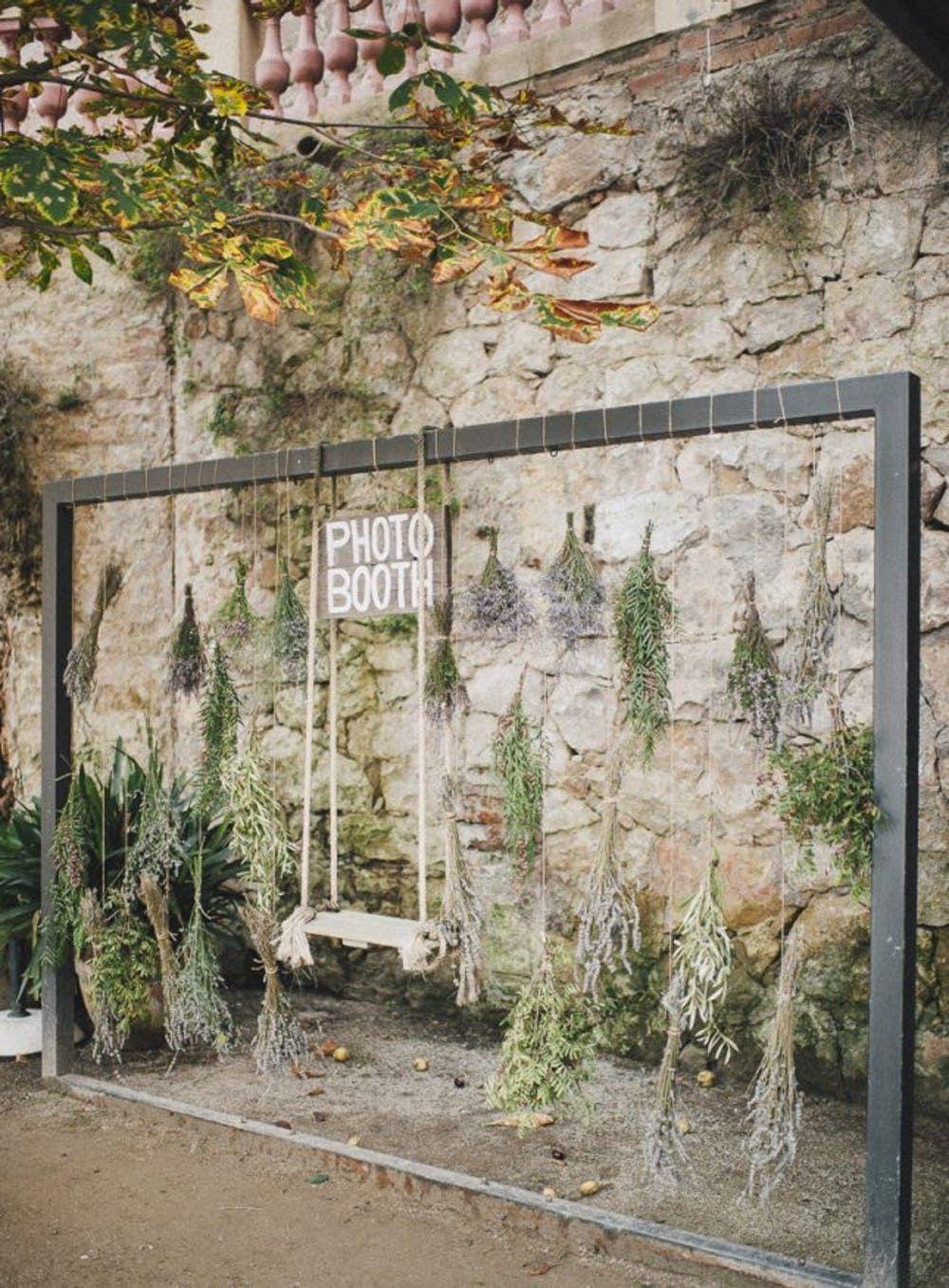 Outdoor photobooths are fantastic fun and you can DIY them so easily. This one has bunches of lavender and even a swing, but you can set up anything you want against a nice backdrop - whether that's a brick wall, macrame hanging, beautiful tree, or backdrop of vintage doors.
Summer Wedding Food and Drink
43. Frosé Bar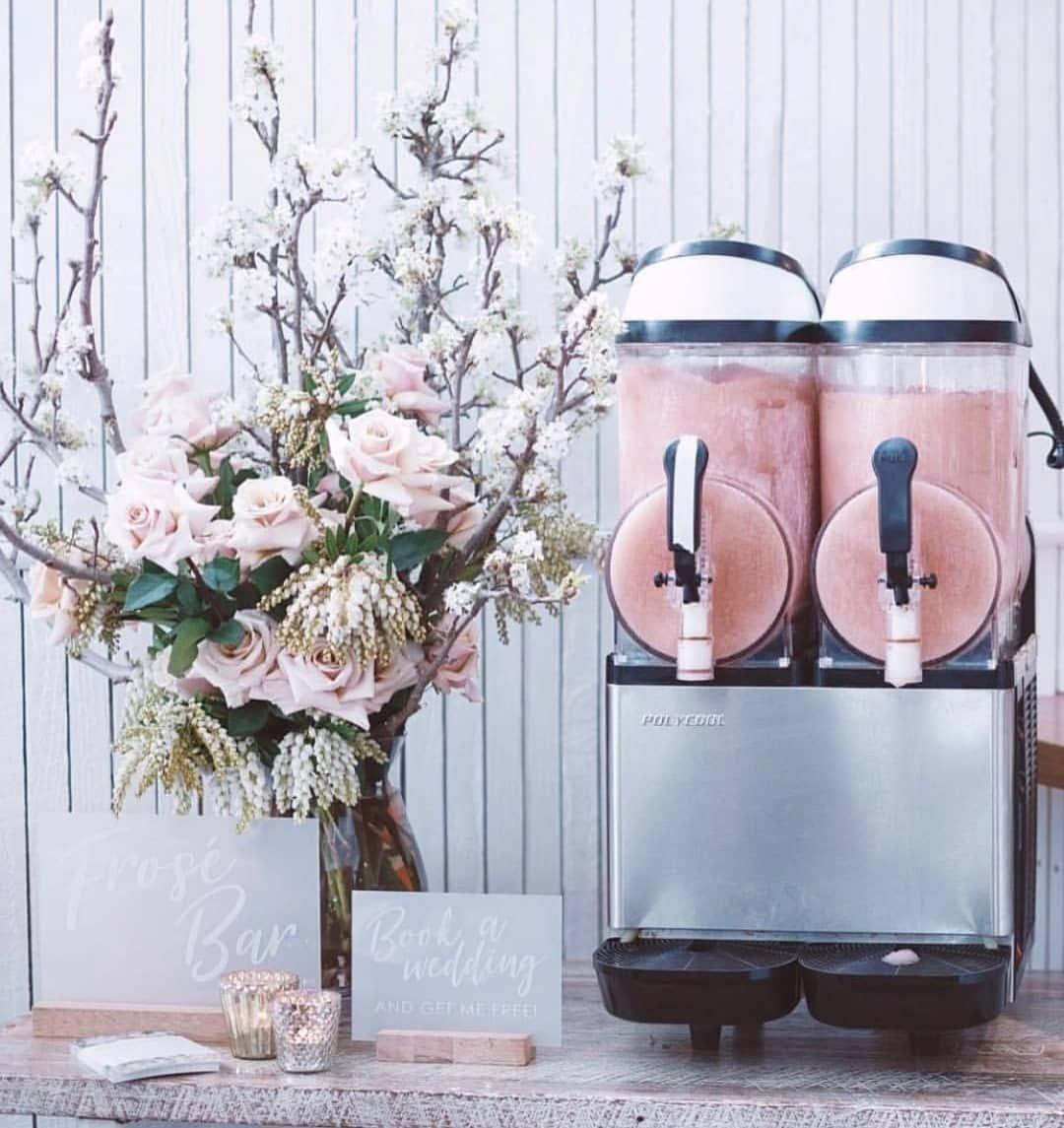 Frosé - or frozen rosé - is one of the best summer drinks and deserves its own station at your wedding. You can set up an entire frozen drinks bar if that works for you - how about frosé, frozen margaritas and frozen daiquiris? You could even serve a frosé shot at the start of your wedding or during speeches to guests!
44. Naked Wedding Cake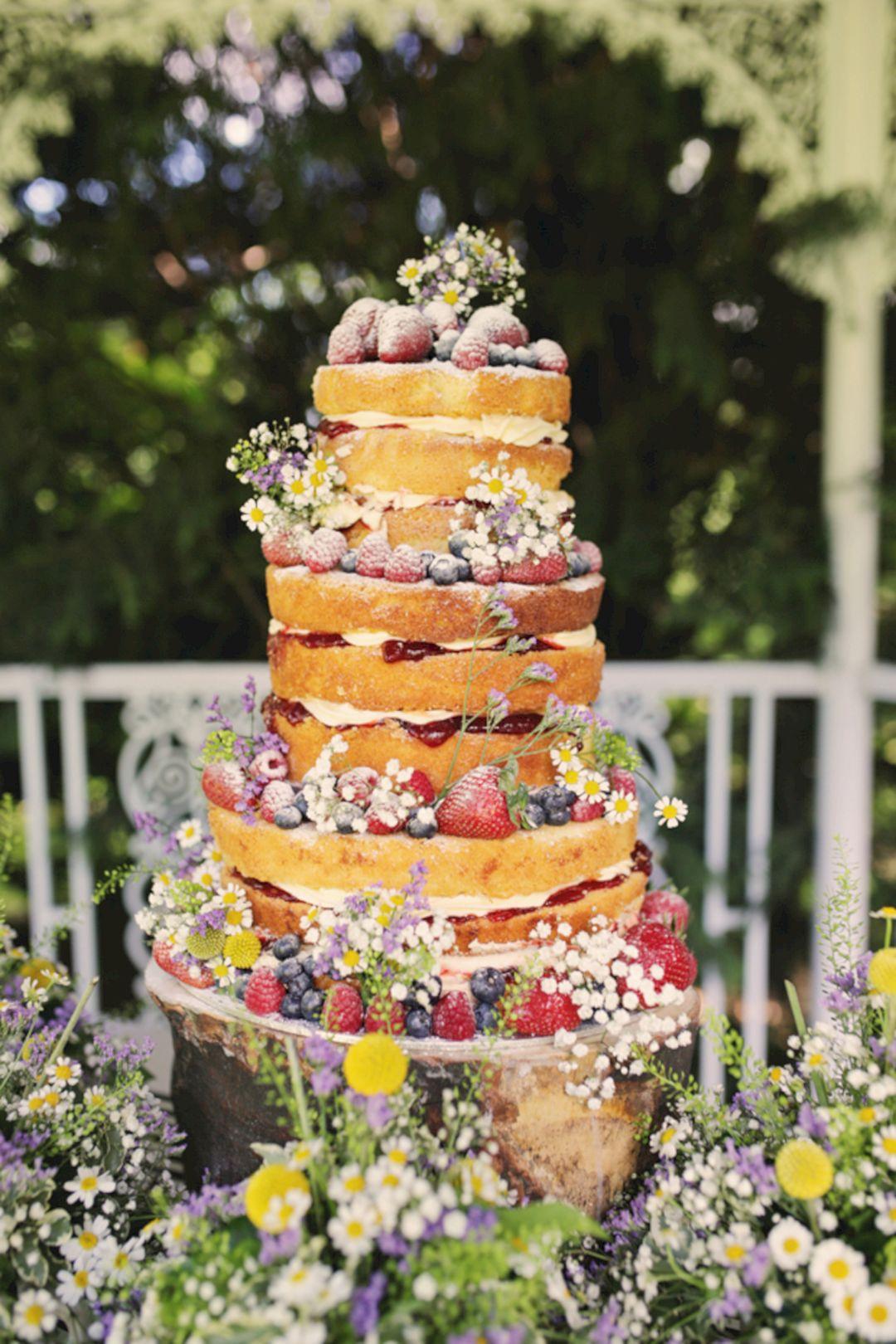 Rustic weddings are very popular in the summer and sweet treats don't get more rustic than a naked wedding cake! The lack of fondant icing and increased amount of icing sugar and varied fruits makes it the perfect choice for our sun-loving couples.
45. Sweets Table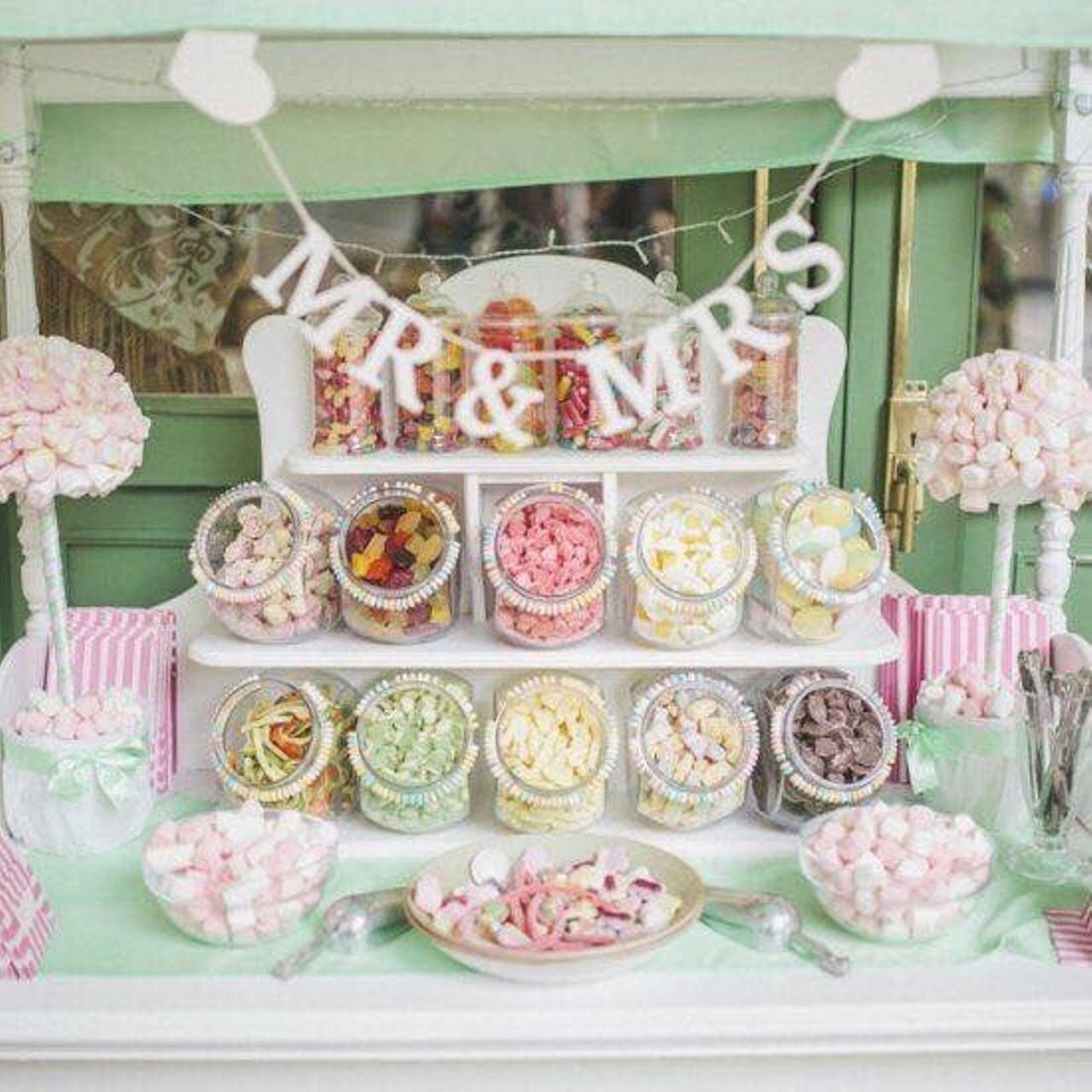 Everyone loves sweets – that is a fact of life. And sweets come in hundreds of different colours that will perfectly match your colour scheme. Sweet tables look gorgeous, are fun and will give your dancing guests all the energy they'll need.
46. Watermelon Slice Snacks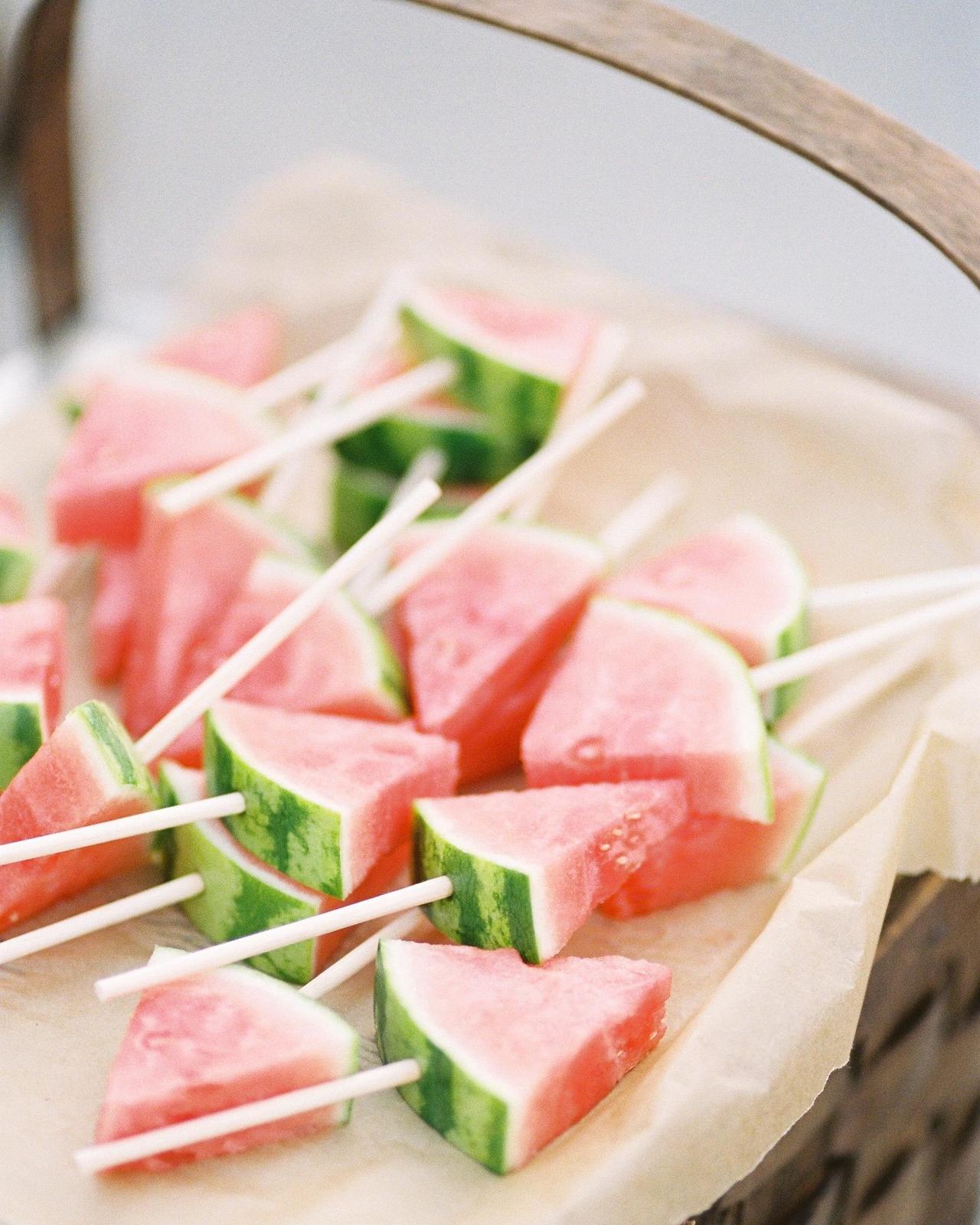 In need of a cool down? Platters of thick watermelon slices are the perfect reception drinks snack. Other delicious, refreshing fruit snacks include papaya with wedges of lime, mango, pineapple and melon. All great for picking up slices or putting on sticks.
47. BBQ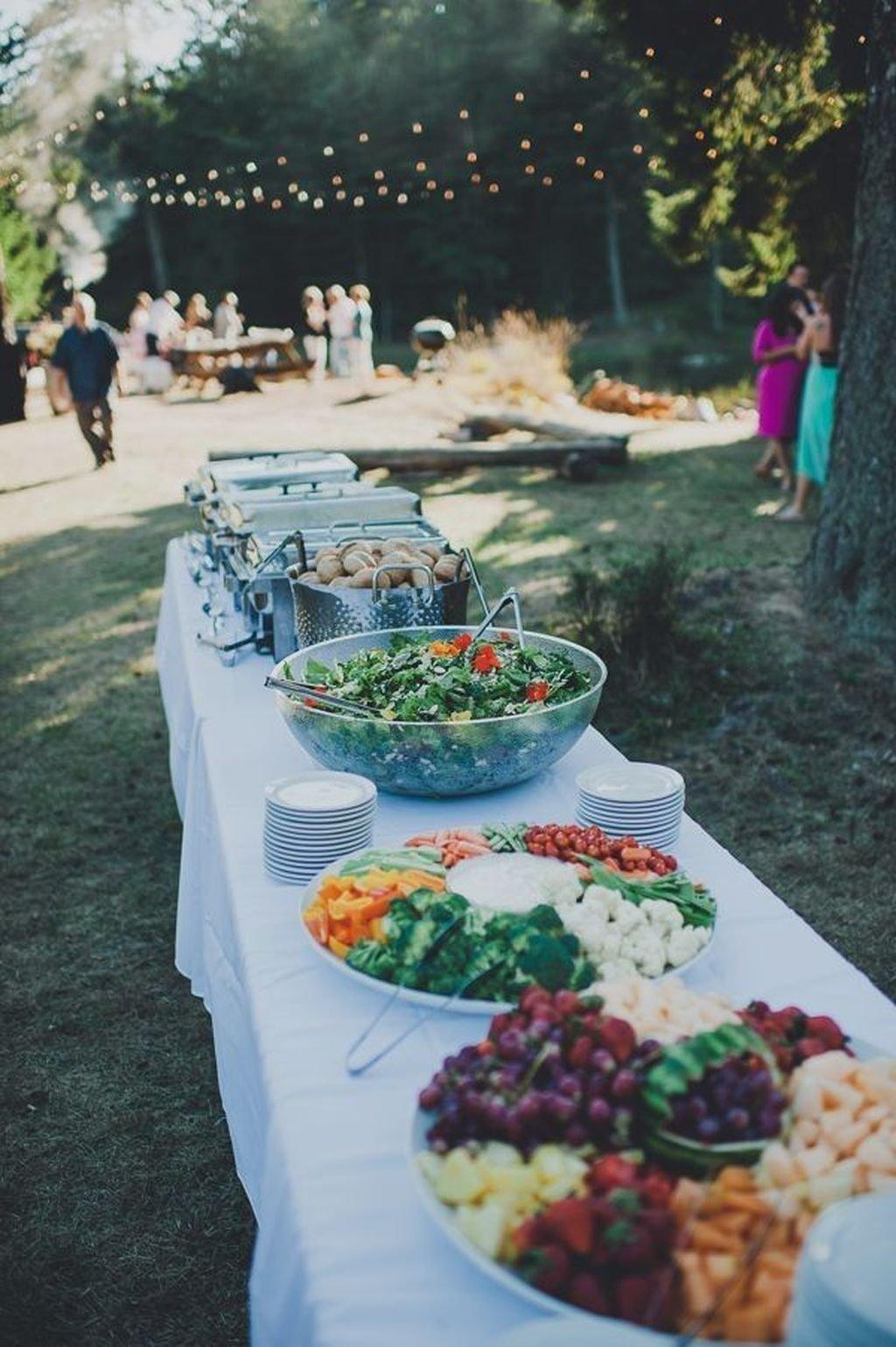 You can't think about summer without thinking about BBQs. Your venue or caterers should be able to put on a delicious BBQ option with freshly grilled meats, veggie options and a yummy selection of salads. It means guests can choose as much food as you want - some guests are less hungry in the sunshine so you could avoid wasted food. Think sausages and burgers in posh brioche buns, corn on the cob, jerk chicken, potato and pasta salads. Make sure there are lots of wipes for sticky fingers and tons of different sauces.
READ MORE: 19 Chic Wedding Welcome Signs for Your Big Day
48. Picnic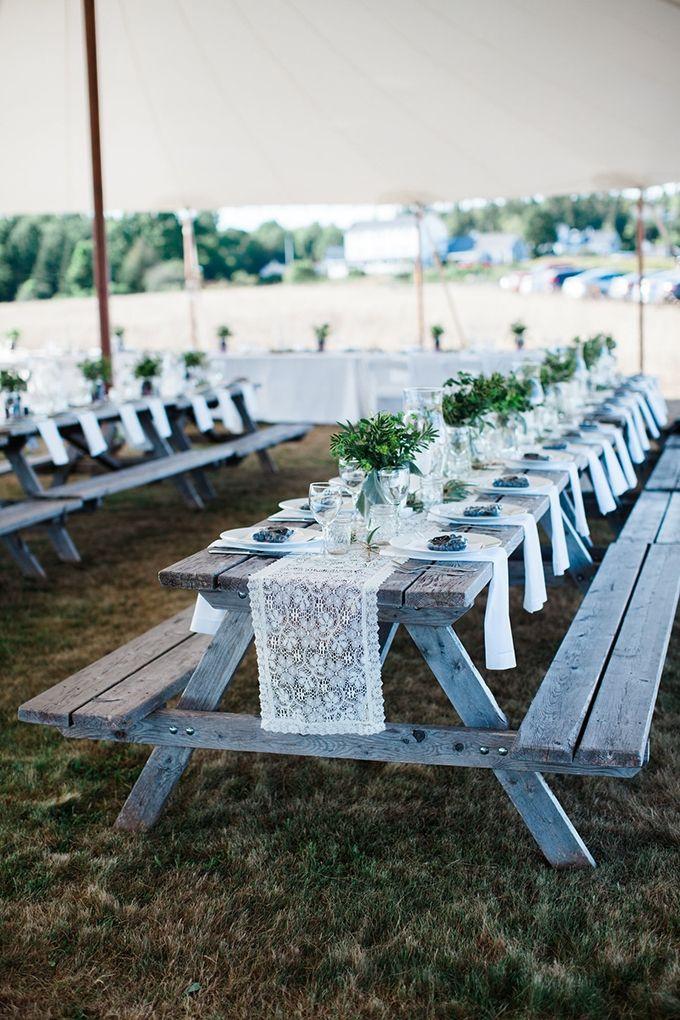 Stand up to the wedding traditions and have an outdoor picnic instead of an official wedding breakfast. Get some old benches, paint them up, and decorate them with cute picnic blankets and invite all of your guests to join you with some food-filled hampers.
49. Ice Cream Truck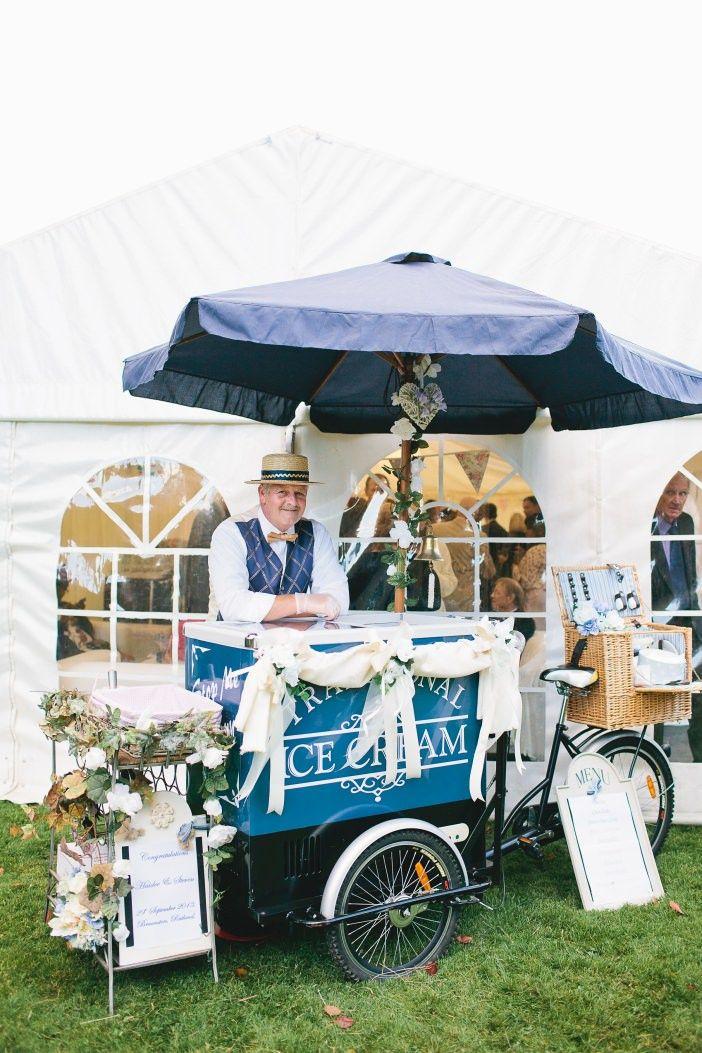 Nothing says summer like a cold, creamy ice cream. Hire a retro ice cream truck and choose flavours and colours to match the theme of your wedding.
50. Prosecco Popsicles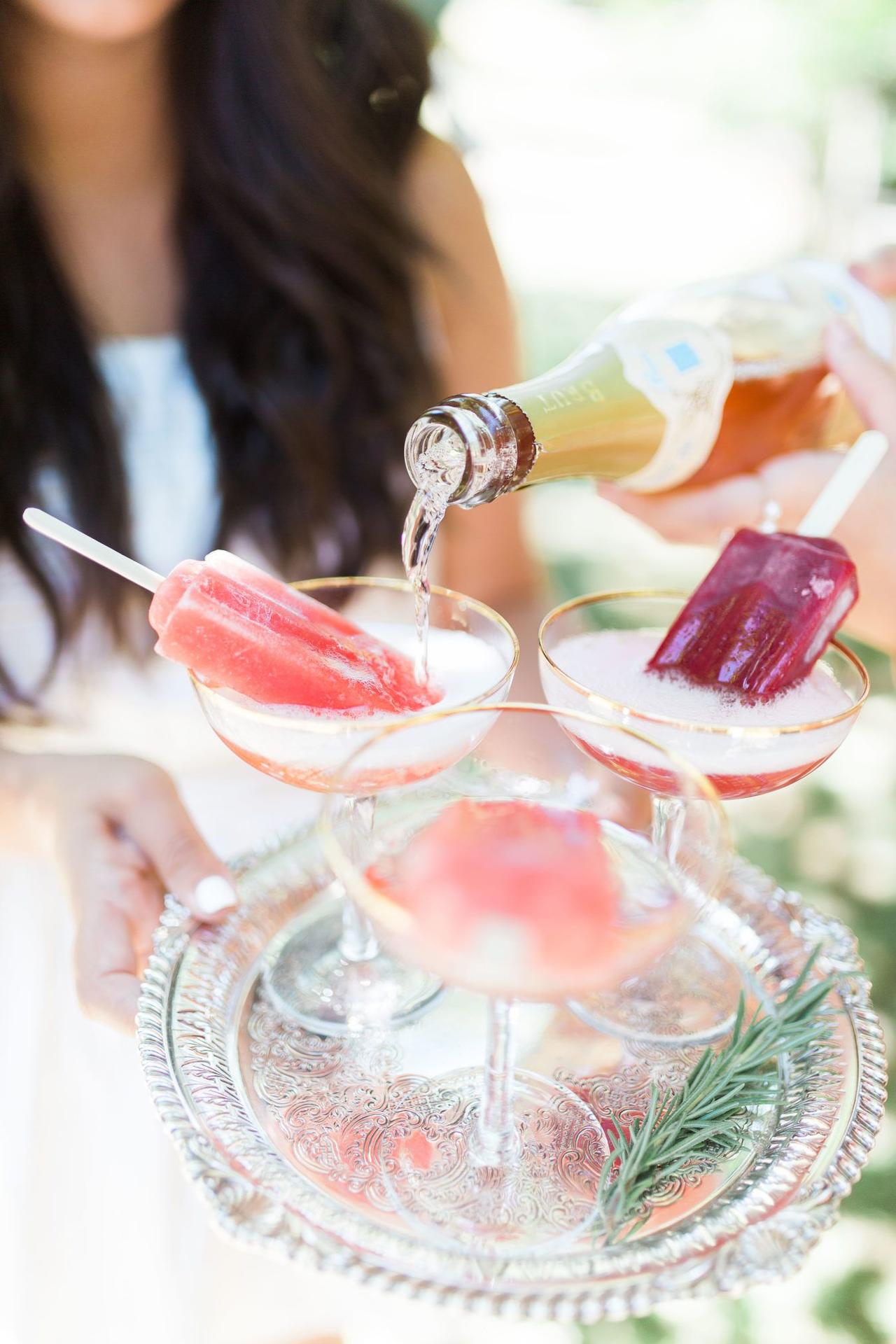 Who doesn't love Prosecco, it's a girl's best friend right? Boozy popsicles in loads of different flavours - from mojito to gin fizz and prosecco - can be bought or made at home and they're super refreshing and fun. Serve them in a cocktail so they melt into cool, slushy-like flavours or
51. Afternoon Tea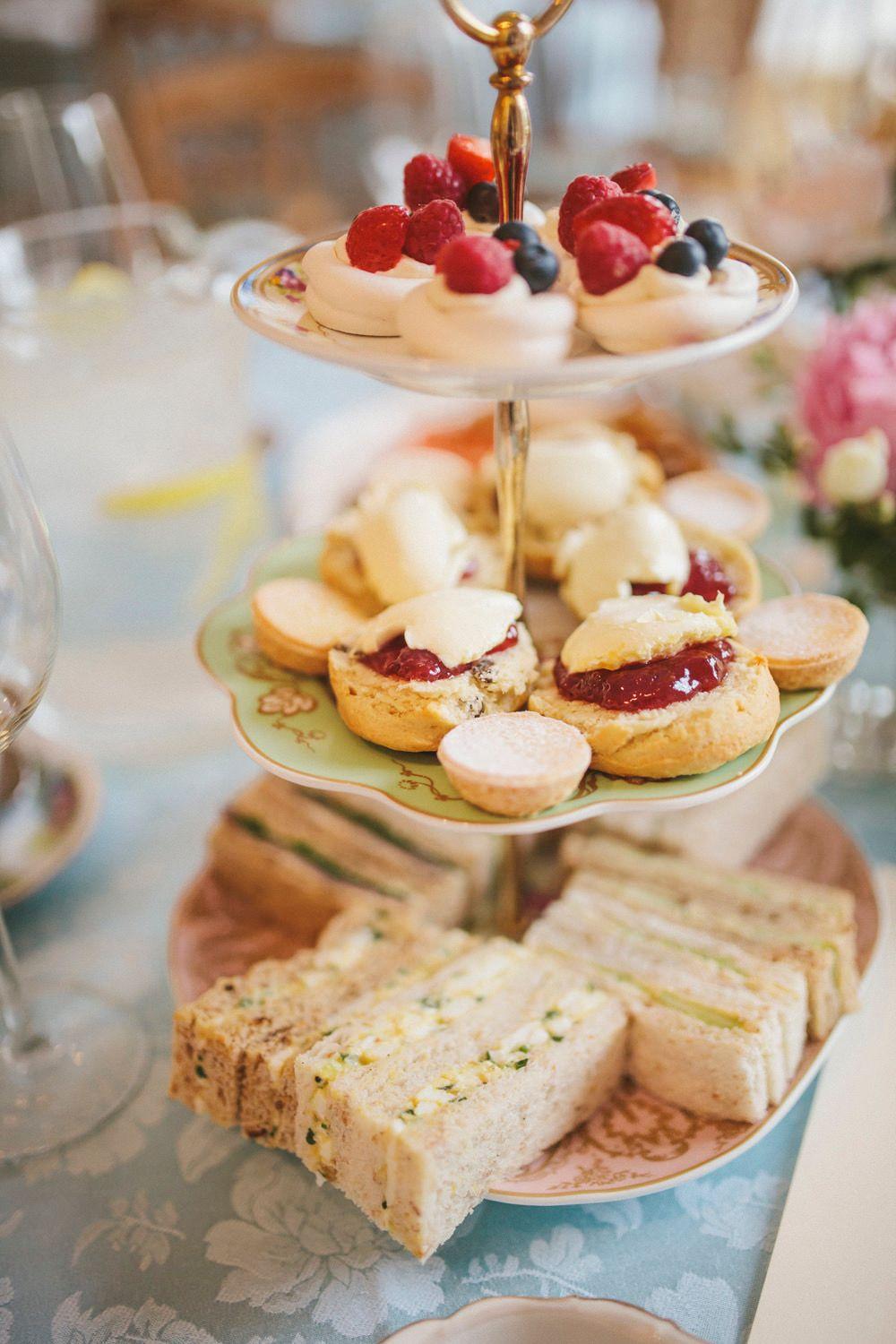 Afternoon tea is a cute way to feed your guests at the wedding breakfast, without having to serve anything too heavy. Your guests may be less inclined to eat a hot meal if the sun is blazing and it could also work out cheaper for you to do sweet and savoury scones and cakes as a lighter lunch option. The question is: jam on the bottom or the top?
52. Fruity Dessert Table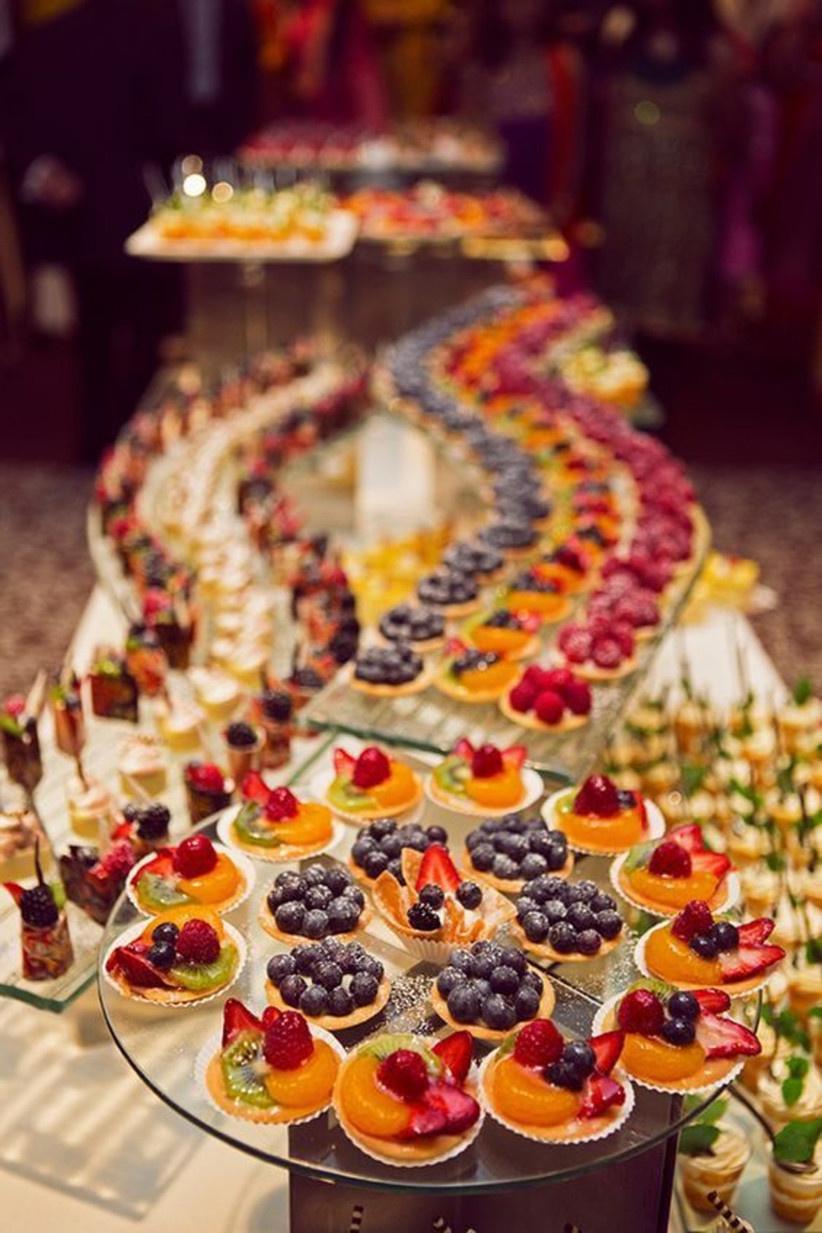 Instead of having a heavy third course at your wedding breakfast, arrange for your caterers to put together a dessert table made up from jellies, fruit salads, patisserie and sorbet. This will keep your guests feeling fresh and full of energy for the crazy dancing that comes later on.
53. Coconut Water Display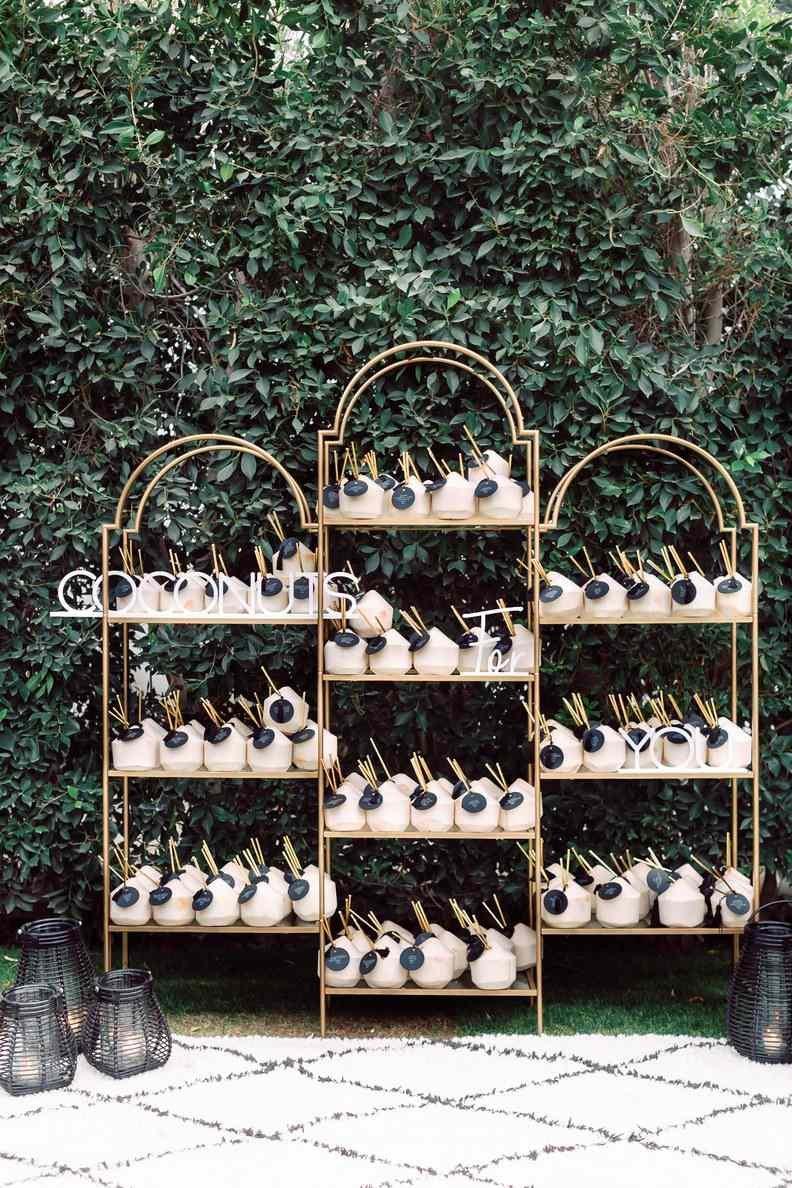 Coconut water is seriously refreshing. You can have a station where coconuts are cut fresh for your guests, but you can also use this double-winner of a coconut water wall that also hosts placecards.
54. Lighter Menu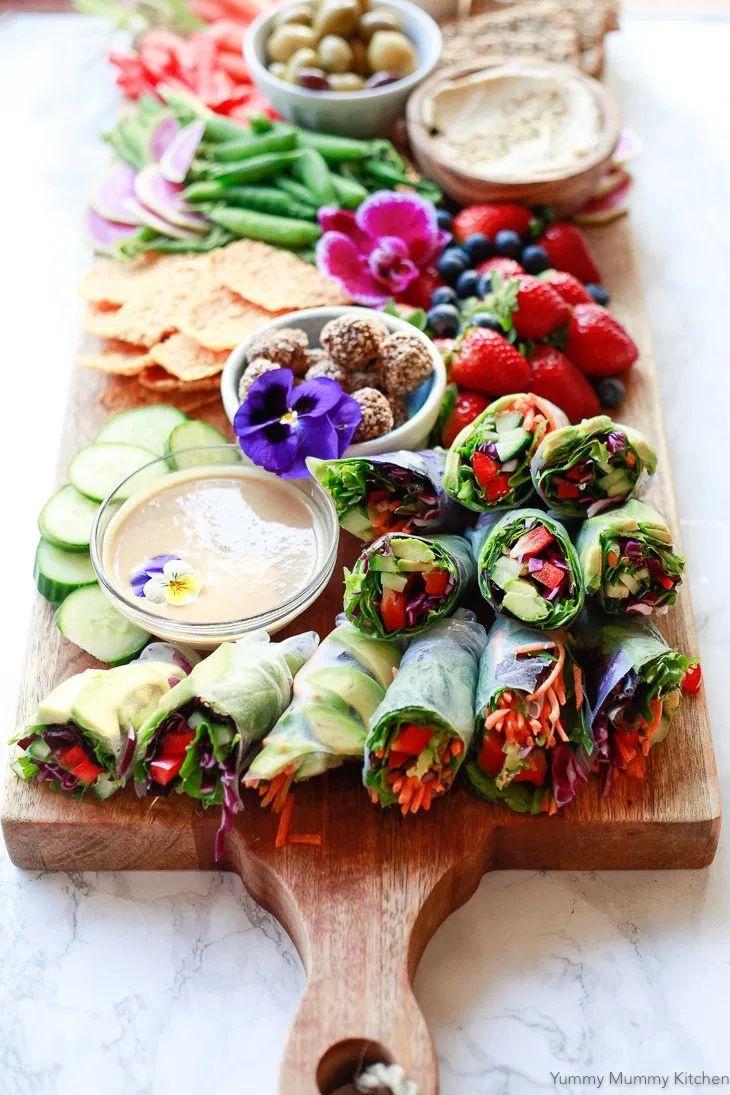 You could choose a more international menu which offers lighter mains that a traditional British offering of meat and two veg. How about a South-East Asian menu with vibrant Vietnamese spring rolls, soy glazed salmon or chicken with noodle salads and zingy stir-fried veg?
55. Spritzes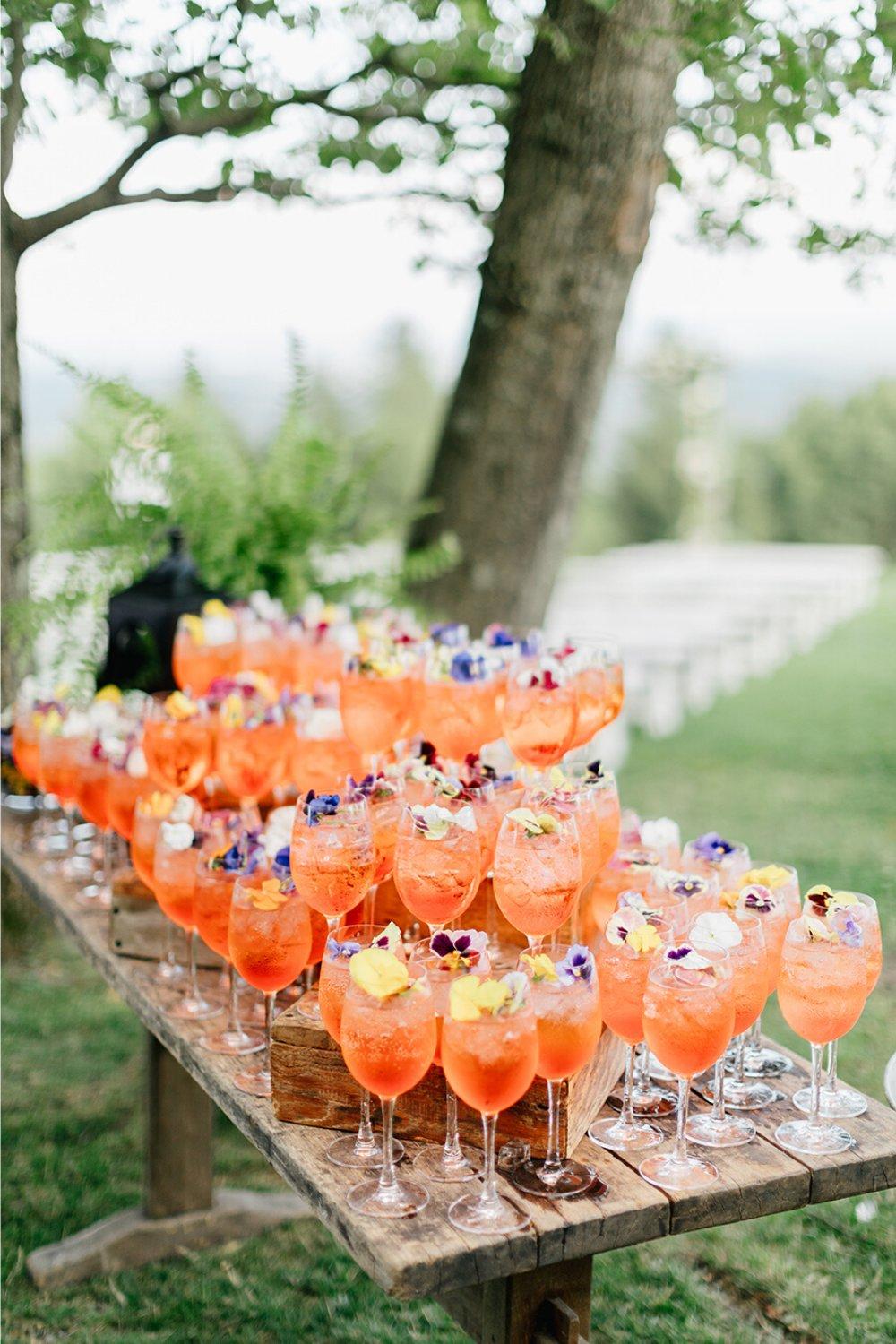 An Aperol Spritz or a wine spritzer is a fab way to keep guests refreshed as well as serve them a welcome drink which will transport them straight to Italy. We love this Aperol station, with the cocktails decked in edible flowers.
56. Mocktail Station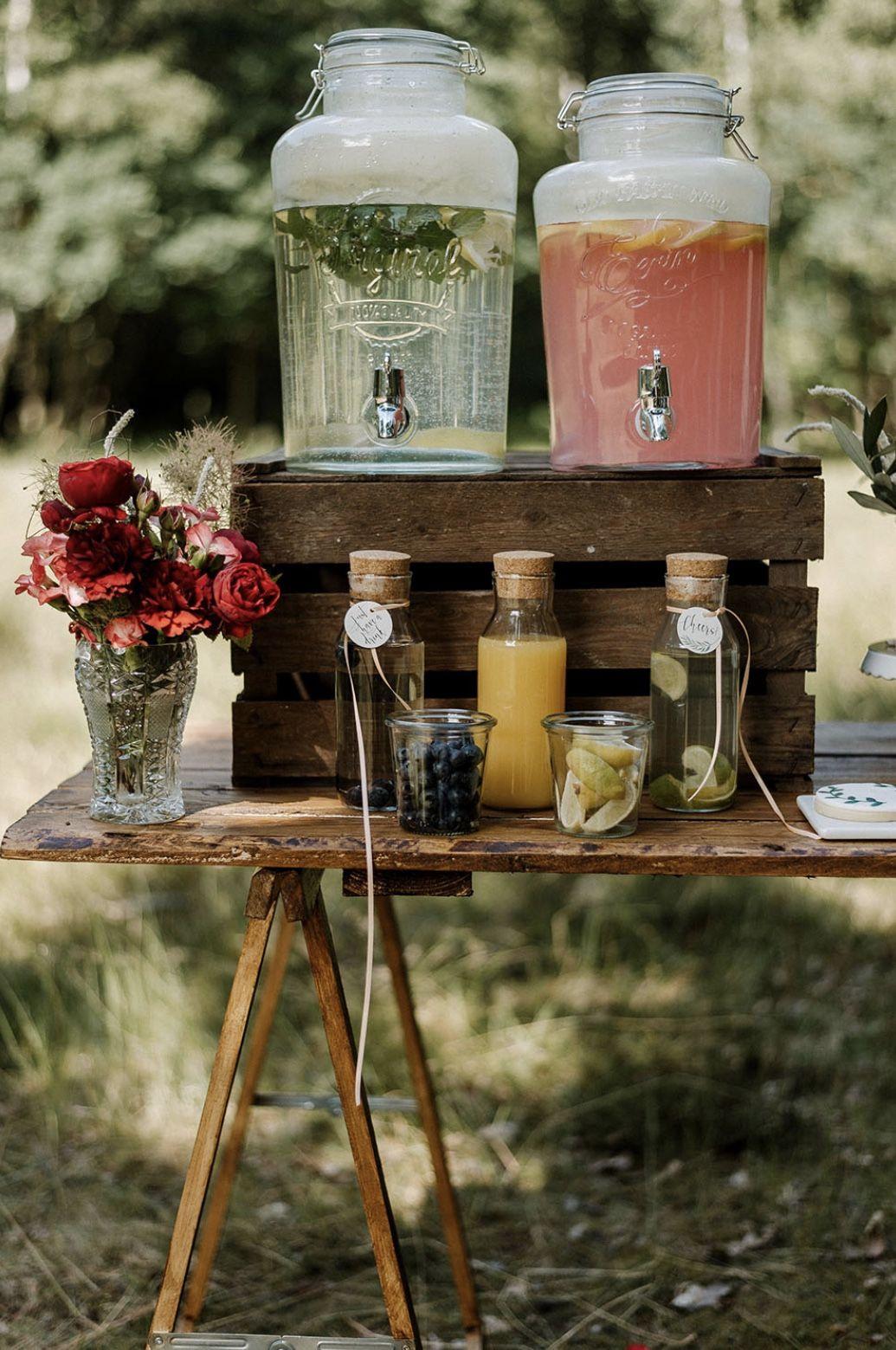 Flavoured waters and mocktails in big glass serving jars are really good for guests who aren't drinking or little ones. It'll keep everyone refreshed and looks beautiful too! Make sure there's lots of fruits to serve in it and freeze edible flowers into ice cubes for an even prettier too.
If you're really feeling the summer wedding vibes, why not go even further and have a beach destination wedding? You can find more ideas to include in our 21 biggest wedding trends for 2021.