40 Castle Wedding Venues Fit for Royalty
Make your fairy tale wedding dreams come true by browsing our ultimate guide to the 40 best castle wedding venues across the UK...
Every couple wants their wedding day to be a fairy tale, so why not celebrate your marriage in a castle wedding venue?
There are a wealth of castle wedding venues in the UK to choose from, whether it's a castle set among enchanting woodland or a medieval mansion nestled in a bustling city, there's something to suit all budgets and themes.
Prepare to be royally spoiled with grand banqueting halls, acres of stunning grounds and even a peacock or two. But a castle wedding venue isn't just limited to antiques and history, there are plenty of properties packed with modern facilities too. Yep, a castle with an onsite spa exists and you can book it for your wedding.
If you're feeling a little overwhelmed with choices, take a look at our roundup of the best castle wedding venues across the UK to make your decision a little easier.
So, without further ado, here's to your happily ever after...
40 Stunning Castle Wedding Venues in the UK
1. Thornbury Castle - Gloucestershire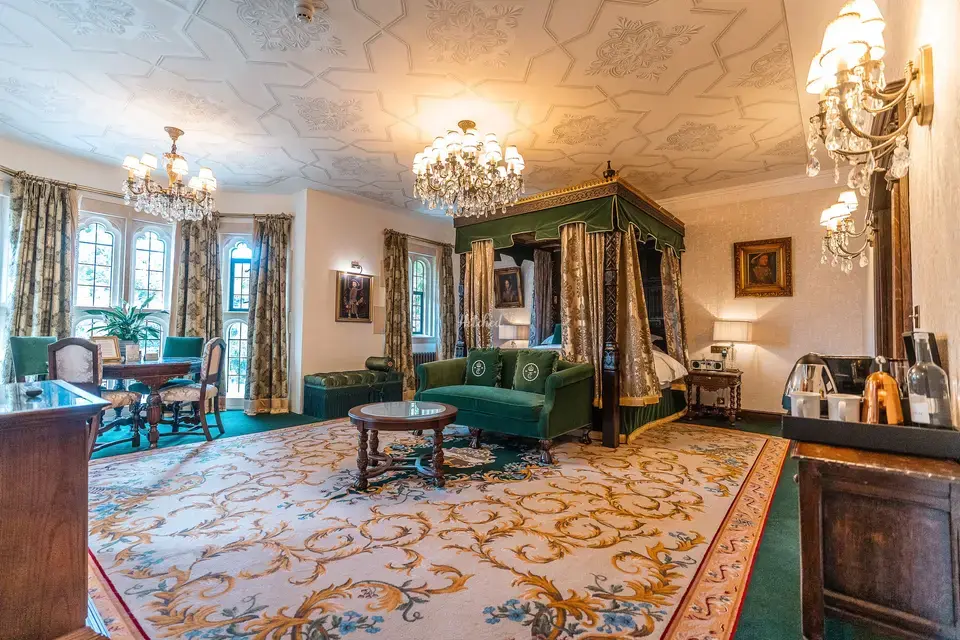 Dating back over 500 years, Thornbury Castle in Gloucestershire was once owned by King Henry VIII and even served as his honeymoon destination. Now, having undergone a multimillion-pound restoration, it welcomes you to host a one-of-a-kind castle wedding in this historic setting.
The grand Tudor opulence of this castle wedding venue is second to none, boasting traditional features such as exposed stone walls, intricate tapestries, and high ceilings. You can host your ceremony in the impressive Tudor Hall or if you're getting married in the warmer months, head outside to the manicured gardens for an outdoor wedding celebration.
You and your wedding party can immerse yourselves into the Tudor period with castle historic tours, archery, axe throwing and falconry displays on offer, or if you want to relax, a number of spa treatments are available.
As for the food? Renowned for its superb cuisine, award-winning chef Carl Cleghorn will serve up delicious dishes made from locally sourced ingredients!
But don't just take our word for it; one happy newlywed commented "Thornbury Castle exceeded our expectation as a wedding venue and accommodation. They catered for our every wish. The interior was delightful. The food lovely. The service fantastic. We would highly recommend."
You can see our review of the UK's most romantic castle here.
Capacity: 120 guests
Pricing: From £4,000
2. Clearwell Castle - Gloucestershire
Clearwell Castle, situated in the Forest of Dean, is the perfect fairy tale setting for your wedding. Hitched users have said that "The venue is beautiful, the food was amazing and the staff are incredible. Our day couldn't have gone any better and our guests still talk about the day as the best wedding they have ever been to."
There's a 75ft long aisle for your grand entrance, a ballroom that boasts beautiful leaded glass windows and a vaulted cellar bar where you and your guests can relax for the evening reception.
If that wasn't enough, the gorgeous grounds feature a croquet lawn and bandstand, making this wedding venue castle the perfect backdrop for your wedding photographs.
In addition to the castle's bedrooms, the venue provides 24 additional rooms at The Wyndham Barn & Lodge located only a short stroll away.
Capacity: 250 guests
Pricing: Menus from £100
Deals: Clearwell Castle's big summer sale is offering nearlyweds the chance to snatch up their remaining July and August dates from just £8,995, as well as offering two-day deals for Fridays, relaxed Sunday packages and more reductions for intimate Thursdays
3. Warwick Castle - Warwickshire
Warwick Castle is one of the best wedding venues castles that will truly amaze your guests - seriously, one Hitched user commented "We could not have wished for a more spectacular day. We'll be reminiscing forever, and our guests are still telling us what a magnificent venue it was."
From enjoying a banquet or hog roast in the stunning Great Hall to choosing a falconry display for your unique wedding day entertainment, this West Midlands wedding venue is the perfect choice for those looking for something different.
Immerse yourself in the 1,100 years of history where Earls of Warwick once hosted parties, take in the magnificent décor and retire to your four-poster bed in the Tower Suite once your day has drawn to a close.
When it comes to castle wedding venues in the UK, Warwick really is the gold standard.
Capacity: 10 - 120 guests
Pricing: From £7,200
Deals: Micro-wedding packages are on offer for weddings with a maximum of 20 guests.
4. Leeds Castle - Kent
Leeds Castle is just how you would imagine a castle out of a picture book to look and it's an idyllic setting for your wedding.
Surrounded by 500 acres of parkland, immaculate gardens and even a moat, the castle wedding venue can cater for up to 200 guests, with larger parties of up to 1,000 hosted in a marquee on the Cedar Lawn - this is ideal if you're looking for a regal setting for an Asian wedding.
There are 42 elaborately decorated bedrooms, plus an onsite florist, butler and spectacular caterers to make your wedding planning as stress-free (and delicious) as possible.
With a rich 900-year past, this wedding venue castle is also a great historic wedding venue to add some history to your special day. One newlywed said, "From booking to the day itself, the Leeds Castle team have been amazing. Our wedding day was flawless and we could not have wished for a better day. The Maiden's Tower is simply stunning!"
Capacity: 30 - 1,000 guests
Pricing: Menus from £150
Deals: There are still a selection of dates available under the Late Availability Wedding Discount packages, allowing couples to tie the knot for £9,500 in the Maiden Tower or £14,500 in the castle itself, with lots of fun additional features!
5. Leez Priory - Essex
Located in Essex, there are seven licensed settings within the 40 acres of Leez Priory, including the Great Tower and the Great Hall, giving you plenty of choices.
Love the feel of rustic weddings? Marry in the Coach House Barn which can seat up to 100 guests.
If you're marrying in the summer, there is a picture-perfect inner courtyard with a croquet lawn, while winter weddings will see you gather around roaring log fires.
There are 15 bedrooms on-site including the spectacular wedding suite, complete with a four-poster bed and a Jacuzzi bath. When it comes to castles to get married in, this Tudor mansion will have you feeling like royalty.
Our Hitched users agree: one satisfied newlywed said, "From the first moment we stepped onto the grounds of Leez Priory we knew it was the one. Beautiful, steeped in history & supported by staff who truly care they made every effort to support me and bring my vision to life and I could not be happier!"
Capacity: 50 - 250 guests
Pricing: Menus from £100
Deals: The Big Summer Sale offers discounts on late availability dates, as well as a two day Friday package, relaxed summer Sundays and intimate Thursdays, all for great prices with lots of features!
6. Pendennis Castle - Cornwall
Set on the Cornish coast with impressive sea views, Pendennis Castle is the perfect combination of a castle wedding venue and a coastal wedding venue.
If you want an authentic feel to your castle wedding, your ceremony can take place inside the Tudor Castle Keep – a space decorated with tapestries, flowers and candles. You can even request historic guns to be set off!
Hitched users have described this wedding venue castle as "very modern and fresh" , also mentioning that "the staff are so very friendly and the location is excellent."
The grounds are perfect for photographs and drinks, and the Royal Artillery Barracks will be an ideal setting from which you and 120 of your guests can enjoy a delicious wedding breakfast.
Capacity: 120 guests
Pricing: From £3,950
7. Rowton Castle - Shropshire
If cocktails, croquet on the lawn and delicious catering sound like your thing, check out Rowton Castle. One Hitched couple were particularly please with this wedding venue castle, saying "It was a fairy tale wedding, with sophisticated decoration, amazing food, a breath-taking and wonderful venue, and a great and dedicated staff."
Nestled within the rolling Shropshire countryside and located close to the picturesque market town of Shrewsbury, this beautiful Grade ll listed castle wedding venue is what country wedding dreams are made of.
With walled gardens, woodlands, hidden ponds and orchards, this romantic setting is truly spectacular and the perfect place to bring all your wedding photo ideas to life!
The Cardeston Suite boasts gothic character, and bathed in natural light would be perfect for your ceremony. Alternatively, for an intimate celebration, the Jaci Vianna Room is decorated in elegant 18th Century style.
Capacity: 150 guests
Pricing: From £995
8. Hever Castle - Edenbridge, Kent
Dating back to 1270 and once the childhood home of Anne Boleyn, tying the knot at Hever Castle gives you the opportunity to have a castle wedding steeped in history.
Decorated with gorgeous Italian walnut panelling, working fireplaces and a fine collection of antiques, you and your guests won't be disappointed with this majestic setting.
There are three beautiful locations to host your wedding, including the Tudor-style Astor Wing, the Hever Castle Inner Hall and Dining Hall for winter weddings, and the Italian Garden for summer wedding celebrations.
Five-star wedding accommodation is also available to book as part of your wedding day. If you want to impress your guests, then look no further - one happy newlywed said, "Everyone one of our guests has commented and said it's the best wedding they have ever attended and the venue was unbelievable."
Capacity: 200 guests
Pricing: Menus from £150
9. Farnham Castle - Surrey
Farnham Castle is situated in the historic town of Farnham in Surrey, combining the old with the new to make a one of the most unique castle wedding venues in the UK.
This quintessentially English wedding venue has plenty of space for you to get ready in on the morning of the wedding. Plus, there's a choice of two chapels or the Lantern Hall for the ceremony, both boasting endless countryside views.
We also love the Great Hall, with its grand fireplace and magnificent gold-framed portraits. So do our users, with one commenting, "The Castle provided a rich and historical setting for the celebrations. We are still looking back with excitement and fond memories at the many photos and videos share from the day."
As for the wedding catering, a team of specialist chefs will create fresh and flavourful dishes to your taste. The menu gallery is seriously mouth watering!
Capacity: 265 guests
Pricing: Menus from £130
Deals: Couples hosting a mid-week wedding in 2023 can enjoy some seriously good deals. Not only that, Farnham Castle are also offering couples holding smaller weddings the chance to sample their stunning Winchester Dining Menu with their "Winchester Wedding" offer
10. Carlton Towers - North Yorkshire
If you're looking for a wedding venue castle that is glamorous and dramatic, consider Carlton Towers. It's a popular choice with Hitched users, one of whom said, "The house and setting is stunning and perfect. The staff are fantastic and cannot be more helpful."
This North Yorkshire wedding venue, home to Lord and Lady Gerald Fitzalan Howard, has three grand staterooms and 16 individually designed bedrooms able to accommodate up to 170 guests for your ceremony and 200 for the evening celebration.
Attention to detail makes this castle wedding venue stand out, with elaborate ceilings, ornate chandeliers and exquisite gold walls so you can say your vows surrounded by grandeur.
Set on 250 acres of private parkland in beautiful countryside, this Victorian Gothic-style mansion is every wedding photographer's dream come true!
Capacity: 250 guests
Pricing: Menus from £70
11. Allerton Castle - North Yorkshire
It's pretty exciting to tell your guests you're hiring one of the UK's impressive castles to get married in, and Allerton Castle definitely lives up to the hype!
Situated between Harrogate, Leeds and York, this North Yorkshire wedding venue castle is easily accessible whilst still boasting stunning views of the Yorkshire countryside.
There's a huge log fire, a great staircase for photographs and plenty of decadently decorated rooms. Once you've enjoyed the excellent catering provided by Bradshaws of York, you and your guests can venture outdoors and enjoy a magical firework display! This place really is a dream come true.
But don't just take our word for it: one of the many reviews on Allerton Castle's Hitched listing says, "We had a fantastic time - it was everything we had hoped for and more. Allerton Castle was a fantastic venue, we had so many comments on how amazing it was."
Capacity: 120 guests
Pricing: Menus from £120
12. Bickleigh Castle - Devon
No matter what you're looking for when it comes to picking your wedding venue, Bickleigh Castle has something to suit all styles and tastes. One Hitched user commented, "It would be difficult to find a more attractive and romantic location for a wedding anywhere in Britain" - high praise indeed!
There's the grand castle, the quaint thatched chapel and beautiful views over the Devon countryside. We can see a summer garden celebration being the perfect fit!
If you're planning a religious ceremony there are several churches located nearby - you can even use one of the venue's classic Rolls-Royces to return back to the castle in style.
The venue prides itself on creating weddings that are magical, enchanting and romantic, which is exactly what you want when you marry in a castle!
Capacity: 150 guests
Pricing: Menus from £200
13. Polhawn Fort - Cornwall
Polhawn Fort is hidden away in a tranquil cove on the Rame Peninsula. The venue boasts a drawbridge for a grand entrance, plus a fairy tale-worthy spiral staircase leading into the 80ft long vaulted Hall.
Marry with up to 120 guests in the Grand Hall or, for a more intimate ceremony, choose the Emperor's Room for you and up to 30 friends and family. The hidden location means your castle wedding venue becomes an intimate escape, and the private beach provides excellent photo opportunities.
The venue even offers three or four-day wedding packages allowing you to carry the celebrations on for a wedding weekend.
If you enjoy having the freedom to personalise your wedding, this could be the venue for you - just listen to this review: "I loved how we could be as creative as we wanted and everything was totally up to us - which differed from other venues which followed a set day plan. The staff are super helpful and made planning it much easier."
Capacity: 100 guests
Pricing: POA
14. Lumley Castle - Durham
Lumley Castle is over 630 years old, seamlessly blending English heritage with sophisticated facilities.
This historic wedding venue is nestled in nine acres of beautiful parkland overlooking the River Wear. You and up to 132 of your friends and family can enjoy either a civil ceremonies both indoors and outdoors, and, as this is an exclusive use castle wedding venue, you can also enjoy complete peace and privacy.
Once the celebrations have drawn to a close, you and your guests can retire to the castle's beautiful hotel rooms - this venue now operates as a hotel now, so you know you can expect excellent accommodation!
Previous customers have loved it! One said, "I recently had my wedding at Lumley Castle and I can honestly say it was the most perfect venue."
Capacity: 132 guests
Pricing: Menus from £19.95
15. Hedingham Castle - Essex
Hedingham Castle consists of a 900 year old Norman keep, a mansion house dating back to the early Georgian period and stunning landscaped gardens, all situated on the leafy 160 acre estate within the Essex countryside.
Ceremonies will be held in the grand Banqueting Hall and then you and your guests will head toward the Mansion House for a relaxed Champagne reception overlooking the picturesque castle grounds.
You and up to 150 guests can celebrate in the evening in a grand marquee with its own dance floor and private bar. You know you'll be in safe hands here - one review reads, "We had our wedding at Hedingham Castle in August 2022 and it was absolutely amazing.
"Everything was perfect - the venue itself, the planning, detail and care Sarah and the team put in leading up to the wedding, the food and the staff on the day."
Wedding picture opportunities include the Tudor bridge, originally built for Henry VII, the ornamental lake, the fountain and the huge log fire. From the vast range of castles for weddings, this one truly stands out.
Capacity: 50 - 150 guests
Pricing: Menus from £206
16. Amberley Castle - West Sussex
Amberley Castle is situated amongst 12 acres of elegantly landscaped gardens – where you'll find the venue's two resident white peacocks – close to the South Downs National Park.
If you're looking for unique backdrops to bring your wedding photograph ideas to life, your search ends here.
This castle wedding venue is surrounded by a medieval stonework wall and the interior is decorated with suits of armour and historic coats of arms. There's also an 18-hole putting green, croquet lawn and tennis court!
You and your partner can relax in the premier deluxe candle lit bathroom, complete with fluffy white robes and Champagne on ice.
You'll love Amberley Castle, but don't just take our word for it - one satisfied newlywed said that, "It was exactly what we wanted and would highly recommend other couples to have their weddings or other events at Amberley!"
Capacity: 2 - 250 guests
Pricing: Menus from £250
17. Ripley Castle - North Yorkshire
Ripley Castle is one of the most picture perfect castles wedding venues. It dates back 700 years and immediately stands out against the Yorkshire village of Ripley.
There's a huge choice of rooms for your celebrations, including the main reception and the gorgeous oak-panelled library. All their catering is done in-house and you can guarantee a wedding menu that will have you and your guests drooling - one Hitched user even said, "The food was out of this world and guests still comment now and how amazing their meals were."
No matter what you envision for your big day, the team at Ripley Castle can help your wedding dreams come true. This is a Yorkshire wedding venue with a difference.
Capacity: 20 - 120 guests
Pricing: Menus from £100
18. Dunskey Estate - Dumfries & Galloway
With an estate featuring acres of rugged Scottish countryside and a dramatic coastline, Dunskey Estate is a Scottish wedding venue with wow factor.
The stunning Edwardian castle wedding venue is guaranteed to impress guests and create a romantic atmosphere for your wedding day. You can say 'I do' indoors with a stone fireplace as your backdrop or outdoors within the surrounding woodland.
After your vows, enjoy the range of beautifully refurbished spaces indoors and tuck into a bespoke wedding breakfast made by the highly experienced in-house chef.
One review says, "No detail is spared in the planning and execution of a Dunskey event, but more importantly, the care, personal attention and relationships set Dunskey apart. It is truly a magical place."
Capacity: 80 guests
Pricing: POA
19. Hensol Castle - Vale of Glamorgan
Wales boasts an abundance of brilliant castles and South Wales wedding venue Hensol Castle is no exception.
The beautiful estate has an impressive 15 acre lake and a serpentine pool complete with a jetty, making for a stunning backdrop for photographs. It's also the perfect place for you and your partner to escape to for a tranquil moment alone.
With 143 luxurious rooms at the nearby Vale Resort, all of your guests can be accommodated after the day's celebrations.
You won't have to worry about a thing, the venue's dedicated wedding co-ordinator will take care of every last detail . This really is one of the most desirable castles to get married in, according to one happy client: "I was lucky enough to get married here last Friday and I can't recommend the venue highly enough. The place is beautiful but it's the staff that make it."
Capacity: 75 - 150 guests
Pricing: POA
20. St Audries Park - Somerset
Located within 100 acres of peaceful deer park and with stunning sea views, St Audries Park is a castle wedding venue straight from the pages of a fairy tale.
For your big day you will have exclusive access to the whole house, making it one of the most romantic and private exclusive castle wedding venues.
Say 'I do' in the light-basked Georgian Orangery before you and up to 130 guests can tuck in to a delicious wedding breakfast in the grand banqueting hall.
The venue has 41 stylish bedrooms and cottages that you and your guests can retire to, making it the perfect spot for a relaxed day of celebrations. Our users say, "The venue is beautiful and all the staff were very friendly and welcoming."
Capacity: 40 - 250 guests
Pricing: Menus from £100
Deals: St Audries Park's big summer sale is offering nearlyweds the chance to snatch up their remaining July and August dates from just £8, 995, as well as offering two-day deals for Fridays, relaxed Sunday packages and more reductions for intimate Thursdays
21. Dundas Castle - Lothian & Borders
If you're looking for medieval-style wedding venues castles, it doesn't get better than Dundas Castle in Scotland. Just listen to this rave review: "We may be biased but it is the most gorgeous venue we've been to in Scotland. It was exactly what we were looking for, a Scottish castle yet intimate with a lovely family feel."
The Great Hall contained within a medieval Auld Keep is the perfect location for your ceremony - you can make your entrance up the spiral staircase into the ancient, romantic setting.
As for the dining, whether you want an intimate candlelit feast in the Stag Chamber, a formal wedding breakfast in the elegant Croquet Room or a larger celebration for up to 200 guests in the Pavilion, Dundas Castle has something to suit.
Located just 25 minutes from Edinburgh city centre, there's easy access to the big day for all your guests.
Capacity: 2- 400 guests
Pricing: POA
22. The Castle Westenhanger - Kent
The Castle Westenhanger offers you and your partner the best of both worlds - a medieval castle dating back to the 16th century and a stately Georgian facade.
Boasting rich history, you'll be following the footsteps of past royalty like Henry Vlll and Queen Elizabeth ll if you get married here.
Get ready in luxury in the castle wedding venue's spacious suites, before exchanging your vows outside in the gorgeous oak framed gazebo.
One happy Hitched user had this to say: "We cannot recommend The Castle at Westenhanger enough. Quite simply the best. A totally professional team who made our day so special. Everyone and everything was perfect and far exceeded our expectations."
Capacity: 50 - 300 guests
Pricing: Menus from £153
Deals: Couples planning a Twilight Wedding can do so here for only £8,830, while couples planning a midweek wedding can make use of The Castle Westenhanger's stunning £7,650 deal. Not only that, this venue is proud to offer up to £600 discount for any Blue Light Card holders.
23. Swinton Estate - North Yorkshire
Swinton Estate is set within 20,000 acres of the Yorkshire Dales, blending a castle wedding venue with a whimsical woodland setting.
Perfect for couples who want a rustic wedding, choose between a variety of gorgeous castle function rooms for your ceremony and wedding breakfast or, in the warmer months, step into nature with a woodland celebration.
The woodland ceremony includes hay bale seating and a tipi, with a bistro café and bar for post-vow partying. You and your guests can then sleep beneath the stars in the venue's charming Meadow Yurts, Tree Lodges and Bunkbarn.
Sounds good? Our Hitched users certainly think so; one commented, "Everything was perfect, the staff were helpful and attentive, the food was amazing and enjoyed by all our guests, and the DJ hired by the venue was brilliant."
Capacity: 2 - 250 guests
Pricing: Menus from £140
24. Le Gothique - South West London
Castle wedding venues don't have to mean rolling hills and countryside settings. Le Gothique on Wandsworth Common, South West London, is ideal for couples looking for a unique city wedding venue.
Up to 250 guests can gather in the venue's double-award-winning Secret Garden where an open-air ceremony can be held surrounded by lush greenery and gothic architecture. You and your partner can pull up like royalty in the onsite Rolls Royce.
The gazebo structure is perfect for seated drinks receptions and it's even heated to allow for celebrations all-year round.
Specialising in French cuisine, enjoy a mouth-watering menu with top of the range produce - one of our newlyweds said, "Wedding food can be a compromise but I can honestly say this was one of the best meals of our lives."
Capacity: 40 - 250 guests
Pricing: Menus from £40
25. Cluny Castle - Aberdeen & Deeside
Cluny Castle is an enchanting and magical wedding venue set on the farmland of Aberdeenshire. Nestled away within over 200 acres of breath-taking landscape, you're guaranteed a tranquil and private wedding day.
Guests will be seriously impressed as they make their way up the winding path and sweeping lawns to meet the majestic castle wedding venue.
One of this venue's stand out features is its very own chapel - with stunning stained glass windows and rustic oak pews, it's able to seat up to 100 people for a religious ceremony.
Afterwards, relax with your friends and family in the large reception marquee in the private grounds. Clients have said, "As far as exclusive use venues go, it really doesn't get better than this. If you are considering Cluny Castle as your wedding venue, I cannot recommend it enough and wish we could do it all over again!"
Capacity: 2 - 300 guests
Pricing: From £9,995
26. Hampton Court Castle - Herefordshire
From stunning courtyard and chapel ceremonies to magical mazes and whimsical wisteria arches, Hampton Court Castle is a truly spectacular wedding venue castle with something to suit every kind of day. Our users have described it as "simply magical, a dream come true for any couple wanting to get married somewhere beautiful and memorable."
This wedding venue would be a brilliant choice no matter what season your wedding is - enjoy bright blooms in the gardens come summer or roaring open fires in winter.
All eyes will be on you as you cut the wedding cake - this venue offers a ceremonial sword in place of a knife!
There are 24 spacious guest bedrooms for your family and friends to stay in and a delicious breakfast offered the next morning.
Capacity: 150 - 20 guests
Pricing: From £7,000
27. Blackburn Dunkenhalgh Hotel & Spa - Lancashire
An ideal combination of historical heritage and modern interiors, Blackburn Dunkenhalgh Hotel & Spa provides a fairy tale backdrop for your castle wedding while still offering state of the art facilities.
The majestic stone exterior dates back to the 12th century and the gardens boast a beautiful courtyard where you can host a cocktail reception.
Evening celebrations are held in the Towneley Suite ballroom, a luxurious space complete with a dance floor where you can rock out to all your favourite wedding songs.
The best bit? Before or after your special day, family and friends can kick back and relax in the spa, pool and beauty treatment rooms. When it comes to castles for weddings, this is *the* venue for impressing your guests - just listen to this review: "Everyone who came to the weeding commented on the food, service and attention to detail, and that this was the best wedding they had been to."
Capacity: 15 - 370 guests
Pricing: Menus from £100
Deals: Good news! Hitched users can enjoy 5% off services hired. And the deals keep coming: you can get a Winter Wedding Package for only £4,999, and a 2023 Late Availability Offer for £3,999.
28. Blenheim Palace - Oxfordshire
A castle wedding at Blenheim Palace offers gold standard luxury from the moment you arrive.
Perfect for larger weddings, The Great Hall, Saloon & Long Library is able to accommodate up to 300 people, or if you have a longer wedding guest list there's 2,000 acres of stunning grounds to place a marquee.
You won't have to worry about anyone going hungry, there's catering available for up to 2,000 people outdoors. This impressive wedding venue castle will wow friends and family for years to come - you'll have jaw dropping wedding photographs to look back on!
Don't just take our word for it - this happy Hitched user said, "We are still on a huge high and have had so many comments about how spectacular the venue was, how delicious the food was and how pleasant all the staff were."
Capacity: 10 - 2,000 guests
Pricing: From £6,500
29. Highcliffe Castle - Dorset
Set on impressive cliff-top grounds, Highcliffe Castle in Dorset is considered one of the jewels of British architecture - and we can see why. Exposed brickwork, high ceilings and antique details provide a magical setting for your big day.
The layout is also ideal for your wedding day: one newlywed said, "Every single guest told us that it was such a great venue for a wedding because of the stunning ceremony room and the layout of rooms in the evening reception was perfect for what we had planned."
Even the grounds are glorious - we think an outdoors wedding ceremony in the winter garden would be so romantic!
A gentle footpath leads down to a glorious sandy beach where you and your partner can take scenic wedding photographs before heading back up for drinks and canapés in the Drawing Room. This has got to be one of the most romantic castles to get married in!
Capacity: 2 - 110 guests
Pricing: From £950
30. Old Wardour Castle - Wiltshire
Soon-to-be newlyweds and history buffs alike will indeed be charmed by what Old Wardour Castle has to offer.
Nestled in the heart of Wiltshire, this stunning structure has been a fixture in Salisbury since the 14th century. Defined by its French chateau influence and Gothic architecture, this castle wedding venue is an ideal place to tie the knot.
You and your partner can exchange your vows inside the castle, while the picturesque Lakeside Pavillion can also set the scene for ceremonies. Your guests are sure to be impressed, just like this Hitched user's guests were: "Our guests were blown away with the setting and all said it was an amazing venue and so different to any other wedding they have been too - a one-of-a-kind place."
Romance, scenic surroundings, and stellar customer service await you at this Wiltshire getaway. So, what are you waiting for?
Capacity: 64 guests
Pricing: POA
31. Thirlestane Castle - Lothian & Borders
If you are looking for a fairy tale wedding venue north of Hadrian's Wall, you are sure to fall in love with Thirlestane Castle, which Hitched users have described as "truly the fairy tale castle of Scotland!"
As one of Scotland's oldest castles for weddings, this one-of-a-kind gem is brimming with timeless elegance. What's more, it can set the scene for both intimate weddings and large-scale celebrations.
You and your partner can exchange your vows in the opulent State Drawing Room before heading into the State Dining Room to wine and dine. Thirlestane Castle is also home to contemporary spaces like the delightful Cobbled Courtyard and the cosy Vaulted Cellar.
Capacity: 2 - 100 guests
Pricing: From £2,500
32. Tamworth Castle - Staffordshire
Tamworth Castle is a beautiful castle wedding venue that perfectly encapsulates old English charm. Wedding-goers are sure to be delighted by its combination of vintage elegance and modern luxury.
Defined by its rich history, eye-catching architecture, and scenic surroundings, it is an ideal place for a fairy tale celebration. Our users say that, "It was a beautiful location, the castle is incredible and the staff were so helpful on the day, really accommodating our needs!"
Civil ceremonies for up to 60 people can be hosted in the Medieval Great Hall, while the Tudor Dining Room is available for dinner and drinks.
While the property's old-world aesthetic is where its allure lies, you have the freedom to decorate the space with modern adornments such as illuminated love letters.
Capacity: 5 - 64 guests
Pricing: From £995
Deals: Right up until the end of May 2023, couples can receive a Spring 2023 Late Availability package from just £995.
33. Powderham Castle - Devon
If you were to look up the word 'elegant' in the dictionary, don't be surprised if you see a picture of Powderham Castle. As one of the most enchanting Devon wedding venues, it is rightfully adored for its vintage charm, postcard-perfect surroundings, and welcoming atmosphere.
The wedding venue castle possesses a whopping 3,500 acres of land, providing you with countless photographic opportunities. Stunning views of the Exe Estuary can be seen from the Belvedere Tower, while the 18th-Century Pavilion is a wonderful place to pledge your love.
Upon venturing inside, your friends and relatives will be struck by the abundance of refined décor. Gold-framed paintings line the walls, while opulent chandeliers hang from the palatial patterned ceilings.
Powderham Castle is also home to eight luxurious bedrooms, one of which is a honeymoon suite that offers idyllic views.
Capacity: 2 - 200 guests
Pricing: From £3,500
34. Auchen Castle - Galloway & Ayrshire
Are you searching for gilded staircases, classic turrets, blossoming gardens and a fairy tale atmosphere? Then you've come to the right place: Auchen Castle possesses all of these features and more.
Couples opting for a Scottish wedding venue will be thrilled to find this castle wedding venue nestled in the rolling Moffat hills. Here you can enjoy 34 acres of private gardens to celebrate your wedding with up to 122 of your friends and family.
Both indoor and outdoor wedding ceremonies and meals can be hosted at Auchen Castle. There are no rules, marking this as one of the most flexible castle wedding venues in the UK.
Hitched users love it, with one newlywed saying, "The venue is so so beautiful, even more stunning in person. A lovely romantic venue, with such history and beautiful décor and surroundings with modern touches in all the right places."
Capacity: 20 - 120 guests
Pricing: From £995
35. Wadhurst Castle - East Sussex
Couples tying the knot at Wadhurst Castle in East Sussex have a unique boast - this is a TV and film wedding venue that has featured in The Crown!
And that's not the only exciting feature of this gorgeous castle wedding venue; Wadhurst is a beautiful Regency-era castle that boasts both magnificent gardens and intimate rooms.
This is also an exclusive use castle wedding venue, allowing couples to celebrate their day with no interruptions and up to 130 guests. One Hitched user said, "What sets it apart from other similar venues is that it is a very flexible space with stunning surroundings that are exclusively yours for the day."
And one more thing: this is a no-corkage wedding venue, allowing you to provide your own drinks throughout the festivities.
Capacity: 2 - 130 guests
Pricing: POA
Deals: If you're planning a wedding in 2023, Wadhurst Castle is offering 10% discount on exclusive hire prices and 5% discount on small and intimate wedding packages.
36. Winton Castle - Lothian & Borders
Blending castle, palace and family home vibes, Winton Castle promises you one of the most unique castle weddings in the UK. It's an exclusive castle wedding venue, allowing you to tailor your wedding celebrations to suit your unique vision.
Winton Castle was originally designed for entertaining in the 17th century and features five inter-connecting reception rooms ideal for celebrating and mingling with your guests.
Those holding larger wedding ceremonies can arrange for a marquee to be set up on the croquet lawn, offering incomparable views towards the castle, loch and gardens. One happy newlywed said, "The castle is set in beautiful grounds, with the gardens and river providing brilliant locations for wonderful photos."
If you want to keep the party going, this castle wedding venue boasts luxurious accommodation for up to 50 wedding guests in the castle and across three country houses.
Capacity: 80 - 400 guests
Pricing: Menus from £120
37. Bolton Castle - North Yorkshire
Fancy entertaining your guests in true royal style? Then check out Bolton Castle, a medieval fortress steeped in history. This magnificent property is another one of the UK's fabulous exclusive castle wedding venues, giving you the privacy to enjoy your day without any intrusions.
Civil ceremonies can be held in the south-facing solar room, while the magnificent Great Room is a favourite spot for wedding breakfasts.
There are several spots ideal for drinks receptions, including the old rustic kitchen, partially ruined chapel, courtyard, and medieval gardens.
It's a popular choice with Hitched users, one of whom said, "Bolton Castle is a spectacular wedding venue in the Yorkshire Dales, and we would highly recommend them to anyone looking for a wedding venue.
"The venue provided us with the flexibility to have the wedding reception exactly as we wanted it, with stunning photos backdrops of the castle and the valley, and our guests enjoyed being able to explore the grounds and the castle."
Capacity: 10 - 250 guests
Pricing: From £1,500
Deals: Couples tying the knot in 2023 can enjoy £1,000 off venue hire for selected dates throughout the rest of the year!
38. Castle Goring - West Sussex
Castle Goring is a romantic, year-round castle wedding venue offering couples a number of unforgettable spaces to say their vows. Our couples love it - one newlywed said, "Highly recommend this as a wedding venue - it looks spectacular, great team and you have exclusive use to shape the day specifically how you want it."
The Ceremonial Hall is a popular room to hold wedding ceremonies in - not surprising once you see its grand double doors and ornate decoration! You can also host your wedding breakfast here, before moving onto the three large interconnecting stateroom for your drinks reception, canapes and post-dinner relaxation.
This West Sussex wedding venue also offers the option of having an outdoor wedding ceremony, as well as a team who will be on-hand to help you throughout the wedding planning process.
Capacity: 250 guests
Pricing: POA
39. Newcastle Castle - Tyne & Wear
Dating all the way back to the 11th century, Newcastle Castle is truly one of the most unique castle wedding venues in the UK.
This Norman Fortress can be your castle for the day, allowing you to live out all your elaborate fairy tale wedding dreams. This city wedding venue is only a short walk from Grey Street, known for its gorgeous Georgian architecture.
Newcastle Castle also give couples the option to add some cool medieval touches - we're talking live medieval music, cannon fire to announce your wedding, or even a personalised banner to hang in the Great Hall.
Our Hitched users said, "We chose Newcastle Castle because it's an iconic building, for it's history and it's beauty. From start to finish, we were treated with respect and anything that could be done to ensure our day went exactly the way we wanted, they made happen."
Capacity: 2 - 50 guests
Pricing: From £800
40. Hazlewood Castle - Hazlewood, North Yorkshire
Nestled in 70 acres of woodland, Hazlewood Castle is a wedding venue castle idyllically located less than 30 minutes away from both Leeds and York.
Couples looking for woodland wedding venues *need* to check out Hazlewood Castle - its gorgeous surrounding woods make it the perfect spot. Hazlewood is also a great choice for couples searching for Asian wedding venues, due to its large capacity and experience in hosting Asian weddings.
There are a variety of different ceremony spaces here, each with its own unique ambiance. Whether you want an indoor or outdoor wedding and function, Hazlewood's got you covered.
One happy Hitched user said, "I can't put into words how wonderful our wedding at Hazlewood was. Nothing is too much trouble for the team, they are there to help you every step of the way and on the day they made sure every thing ran perfectly."
Capacity: 50 - 300 guests
Pricing: Menus from £86
Deals: If you and your partner want to celebrate with a bang, book your wedding for New Year's Eve 2023 and enjoy complimentary exclusive hire. There's also the option for free upgrades for Woodland Wedding and Winter Wedding upgrades when booked in certain months.
After something a little smaller? Take a look at our round-up of the most adorable small and intimate wedding venues in the country. You'll be cutting your guest list down in no time!