63 Outdoor Wedding Ideas You'll Fall in Love With
From al fresco décor to open-air ceremonies and outdoor bars, we've got all of the outdoor wedding inspiration you could ever wish for
We have included third party products to help you navigate and enjoy life's biggest moments. Purchases made through links on this page may earn us a commission.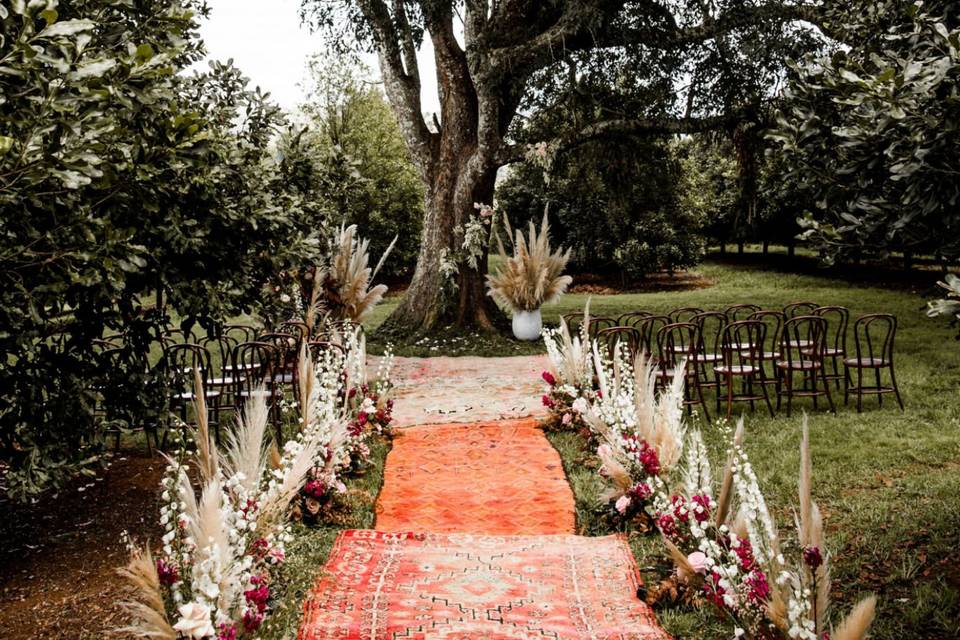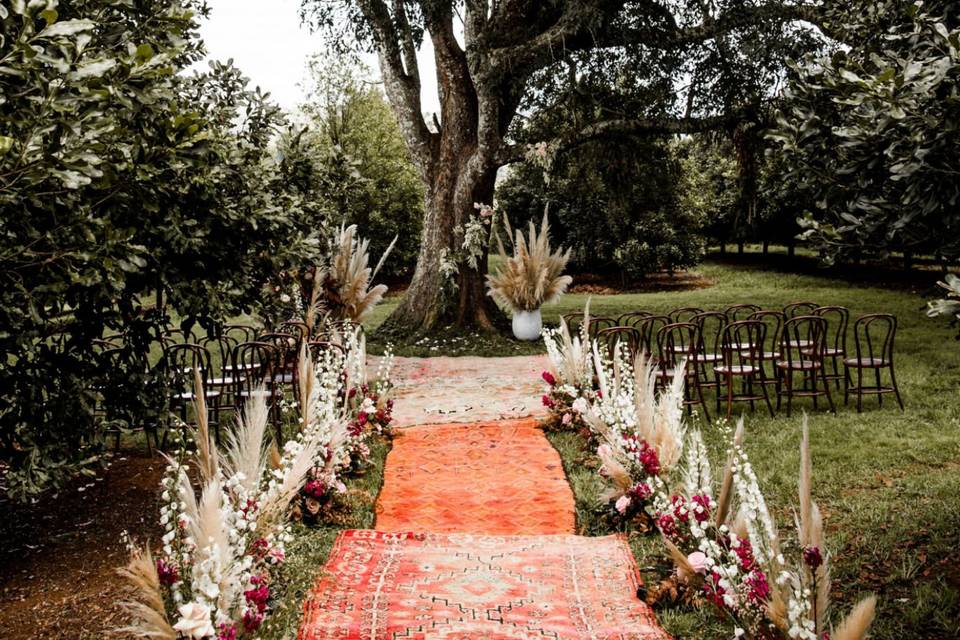 Booked or got your sights set on an outdoor wedding venue? Farms and barns are some of the most popular wedding venue options in the UK, but you're spoilt for choice with the options to marry in a field, forest, by the sea or in an urban courtyard.
An outdoor wedding allows for some seriously creative décor, romantic photo backdrops and partying under the stars on your wedding night. A few strategic add-ons can prevent the whole thing being rained off – but kissing in the drizzle can be pretty atmospheric too! If you're after outdoor wedding ideas from transport to entertainment, your guests will adore these.
Here's how to plan and pull off the ultimate outdoor wedding from start to finish.
Outdoor Wedding Décor Ideas
1. Working natural materials into your wedding day styling will keep the overall look effortless yet magical – wooden signage is the perfect place to start. Custom-engraved wooden boards can be commissioned from as little as £20 and include as much or as little detail as you would like. Drape your welcome sign with flowers that tie in with your wedding colour scheme and prop it up on an easel so that it's visible to all guests as they arrive. This is also the ideal opportunity to introduce a wedding hashtag, if you have one, and give wedding guests a brief outline of the day to come.
Image: Pinterest
2. Wooden palettes are an incredibly versatile addition to any outdoor wedding. You can scatter them with mismatched cushions to form a casual seating area, turn a palette on its head to create a clear order of the day sign or table plan and even use large palettes as a substitute for tables for a festival wedding vibe.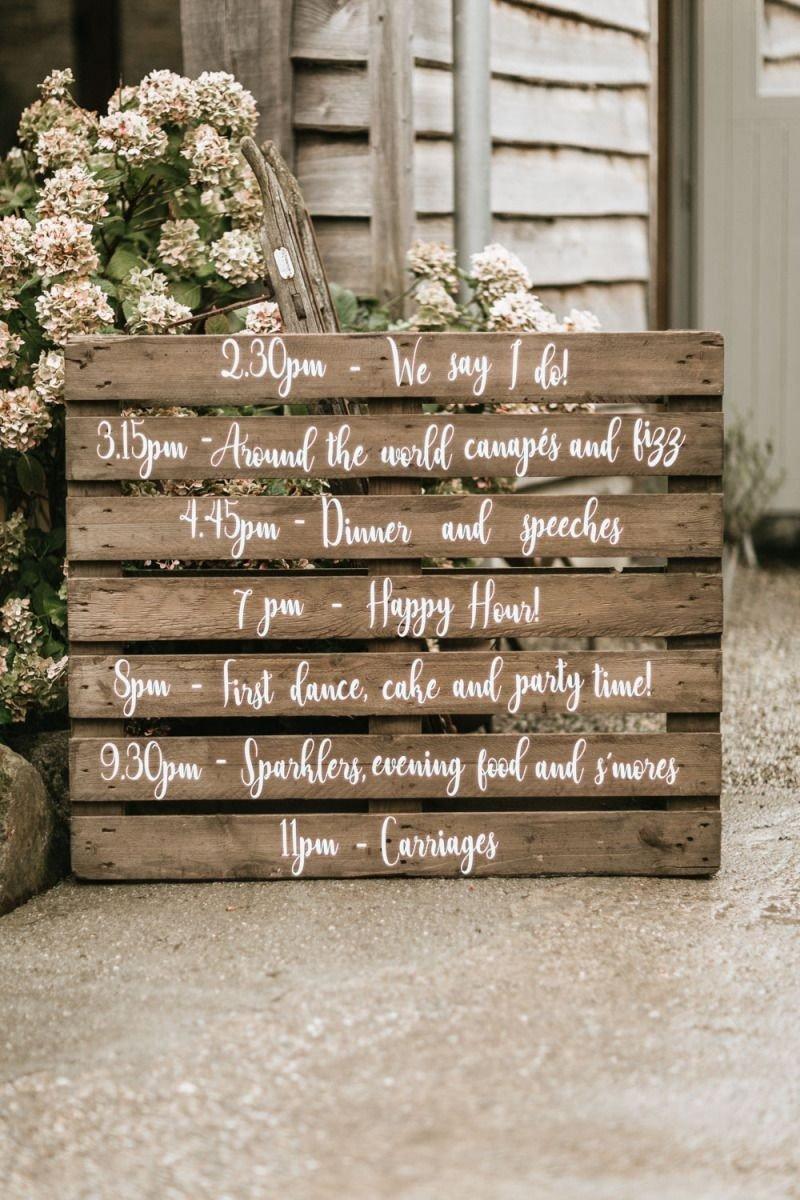 Image: Pinterest
3. Bring a writing desk outdoors to serve as an 'entrance' to the ceremony and allow guests to grab a wedding programme as they arrive. A vintage writing desk also works beautifully as a signing table to use during the wedding ceremony itself. Just don't overdo the decoration – you'll need the space to fill in that legal paperwork if you're having a civil or religious ceremony outdoors.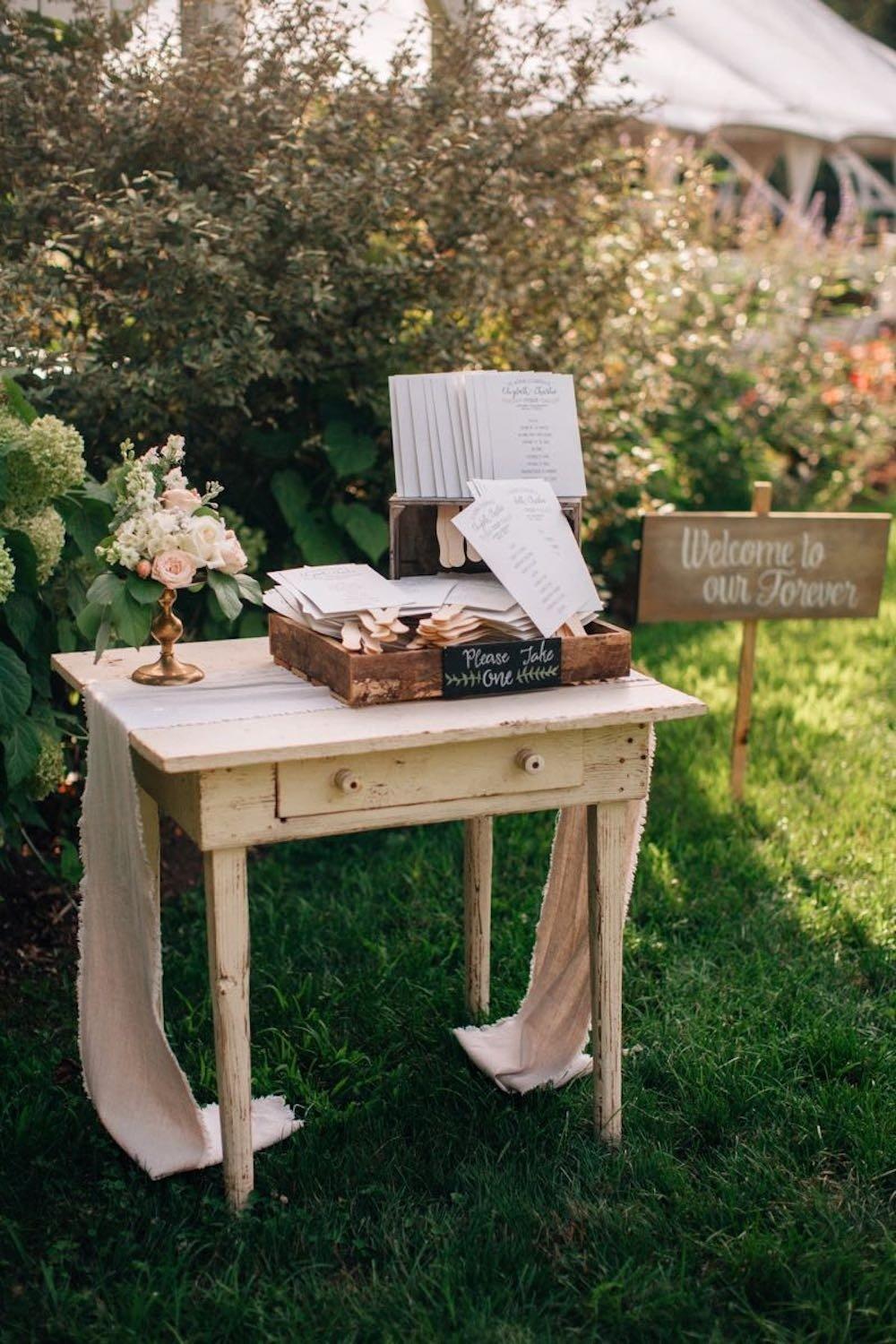 Image: Tandem Photo; Styling: The Little White Cow
4. Centre the ceremony around a gazebo if your outdoor wedding venue has one. Hosting your wedding in a flower draped bandstand or similar means that you'll be able to conduct a legal ceremony should you wish if you're getting married in England or Wales – the law currently requires marriage to take place under a 'fixed shelter', but watch this space as marriage legislation is under review. A gazebo wedding also minimises wet weather wedding day anxiety and many are large enough to seat guests too.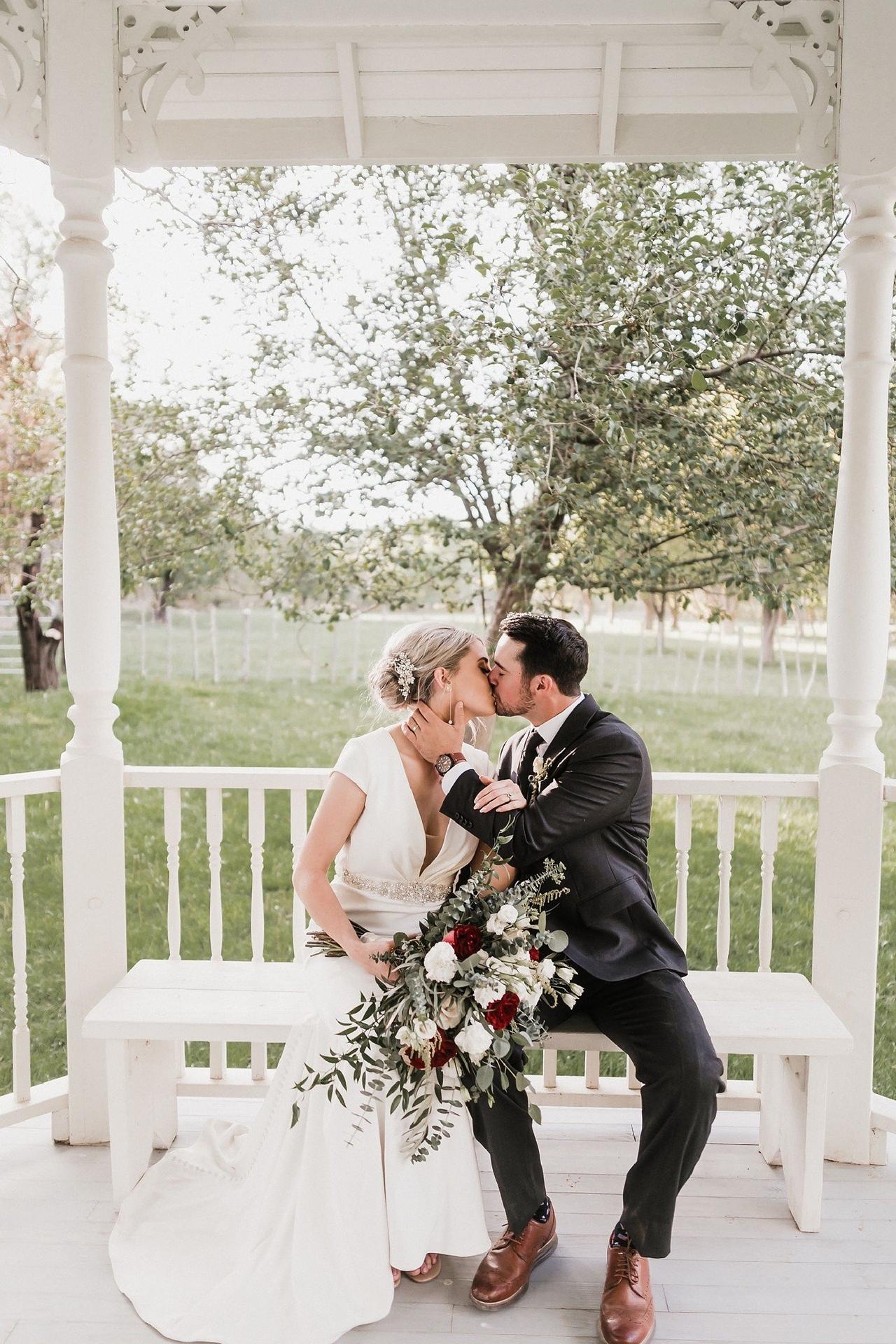 Image: Pinterest
5. Upcycled door frames are a clever way to make an entrance for an outdoor wedding ceremony or reception. Adorn the 'beams' with flowers and leave them freestanding to conjure up Narnia vibes, just without the wardrobe (and hopefully the lions and witches will steer clear too).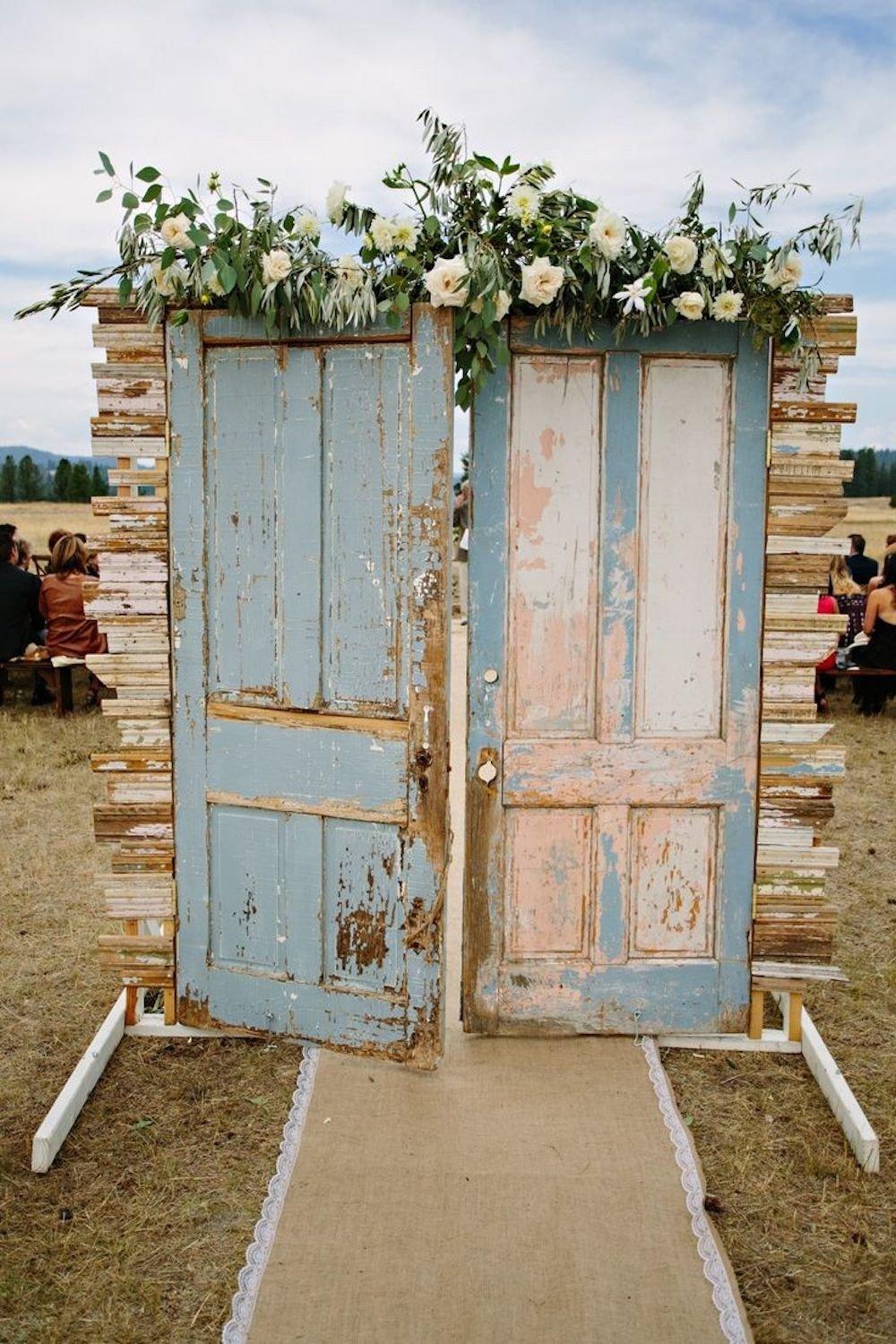 Image: Pinterest
6. Wooden barrels are an inexpensive but easy and hard wearing wedding prop. Old whisky barrels are a shabby chic way to create a focal point for your wedding venue entrance or top them with drinks and canapés post-ceremony. Put lanterns on them to illuminate outdoor space when the sun goes down. They're also extremely handy for propping up bouquets when hugging guests or grabbing a bite to eat.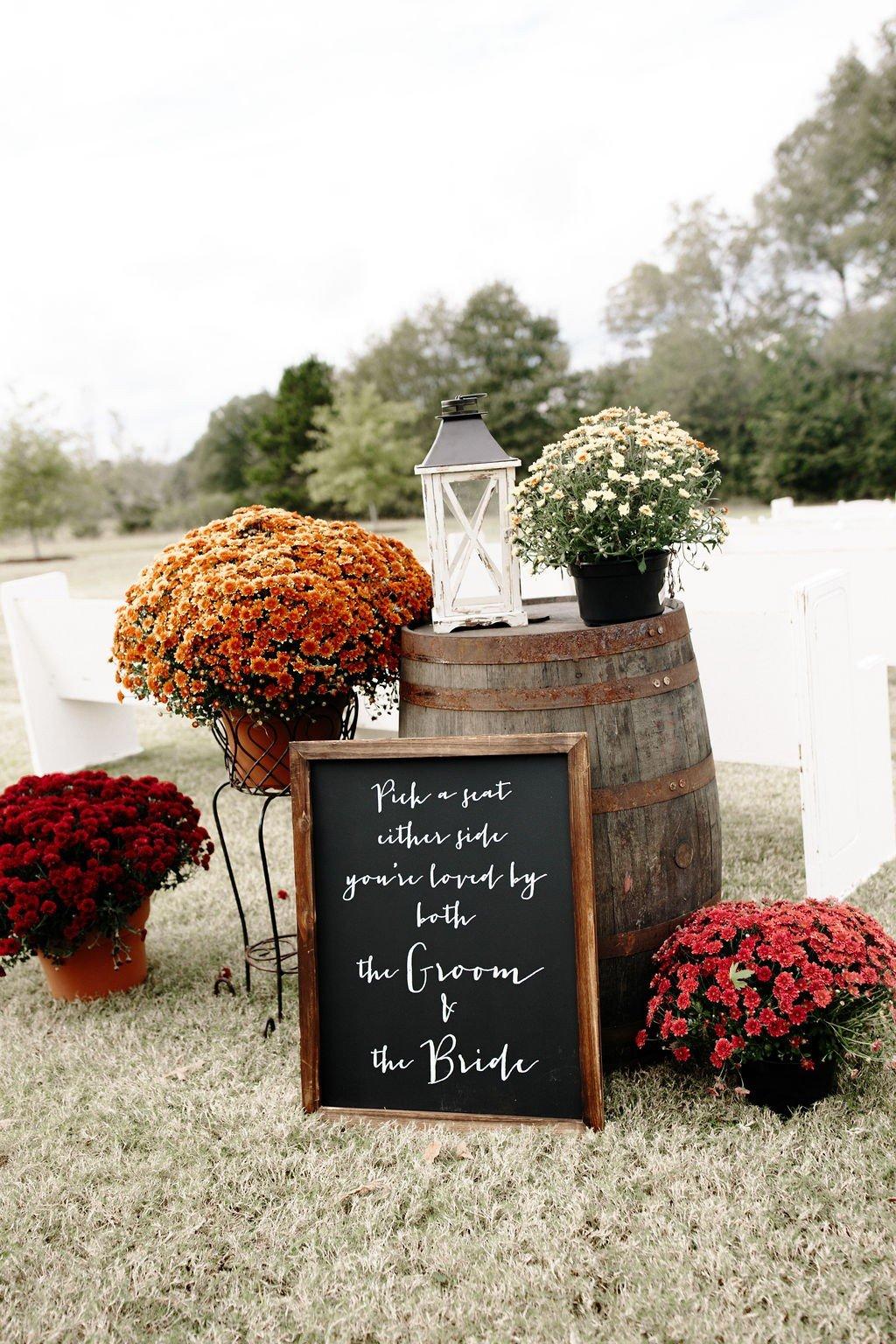 Image: Pinterest
7. Bring carpets or rugs outdoors to delineate the aisle or provide an arty backdrop for photos. They'll add a splash of colour to every outdoor wedding setting and feel very luxe in an otherwise wild environment.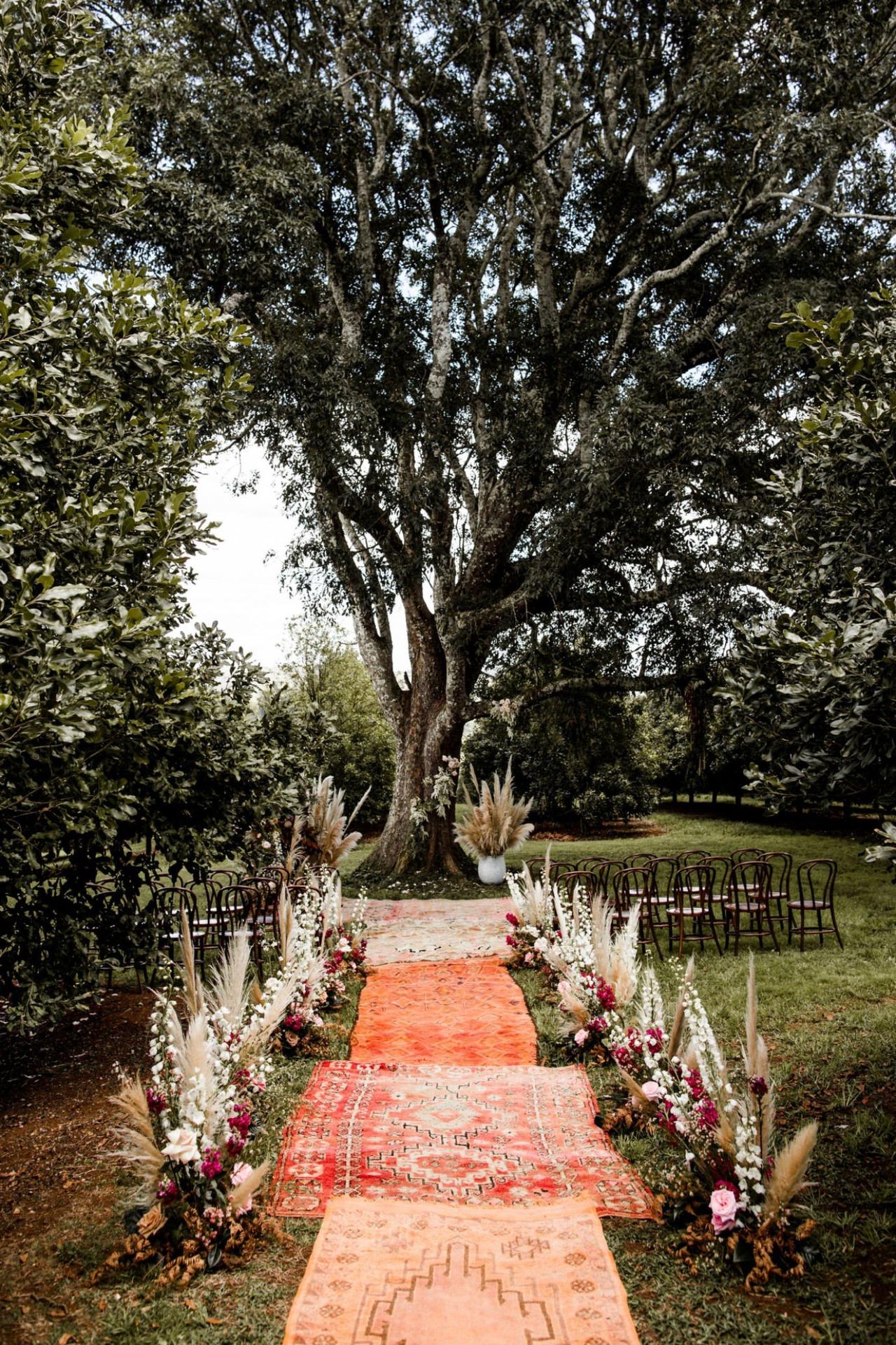 Image: Pinterest
8. Simple bench seating makes for a less formal ceremony seating plan and it's both cheap and quick to set up on the morning of the wedding. Decorate the aisle end of benches with flowers, lanterns, foliage or fabric, or leave them as they are for a minimalist wedding.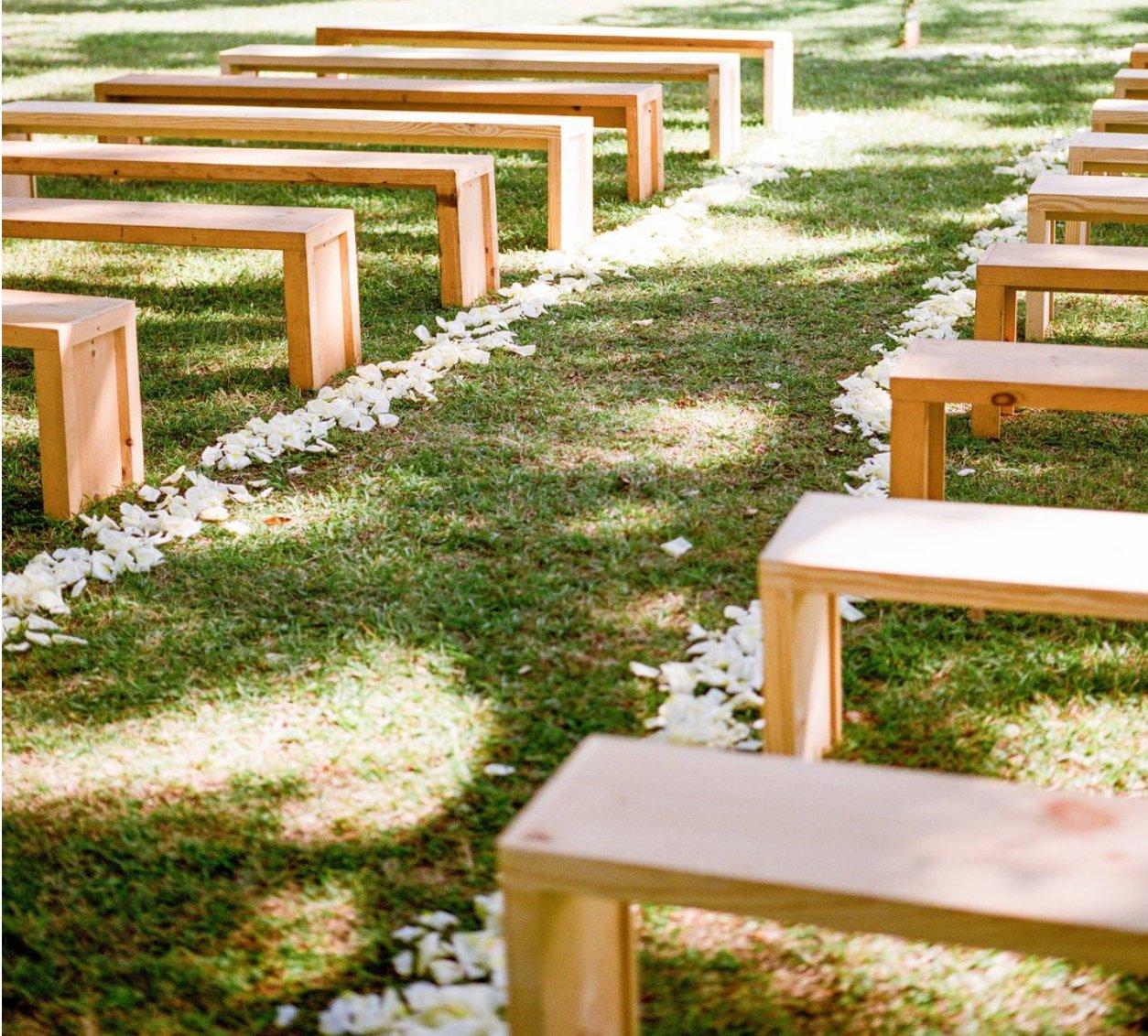 Image: Pinterest
9. If you're getting married outdoors in the height of summer, consider turning your order of service or wedding programme into a fan by adding a lolly stick to the back. It'll help wedding guests to keep their cool throughout the day and make wedding stationary more likely to be taken home as a keepsake once carriages come round.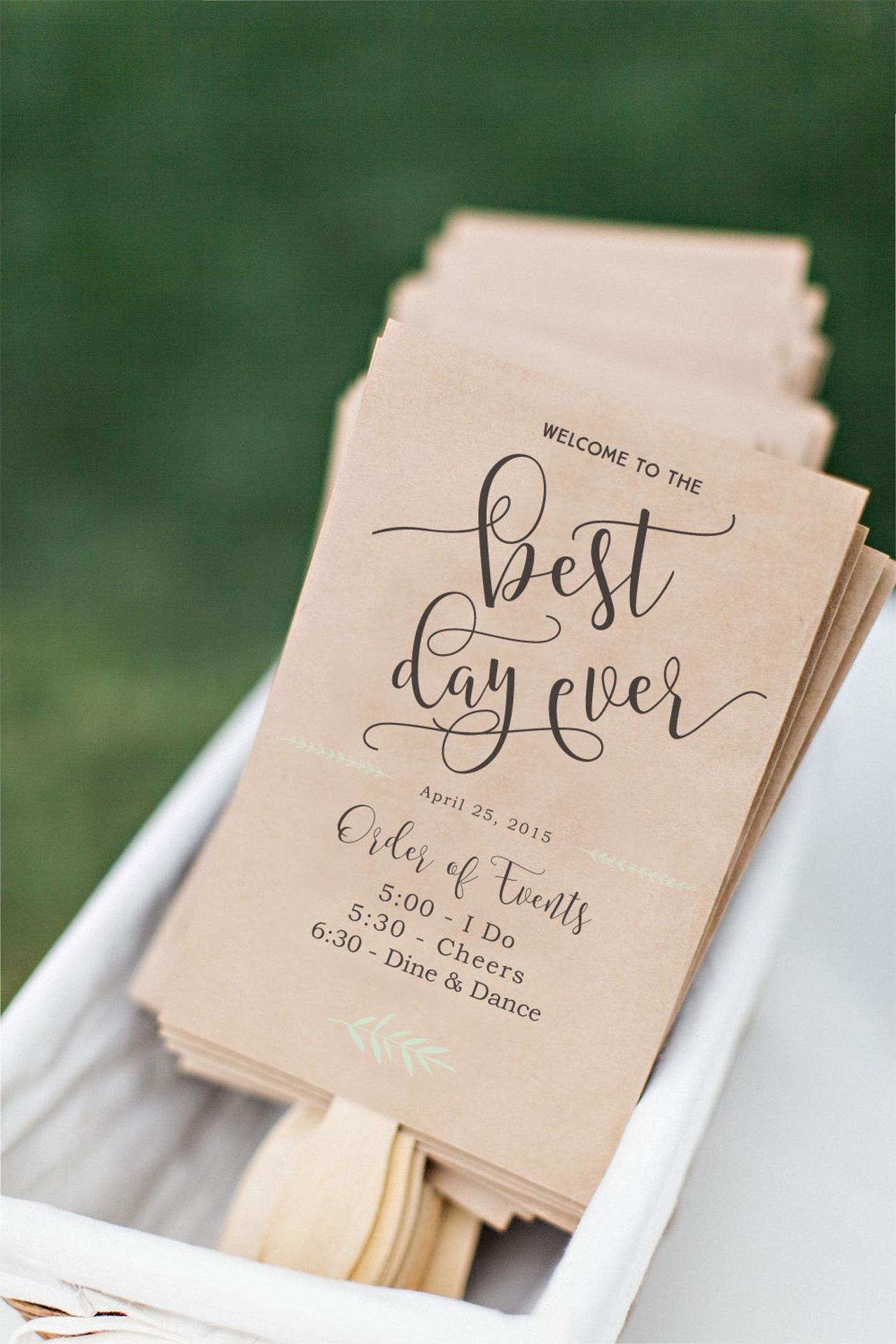 Image: Etsy
10. Alternatively, a parasol could shield guests from midday rays. If rain is looking more likely, consider hiring umbrellas and leaving them in a prominent place around the ceremony or reception setting.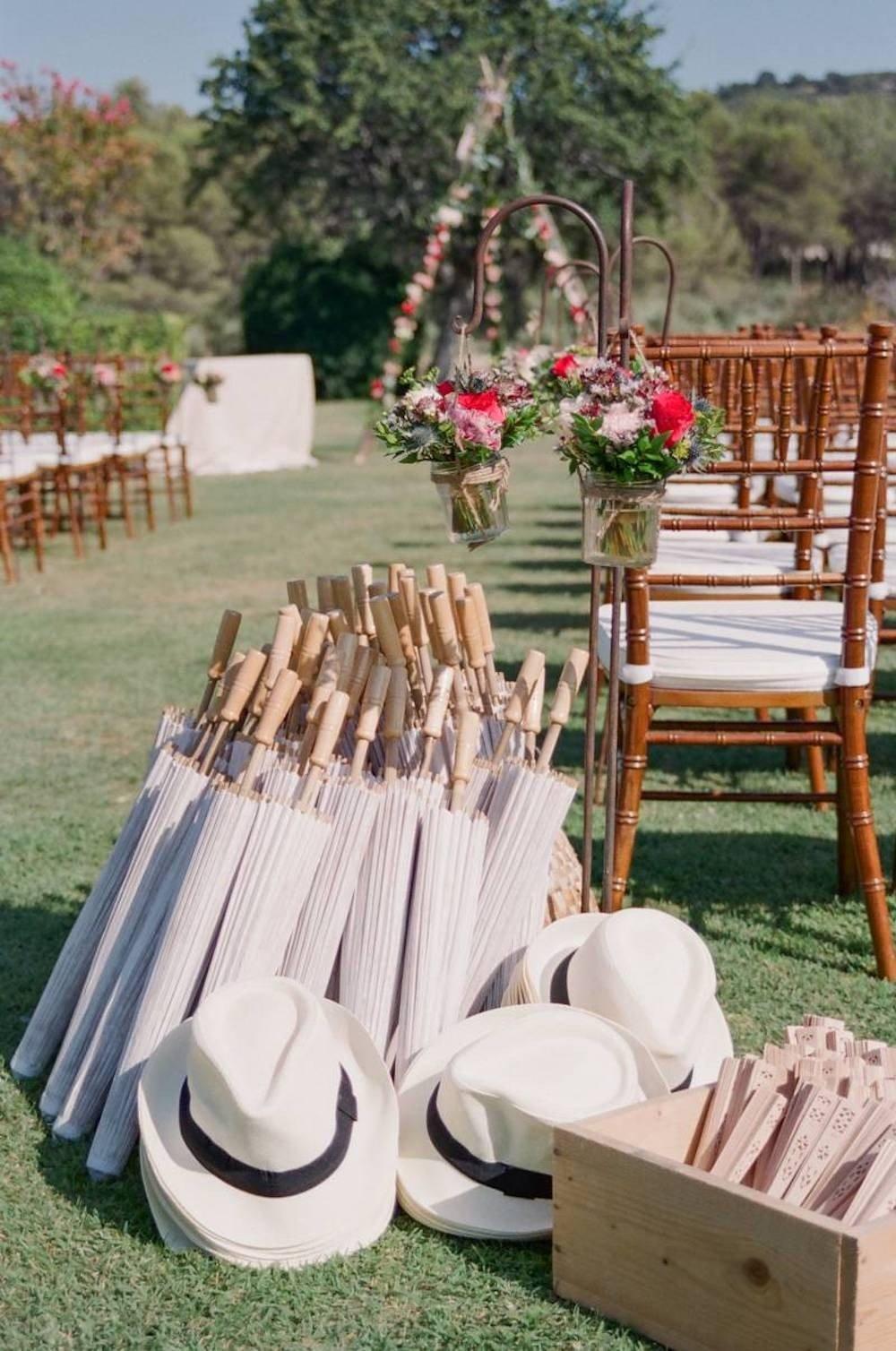 Image: Pinterest
11. Hire or borrow blankets to keep guests warm both in the evening and so that the option's open if daytime temperatures look cooler than anticipated. They'll jazz up those plain ceremony benches nicely and allow guests to snuggle up as they witness you tie the knot.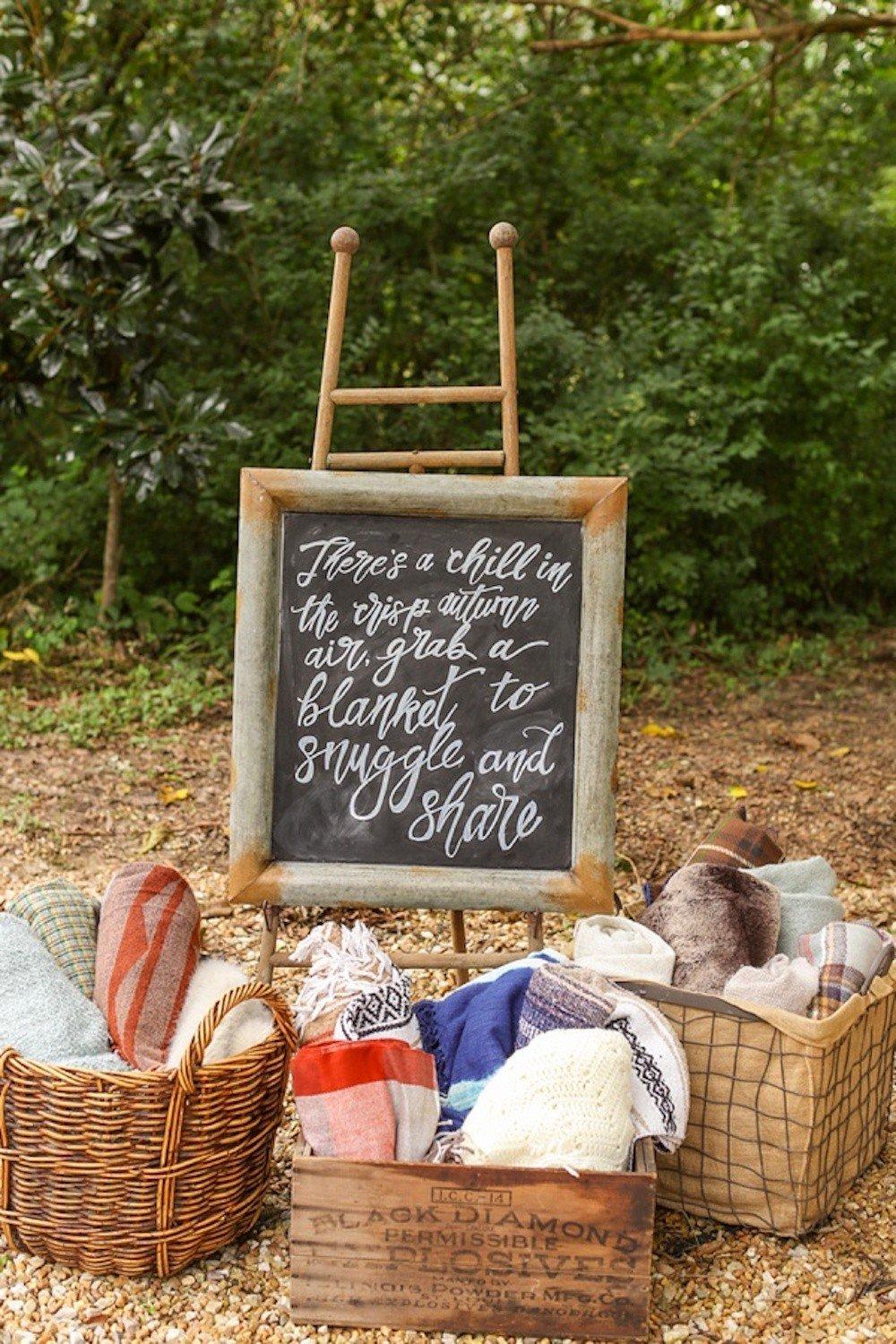 Image: Pinterest
12. Let nature do the heavy lifting by centring your wedding around a dramatic natural focal point. It could be a waterfall, a mountain you both love, a particular beach or cliff, or just your nan's pristine rose bush. Anything goes but it'll provide a memorable, meaningful backdrop with very little effort on your part.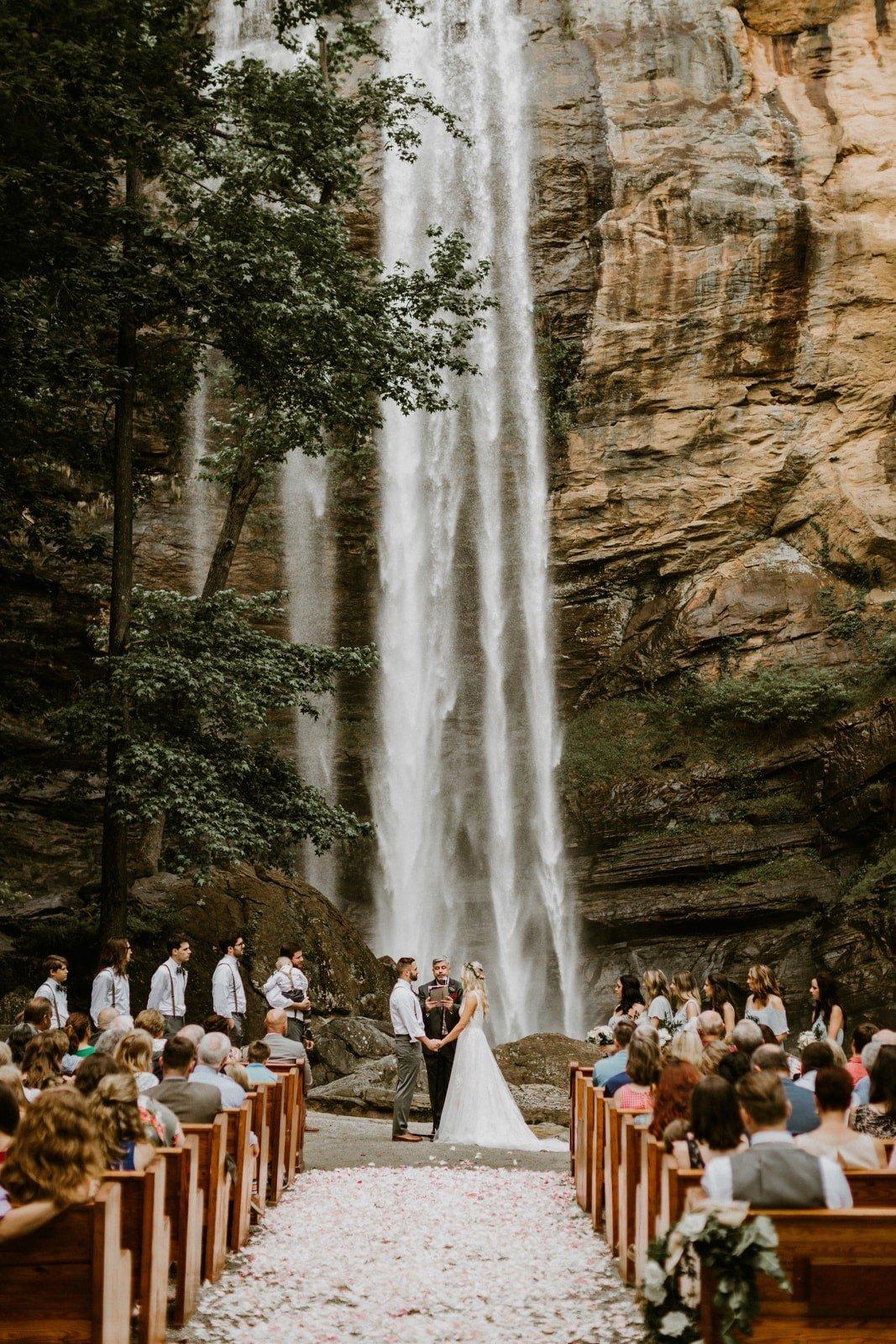 Image: Pinterest
13. In a similar vein, make the most of what the outdoors has to offer by letting your setting be your 'theme'. A grass ring box is perfectly suited to a forest wedding, while shell based decoration will always go down well by the coast. Take inspiration from what's there already and your wedding styling will feel cohesive and harmonious.
Image: Pinterest
14. Natural infrastructure can be the perfect furniture – this drinks table suspended from tree branches is an inventive case in point. Always check with your venue and suppliers first that it's possible to rig something like this up but if you do get the go-ahead it'll make drinks service a breeze.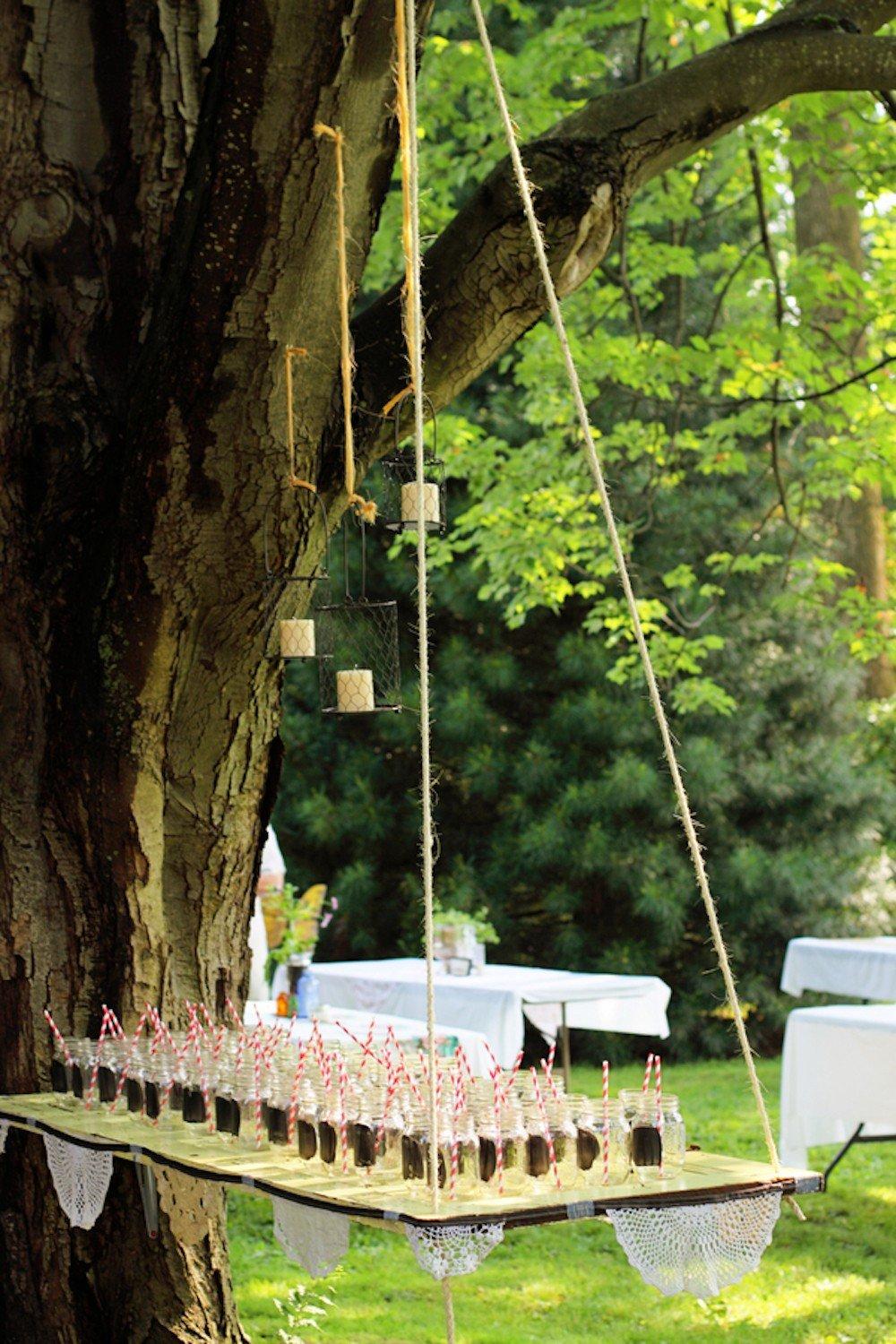 Image: Pinterest
15. If you've got some bare pavement or concrete in your outdoor wedding setting that you're not sure what to do with, these stencilled chalk hearts are a kitsch touch. You could ask page boys and flower girls to get arty the day before the wedding, which has the added benefit of keeping little hands busy as you get on with last minute admin.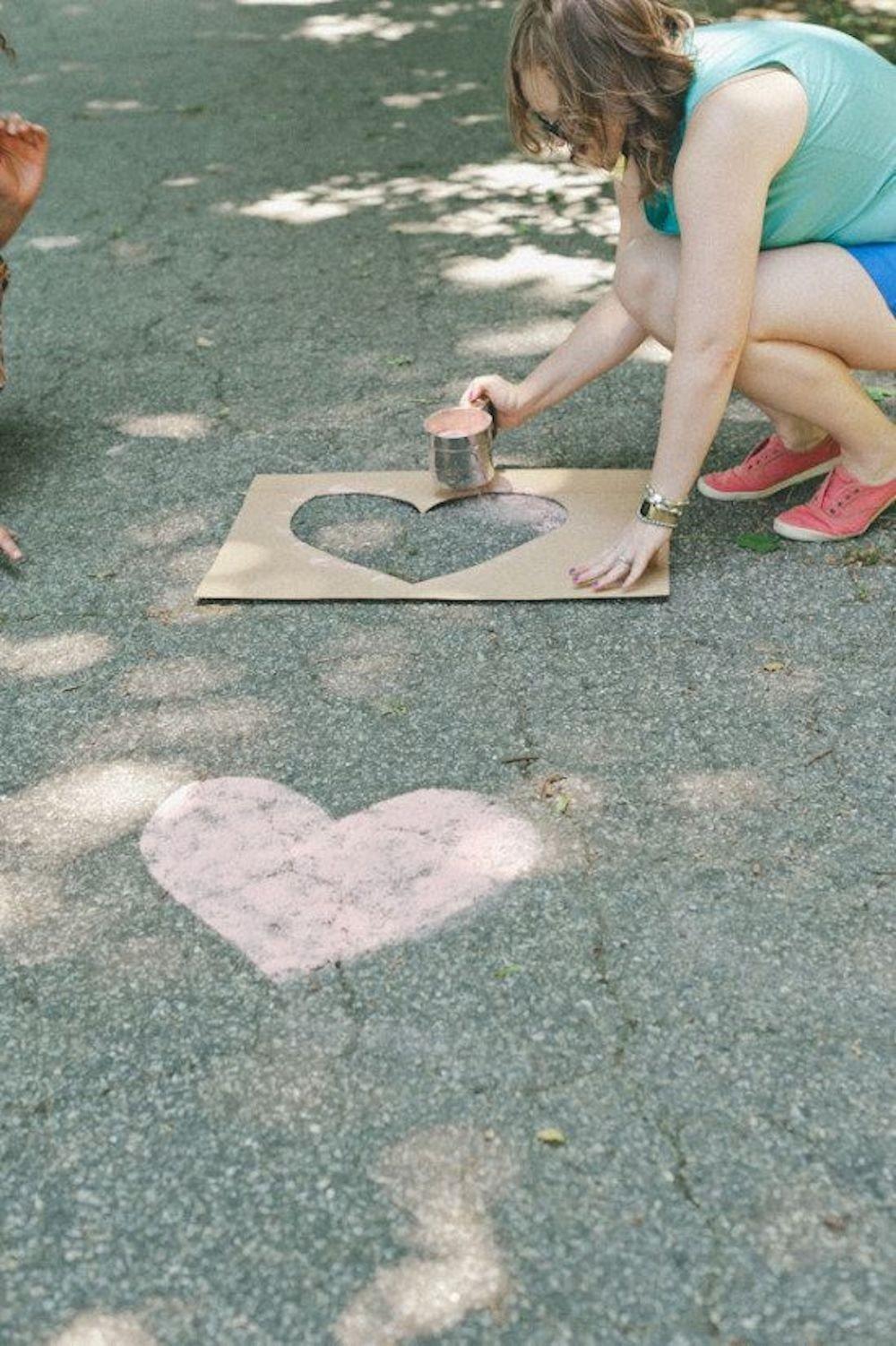 Image: Pinterest
16. If you've planned an outdoor wedding in an open field or by the beach, you'll likely need to add some shade to prevent guests from overheating during the reception. These giant garden umbrellas have an Ibiza vibe about them.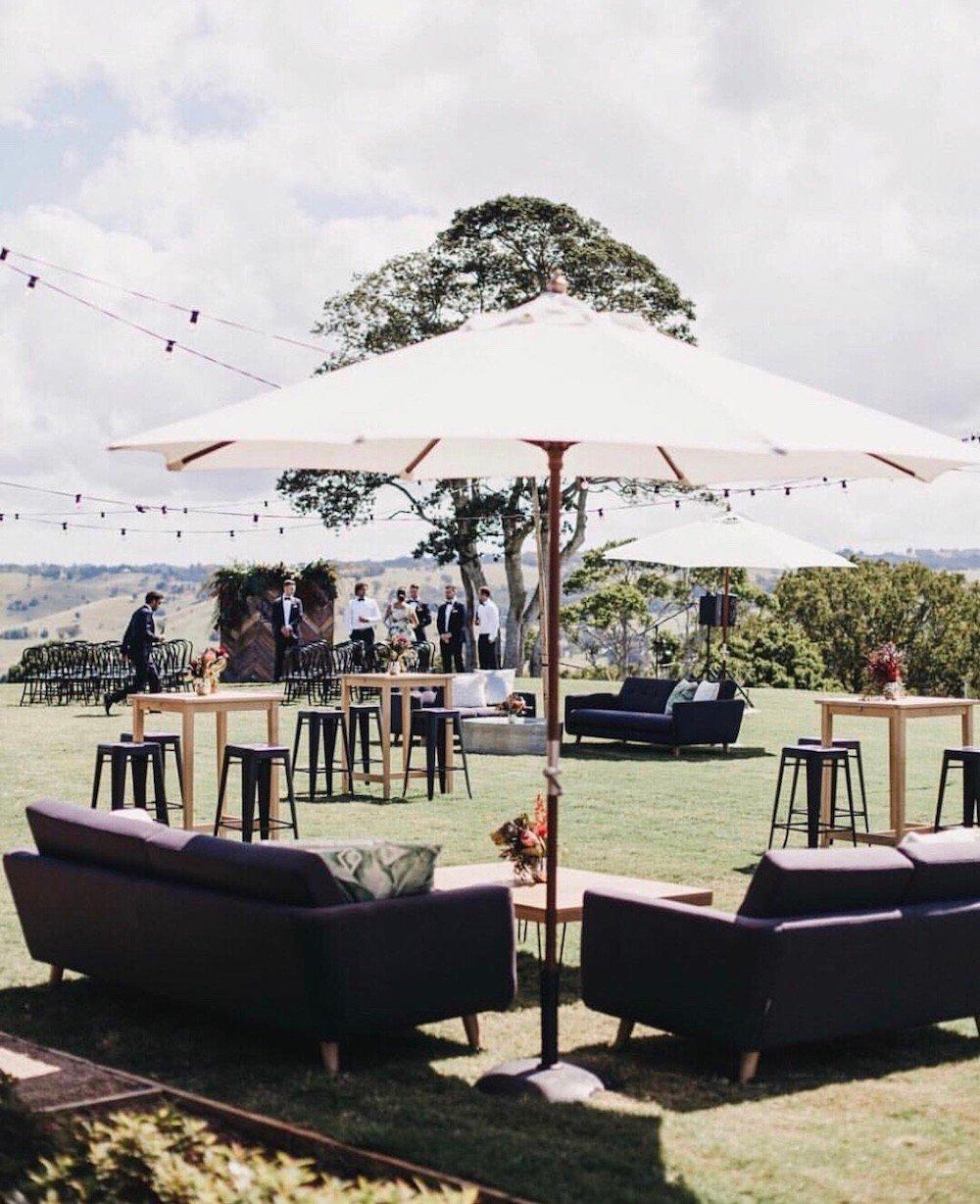 Image: Pinterest
17. An open sided marquee makes for a 'best of both' wedding reception space – it's light and airy but you've got coverage should the rain clouds gather. Decorate the ceiling with foliage and naked bulbs to keep styling in keeping with the natural surroundings.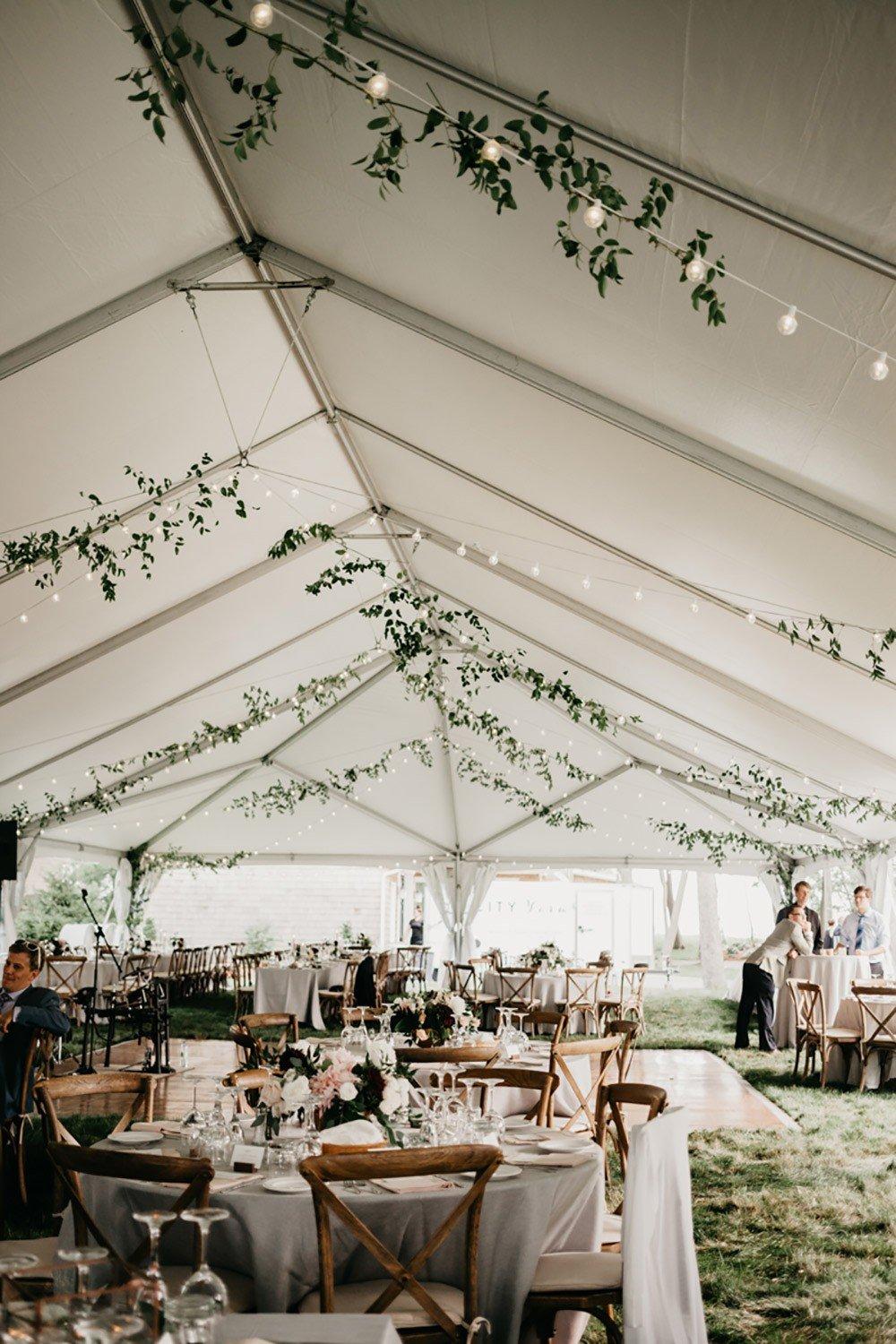 Image: Pinterest
18. Outdoor weddings are more relaxed in style by default – mix and matching dining chairs at the wedding reception will add a quirky, unique talking point as guests take their seats.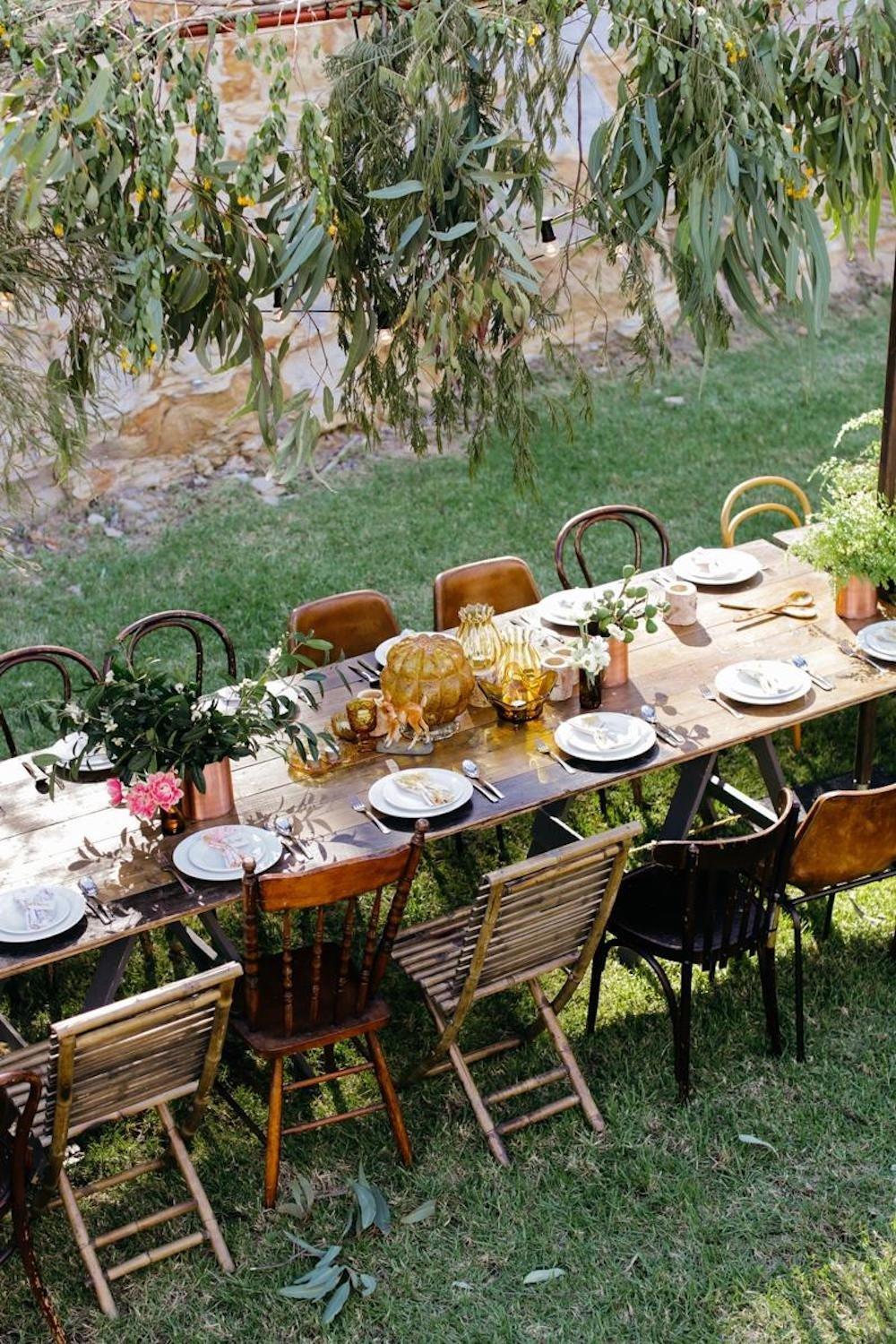 Image: Pinterest
19. Leaf place names are in keeping with an outdoors wedding setting – simply write on guests' names in gold pen.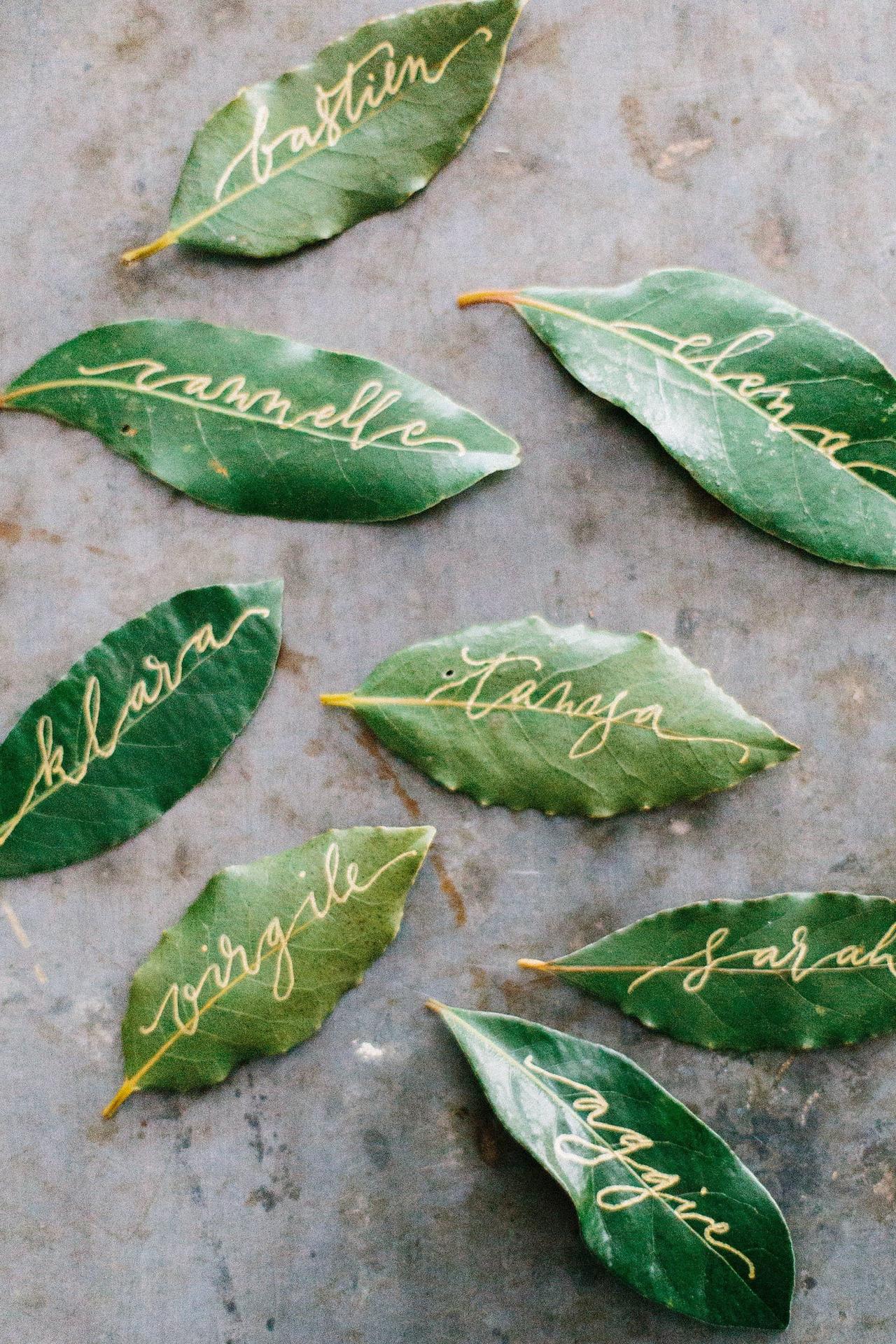 Image: Pinterest
20. Natural colour palettes look effortless but polished – theme styling and accessories to reflect the season and your outdoors location. Light blues and yellows suit a seaside venue while forest green and earthy tones look stunning in the countryside. Pick up on the natural elements present in your outdoors location at the time of year that you're getting married (is it the month for bluebells or cherry blossom?) and incorporate key shades into everything from invites to table decoration and bouquets.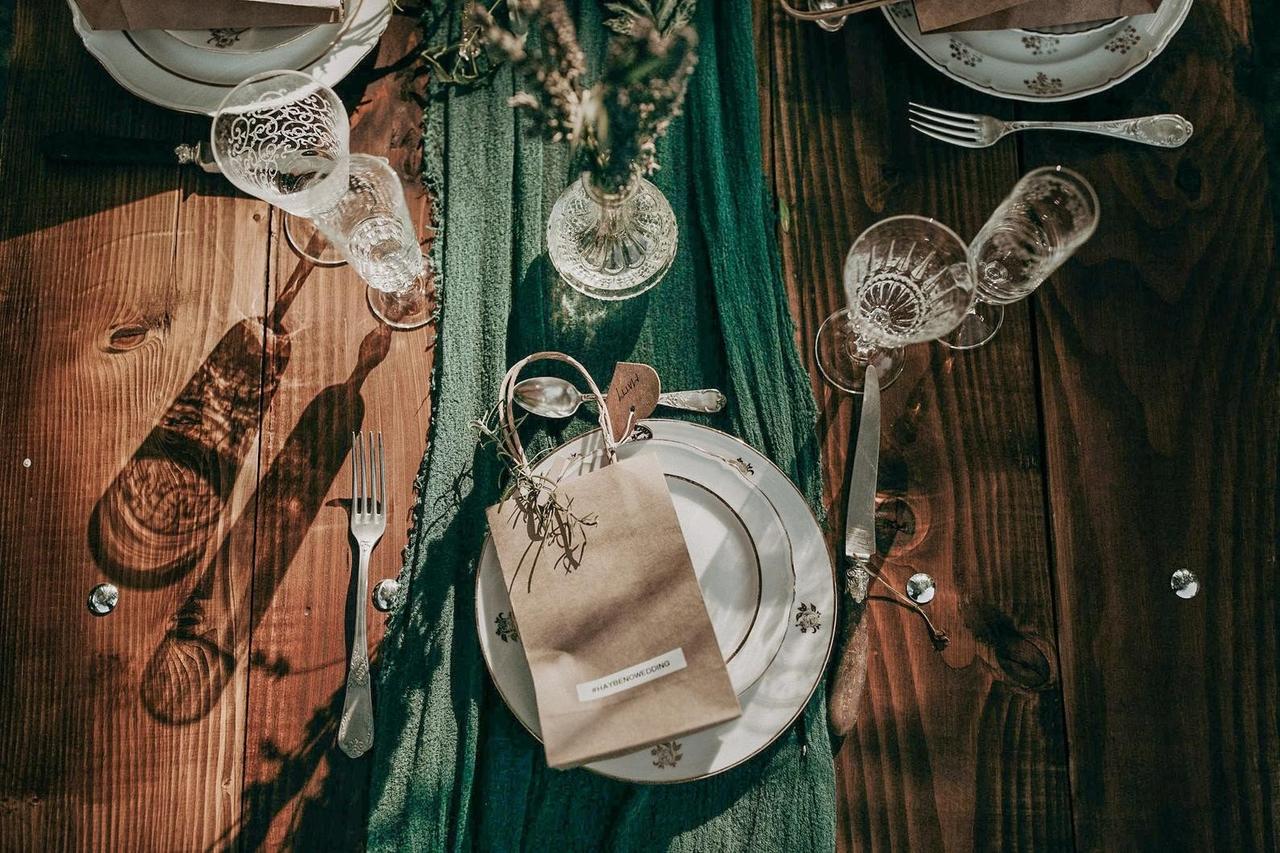 Image: Pinterest
21. Like mismatched chairs, vintage crockery adds a homey feel to an outdoor wedding reception. Serve the entire meal on elegant vintage crockery or source some pretty plates just for cake.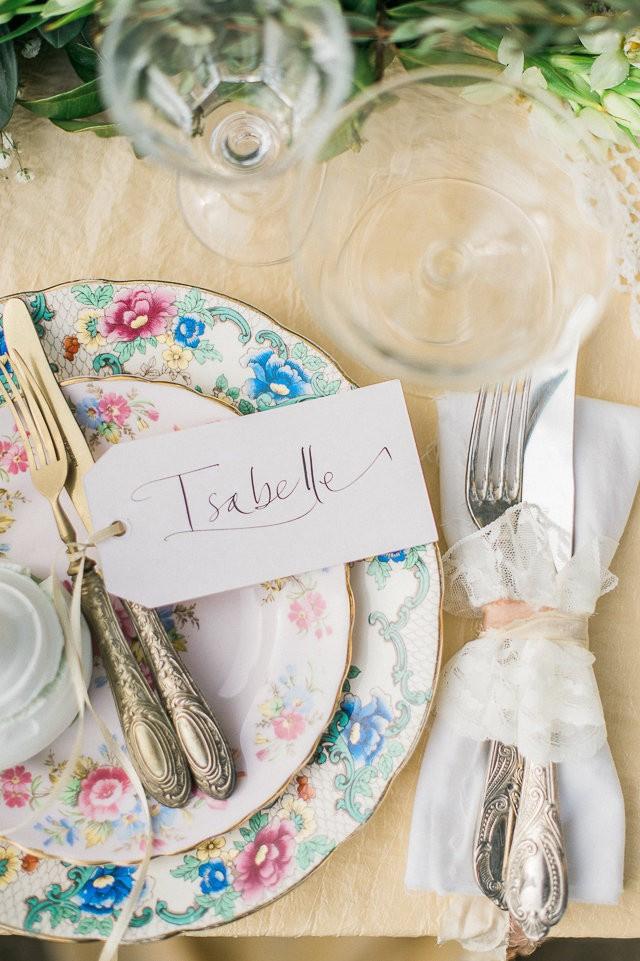 Image: Pinterest
22. Light candles if your venue allows them – they look especially captivating flickering against the sunset. Gold candle holders go with everything or choose a shade that ties in with your surroundings and chosen colour scheme.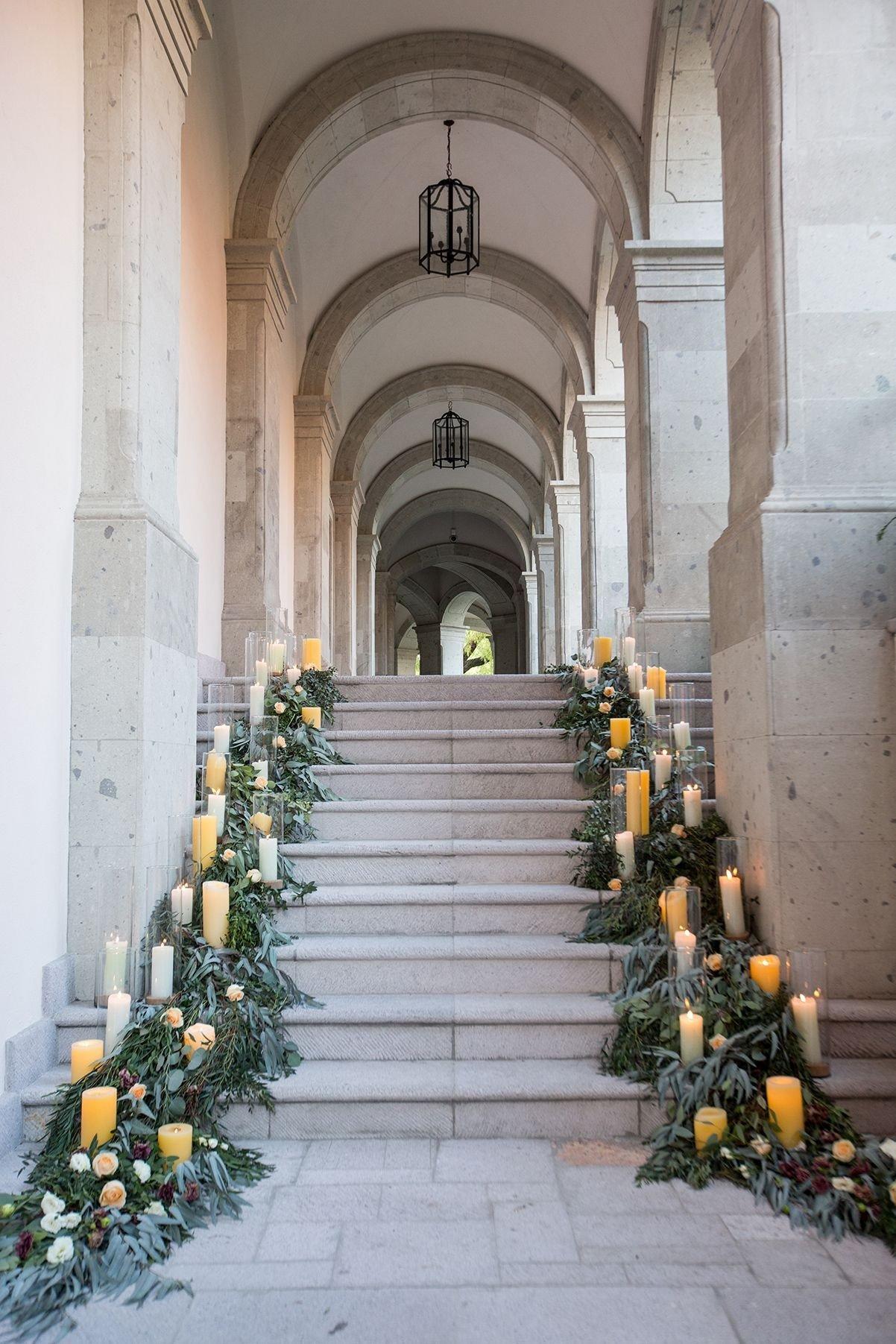 Image: Pinterest
23. If candles are off the cards, festoon lighting looks enchanting as the sun goes down and will light guests' way to the aisle or dance floor. String lights in branches or across teepee, gazebo or marquee beams for a starry sky effect.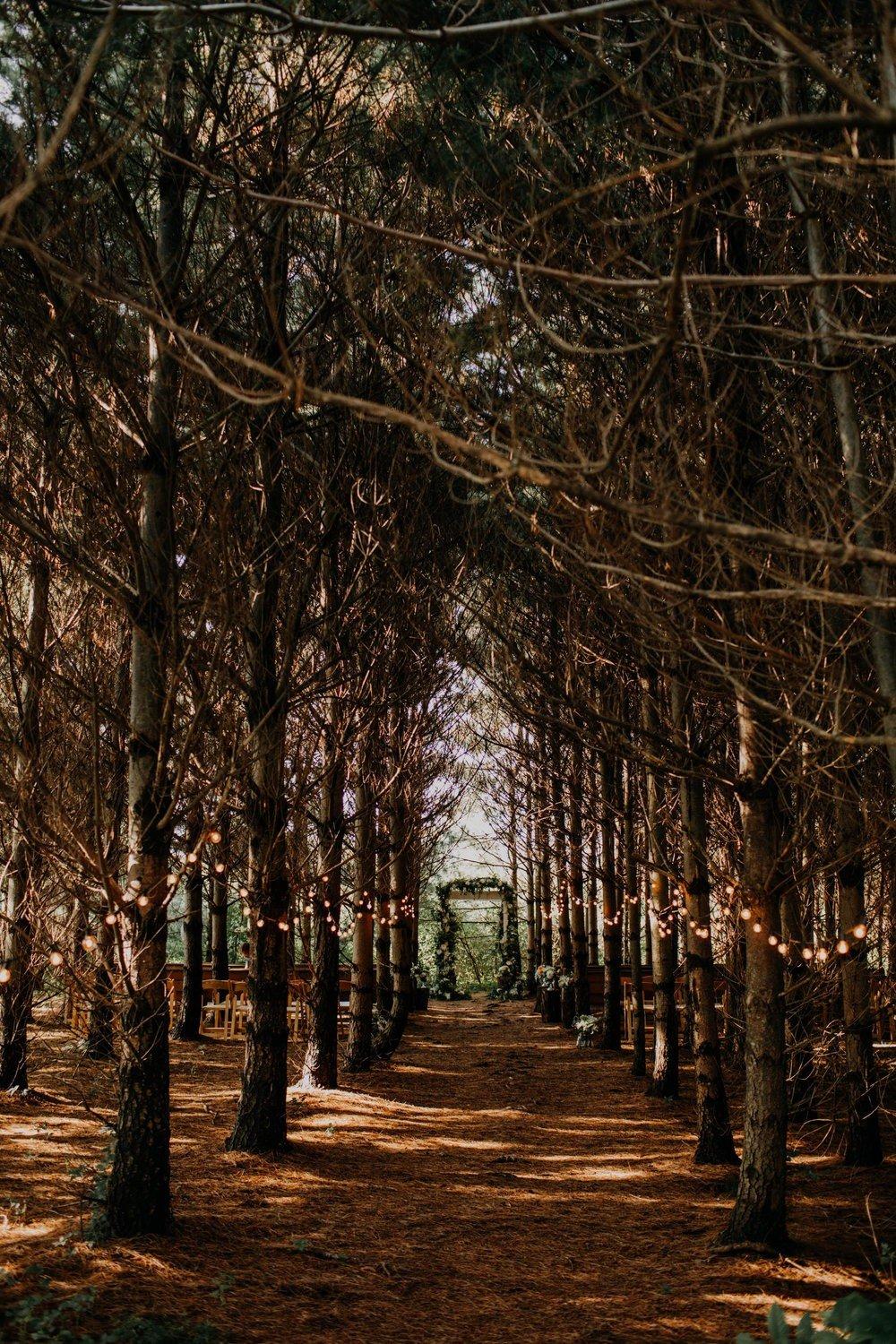 Image: Pinterest
24. Want to add a little colour to the treetops? Rainbow lanterns create an instantly joyful backdrop.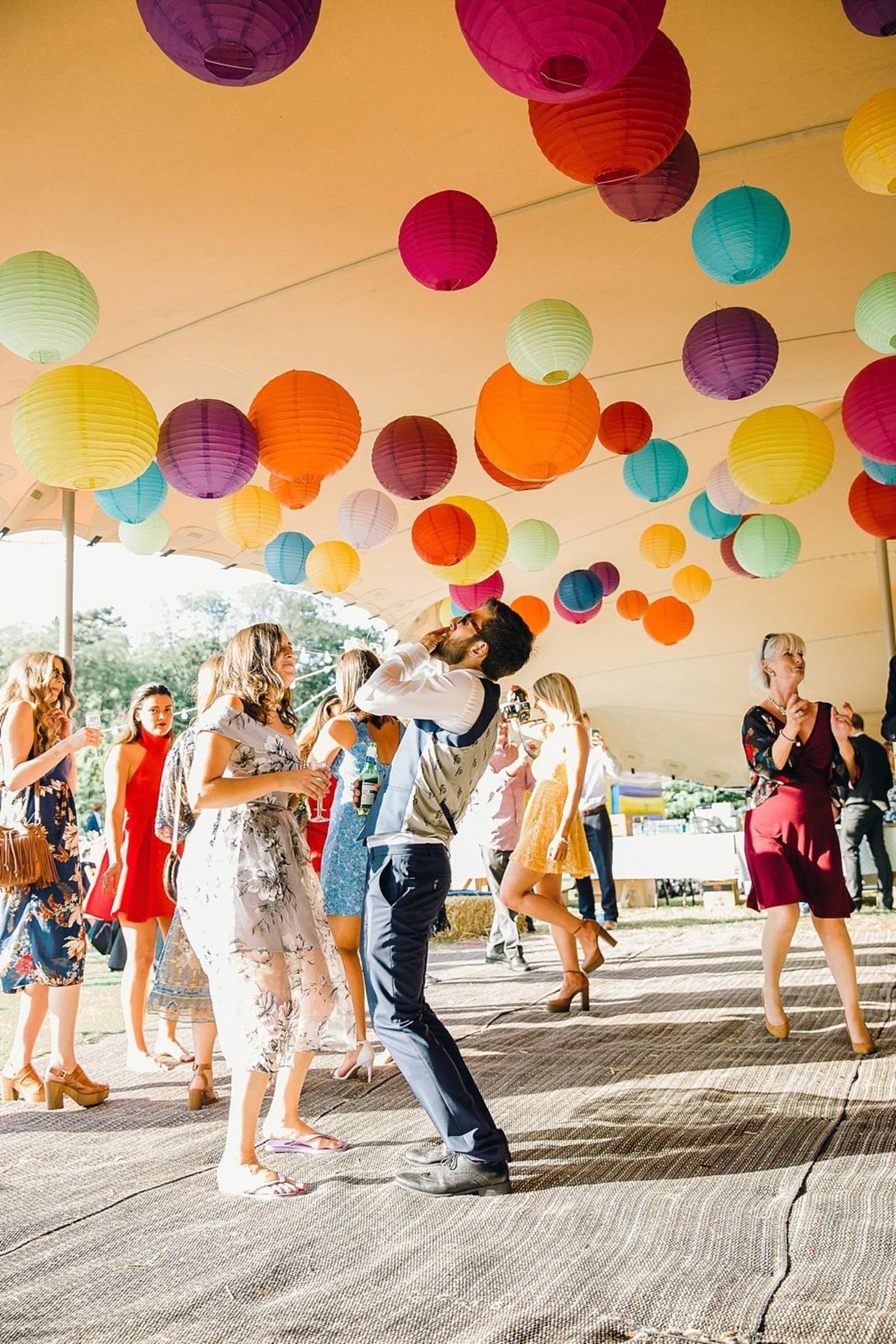 Image: Pinterest
25. Bring the indoors out with a Moroccan-style lounge area. Pouffes, rugs, coffee tables and big cushions all make for an inviting space for guests to hang during reception drinks and after the wedding breakfast.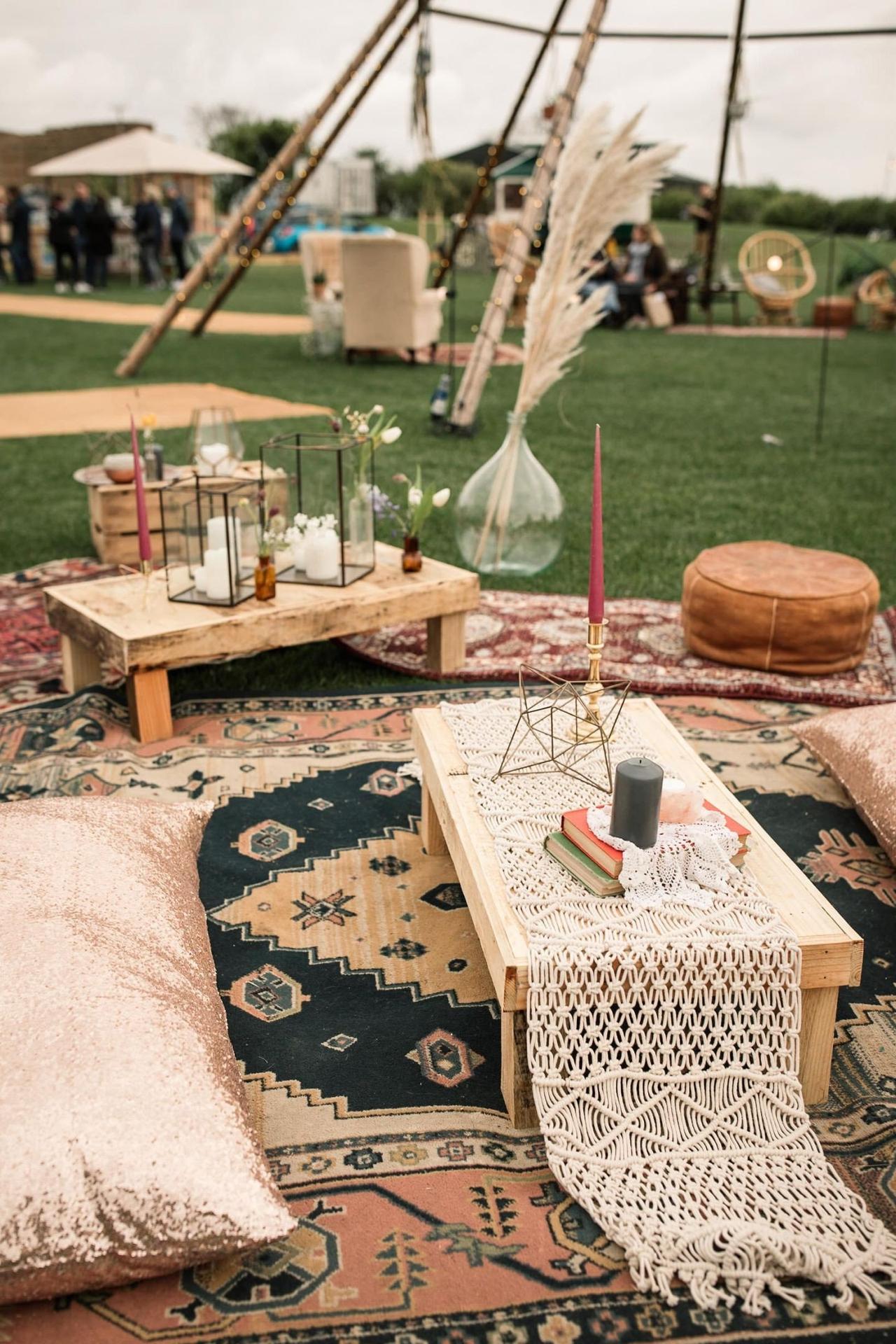 Image: Pinterest
26. Don't let mosquitoes/ wasps/ creepy crawlies spoil the mood – having bug spray to hand will be much appreciated by your guests if they're spending a significant amount of time outside. You can also burn citronella candles.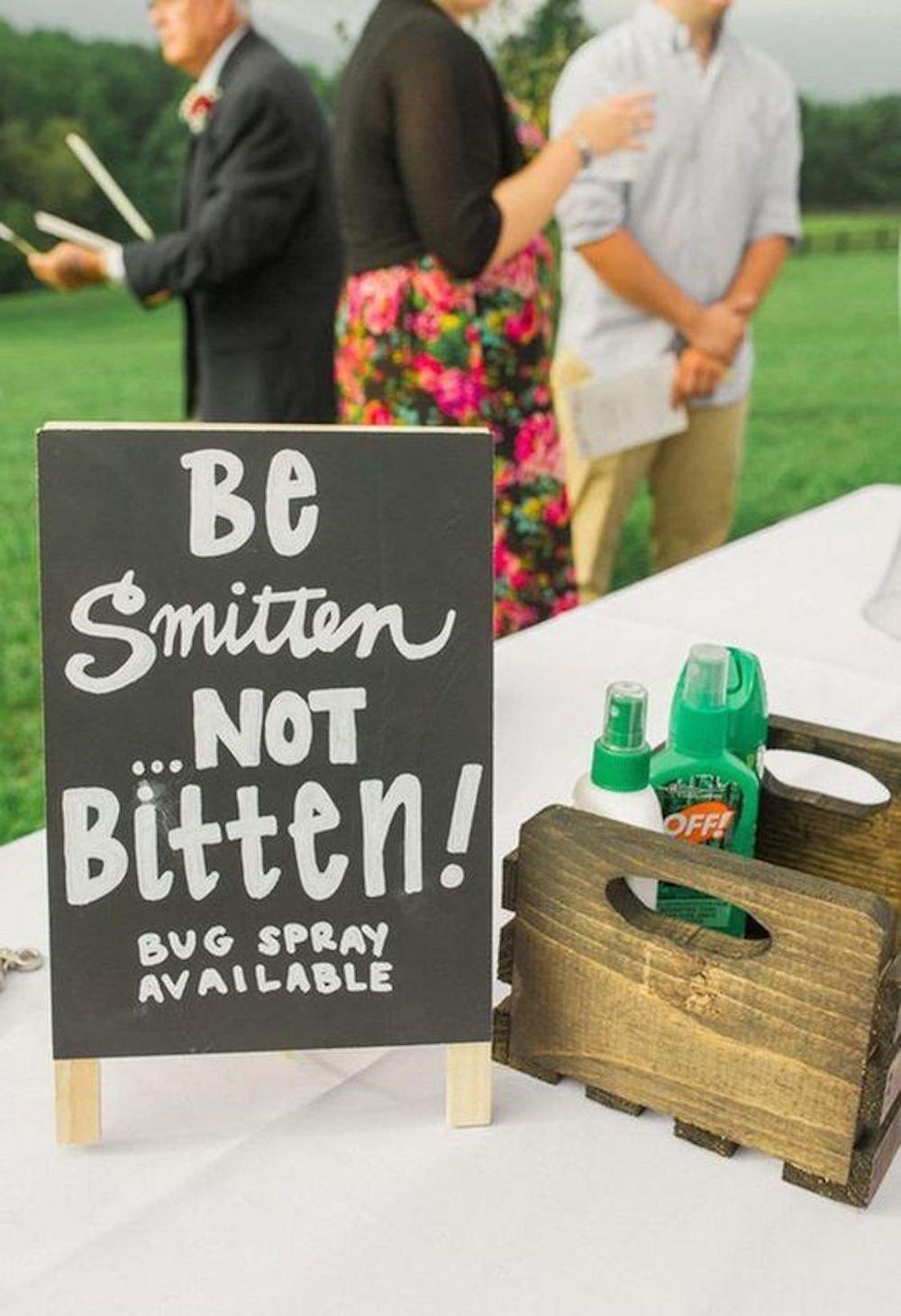 Image: Pinterest
27. Keep to a green theme by gifting guests individual succulent wedding favours. The fact that they're low maintenance and won't need watering the day before is a wedding admin plus and they're an eco-friendly alternative to more disposable wedding favours.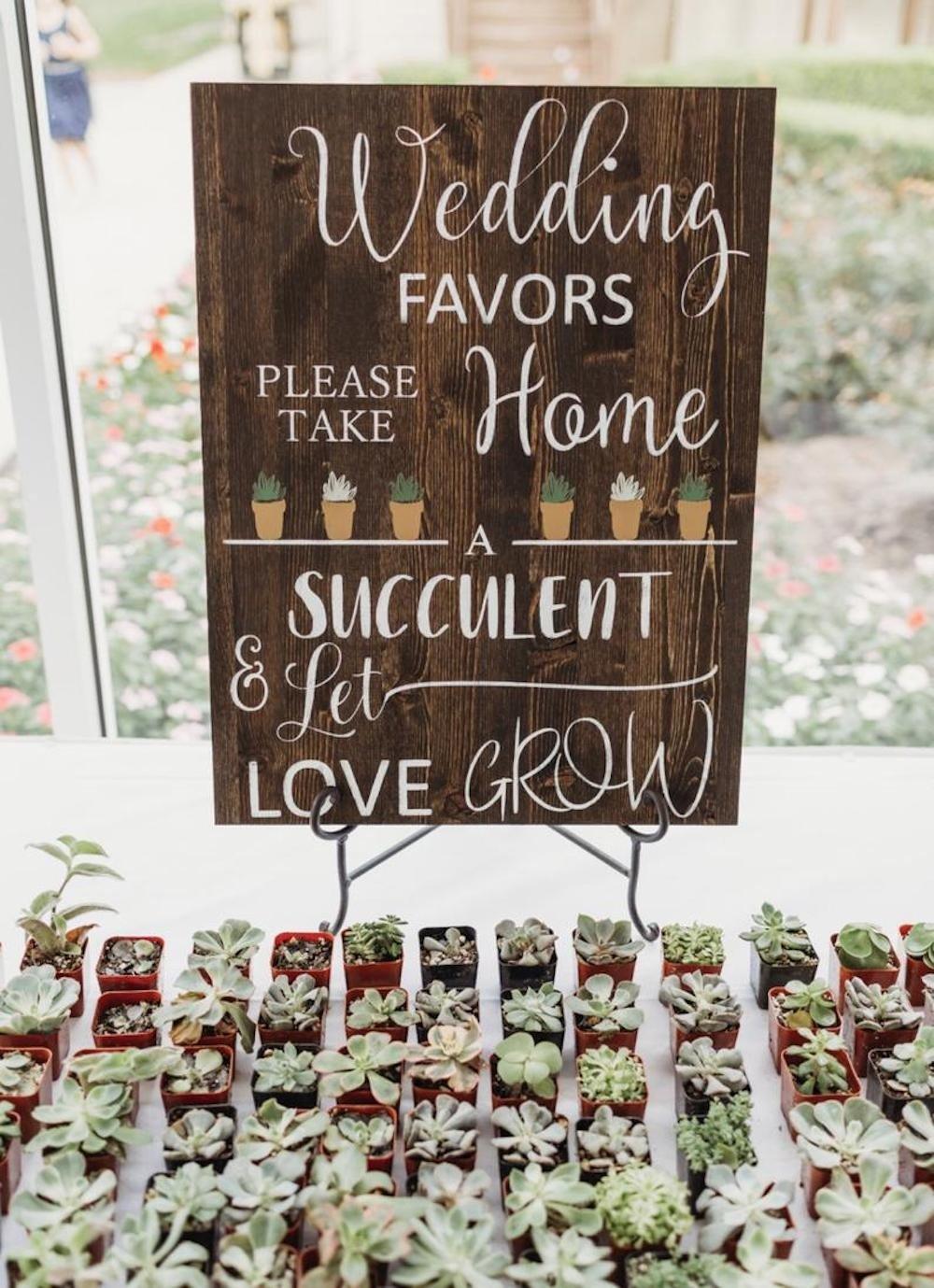 Image: Pinterest
28. A memory board or photo quilt hung in the trees or displayed on a wooden palette is a touching way to display the 'journey' of your relationship or pay tribute to loved ones who can't be with you on your wedding day.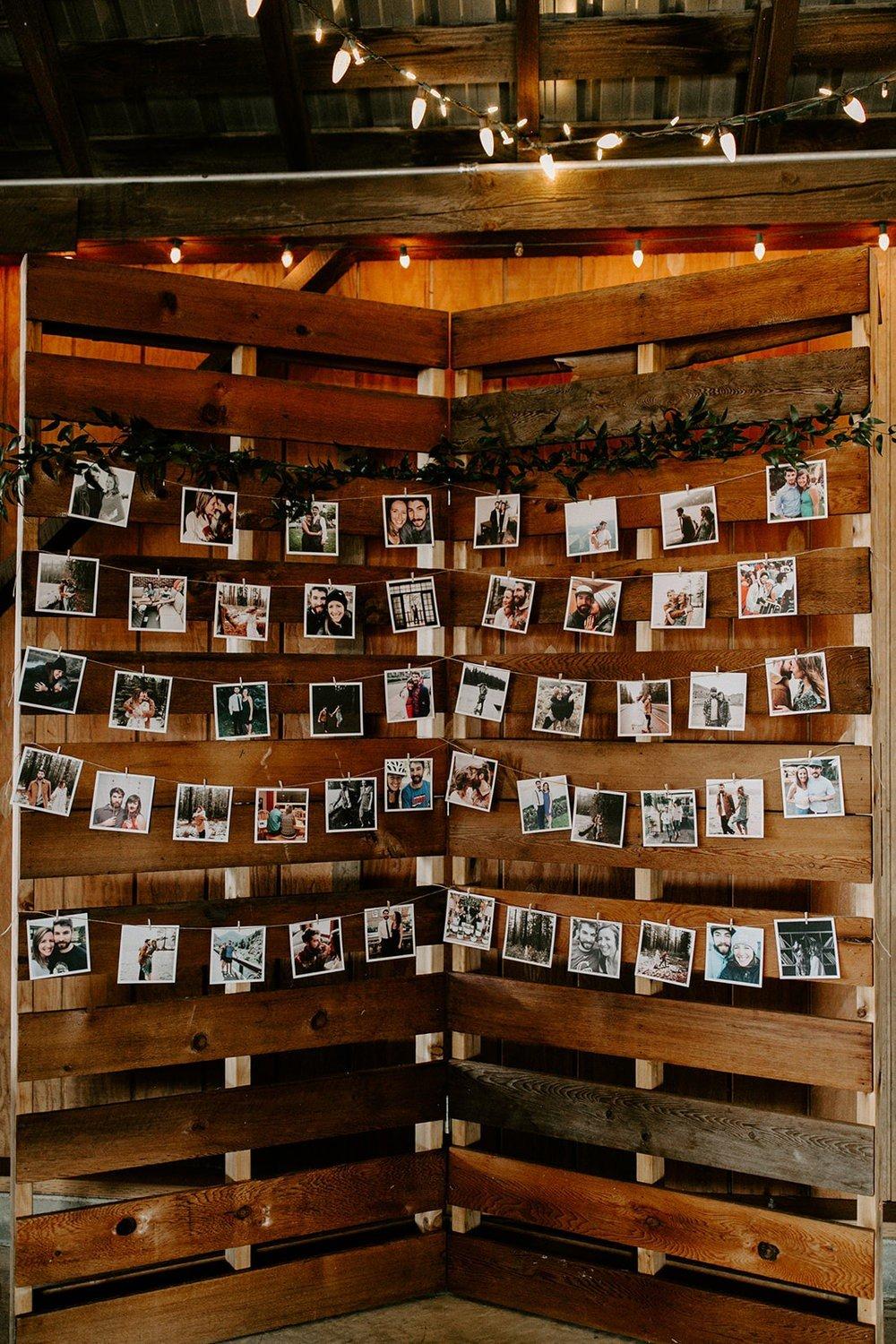 Image: Pinterest
29. A sunset photoshoot is a no-brainer in an outdoors wedding setting – make the most of the landscape around you and nip away from the party to capture the evening light.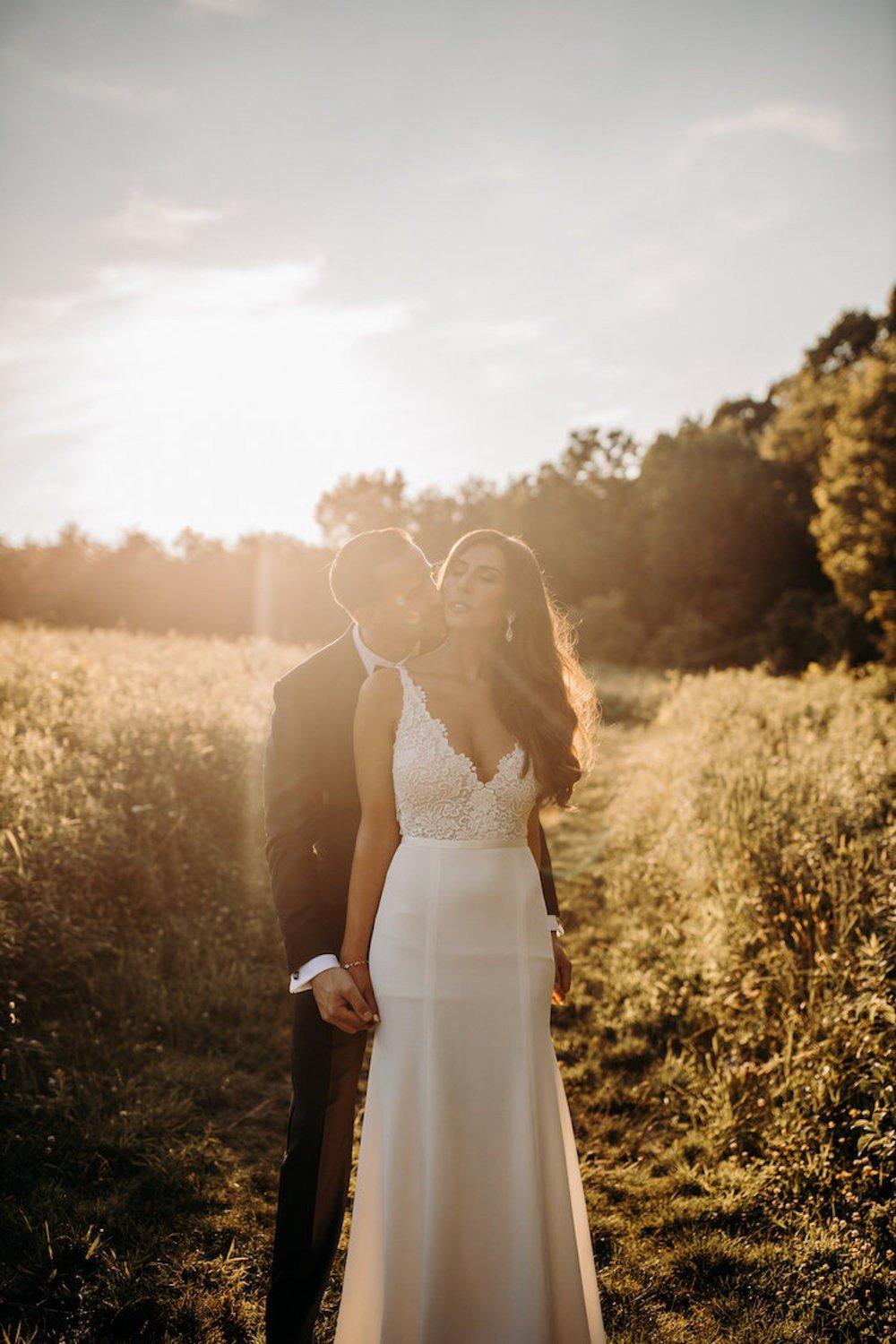 Image: Pinterest
Outdoor Wedding Flowers Ideas
30. Natural foliage, herbs and hedgerow flowers create a rustic feel and look especially elegant when presented on tables in antique vases. Let your natural setting inspire you – the likes of lavender will 'scent' your day too.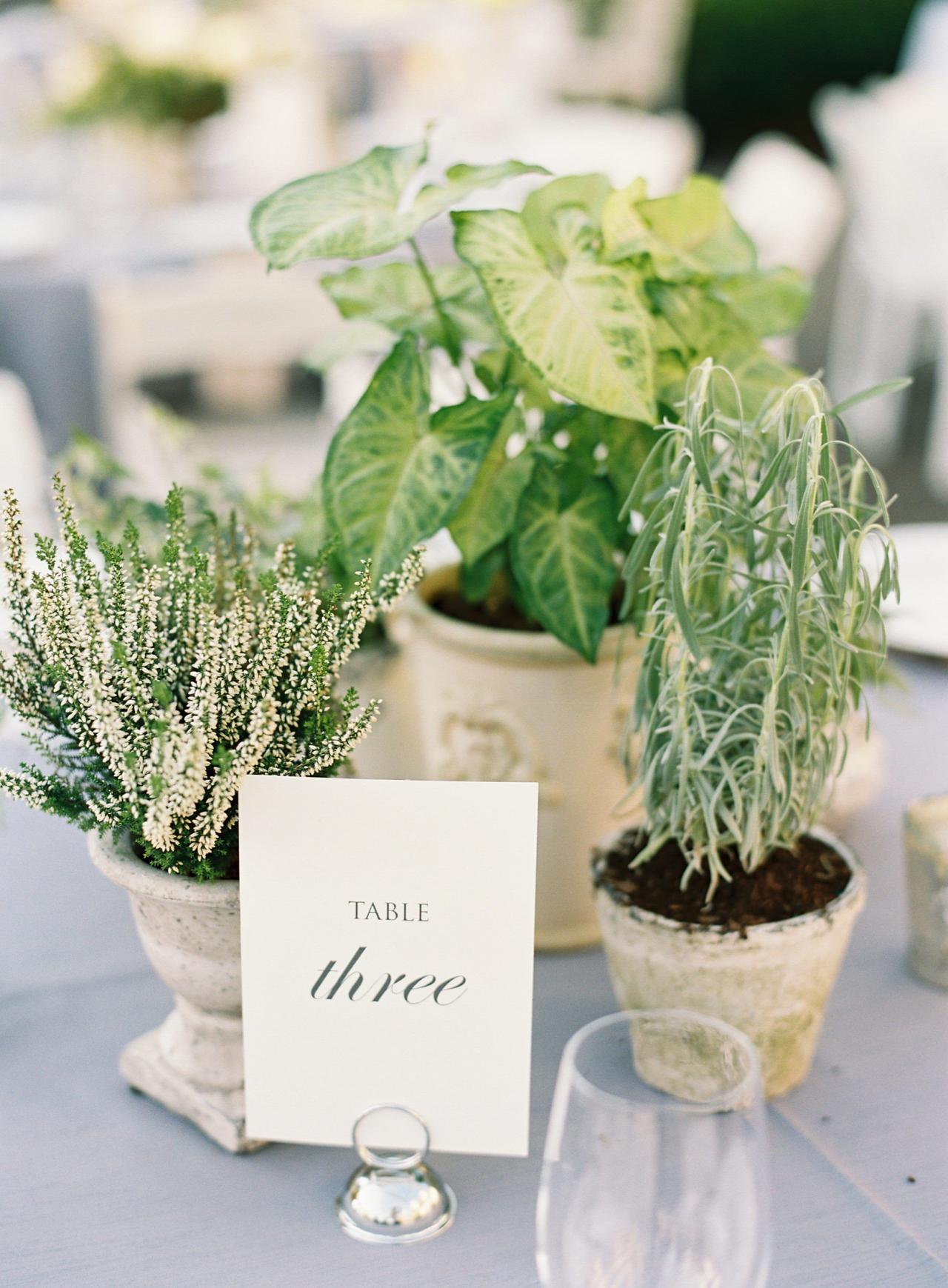 Image: Pinterest
31. Flower hoops are a versatile way to decorate an outdoor ceremony venue and can be easily moved to frame the top table at the wedding breakfast. They're also a brilliant way to use any off-cuts from bouquets and other floral displays.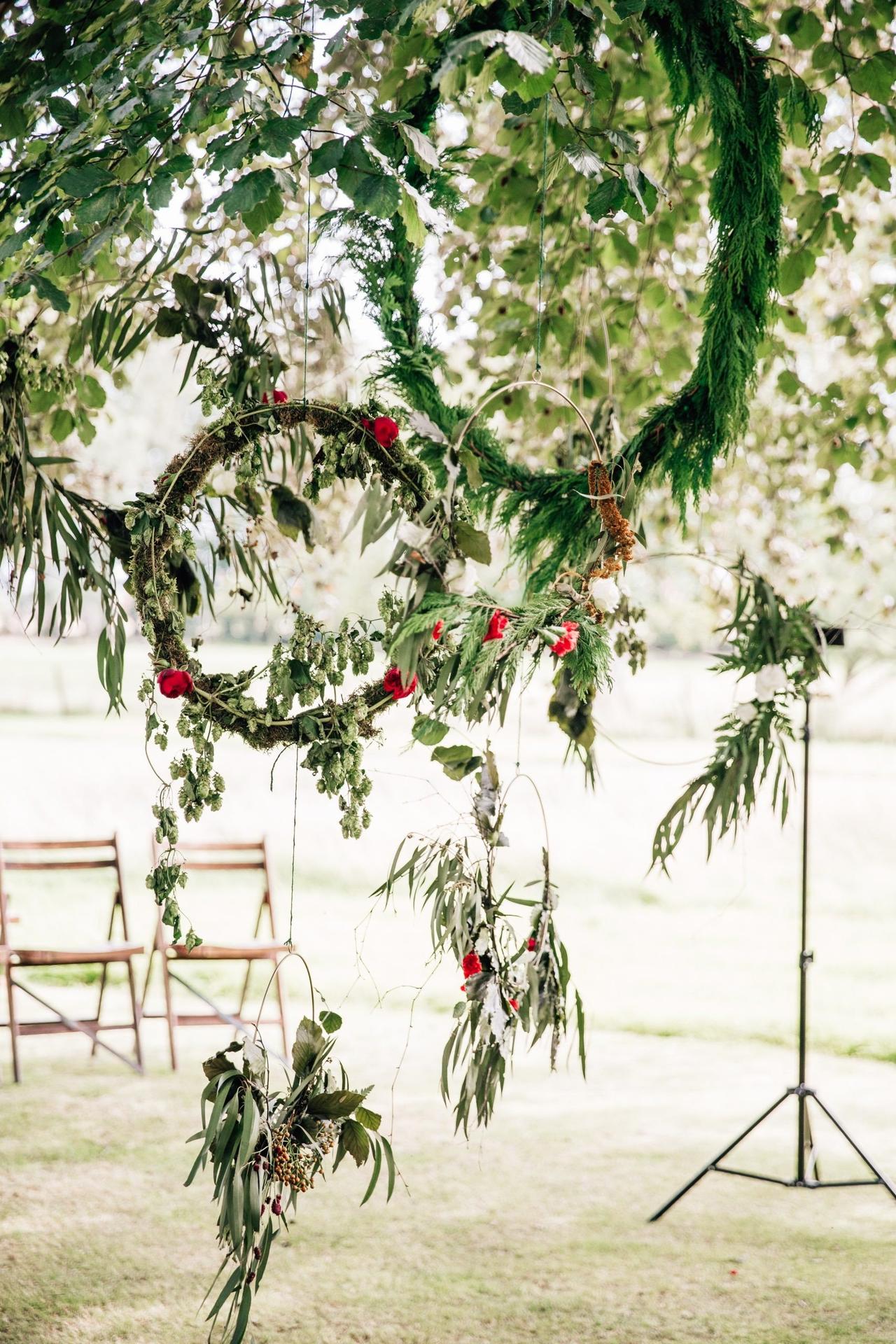 Image: Tandem Photo; Flowers: Oor Fleurs
32. Flowers in milk pails are a fitting choice for a farm wedding but work well in almost any outdoor wedding scenario – they're sturdy and a statement feature in themselves. Fill pails with flowers and showcase them at the end of the aisle before moving them to the reception area post-ceremony.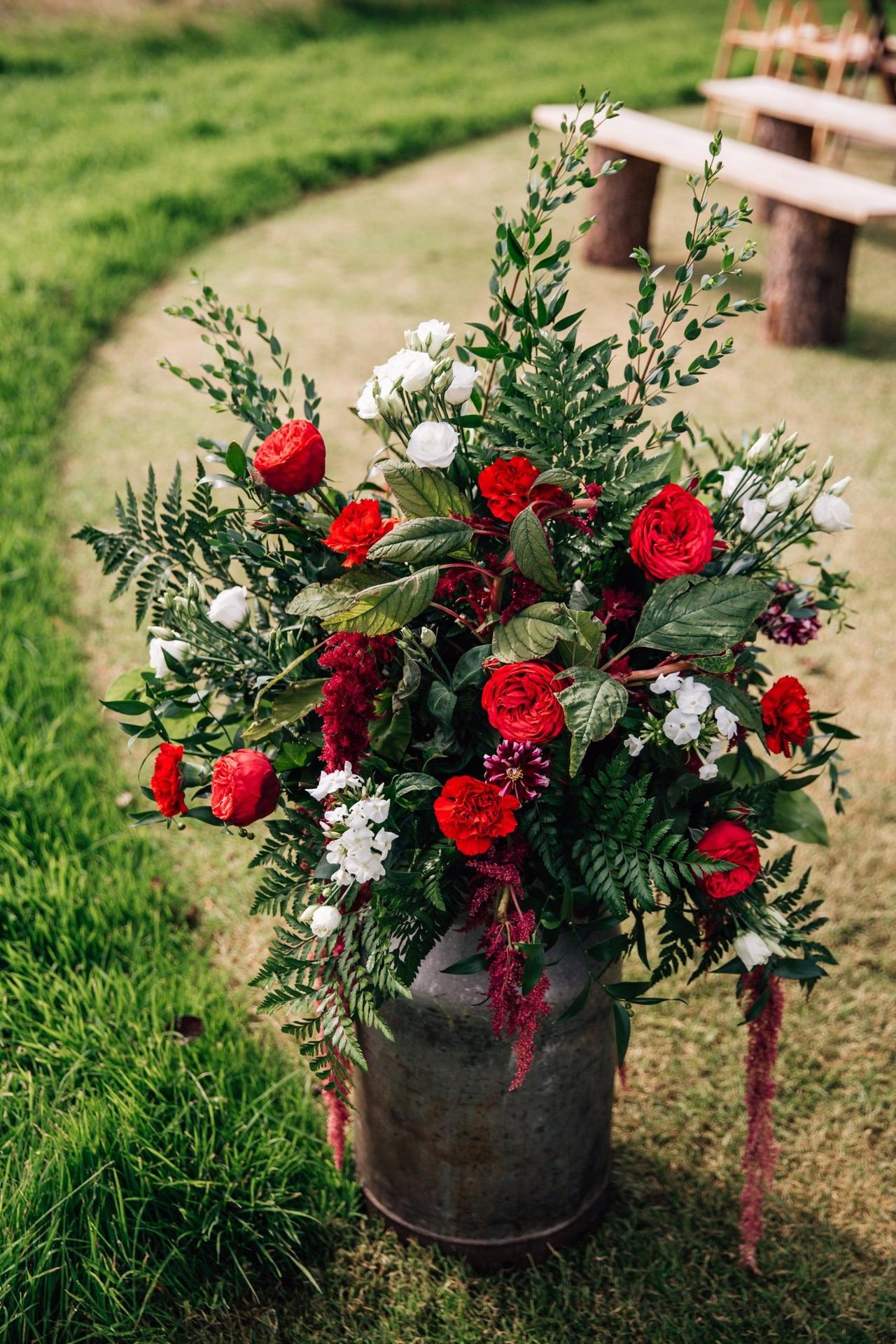 Image: Tandem Photo; Flowers: Oor Fleurs
33. Organic buttonholes 'gathered' from nature will complement any outdoor wedding setting. Ask your florist to include plants, wildflowers or other natural elements that could be foraged from the local area.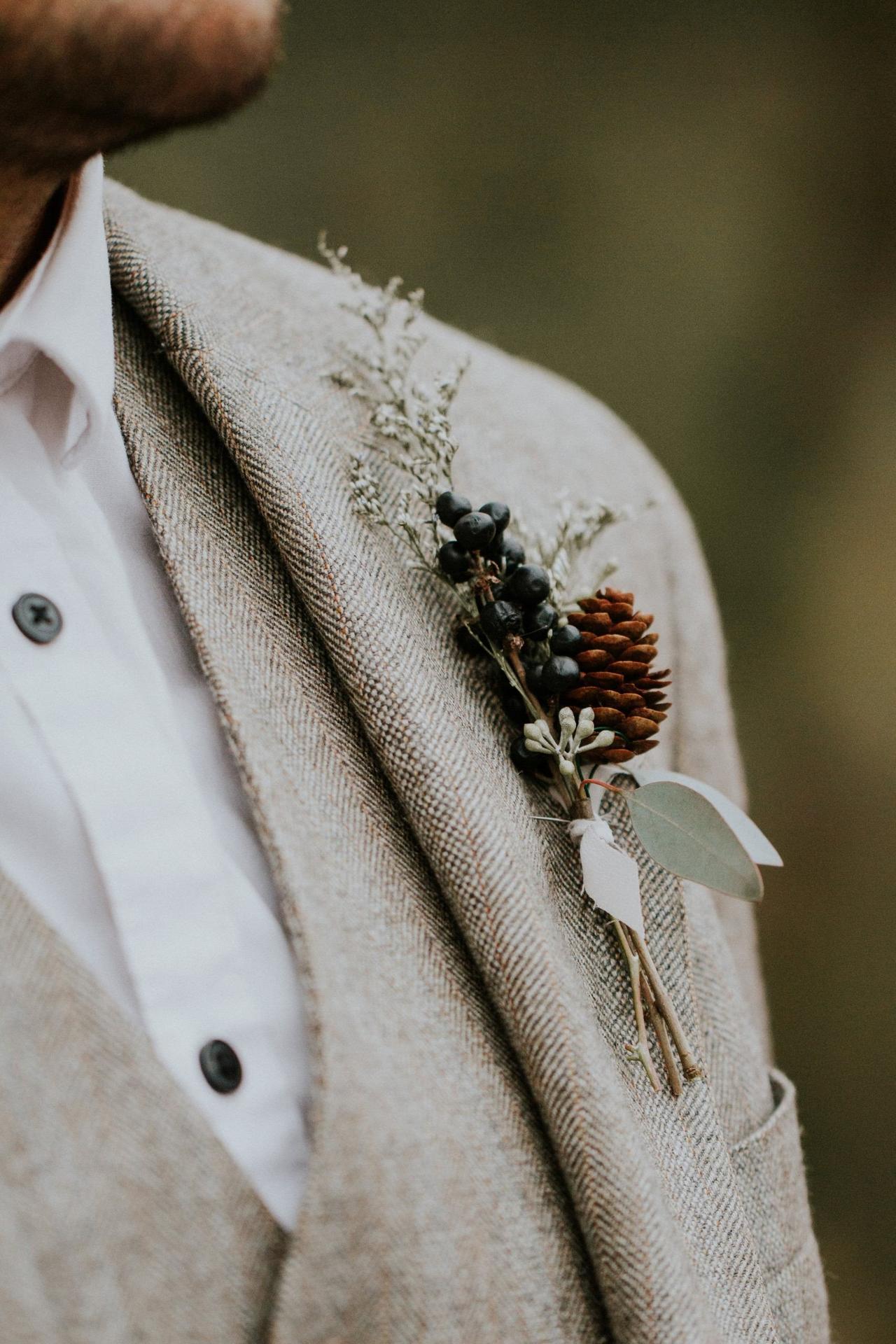 Image: Pinterest
Outdoor Wedding Food and Drink Ideas
34. If you ever thought gardening was a bore, you clearly haven't met the champagne wall. Let guests help themselves to fizz straight from the 'hedge' and you can guarantee that your wedding bar will be a conversation starter for years to come.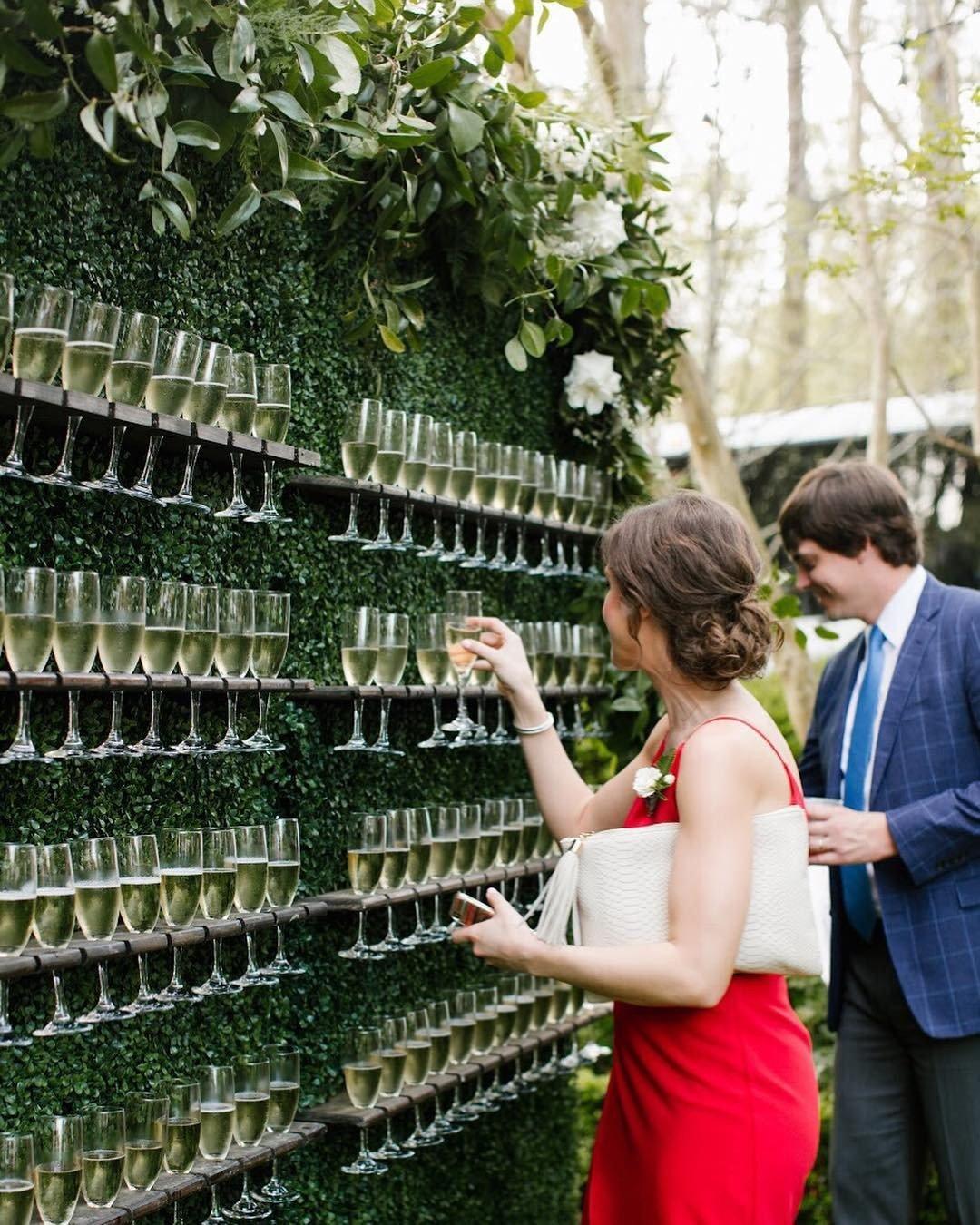 Image: Pinterest
35. Repurpose an old wheelbarrow as a 'beer barrow' to match the verdant surroundings. Simply fill it with ice and ask your caterers to top it up if supplies run low.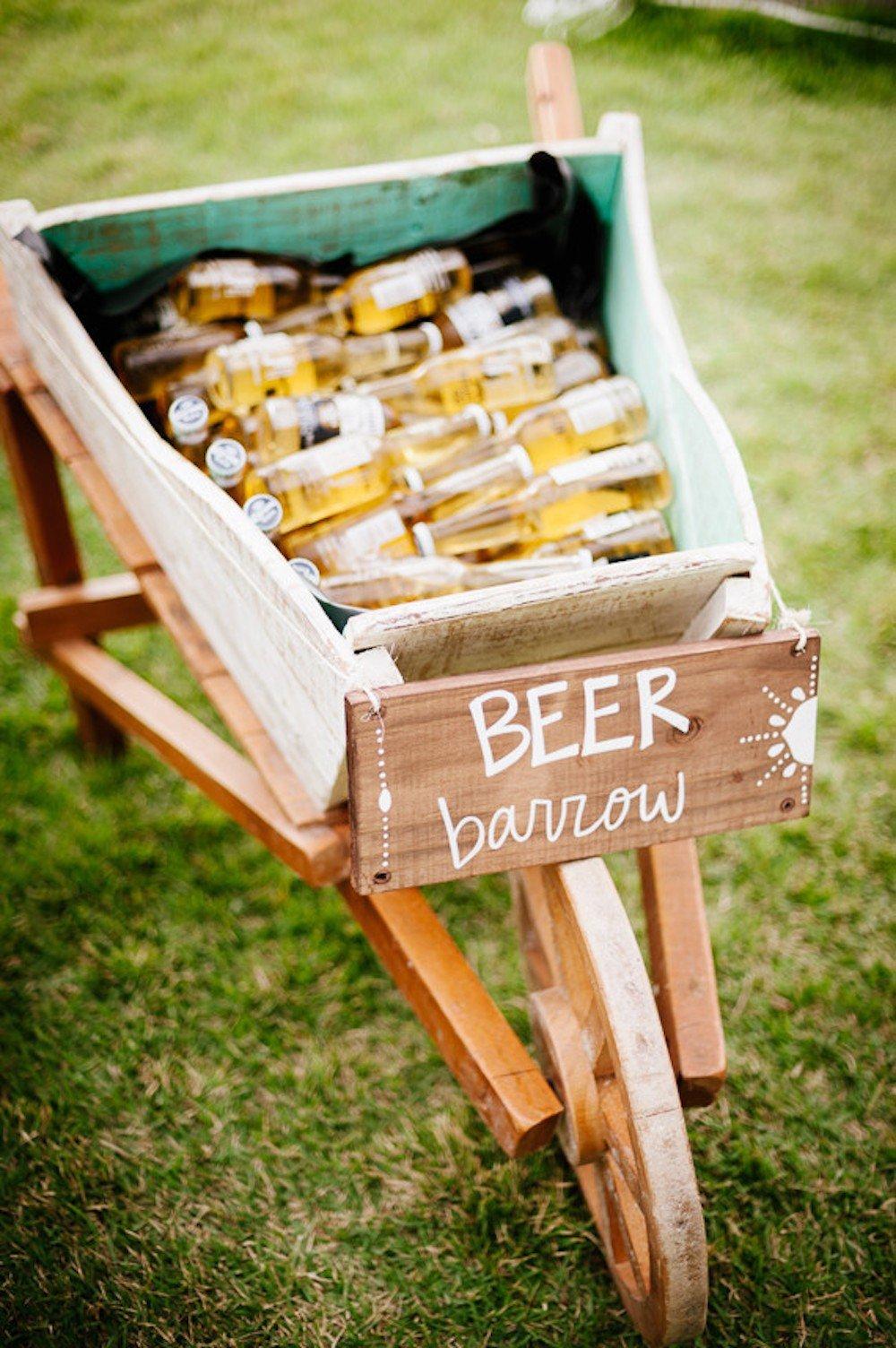 Image: Pinterest
36. A herbal sprig is the perfect way to liven up your welcome drinks. Pick a flower, herb or plant that's native to your surroundings or a key element of your wedding styling. You could also incorporate the plant's flavours into a signature wedding day cocktail. Lavender Collins anyone?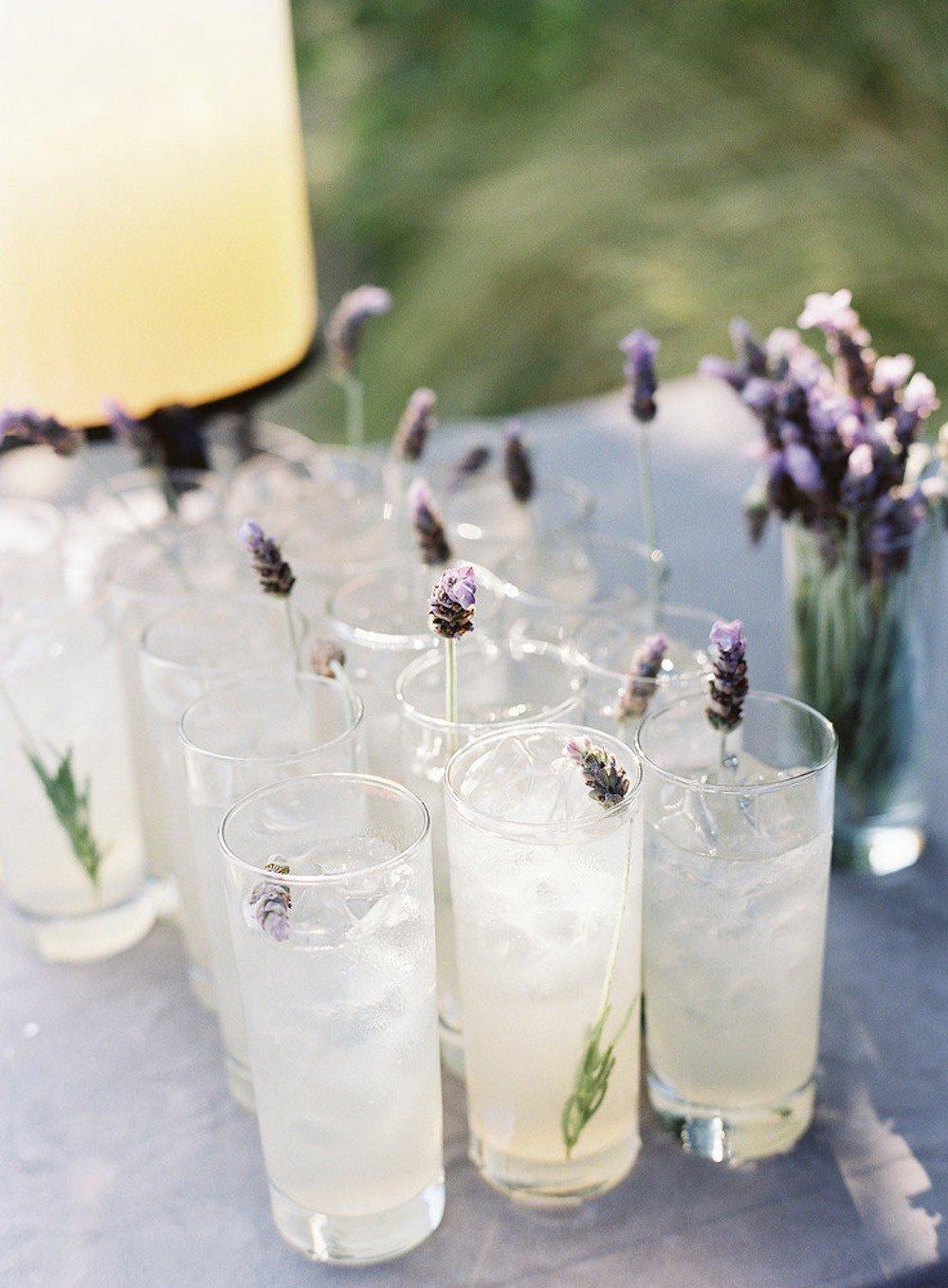 Image: Pinterest
37. Push the boat out for your canapé spread by displaying nibbles in a rowing boat. This idea is especially apt and easily achievable for beach weddings and your wedding day waiters will thank you.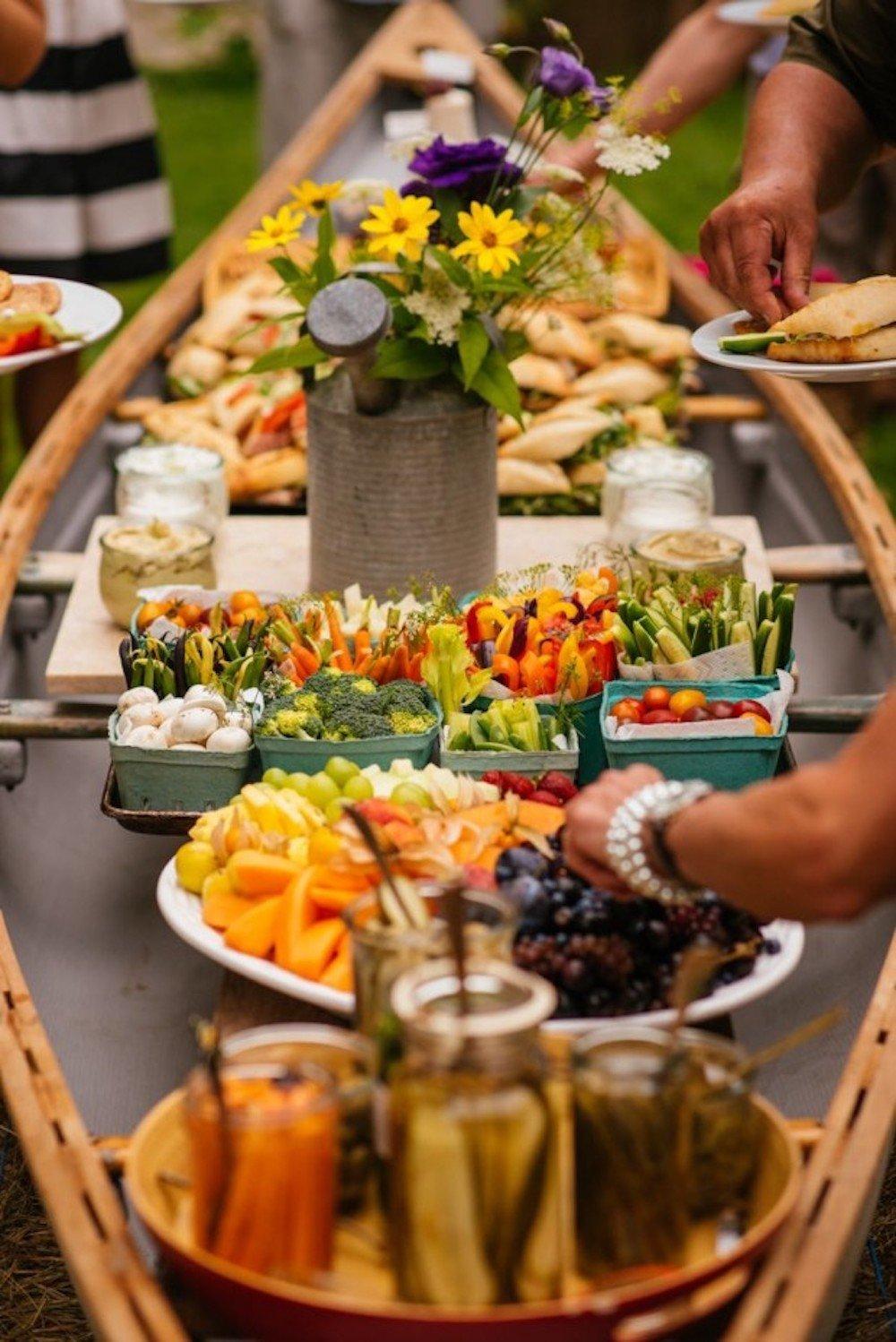 Image: Pinterest
38. DIY canapés work well outdoors – there's no mess or drama if Aunt Wendy drops a sausage roll and guests can create their own picnic at their leisure. A canapé table can also often be more affordable than more ornate mouthfuls delicately prepared in the kitchen.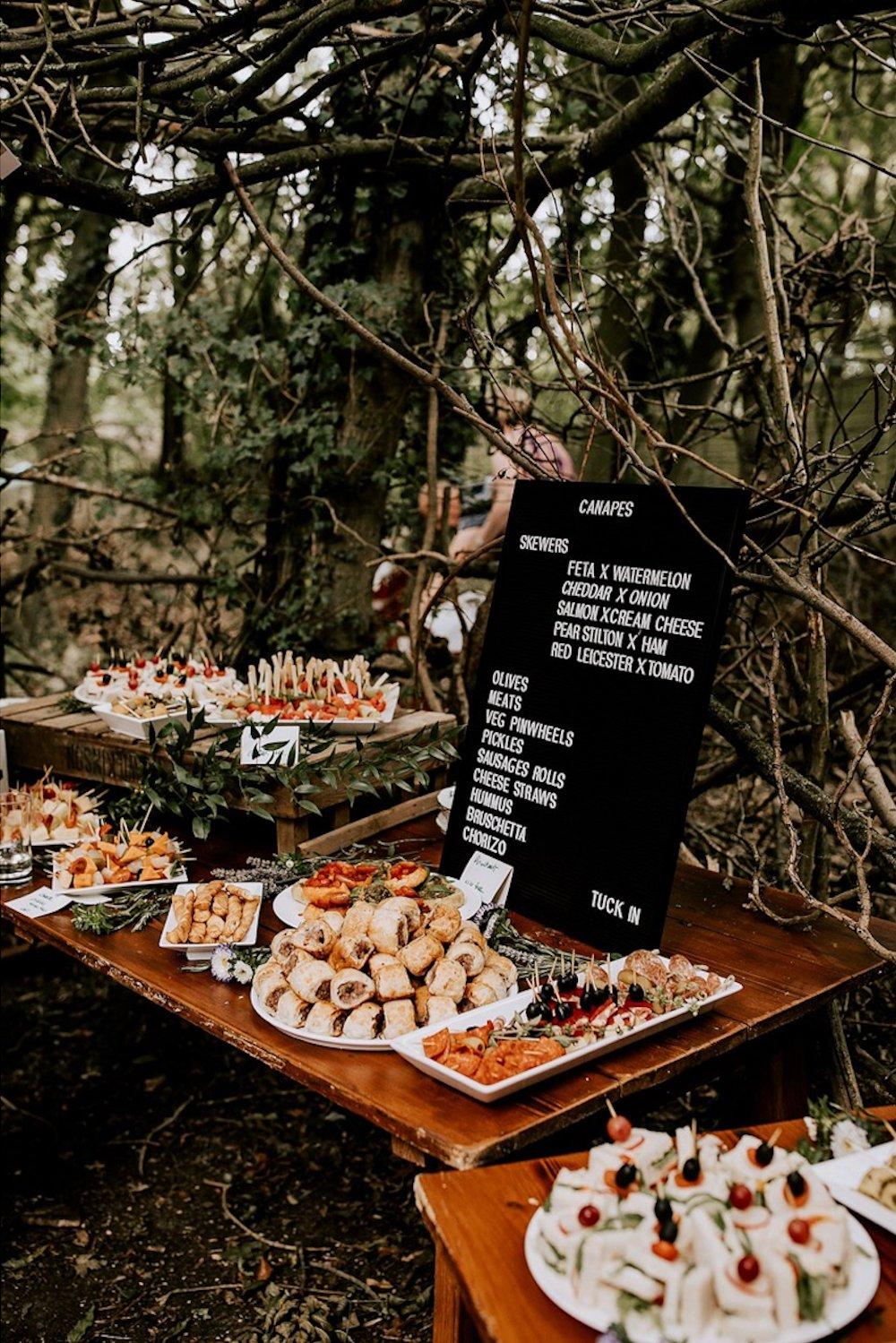 Image: Pinterest
39. A bath full of wine bottles is a decorative feature and wedding bar in one. Fill it with ice, plus a scattering of petals if you're feeling 'extra'.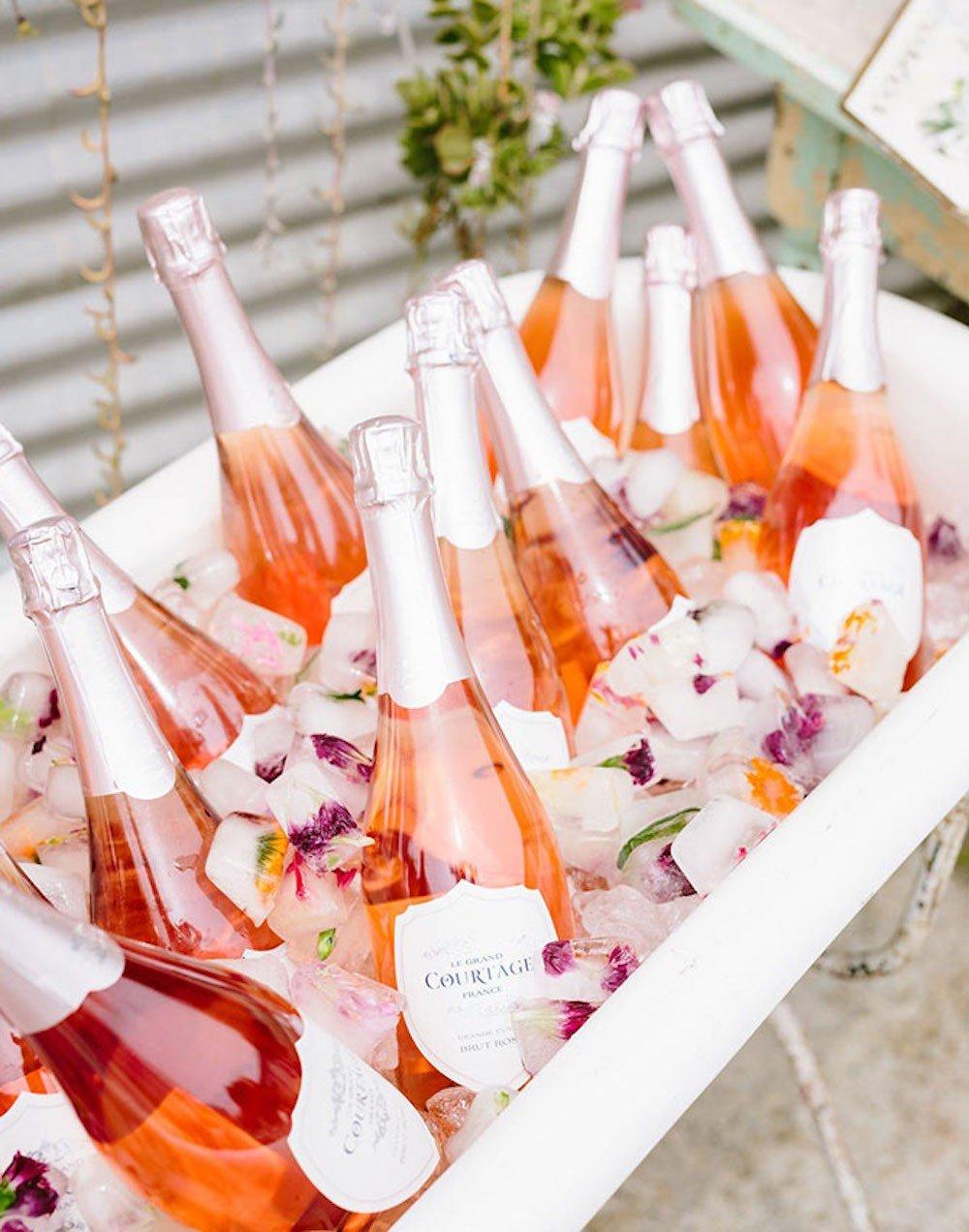 Image: Pinterest
40. More partial to a G&T? Curate an outdoor gin bar stocked up with all of your favourite bottles, botanicals, garnishes and tonic varieties.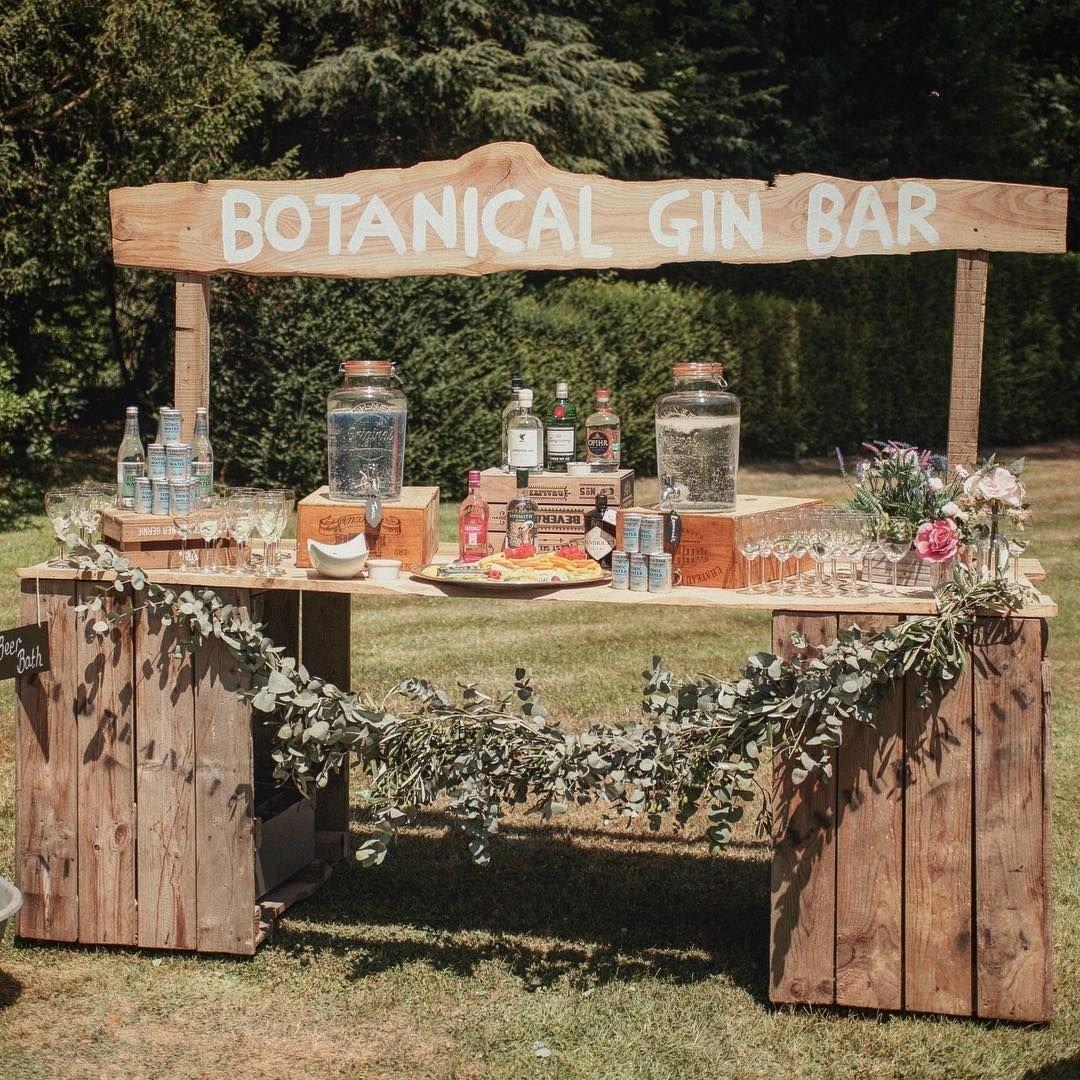 Image: Pinterest
41. Hydration stations are essential for hot days and make soft drink service easy. Fill large glass canisters with water, ice, lemon, lime or any other natural flavouring that you fancy and allow guests to top themselves up throughout the day.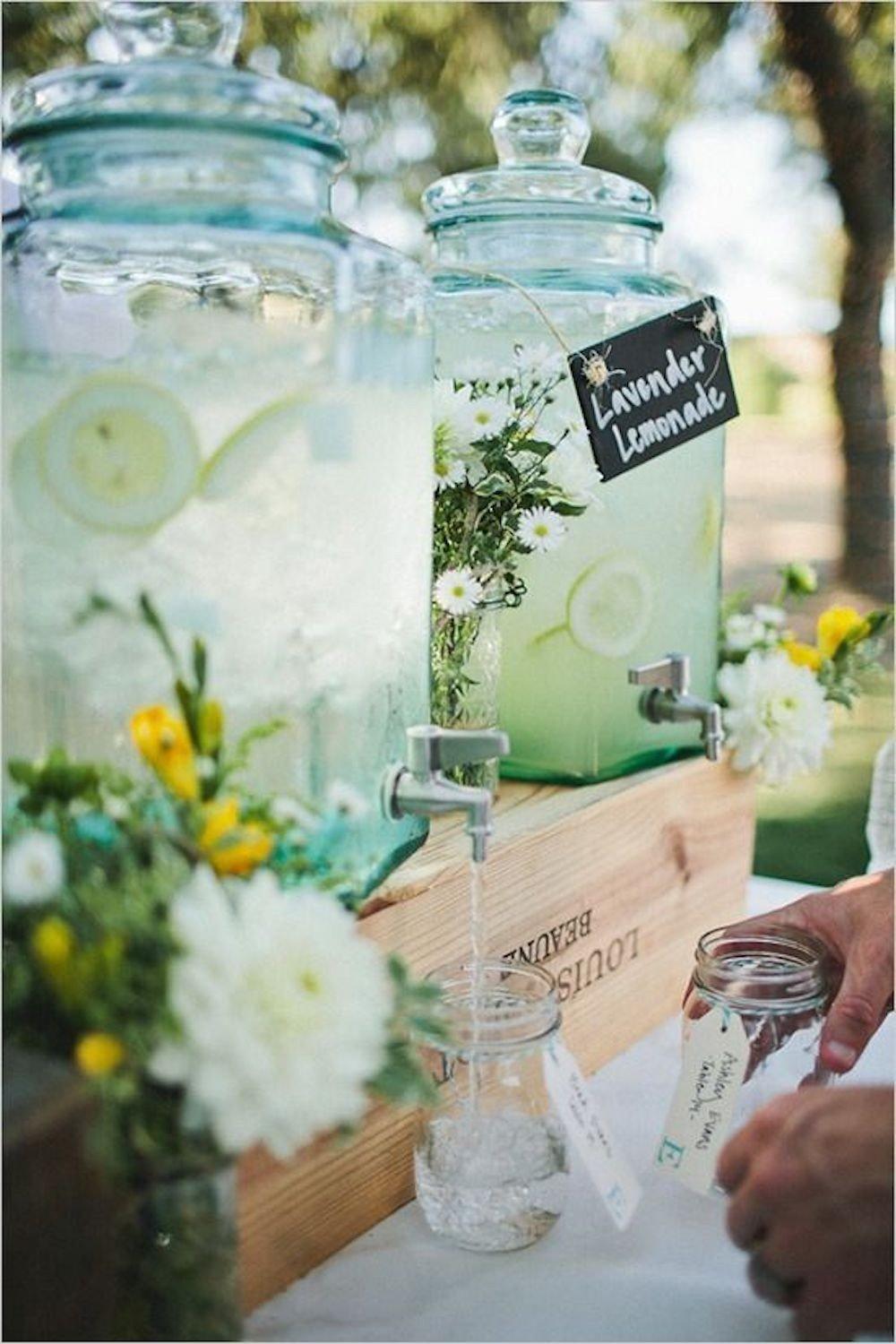 Image: Pinterest
42. If the idea of a formal wedding breakfast dessert doesn't appeal, you can't go wrong with a colourful doughnut table. You could commission a local baker to make doughnuts inspired by your outdoor wedding venue or your favourite flavours and let guests help themselves al fresco before the first dance.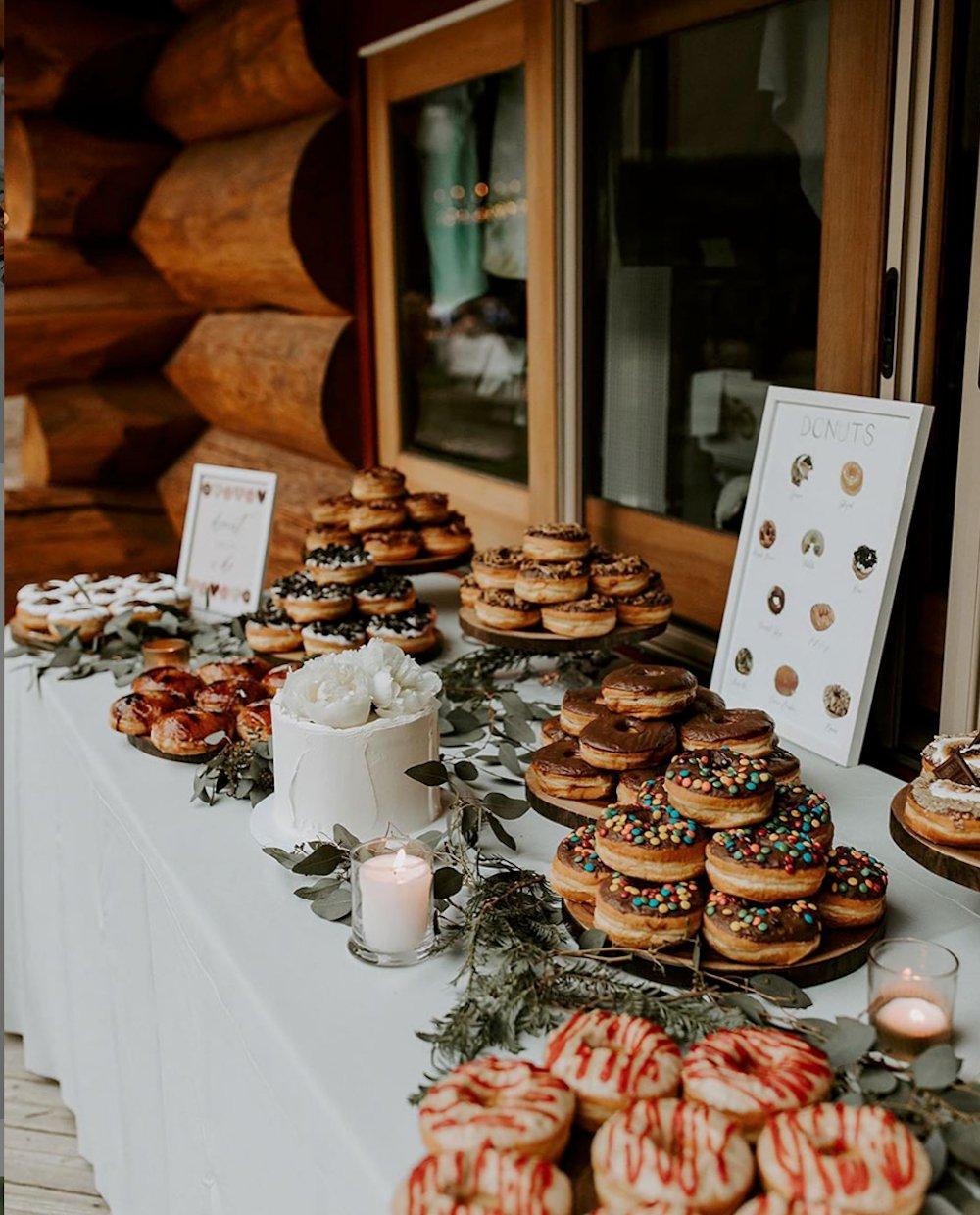 Image: Pinterest
43. Let guests warm their cockles or re-energise after dinner with a self-service tea and coffee table. Presenting mugs on a tree and tea and coffee options on a vintage desk is both stylish and convenient.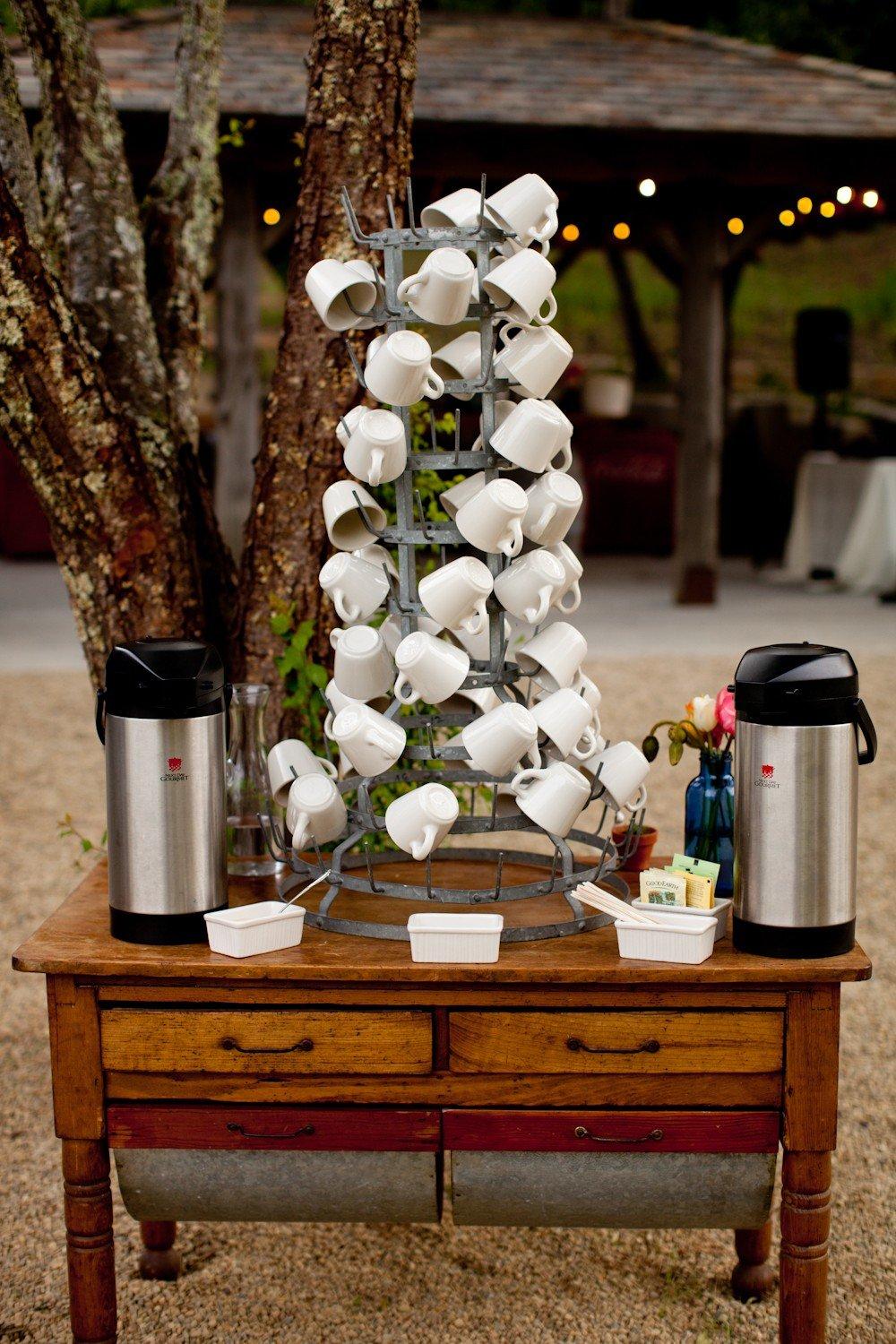 Image: Pinterest
44. Want to big up your bucolic wedding setting by way of a bake? Ask your cake maker to incorporate outdoorsy details of the day to make a floral or herbal wedding cake. Decorating it with flowers, foliage or other natural materials will add to the charm.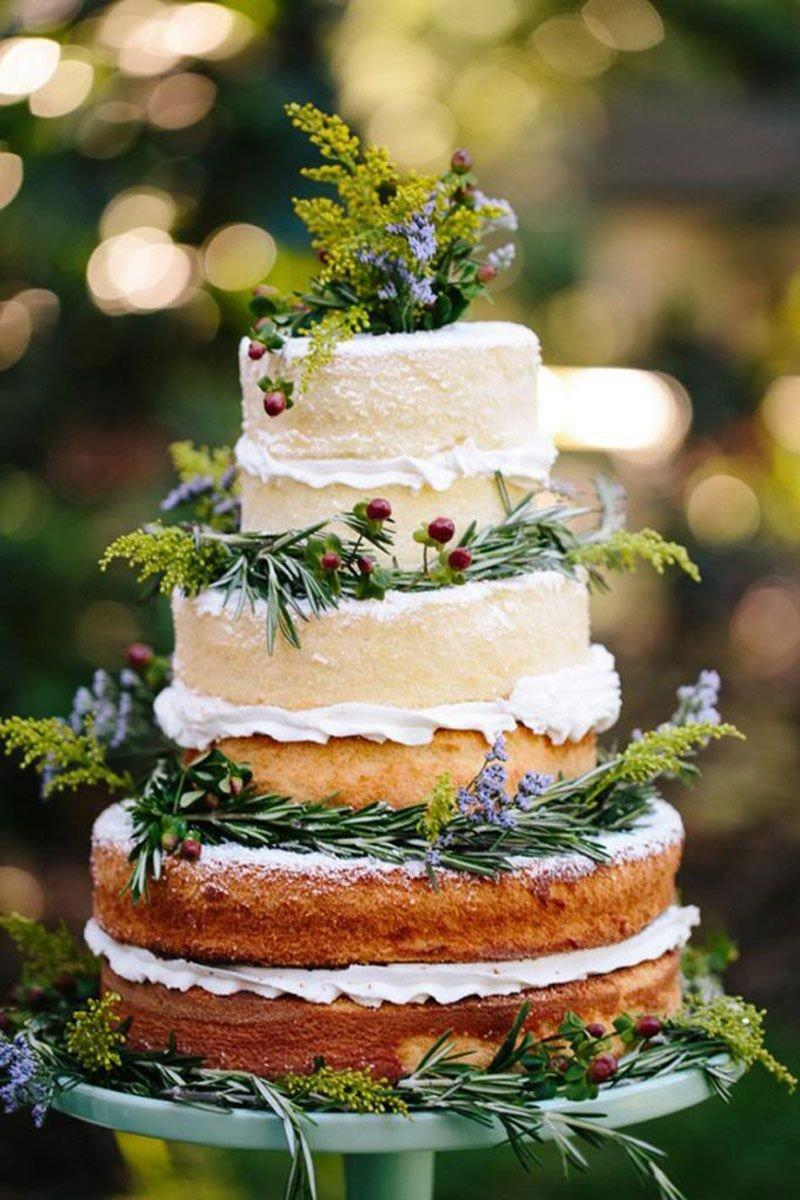 Image: Pinterest
45. If you always order the cheese plate over a sweet, an outdoors wedding provides the perfect opportunity to serve a custom wedding cheese tower instead of a traditional wedding cake. Depending on the temperature of the room and the strength of the varieties you go for, 'cheese cakes' can be a little…whiffy…when served indoors – an airy outdoors wedding reception will diffuse any potentially pungent odours.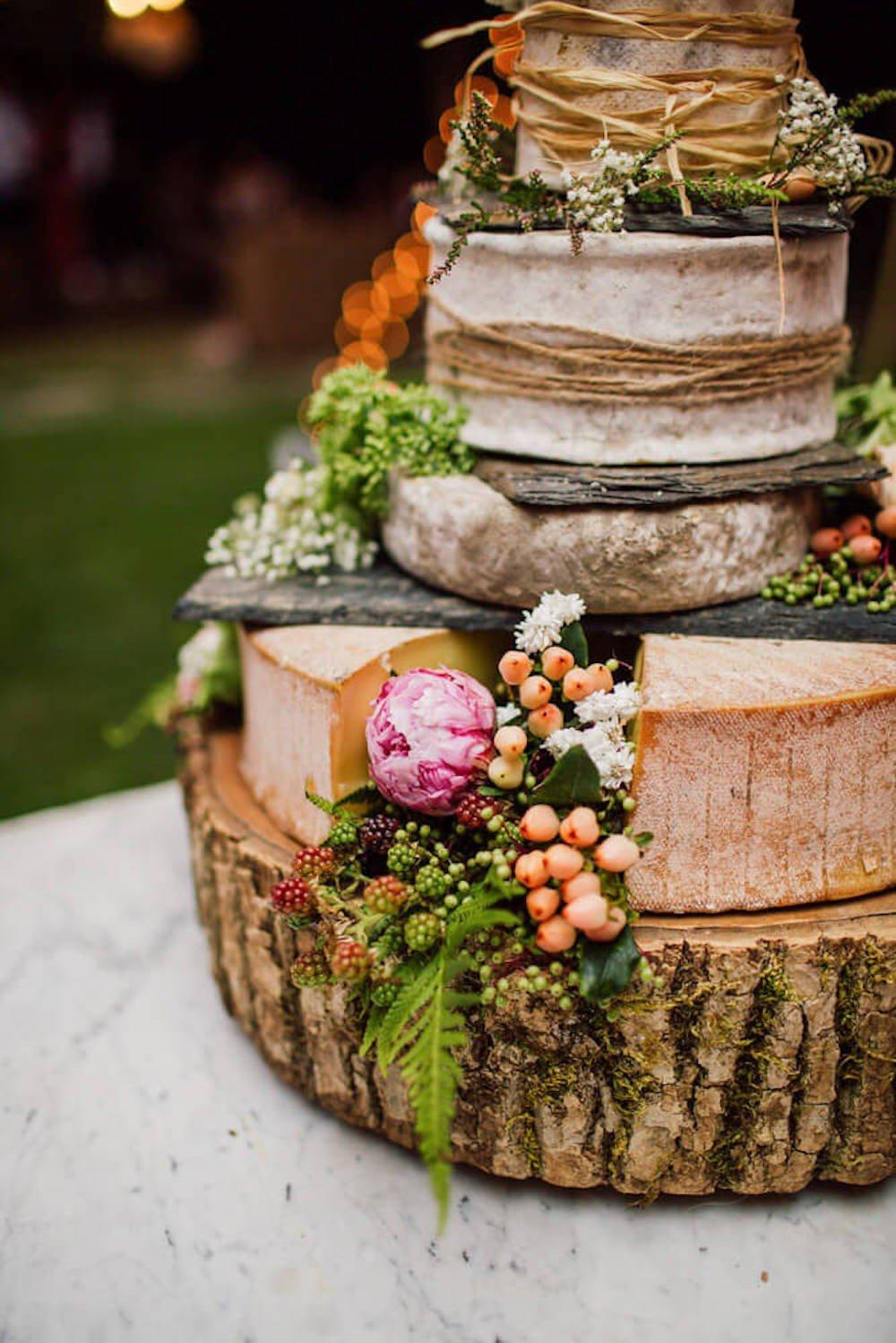 Image: Pinterest
46. Why stick to a naked sponge or white icing? A dramatic coloured wedding cake will look particularly striking in an outdoors setting, especially if you serve it topped with natural elements that inspired its creation.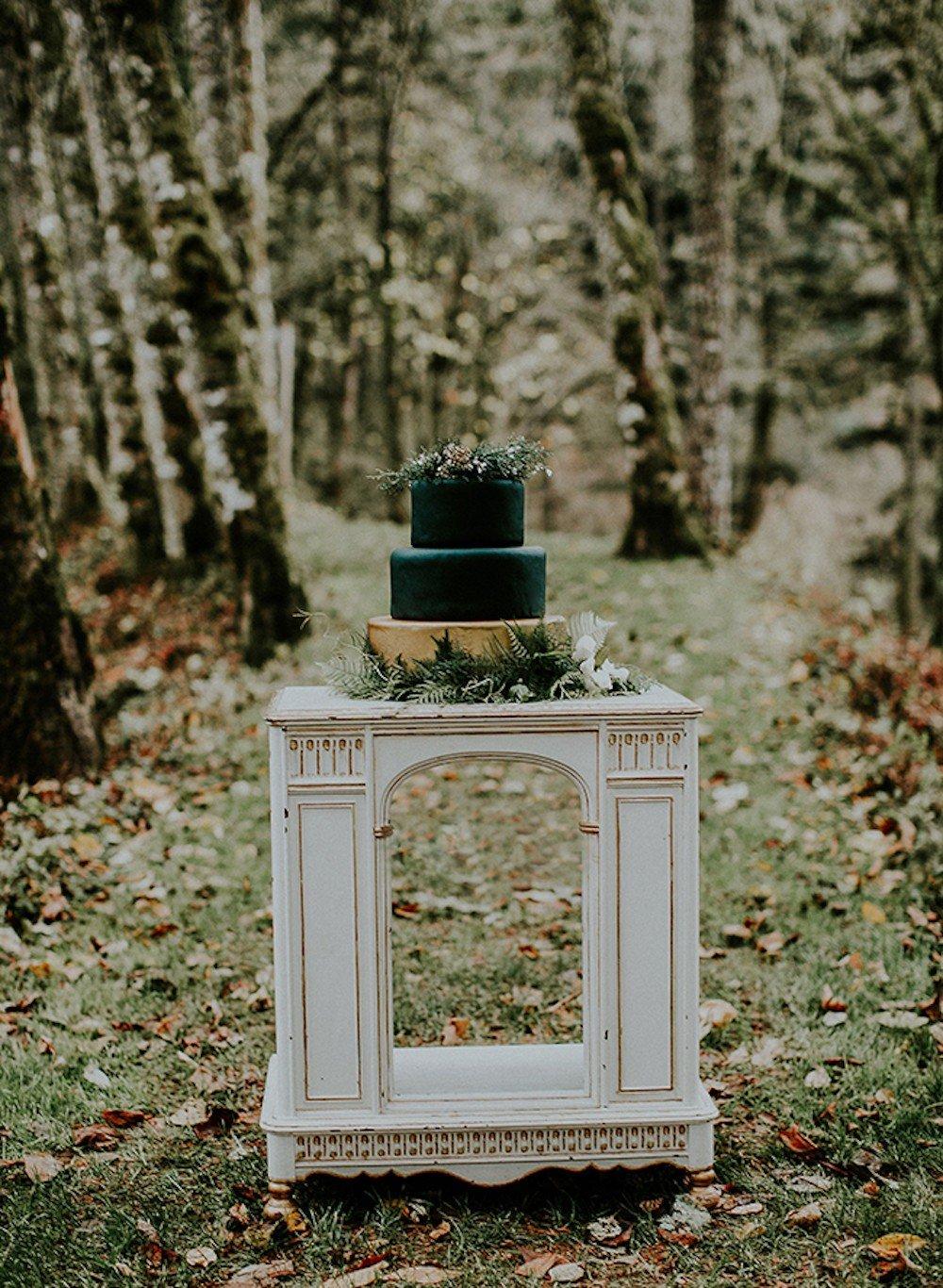 Image: Pinterest
47. Outdoor bars aren't just for post-ceremony drinks – light-up signage will keep the drinks flowing all night long. Stock it with your preferred booze and soft drink options if you're planning an open bar.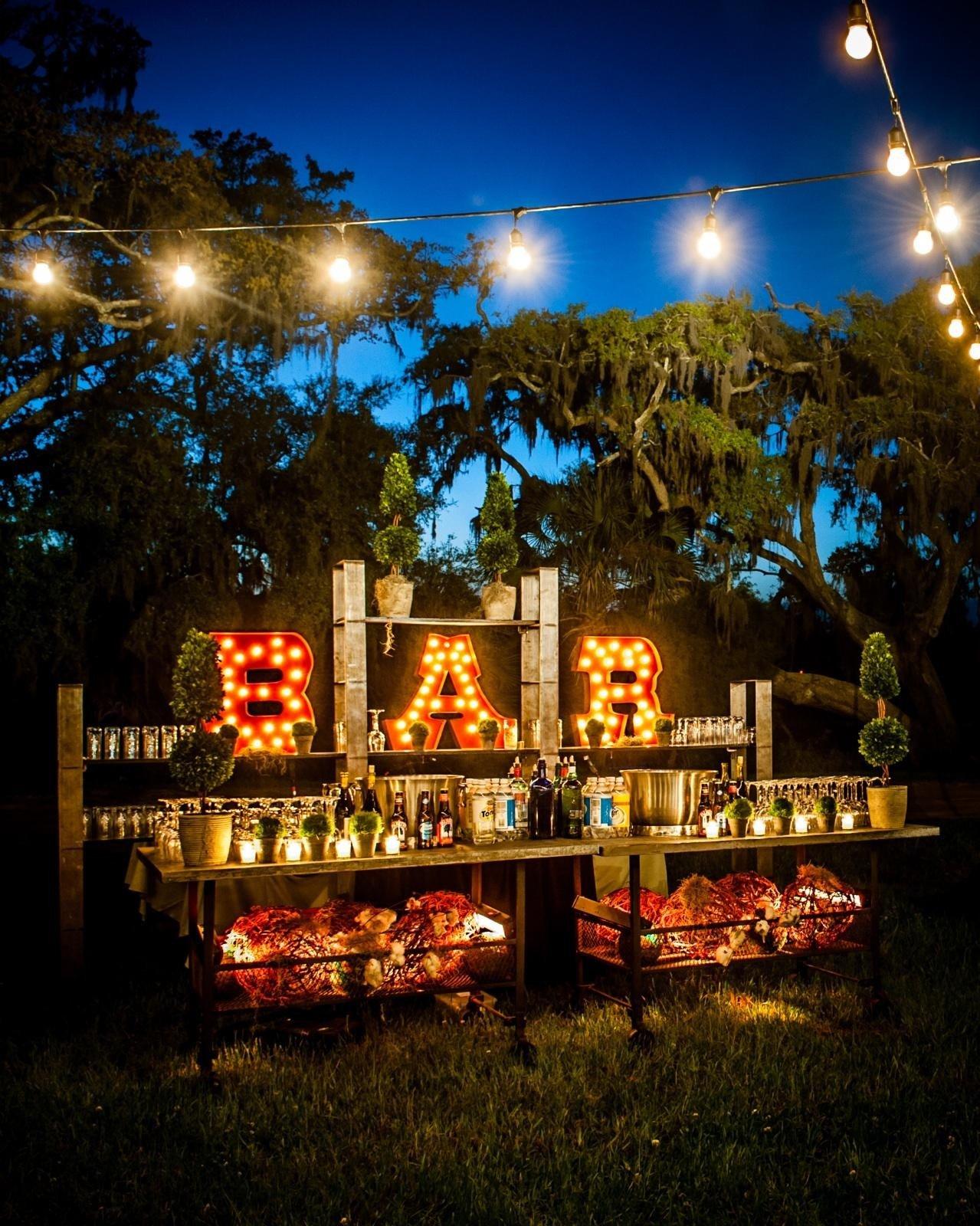 Image: Pinterest
48. If you're getting married outside in autumn or in a location that becomes much chillier after dark, a hot chocolate bar will go down a treat. Children and non-drinkers can enjoy a hot cup of cocoa while adults who are drinking can mix up their own hot toddy.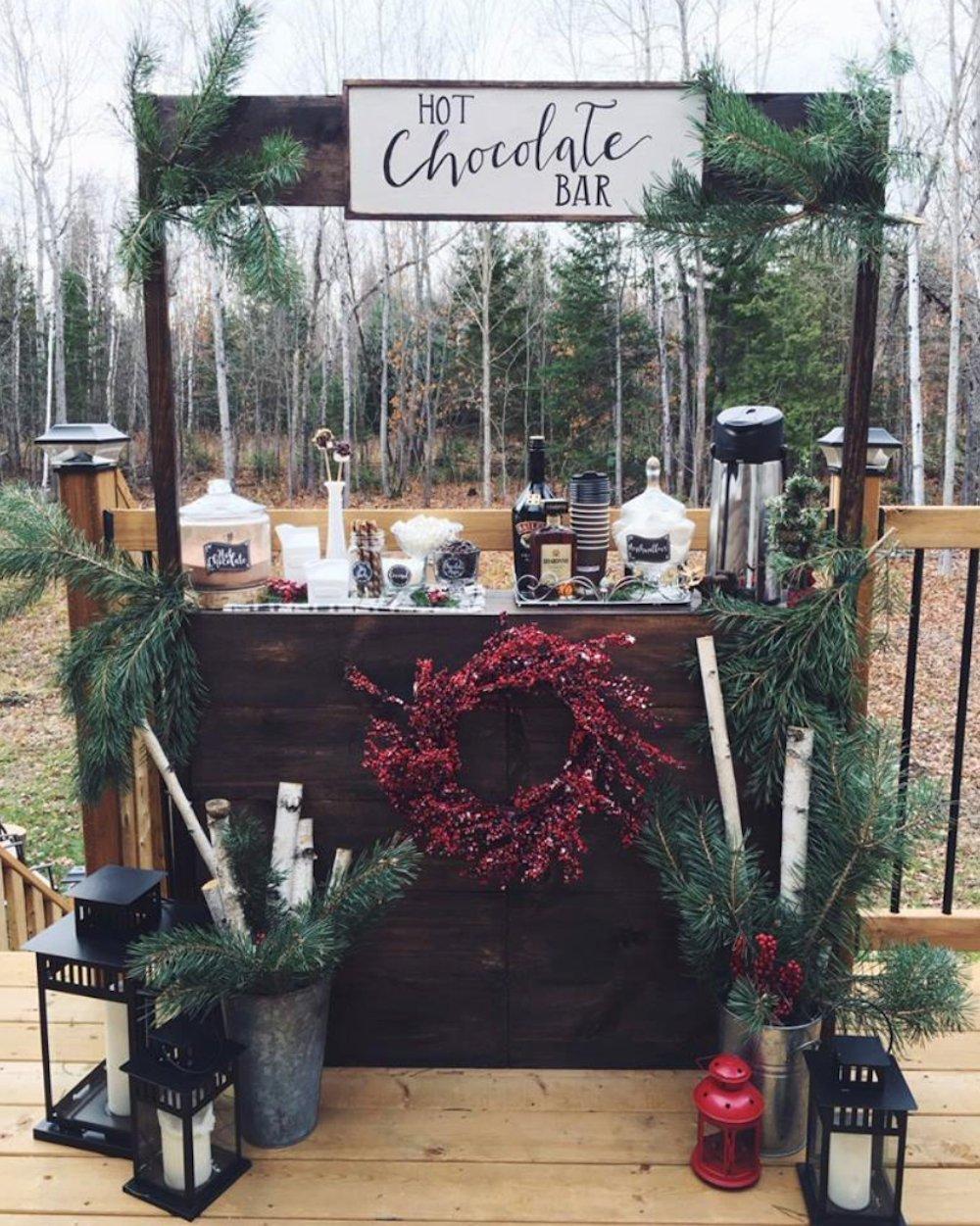 Image: Pinterest
49. If your venue can provide an outdoor pizza oven, made to order pizzas are a clear winner for evening food. Ask your caterers or hire a pizza van for freshly-baked late night pizza.
Image: Tandem Photo; Caterer: The Edinburgh Catering Company
50. If you've lit fire pits in your outdoor wedding reception area, consider providing a smores table complete with marshmallows, biscuits and pokers to allow guests to roast their own sweet treats over an open fire. It'll be a lovely throwback to your childhood camping trips, hopefully minus the recounting of horror stories around the campfire.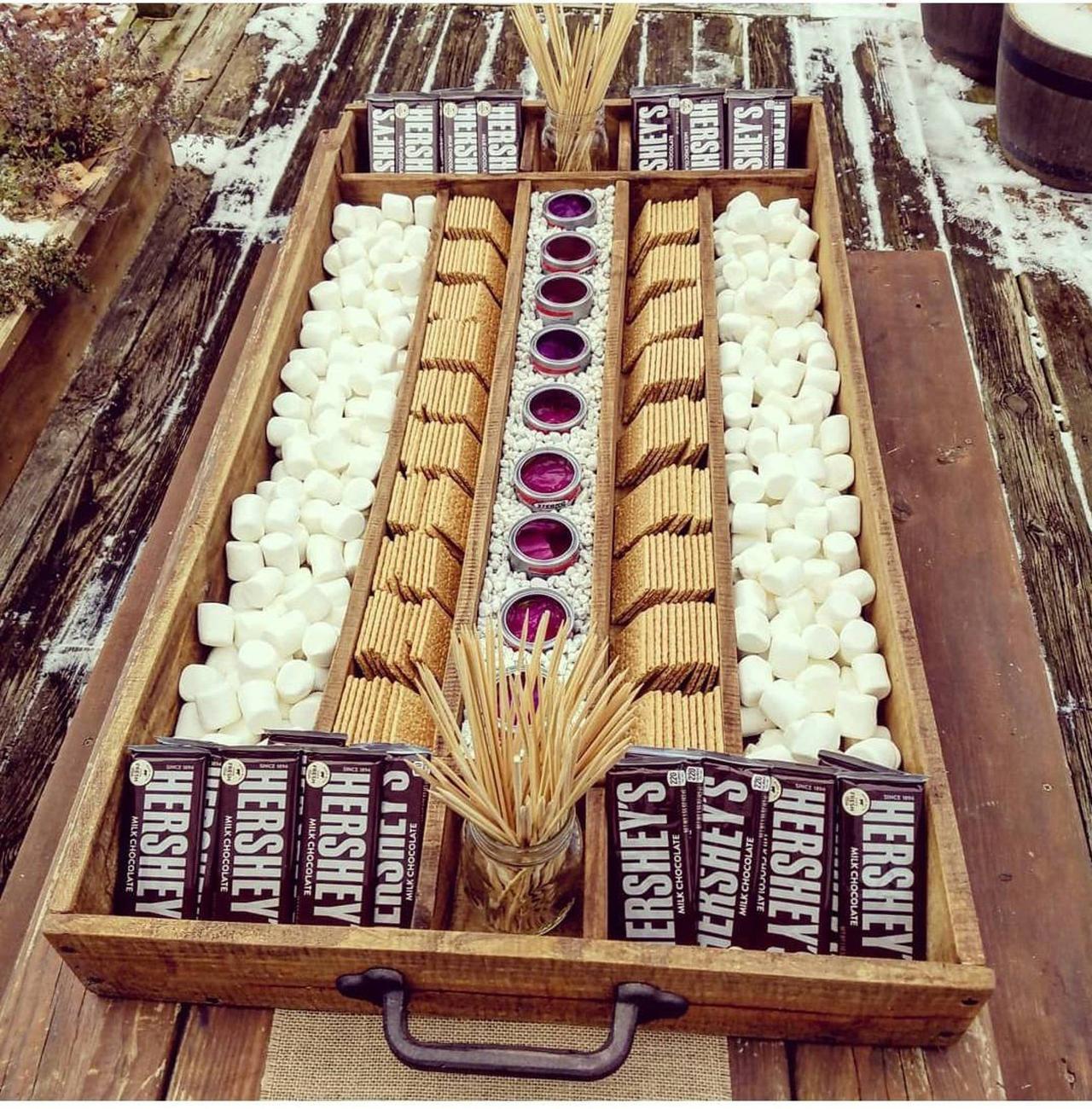 Image: Pinterest
51. Keep things green in every sense by encouraging guests to recycle bottles, cups and any other recyclable materials that guests use on the day. A recycling barrel is far prettier than a bin.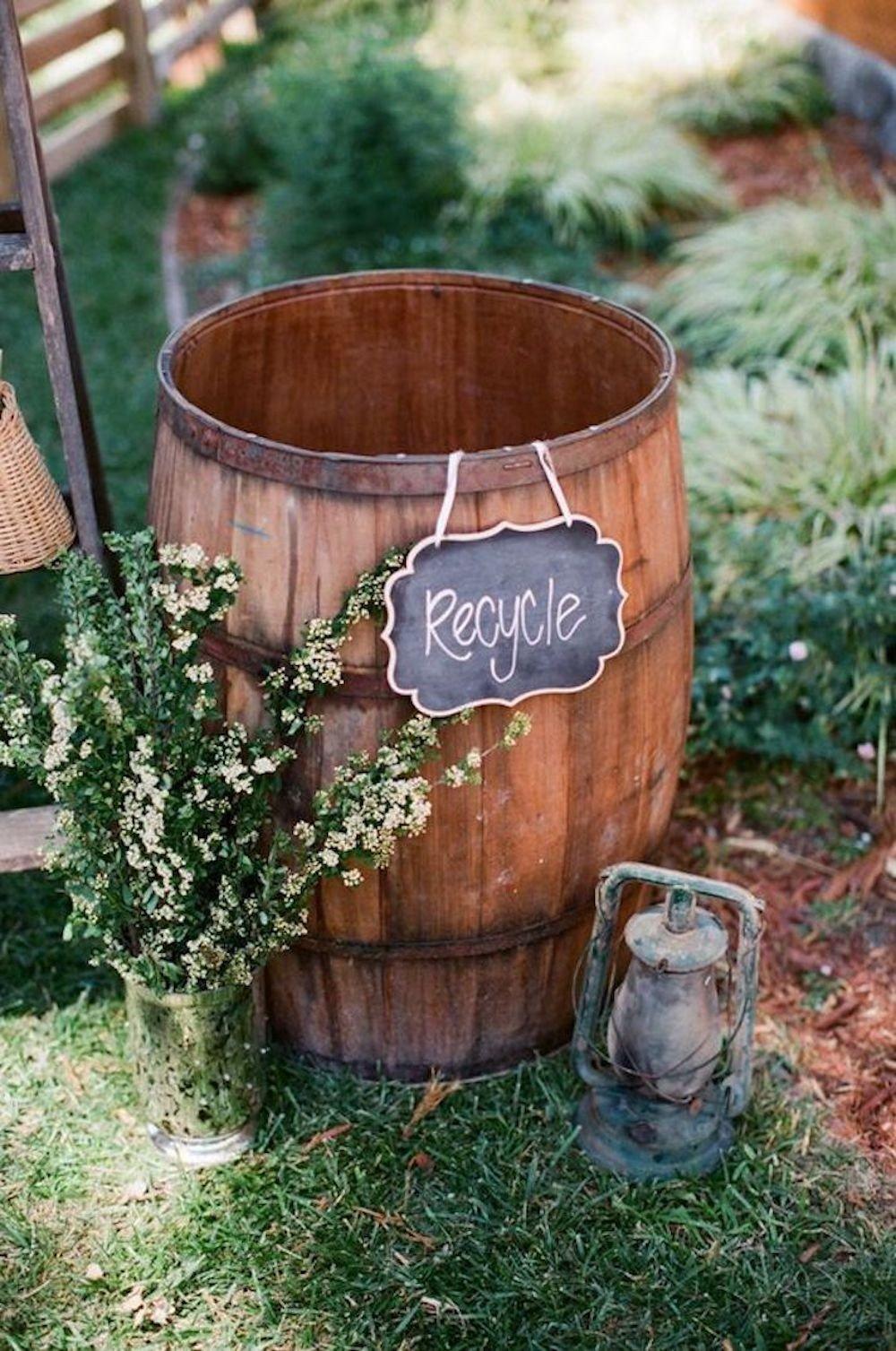 Image: Pinterest
Outdoor Wedding Entertainment Ideas
52. Lawn games will keep adults and kids alike occupied while you have your wedding photos taken. Many outdoor wedding venues provide them free of charge so check with your wedding coordinator beforehand.
Image: Pinterest
53. Outdoor darts boards attached to tree trunks will delight competitive guests and serve as a pre-dinner ice breaker.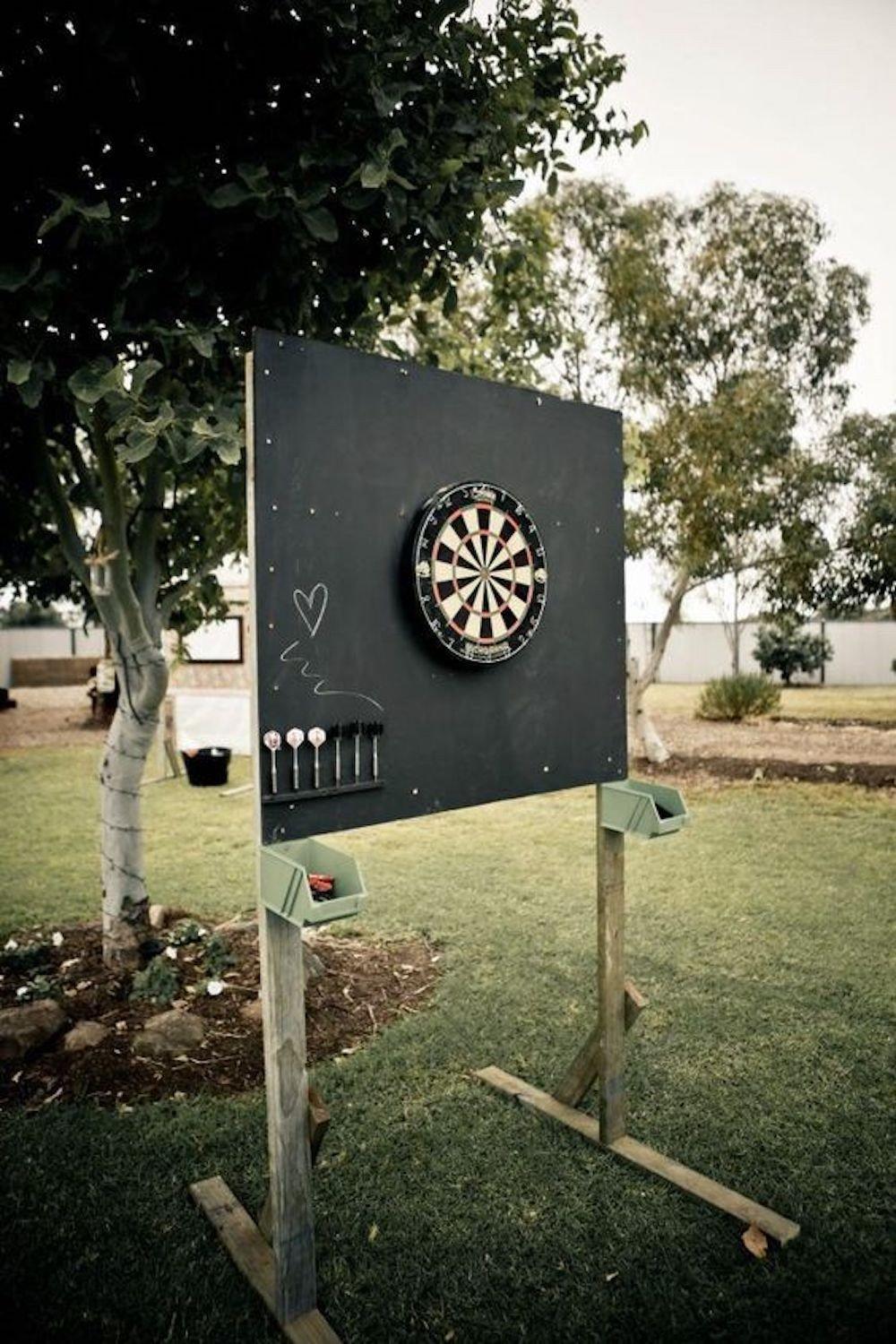 Image: Pinterest
54. Recreate the pub al fresco with an outdoor football table. Friendly guest rivalry is very much encouraged.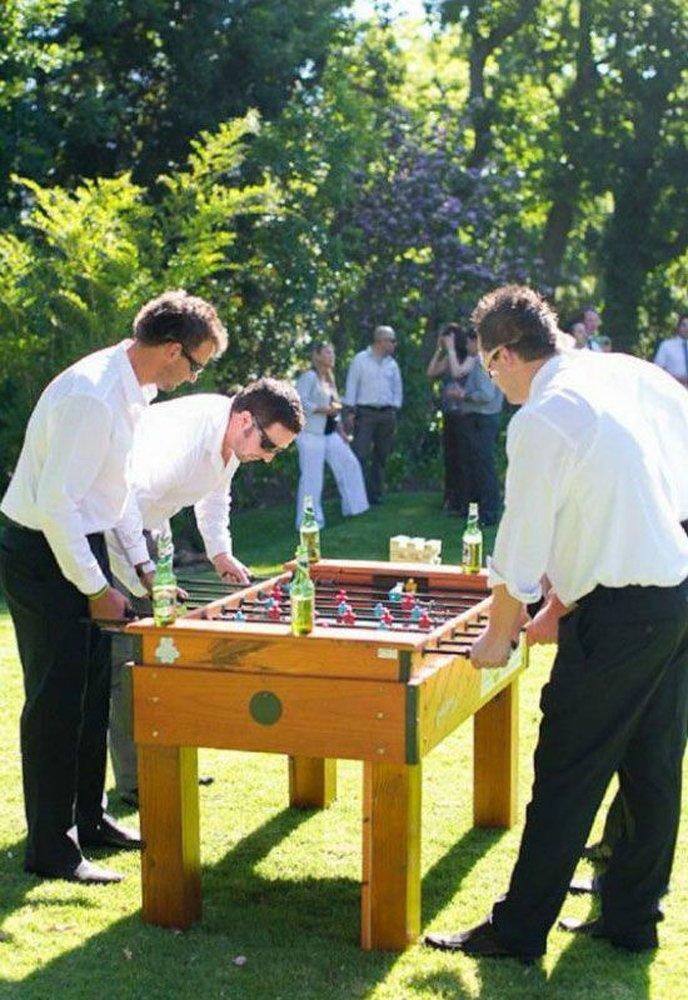 Image: Pinterest
55. A vintage camper van could come to many uses at an outdoor wedding, setting the scene for everything from a 'powder room' to a bar. It's also the perfect space for a wedding photobooth – hire one, deck it out with lights and props and then snap the backseat lols.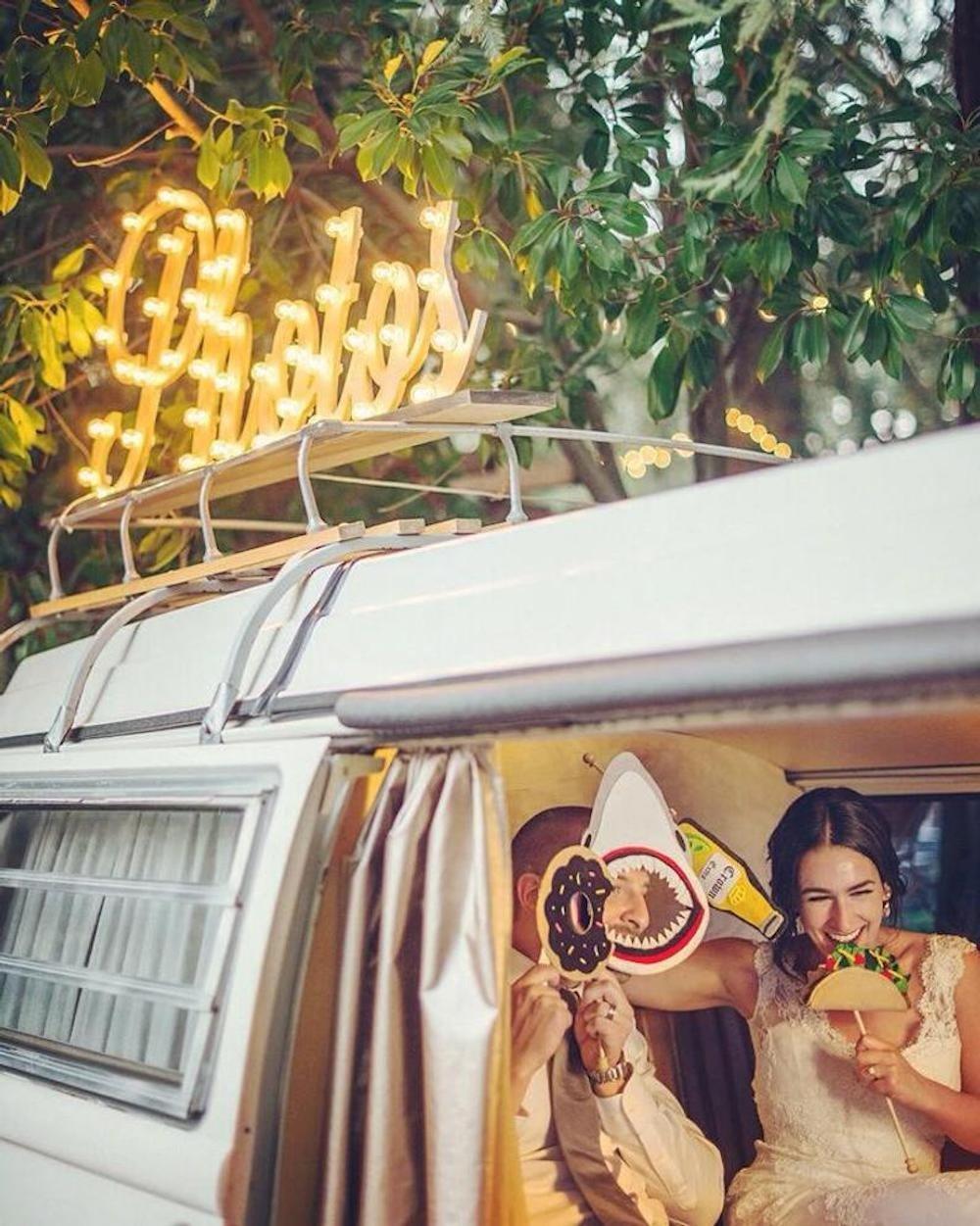 Image: Pinterest
56. If you dream of a first dance among the trees or by moonlight, an outdoor dance floor is the stuff of fairy tales. A wooden or tiled dance floor will be the most hardy and the natural air-con will be most welcome when guests start throwing shapes.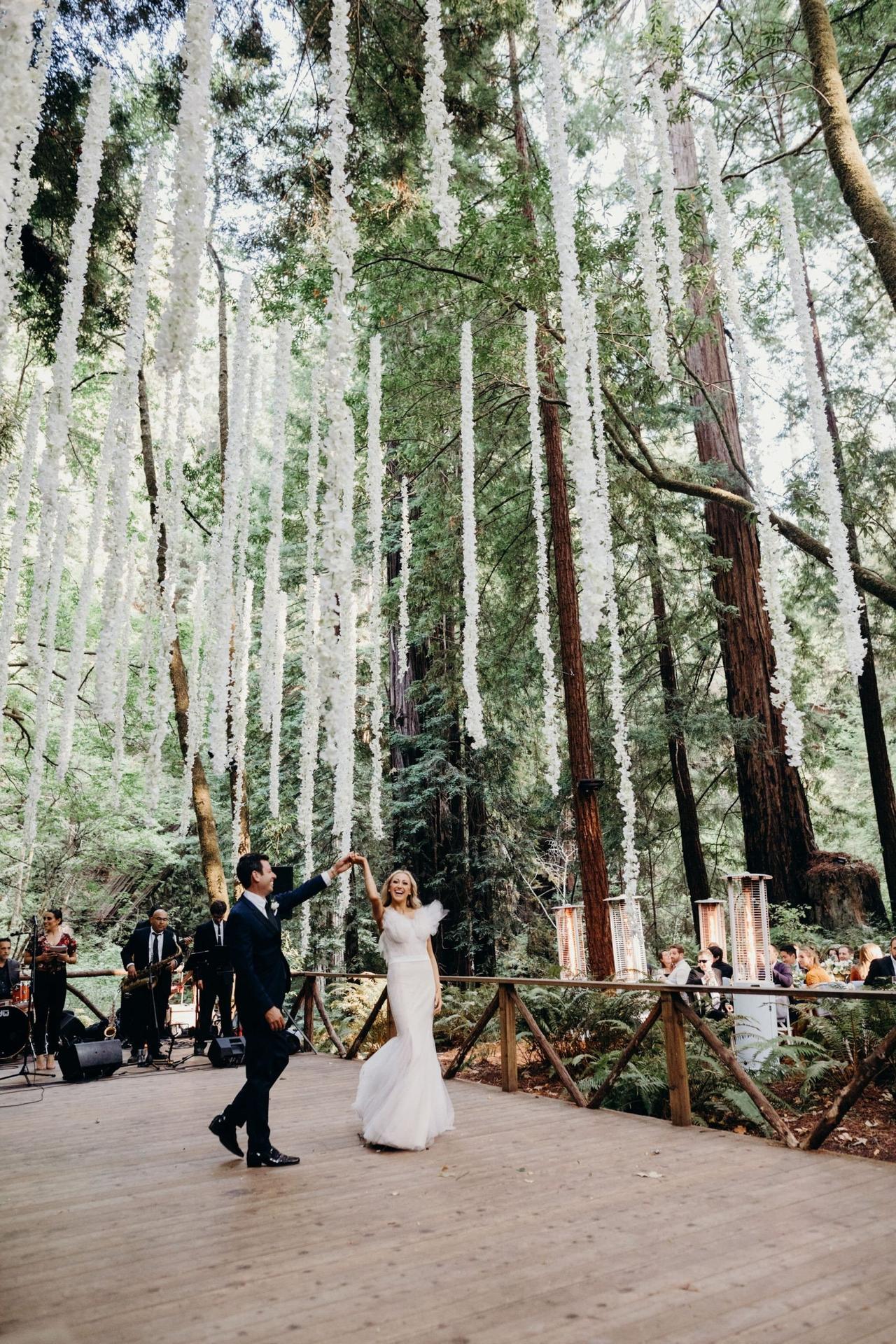 Image: Pinterest
57. Whether simply for the photo op or to wave you off on honeymoon, sparklers will add even more star quality to an outdoor wedding. Leave sparklers in buckets for guests to take, get the lighters out and celebrate when night falls.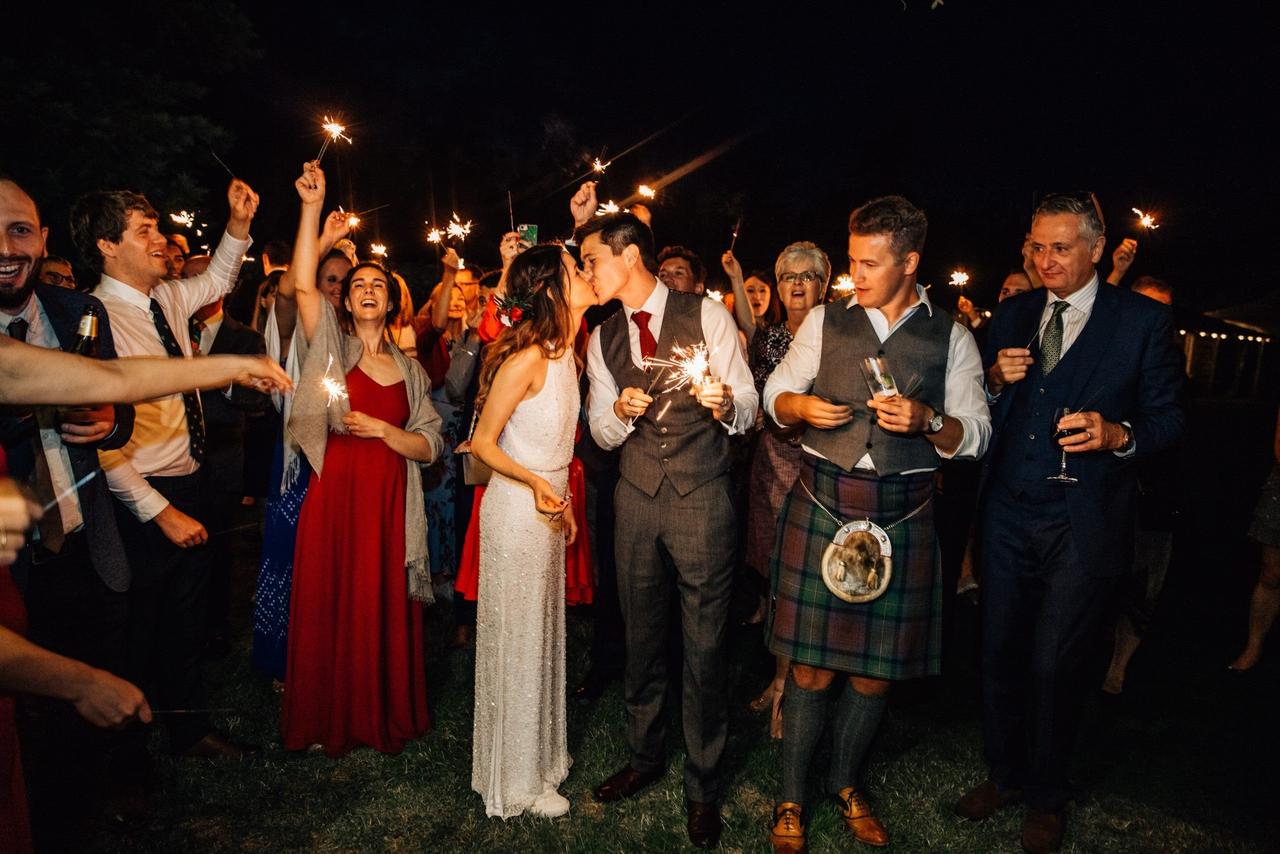 Image: Tandem Photo
Outdoor Wedding Fashion Ideas
58. Prevent that sinking feeling when you go for a stroll on the grass with heel protectors. They'll allow you to wear your prized stilettos down the aisle while still staying steady and will come in handy for all future garden parties. Heels fans will wonder how they managed summer parties without them.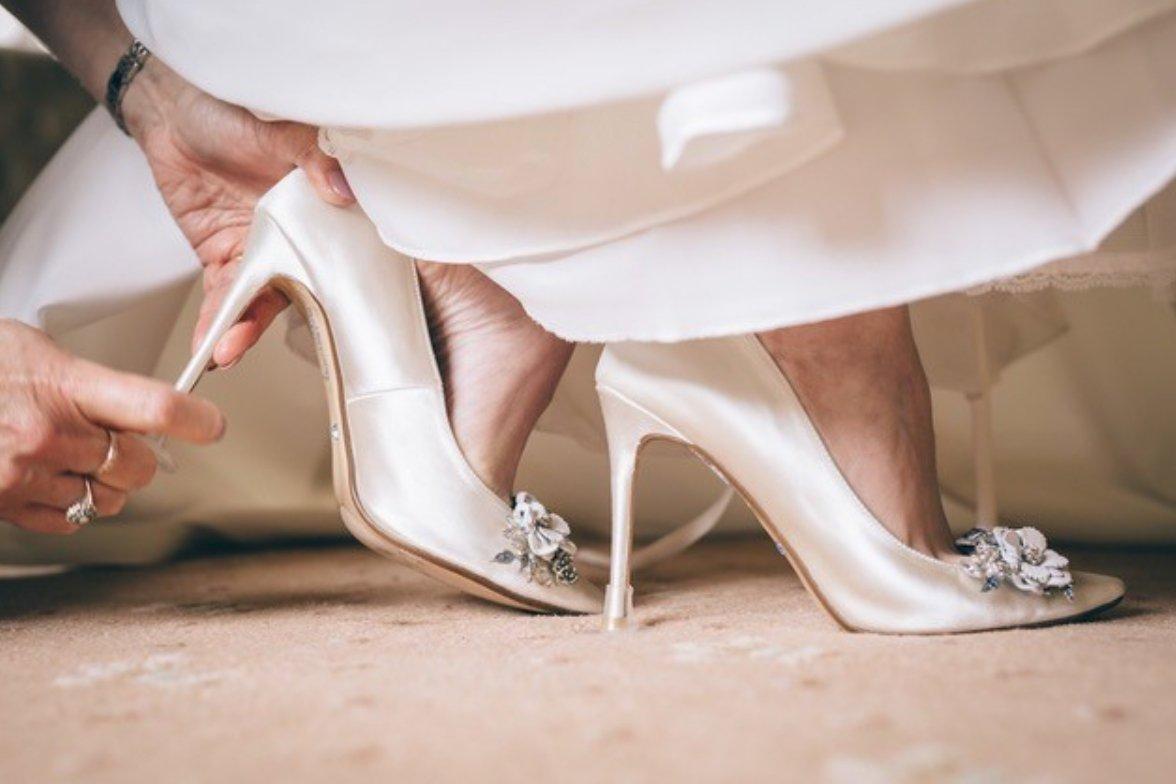 Image: Clean Heels
59. If stilettos on the lawn still strike fear into your heart but you want a bit of elevation, chunky heels are the answer. They'll keep you stable if you're contending with uneven ground or a forest floor and allow you to dance the night away in comfort too.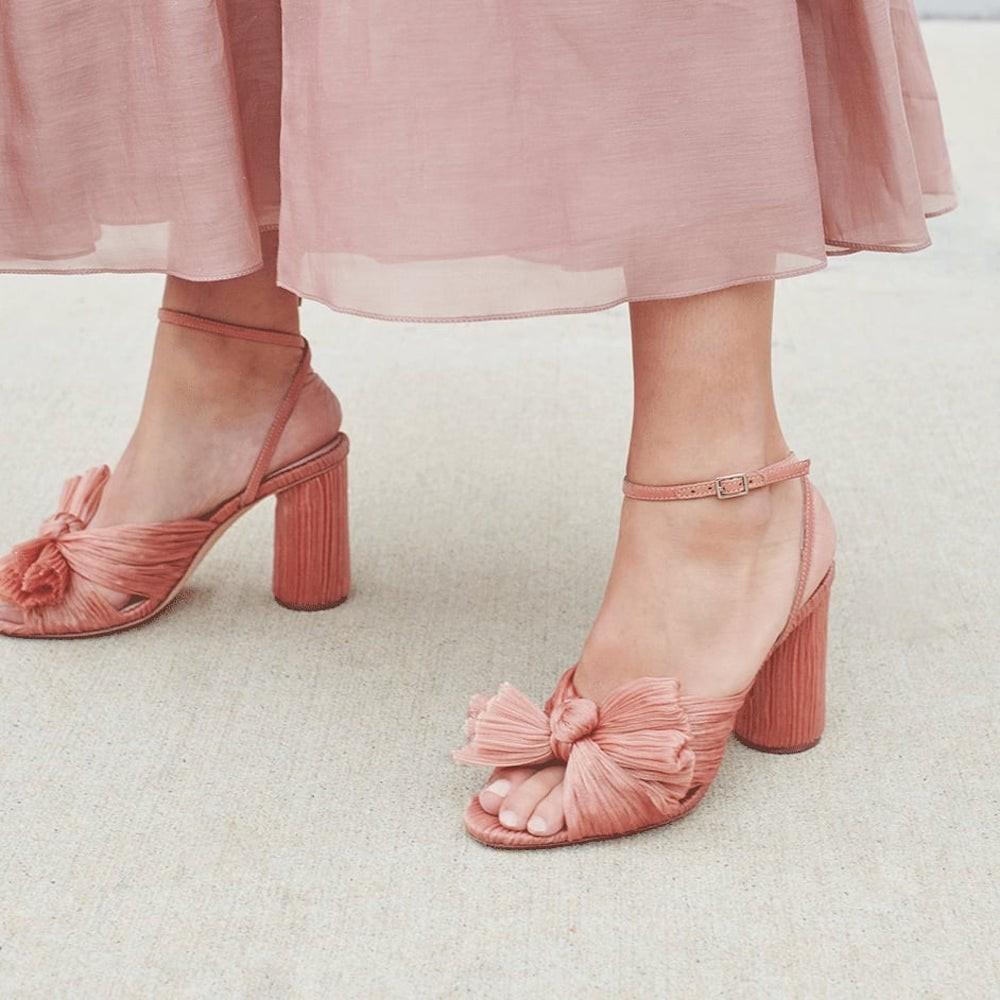 Image: Pinterest
60. A bridal cover-up will keep you toasty if there's a nip in the air or you've planned an outdoor wedding for early or late in the season. From wraps to personalised denim or leather jackets, there are plenty of wedding fashion options that'll keep you warm without sacrificing in the style stakes.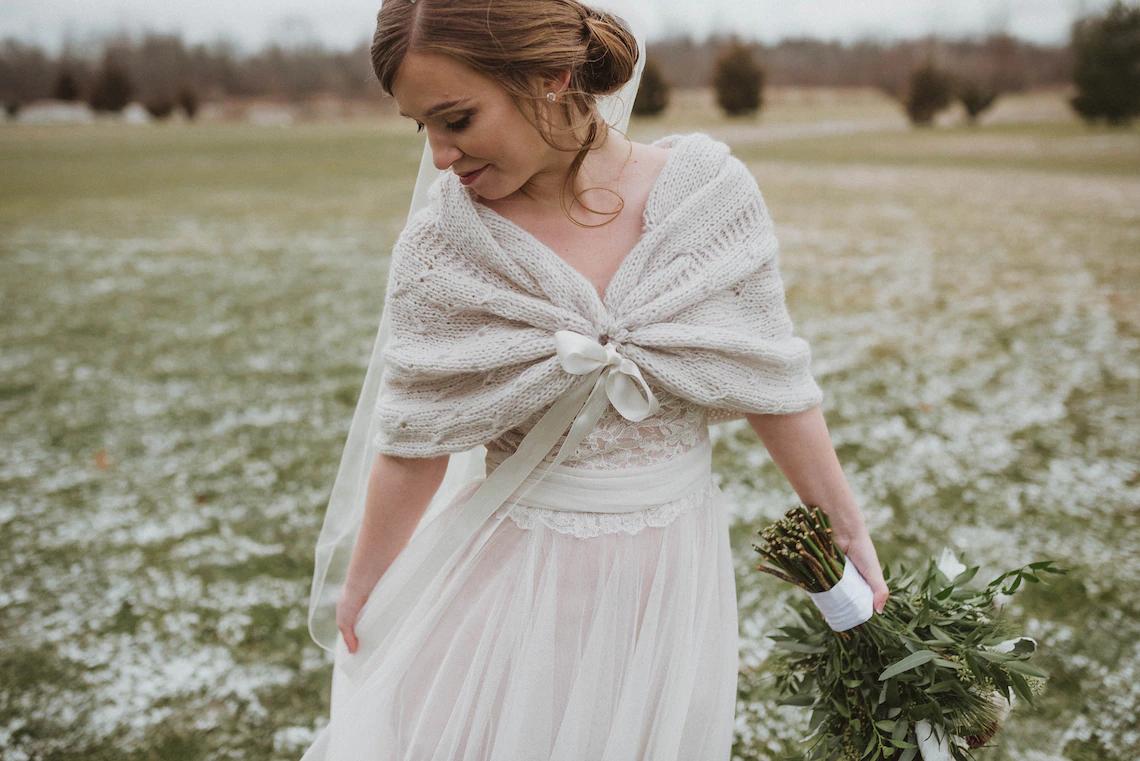 Image: Etsy
Outdoor Wedding Transport Ideas
61. If your wedding venue is slightly off the beaten track, consider guest transport options that can cope in the wilds. A tractor and trailer setup is ideal for a remote farm wedding and prevents your guests from getting stuck in the mud.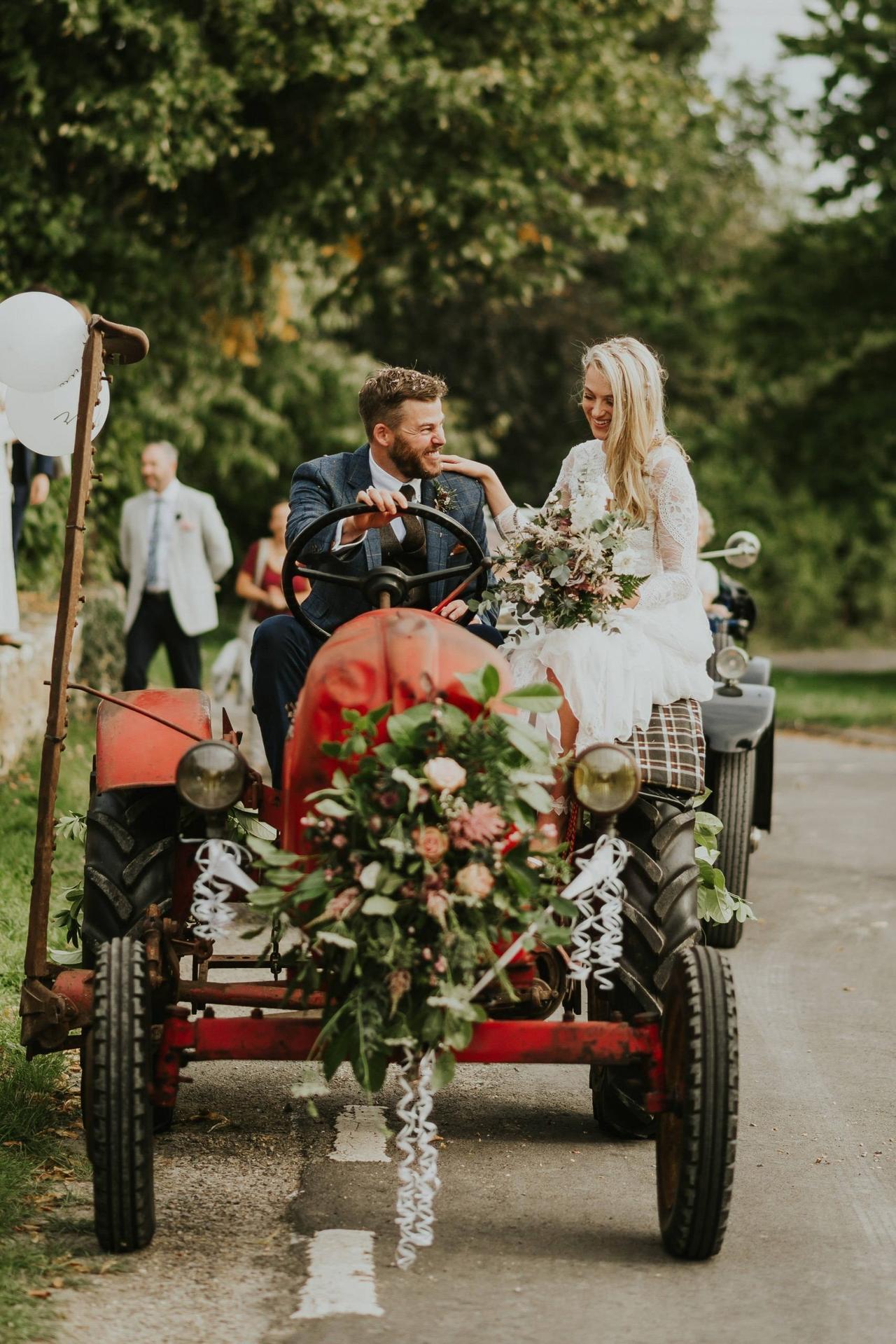 Image: Pinterest
62. Got a lake or riverside wedding reception planned and fancy making an entrance? Embrace your surroundings and sail in on a boat. It'll carve out some peace and quiet to enjoy your wedding day as a couple too.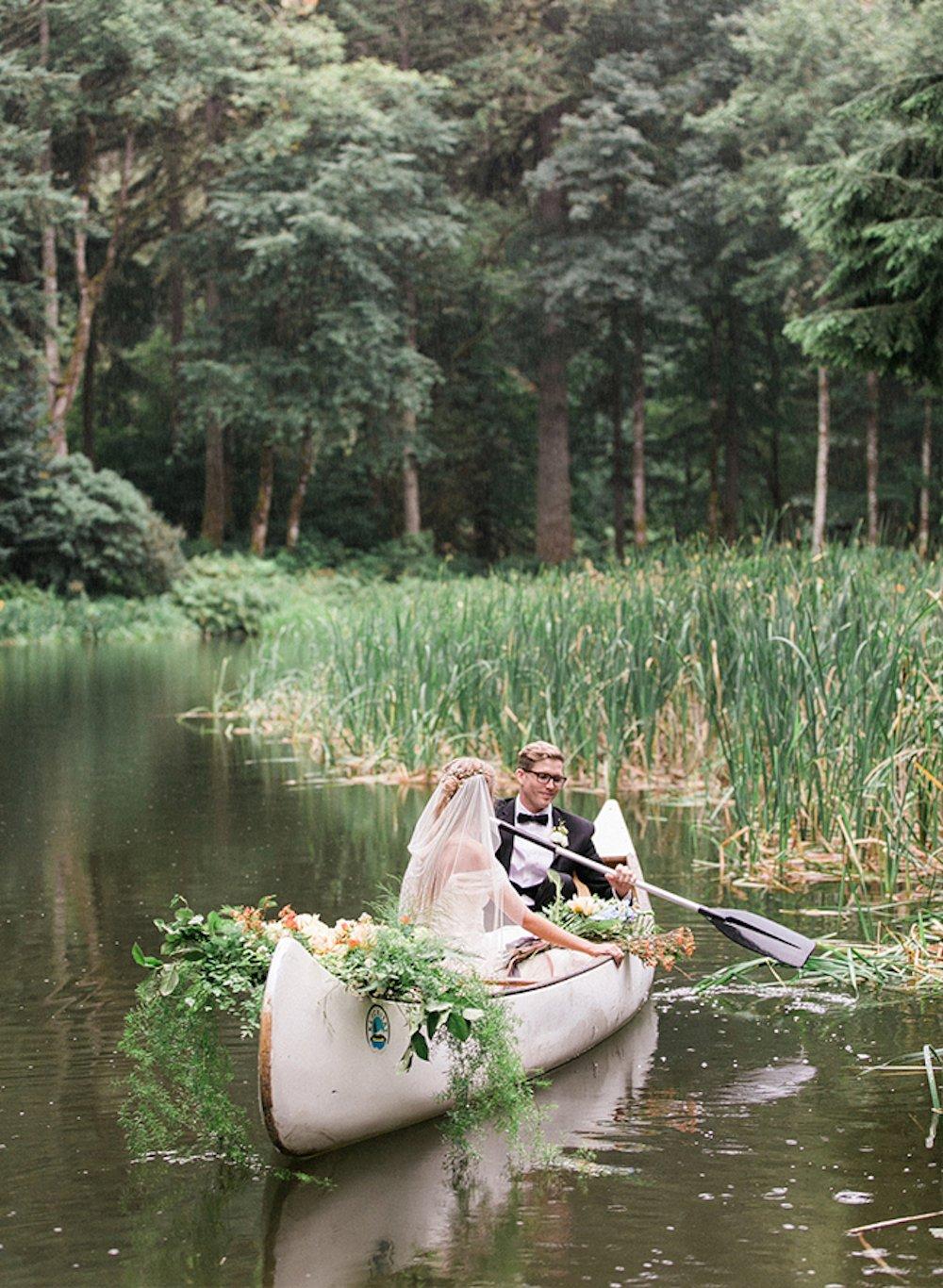 Image: Pinterest
63. If you've got a sprawling outdoor venue and are staying onsite, departing for your honeymoon on a golf cart guarantees a fun send-off.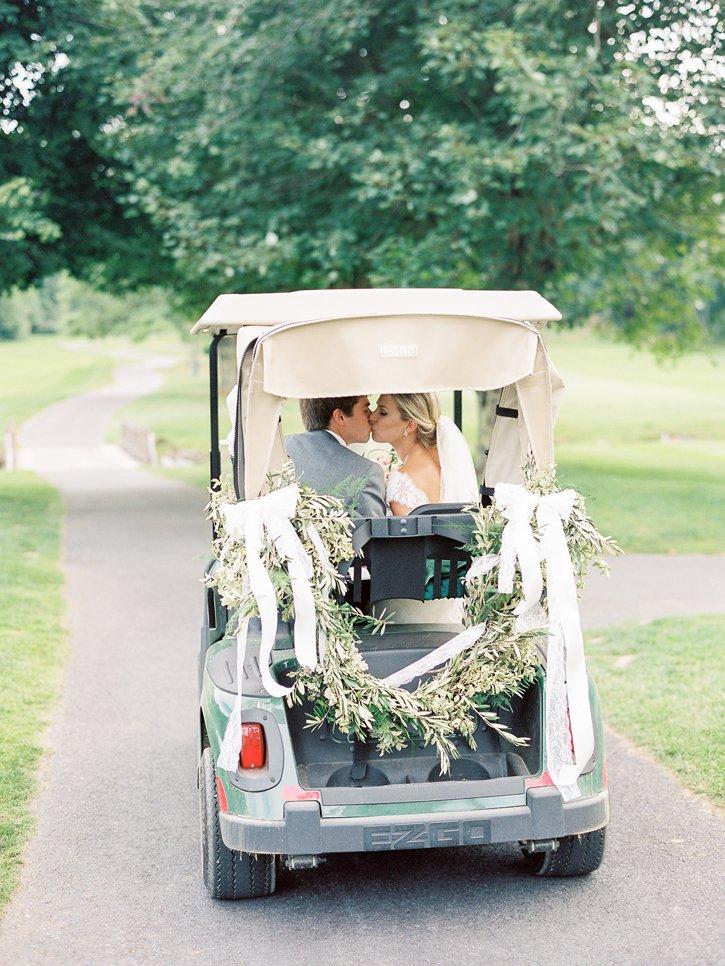 Image: Pinterest
Looking for perfect dresses for your bridesmaids to wear at an outdoor wedding? Here's the best place to buy bridesmaid dresses online.