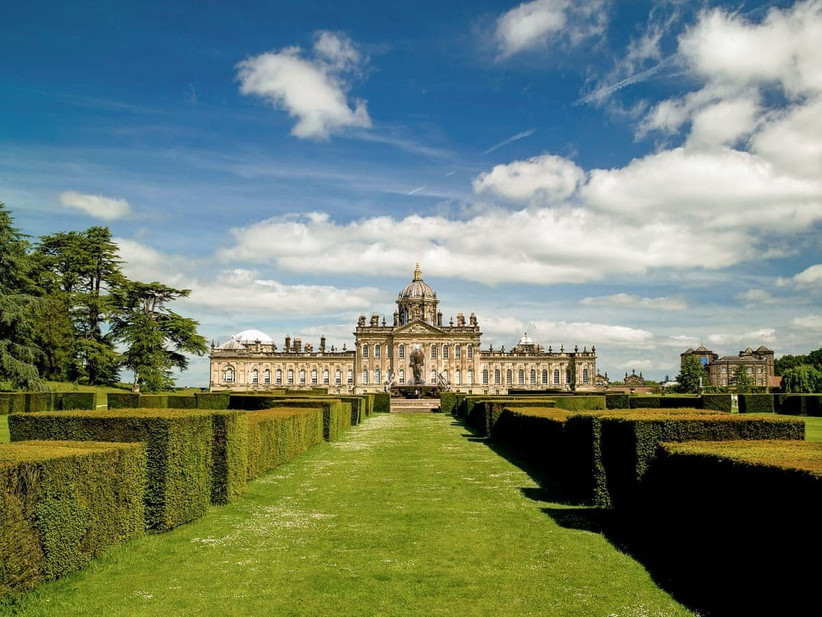 Is catching the newest blockbuster or binge-watching the latest TV series one of your favourite couple activities? Why not incorporate your passion into your wedding by choosing a stunning wedding venue from your favourite film or TV series?
While some TV shows – say, Luther – don't lend themselves to a wedding theme, some are crying out to add a little screen magic to your big day. Game of Thrones or Harry Potter-themed weddings have been popular for years; but what about Wolf Hall, Sherlock or even Sex Education?
Check out these 24 amazing wedding venues that have been featured in TV and film.
We also have an edit of the best castle wedding venues, if you're looking for a grand venue with a story to tell…
Chavenage House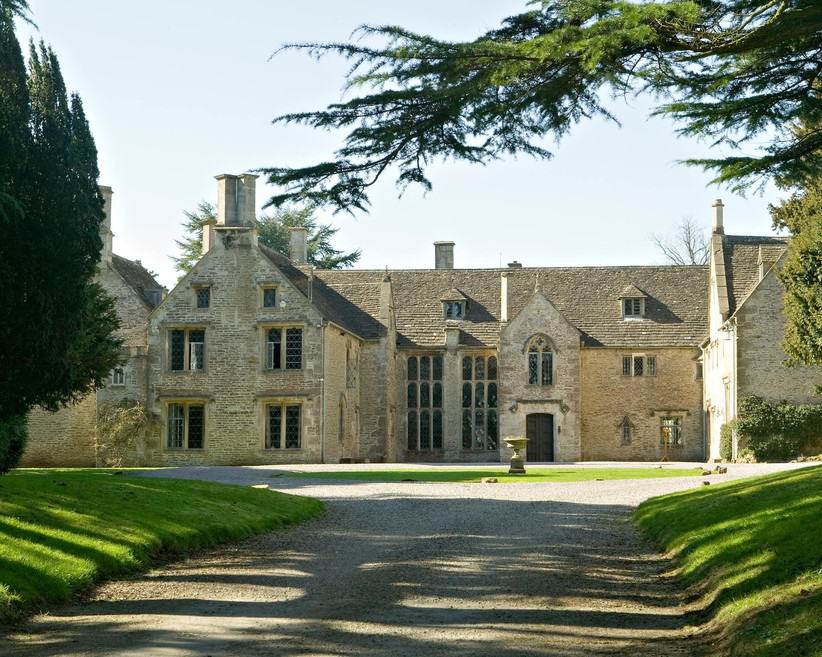 Featured in: Poldark, Cider With Rosie, Tess of the D'Urbevilles
If you want a wedding venue with several varied claims to fame, consider Chavenage House. The Gloucestershire venue has seen the BBC adaptation of Tess of the D'Urbervilles filmed there, as well as Lark Rise to Candleford, Grace and Favour and – on the opposite end of the spectrum – Noel's House Party. You might recognise it most from Poldark where it stars as Trenwith, the family home of Aidan Turner's character.
READ MORE: The 10 Best Wedding Venues in the Whole of the UK
Blenheim Palace, Oxfordshire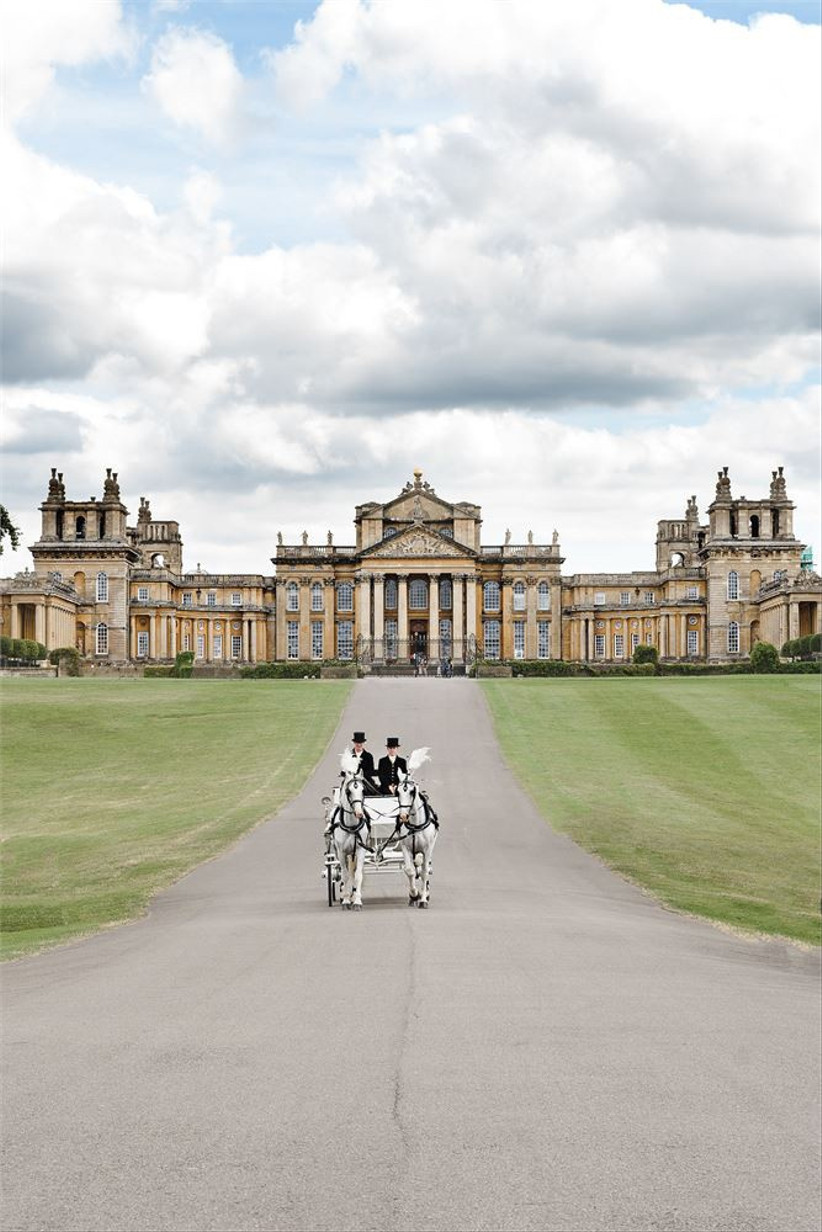 Featured in: Spectre, Harry Potter and the Order of the Phoenix, The Young Victoria, The Scarlet Pimpernel, Cinderella
From Black Beauty and Hamlet to Mission Impossible: Rogue Nation and even Transformers: The Last Knight, Blenheim Palace is no stranger to an A-list production. Fait accompli for any Oxfordshire stately home, Blenheim has featured as a murder scene in Inspector Morse and Lewis too. The birthplace of Sir Winston Churchill has six different locations to host your reception, including marquee space on the South Lawns that can go as big as your guest list requires – handy if it's the size of a film crew.
Castle Howard, North Yorkshire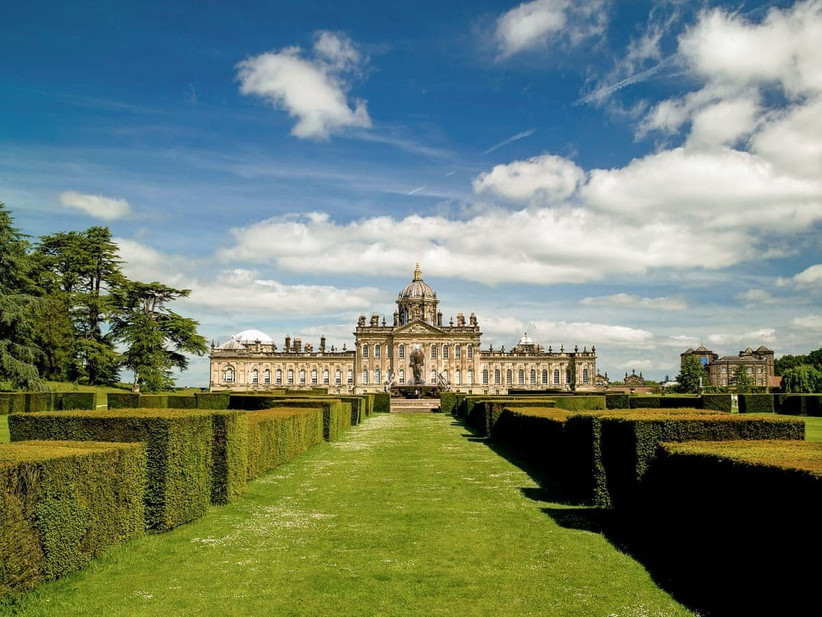 Featured in: Brideshead Revisited, Victoria, Death Comes to Pemberley
Since the 1960s, Castle Howard has been a costume drama director's dream. Sophia Loren and Stanley Kubrick are among the names to have shot here, while both the original and remake of Evelyn Waugh's iconic Brideshead Revisited called this 18th century country pile home. Most recently, Castle Howard welcomed Jenna Coleman as the young queen in Victoria, doubling for Kensington Palace. For your wedding, you can exclusively hire the house and grounds for nuptials fit for primetime ITV.
READ MORE: The Best Scottish Wedding Venues
Ardgowan Estate, Inverclyde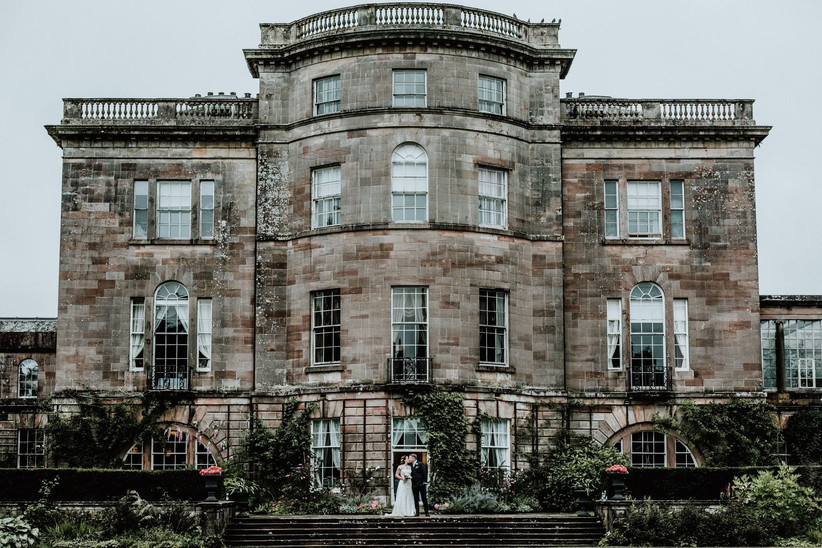 Image: Murray McMillan Photography
Featured in: Ordeal by Innocence, Jonathan Creek
The BBC's big budget Agatha Christie adaptation for 2018 was as memorable for the magnificent Argyll family home as that final scene with Leo and housekeeper Kirsten. Meaningful glances were cast across the stunning central staircase and vengeance plotted in the airy glasshouse of Ardgowan House in Ordeal by Innocence. It also featured in the last ever episode of Jonathan Creek, the Christmas special "Daemon's Roost" – but that episode is sooner best forgotten.
Goldney Hall, Bristol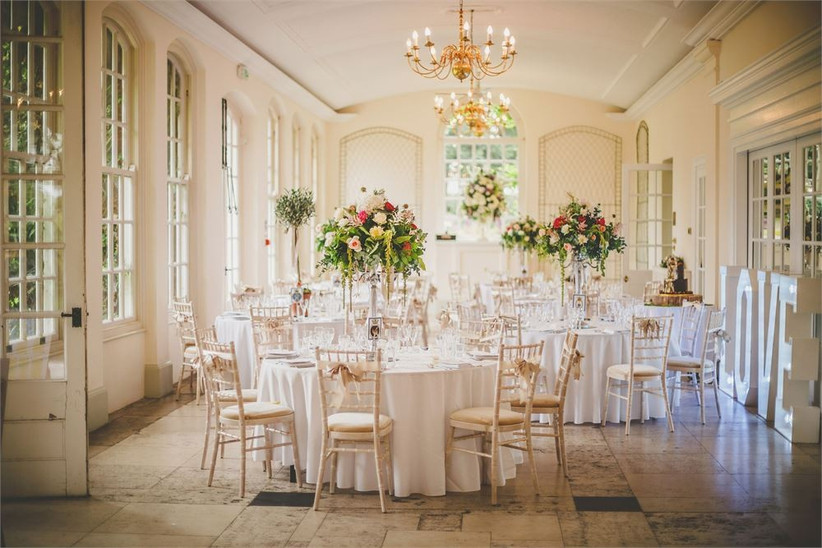 Featured in: Sherlock, Skins, Only Fools and Horse, The Chronicles of Narnia
Goldney Hall has a day job as a halls of residence for the University of Bristol, but its extra-curricular life is much more interesting. Remember John Watson and Mary Morstan's wedding in Sherlock? Filmed here. The 2002 Only Fools and Horses Christmas Special where the 'Gary Gang' are arrested for accidentally kidnapping a businessman's son? Here. The Grade-II listed building, which dates back to the 1600s, happily squeezes in a few weddings around its star-studded schedule.
Holdsworth House, West Yorkshire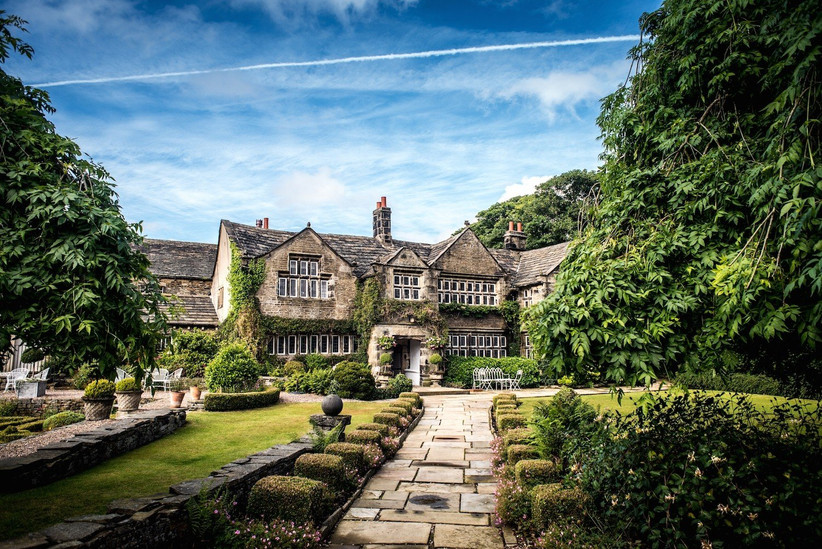 Featured in: Last Tango in Halifax
Holdsworth House is a charming Jacobean manor, secluded from the bustle of Halifax in beautiful gardens. The Yorkshire wedding venue starred as the hotel for Caroline and Kate's romantic weekend getaway and wedding venue for Alan and Celia in BBC series Last Tango in Halifax. The venue also hosted The Beatles on John Lennon's 24th birthday! You can enjoy a Last Tango themed night away at Holdsworth House if fans fancy a mini-moon.
READ MORE: The Prettiest Rustic Wedding Venues
Jimmy's Farm, Suffolk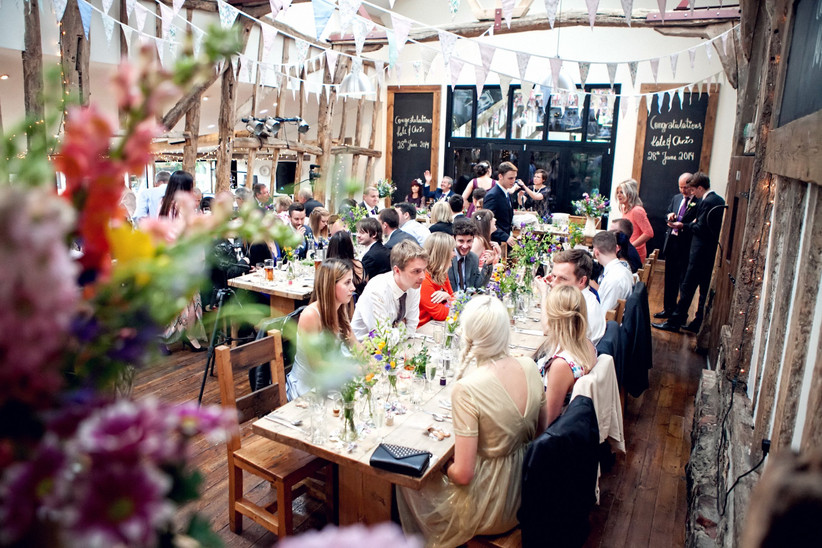 Image: Nick Ilott Photography
Featured in: Jimmy's Farm
Nestled in the heart of the Suffolk countryside, you'll recognise the beautiful 17th century barn at Jimmy's Farm for its appearance in the BBC and Channel 4 series of the same name. Run by Jamie Oliver's best pal Jimmy Doherty, the farm is fully licensed for weddings and will make for a day to remember: not only will an old-fashioned working farm be your backdrop, but there's also a wildlife park which younger guests will love and a romantic Butterfly House. Definitely one for the foodies.
Historic Dockyard Chatham, Kent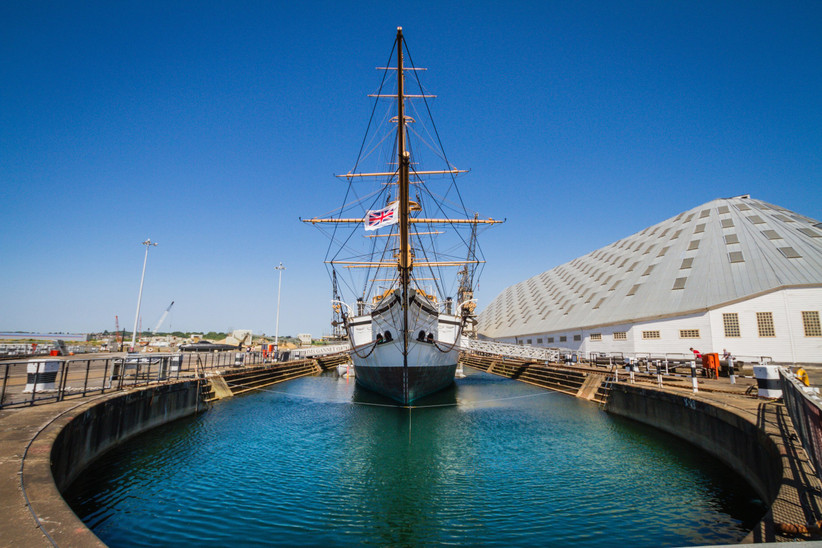 Image: Matty Graham
Featured in: Call The Midwife
*Spoiler* Nonnatus House is actually filmed at Longcross Studios. However, Historic Dockyard Chatham doubles as the gritty streets of Poplar, which our plucky midwifes are seen whizzing through on their bikes. If you're obsessed with old-fashioned cobbled streets and 1950s buildings, the Dockyard is a perfect backdrop to your big day. You can marry in the Commissioner's House or on the HMS Gannet before a street-side photoshoot (bicycles not included).
Symonds Yat, Gloucestershire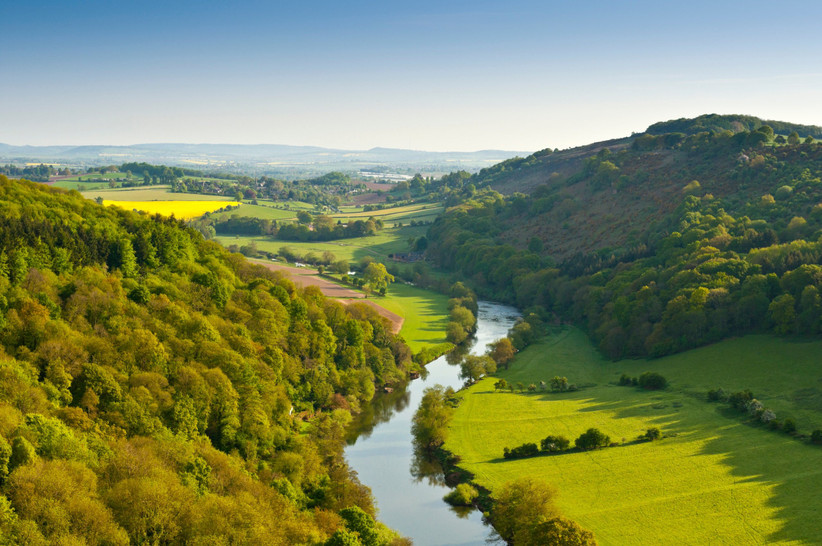 Featured in: Sex Education
Netflix's smash series Sex Education showcased some of the best filming locations in South Wales and the Forest of Dean. We fell in love with the distinctive red and white house that Otis and his sex-therapist mother Jean lived in, looking down over the Wye Valley. While the actual house – a Scandi-chic B&B called The Chalet – isn't available to rent at the moment, The Royal Lodge, just 5 minutes away, offers that same unforgettable wedding photo backdrop. The surrounding Forest of Dean has been featured in Harry Potter and the Deathly Hallows: Part One and Star Wars: The Force Awakens.
READ MORE: Our Favourite Outdoor Wedding Venues
Painshill Park, Surrey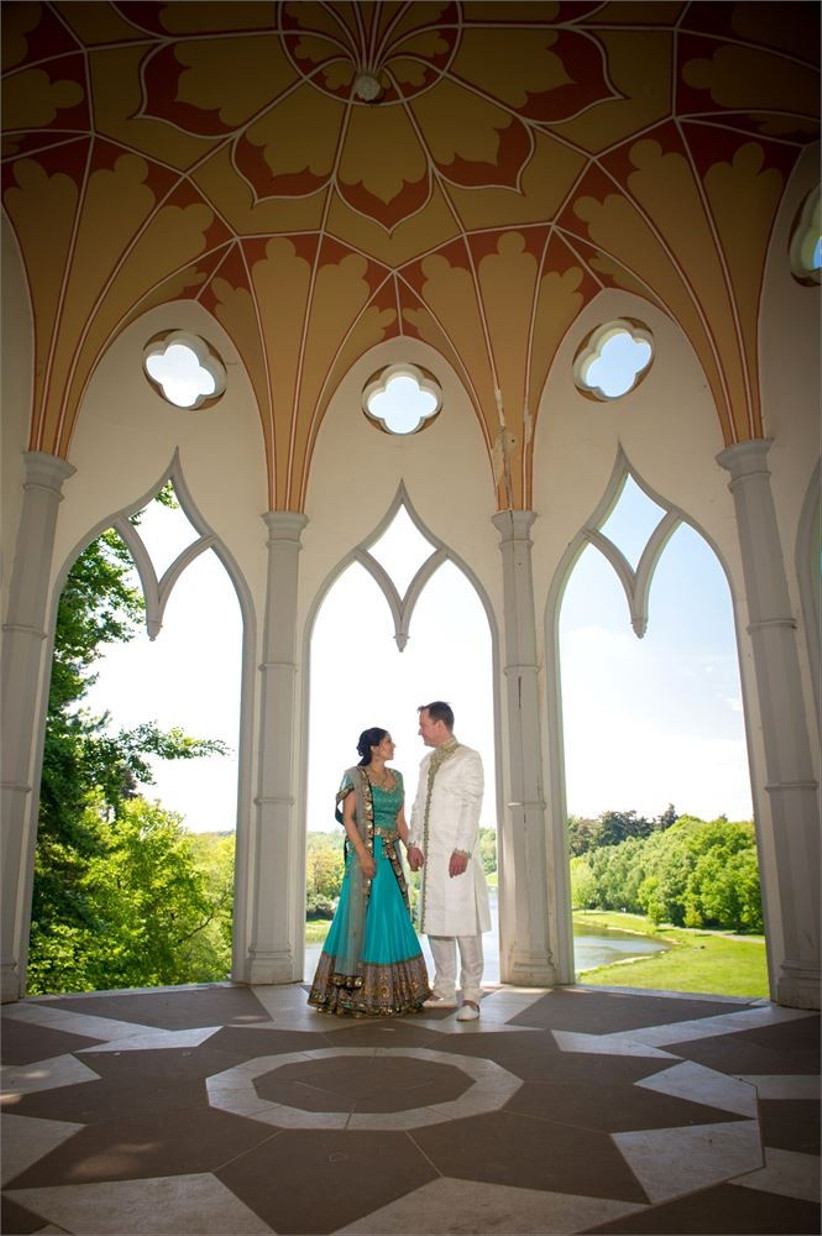 Featured in: Suffragette, Black Mirror, Good Omens
The powerhouse trifecta of Meryl Streep, Helena Bonham Carter and Carey Mulligan descended on sleepy Cobham to film the parkland scenes for the 2015 film Suffragette at Painshill Park. These 18th century landscaped garden are frequently home to music video shoots, like Ellie Goulding's Starry Eyed. The upcoming adaptation of Terry Prachett and Neil Gaiman's Good Omens has reportedly shot scenes there too. Would demon Crowley, played by David Tennant, feel more at home in the gothic temple or eerie crystal grotto? Neither are available for weddings unfortunately, but their elegant conservatory marquee is.
Cornwell Manor, Oxfordshire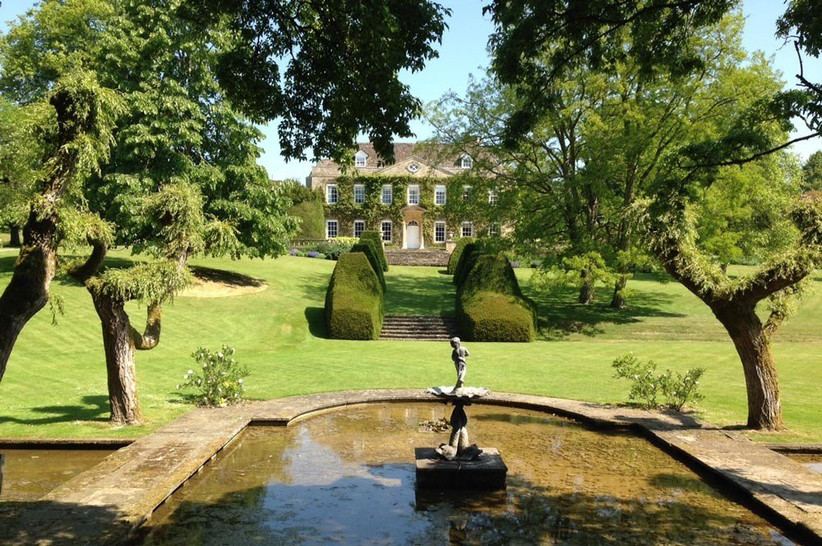 Featured in: The Holiday, Father Brown
If you love the film The Holiday as much as the ITV2 schedulers at Christmas time, you'll recognise Cornwell Manor from Graham and Amanda's (Jude Law and Cameron Diaz) romantic lunch date. You can recreate the scene where they playfully push at each other as they walk down the garden steps. A Mr Napkin Head impression is guaranteed to go down a treat in the groom's speech.
Leeds Castle, Kent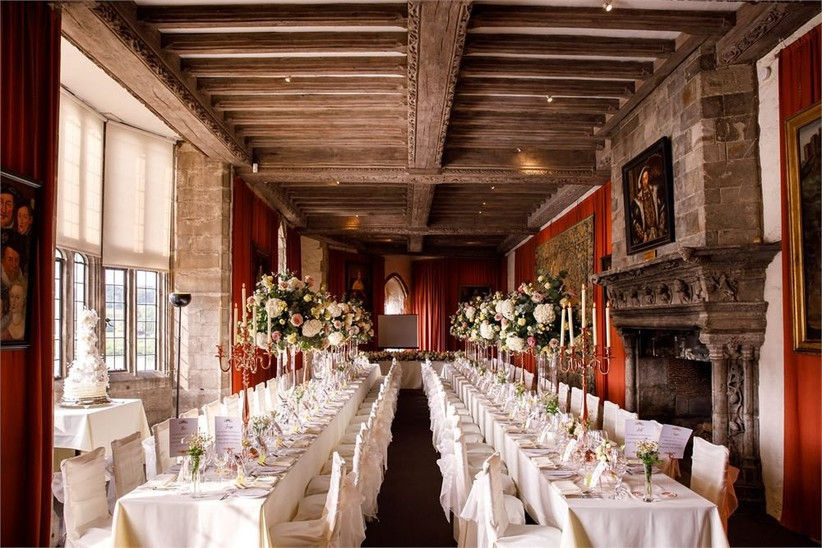 Image: Shane Webber Photography
Featured in: Kind Hearts and Coronets, Elizabeth, The Hollow Crown: The Wars of the Roses
As well as various episodes of Antiques Roadshow, Leeds Castle in Kent has its fair share of silver screen history. It can be seen in the 1998 film Elizabeth and 2007 sequel with Cate Blanchett as the titular queen, while Ray Winstone starred as her dad Henry VIII in a 2003 ITV miniseries (in which Emily Blunt had her first major role). The castle and grounds were also seen in the Tom Baker Doctor Who serial, The Androids of Tara. If you want to walk in the footsteps of real and acting royalty on your big day, it's a fitting spot.
READ MORE: Country House Venue You'll Fall in Love With
Valentines Mansion, Essex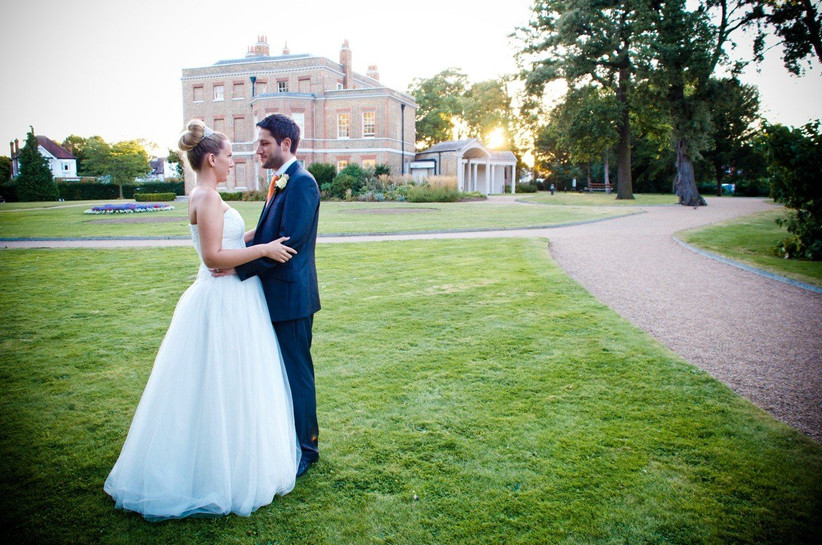 Image: Rubie Love Photography
Featured in: The Great British Bake Off
Fans of The Great British Bake Off, rejoice! You can host your wedding at Valentines Mansion, the same venue where Paul Hollywood and Mary Berry sampled cakes from the UK's keenest bakers during series two (Jo Wheatley won, remember her?). You could embrace the theme and hire Paul and Mary impersonators to judge your wedding cake and wander around giving handshakes. If that's a little too much, an afternoon tea reception on the lawn on a warm summer day would be perfect.
Chatsworth House, Derbyshire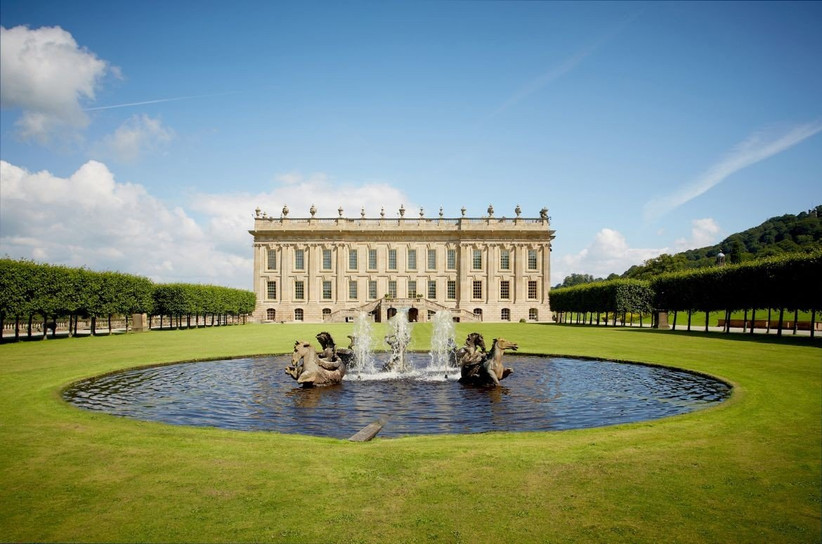 Featured in: Pride & Prejudice, The Duchess, The Wolfman, Death Comes to Pemberley
Keira Knightley may as well set up a bedroom at Chatsworth House in Derbyshire. The striking stately home had a starring role in her movie The Duchess, a biography of the 18th century Duchess of Devonshire who was a relative of the current owners. It also stood in for Mr Darcy's house Pemberley in the film adaptation of Pride & Prejudice, when Lizzie toured the sculpture gallery. Housing over 4,000 years of art in 30 rooms, 105 acres of gardens and even a maze, Chatsworth is an unforgettable setting for a wedding.
King's Cross, London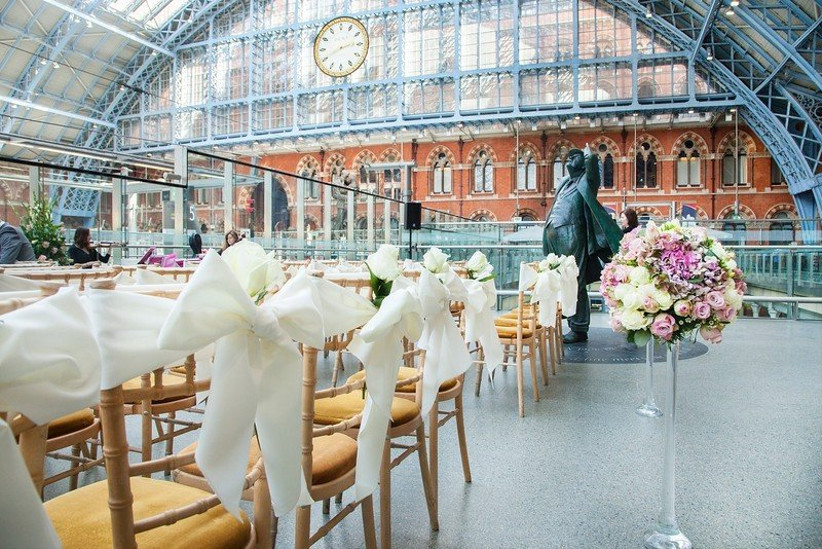 Featured in: Harry Potter
For true Potterheads, don't miss the iconic setting of Platform 9¾ at King's Cross for your photos. However, hosting a full wedding there may be a little disruptive for the commuters – the next best thing is Searcys St Pancras Grand just across the road. You're also moments away from the St Pancras Renaissance Hotel should you want to recreate the Spice Girls iconic Wannabe video.
READ MORE: How to Choose a Wedding Venue
Hedsor House, Buckinghamshire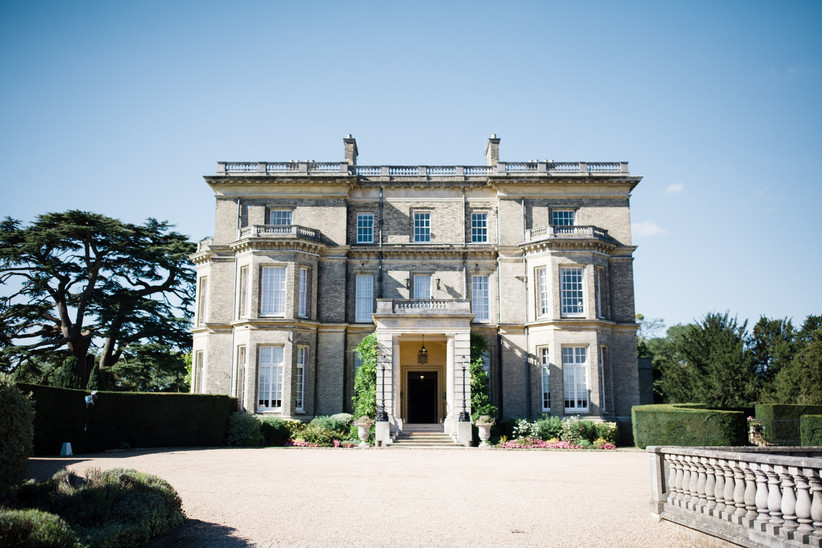 Featured in: Quartet, Downton Abbey, The Golden Compass, Brighton Rock, The Boat That Rocked
This award-winning wedding venue in Buckinghamshire has been the setting for several huge films and TV shows, and it's easy to see why. Hedsor House boasts one of the biggest bridal suites in Europe and has won high praise from the famous faces who've filmed there: Johnny Depp (Mortdecai), Dame Maggie Smith (Quartet), Tom Hardy (Legend), Ricky Gervais (Life's Too Short), Jeremy Piven (Mr Selfridge) – the list goes on. American TV shows love it too – like 24 and Veep.
Brocket Hall, Hertfordshire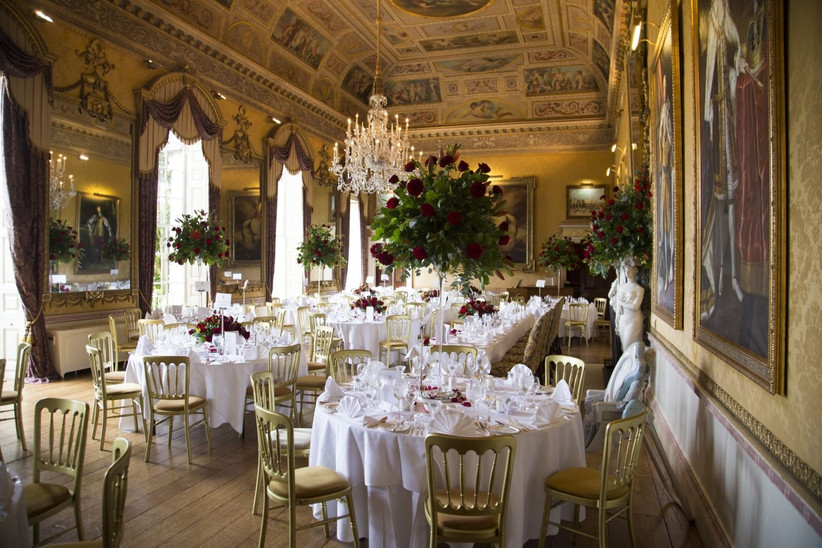 Featured in: Pride & Prejudice, Victoria, Inspector Morse, Johnny English Reborn, The Queen
If you secretly wish you were marrying Colin Firth (that's fine, we do all the time) then why not marry in the location where the TV series of Pride & Prejudice was filmed, Brocket Hall in Hertfordshire? The Grade-I listed country house has also been used in The Queen and Johnny English Reborn. You can even envision how your nuptials will actually look here: Ronnie Mitchell and Jack Branning's second wedding was at Brockett Hall in EastEnders (although hopefully yours will include less death – it was an EastEnders' wedding after all).
Heatherden Hall, Buckinghamshire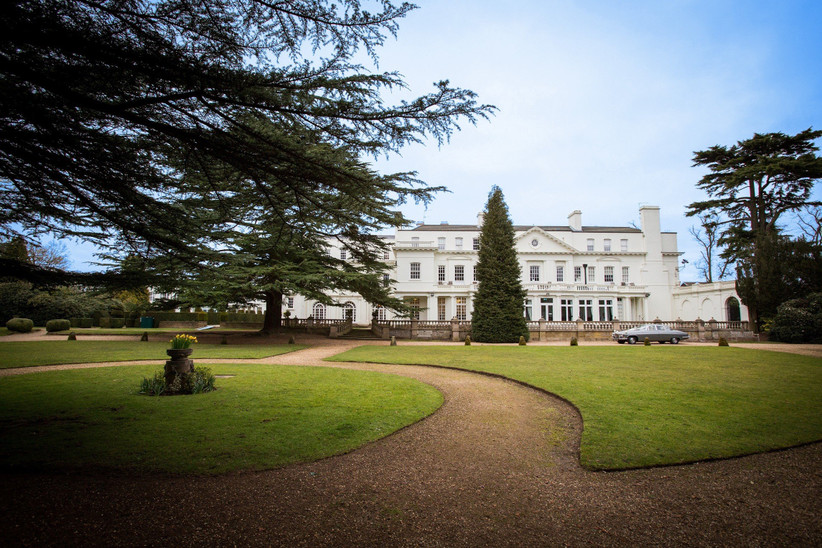 Featured in: Just about everything
Heatherden Hall is at the heart of Pinewood Studios, which to date has produced over 600 film. These include all your childhood favourites like Chitty Chitty Bang Bang and Oliver Twist, plus The Great Gatsby, the Carry On series and most of the James Bond films. Marilyn Monroe also acted here in The Prince & The Showgirl, which was her only film made outside of Hollywood. Heatherden Hall itself has been used as a setting for plenty of films, most recently Mary Poppins Returns. Add a little film star glamour to your big day in this stunning Victorian country house.
READ MORE: Amazing Budget Wedding Venues
Old Royal Naval College, South-East London
Image: Jack Taylor/Getty
Featured in: Les Misérables, Skyfall, Sherlock Holmes, The King's Speech
Empire magazine referred to London's Old Royal Naval College as "the most popular filming location in the world". Recent films which used the venue include Cinderella, Les Misérables and Pirates of the Caribbean: On Stranger Tides, as well as in the James Bond hit Skyfall and rom-com Four Weddings & a Funeral.
Eltham Palace, South-East London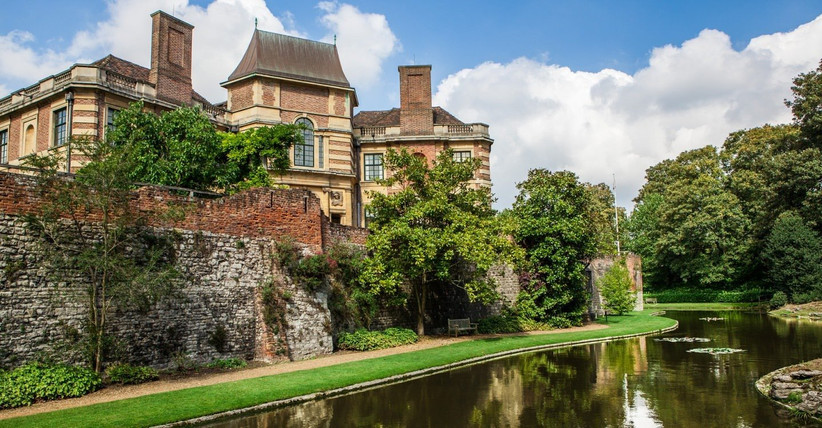 Featured in: The Crown, Revolver, I Capture The Castle, Brideshead Revisited
English Heritage site Eltham Palace & Gardens is one of London's hidden gems. The beautiful building, which fuses Art Deco style with medieval history, has featured in ITV's Jekyll & Hyde, Brideshead Revisited, Netflix's The Crown and Bright Young Things. No stranger to an Agatha Christie, Poirot and Marple have turned it into a murder scene on occasion. Marry here and you get your own moat.
Kenwood House, North-West London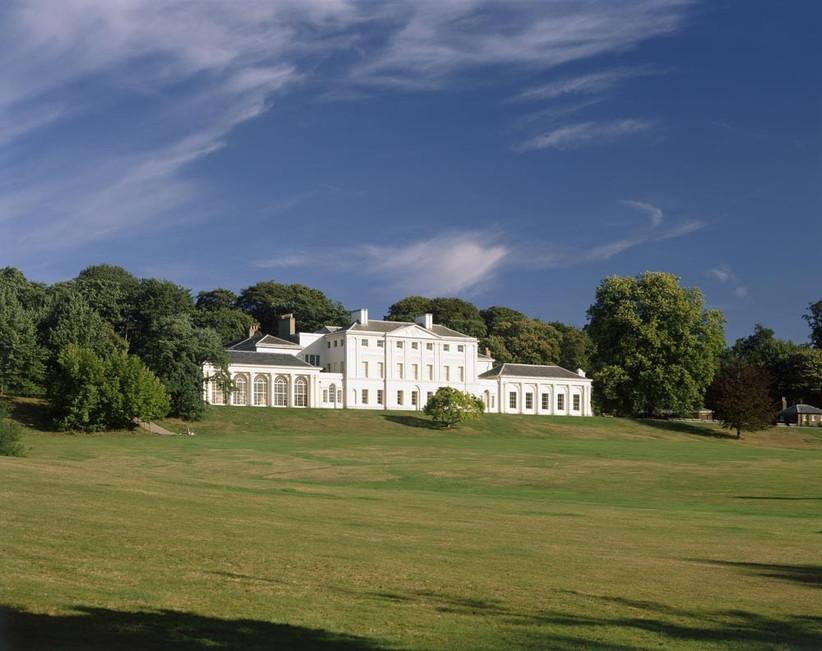 Featured in: Notting Hill, Mansfield Park, Venus
Kenwood House is a dreamy choice of wedding venue if you're looking for a city wedding venue with a country feel, as it's situated right on Hampstead Heath. The manor's most famous role was in Notting Hill as an Inception-style shoot-within-a-shoot for a Henry James drama starring Julia Robert's character Anna. It crops up as another period movie set in Venus.
READ MORE: 17 of the Best Wedding Venues in London
Highclere Castle, Hampshire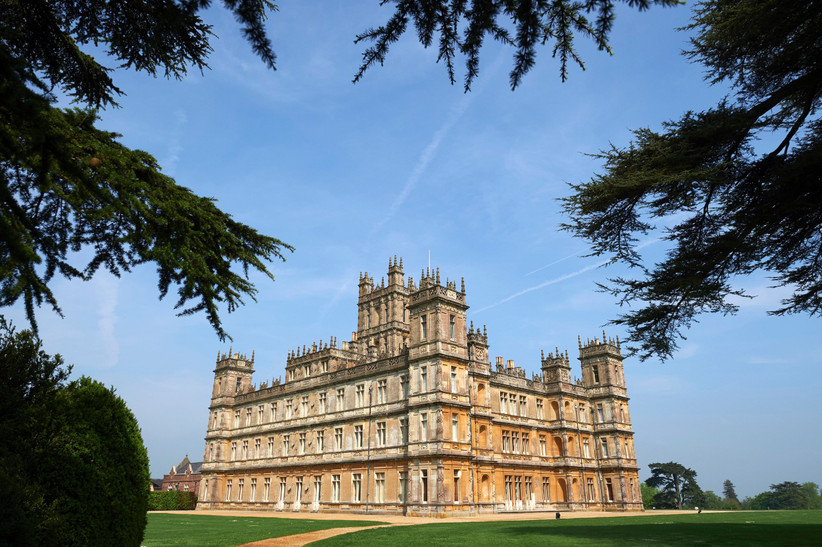 Image: Niklas Halle'n/Getty
Featured in: Downton Abbey
But you didn't really need us to tell you that. Highclere Castle is synonymous with the upstairs downstairs drama of the Crawley family and staff at Downton Abbey. The grand castle, which has a rich history, including housing the 5th Earl of Carnavon who helped to discover Tutankhamun's tomb. But it's not just Downton – The Secret Garden, Jeeves and Wooster and Robin Hood: Prince of Thieves all filmed there.
Alnwick Castle, Northumberland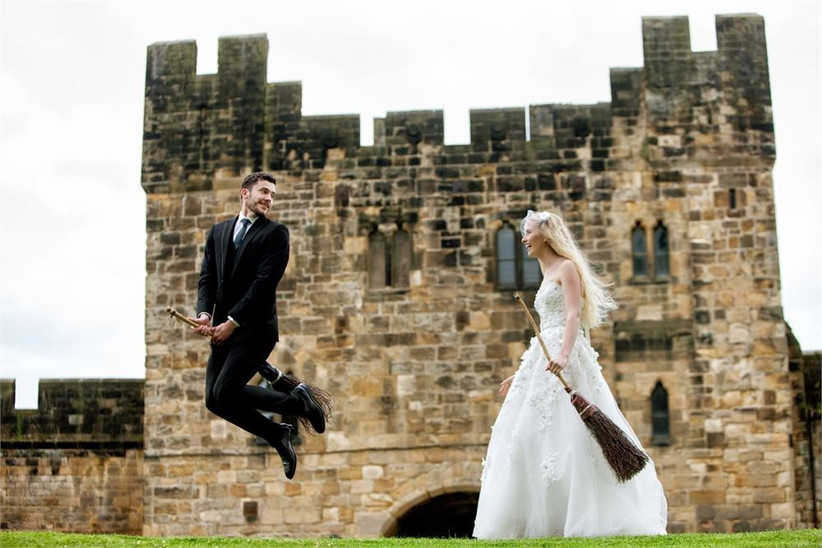 Featured in: Harry Potter, Elizabeth, The Virgin Queen, Mary Queen of Scots, Downton Abbey
This is another fabulous choice of wedding venue for fans of Harry Potter. Alnwick Castle posed as Hogwarts for the first two films; you'll recognise the grounds in particular as where Harry and co took their first flying lesson. Castles draw both film crews and engaged couples like honey, and it's easy to see why. Downton Abbey's Christmas specials, Elizabeth, Blackadder, Robin Hood: Prince of Thieves and the latest Transformers film have all made use of the castle.
READ MORE: Stunning Newly Opened Wedding Venues
Berkeley Castle, Gloucestershire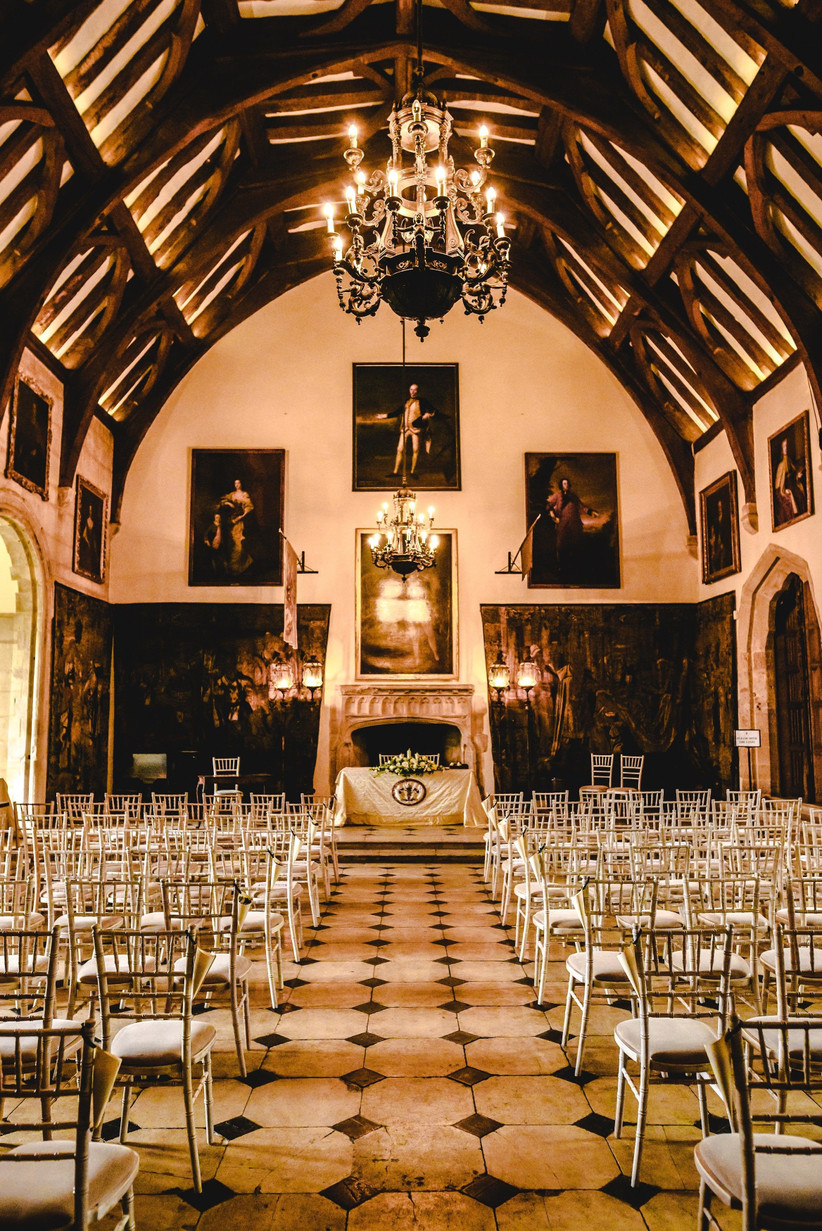 Featured in: Wolf Hall
BBC period drama Wolf Hall was filmed at the 12th century Berkeley Castle, which is situated in Gloucestershire. The Tudor drama starred Homeland's Damian Lewis as Henry VIII and Mark Rylance as his chief minister Thomas Cromwell. If you want an opulent wedding and to walk in the steps of the characters that inspired Wolf Hall, this venue could be for you.
If you're on the hunt for an unusual wedding venue with a story to tell, make sure you browse our round up of unique wedding venues in the UK and unusual wedding venues in London for more ideas.