Everything You Need to Know About Planning a Twilight Wedding (Plus 5 Enchanting Venues)
Say 'I do' under twinkling stars with a twilight wedding ceremony! From what to expect and the benefits of booking one to the best twilight wedding venues, here's everything you need to know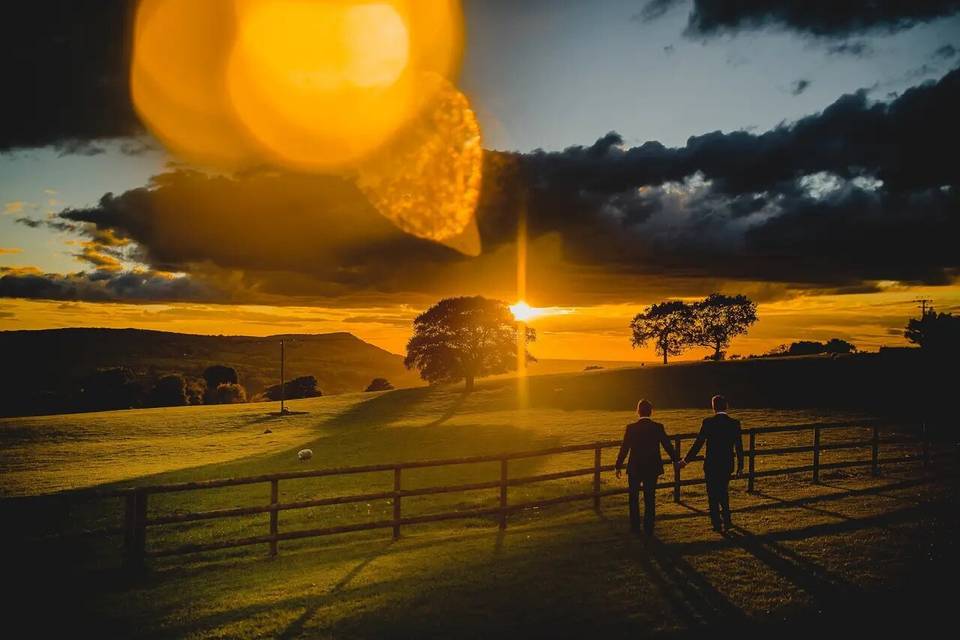 Forget sparkly vampires and werewolves, we aren't referring to that kind of twilight - we're talking about a relatively new type of wedding that's perfect for couples who are looking to steer away from traditional formalities.
In essence, a twilight wedding is a ceremony that starts after 5pm and then goes straight into the reception, skipping the wedding breakfast. It's a great option to consider if you're looking to plan a relaxed and romantic celebration, without the pressure or cost of entertaining guests for a whole day.
Typically available from October-March, twilight wedding packages are offered at a number of different wedding venues, including Heaton House Farm in Cheshire. Read on to find out everything you'll need to know about booking a twilight wedding - from the benefits of having an evening event to what the night will entail.
READ MORE
What Is a Twilight Wedding?
Twilight weddings begin later in the afternoon than a traditional wedding day - usually from 5pm. They still include a full ceremony and an evening reception, just without a formal sit-down wedding breakfast. But that's not to say you and your guests won't get fed - from relaxed buffets and light-bites, most wedding venues offer a range of snacks to satisfy late-night cravings.
There's something seriously romantic about tying the knot at sunset, and according to the team at Heaton House Farm 'a twilight wedding can be the perfect choice for couples who are looking to get married in Autumn or Winter and want to create something magical. The evenings get darker quicker, and this can provide the most beautiful backdrop for your special day.'
This was the case for Sarah who got married at the The Old Parish Rooms in Essex. She says, 'we decided to have a twilight wedding because we wanted an intimate celebration with just a small number of guests. We loved being able to have a more relaxed day getting ready, and our reception had a really fun party vibe!'
What Happens at a Twilight Wedding?
The order of a twilight wedding depends on your venue but a typical event would go as follows:
5pm - 5.30pm: Guests arrive to drinks and canapés
5.30pm - 6pm - Guests take their seats
6pm - Twilight wedding ceremony
6.45pm - 7.30pm - Drinks reception and photographs can be taken
7.30pm - 12am - Evening reception party with food served
What are the Benefits of a Twilight Wedding?
If you are a couple operating on a budget you might want to consider a twilight wedding as they tend to be a cheaper option. Sarah and her partner were able to save over £2,000 by not having a sit-down meal. 'We had a drinks and canapé reception after the ceremony followed by buffet-style evening food', she explained.
Twilight weddings also allow for some breathtaking images with a golden sunset glow or a magical moonlit moment. Heaton House Farm recommend 'draping a faux fur jacket over your shoulders and gathering under the stars for a picturesque fantasy image with your wedding party. The twinkling lights and crisp evening air can make it feel like a real fairy-tale!'
Better yet, a twilight wedding opens up the opportunity to have a shorter day and a longer evening reception meaning less time waiting to hit the dance floor with your loved ones and more time partying. Don't mind if we do...
READ MORE: 43 of the Most Beautiful Bridal Cover Ups
How Do You Plan a Twilight Wedding?
First things first you'll need to pick a wedding venue that offers twilight packages - thankfully, we have a handy list below! You might want to visit your wedding venue in the evening to make sure the lighting is how you envision it to be on your special day and whether the location has amenities suitable for an evening soirée. Remember, the majority of your wedding will be in darkness so think enchanting fairy-lights, lanterns and candles. For example, Heaton House Farm has a whole range of lighting-set ups, plus extensive heating throughout the venue including under the floor making it ideal for a twilight wedding.
Unsurprisingly, timing is key when it comes to planning a twilight wedding so be sure to research when to expect a sunset as this will be different depending on what month of the year it is. 'You then have to decide where you want to be and what you want to be doing when the sun is setting - eating, celebrating, sharing your first dance, or maybe even tying the knot,' advises Heaton House Farm. Want your wedding pictures to be aglow with romantic skies? 'We recommend starting your ceremony 30-40 minutes before the sun is expected to set,' says the team at Heaton House Farm.
Having a night reception makes way for some amazing entertainment options! We adore the idea of incorporating sparklers, firepits, light shows or even fire dancers into the mix. Well, that's one way to keep warm!
5 of the Best Twilight Wedding Venues
1. Heaton House Farm - Cheshire
Heaton House Farm is a sixth-generation family-run working farm and is a gorgeous option for a twilight wedding.
Located between Cheshire and Staffordshire and surrounded by countryside, you'll be spoilt for choice for wedding photograph locations - we're talking stunning landscape shots of the setting winter sun and endless 3 shires views.
If you would rather have your ceremony inside, their Wedding Barn holds up to 250 guests and has a fantastic starlit canopy so you'll feel like you're marrying under the night sky without having to worry that your guests will get cold.
Or, you could exchange your vows in their Oak Barn with under floor heating, original sandstone walls and hand carved Green Oak beamed ceilings. It's adorned with sparkling fairy lights making it look truly heavenly.
2. The Orangery - Kent
Fairy-tale weddings and twilight settings go hand in hand so the The Orangery in Kent is ideal as it looks like it's been plucked straight from the pages of a storybook.
Their twilight package is available from October-March and gives you exclusive use of the Orangery, Garden Room and 9 acres of grounds from 5pm. You'll also enjoy a hot fork buffet, including a hog roast, and canapés.
There are a number of location choices in which you can make your entrance but if you opt for The Lapa as your outdoor ceremony setting you will make your way through a twinkling woodland path with magnificent views across the lake to the boathouse.
If that wasn't made for a wedding at twilight we don't know what was...
3. Balmer Lawn Hotel & Spa - Hampshire
Planning a romantic and intimate wedding? Balmer Lawn Hotel & Spa's twilight package is ideal for celebrations of up to 50 people.
You and your partner can say 'I do' in the Sylvan Pavilion as you watch the sun go down over the New Forest, before making your way into the Beaulieu Suite for a DJ set from 7pm until midnight.
There are 54 luxury rooms to retire to after a night of partying, - plus a spa, indoor pool, sauna and jacuzzi to recover in the next day.
More over, the venue's dedicated wedding coordinator Ruth will be on hand to help you every step of the way allowing you to relax and soak in every magical moment.
4. The Old Parish Rooms - Essex
Built in 1863 as a school house, The Old Parish Rooms is a grade II listed building with unbeatable vintage charm from the outside yet a cool and contemporary feel.
Once you step inside you'll be greeted by a bright, beautiful and modern space, boasting industrial style lighting, high ceilings and spectacular arched windows.
The gorgeous property is set over two floors with a small ceremony room upstairs for up to 30 guests in a 'chapel' mezzanine, and a larger ceremony space for up to 60 guests downstairs.
Both areas also have ample space for a further 20 standing guests to watch on from the mezzanines.
5. The Ferry House - Kent
Nestled in an idyllic spot overlooking the Thames Estuary sits The Ferry House. This enchanting 16th century wedding venue is just an hour from London but once the sun sets and your twilight wedding begins you'd have no idea as this setting is so tranquil.
We adore the idea of having your first dance under the moonlight outside on the terrace, with guests surrounding you in sparklers. It'll make for some amazing wedding photographs!
Evening food will start from 7pm and if you aren't a fan of hitting the dance floor you and your guests can gather round firepits to chill, chat and toast marshmallows.
You can also add on an extra hour to your twilight wedding and continue the celebrations well past midnight!
Light up your twilight wedding with our guide on everything you need to know about wedding sparklers.