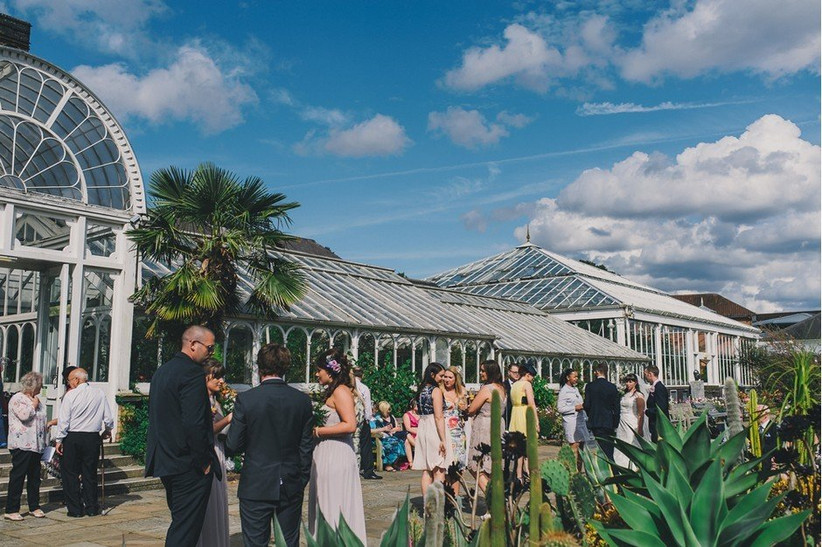 If you are planning a traditional Asian wedding, then you will be  looking for a large capacity wedding venue, excellent catering options and a stunning setting to impress your guests.
We've rounded up the best Asian wedding venues from across the UK which could be perfect for your big day!
With something for every budget and guest list size, here are our ultimate Asian wedding venue picks.
READ MORE: How To Choose a Wedding Venue
1. Froyle Park – Hampshire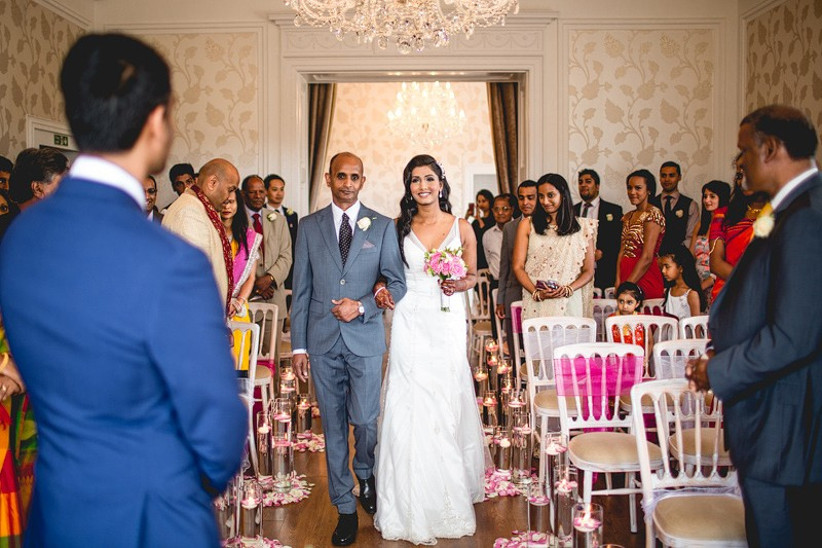 Image: MTM Studio
Located in the pretty village of Froyle in North Hampshire, this Jacobean Manor House sits within 80 acres of gorgeous parkland that provide the perfect setting for your Asian wedding.
With exclusive use for up to 300 guests, Froyle Park has so many gorgeous backdrops to host your day, from the impressive Grand Ballroom to the more intimate Drawing Room and the opulent outdoor dome.
READ MORE: 51 Essential Questions To Ask Your Wedding Venue Before You Book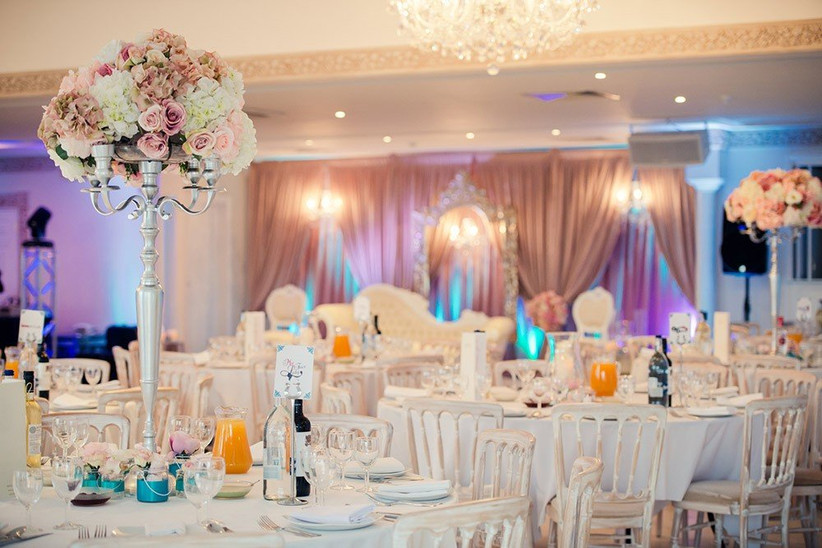 Image: Claire Lau Photography
If those stunning locations weren't enough, when you roam the grounds, you'll find majestic peacocks that make a perfect addition to wedding photos.
Image: MTM Studio
The weddings team at this Hampshire wedding venue have a wealth of experience in Asian weddings of all backgrounds, whether Gujarati, Bengali, Punjabi or Muslim unions.
Civil ceremonies can take place in the morning to accommodate religious blessings too.
2. Poundon House – Buckinghamshire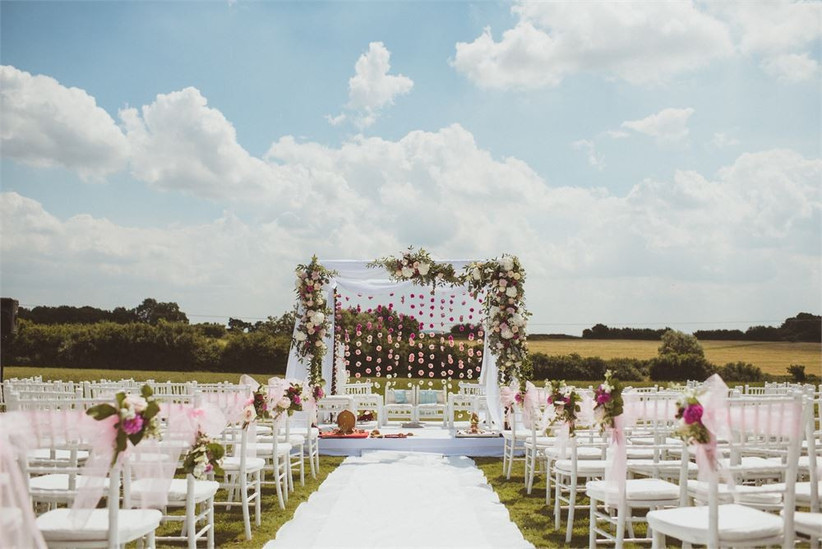 Sitting on the border between Buckinghamshire and Oxfordshire, this magical private home overlooks unspoiled countryside which would be the perfect backdrop for your wedding day.
Poundon House is always offered on an exclusive use basis and has a capacity of up to 400 guests. It's a good job the team have a wealth of experience managing large celebrations!
READ MORE: The Best Wedding Venues in Buckinghamshire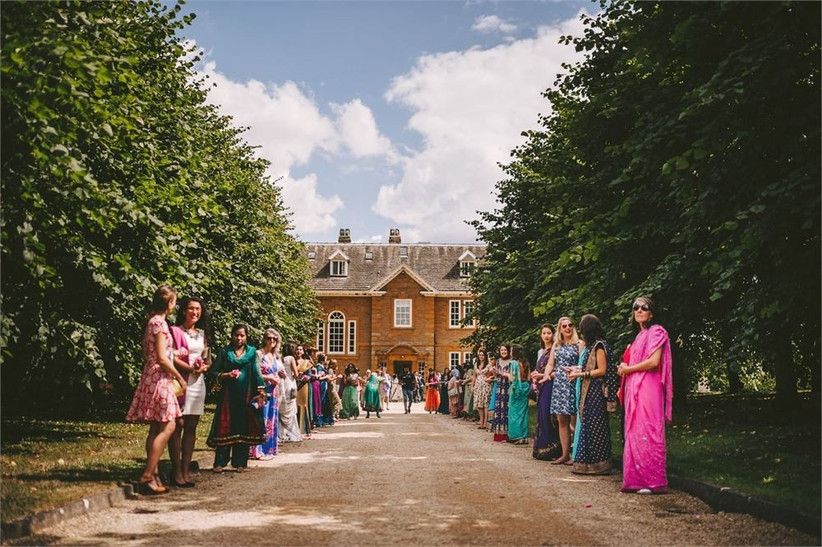 There are three large reception rooms, two of which are licensed for civil ceremonies, plus the option of hosting your wedding ceremony outdoors.
Once you've said 'I do', you and your guests can take to the south-facing lawns, an ideal area to host your reception drinks and canapés, before proceeding to the venue's stunning unique marquee.
READ MORE: The Best Marquee Wedding Venues in the UK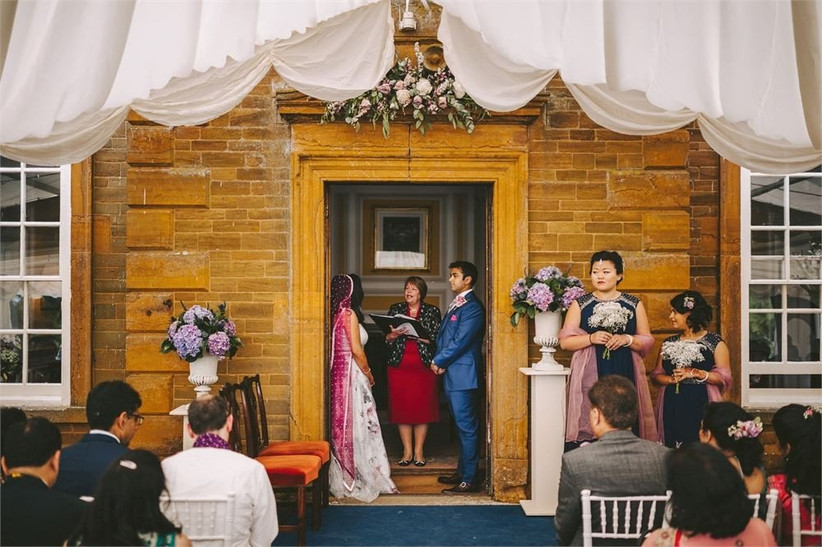 The state-of-the-art marquee is incredibly spacious, boasting an Indian hand block-printed lining, french windows and endless layout options.
As your day draws to a close, there are nine beautiful bedrooms available for multiple nights, allowing you to celebrate your wedding for the whole weekend. Alternatively, Bicester, Buckingham and London are all within an hour's drive.
3. Grand Connaught Rooms – London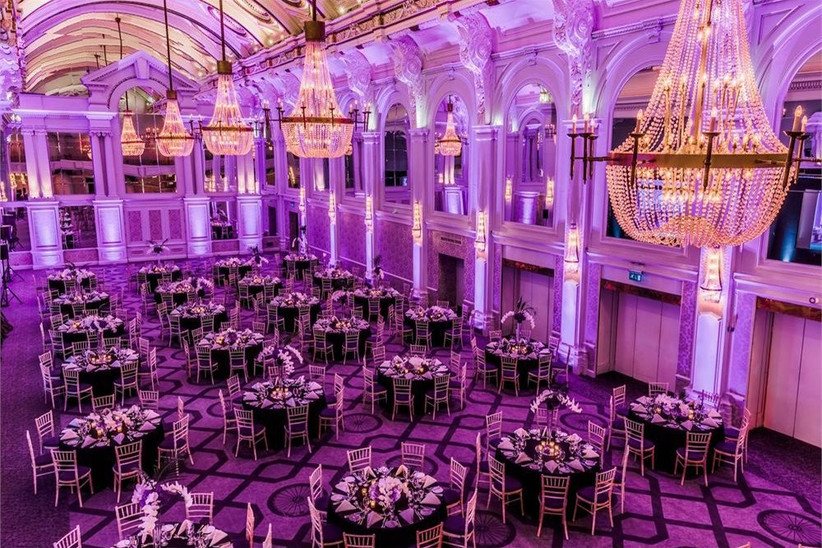 If you are looking for Asian wedding venues in London, there are few locations that rival the Grand Connaught Rooms in Covent Garden.
Crystal chandeliers, 42ft high elegant arched ceilings, marble floors and art deco interiors make this venue unrivalled in grandeur. If you want your guests to leave impressed, this is the place for you.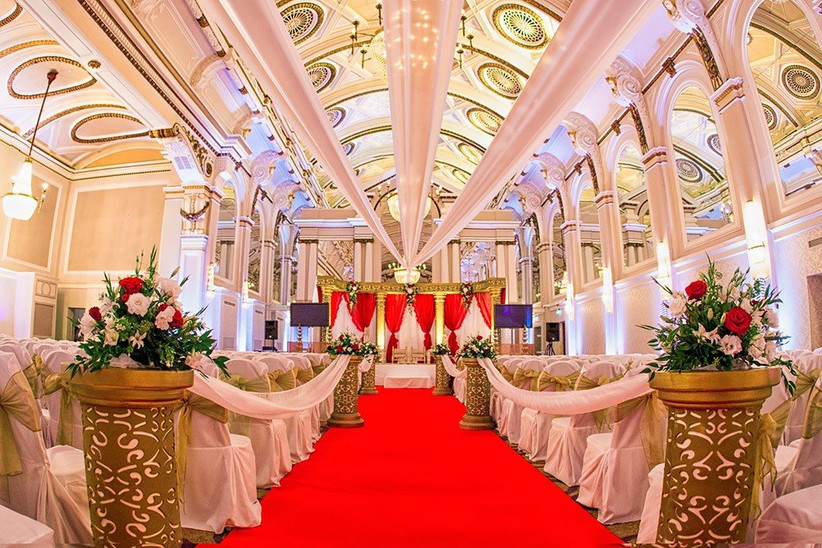 Hosting up to 550 dinner guests and 1,000 guests at a drinks reception, it's ideally located for those travelling from far and wide. There are tube stops just a few moments away, and Heathrow airport is an hour by rail or road.
READ MORE: 25 Royal Venues Fit for a Princess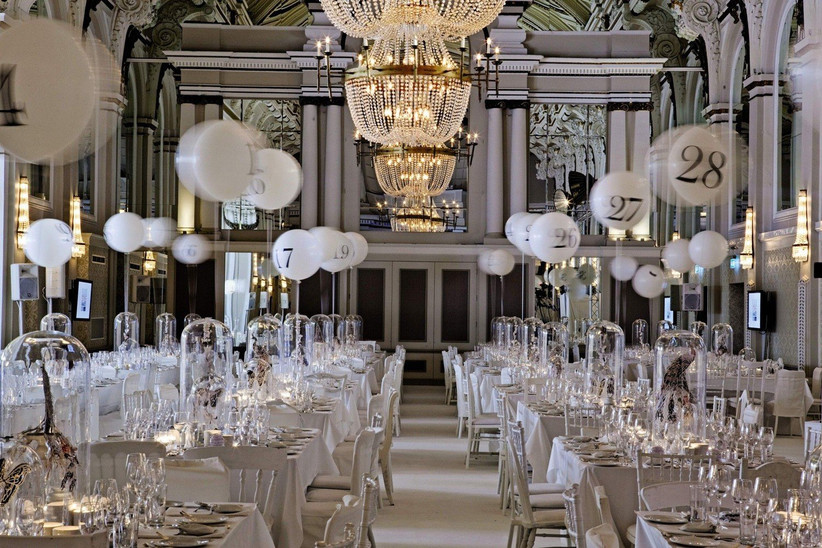 The Grand Connaught Rooms' wedding coordinators are experienced with Asian weddings and have close partnerships with local suppliers who can make your wedding vision a reality, including organising unforgettable live music and entertainment. You'd be silly not to take a look!
4. The Elvetham – Hampshire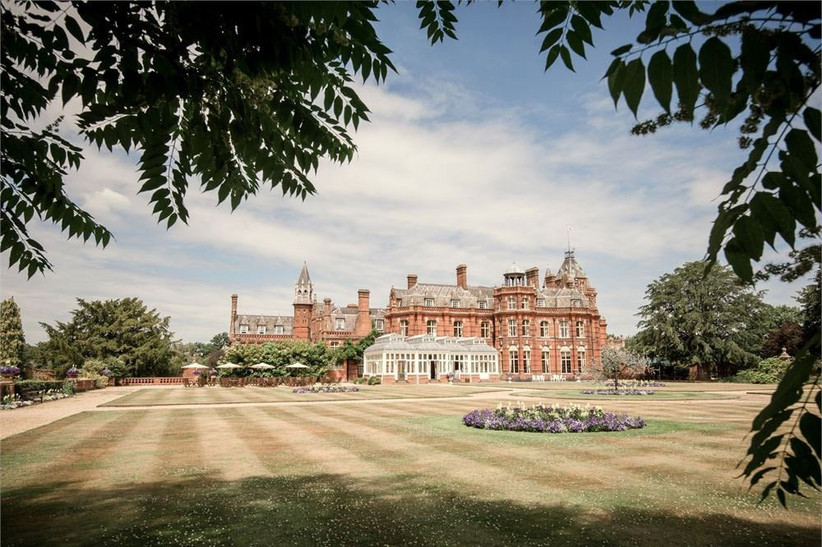 The Elvetham is a charming family-owned estate with plenty to offer couples planning a big, bold wedding.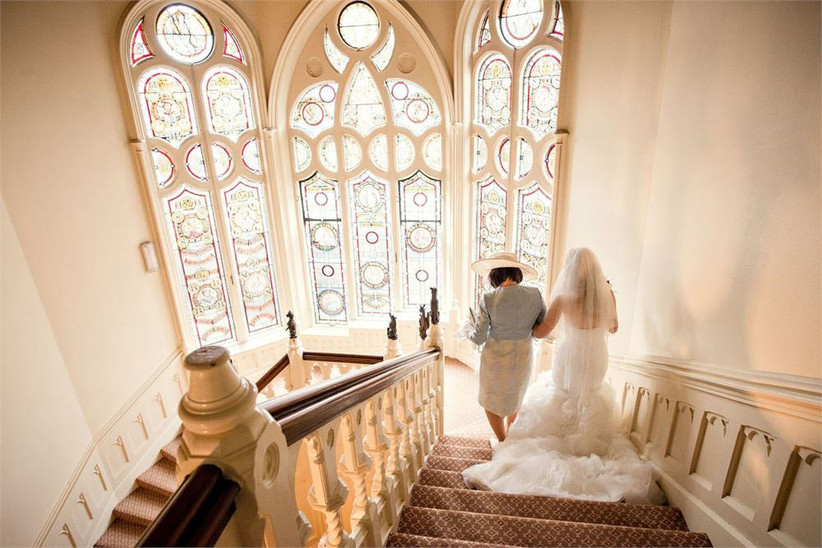 Set within 35 acres of manicured grounds, the outdoor wedding opportunities are endless at this Hampshire venue, and the wedding team are experienced in creating some of the most incredible and lavish wedding receptions.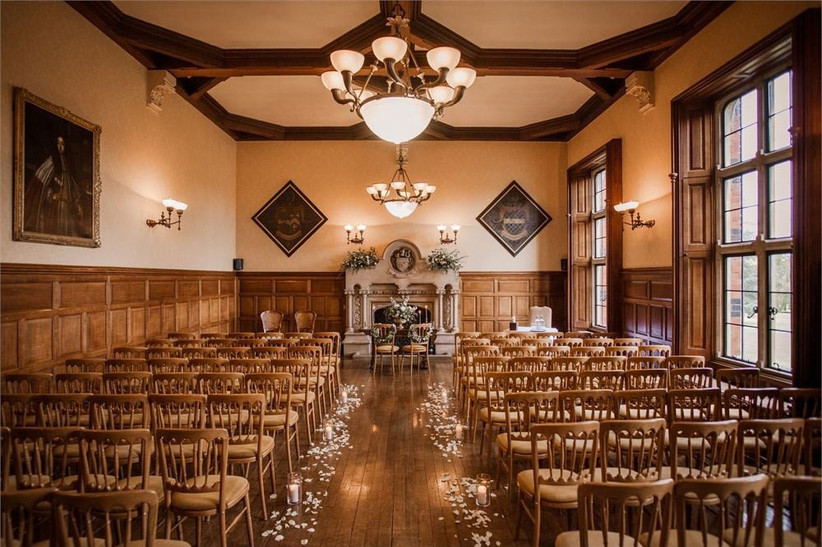 This beautiful Hampshire wedding venue can be hired exclusively or for dry hire and can cater for weddings with up to 450 guests in attendance!
5. Victoria Warehouse – Manchester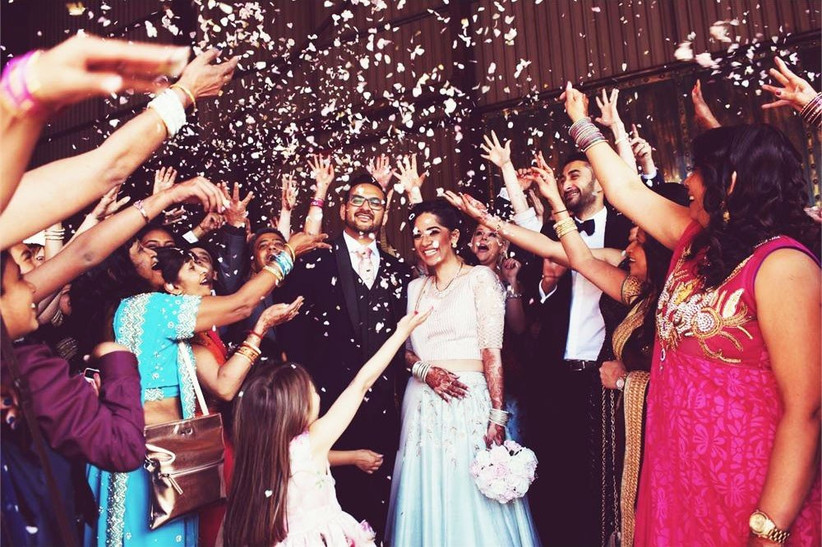 With space for an impressive 700 guests, Victoria Warehouse is the perfect location for a large and glamorous wedding.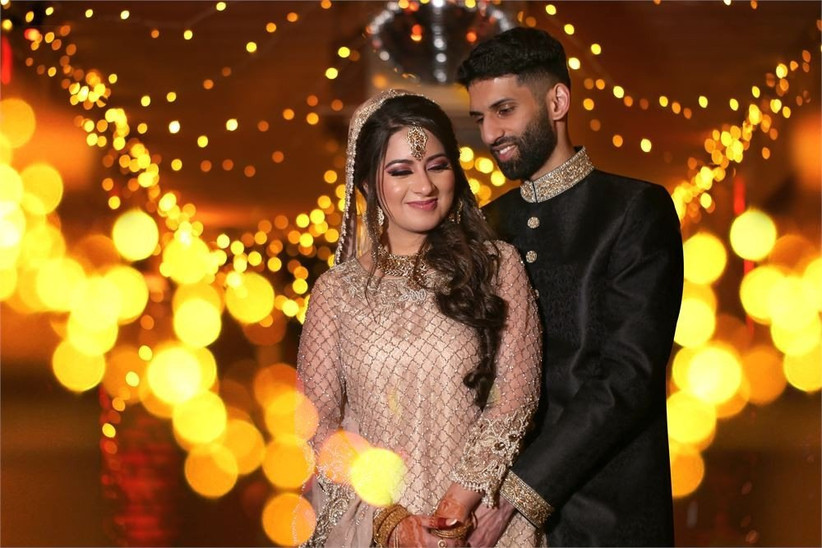 If you're after a city-centre venue which has bags of character and a little bit of an edge, then this Manchester wedding venue is perfect. Thanks to its exposed brick walls, stone flooring and urban backdrop, it is a space like no other.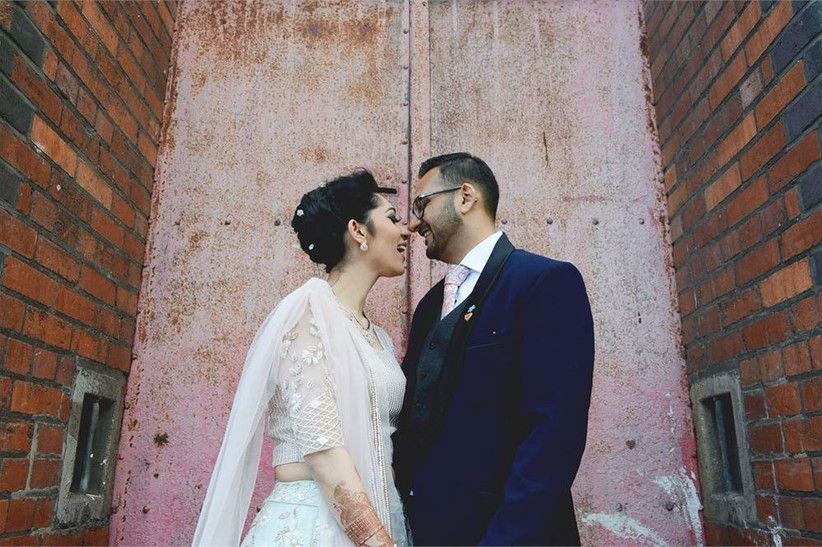 What's more, it is a complete blank canvas. With the help of the venue's dedicated wedding team, you'll be able to create a celebration which is completely personal to you as a couple. We love this place!
READ MORE: 19 Amazing Warehouse Wedding Venues
6. Chateau Impney – Worcestershire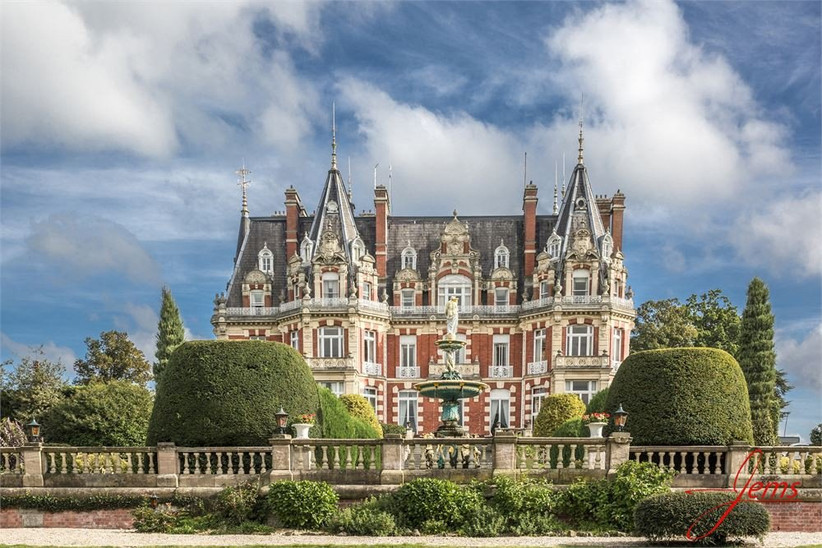 Specialising in South Asian and Indian weddings, Chateau Impney is one of the largest wedding venues in the Midlands. Hosting up to 850 guests for your wedding breakfast, their Broadway Suite has plenty of room for dancing and entertainment.
The suite is a great blank canvas to really dress up for your day with colours, fabric and lighting. Additional suites are perfect as bridal dressing rooms and for drinks receptions or separate entertainment so there's more than enough space to have your day your way.
READ MORE: 37 Ways to Personalise Your Wedding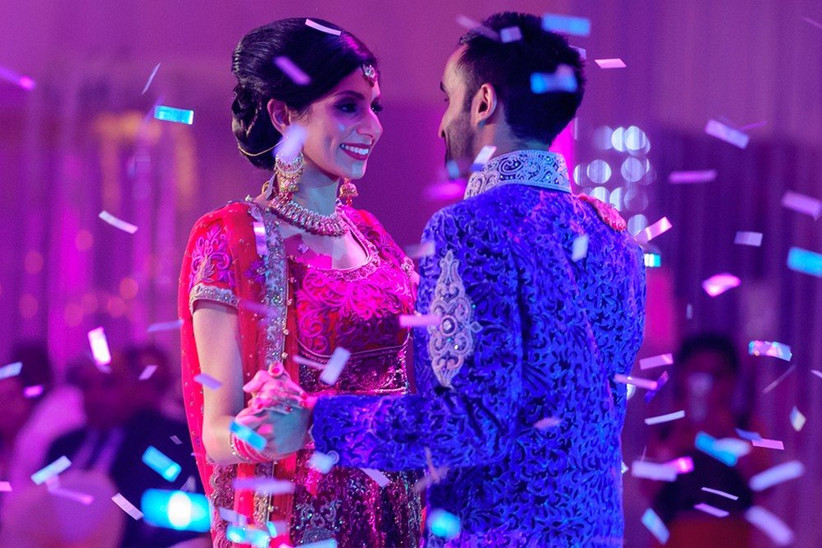 Located in Droitwich Spa, the Grade II listed chateau is in easy reach of major cities like Birmingham, Wolverhampton and Leicester.
You can hire the entire chateau as an exclusive use wedding venue with 106 en-suite bedrooms and nine family apartments that make it ideal for travelling guests, plus there's private parking for 600 cars and separate coach parking.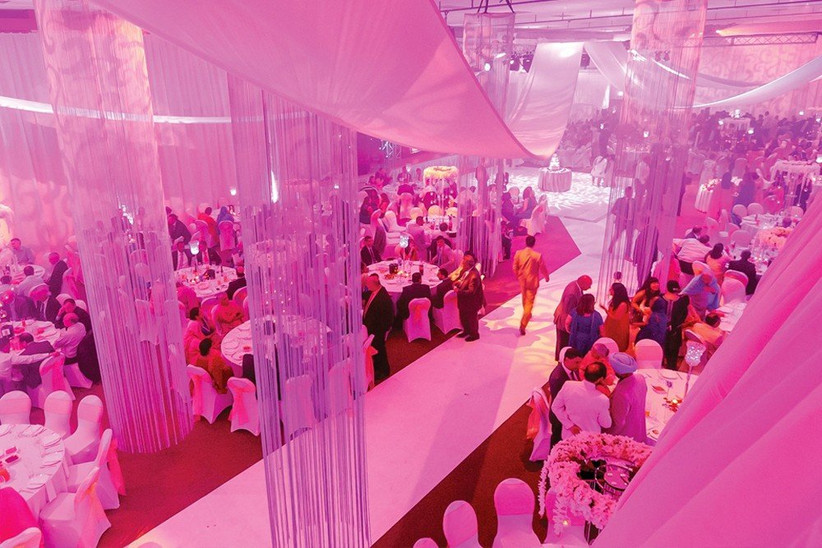 Its size, location, versatility and grandeur make it an enviable Asian wedding venue choice.
READ MORE: A Simple Guide to Bridal Mehndi
7. Vermillion – Greater Manchester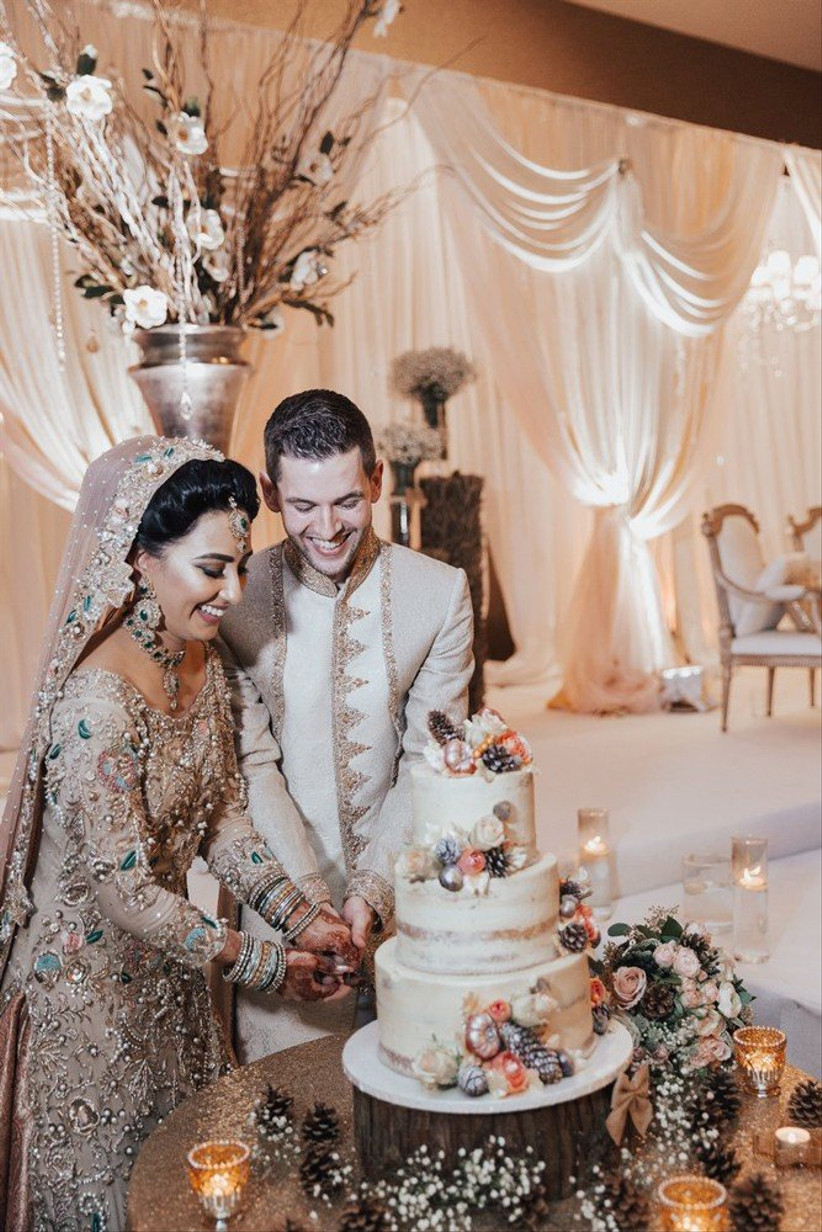 With a capacity of up to 800 dining guests and lots of impressive features, the Grand Suite at Vermilion is highly worth adding to your Asian wedding venues shortlist.
Filled with elegant chandeliers, antique artefacts and plush furnishings, Vermilion's hi-tech suite also has lots of state-of-the-art touches to help you personalise the venue for your day.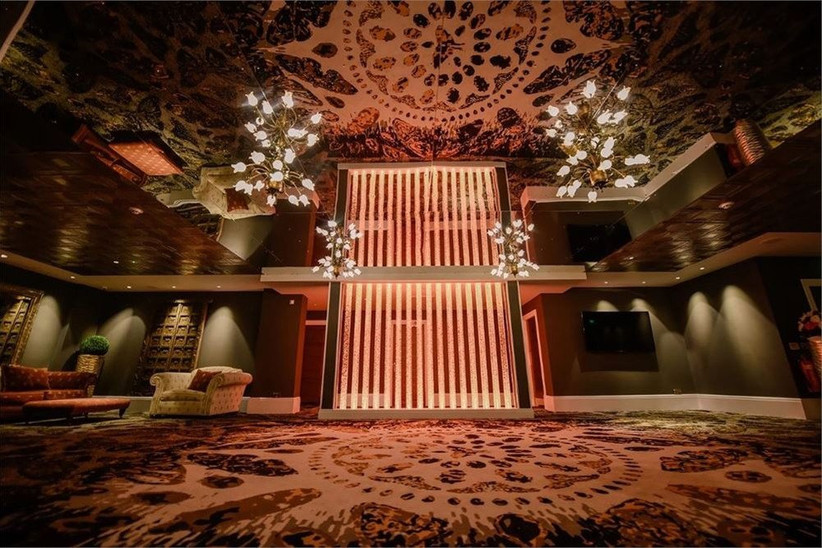 HD projectors and large video screens are ideal to play a cute video of the two of you or messages from family and friends who couldn't be there; you can match the lighting to your colour scheme; and they have a full lighting and sound system if you want to surprise guests with professional music or dance performances.
READ MORE: Your Etiquette Guide to Parents Paying for the Wedding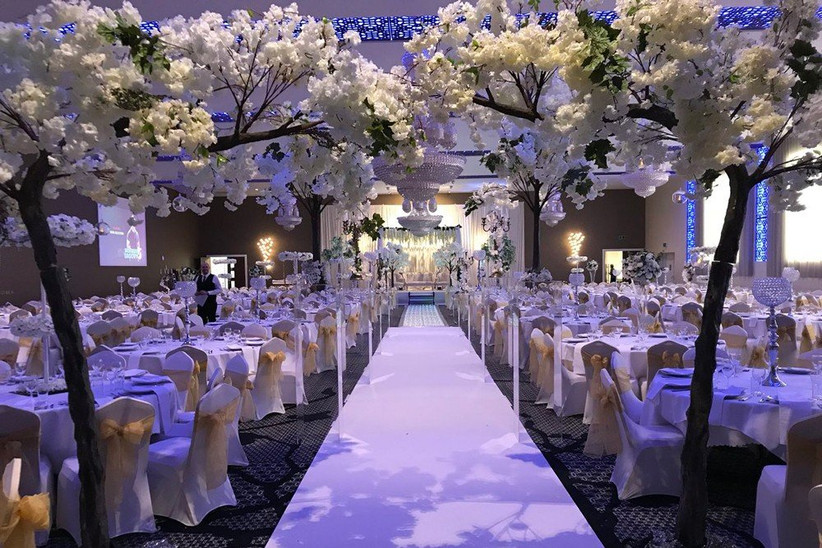 Their in-house culinary team are experienced in Indian and Asian-fusion cooking as well as other cuisines, so you can tailor the right menu for your guests.
The Grand Suite comes with access to a self-contained fully-equipped kitchen so bringing in your own caterers is possible too.
8. Lemore Manor – Herefordshire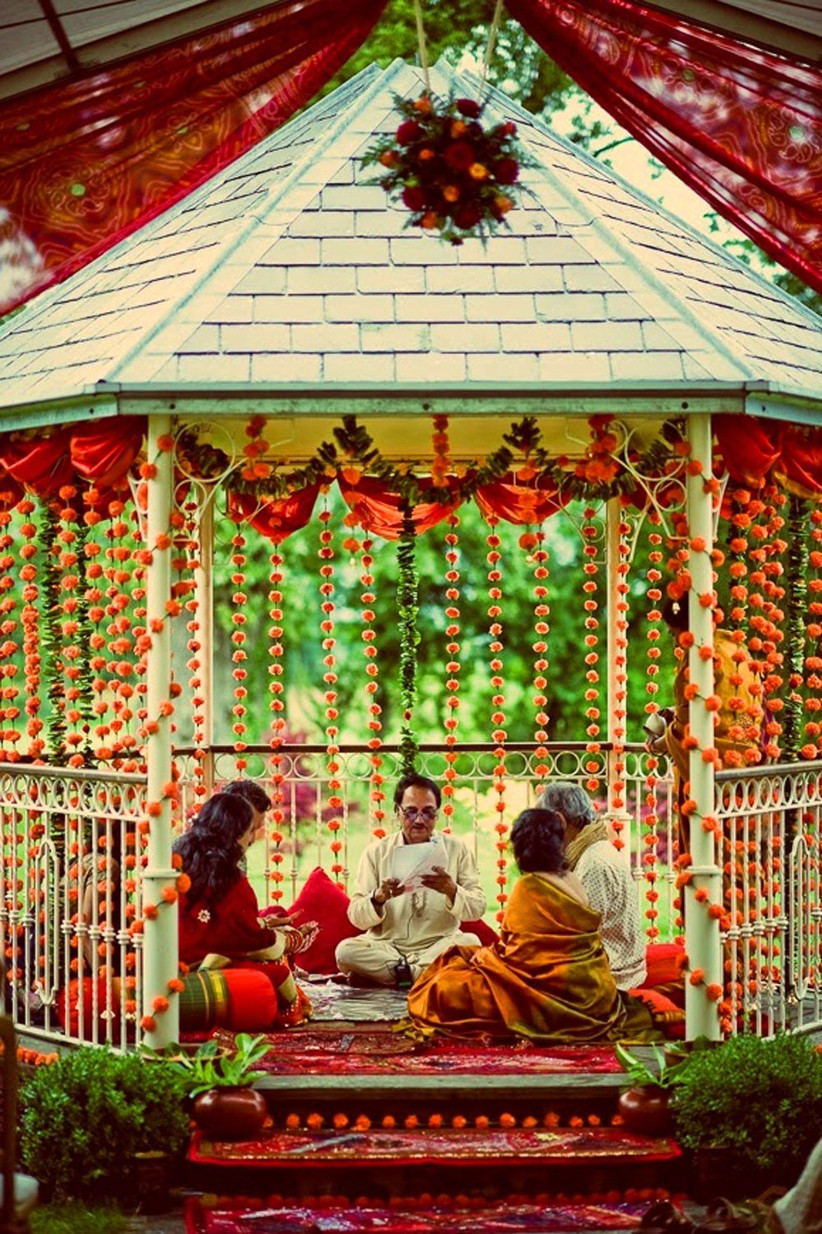 Lemore Manor is a gorgeous country house wedding venue set within the rolling countryside. For those of you looking for a striking spot for your Asian wedding, this Herefordshire wedding venue could be just the ticket.
If you're having a smaller scale wedding, or looking to host the UK part of much bigger wedding celebrations, then Lemore's 150 guest capacity is perfect.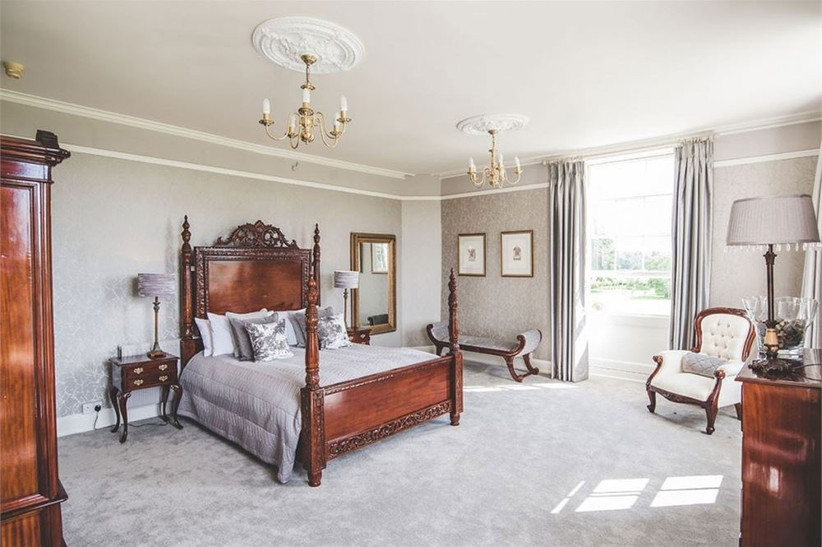 It is licensed for ceremonies inside and out, and the romantic bandstand is the perfect place for a ceremony. With colours and fabrics it can be transformed into a vibrant and uplifting space, perfect for your Asian wedding.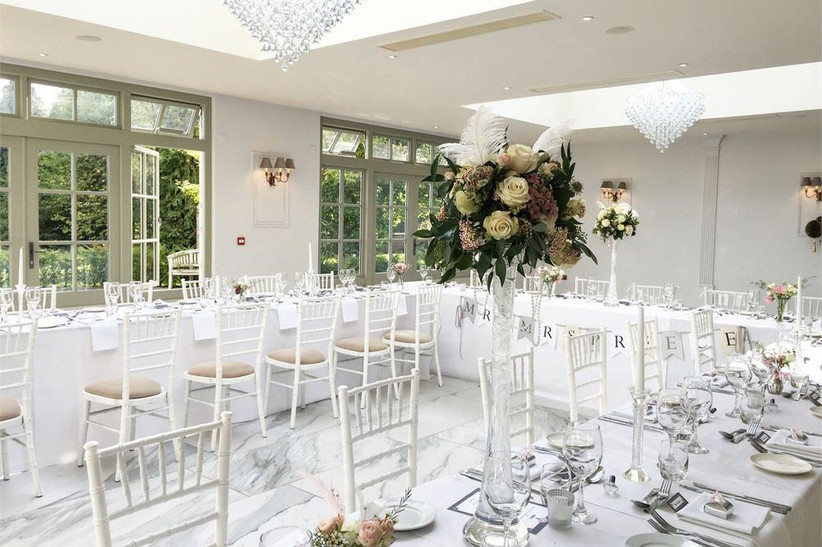 The Orangery will be the main setting for your lavish evening reception, but you'll also have the run of the entire house and gardens. Oh, and we mustn't forget the Hen's Den: a stunning space with hot tub, mirrored stations and private views for the bridal party to get ready.
READ MORE: The World's 10 Most Popular First Dance Songs Revealed
9. Blenheim Palace – Oxfordshire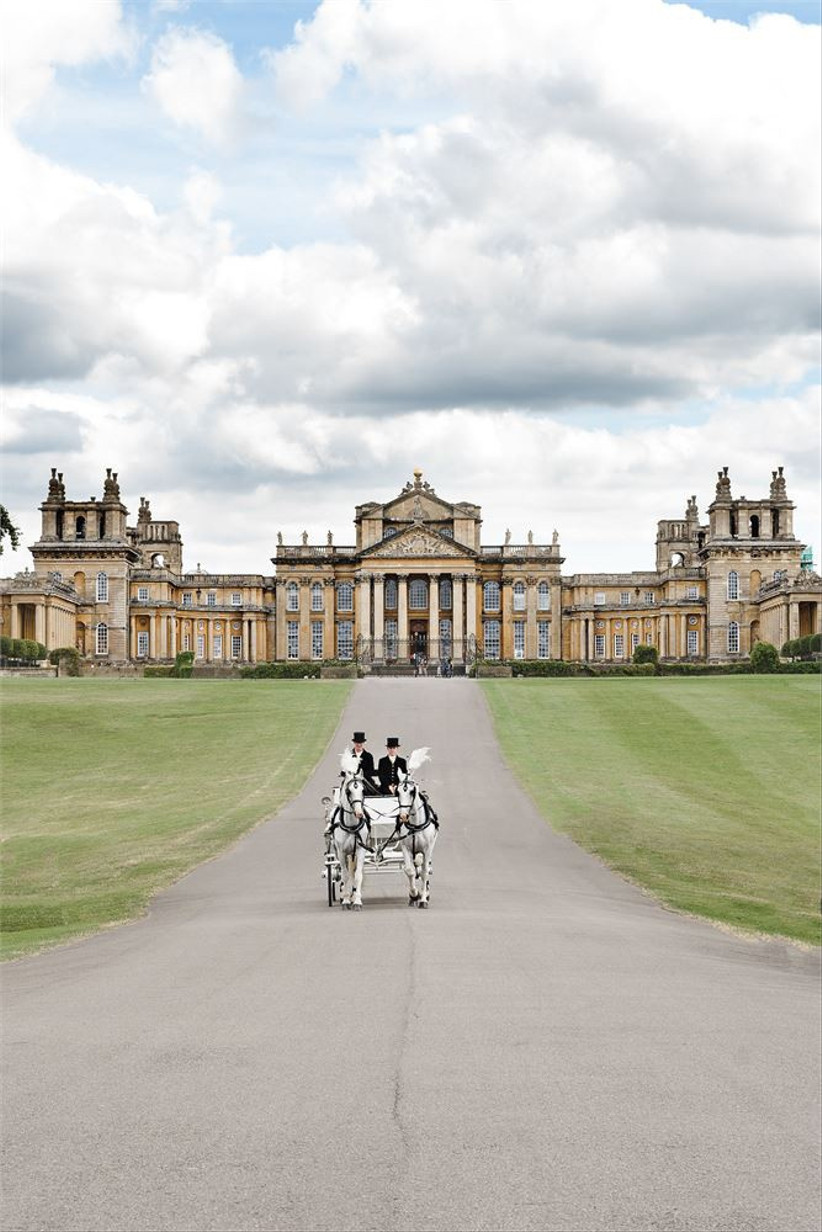 If you really want to wow you guests, the stunning Blenheim Palace – the childhood home of Sir Winston Churchill – is a winner.
The parkland is said to have "the finest view in England", while the imposing palace itself and surrounding grounds are full of romantic backdrops to capture those lasting memories.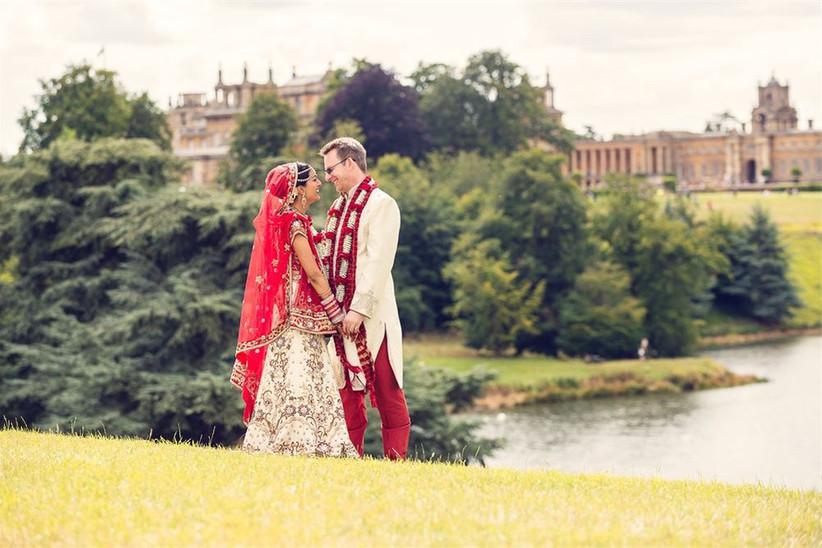 Blenheim has six venue options which are suitable for up to 2,000 guests. The splendour of having your wedding at Blenheim Palace isn't lost if you chose to accommodate your guests in a marquee on the South Lawn – enjoy pre- or post-dinner drinks in the palace or celebrate into the evening after dining in the Long Library.
READ MORE: 27 Personalised Favours Your Guests Will Adore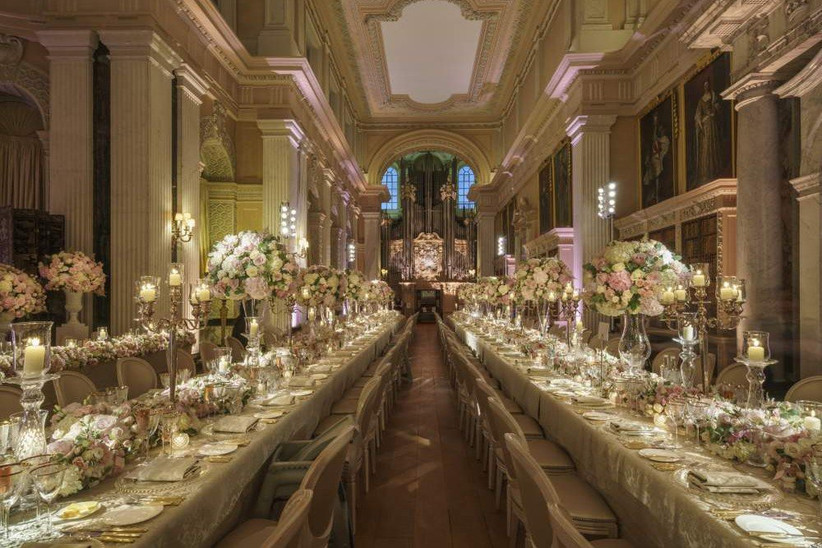 Their preferred suppliers match the five-star surroundings of Blenheim. Catering comes from hospitality group Searcys – which also boasts The Gherkin, Barbican and Kenwood House in its portfolio – but this large capacity wedding venue can also accommodate other recommended caterers.
READ MORE: The Ultimate Wedding Guest List Planner
10. The Grand Brighton, East Sussex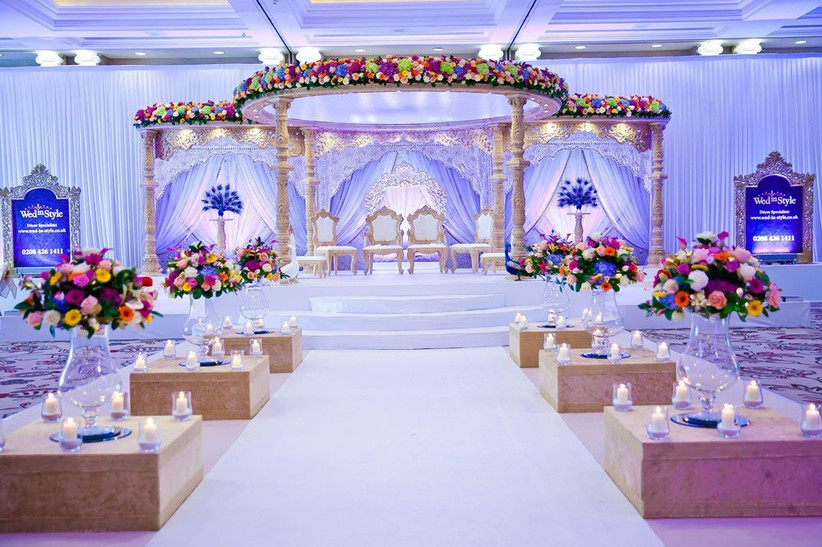 Located on one of England's most famous seafronts, The Grand Brighton is an incredibly beautiful wedding venue perfect for Asian wedding celebrations.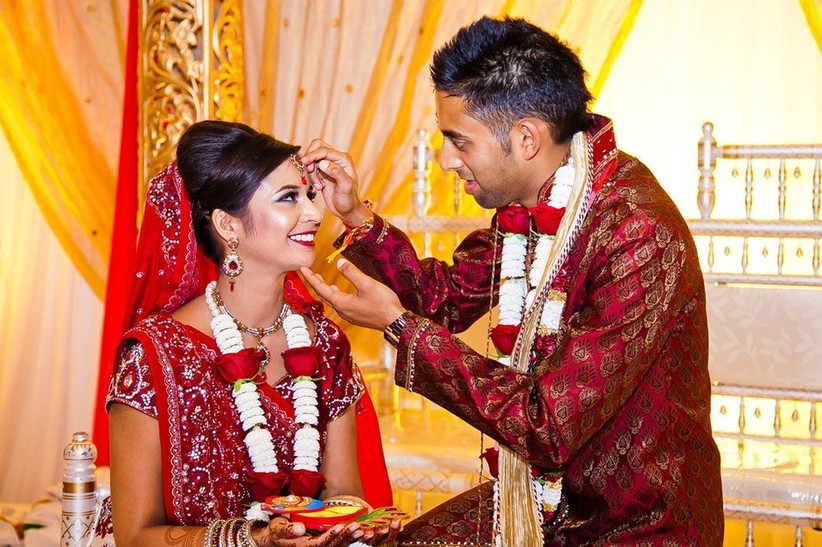 The venue is home to four private event rooms which are all perfectly decorated. It can accommodate weddings of up to 500 guests, making it the ideal place for your large banquet.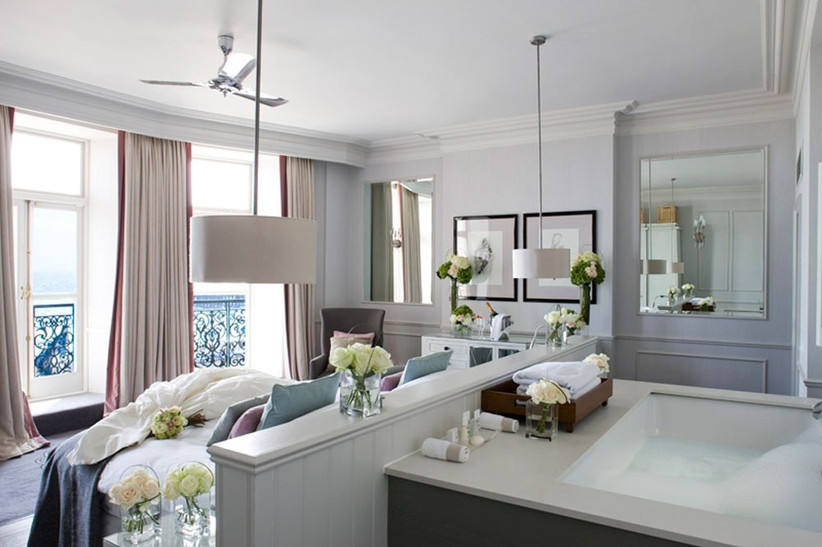 For when your day winds down to a close, The Grand Brighton has a number of luxurious rooms and suites available for you and your guests. Each room offers stunning views of Brighton beach and some even have private balconies.
READ MORE: The Best Wedding Venues in Brighton
11. Five Lakes Resort – Colchester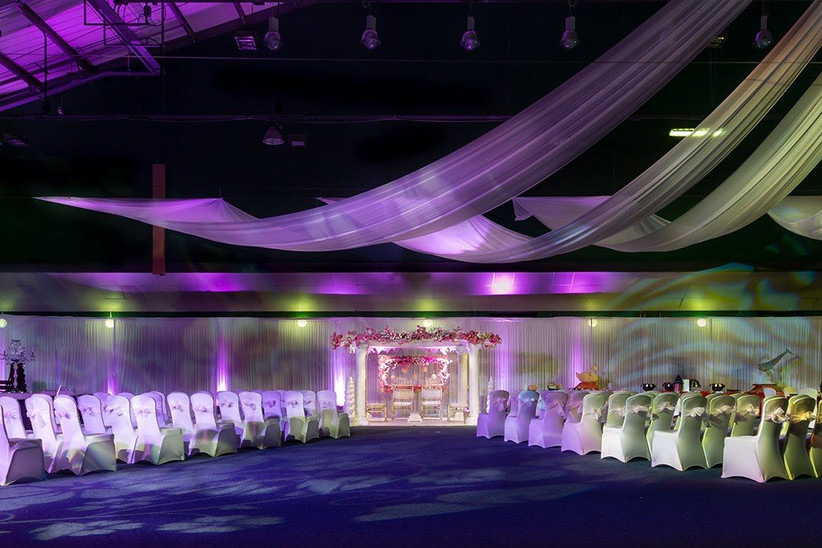 Five Lakes Resort, which sits in close proximity to Colchester is a large hotel wedding venue just screaming out to be the backdrop for your Asian wedding celebrations.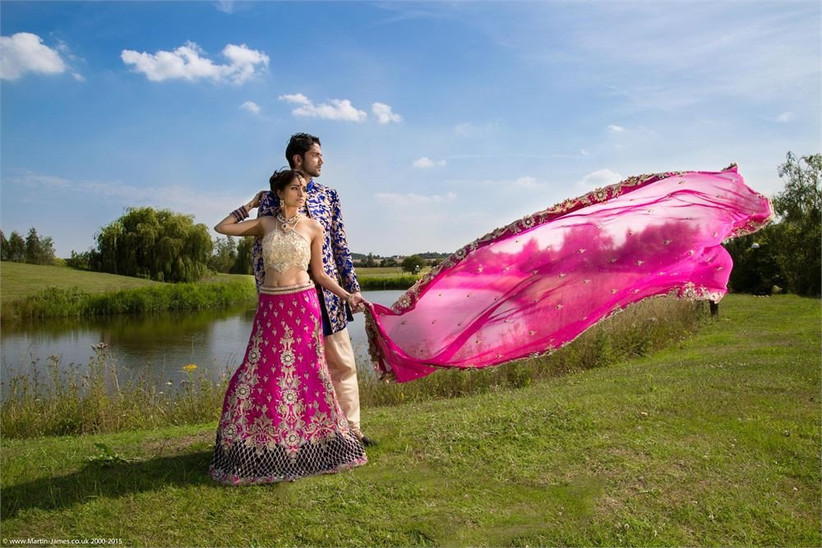 Set within the Essex countryside but easily accessible from London, this venue can cater for up to 2,000 guests (yes, really!) and has a history of hosting beautiful mutli-day Asian weddings.
READ MORE: 33 Ideas for Entertaining Your Wedding Guests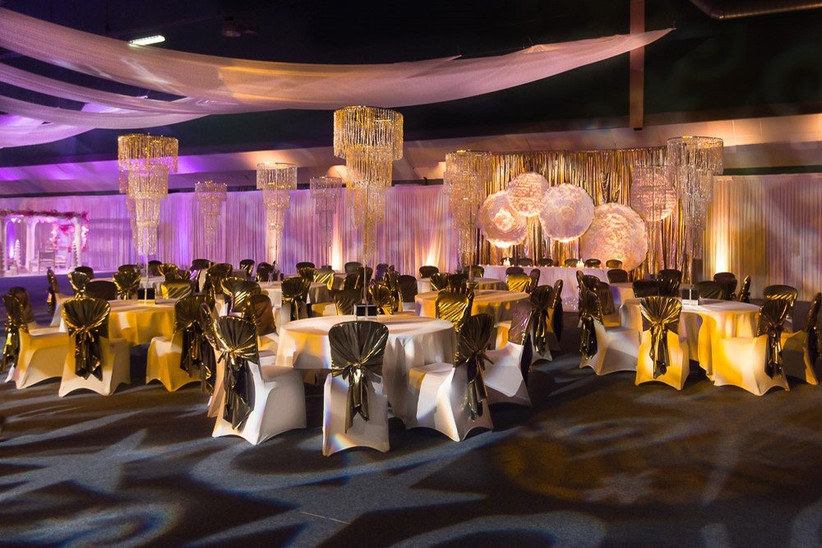 It has overnight accommodation for the wedding couple and their guests, making it ideal if you've got family and friends travelling from afar, and there's even an on-site spa with beautician, swimming pool and fitness centre.
Other features include a helipad, live music facilities and a permit for outdoor fireworks. Your wedding day will go down in history!
READ MORE: The Most Amazing Wedding Cakes in London
12. Birmingham Botanical Gardens – West Midlands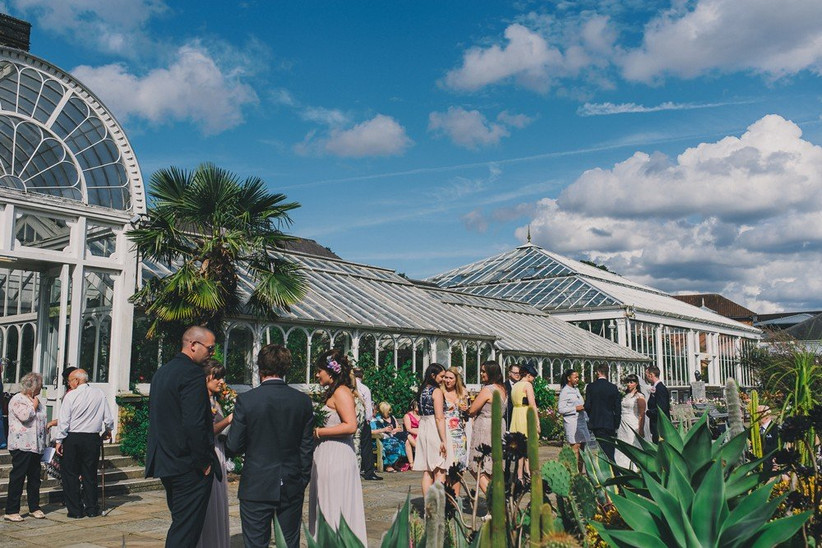 Nestled in the heart of the city centre, you'll find a hidden oasis of calm and tranquillity. Birmingham Botanical Gardens is a floral paradise and a truly romantic setting for your wedding day, with plenty of space for your guests to wander and explore, and magical spots for your wedding photos.
READ MORE: The Most Beautiful Outdoor Wedding Venues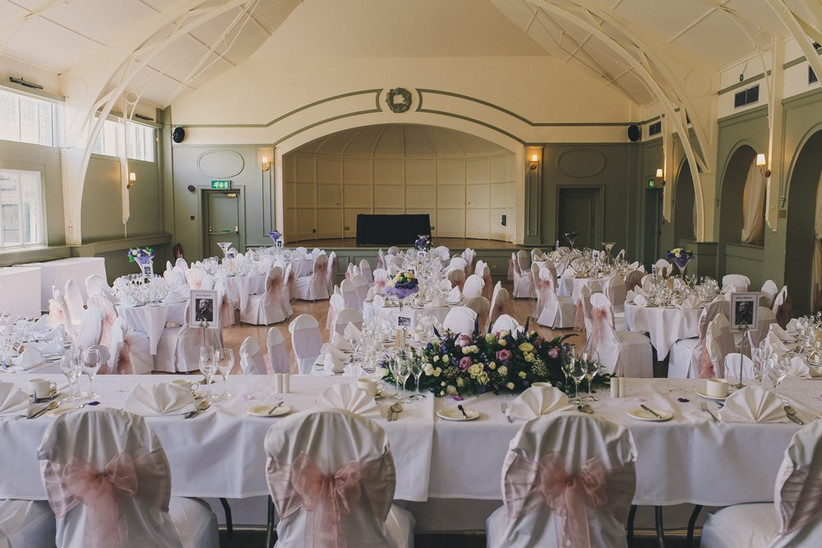 There's a choice of three suites – the Loudon, the Terrace and the Garden Suite – which can hold up to 400 guests. You'll approach through the beautiful glasshouses, bursting with seasonal colours, into your chosen suite where you can host a civil ceremony as well as religious blessings with ease. Afterwards enjoy al fresco drinks among the landscaped gardens.
All Asian weddings here are organised through award-winning chefs and event planners Itihaas, so you know your day will be in safe hands and the planning process can be as simple as possible.
13. Melville Castle – Lothian & Borders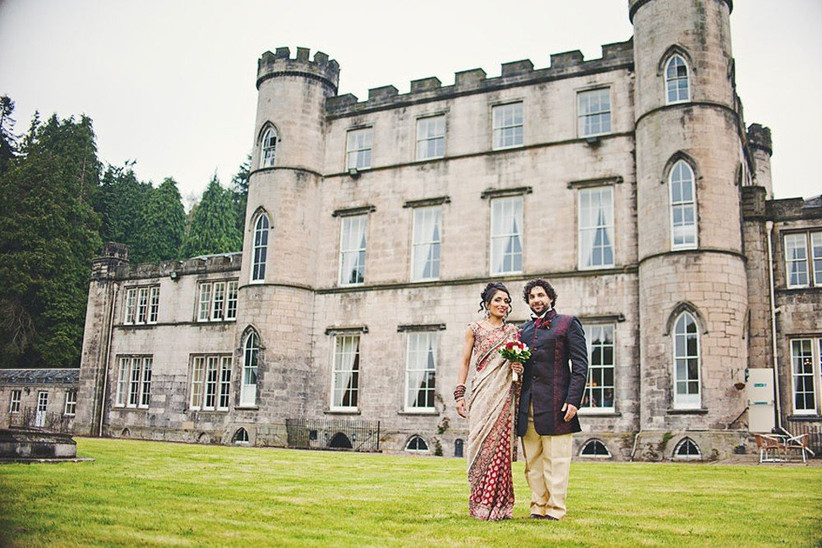 Image: Mark Pacura Photography
Melville Castle is located just on the doorstep of Edinburgh city centre giving you the perfect rural location within easy reach of a city.
If you love the idea of a grand wedding in Scotland then this castle wedding venue could be perfect for you.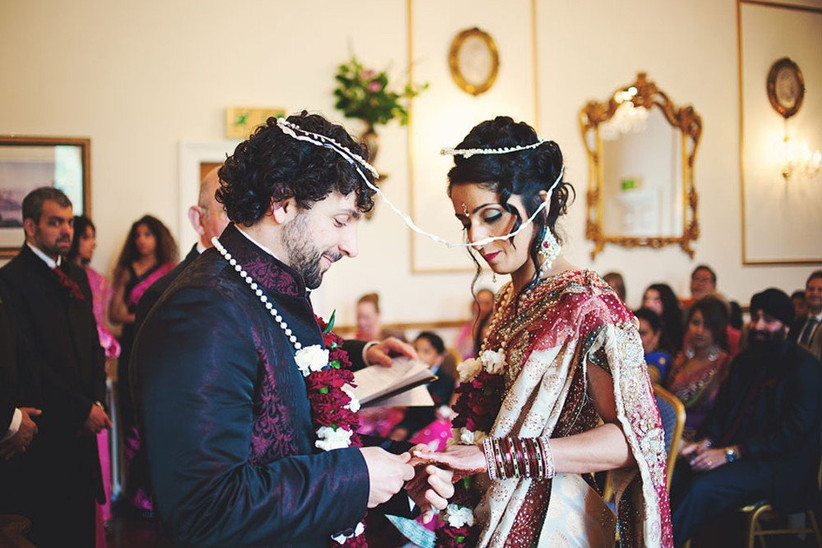 Full of character and charm inside, this venue allows firework displays outside and even arrival by helicopter so make full use of the grounds as part of your wedding.
READ MORE: The Best Scottish Wedding Venues
With space for up to 150 guests in their pavilion marquee and 32 bedrooms plus the beautiful bridal suite, you can have exclusive use of this stunning venue for the whole day and continue the celebrations at breakfast the next morning with family and friends.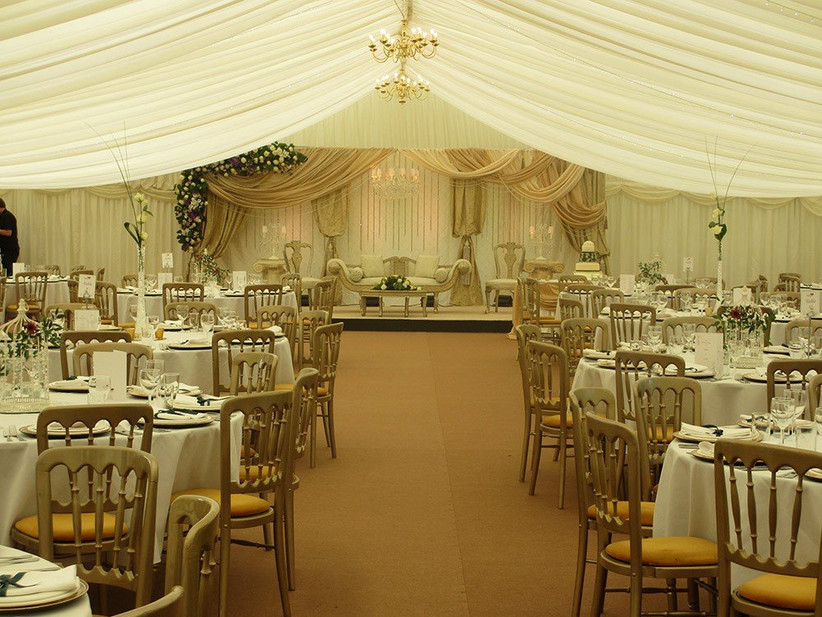 Private catering is permitted for religious reasons or their in-house chefs can whip up a delicious meal.
READ MORE: The Best Venues for Foodie Couples
14. The Fable – East London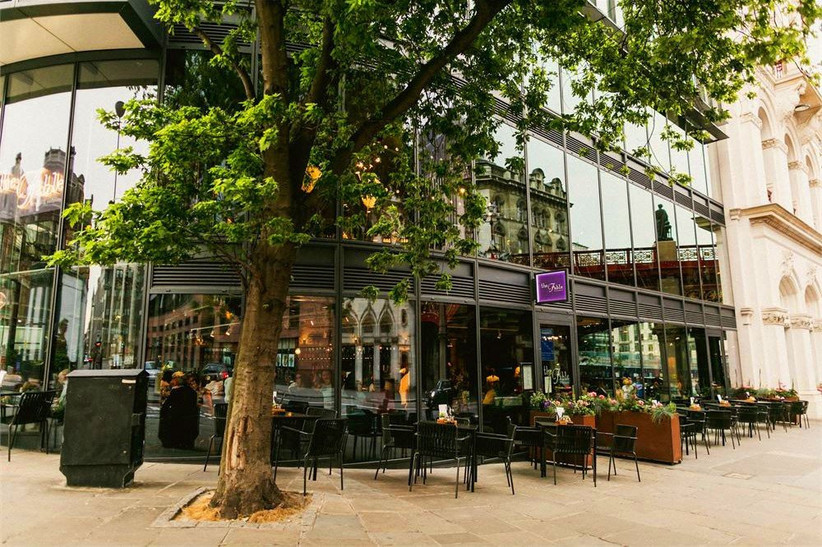 If it is a modern, city centre venue that you're after, then The Fable in the east of the capital could be a perfect alternative to traditional Asian options.
It is a beautiful restaurant wedding venue which hosts up to 1,000 guests and has been shortlisted for several design awards thanks to its stunning backdrop for photographs.
READ MORE: 11 Wedding Rules You Can Break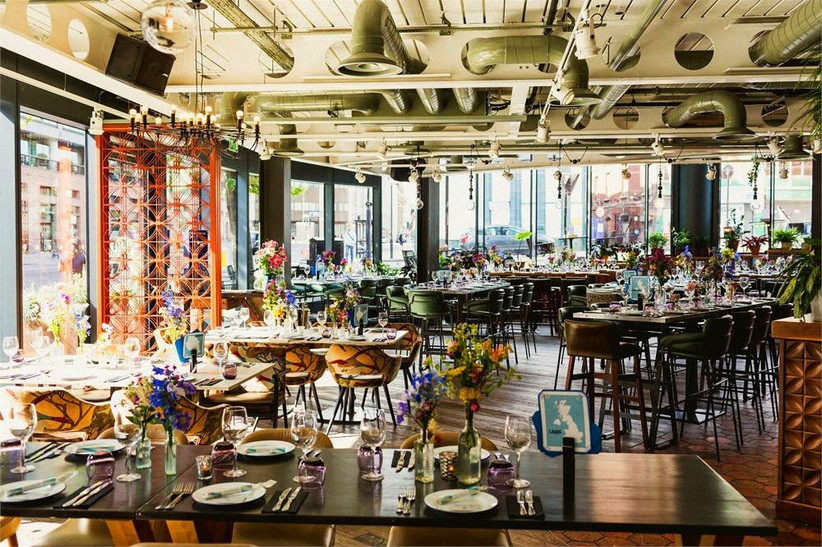 The experienced and friendly team will be on hand to help you create the perfect menu for your guests in whatever style you choose, but that isn't the best part.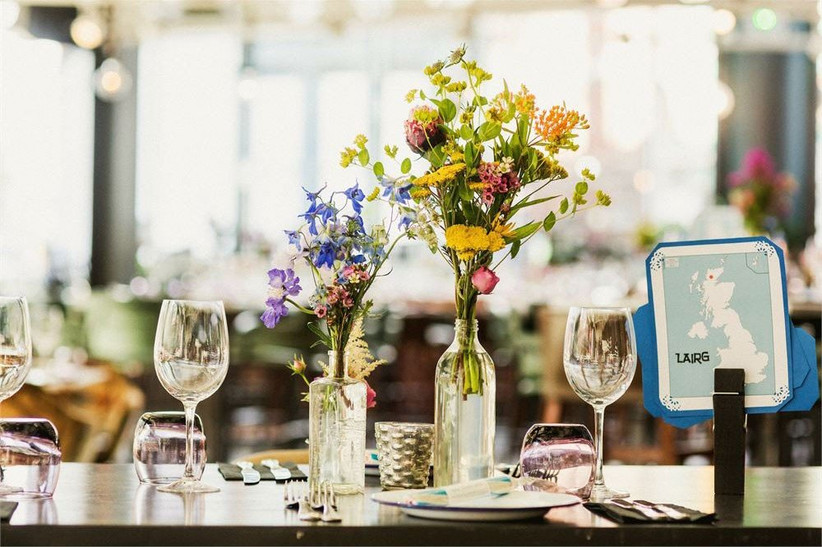 Amazingly, there is absolutely no venue fee, perfect for those of you on a tighter budget. There is a minimum spend on food and drink, but when you've got lots of guests coming from all over the world to celebrate, that shouldn't be a problem!
READ MORE: Top Wedding Planning Budget Hacks
15. Stoneleigh Abbey – Warwickshire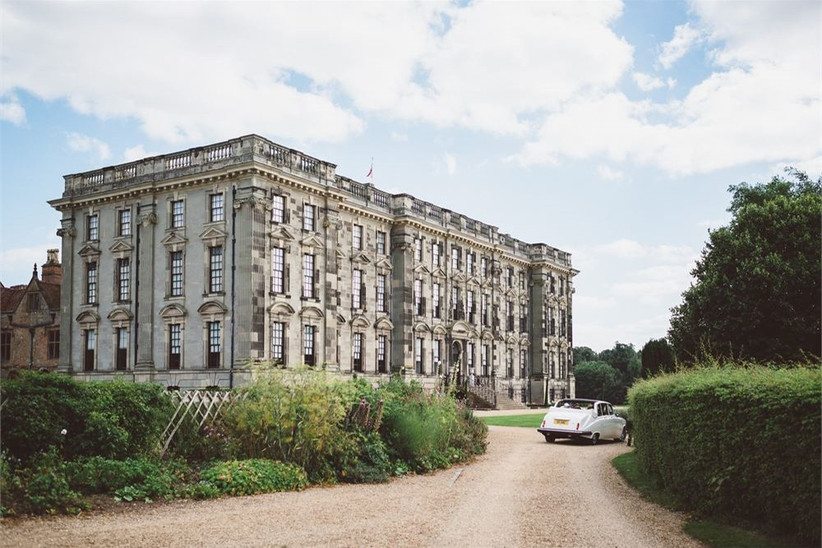 If you love the idea of an elegant, historical wedding venue, Stoneleigh Abbey could be the perfect choice for you.
This stately home wedding venue works with a specialised Asian event management company to ensure every detail of your day is planned and executed to perfection.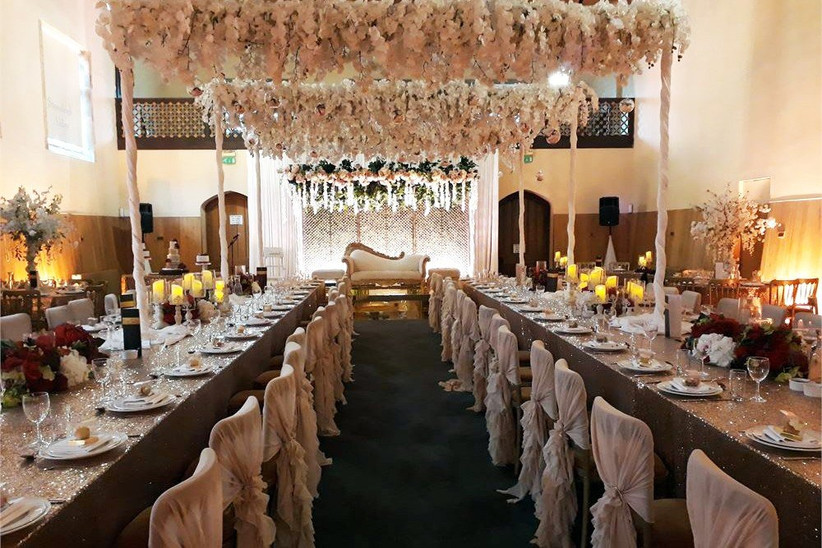 Choose a marquee that can accommodate up to 500 in the venue's beautiful gardens or opt for more intimate affairs in their decadent Saloon or The Orangery which looks over the River Avon.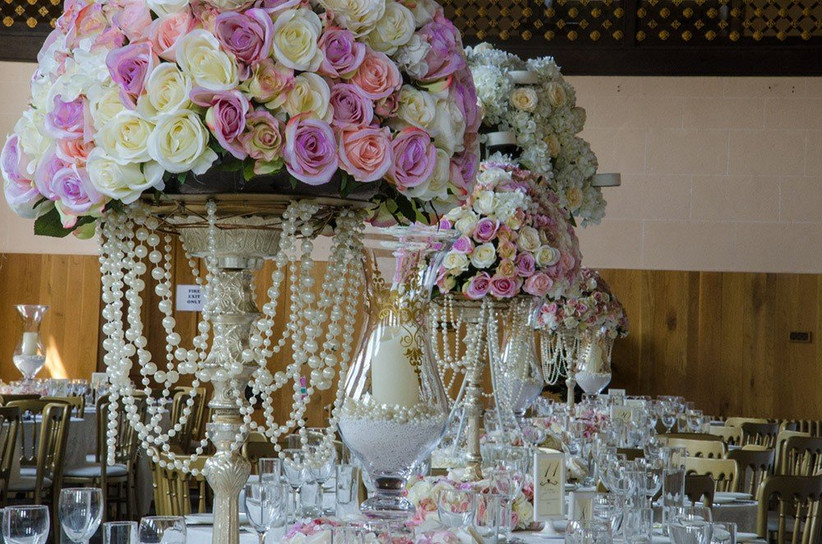 What's more, if you have family from all over the country then the Midlands can be a great location for a wedding that is easy for your guests to reach.
READ MORE: How To Choose Your Wedding Flowers
If you are still searching for your perfect venue then don't miss our large capacity wedding venues or these venues with the best bridal suites in the UK.