22 Stunning Sunflower Wedding Bouquet Ideas
A sunflower wedding bouquet will add a ray of sunshine to your wedding day look – and we've got all the inspiration you need.
We have included third party products to help you navigate and enjoy life's biggest moments. Purchases made through links on this page may earn us a commission.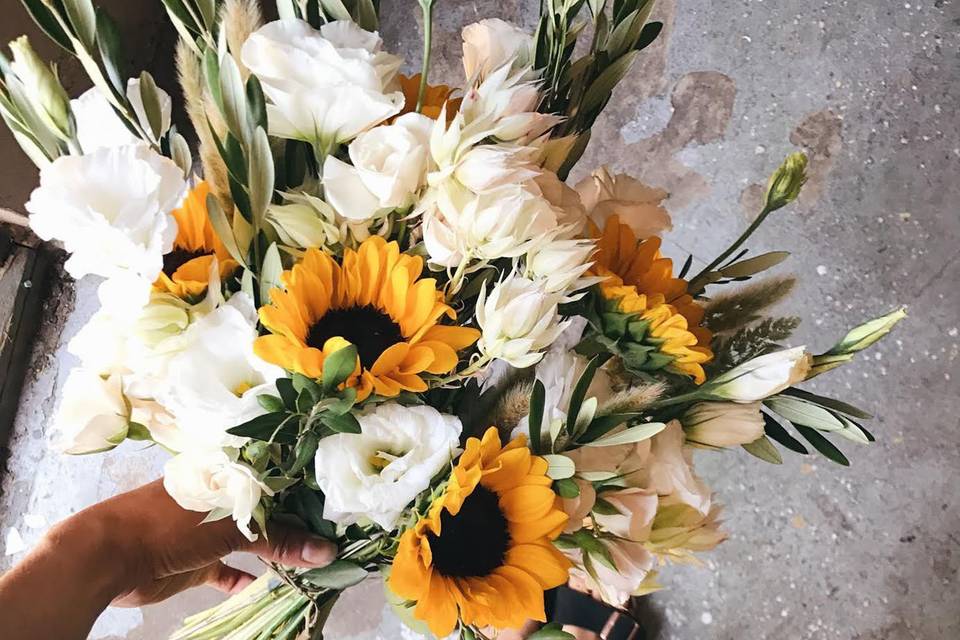 Other than the obvious connotations of warmth and light drawn from their namesake, sunflowers also symbolise adoration, loyalty and longevity – the key components of a long happy marriage. So it's no surprise that more and more brides are opting for a sunflower wedding bouquet.
No matter what season your wedding date falls in, you can incorporate sunflowers into your big day – while their peak season is September to October, different varieties can be sourced all year round. And whether you want just one or two sunflowers amidst a bigger bunch, or like the idea of sunflower-only arrangement taking pride of place as you walk down the aisle, there's plenty of options for wedding flowers that will complement your chosen sunny stems and slot seamlessly into any wedding theme, from vintage to boho to contemporary.
Are sunflowers good for weddings ?
'Sunflowers, for us, conjure up visions of beautiful golden fields in the French countryside, the epitome of long sunny summer days – in short, a perfect flower for that relaxed summer wedding,' says Alison Lithgoe, Lead Creative at McQueens Flowers.
'They are particularly suited to celebrations set in the countryside, outdoors and marquees or barn receptions, as they are a large headed, relatively inexpensive flower, that can be used in abundance to create lovely naturalistic flowing arrangements that instantly provide real impact.'
How expensive are sunflowers for weddings? And what is the best time of year to use them?
'As with any flower, it is always best to use them when they are in season which is throughout the late summer, the quality will be at its best and the price will be reasonable,' Alison notes.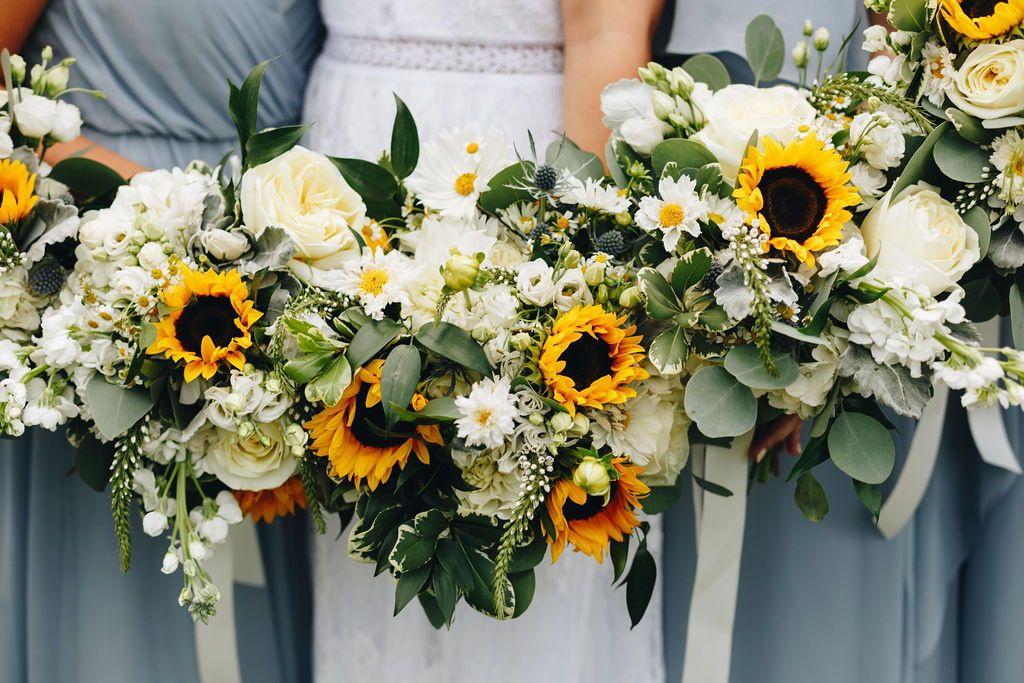 What flowers go with sunflowers in a bouquet?
'There are several different varieties are best suited for bouquets – a looser, natural front facing design works best,' Alison explains. 'I'd recommend a few large fluffy 'Teddy bear', the pretty, dainty sunflower daisy, helianthus 'Autumn Gold' and small perfectly formed 'Sonja'.
'Don't forget sunflowers also come in gorgeous autumnal colours, from deep burnt oranges through to dark clarets – a mixture for September weddings would work beautifully. Combine with dancing grasses to give the bouquet and arrangements movement and lightness.
'Quaking grass, pennisetum, canary grass, bunny tails will all work beautifully, maybe adding pampas and Stipa Gigantea to the larger arrangements. Should you wish to use additional flower varieties use the same colour palate for best results, rudbeckia, craspedia and rose hips would work, combined with dark cotinus, Smoke Bush, or oak leaves for an early autumn wedding.'
Are there any downsides to using sunflowers in your wedding?
'Sunflowers can be very heavy and have a tendency to drop their heads,' Alison warns. 'It's vital you use the freshest you can and allow them to drink properly before you start arranging them.'
What type of sunflower arrangements are most popular for weddings?
'The natural, wilder silhouette filled with lots of seasonal gems is hugely popular as well as the classic, neater bouquet which is rounder in shape,' says Alison. 'Sunflowers can absolutely be used in both versions.'
Inspired? Here are 22 of the most beautiful sunflower wedding bouquets we've come across so far – all you need to do is bookmark this link to take to your florist!
READ MORE
22

Stunning Sunflower Wedding Bouquet Ideas
Rustic

Bulk out your sunflowers with generous amounts of large-leaf foliage and ornamental grasses like pampas grasses or bunny tails. We love the mix of fresh and dried flowers, and the vibrancy of the contrasting bright blue buds.
Cascading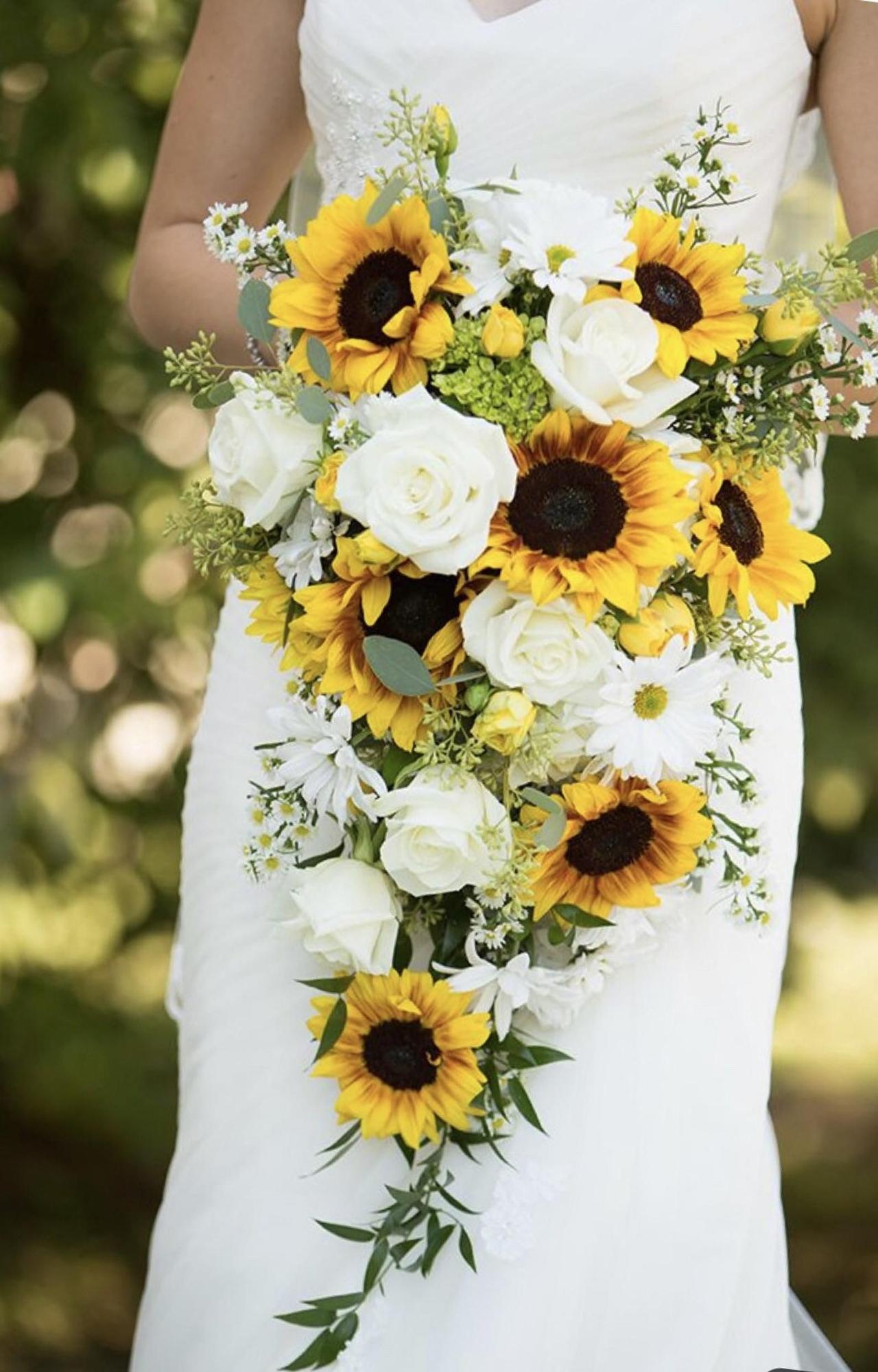 Despite their larger size, sunflowers slot perfectly into cascading bridal bouquets. Here they're complimented by white roses and daisies for a fresh, romantic feel.
Succulent
Proud plant parents, did you know that you can actually incorporate succulents into your sunflower wedding bouquet? The use of complimentary green and white let the yellow blooms make the main statement, while the pinecones add texture.
Yellow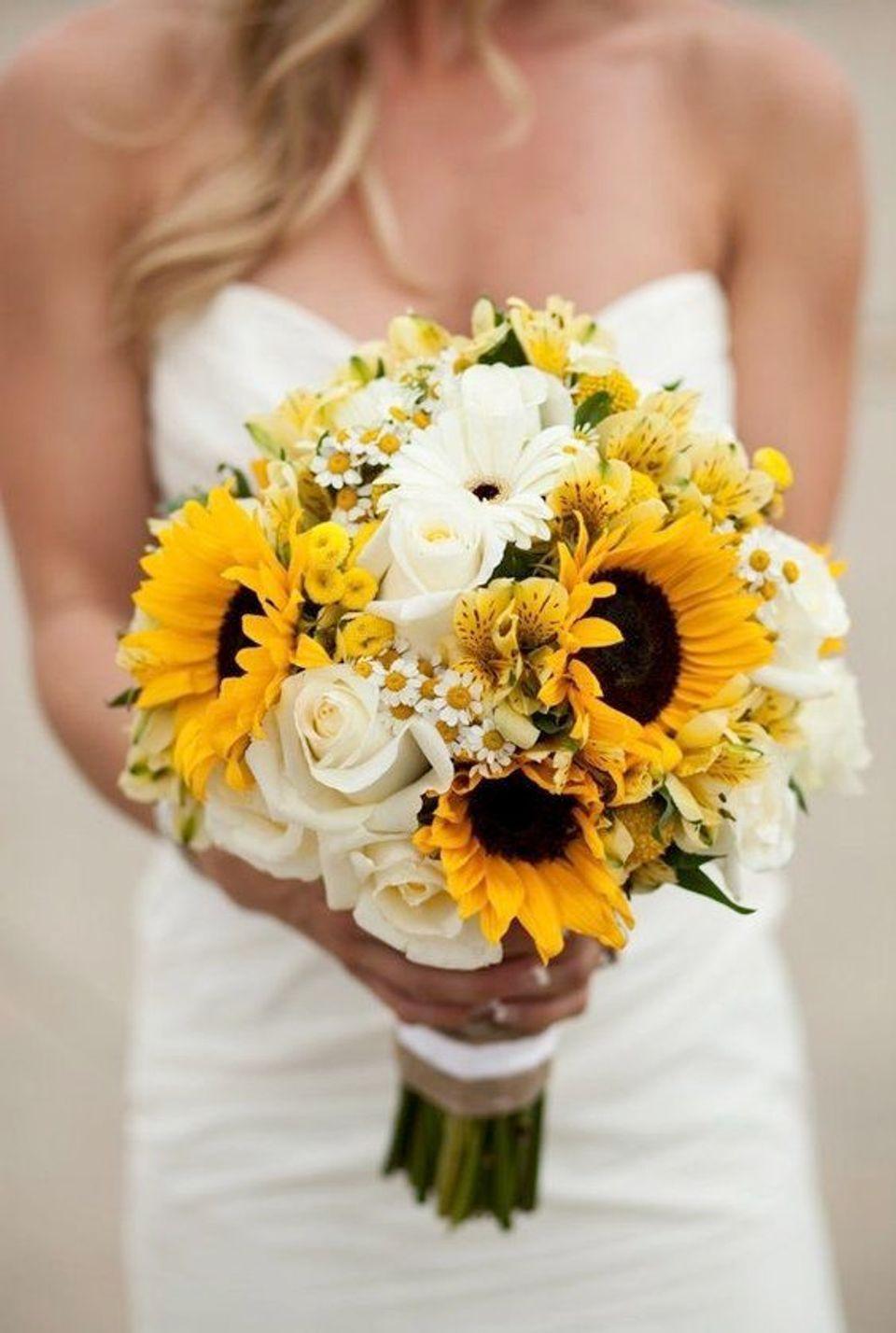 Embrace the golden hues of your favourite flower with other summery yellow stems included throughout – you could try pansies, dahlias, freesias or even daffodils, depending on the time of year.
READ MORE: The Best Eco-Friendly Wedding Products
Solo Sunflower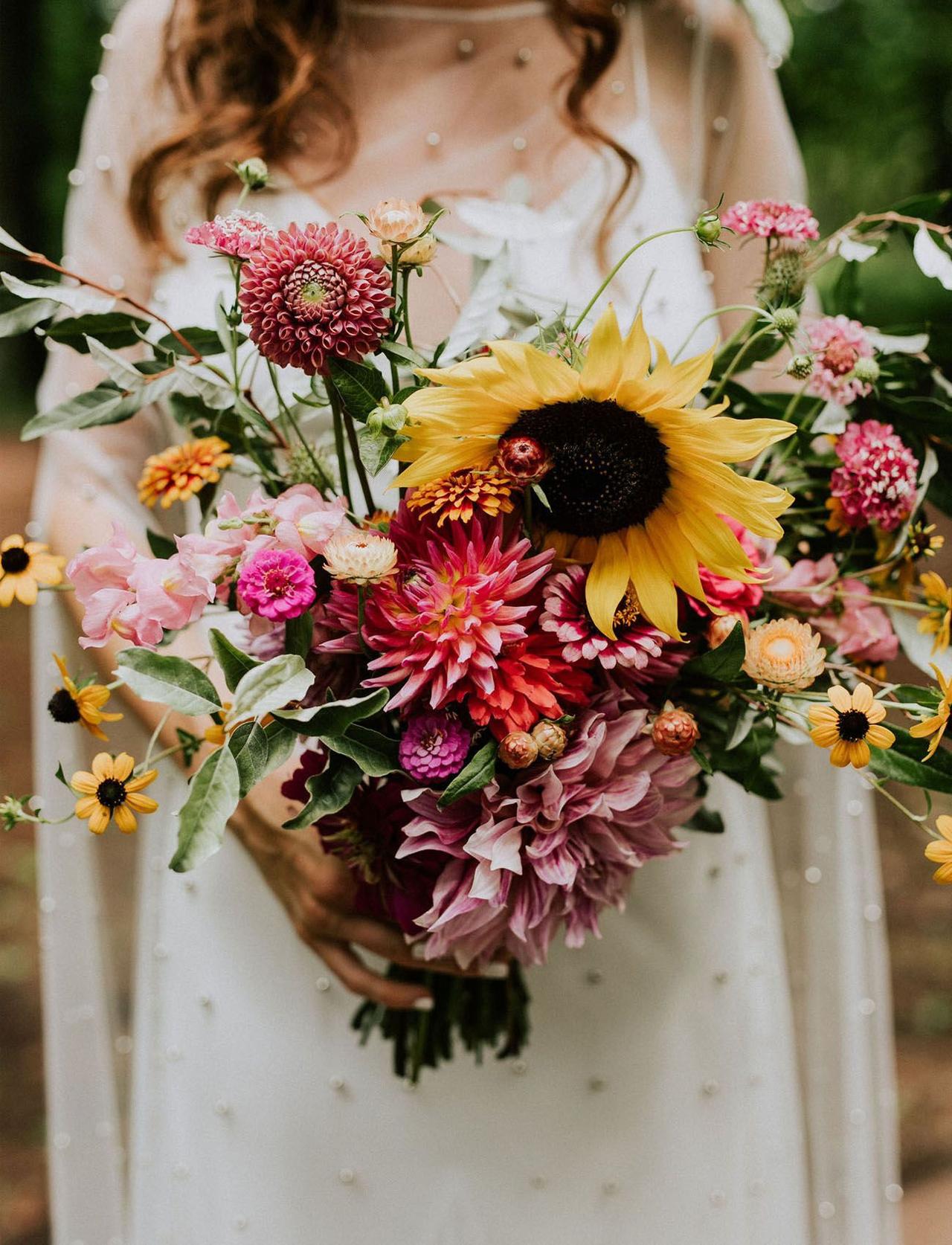 Using just one statement sunflower either in the centre or offset to the side in your bouquet can be really visually striking. Use a mix or larger and smaller flowers in the surrounding arrangement to play up the variation.
Lilac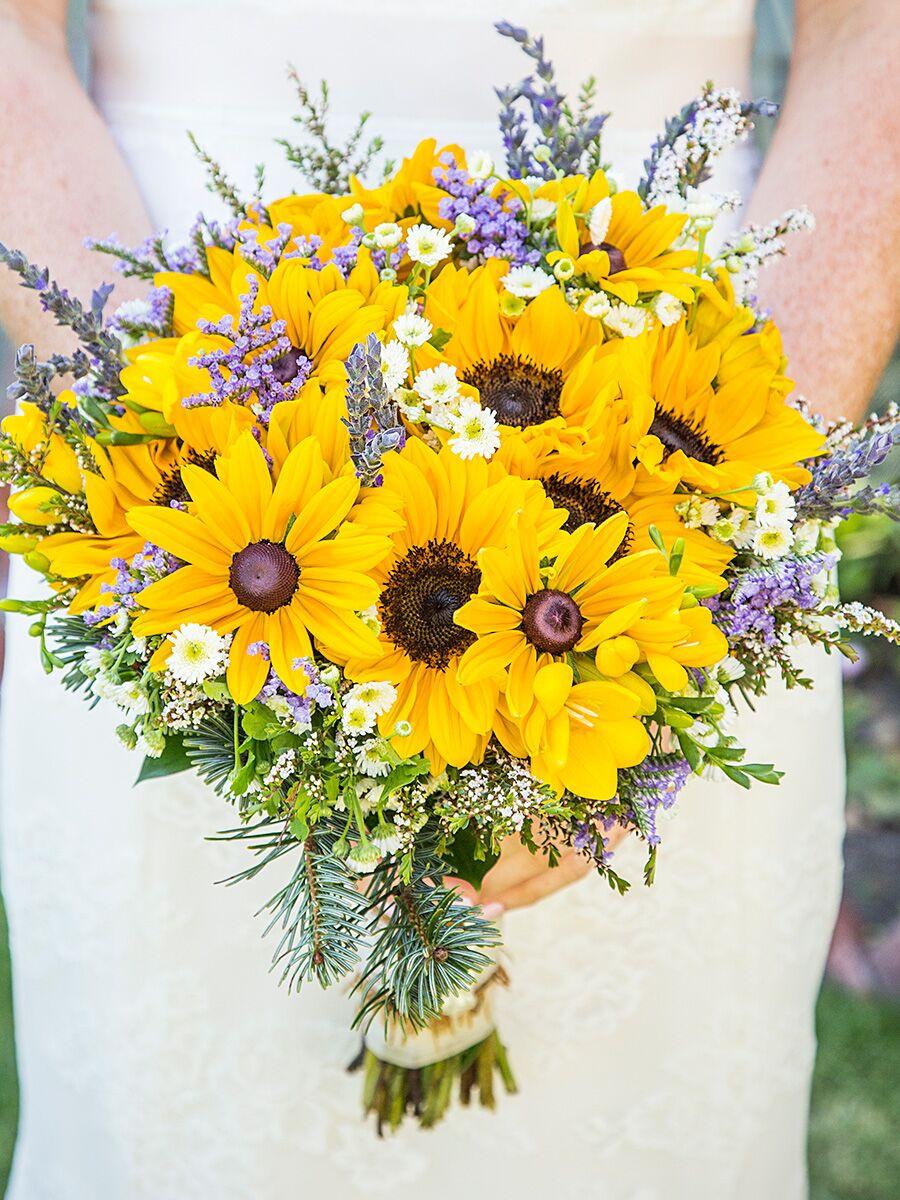 Juxtapose cooler lilacs against the warmth of the sunflowers and you'll have an unforgettable colour combo that will stand out in all of your photos. Take inspiration from this bouquet by using wildflowers and lavender.
Purple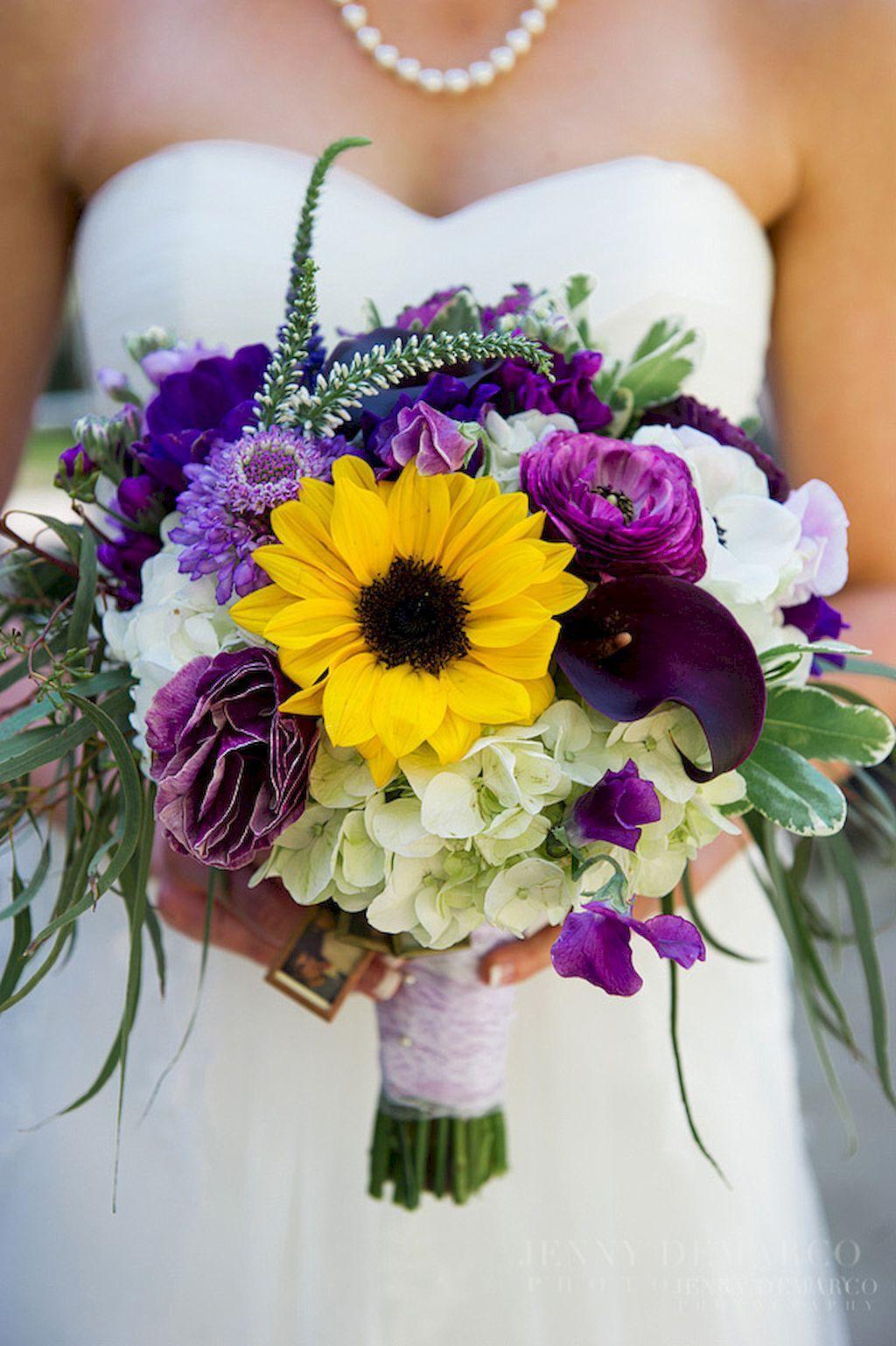 Alternatively, incorporate a deeper purple for a more dramatic impact. There are dozens of different varieties in this bouquet, including a swooping calla lily – the softer purple lace and photo frame around the stems make for sweet personal touches.
Relaxed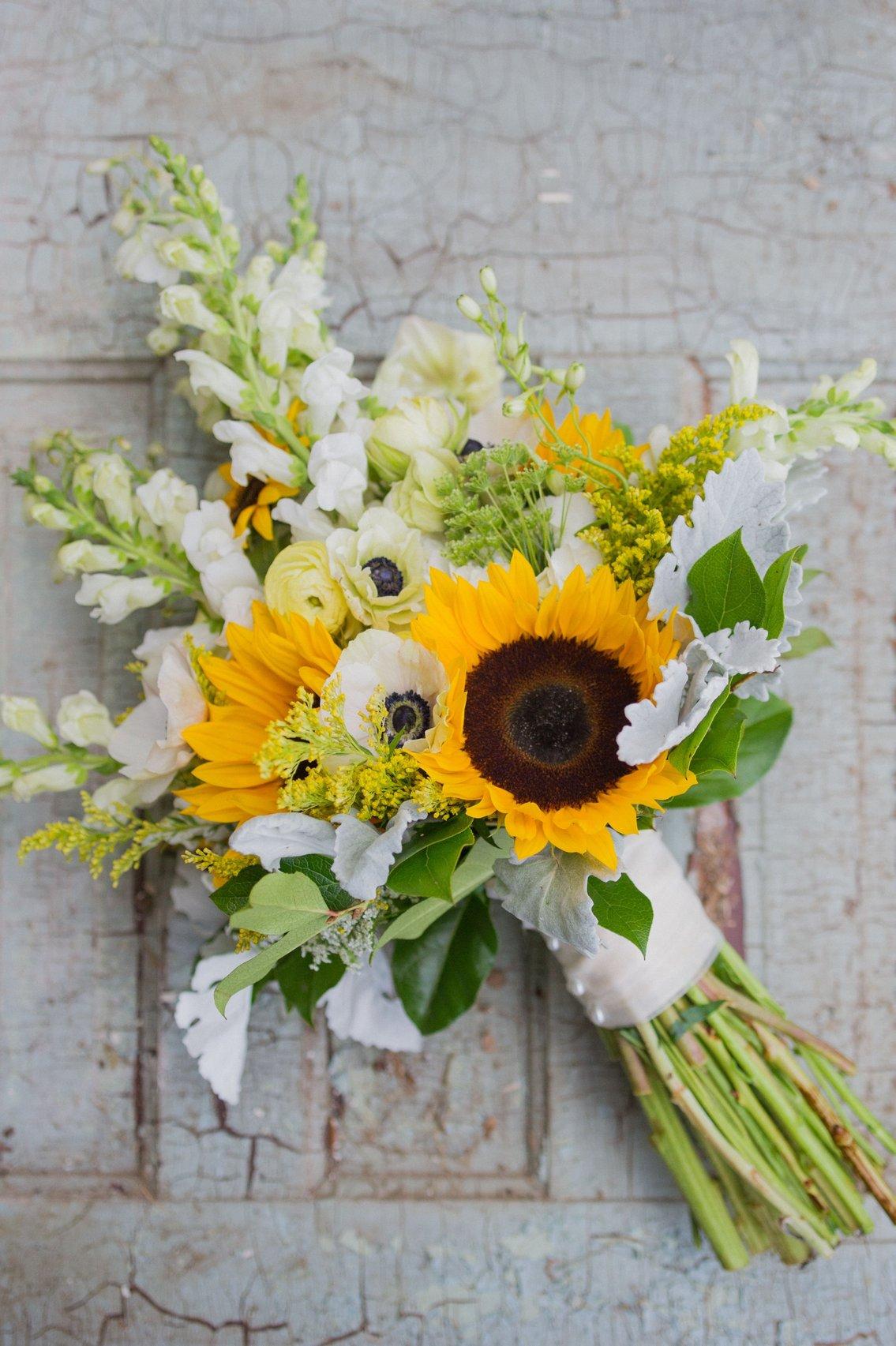 'I wanted the bouquets to look as though they were freshly picked and not overly arranged,' the florist behind this display told The Knot. As such, the sunflowers, anemones, ranunculus and wildflowers are spun in a more organic way that's finished with a chic, simple white ribbon.
READ MORE: 23 Creative and Beautiful Wedding Arch Ideas (and How to Make Your Own)
Brights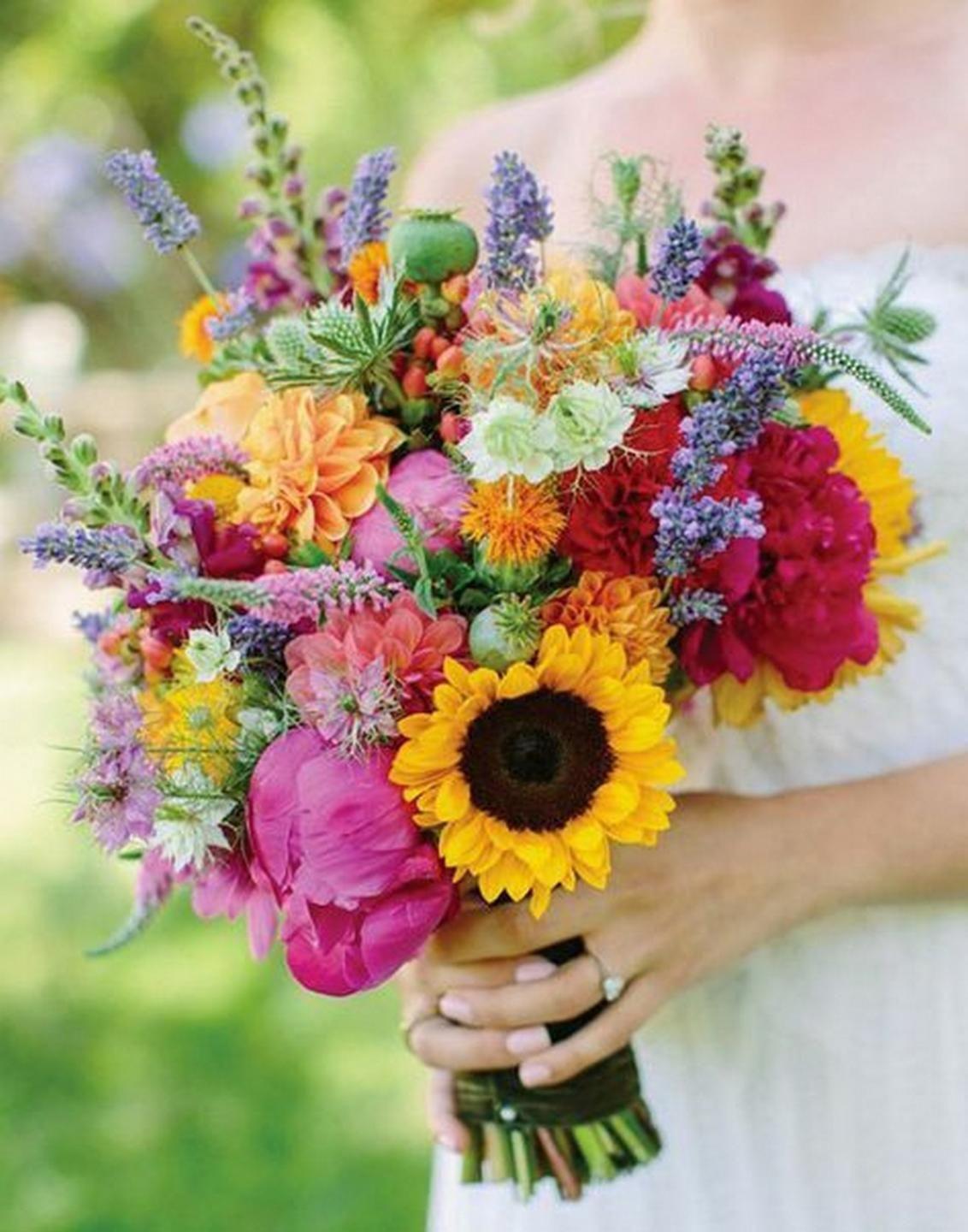 Because sunflowers are so rich in colour themselves, they can hold their own against similarly bright and beautiful bouquet-mates. Magentas, lavenders, tangerines and corals are all especially pretty for summer.
Burgundy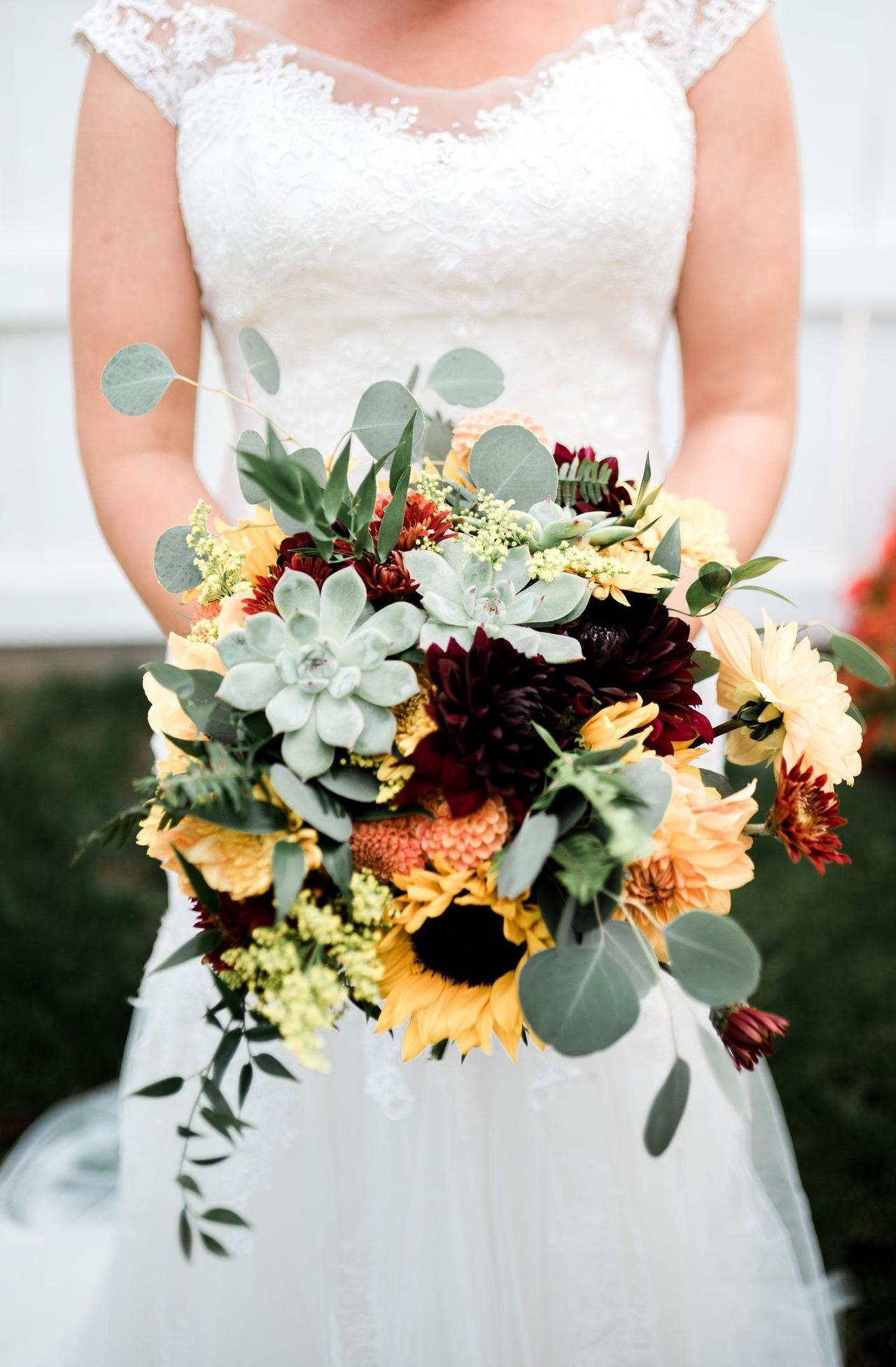 But who says sunflowers are just for summer? Certainly not us – this bouquet adds autumnal hues like burgundies, maroons and burnt sunset orange for an elegant autumnal update.
Harvest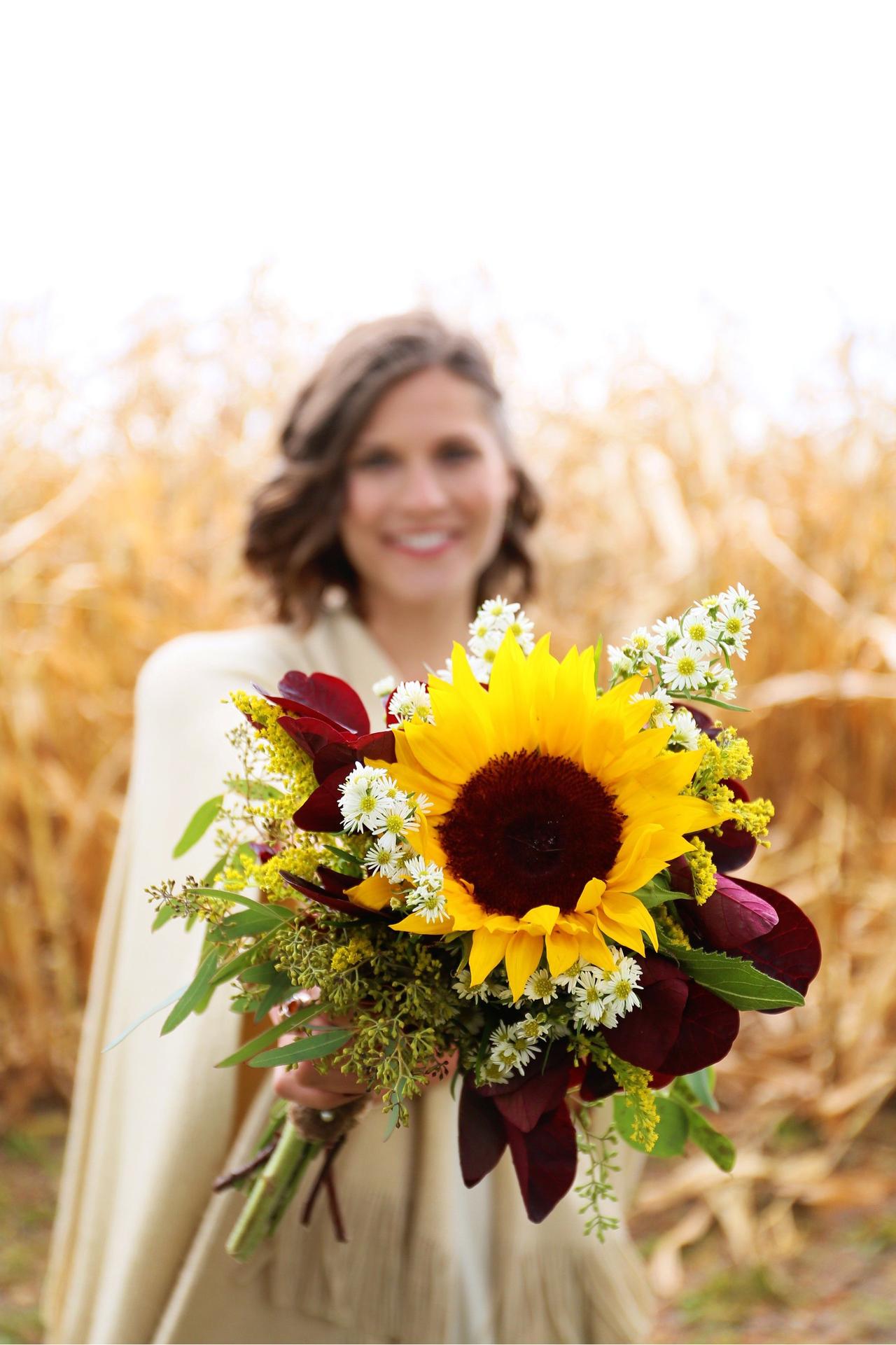 Lean into the autumnal theme even further with the same colour palette and a sunflower centrepiece framed by daisies and seeded eucalyptus – it's relatively informal, but that's part of the charm.
Bohemian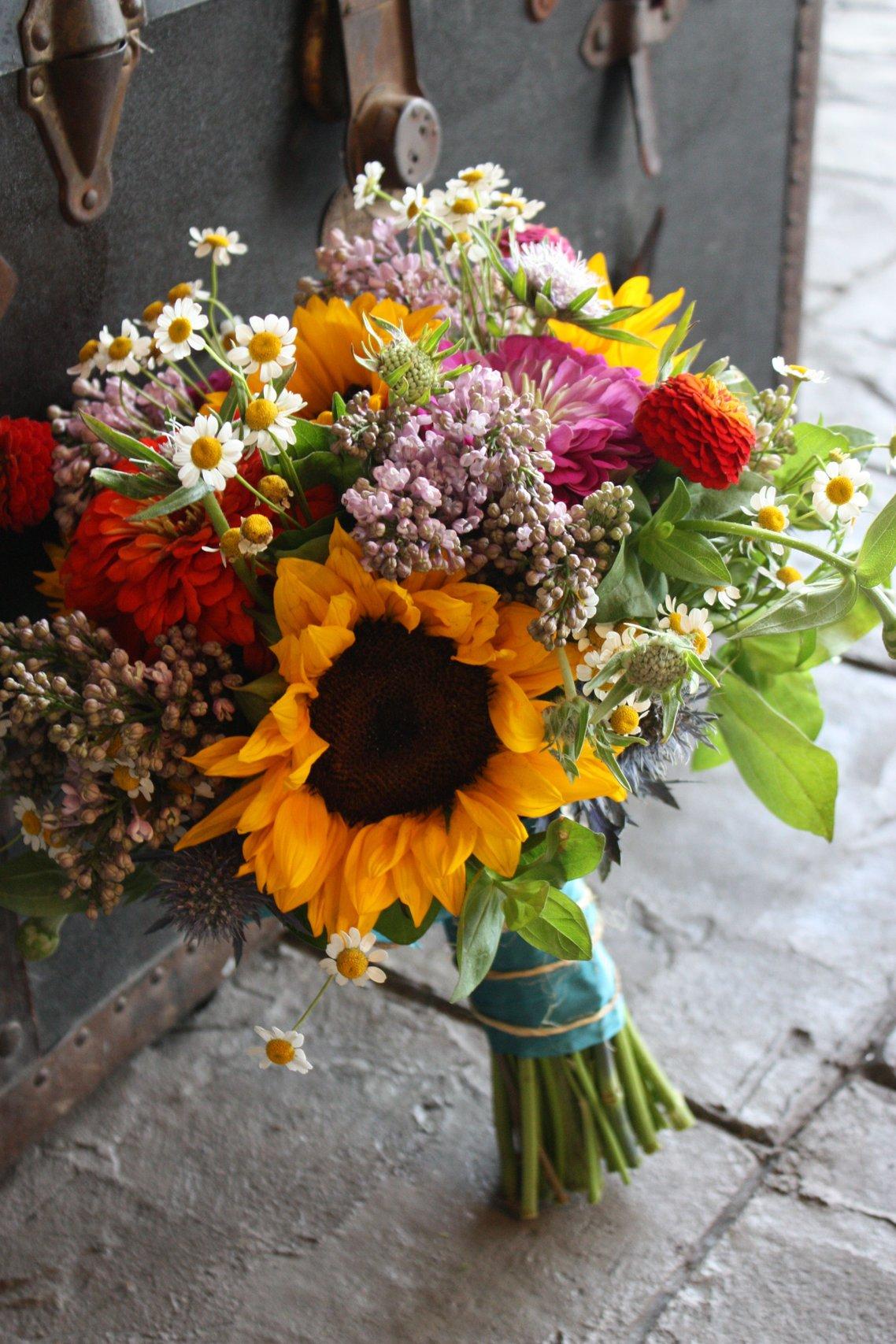 If you could run riot through a field of fresh summer flowers with your arms outstretched, you'd probably end up with something that looks a little like this. The inclusion of eryngium as well as dahlias and daisies lends itself to that wildflower feel.
READ MORE: Essential Questions to Ask Your Wedding Florist Before You Book
Greenery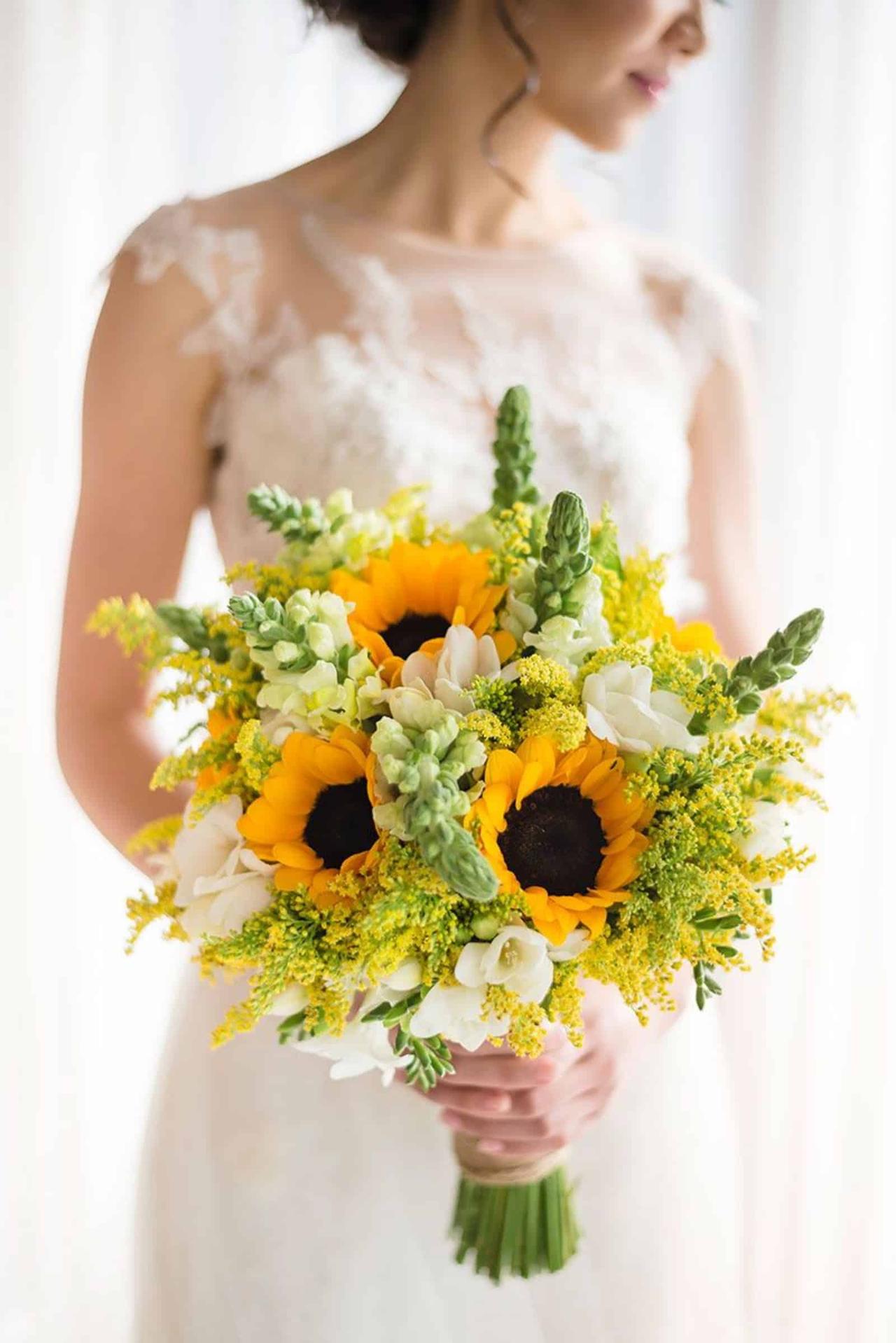 Green and yellow sit next to each other on the colour wheel, so it's no surprise that they look great together. For a similar vibe to this bouquet, ask your florist about snapdragons, freesia and solidago.
Blue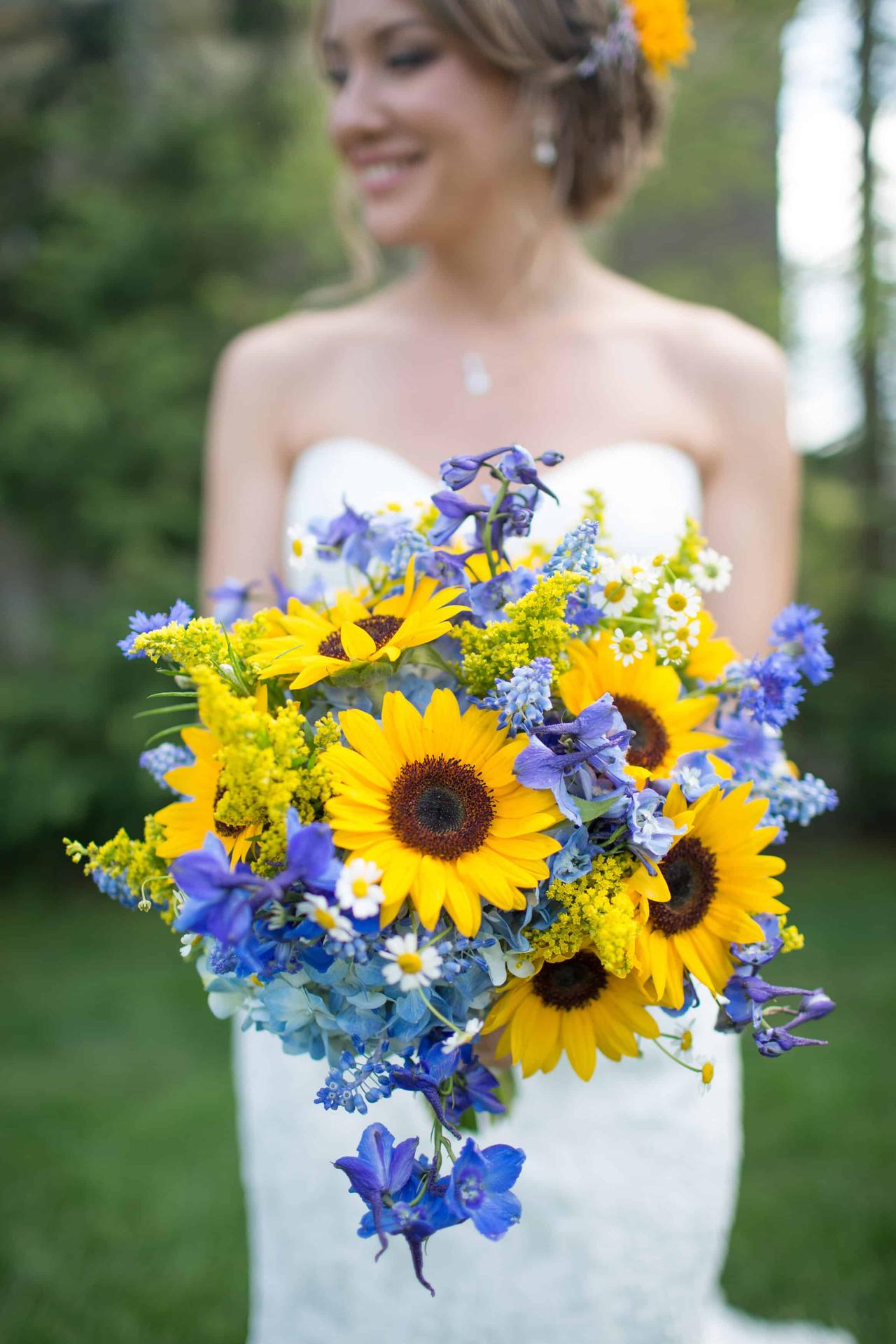 Calming blue and zingy yellow are a classic wedding colour combo that never goes out of style, and adding sunflowers to your bouquet is a simple way to set it off. This pairing would work at any time of year, but is particularly popular for spring or summer ceremonies.
Pastels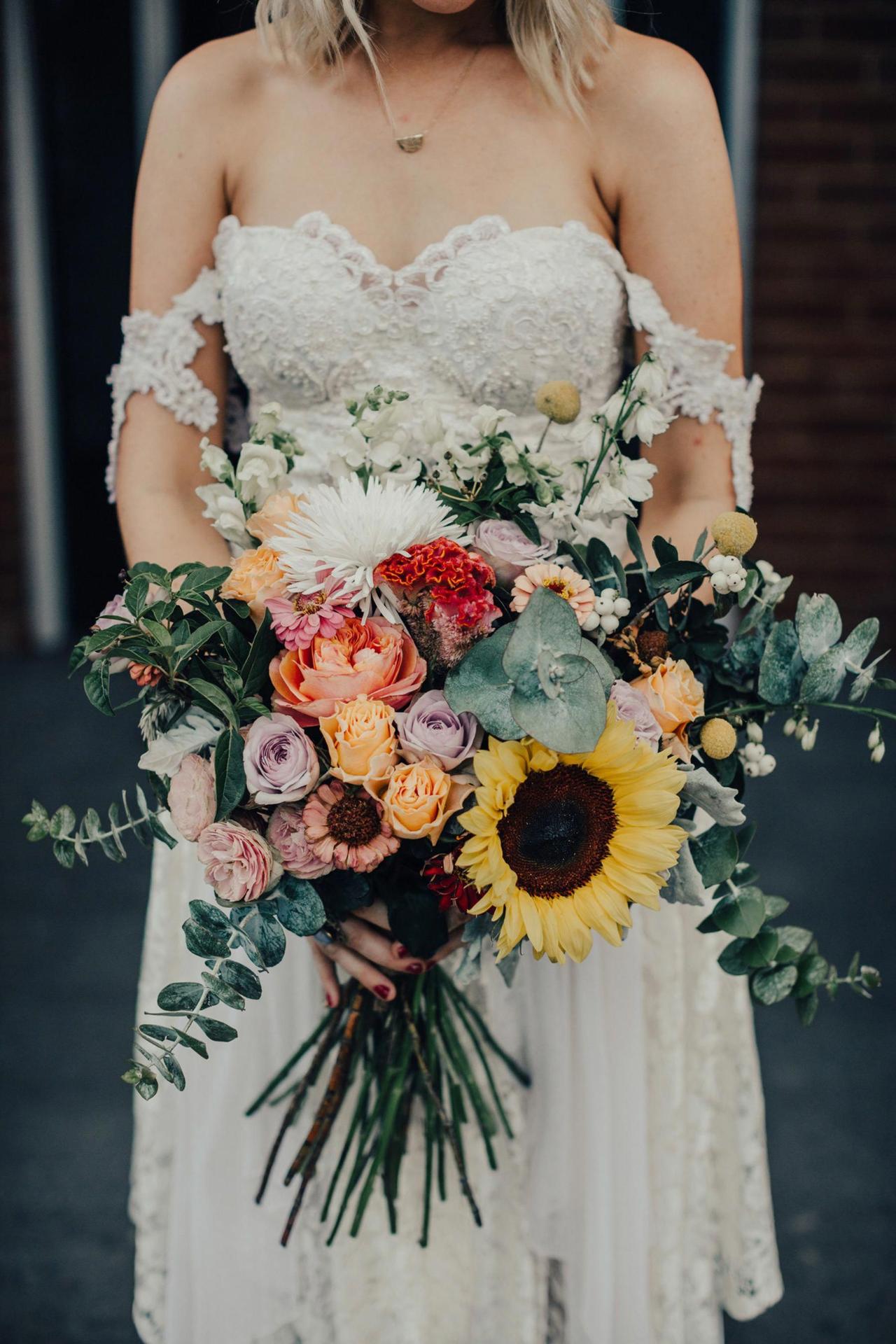 Flowers in barely there mauves, peaches and blush pinks make this bouquet super feminine, with an almost vintage feel. The plentiful foliage creates a green halo to push the colour play even further.
Hydrangea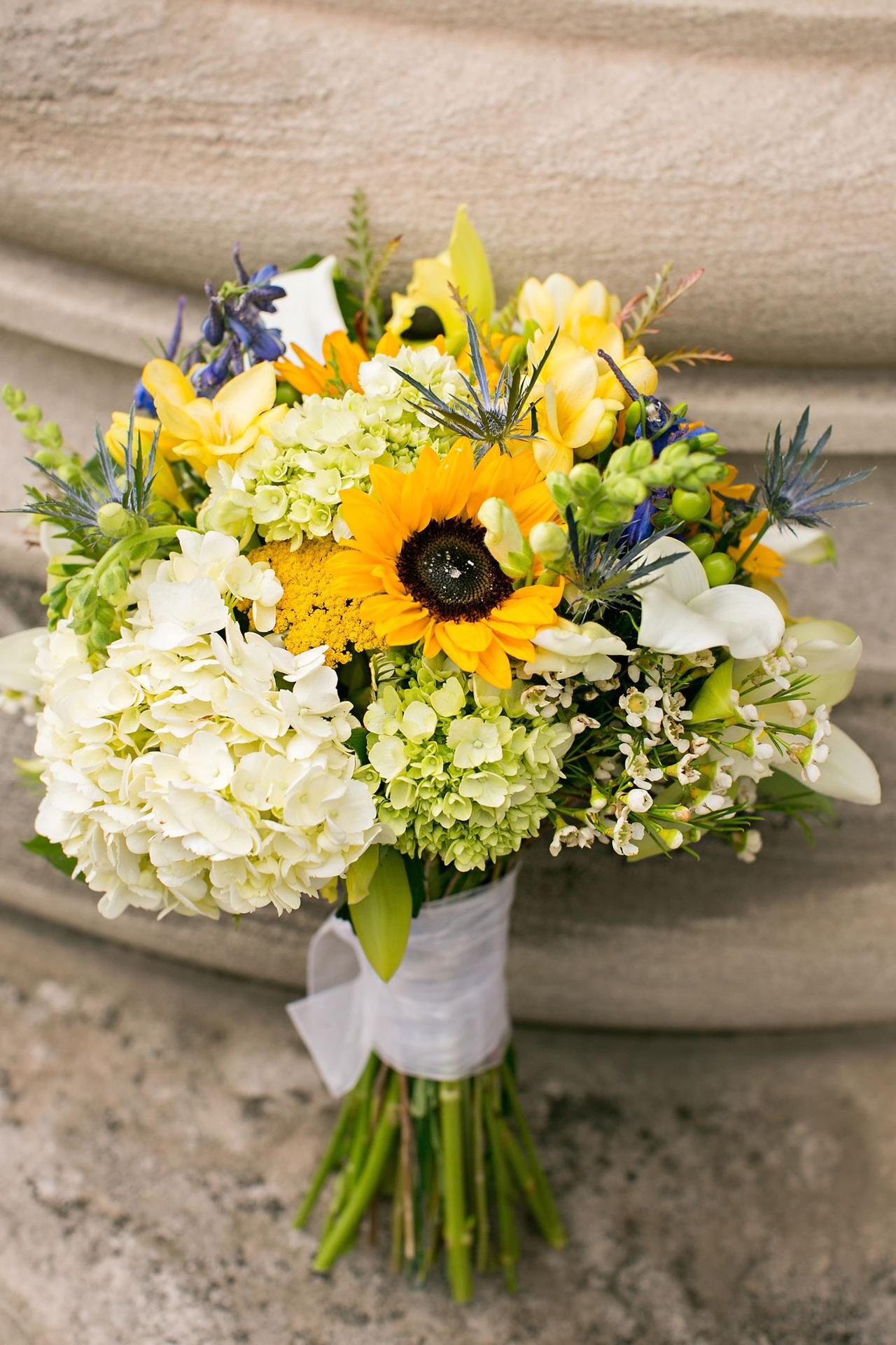 The rounded globe shape of a hydrangea looks beautiful alongside the wide-open spread of a sundflower's petals – especially when, like in this bouquet, you balance these bigger pieces alongside smaller sprays in complementary colours.
Gerberas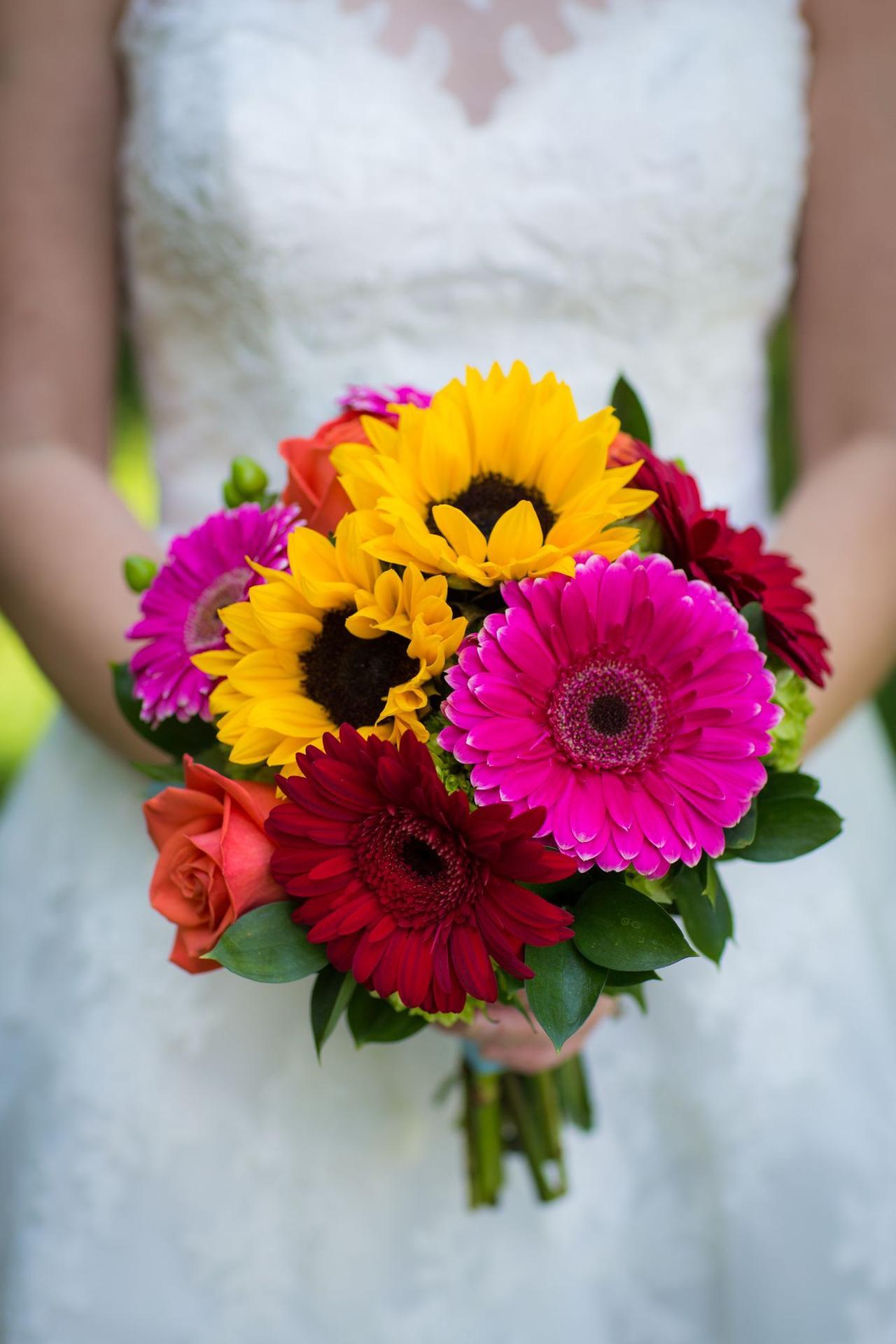 There's plenty of sunflower wedding bouquet inspiration out there studded with traditional yellow and white daisies, but for something with a more eyecatching colour pop, look to the more substantial gerbera variety. We're particularly smitten with the addition of that subtle coral rose.
READ MORE: How to Choose Your Wedding Flowers
Babies Breath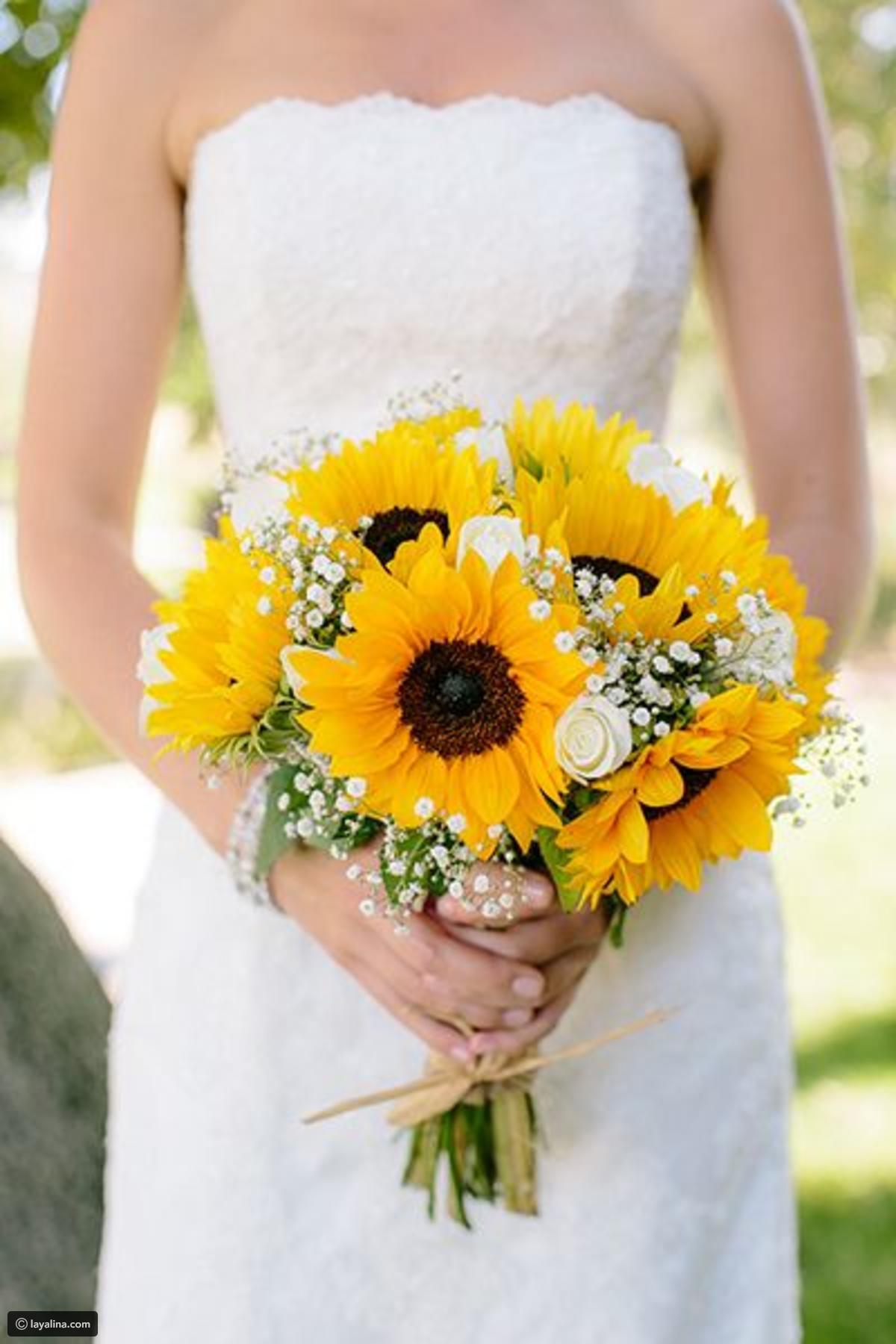 For some wedding themes, all your sunflowers will need to lift them is a sprinkling of babies breath or gypsophelia (those stems of tiny, delicate white buds). This is an affordable choice that still looks full and abundant.
Dried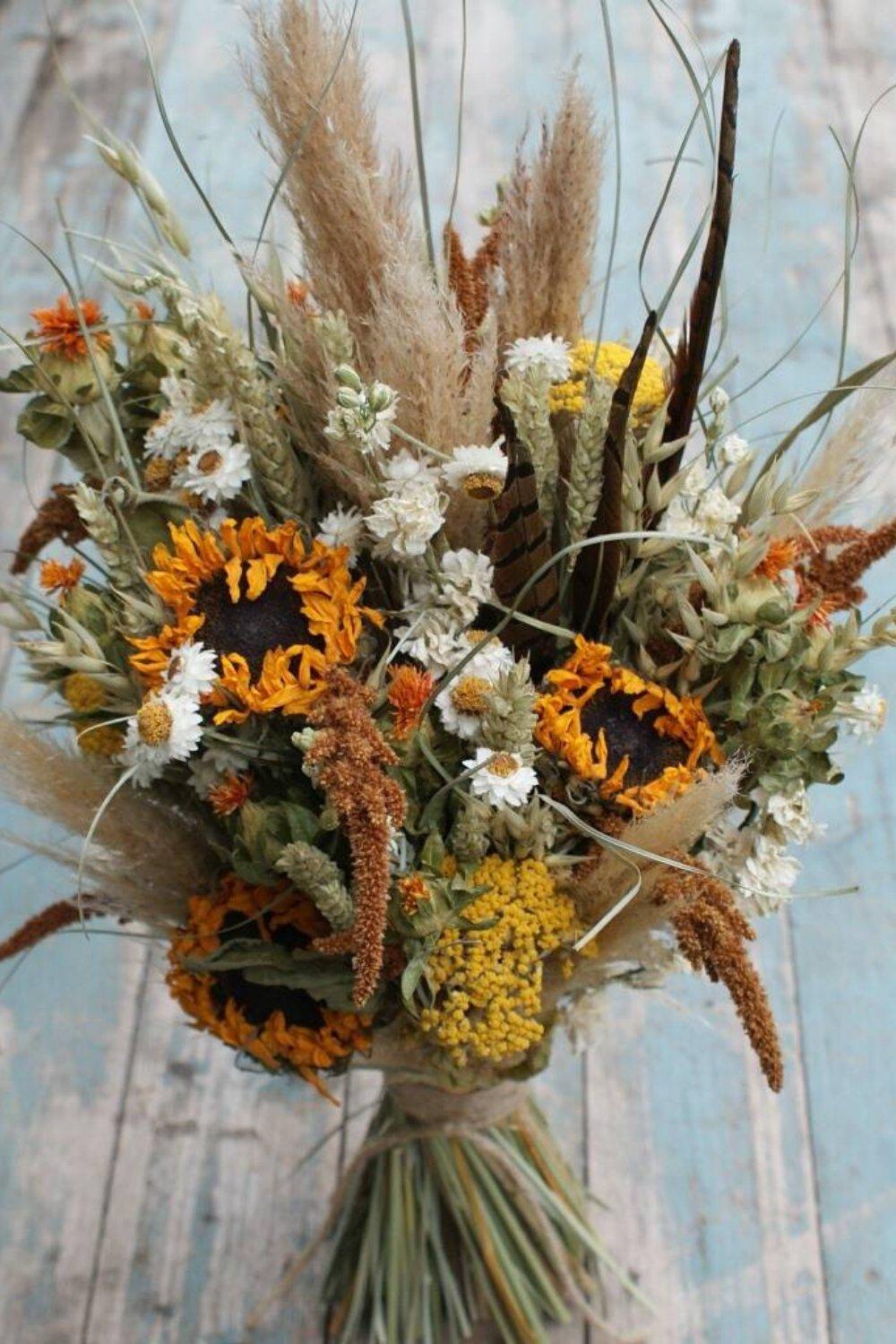 It won't be for everyone, but dried flowers are increasingly sought-after when it comes to weddings, both for their longevity and highly Instagrammable appeal. The process intensifies the natural shade of a sunflower, bringing it to a stunning ochre.
Feathers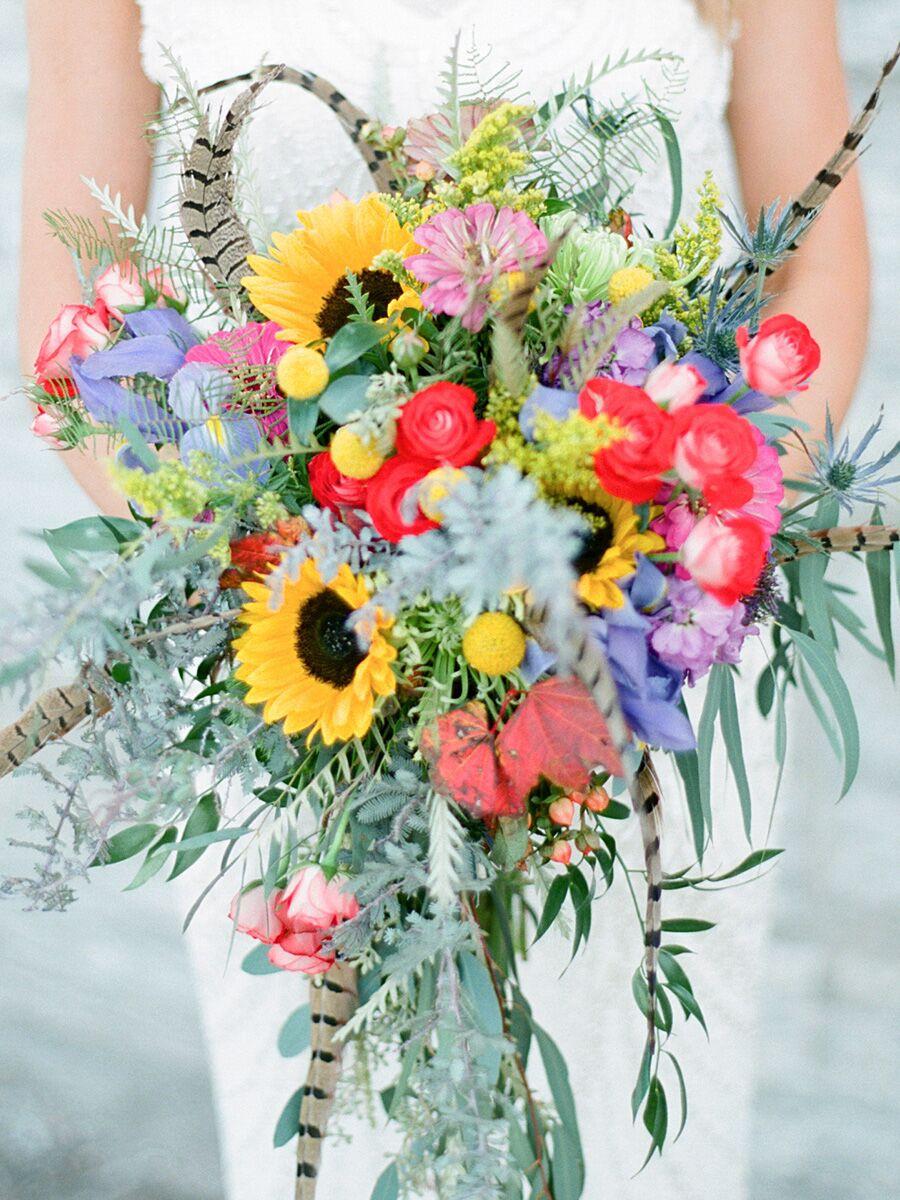 If unique is your key word when it comes to your sunflower wedding bouquet, feast your eyes on this oversized bunch adorned with foliage and feathers. We adore the mix and match colours and sprawling finish.
Scaled Back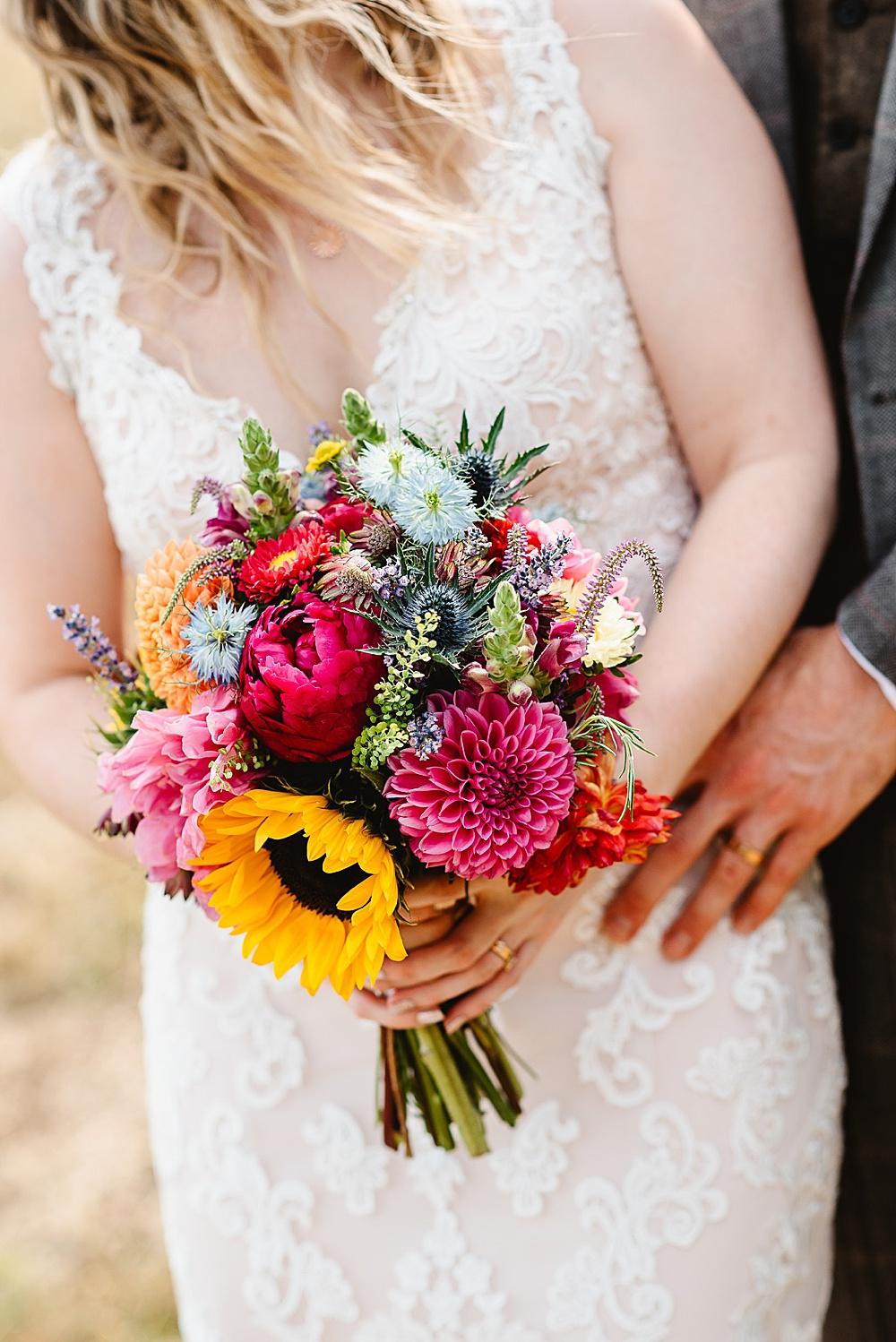 Having said that, a sunflower wedding bouquet doesn't need to be enormous to make a statement – just look at the smaller but still perfectly formed bundle packed with lively, happy flowers (think dahlias, snapdragons, stocks and lisianthus).
Multicoloured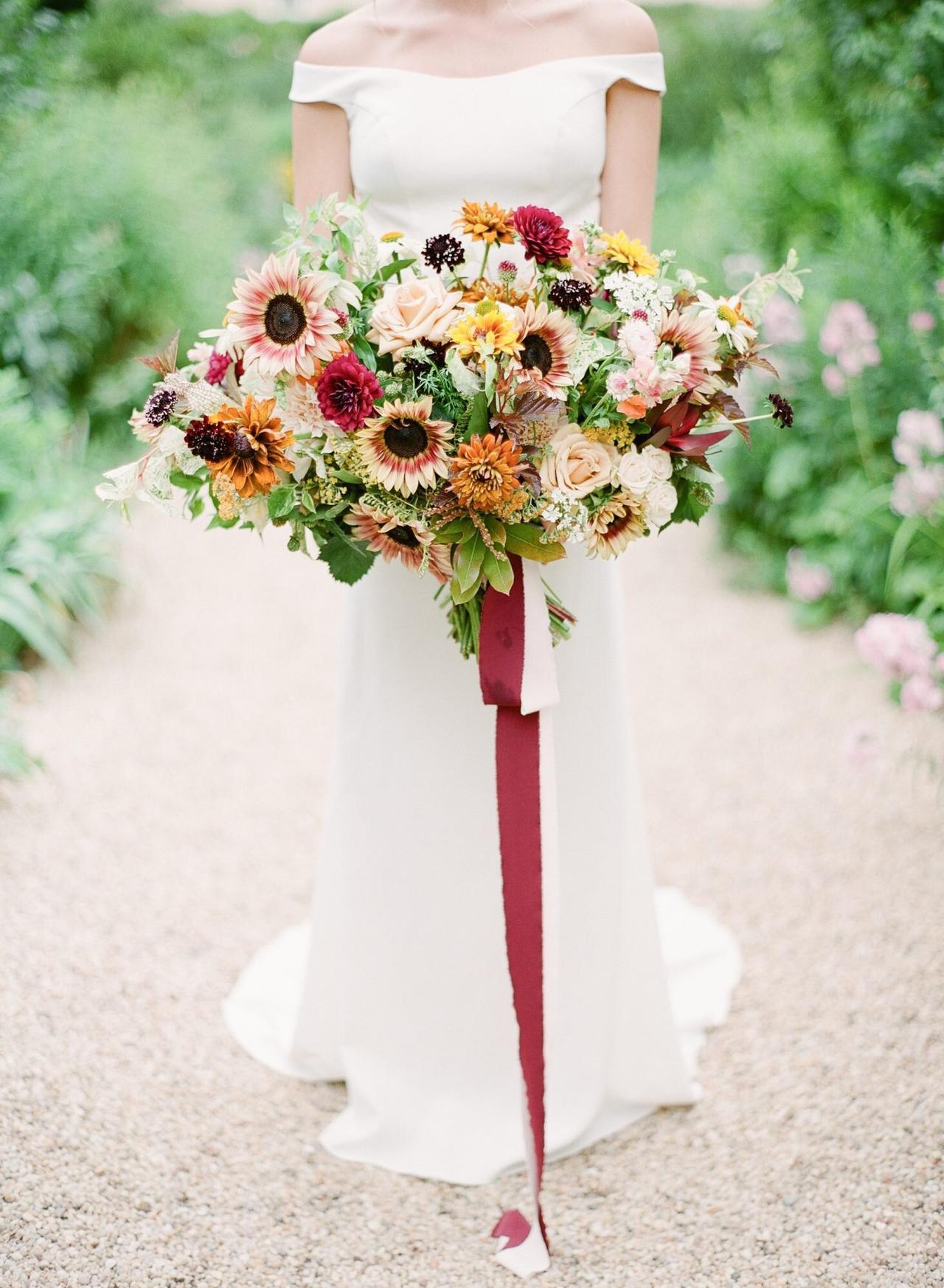 Don't forget, your sunflowers don't have to be yellow! This oversized design uses a number of different coloured sunflowers, as well as dahlias and roses, for the most showstopping bouquet finished with a sleek red sash.
Now that you've got all the inspo you need for your bridal bouquet, don't miss our guide to the 12 questions to ask your wedding florist.