69 of the Prettiest Spring Wedding Ideas
Planning a spring wedding? Take a look at these seasonal ideas which will make your day seriously stunning
We have included third party products to help you navigate and enjoy life's biggest moments. Purchases made through links on this page may earn us a commission.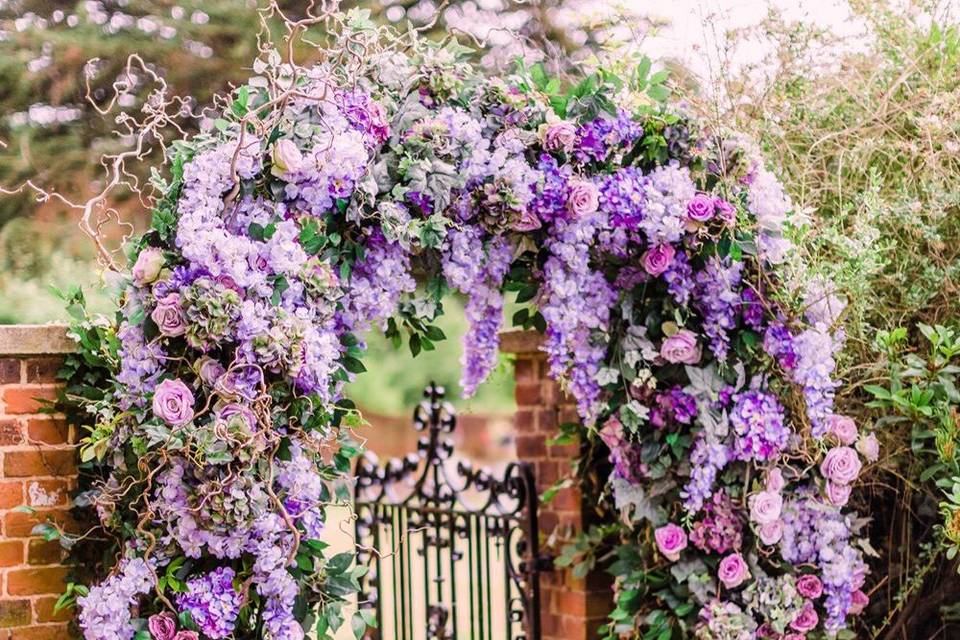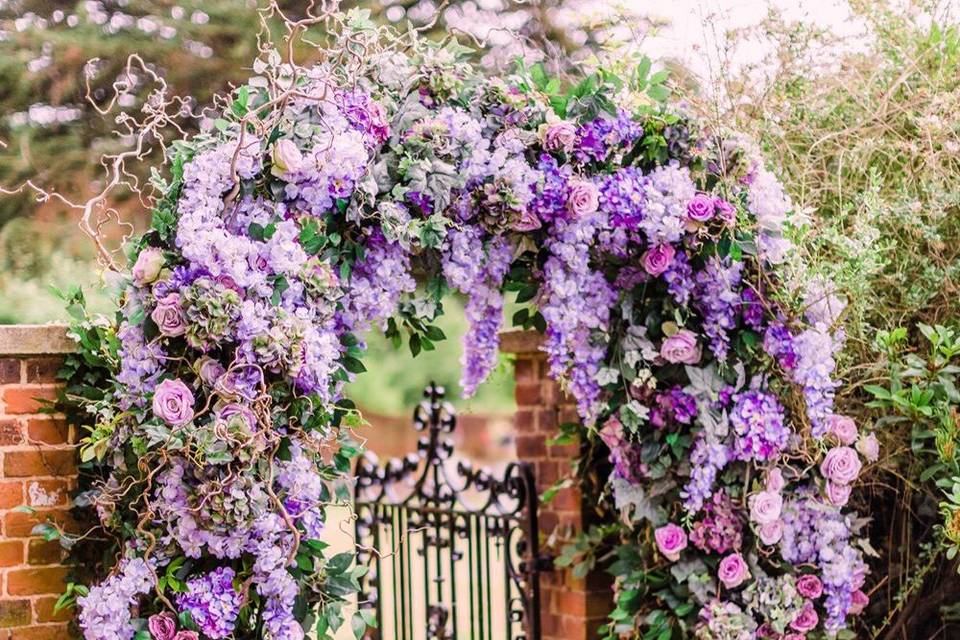 "Florals? For spring? Groundbreaking." When Miranda Priestly uttered this famous line in The Devil Wears Prada, she clearly wasn't thinking about weddings.
Spring weddings come at one of the most beautiful times of the year, when flowers are in bloom, pastel colours reign, days are getting longer, and the sun is beginning to shine again.
If you're planning a spring wedding, you'll be deciding how to highlight this gorgeous season in your planning – and embracing the beautiful seasonal flowers will be high on your list. As well as florals, we've got lots of colour palette ideas, décor inspiration, and food and drink suggestions to make your spring wedding amazing.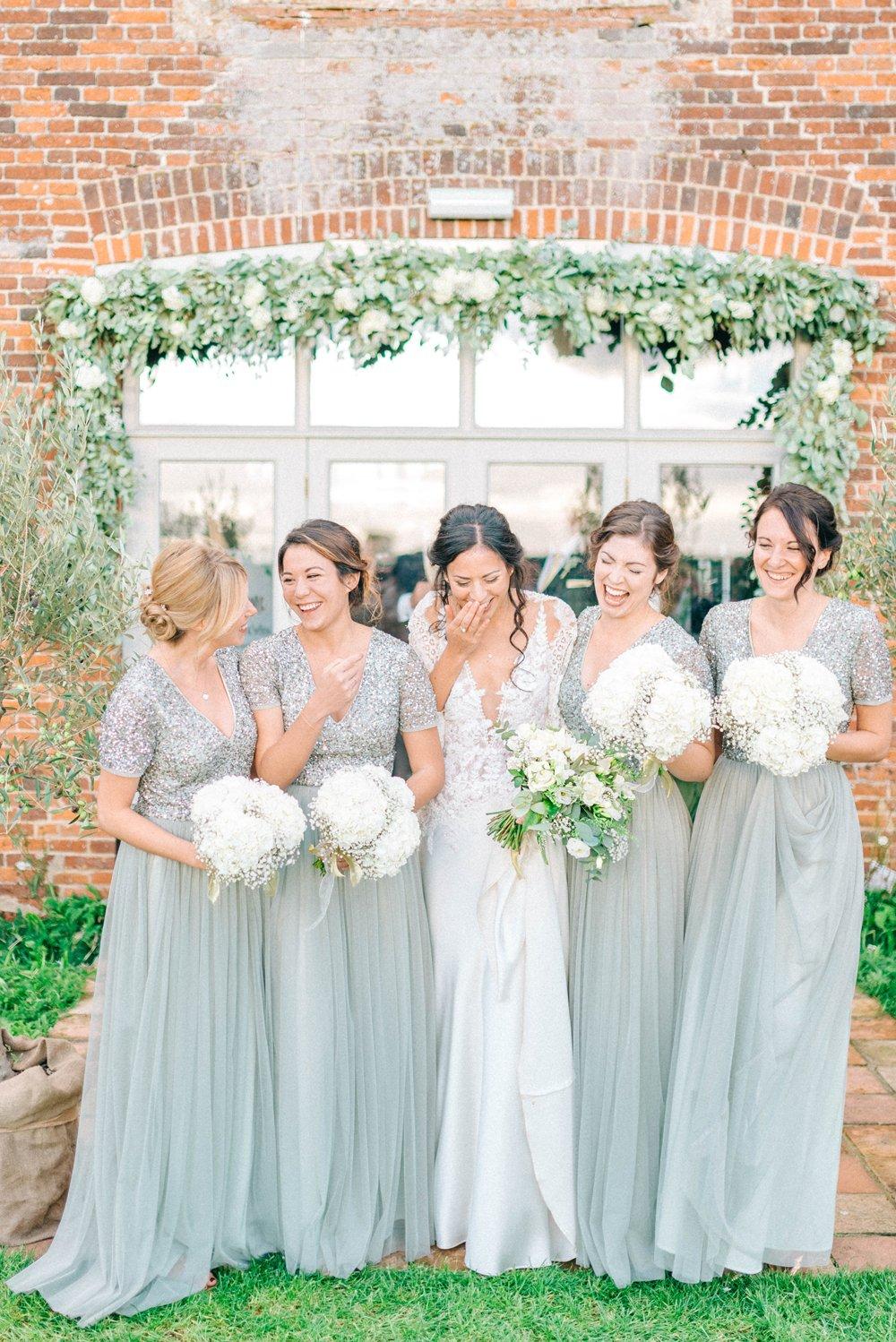 Image: Pinterest
As spring runs from March to June, it also incorporates Easter. If you're having an Easter wedding, scroll down to the bottom for a few cute touches you can add in – without going full Easter Bunny on your day!
These are our favourite 69 spring wedding ideas that showcase this glorious time of year at its best.
Spring Wedding Colours Ideas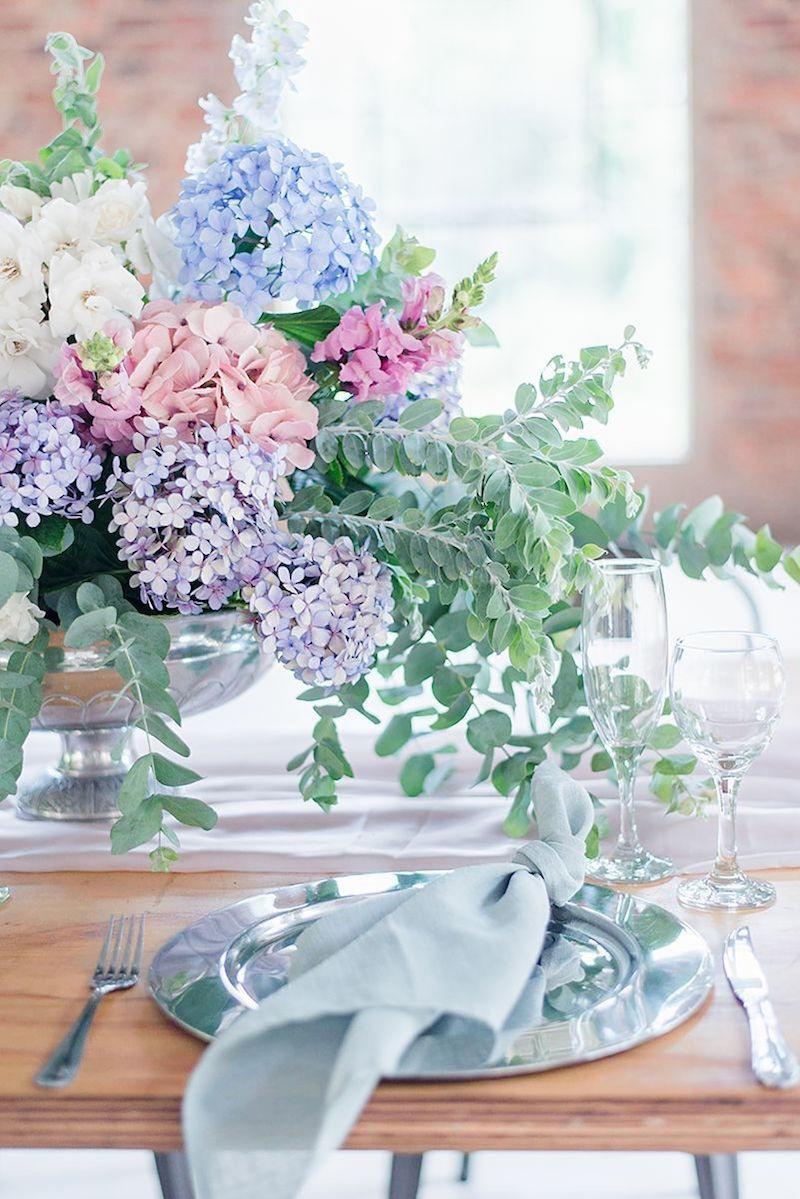 Image: Pinterest
1. Pastels are an essential spring wedding colour scheme, and you'll find Pinterest full of blush pink and periwinkle blue ideas. There's loads of nontraditional pastel combinations that are a little more unusual and look stunning in the springtime. Here's a few pastel spring wedding colour ideas:
Lemon and peach – A cheerful, citrusy combination. Peach can threaten to look a bit too '70s, so you need fresh colours for elegance and a contemporary feel. Warm yellows, whites and added texture like cherry blossom branches elevate the look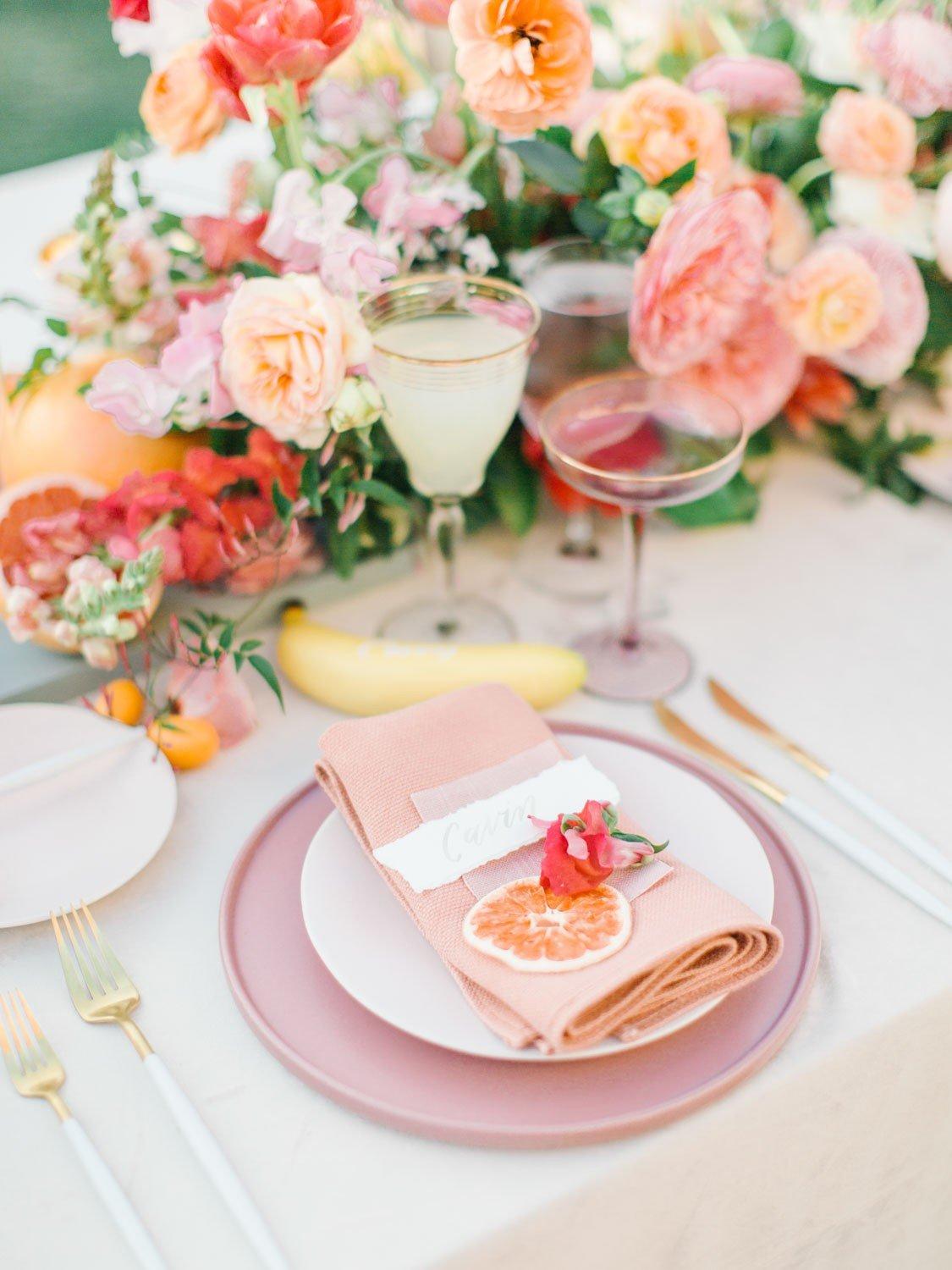 Image: Pinterest
Green and grey – Pale versions of green and grey have the same effect as using neutrals; they make flowers and other colours really standout. Think mint, sage or platinum for bridesmaid dresses and lots of marble-effect décor and smoked glassware
Lilac and white – Lilac and lavender are classic spring colours that looks beautiful against clean white décor. Use it outside expected places like dresses, ties, bouquets and buttonholes; for example, as a lavender-coloured cake, ceiling installation of hanging wisteria, velvet table runners and parma violet signature cocktails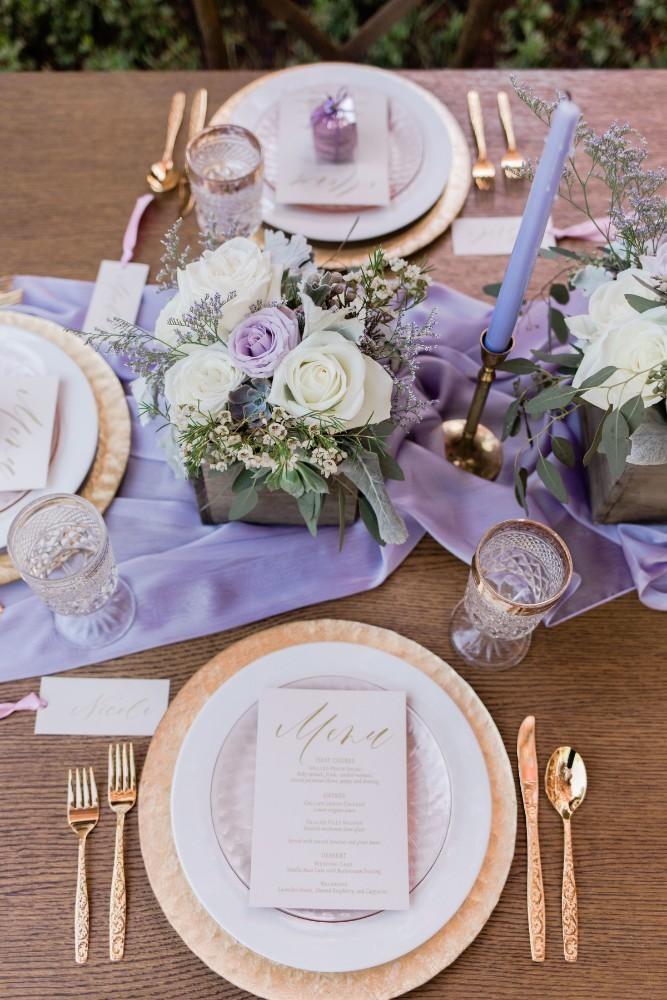 Image: Pinterest
Teal and blush – Teal is a bit more unconventional than moss green or mint with blush. It's darker, richer, and works so well with antique and vintage touches. Teal is a fantastic colour for stationery too that will really stand out for guests
Icy blue and silver – Cool pastel shades look brilliant in March and early April when we're transitioning out of winter. It's a super sleek and modern colour scheme, and can be warmed up by splashes of pink and navy
2. Floral wedding dresses are becoming increasingly popular for their delicate and feminine look. Finding your dream floral dress can be a great starting point for deciding on a colour palette, by drawing out one of the shades in the gown to use as a primary or complementary colour.
This Claire Pettibone wedding dress is embroidered with pale pink roses, green leaves, and warm cornflower-blue hydrangea, which make a wonderful colour scheme. The light pinks have been matched with vibrant fuschia and red in the bouquet for contrast and impact.
Image: Claire Pettibone
3. You can also wear a white gown with floral lace detailing and it's lovely to use the corresponding real flowers and foliage across your wedding. Think anemones, hyacinths, stephanotises, gardenia and narcissi.
4. Bold, bright colours definitely have a place in a spring palette. Punchy coral, magenta, cobalt blue, orange and tropical greens look fantastic at destination weddings and modern ceremonies. Make a nod towards our move into summer and choose happy, sunny colours that will make guests smile.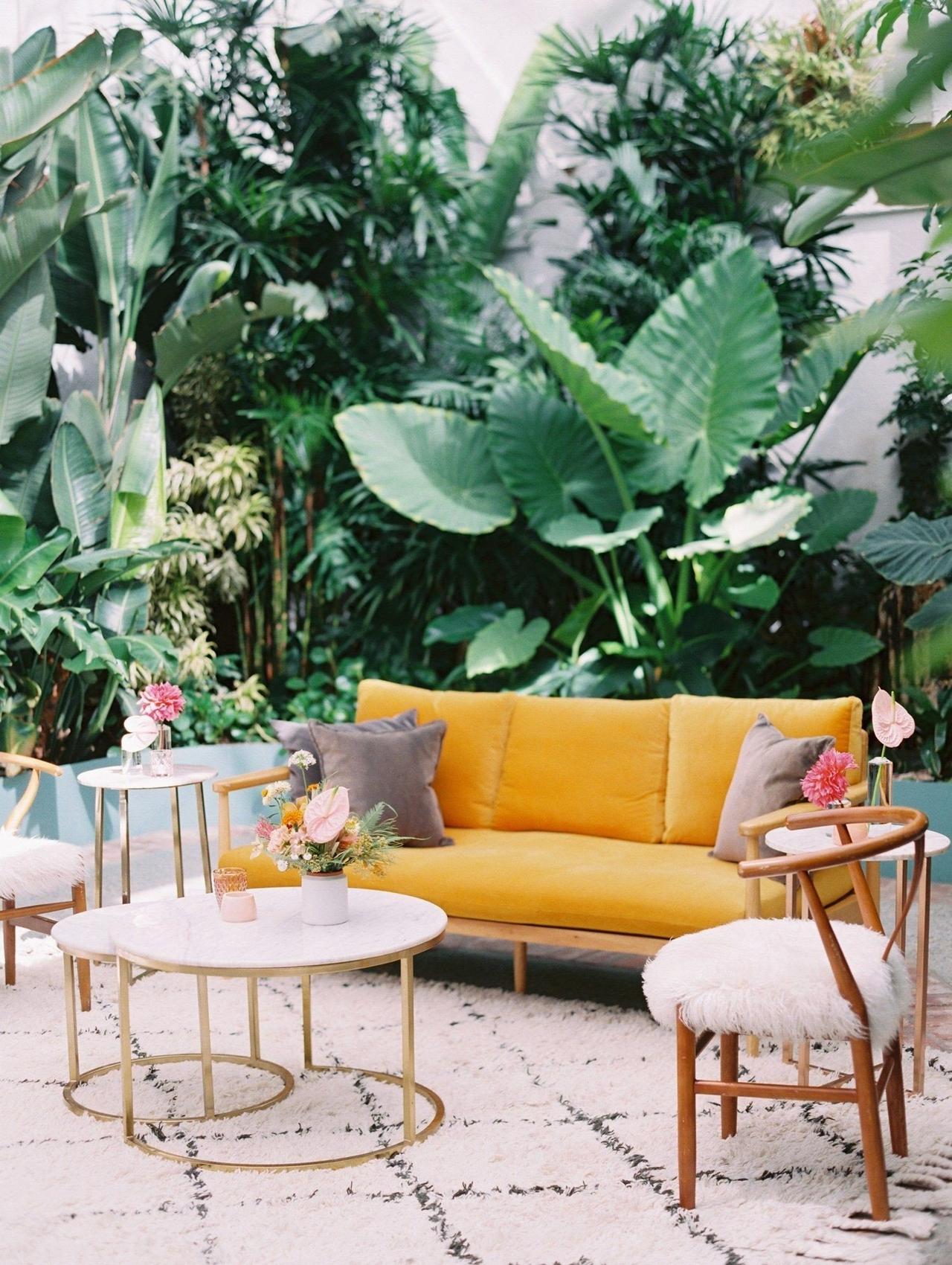 Image: Pinterest
5. If that's too bright for you, slightly more muted jewel tones like ochre aren't just for autumn; they look incredible on bridesmaid dresses, place settings and wedding stationery.
6. The benefits of spring is that the natural world is exploding again with all its amazing tones of colour. You can choose just a single colour for your palette – we love green – and work through the different shades and hues for a harmonised look. Have foliage-only bouquets, the wedding party in green (forest or moss green for men in fabrics like tweed or velvet; emerald or sage for women), and living herbs and succulents as centrepieces and favours.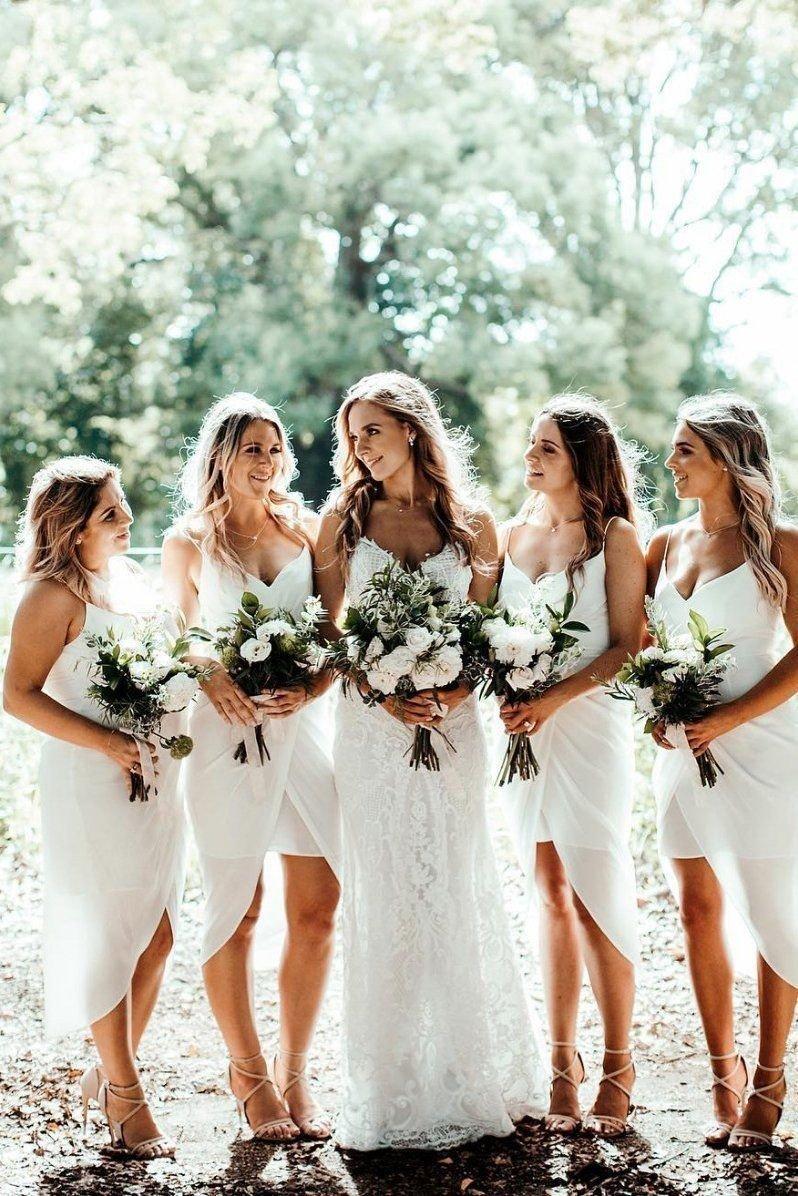 Image: Pinterest
7. Spring is a gorgeous time for an all-white colour scheme. White is fresh and clean, and you only need hints of colour, like a ribbon wrapped around your bouquet or watercolour splashes on place cards, to make it all pop.
Spring Wedding Flowers Ideas
8. Spring is peony season and there's no time they look better. If you have the budget, what about lacing your wedding with the beautiful bloom? A big peony bouquet is ideal for brides, while their wide, open heads mean bridesmaid bouquets and centrepieces only need to have a few stems in them to still look full.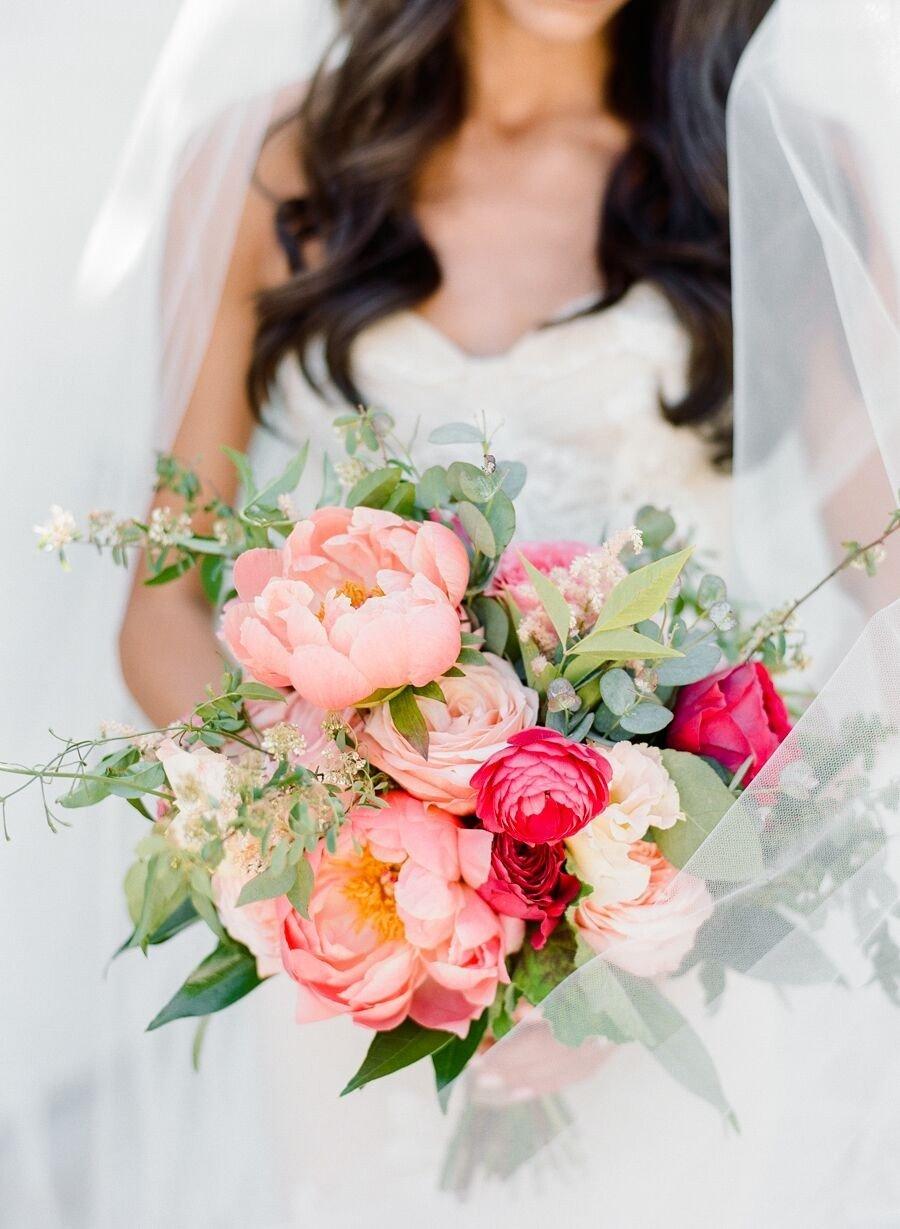 Image: Pinterest
9. Dried peonies can be weaved into other parts of the wedding, such as into aisle decoration with pampas grasses, altar arches or into a dried flower installation.
10. Seasonal flowers will undoubtedly look and smell their best, as well as being eco-friendly as they don't have to be flown in from abroad. You're blessed at a spring wedding with not just peonies, but tulips, calla lilies, hellebores, roses, cherry blossoms, zinnias, snap dragons, sweet pea, hyacinths, ranunculus, muscari, lisianthuses, delphiniums and lilacs.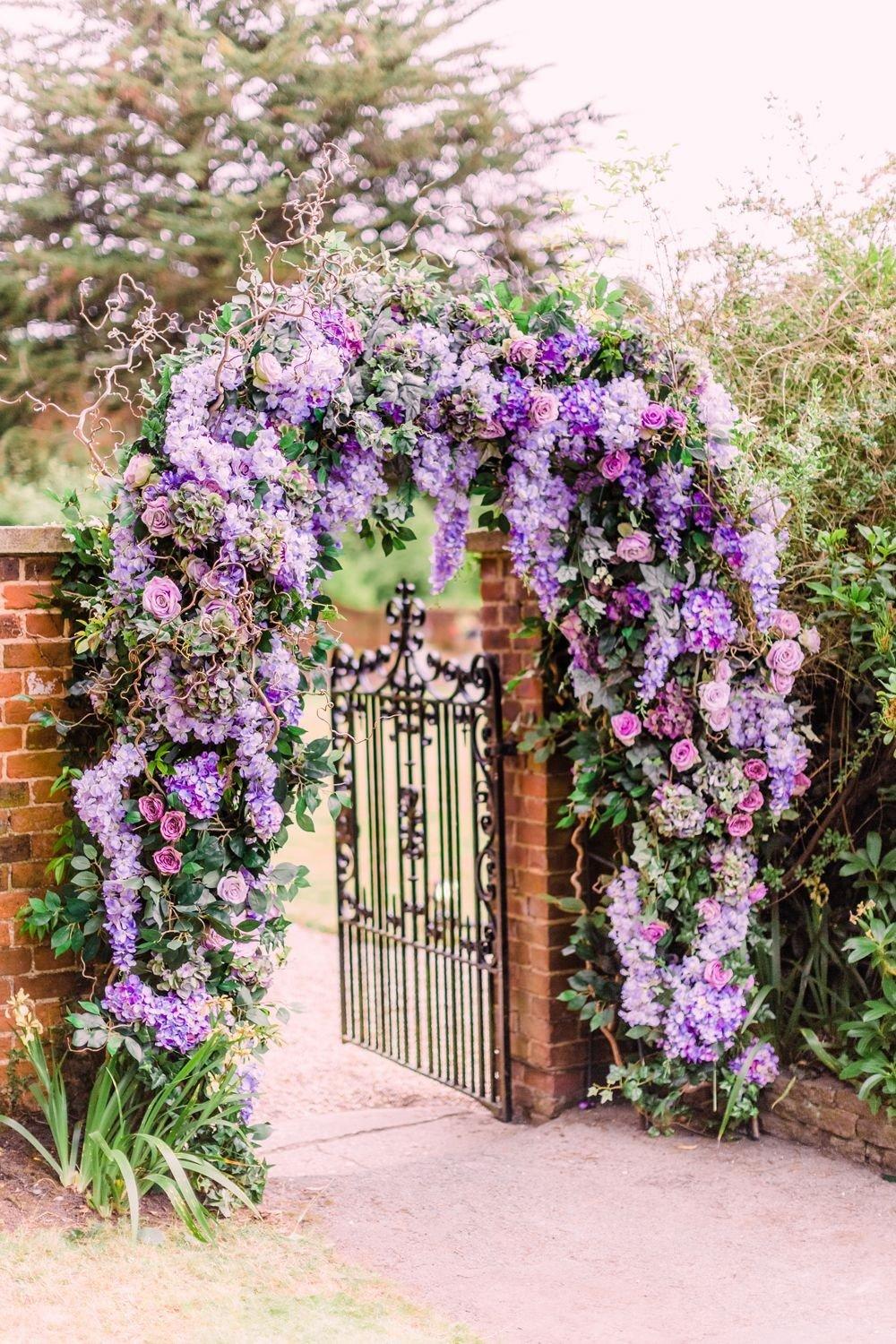 Image: Pinterest
11. How romantic would it be to say your vows under an archway made of flowers? If you're looking to save money, silk flower arches look just as beautiful in photos. We adore a wisteria heavy one for spring.
12. Spring brings with it so many wonderful flowers – it makes sense to put them on your head too, right? Whether you choose to make your own flower crown or enlist your florist to create one for you, matching your crown to your bouquet is a wonderful spring wedding idea.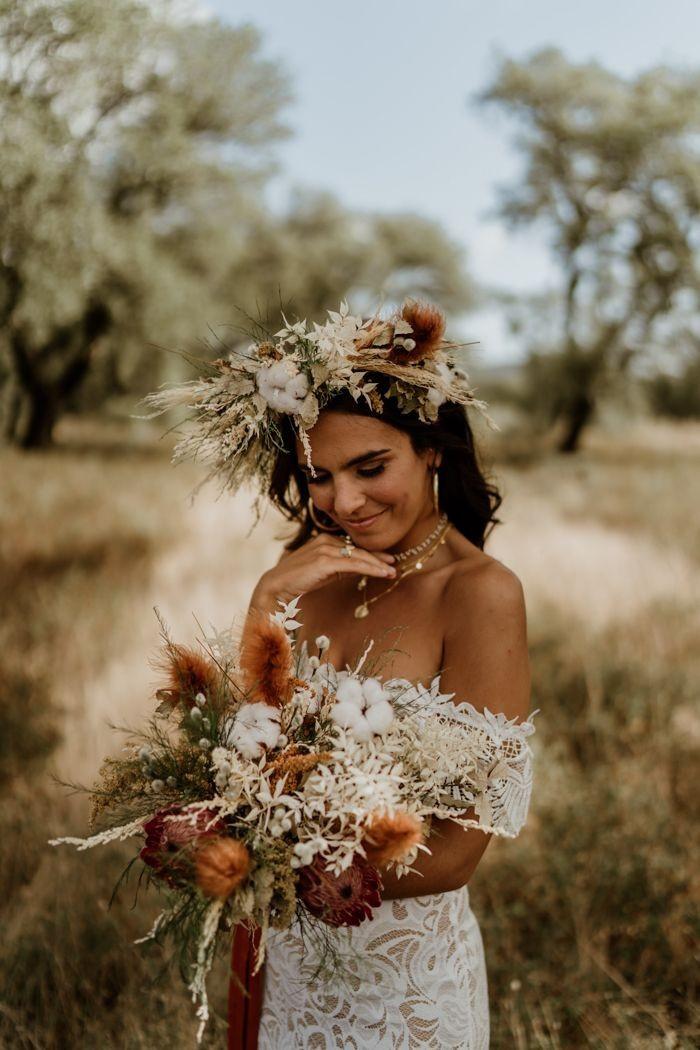 Image: Pinterest
13. Tropical flowers and vibrant hues really celebrate our move away from winter into spring and summer. Even the blankest of canvases or most rustic of barns can be made to feel like you're at a destination wedding if you use playful, flamboyant colours and luscious foliage. Mix up orchids, proteas, birds of paradise, anthurium, and hibiscus with leaves like monstera, fan palms, pampas grass and eucalyptus.
14. Set the mood for your walk down the aisle by lining it with light and airy gypsophila trees. You could also use sprigs of gypsophila as pretty wedding chair decorations for your ceremony seating.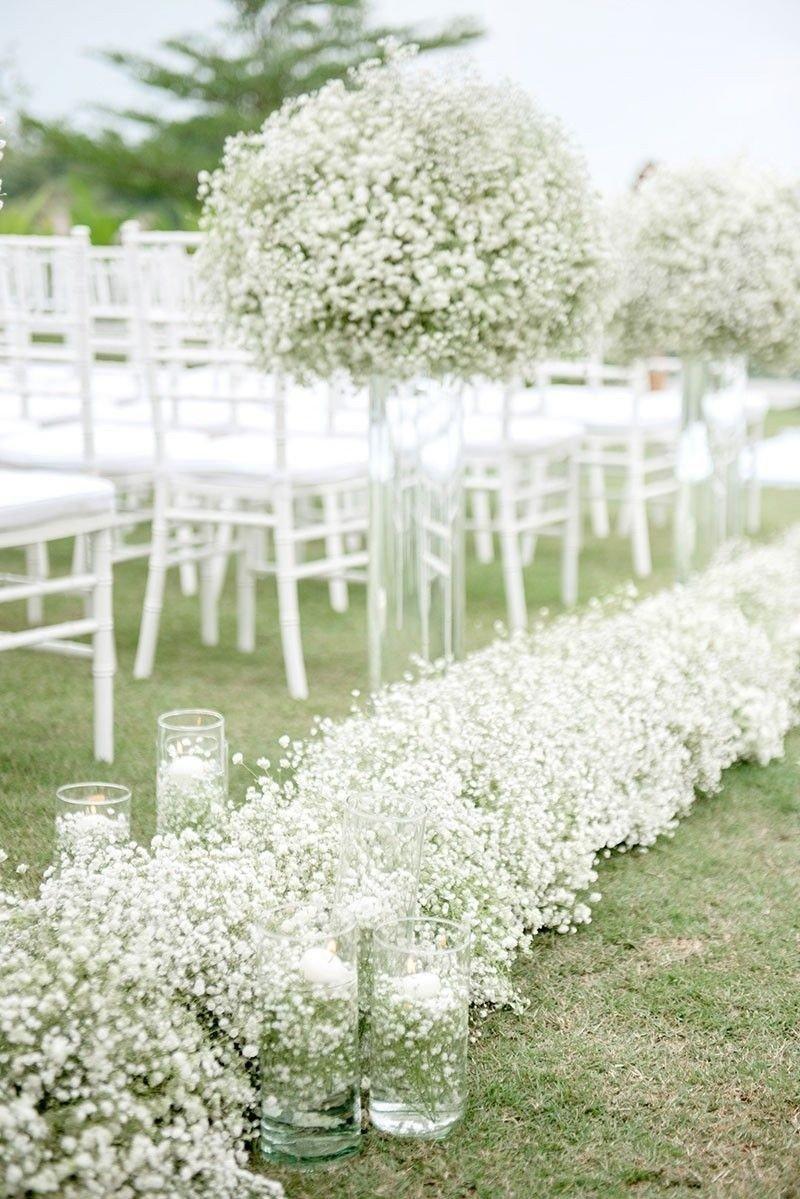 Image: Pinterest
15. If you feel like your day isn't quite glamorous enough yet, snap some seriously romantic photos in front of a magnificent flower wall.
16. Boho and rustic weddings are complemented by the colours and charm of wildflowers. Try hanging them around the edges of your marquee or create a wildflower installation that will draw the eye. One of our real wedding brides adorned an entire chandelier with little milkbottles filled with wildflower posies.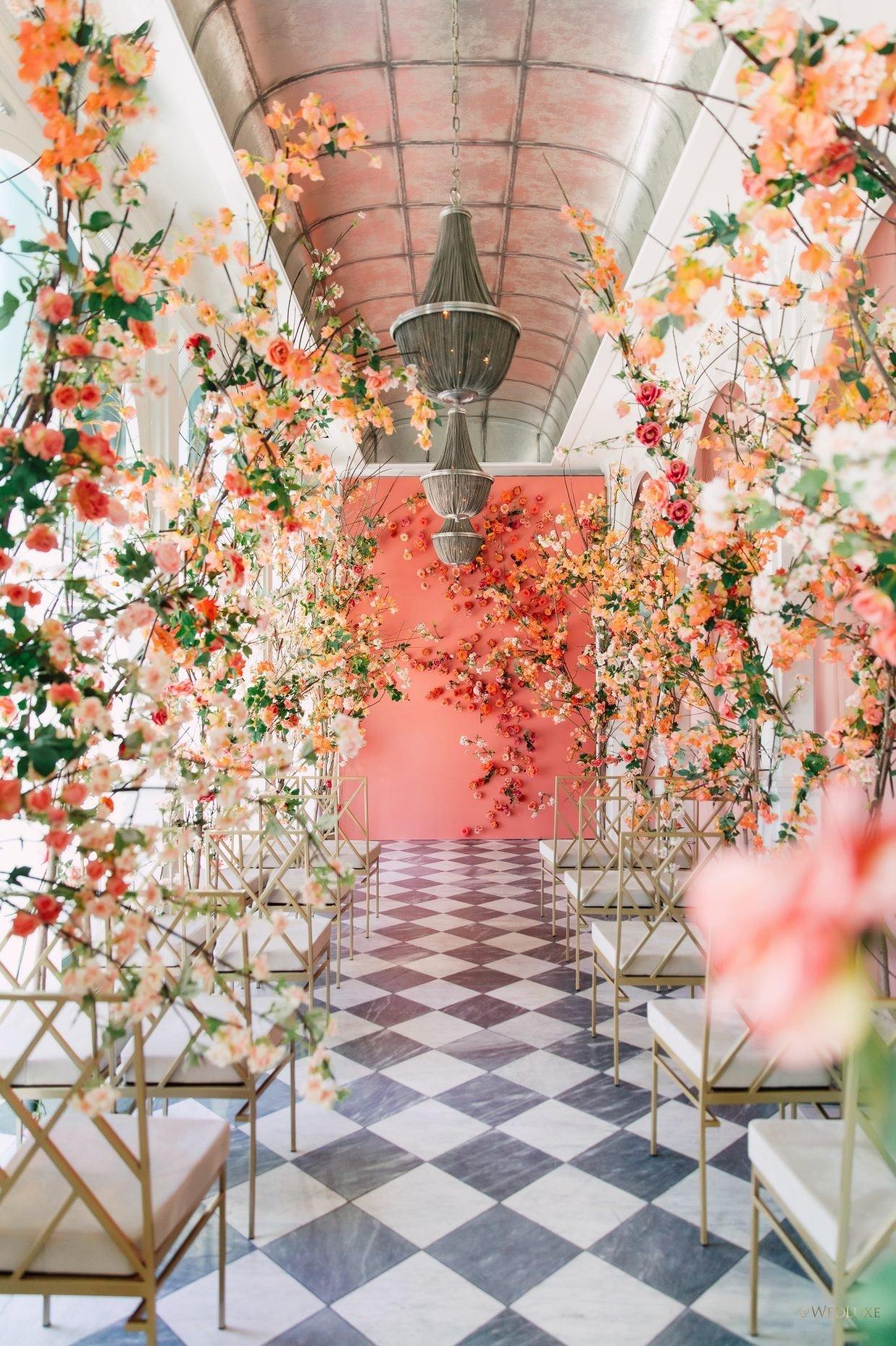 Image: Pinterest
17. Make a living aisle out of huge, (almost) over-the-top displays of living plants. Your florist can devise the look of these, but the idea is to keep the appearance as fresh and wild as possible. It looks especially amazing with rustic wooden benches instead of more formal chairs.
18. Follow royal tradition and use lily of the valley in your bouquet. It's been used in Diana, Camilla, Zara, Kate and Meghan's bouquets, and has a gorgeous sweet scent.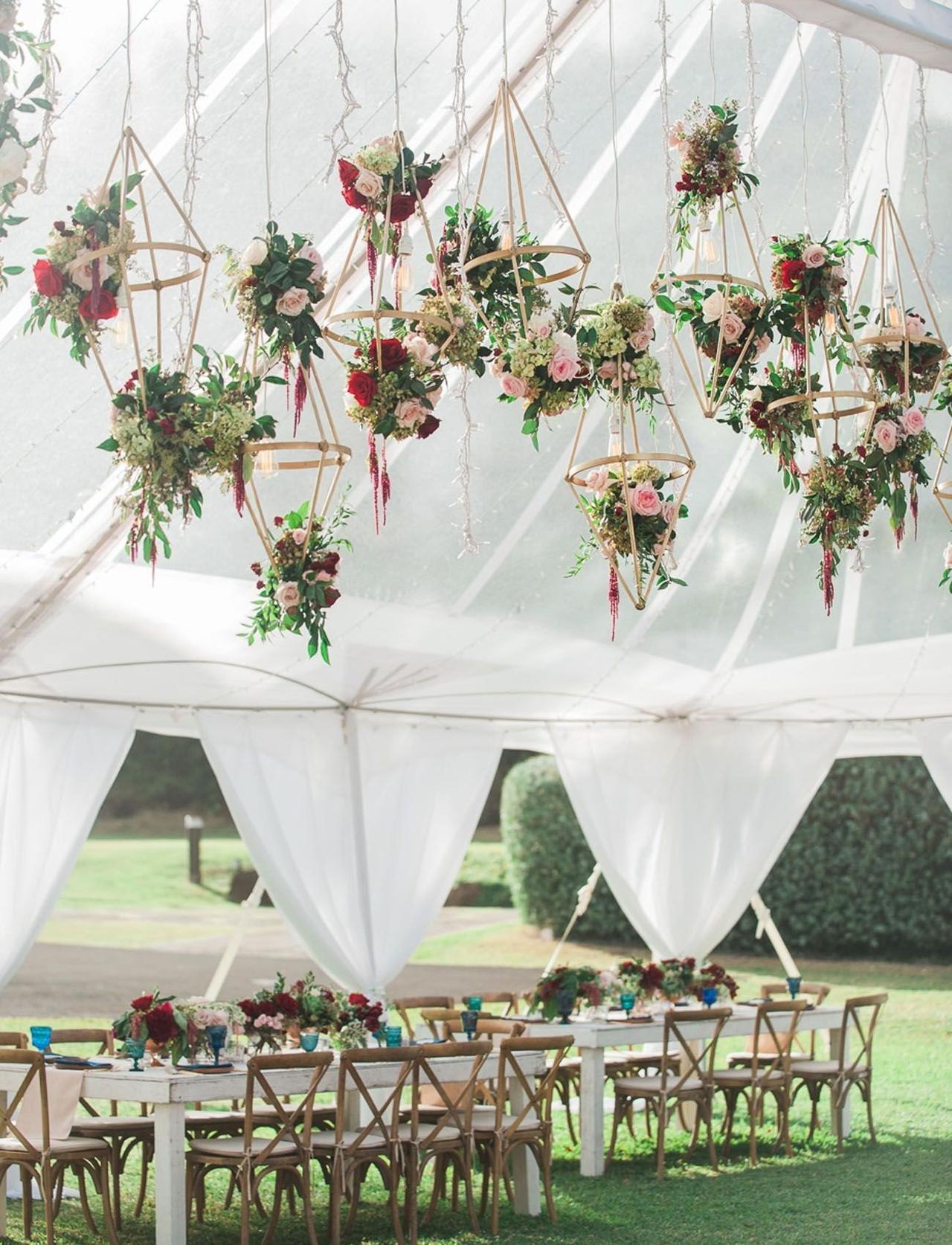 Image: Pinterest
19. Individual tulips make great buttonholes for your groomsmen. Want something outside the usual? Look at fringed tulips, which add a unique look.
20. Fragrance is going to be key with a spring wedding. Choose a key fragrance and use it at significant points in the day to create a cohesion of scent. For example, lavender or rose can be incorporated into everything from your perfume and bouquet, to a signature cocktail, dessert, seating plan design, wedding favours and more.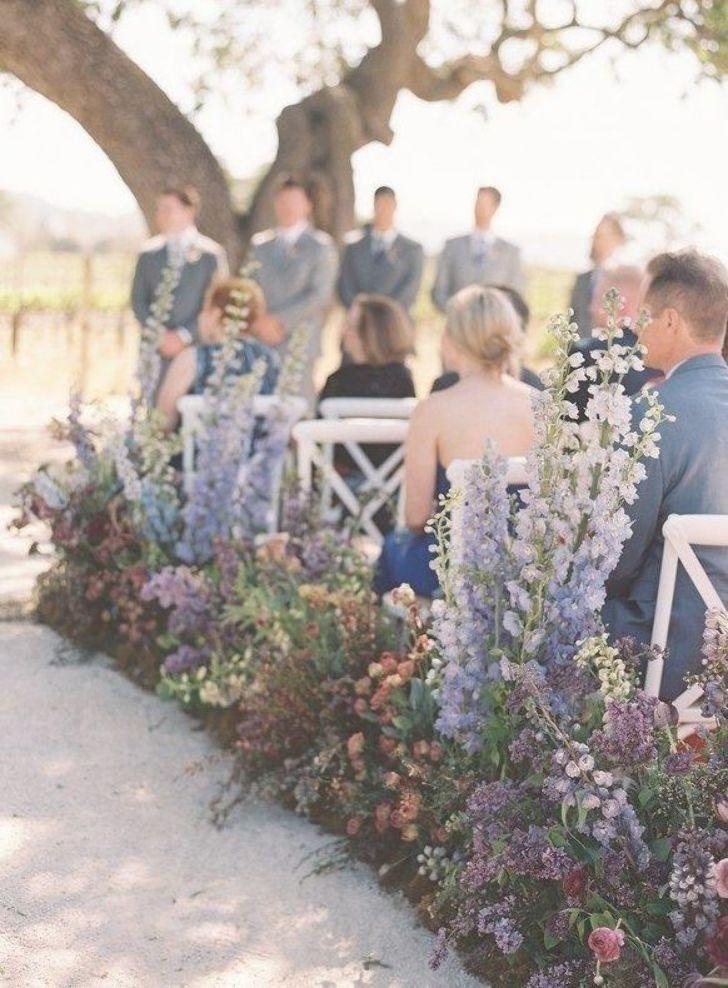 Image: Pinterest
Spring Wedding Décor Ideas
21. Everything you do during your ceremony and reception is going to be accentuated by your choice of venue. On balmy spring days with clear skies, there's nowhere better than an orangery, conservatory or glasshouse venue. It'll be light, airy, and let the beautiful outdoors inside.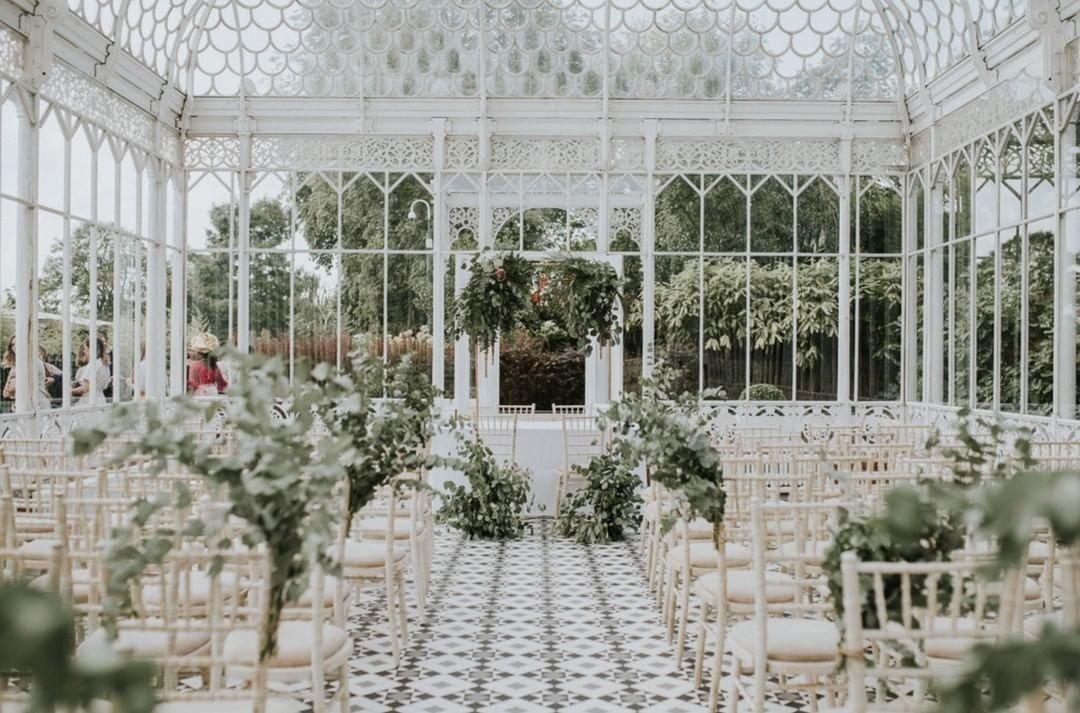 Image: Pinterest
22. Artificial trees or cherry blossom trees immediately soften a venue and bring it to life. If you have a high-ceiling venue, tall trees fill the space without making the room feel busy. Lots of greenery goes really well with a woodland or rustic theme, while cherry blossom lends itself to an elegant or fairytale look.
23. Inject your spring wedding reception with a little creativity by displaying your table plan in an usual way: a rustic mirror, trellis or peg board is cute. How about wrapping your plan in a gorgeous frame of seasonal wedding flowers for spring? There's no way your guests will be able to miss it then!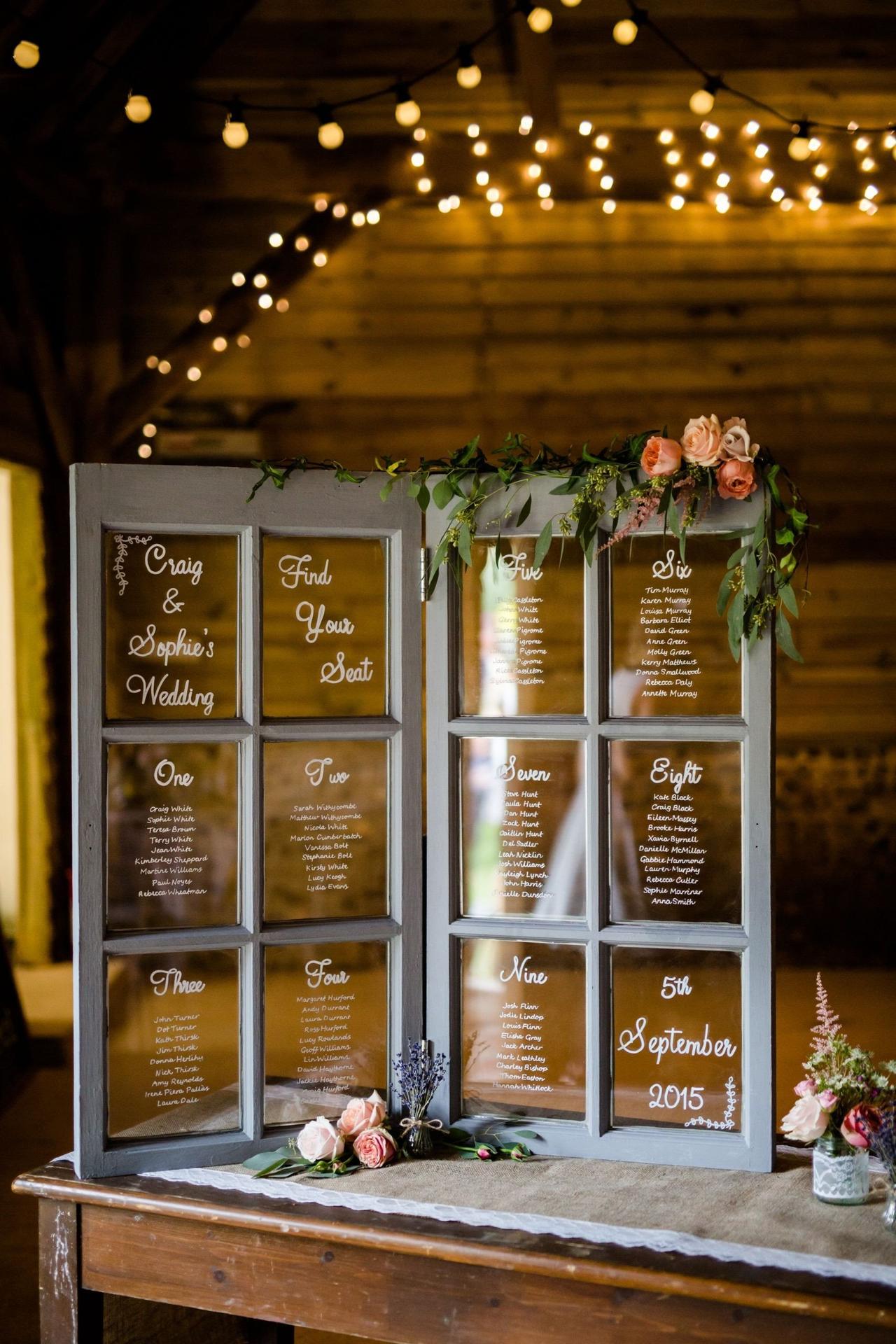 Image: Pinterest
24. If you're all about clean, minimalistic décor when it comes to reception planning, just add subtle seasonal hints to your tables by creating simple arrangements of gypsophila, tulips or daffodils in jars and vases that have a rustic vibe to them.
25. Gingham is the perfect print for spring. Use gingham fabrics as napkins, table runners or as ribbons around bouquets.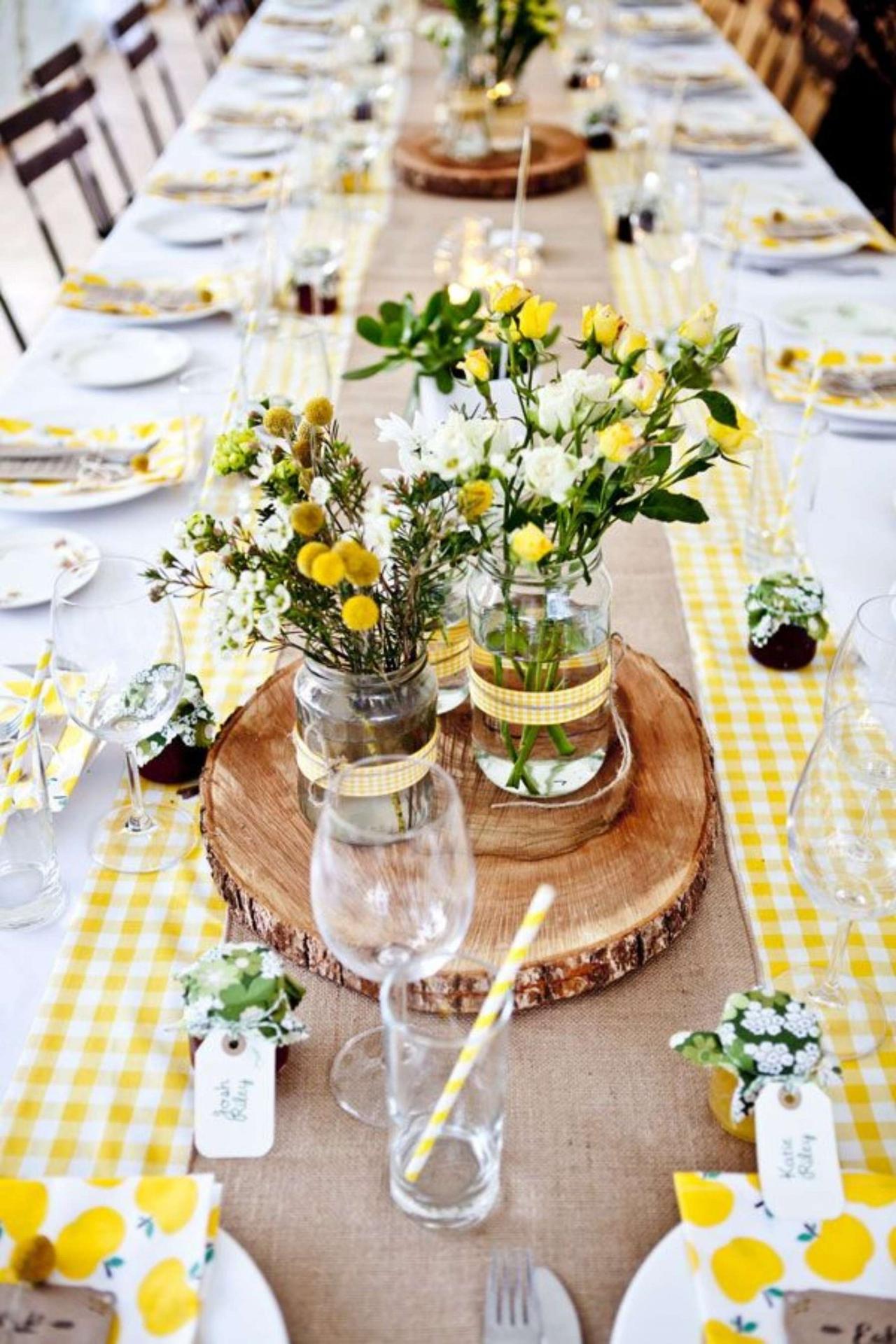 Image: Pinterest
26. Daffodils and other varieties of narcissi scream spring and are cheap, cheerful and pretty. Put planted pots of these on the tables for a sweet spring centrepiece and let guests take them home as favours at the end of the night.
27. You can use potted spring plants as your table names too! Get different varieties and use them as the centrepiece for that table, so you could have tables named iris, hyacinth, tulip, snowdrop, pansy, daffodil, heather, and let the flowers speak for themselves. It works with herbs too!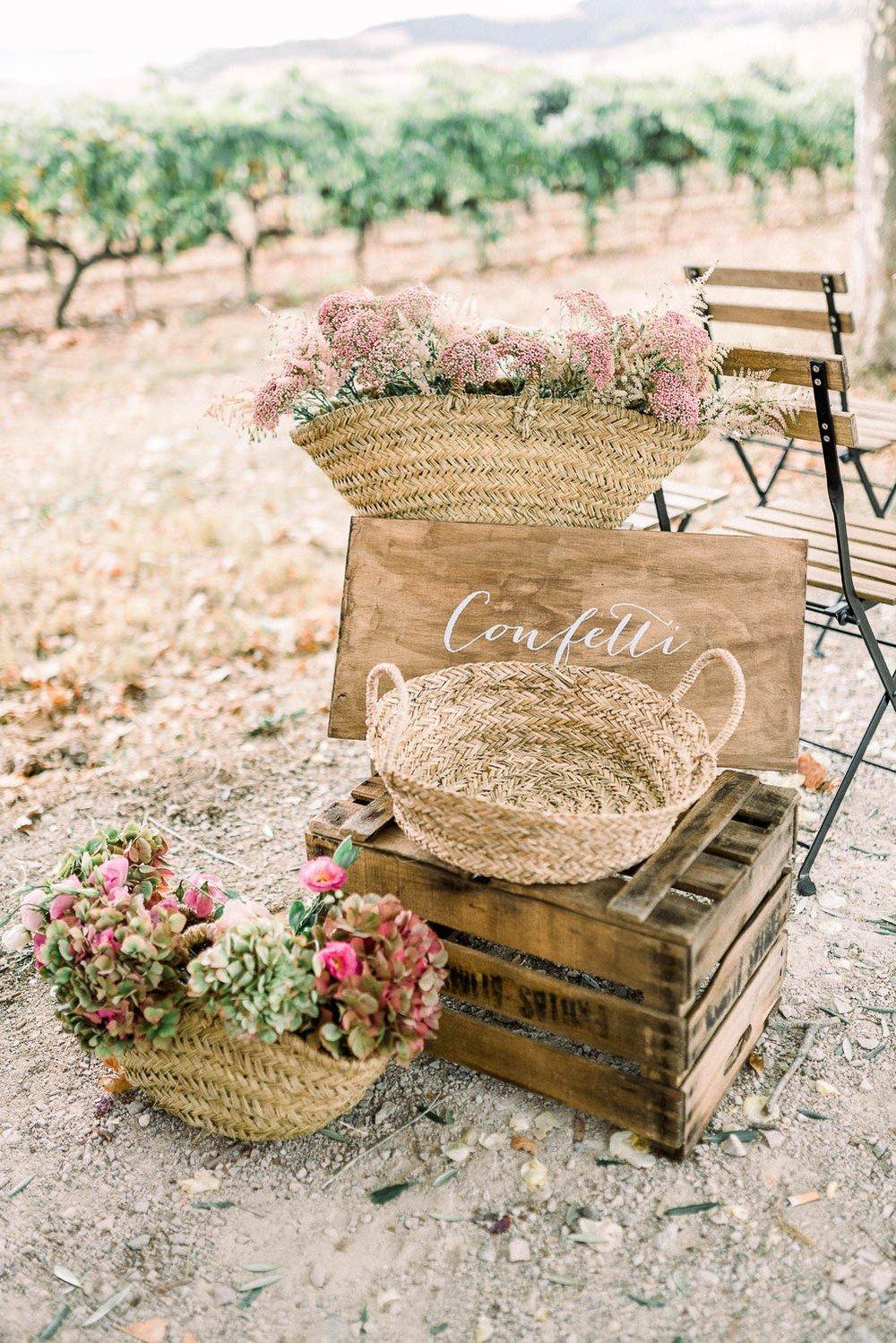 Image: Pinterest
28. Serve confetti in a big rattan basket for guests to take handfuls from. It's good for the environment not to have individual confetti packets and it makes such a cute looking confetti stand.
29. Hang paper poms poms from your ceiling (especially in a marquee or barn) or around doors for a whimsical way to brighten the space.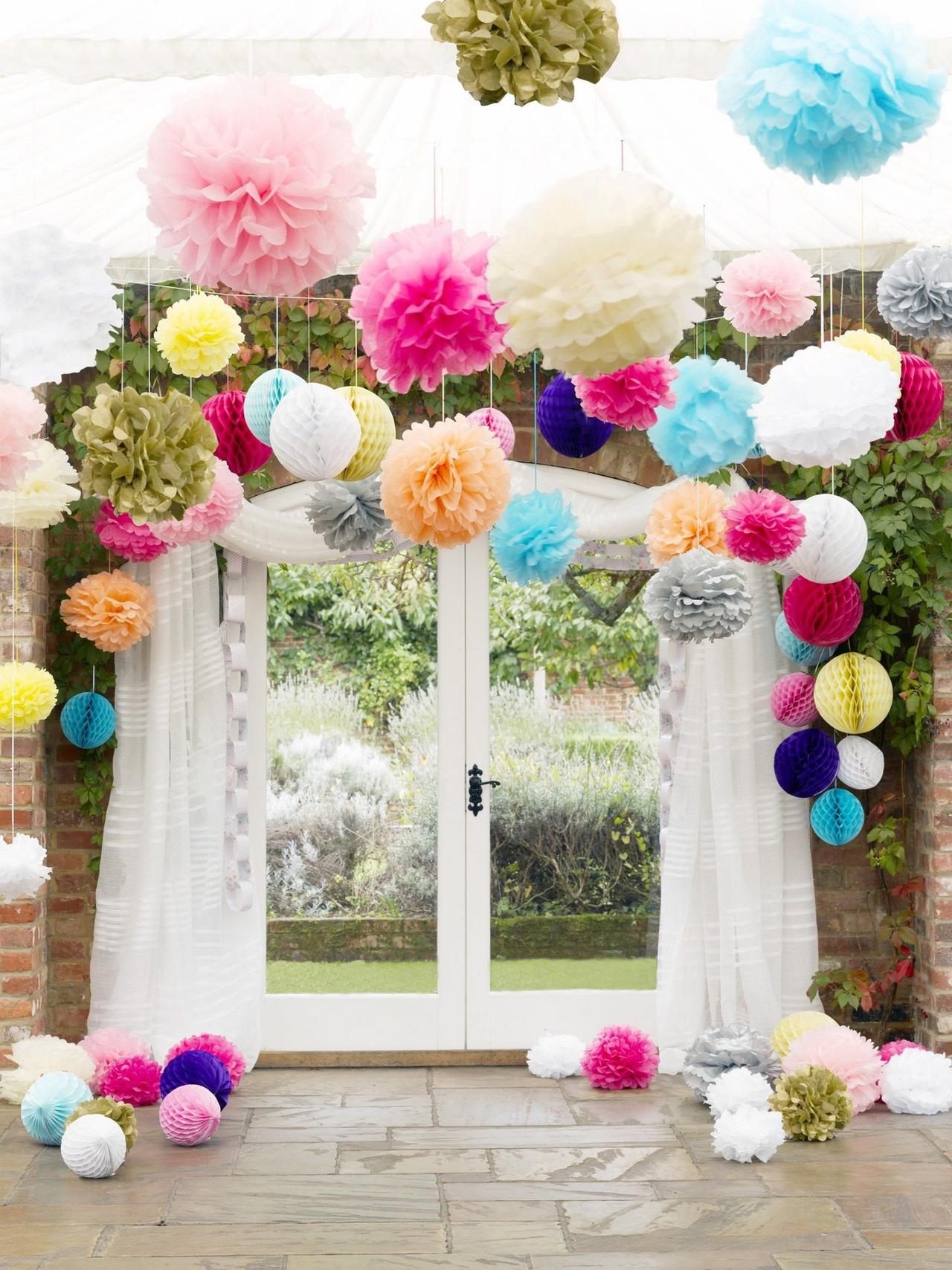 Image: Pinterest
30. Set up a lounge area using garden furniture for an English country garden vibe – even if it's indoors! We've seen weddings where they've even got an indoor water feature and topiary hedges inside a marquee just to recreate that atmosphere.
31. Shabby chic ladders have been around for a while, but they're not overdone. You just need to find a new way to use them, such as using one as shelves to hold jugs of ready-mixed cocktails, stringing polaroid photos around it as a fun guestbook idea, having it as part of a dessert play, or hanging a backdrop between two ladders to use for a DIY photobooth.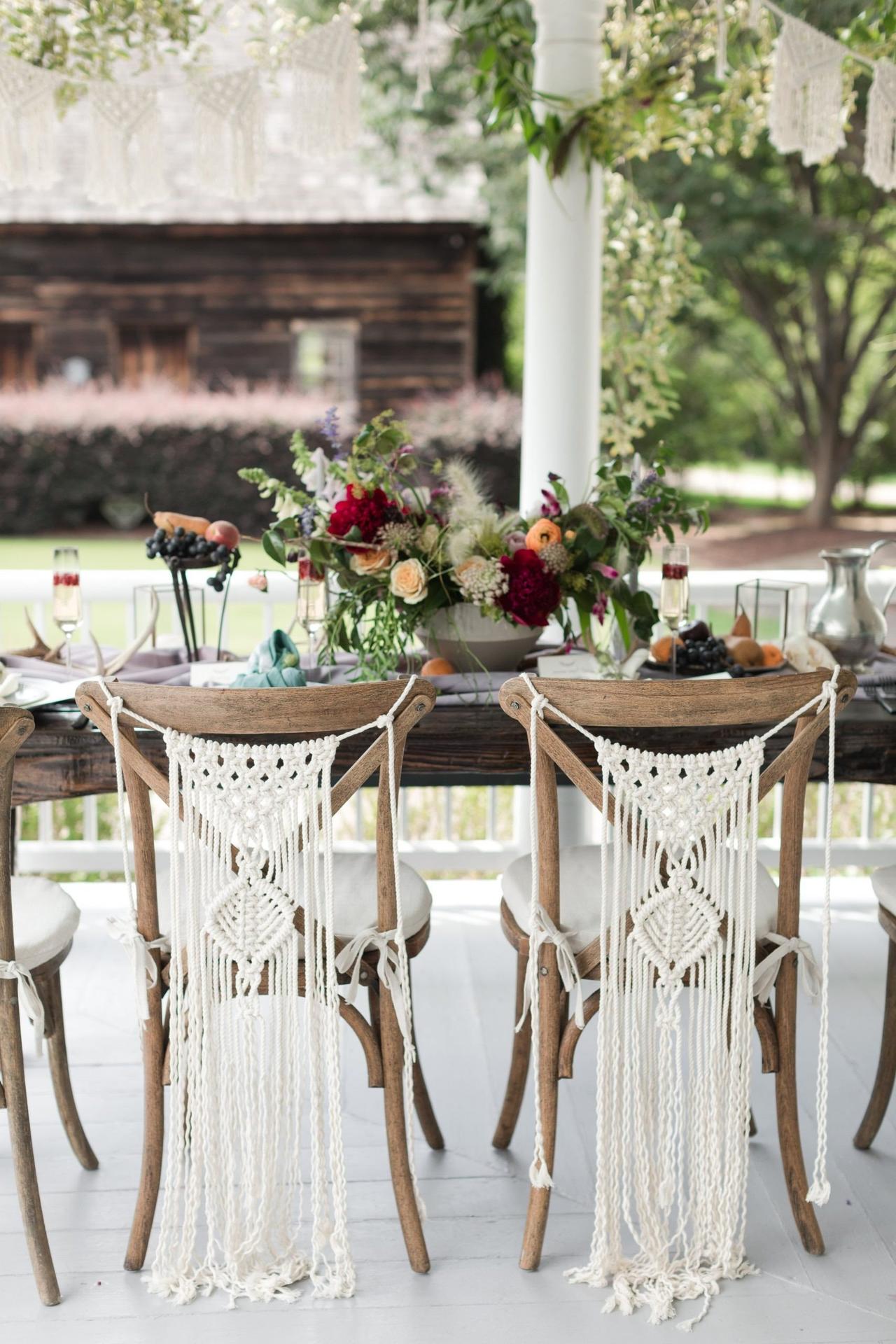 Image: Pinterest
32. We love different kinds of altar backdrops, such as pastel ribbons or a macrame hanger. Utilise this in more than one place, but moving it into your reception space as a photo backdrop, to drape on chairs or to section areas off.
33. We adore acrylic invitations and menus, printed with the florals from your wedding. It's a chic and modern look, and hugely pretty.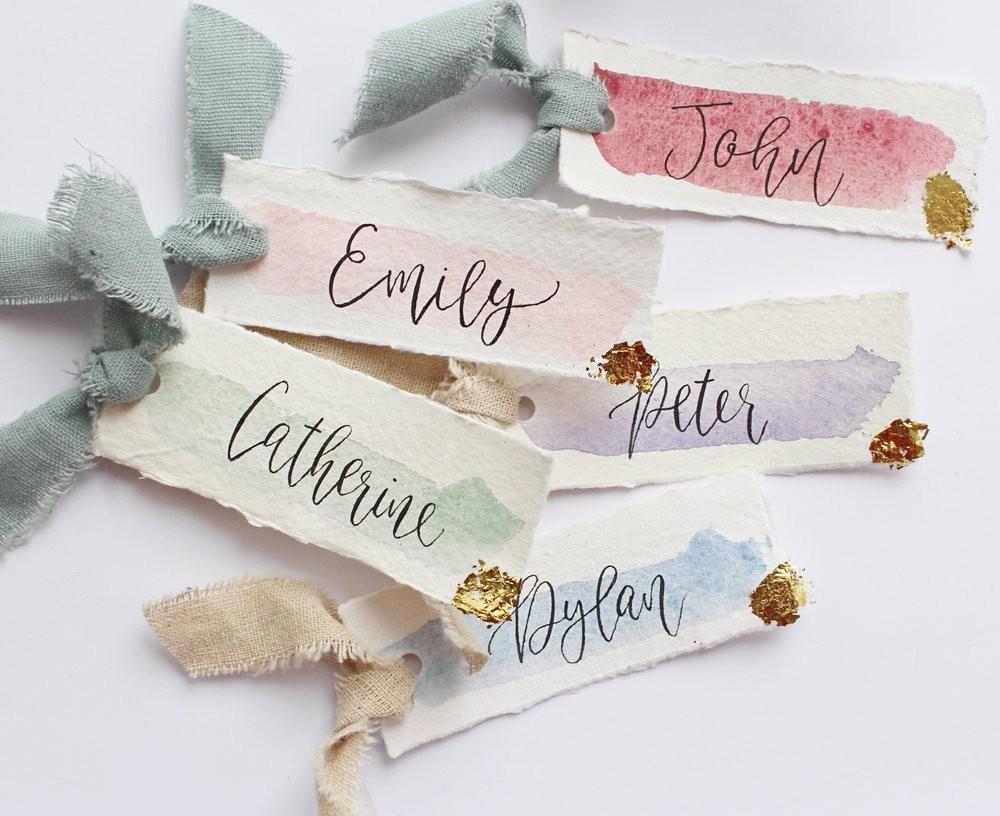 Image: Etsy
34. Alternatively watercolours look beautiful as the backdrop to your stationery and then carried through onto table numbers and place cards.
35. Beautiful stamps of botanicals, flowers, trees, birds and bees look stunning printed on invitations, wedding signs, napkins and more for a little twist where real flowers can't be used.
36. Looking for spring wedding ideas with a whimsical or retro twist? Vintage inspired décor works so well with this season – think birdcage centrepieces filled with seasonal flowers, or antique items used as decorations.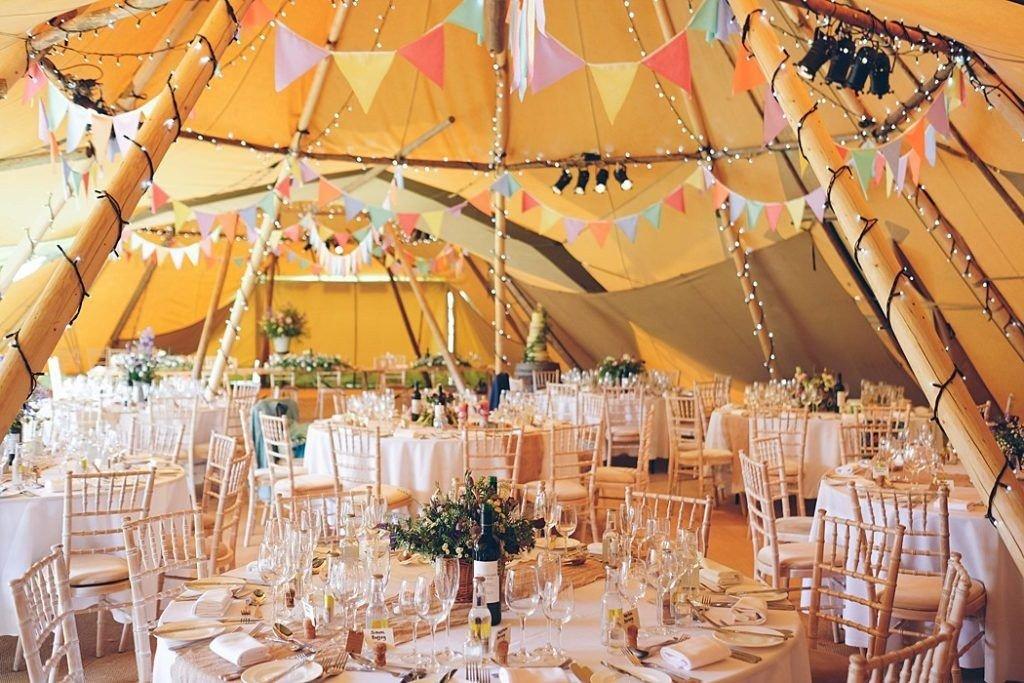 Image: Pinterest
37. Pretty vintage-style bunting is a lovely accompaniment to a spring reception. If you fancy getting crafty, check out our tutorial for making your own wedding bunting.
38. If you're predicted any rain, have some fun with it. Use old wellington boots to plant floral arrangements and have them outside doors or even down your aisle. This works so well for farm or barn weddings.
39. A vintage bike with a basket full of flowers is a cute piece of wedding décor and it can also be used to display wedding signs or for the couple to pose on in photos.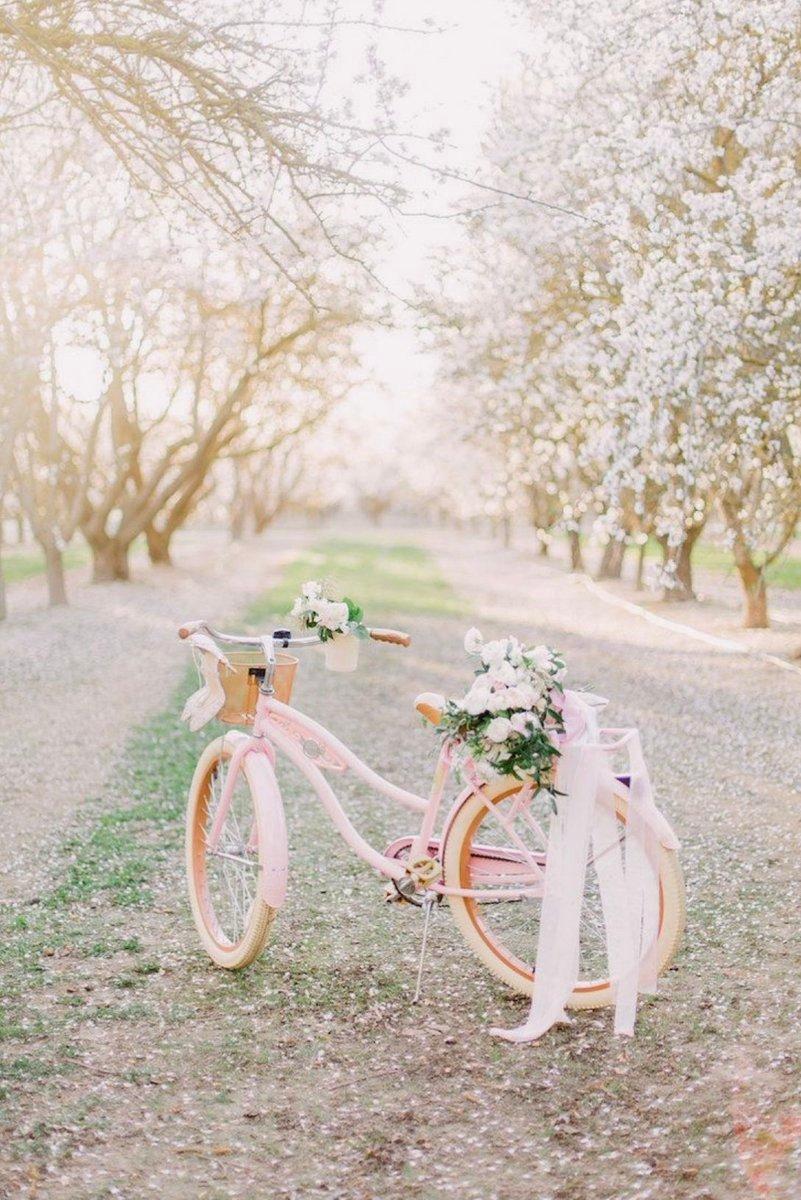 Image: Pinterest
40. It will be getting darker later, but there'll still be plenty of opportunity to use lighting in your décor. Wrap fairylights around trees, string across courtyards or even create a curtain of them.
41. Fresh fruit makes a wonderful centrepiece. Bundle lemons into large bowls with pretty linens or tumble fresh apricots among peach flowers, lanterns and candles.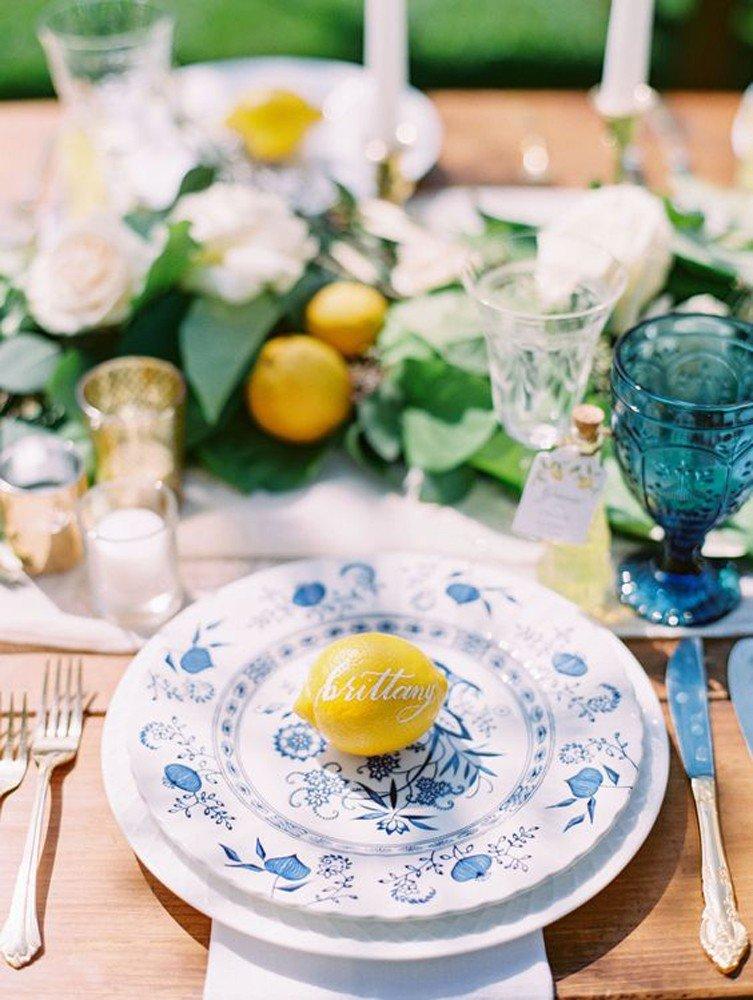 Image: Pinterest
42. Should you have been gifted with a scorcher of a day, provide a basket of parasols at the back of the aisle for guests who might need some shade, such as elderly relatives. They're great for outdoor weddings or during your reception drinks. Fans on ceremony chairs work well too!
43. If you're trying to keep costs down, consider using lots of dried flowers, e.g. in centrepieces, buttonholes and bridesmaid bouquets.
44. Use vintage floral china as charger plates and serve cocktails in tea cups for a luxury afternoon tea feel.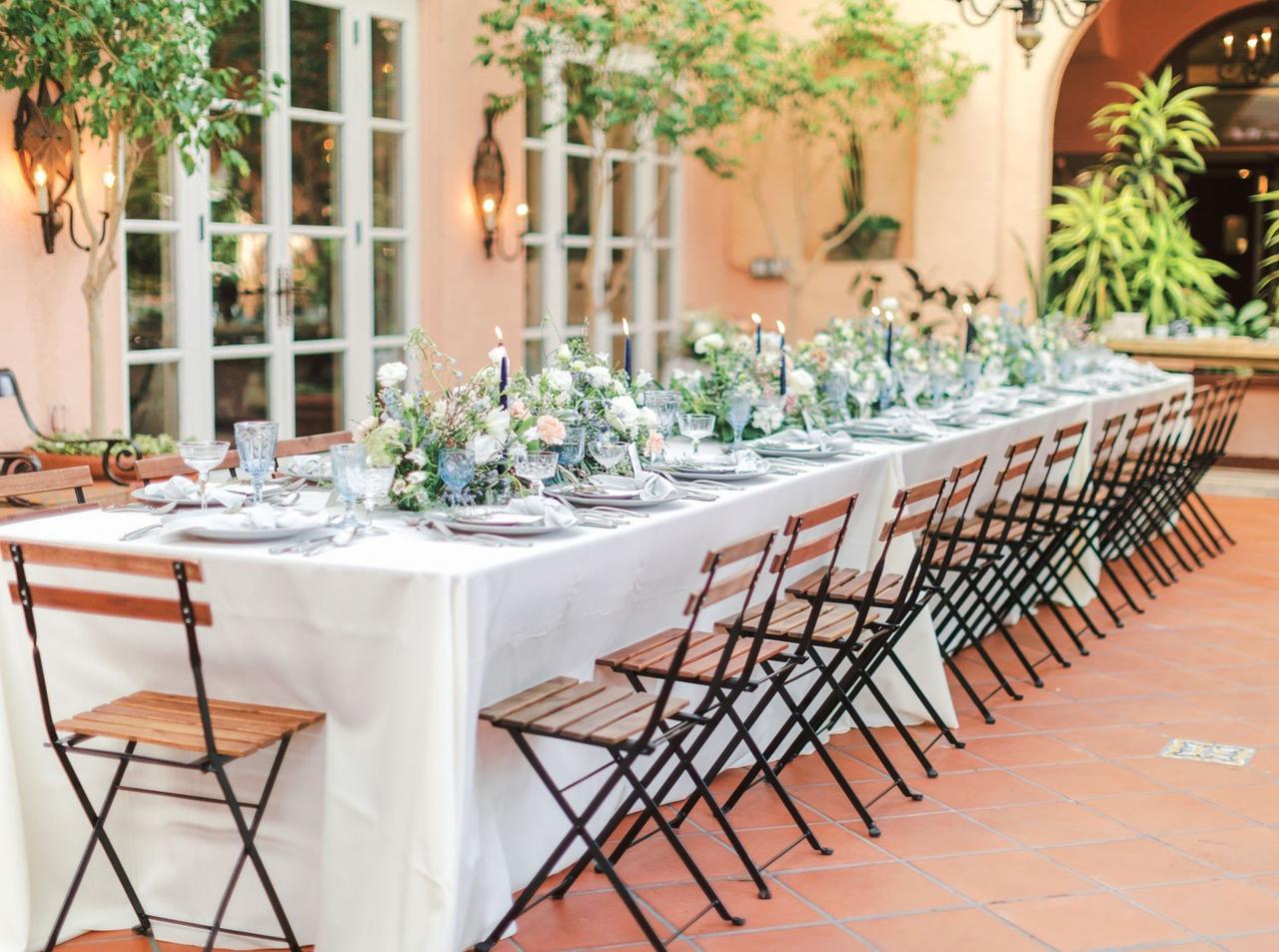 Image: Pinterest
45. Think about your chairs. French-style bistro chairs are wonderful for an outdoor, garden wedding vibe; chiavari chairs give a classic look; while ghost chairs and modern, elegant and look incredible in an orangery or glass setting.
46. Swings are not just for children! A swing is great fun for all your guests and looks amazing in your couple photos.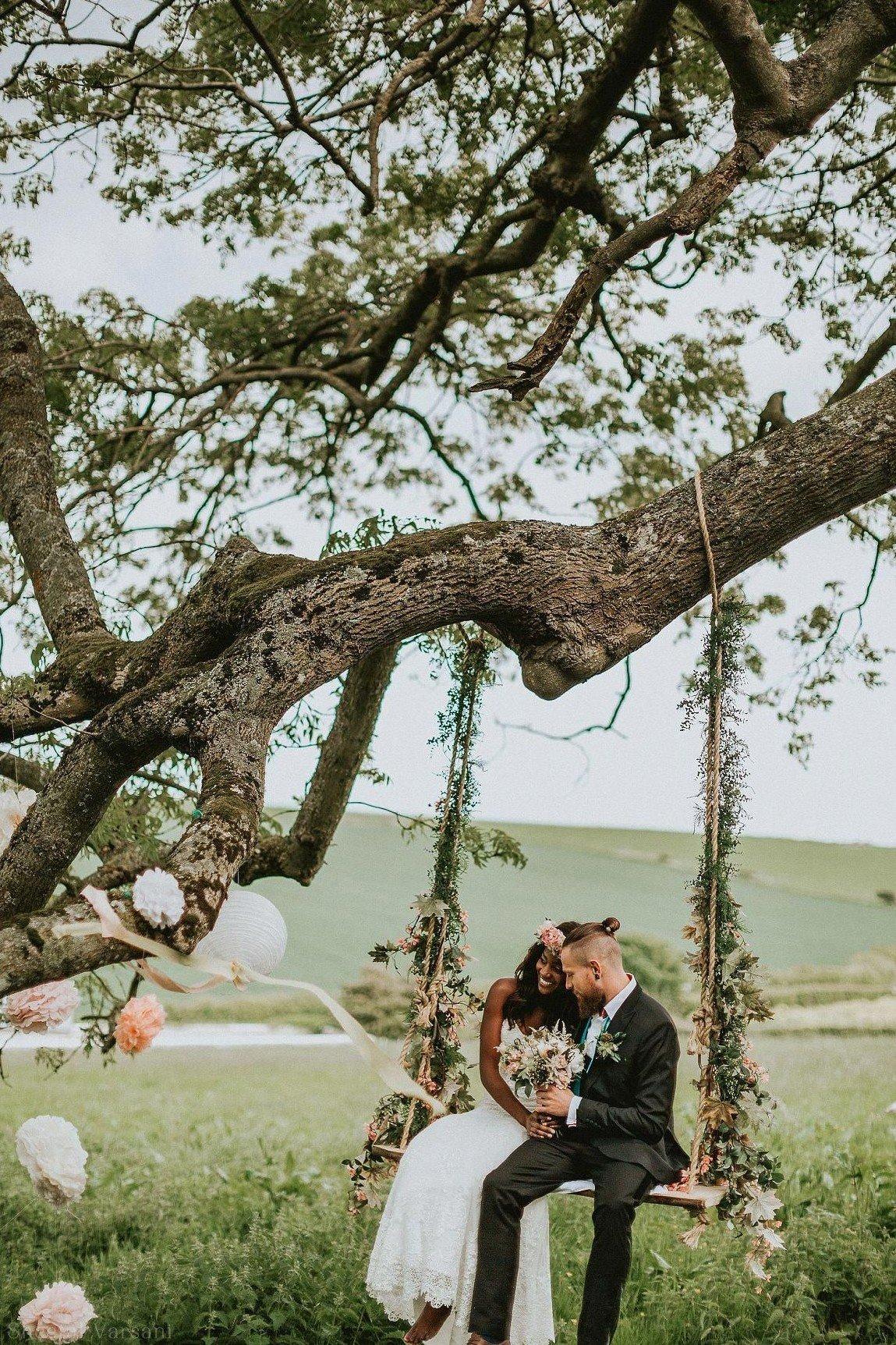 Image: Pinterest
47. Trellises have such a glorious spring vibe. Use a trellis entwined with flowers (real or fake) around your bar, as a backdrop to a table plan, to cover any walls or décor you might not like, or to section off parts of your reception space.
Spring Wedding Food and Drink Ideas
48. Floral wedding cakes are all the rage for spring weddings. Here's a few ways to do it: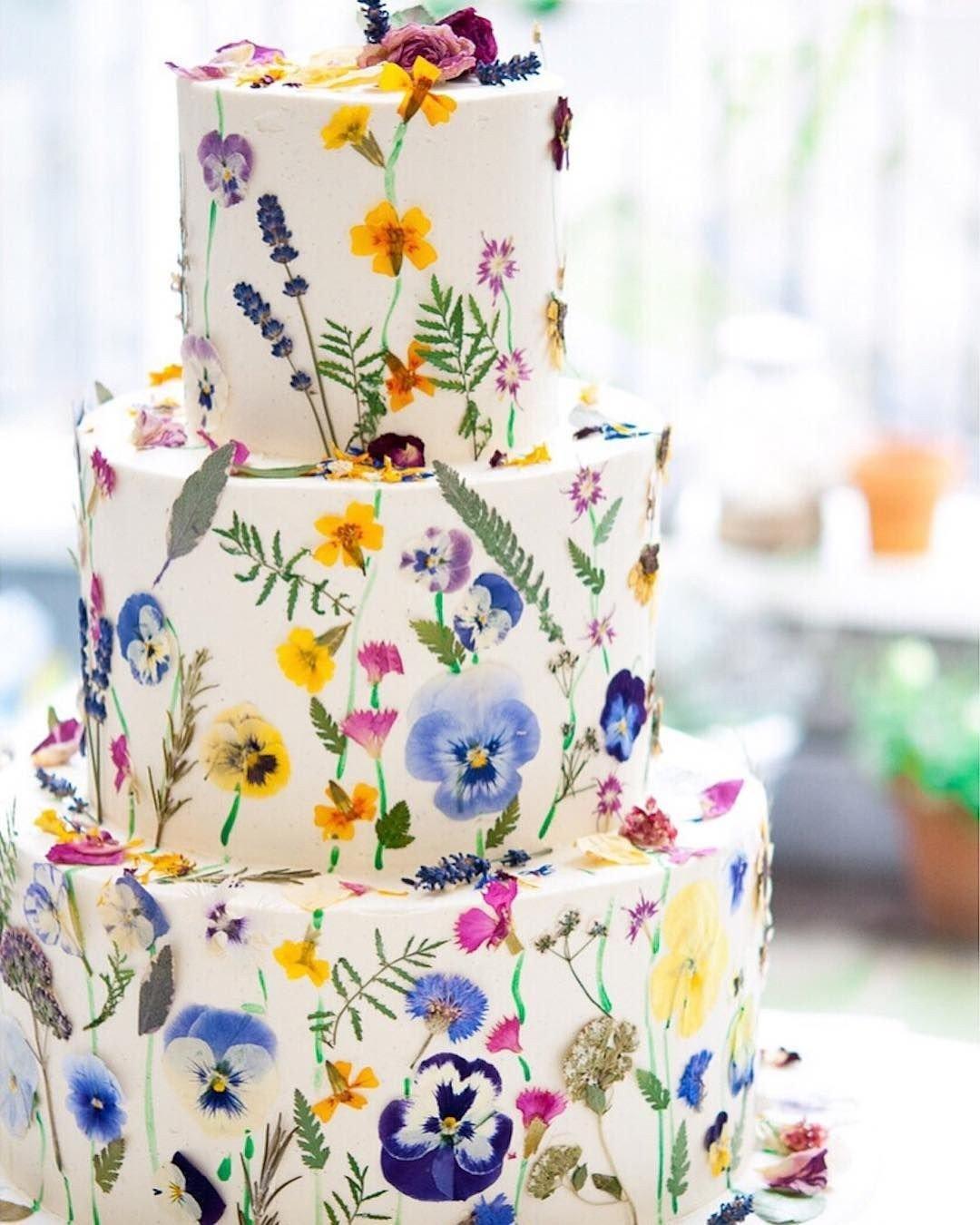 Image: Pinterest
Decorate an entire iced cake with edible dried flowers
Use sugar flowers or real flowers to adorn the tiers and base of the cake
Get your cake maker to hand-paint florals on your cake
Create a ghost layer with flowers in your cake
Add florals to the flavour as well, such a lemon and elderflower, lavender and honey, rose and pistachio, or a gluten-free orange blossom polenta cake
49. Use the very best of seasonal produce in your menu. Asparagus, artichokes, wild garlic, Jersey Royal potatoes and Isle of Wight tomatoes are in season now, as are early cherries, apricots, grapefruit, and rhubarb. Spring lamb is undoubtedly a perfect main for meat eaters.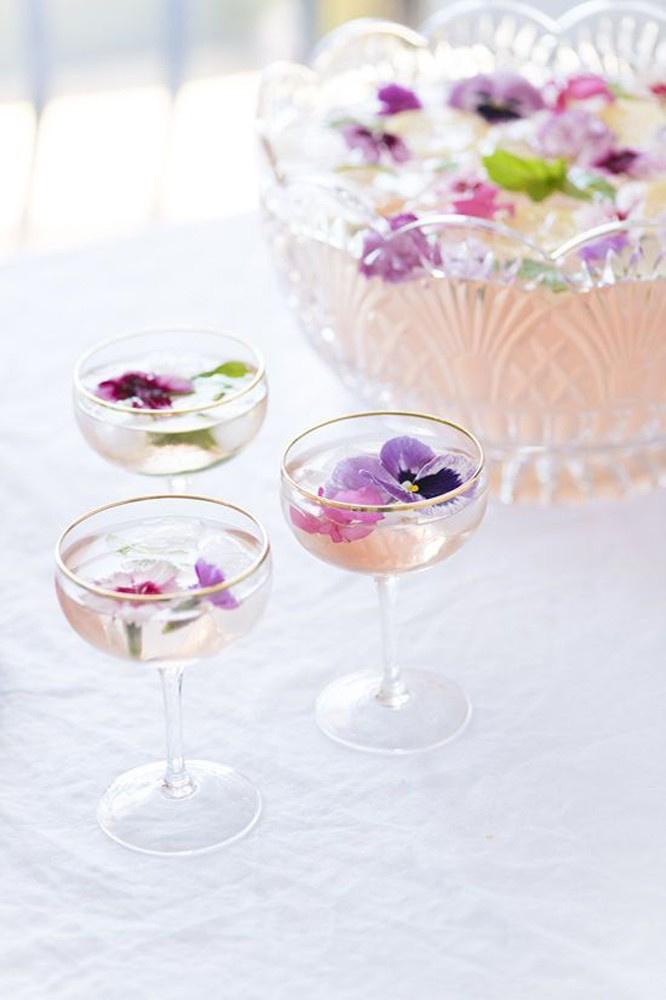 Image: Pinterest
50. Refresh thirsty guests by serving up some deliciously herby and floral wedding cocktails like mojitos with loads of fresh mint and zingy lime, or an elderflower, gin and rosemary cocktail. However, if the sun is shining and your reception is outdoors, that definitely calls for glasses of Pimm's piled high with strawberries, mint and cucumber!
51. Freeze edible petals in ice cubes to garnish drinks.
52. Set up a pretty sweet buffet that your guests will want to dive head first into. Pop an assortment of retro sweets into jars and dishes, add mini macarons and brownies, then decorate with floral arrangements and a wedding sign. The pastel colours of retro sweets work so well with spring themes.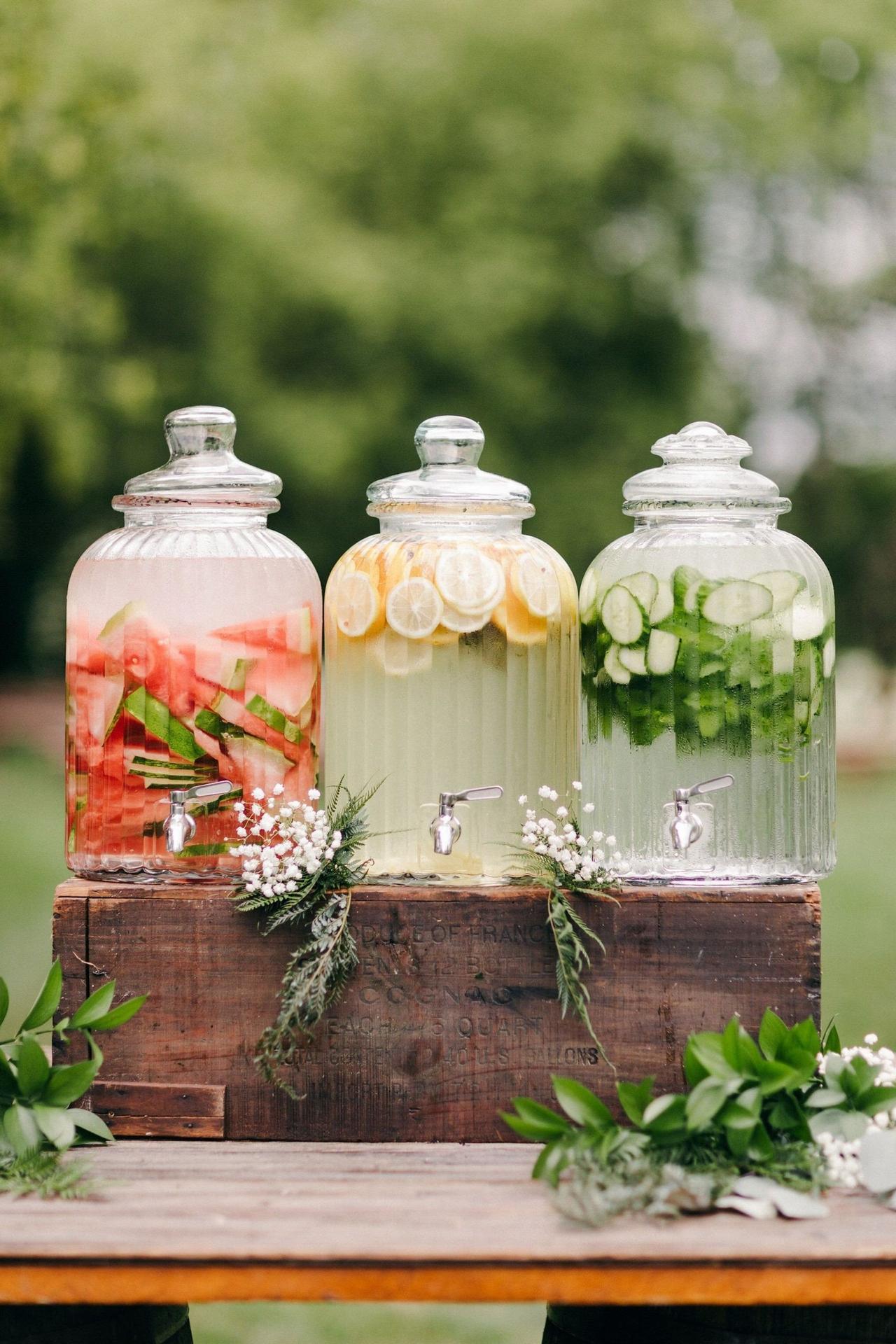 Image: Pinterest
53. If you want to offer a non-alcoholic option and something for kids, we love a fruity water station. Get big vintage-style drinks jars with taps, and fill with ice cubes, water and your choice of fruits, like lemon and lime, or watermelon.
54. Wheelbarrows are great ways to serve bottle of beer, soft drinks or mixers for a DIY bar. Find a rustic one and paint it to your colour scheme, fill with ice, add a wooden sign and serve up. Slices of lime in a little dish are great for beers and colas.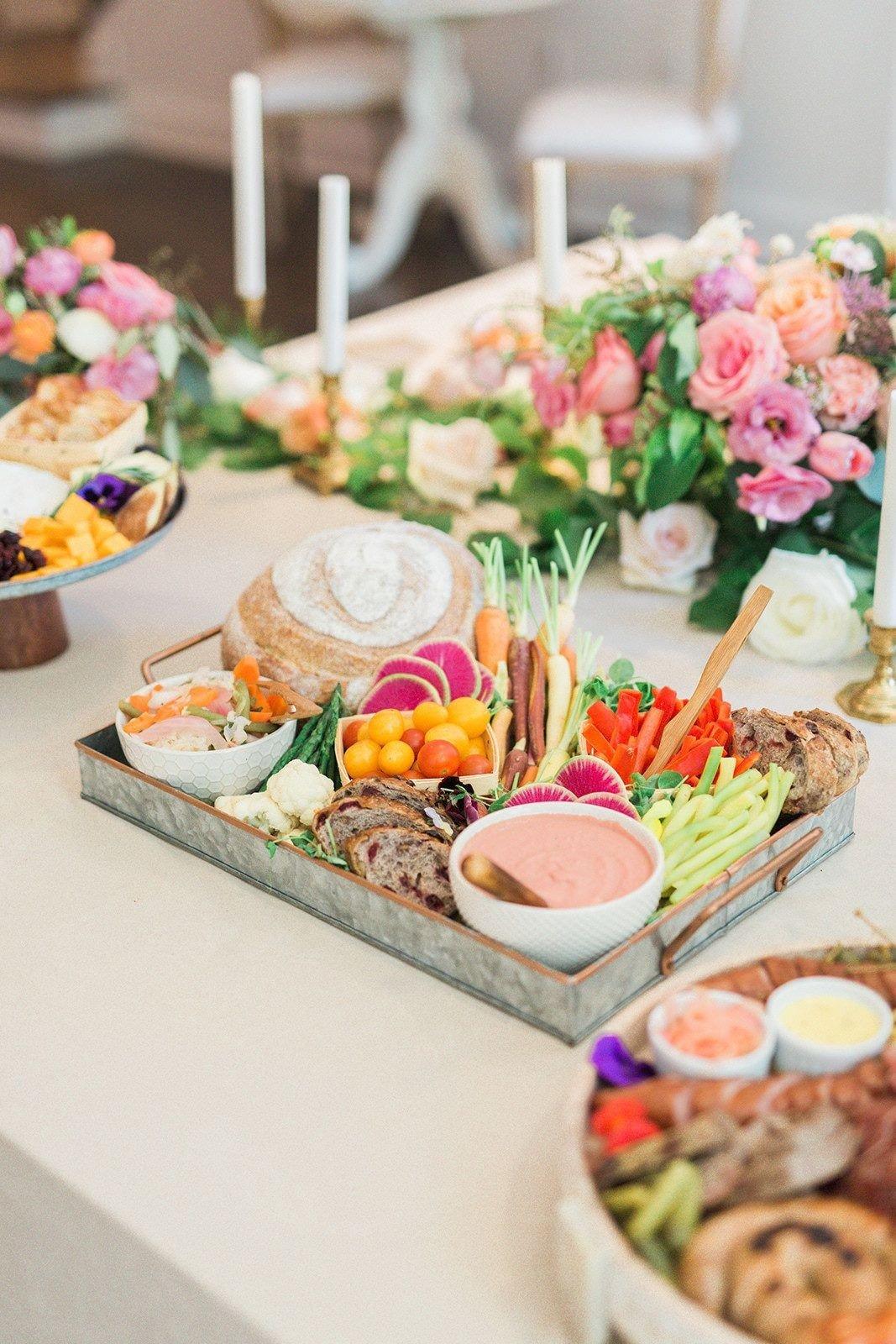 Image: Pinterest
55. Instead of canapes, how about a grazing board that makes full use of the lovely spring colours? Serve meats, cheese, breads and dips that guests can pick from. Use bright, fresh colours like red and yellow heritage tomatoes, vibrant green pesto, pinky beetroot hummus, and pile high on slate or wooden boards with herbs tucked around them.
Spring Wedding Reception Ideas
56. If your spring venue has beautiful grounds or gardens, make sure that you get your photographer to snap some outdoor photos after your ceremony. The trees and plants will be in bloom, making for some wonderful picture opportunities. Get your photographer to scout out locations ahead of time.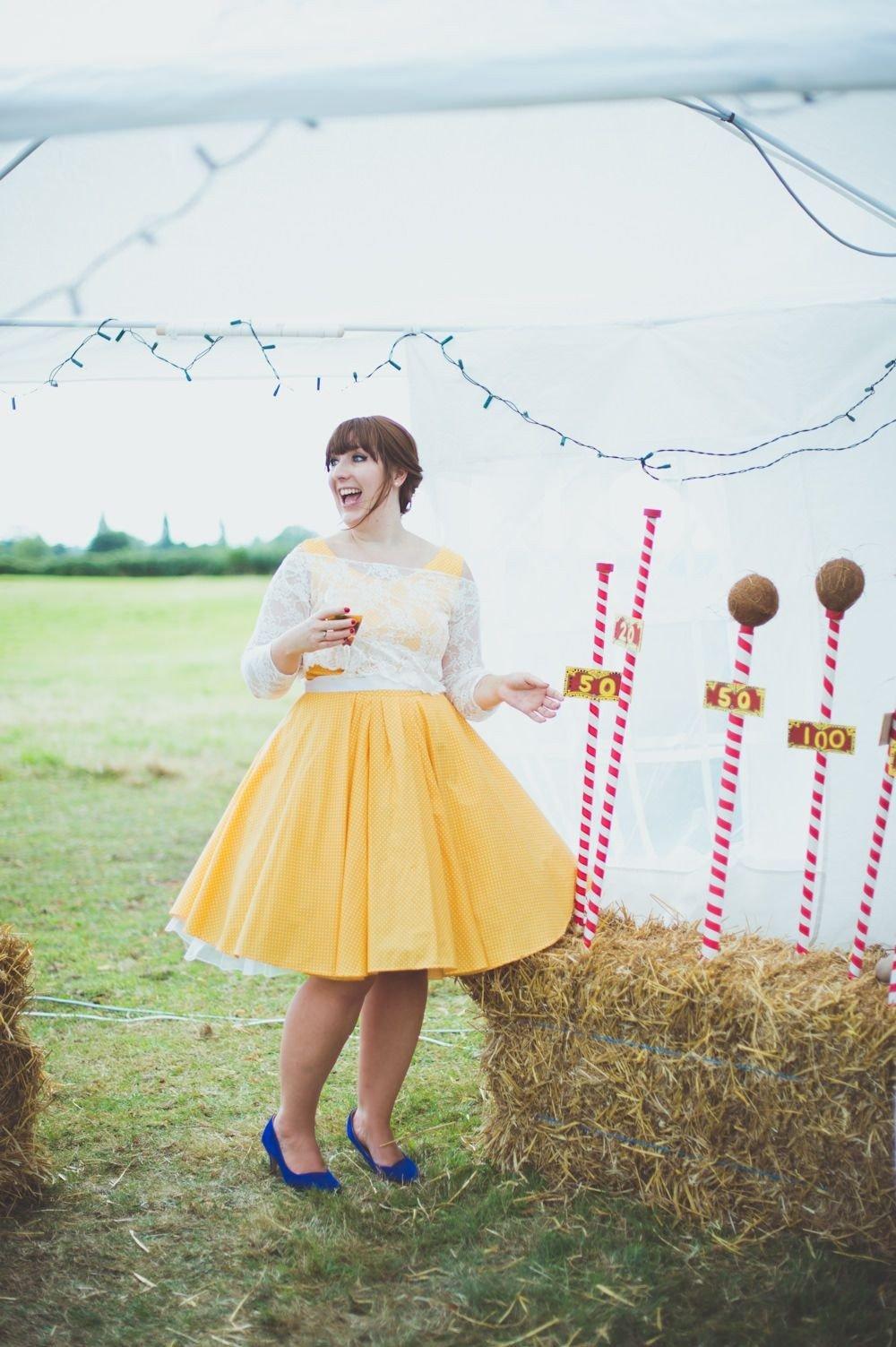 Image: Pinterest
57. Keep guests entertained with fairground games or even rides! You can hire dodgems or a carousel, and it's pretty easy to DIY your own coconut shy and hook-a-duck.
58. Even if you're not having an outdoor wedding, have one part of the day outdoors. Reception drinks are a great time for this, when you can throw open terrace doors or go out into a courtyard. It's an exciting element in the flow of the day, and encourages guests to mingle and explore. The perfect time to get a mobile bar outside too!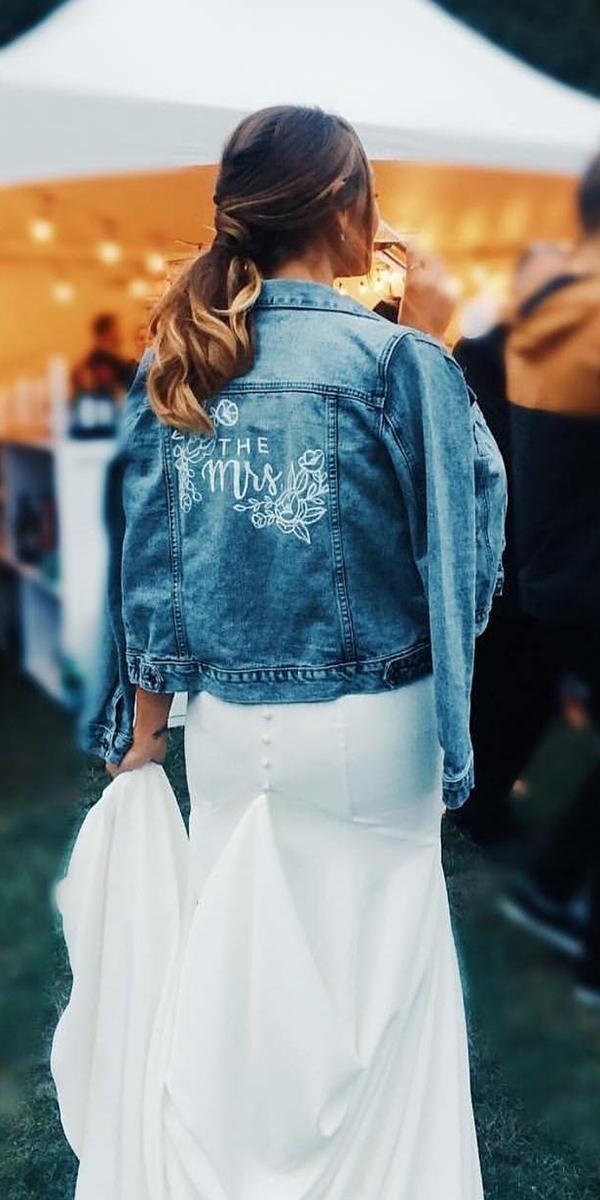 Image: Pinterest
59. If you're wearing a floor-length wedding dress, you could find that you'll get sweaty when the evening dancing starts. A spring wedding is a great chance to wear a second dress in the evening that's shorter and more suitable for the dance floor. Chances are by May the temperature will have started to climb (fingers crossed!).
60. The sun may be making a reappearance during spring but unfortunately the weather can still be quite unpredictable. Have a bridal cover up prepared just in case it gets a bit nippy. Try a handpainted leather jacket or a cute faded denim one.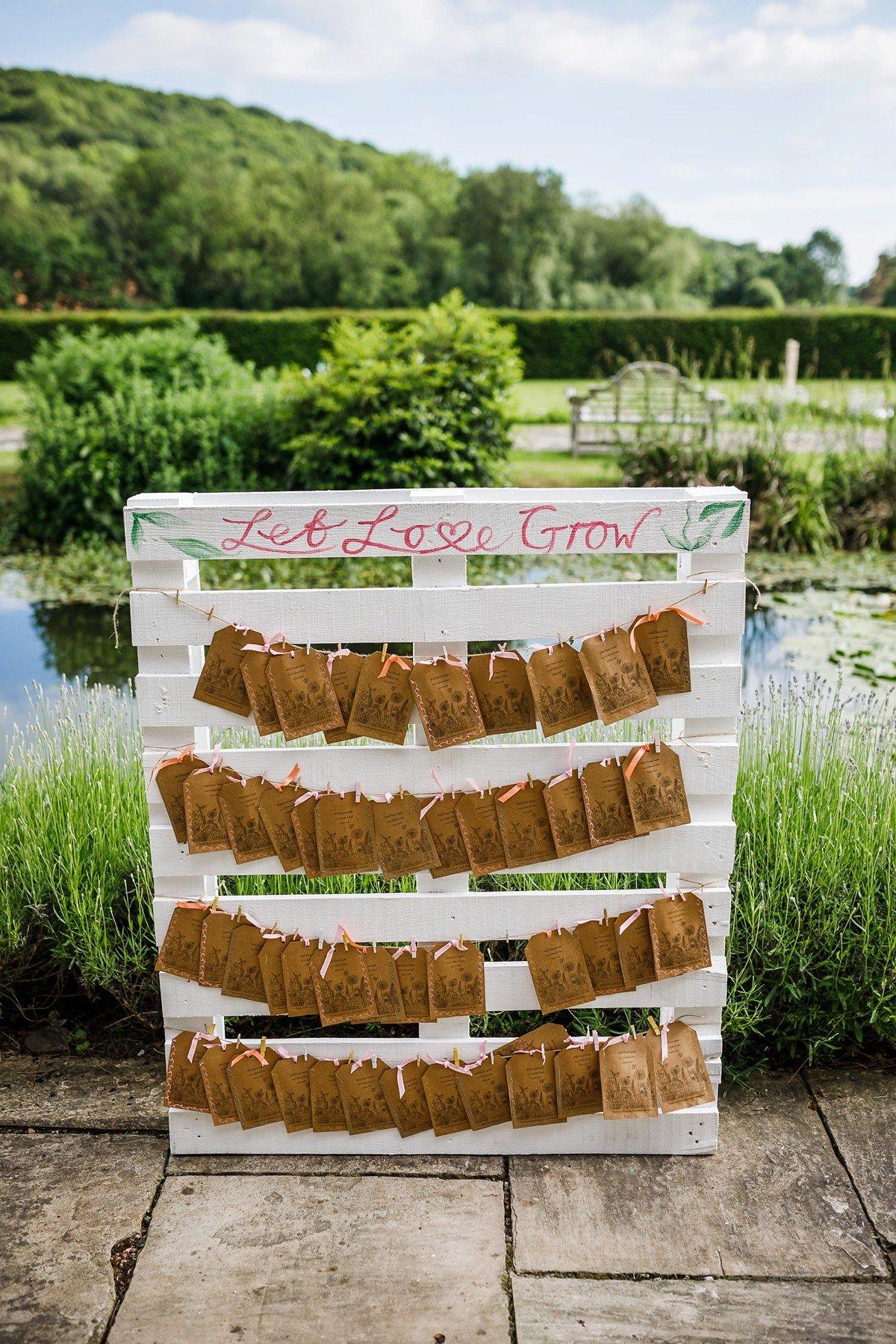 Image: Pinterest
61. Give out packets of wildflower seeds as wedding favours. If you're really green-fingered, what about plant cuttings or succulents?
62. If you're lucky enough not to have rain on your day, it doesn't mean the ground might not still be a little muddy. Provide guests in heels with heel protectors or flip flops for the evening.
63. End your reception with a fireworks display as the night draws in.
Easter Wedding Ideas
64. Wicker Easter baskets look gorgeous filled with flowers and petals for flower girls to sprinkle. Top off their look with a little flower crown using the same petals.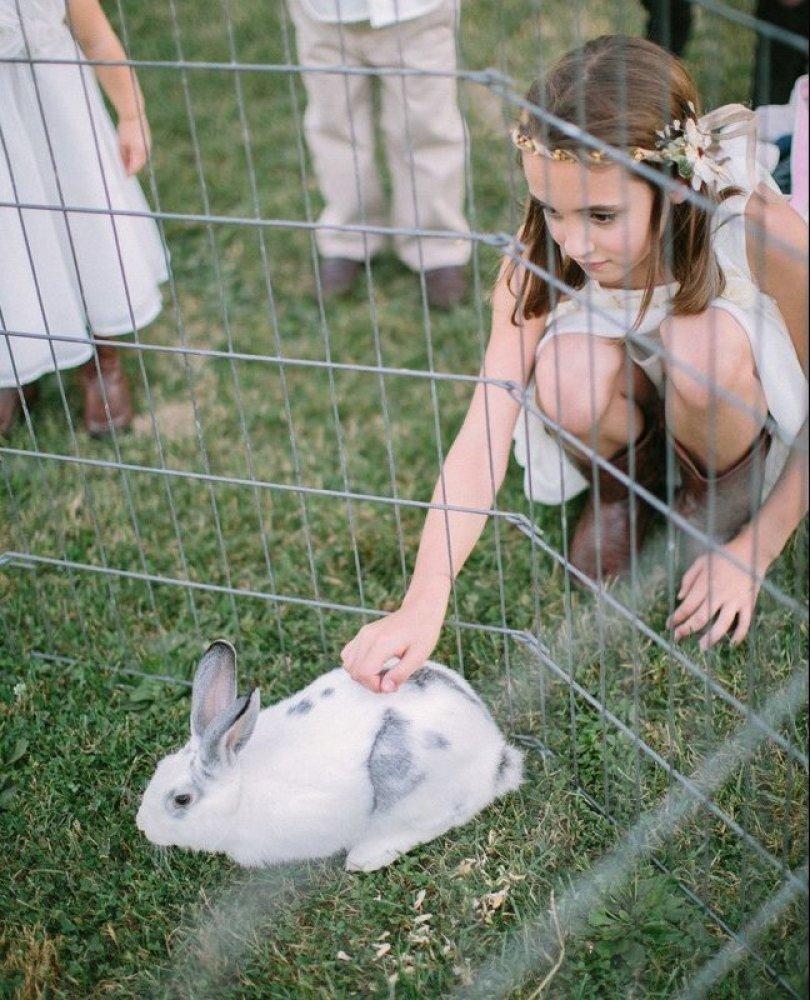 Image: Pinterest
65. Easter is the time for newborn baby animals. You could choose to have you wedding on a farm where the lambs have been born, or you could involve furry friends of you own. Do you or a guest have a cute puppy that could join you for photos? You can also hire petting zoo companies who can bring baby bunnies along for little guests to meet and stroke!
66. Mini nests are lovely to use for placing a wedding favour in or even carrying your wedding rings. You can buy ready made ones and you just need to line with something soft like moss or a fabric like velvet.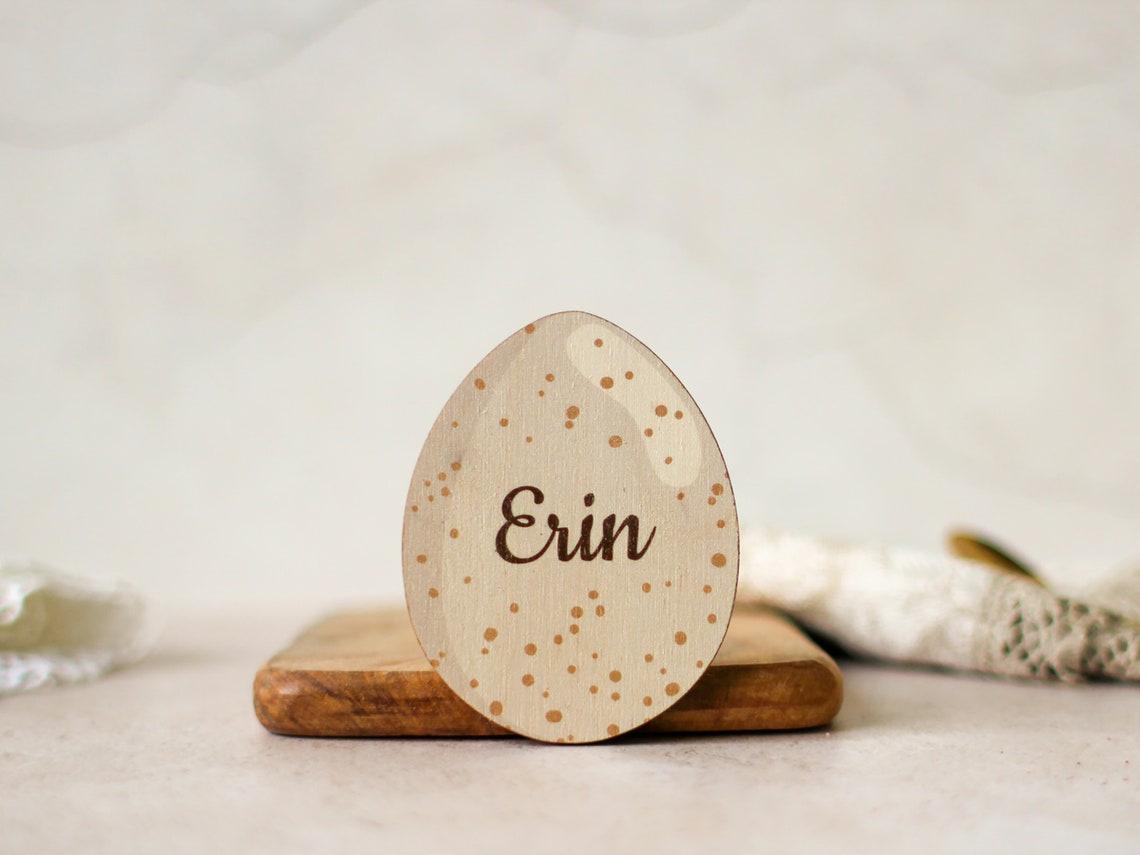 Image: Etsy
67. Eggs make wonderful place settings. You don't need to combine with a nest, although that's a great look too! These could be real or wooden eggs or even specially-made chocolate eggs with names on in icing.
68. Egg cups with a foil-wrapped chocolate egg in make cute favours.
69. Put on an Easter egg hunt for young and young at heart guests!
If you're looking for more spring wedding ideas, take a look at these vintage wedding favours which would be the perfect treat for your reception guests.