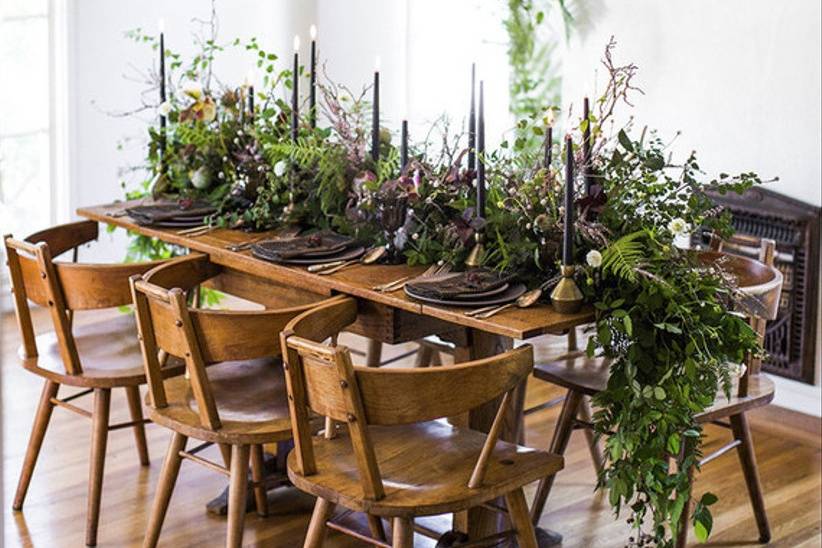 Don't know where to start with wedding DIY? There's one project that everyone can do: our fresh greenery table garland how-to.
Greenery, AKA foliage, is perfect for wedding décor. It's kind to your budget - you'll find eucalyptus, willow, ivy and moss and other varieties to be very cost-effective, particularly compared to the price of flowers. Greenery decorations are also highly effective, bringing a vibrant, botanical feel to your ceremony and reception spaces. And it's a look that suits all kinds of wedding venues, whether elegant country houses or rustic barns.
But the best bit? Foliage is really easy to work with if you want to create your own décor. Wedding DIY has been popular for a good while now, with tutorials aplenty showing you how to add personalised touches to your day, from bouquet making to creating your own stationery. While ideas like these may be a super-creative couple's idea of heaven, not-so-crafty couples won't feeling so keen to bring out the PVA glue and ribbon.
Our greenery table garland project is ideal for both beginners and craft-experts. It's simple enough to keep you from tearing your hair out, but you can also put your own unique spin on the look: play with different textures of foliage; change the pot colours to match your scheme; choose different types of candle style. You'll end up with a stunning table decoration that'll be the decorative highlight of your reception.
With help from the stylish experts at Get Knotted, get ready to put together a simple and elegant greenery table garland decoration that anyone can make.
READ MORE
How to Make a DIY Greenery Table Garland
You Will Need:
A collection of empty plant pots or paint cans
Spray paint in the colours of your choice
Soil
Succulents in different sizes and shapes
Your choice of greenery, such as moss, ivy and eucalyptus
A mixture of candles, including tea lights in holders
Step One
Spray paint the pots in the colours of your choice, leaving time for them to dry according to the instructions on the can. The type of paint you use will depend whether the pots you use are acrylic, ceramic or plastic. You might need to apply a couple of coats.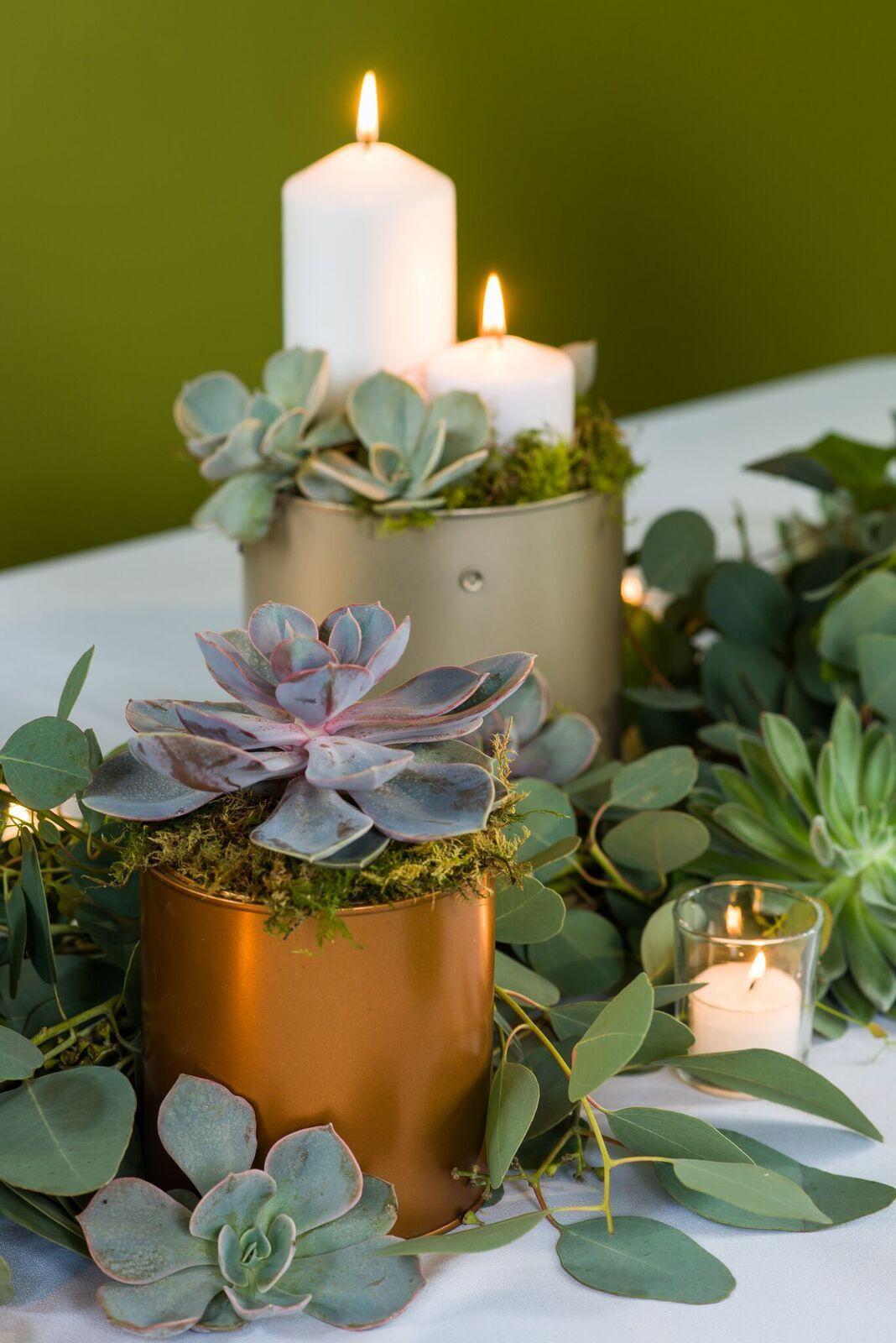 It's nice to use a few contrasting colours to suit your wedding theme. Metallics are a good choice for adding warmth.
Step Two
Combine the different varieties of greenery to create a garland that curves to the length of the table using. There's no particular technique for this - you create your garland by eye, weaving together your foliage. It doesn't have to look perfectly symmetrical - the idea is to bring a wild, natural beauty to the table, so have fun experimenting with shapes and movement.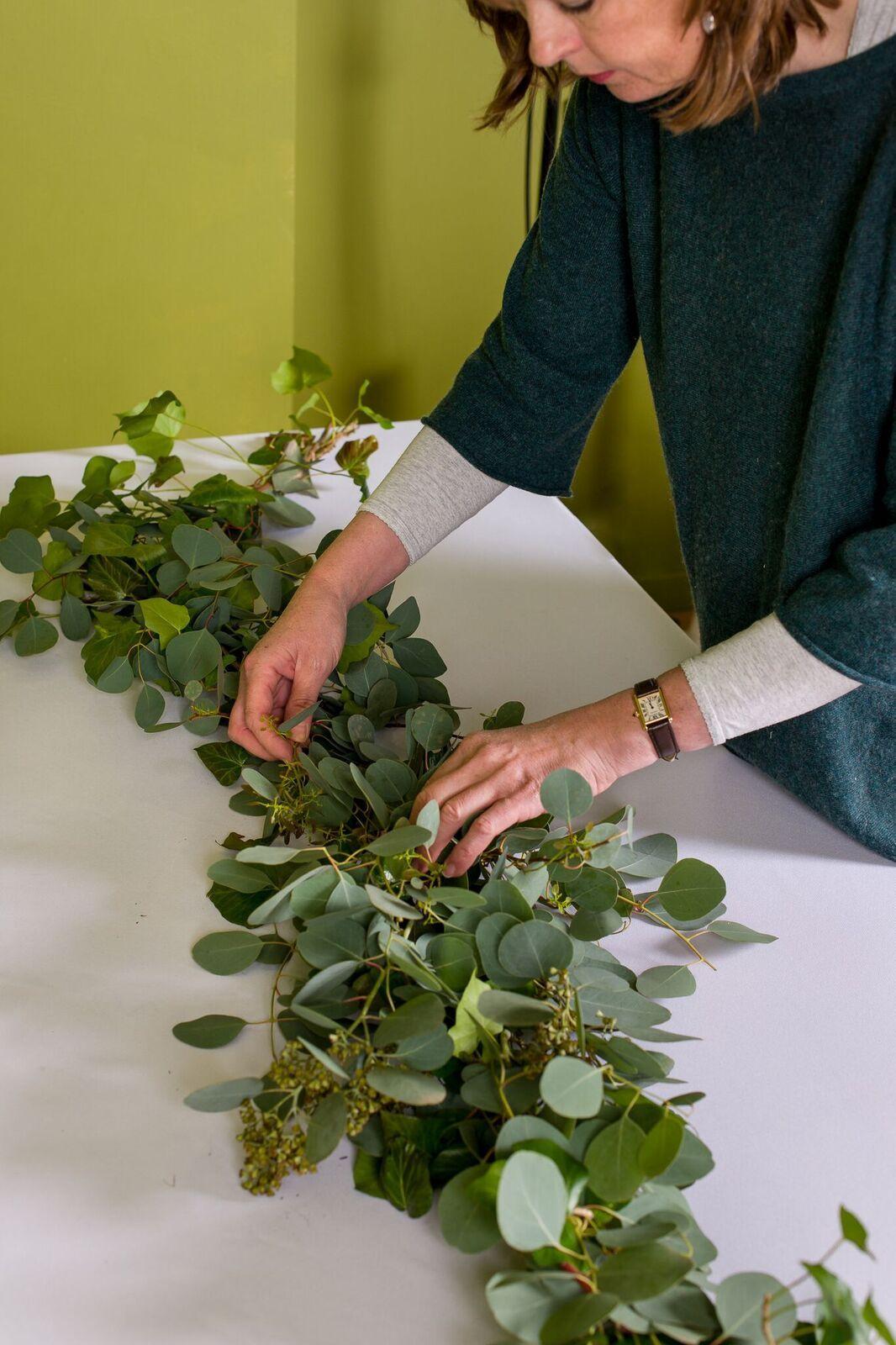 When choosing your greenery, look for varieties that won't wilt too quickly, as you will want them to last the whole day - as a general rule, the sturdier the leaves, the longer they'll last, so include delicate foliage sparingly.
READ MORE: How to Make Your Own DIY Wedding Hangers
Step Three
Fill the pots around three quarters with damp soil. Place succulents and moss on top of this, moulding the moss to fill any gaps, with two candles in the centre.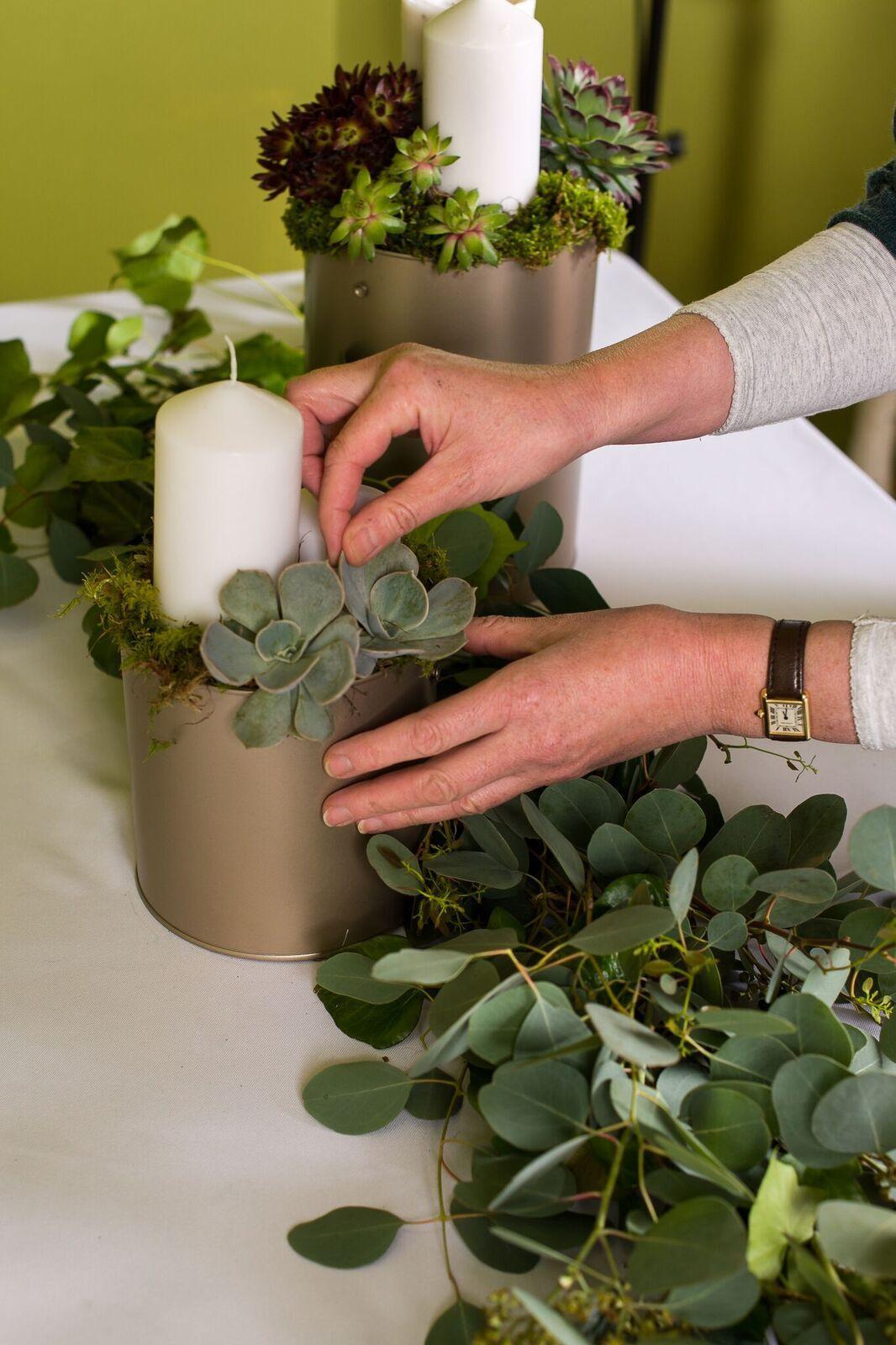 The candles must be tall - the flame must be well away from the pots and greenery - and secure, so they won't fall.
Step Four
Place some succulents along the length of the garland to add depth and interest.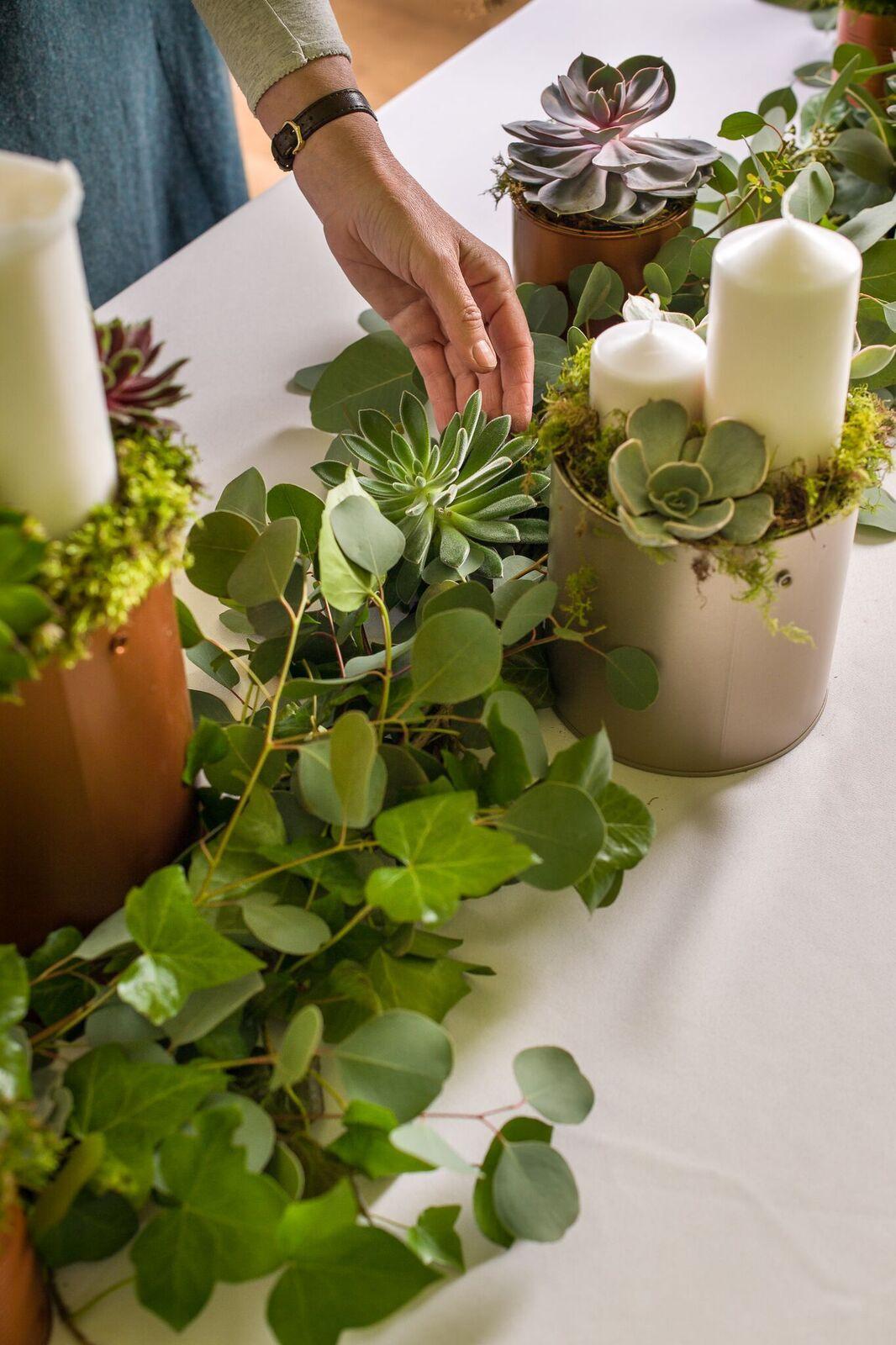 Step Five
If any of the pot/can tops are showing, add some extra moss to soften them, for a trailing effect.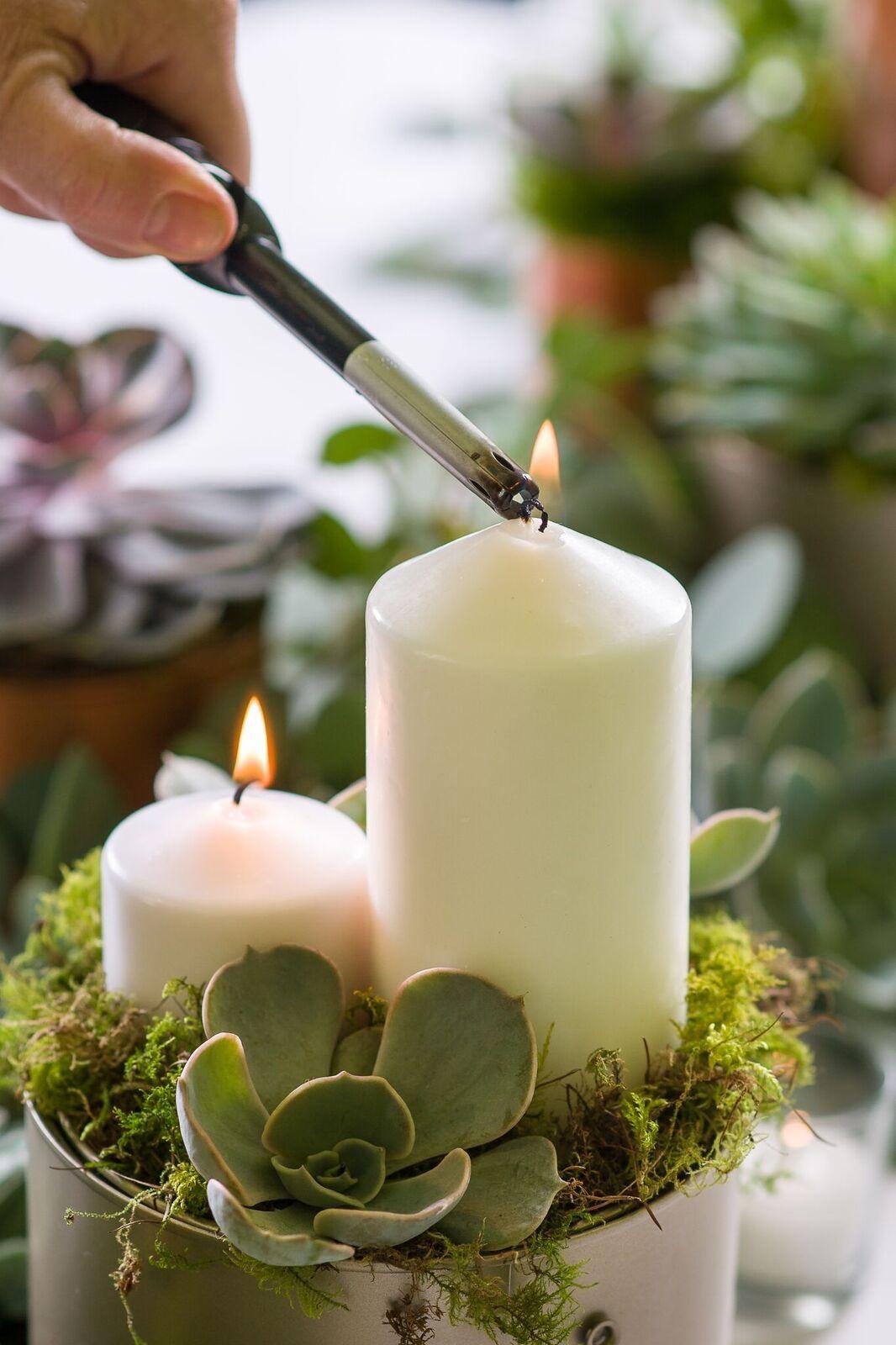 Light the candles to check how they look within the garland (don't forget to properly extinguish them!). It may sound like an unnecessary step, but lighting the candles gives you an idea of the finished look, and you may want to adjust their position. Using a candle lighter, rather than a standard lighter, will help avoid burnt fingers!
READ MORE: Wedding Candles: Tea Lights, Pillar Candles and Wedding Favours
Step Six
Place some smaller tea lights in between the cans and at the front of your garland.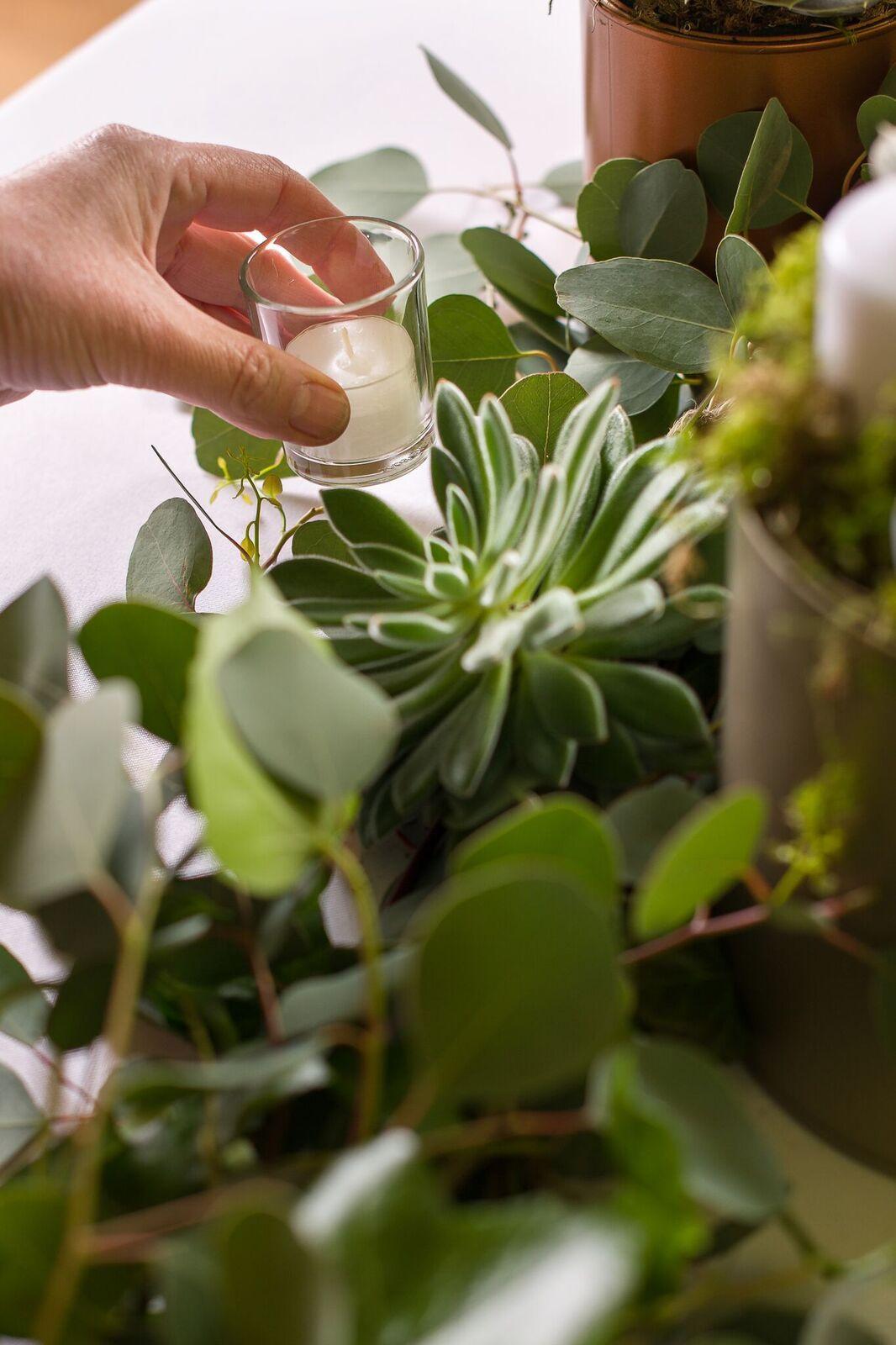 Arrange these carefully so the flames aren't near any trailing foliage.
Step Seven
Place your cans or pots along your garland. You decide whether to do this randomly or symmetrically - whichever works best with your look.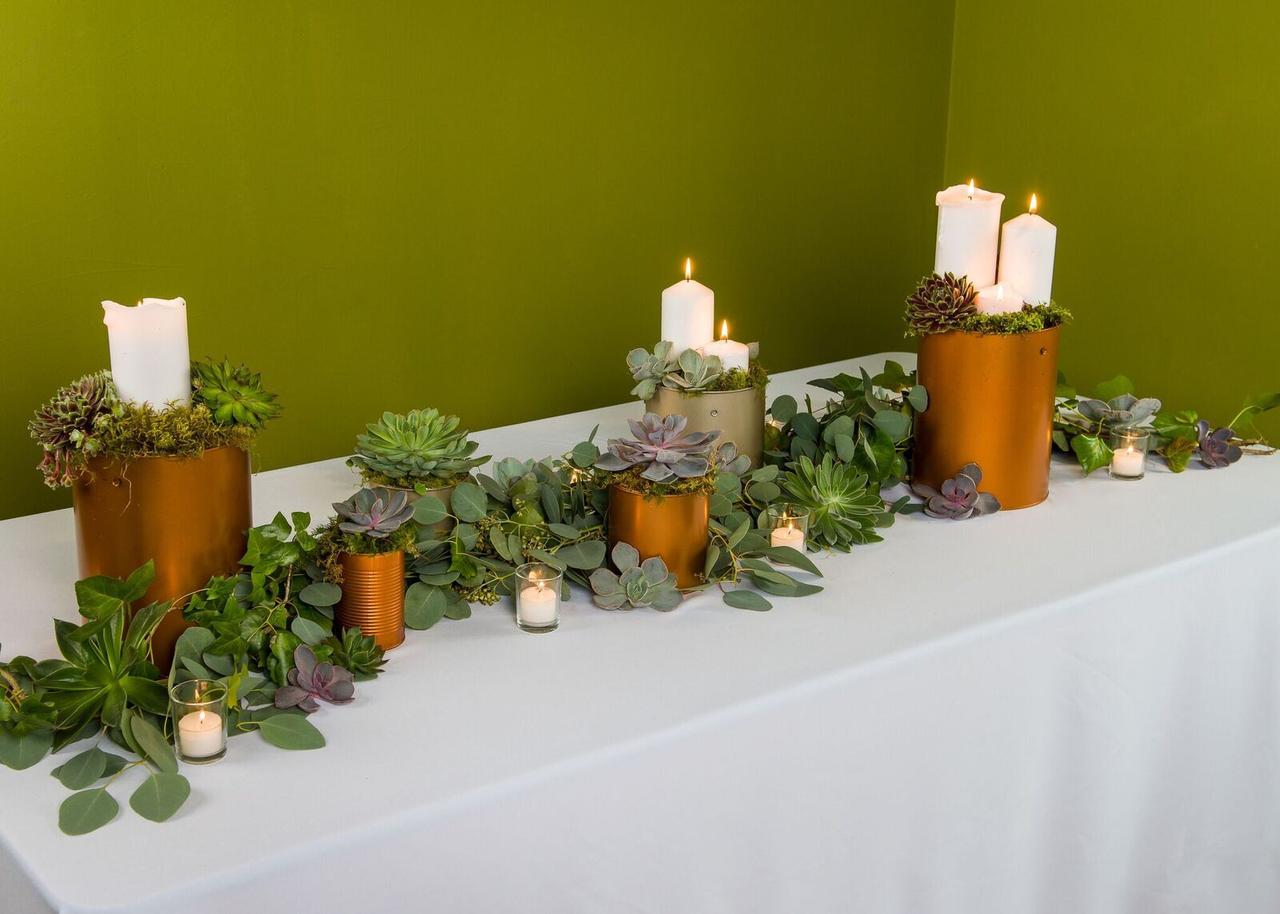 Stand back and admire your creation! Your greenery table garland can work as part decoration for your top table, or for guests' tables too if you want to make more than one. Just remember to check with your venue in advance that candles are allowed - and if you're having any young children at the wedding, you may want to remove the candles from their tables. As you'll be setting this up ahead of time, ask the venue to light the candles before you and your guests enter the room.
Even if you're not the creative type, a simple garland like this is easy to make and when you look at it on your big day, you'll know you made it yourself.
For more information, visit www.get-knotted.net.
Want more inspiration for your greenery table garland? We've found some fresh designs you can incorporate into your look.
Wedding Greenery Garland Ideas
Simple Greenery Table Garland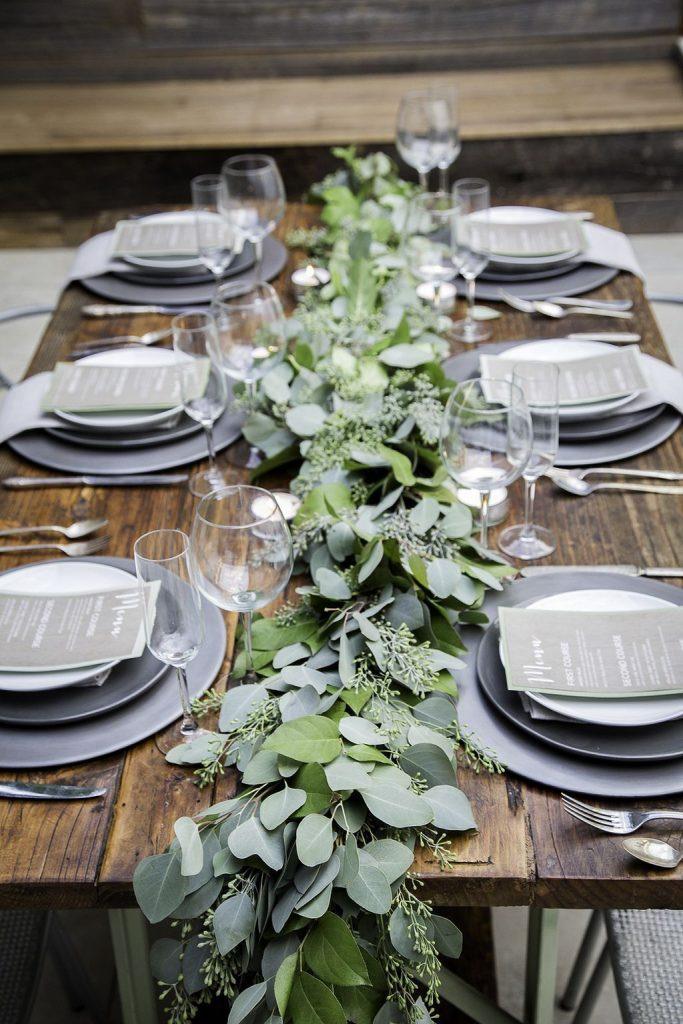 For a more pared-back look, leave out the pots and candles, and go with foliage, like this overflowing table runner.
READ MORE: Succulent Bouquets: Your Need-to-Know Guide
Foliage Table Runner With Candle Holders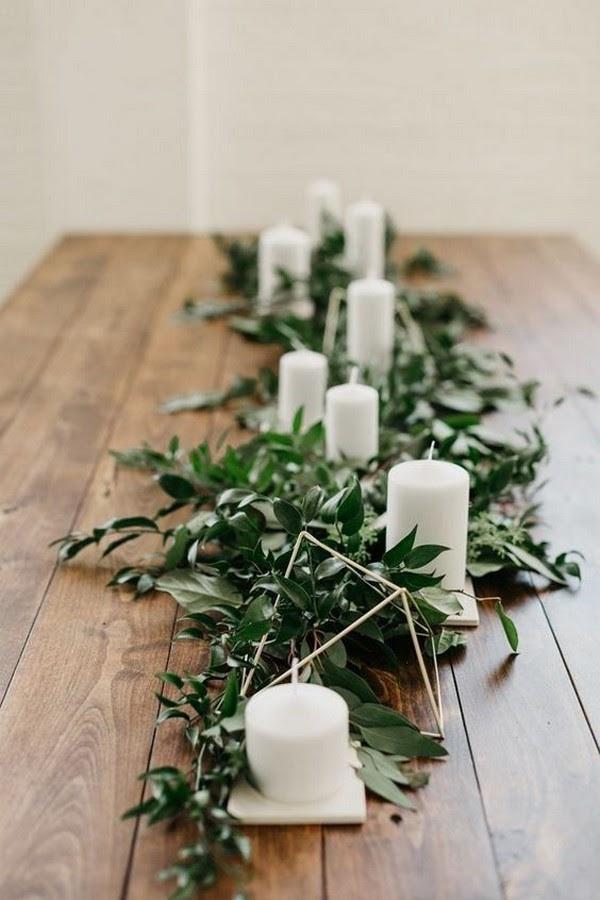 Give your table garland a contemporary edge with geometric candle holders. The rest of this greenery runner is kept simple, with just two kinds of foliage.
Minimalist Greenery Table Garland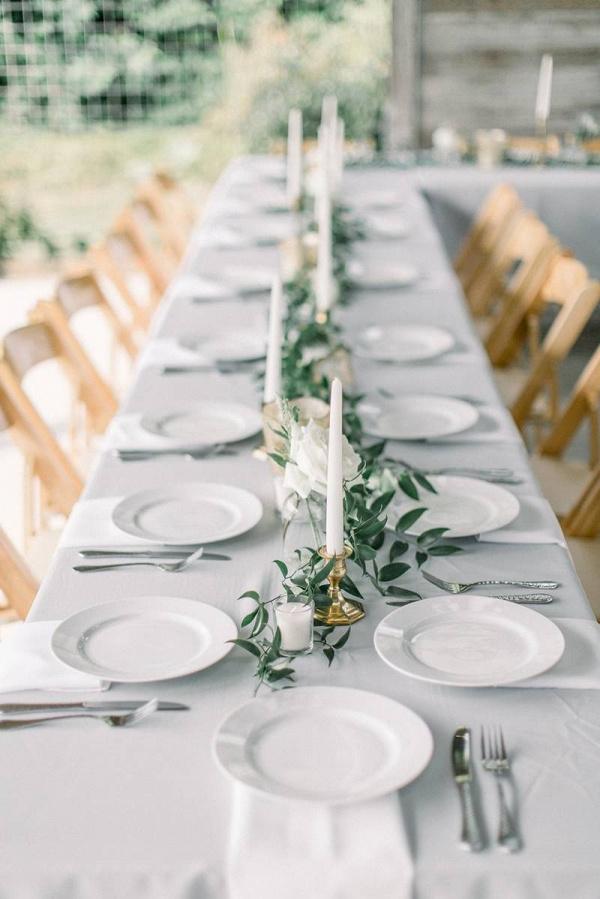 Sometimes simple can be so effective, as on this elegant table.
READ MORE: How to Make Your Own DIY Photo Booth
Romantic Greenery Table Garland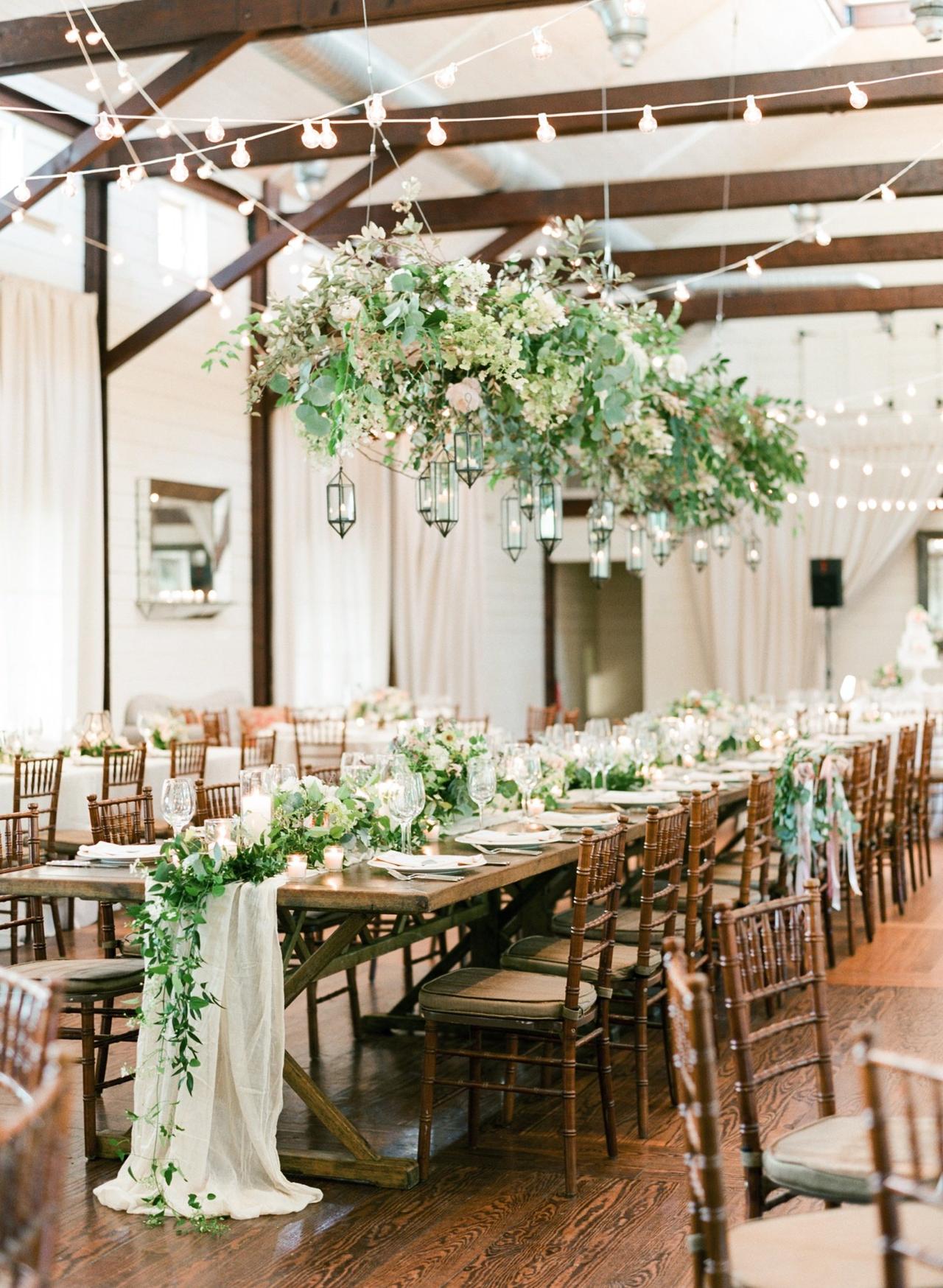 Having a hanging arrangement that mimics your table garland creates a magical feel, as with these opulent floral designs.
Bright Greenery Table Garland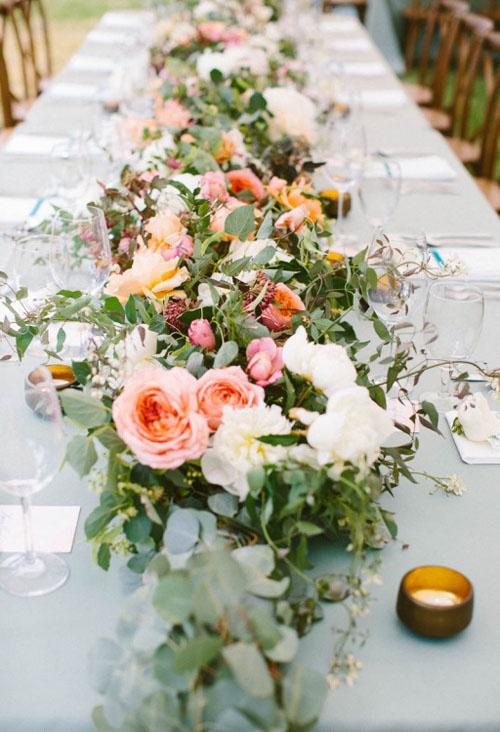 If you want flowers to take centre stage on your reception tables, a greenery garland can be a lovely backdrop. The bright colours in this pretty runner are so uplifting - and all the blooms will create a divine fragrance.
Textured Greenery Table Runner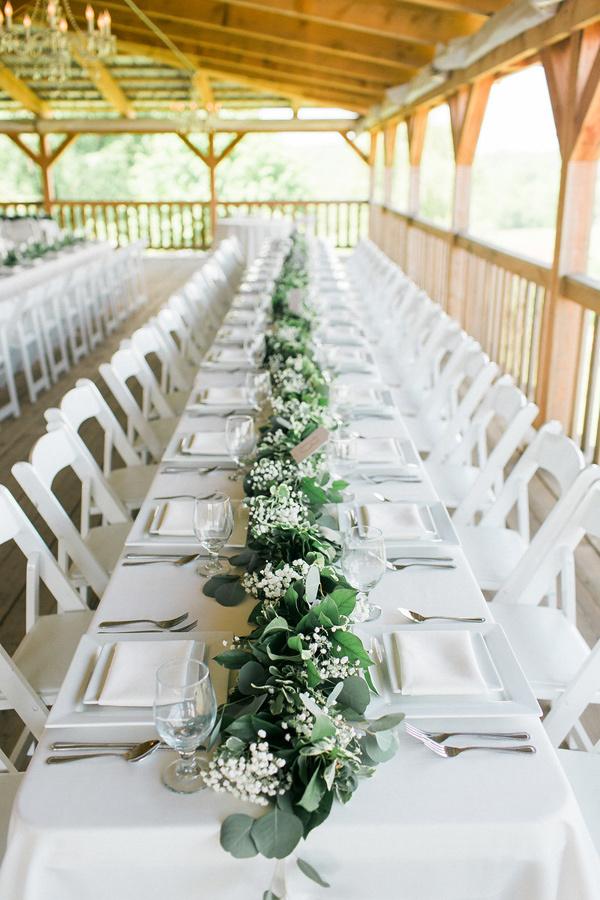 We love the mix of textures in this naturally beautiful table runner - the fluffy white blooms contrast with the verdant leaves.
READ MORE: Hitched Hacks: Three DIY Food Wedding Favour Ideas
Greenery Table Garland With Flower Arrangements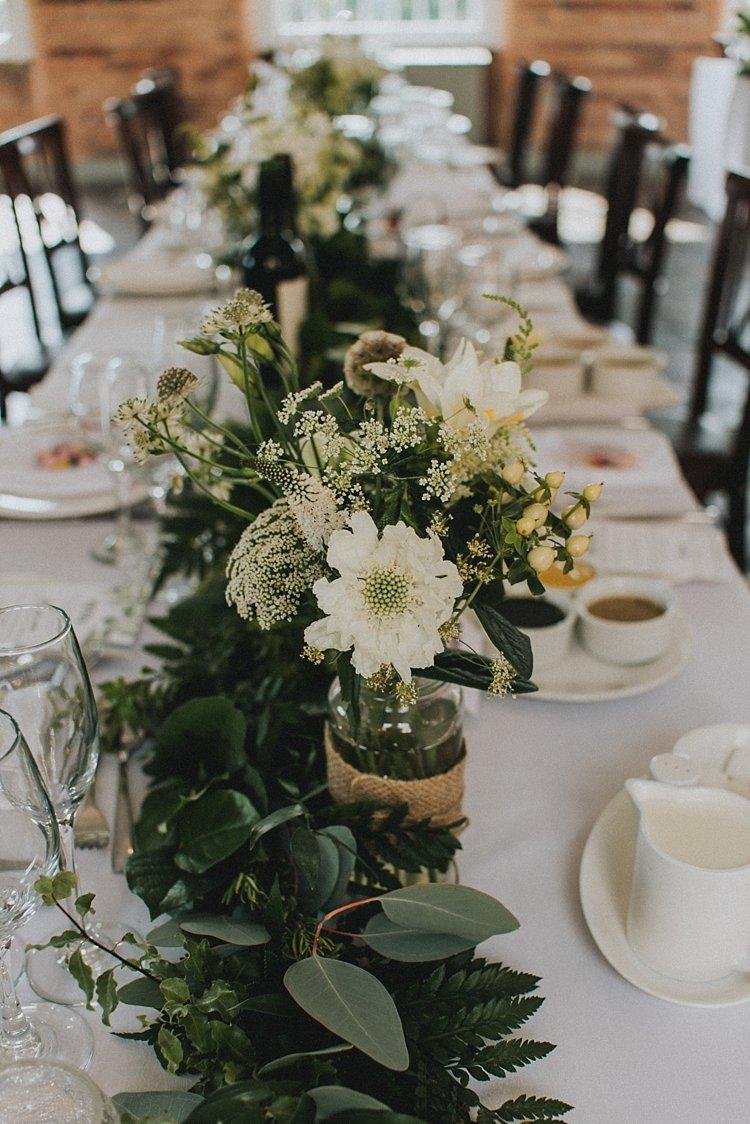 You can still have individual flower arrangements if you have a foliage table runner, as this fresh and vibrant display shows.
Greenery Table Garland With Ferns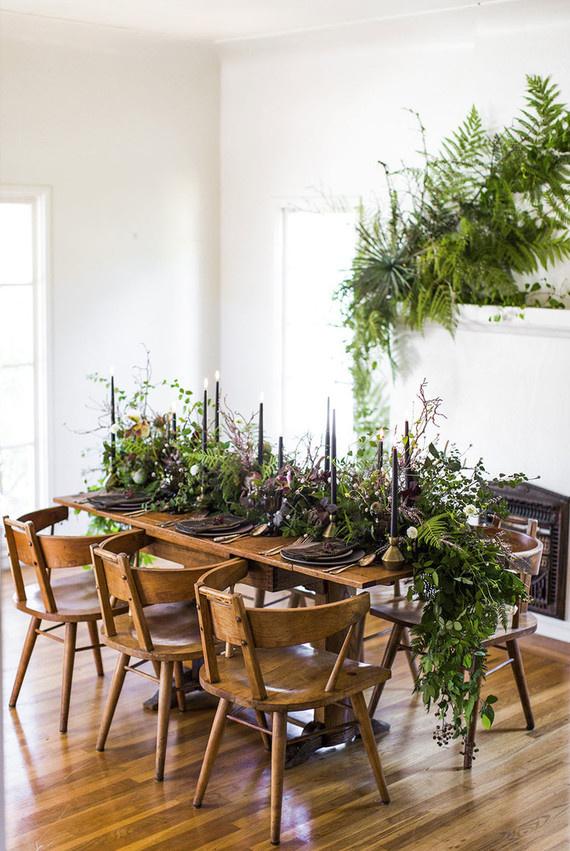 Ferns are a great way of adding volume to a table garland without overwhelming the look. As with this wedding table set-up, if you add extra greenery arrangements around the room, you can really bring the outside in.
Greenery Table Garland With White Flowers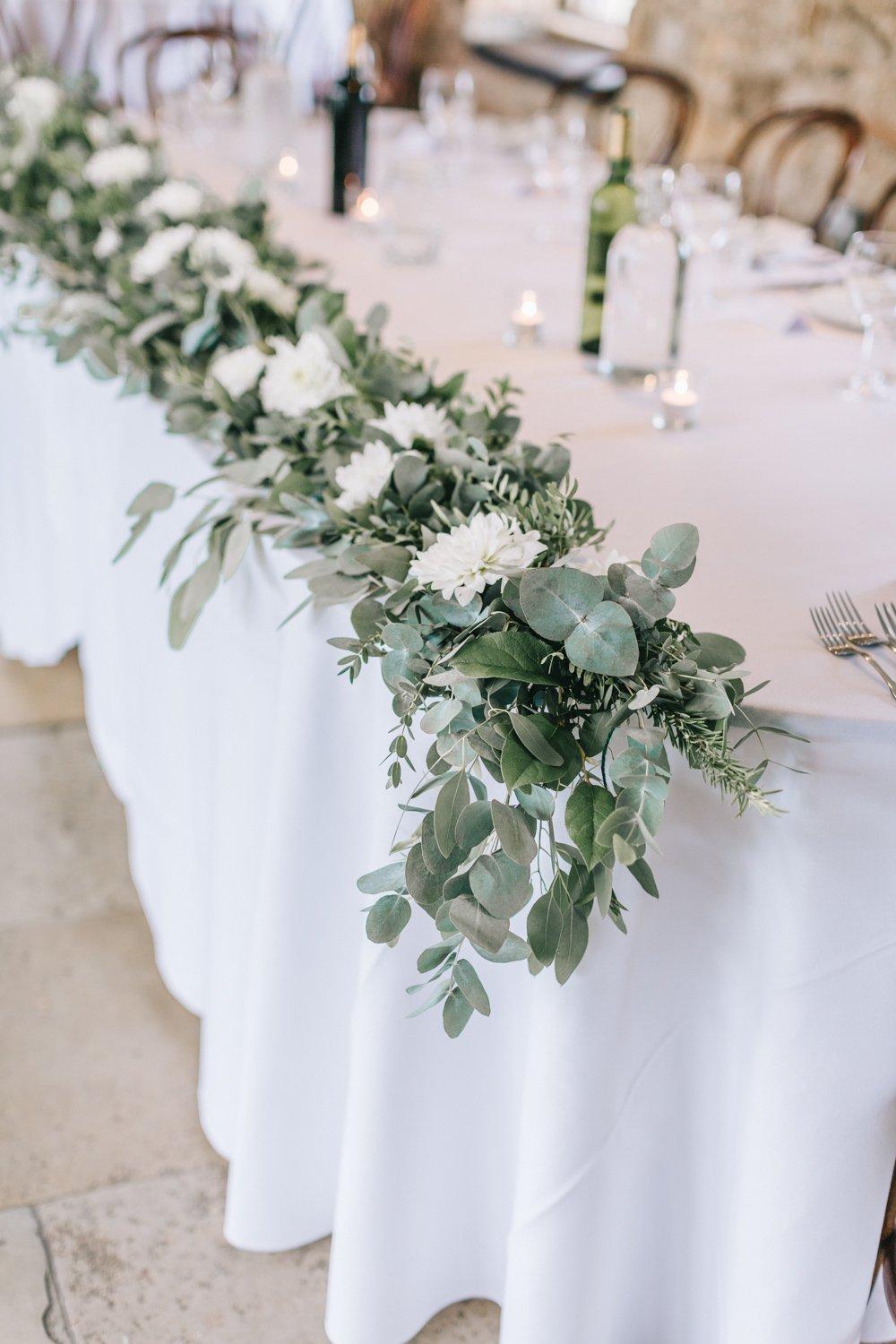 White and green is a real winner of a colour combination. This gorgeous garland is positioned at the edge of the table, leaving more room for the food - essential if you're having sharing platters.
Greenery Table Garland With Pink Flowers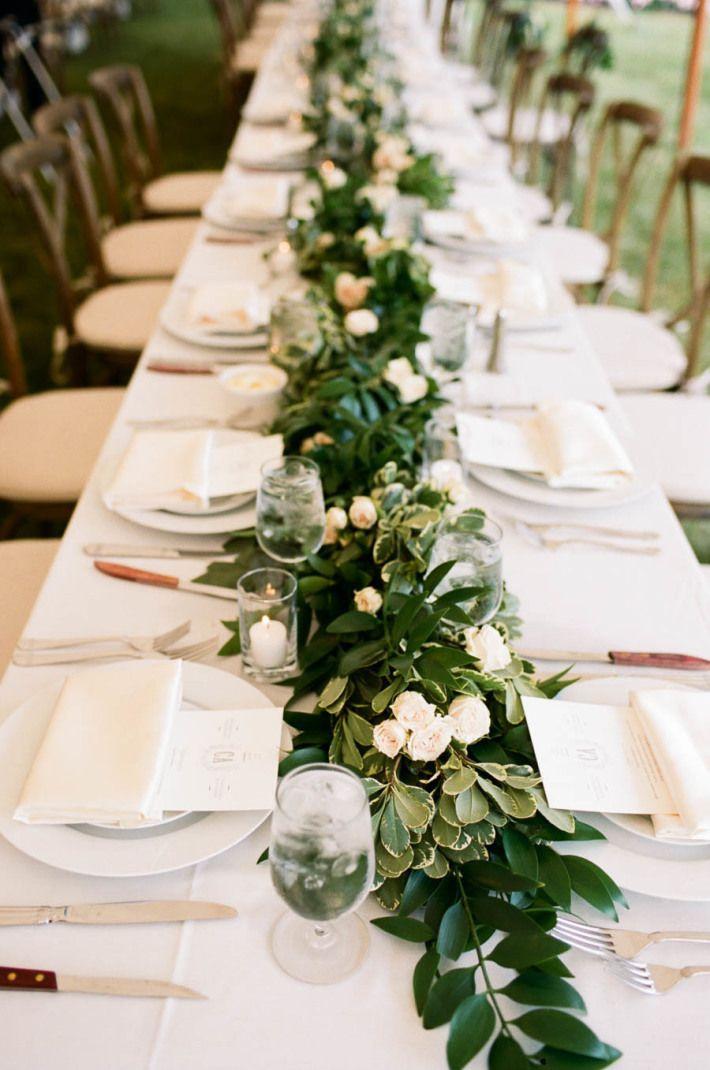 You can always add a few blush-hued blooms into your table garland for subtle pops of colour, like this rose-studded runner.
Ready for more wedding DIY? We explain how to make a wedding bouquet - it's easier than you think!