220 of the Best Wedding Ceremony Songs From Upbeat Tunes to Slow Ballads
Read on to discover the 220 best wedding ceremony songs, with some insider knowledge on how to pick the best music for your ceremony, no matter what the vibe is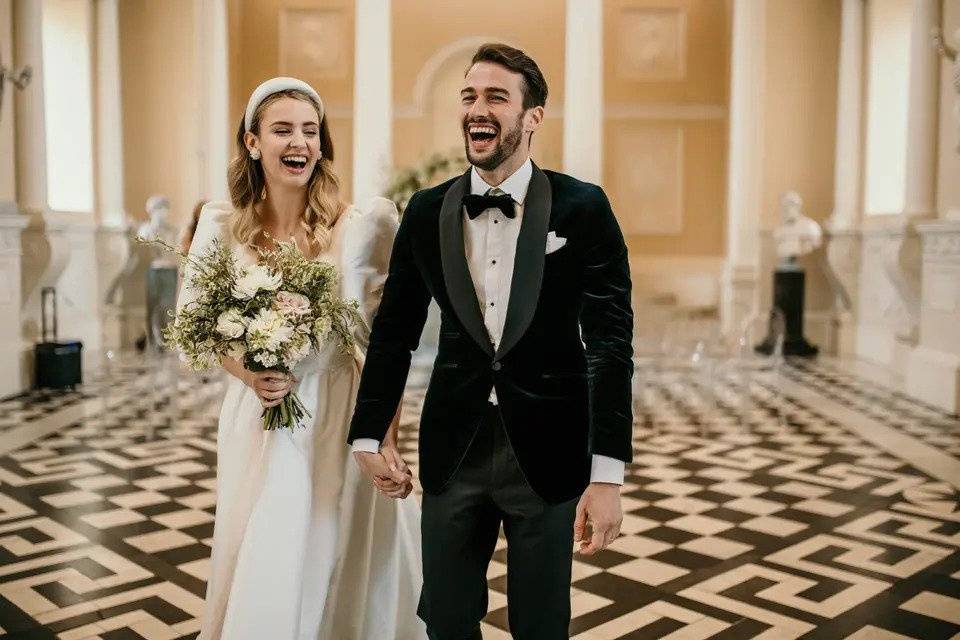 Wedding ceremony songs cover all the music you'll play during the ceremony. Getting the right music for the prelude (the time when the guests are taking their seats) and the processional (when the wedding party is walking down the aisle) will set the tone for your ceremony.
You might choose to go for something from our list of the best wedding songs of all time, which has plenty of options for your wedding ceremony songs, or from this list, which has been put together specifically to create a memorable atmosphere during your ceremony.
Wedding Ceremony Songs: The Best Wedding Music Ideas for a Memorable Ceremony
When it comes to choosing songs for a wedding ceremony, you also have to consider your big exit as newlyweds, too.
Here, you'll find our list of upbeat wedding ceremony exit songs sure to get the party started, as well as some top tips from wedding music expert Rosie from Tailor Made Music Agency to help you choose the best wedding ceremony songs for your milestone occasion.
Read on to discover amazing wedding music ideas sure to move hearts and get guests' feet tapping!
The Best Wedding Ceremony Songs From Upbeat to Romantic
Below you'll find our Spotify playlist of the best wedding ceremony songs, which includes wedding prelude songs and processional songs. Scroll down for the full list of wedding music ideas to inspire you.
1. Canon in D Major – Pachelbel Orchestra
2. Bella's Lullaby – Carter Burwell, Dan Redfeld, and Elizabeth Hedman
3. Make You Feel My Love – Adele
"I could make you happy, make your dreams come true. Nothing that I wouldn't do, I'd go to the ends of the Earth for you, to make you feel my love."
4. I'm Kissing You – Des'ree
5. The Secret Wedding (Braveheart) – David Arkenstone ft Kathleen Fisher
6. Better Together – Jack Johnson
"Love is the answer, at least for most of the questions in my heart."
7. Everybody's Free (To Feel Good) – Quindon Tarver
8. The Way You Look Tonight – Tony Bennett
9. Across the Stars (Episode II: Attack of the Clones) – John Williams
10. The Prince of Denmark's March (Trumpet Voluntary In D Major) – Royal Philharmonic Orchestra & Christian Rainer
11. A Thousand Years – Christina Perri
"Darling, don't be afraid, I have loved you for a thousand years, and I'll love you for a thousand more."
12. My Lover's Prayer – Otis Redding
13. From This Moment On – Shania Twain & Bryan White
14. Claire De Lune – Claude Debussy
"The calm light of the moon, sad and fair, that sets the birds dreaming in the trees, and the fountains sobbing in their rapture, tall and svelte amid marble statues."
15. Loving You – Minnie Riperton
16. I Knew I Loved You – Savage Garden
17. All Of Me – John Legend
18. When You Love a Woman – Journey
19. Circle of Life (The Lion King) – Lebo M & Carmen Twillie
20. Kisses and Cake – John Powell
21. This I Promise You – Ronan Keating
"My love, here I stand before you. I am yours now from this moment on. Take my hand, only you can stop me shaking. We'll share forever, this I promise you."
22. All I Ask of You (Phantom of the Opera) – Andrew Lloyd Webber
23. How Long Will I Love You – Ellie Goulding
24. A Groovy Kind of Love – Phil Collins
25. Londonderry Air – John Rutter & The Cambridge Singers
26. Canon In F – The O'Neill Brothers
27. Dreams Come True – Westlife
28. Glasgow Love Theme – Craig Armstrong
29. Just the Way You Are – Bruno Mars
30. Be Mine – David Gray
"From the very first moment I saw you, that's when I knew. all the dreams I held in my heart, had suddenly come true."
31. Here and Now – Luther Vandross
32. Perfect – Ed Sheeran
33. The Best of Me – Cliff Richard
"You were my one more chance, I never thought I'd find. You were the one moment, I'll always have in my mind."
34. Bridal Chorus (Lohengrin) – Richard Wagner
35. Halo – Beyoncé
36. Moon River – Frank Sinatra
37. Rule the World (Stardust) – Take That
38. The Luckiest – Ben Folds
39. Ode to Joy from Symphony No. 9 in D minor, Op. 125: Choral – Beethoven
40. Can You Feel the Love Tonight – Elton John
"And can you feel the love tonight? It is where we are."
41. Helena – My Chemical Romance Piano Tribute
42. If I Fall to Your Heart – Derwent Hannon
43. On the Wings of Love – Vitamin String Quartet
44. Endless Love – Lionel Richie & Diana Ross
"Two hearts, two hearts that beat as one. Our lives have just begun."
45. Love You More – JLS
46. On This Day – David Pomeranz
47. Trumpet Tune – Henry Purcell
48. She Is Love – Oasis
49. Thinking Out Loud – Ed Sheeran
50. Moonlight – Ariana Grande
"'Cause I never knew, I never knew you could hold moonlight in your hands. 'Til the night I held you, you are my moonlight."
51. Falling In Love With You Again – Imelda May
52. Let's Get Married – The Proclaimers
53. (They Long to Be) Close to You – Carpenters
"Why do birds suddenly appear, every time you are near? Just like me, they long to be, close to you."
54. Barry: Main Theme from Out of Africa – Erich Kunzel & Cincinnati Pops Orchestra
55. Chanson de Matin – Edward Elgar
56. Prelude from Te Deum – The Raglan Baroque Players & Nicholas Kraemer
57. (There Is) No Greater Love – Amy Winehouse
58. After All Is Said and Done – Beyoncé & Marc Nelson
59. Always – Bon Jovi
60. Gravity – Embrace
61. Love Is All Around – Wet Wet Wet
62. Sweet and Dandy – Tash Sultana
"Picking daisies from the flowers that grow and the life that there is. Surround me, surround me with your sunshine."
63. Nocturne – Frédéric Chopin, Daniel Barenboim
64. You'll Never Walk Alone (Carousel) – Rodgers & Hammerstein
65. Spring from The Four Seasons – Violin Concerto In E Major – Antonio Vivaldi
66. Feels Like Home – Edwina Hayes
67. Strange – (Celeste), Kris Bowler ft Hillary Smith, Bridgerton
68. Somewhere Over The Rainbow/What A Wonderful World – Israel Kamakawiwo'ole
69. Songbird – Oasis
"Gonna write a song, so she can see. Give her all the love she gives to me. Talk of better days that have yet to come. Never felt this love from anyone."
70. The Book of Love – Peter Gabriel
71. This Guy's In Love With You – Herb Alpert & The Tijuana Brass
72. All I Want Is You – Barry Louis Polisar
73. Amazed – Lonestar
"I wanna spend the rest of my life, with you by my side, forever and ever."
74. Any Other Name – Thomas Newman
75. The Only Exception – Paramore
76. Four Seasons – Summer III Presto – Antonio Vivaldi
77. No One – Alicia Keys
78. Always On My Mind – Willie Nelson
79. Amazing Day – Coldplay
"We sat on a roof, named every star and you showed me a place where you can be what you are."
80. Can't Help Falling In Love – Elvis Presley
81. Edelweiss – The New London Orchestra
82. Everything (Curtis & Moore Remix) – Mary J. Blige
"It's all because of you, I'm never sad and blue. You've brightened up my days in your own special way."
83. Le nozze di Figaro (The Marriage of Figaro), K. 492: Overture (arr. S. Bergler) – John Bauer Brass
84. Love Is Easy – McFly
85. Power of Love – Huey Lewis & The News
86. Bel Air – Lana Del Rey
87. Cherish – The Association
88. Evergreen (A Star Is Born) – Barbra Streisand
"Spirits rise and their dance is unrehearsed. They warm and excite us 'cause we have the brightest love."
89. Everything – Michael Bublé
90. Father-Daughter Dance – Wayne Jacobs
91. Haven't Met You Yet – Michael Bublé
92. Just Be – Paloma Faith
93. Love and Marriage – Frank Sinatra
94. Love Never Fails – Brandon Heath
"Love is the river that flows through. And love never fails you."
95. Love You I Do – Jennifer Hudson
96. Marry Me – Train
97. Nothing Else Matters – Metallica
98. Still In Love – Lionel Richie
99. Truly Madly Deeply – Savage Garden
"I'll be your dream, I'll be your wish, I'll be your fantasy. I'll be your hope, I'll be your love, be everything that you need."
100 All Time Love – Will Young
101. (You) Got What I Need – Freddie Scott
102. Grow Old With Me – Mary Chapin Carpenter
"Grow old along with me. Two branches of one tree. Face the setting sun. When the day is done."
103. Lovely Day – Bill Withers
104. I See You (Avatar) – Leona Lewis
105. Isn't She Lovely – Stevie Wonder
106. Love Oh Love – Lionel Richie
"Show the world and all its people all the wonders love can bring. Give us strength and understanding, give us all one song to sing."
107. My Girl – The Temptations
108. One – Ed Sheeran
109. Suddenly – Angry Anderson
110. Sweet Louise – Passenger
111. The One – Kodaline
112. The Power of Love – Jennifer Rush
"'Cause I'm your lady. And you are my man. Whenever you reach for me, I'll do all that I can."
113. Three Little Birds – Bob Marley & The Wailers
114. Two Hearts – Phil Collins
115. Verdi: Aida: Triumphal March & Ballet – Giuseppe Verdi
116. Wedding Day – Bee Gees
"From the first time that I saw you, to the way you look tonight, I was shaken by your spirit, I was blinded by your light."
117. When I'm Sixty-Four – The Beatles
118. You Are So Beautiful – Joe Cocker
119. Your Song – Ellie Goulding
120. You're Still the One – Shania Twain
"Looks like we made it. Look how far we've come, my baby. We mighta took the long way, we knew we'd get there someday."
121. A Million Dreams – P!nk
122. Merry Go Round of Life (Howl's Moving Castle) – Cover by Grissini Project
123. Killing Me Softly With His Song – Fugees
124. I See The Light (Tangled) – Mandy Moore and Zachary Levi
"And it's warm and real and bright, and the world has somehow shifted. All at once everything looks different, now that I see you."
125. Falling Slowly – Glen Hansard, Marketa Irglova
126. Seasons of Love – Rent
127. Conversations in the Dark – John Legend and Lindsey Stirling
128. So Close (Enchanted) – Jon McLaughlin
129. Kiss Me – Sixpence None The Richer
130. Sweet Nothing – Taylor Swift
"I find myself running home to your sweet nothings. Outside, they're push and shoving. You're in the kitchen humming. All that you ever wanted from me was sweet nothing."
131. Latch – Sam Smith
132. I Feel It Coming – The Weeknd ft. Daft Punk
133. September Song – JP Cooper
134. Bonfire Heart – James Blunt
135. At Last – Etta James
"You smiled, you smiled. Oh, and then the spell was cast. And here we are in heaven. For you are mine at last."
136. That's When I Knew – Alicia Keys
137. Little Things – One Direction
138. Never Gonna Be Alone – Nickelback
139. Those Sweet Words – Norah Jones
140. Turning Page – Sleeping at Last – "Your love is my turning page / Where only the sweetest words remain / Every kiss is a cursive line / Every touch is a redefining phrase."
Sweet and Upbeat Wedding Ceremony Exit Songs
We teamed up with the amazing wedding musician and DJ, Michael Mulholland, to bring you the best wedding ceremony exit songs for your grand exit as newlyweds! Whether it's upbeat wedding ceremony exit songs to get the party started or romantic music to continue the serenity of your union, there's something for everyone on our list below.
141. Best Day Of My Life – American Authors
142. Ho Hey – Lumineers
"I belong with you, you belong with me. You're my sweetheart. I belong with you, you belong with me. You're my sweet."
143. Today Was a Fairytale – Taylor Swift
144. I Say a Little Prayer – Aretha Franklin
145. All You Need Is Love – The Beatles
146. This Will Be (An Everlasting Love) – Natalie Cole
147. Greatest Love of All – Whitney Houston
148. You've Got The Love – Florence + The Machine
"When food is gone you are my daily meal. When friends are gone I know my saviour's love is real. You know it's real."
149. Love On Top – Beyoncé
150. Dancing in the Moonlight – Toploader
151. Death Do Us Part – Nick Jonas
152. Ever Ever After – Carrie Underwood
"Storybook endings, fairy tales coming true. Deep down inside we wanna believe they still do. In our secretest heart, it's our favourite part of the story. Let's just admit we all wanna make it too."
153. Just The Two of Us – Grover Washington Jr ft Bill Withers
154. Ain't No Mountain High Enough – Marvin Gaye and Tammi Terrell
155. Heroes – David Bowie
156. Photograph – Ed Sheeran
"Holding me closer 'til our eyes meet. You won't ever be alone, wait for me to come home."
157. Love Story – Taylor Swift
158. Love Will Keep Us Alive – Eagles
159. I'll Be Your Mirror – Velvet Underground
160. Joy – George Winston
161. 1+1 – Beyonce
162. Livin' on a Prayer – Bon Jovi
"We've gotta hold on to what we've got. It doesn't make a difference if we make it or not. We've got each other and that's a lot for love. We'll give it a shot."
163. (I've Had) The Time of My Life – Bill Medley and Jennifer Warnes
164. My Universe – Coldplay ft BTS
"And you (you), you are (you are) my universe. And you make my world light up inside."
165. Shut Up and Dance – WALK THE MOON
166. Walking On Sunshine – Katrina and the Waves
167. Kiss of Life – Sade
168. You Are the Best Thing – Ray LaMontagne
169. I Do – Colbie Caillat
"You can trust I've never felt it like I feel it now. Baby, there's nothing, there's nothing we can't get through."
170. You're the One That I Want – Grease, Olivia Newton-John and John Travolta
171. Send Me On My Way – Rusted Root
172. Melting – Kali Uchis
173. Higher Love – Kygo and Whitney Houston
174. L-O-V-E – Joss Stone
175. Be My Baby – The Ronettes
"I'll make you happy, baby, just wait and see. For every kiss you give me, I'll give you three."
176. Can't Stop The Feeling – Justin Timberlake
177. Superposition – Young the Giant
178. In My Blood – Shawn Mendes
179. Loyal – Lauren Daigle
180. Bless the Broken Road – Rascal Flatts
"This much I know is true. That God blessed the broken road that led me straight to you."
181. True Love – P!nk ft Lily Allen
182. Electric Love – BØRNS
183. Teenage Dream – Katy Perry
184. On Top Of The World – Imagine Dragons
185. A Sky Full Of Stars – Coldplay
"'Cause you get lighter the more it gets dark. I'm gonna give you my heart, oh."
186. Lovesong – The Cure
187. Accidentally In Love – Counting Crows
188. Island In The Sun – Weezer
189. Modern Nature – Sondre Lerche
"Why the world is right when you're near? (Oh, is that so?) Stay a while and wait and see."
190. Sweet Creature – Harry Styles
191. Signed, Sealed, Delivered (I'm Yours) – Stevie Wonder
192. Can't Take My Eyes Off You – Frankie Valli and the Four Seasons
193. I Believe In A Thing Called Love – The Darkness
"I believe in a thing called love. Just listen to the rhythm of my heart."
194. Get Lucky – Daft Punk
195. Anything Could Happen – Ellie Goulding
196. Love Lust – King Charles
197. Wind Beneath My Wings – Bette Midler
198. I Wanna Dance With Somebody – Whitney Houston
"Yeah, I wanna dance with somebody. With somebody who loves me"
199. Bring Me Sunshine – Morecambe & Wise
200. Arrival of the Birds – The Cinematic Orchestra
201. I Do, I Do, I Do, I Do, I Do – ABBA
202. It Had to Be You – Harry Connick
203. Sweet Disposition – The Temper Trap
"Baby, it had to be you, wonderful you."
204. I Wanna Love Somebody Like You – Keith Urban
205. Don't Stop Me Now – Queen
206. Come and Get Your Love – Redbone
"Hail, with it, baby, 'cause you're fine. And you're mine, and you look so divine."
207. Hooked On A Feeling – Björn Skifs
208. Take Yo' Praise – Camille Yarbrough
209. Play That Funky Music – Wild Cherry
210. All Night Long – Lionel Richie
211. (Your Love Keeps Lifting Me) Higher And Higher – Jackie Wilson
212. Meet Me At Our Spot – Tyler Cole
"Baby, are you coming for the ride? When I look into your eyes I just wanna hold you all night."
213. Who We Love – Sam Smith, Ed Sheeran
214. Your Guardian Angel – The Red Jumpsuit Apparatus
75. Wildest Dreams – Taylor Swift
216. Sweet Child O' Mine – Guns n Roses
217. AMAZING – Rex Orange County – "Don't change a thing, you are amazing / I can't believe you've come and saved me"
218. Hold You Here – This Wild Life
219. Lift Me Up – Black Panther: Wakanda Forever, Rihanna
220. I'm In Love With You – The 1975
How Many Songs Are Enough for a Wedding Ceremony?
We caught up with the amazing Rosie from Tailor Made Music Agency to bring you the scoop on the perfect number of songs for a wedding ceremony.
For a typical civil ceremony, Rosie advises couples to, "Choose four to five special songs: an entrance song, an exit song, and two to three pieces to entertain your guests while you're signing the register. Some couples also like to choose music to create a beautiful atmosphere as their guests arrive and take their seats."
"If you're breaking with tradition in any way," Rosie continues, "You don't need to stick to that. For example, if you and your partner both plan to make an entrance, you might choose two different entrance songs! If you're having a celebrant-led ceremony, you can use music completely differently. In that case, you can select as many songs as you like."
What Songs Are Needed for a Wedding Ceremony?
The key sections of your wedding ceremony that you require music for are:
Prelude
Processional
Signing of the register
Recessional
Post-wedding music, to move between the ceremony and reception
For each section, think about whether you want calming or upbeat ceremony music. Will you have songs or just instrumentals? Will you have gentle background music while the register is being signed or it is hymns all the way for you? Do you want something playing while you say your vows?
Our playlist contains lots of different genres and tempos so have a listen to them all and get a sense of what feels right for you. Because there's so much choice, we've actually created separate inspirational playlists for the signing of the register and the recessional (when you exit the church) but these beautiful songs could be used at any point during the ceremony.
Rosie shares her insider knowledge on the kind of music needed for a meaningful ceremony: "The songs you hear at your wedding ceremony will remain in your memories for a lifetime. So they need to be chosen carefully. They could be songs that already have a special meaning to you as a couple or simply songs that reflect your personality and unique style.
"I love helping couples to choose a blend of old and new pieces that go seamlessly together. My go-to is usually something traditional for the entrance, familiar modern favourites during the register signing, and something quirky and fun for the exit."
"If you're playing original tracks or have booked a singer, you need to make sure the lyrics to your chosen songs are wedding-friendly. Songs about heartbreak are probably best avoided! Using an instrumental version is a brilliant way to get around a problem lyric. If there's a song you both love, but you're afraid the lyrics might offend your granny, have a string quartet perform it! Problem solved!"
How Long Should a Wedding Ceremony Entrance Song Be?
This is up to you! Some couples opt for a two to five minute song to begin when their wedding party starts walking down the aisle, others prefer a concise but meaningful 20-second fanfare that's reserved just for when the couple meets at the altar.
Depending on how you wish your day to flow, your ceremony music can be whatever length you desire. Most wedding musicians and DJs can tailor the length of your favourite songs to meet your vision.
Now that you've created your dream wedding soundtrack, check out these award-winning bands and DJs who know just how to get the party started!