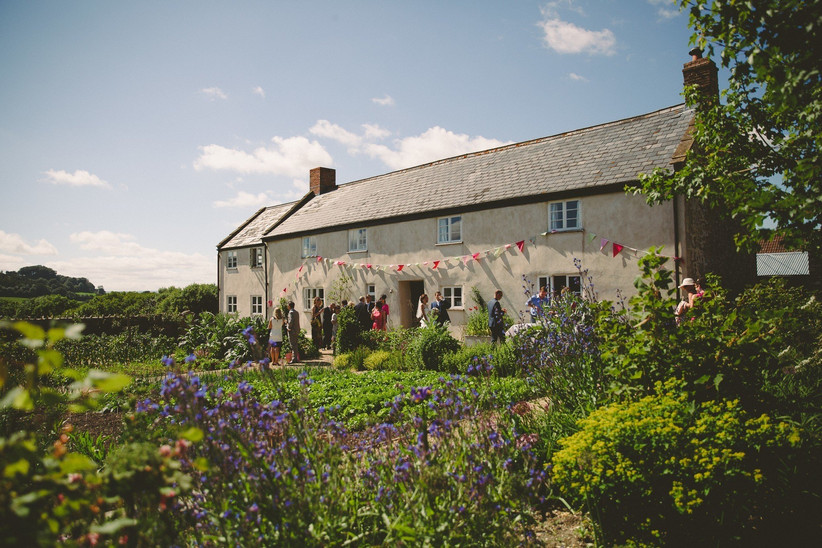 From barn wedding venues to grand country manors, rustic wedding venues come in all shapes and sizes.
What kind of rustic venue you like will depend on your style, but whichever you choose, you're guaranteed a joyful, relaxed day in beautiful surroundings.
To help you narrow down your choices, we've put together our pick of the most charming rustic wedding venues from across the UK that you're going to love.
1. Crockwell Farm – Northamptonshire
Set among the rolling Northamptonshire countryside, Crockwell Farm is a pretty barn venue surrounded by beautiful gardens. The 18th century oak-beamed, vaulted barn is the epitome of rustic chic, with exposed brick walls and flowers hanging from the beams.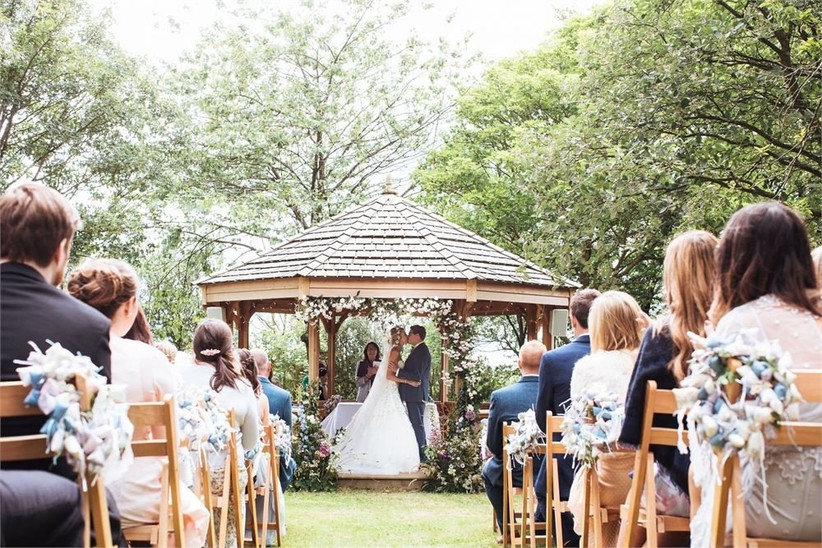 You can also have an outdoor wedding under their pretty wooden gazebo or in their permanent marquee which has stunning views across the open valley. They've partnered with Ross & Ross catering who have a simple, unfussy approach to delicious food which fits with the venue's relaxed, rustic atmosphere.
2. Tythe Barn Launton – Oxfordshire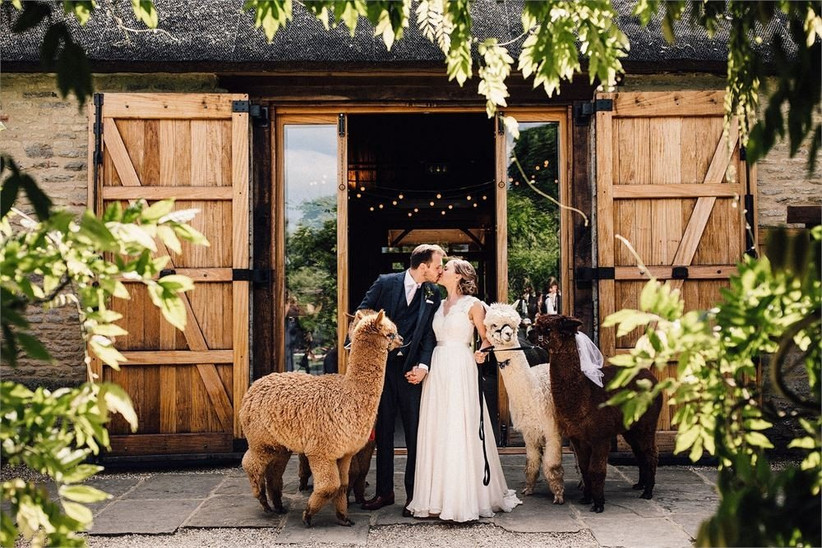 These three, beautifully restored 14th century barns are bursting with charm and character. If you want a venue that already oozes 'rustic' without a lot of dressing up, Tythe Barn is the one. That said, there's festoon and fairy lights, a drinks station, sweet cart and wood-fired pizza oven you can take advantage of to make the day your own.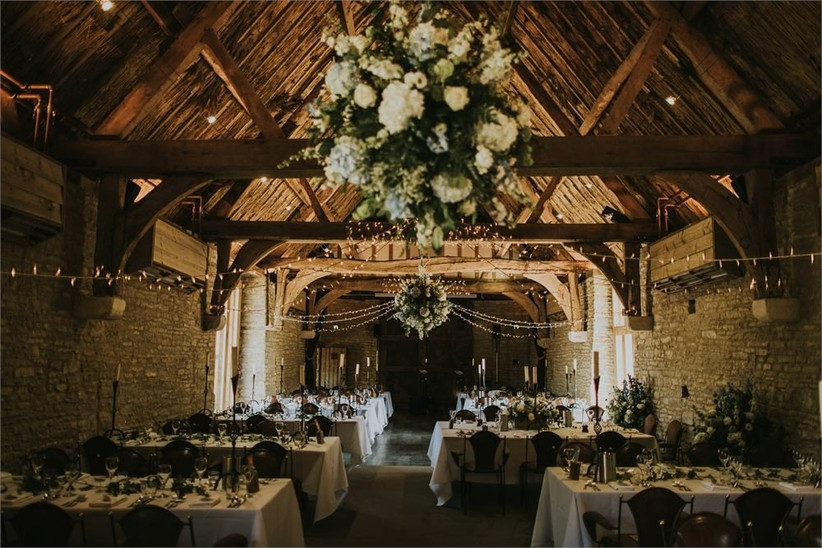 You'll be able to use the luxurious bridal preparation barn filled with chandeliers and large ornate mirrors; a Shepherd Hut bridal suite for a cosy first night of married life; and the Tythe Barn and Cowshed are where you can actually tie the knot and celebrate into the night.
3. The Glasshouse at ANRAN – Devon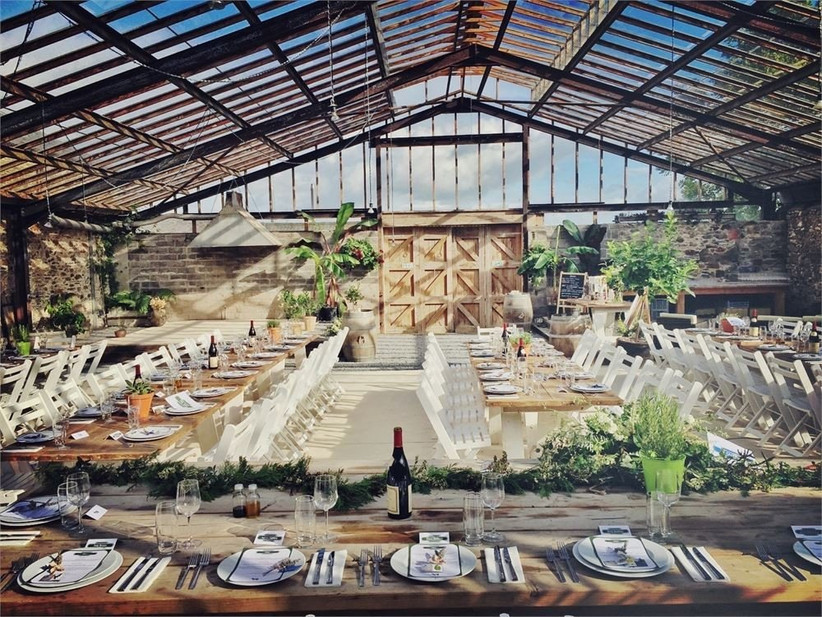 Proving not only barns can pull off a wonderful rustic look is the magnificent Glasshouse at ANRAN. It's a luxury venue but with a simple, nature-inspired look and welcoming atmosphere. The unique glasshouse, which can hold up to 200 guests, is bursting with exotic plants and wows with very little extra decoration.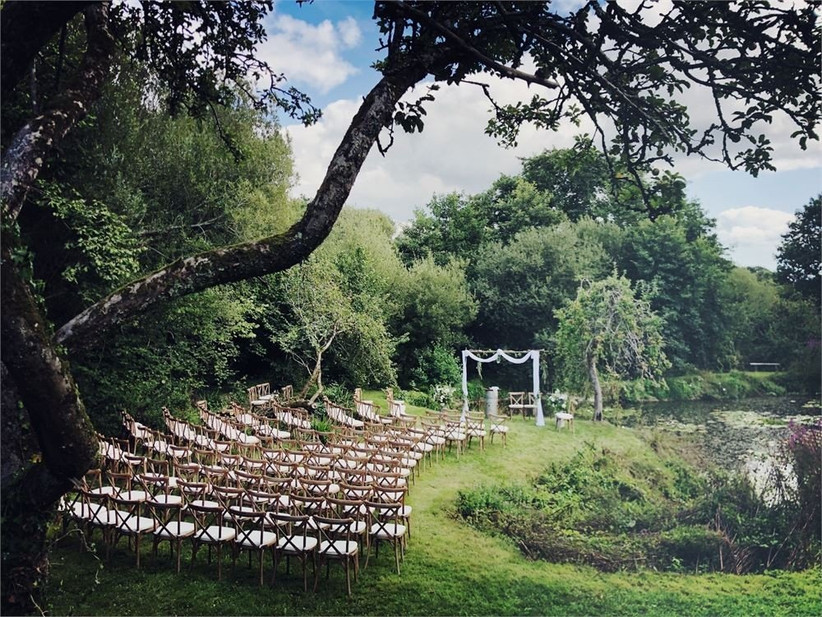 You can also host a ceremony or cocktails on the lawn by the lake or have a hog roast in their Hay Barn.  'The Hut' is a favourite at Hitched – a cowshed with an underground bar feel where you can party late into the night and sit around a firepit while strumming the guitar.
4. Winkworth Farm – Wiltshire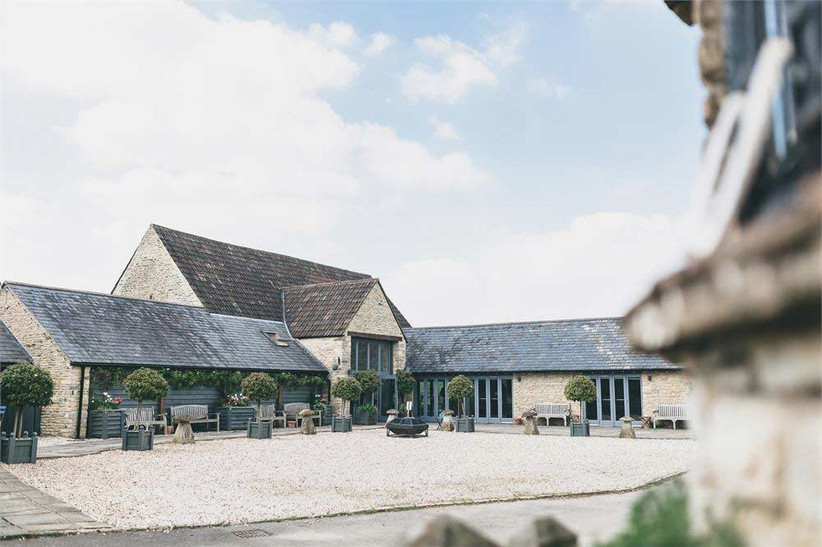 Winkworth Farm in Wiltshire is a family-run, rustic wedding venue located on the edge of the Cotswolds. It has stunning barns, gardens and converted farm buildings with 220 acres of organic pastureland.
Couples can have their wedding ceremony in either the Roundhouse Gardens or The Long Barn for up to 150 guests, or the main Threshing Barn can host a ceremony for up to 200. The light and bright rustic interiors make it a beautiful place to get married in.
READ MORE:  The Best Barn Wedding Venues in the UK
5. Tipis at Beaumont Hall – Hertfordshire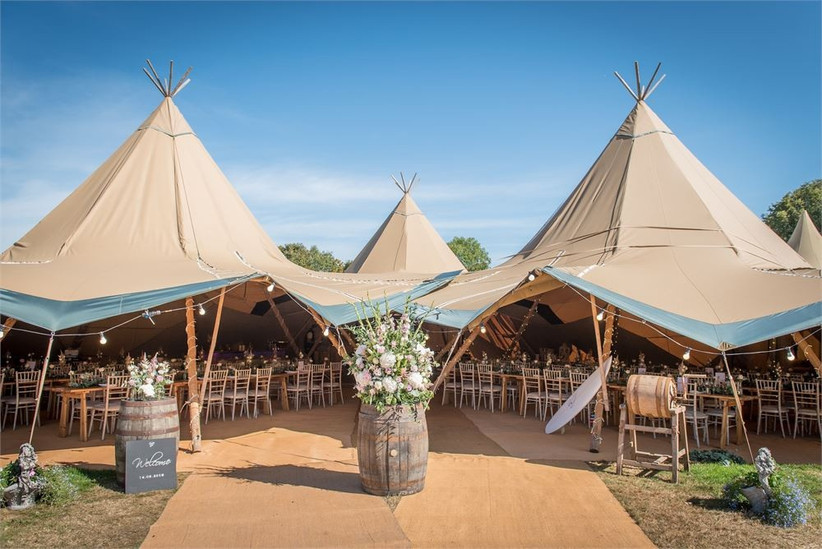 Both the Grade II-listed Beaumont Hall farmhouse and the tipis in its grounds truly embrace a rustic theme. They offer versatile and beautiful spaces that couples can transform with their own décor. The tipis are our favourites, coming with fairy lights strung round the poles and fire pits outside.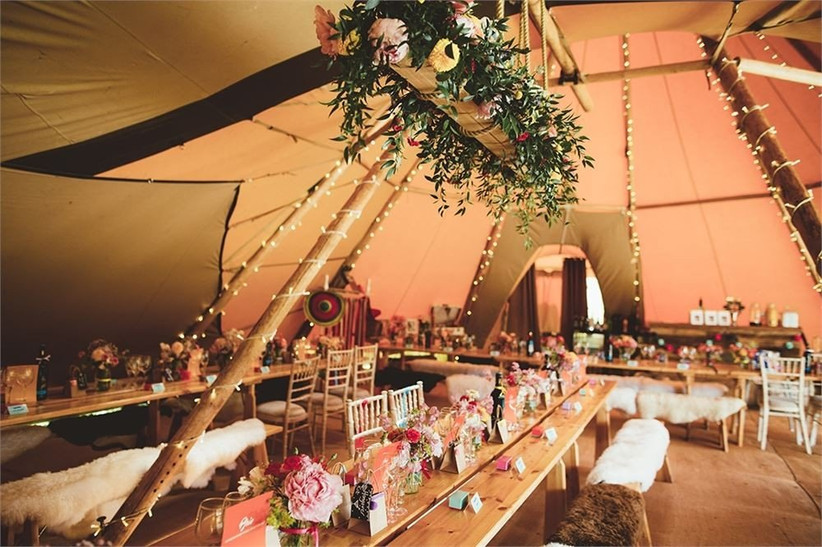 Beaumont Hall is in the heart of Hertfordshire, in St Albans, so it has excellent transport links to London. You wouldn't believe you can find this kind of rustic venue so close to the capital.
6. Eden Barn – Cumbria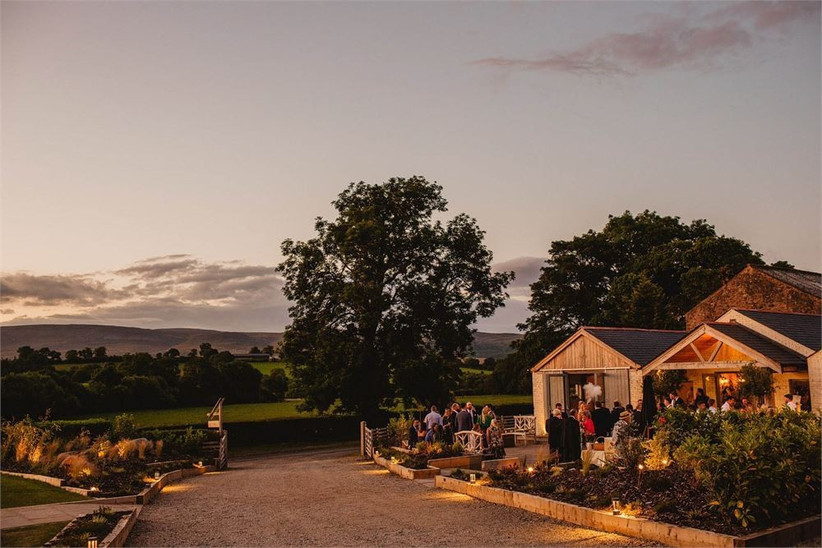 Eden Barn in Cumbria is a  rustic wedding venue with a modern twist. This gorgeous traditional 200-year-old Westmorland stone barn venue oozes charm from the vaulted ceiling to the exposed stone walls and limestone flagged floors.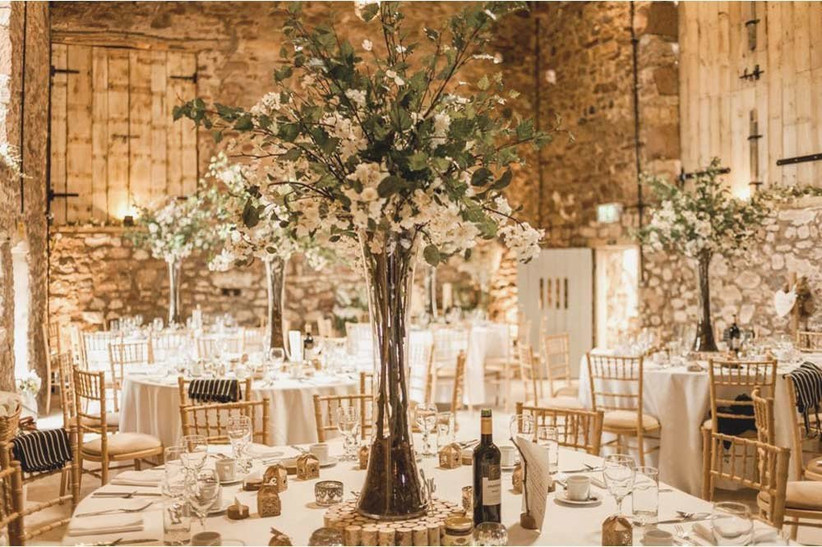 From the picturesque scenery and traditional barn features to the charming décor and canopy of fairy lights, there isn't a rustic wedding venue out there that feels more magical than this one. Take a peek through the oak barn doors and you'll see exactly what we mean.
7. Hayne Devon – Devon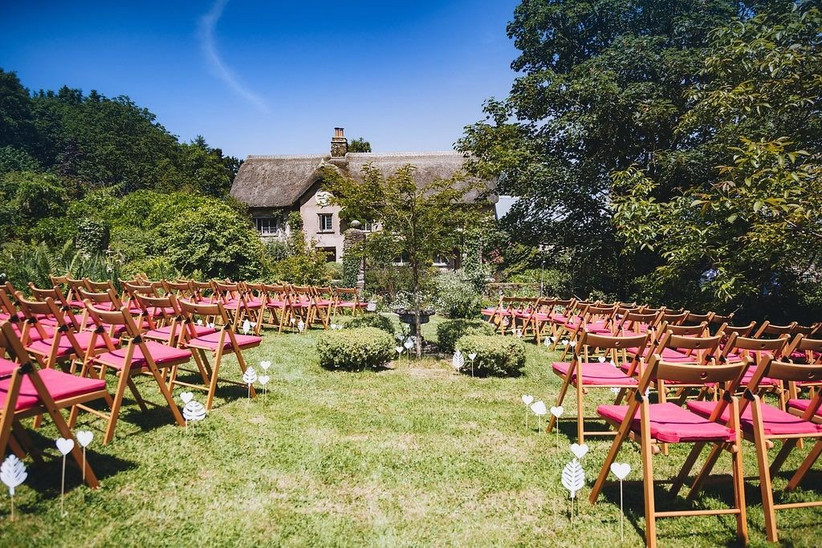 If you want a wedding venue with soul, Hayne Devon is ideal. Set among rolling hills and surrounded by green fields and wildflower meadows, this Grade II-listed site was restored with the help of English Heritage and local craftsmen to create a magical venue. The house is light and spacious, with a magical walled garden, sun terrace and Threshing Barn for weddings and to act as a backdrop to your photos.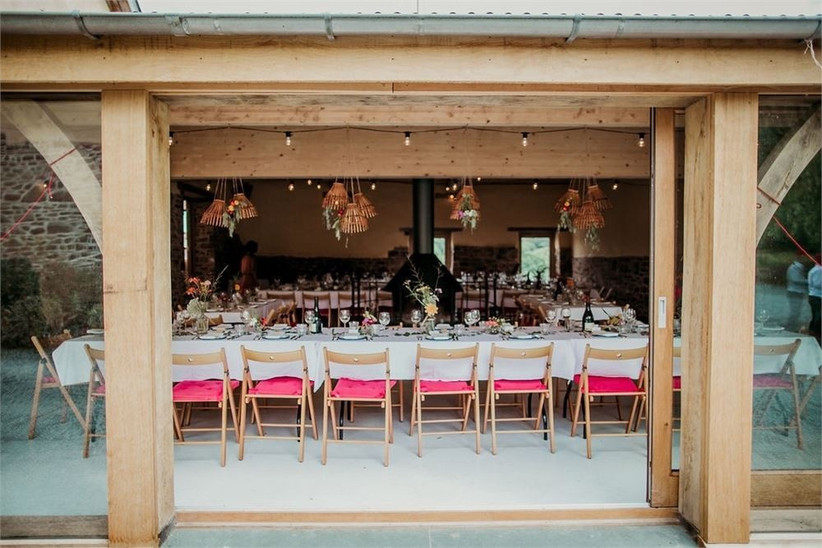 Hayne is a passion project for owners Tim and Milla, both musicians who can provide entertainment and are committed to sustainability. They grow their own sustainable flowers on site and offer a florist service as well as having an extensive list of local suppliers who believe in their vision. You'll have 48 hours exclusive use so enjoy a relaxed, free-spirited celebration with friends and family.
8. Pimhill Barn – Shropshire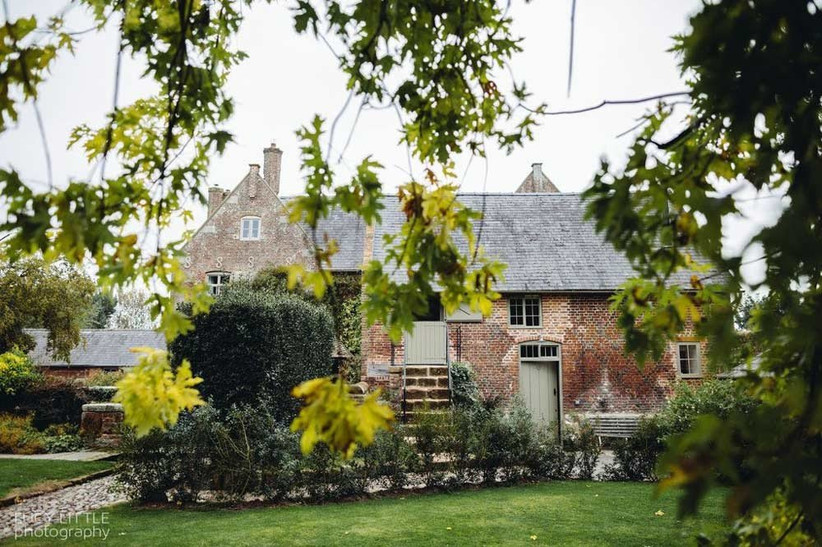 If a historic wedding venue is what you're after, you'll adore Pimhill Barn in Shropshire, which dates back to 1584. This rustic barn wedding venue is a blank canvas waiting to be transformed so if you're a creative couple who want to make a wedding venue your own – this could be the choice for you.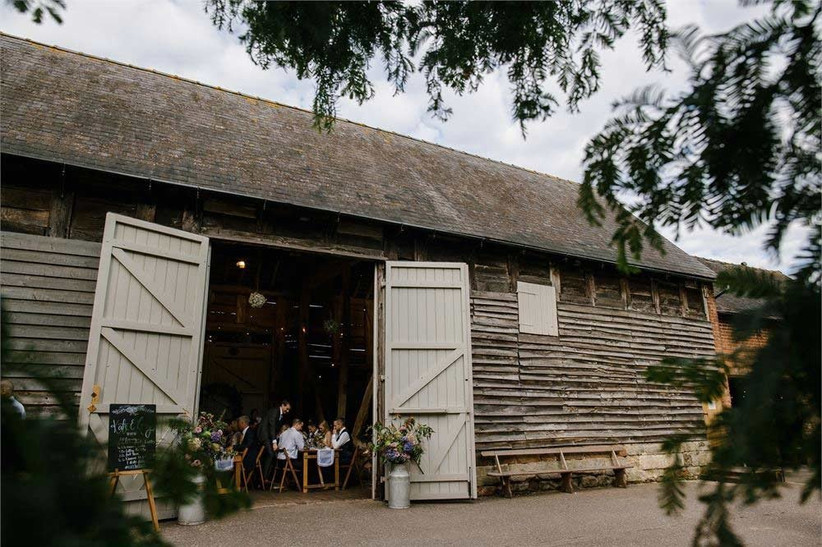 With capacity for up to 250 guests, couples can plan the ultimate rustic themed wedding celebration here without having to worry about anyone being left off the invitation list.
9. Dewsall Court – Herefordshire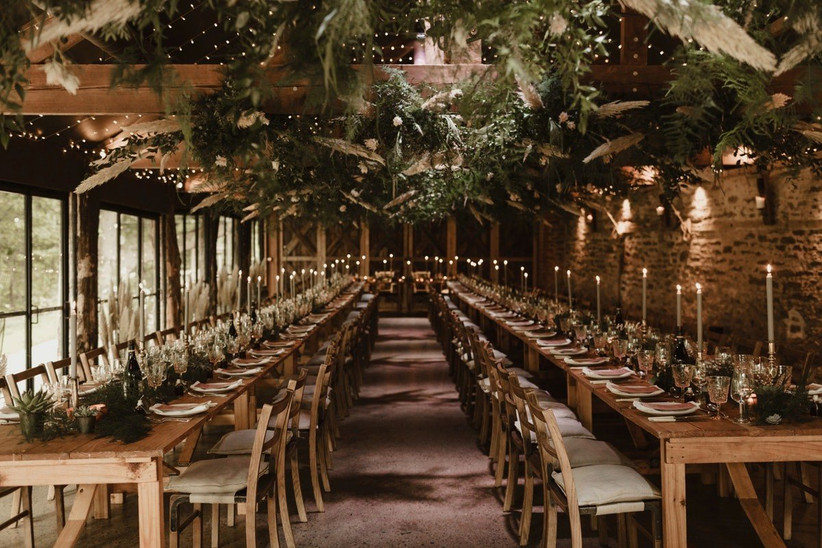 Located in the picturesque Hereford countryside, Dewsall Court is the rustic wedding venue of your dreams. The atmosphere in this grade II listed country house wedding venue is romantic and welcoming and the 12 acres that surround it offer the same gorgeous ambience. Stylishly decorated rooms, open fires and more await you inside, while outside you can enjoy views across the breathtaking Black Mountains.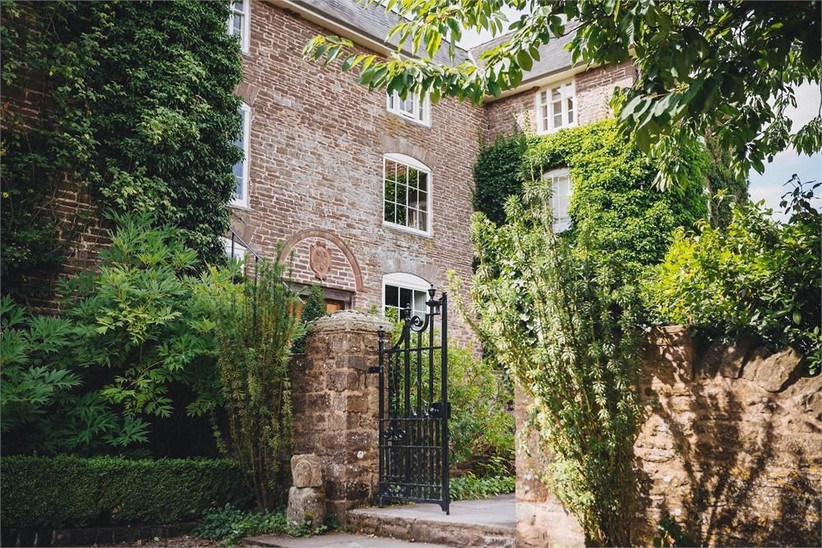 If combining a rustic wedding venue with modern décor and themes sounds like your idea of heaven, Dewsall Court may well just be the wedding venue for you. It also comes with accommodation for two nights for 20 people!
10. Cripps Barn – Gloucestershire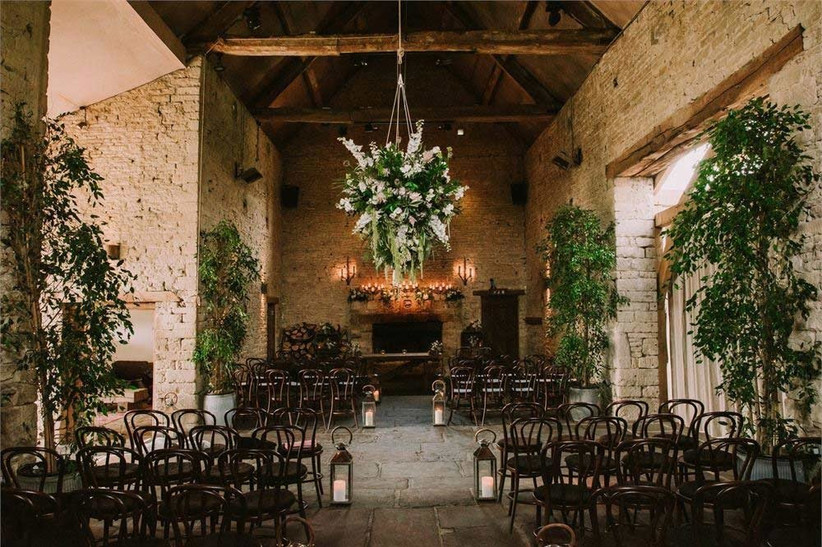 Cripps Barn in Gloucestershire is one of the most beautiful rustic wedding venues around and has been open for parties since 1990. The traditional brick barn can hold up to 150 seated guests and has outdoor space too if you'd prefer an al fresco ceremony.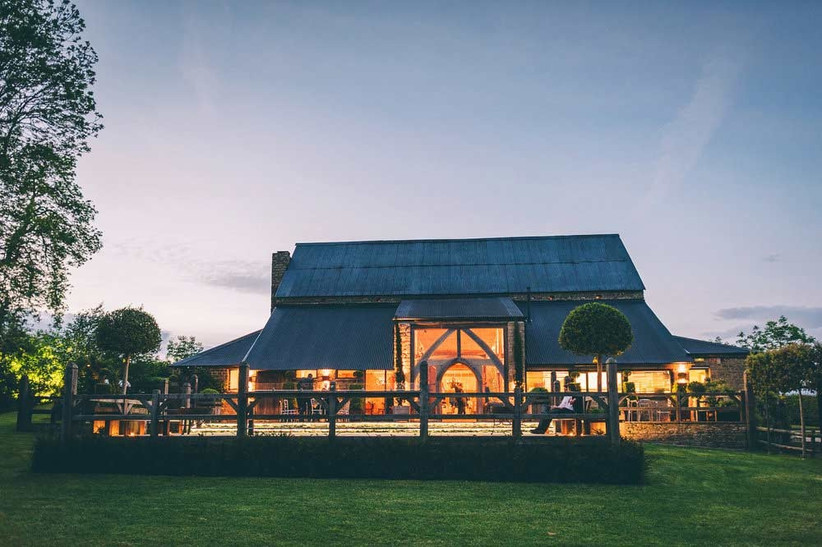 The grounds and décor aren't the only selling point at Cripps Barn. Their menu is pretty incredible too with an indoor BBQ and rotisserie available all-year-round to add some theatre to your reception dinner.
11. Cain Manor – Surrey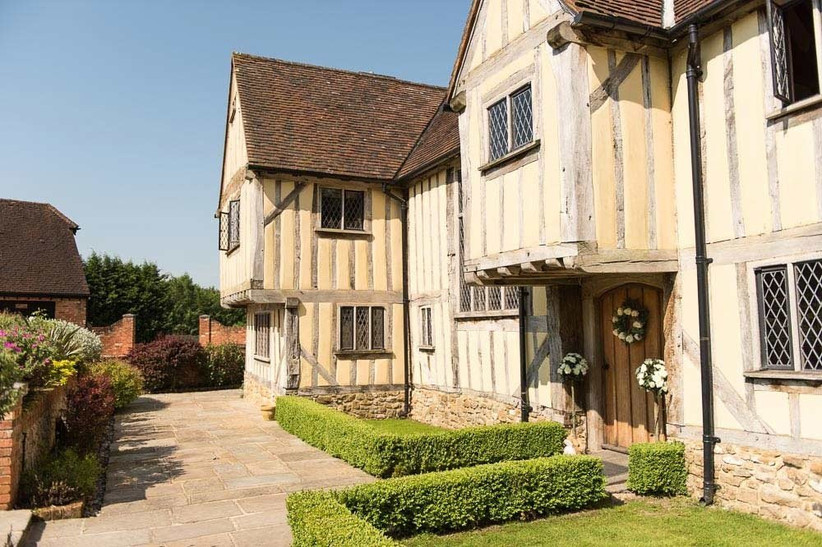 Cain Manor is a stunning, exclusive wedding venue in Surrey. The manor house was restored in the early 2000s and, despite having capacity for up to 150 wedding guests, has a cosy and romantic feel to it. No rustic wedding venue would be complete without wood-beamed ceilings and a beautiful barn ceremony room and Cain Manor ticks all the boxes.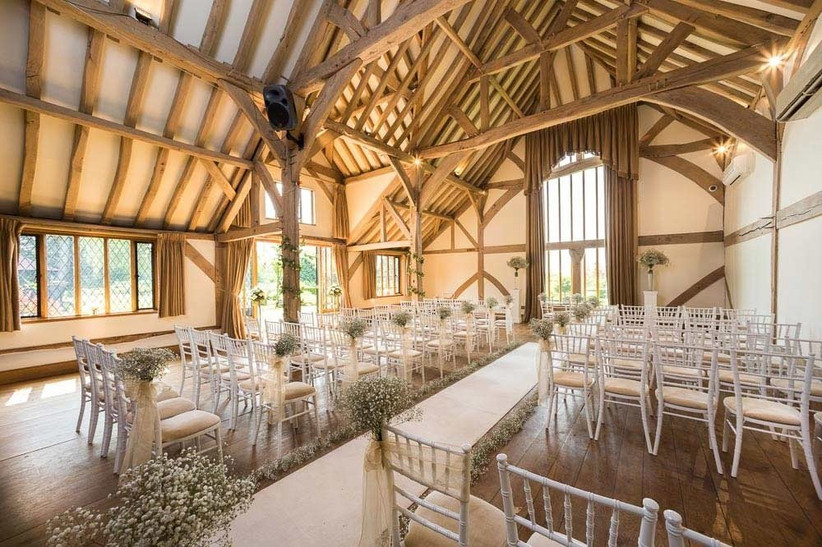 It's a beautiful country house and barn wedding venue complete with 14 guest bedrooms, unbeatable views, and Bijou's experienced wedding coordinators on hand to make your day run smoothly.
12. Sulgrave Manor – Oxfordshire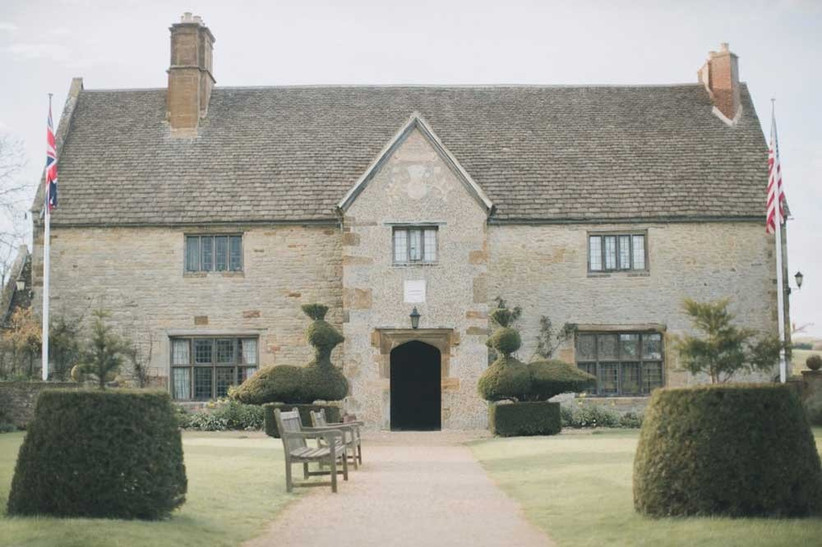 Couples looking for a rustic wedding venue that still feels light, airy and modern will fall head over heels in love with Sulgrave Manor in Oxfordshire. This 16th century manor house and barn wedding venue can host weddings of up to 150 guests and offers couples no corkage fee!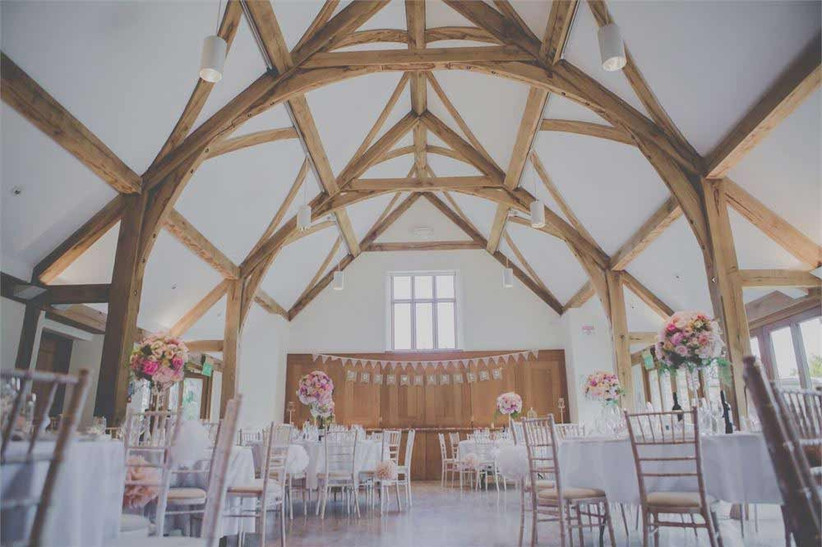 A flexible venue, Sulgrave Manor allow couples to choose all of their  wedding suppliers and caterers  freely and with no restrictions – making them the perfect fit for couples who want to handpick each and every supplier. Got plans for a bigger wedding? You can set up a marquee or tipi in their peaceful wedding paddock.
13. Blake Hall Weddings – Essex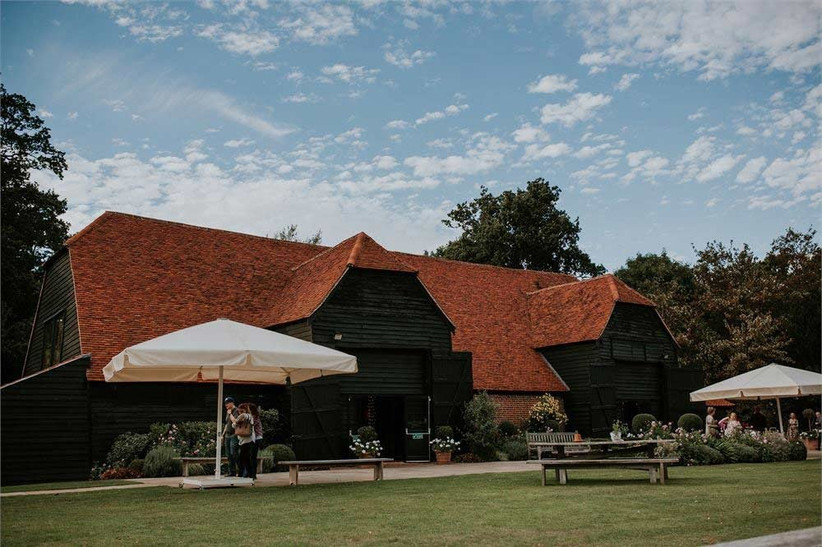 Blake Hall in Essex has the rustic wedding venue brief down to a T. From wooden beams and fairy lights to romantic décor and wooden barn exterior, this wedding venue embodies the warm, relaxed vibe and 'shabby chic' look everyone is after.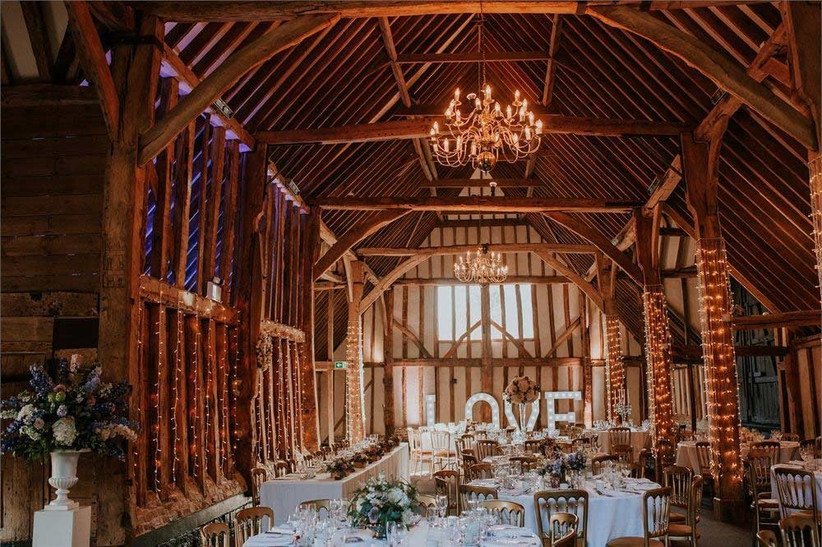 Located in the gorgeous Essex countryside, this wedding venue and its surrounding three acres of greenery will have you and your guests feeling a million miles away from the rest of the world. As well as Essex Barn, you can marry in their newly-restored and more modern Hay Barn, or have an outdoor wedding under the canopy of the Saddlery.
14. The Normans – North Yorkshire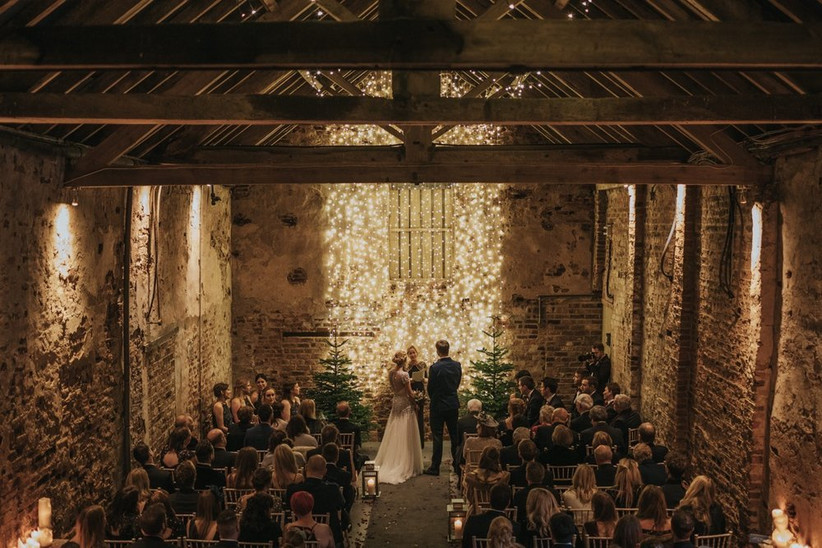 If you and your partner are hopeless romantics and want your wedding day to reflect that, why not consider The Normans in North Yorkshire? This magical farm wedding venue is bursting with charm and contemporary rustic décor. Featuring an enchanting wall of cascading fairy lights to marry in front of, it epitomises 'country cool'.
From the festoon lighting-filled courtyard to the unique marquee housed inside an old farm building, the list of quirky and special features at The Normans is never-ending. Their furniture and tables are made from reclaimed wood for that natural, aged look which will really stand out in photos.
15. River Cottage – Devon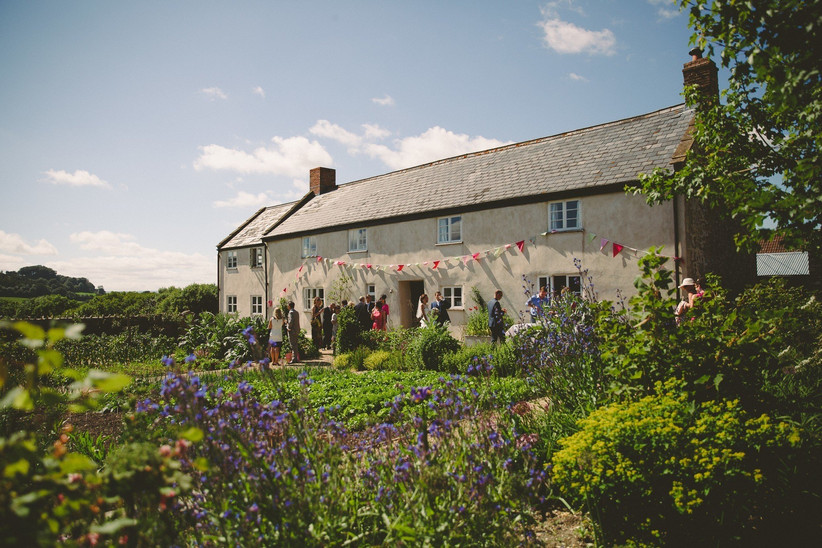 Could you see yourself getting married at a wedding venue in the countryside? River Cottage in Devon is a gorgeous countryside and coastal wedding venue, located just a short distance from the beautiful Jurassic Coast. With 65 acres of farmland to explore and unspoilt views of Devon's rolling countryside, this rustic yet modern wedding venue is a perfectly picturesque place to say 'I do'.
Naturally – being owned by chef Hugh Fearnley-Whittingstall – the food is a major draw here. Complement your rural setting with a menu of the finest home-grown, local, organic and seasonal ingredients, cooked with love by their talented in-house chefs.
16. The Granary Estates – Suffolk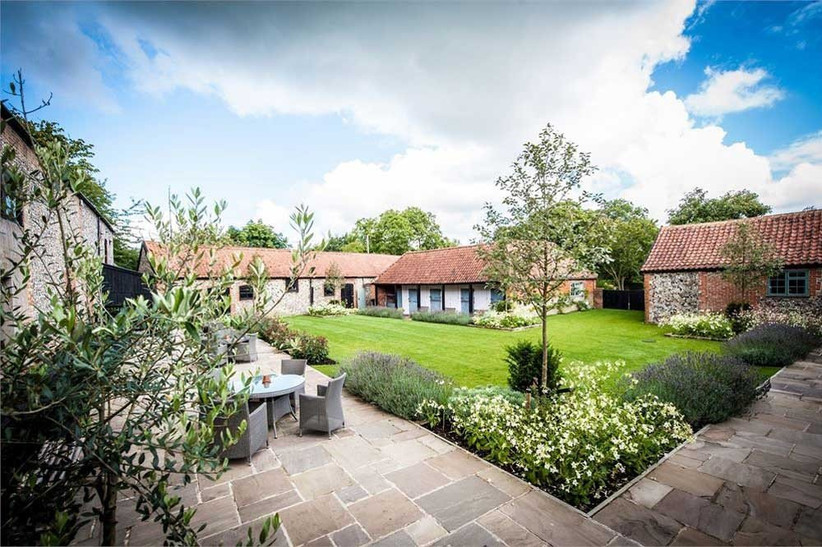 The Granary Estates is an award-winning wedding venue located in the quaint village of Woodditton in Suffolk. This gorgeous barn wedding venue has a choice of two barns, The Granary Barn and the Flint Barn, for couples to choose from. Built in the 18th century, the barns boast charming original features which only add to the overall rustic theme.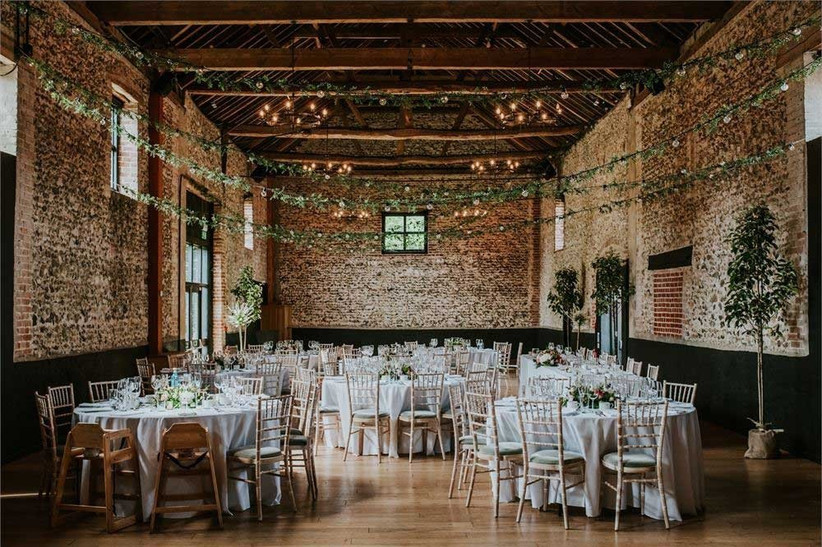 With flint walls, original timber beams and surrounded by picturesque cornfields, it's an idyllic spot to tie the knot. The open glass walkway that links the two barns also leads to a private courtyard – the perfect place for sunny reception drinks in the summer months!
17. Trevenna – Cornwall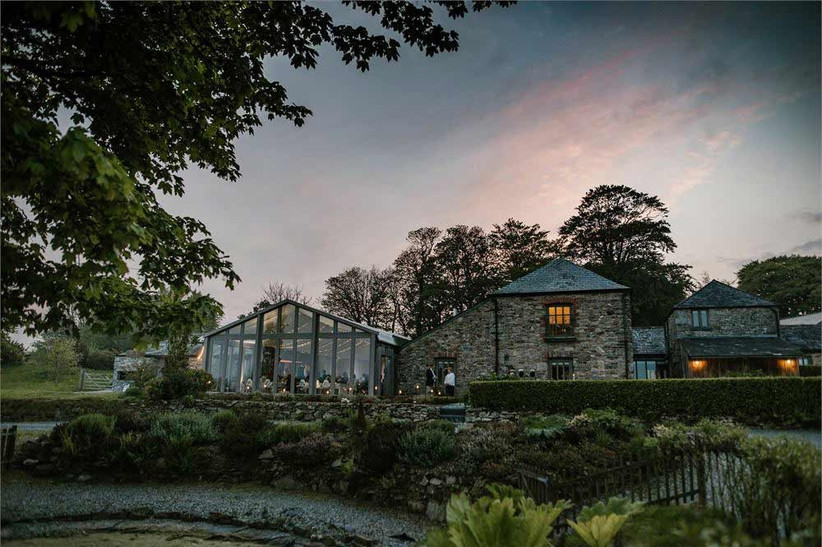 Unlike many wedding venues, the gorgeous Trevenna in Cornwall offers couples exclusive hire for up to three days, meaning your wedding celebrations can continue for an entire long weekend. With that, you'll have free roam of the garden venue and Threshing Barn at Trevenna, plus there's 142 acres of Cornish countryside to explore and a handcrafted oak and slate Arbour to marry under outside.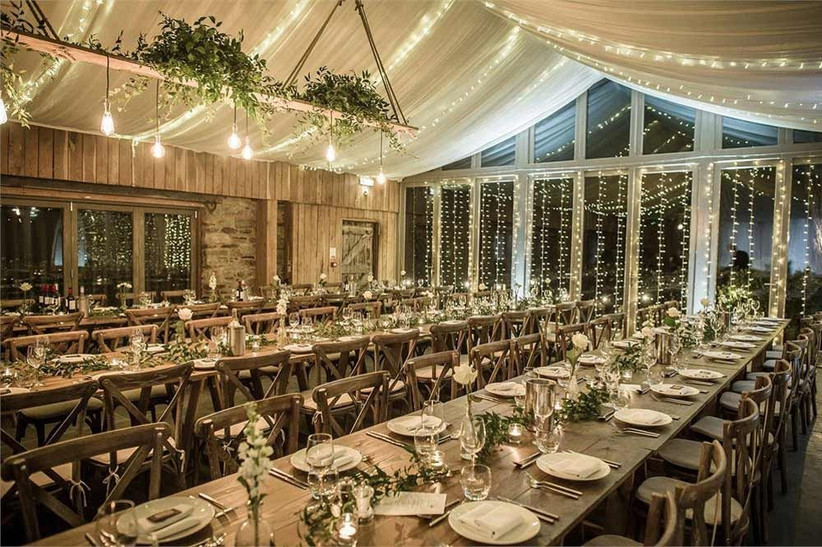 Their barns look stunning all-year-round and you'll find a magical space to celebrate with up to 150 guests regardless of the weather. In keeping with the local, homey feel, your menu will be created on the day by Trevenna's kitchen from that day's produce. The bars are stocked with local ales, lagers, ciders and a range of Cornwall-made spirits.
18. Arnos Vale – Bristol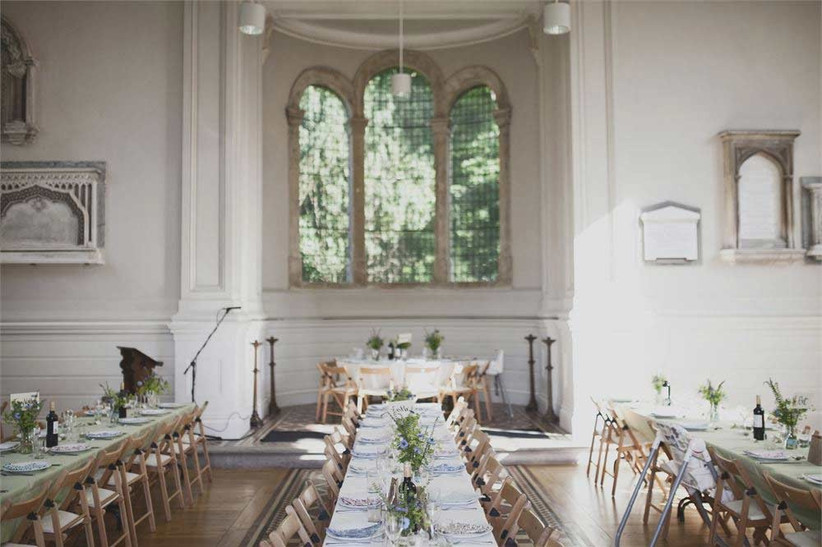 Arnos Vale in Bristol is a totally unique wedding venue. This 45 acres of land in the heart of Bristol is a former Victorian cemetery turned urban wildlife haven, filled with lush woodland and atmospheric Victorian buildings. Arnos Vale has three different wedding venues on site: the Underwood Centre, the Victorian Anglican Chapel or the Spielman Centre.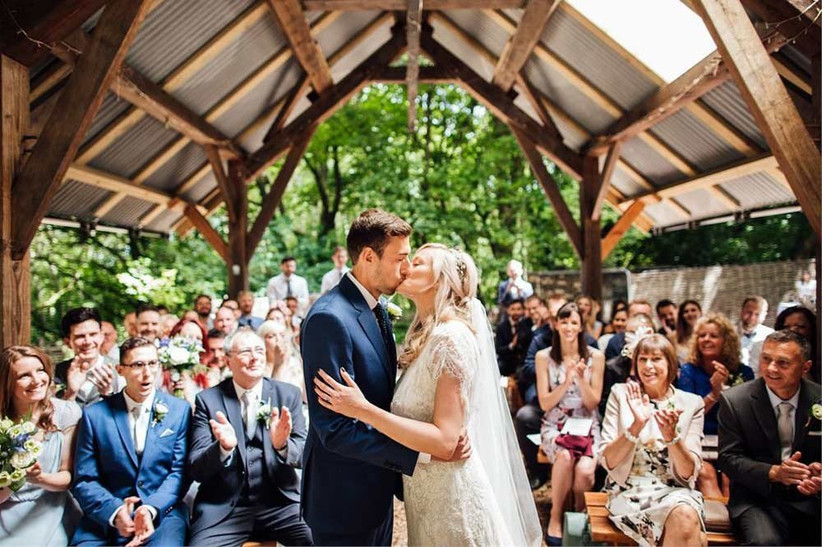 All three offer something totally different but share the same rustic vibe. Whether it's an outdoor wedding in the wildflower-spotted woodland of the Underwood Centre or an indoor celebration among the grandeur of the pillared Spielman Centre, you're guaranteed a beautiful and individual day at Arnos Vale.
19. Healey Barn – Northumberland
Unlike many rustic wedding venues, Healey Barn was only restored and launched as a venue in 2015. Despite its young age, this gorgeous barn wedding venue has plenty to shout about. The Long Barn is lit by 100 flickering candles and a canopy of fairy lights for a stunning ceremony space (plus it has a large roaring fire at one end that makes it even more atmospheric in the winter!), while a sun-soaked courtyard transforms into an enchanting evening space with firepits and lanterns.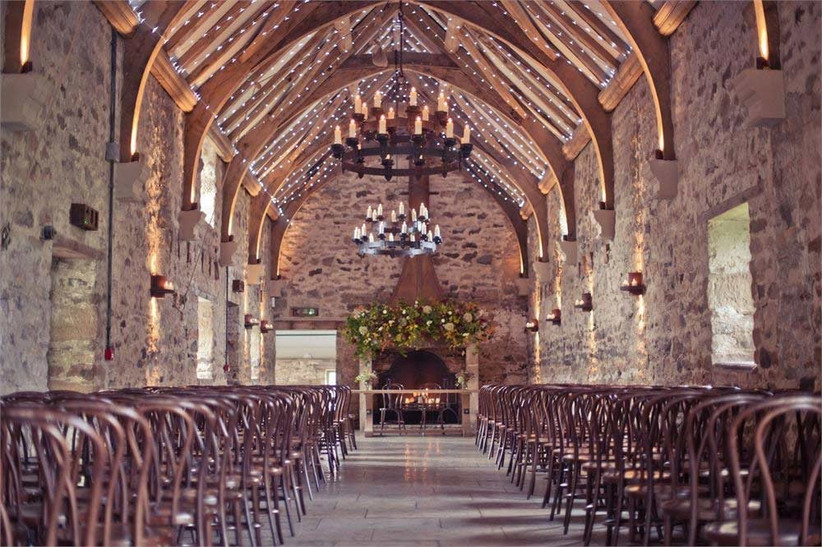 Not ready to have just one day in the charming exterior and grand interior of Healey Barn? They've just opened accommodation for up to 34 people in the recently renovated Healey Hall so you and your nearest and dearest can celebrate with breakfast too. If you're looking for a new wedding venue that's bursting with style, Healy Barn could be the one for you.
20. Notley Abbey – Buckinghamshire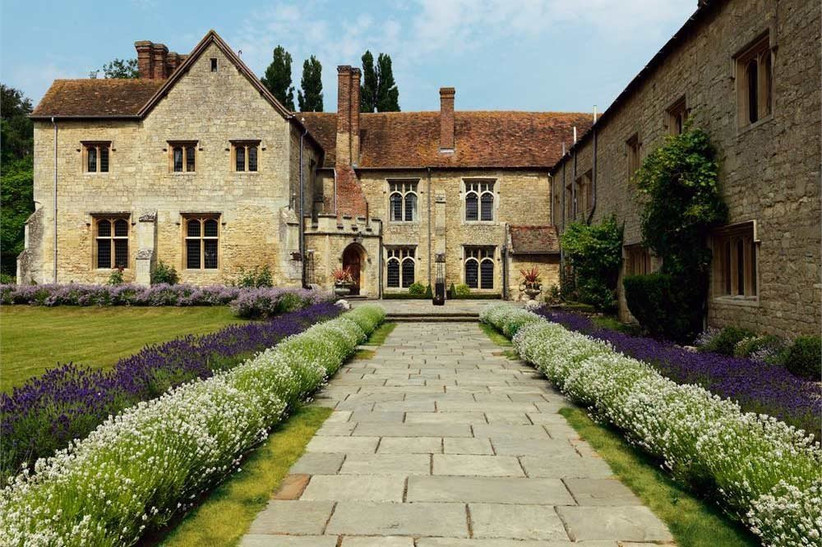 Notley Abbey is a glamorous wedding venue that dates back to the 12th century and was once the home of Laurence Olivier and Vivien Leigh. Set on the Oxfordshire-Buckinghamshire border, this beautiful, rustic wedding venue is one of the finest around.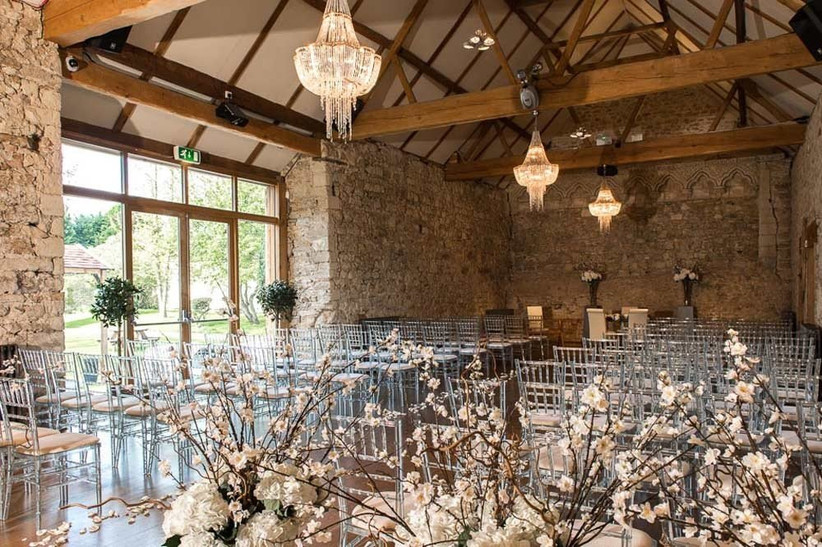 It still holds onto its monastic history with your wedding breakfast whipped up by their world-class banqueting team and served in the restored Monks' Refectory, parts of which date back to 1192 and which used to host the daily meals of the Augustine Monks who lived on site. Inside the house, you'll find the grand Abbott's Hall, an oak-beamed reception rooms featuring warm, open fire places. Upstairs are nine luxury bedrooms, including a wonderful bridal suite
For more rustic wedding venue inspiration, be sure to check out our range of effortlessly beautiful barn wedding venues – they're to die for!