31 DIY Wedding Decoration Ideas You Can Easily Master
Check out our favourite DIY wedding decoration ideas and get crafty. From garlands to pew ends and even ceremony backdrops, you'll be surprised at just how easy it is to create some show-stopping DIY wedding decorations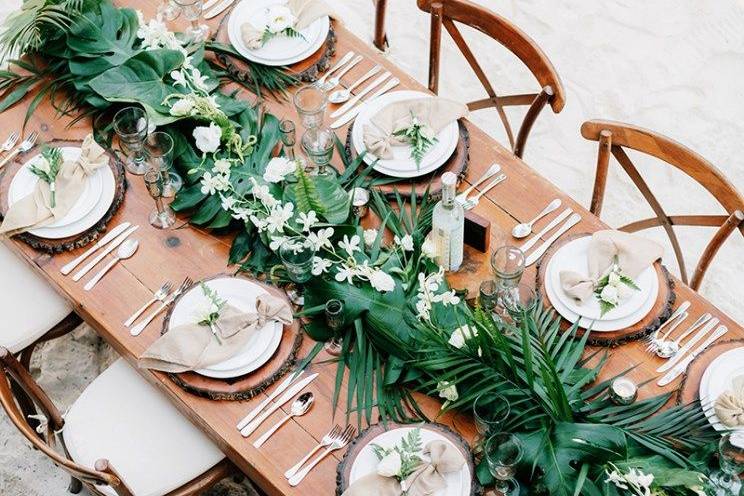 Wedding DIY can be a daunting task: most of us haven't picked up a glue gun or a paint brush since we were at school. Doing it yourself can save you money and give your wedding something totally unique, so it's worth getting back in touch with your creative side.
To ensure success, pick out wedding decoration ideas that play to your natural skill set (for example, if you're a knitter, you may enjoy macramé) and really inspire you. If you're enthusiastic about what you're doing and have a clear vision of the end goal in mind, you'll be way more likely to achieve your wedding DIY dreams. Trust us.
We also recommend starting small: below you'll find a macramé pew end that most should be able to create with a little time and patience. Gain your confidence with this and you'll be more than ready to take on the dreamy macramé table plan hanging.
If you're already feeling overwhelmed by the idea of weaving a wall hanging, give the wild flower jam jar arrangements or pine cone place name holders a go - sometimes the simplest ideas make the biggest impact.
READ MORE:
1. Eucalyptus Hoop Wreaths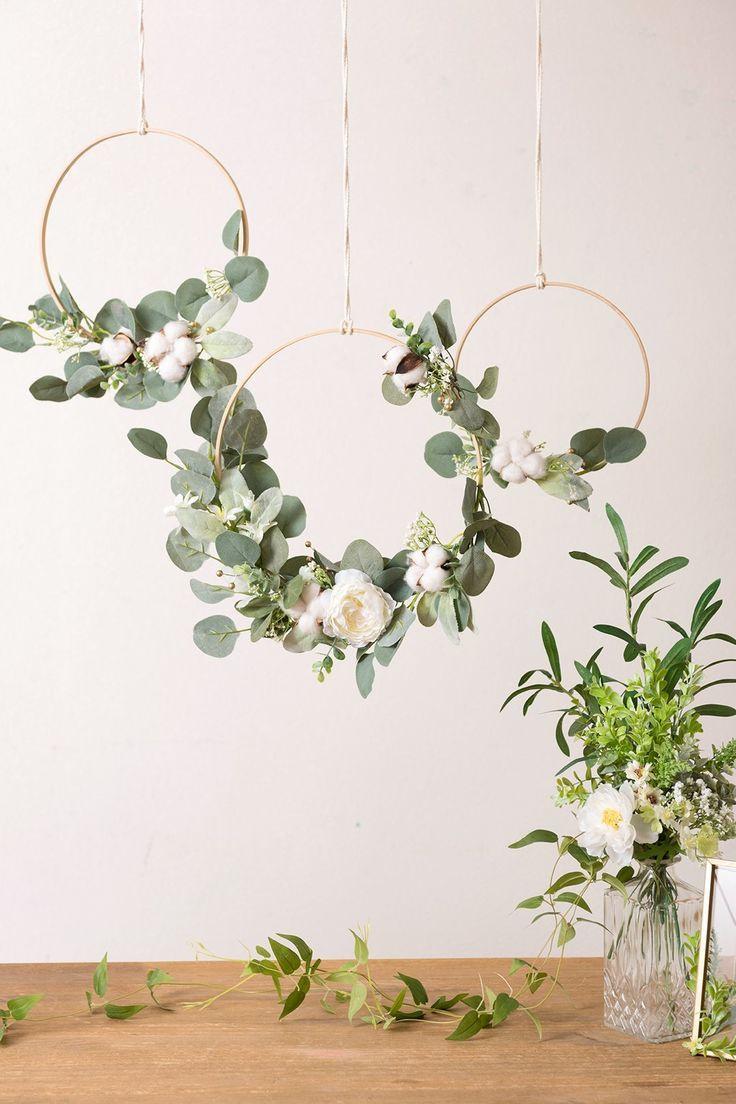 Wooden hoops and faux foliage can be picked up at craft stores for seriously purse-friendly prices, making this a cheap as well as simple wedding DIY idea. Use green florists tape to attach sprigs of eucalyptus to the hoop, overlapping each sprig to conceal the tape. Keep it green or add faux rose heads or wax flowers that coordinate with your wedding colours. You can hang these above tables, as part of a dessert table display or on the back of chairs.
2. Chair End Flowers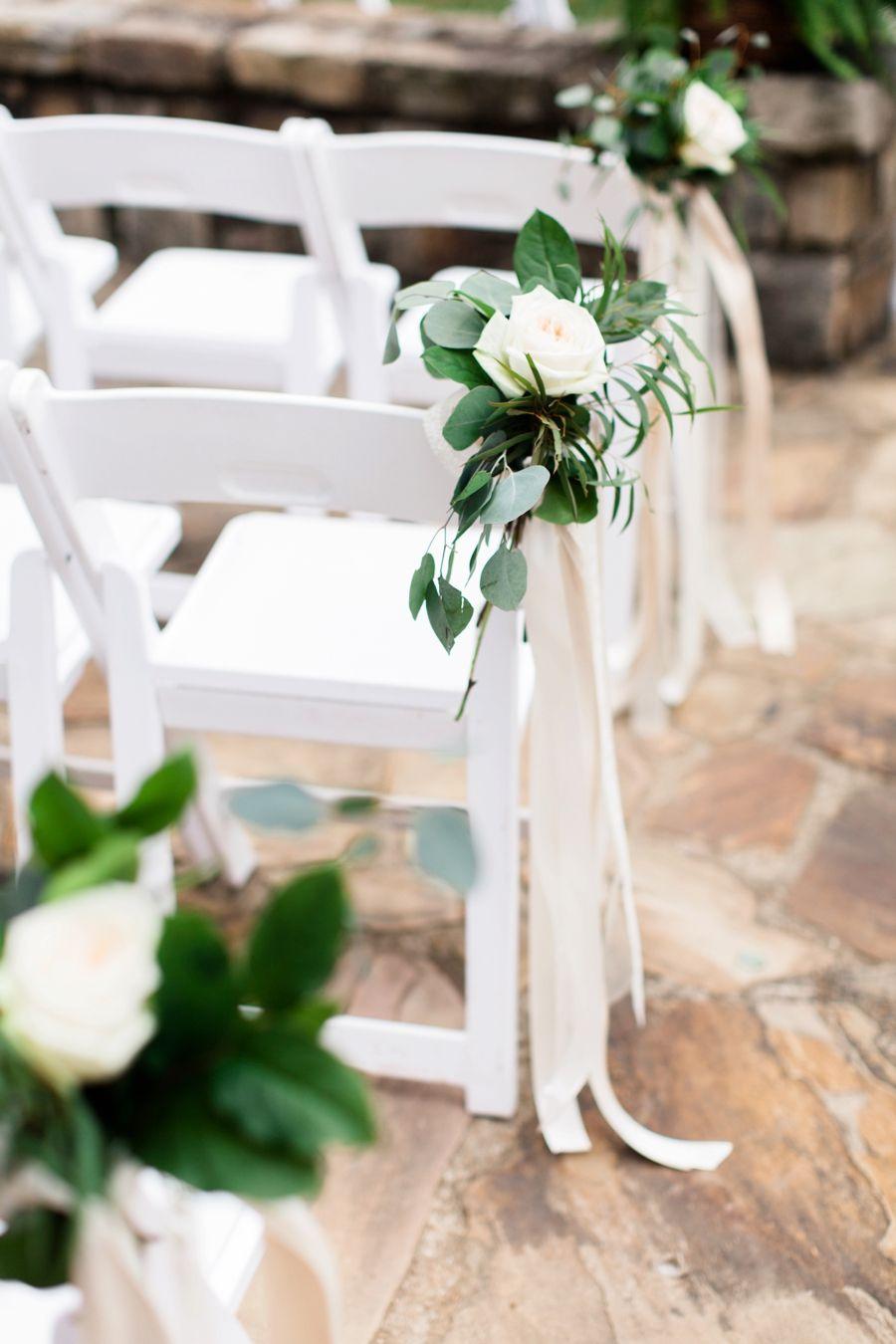 An incredibly simple yet effective way of jazzing up some plain chairs is by adding a small sprig of greenery and a single stem of one of your wedding blooms to the top. Arrange sprigs of greenery at varied lengths for a romantic wildflower feel and add lengths of ribbon that overlap the aisle.
3. Wildflower Jar Centrepieces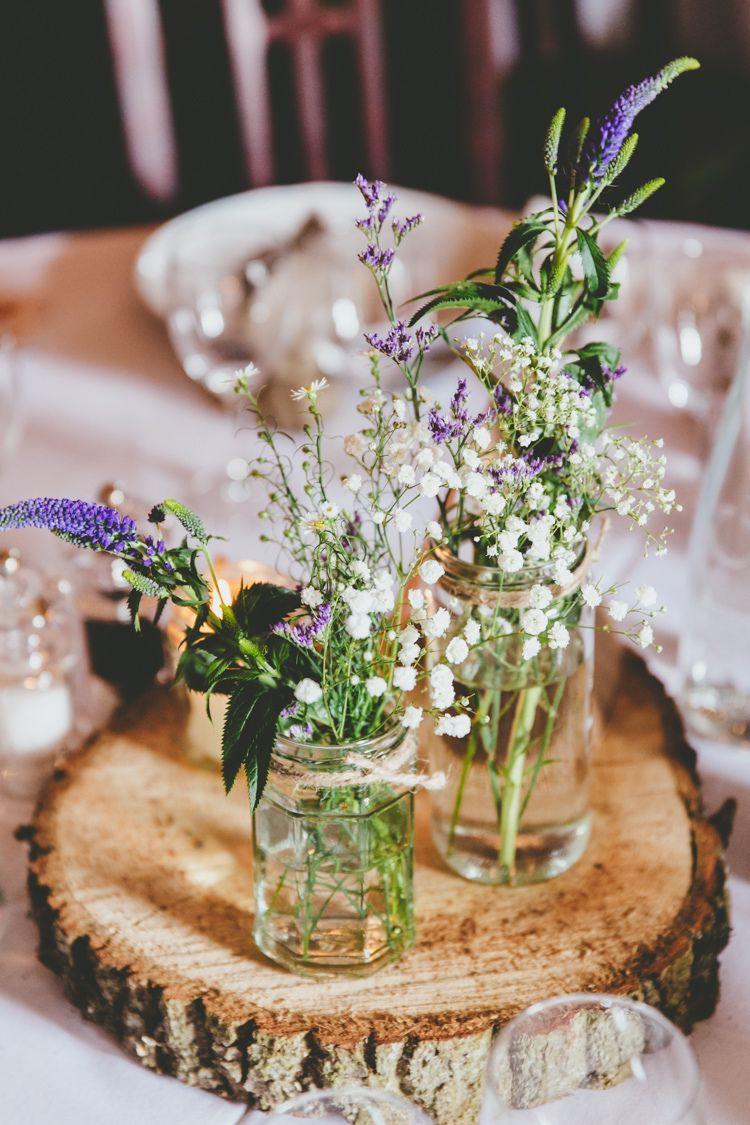 These stunning wildflower centrepieces are one of the easiest DIY wedding ideas on our list. All you need to do is select some of your favourite stems and sprigs, cut them to varying heights and pop them in some recycled jam jars. Add some ribbon or parcel string for a rustic touch!
4. Illuminated Backdrop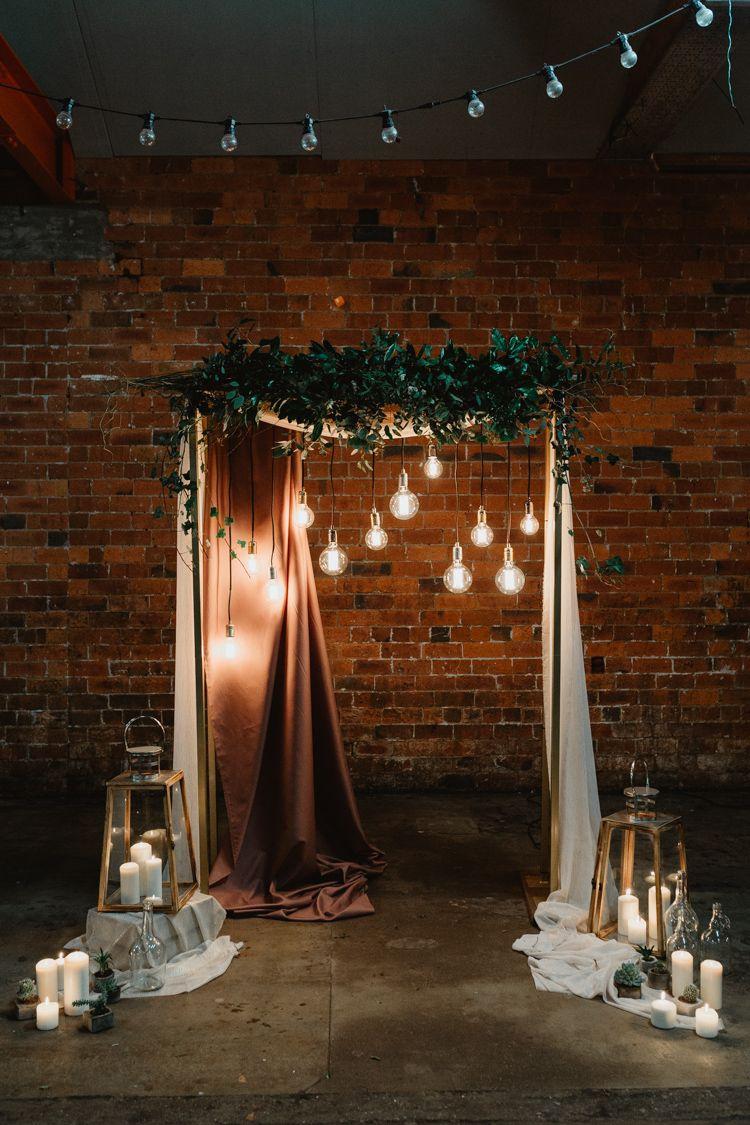 If you're marrying in a blank canvas wedding venue, we think an impressive backdrop is a must. We love the look of this brass arch adorned with soft fabrics, greenery and hanging lights. This one is a little trickier than some of the others on our list and so we'd buy faux greenery and put the bulk of it together well ahead of the big day if we were you. All you'll need to do on w-day is scatter some lanterns and pillar candles at the base!
5. Hanging Ribbon Flowers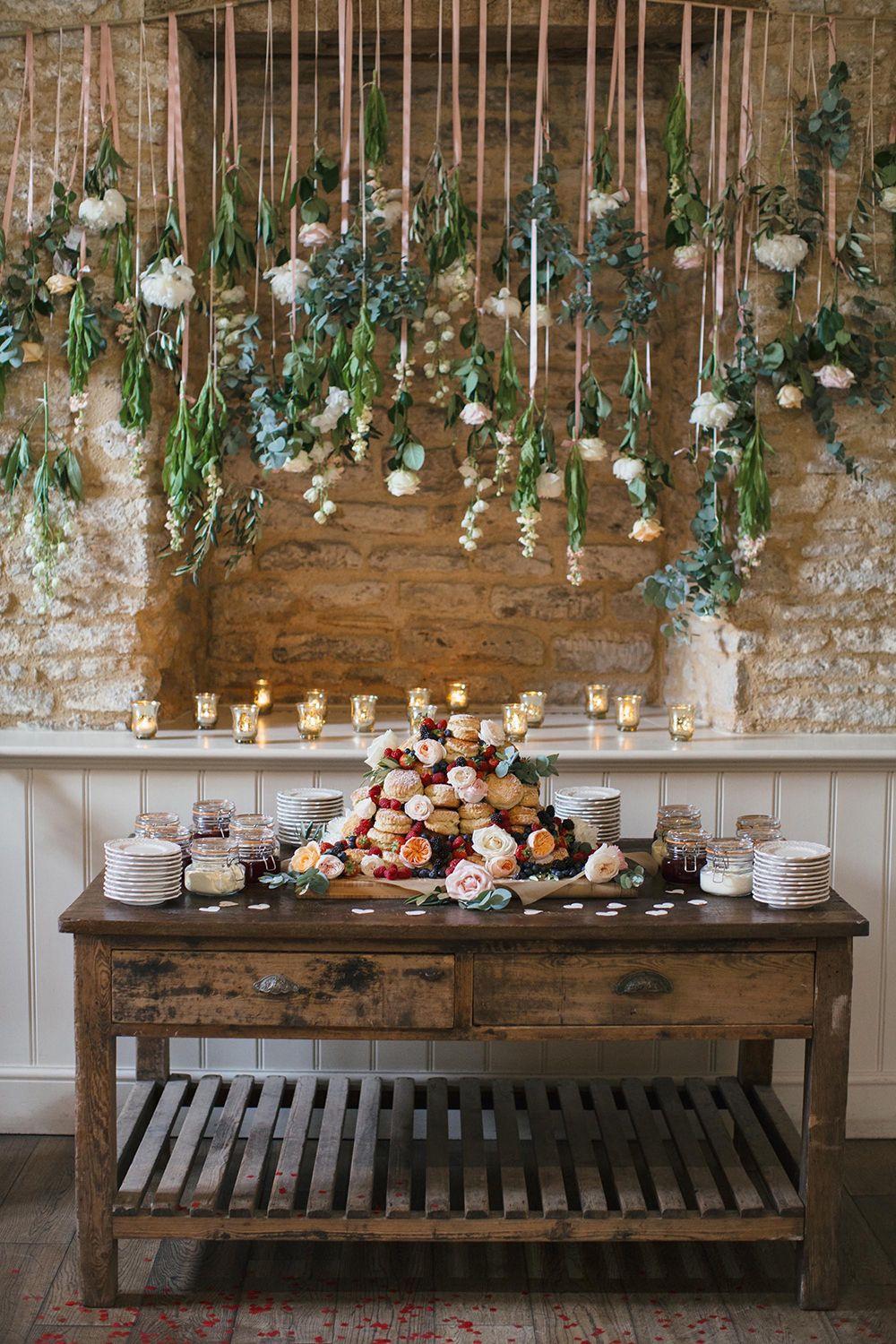 Super simple but with real wow-factor, we're in love with this hanging floral display. Use a firm stick, wire or rectangular arch and tie blooms to each end of a length of ribbon. Hang the ribbons over your wire and adjust each so that they're at different heights. Don't forget to include foliage as well as flowers and hang the display anywhere you'd like to draw your guests' attention - the cake table would be our pick!
6. Greenery Garland Festoon Lights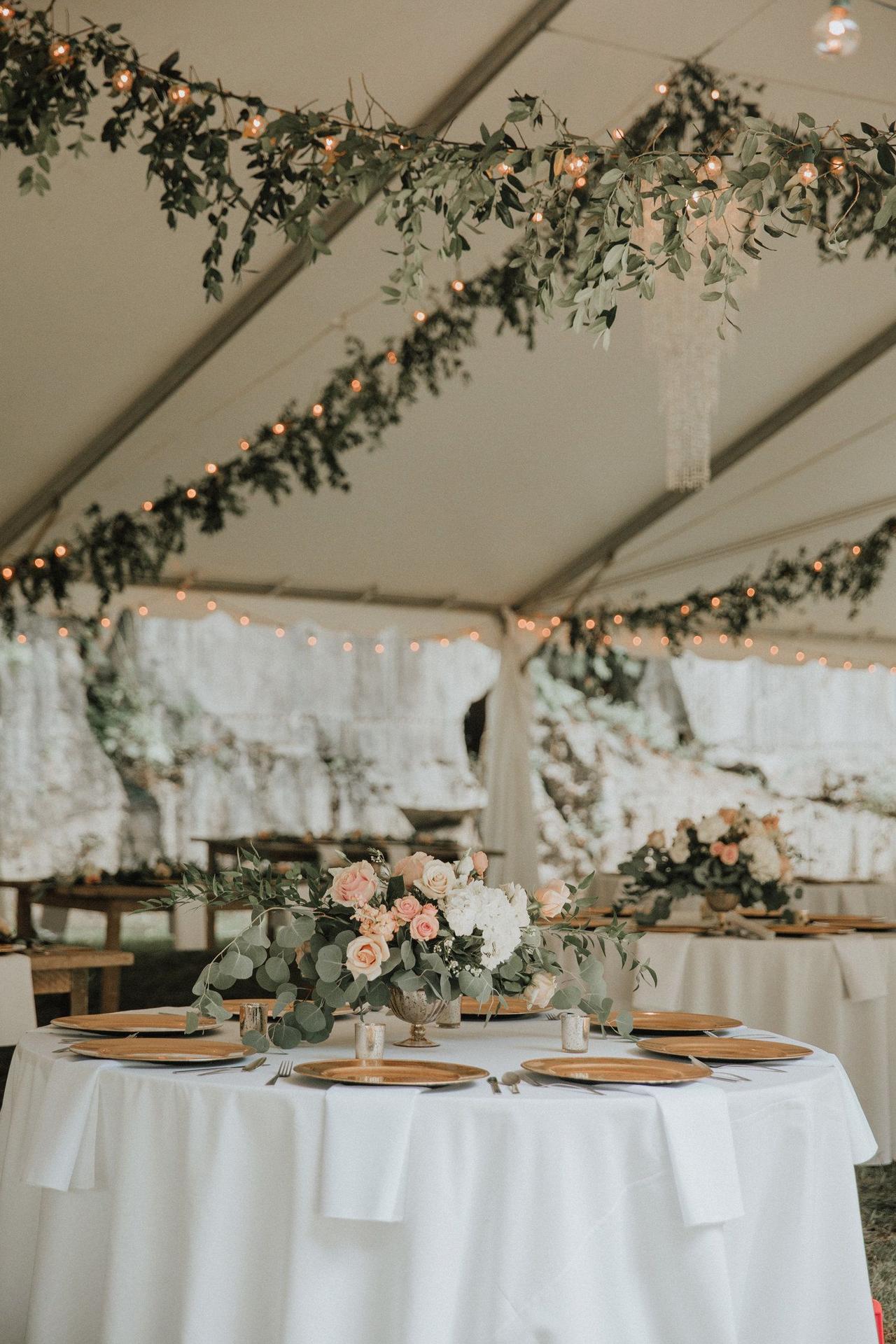 Buy some LED festoon lights and add dried foliage stems to the lengths between bulbs with twine. Don't worry too much about stems sticking out or keeping them all the same length - think perfectly imperfect for a rustic vibe!
7. Macramé Pew Ends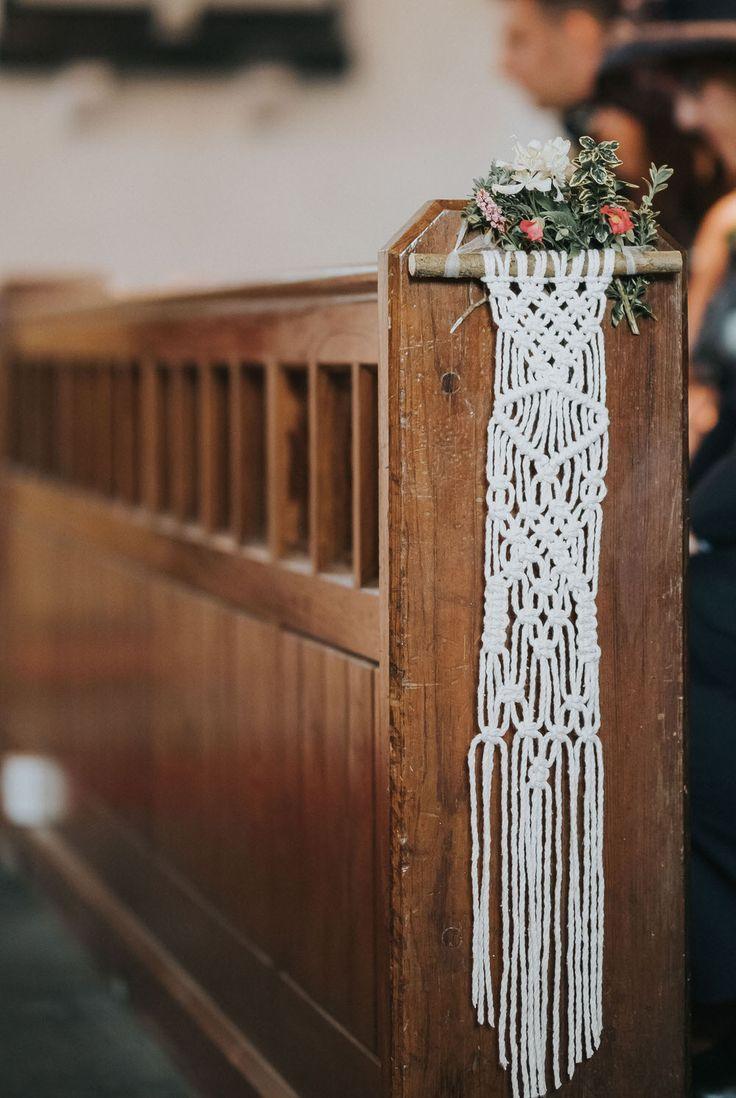 The macramé resurgence has been difficult to avoid on Instagram and Pinterest and we're totally here for it. A touch of this 70s décor favourite gives instant boho chic vibes, especially when hanging from driftwood and embellished with undone floral arrangements.
READ MORE: 31 Beautiful Wedding Aisle Decor Ideas
8. Macramé Table Plan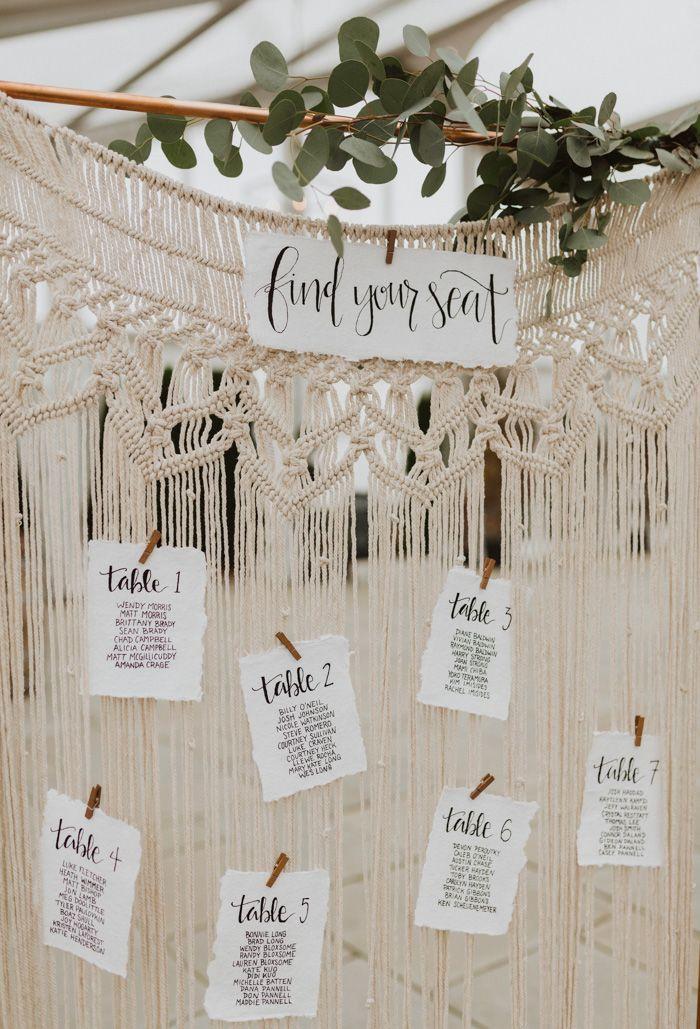 If you've crafted something small like the pew end above and have got your macramé confidence, why not tackle something larger like this table plan? Leave a large part of it as fringing and simply peg on your tables for a rustic yet impressive look that guests are unlikely to have seen elsewhere.
9. Water Leaf Candle Holder Bottles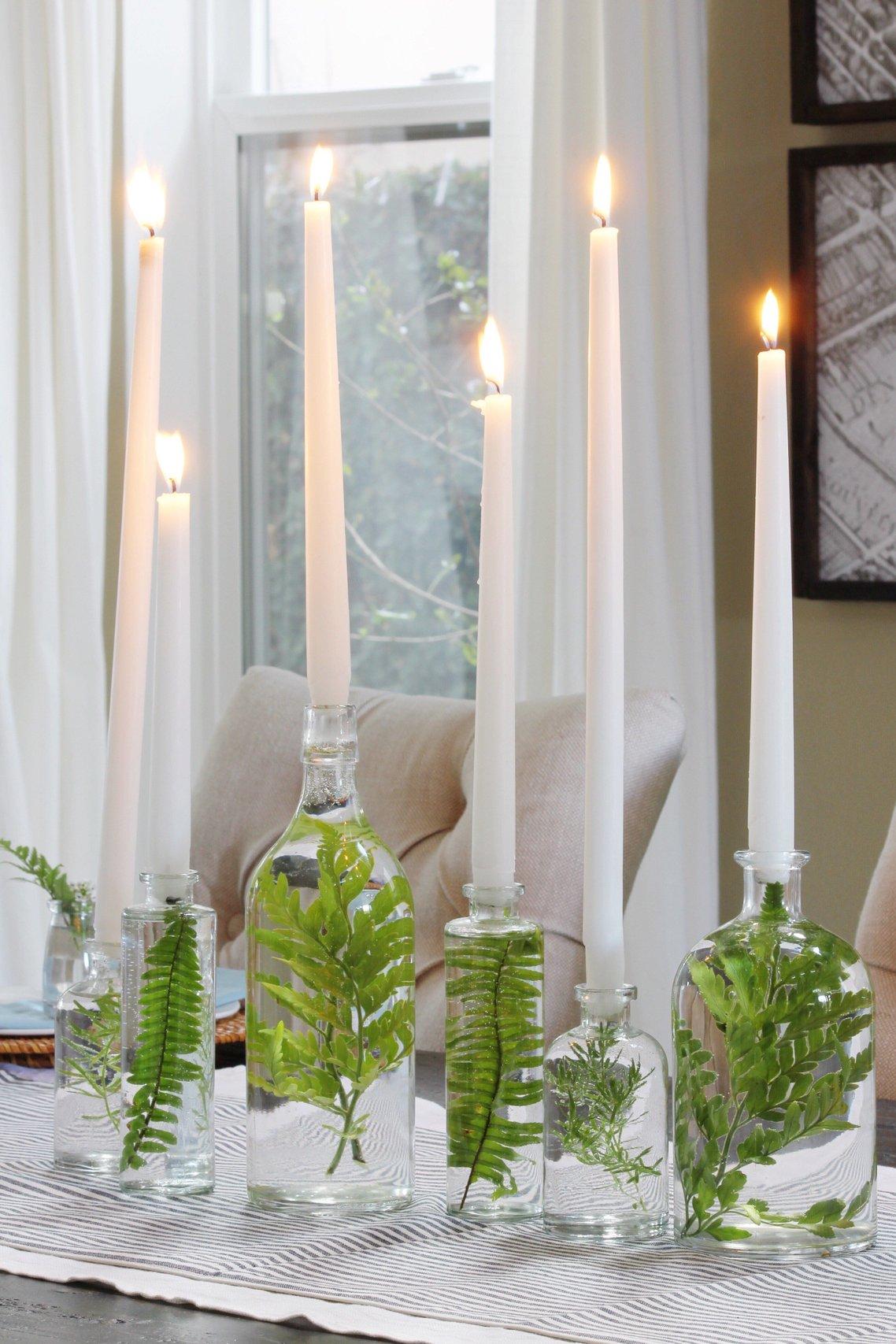 One of the easiest ideas on our list, these bottle candle holders will give your wedding instant botanical vibes. Simply recycle old clear glass bottles, select the prettiest leaves, pop them in and fill up with water. Finally, add a candlestick and hey presto, cheap and easy centrepieces that will wow guests.
10. Painted Bottle Vases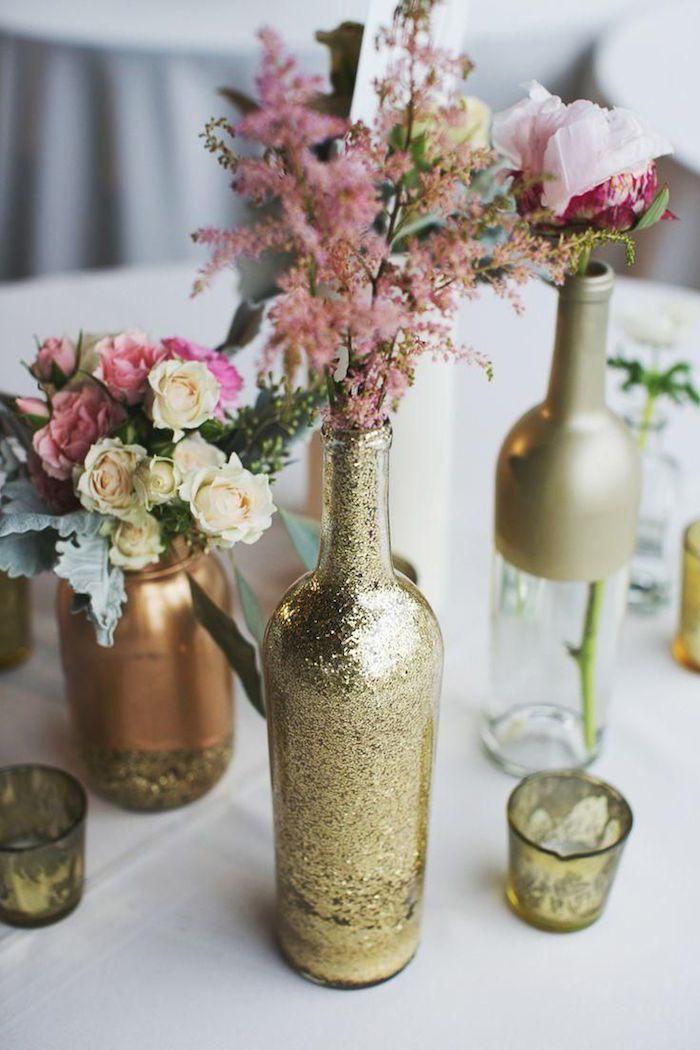 Paint vases or jars in colours that complement your wedding theme and place single stems or small posies inside for cheap yet beautiful centrepieces. Group two or three vases with varying stems in the centre of each table and dot some votives around them. If you love a bit of sparkle, try coating a bottle in PVA glue and rolling it in glitter!
11. Book Stack Centrepiece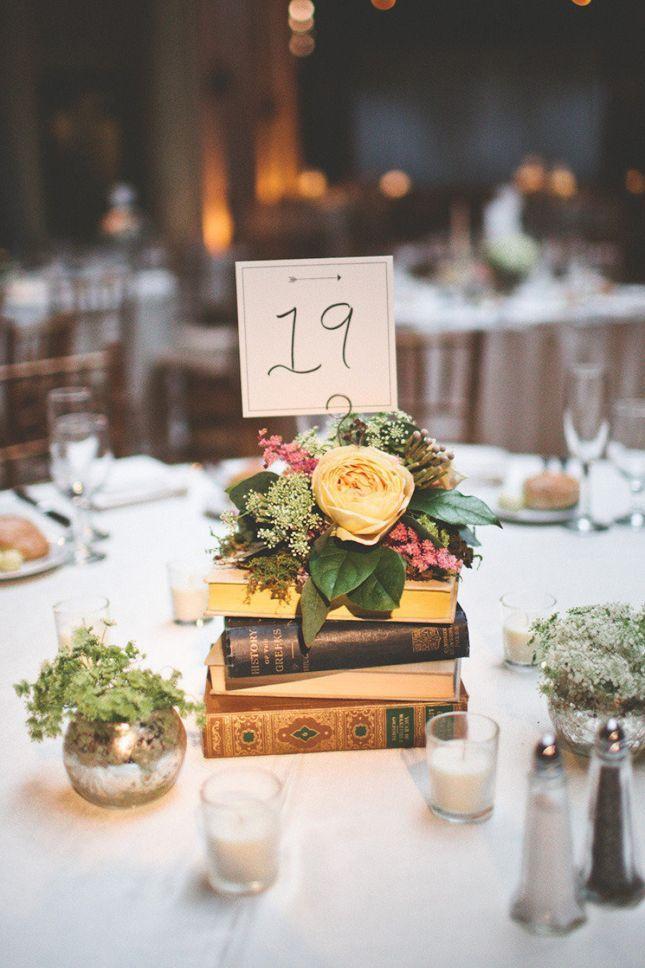 If you fancy a literary theme, the easiest way to do it is by incorporating books into your centrepieces. Stack them on the diagonal and finish with some blooms and a table number.
12. Dried Flower Bouquet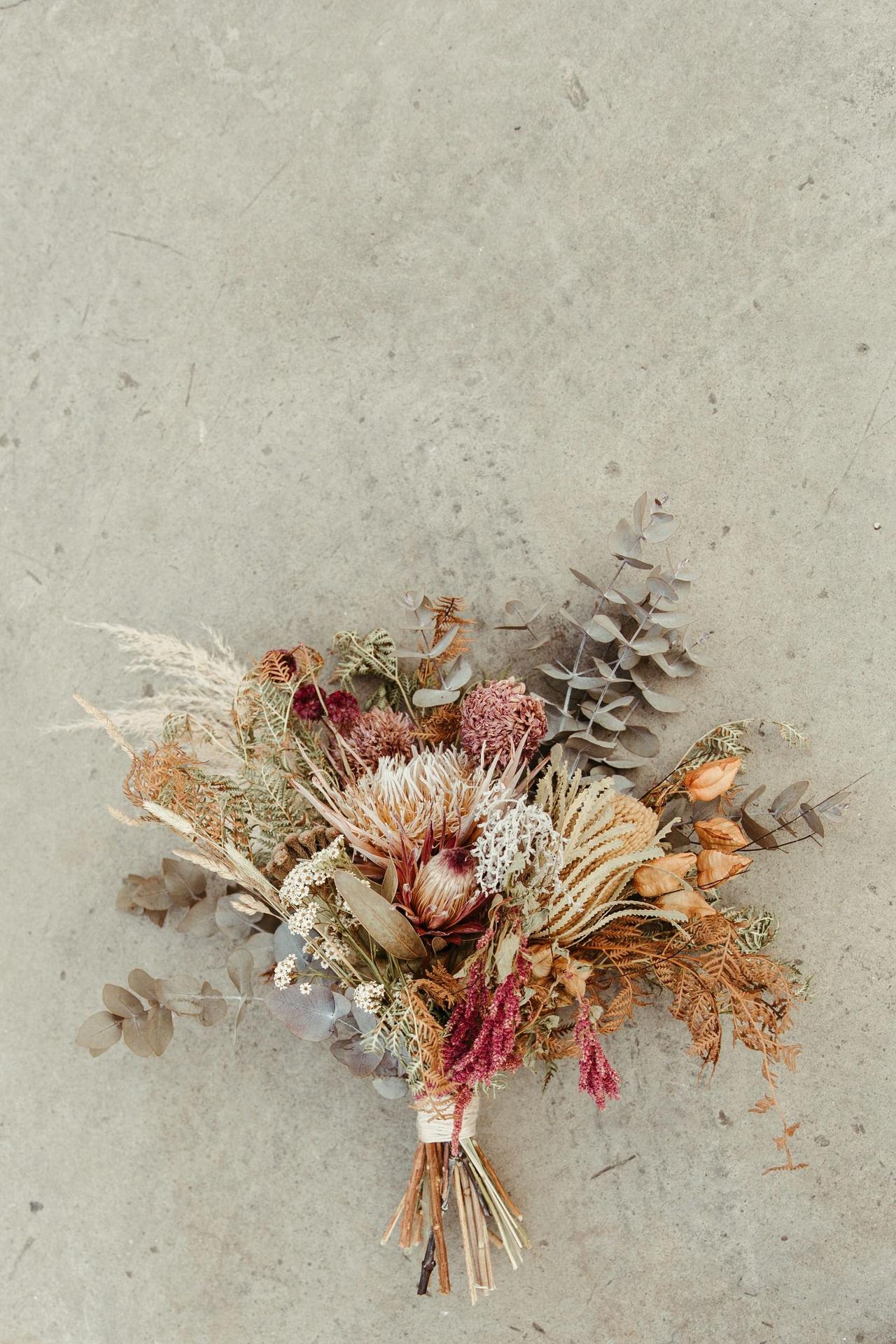 Dried flowers have become a thing in the last year and we're here for it. Not only do they give us all the boho chic feels, they also last longer than fresh flowers - winner! You can arrange these a few weeks ahead of your big day without worrying about them drooping or dying, making them the perfect stress-free choice for brides keen to craft their own bouquets.
13. Dried Flower Buttonholes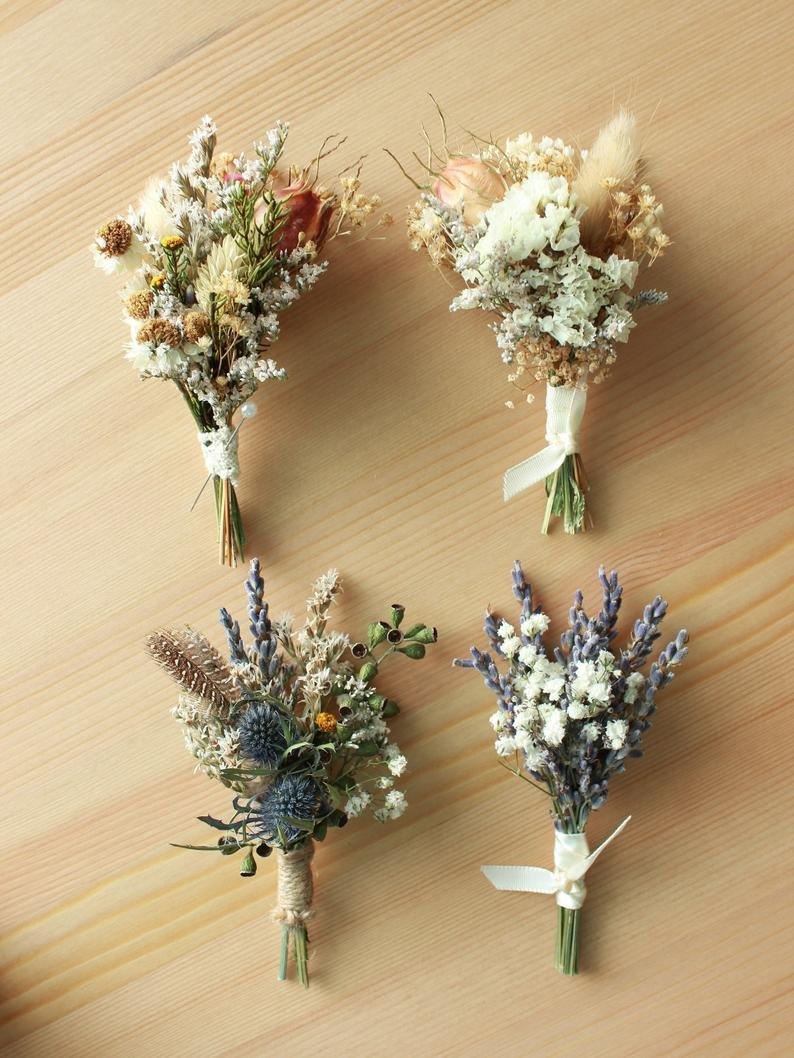 Just like dried flower bouquets, dried flower buttonholes can be prepared well in advance. Wrap small sprigs in twine or ribbon for a rustic look that would be right at home at a country wedding.
14. Pie Pops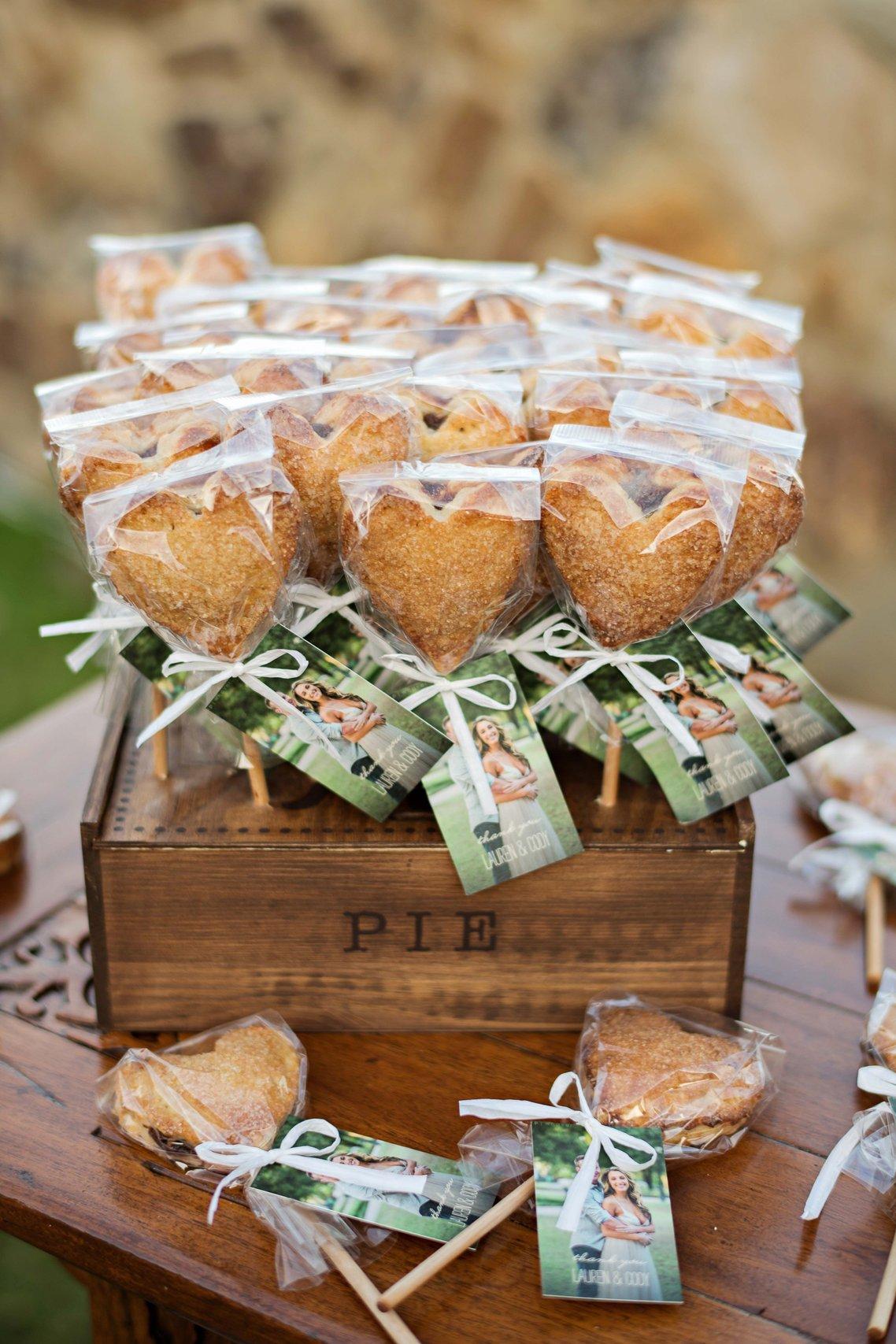 So we've all heard of cake pops, right? But what about pie pops? We love this quirky take on the pop! Simply bake your favourite pies - we'd totally go with apple - in miniature and seal the end of a wooden stick between the sheets of pastry. Leave to cool and harden around the sticks once out of the oven and there you have it! Add ribbons or personalised tags to finish the look.
15. Mini Jam Jar Favours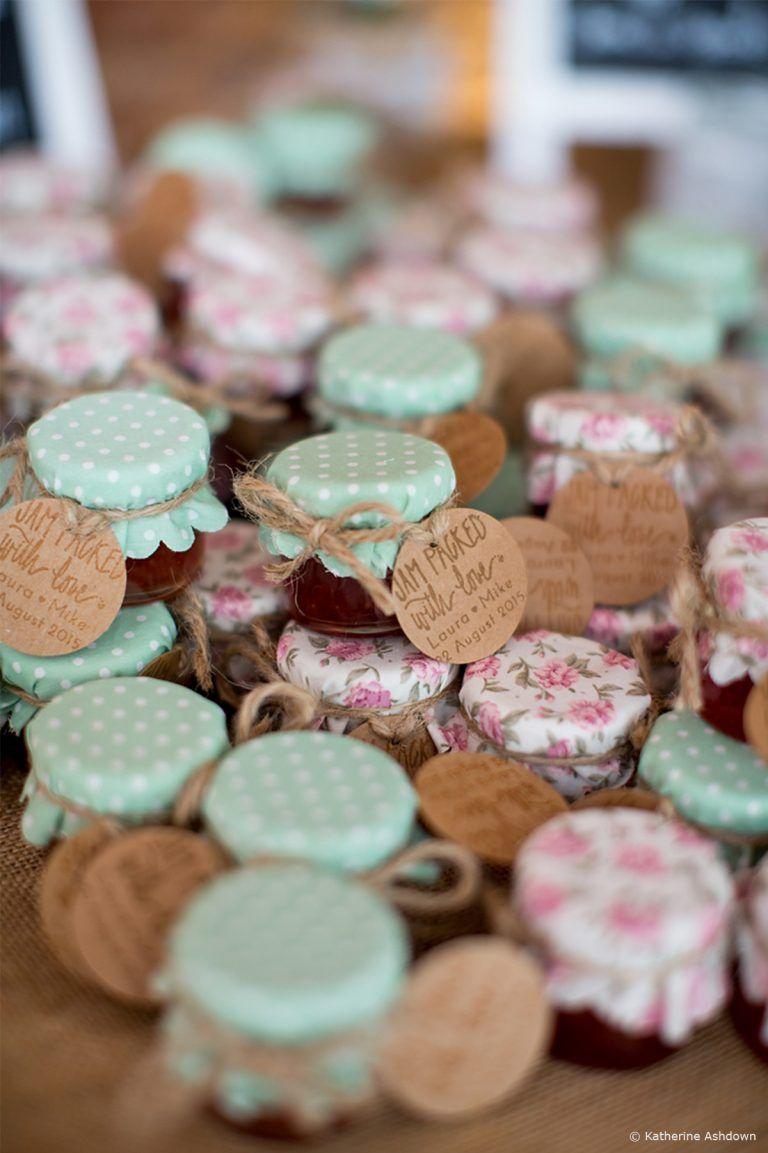 Mini jam jar favours topped with cute vintage patterns will not only go down well with guests but they'll also brighten up your tables, serving as a decorative touch as well as a thoughtful gift!
16. Pine Cone Place Names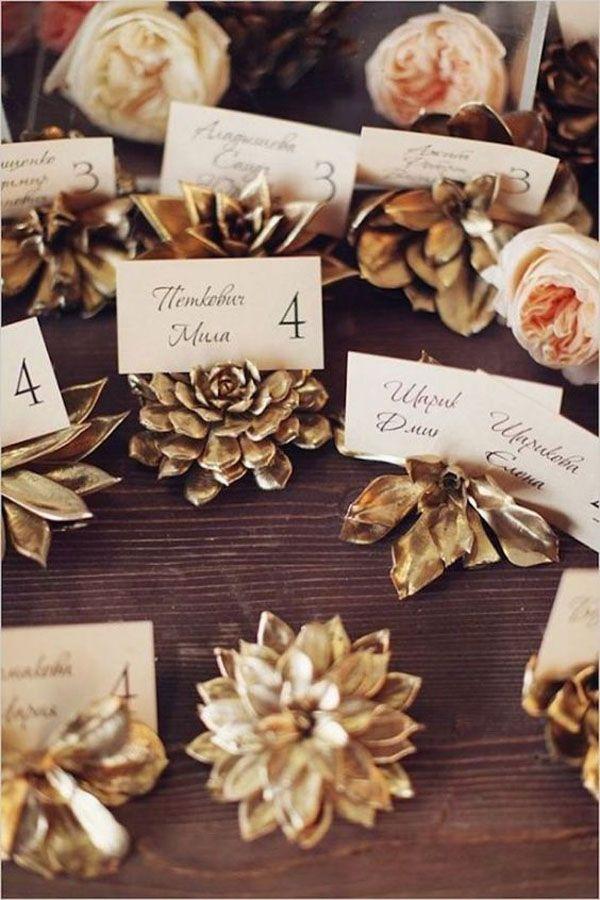 So simple you could get your little niece involved! Just find some pine cones - or buy some from a craft store - and paint them gold for a luxe winter wedding feel that looks far from homemade.
17. Rosemary Sprig Name Labels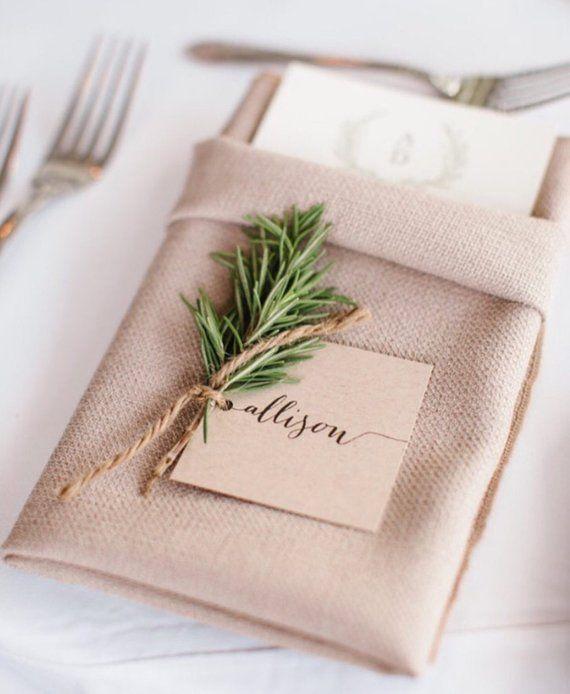 Another simple way of bringing a botanical feel or adding greenery to white table settings, a sprig of regular old rosemary found at the supermarket can be tied to tags made from kraft card using twine. Try your hand at calligraphy to give the tags an extra luxurious feel.
18. Photo Frame Table Plan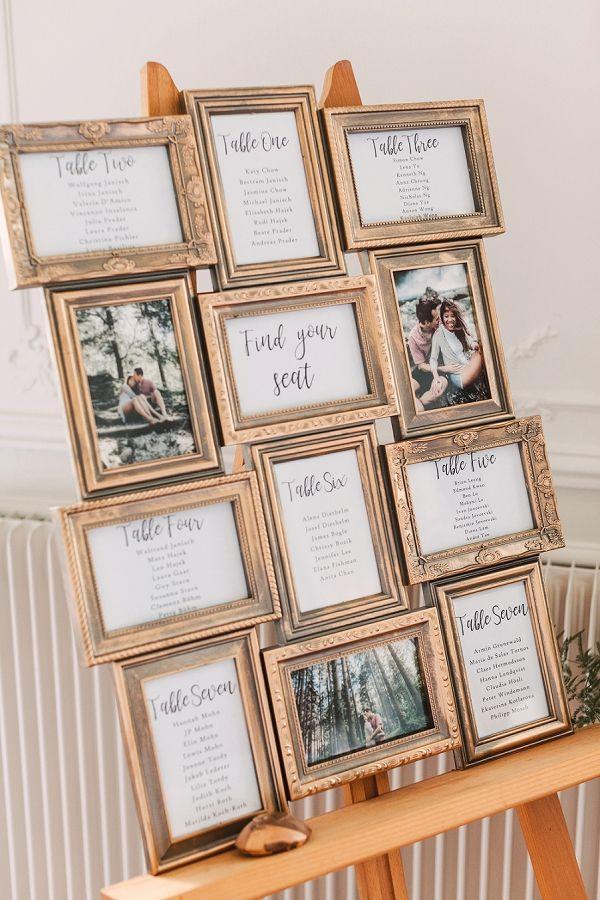 Photo frames can be picked up at bargain prices from the likes of TK Maxx and Wilko. Focus on incorporating different textures and patterns, you can always paint the ones in the wrong shades with antique gold chalk paint. Finally, glue them all together - positioning some landscape and some portrait - with personal pictures nestled between the tables.
19. Bottle Table Plan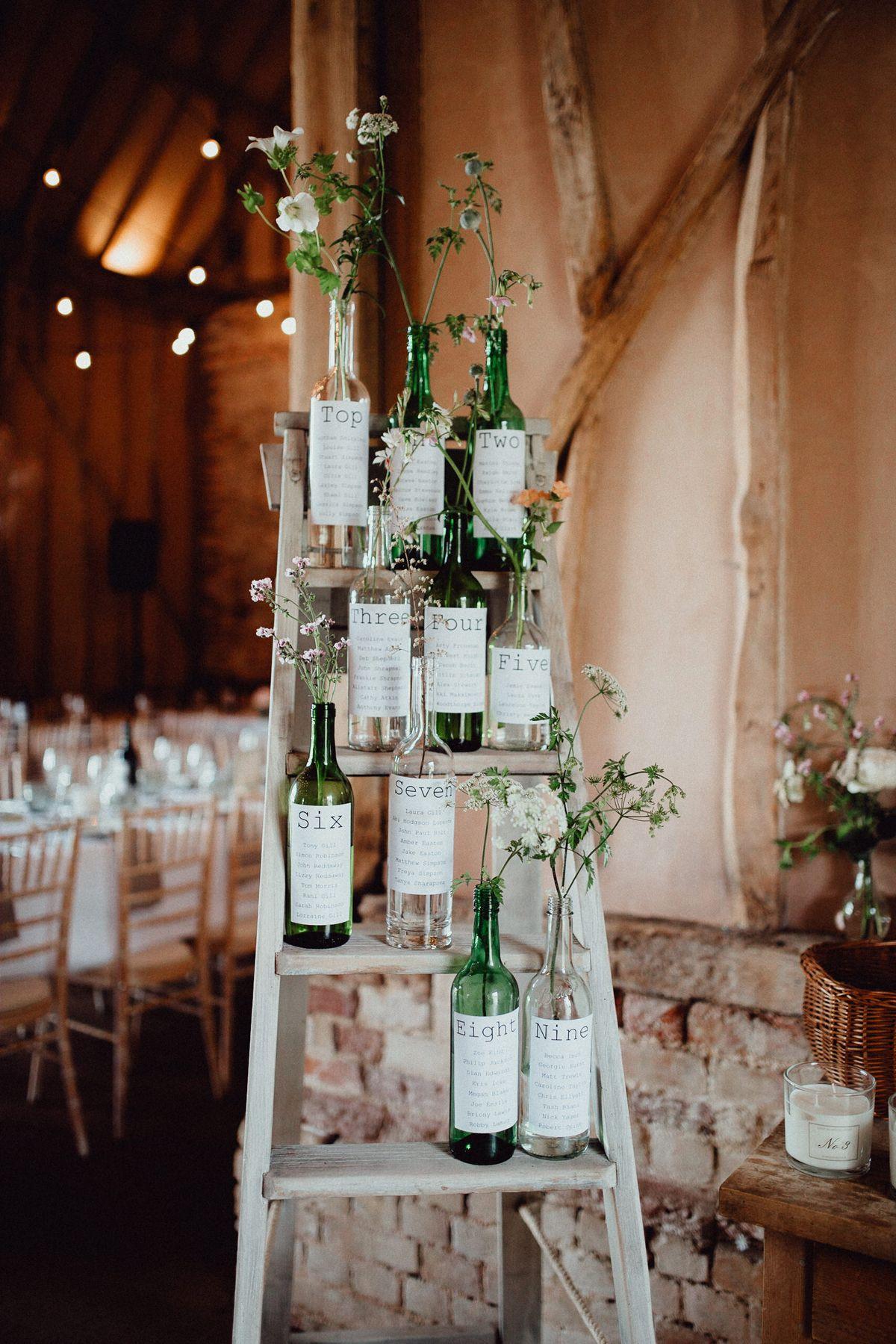 We love this green and white bottle table plan! Keep the labels simple and add individual sprigs and stems of your wedding flowers to each bottle. Finally, position on a ladder or set of steps for a unique and quirky look.
20. Pallet Order of the Day Sign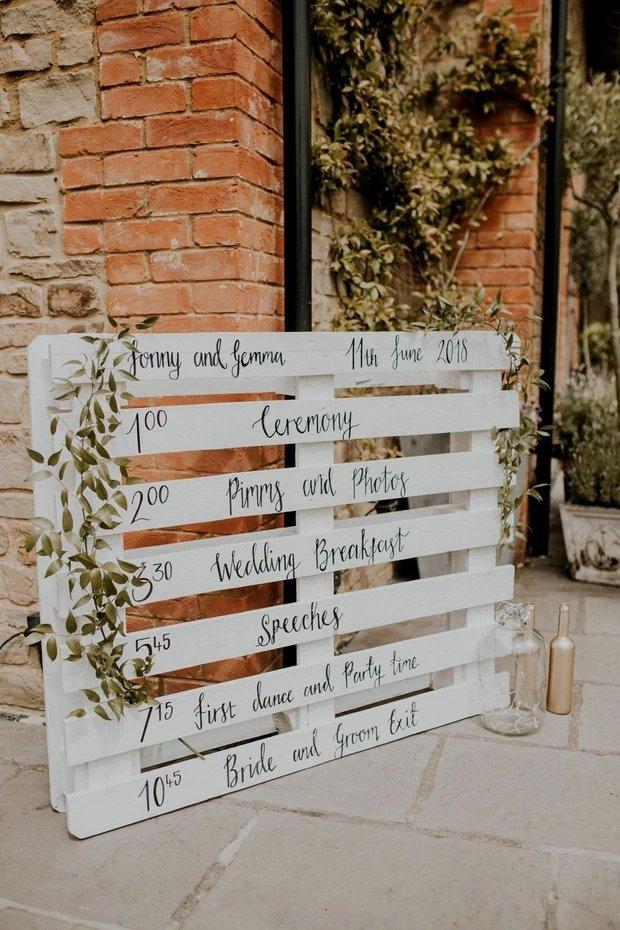 Paint an old pallet white or keep it neutral for extra rustic vibes and paint or draw on your order of the day. We think guests will love this touch that keeps them informed and all you need to do to make it pop is add a little foliage and some fairy lights.
21. Bowling Lawn Game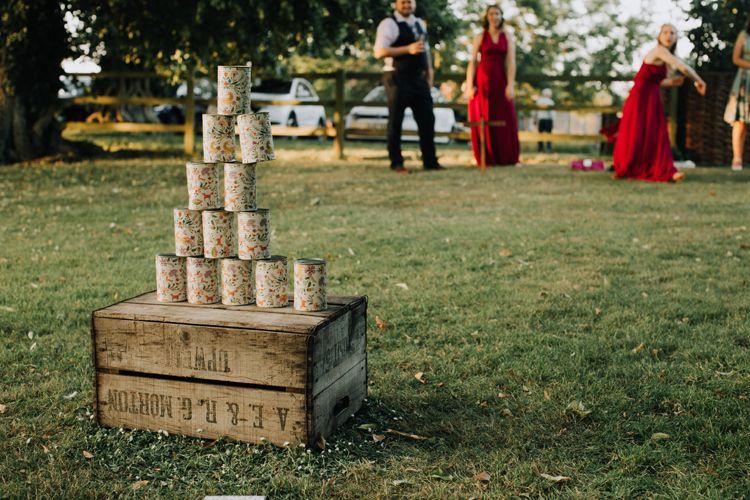 How cute is this rustic bowling game? We can see your guests getting seriously competitive as soon as they set eyes on it! Hand paint some old tin cans or wrap them in chintzy paper and then stack them on top of a wooden crate for the cheapest and easiest wedding entertainment idea we've seen!
22. Glitter Ring Toss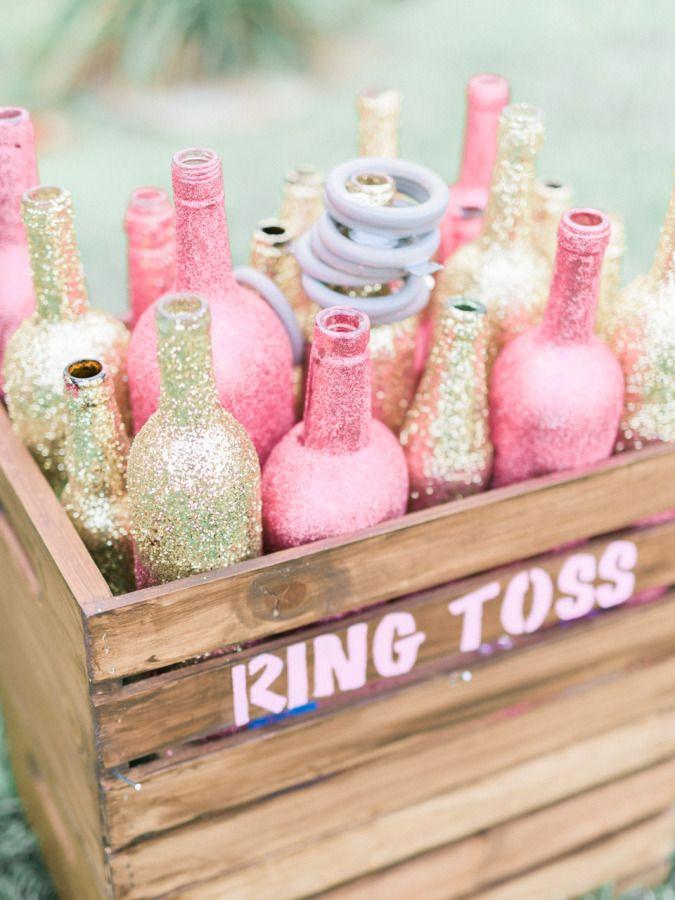 Anyone who has attended primary school will have experience of applying PVA glue to an object and rolling it in glitter and this idea involves literally just that! Choose two or three colours and arrange them in a wooden crate along with a stack of rings from the craft store.
23. Tree Slice Centrepiece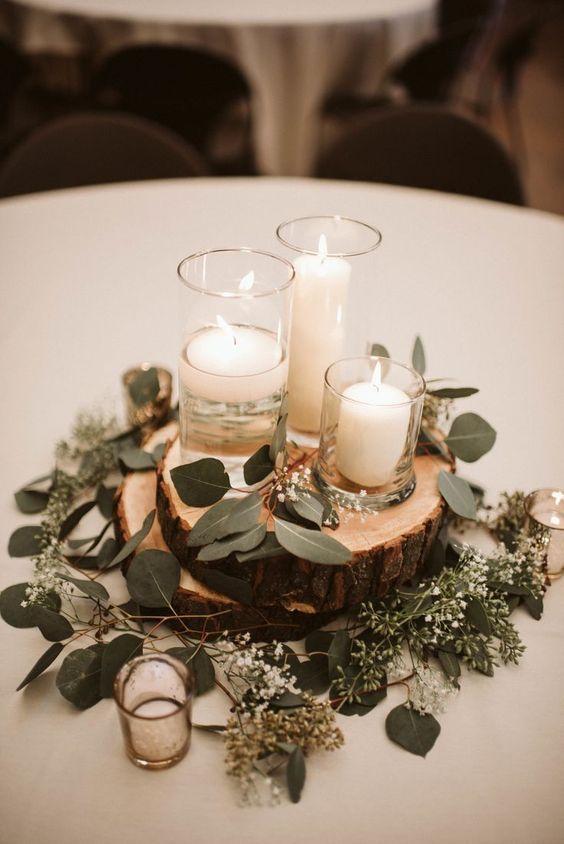 Wooden slices can be picked up online fairly cheaply and are great for giving instant woodland vibes to wedding tables. Some votives of various sizes and a few sprigs of eucalyptus are all you need to complete this pretty centrepiece.
24. Scrabble Table Numbers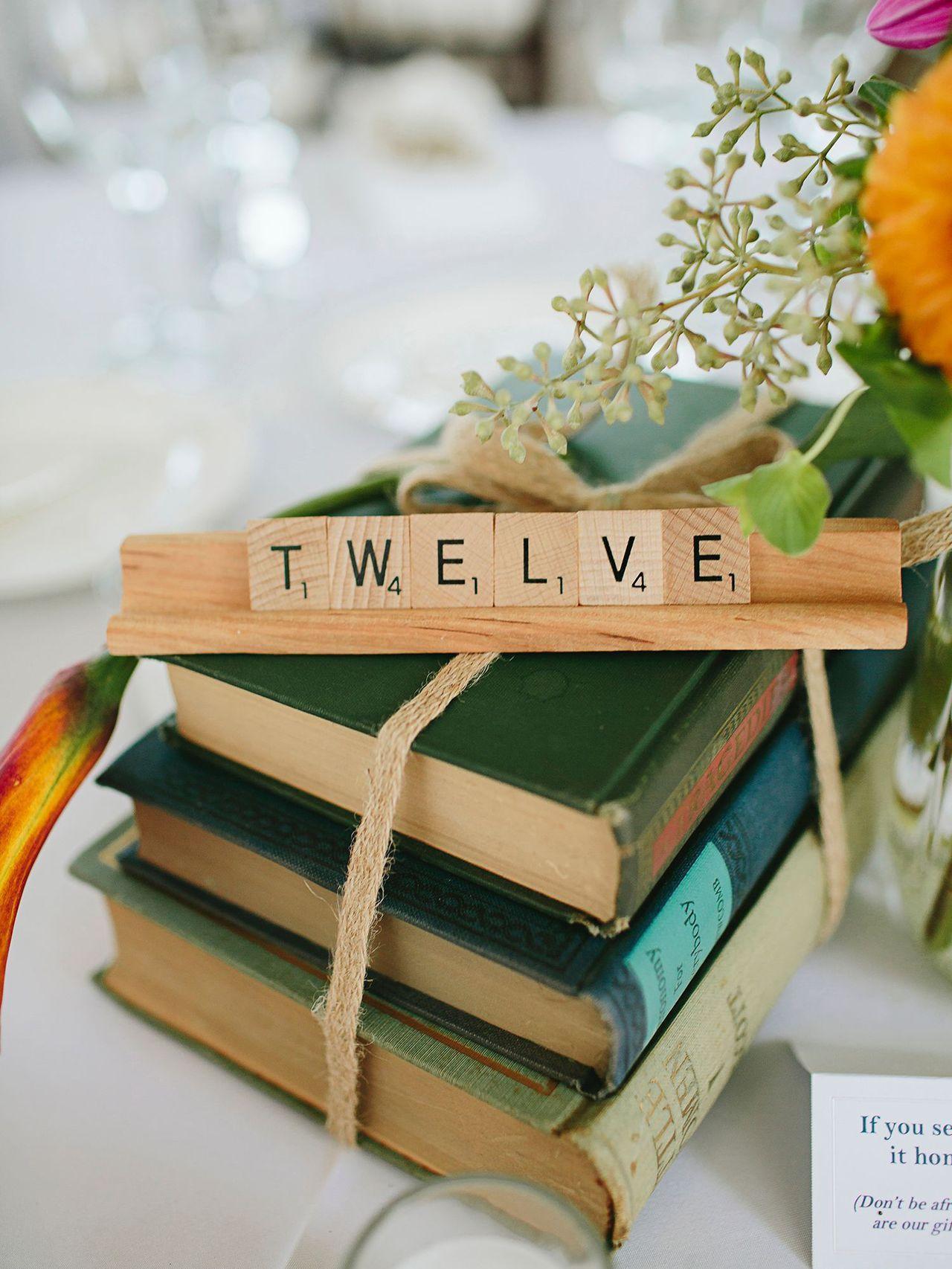 This idea couldn't be easier! Simply use the stands and pieces from Scrabble sets (you may need to invest in more than one or borrow from a friend!) and arrange numbers for each table. Placing them on top of a stack of books tied together with twine will give a vintage library feel.
25. Cork and Candlestick Holder Table Numbers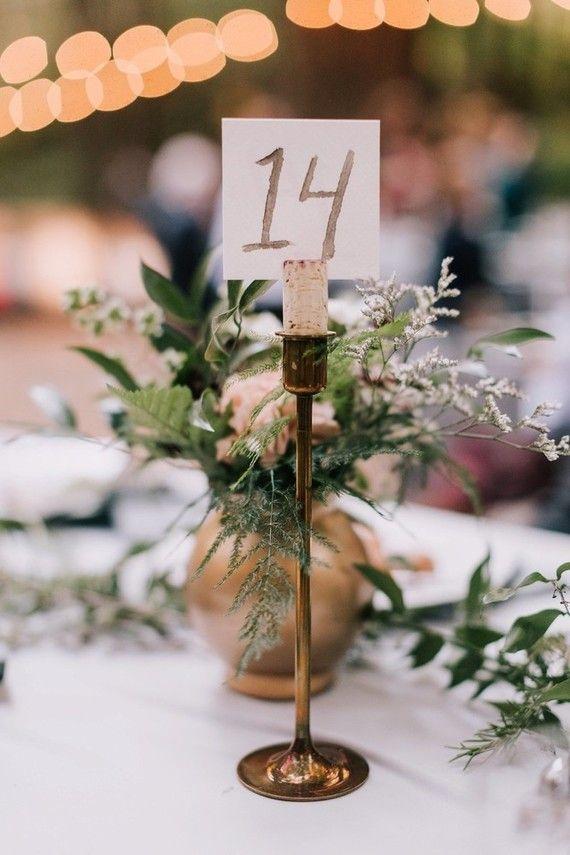 Distressed brass candlestick holders add a touch of old style glamour, even if they're not topped with a candle. Insert a cork into the top instead and cut into the top so that a hand painted table number can be slotted in.
READ MORE: 35 Creative Table Name Holder Ideas (and How to Make Your Own)
26. Watercolour Wedding Stationery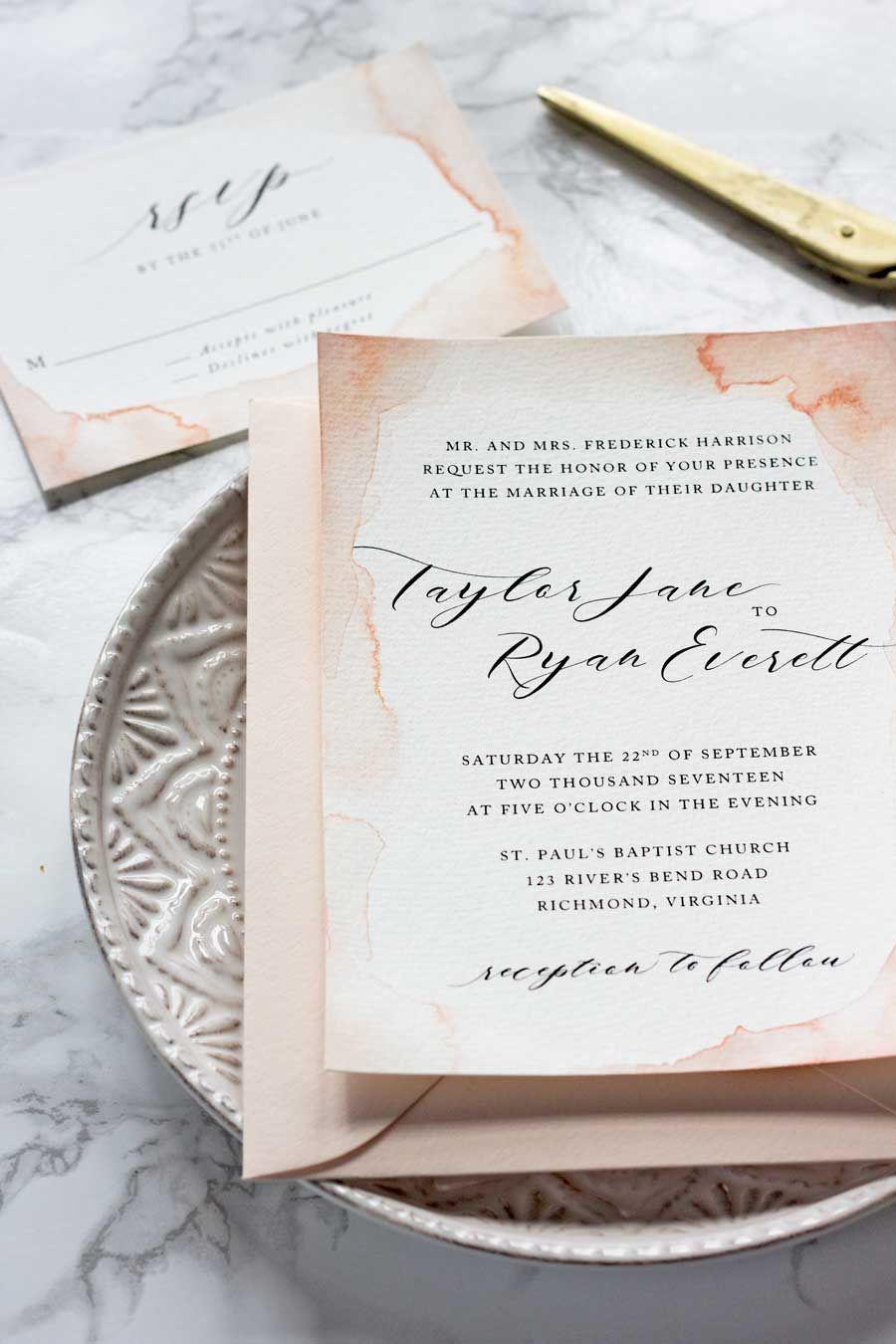 Spruce up some plain white wedding stationery with some watercolour touches. Experiment with different concentrations of colour on scrap paper before taking to the real thing and use light strokes to create a soft look.
READ MORE: 10 Creative and Gorgeous DIY Wedding Invitation Ideas
27. Chiffon Chair Bows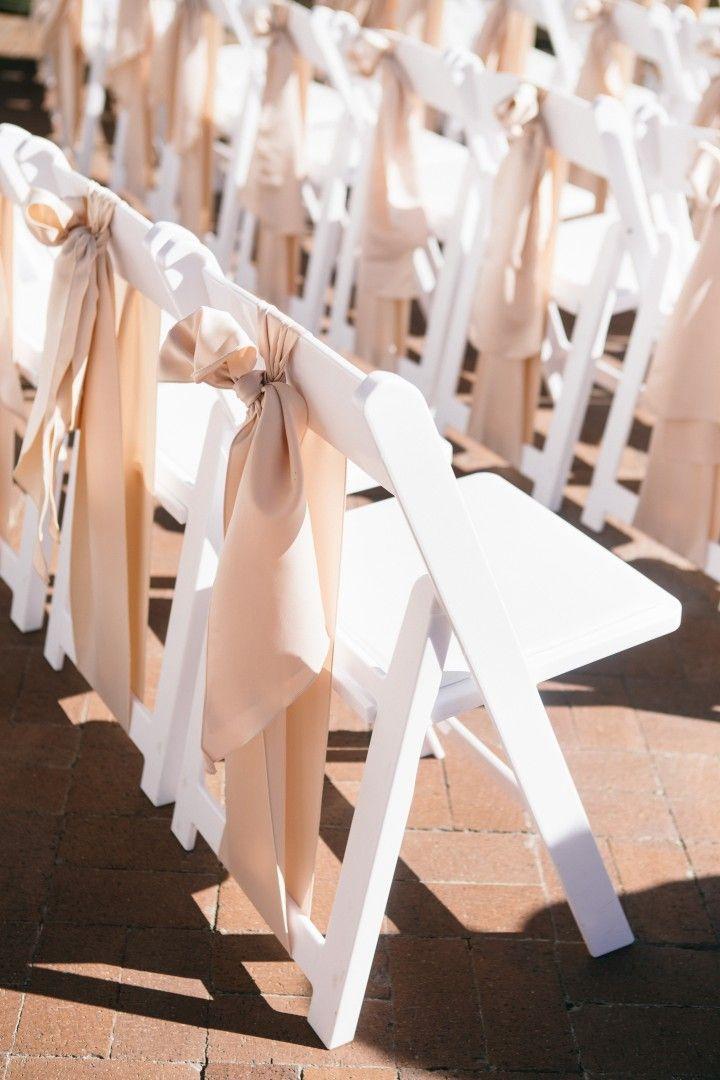 This look gives a luxe upgrade to plain chairs and is an easy - and cheap! - way to add elegance. Select a fabric in your wedding colours and tie large bows with plenty of draping fabric.
28. Candlelit Aisle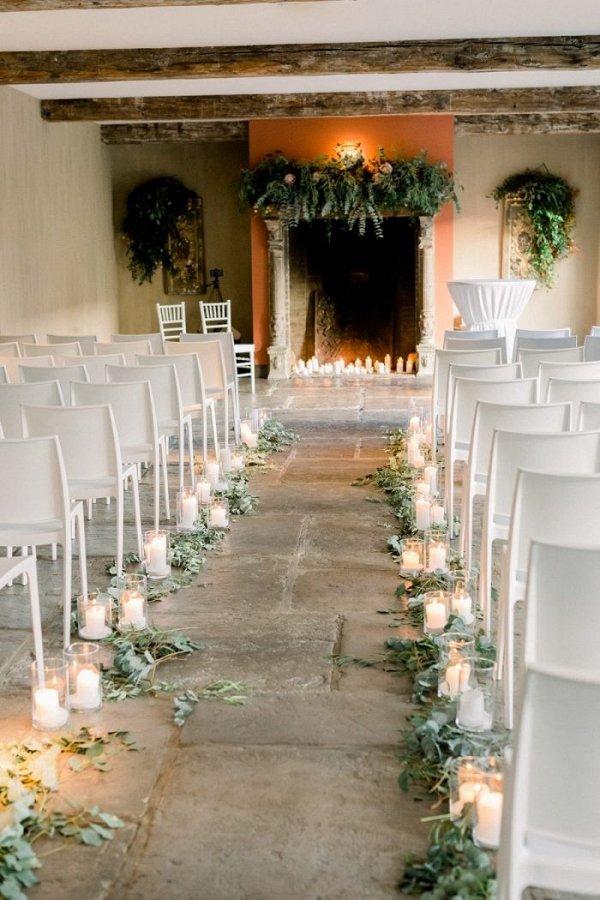 Is there anything more magical than walking down an aisle lit by candles? We think not! Luckily, this is a super easy look to achieve, all you need is some glass hurricane vases, pillar candles and a selection of foliage branches.
29. Feature Dessert Table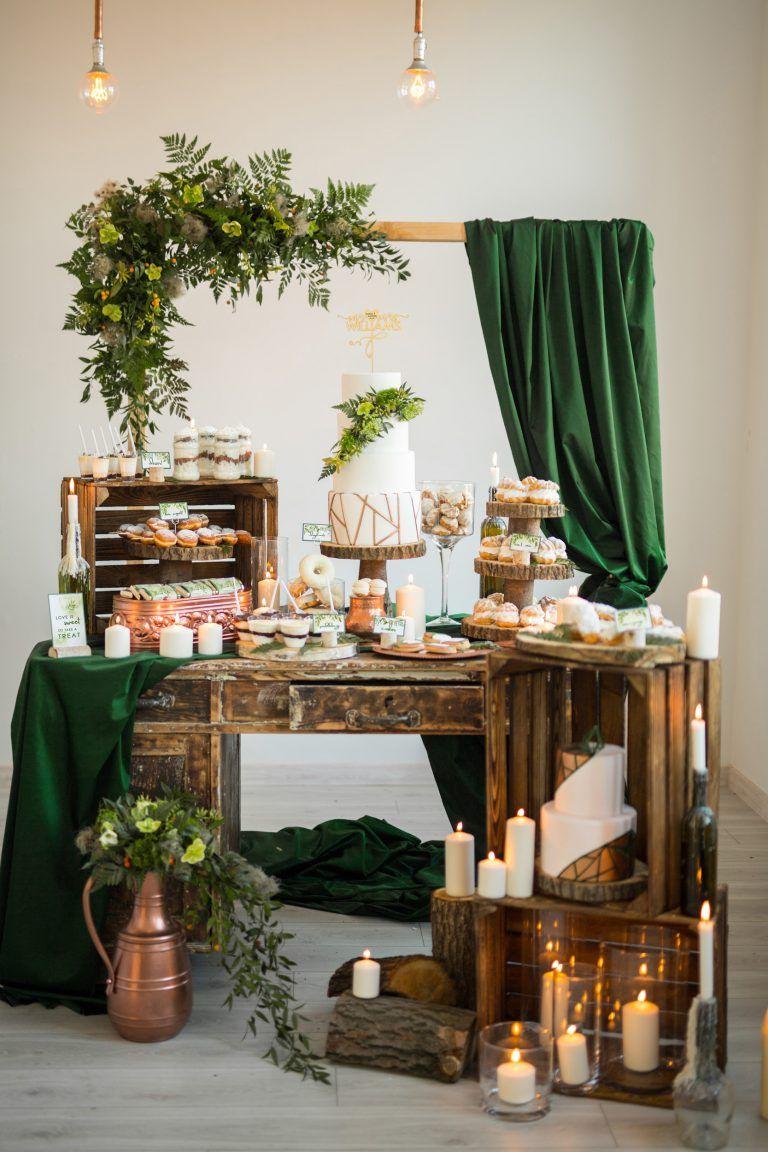 A statement dessert table will act as the centrepiece of your wedding reception and provide plenty of sweet treats to keep guests going all night long! Dress up yours with up-turned crates, draping fabrics and plenty of candles. It's also a great idea to reuse your ceremony backdrop or arch to add drama to your treat table.
READ MORE: 18 Amazing Wedding Dessert Table Ideas (& How to Create Your Own)
30. Bathtub Ice Bucket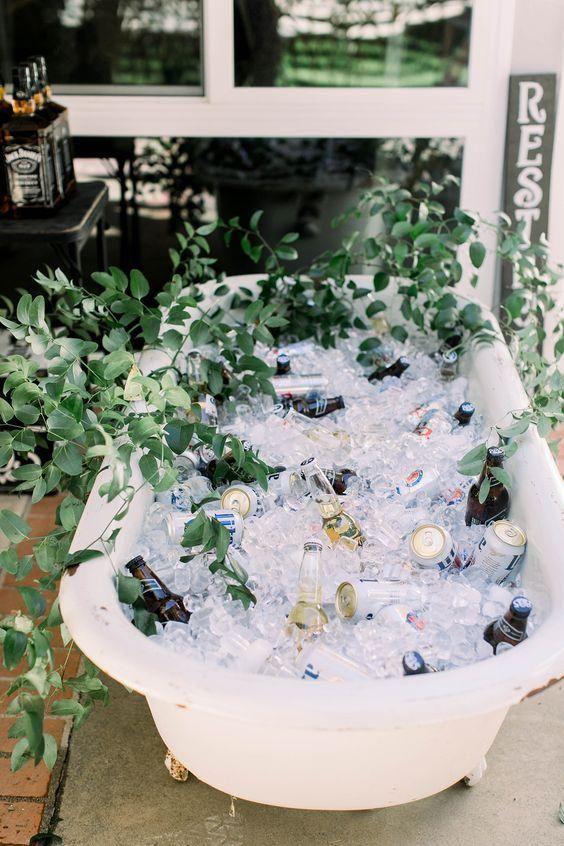 Second hand furniture stores, reclamation yards and even Facebook marketplace are great places to start looking for a statement piece such as an old bath on legs. Fill it with ice and your favourite drinks and throw some branches over the top for a relaxed and quirky self-service bar.
READ MORE: 25 Instagram-Worthy Wedding Bar Ideas Your Guests Will Love
31. Dresser Bar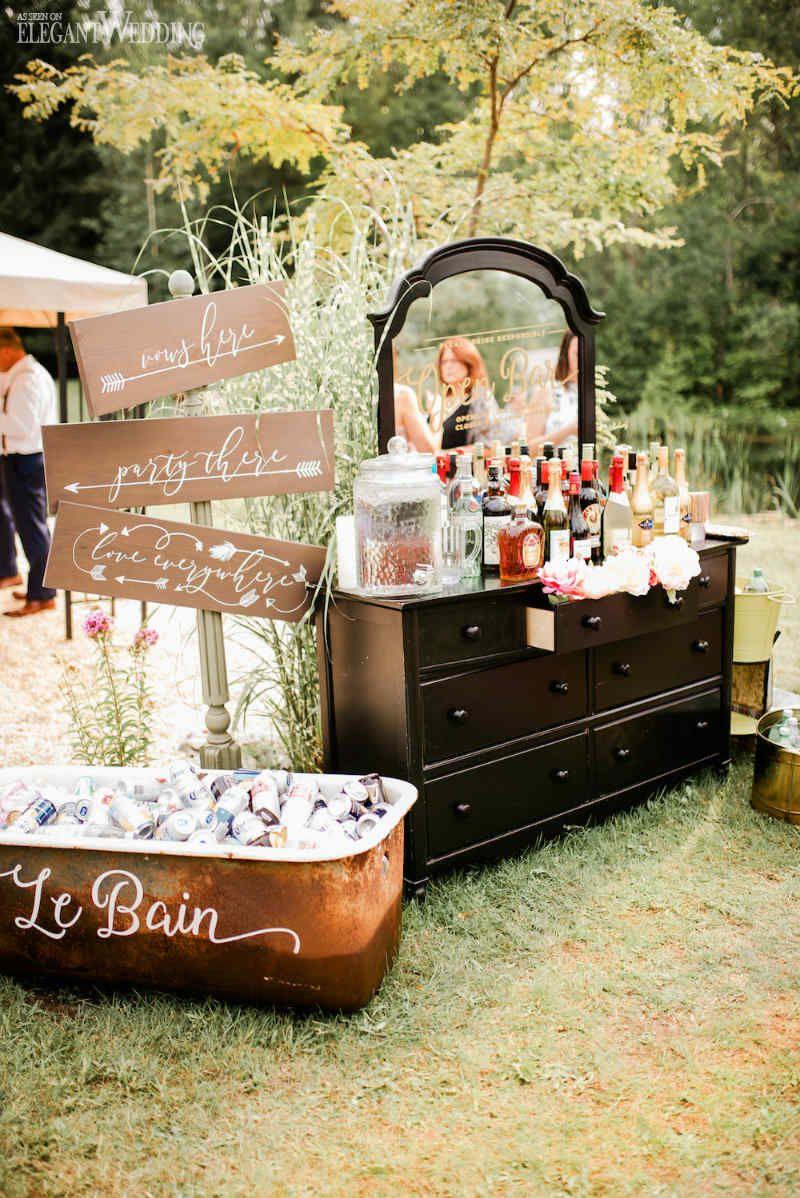 An old dresser found in a second hand store makes an amazing quirky bar. Fill draws with blooms and paint the drinks menu onto the mirror.
32. Greenery Table Garland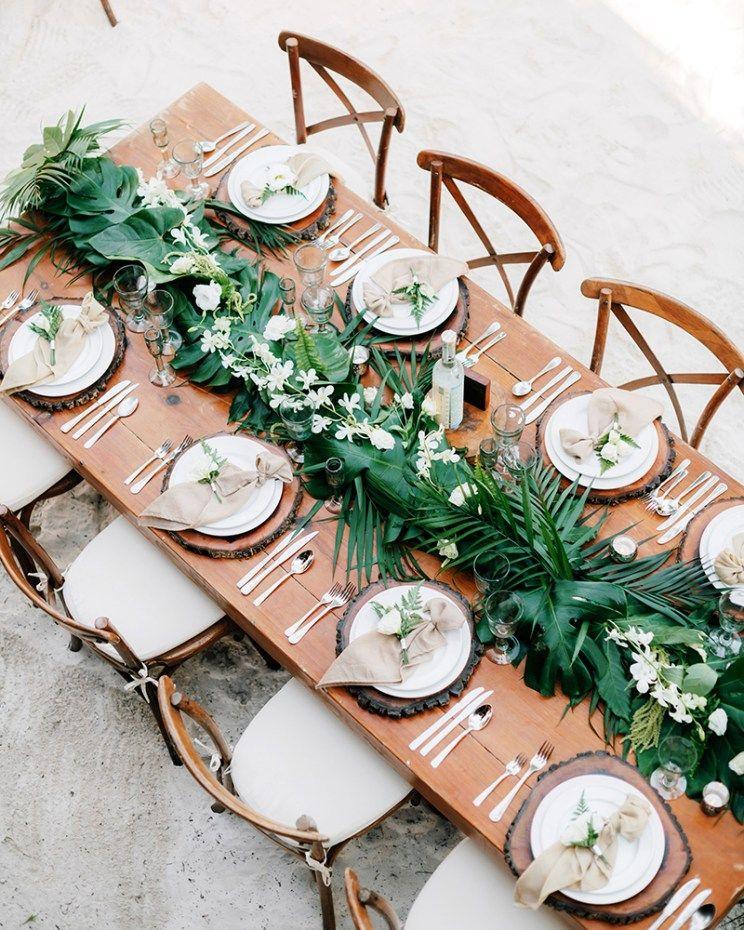 Placing lengths of greenery and foliage and punctuating it with statement flowers or hurricane vases with pillar candles inside is an easy way to give banquet style tables impact. Add sprigs of foliage to each napkin to carry the theme through the rest of the table.
Fancy whipping up a table garland? Read our greenery table garland guide for step-by-step instructions - you can't go wrong!