17 Dreamy Ways to Use Pampas Grass in Your Wedding
We're obsessed with the pampas grass trend. Here are 17 creative ways you can use it to transform your wedding day….
We have included third party products to help you navigate and enjoy life's biggest moments. Purchases made through links on this page may earn us a commission.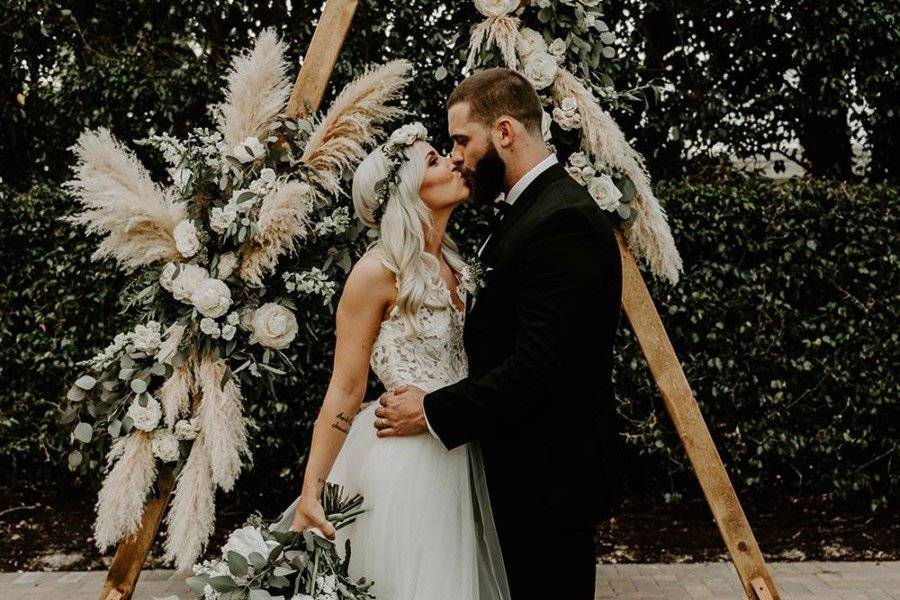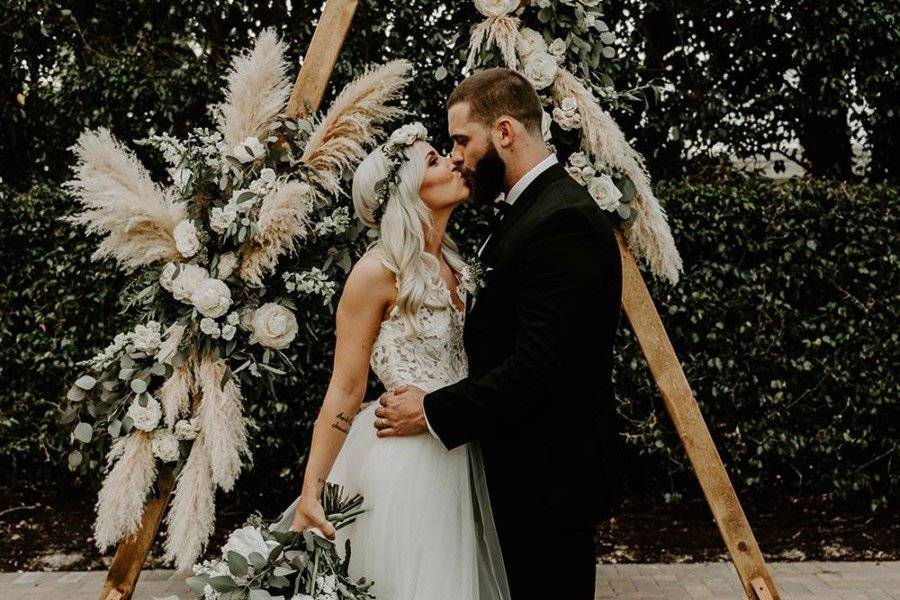 As far as 2020 wedding trends go, pampas grass is a pretty big one. And to be honest, we're not surprised.
Pampas grass wedding décor has been growing in popularity for a good few months now, with a whole host of style-savvy brides using it to create a cool, bohemian look, and we don't think it's a trend that's going anywhere soon.
The tall, tufted grass is most often seen growing on cliffs and on riverbanks. More recently, though, couples are using pampas grass in aspects of their wedding day, from romantic bouquets to dramatic centrepieces.
But why are couples loving it so much? Well, not only is it much cheaper to get your hands on than most flowers are (you can get it for as little as £12.99 on Amazon!), but it's perfect for larger-scale installations thanks to its height, volume and texture. It also looks beautiful combined with other dried flowers, palm leaves and metallic accents.
Are you converted yet? Here are 17 beautiful ways to include pampas grass in your wedding day.
1. Surrounding Your Wedding Entrance
Image: Pinterest
Wedding venues aren't actually needing that much decoration anymore. Lots of venues are pretty enough as it is, so stripped-back décor is the more favoured choice.
We've seen contemporary couples choose just a couple of bold, on-trend arrangements to set their wedding apart from the rest and nod towards their wedding theme. And this pampas grass wedding entrance does exactly that.
It makes a statement, is the perfect photo opportunity and will build up your guests' excitement before they even enter your celebration. We're obsessed!
2. In Your Wedding Bouquet
Image: Pinterest
We're always looking for new and contemporary ways to update the traditional wedding bouquet, and pampas grass couldn't be more perfect.
We're loving this understated bouquet which combines peach-toned roses with dried flowers, pampas grass and foliage. A fabulous juxtaposition of styles!
READ MORE: How Much Do Wedding Flowers Cost?
3. Decorating Your Aisle
Image: Pinterest
Make your walk down the aisle extra special by lining the walkway with pampas grass.
This outdoor wedding ceremony features a selection of vintage rugs lined with pampas grass floral installations, enhancing the ceremony setting without taking away from its natural beauty.
READ MORE: What New Laws Could Mean for Your Outdoor Wedding Ceremony
4. As a Wedding Centrepiece
Image: Pinterest
One of the easiest ways to include pampas grass in your wedding reception décor is to create simple pampas grass centrepieces.
Perfect at an autumn or winter wedding paired with coloured, mismatched glassware, these centrepieces are elegant and charming. We also love the foliage table runner as an extra décor touch!
5. On Your Wedding Signs
Image: Pinterest
Here at Hitched HQ, we're suckers for a cute wedding sign. Seriously – we fall hook, line and sinker for them every single time.
This modern wedding sign encapsulates all the key wedding trends the couple have chosen: bohemian styling, metallic touches, pampas grass and an emerald green colour scheme. It sets the tone for the rest of their elegant and stylish wedding day from the outset.
READ MORE: 8 Hot Wedding Dress Trends You Need to Know Now
6. At a Beach Wedding
Image: Pinterest
Hosting a seaside wedding? You're in luck! Pampas grass lends itself perfectly to weddings on the beach.
Say your vows on the sand in front of a pampas grass structure like this one before moving it inside to decorate your wedding reception space. If that's not an excellent way to save money on your wedding budget, we don't know what is!
READ MORE: The Best Beach Wedding Destinations in the World
7. The Backdrop to Your DIY Photo Booth
Image: Pinterest
There's nothing more fun than a photo booth at a wedding. Not only are they a great wedding entertainment idea (we guarantee your most eager guests will pay upwards of five visits) but they offer a lovely memento for your guests to take home with them.
If you're eager to make you own DIY photo booth, consider creating a pampas grass back drop. This one combines a rustic wood structure with bohemian pampas grass and white roses to create a statement structure everyone will love to pose in front of.
8. Creating Large Statement Installations…
Say hello to the "pampas cloud" – our favourite trend, like… ever.
Bundles of pampas grass can be suspended or attached to trellis above your wedding breakfast tables to make your reception setting seriously pop.
If you're going for a neutral installation, opt for white or bare wooden chairs, stripped-back table linen and simple centrepieces. Your clouds can do all the talking.
9. …Or Smaller Hanging Arrangements
Image: Pinterest
If you consider "pampas clouds" to be a little bit OTT, consider smaller hanging arrangements like these.
They're slightly more understated than the low-hanging clouds above, but still make for a stylish and statement wedding décor idea.
Side note: how good does the combination of pink roses and pampas grass look? We're sold.
10. Fill Vases with Pampas Grass
Image: Pinterest
If you're getting married outside, fill tall glass vases with a couple of pieces of pampas grass and place them on the floor next to each row of chairs. It's the perfect finishing touch!
11. Create a Standalone Structure Outdoors
Image: Pinterest
Welcome your guests to your wedding breakfast with a statement structure like this one. The asymmetric arrangement of pampas grass frames the tables perfectly.
If you're lucky enough that your wedding venue already has a wooden gazebo in its grounds, you're already halfway there!
READ MORE: Say 'I Do' Underneath Sandy Cove's Gazebo
12. Dye it Pink
Think pink with your pampas grass wedding décor – because pampas grass doesn't just have to be beige.
Dye the grass yourself or pick it up in pink from Amazon, then use it as fun and playful arrangements. This pink ombre effect pampas grass has got our vote!
13. Pampas Grass Buttonholes
Image: Pinterest
Alternative buttonholes are all the rage, and pampas grass buttonholes are a really simple way to tie your groomswear in with your wedding décor.
These rustic buttonholes feature a combination of pampas grass, roses and sprigs of foliage and are tied together with cute peach-toned ribbon.
READ MORE: 25 of the Best Groomsman Gift Ideas
14. Pampas Grass-Inspired Wedding Invitations
Image: Pinterest
Nod towards your love of pampas grass from the moment you send your wedding invitations.
The couple's names are framed with a pampas-inspired print on these stylish wedding invites. First impressions count!
READ MORE: What to Write in a Wedding Invitation
15. Sealing Your Wedding Invitations
You could take your pampas grass obsession one step further by sealing your wedding invitations with a pampas stamp – a delicate (albeit time-consuming) finishing touch that we love.
This effect would work on a whole array of envelope colours – from pastel shades to deeper jewel tones.
16. Decorating Your Wedding Cake
Image: Pinterest
Anyone who says pampas grass doesn't belong on a cake clearly hadn't seen this one.
The grass has been shaped into a wreath and decorated with dried flowers. Meanwhile, the wedding cake itself remains plain and simple so as not to distract from the decoration.
How about adding some pine cones to the wreath for an autumnal take on the trend?
17. Mix Pampas with Palms
Image: Pinterest
Once you've finished admiring the gorgeous back to this bride's wedding dress, focus your attention on the pampas and palm installation behind her.
The two textures complement each other perfectly and create an earthy, bohemian vibe that we love. A little bit of wind and it'll really come to life.
READ MORE: Your Guide to a Tropical Wedding Theme & 14 Other Theme Ideas
Feeling suitably inspired? Check out our round-up of 51 free wedding ideas for your final finishing touches.