Why Dried Wedding Flowers Make The Coolest Wedding Décor
Dried wedding flowers are having a moment, thanks to both their long-lasting nature and their effortlessly chic look. Here's how to make them work on your big day.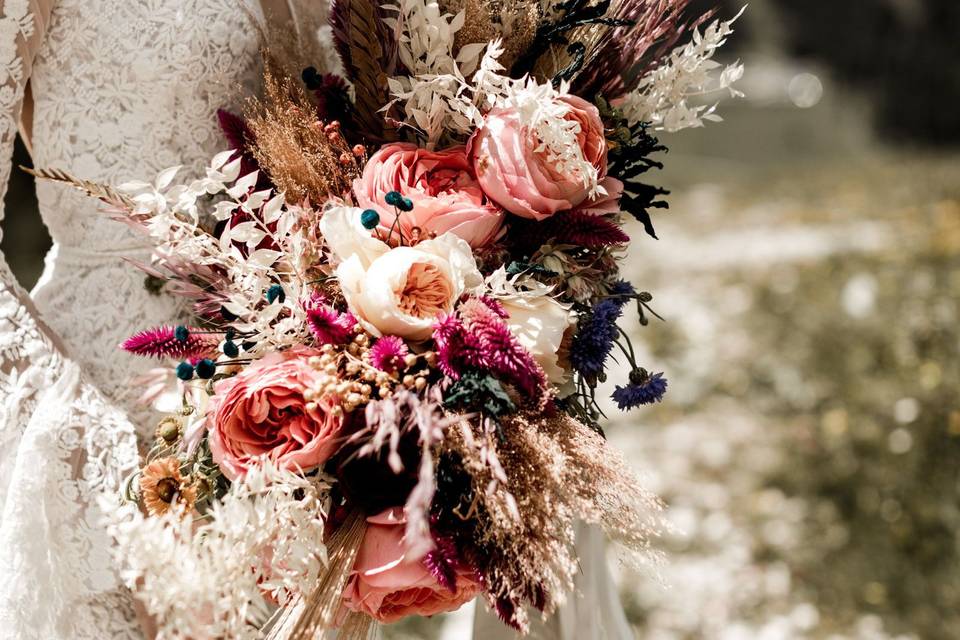 A single scroll through Pinterest will show you that dried wedding flowers are undoubtedly one of the hottest wedding trends right now.
From pampas grass arches to arrangements overflowing with dried blooms like carnations, hydrangea and baby's breath, these preserved stems are becoming increasingly popular, both for their look and their longevity.
'Dried flowers bring a whole new texture to wedding flowers that you just can't achieve with fresh florals alone,' explains florist Rosie Conroy, one half of wedding flower suppliers Lavender & Rose. 'This trend has exploded in the last couple of years thanks to celebrities such as Mandy Moore running wild with the dried theme (if you haven't seen her pastel pink pampas grass-filled day, you've got to give it a Google).'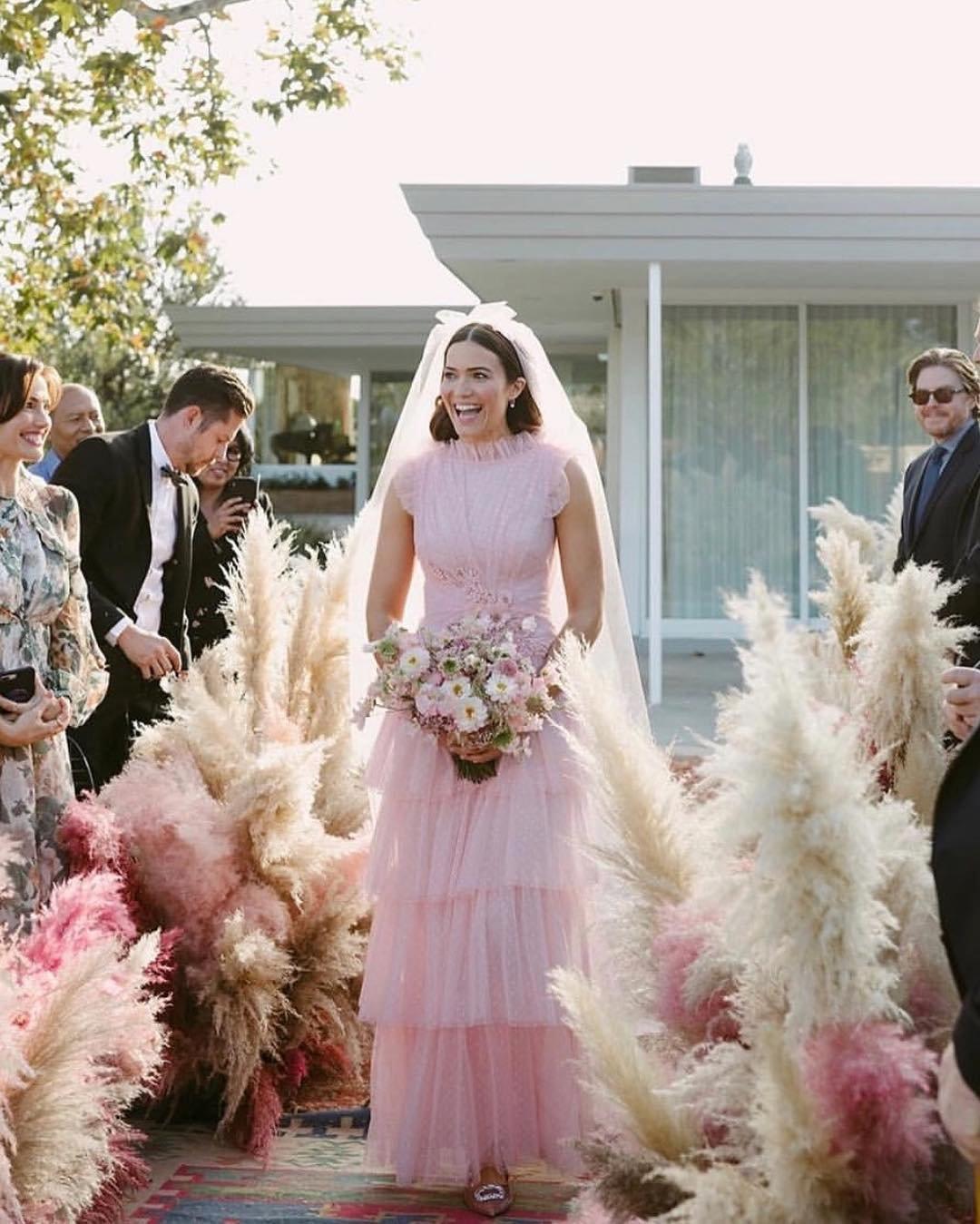 But not only are dried flowers A-list approved, they give a fresh (pun intended) twist to the more traditional bridal look; although the art of drying flowers has existed for centuries, this new generation is cool, modern and incredibly Instagrammable.
'I think the reason for their popularity is somewhat down to them giving wedding décor a bit of an "edge",' Rosie says. 'Dried flowers manage to temper the traditionally "pretty" look of wedding flowers to make them a little more edgy, a little cooler and a lot less ruffled.'
Bouquets aside, there are dozens of ways to incorporate dried flowers into your wedding day, including your décor, hair accessories and table settings. If you're tempted, here's everything you need to know.
READ MORE:
What Are The Benefits Of Using Dried Wedding Flowers?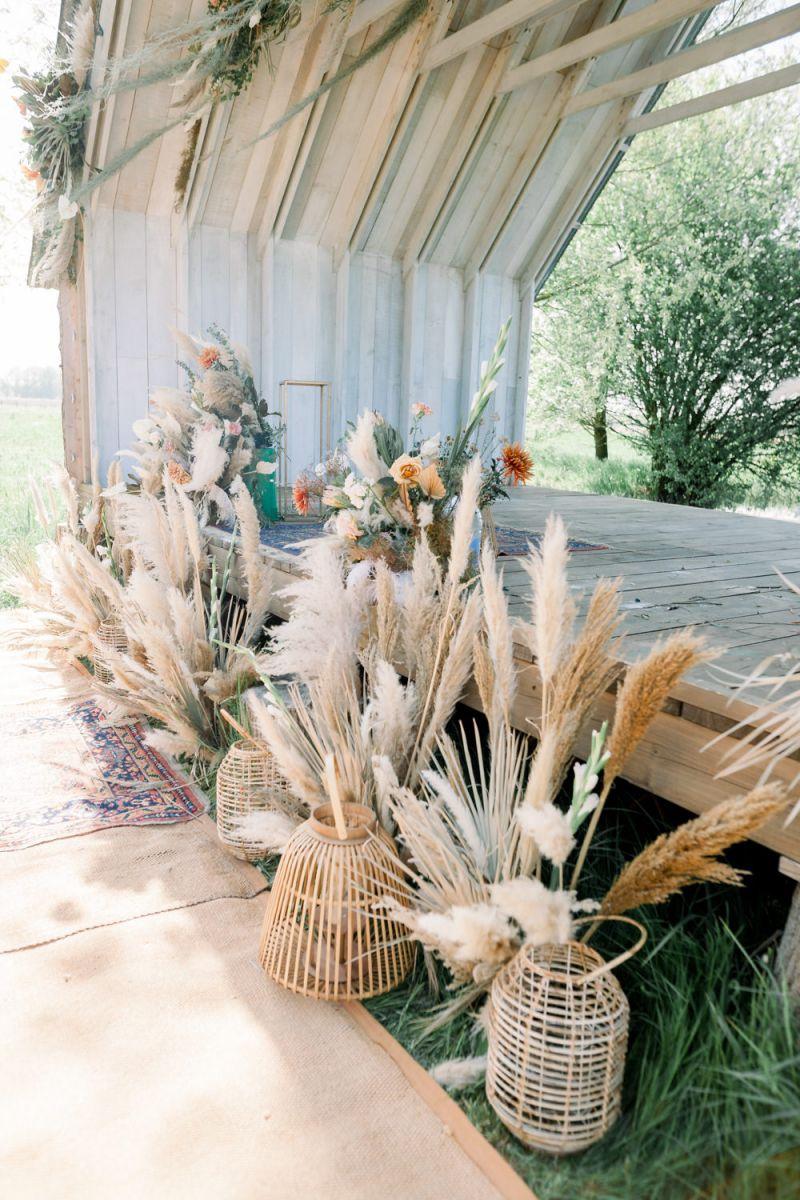 Dried wedding flowers lend themselves just as well to a vintage or boho wedding as they do to a contemporary city ceremony or English country garden. With so many options on offer, they're super versatile and, whatever vibe you're going for, your florist will be able to create something that fits your venue and theme flawlessly. The fact that they're a touch different from the usual fresh displays also means maximum wow-factor for your guests.
However, the most obvious benefit of dried flowers, aesthetics aside, is how long they last – not only will they stand strong on the day itself, you can keep them for much longer, without having to do any extra preservation. Rosie points out that they're also great if you're getting married abroad. 'These tough guys don't wilt in the sun or from a lack of water,' she says – which is fab for a summer wedding or exotic location where temperatures are likely to soar.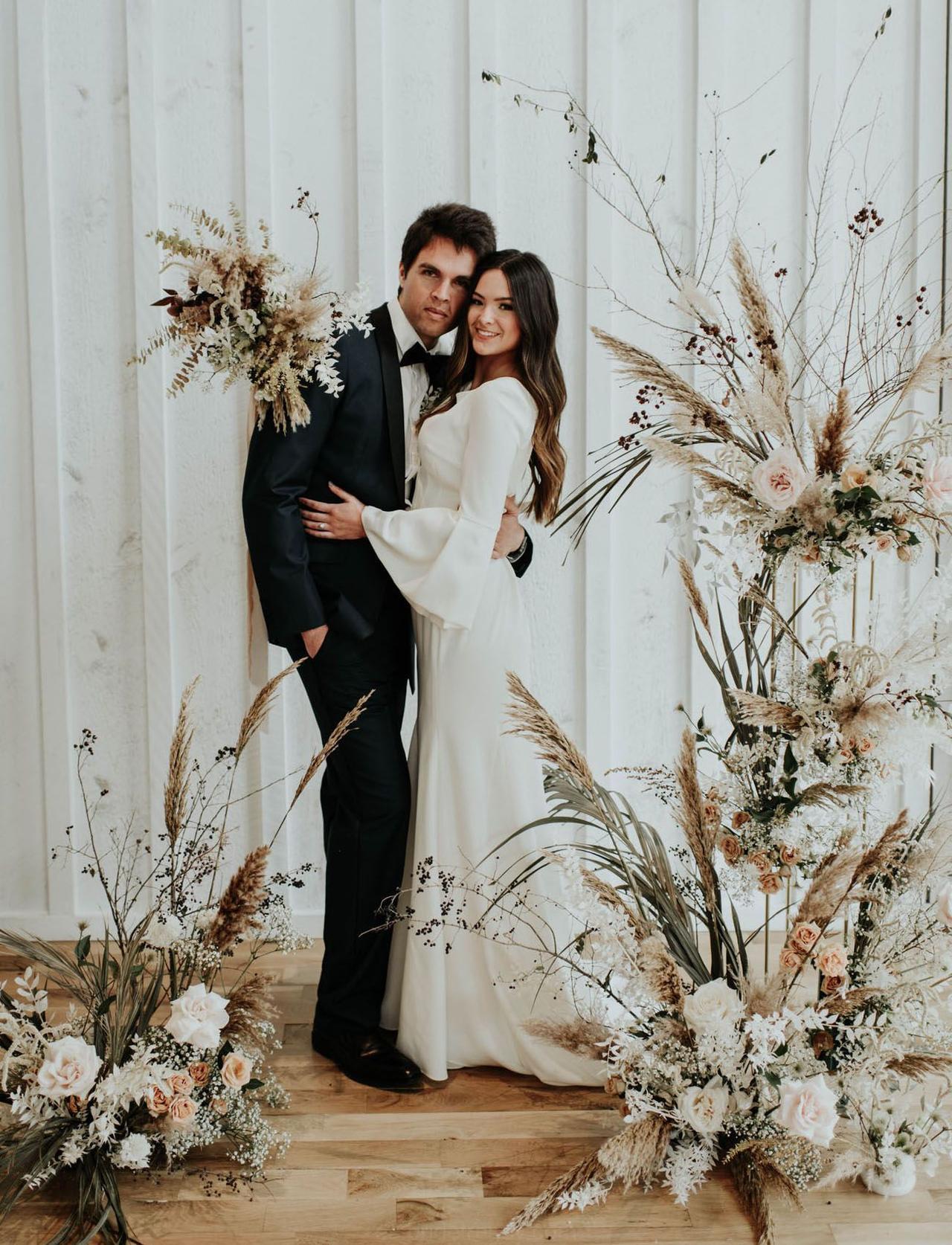 Whatever the weather, dried flowers are brilliantly low-maintenance generally, and once they're in situ there's no need to perk them up. If you know that however many times your florist tells you to put your bouquet in water between photographs, you're not going to remember, then these are an ideal option for you.
But it's important to note that while they are robust, dried flowers are certainly not invincible. 'They can be crushed or flake off easily, so keep them out of the way of any cuddles where they might get squished between you and an over-excited relative,' Rosie notes. 'And make sure not to do any throwing of the bouquet!'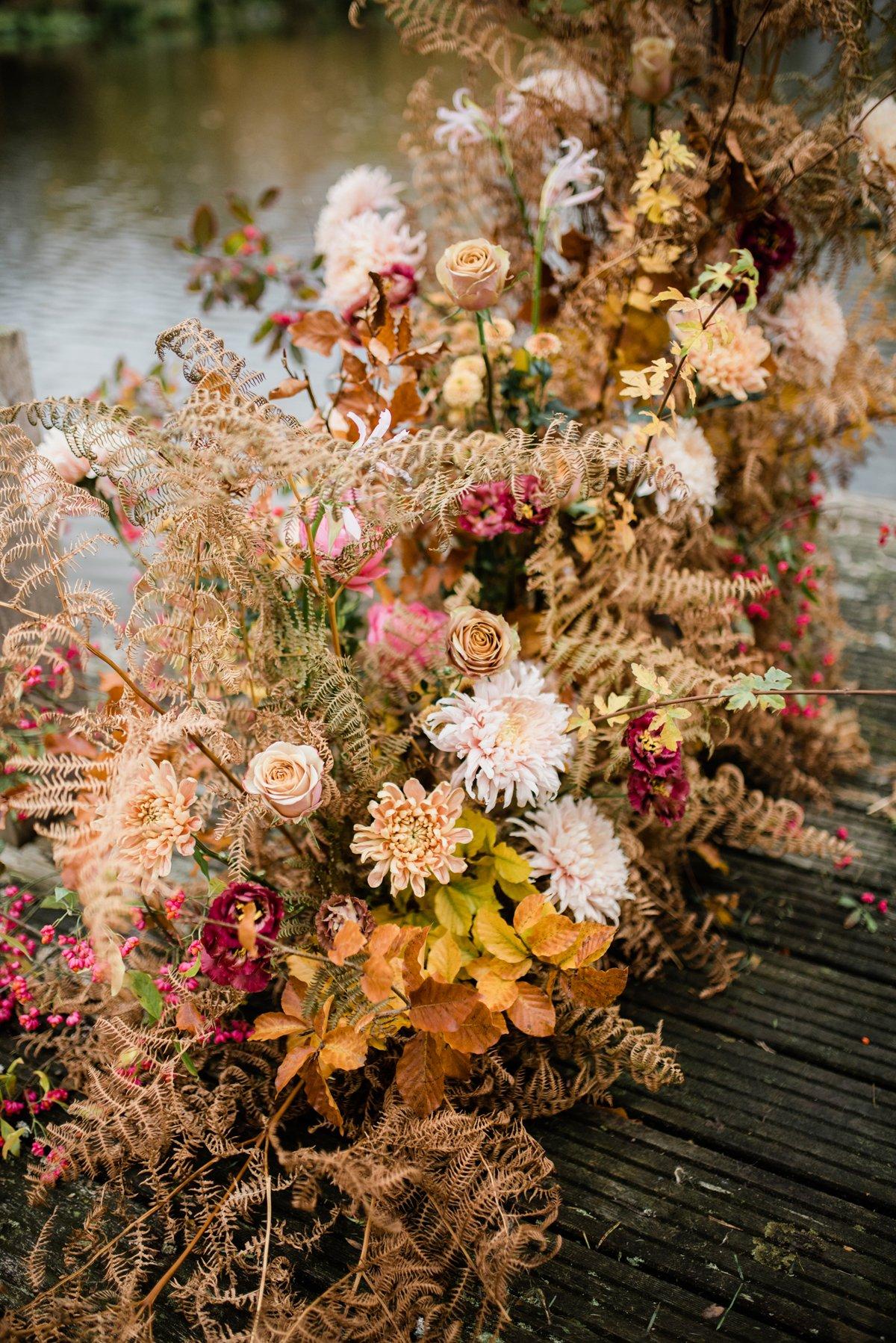 As for sourcing those stems? 'You can get your hands on dried flowers at any point in the year, but if you're looking for British ones you're best waiting until autumn or winter to source yours, as they'll be the freshest stock from the spring and summer just passed. The Hop Shop and The Real Flower Co both sell their own dried flowers from stock grown in the UK, if you're looking to do a DIY job.'
Are Dried Wedding Flowers More Expensive?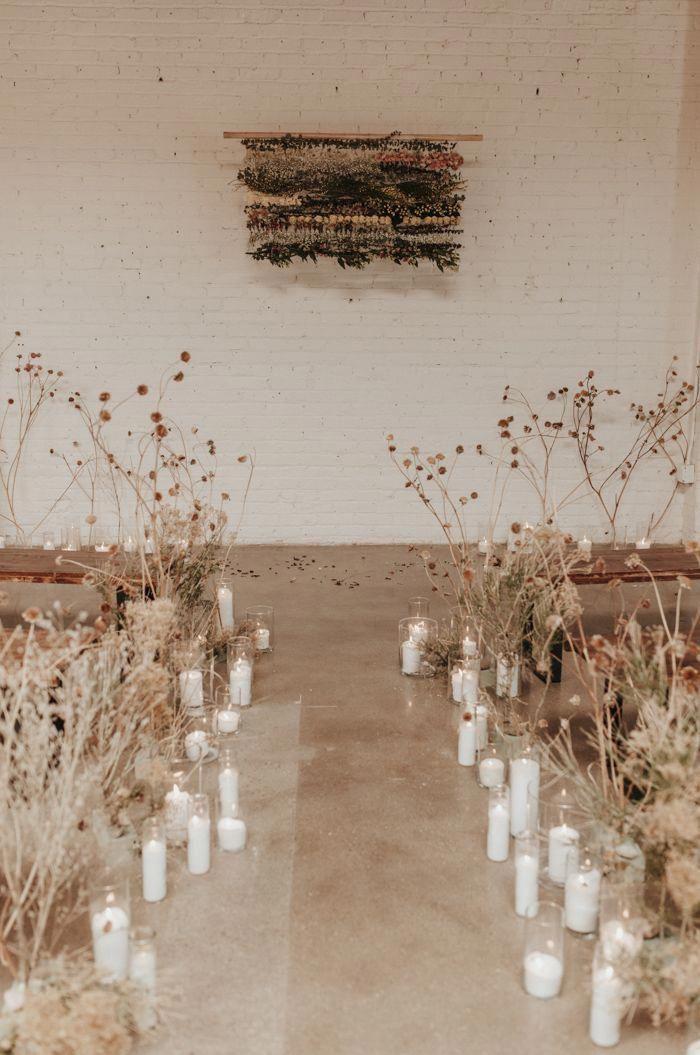 The short answer is no: but while they're sometimes touted as a budget-friendly option, you might not end up making much of a saving when you compare them to your quotes for fresh.
'Dried flowers typically work out to be a similar cost for a couple of reasons,' Rosie details. 'Firstly they're a lot smaller, so despite them being a little less per stem you need a bigger quantity to give them the same size of bouquet. Secondly, there are also far more breakages with dried flowers than fresh when you're working with them, so your florist will have to allow for damaged stock when ordering.'
Of course, you don't have to go with solely dried flowers – you can mix and match across your decorations, place settings and bridal flowers, and incorporate dried stems into bunches of fresh flowers too. The variety you choose will have a big impact on the finished look; here are just some of the most popular options to have on your hit list.
The Most Popular Types Of Dried Flowers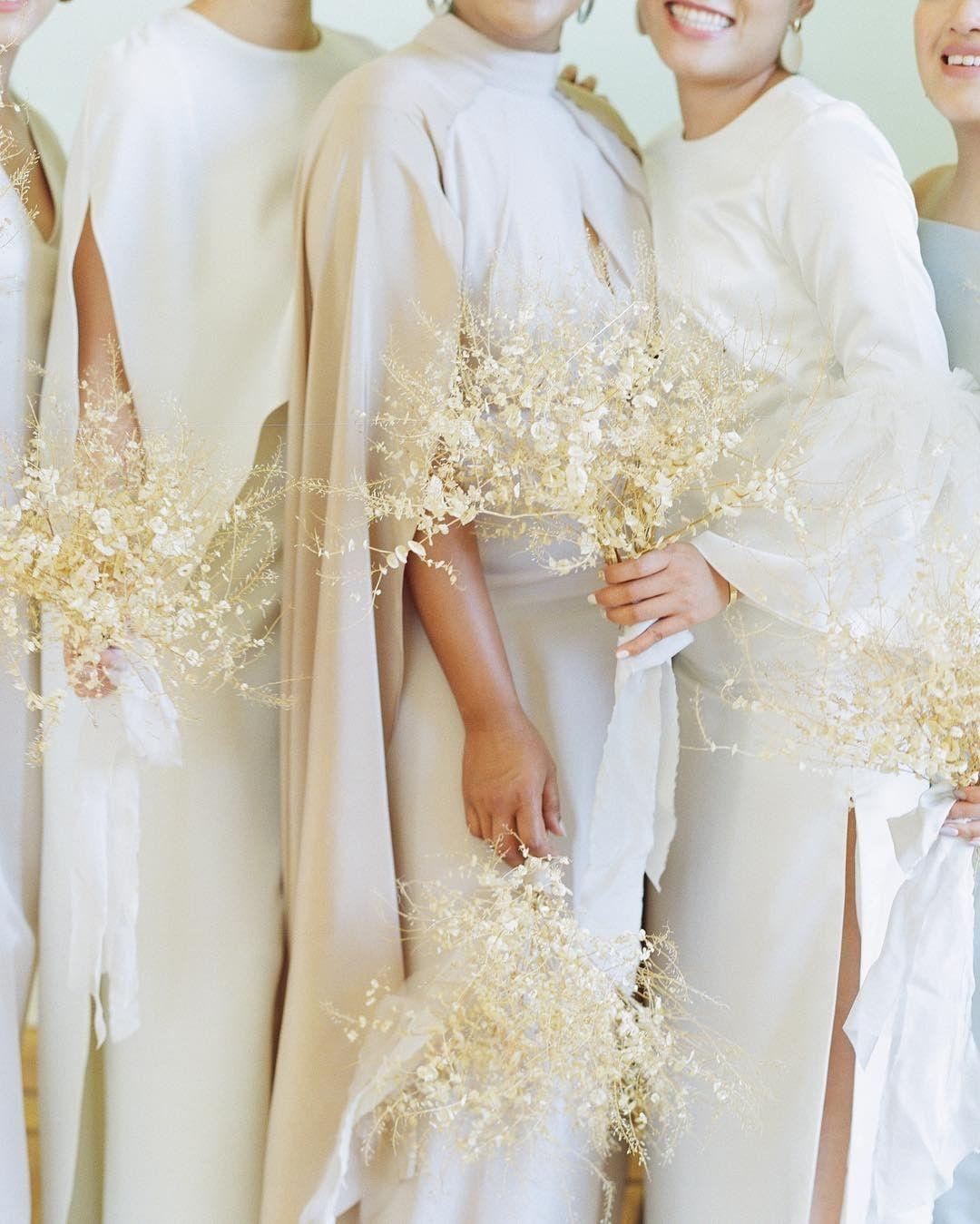 Grasses and Seedpods: 'They dry really nicely and look pretty similar to their fresh form, while flowers like roses do crinkle up a little and can seem a bit sad,' says Rosie. 'Pampas grass is definitely the man of the moment, with its name often being cited in our request forms. There's something magical about how fluffy and golden it is, though if golden isn't your bag you can get it dyed nearly any colour now.' Other in-demand grasses include wheat, fern, foxtail and bunny tail.
Flowers: Straw flowers are Rosie's favourites. 'These gorgeous flowers feel like straw (hence the same), look a little like a more heavily-petalled daisy and are almost indistinguishable from their fresh counterparts once dried. They also come in lots of colours so are great for matching to a theme.' However, you could also consider lavender, carnations, chamomile, hydrangea, gypsophila, amaranth, star flowers and billy buttons.
Leaves: Palm and eucalyptus are just as popular for weddings as they are for home interiors. As a novel inclusion with more fragrance than your average bundle of dried flowers, you could incorporate sprigs of dried herbs. Chrysanthemum leaves can also work well when dried; accent your foliage with additions like cotton balls, branches of pussy willow or poppy seed heads.
How To Use Dried Wedding Flowers In Your Wedding
Bouquets and Buttonholes
Dried flower bouquets tend to lend themselves very well to earthy tones; think pale pinks, warm beiges, rustic browns and delicate washed-out greens. However, don't feel that you have to be limited to neutrals with your picks – it is possible to source dried flowers in almost any colour, including blues, reds, purples and yellows for more of an organic wildflower feel. Smaller versions of your bouquet can be scaled down for buttonholes, bridesmaid posies and even corsages.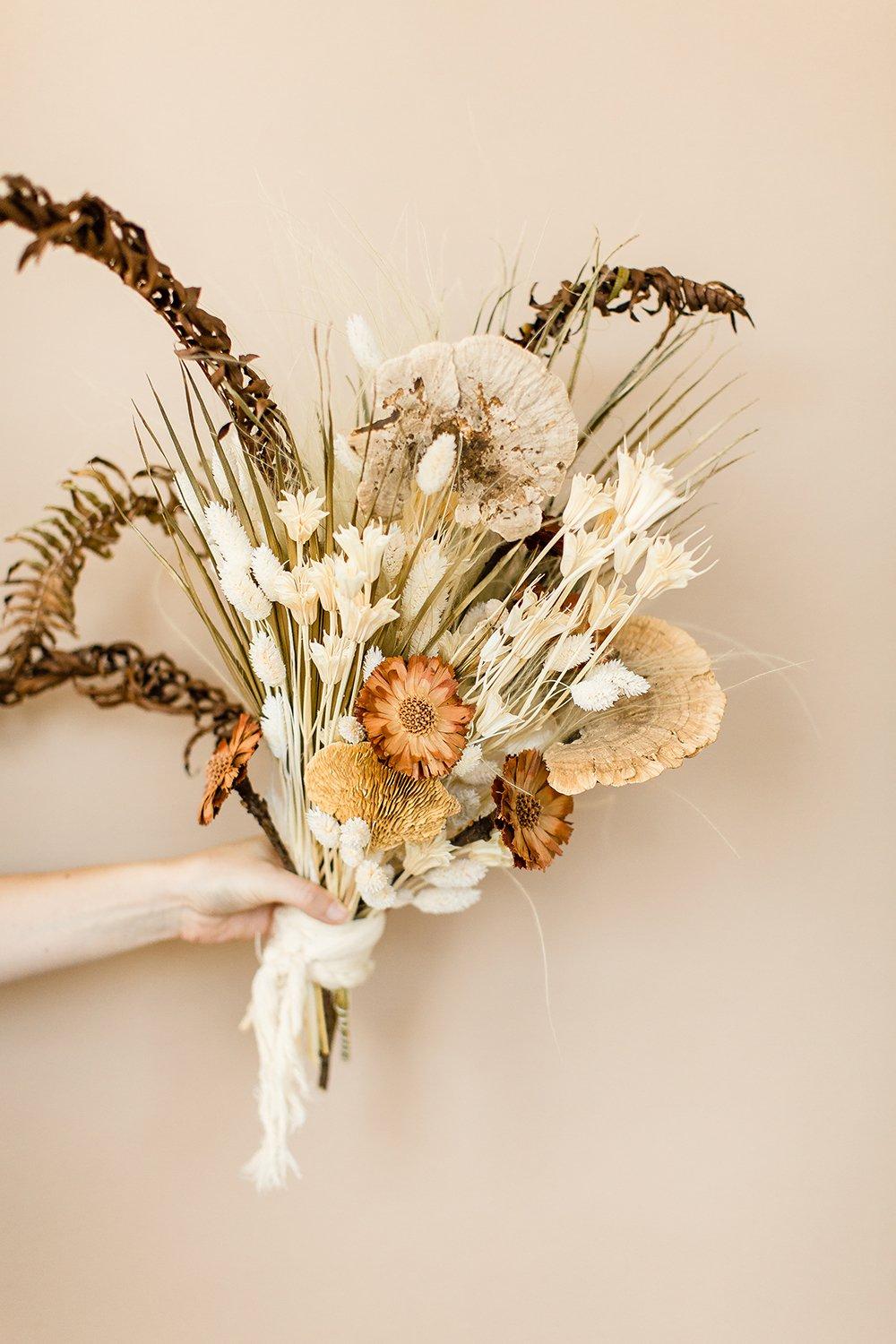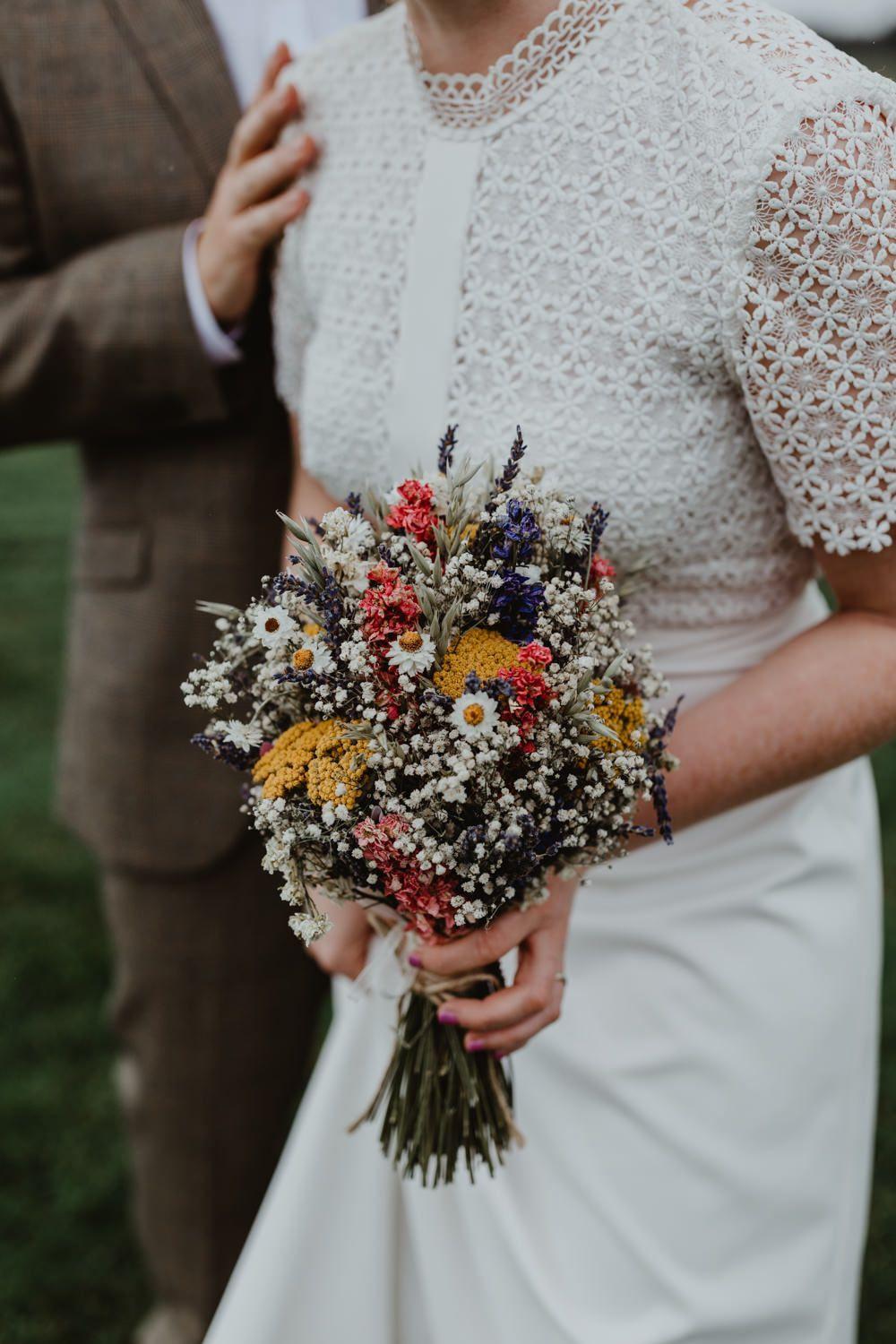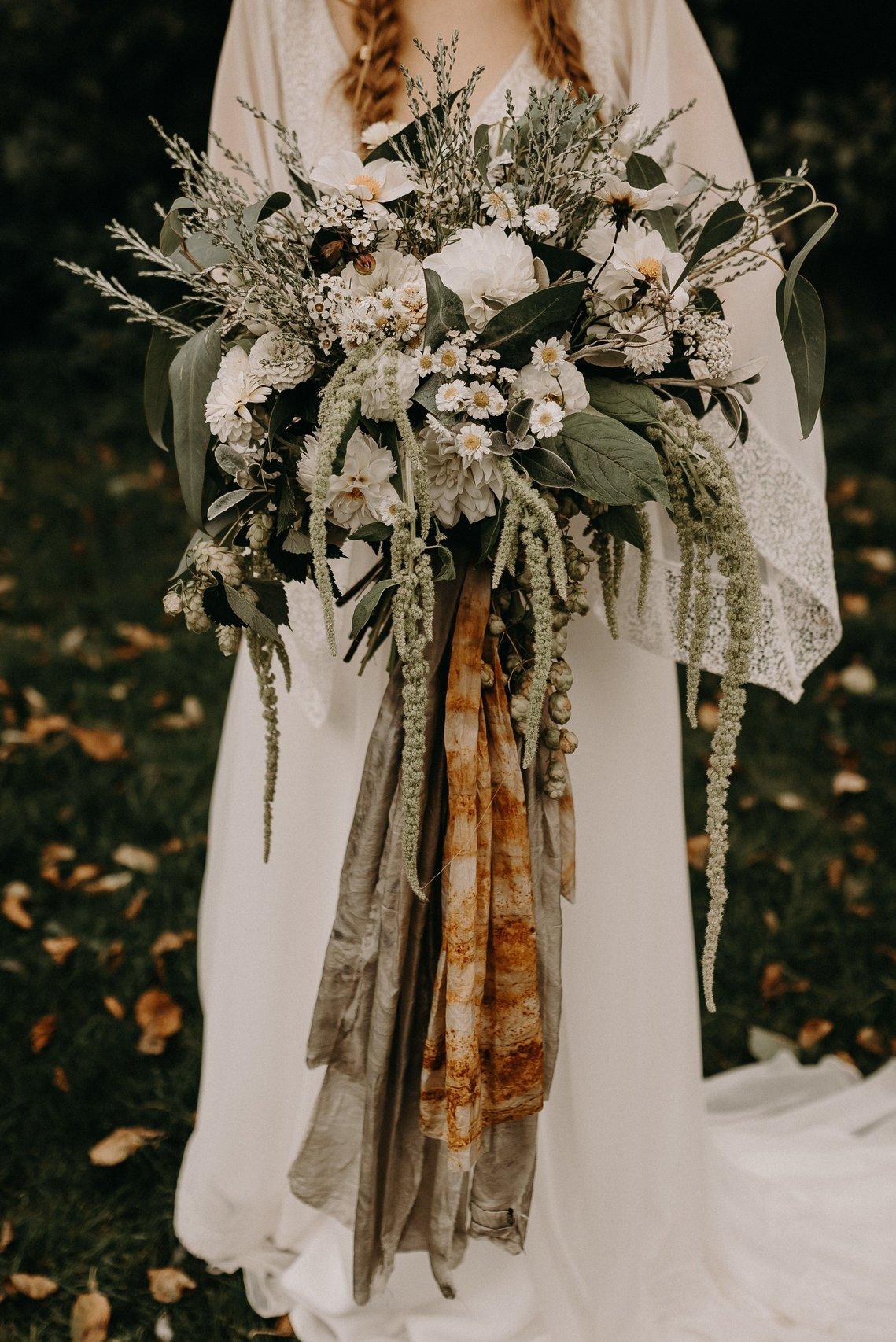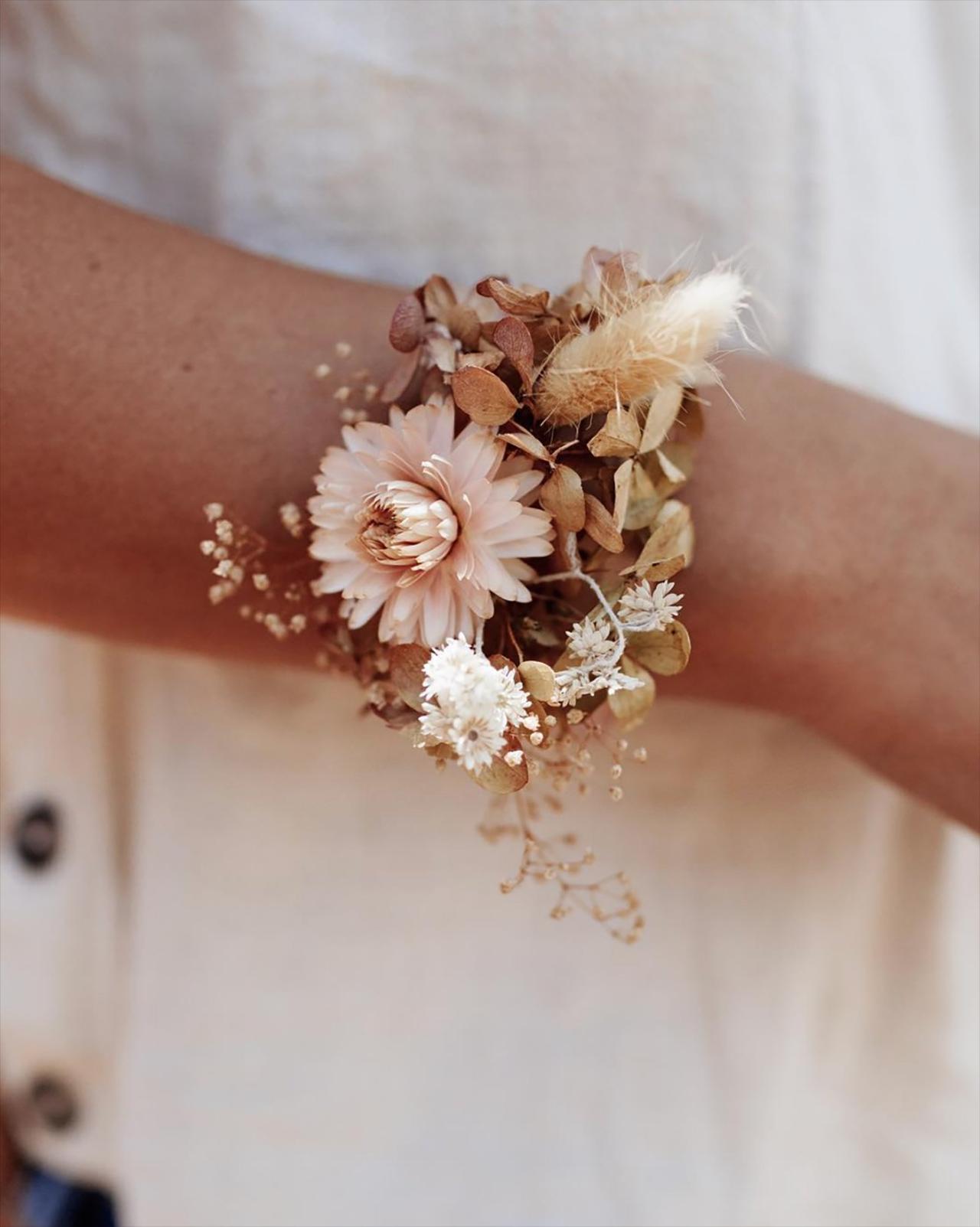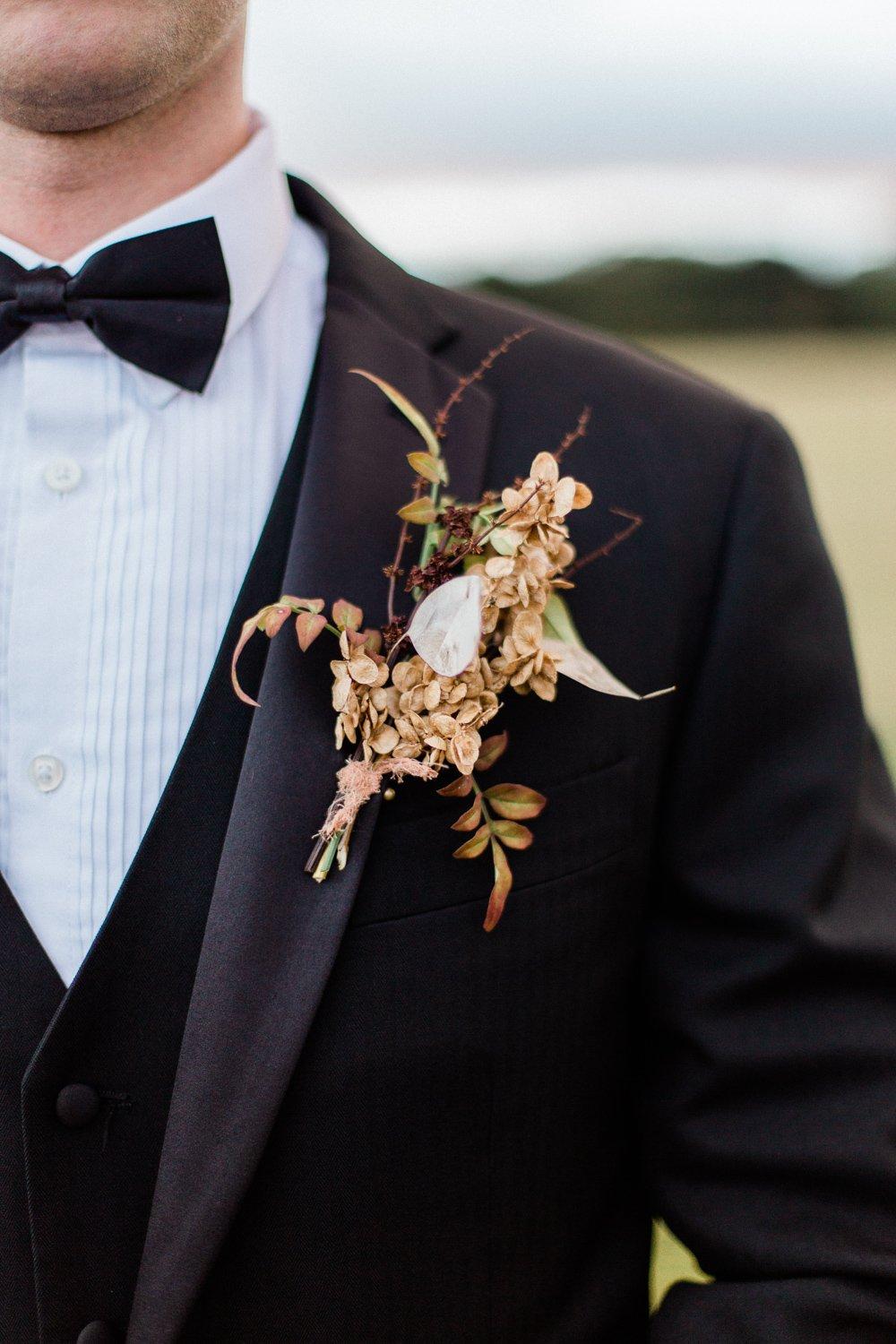 Arches and Backdrops
What could be a more gorgeous display than a swathe of bushy pampas grass, or fronds of autumn foliage hanging behind you as you exchange your vows? You can also use dried flowers as pretty photo booth backdrops, as they won't droop or wither throughout the day.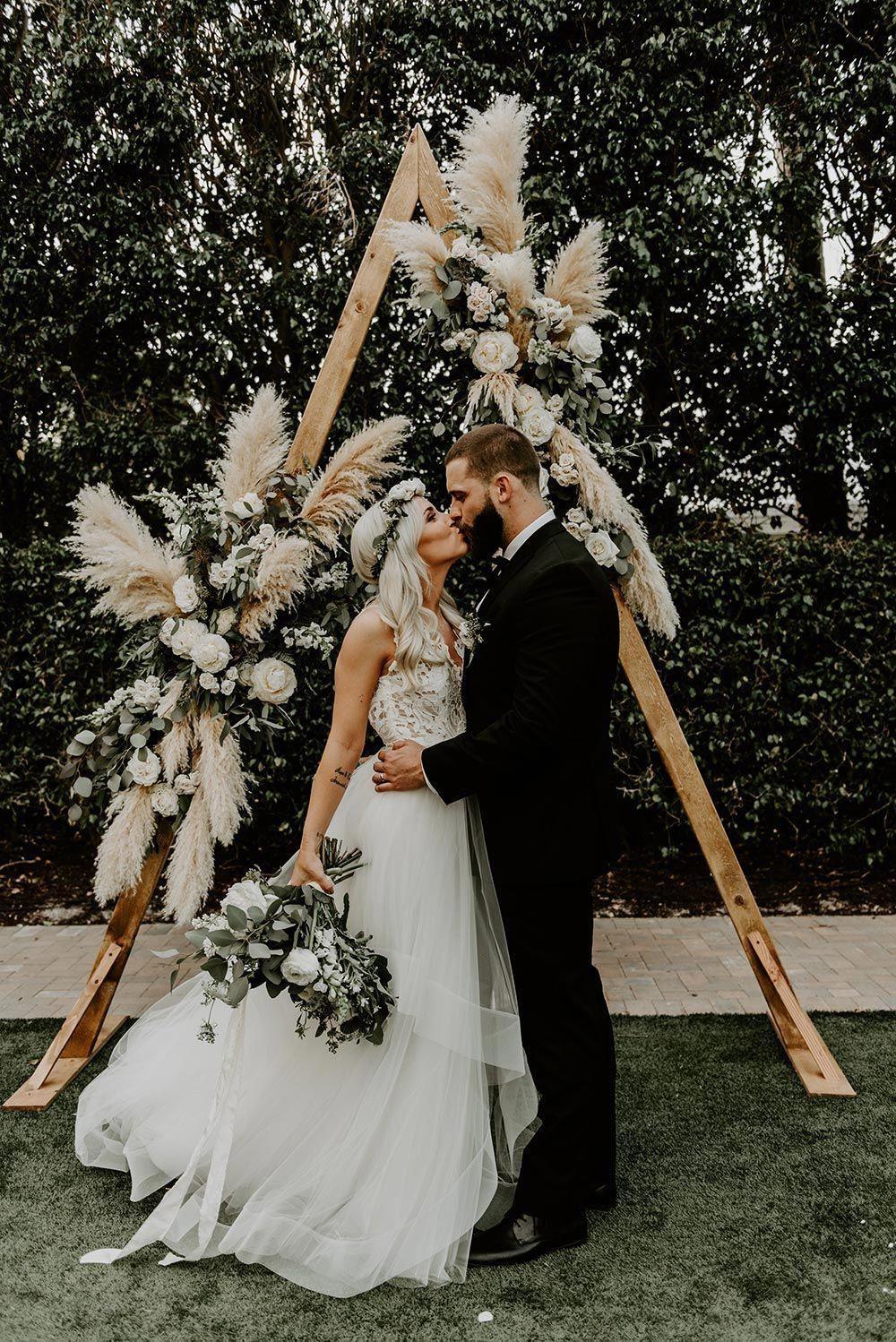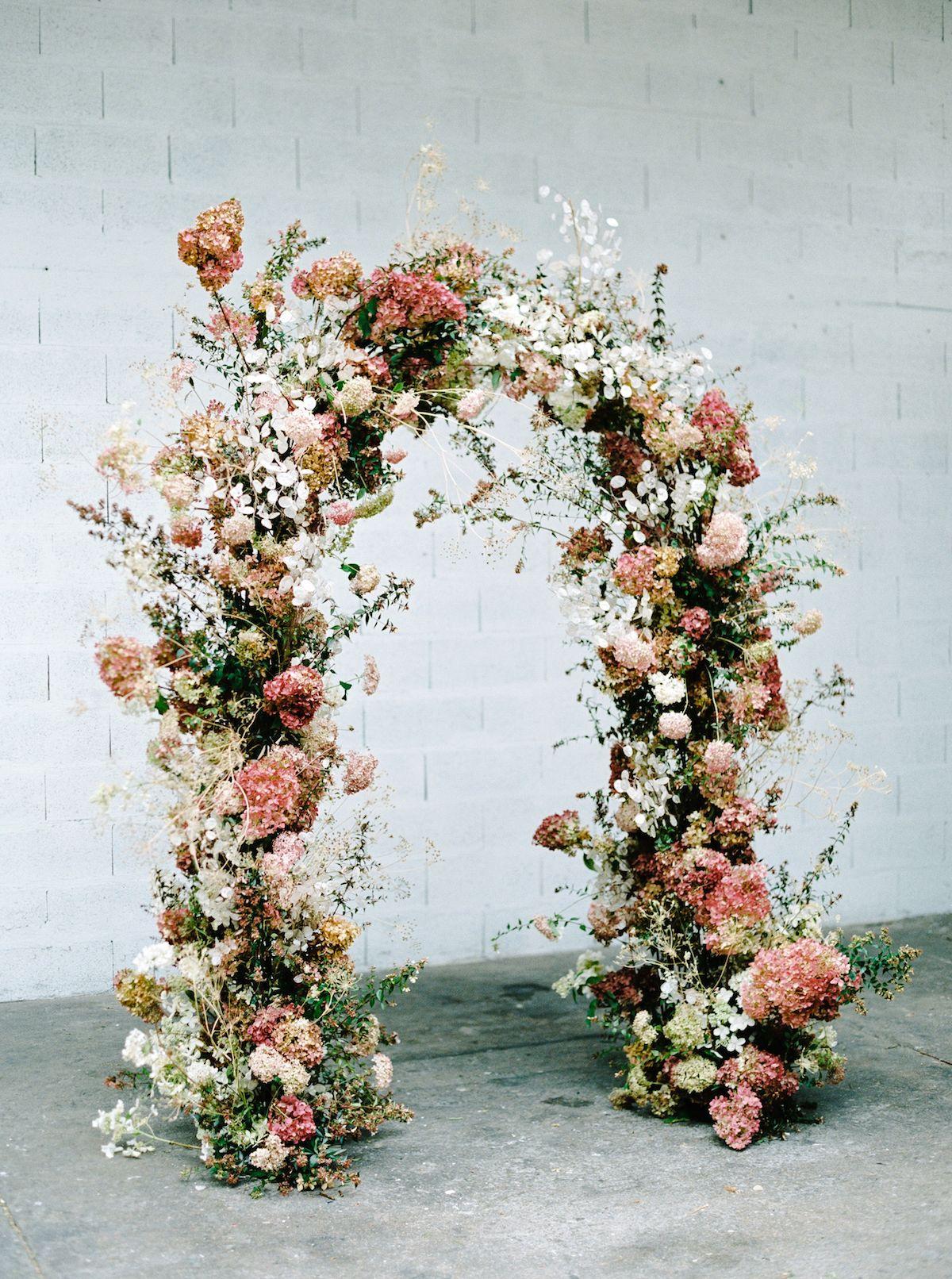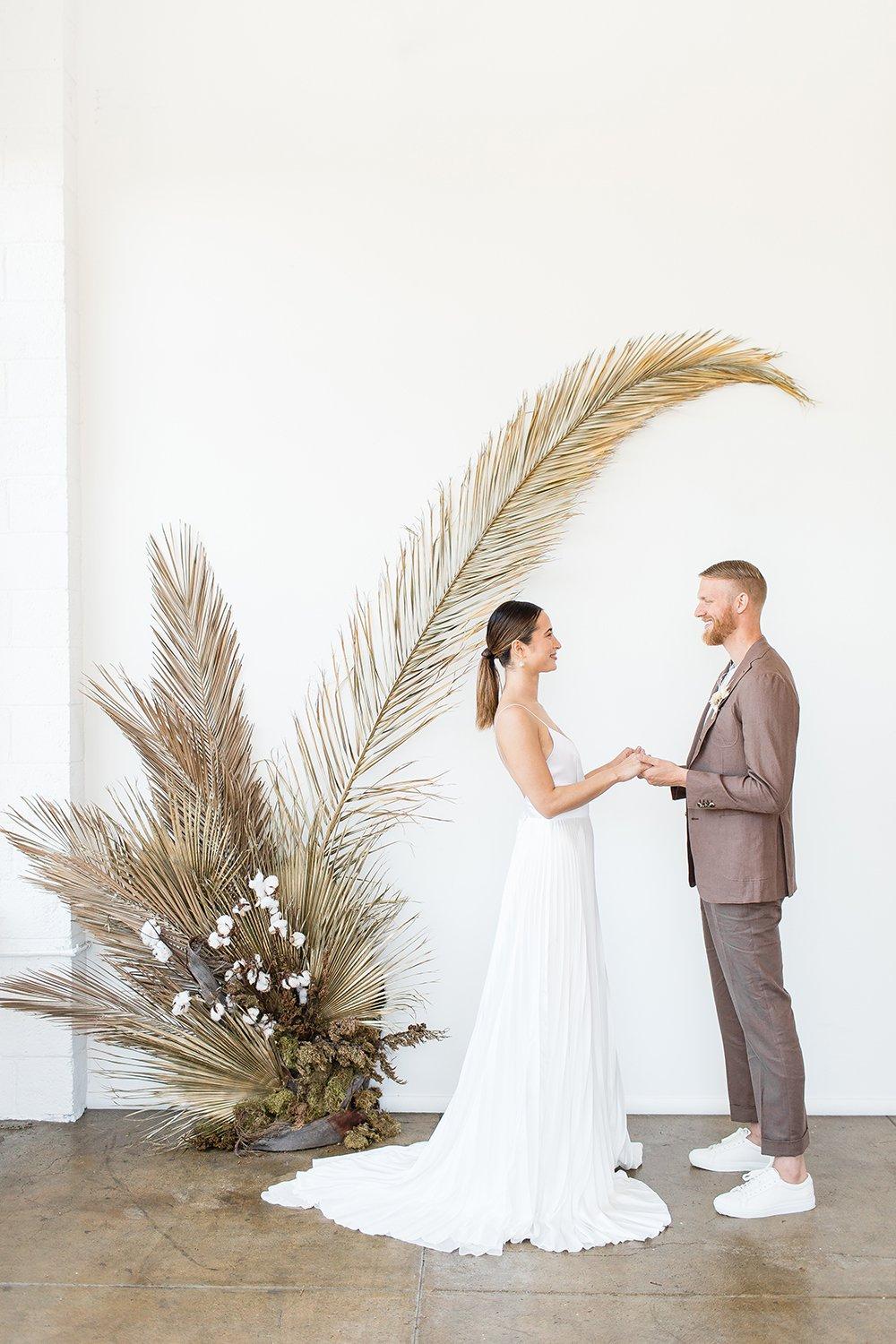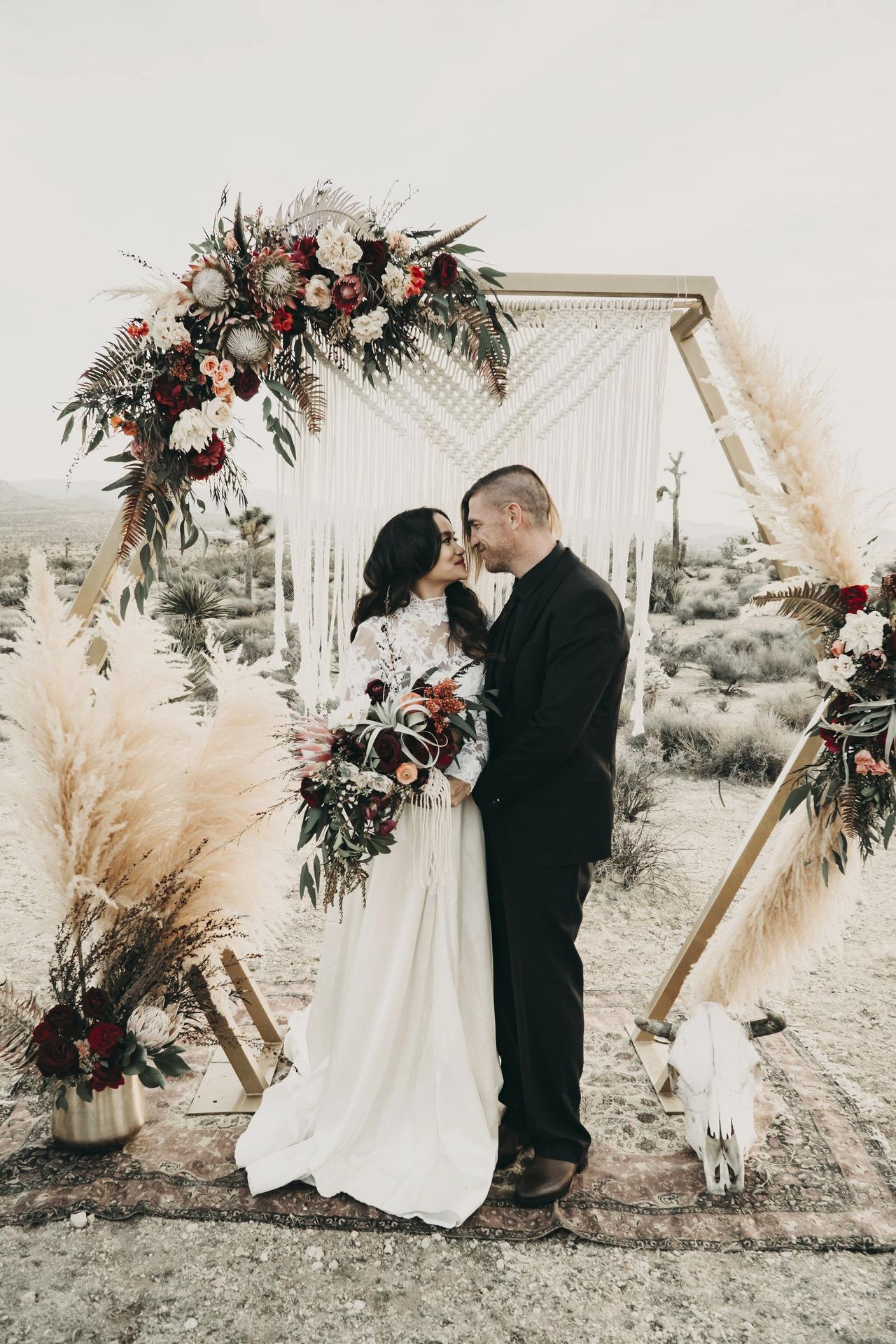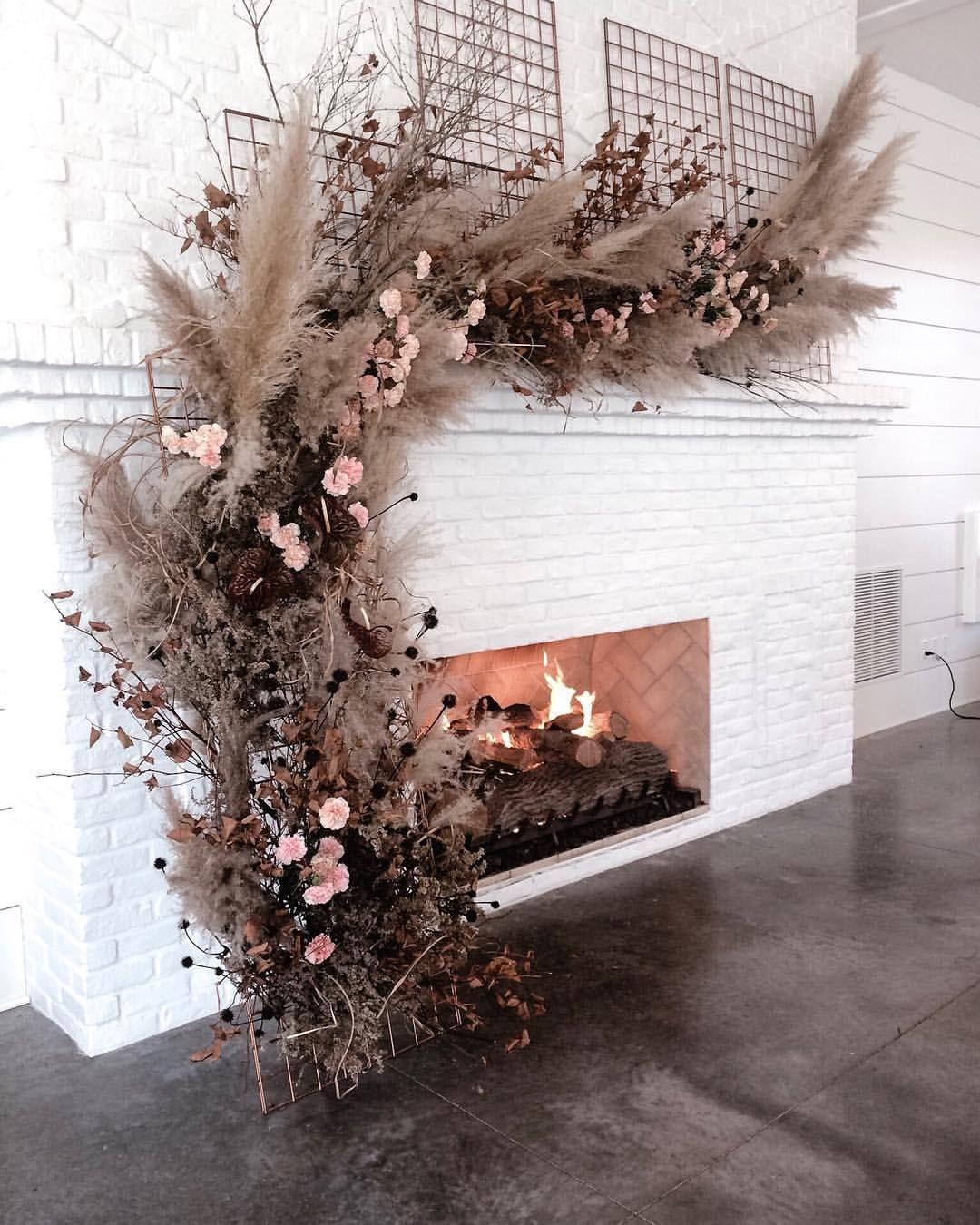 Flower Crown and Hair Accessories
Dried flower crowns are a seriously elegant and almost weightless choice that will look gorgeous long into the evening. Just be sure to have a trusty bridesmaid on hand to catch any petals that fall while you're on the dancefloor. If you're doing your own hair (or want to make life easier for your hairdresser), check Etsy for pre-made combs which can be neatly slotted in to your finished style.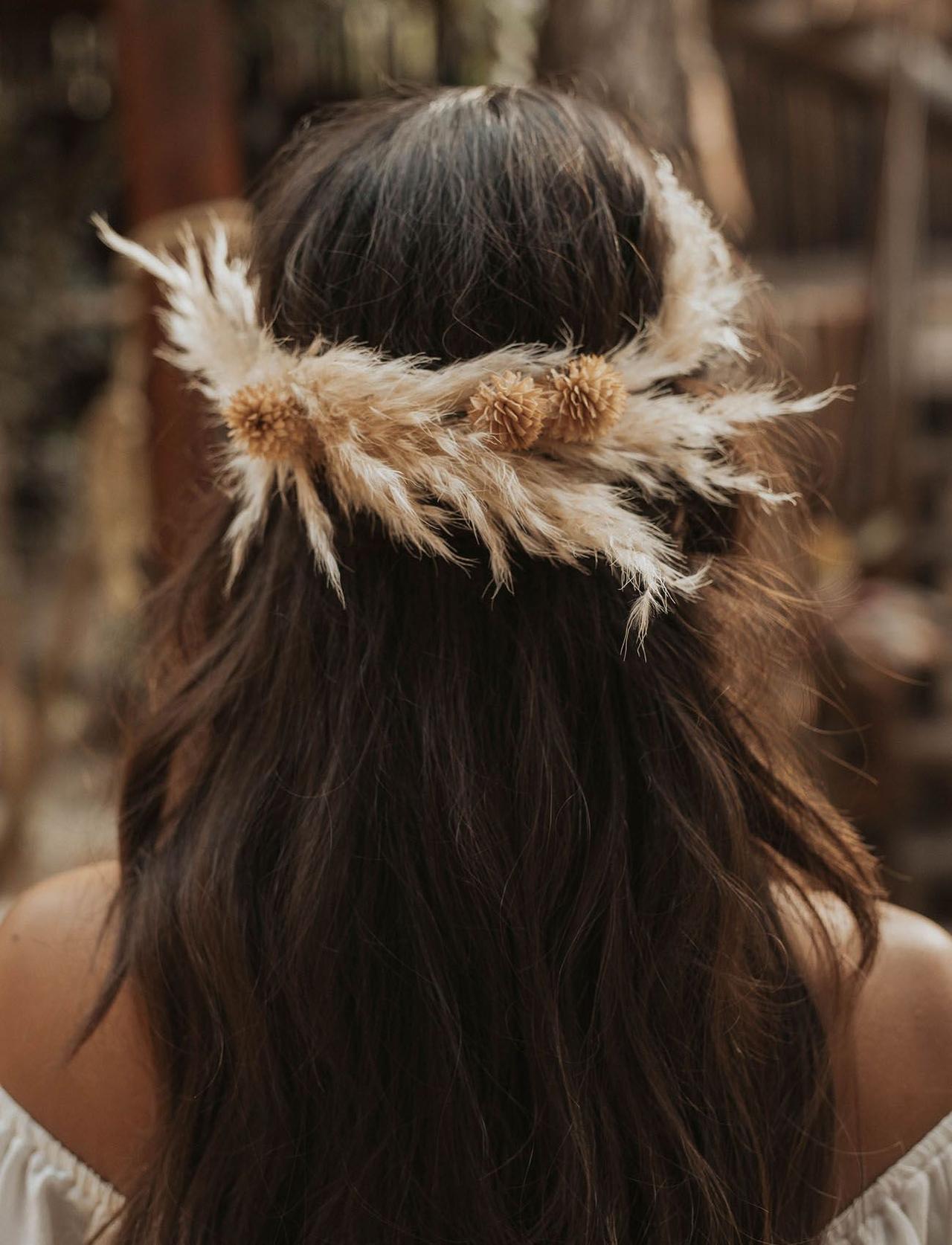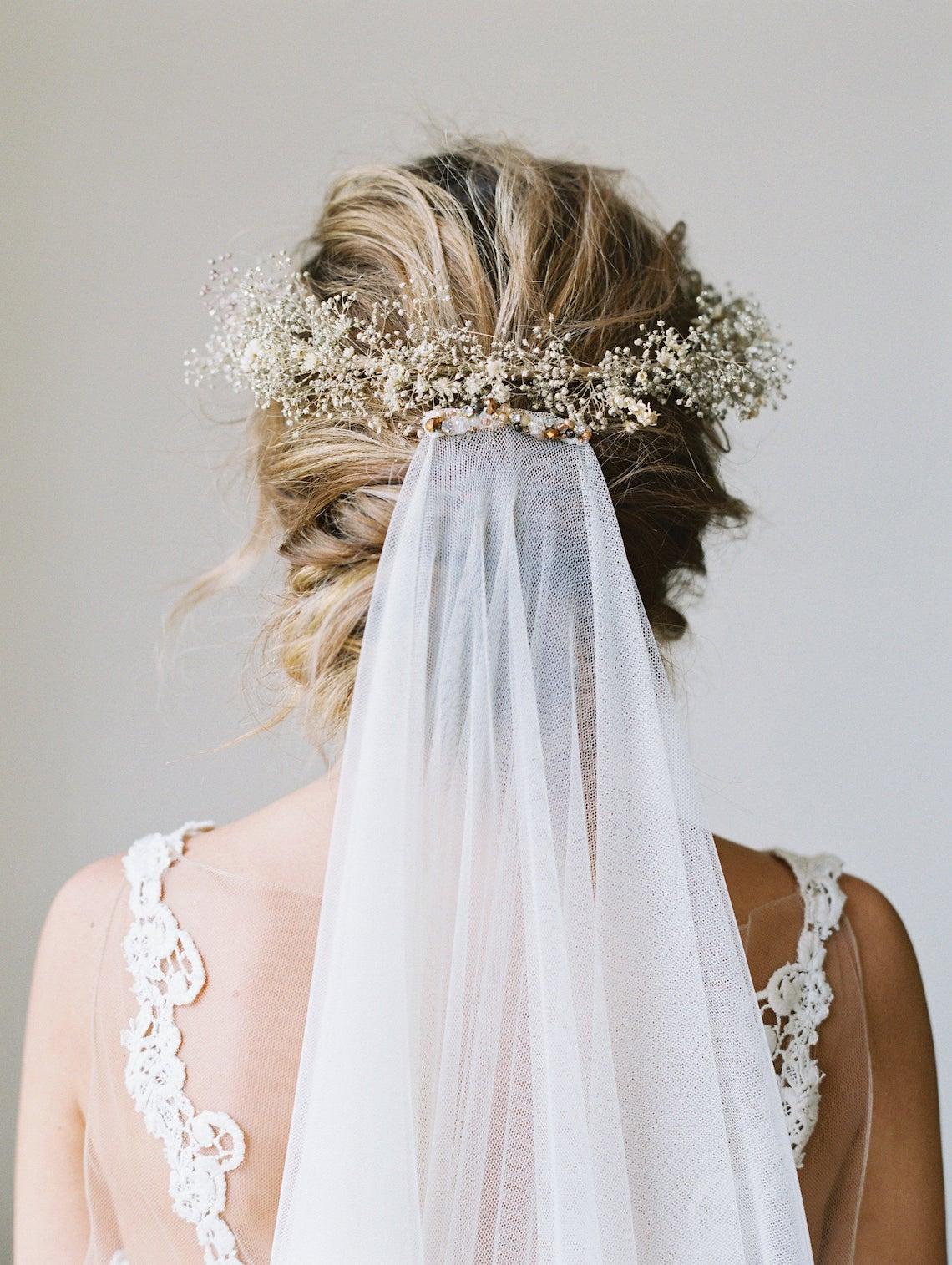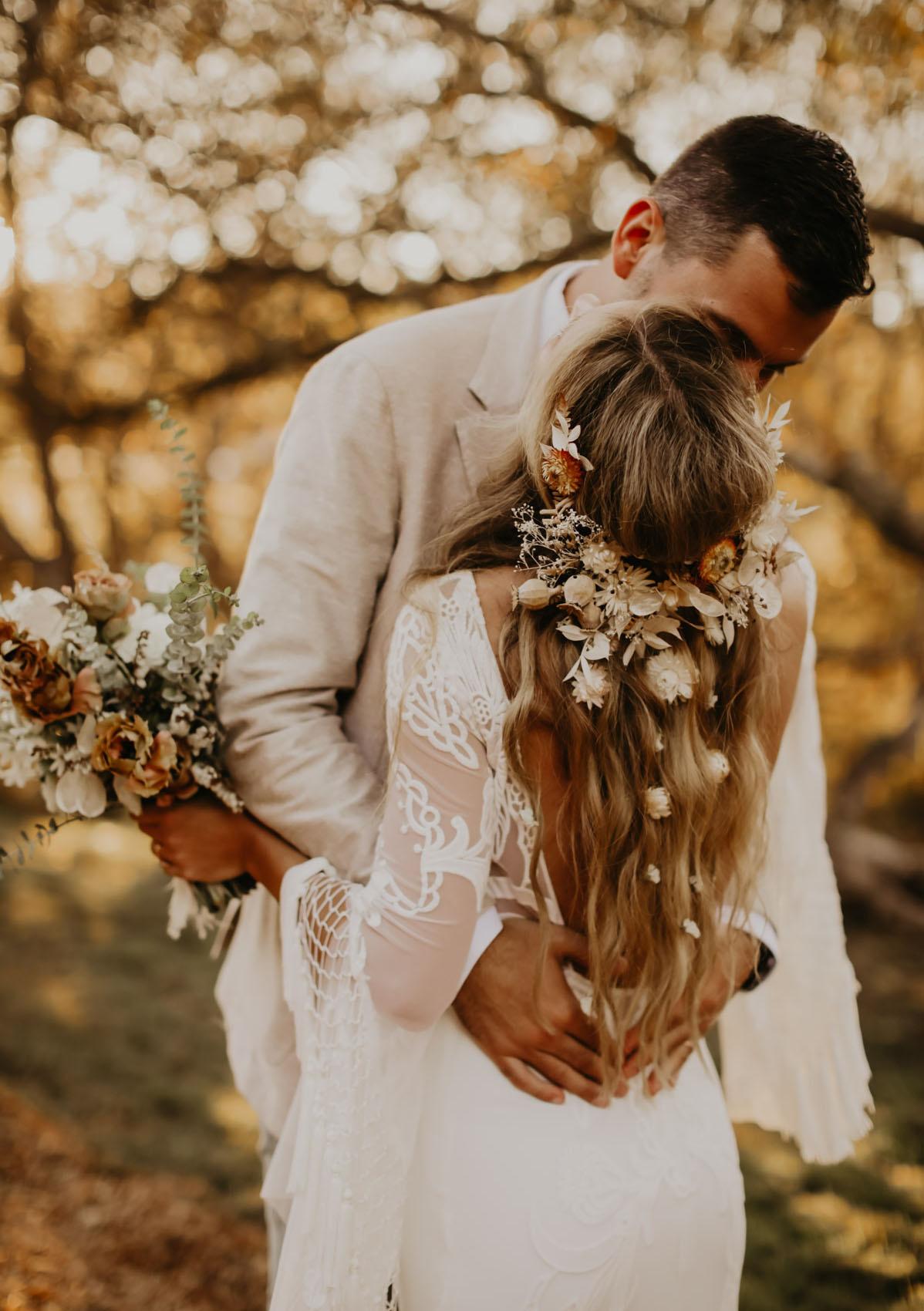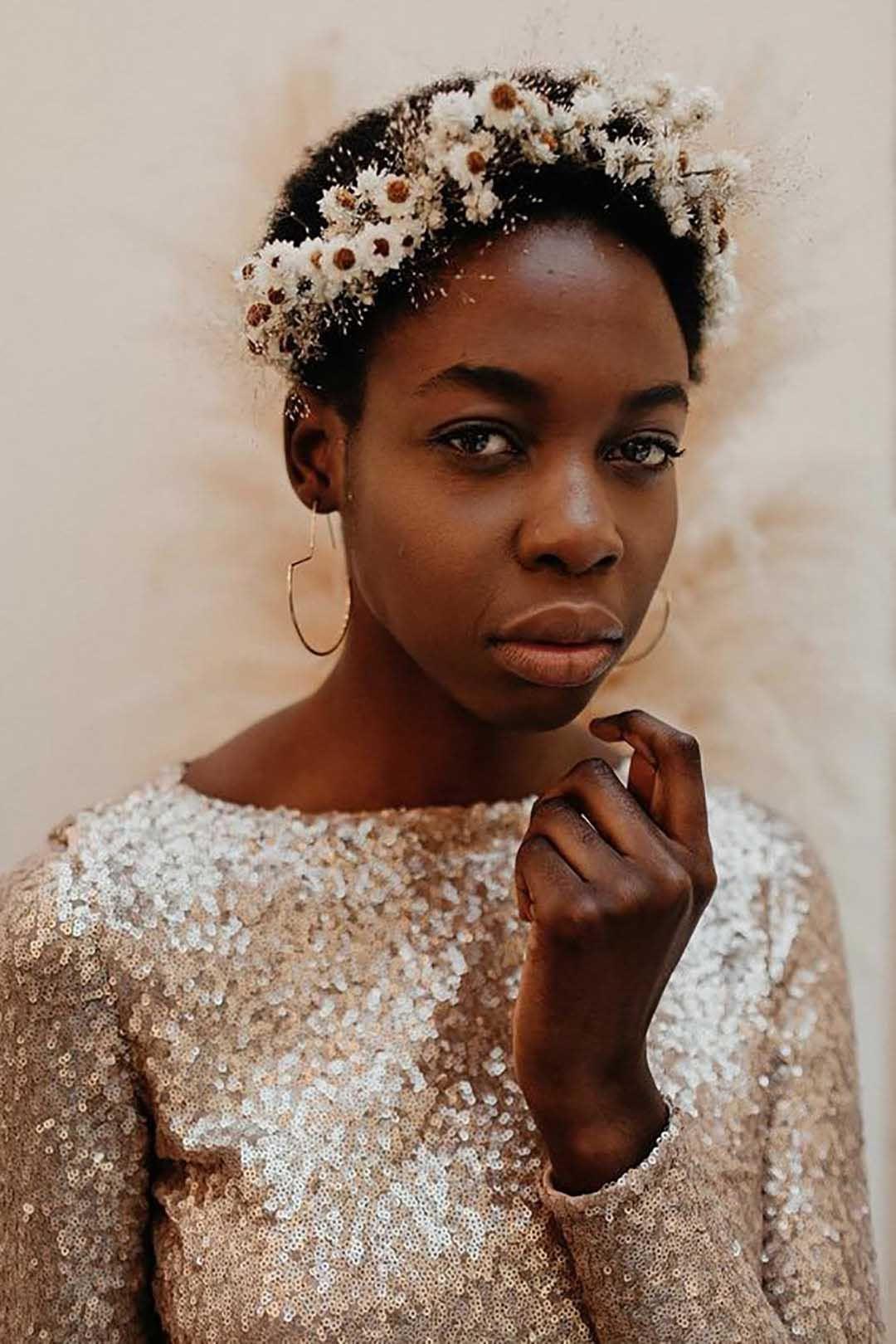 Table Settings and Décor
You can go as sparse or as maximalist as you like with your dried flower décor. Give the impression of abundance with floral runners or centrepieces, dot vases stuffed with dried blooms all around your reception space, hang wreaths (no, they're not just for Christmas) on the doors, or use suspended flower arrangements above your tables. Depending on the season, location and how adventurous you care to get, the options really are endless – don't forget, dried flowers also make great confetti!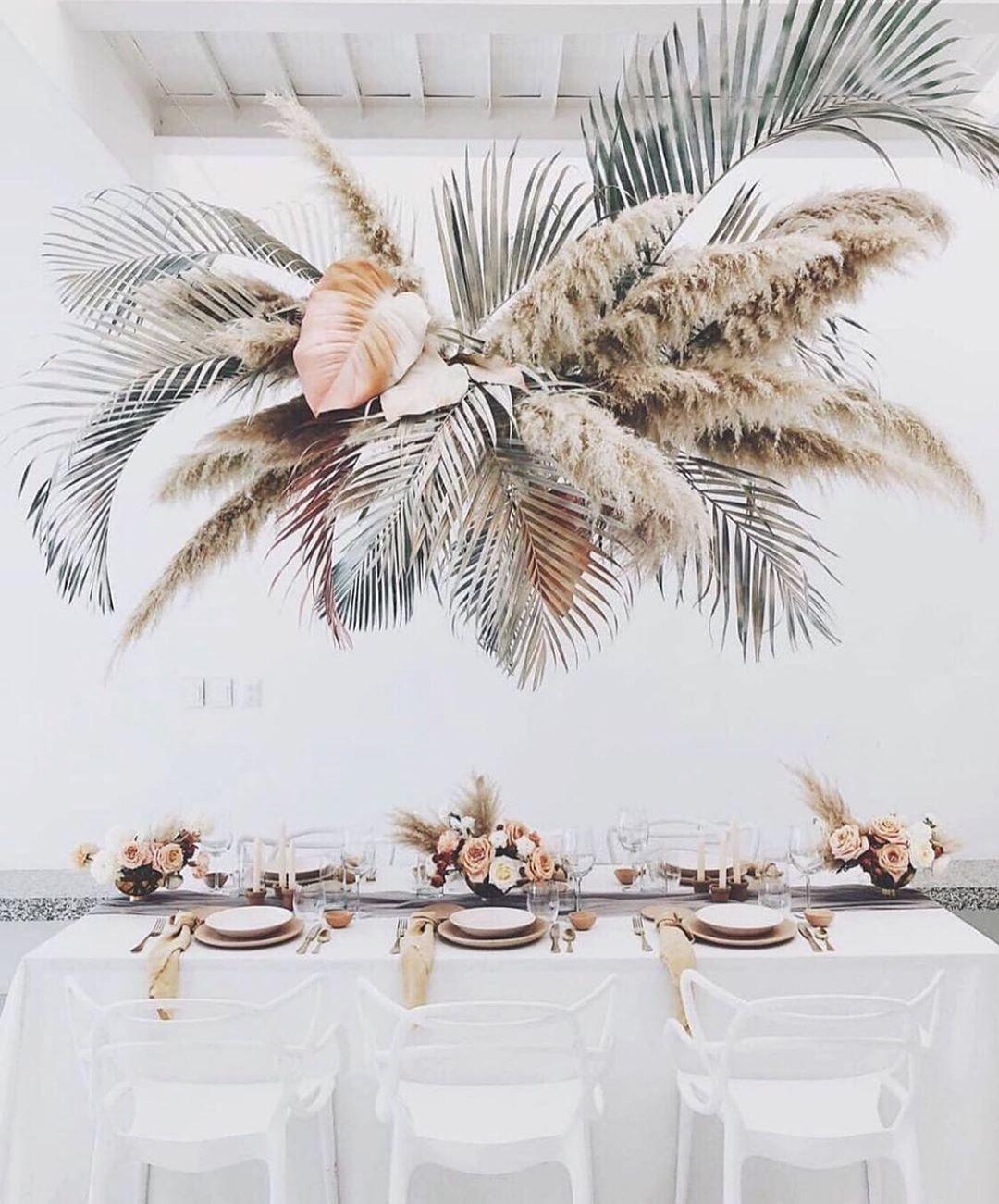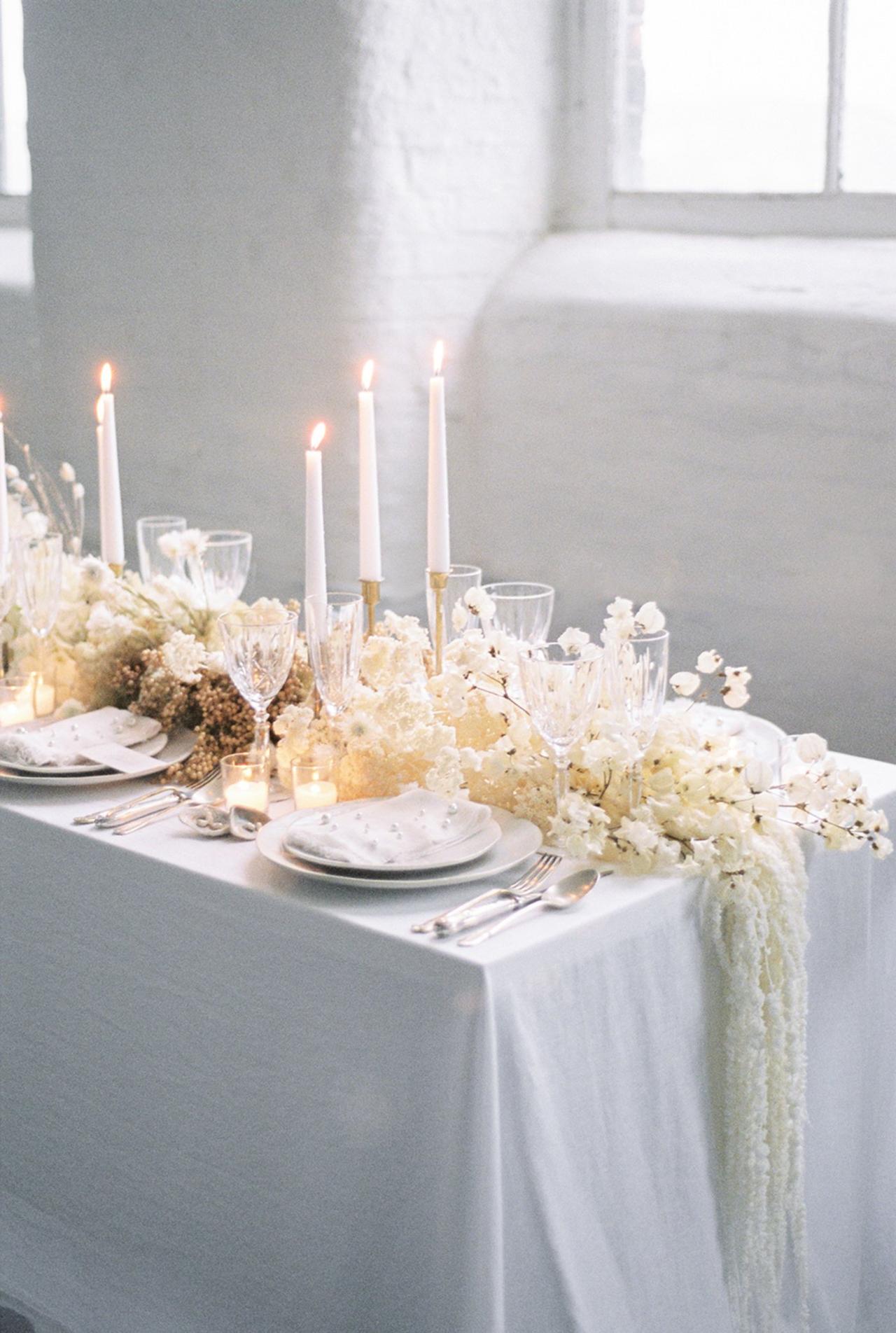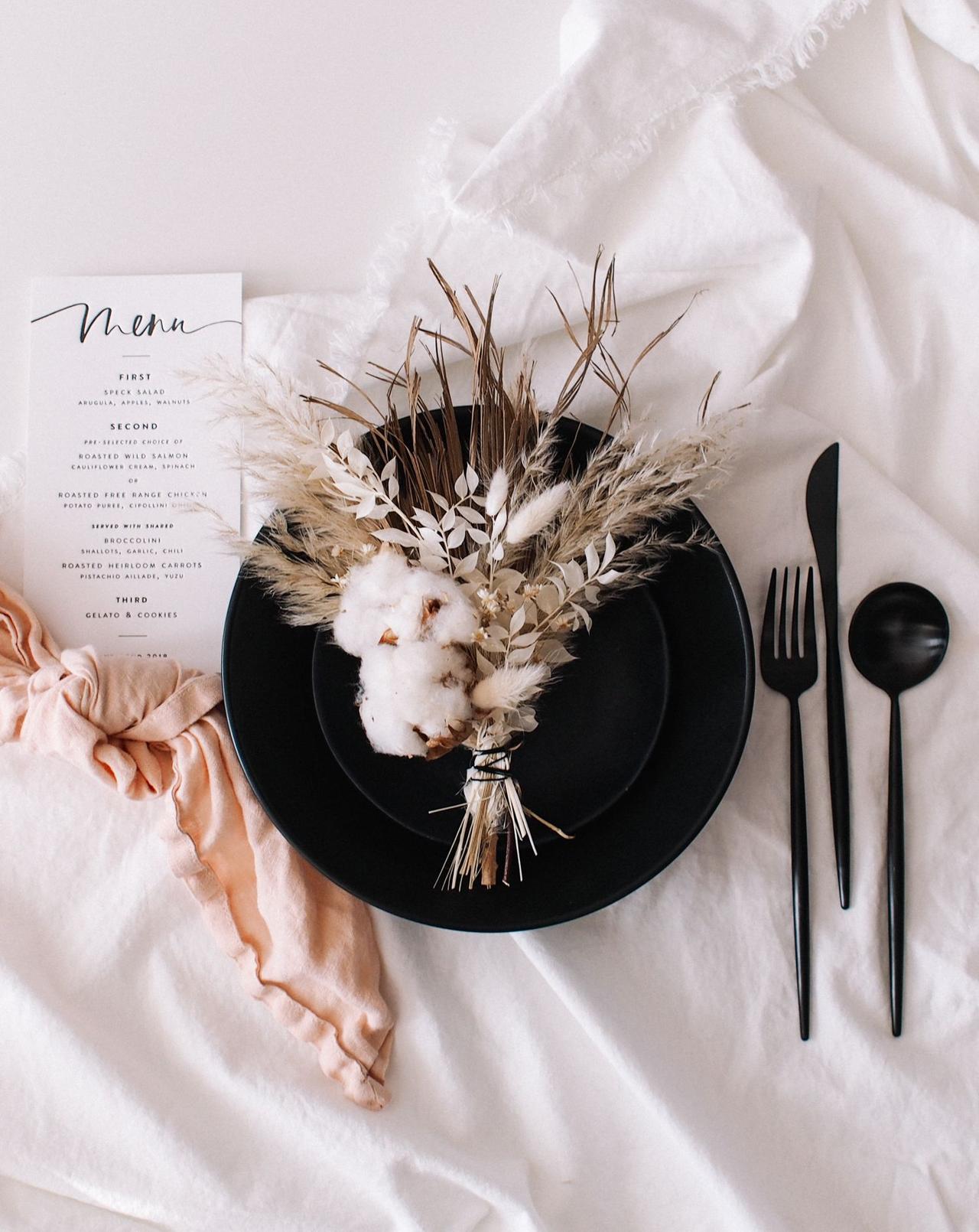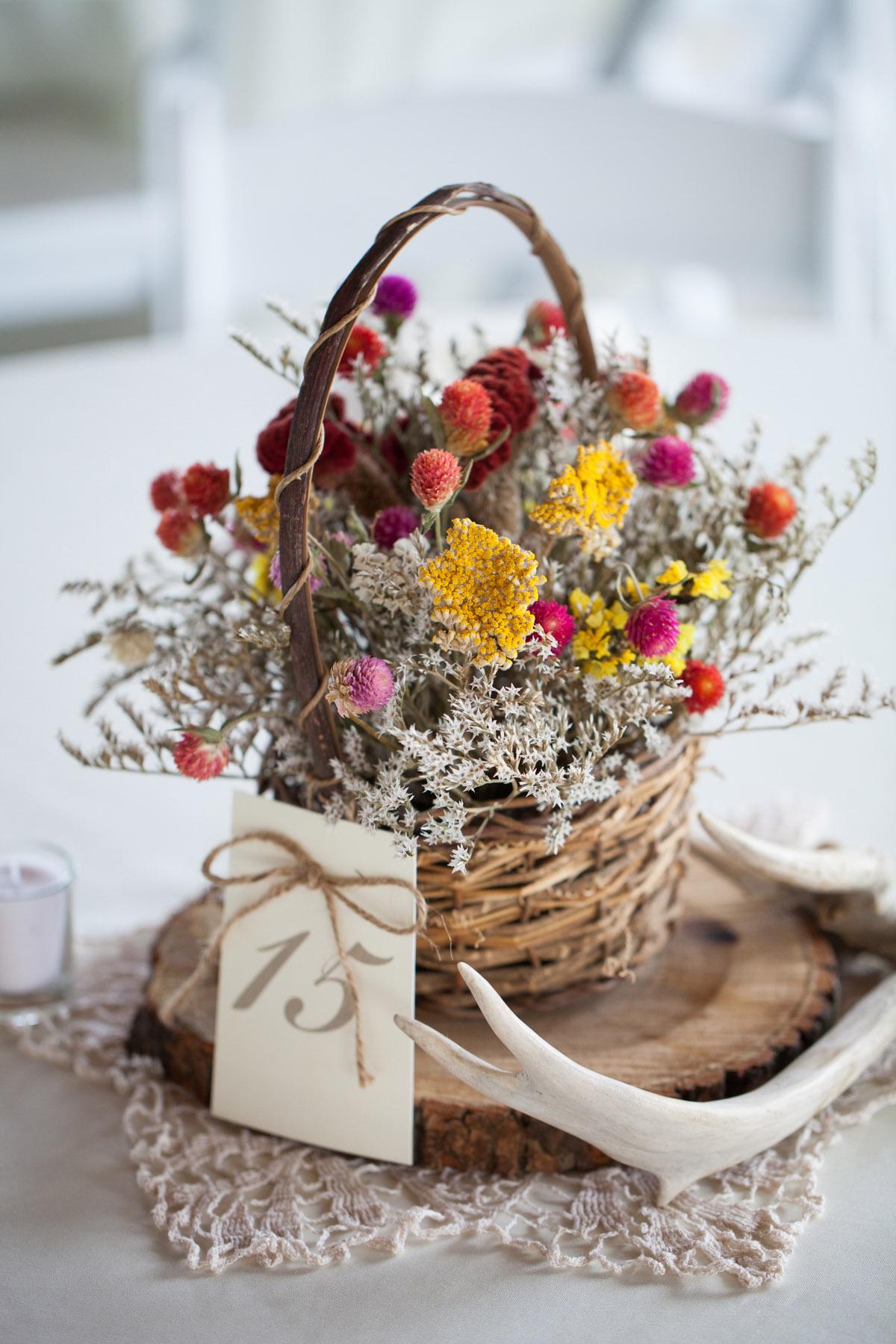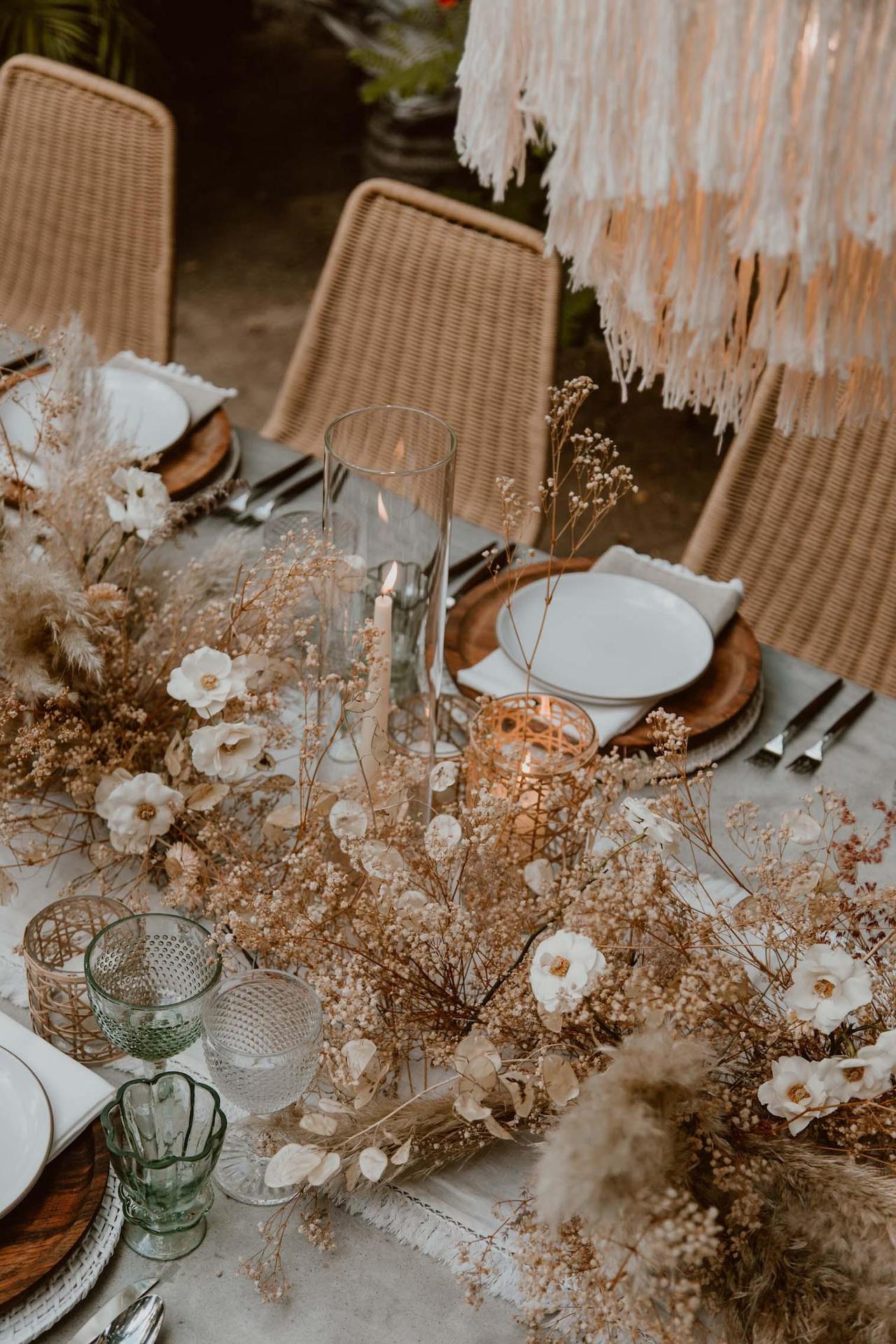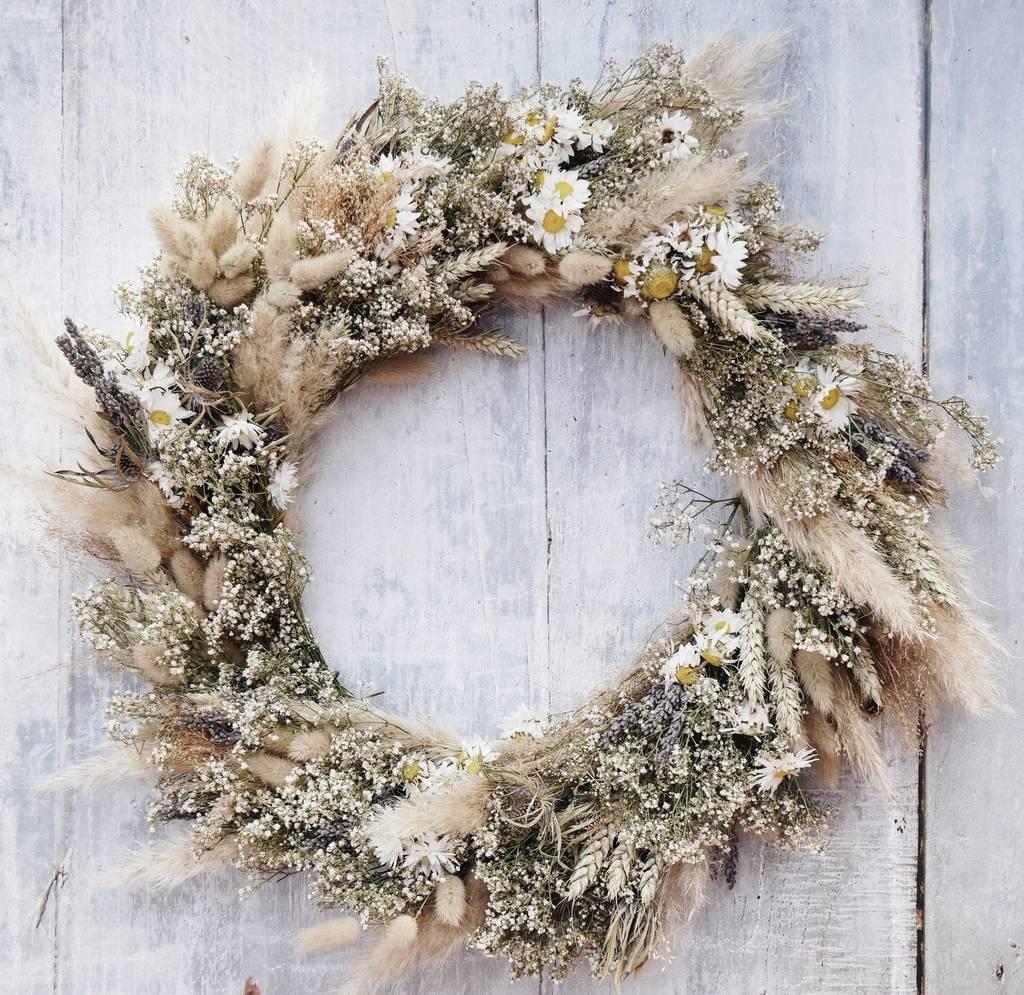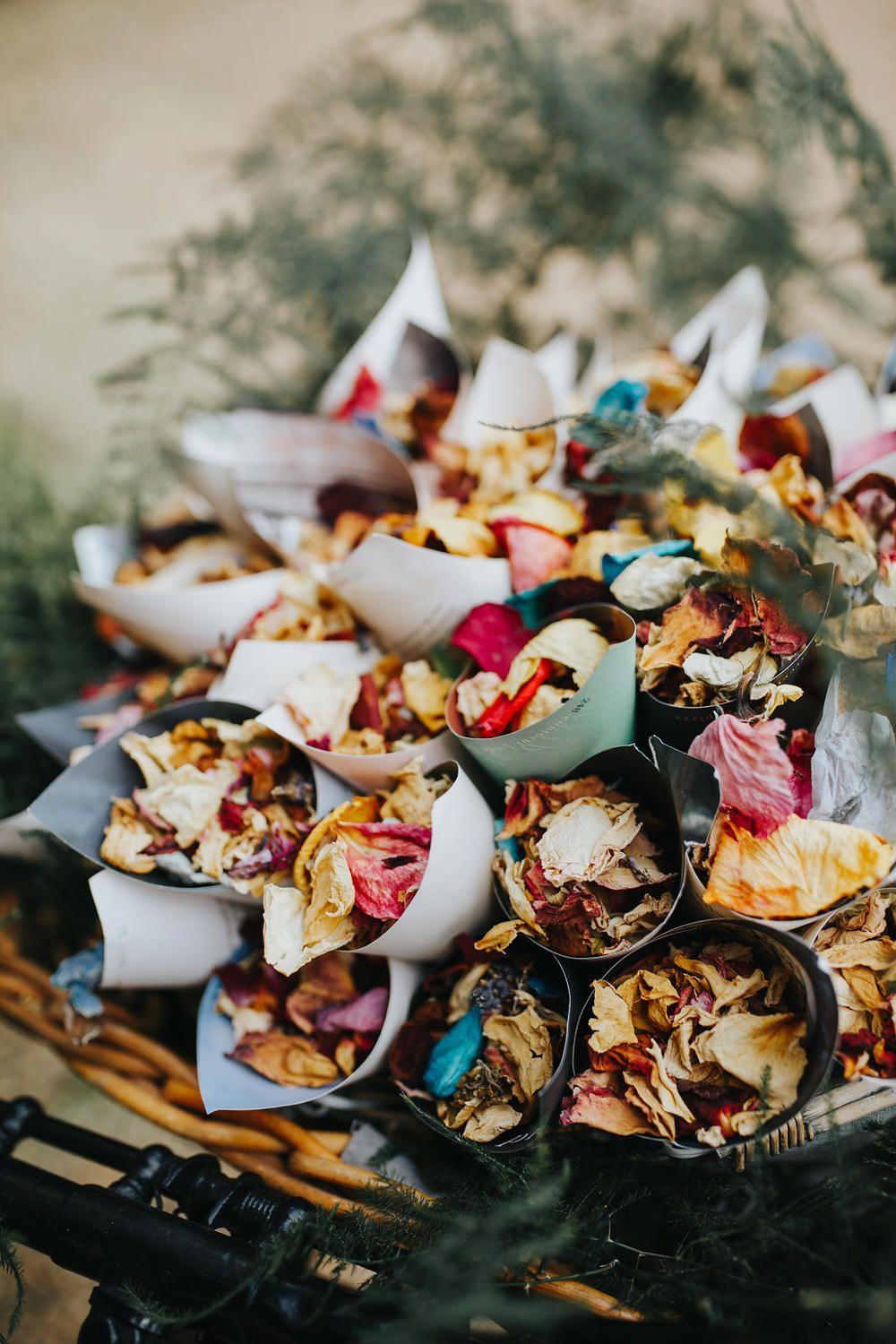 How Long Do Dried Wedding Flowers Last?
According to Rosie, your dried wedding flowers will look their best for around three years if cared for well, but can really live on a lot longer if you don't mind a little fading and a lost head here or there.
'To keep them in good condition for as long as possible, try to give them a home somewhere out of direct sunlight, never water them and give them a gentle dust from time to time by blowing on smaller stems and carefully wiping down bigger leaves,' she advises.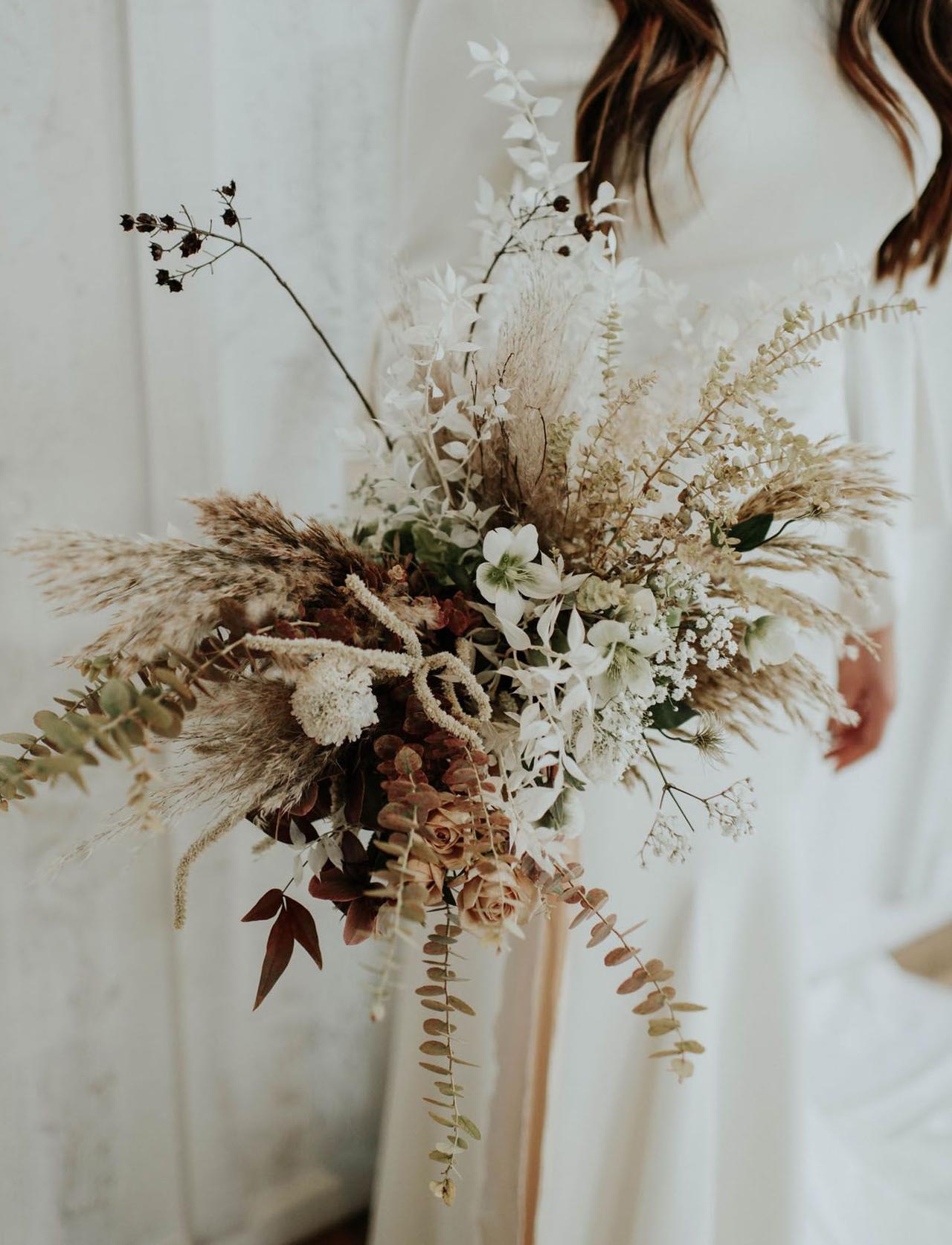 If you've been wondering about silk flowers, read our guide to artificial flowers and how much they cost here.