Your wedding is the perfect excuse to treat yourself and, for the shoe addicts among you, there is no better way than with a pair of designer wedding shoes.
If you invest in designer bridal shoes they're likely to become a staple in your wardrobe – perfect if you're looking for wedding shoes you can wear again!
We've selected our favourite designer pairs on the market right now, so if you can't imagine walking down the aisle without something breathtakingly beautiful on your feet, you've come to the right place!
READ MORE
1. Manolo Blahnik Hangisi 105 Ivory Satin Silk Pumps – £775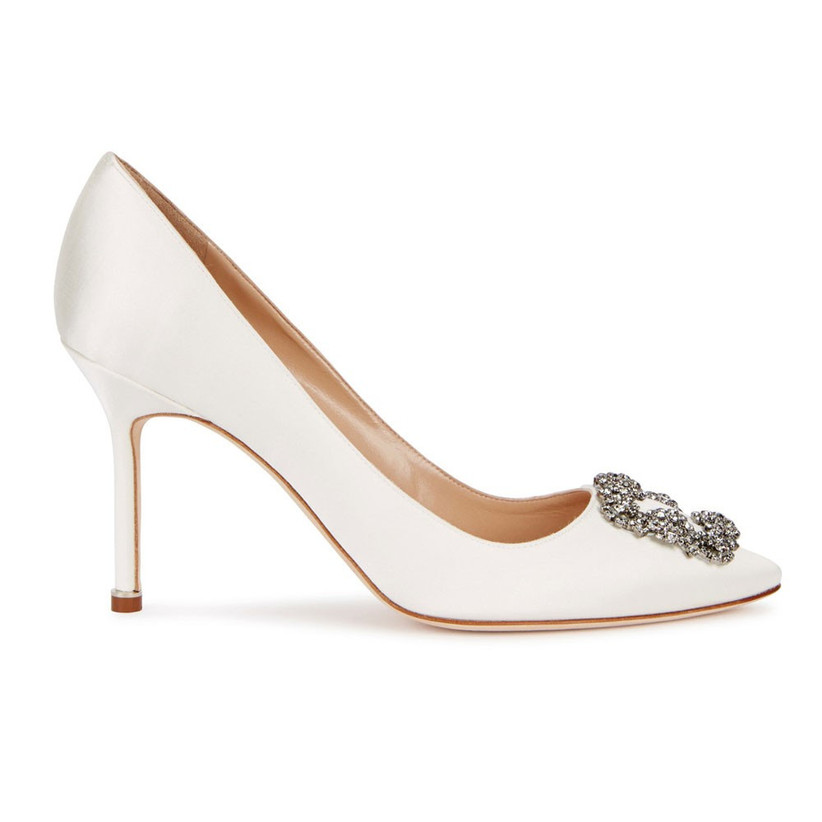 Manolo Blahnik is one of the most iconic shoe designers of all time and renowned for his stiletto heels and stunning embellishments.
This pair of ivory court shoes are the same design as the famous blue ones Carrie Bradshaw wore on her wedding day in Sex and the City (for that alone, we're sold) and they're fit for a princess.
2. Valentino Garavani Rockstud Leather Pumps — £670
These studded heels are perfect for the alternative bride who likes an edge to all her outfits, including her wedding ensemble.
As well as this metallic golden hue, these also come in other colours such as black and nude.
3. Jimmy Choo 'Ari' Crystal Covered Pointy Toe Pumps – £2,995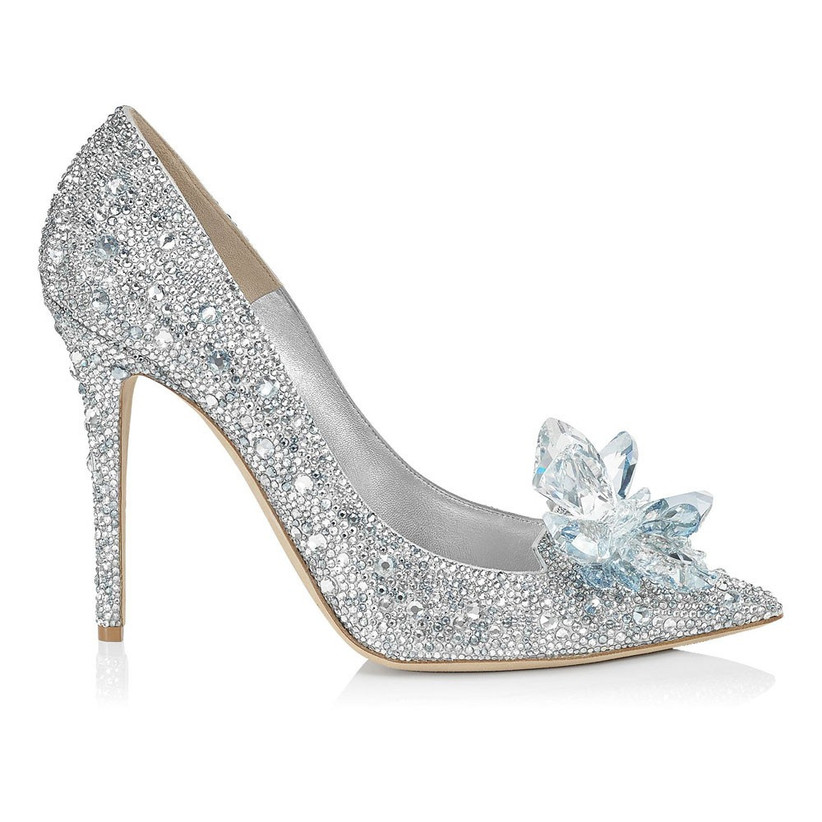 Got a wedding dress fit for a Disney princess? You need the Cinderella-inspired design by Jimmy Choo.
The sparkly detail and crystal embellishment in these stunning shoes make them the stylish bride's version of a glass slipper.
4. Jimmy Choo SACORA 100 Ivory Floral Satin Pearl Sandals — £1,396
Aren't these just the dreamiest shoes you've ever seen? They're absolutely perfect for a magical wedding, and would look fantastic with a midi-length slip dress so they can truly steal the show.
They also come in a version with a slightly lower heel, if the stiletto makes you a little nervous.
5. Christian Louboutin Spikaqueen 55 Crystal Embellished PVC and Iridescent Leather Pumps — £895
Want something with attitude that you can party in all night long? Look no further, because these have it all.
Complete with a Louboutin red sole, these shoes boast a comfortable kitten heel, sturdy strap, and all the sparkling crystals to wow the crowds.
6. Miu Miu Crystal Embellished Patent Leather Sandals — £580
These cute strappy heels would look fantastic with a tulle net dress that sits between the knee and the ankle.
The shiny nude shoes are also ideal if you want to mix up your colour scheme a little.
READ MORE: 25 of the Best Bridal Jackets
7. Jimmy Choo BING 65 Linen Patent Leather Mules with Crystal Strap — £750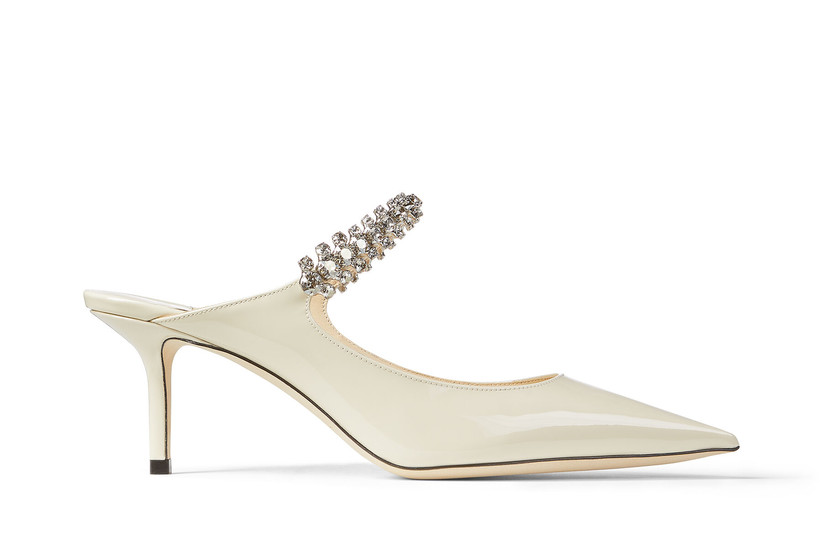 If you want something classy, elegant, and sophisticated - but with a glitzy edge - this is your pair of shoes.
The cool mules come in black and nude as well as this white hue.
8. Prada Crystal Embellished Satin and Leather Sandals — £705
Prada's party shoes are certainly not for shrinking violets. Be brave, be bold, and invest in these spectacular shoes, which you can wear again and again at other weddings and special events (that sort of justifies the price, right?).
9. The Row Bare Mid-Heel Leather Slingback Sandals — £650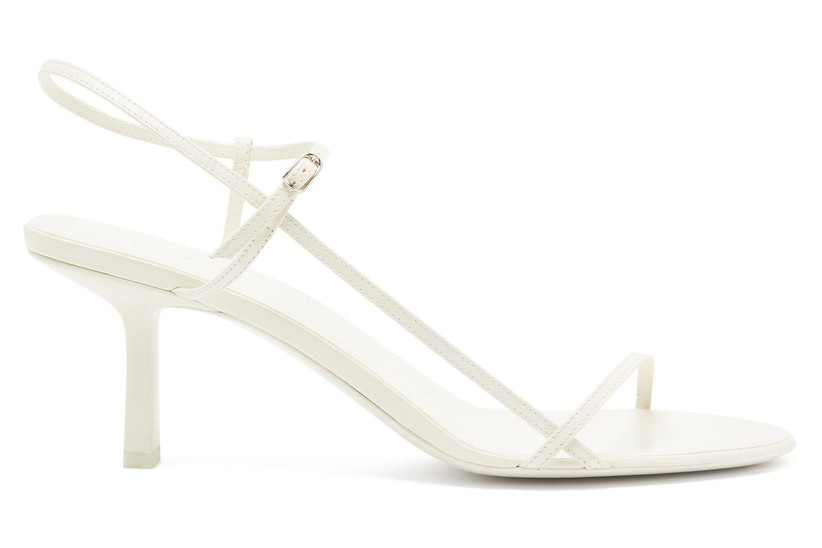 The epitome of class, it's no wonder high end brand The Row came up with such a minimalist design.
Pair these with an intricate, detailed dress to perfectly complement your overall aesthetic, without letting the shoes steal the show.
10. Jimmy Choo EMILY 85 Moon Sand Infinity Glitter Fabric Sandal — £550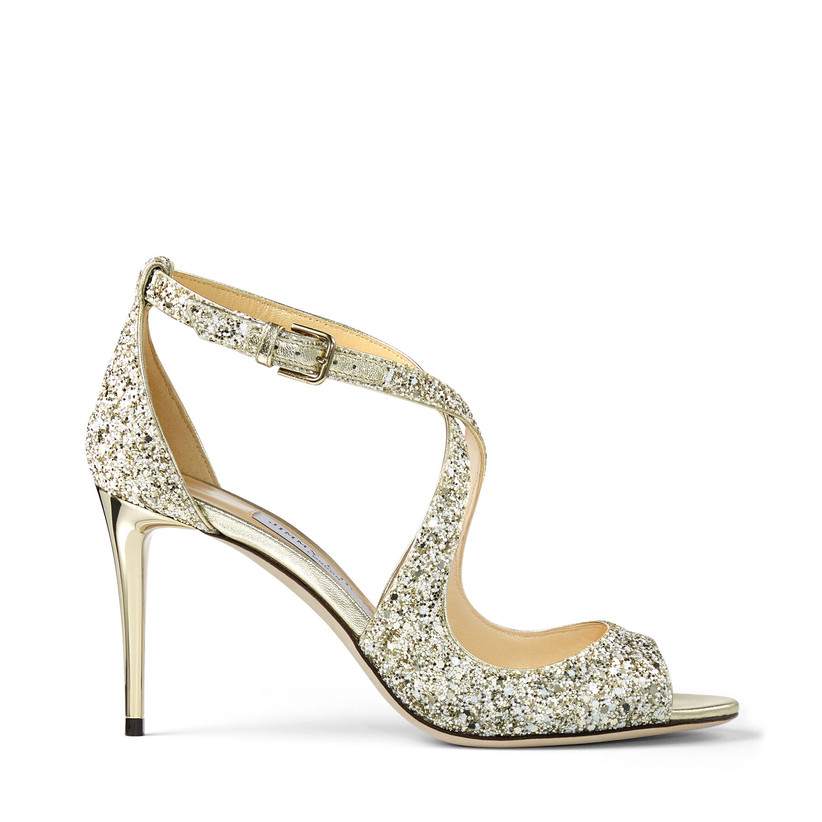 Razzle dazzle your way through your wedding with these beauties, which you can re-wear time and time again after your wedding for glitzy nights out.
The Emily shoe comes with a matching clutch bag, aptly named 'Emmie'.
11. Jimmy Choo ROMY FLAT Ivory Floral Lace Pointy Toe Flats — £575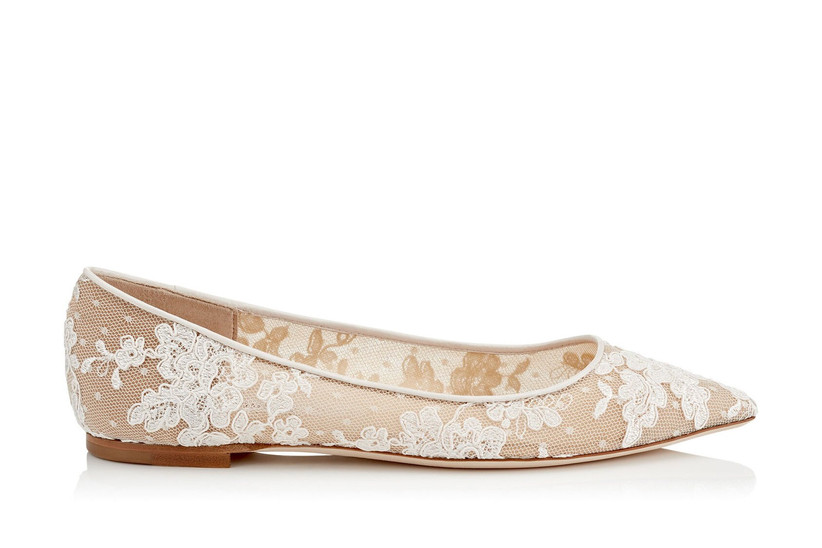 If you've never worn heels, don't make your wedding day the first day you take the plunge — it'll only end in disaster.
Instead, opt for a pair of pretty pumps such as these lace shoes, which are just as special.
12. Aquazzura Deneuve 105 Crystal-Bow Satin Pumps — £835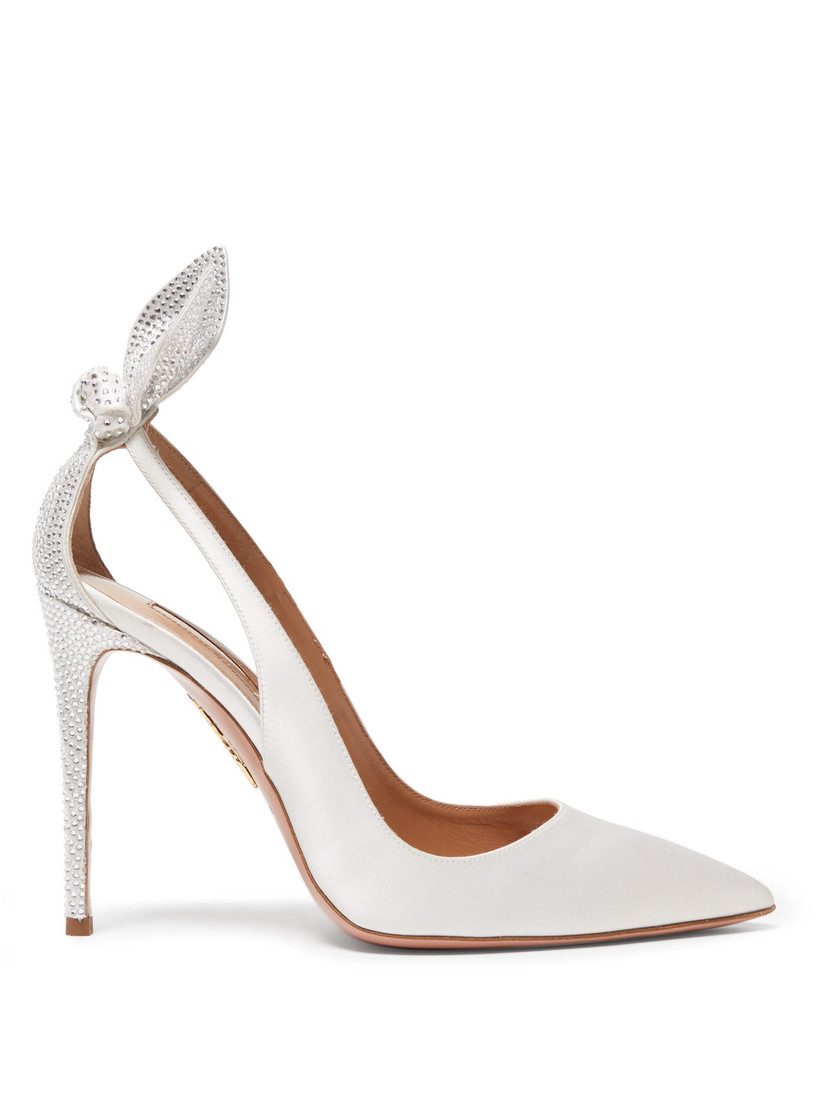 Having a wedding in Autumn or Winter? Opt for a pair of closed pumps, such as these.
Aquazzura's sharp shoes are all business in the front, party in the back; perfect for your day-to-night wedding fun.
13. Malone Souliers Sonia Feather-Trimmed Metallic Leather Sandals — £550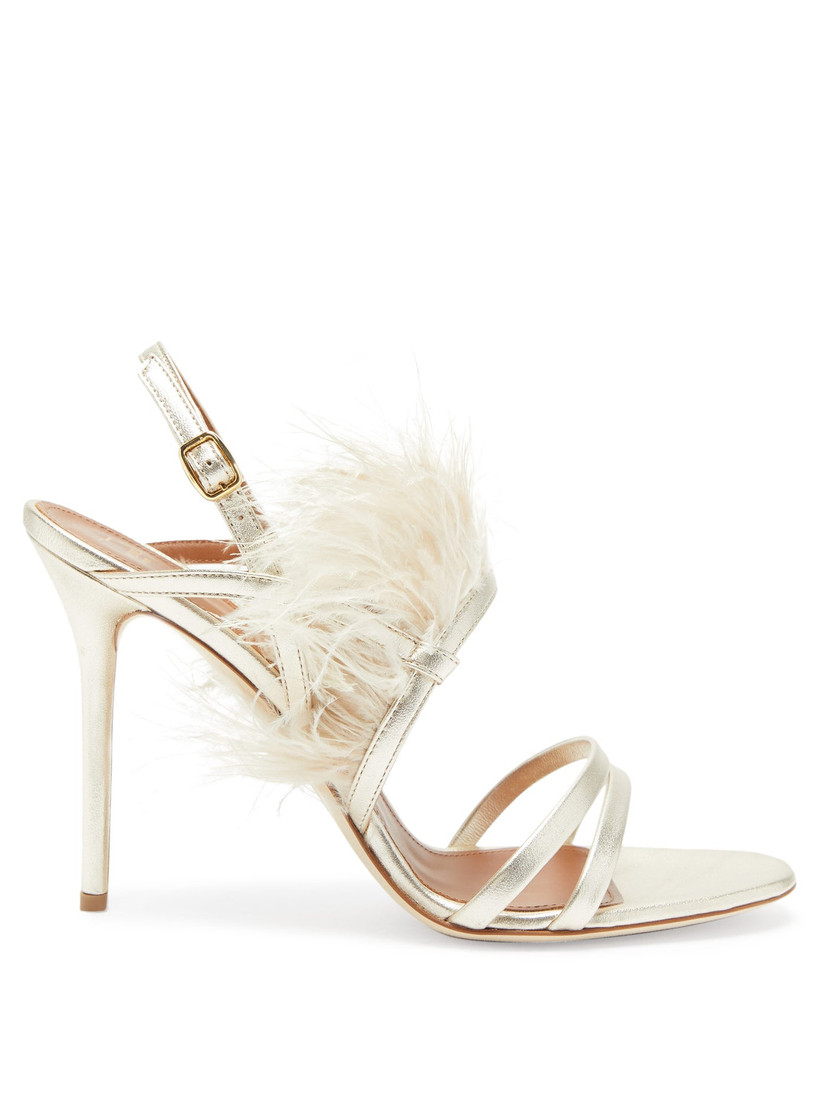 If your life motto is 'go big or go home,' we think we've found the shoe for you.
Complete with beautiful white feathers, these special shoes would look amazing with a sleek white suit.
14. Malone Souliers Demi Beaded Metallic Leather Mules — £450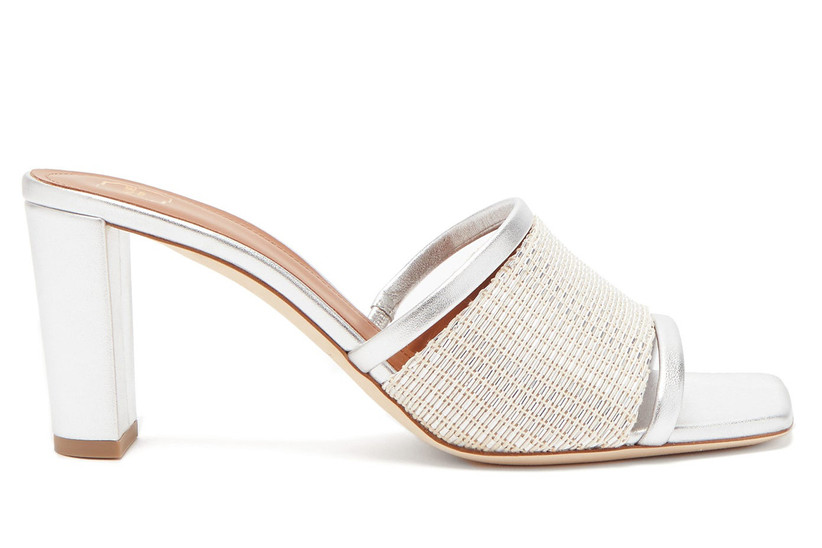 Sharp, stylish, and yet incredibly elegant, this pair of metallic mules is a triple threat.
The handcrafted style features a block heel, making them a bit more sturdy than stilettos.
15. Wandler Isa Square Toe Crystal Embellished Satin Mules — £545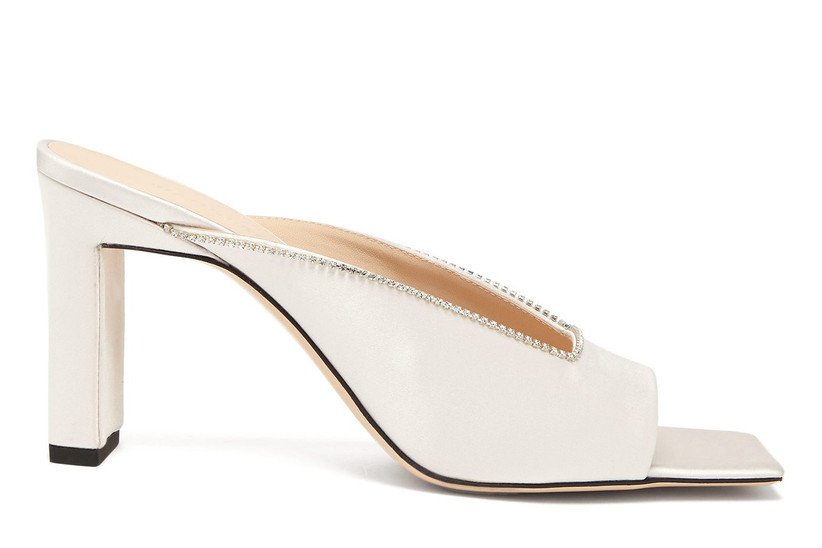 Wandler has some excellent options for every occasion, including your special day. Their mules are really gorgeous, and scream 'tradition with a twist'!
READ MORE: 51 Modern Simple Wedding Dresses
16. Wandler Isa Square Toe Feathered Satin Mules — £370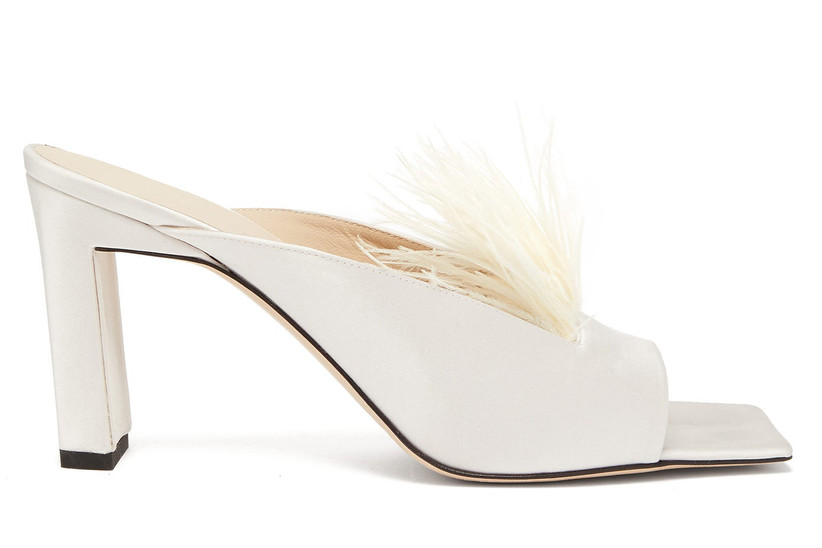 Likewise, their feathered satin mules are just as chic, but with a more sophisticated, fashion-forward feel to them.
17. Bottega Veneta Leather Square Mules 90 — £590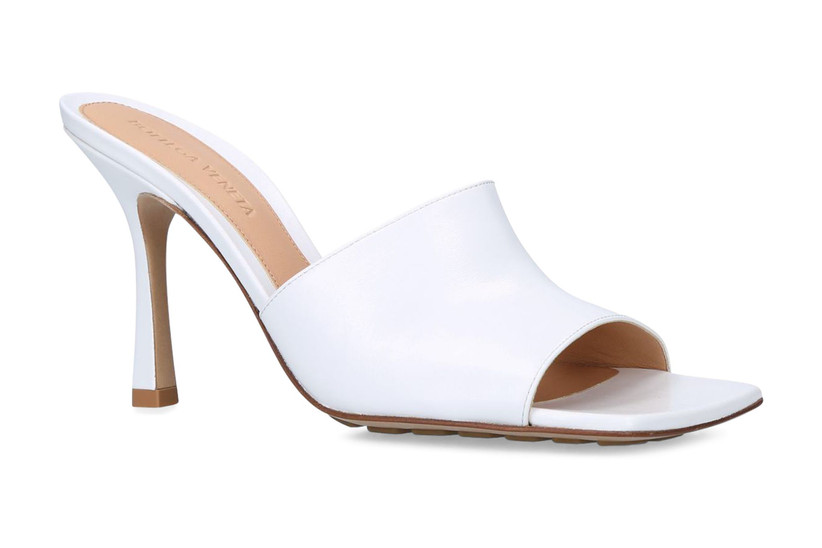 If you're in the market for a simple white leather mule you'll wear aplenty even after your big day, this pair will be up your avenue.
As well as your wedding dress, you could wear them with a summer dress, or even some jeans!
18. Gina Patent Utah Mules 50 — £665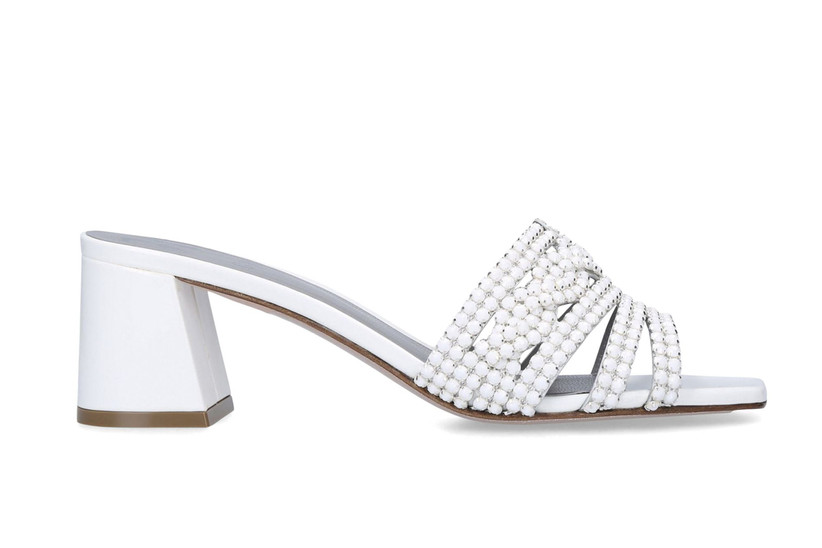 Keep it classy with these embellished mules, which are fun and grown up in equal parts.
Another pair with a block heel, these will provide comfort for long days.
19. Dolce & Gabbana Leather Devotion Heart Sandals 90 — £775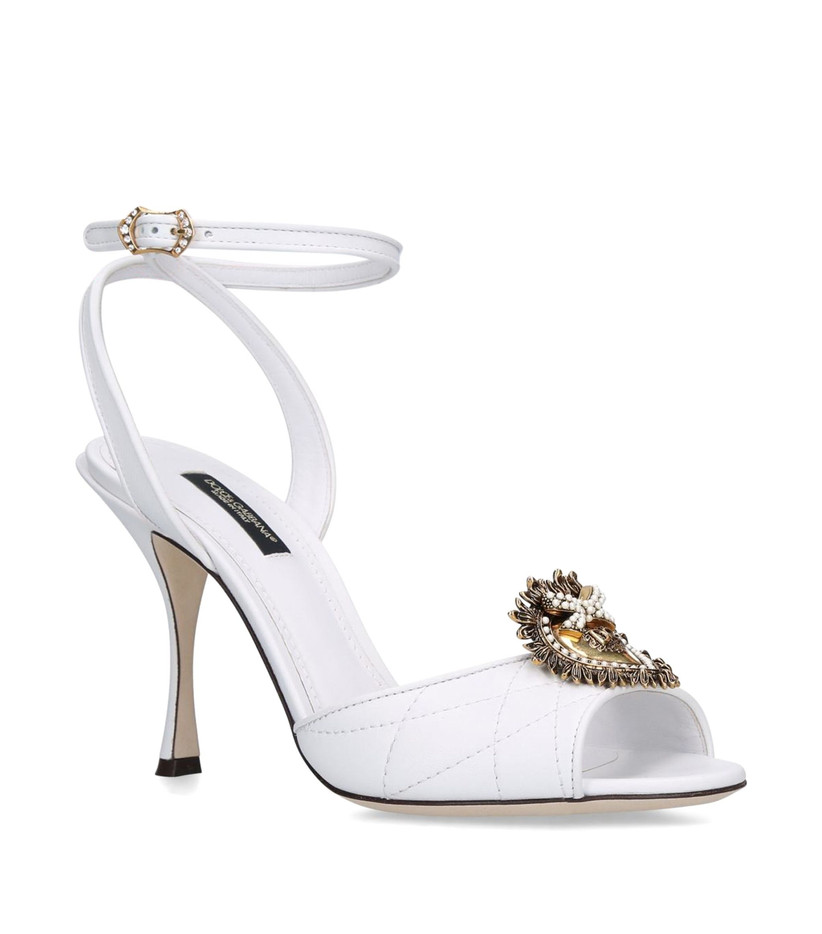 We can see these unmistakably Dolce & Gabbana shoes working wonders for a wedding abroad! You could even wear them with a white summery dress or lightweight suit the night before.
20. Sophia Webster Evangeline 100 Winged Leather Sandals — £425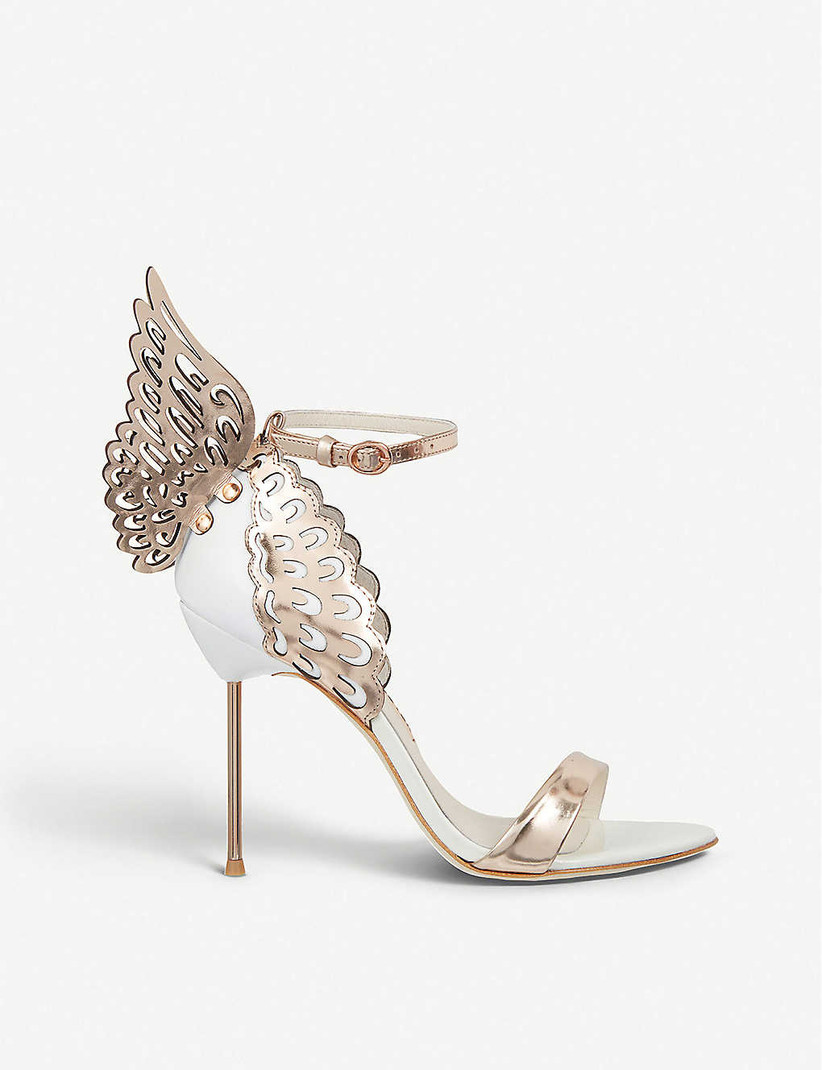 Want a rose gold or coppery finish to your shoes? These heels are certainly eye catching!
Just beware if you're not a huge heels wearer, as the skinny stiletto on this pair looks like a bit of a challenge.
21. Alaia Embellished Suede Sandals — £800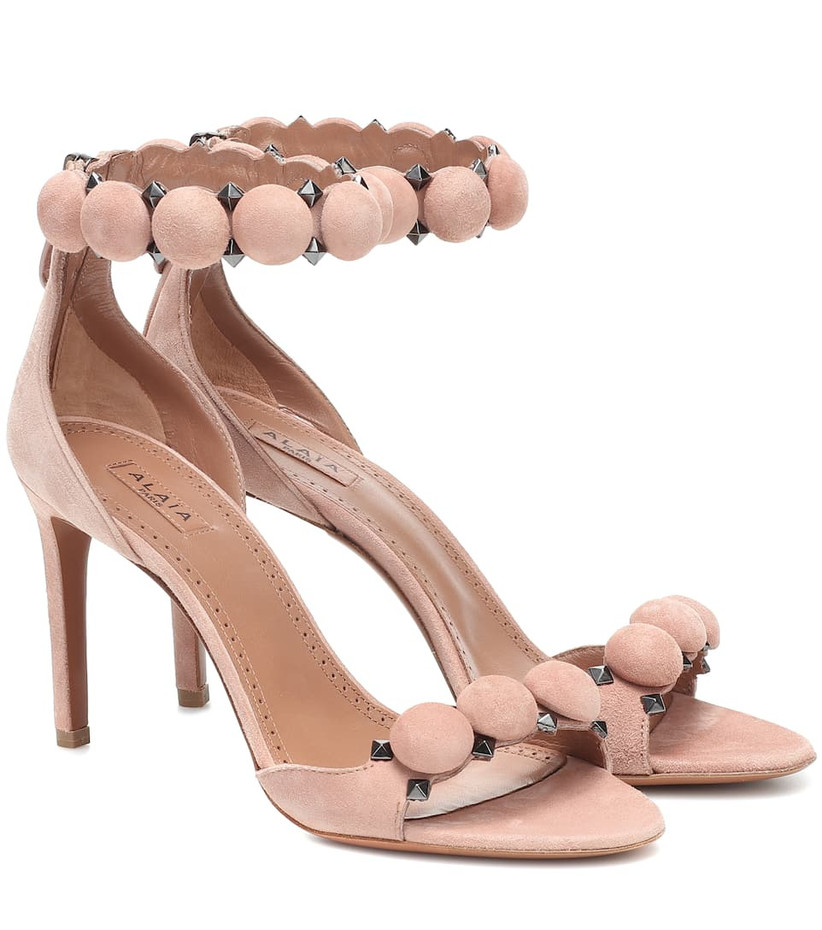 Wedding shoes don't have to be white or nude; in fact, this soft powder pink pair is just as appropriate.
Note that these are suede, so a good protective spray should be used on them prior to wear.
22. Aquazzura Bow Tie Leather Ballet Flats — £440
Another pair of gorgeous flats, these Aquazzura pumps are just as impressive as the high heels in this edit.
If comfort is your number one priority, give them a try.
23. Cult Gaia Alia Leather Trimmed PVC Mules — £351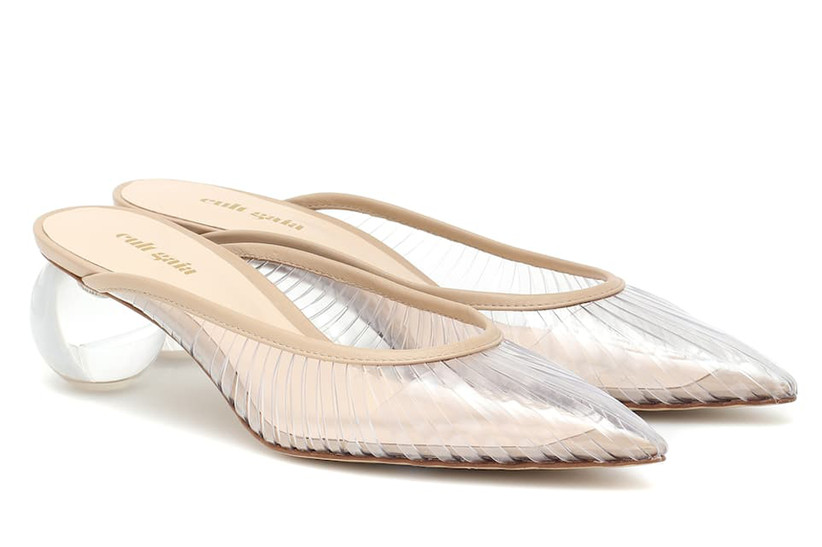 We love these creative shoes, which look like they're straight out of an art gallery!
The PVC front and orb-style heel give the pair a very unique feel.
24. Miu Miu Leather Trimmed Glitter Sandals — £525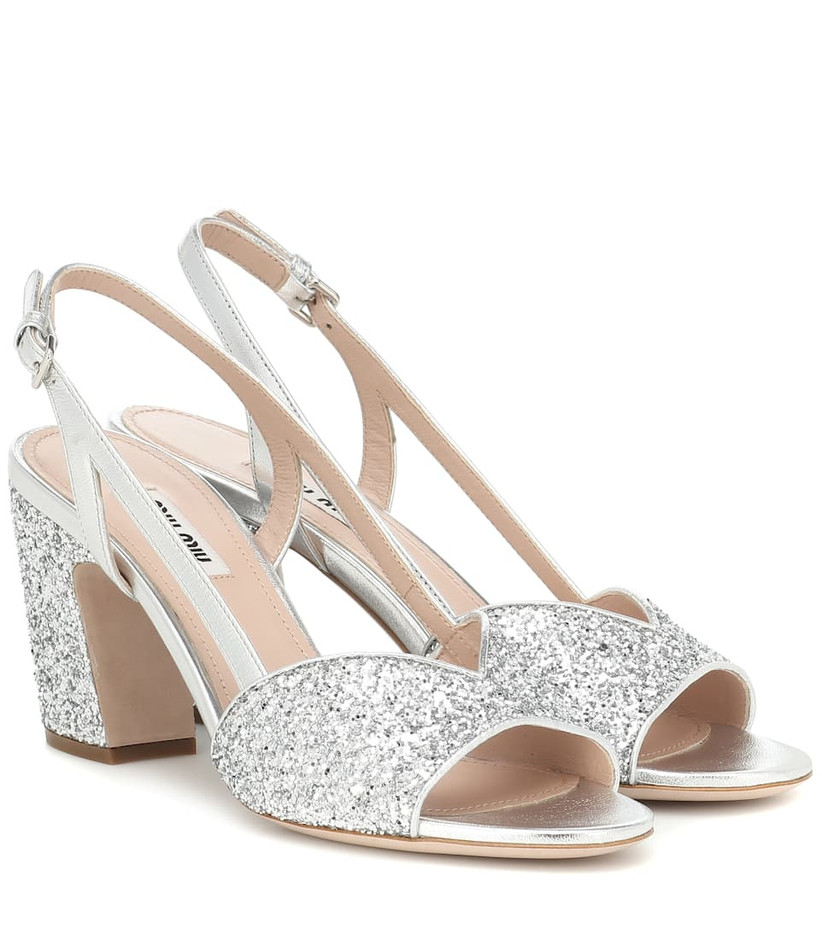 Sometimes you've just got to invest in some glitter, and what better excuse do you have than for your wedding day?
Complete with an open toe and slingback detailing, these block heels are a brilliant find.
25. Gianvito Rosi 70 Patent Leather and PVC Slingback Pumps — £600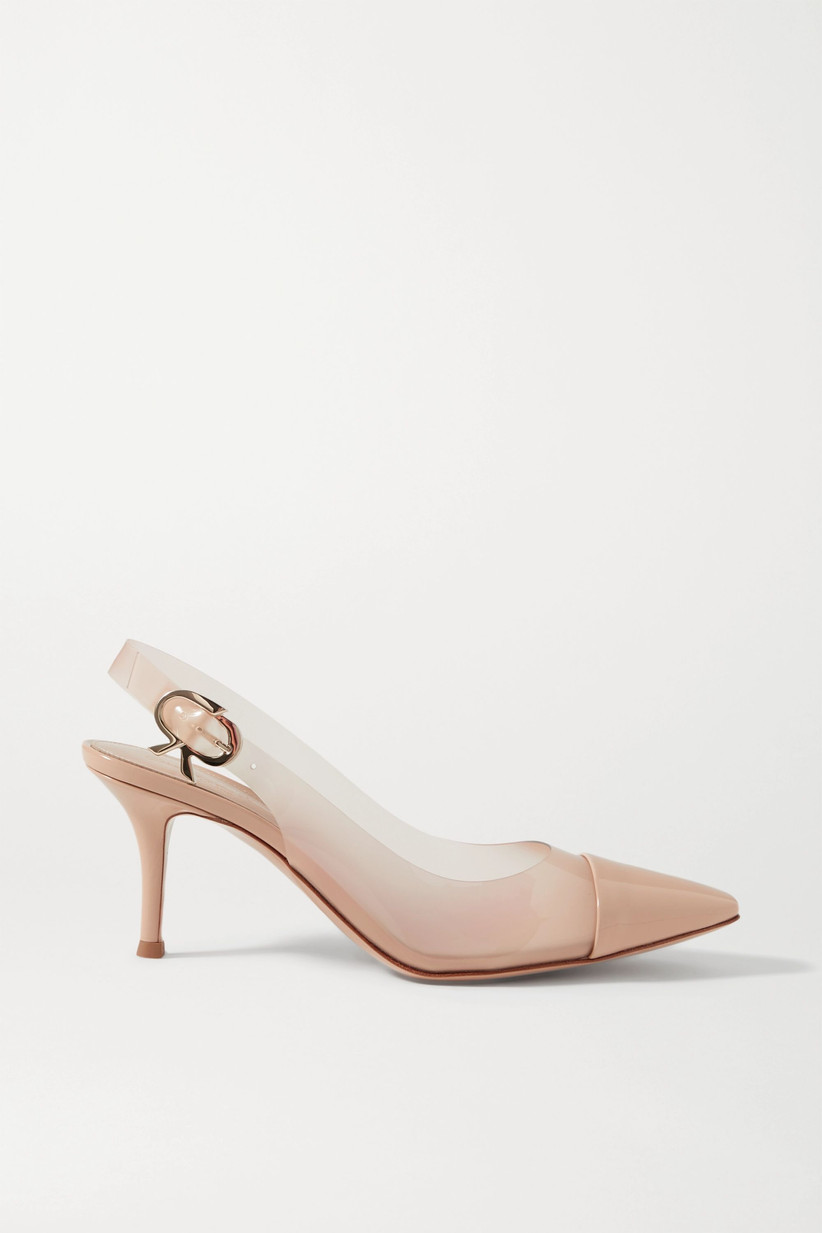 This cool pair of pumps is classic at the front, with a cool edge from behind.
The patent, PVC materials will update even the most classic wedding dress, or be on par with a cool, chic suit.
READ MORE: Regal Wedding Venues That are Fit for a Princess
26. Sophia Webster Rosalind Leather Sandals – £395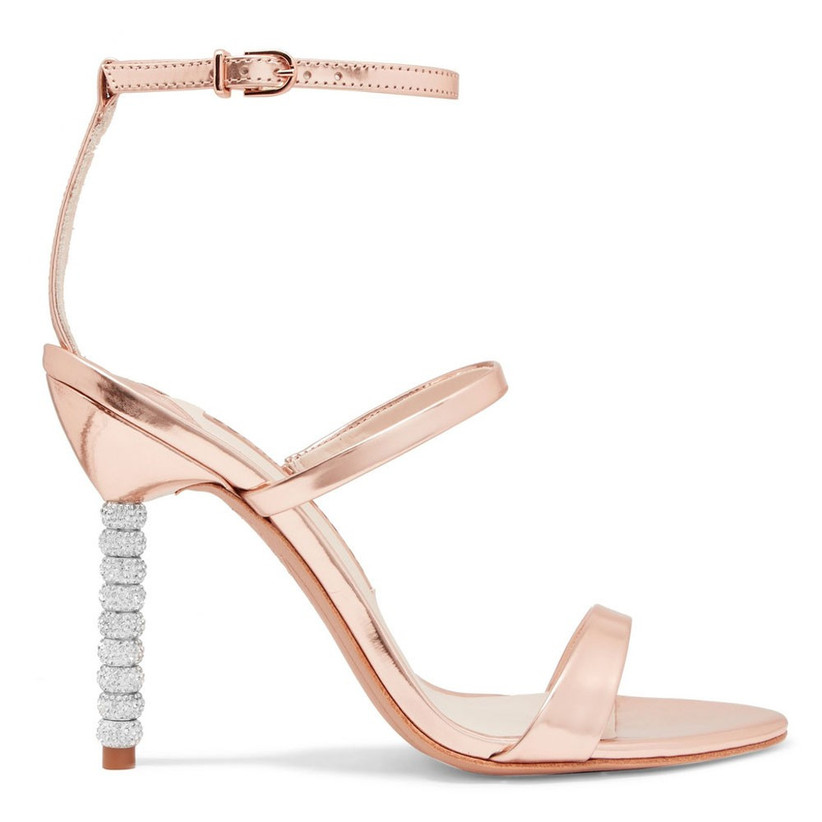 Anything that shoe designer Sophia Webster pops her name on is sure to be a hit with us here at Hitched, and the Rosalind sandals are no exception.
They've been spotted being worn by the likes of Blake Lively and Jennifer Lawrence on the red carpet in recent years, so you'll be in good company if you don these on your wedding day.
The crystal beaded heel will glimmer as you dance the night away, and the rose gold leather just affirms our belief that anything rose gold is worth spending our money on.
27. Christian Louboutin Pigalle 120 Patent Calf Shoe – £525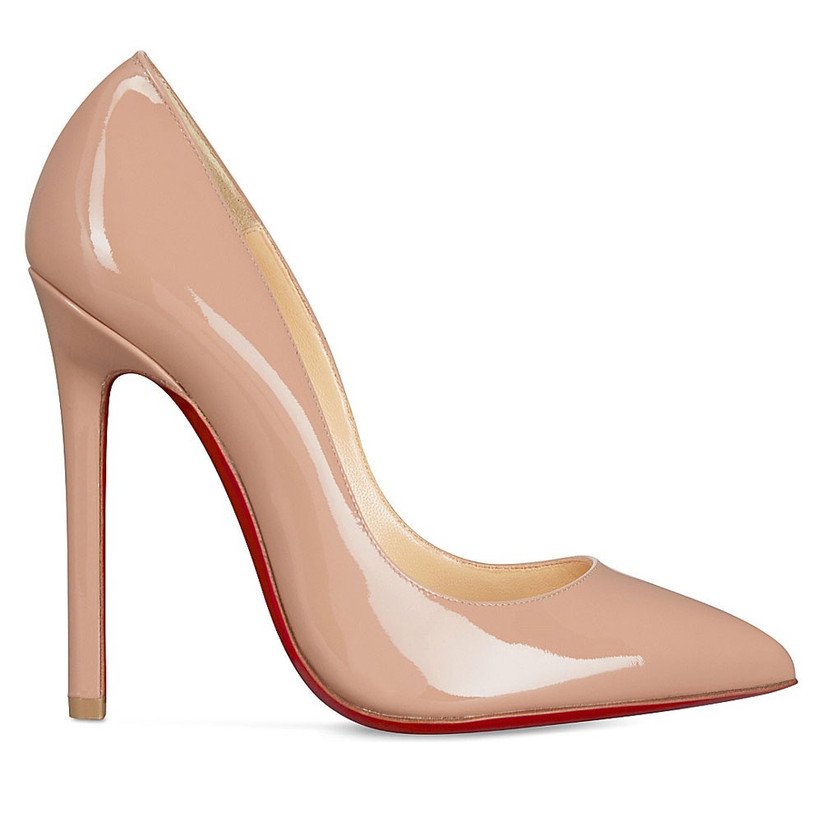 Named after one of Christian Louboutin's favourite Paris neighbourhoods, the Pigalle 120 is one of the most popular styles for the French fashion house.
With the iconic red sole, classic pointed toe and slim stiletto, this patent nude shoe would be perfect for your wedding day… if you're tough enough to brave the towering heel.
28. Rachel Simpson Isabelle Porcelain White Shoes – £235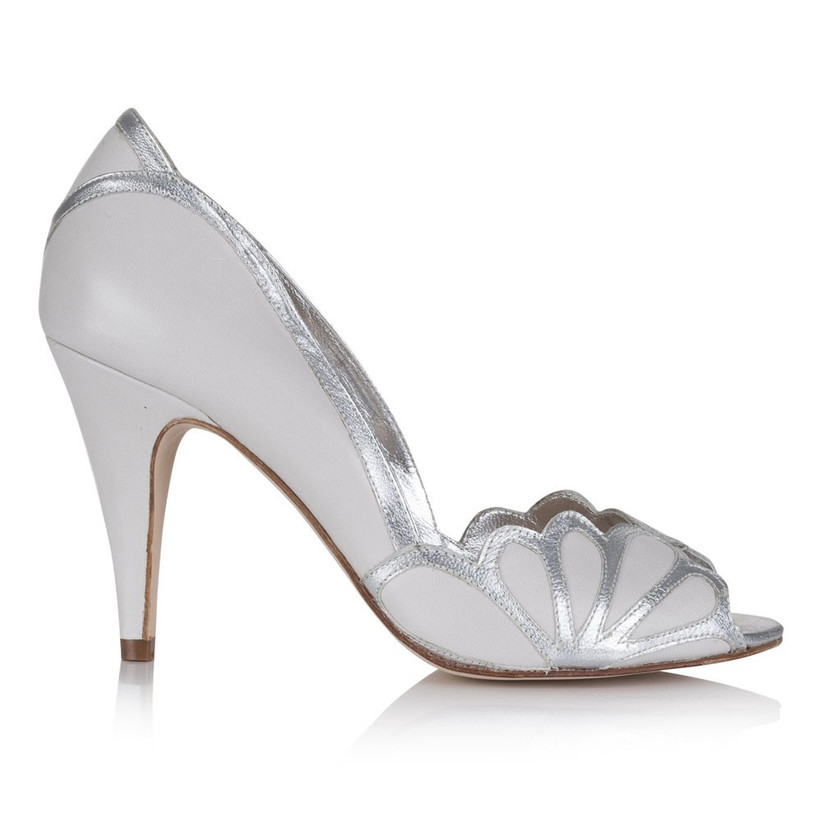 The Isabelle design by Rachel Simpson manages to be striking, elegant and oh-so-pretty all at once.
Designed with your wedding day in mind, this peep-toe shoe is heavily influenced by art deco motifs and mixes porcelain leather with beautiful metallic binding. What a design.
Not convinced by wearing a heel on your wedding day? Why not check out our edit of gorgeous bridal flats which will ensure you remain comfortable all day!