55 Designer Wedding Shoes That Are Worth Blowing Your Budget On
Got a shoe collection to rival Carrie Bradshaw? Don't miss our edit of the most lust-worthy designer wedding shoes so you can find the perfect pair to wear on your big day! (Don't blame us for the credit card bill…)
We have included third party products to help you navigate and enjoy life's biggest moments. Purchases made through links on this page may earn us a commission.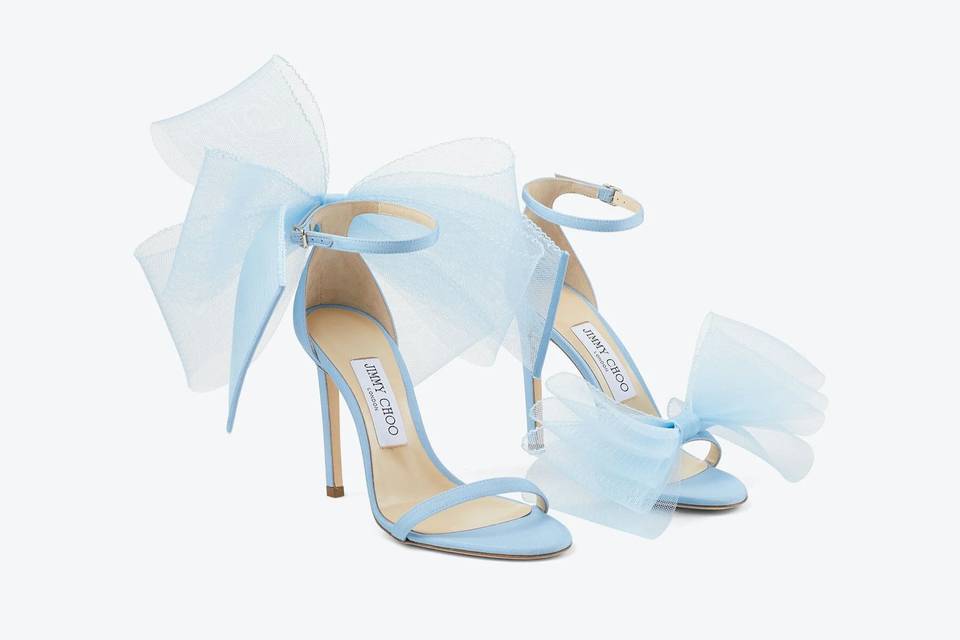 After the dress, it is fair to say that the shoes are the most important part of the perfect wedding outfit. And if you want to treat yourself to a pair of designer wedding shoes, then you'll want to invest in something that you'll love and cherish.
There are no hard and fast rules on the style of shoe you should wear, but you should select something you enjoy strutting around in and that you feel takes your outfit to the next level.
Finding the ideal pair of designer wedding shoes to complement your wedding dress is easier said than done, which is why we've curated a collection of bridal sandals, closed toe shoes, flats and boots to help you choose – and we've even picked out our favourite metallic styles if you want some extra shine. Once you've found your perfect designer heels, you'll want to check out our edit of wedding trainers too, just in case your feet need a break!
Designer Wedding Shoes: Sandals
Sandal styles are ideal for a bride – they never fail to look elegant, and there are so many different shapes and silhouettes to choose from. If you are looking for an open-toe shoe for your wedding day, you'll love these gorgeous versions. We have everything from chunky platforms with a retro vibe, through to delicate peep-toes and some slim and strappy options.
1. Bianca Platform Sandals - £675, Saint Laurent
These might just be the platform shoes of dreams – perfect for brides who want to embrace the extra height and the gorgeous retro vibes. We adore the smooth napa leather and cool knot detail on the Bianca Platforms.
2. Faux Pearl-Embellished Suede Sandals - £231, Stuart Weitzman
We adore the pearl heel detail on this stunning pair of Stuart Weitzman sandals. A lovely neutral colour if you don't want white shoes, and the gorgeous embellishment really taps into the current trend for pearl detailing. See even more nude wedding shoes (to suit all skin tones!) here.
3. Uma 95 Blush Patent Leather Sandals - £825, Balmain
Princess brides will swoon over this fairy tale composition of brushed gold heels and blush pink leather. If you are looking for ultra-pretty designer wedding shoes, then the Uma 95 Blush Sandals are perfect for you.
4. Wilhemina i - £155, Senso
We can imagine this ultra-cool pair matched with a wide-legged jumpsuit or tailored bridal suit. The angular silver heel of the Senso Wilhemina i shoes give a contemporary twist on a classic shoes silhouette.
5. Leather Stretch Sandals 90 - £655, Bottega Veneta
Not only is this delicate Bottega Veneta sandal elegant and alluring, but its rubber-injected leather sole has been specifically crafted for comfort – ideal for a long day on your feet and dancing the night away.
6. Padlock Sandals - £890, Tom Ford
Tom Ford is known for his artisan craftsmanship, and these Padlock Sandals are case in point. We adore the soft point of the base, the super high arch and the gold-toned, spike-stiletto heels – all finished off with a padlock on the ankle strap. Ideal for a glamorous and sexy bridal style. Find the perfect sexy wedding dress to pair with them here.
7. Love Slide Sandals - £225, Kate Spade
Kooky, cute and all round amazing, the Love Slide Sandals are unique in so many ways. We are swooning over the snow globe heel filled with a wedding cake for the occasion!
8. Sacaria/PF120 - £1,595, Jimmy Choo
There's a reason why so many brides lust after a pair of Jimmy Choos for their big day. The attention to detail and unique styles are outstanding, and one of our favourite pairs is the pearly Sacaria with all-over pearl embellishment – a mix of timeless elegance and an oversized pearl for maximalist glamour. If this is your vibe, you're going to love our edit of the best pearl wedding dresses.
9. Bianca Sandal - £490, Damapreziosa
Looking for a leather alternative that still has a luxury feel? Luxe Italian vegan label, Damapreziosa, has created the stunning block heel Bianca Sandal, which is embellished with pearls and teardrop-shaped crystals. We've also got a guide to the best vegan beauty brands, if that's a wedding priority for you.
10. Whit Sandals - £308, Caroline Constats
We love everything about this pair of Caroline Constats sandals. Made from a light Oxford weave fabric, they are ideal for a destination wedding. The oversize bow detail makes a statement, plus the hidden thong strap and lightly cushioned leather footbed make them comfy to wear. Love bows? You need to see our edit of the best bow wedding dresses.
11. Venius Crystal Embellished Sandals - £560, Neous
Perfect for a simple wedding dress, Neous' minimalist Venus Sandals feature smooth white leather and are enhanced with a cluster of crystals at the toe-post. The perfect touch of glamour.
12. Aveline Dove Blue Sandals - £750, Jimmy Choo
Want your designer wedding shoes to be your something blue, too? This pair of Jimmy Choo Dove Blue Sandals has a delicate silhouette and a slim and pretty toe strap, but what we love the most is the mesh fascinator bows. Perfection. See more blue wedding shoes here.
Designer Wedding Shoes: Closed Toe
From courts to mules and slingbacks, closed toe designer wedding shoes are always a smart choice. These timeless designs can be packed with modern character and on trend details, or show off quality craftsmanship with more minimalistic styles. Whatever you're looking for, you will be spoiled for choice with this cool selection of the finest styles.
13. Maisie Luwolt 45 Leather Mules - £475, Malone Souliers
With the medium heel and the shimmering finish, Malone Souliers' Maisie mules are a perfect designer wedding shoe for the summer season. We love the woven strap detail. And, if you don't want a super high heel, they are perfect for a night on the dance floor.
14. Punk Stud Pump - £690, Alexander McQueen
Want something vampy? There will be no stepping on your toes with this stunning pair of Alexander McQueen heels. They are an outstanding style with white shiny calfskin, a point-toe silhouette and embellished with a studded silver toe cap and heel.
15. X Emili Sindlev 105 Slingback Pumps - £395, Bettina Vermillon
An elegant and classic sling-back that is cut to perfection, these shoes have such a timeless style that you'll wear them long beyond your big day. The Bettina Vermillon pumps are ideal for a classic bride who wants effortless style.
16. Floral-Embellished Satin Courts - £765, Magda Butrym
You can put your best foot forward in these polished courts from Magda Butrym. We adore the details – the satin upper, sleek stiletto heel, wrap-around ankle ties, and of course, the crystal-embellished rose.
17. Buckle Up Slingback Pumps - £295, Kate Spade
The buckle detail on this pair of sling-back pumps is dreamy in every way. We can imagine these looking great with a simple bias-cut satin gown – elegant perfection.
18. Viola Pink Satin Bow Front Courts - £229, LK Bennett
Looking for a pair of designer wedding shoes with a pretty pop of colour? Then look no further than the Viola Pink Satin Bow Front Courts – chic and cute, we love the small bow detail, too.
19. Code Slighback - £235, Furla
Perfect for a chic wedding look that will take you from day to night, Furla Code is a pointed décolleté slingback in nappa leather. A timeless style that's embellished with galvanised metallic details on the medium stiletto heel. Discover more stylish ivory wedding shoes here.
20. Belluci Taormina Lace Pumps - £595, Dolce & Gabbana
If you are searching for designer wedding shoes that really embrace the vintage trend, then these are the heels for you. The Belluci Taormina Lace Pumps have a pretty lace design with an oversized brooch detail.
21. Diamond Slingback 85 - £484, Atana
A cool and glamorous pair, the Atana Diamond shoes have a 3D motif, developed with a layered embroidery technique, which has been specifically created so it reflects light exactly like a diamond would.
22. Maeva Pumps - £550, Nicholas Kirkwood
Nicholas Kirkwood's Maeva Pumps have an undeniably refined silhouette. They feature a signature curved heel and our favourite detail, a semi-hidden pearl in the heel arch. Gorgeous. Why not find the perfect wedding earrings to match?
23. Ozara II Pumps - £156.70, Badgley Mischka
This elegant asymmetrical silhouette from Badgley Mischka is effortlessly elegant. We adore the demure look that's versatile enough to wear with a multitude of gown styles.
24. Kate Draperia Pumps - £775, Christian Louboutin
We love the iconic style of these ivory Christian Louboutin heels. The Kate Draperia Pumps are made from gathered silk and glittered tulle with a satin heel – packed with romantic vibes.
Flat Designer Wedding Shoes
Not all brides want to tiptoe through the day in heels. But worry not, flat wedding shoes can be just as elegant and demure… not to mention the added benefits in terms of comfort.
We've found an amazing selection of ballet styles, mules and sandals that you are sure to fall in love with.
25. Embellished Ballet Flats - £540, Miu Miu
Who says princess shoes have to have heels? These Miu Miu flats are delicate and detailed, and certainly fit for royalty! The next level ballet flats have a pointed-toe and shimmering crystal embellishments for studied sophistication.
26. Bianca Embellished Lace Sandals - £495, Dolce & Gabbana
We adore this opulent pair of luxe Bianca Sandals from Dolce & Gabbana. They are delicate and detailed thanks to the Taormina lace and sparkling crystal embellishments. Perfect for a summer or destination wedding.
27. Oversized Sneaker in Optical White - £1,090, Alexander McQueen
If you want a special pair of shoes for dancing, or if you just want to create a cool and casual look, then this pair of lace-up wedding trainers is pretty perfect. The oversized sneakers are deal for a glam wedding day thanks to the beautiful crystal cloud embroidery with silver bullion and glass beads.
28. Eleanor Embellished Woven Slides - £170, Tory Burch
There's no such thing as the perfect…. oh wait, these are the perfect slides. Delicate and chic, and a great option for a beach wedding day or a simple summer wedding, we adore the Eleanor Slides by Tory Burch.
29. Mago Leather Courts - £395, Neous
Okay, okay, we know these aren't completely flat, but they only have the tiniest kitten heel. These chic Mago Mules have a V-shaped vamp following the lines of the pointed toe, and we love the delicate diagonal strap.
30. Genevi Flats - £1,125, Jimmy Choo
Designer wedding flats that are sure to dazzle? Look no further. The Genevi Flats are decorated with all-over hotfix crystals and adorned with a refined criss-cross of crystal studded chains – you'll sparkle on your wedding day from dawn to dusk. Discover more striking sparkly wedding shoes here.
31. Code Pointed-Toe Ballerina - £235, Furla
Chic, elegant and versatile enough to be worn again and again, the quality craftsmanship is evident on the Code Pointed-toe Ballerina. We love the delicate galvanised metal detail on the back of the heel.
32. Alicia A Beige - £338, Atelier de Charlotte
We adore the kooky retro feel of these patent leather flats. The cool ditsy daisy gives us Mary Quant vibes, making them perfect for brides wanting to evoke an ultra-cool 1960s aesthetic. Pair with a short wedding dress to really show them off.
33. Roman Stud Backless Leather Flats - £810, Valention Garavani
The embellishments and detail on Valentino Garavani's ivory flats are perfect if you are looking to create a cool and structured look. We can't get enough of the Roman Stud hardware and elegant pointed toe.
34. Pijao Mules - £194, Stivali New York
If you want to do good with your designer wedding shoe purchase, consider the minimal and elegant Pijao Mules. Each pair is handcrafted by artisans in Colombia; each pair sold contributes to supporting their families to improve their quality of life. We can imagine this gorgeous pair matched with a delicate wedding suit with slim cigarette trousers – minimalist style at its finest. If this appeals to you, you'll want to read our edit of the best charity wedding gift lists too.
Metallic Designer Wedding Shoes
If you are looking for an alternative to white or nude designer wedding shoes, why not consider a metallic pair? A metallic sheen immediately adds a touch of glamour to a bridal look, and we adore that they help you to shine from head to toe. We've found an amazing selection of gold, silver and bronze tones, in a variety of different shoe styles, from closed toe to sandals, and high and low heels. See even more silver wedding shoes here.
35. Cube Embellished Leather Sandals - £1,150, Roger Vivier
There are so many cool details on these Roger Vivier Sandals that we don't know where to start describing our favourite elements. The gorgeous silver tone, the retro buckle detail and the amazing cube heel are all shining stars.
36. Ircanamu 70 Gold Leather Mules - £645, Manolo Blahnik
We adore the rich gold tone of the Ircanamu 70 Mules. The delicate straps and tiny bow detail gives this pair an extra pretty finish that's perfect for a whimsical bridal style.
37. Leather Marmont Sandals 75 - £165, Gucci
These heels give us an almost disco-style vibe. Glam and cool, we adore the textured leather and the signature Double G motif on the Marmont Sandals. These would actually make pretty comfortable wedding shoes.
38. No Limit 100 Gold Leather Sandals - £745, Valentino Garavani
Looking for carpet glamour worthy shoes? We adore the high-shine finish on the No Limit 100 Gold Leather Sandals, which come in a rich gold tone, a slim and high stiletto heel and beautiful studwork. They'd look incredible with a celestial wedding dress.
39. Embellished Mesh Mary Jane Pumps - £738, Dolce & Gabbana
If shoes are your thing, and you want a pair that will be the star of the show, then you'll fall head over heels for these Embellished Mesh Mary Jane Pumps. They are covered all over with silver sequins, and then finished with colourful crystals placed in beautiful floral motifs.
40. Crystal-Embellished Seduction Pumps 105 - £950, Aquazzura
These shoes are giving us serious Cinderella and the glass slipper vibes… what could be more romantic?! The crystal embellishments and transparent profile of the Seduction Pumps are glamorous yet comfortable, with a leg-lengthening silhouette that's perfect for any princess.
41. Double Bow Heeled Mules 95 - £945, Mach & Mach
Shoe aficionados will adore the glittering double bows that adorn these eye-catching mules. The Mach & Mach heels will give your bridal look an added touch of opulence with the rows of twinkling embellishments.
42. Bijoux Sandals - £680, Gianvito Rossi
The padded toe and ankle straps give this pair of designer wedding shoes the 'cloud' feel that's so on trend right now. The Bijoux Sandals have a soft gold finish and are perched on a super-high stiletto.
43. Metallic Bow Tie Sandal - £495 , Zimmerman
Pretty in metallic pink! The Metallic Bow Tie Sandal is ideal for a spring or summer wedding, and would look amazing if matched with a boho wedding dress.
44. Zia 140 Gold Platforms - £325, Terry de Havilland
Add some rock chick cool to your bridal look. We can imagine an ultra-cool lady wearing the Zia 140 Gold Platforms, matched with a slim-cut gown and a leather bridal jacket to rough up the look.
45. Catena High Sandal - £880, Serena Uzivel
These shoes will help you to shine on. The Catena High Sandal is crafted in unique silver Italian mirror leather and features a gorgeous antique silver chain embroidery adorning the front strap.
46. Luna Soft Gold - £529, Bells & Becks
Oh so demure and chic, the Luna in soft gold leather is a modern take on a classic slingback. We adore the unique tab detail, pointed toe and easy to wear midi heel. These would be a great pick if you were looking for something to suit a more mature wedding dress.
Designer Wedding Shoes: Boots
Not every bride wants to wear a pair of shoes on their big day – boots might be far more your vibe. There's an amazing selection of designer wedding boots available – all with a range of heel sizes. Boots look great with mini dresses and tucked under wide-leg trousers – and equally you can change into a pair of boots in the evening if you want to mix up your look.
47. Gardenia 100 Embellished Ankle Boots - £1,695, Jimmy Choo
The prefect blend of glitz and glam, we are in love with this sparkling pair of Jimmy Choo boots. The eye-catching crystal-embellished mesh uppers are ideal for a stylish bridal look.
48. June Boot - £595, Freya Rose
The Freya Rose label is known and loved for its amazing bridal footwear, and we adore this pretty pair of White Leather Ankle Boots with a signature mother of pearl midi block heel.
49. Ellis Leather Ankle Boots - £274, Rag & Bone
Elegant and demure, these Rag & Bone Boots can be worn well after your wedding day. Great with a tailored outfit or equally to give an edge to a floaty layered gown.
50. Allen 50 White Leather Ankle Boots - £895, Off-White
This unique style by Off-White has a slim and pretty silhouette, with a unique pop of understated colour thanks to the purple and blue pin heel. All round gorgeous!
51. Lotta Ankle Boots - £299, LK Bennett
Ideal for an autumnal wedding day, the Lotta Ankle Boots are crafted from beautifully-soft cream Napa leather and feature a round toe with pinked trim edging detail.
52. Moline High Heeled Chelsea Boot - £141, Rag & Co
Crafted in opulent shiny white leather, this Chelsea style boot, with elegant high heels, are an easy to wear and hassle-free option on your wedding day.
53. Tyler Boots - £380, Zadig Et Voltaire
Tap into the popular bridal celestial trend with this cool pair of white boots. The Tyler Boots are adorned all-over with silver studs, elevating a traditional boot style into a star of the show.
54. Pernille Ankle Boots - £1,033, Amina Muaddi
Make an on-point fashion statement with the Pernille Ankle Boots. They are crafted in super-soft off-white leather and feature a unique and glorious transparent wedge heel.
55. Laser-Cut Leather Boots - £1,260, Alaïa
Paired with a retro micro wedding dress, this pair of Laser-Cut Leather Boots will give you a dramatic and oh co cool bridal look – perfect for an elopement wedding day.
Now you've found your perfect designer wedding shoes, why not browse our edit of the best bridal clutch bags to complete your look?