77 Christmas Wedding Ideas to Transform Your Big Day
We've picked out 77 of the best Christmas wedding ideas to make sure your wedding is a festive extravaganza!
We have included third party products to help you navigate and enjoy life's biggest moments. Purchases made through links on this page may earn us a commission.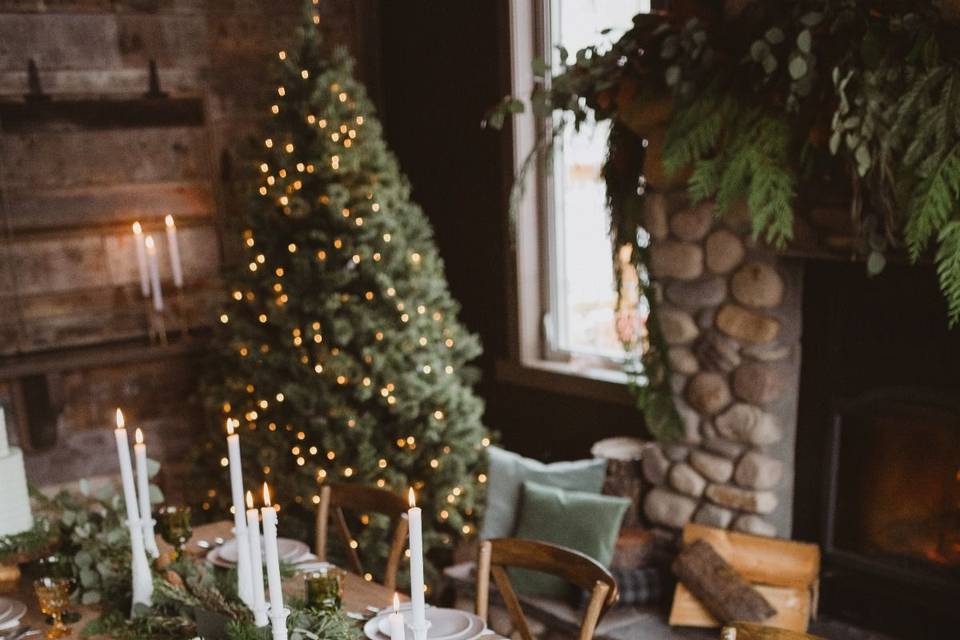 If you're planning a winter wedding, you might be thinking about having a Christmas-themed day!
There are so many Christmas wedding ideas that can transform your day into a winter wonderland. We've come up with 77 fun ideas to add a festive twist to your day, from Christmas cracker favours to hot chocolate stations and yuletide bouquets.
Whatever your budget, we've got plenty of suggestions that'll add a joyful, Christmassy touch to your big day.
READ MORE
Christmas Wedding Ceremony and Reception Ideas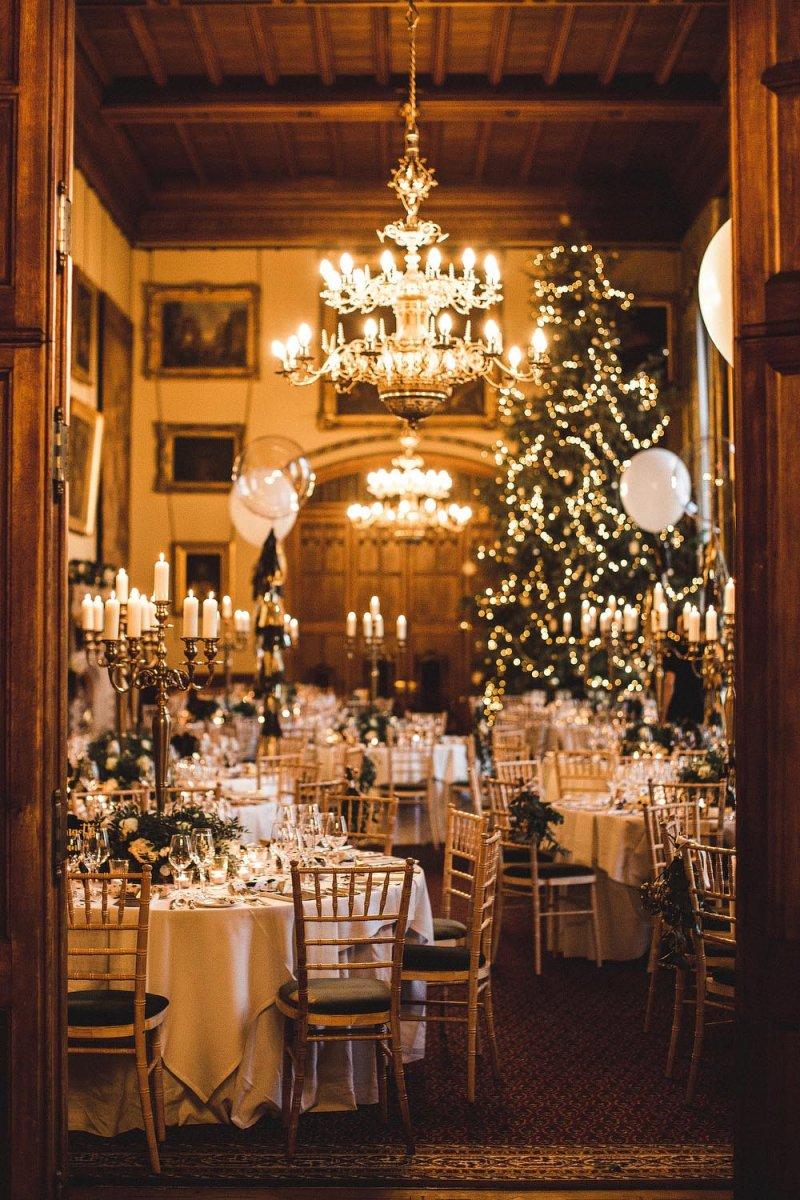 1. First things first, you need to find a beautiful winter wedding venue. Some venues just lend themselves to winter weddings perfectly – look out for gorgeous venues with open fires and a cosy atmosphere. You'll find our favourite winter wedding venues here.
2. Your wedding invitations will be the first hint of your theme that your guests get so add an icy or festive design - it'll get them so excited for your Christmas wedding. We have 27 Christmas and winter inspired invitation ideas you can browse.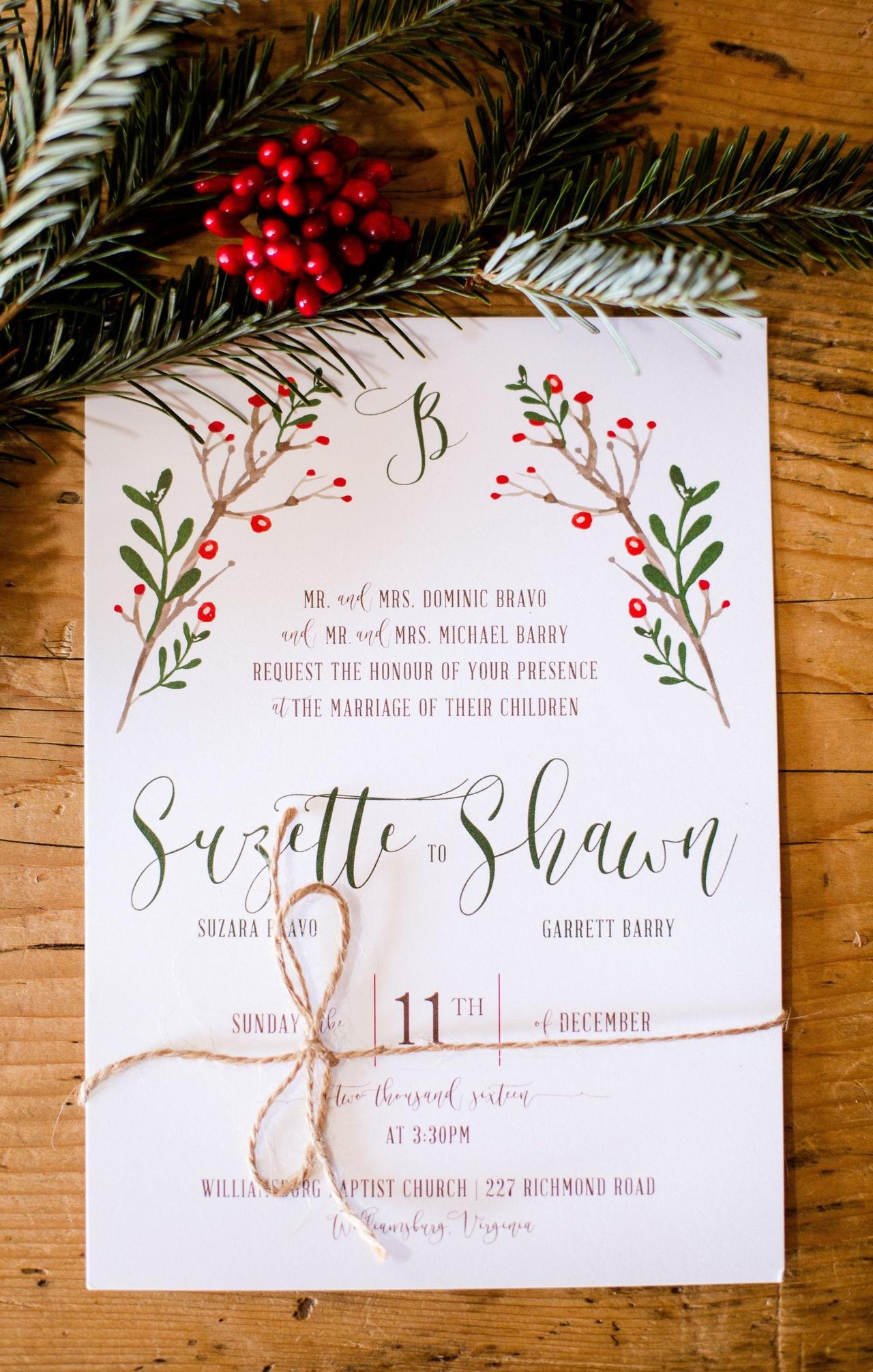 3. Make your wedding ceremony feel like the cosiest Christmas carol service by adding in some wonderful festive hymns and carols. There is something magical about all your nearest and dearest singing those happy songs on your special day. Choose your favourites but stick to the upbeat ones which will keep the joyful atmosphere up, like Joy To The World, O Come All Ye Faithful and Hark! The Herald Angels Sing. Did you know you can hire professional carol singers to serenade your guests as they arrive too?!
4. Take inspiration from traditional Christmas parties for your dress code. Ask guests to go for plenty of glitz, glamour and sparkle (just make it clear Christmas jumpers aren't on the menu).
5. Add some festive details to your wedding day stationery. Add red ribbon to your order of service or tie holly and mistletoe to your menus and place cards. These are really easy to DIY and make sure everything is infused with Christmas spirit from the start.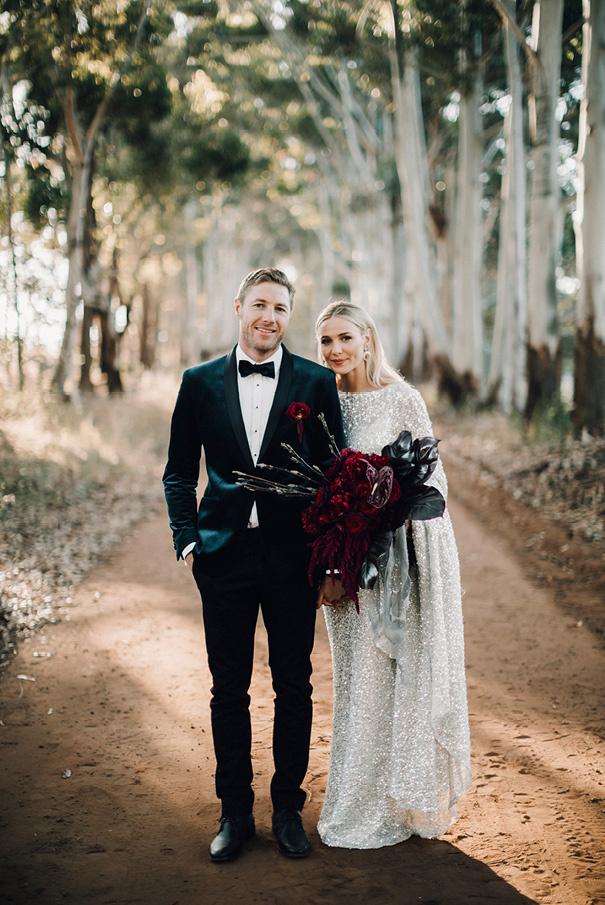 6. Opt for a winter wedding dress with long sleeves or lots of glitter (or both!). Here's 41 of our favourite winter wedding dresses to inspire you. For grooms, a classic black tuxedo always looks good, but you can push the boat out to adopt warm seasonal colours like a burgundy or bottle green velvet, or even a silvery grey for an icy theme.
7. Brides will want to cover up to stop getting chilly so choose a cool bridal jacket or cape. For an edgy look, try a leather bridal jacket; for a glamorous look, add a faux fur wrap or shawl; for an on-trend look, wear a shearling jacket.
READ MORE: 30 Incredible Winter Wedding Cake Ideas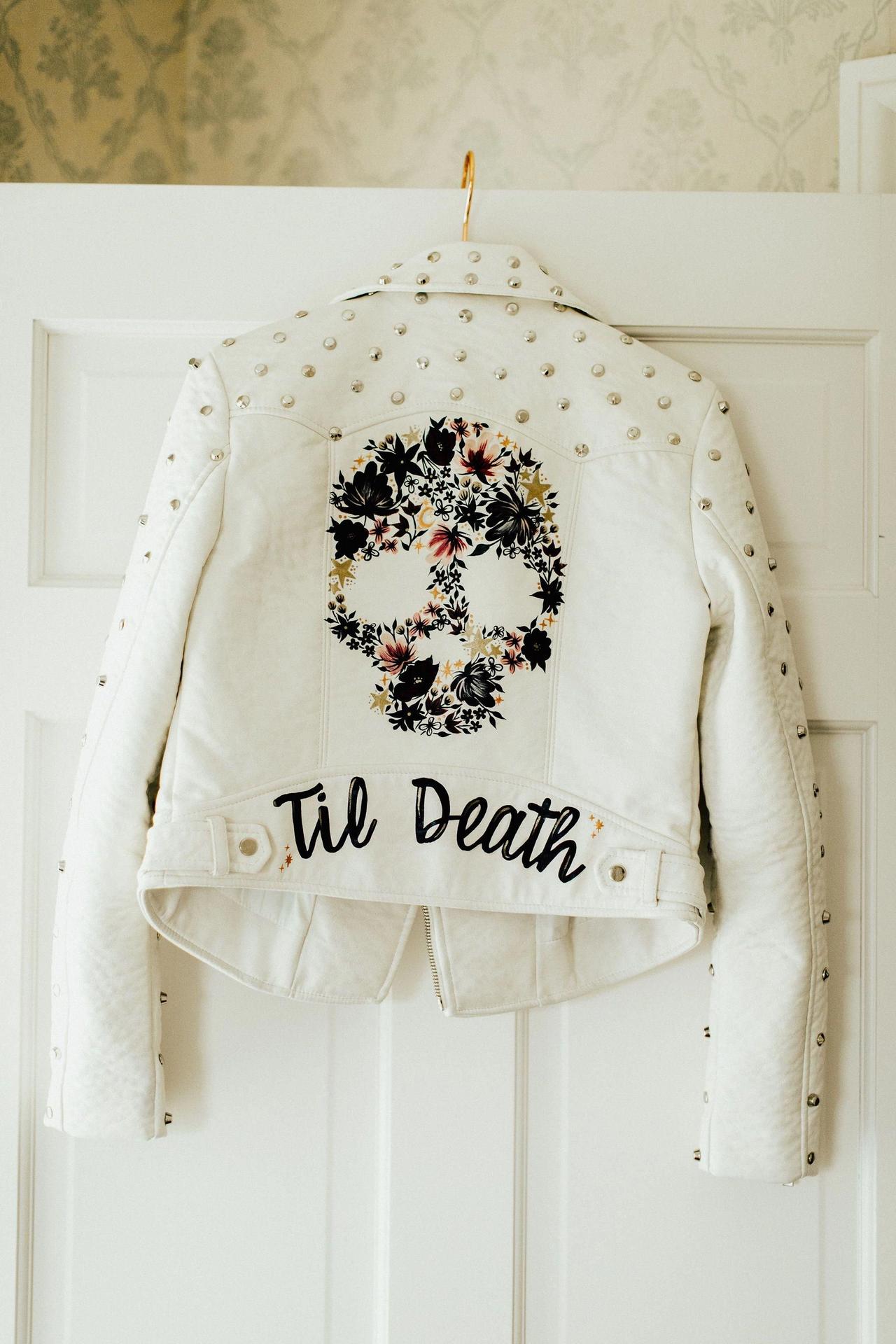 8. If you want some beautiful wedding photos, hang up all of your dresses together on pretty glitzy hangers. You can get personalised ones which are great gifts for your bridal party or you can DIY them.
9. Bridesmaid dresses need to be bold: think metallic colours, jewel tones, sequins or even dramatic white bridesmaid dresses. A cute icy hair pin or hair vine in your bridesmaids' hair would be a lovely nod to your winter wedding theme.
10. After the ceremony, serve mini mince pies and festive drinks instead of canapés and bubbly – your guests will love it and it could be more budget-friendly. A glass of mulled wine or cider is perfect.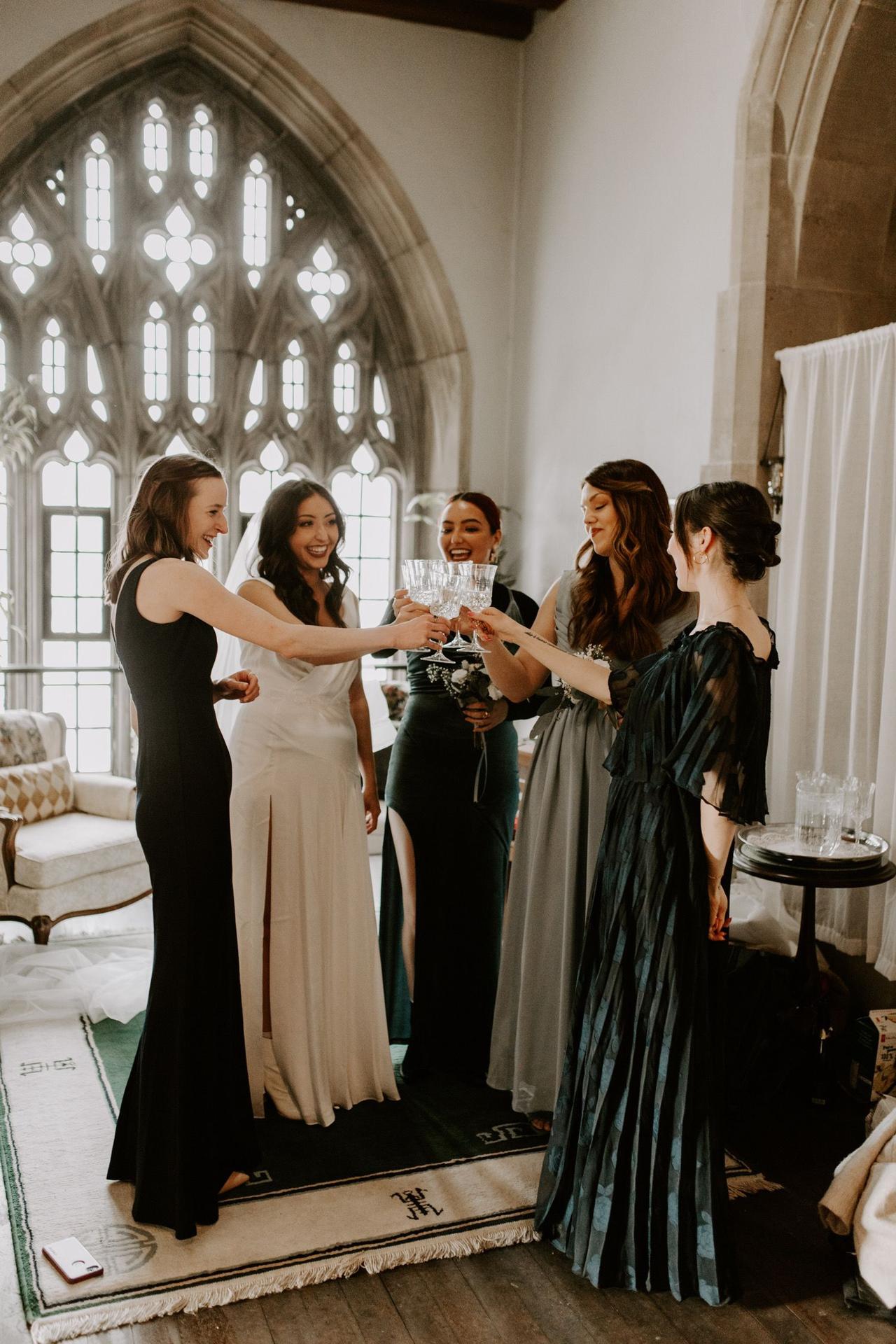 11. There's tons of Christmas wedding entertainment ideas for your reception, from games to spectacles to watch:
Hire a gospel choir to sing Christmas songs during your reception drinks and as background to the wedding breakfast. We're talking Santa Baby, All I Want For Christmas Is You, and Santa Claus Is Coming To Town. (FYI, if you want singers at a registry office wedding, a gospel group doing modern Christmas songs instead of carols is ideal as you can't have any religious references).
Ice breaker games on wedding tables can all be adapted to a Christmas theme. What about guess the name of the Christmas movie from the emojis?
Check out our round-up of the best entertainment ideas for weddings - photobooths, magicians, glitter bars and giant Jenga can all be given a Christmassy twist.
We think having a surprise Santa making a guest appearance would be so much fun. Perhaps do this in the evening though so he doesn't steal your thunder! Younger guests will adore it.
Did you know you can hire two acrobats performing in a giant 13ft snow globe? Glitter falls constantly over the pair as they perform a showstopping routine. If you've got the budget, it'll certainly get guests talking.
Play a game of Secret Santa (with a twist!) with your wedding favours. Everyone will get a different wrapped gift on their place setting and then you each draw a playing card from a shuffled pack. As you go around the cards in order, the guests can decide to keep their gift or steal someone else's. No one will know what they're going home with!
Have a platter of wrapped candy canes on a table. Your guests will have 30 seconds to try and hook as many candy canes as they can using one in their mouth. No hands allowed. Winner is the guest who can hook the most.
Santa Limbo is one that kids and adults will both love. Have a 'Santa's belly' pillow that they have to tuck under their shirt or dress and see if they can still squeeze under the bar as it gets lower.
Go wild with your performers: you can hire Sugar Plum Fairy ballerinas to dance among your tables during the wedding breakfast; stilt walkers dressed up like the inhabitants of Narnia; even fire breathers to wander the gardens of your venue! Your only limit is your imagination.
If you want food and drink entertainment ideas (we see you s'mores station!), scroll on down.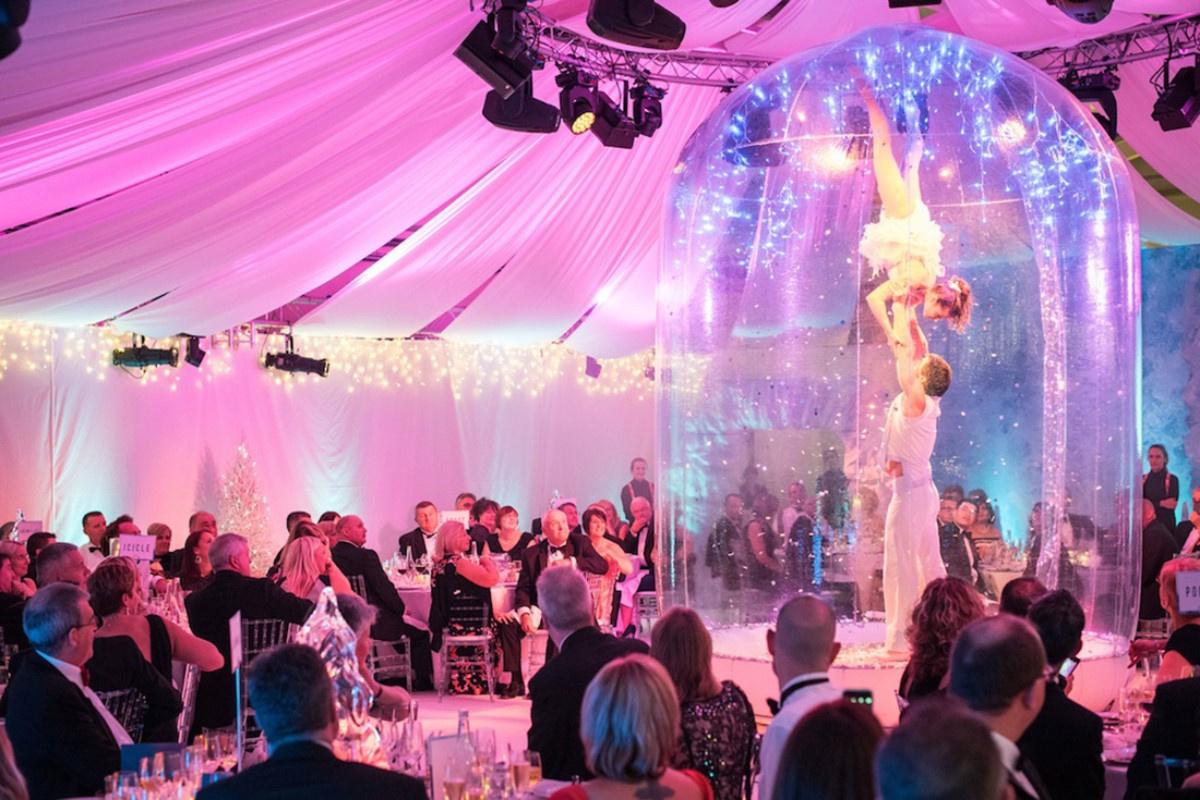 12. Have a Christmas movie chill-out room for guests who want to dodge the partying and organise for classic Christmas films to be shown. It's ideal if you have younger guests too as the parents can have a little break while they watch Elf.
13. Arrange for your DJ or band to have a wedding playlist full of Christmas classics. We don't mean a whole five hours of them, but definitely a few classics dotted throughout.
14. End the night with a wonderful fireworks display. Christmas weddings are full of joy and celebration and nothing says that like fireworks!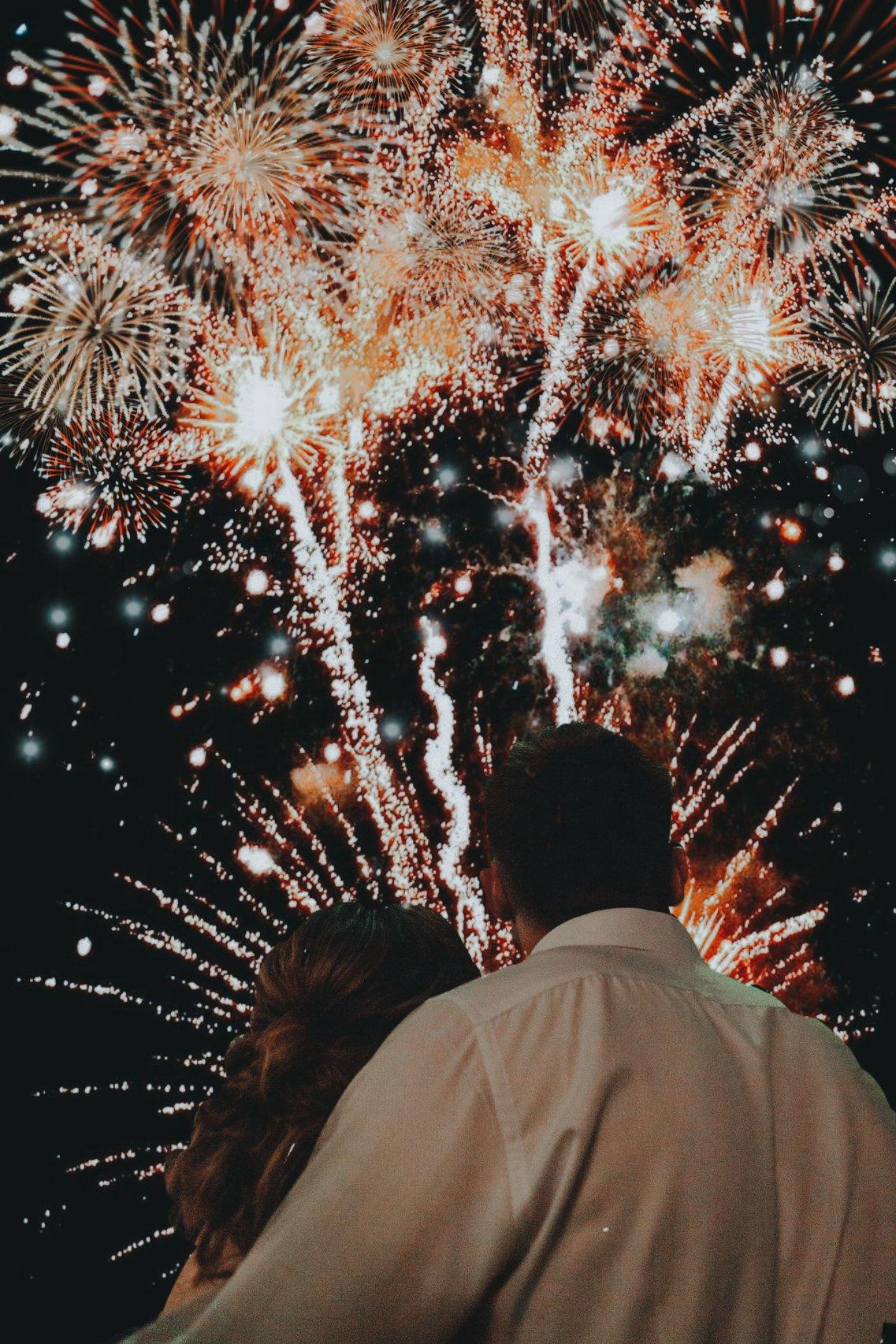 Christmas Wedding Flowers
15. Go truly Christmassy by customising your wedding bouquet with seasonal foliage and flowers, such as holly, hypericum berries and pine cones. This one below even has frosted branches of fir and some succulents to add texture!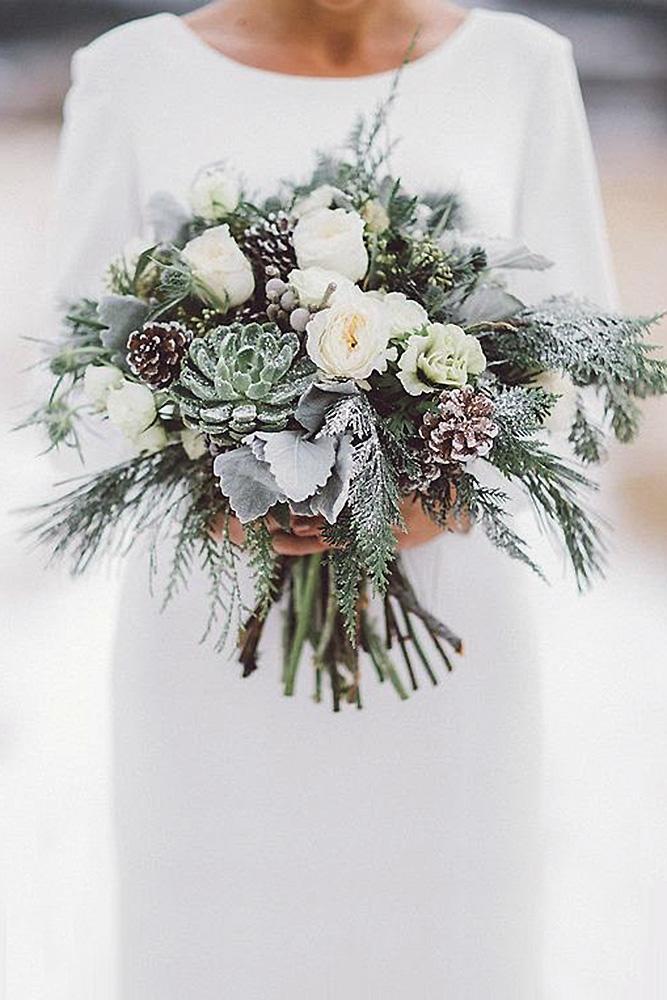 16. Simple and elegant single coloured bouquets, like white calla lilies or red roses, look striking and dramatic for Christmas weddings. Here's what's in season in winter (which means they will be at their best): Amaryllis, Anemone, Camellias, Casablanca Lilies, Carnations, Forget-me-nots, Gardenias, Holly, Jasmine, Orchids, Narcissus Paperwhite, Poinsettias, Roses and Tulips.
17. Wintry colour schemes works equally as well for Christmas weddings. Popular winter colour palettes include burgundy and blush, silver and sage, navy and gold, icy blue and cream, plum and emerald, bottle green and tweed brown. There's no reason you can't include pops of dramatic brights among more muted jewel tones.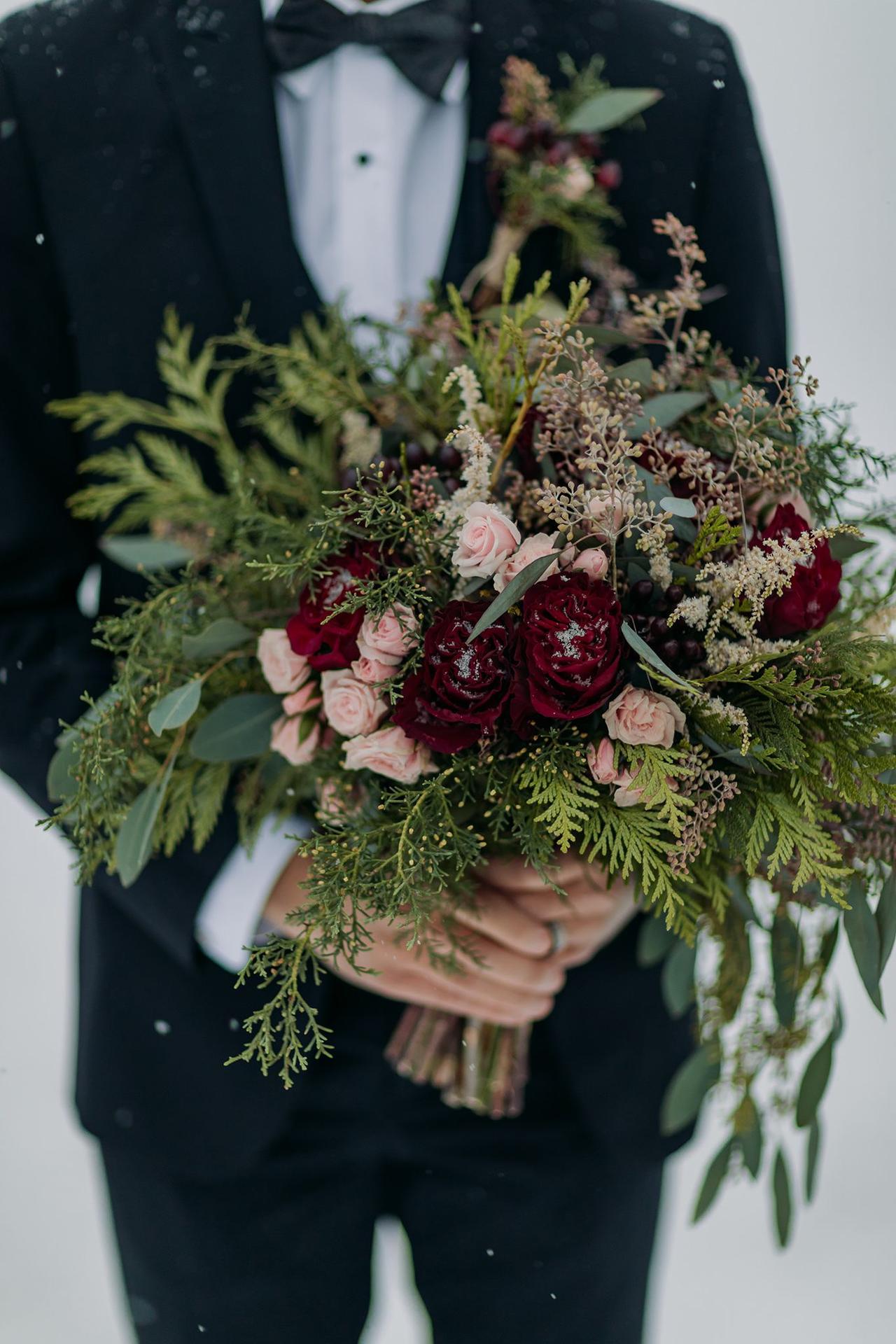 18. Don't dismiss dried flowers for Christmas. Although they might not have the vibrancy of greens, reds and whites, a dried flower bouquet can still use warm colours and additions like feathers for a rustic and textural bouquet.
19. If you're looking to make a big impact at a slightly lower cost, greenery is the way to go. You only need to tuck a few of your wedding flowers in among boughs of foliage and set them around candles and lanterns for an eye-catching display.
READ MORE: 23 Beautiful Winter Wedding Bouquets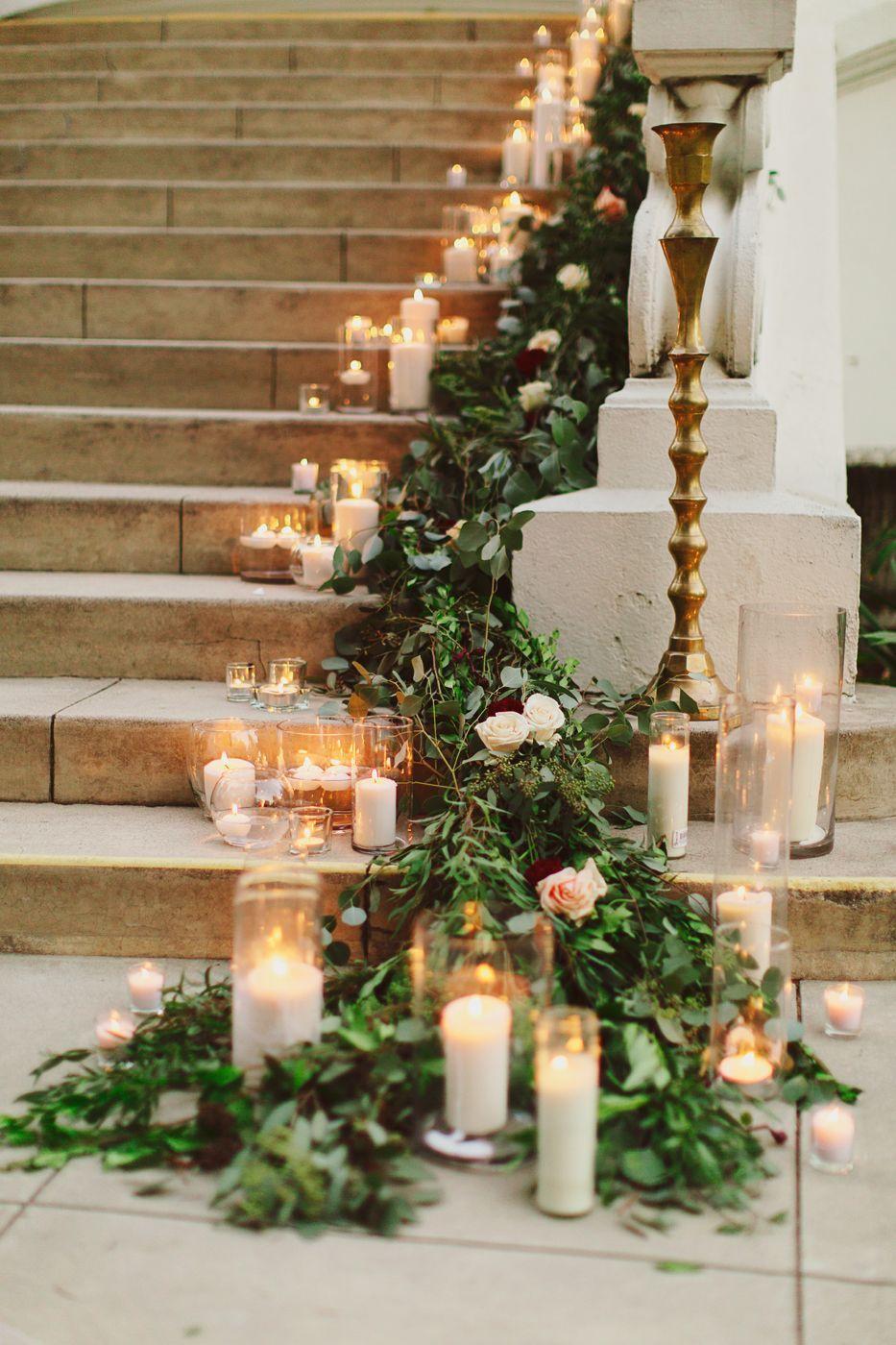 20. Don't be afraid to go for complementary touches which you can only get away with at Christmas. We're talking metallic elements like silver-sprayed berries or gold leaves - they come into their own at this time of year.
21. Hang a big wreath outside your venue which can act as both a prop for photos and a gorgeous focal point. You could even use it to hang a welcome sign in the middle.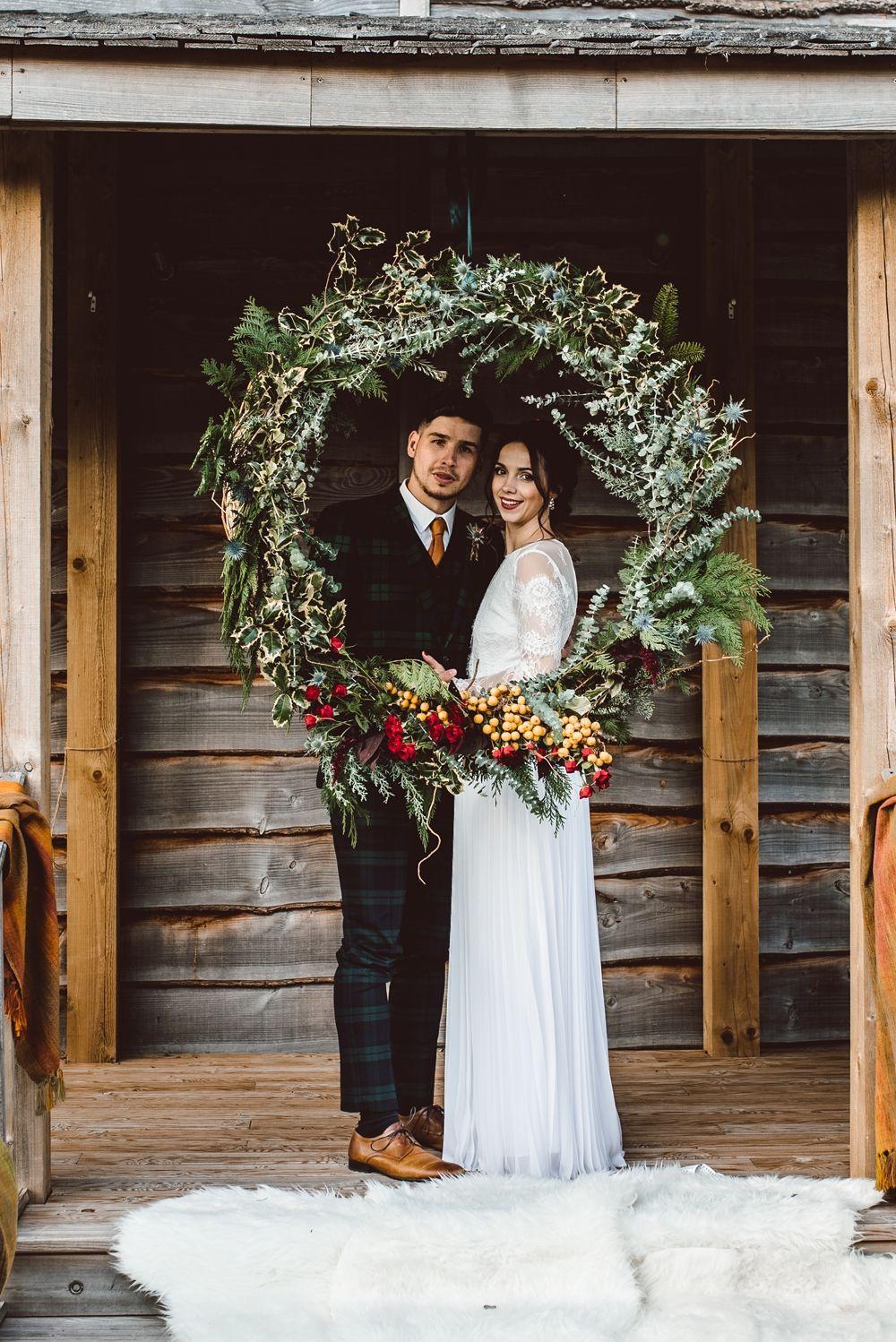 22. Make sure the groom's buttonhole is suitably Christmassy too! You could include a sprig of holly, mistletoe, a thistle, a red rose, or mini pine cone.
23. Decorate the ends of your aisle with branches of pine, holly or fir topped with seasonal foliage like mistletoe. Tie a big ribbon around it all and have it hanging down to the ground. This looks even more special with lanterns underneath.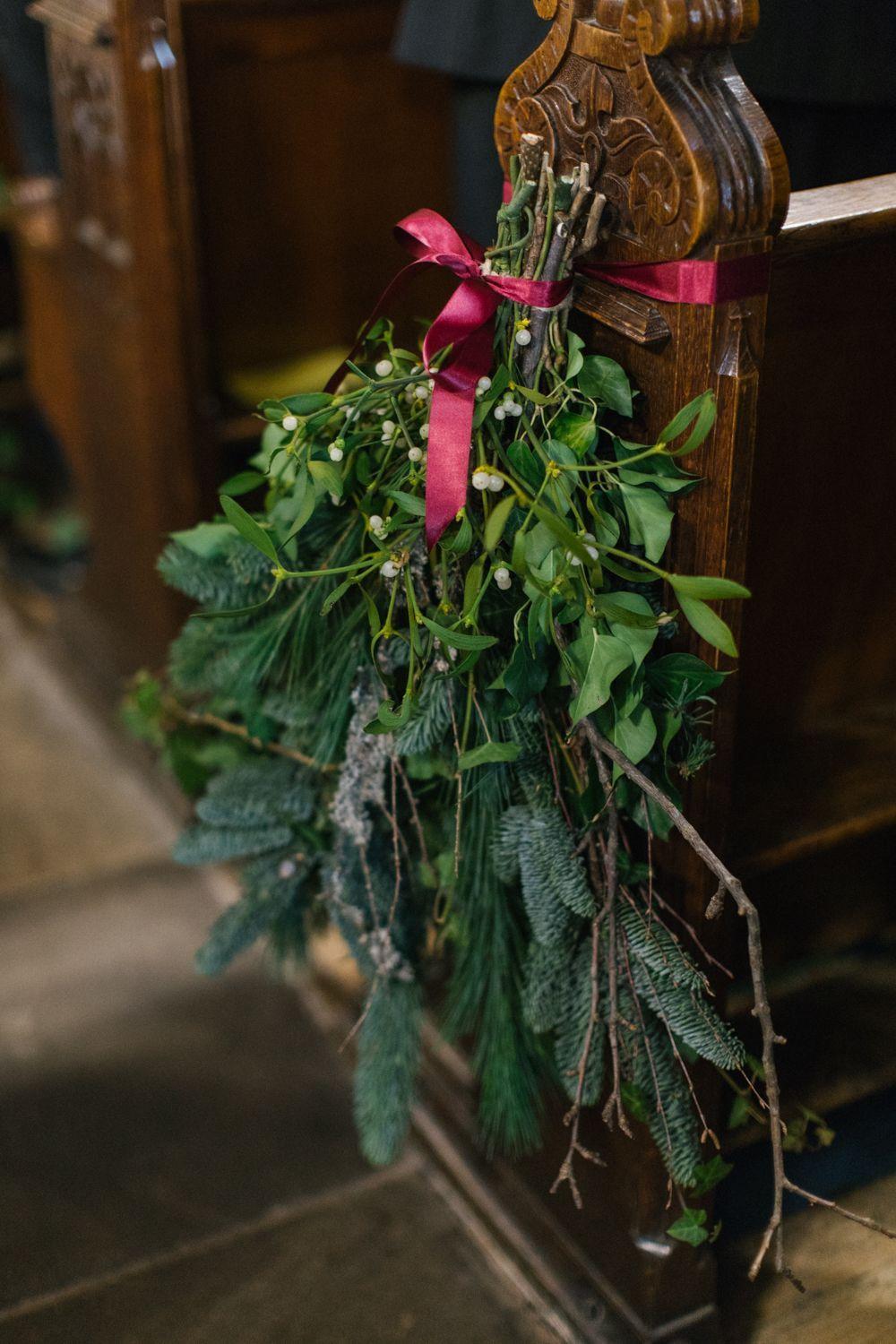 24. Hang mistletoe strategically around the room to add a bit of extra romance to your wedding day. Having a singles table? You know what to do.
25. You don't need to have wreathes on doors - we love them dotted all around your venue. How good does this wreath look spotlighting the lounge area at this Christmas wedding? Here they've pulled out the emerald tones in the cushions and highlighted everything with twinkling fairytlights.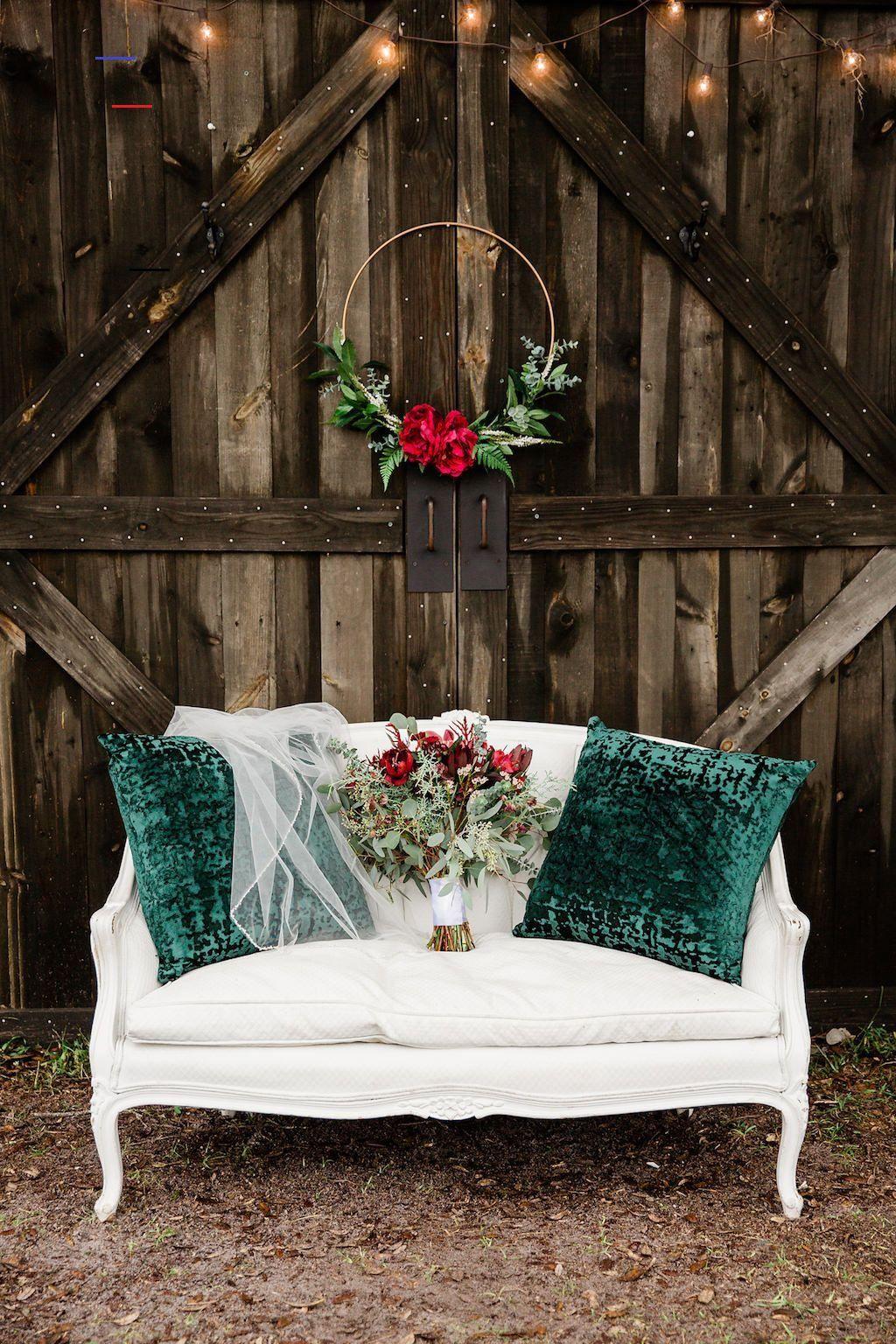 26. Although Christmas is often associated with abundance, don't be afraid to go minimalist. Big jars of eucalyptus branches, white candles and geometric shapes looks contemporary and cool with modern white arrangements.
27. Matching floral centrepieces to your napkins is a great way of creating consistency and flow across your flowers and décor. Pull out either the main colour or a smaller complementary colour and let that influence your tablescape.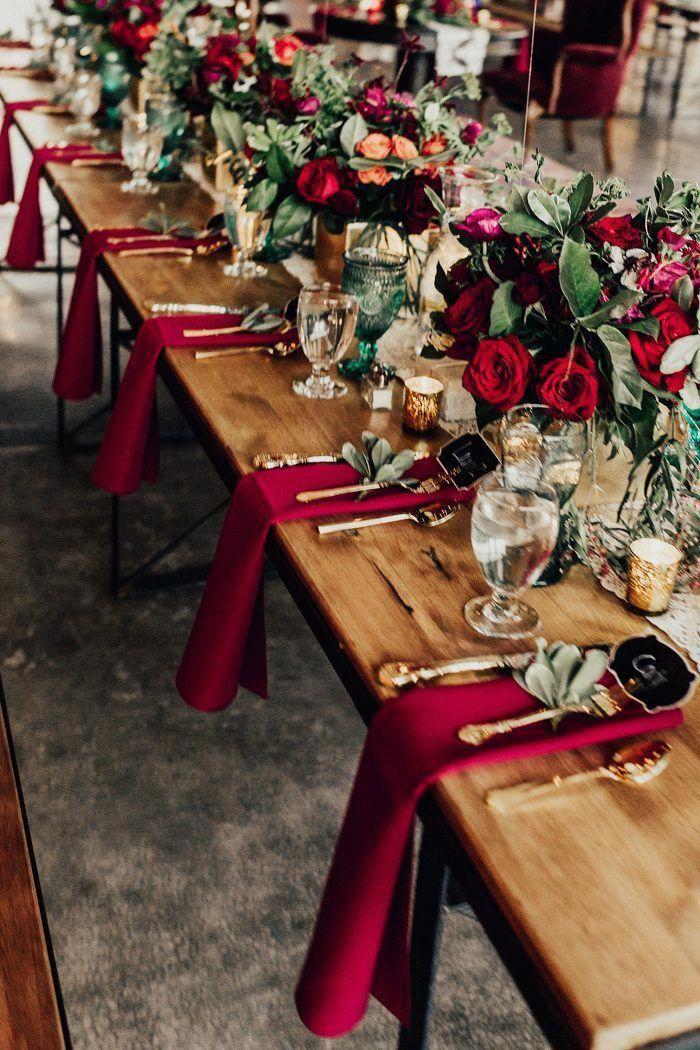 Christmas Wedding Decor
28. Got a big budget? You could literally fill your venue with Christmas trees! Either decorate them with lights and baubles or leave them simple and frosted. Check whether your venue has their own tree and how it'll be decorated, then you can hire or buy more if you'd like to go for this winter wonderland style.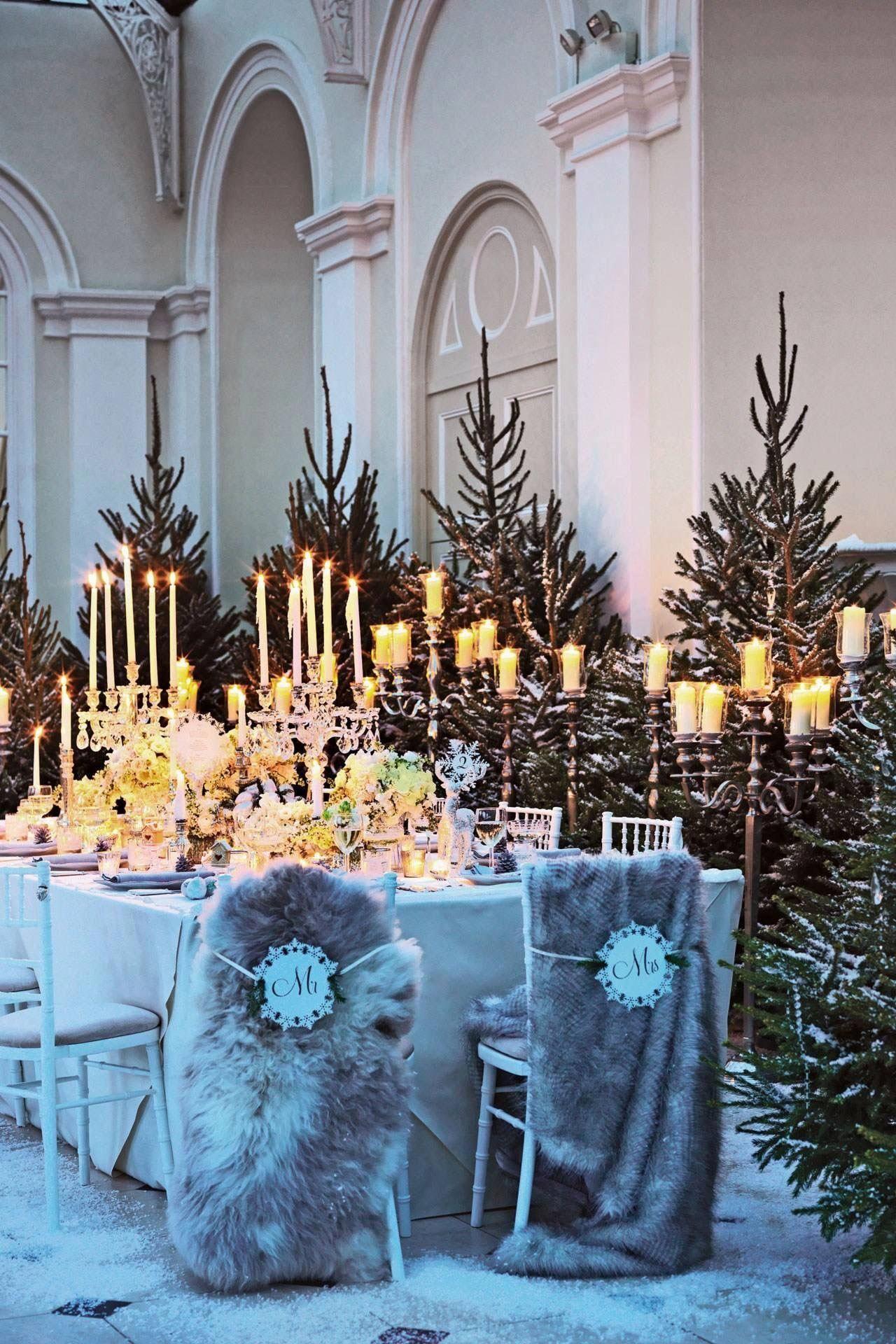 29. Festive photo props will be something fun that will most definitely give your wedding day a Christmassy feel. These ones from Amazon are so much fun! You can leave them on the tables as well as in your photobooth for guests to use in their candid pics.
30. If your venue has a fireplace, hang stockings across it in your wedding colours. We love having personalised ones for each of your wedding party hung up, it'll look really sweet and make a great spot to pose for pictures together. If stockings aren't your thing, light the fire and have a floral display along the mantlepiece.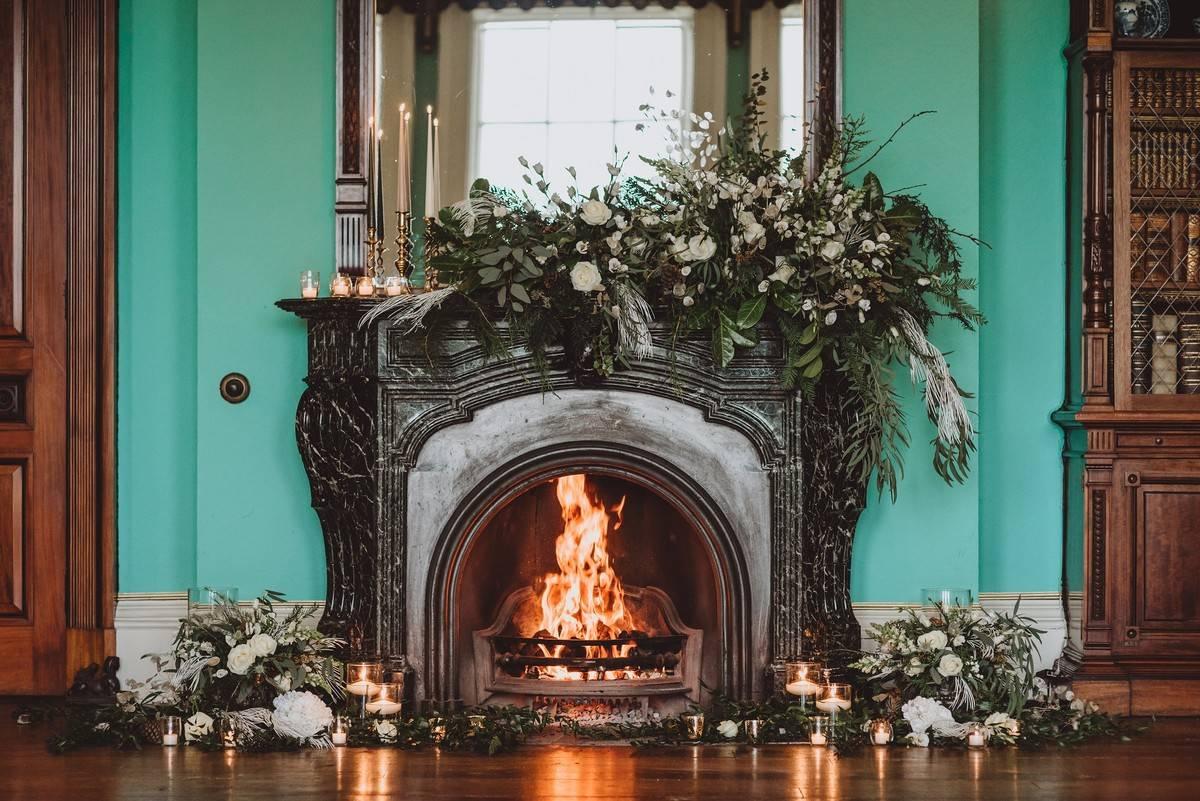 31. Swap wedding favours for mini wrapped Christmas gifts. We'd encourage you to go sustainable with your choice of wrapping: brown Kraft paper that can be recycled is a great option, as are small organza bags which guests can use time and again. If there's a Christmas tree at your venue, put your wedding favours under it like mini presents and encourage guests to go and pick one out!
32. Use your Christmas tree as your seating plan too! How cute are these tags on the tree with names and table numbers on.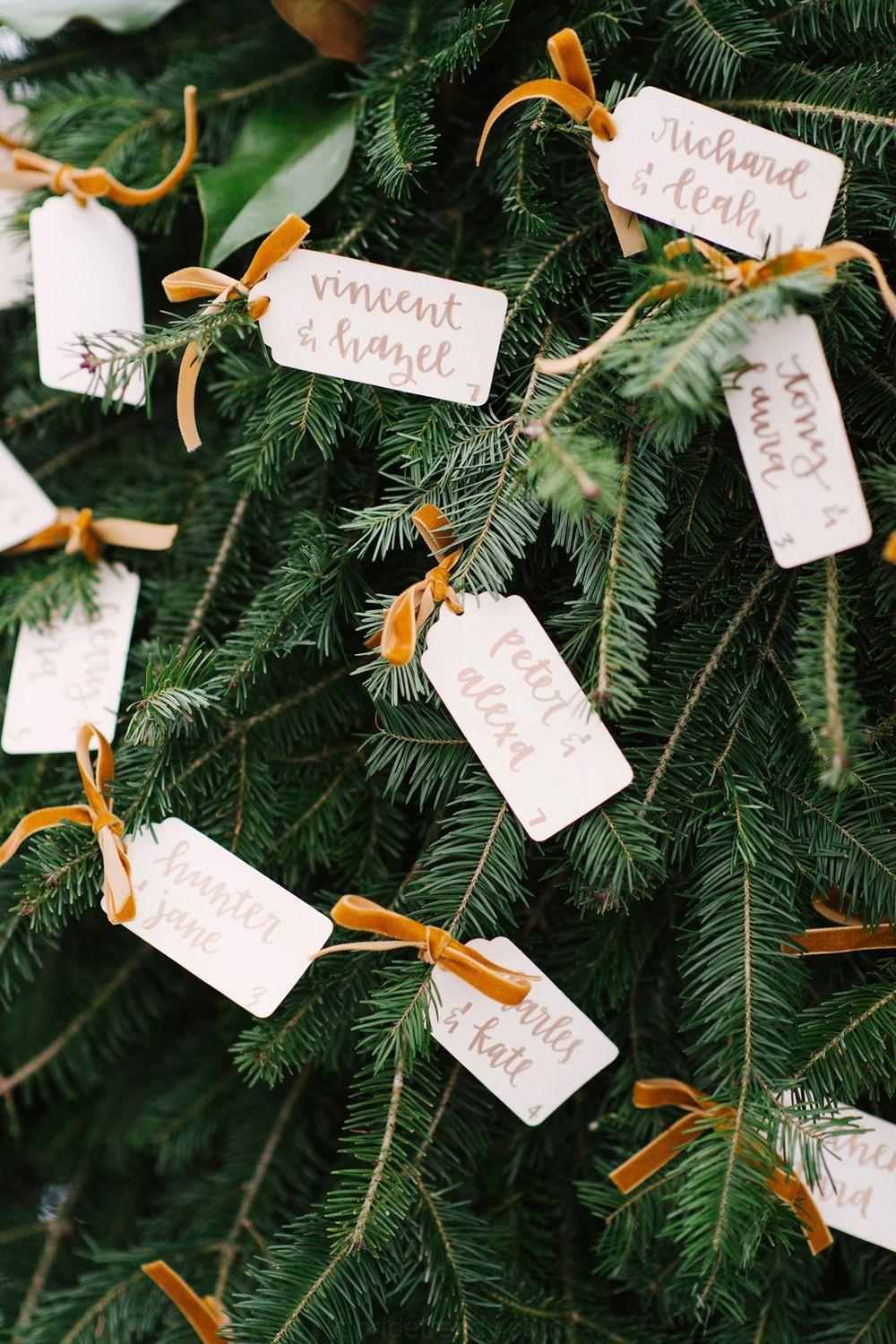 33. Get creative with your wedding table names and use words associated with Christmas or the names of your favourite festive films. How about these ideas?
Christmas drinks: Bucks Fizz, Mulled Wine, Bailey's, Advocaat
The 12 Days of Christmas: a partridge in a pear tree, two turtle doves, three French hens
Christmas No1s (although skip the most recent 'I Love Sausage Rolls' by LadBaby!)
Christmas decorations: bauble, mistletoe, holly, ivy, crackers, tinsel, stocking
Christmas films: Home Alone, Elf, Miracle on 34th Street, Muppets' Christmas Carol
Christmas chocolates and treats: Terry's Chocolate Orange, Ferrero Rocher, nougat, Matchmakers
Christmas dinner: turkey, roasties, Brussel sprouts, gravy, stuffing, Christmas pudding, brandy butter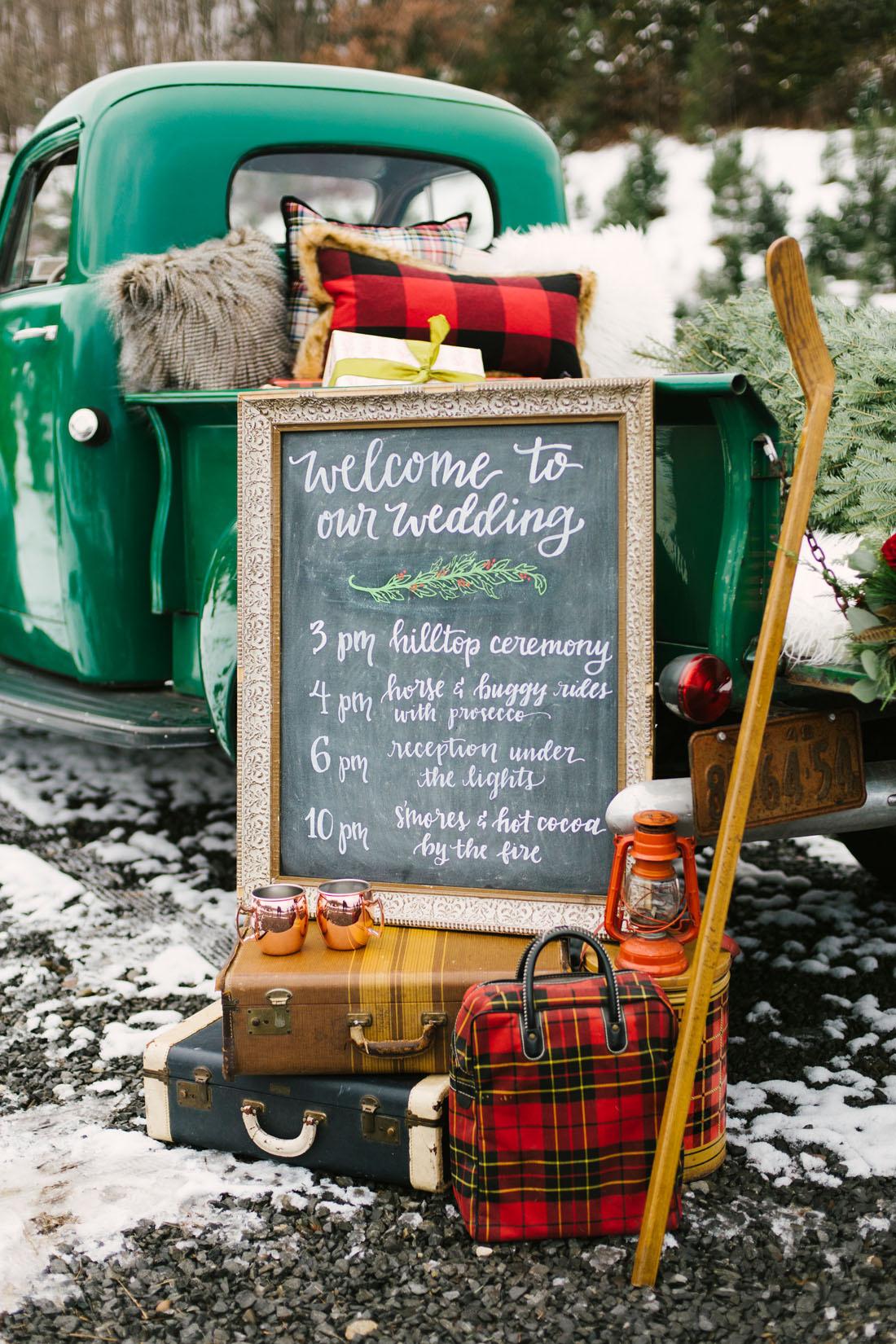 34. Set up a welcome scene with a chalkboard sign or rustic wooden pallet with all sorts of your favourite cosy or Christmassy things: cushions, vintage luggage, lanterns, boots, blankets, jars of cookies, a sledge, wreaths - anything you want. It'll be the perfect warm welcome.
35. Set up a fire pit outside your venue. This will keep guests who want to pop outside warm and also offers a great place to toast marshmallows.
36. Create your own Christmas market! Give your reception a European Christmas market feel with a warm pretzel stand, roasted chestnuts and mugs of mulled wine. It could even replace your evening buffet, with food trucks serving warm sausages, fresh off the grill, and delicious chimney cake.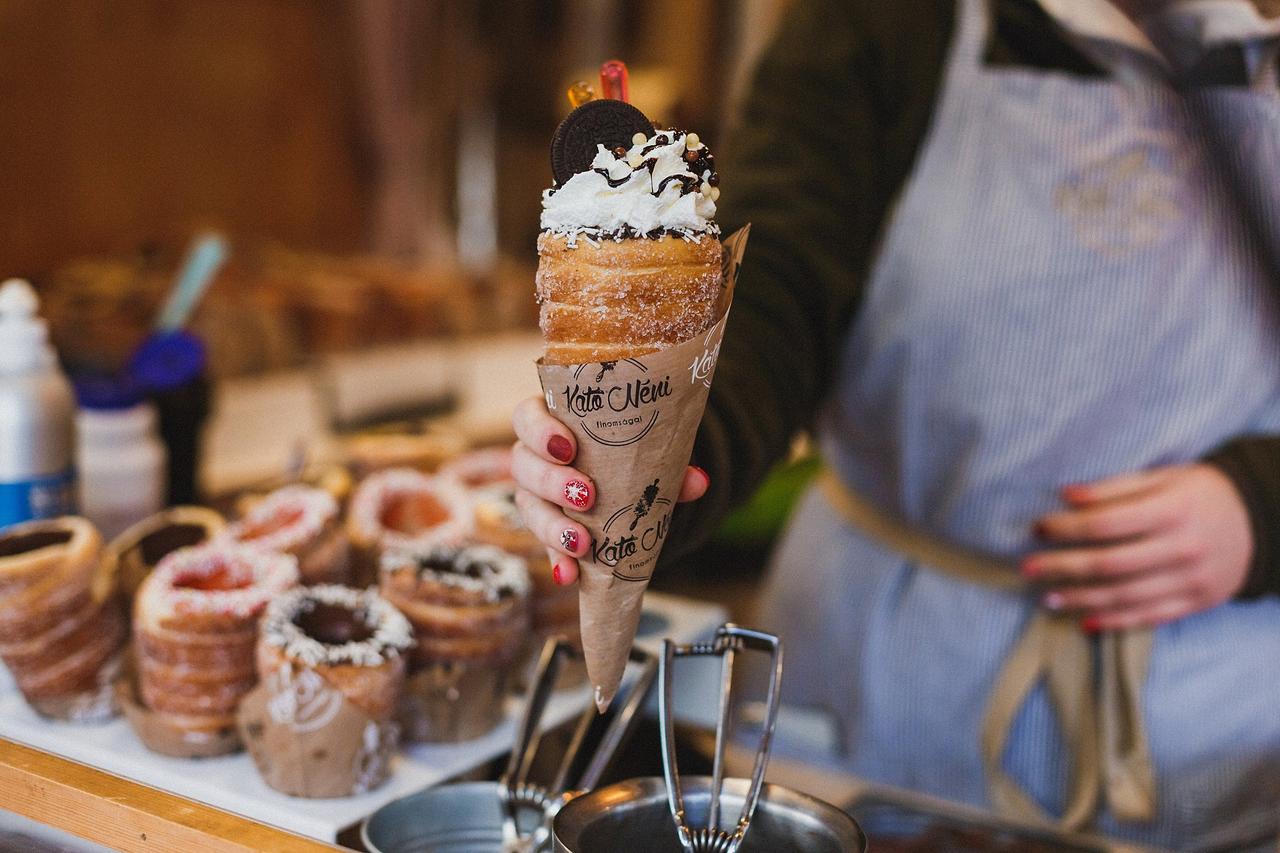 37. Create a full immersive experience with a festive scent. Light cinnamon scented candles or opt for diffusers if your venue has a 'no naked flames' policy. Yankee Candles have a whole range of winter scents from red apple wreath and Christmas cookie to Holiday Hearth - the warming, smoky scent of the fireplace.
38. Outdoor areas look fantastic with rustic logs and candles in hurricane lamps. They provide a soft, romantic glow and are great for creating a path that guides guests into your reception.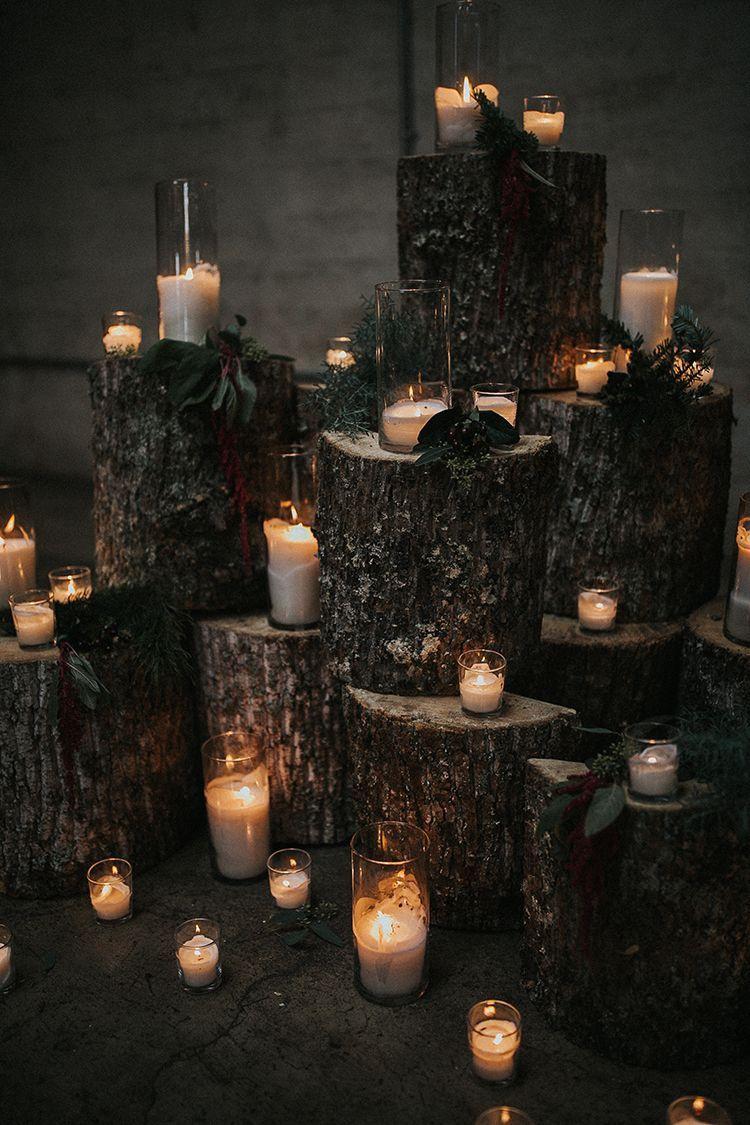 39. Christmas crackers can double up as wedding favours as well as place cards – naturally, wearing the paper hat is compulsory and will leave you with some fun wedding photos.
40. If you're having a wedding postbox, dress it up as a mailbox for Santa, complete with fake snow.
41. Lighting can transform a venue so when it comes to fairylights, think more is more. They add a magical feeling and heaps to romance to any venue. It's ideal if you have an outside area or your venue doesn't allow candles.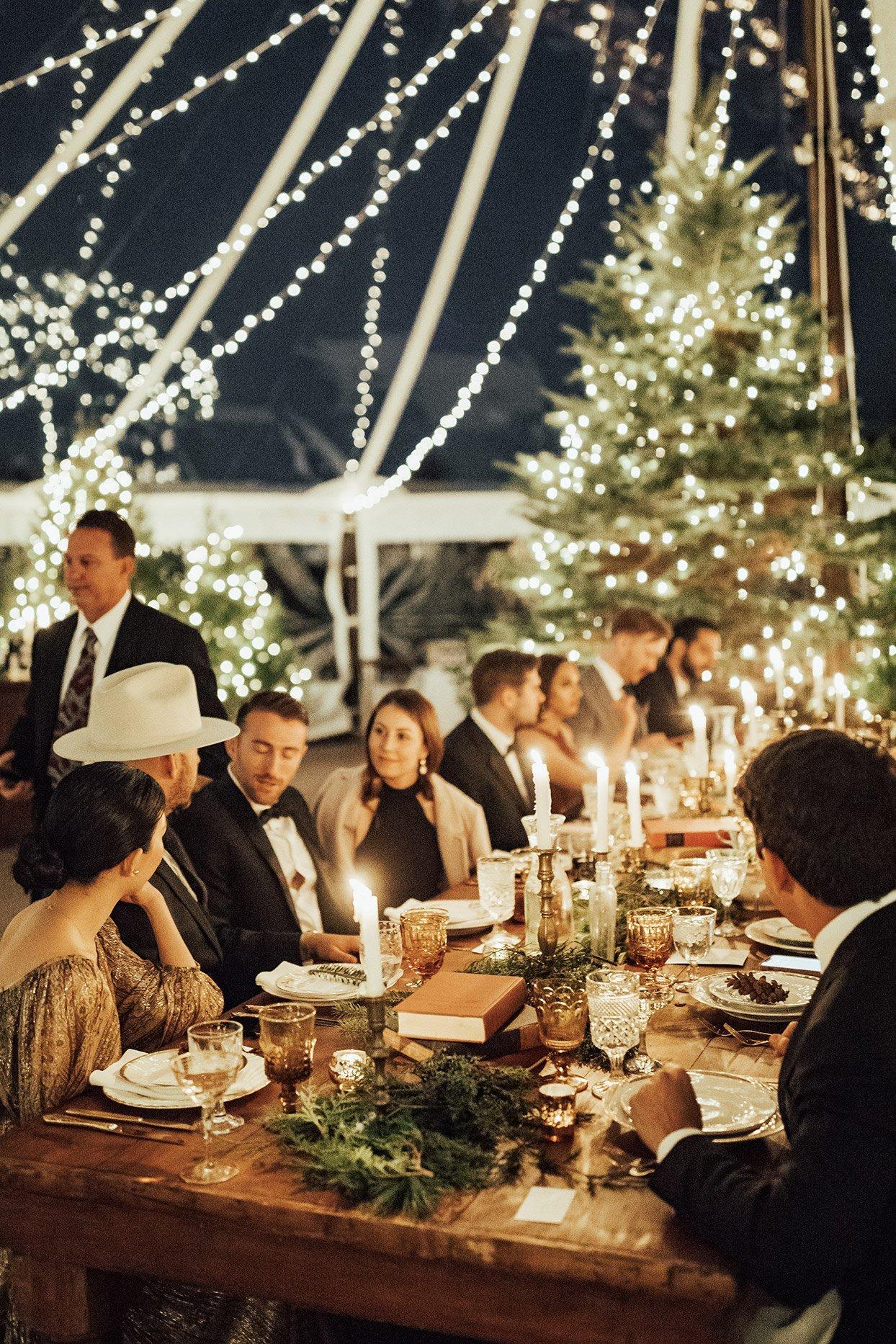 42. Style your table plan to look like a giant advent calendar or choose a winter theme. We've got 36 gorgeous ideas for wedding table plans here.
43. Jewel coloured glassware is both jolly and classy - not an oxymoron - and it adds a different dimension to the traditional white and green colour schemes.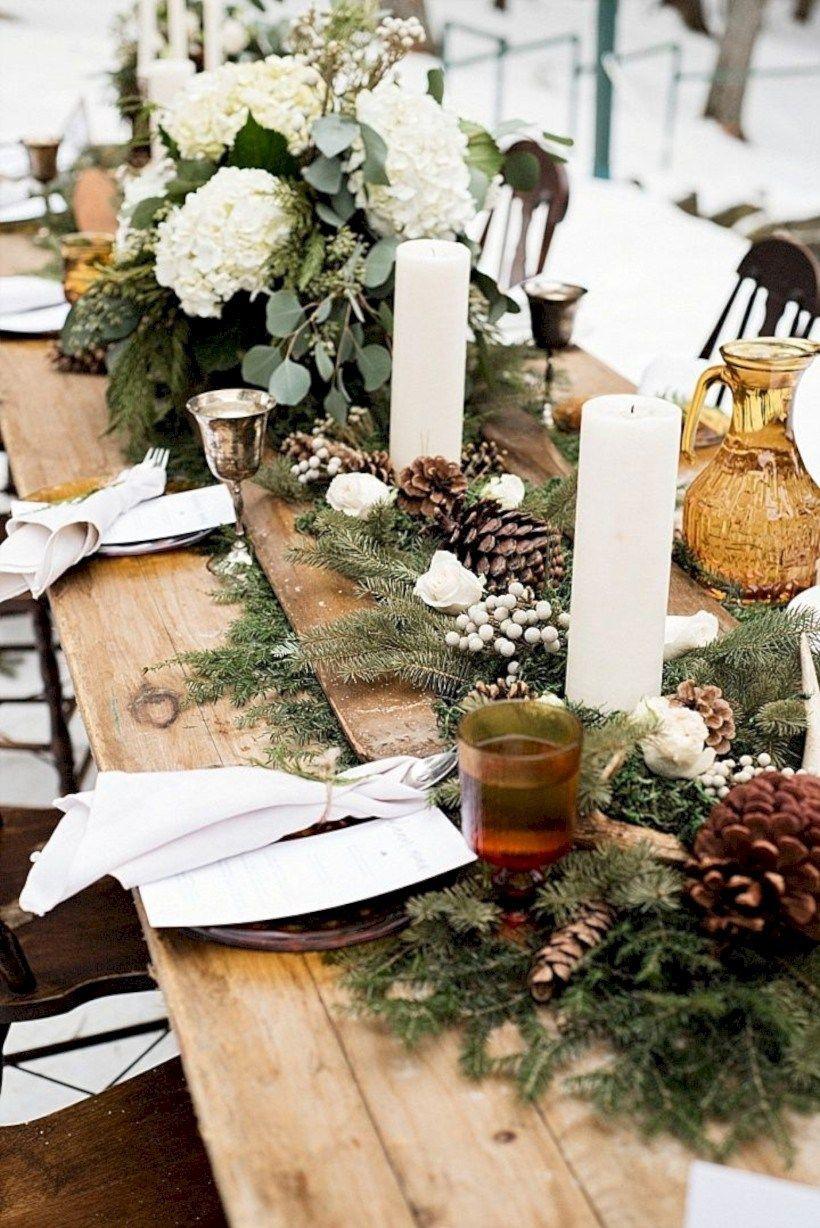 44. There's loads of Christmassy centrepiece ideas, here's a few of our favourites:
Fill tall vases with cranberries and candles for an easy DIY look
Equally simple but full of impact is a big metallic bowl filled with pine cones or baubles
Lanterns filled with pillar candles and surrounded by sprigs of fir
Mini Christmas trees in cute pots and little baubles
Platters of crackers, arranged with wintry berries and pine cones (think like a Hogwarts banquet)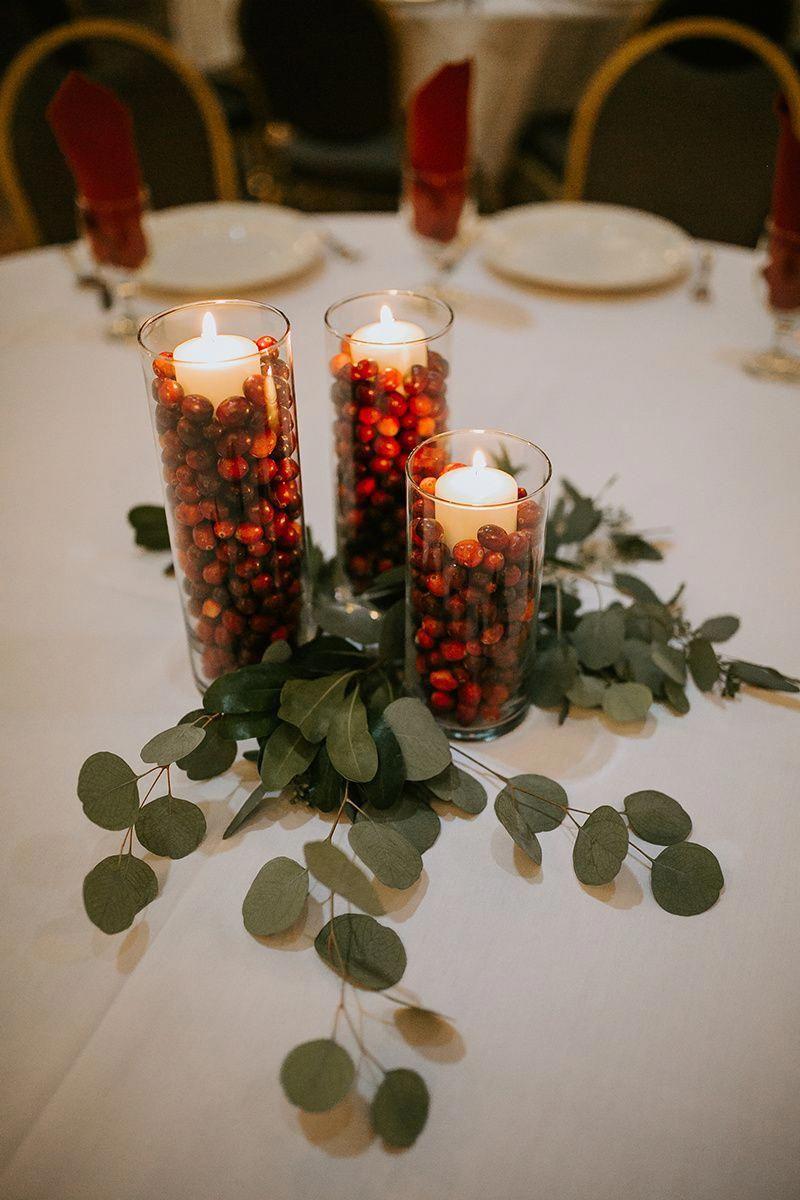 45. Can the budget stretch to a snow machine? This will make it feel really festive and will be something your guests won't expect.
46. For table settings, pine cones look great on plates, as do tangerines and clementines (even better with a leaf still attached) and ruby red pomegranates. Sprigs of holly are beautiful - if sharp - and hardy herbs like rosemary and mint add bursts of fresh greenery. You could go for a very Christmas-appropriate candy cane too.
READ MORE: 41 Best Winter Wedding Dresses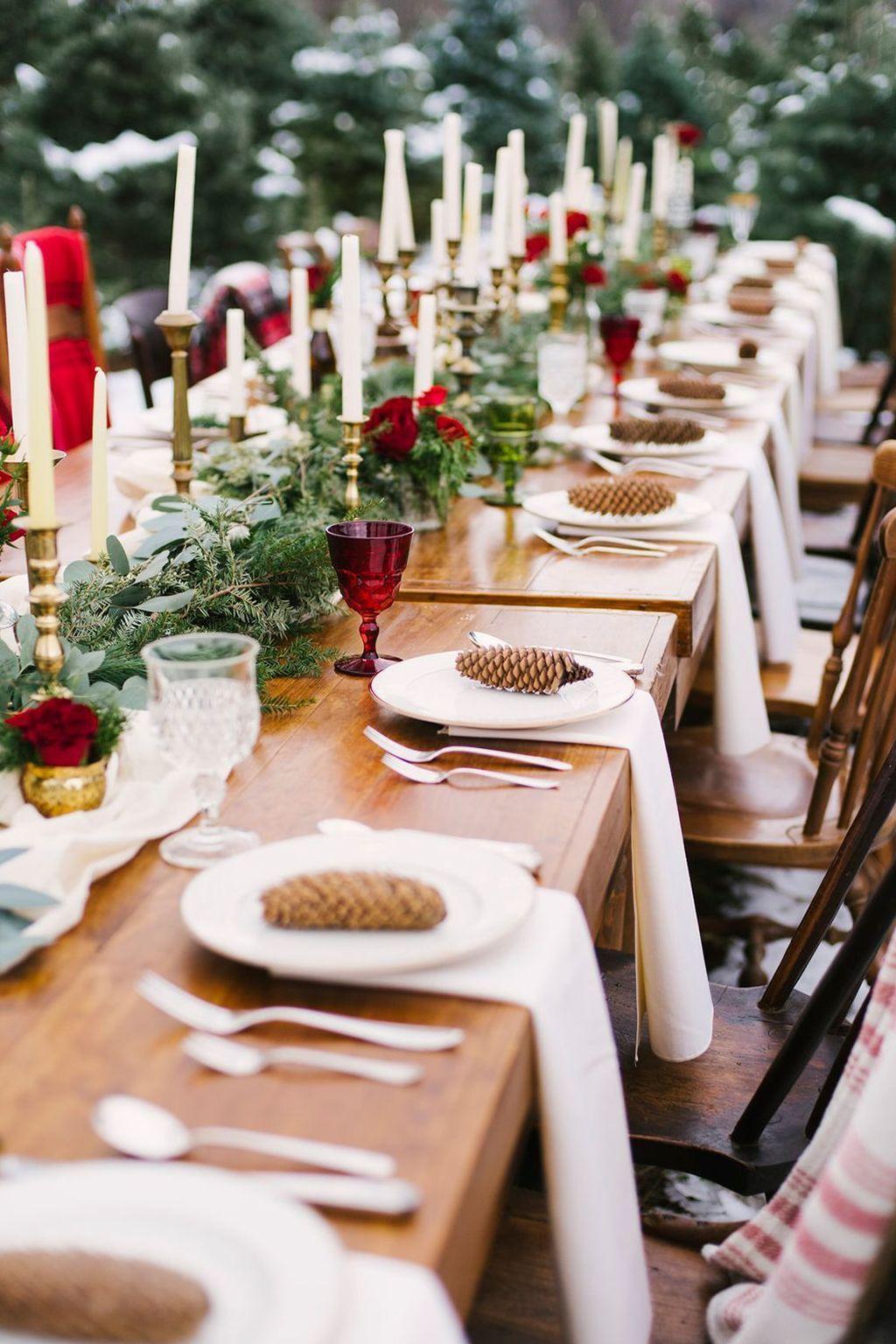 47. Star string lights will add a little touch of magic to your Christmas wedding day and these ones from Clem & Co are so pretty.
48. Cover chairs in tartan or faux fur to give them texture and warmth. It's so much cosier than chair covers.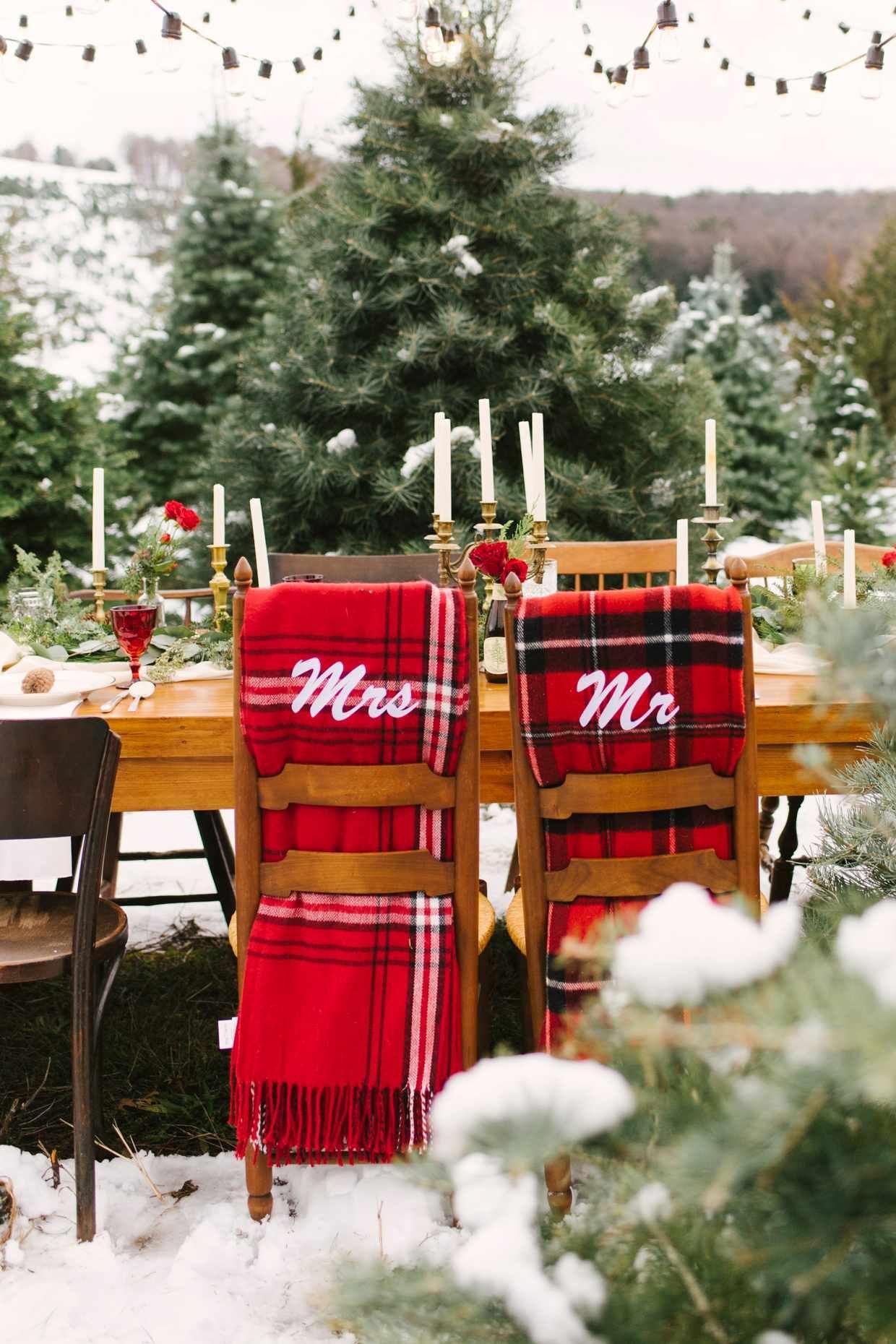 49. Bunting is a great way to make use of a high ceiling, and you can get some lovely Christmas-style garlands with sparkling paper stars.
50. Light up the outside on your venue with festive lighting and leave piles of soft and cosy blankets so your guests can wrap up warm.
51. If you want a winter wonderland feel, white blossom trees are a perfect call. You can hire trees like this which will save you money on your décor. It's ideal for modern, glamorous wedding themes.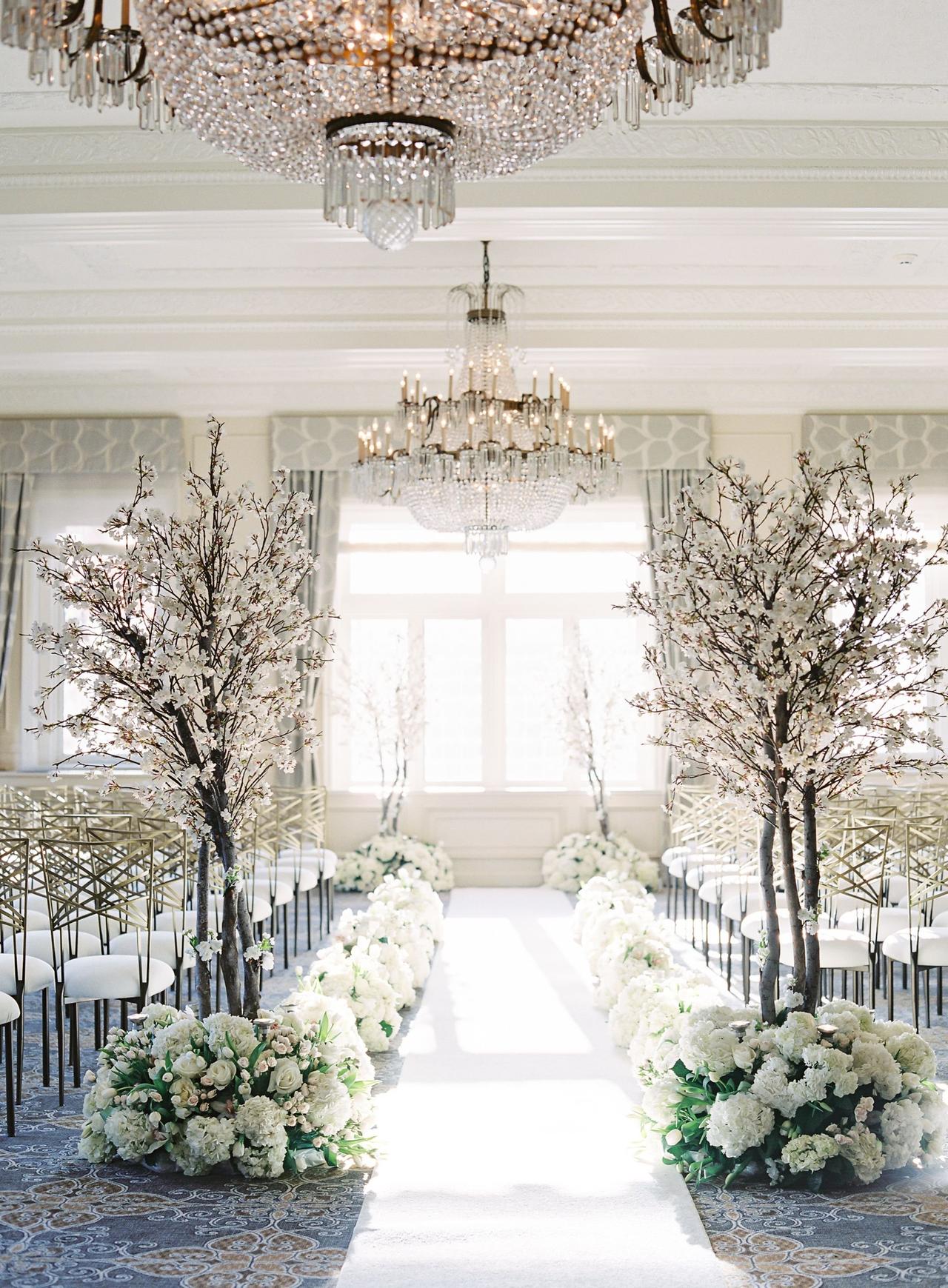 52. Sparklers as the night draws in will leave you with some really beautiful wedding photos. If your venue allows you could use indoor ones, otherwise make a sparkler tunnel at the end of the night for the couple to walk through.
Christmas Wedding Favour Ideas
53. Bulk buy candy canes from Amazon and use them as budget-friendly wedding favours.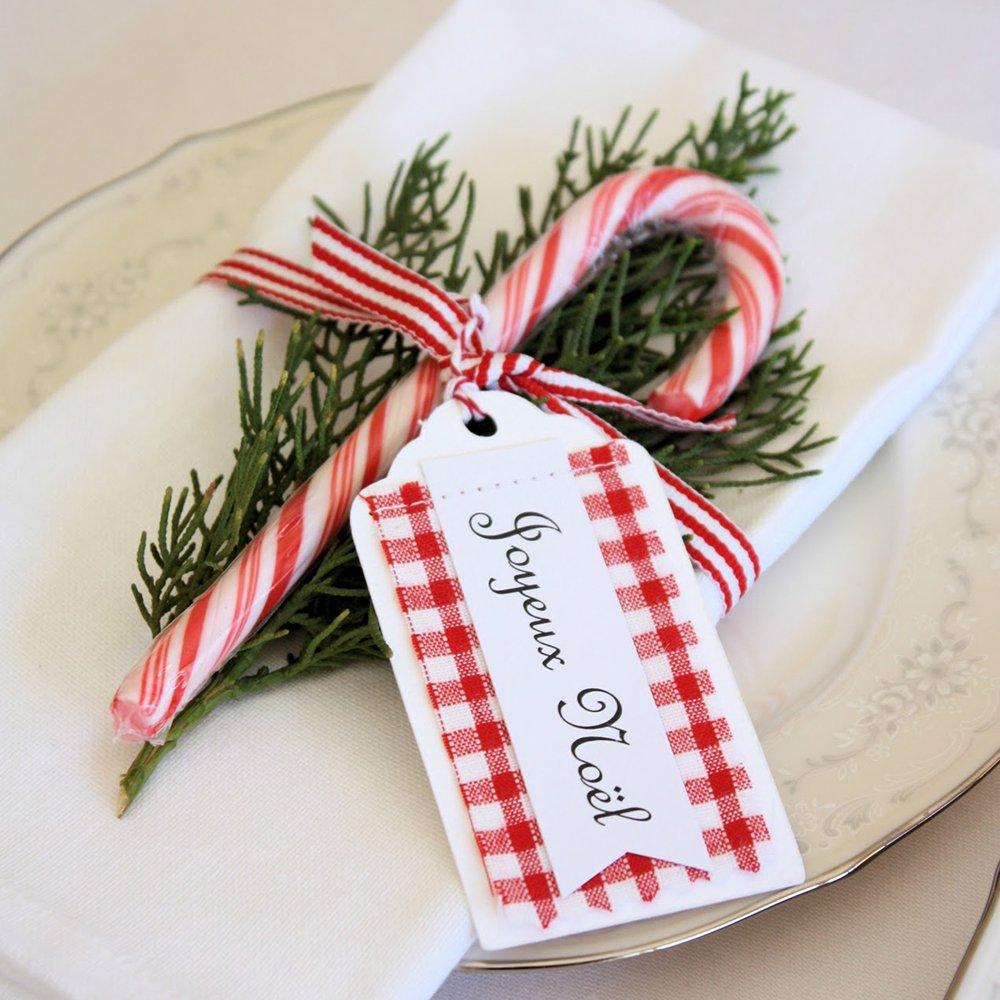 54. Give your guests personalised baubles as wedding favours so they can take some Christmas cheer home with them. We adore these glass baubles from Twenty-Seven.
55. Hang gorgeous Christmas tree ornaments in a display and let guests pick the one they like the most or place them on each setting.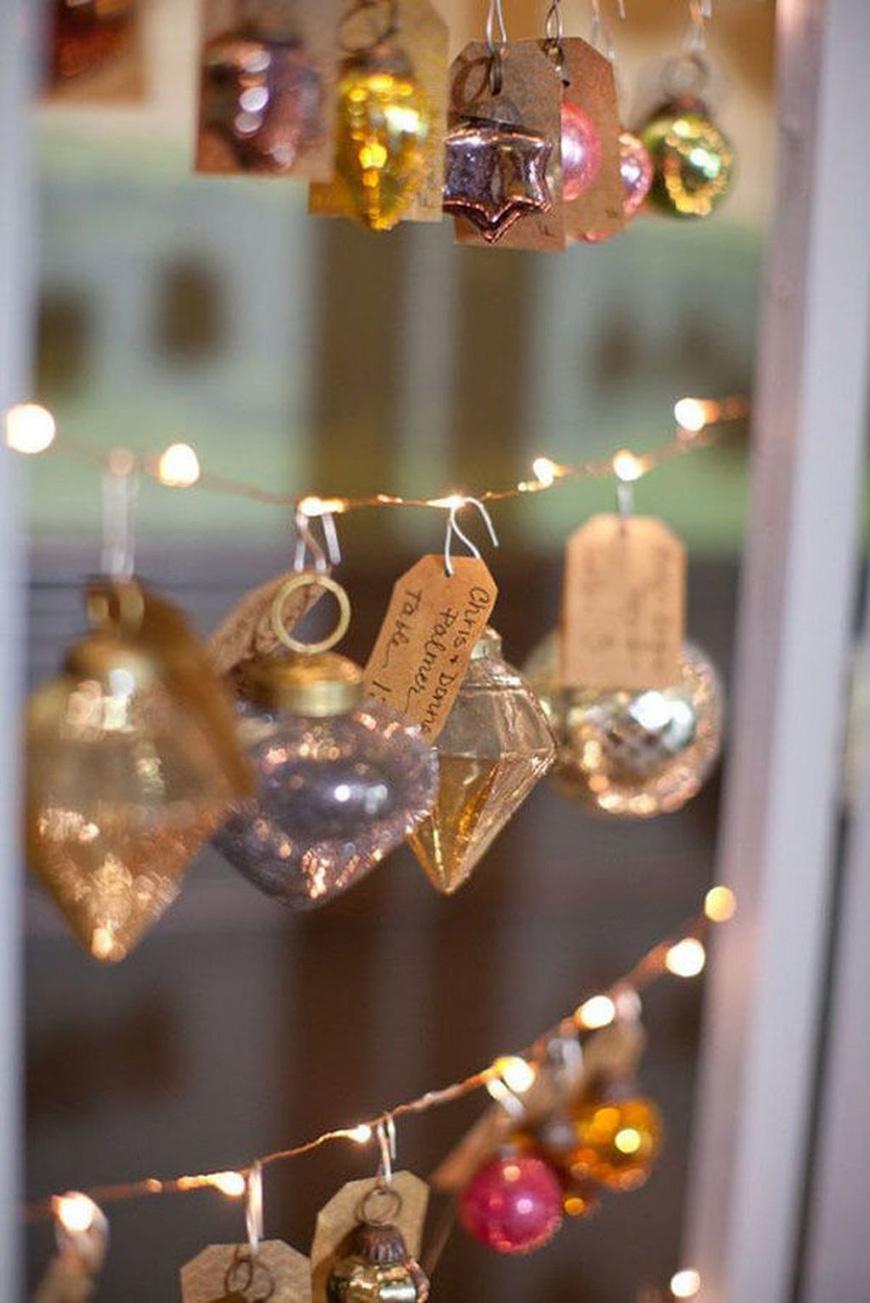 56. Gingerbread men and women can double as a wedding favour and iced with names as a place setting. We promise this is one delicious wedding favour that will never be left behind!
57. How much fun are these chocolate orange place cards from Sweet Tree By Browns? They would be perfect for your head table.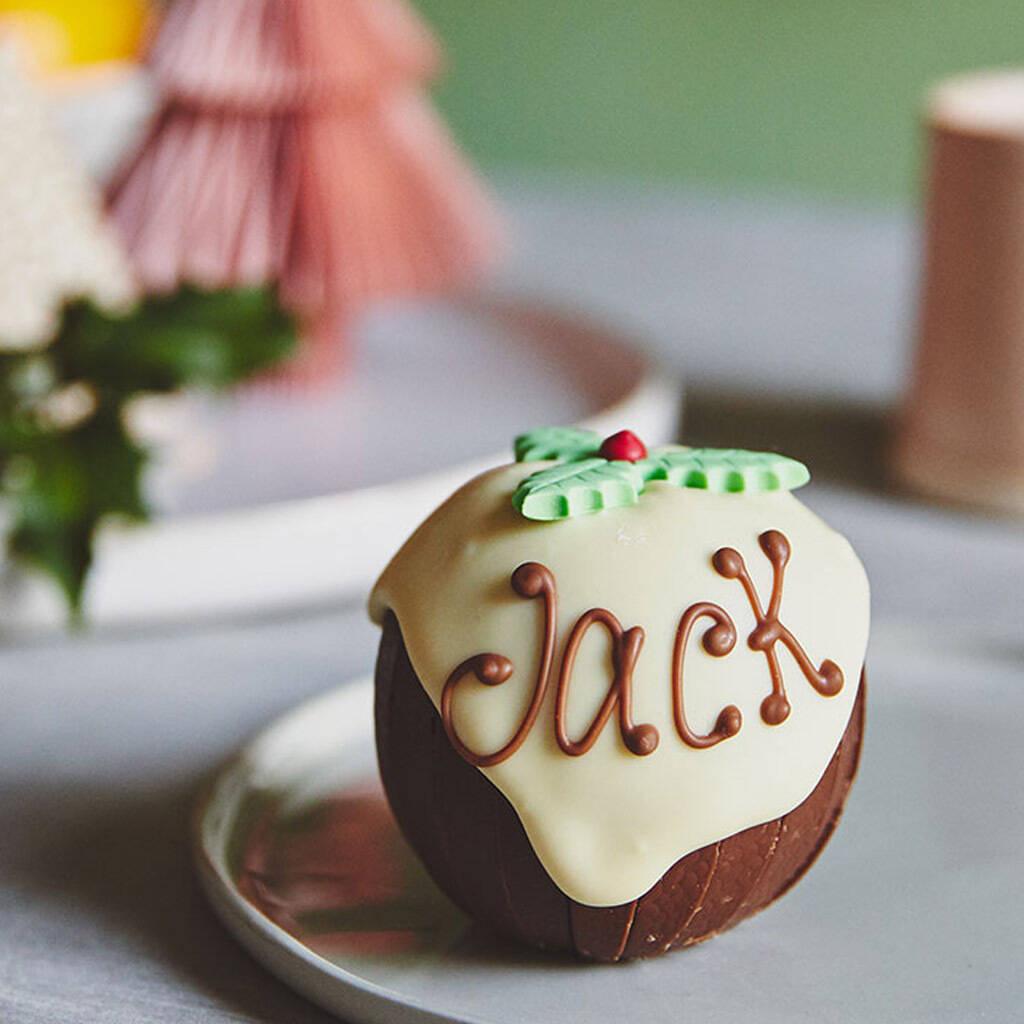 58. Or chocolate Brussel sprouts from The Chocolate Library would be a really fun addition to your sweetie cart or as wedding favours.
59. Festive scented candles are such a fantastic gift for guests to take home with them. Look for scents like apple and cinnamon; orange and cranberry; hot toddy; pine; cherry and clove.
60. Bottles of liqueur or shots are a fun wedding favour and you can go wild with the traditional drinks we rarely have any time except Christmas - Amaretto, Bailey's, Advocaat, Eggnog, Spiced Rum, Winter Pimm's.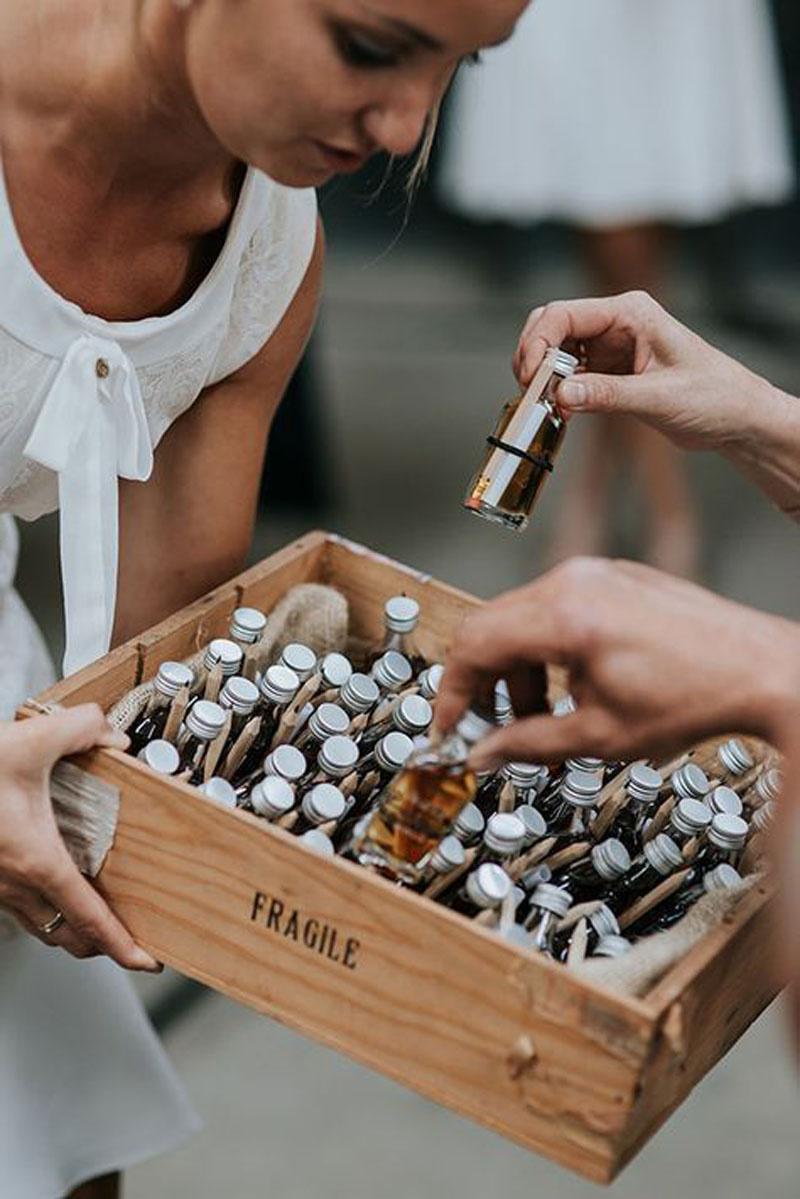 61. How adorable are these named stag bags from Tailored Chocolates? Little canvas bags make amazing wedding favours and can be filled with everything from chocolates to a crystal to candy canes.
62. Little hot chocolate jars are a lovely gift for guests to take home. When they sip on it, they'll remember your day. If you're looking for an easy DIY recipe to follow, read our guide here.
READ MORE: 37 Fun and Cheap Winter Date Ideas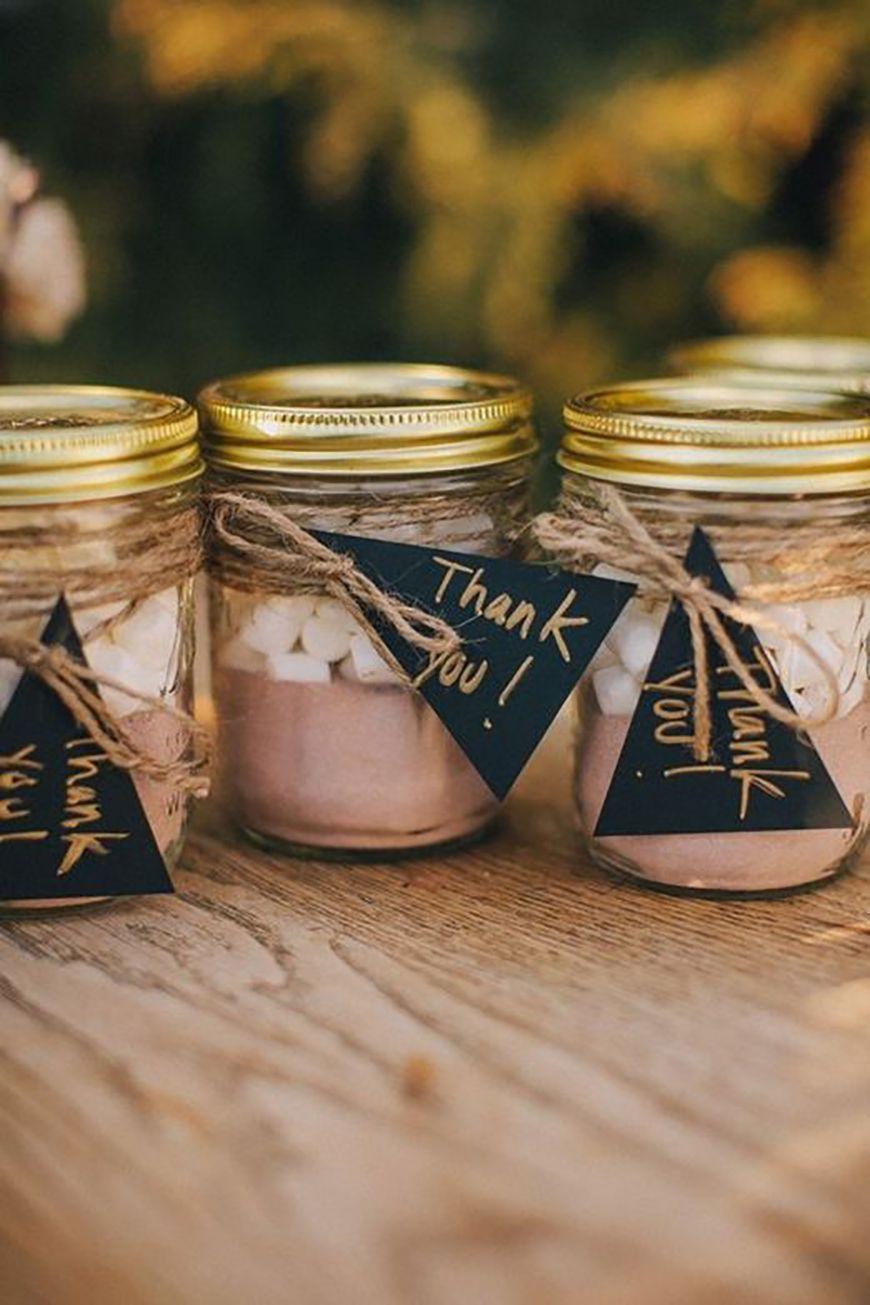 63. As long as no guest is allergic, you could leave a nutcracker at each place setting and a little bag of walnuts.
64. Confetti poppers are great as wedding favours and then guests can pop them over you in a arch of snow white confetti!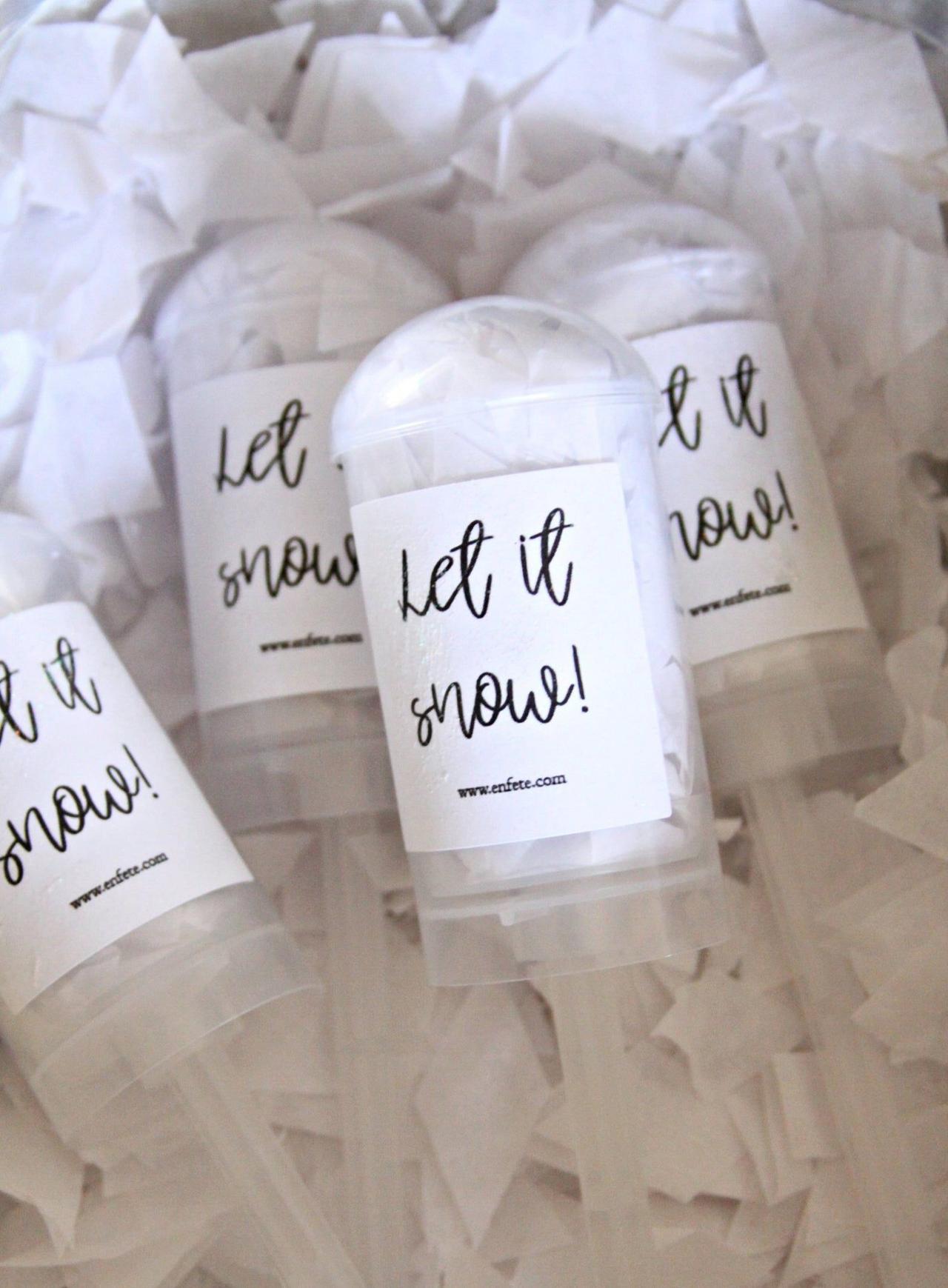 65. If you want something easy to DIY, foodie wedding favours are often the easiest. How about s'mores kits, with digestives, chocolate and marshmallows, all ready to toast? Or you could make a big vat of mincemeat and give jars out for guests to make their own mince pies at home?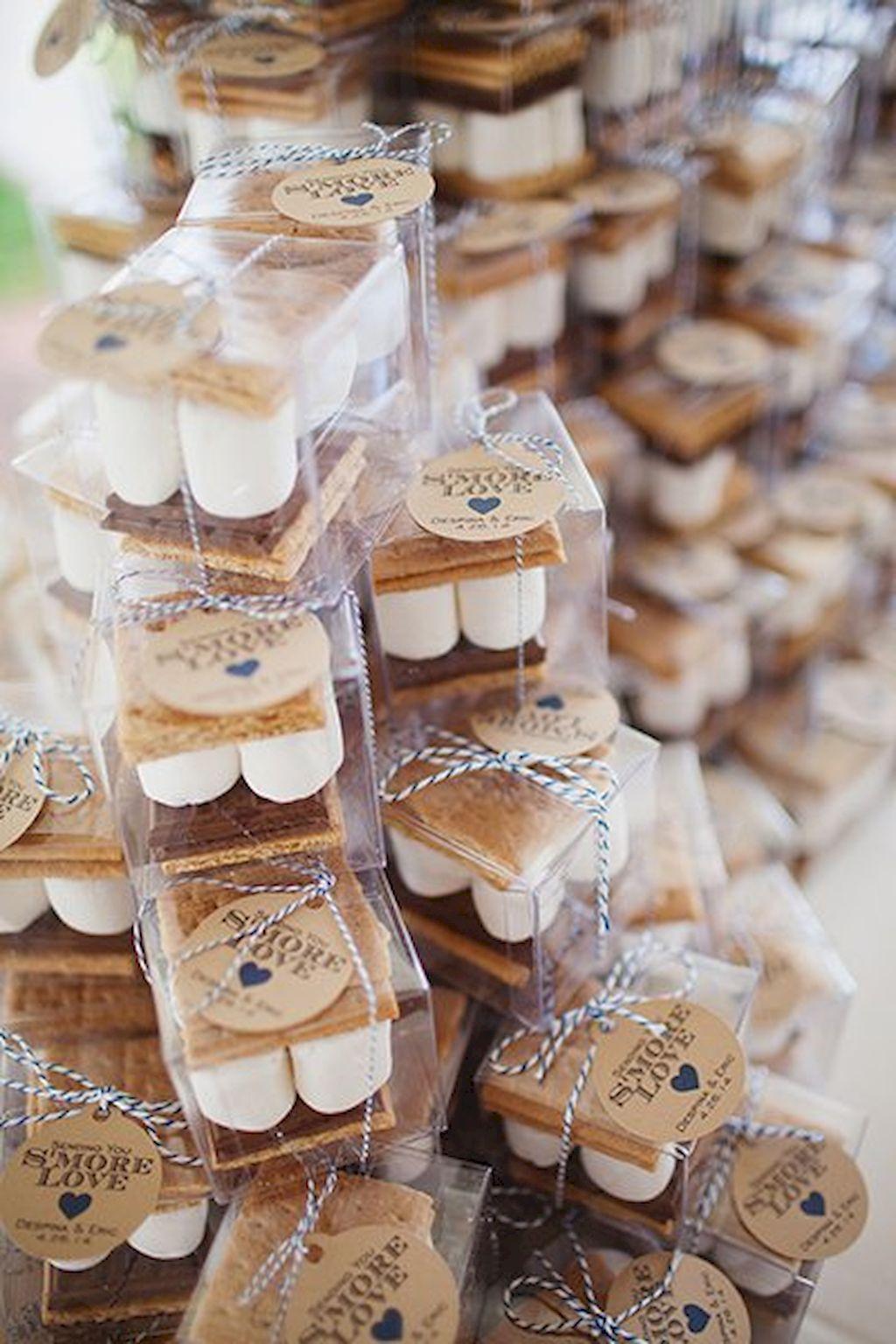 Christmas Wedding Food and Drink Ideas
66. Serve a signature cocktail to kick off proceedings. Champagne with a dash of pomegranate or cranberry syrup has a striking Christmassy look, especially with a sprig of rosemary.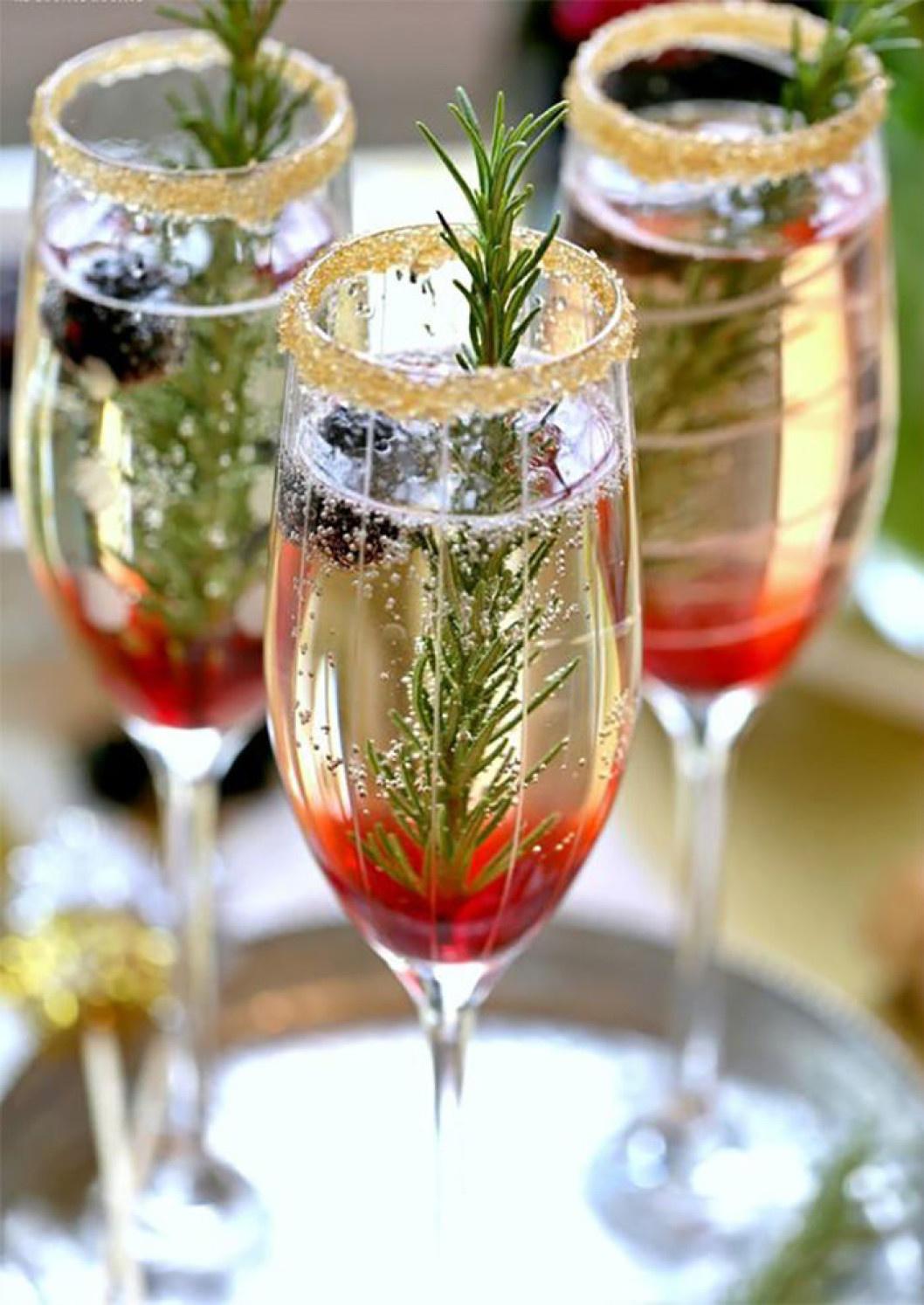 67. Does this even need saying? Choose a Christmas dinner for your wedding breakfast! Serve turkey with all the trimmings.
68. Treat your guests to a festive dessert after dinner – they will love it. Instead of Christmas pudding (which is a love-or-hate thing), how about a yule log or "bauble" profiteroles?
69. Choose a wedding cake with a Christmas feel, whether that's with snowy decorations or a festive colour scheme. Metallics always look good in winter.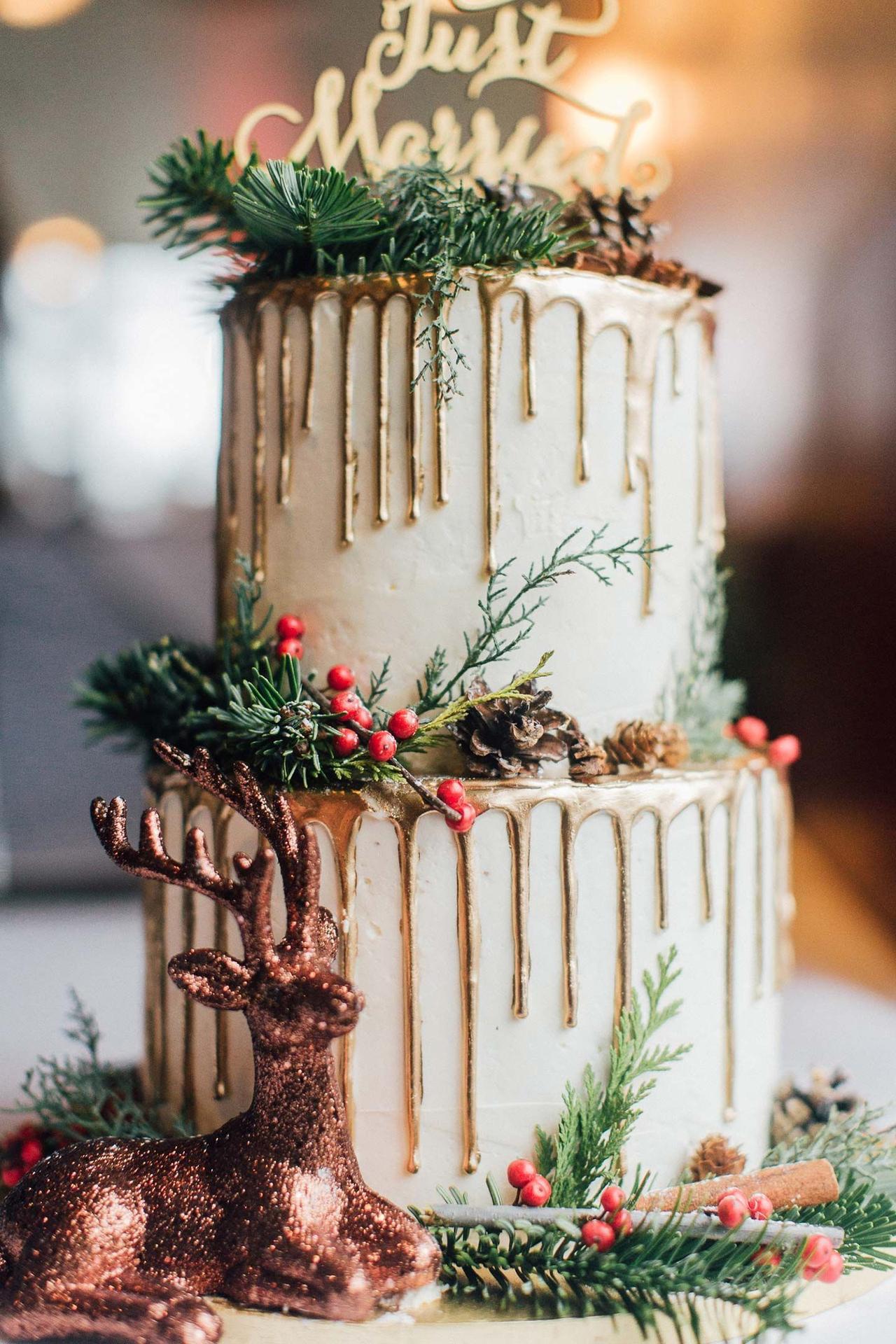 70. Serve festive coffees after dinner. Gingerbread or toffee nut syrup transforms classic coffee into a Christmassy treat, and little ones can have a warming hot chocolate.
71. For something stronger, try alcoholic eggnog or Baileys-spiked coffee for a perfect post-dinner drink.
72. Give a plain wedding cake a wonderful festive feel by adding a cute Christmas-inspired cake topper.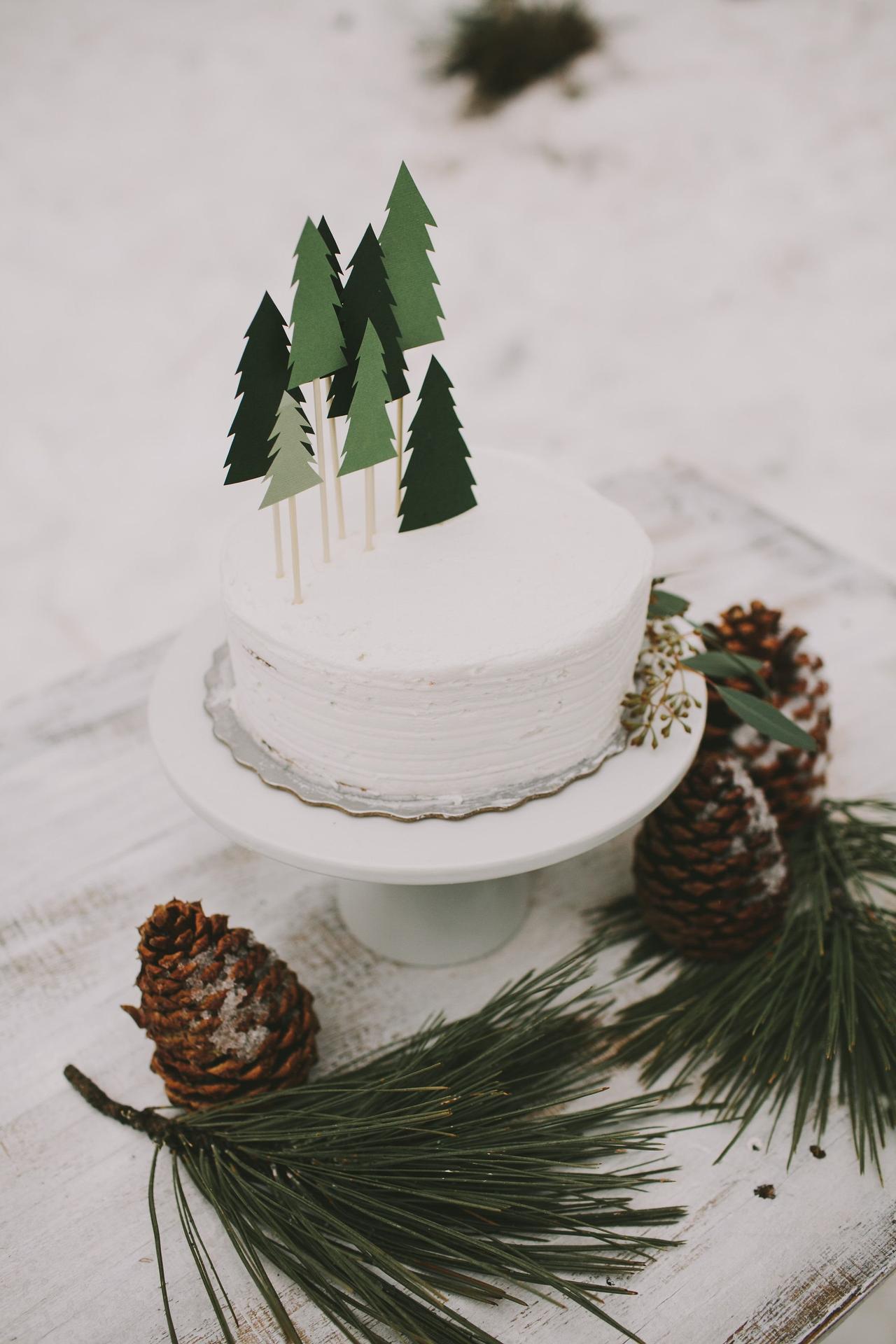 73. There's something so special about toasting marshmallows on an open flame – why not set up your own toasting station outside? Super easy if your venue has fire pits or outdoor lanterns.
74. Speaking of stations, a hot chocolate station, a mulled wine station or a hot toddy station will be a big hit with all your guests! Pile high with toppings like cinnamon sticks and marshmallows (where appropriate).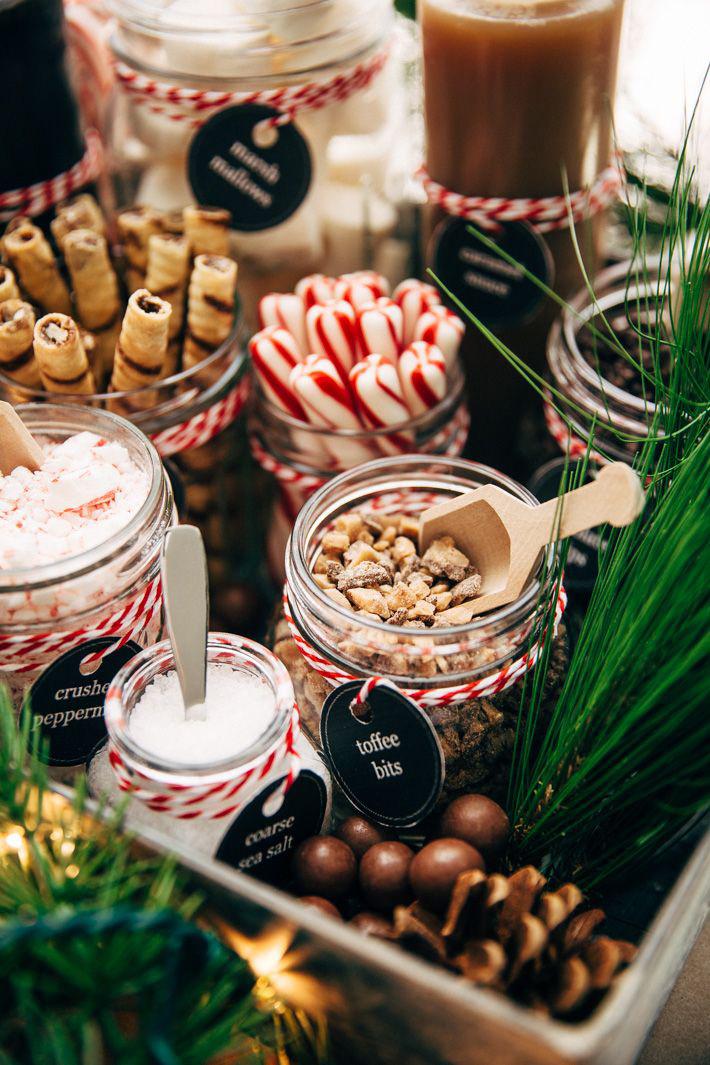 75. Why not include cheese with your evening food? We think a wedding cake made of cheese would be the perfect centrepiece to this. This five-tier cheese cake is from Tesco, believe it or not, and only costs £30.
76. Plan warming snacks for the evening buffet. We love American-style comfort foods here, like cheese toasties and tomato soup, sliders, and mac 'n' cheese.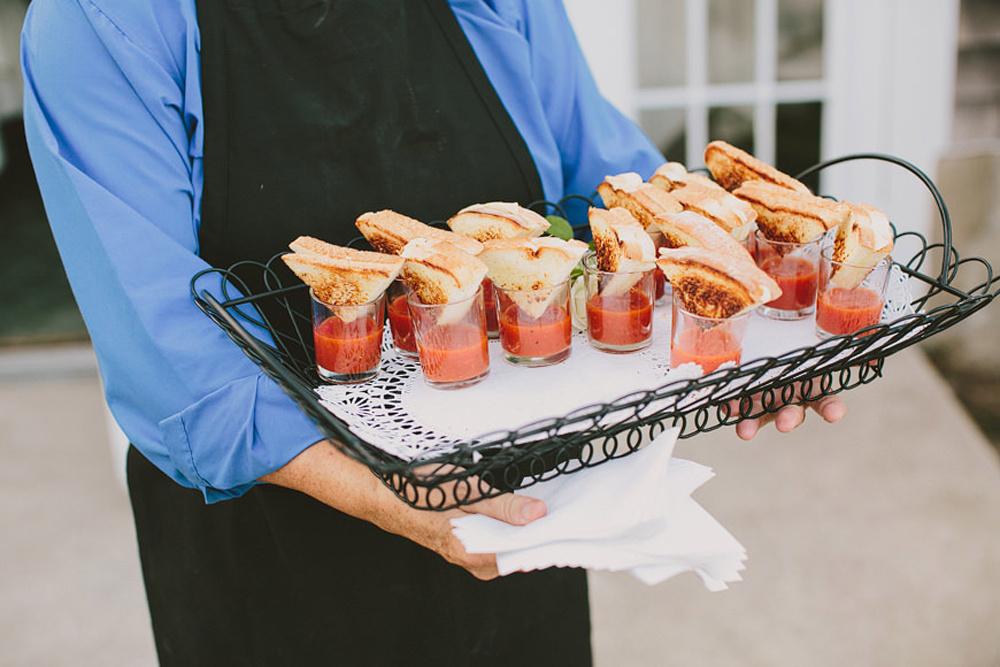 77. Carry on the party by hosting your very own 'Boxing Day' the day after the wedding – think Christmas films and plenty of food.
If you're planning a winter wedding, make sure you also explore our top tips on how to keep everyone warm at your wedding.