Everything You Need to Know About Arranging a Civil Ceremony
Ready to get legally wed? We explain everything you need to know to arrange a civil wedding ceremony in the UK, from venues to costs - and what actually happens on the day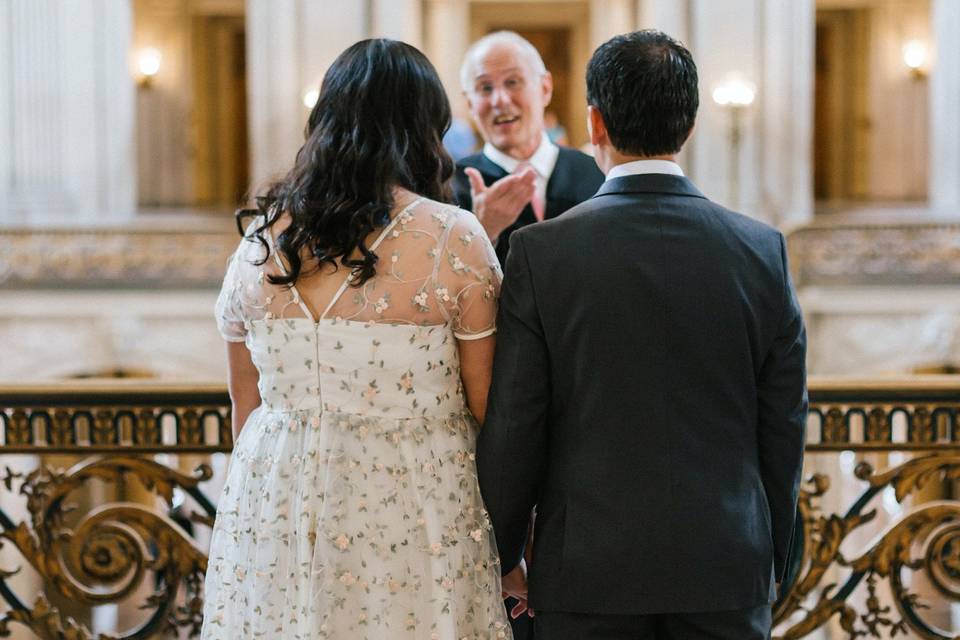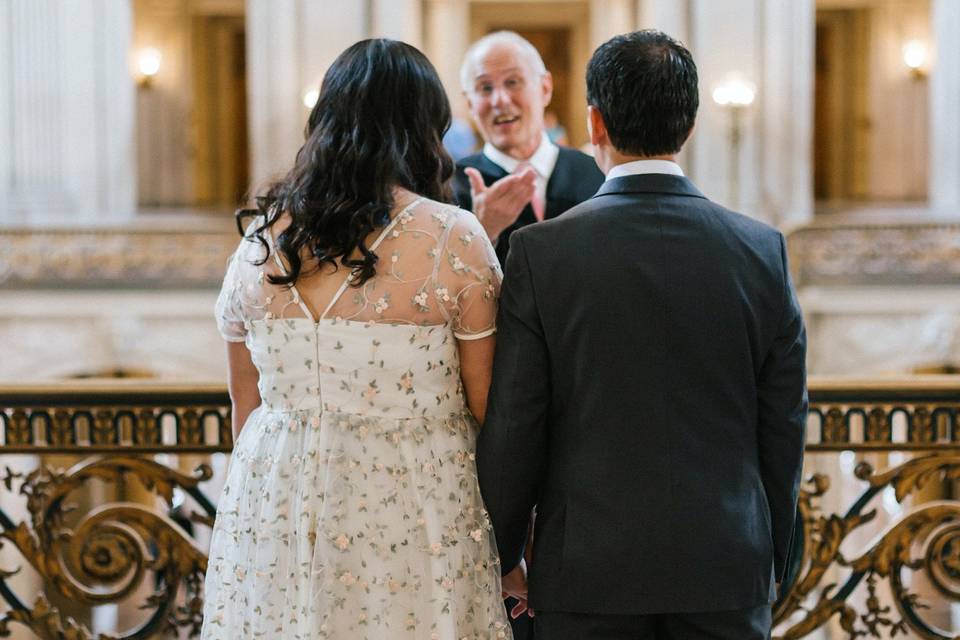 The idea of arranging a civil wedding ceremony can be daunting. Obviously, you want to get everything right, from vows to venue, to make sure you're legally married at the end. However, it's a lot easier than you think - and we're here to demystify the process.
There are some key legal steps to follow in the run-up to your big day, so you'll need to add these to your wedding to do list. Once these are completed, you can also think about making your civil ceremony unique.
There's a common misconception that civil wedding ceremonies lack character. However, there are things you can do to personalise your ceremony, through décor or by adding wedding readings and music. You can also look at adding personality through your ceremony venue choice. You don't have to get married in a registry office (unless you want to!) - there are other venues in the UK that are licensed for civil ceremonies.
Whether you want to make it unique or keep things simple, the steps for arranging your civil wedding ceremony are the same. We'll take you through what you need to know.
READ MORE
What Is a Civil Wedding Ceremony in the UK?
A civil ceremony is a marriage without any religious context, performed by a registrar. The ceremony is legally binding. Some people choose to have a longer religious ceremony (or non-religious blessing such as a commitment ceremony), and do the civil ceremony either before or after that to ensure they're legally wed. This is also true of couples who are getting married abroad in a country where it's difficult for non-residents to get legally married. However, plenty of couples have a civil ceremony as their main and only ceremony.
How Do I Find a Civil Ceremony Venue?
You need to know where you're getting married in order to give notice (more on that to come), so finding your ceremony venue is your first step. In England and Wales, a civil ceremony can take place at a registry office or a venue that has been approved for civil marriage. Approved venues come in all shapes and sizes, including country houses, barns, hotels, and even restaurants. You may prefer to have your ceremony and reception in the same venue, to save on travel for you and your guests. Many wedding venues do have licensed areas for ceremonies.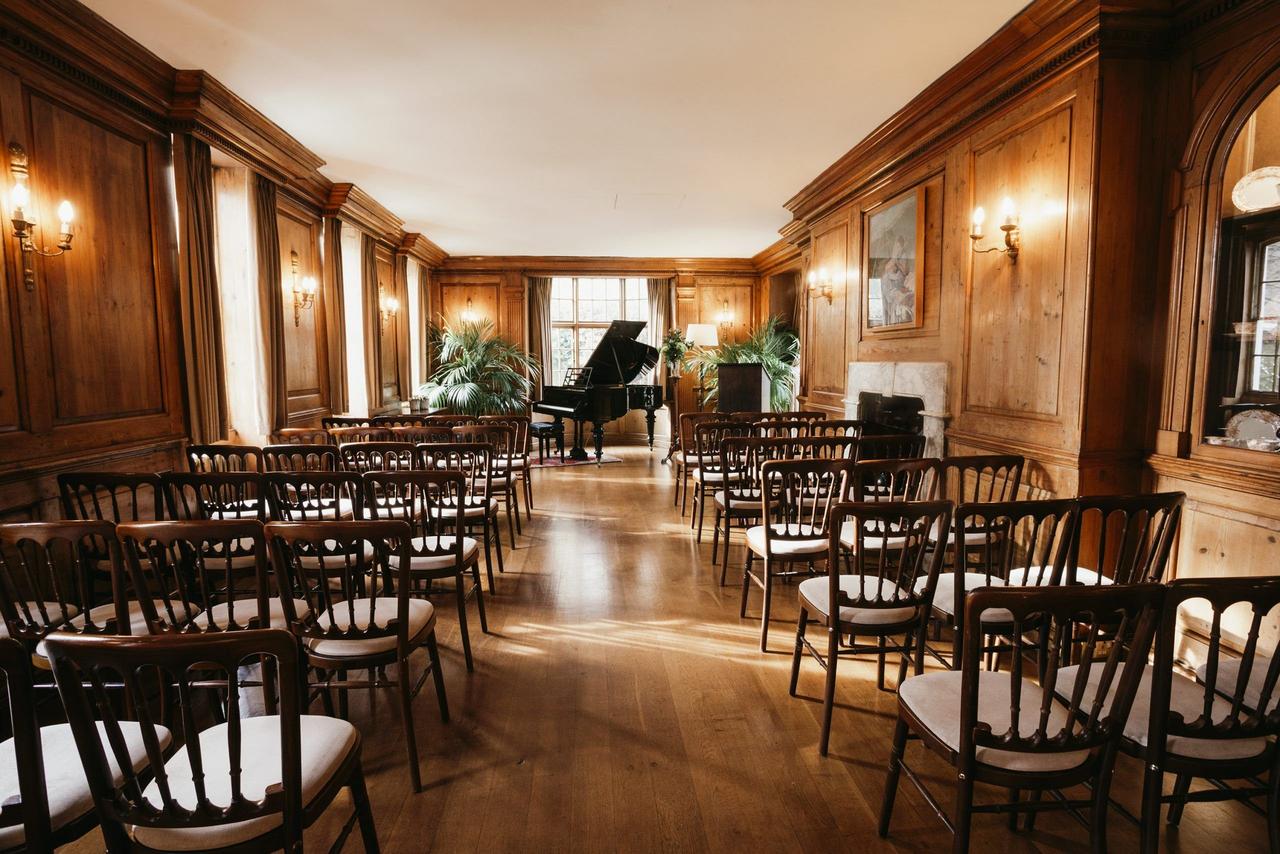 If you have your heart set on a reception venue that isn't licensed for ceremonies, you can get legally married at a registry office, or find a ceremony-only venue. The situation is a bit more complex if you want to have a wedding ceremony outdoors in England or Wales, as you'll need a licensed, permanent structure. In Scotland and Northern Ireland, however, you can get married pretty much anywhere, with the agreement of the officiant.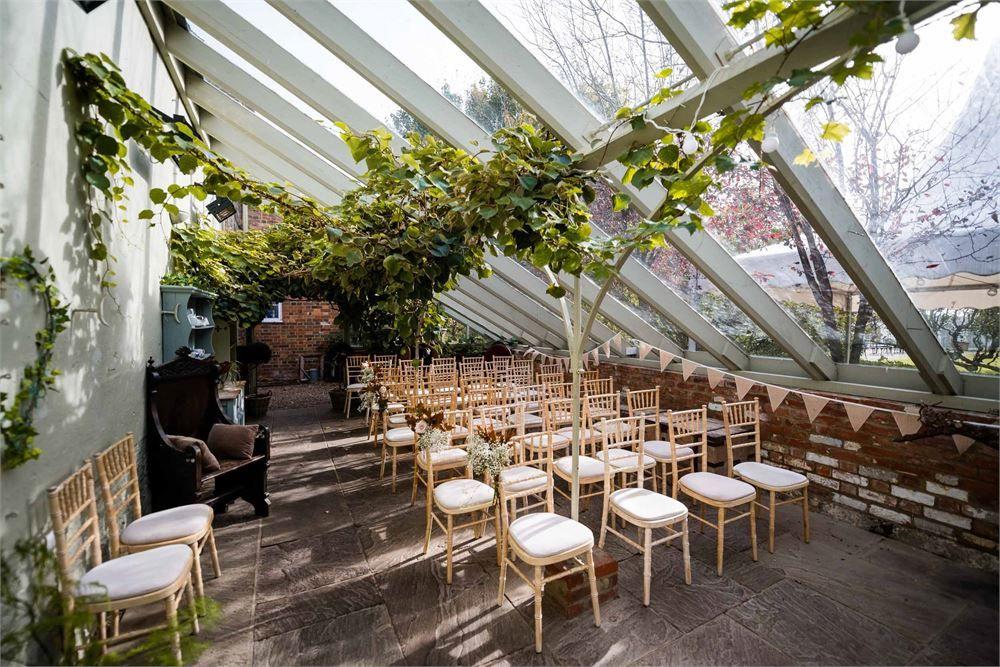 Do You Book the Registrar Before the Venue?
No, in most cases you will book the venue first, then you book a registrar to perform the ceremony. (Another registrar will also be at the ceremony to register the marriage, but you won't need to book them separately.) Fees vary depending on whether you're getting married in a registry office or in a different venue. You book the registrar by contacting the registry office closest to your venue; some venues will help with this.
READ MORE: Amazing Ceremony Rooms: 33 Venues That You Need to See
What Is Involved in Giving Notice?
Once you have your venue and registrar sorted, the next step is giving notice of your intended marriage at your local registry office. This needs to be done at least 28 full days before your wedding day. You can only give notice at the registry office if you have lived in the registration district for the past seven days. Your notice will be publicly displayed there for 28 days. You can find your local registry office here. Remember: to give notice, you're looking for the register office nearest to where you live, not to where you're getting married, if different. If you and your partner live in different districts, you need to give notice separately in your respective local register offices. You must hold the ceremony within 12 months of giving notice, otherwise you'll have to go through the process again. If you change the venue, you'll also have to give notice again. The fee for giving notice is £35.
What Documents Do I Need to Give Notice?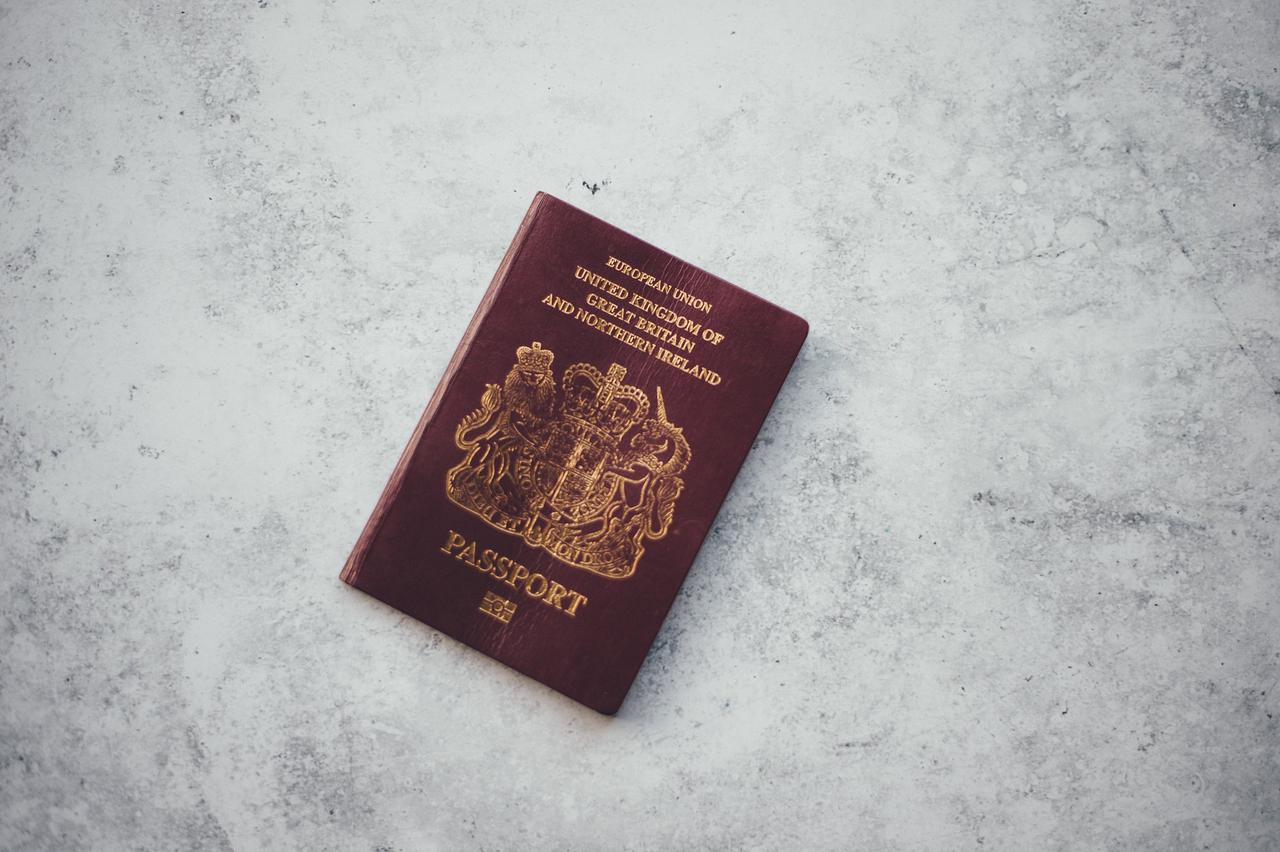 When you go to the registry office, you need to take:
Proof of your name, age and nationality. This could be a valid passport, birth certificate, national identity card from the EEA or Switzerland (if non-British), certificate of registration, certificate of neutralisation, biometric residence card or permit or a travel document.
If you've changed your name, you must also bring proof of that, for example a deed poll.
Proof of address, for example a valid UK or EEA driving licence, gas or electricity bill from the last 3 months, a bank statement from the last month, or a council tax bill or mortgage settlement from the last 12 months.
If you've been divorced or widowed, you will need to bring the decree absolute or final order, or the death certificate of your former spouse.
Different rules apply to anyone from outside the European Economic Area or Switzerland, so check here for more information. If your partner isn't from the UK, Switzerland or the EEA and isn't settled in the UK, they will need to apply for a Marriage or Civil Partnership Visitor visa.
It's best to confirm with your local registry office what exactly they will require from you before you go - for example, some may specifically require a photographic form of ID.
Remember, you will also need to give your registrar exact details of your ceremony venue when giving notice.
READ MORE: Everything You Need to Know About Registry Office Weddings
What Can I Expect at a Civil Wedding Ceremony?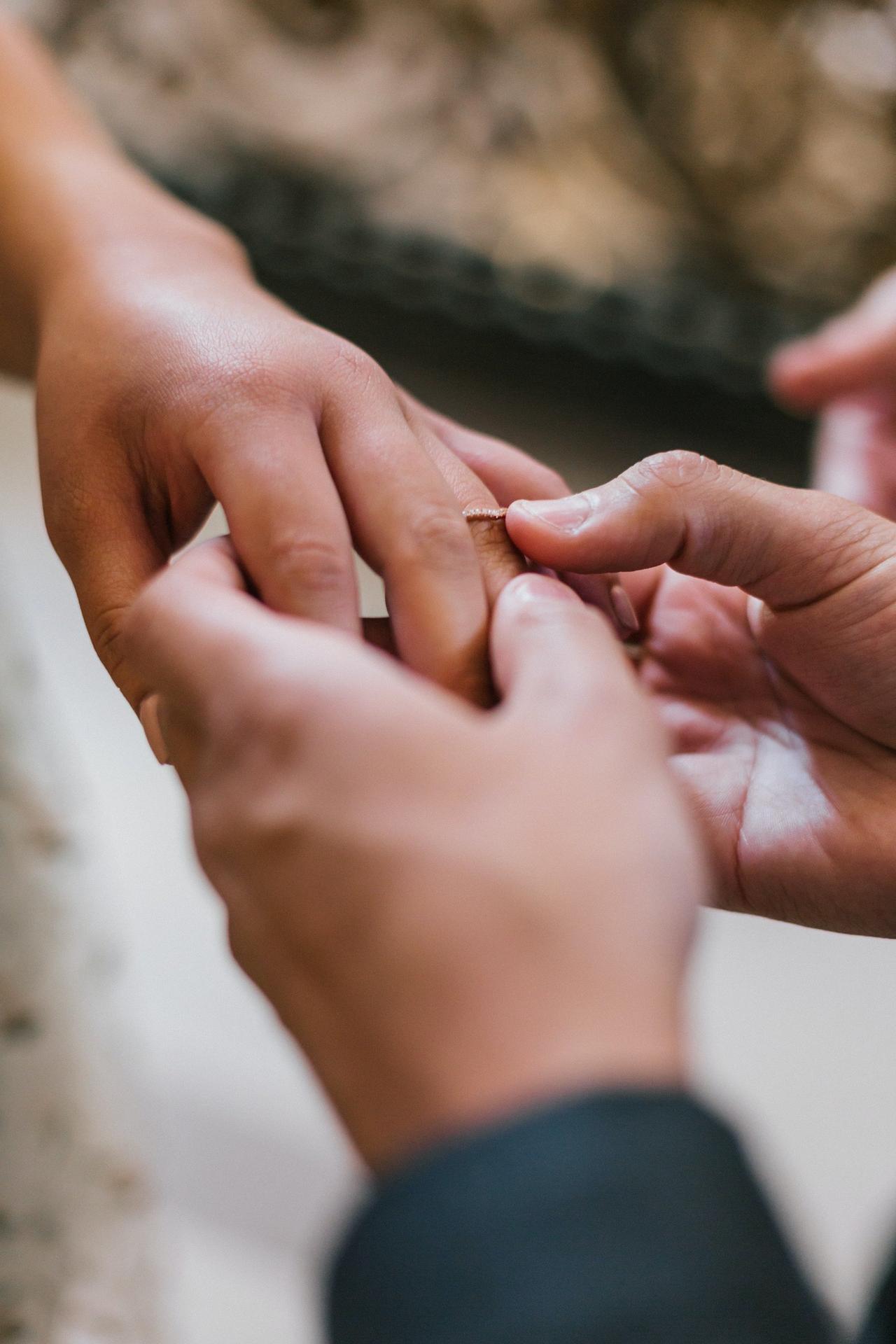 First, you'll separately have a pre-marriage interview with the registrar. Don't worry, this is nothing complicated - you just confirm details for the marriage certificate.
Typically, the ceremony itself consists of vows and the signing of the register. There is set wording for the vows - there are different versions of this, however, which you'll choose in advance. You need to pick two wedding witnesses who will also sign the register. Some districts let you have your marriage certificate at the end of the ceremony, while others will post it to you.
READ MORE: How to Plan the Order of Your Wedding Ceremony
What Décor Can I Have at a Civil Wedding Ceremony?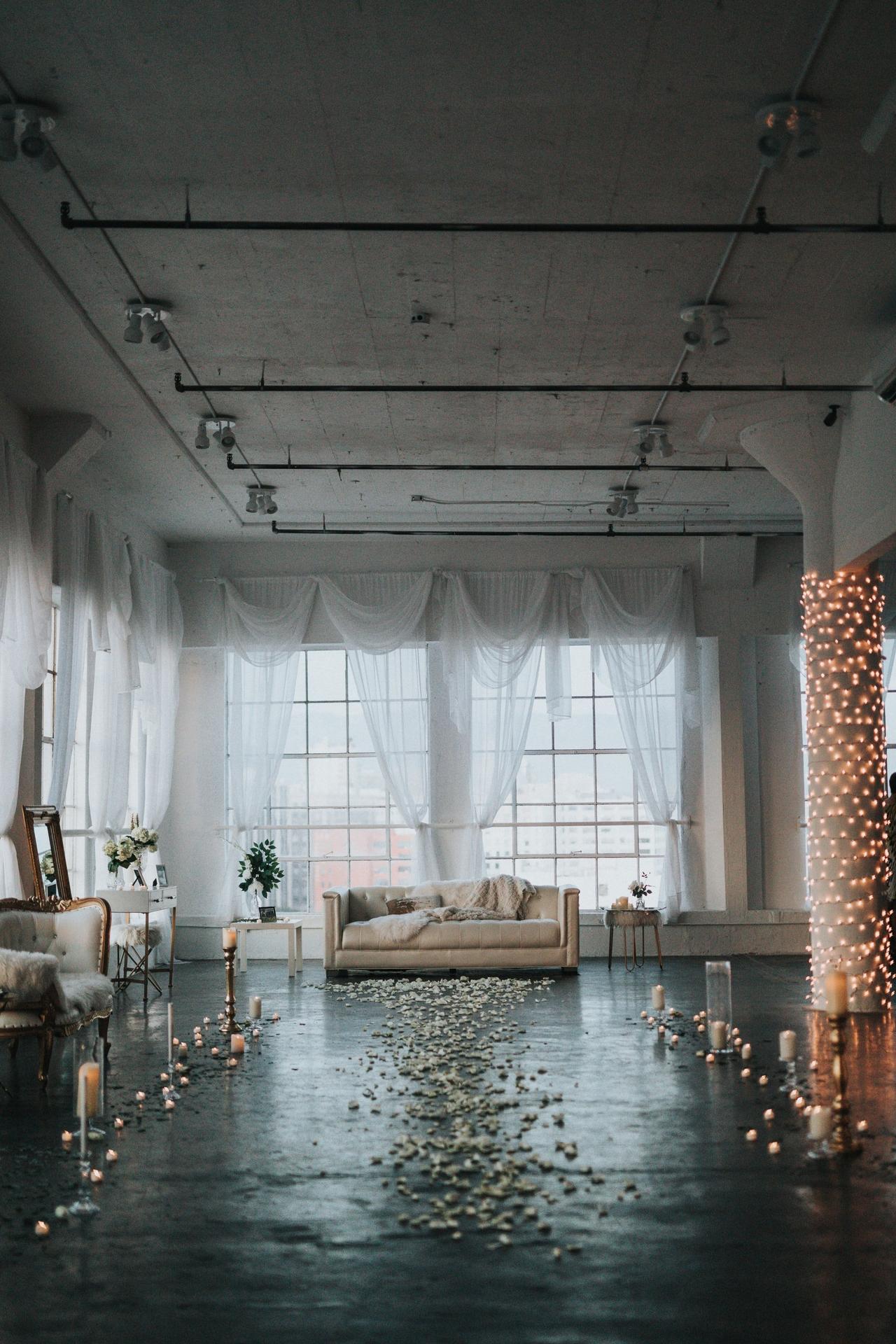 This depends on your venue. If you're getting married at a registry office, make sure you ask in advance, as policies do vary. Some register offices will let you bring your own flowers and decorations, while others may not due to time constraints. If you're having your civil ceremony at another type of venue, it's likely you'll be able to set up the space as you wish, particularly if you choose a blank canvas venue. Depending on the venue, you can still have a wedding aisle and make a bridal entrance, if you want to. Types of wedding ceremony decor to make the space your own include:
Aisle runners, or a scattering of petals
Lanterns and candles
Flower arrangements at the entrance to and end of the aisle
A flower arch
Indoor trees
Vases of flowers along the aisle
Greenery garlands
To make your budget go further, it's worth asking your florist to create arrangements that can be transported to the reception and used there.
How Can I Personalise a Civil Wedding Ceremony?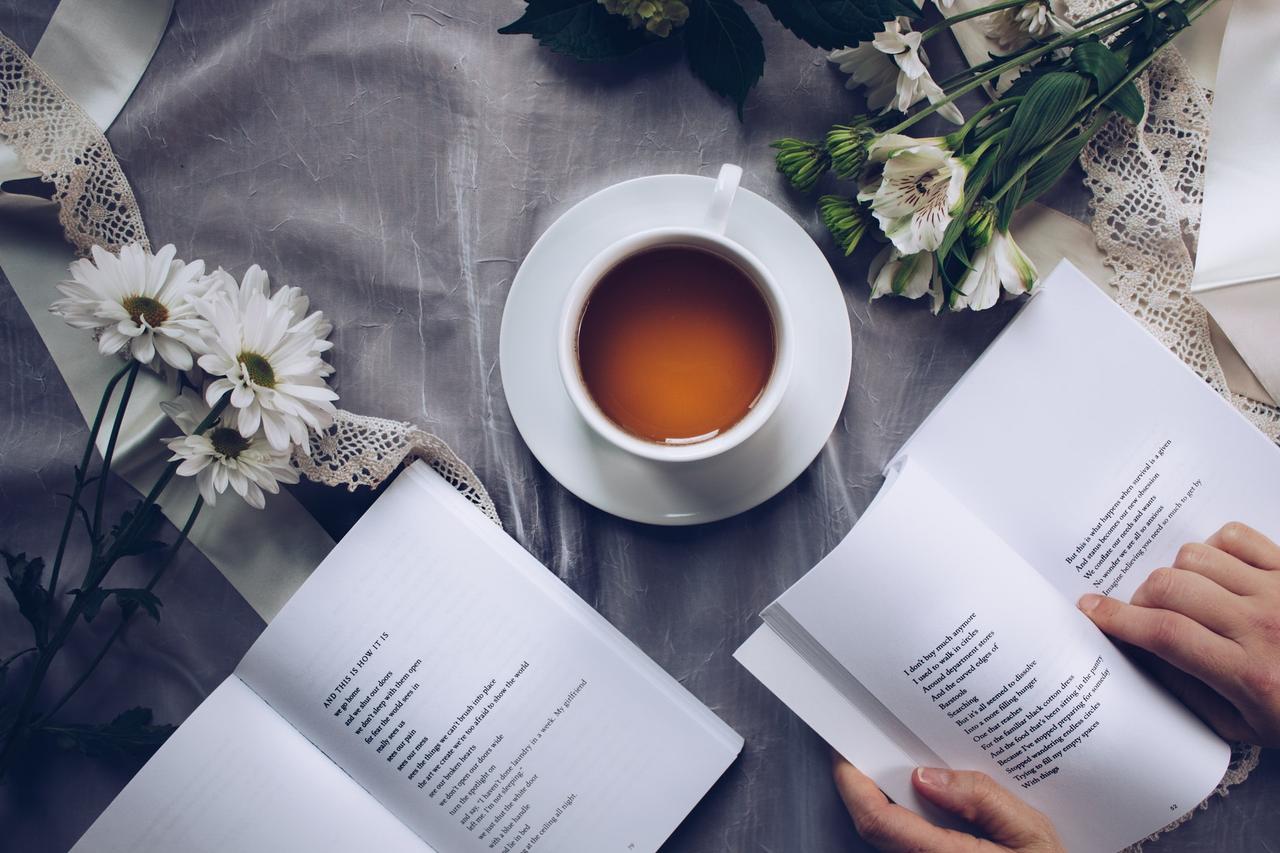 In addition to the standard vows, you usually also have the option to add extra wording. You could also personalise the civil ceremony through song choices, or by having friends and/or family perform readings. Choosing these can actually be one of the most enjoyable - and inexpensive! - parts of wedding planning.
You will need to run all readings and music choices past the registrar in advance, and these cannot have religious associations.
READ MORE: Non-Religious Wedding Readings: The Best Readings About Love for Weddings
Some registrars and venues will allow you to do a rehearsal or a verbal run-through of the ceremony in advance, to make sure you don't go over the allotted time slot.
What Do I Wear to a Civil Wedding Ceremony?
It depends on the mood you're setting for the day. If you want something grand and formal, then your outfit can reflect this; or go laidback if that's your style. There are really no rules! If you'd like some ideas, check out our edit of registry office wedding dresses.