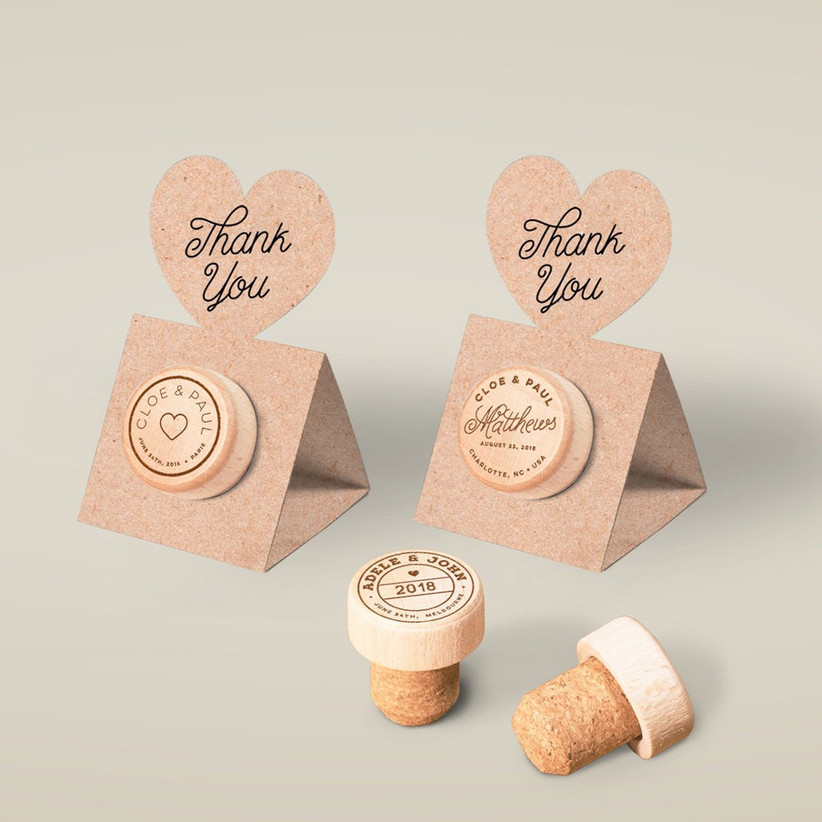 Wedding favours are a brilliant finishing touch to your tables and an amazing keepsake for your guests to take home.
But if the traditional sugared almonds leave you cold (we get it), there's so many more original and thoughful gifts that your guests will love. And they don't have to break the bank!
In fact we've got so many amazing wedding favour ideas, we've brought them all together into one easy guide. Think of this as your one-stop wedding favours shop.
Whether you want chocolate, cheap, charity or even wedding favours specifically for kids, you'll find inspiration below. Happy favours finding!
Unusual Wedding Favours
Looking for something slightly different to give your guests? They'll love these unusual wedding favours – a quirky take on the tradition that'll work for every theme and budget. Find a whole range of them in our unusual wedding favours gift guide.
Harry Potter Potion Bottle Wedding Favours – £1.99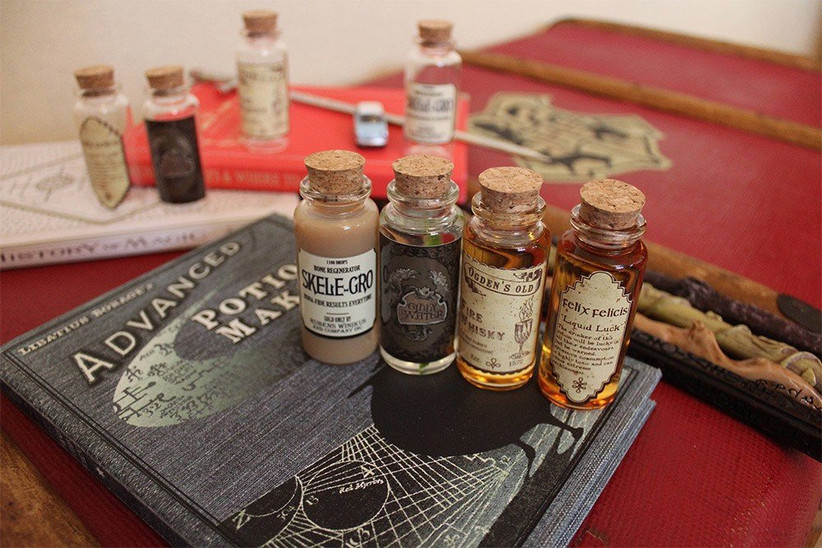 Harry Potter fans will adore these Harry Potter spell bottles from Mr Goods Emporium that can be filled with your choice of shot!
Puzzle Piece Wedding Favours – 99p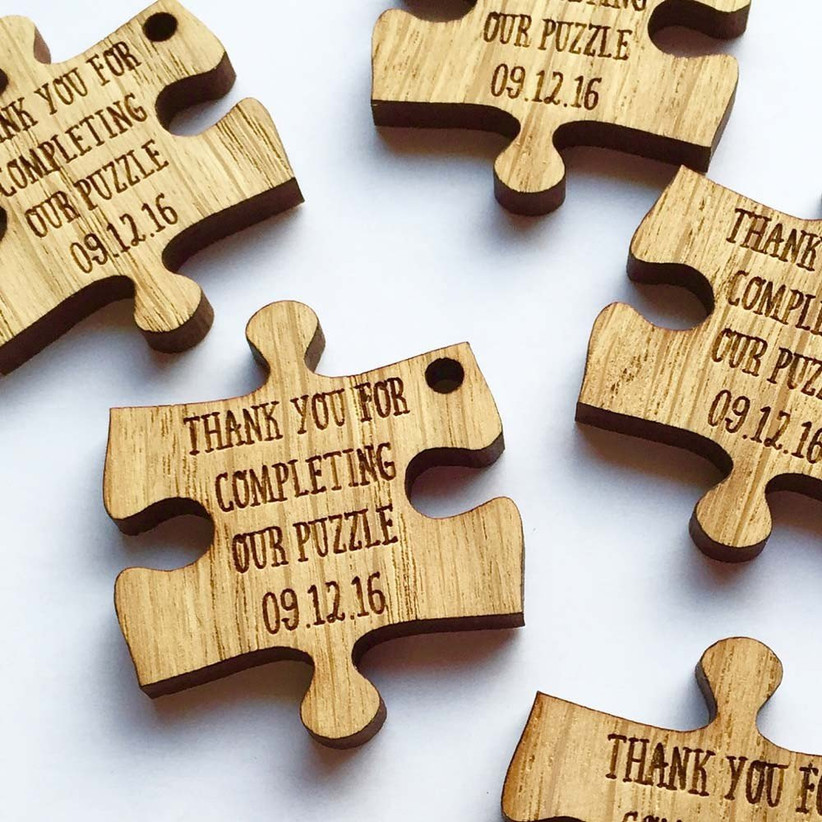 Custom puzzle pieces from Manta Makes are a cute idea for games-lovers.
Fortune Cookie Wedding Favours – £90 for 150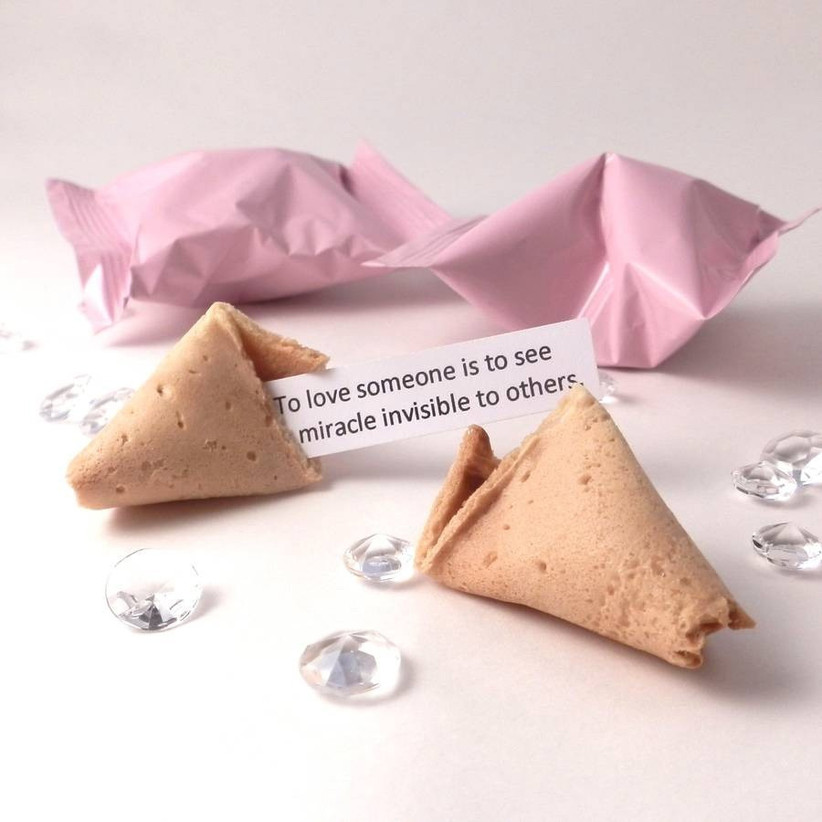 Want an affordable wedding favour? Look no further than these pink fortune cookies from Little Cupcake Boxes.
Personalised Jam Wedding Favours – £3.05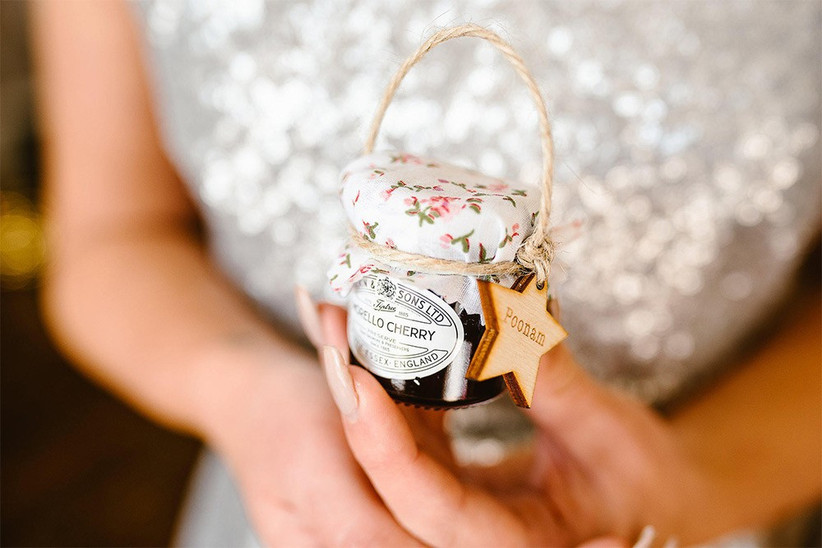 We're obsessed with these fabric-covered jam pots from Suzanne Oddy Design that would look divine at a rustic themed wedding or with an afternoon tea wedding breakfast.
Gin Wedding Favours – £4.99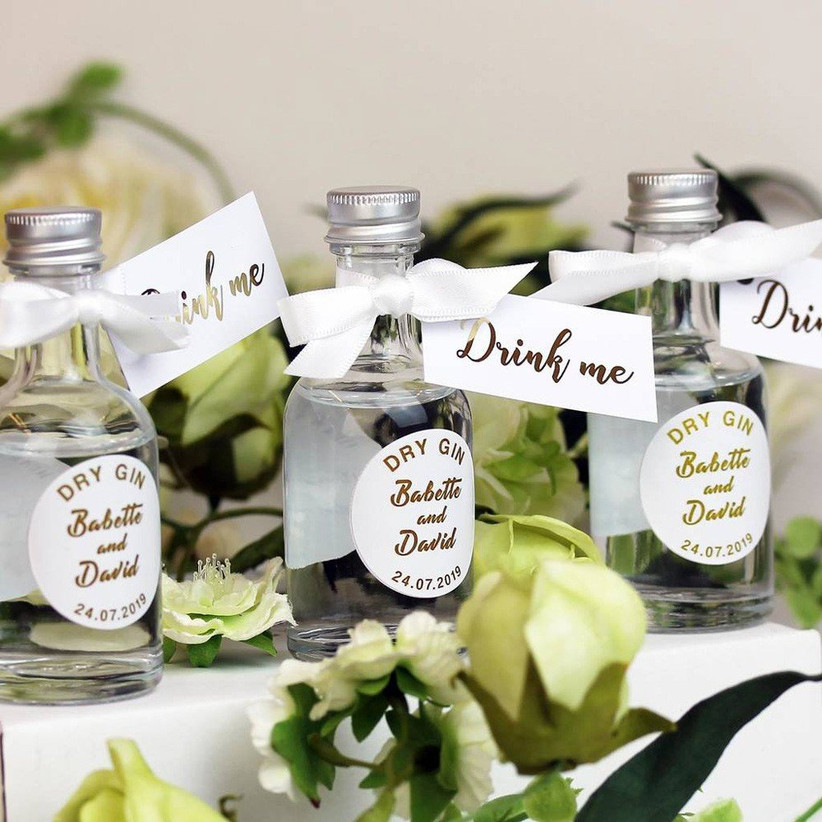 Alcohol is always a good shout at a wedding and guests will love these delicious gin favours from Hearth & Heritage.
Personalised Lollipops Wedding Favours – £34 for 20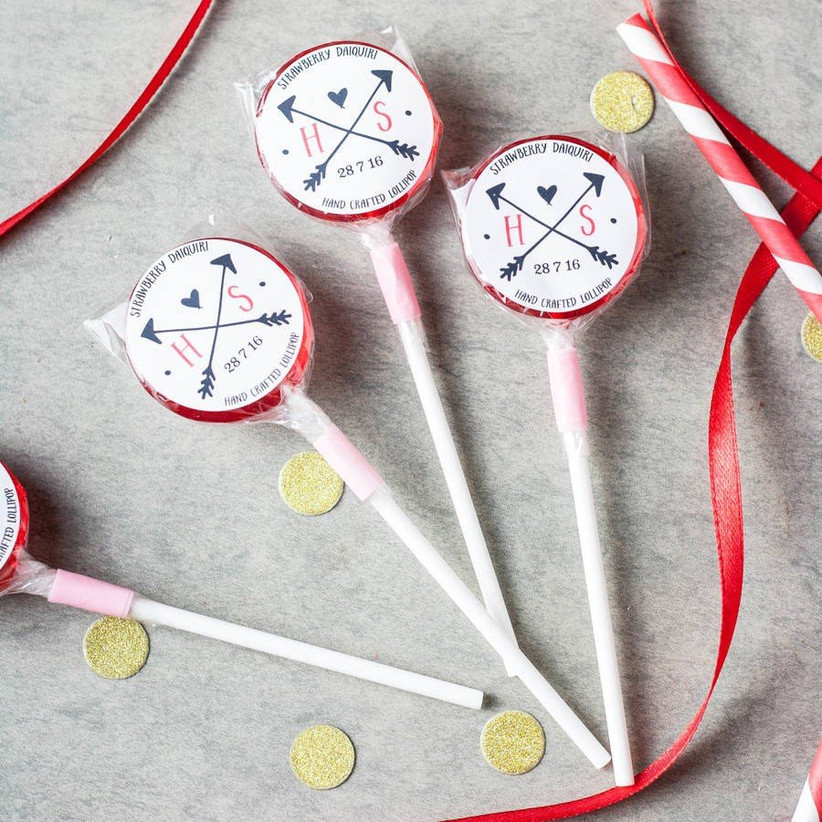 Delicious, totally adorable, and loved by little and big kids alike – lollipops like these ones from Holly's Lollies are a fab unusual wedding favour choice.
Festival Wristband Wedding Favours – £1.10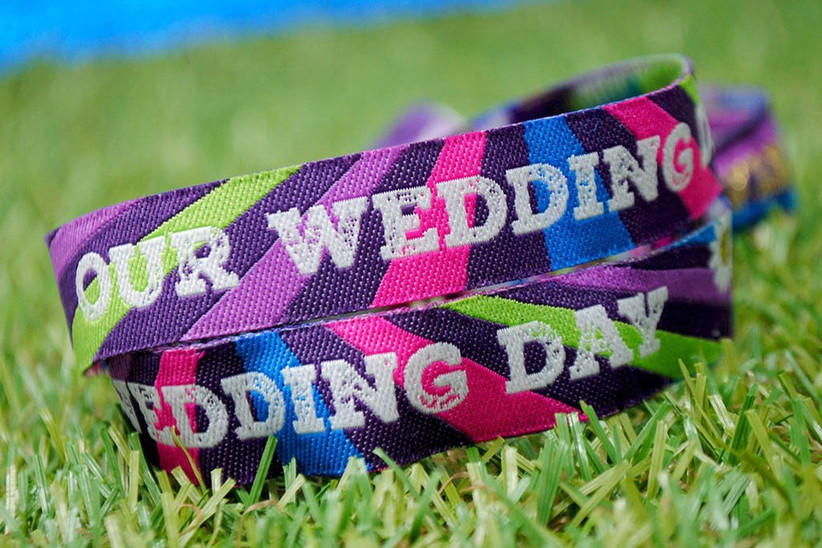 Planning a festival themed wedding? Treat your guests like VIPs with their own 'wedfest' wristbands from Not On The High Street.
Sunglasses Wedding Favours – £5.65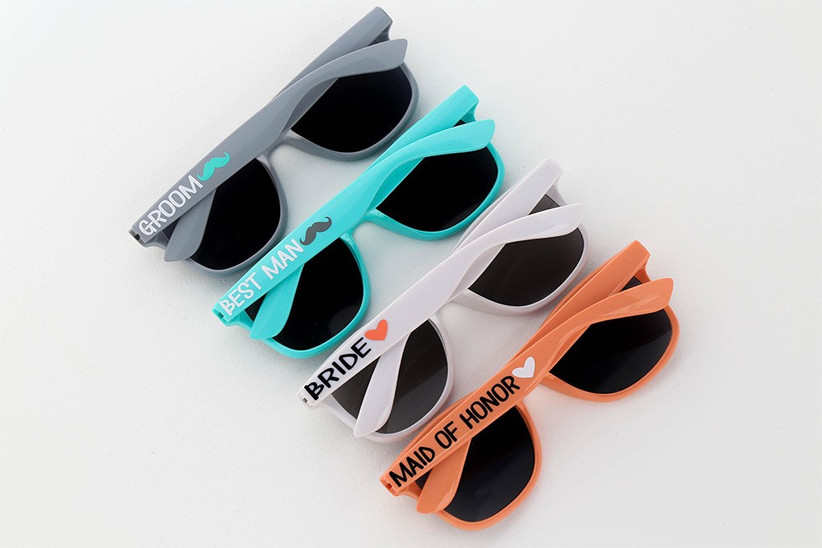 Sunglasses are a brilliant favour at summer weddings but they look cool in group photos whatever the season. These sunnies from JcDezigns can even be personalised with your own message.
Flavoured Lip Balm Wedding Favours – £173.25 for 35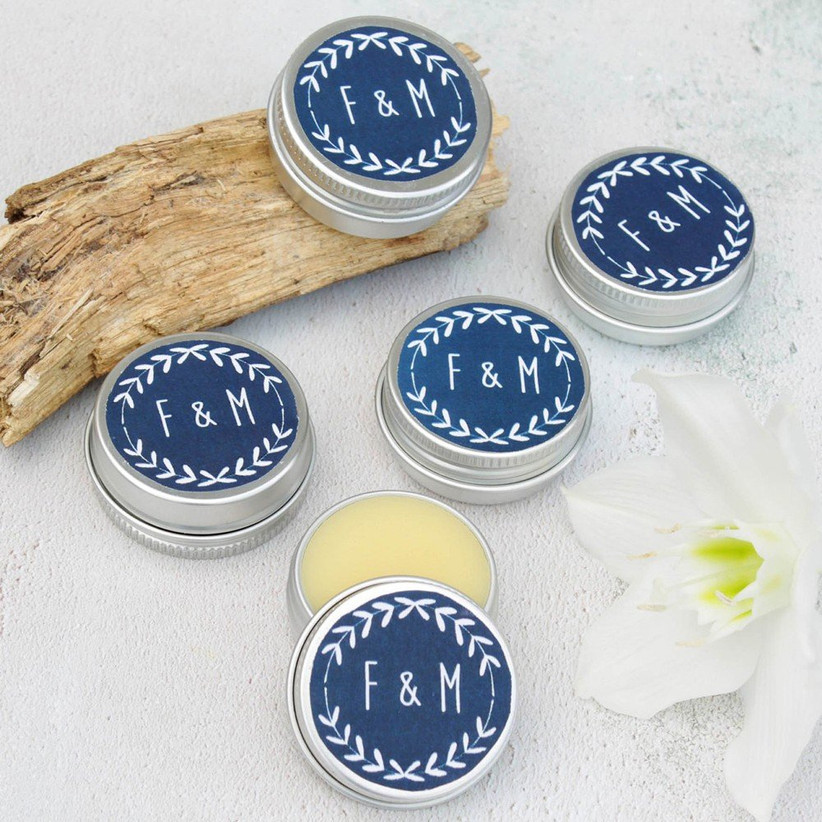 Choose from tasty flavours like Prosecco or strawberry, personalise with your intitials and colours and these lip balms from Hearth and Heritage are an ideal wedding favour.
Name Badges Wedding Favours – £1.10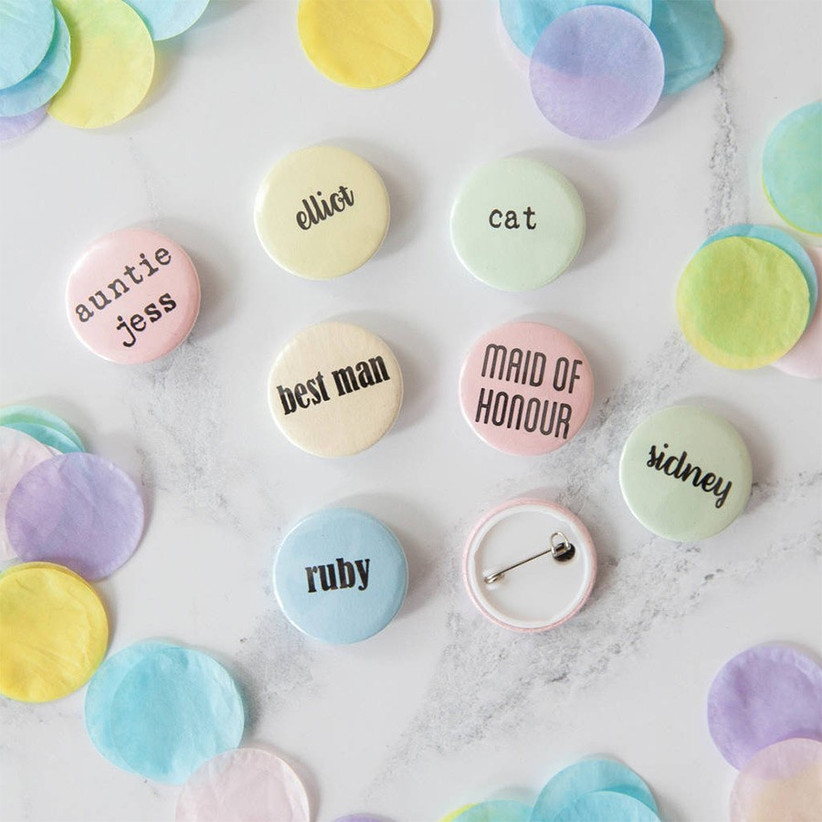 Make sure your wedding favours aren't left on the table with pretty pastel name badges from Wedding in a Teacup.
Read Our Unusual Wedding Favours Guide
Cheap Wedding Favours
If you're after cheap wedding favours that looks much more high-end, you won't find better than our pick of 34 wedding favours for £1 or less. Here's a few of our favourites – click the button below to read our whole gift guide.
Vintage Style Tea Wedding Favours – £9.20 for 20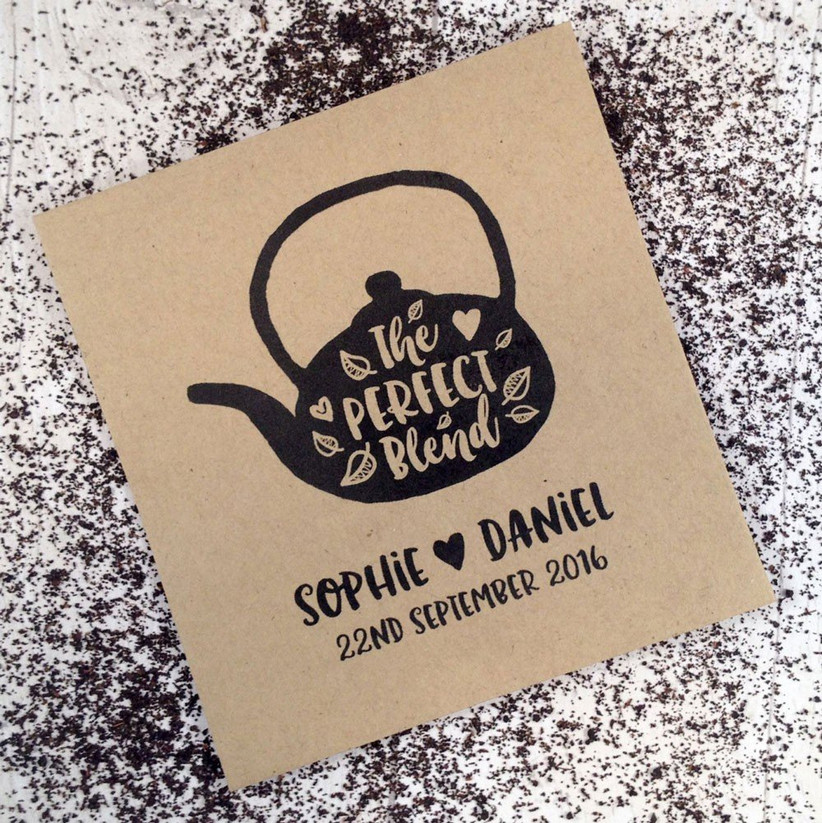 Choose your favourite blend for these fantastic personalised tea bag favours. Perfect for the morning after your reception.
Magnet Wedding Favours – 82p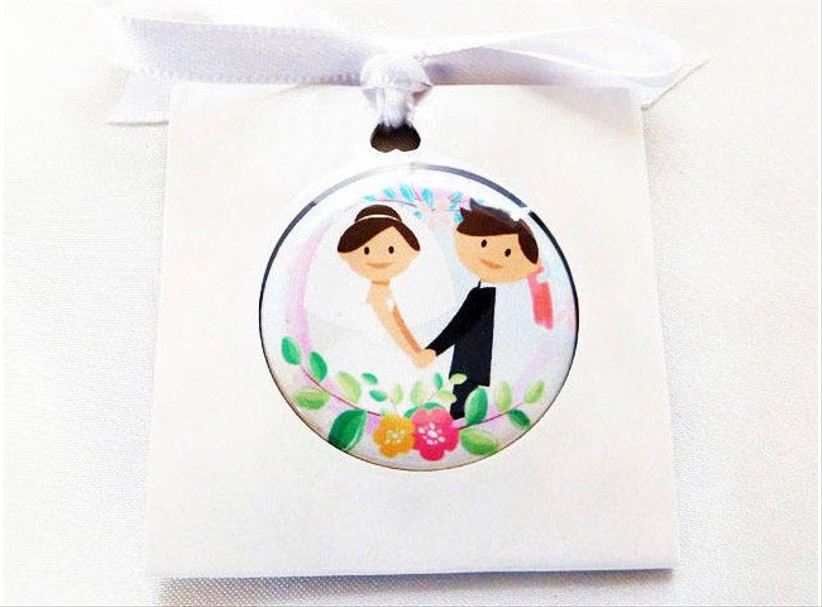 You can get this cute magnet personalised to look like you both – and they're only 82p!
Chilli Seed Wedding Favours – £1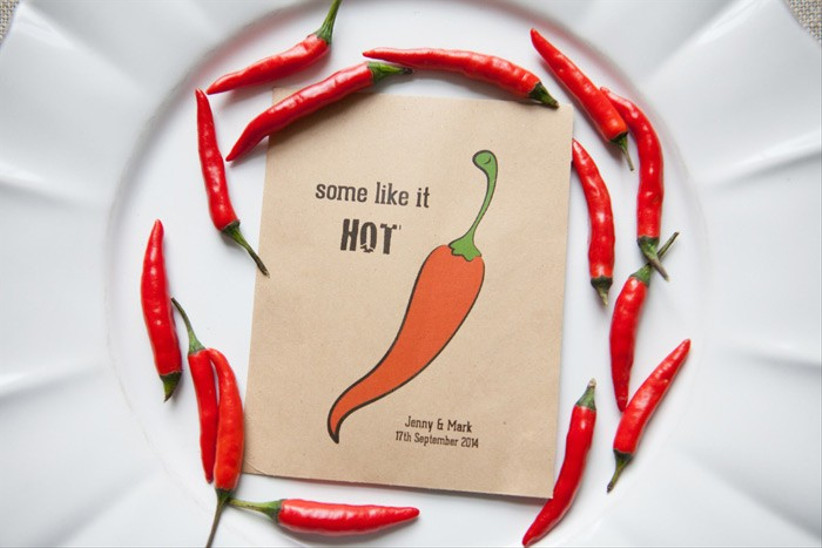 Your guests will remember your wedding forever with a pack of personalised chilli seeds to take home and grow. Wedding in a Teacup have lots of different varieties of seed.
Test Tube Wedding Favour – 90p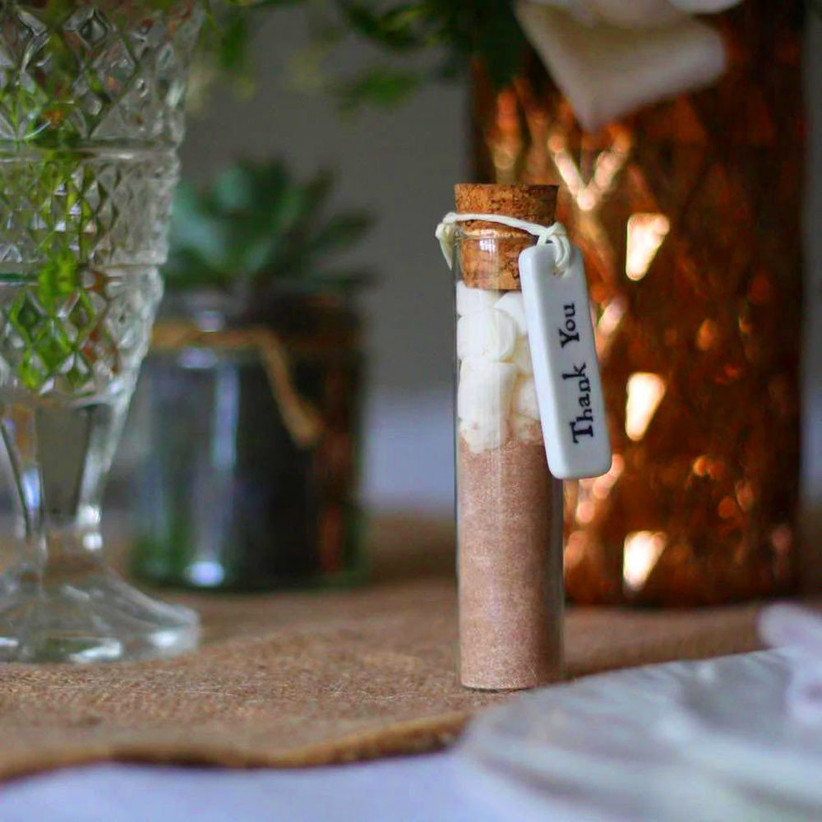 How cute are these tiny test tubes? Fill them with small sweets like Skittles or even a note for a 'message in a bottle'-style cheap wedding favour.
Wooden Sign Wedding Favours – From 82p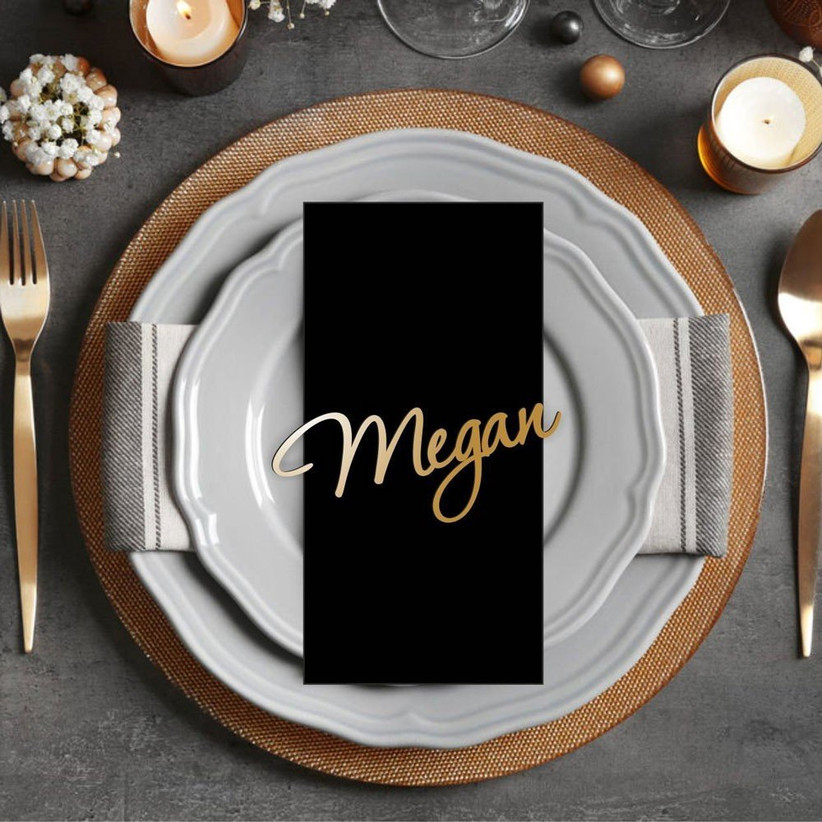 These personalised wooden names double up as place cards, saving you even more money on your wedding, and look great with a rustic theme.
Heart Biscuit Wedding Favours – From £1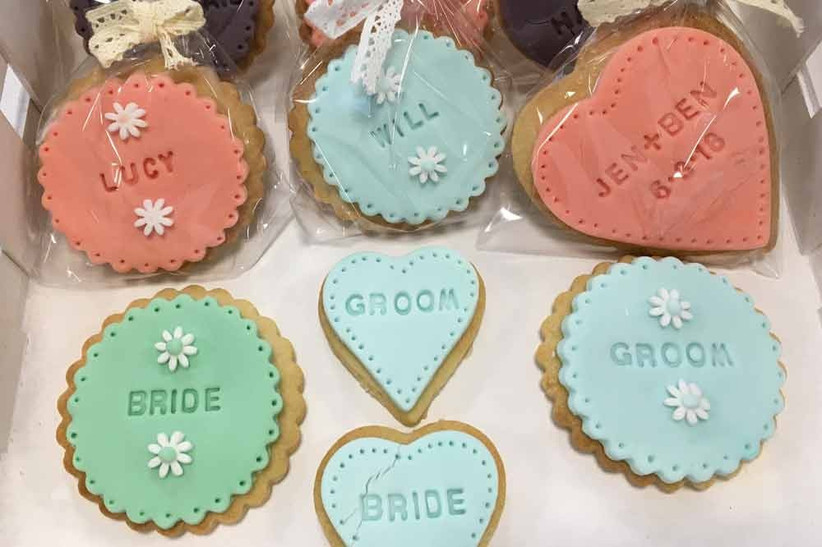 It's just £1 for the small heart biscuit wedding favours which can be personalised (and look utterly delicious!).
Personalised Engraved Wooden Pencils – 89p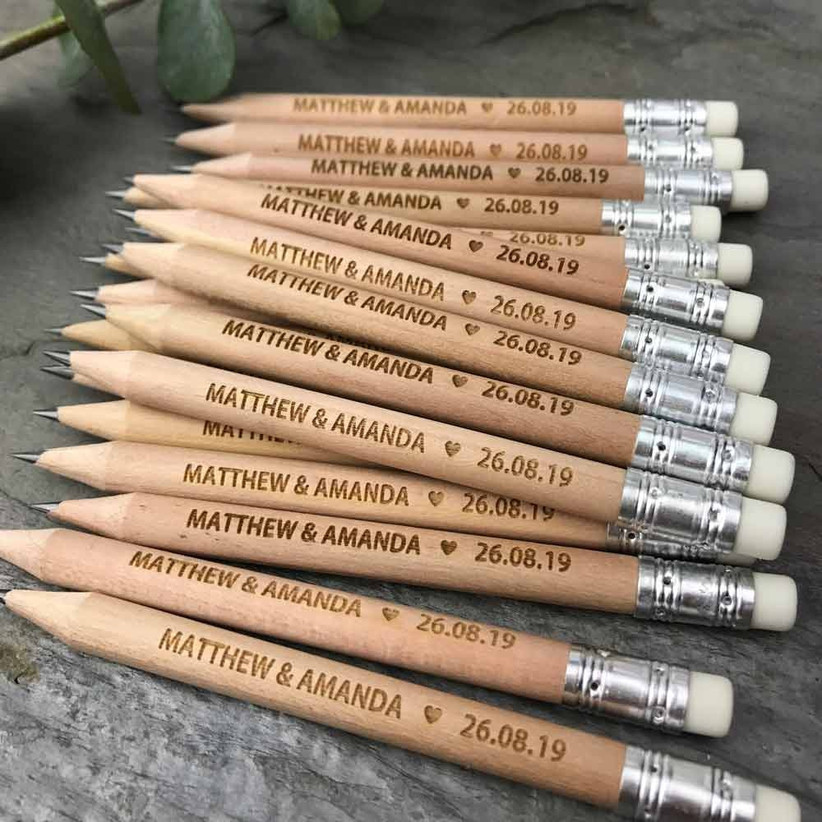 These personalised pencil wedding favours tick two boxes – customised with your names and date, and super cheap! Have some extra to sign your guest book too.
Fudge Wedding Favours – £1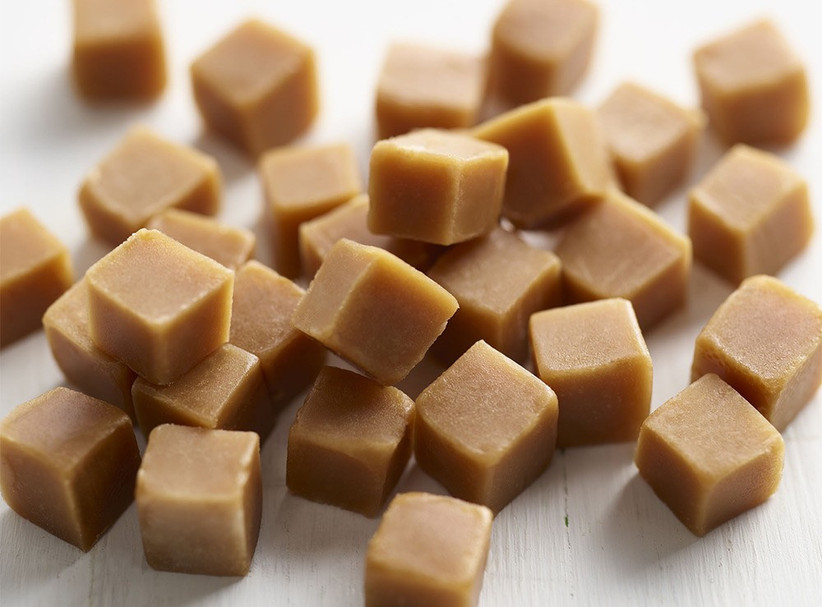 Transfer these delicious little fudge cubes from Thorntons into cute organza bags for the ultimate sweet treat.
Mint To Be Wedding Favours – 20p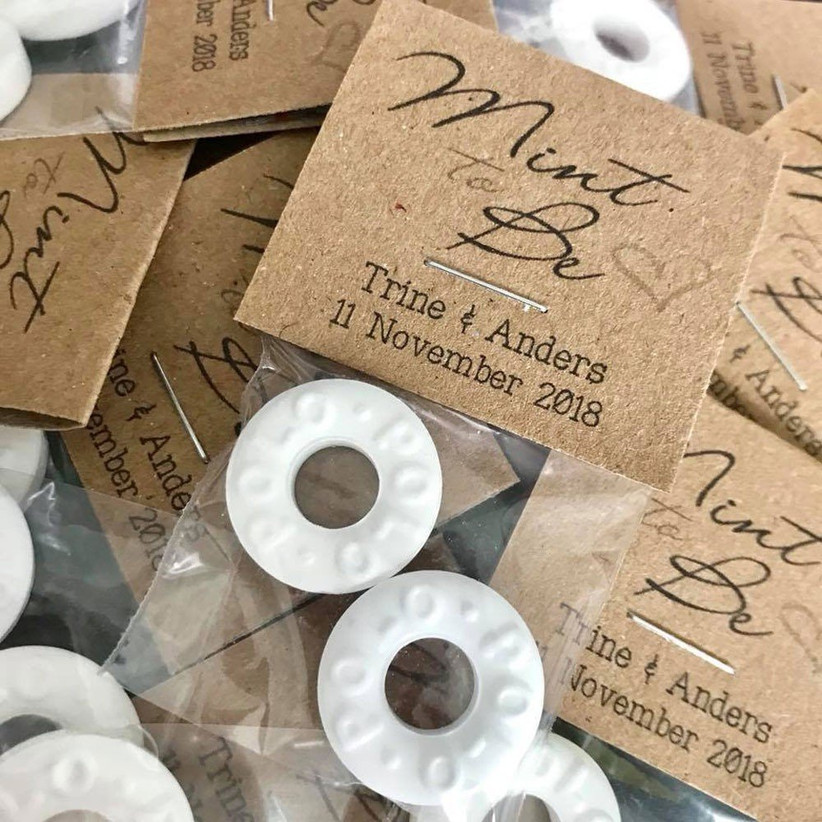 How adorable are these little packaged polos! The perfect way to freshen up after the wedding breakfast.
Temporary Tattoo Wedding Favours – From £8.20 for 12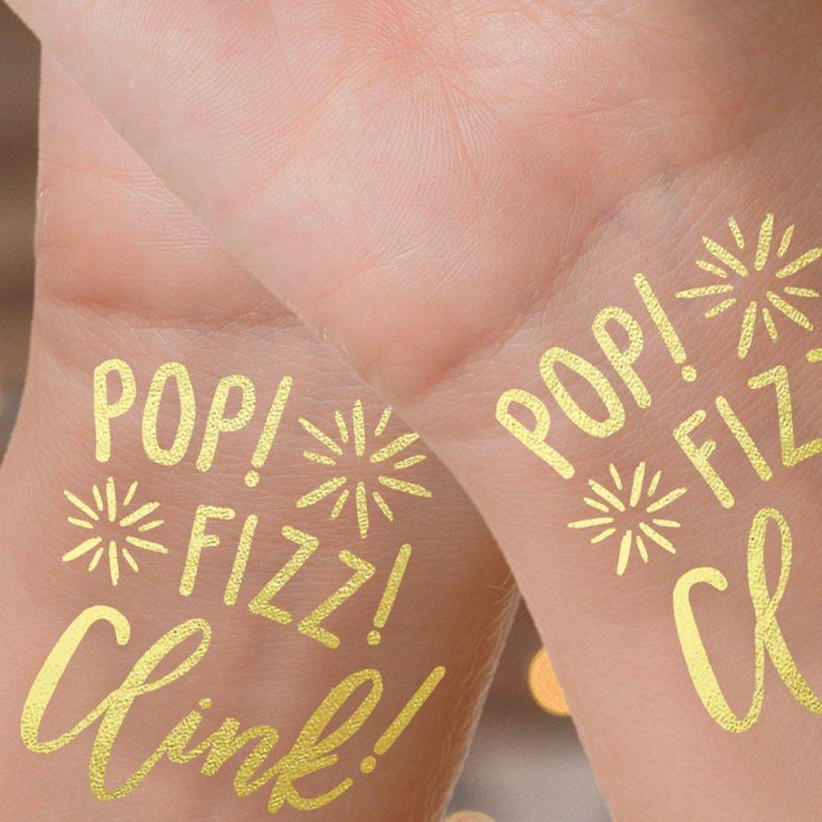 Add a festival vibe to your big day with these fun and cheap temporary gold tattoos from Etsy.
We love the idea of setting up a tattoo station at the reception so everyone can get temporarily inked.
Read Our Cheap Wedding Favours Guide
Personalised Wedding Favours
Make sure your guests never forget your day with a personalised memento for them to take home. Most of these wedding favour ideas can be customised with either your names and wedding date or your guests' names. Take a look at our top 10 personalised wedding favours and see our whole edit by clicking the button below.
Personalised Candle Wedding Favours – £1.75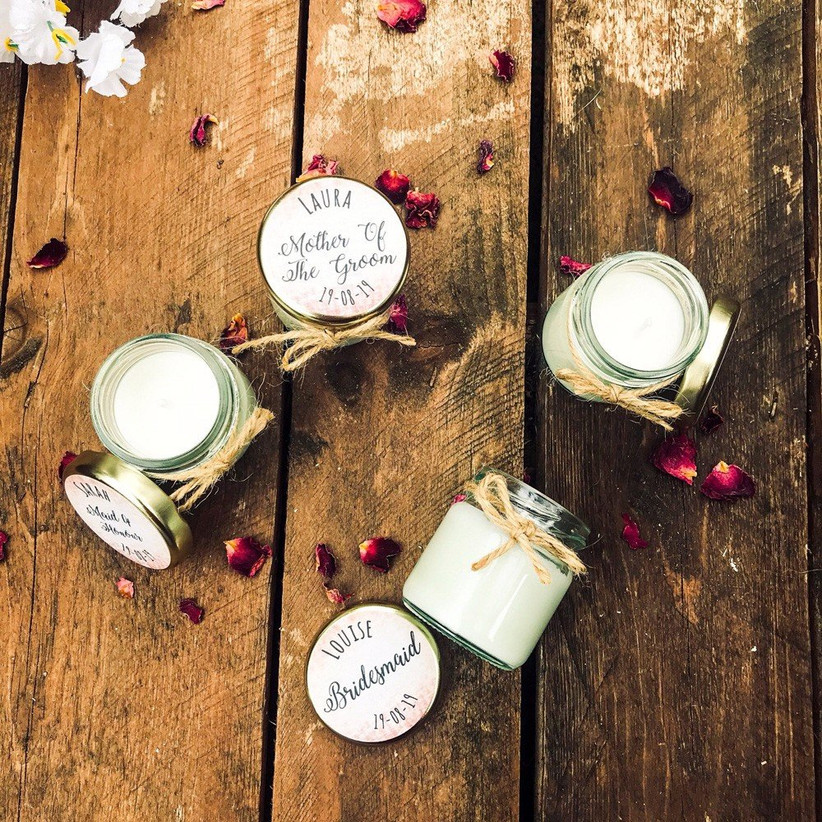 These candle wedding favours can be personalised with your names or your guest's name and a chosen scent! Have a few extra burning around your reception too.
Personalised Compact Mirror Wedding Favours – £7.73
Treat your female guests to one of these handmade compact mirrors – very handy for lipstick checks.
Personalised Succulent Wedding Favours – £60 for 10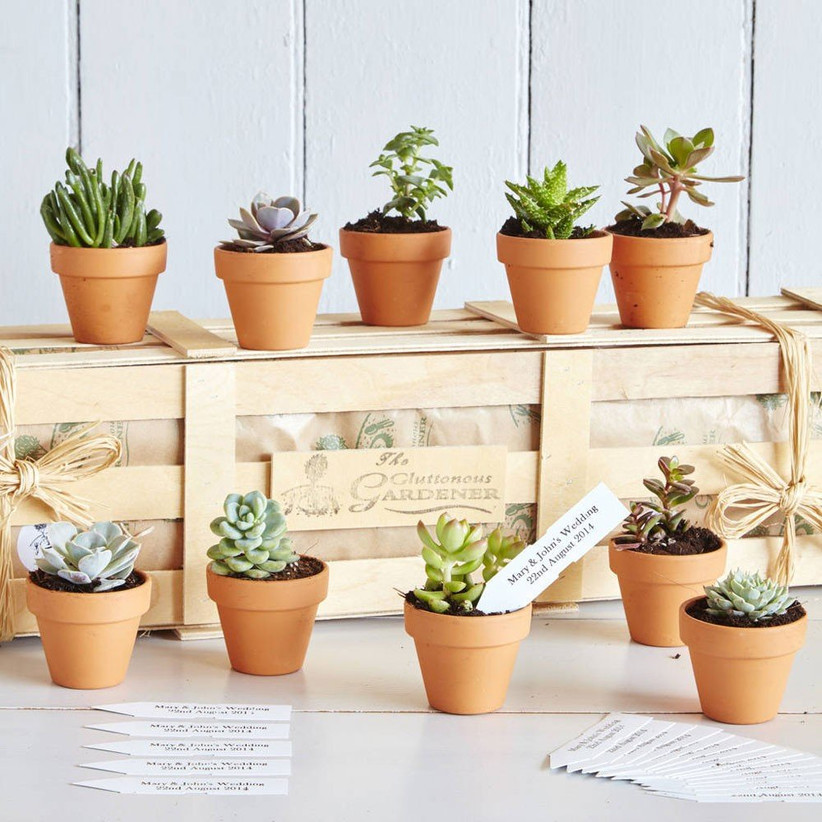 For a really unqiue gift idea, try a gorgeous green succulent with a personalised label. They're easy to grow and a great reminder of your day.
Personalised Wine Cork Wedding Favours – £68.33 for 25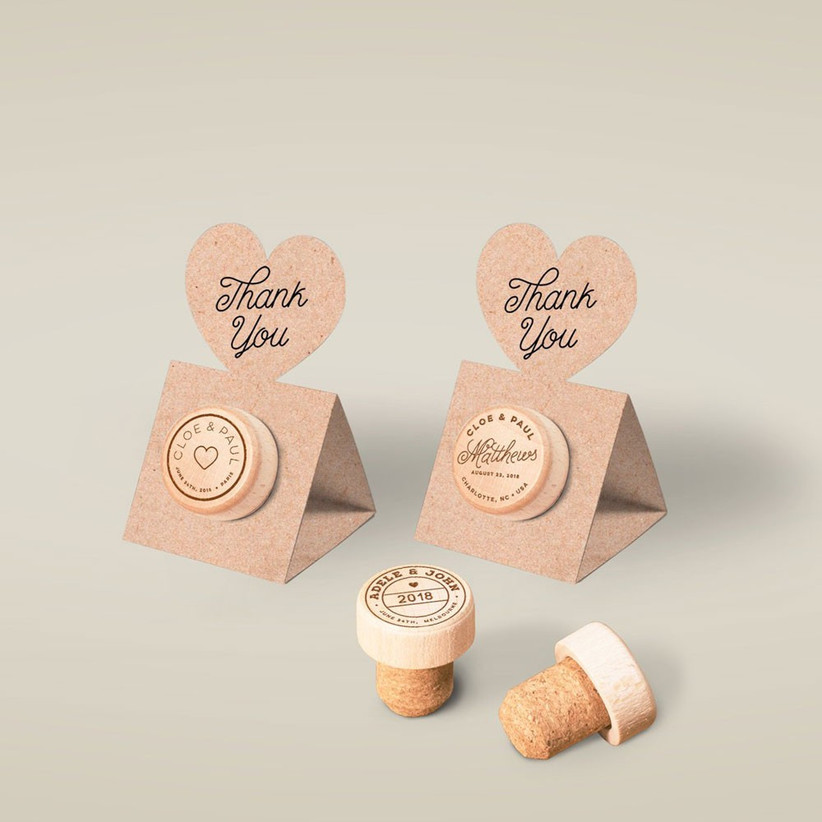 If you want something guests can use for years to come, these personalised bottle stoppers are the perfect choice.
Personalised Seed Packet Wedding Favours – £12 for 10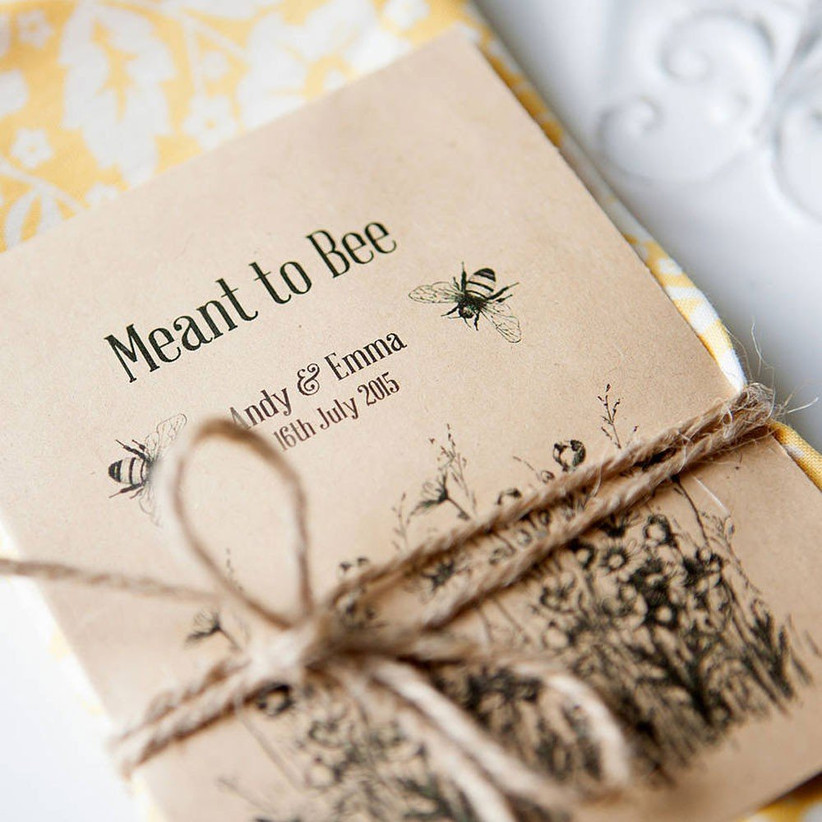 If you're a green-fingered pair, give a little back with these wildflower seed packet wedding favours that help the bees.
Personalised Matchbox Wedding Favours – £11.50 for 10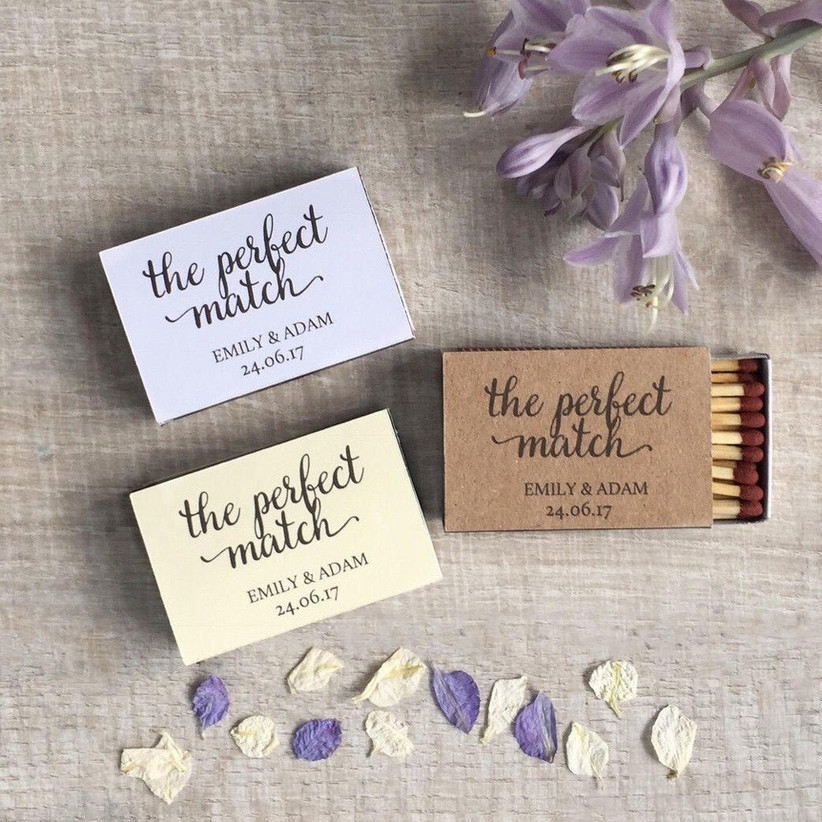 Love a good pun? These 'a perfect match' personalised matchboxes are cute and useful. Win-win!
Personalised Chocolate Square Wedding Favours – £3.50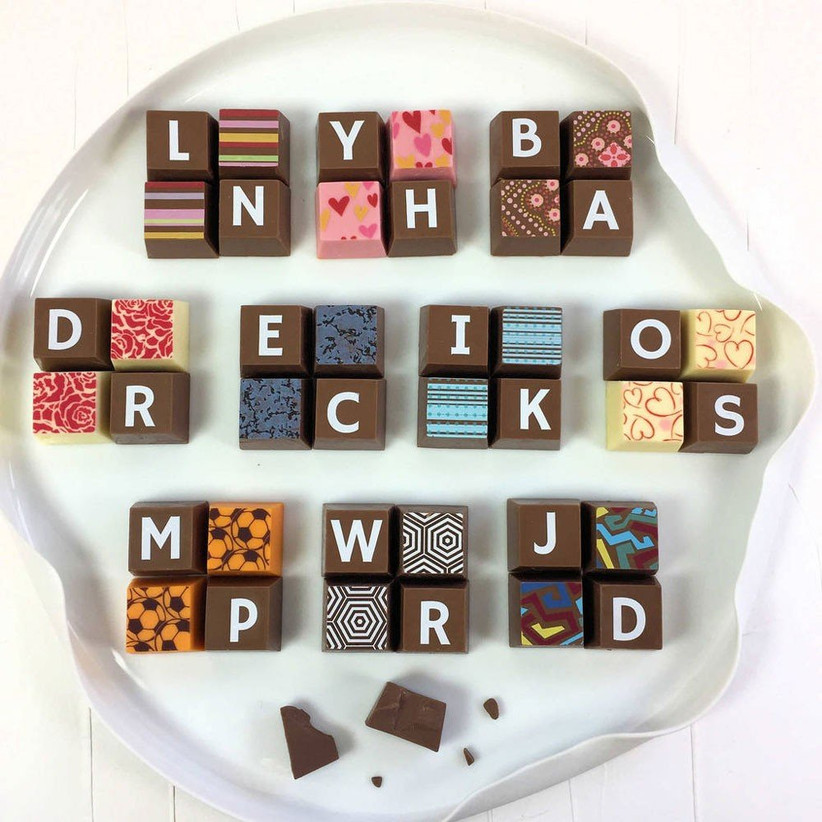 Let's be honest, these will all get eaten before dinner. Still, these cute chocolate squares are a very sweet gift for guests.
Personalised Bracelet Wedding Favours – £1.70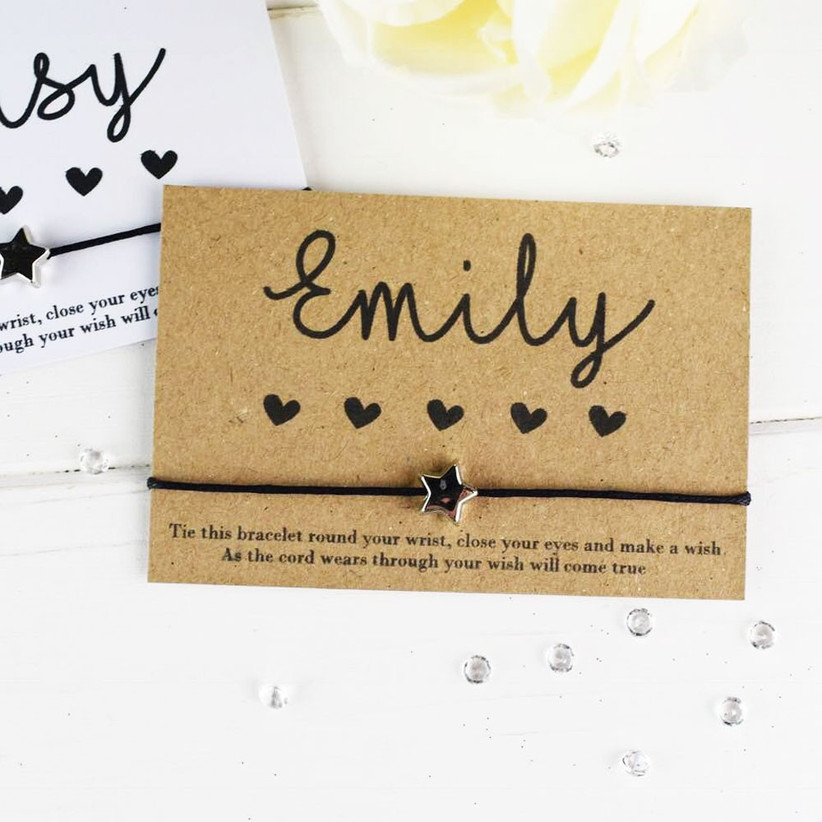 How about these gorgeous wish bracelets for your female guests? They come wrapped around a personalised card.
Personalised Shot Bottle Wedding Favours – £1.50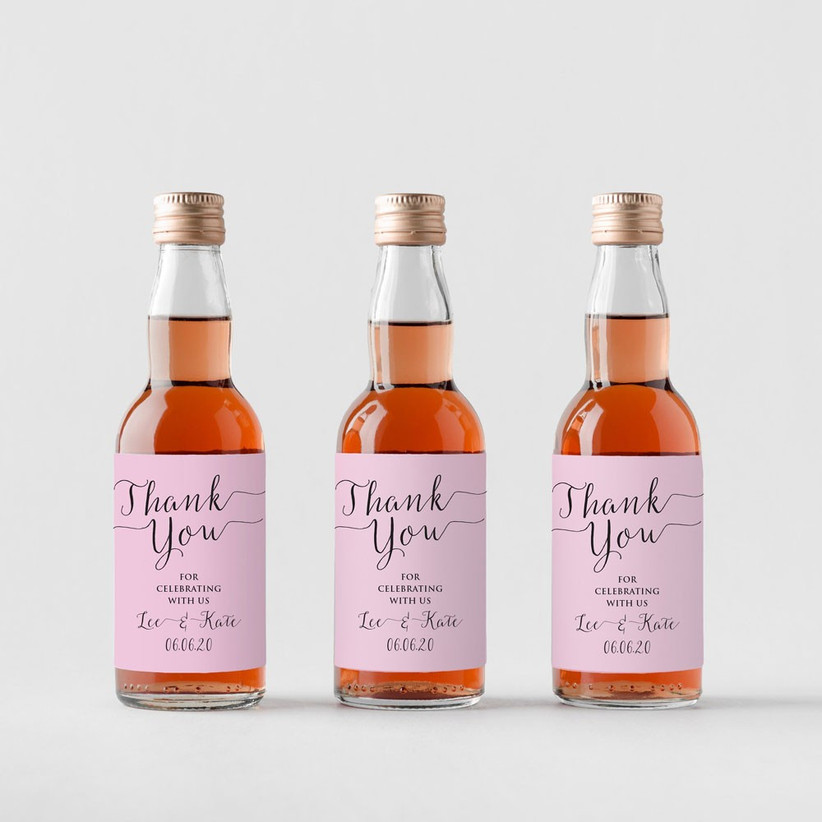 Got a favourite spirit? Top up these adorable personalised shot bottle wedding favours with it.
Personalised Shot Glass Wedding Favours – £5.49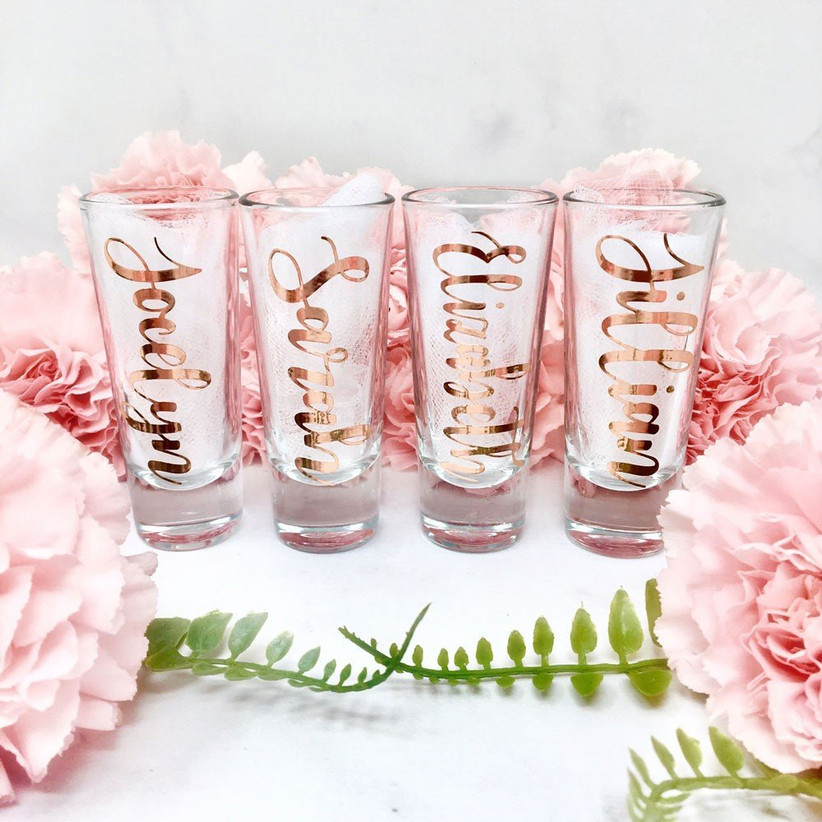 For a fun way to toast the newlyweds, why not have these personalised rose gold shot glasses?
Read Our Personalised Wedding Favours Guide
Charity Wedding Favours
Do good and feel good with these charity wedding favours that'll benefit a cause close to your heart and look stylish on your tables.
Cancer Research UK Wedding Favours – £2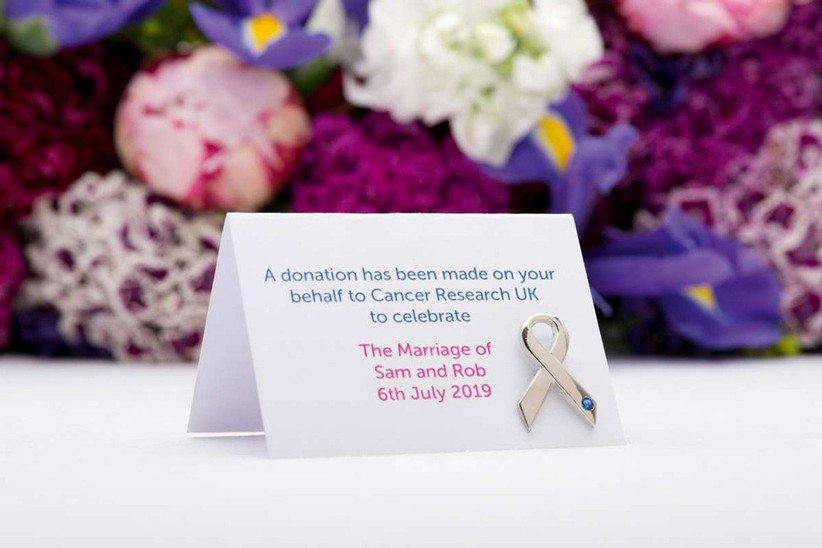 You can choose from a choice of pin badge for your guests in lots of cool designs that'll suit every wedding theme. The money you spend is donated to Cancer Research UK.
British Heart Foundation Bubbles Wedding Favours – £12.99 for 24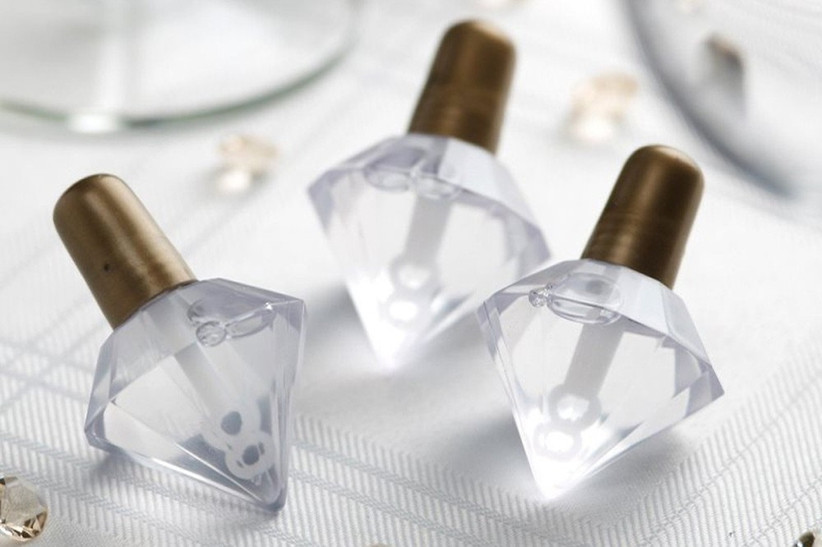 Bubbles are great as wedding favours as they're interactive and look great in wedding photos. We love these cute bottles that benefit the British Heart Foundation.
UNICEF Wedding Favours – £139 for 50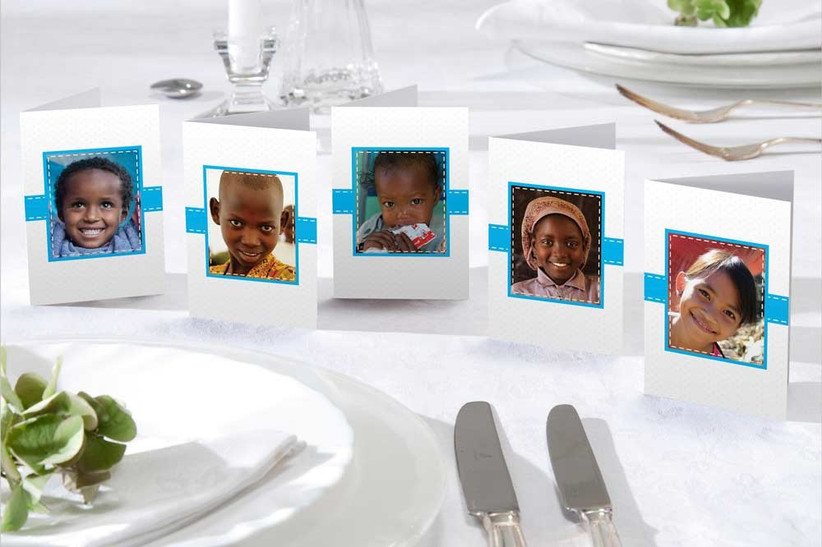 Buy life-saving treatment and supplies for children in the developing world with UNICEF. Instead of something throwaway, your wedding favours could literally save a life.
Dogs Trust Wedding Favours – £2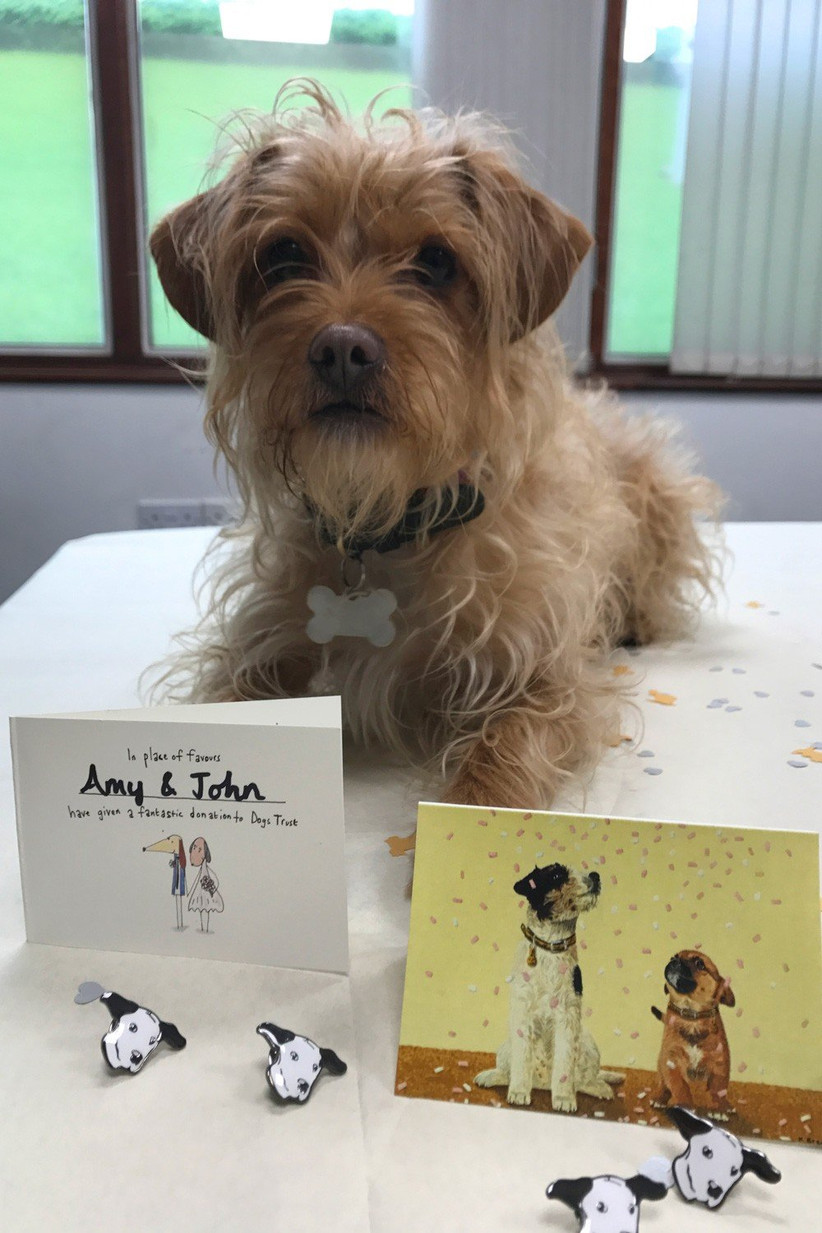 Support your canine pals with these cute pin badges from the Dogs Trust, which come with a sweet card to write in. There's also bandanas for your dog to wear on the day!
Great Ormond Street Hospital Wedding Favours – £2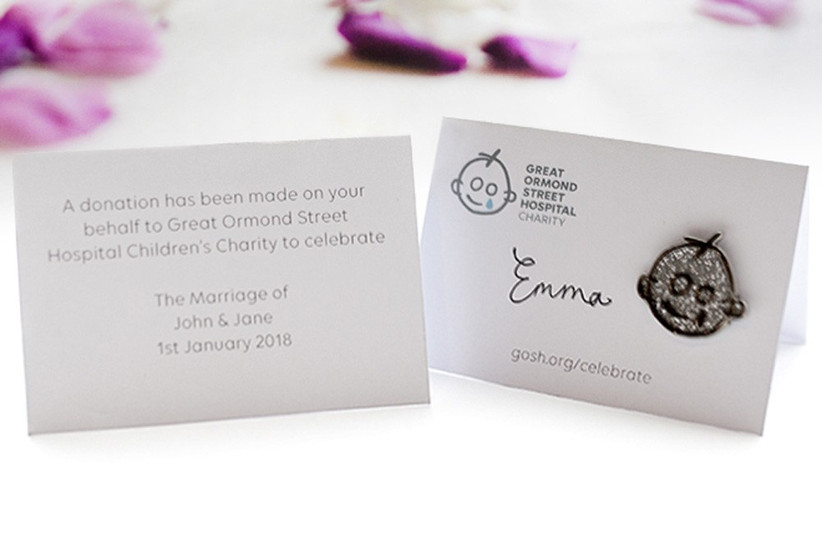 Have your guests wearing the iconic logo of the world-famous Great Ormond Street Hospital with pride on your wedding day with their pin selection, wildflower seeds or charm bead favours.
Read Our Charity Wedding Favours Guide
Chocolate Wedding Favours
Who doesn't love chocolate? Sweet treats are great for kids and adults alike, and everyone will appreciate one of these delectable chocolate wedding favours they can eat on the day or take home.
Hotel Chocolat Foiled Heart Wedding Favours – £1.60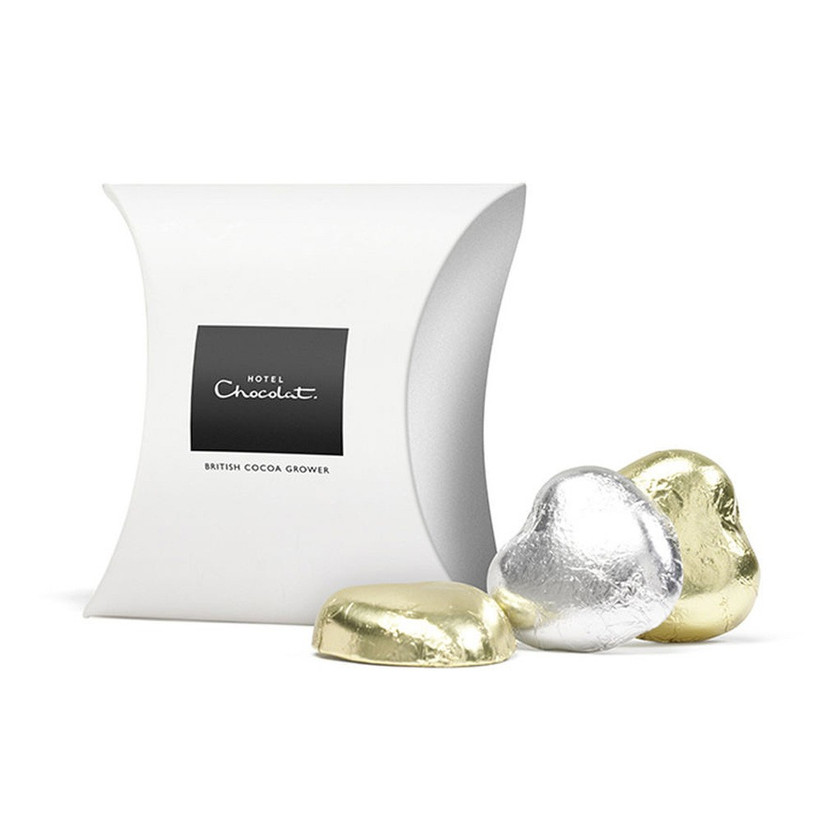 At just £1.60 a favour, these delicious milk chocolate hearts from Hotel Chocolat make an elegant addition to your tables.
Hot Chocolate Stirring Spoon Wedding Favours – £1.80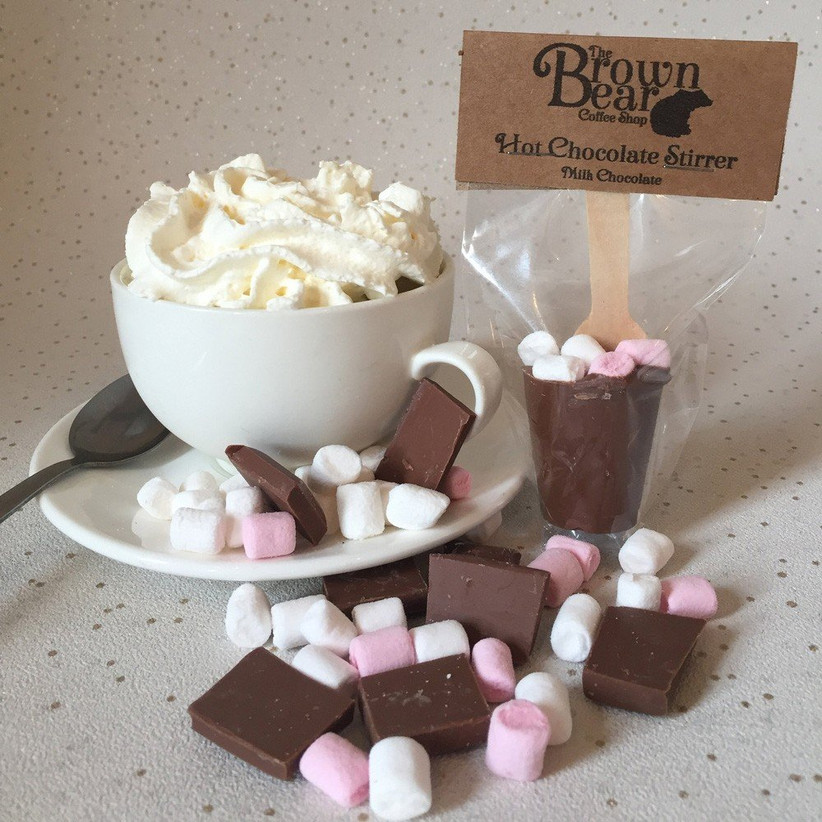 How cute are these solid hot chocolate stirrers! Guests can remember your day the next time they want a sweet treat.
Chocolate Cake Pop Wedding Favours – £22.99 for 8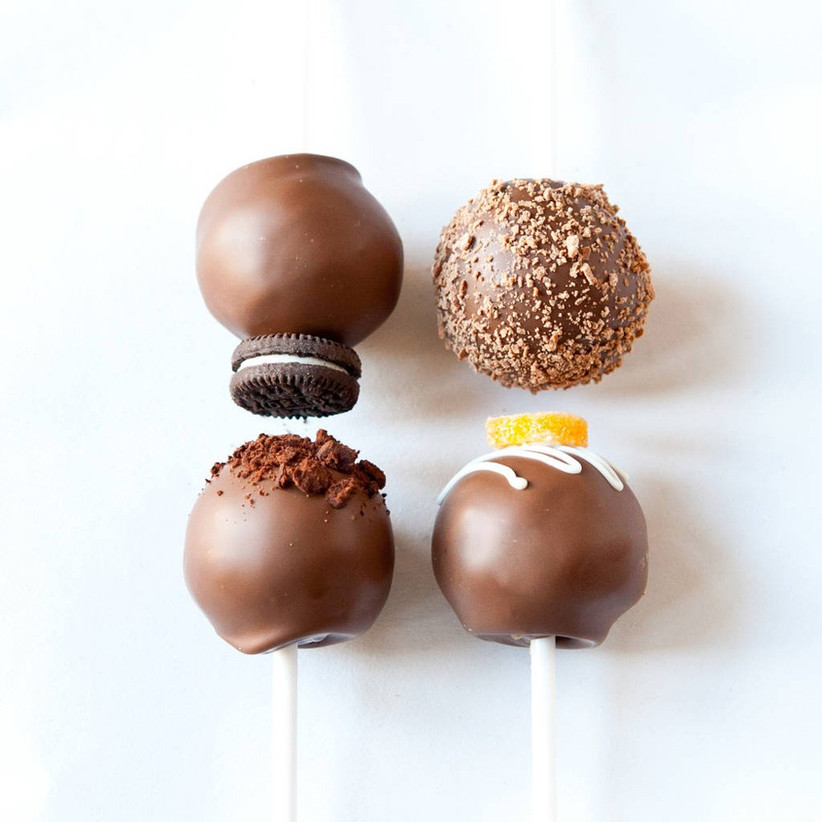 There's over 20 flavours to pick from in this selection box of eight cake pops that are the perfect bite-size wedding favour.
Personalised Chocolate Place Names Wedding Favours – £2.95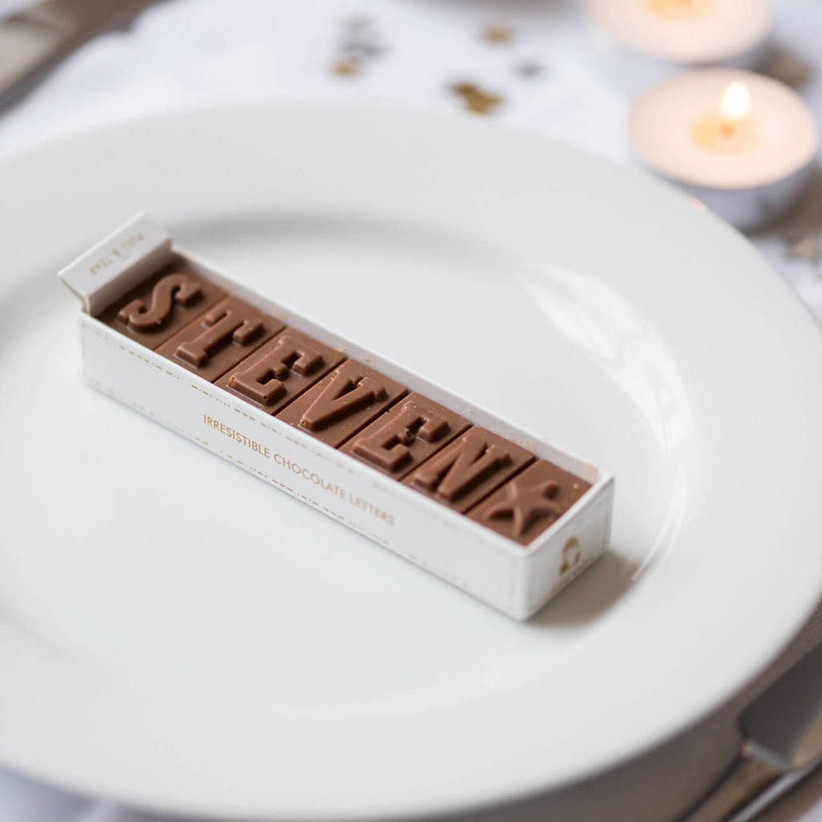 Spell out your guests' names with these amazing chocolate wedding favours that double as place names from Morse Toad.
Personalised Luxury Chocolate Box Wedding Favours – £3.95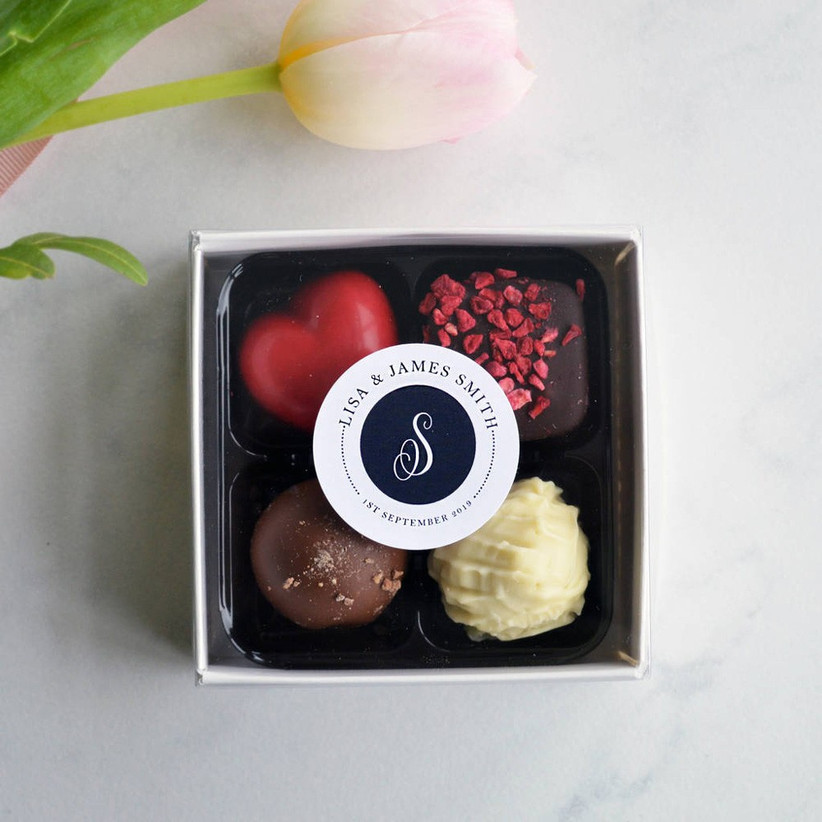 Like the idea of chocolates but want to make them extra special? These four luxury chocs come in a box personalised with your names and wedding date.
Read Our Chocolate Wedding Favours Guide
Unique Wedding Favours
We've got a list of 101 amazing wedding favours that is full of unique ideas like these below. If you want something your guests won't have been given at a wedding before, choose one of these memorable favours.
Colour-Me-In Place Mat Wedding Favours – £1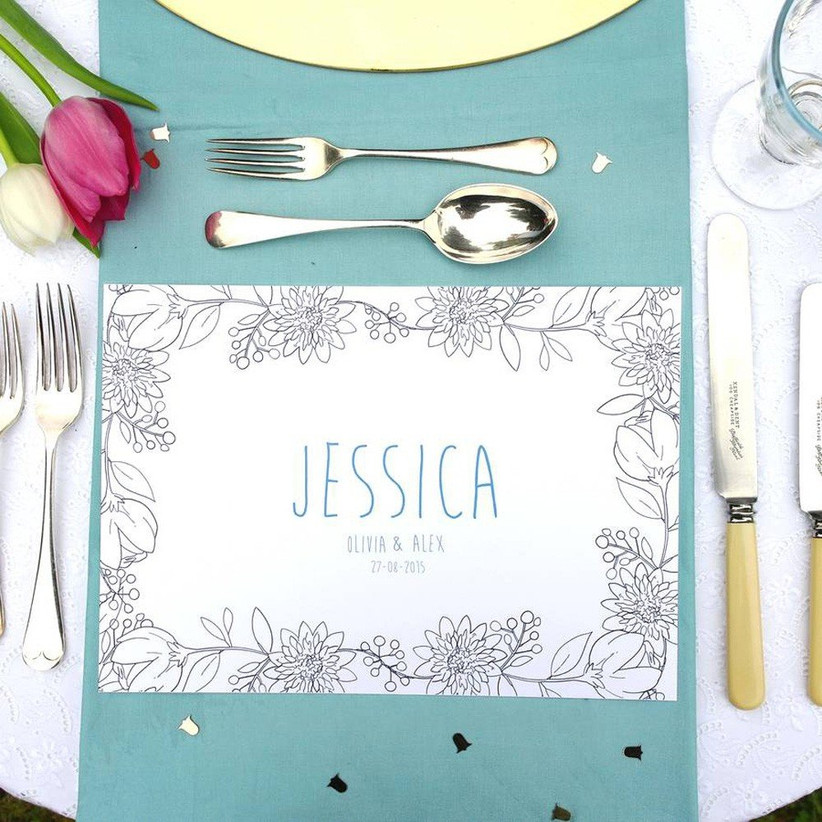 Adults and kids alike will adore these personalised colouring-in place mats that double as a great wedding favour to take away.
Hangover Kit Wedding Favours – £2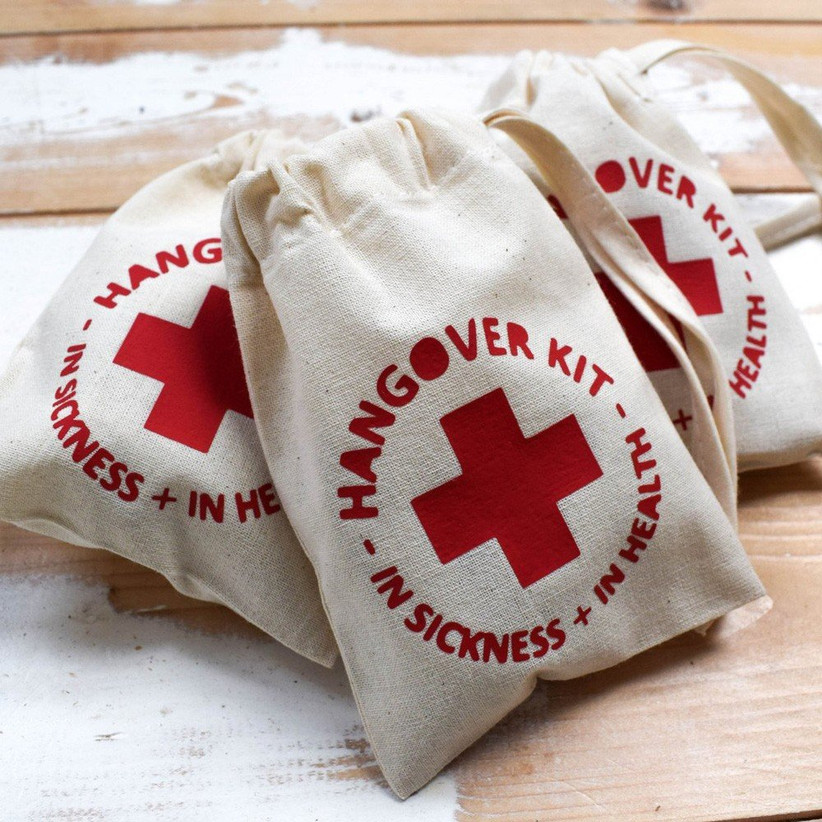 If anyone has a sore head the next morning, these hangover kits are essential! Fill these bags with paracetamol, a teabag, some plasters and a cereal bar and keep your guests smiling through the hangover.
Gourmet Marshmallow Wedding Favours – £1.50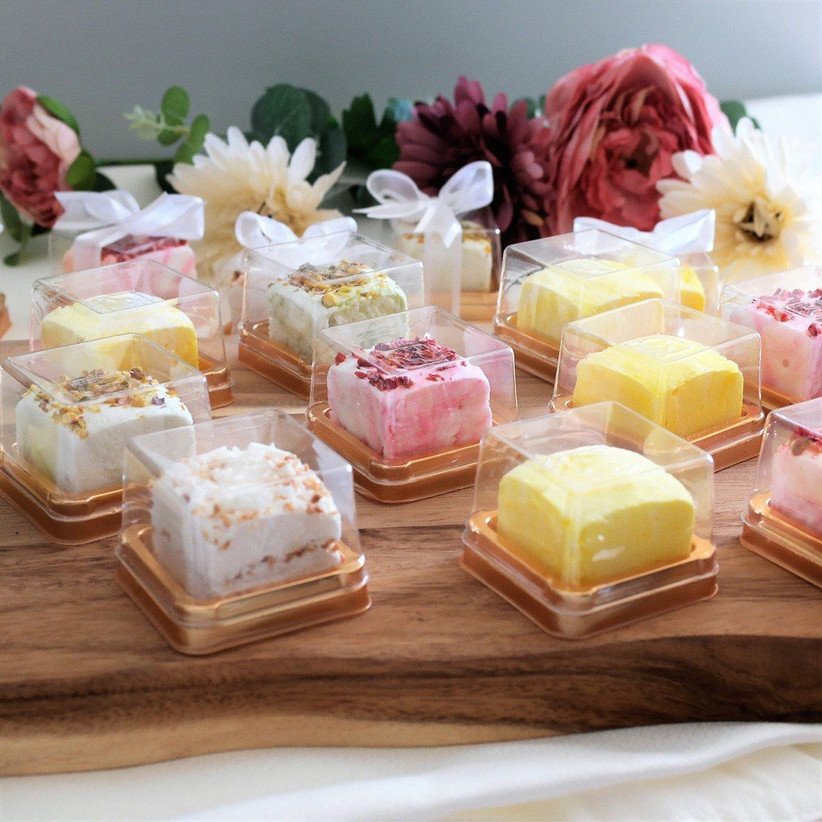 How cute are these individually-boxed gourmet marshmallows in flavours like pistachio, raspberry and dark chocolate, or coconut and white chocolate! They're gluten-free too.
Scratch Card Wedding Favours – £7.96 for 10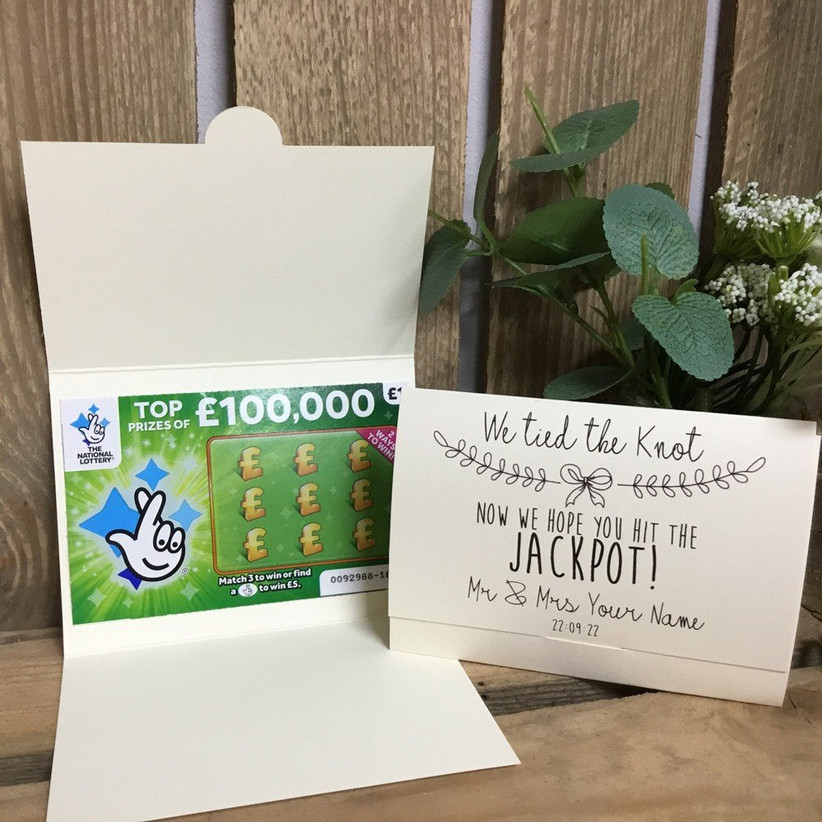 Buy a cheap scratch card or even lottery ticket for each of your guests and place them in these adorable scratch card wallets. Fingers crossed you get a winner!
Bath Bomb Wedding Favours – £3.50 for 4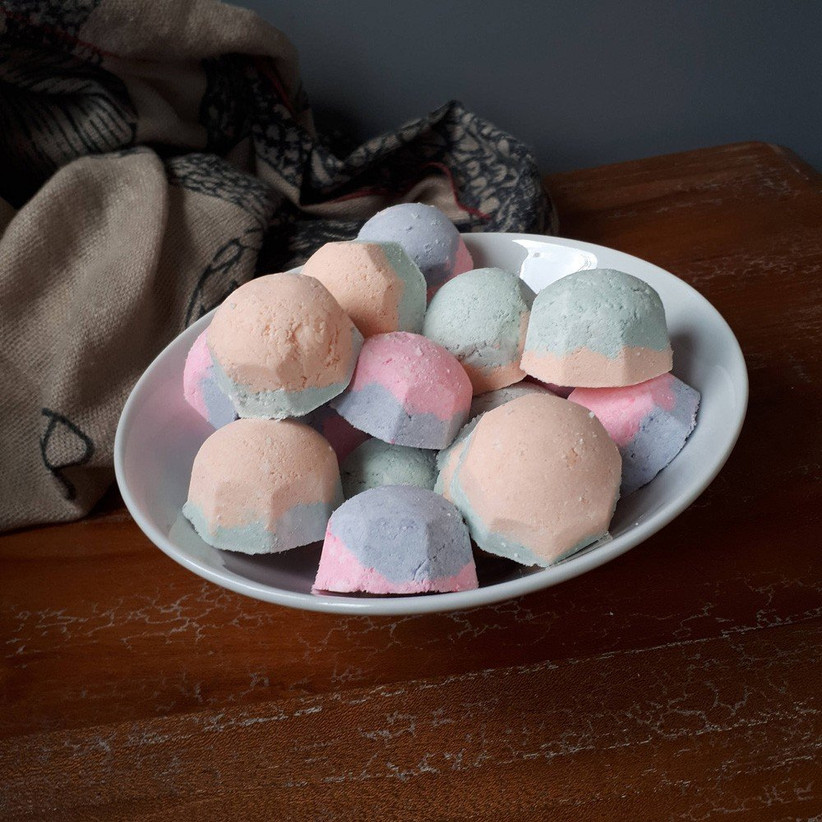 Make your reception room smell delicious with a selection of bath bombs for your guests. You get 4 essential oil bombs in each of these sets and they'd look fab placed in little organza bags.
Pancake Mix Wedding Favours – £8.50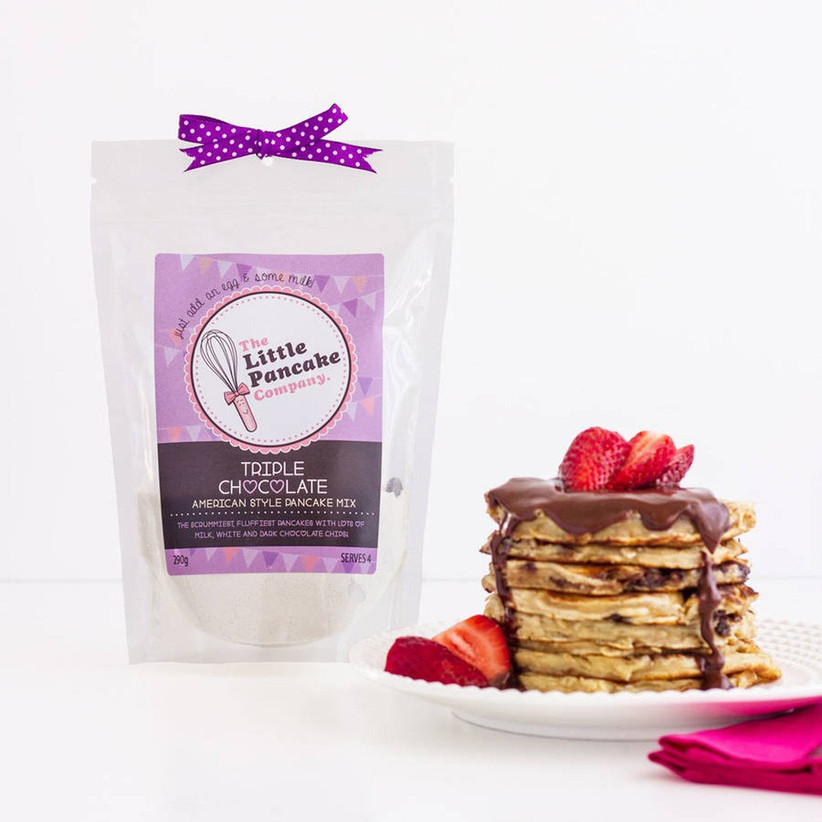 Give your guests the gift of breakfast the morning after your wedding with a scrummy pack of pancake mix. This range comes in lots of different flavours.
Personalised Coasters Wedding Favours – £3.39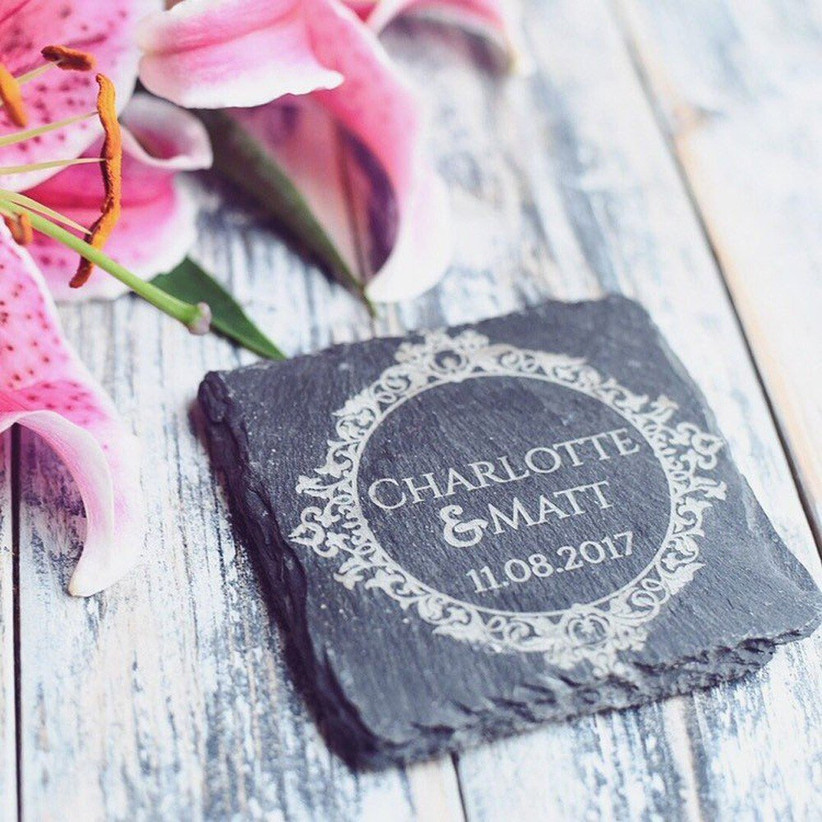 Useful gifts always go down well with guests, and they'll love to take home a chic coaster like this one. It can be personalised with your name and wedding date.
Sparklers Wedding Favours – £3 for 10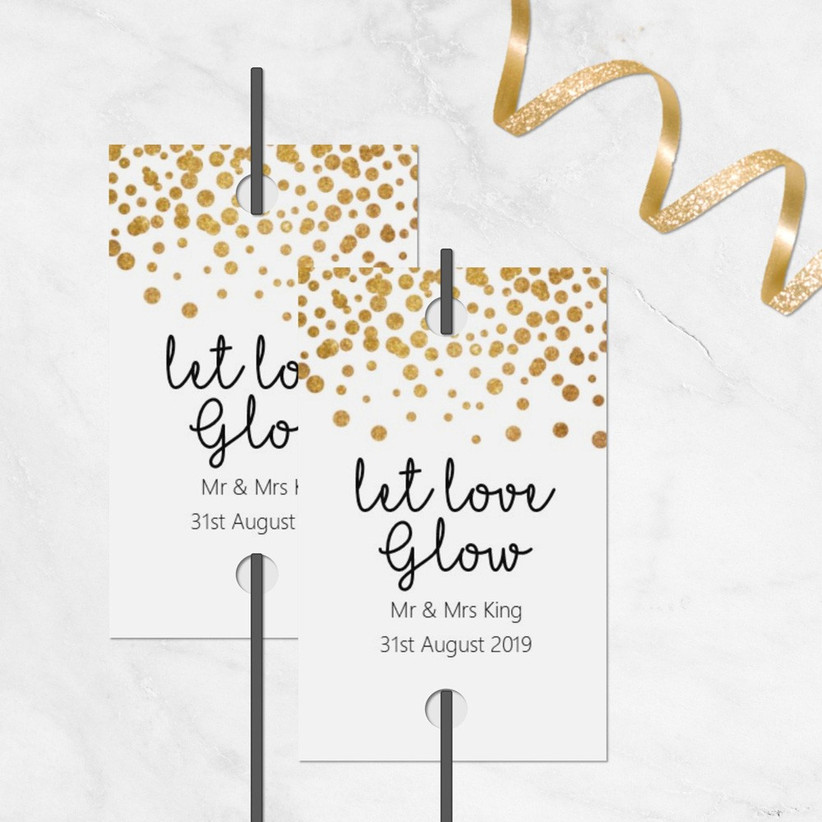 If you're having an evening send-off with sparklers or want some outdoor pictures with them, give these sparklers as a wedding favour – you'll save yourself a bit of money and you're guaranteed everyone has one.
Coffee Beans Wedding Favours – £2.50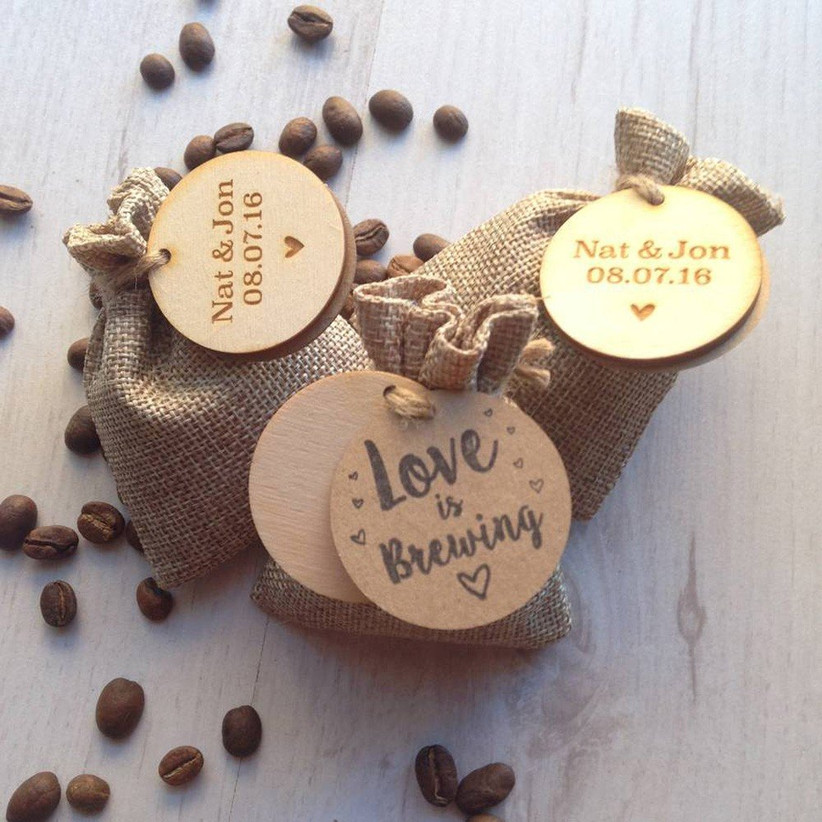 Another gift that'll be greatly appreciated the morning after the wedding – personalised bags of freshly roasted coffee beans!
Rubik's Cube Wedding Favours – 99p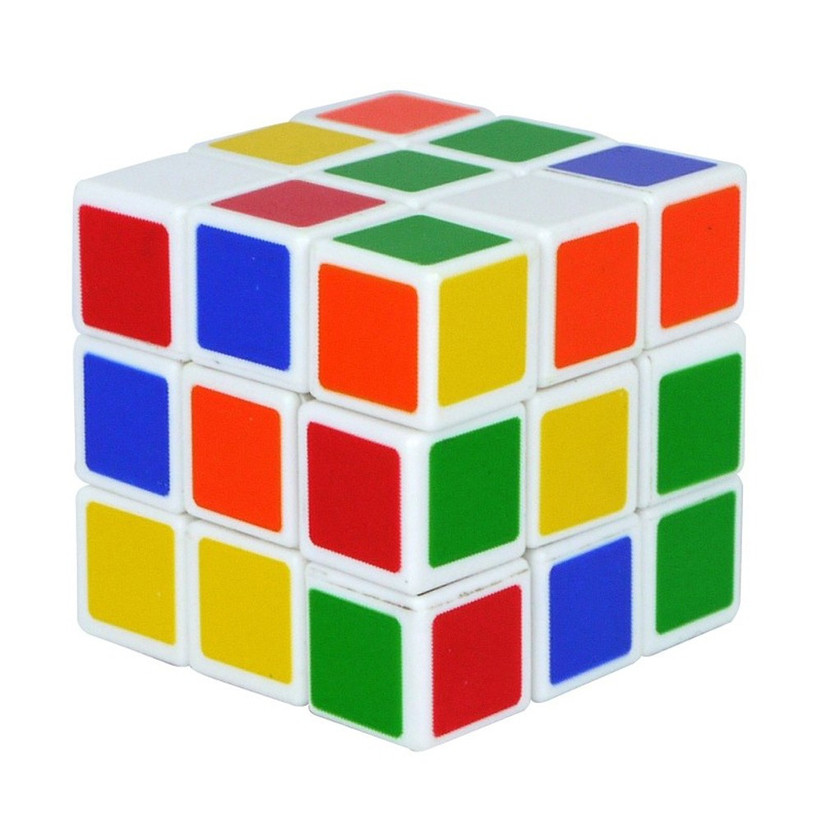 A Rubik's cube, miniature travel game or even a magic trick is a great favour to break the ice, keep guests entertained and give them a good brain workout!
Read Our 101 Amazing Wedding Favours Guide
If you're looking for more wedding favour ideas, make sure you don't miss our pick of the 21 DIY wedding favours to make yourself at home or our favourite edible wedding favours that guests will love (to eat).  If you're having a retro theme, check out the best vintage wedding favours ideas.