The 26 Best Bridesmaid Proposal Gifts and Boxes
Now you've said 'yes' it's time to pop an important question of your own! Recruit your wedding A-team with these sweet bridesmaid proposal boxes and proposal gifts your girls will actually love
We have included third party products to help you navigate and enjoy life's biggest moments. Purchases made through links on this page may earn us a commission.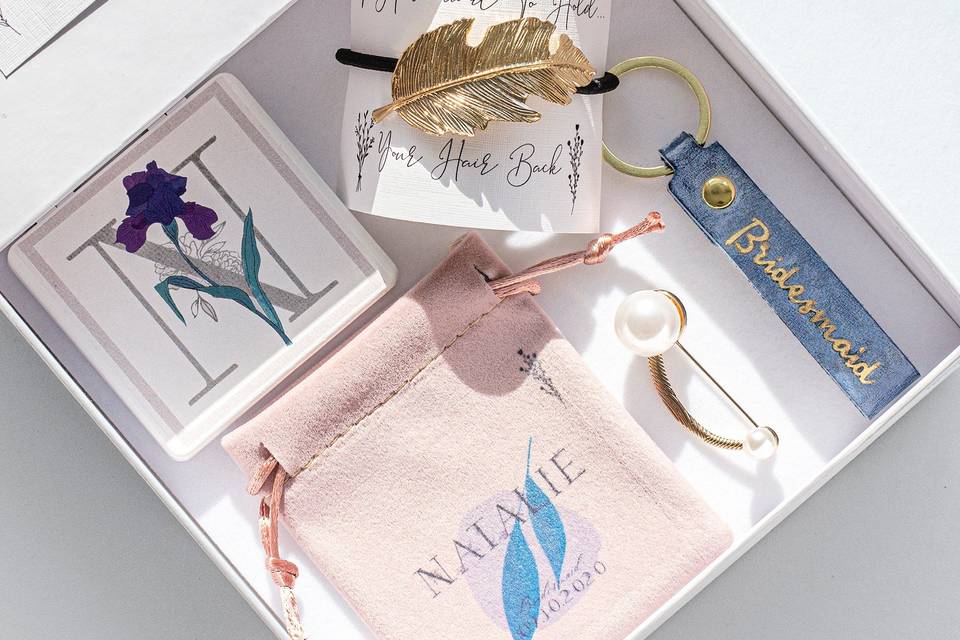 Whether you've had the names of your bridesmaids scribbled in the back of your diary since you were a teenager (ahem, guilty) or you've spent the last few weeks agonising over who to choose, you're going to want to make asking the special girls in your life to be your wedding wing-women an unforgettable moment.
One of our favourite ways to ask 'will you be my bridesmaid?' is to surprise soon-to-be bridesmaids with a bridesmaid proposal box packed full of gifts they'll love. From personalised sweet treats to candles and bubbles, there's a whole host of bridesmaid proposal boxes out there and each and every one is going to get your 'maids geared up and ready to work that aisle with you.
Shop our 10 favourite pre-packed bridesmaid proposal boxes or follow the steps to create your very own bridesmaid proposal box and get inspired by our pick of the best bridesmaid proposal gifts to fill it with. Oh, and get ready for a big fat YES from your best girls of course!
The 10 Best Bridesmaid Proposal Boxes
1. Bridesmaid and Maid of Honour Gift Box – £22, Not on the High Street
There's no better way to start off your wedding experience than making your bridal party feel special. This bridesmaid proposal box has a number of customisable gifts, including an eye-catching set of hair slides and a charming knot bracelet.
2. Bridesmaid Proposal Gift Box – £12.50, Etsy
Almost too pretty to unpack, this bridesmaid proposal box from All Bits Printed can be filled with gorgeous treats that are guaranteed to get a 'yes' from your girls. Start collecting lovely things like a diamond ring-inspired pen, a bottle of sparkling wine and cute flip flops, so they'll be ready for any situation!
3. Bridesmaid Proposal Box – from £12.24, Etsy
This personalised bridesmaid proposal box from Petal and Paperie at Etsy is sure to put a smile on the face of your bestie. Featuring a cute bracelet on a personalised card, adorable ring dish and tissues for happy tears, this box is a total bargain.
4. Personalised 'Will You Be My Bridesmaid?' Proposal Gift Set – £26.99, Etsy
How gorgeous is this personalised bridesmaid proposal box from Just Beautiful Gifts at Etsy? Featuring everything your 'maid will need for a relaxing pre-wedding pamper, she can indulge with bath fizzers, chocolates, hand cream and lip balm. Plus, she can pop on the badge for both the hen do and the morning of the wedding and she won't need to worry about buying confetti!
5. Personalised Bridesmaid Balloon – £32, Bubblegum Balloons
Imagine leaving this cute surprise from Bubblegum Balloons on the doorstep of your best girl! Not only is it super-sweet, but it's also a great Instagram prop for her post announcing her new role as your bridesmaid!
6. 'Will You Be My Bridesmaid?' Gift Box – £23.99, Etsy
Your bridesmaids deserve to be pampered, and this luxurious gift box is a good place to start! It features a face mask, bath salts, wax melts and some sweet treats for your crew to enjoy an indulgent night in.
7. Personalised Wooden Bridesmaid Proposal Gift Box – £25, Hitched Shop
Just like our mates, we're sure sometimes the only way to your girls' hearts is through a nice glass of rosé. Throw in a keepsake box and a personalised glass from the Hitched Shop and they'll be all yours!
8. Choose Your Own Bridesmaid Gift Box – £13, Not on the High Street
This stylish box from Studio Hop at Not on the High Street comes with socks and a hairpin as standard, after that you can choose from a selection of beautiful gifts to make your proposal box extra-personal. From knot-shaped earrings to a personalised compact mirror, there are plenty of options your girls will love.
9. Personalised Bridesmaid's Hamper – £32, Not On The High Street
For something a bit different, why not gift your bridal party a stunning bouquet of dried flowers? This luxurious gift box features a bottle of champagne and a sweet-smelling candle with personalized labels for an elegant touch.
10. Personalised 'Will You Be My Bridesmaid?' Gift Box – £27.50, Etsy
Who wouldn't love this scented candle, prosecco glass, bracelet and makeup bag set? Each item in the box from Monkey Business at Etsy can be personalised with the name of your bridesmaid, making them perfect keepsakes.
READ MORE: Bridesmaid Duties Explained
How to Make Your Own Bridesmaid Proposal Box
If you fancy getting creative and crafting your very own bridesmaid proposal boxes, the good news is, it's a piece of (wedding) cake. Just follow these simple steps:
Buy a pretty box (some ideas below) or upcycle an old one by covering it in pretty wrapping paper or glitter.
Next, buy a packet of tissue paper or shredded paper to stuff the box. You ideally want to create a soft bed of tissue for your hand-selected gifts to sit on, giving your bridesmaid proposal box a professional look and stopping any accidents in transit.
Once you've got the basics in place, it's time to have a little fun with your gift and find the perfect items to fill your box. Some of our favourite gift ideas include: edible treats like personalised cookies and chocolates, scented candles, makeup bags or clutches that can be used on the wedding day, personalised compacts and photos of the two of you together. You could also write some bride to bridesmaid vows and pop them in the box, such as: 'I promise to not make you wear the 1980s pink, taffeta bridesmaid dresses my mum has in the loft' or 'I will not go full bridezilla on you and put you on a pre-wedding juice cleanse'.
Finally, decide on how you're going to present the box. You could leave it on the doorstep or post it for an added element of surprise, but if it were us, we'd simply give it to her in person – after all, you totally deserve to see her face when she sees all of your hard work!
READ MORE: Maid of Honour Duties Explained
The 16 Best Bridesmaid Proposal Gifts
We have a whole guide on the best ways to ask 'will you be my bridesmaid?', but here are some of our favourite bridesmaid proposal gifts (plus gift boxes too!).
11. Personalised 'Will You Be My Bridesmaid?' Crate – £21.99, Etsy
We love this crate box from Laser Gifts UK, a perfect way to introduce a hint of a rustic wedding theme to your 'maids. Plus, we reckon your girls would totally use it to store stuff in afterwards. A winner.
12. Bridesmaid Proposal Candle – £15.99, Team Hen
Sweet, simple and says it all, we love this luxury pink candle from Team Hen with a label that reads 'Will you be my bridesmaid?'
13. Personalised 'Will You Be My Bridesmaid?' Wooden Box – £45.95, Not on the High Street
We can just imagine this personalised pine box from Coupole Carnaby at Not on the High Street becoming your best friend's jewellery or keepsake box.
14. Personalised Wooden Bridesmaid Keepsake Box – from £11.95, Etsy
This personalised wooden gift box is a wonderful keepsake for your bridesmaid-to-be. It comes filled with cute treats or you have to option of packing it with your own gifts. The dainty size of these Lauraorginalartwork gift boxes is what makes them so special. They are also perfect for sending to prospective bridesmaids living abroad.
15. 'Will You Be My Bridesmaid?' Biscuit Gift Set – £25, Not on the High Street
With biscuits as pretty as these from Honeywell Biscuit Co. at Not on the High Street, who could possibly say no? We'll take all five, please.
16. Personalised Prosecco – from £22.99, Getting Personal
Because she'll need something to wash down the biscuits with, right? It may as well be this personalised prosecco from Getting Personal.
17. Bridesmaid Proposal Mug – £16.00, The Letter Loft
If a cuppa is more her thing, what about proposing to your girl with this ceramic white mug from The Letter Loft?
18. Bridesmaid Woven Jute Tote Bag – £5.99, Hitched Shop
This sweet little tote bag from the Hitched Shop is perfect for bridesmaid shopping trips!
19. Personalised Compact Mirror – £19.99, Hitched Shop
Perfect for hen party and wedding day touch-ups, this rose gold, tropical compact from the Hitched Shop is the perfect addition to your bridesmaid proposal box.
20. Satin Eye Mask – £14.99, Katie Loxton
Beauty sleep is a pre-wedding essential for both you and your bridesmaids, so make sure yours get theirs with this cute satin mask from Katie Loxton.
21. Personalised Bridesmaid Foiled Notebook – £12.95, Martha Brook
From helping you with wedding planning to sorting the best hen weekend ever, your bridesmaid-to-be could definitely do with a place to scribble all of the amazing plans! We love this personalised notebook from Martha Brook.
22. 'I Couldn't Tie the Knot Without You' Bridesmaid Bangle – £20, Not on the High Street
Not only is this a super-sweet message, the Junk Jewels at Not on the High Street bangle makes for a great on-the-day accessory for your 'maids to rock.
23. 'Please Will You Be My Bridesmaid?' Chocolates – £27.45, Cocoapod
These delicious handmade, Belgian chocolates from Cocoapod would certainly get a 'yes' from us! Pack them into your bridesmaid proposal box with a bottle of bubbles for a sweet selection she won't be able to resist!
24. Personalised Fold Over Velvet Clutch – £16.99, Hitched Shop
Another great gift idea that doubles up as an on-the-day essential. Your 'maids can pack one of these stunning quilted clutches with everything they need for wedding day touch-ups. Just choose the shade that will best match your colour scheme and you're good to go!
25. Personalized Initial Knot Bracelet – from £3.23, Etsy
Sweet and simple, we reckon this delicate knot bracelet from Etsy will become an every day addition to their look.
26. Personalised 'Will You Be My Bridesmaid?' Heart and Crystal Jewellery Set – £21.99, Hitched Shop
Continuing with the jewellery theme, we reckon your bridesmaid-to-be will adore this stunning personalised heart and crystal necklace and earrings set from the Hitched shop!
Bride tribe assembled? Send these 70 hen party ideas over to your maid of honour so she can start planning the ultimate celebration!