26 Bridesmaid Proposal Boxes & Gifts to Guarantee a 'Yes' from Your Besties
Guarantee a big fat 'YES' from your best pals when you pop the all important question using these bridesmaid proposal boxes and gift ideas
We have included third party products to help you navigate and enjoy life's biggest moments. Purchases made through links on this page may earn us a commission.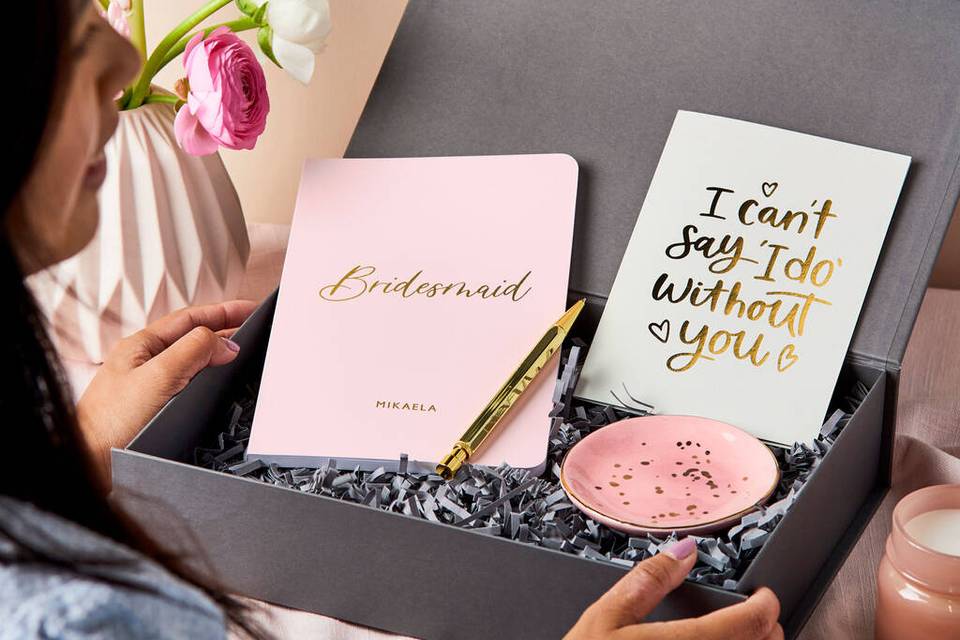 One of the best things about planning a wedding is assigning the bridesmaid and maid of honour roles (if you're having them, that is!) - and the best way to do this is to give them bridesmaid boxes.
For anyone unfamiliar with these, bridesmaid boxes are a way of asking 'will you be my bridesmaid?', by putting together a range of gorgeous gifts into a pretty bag or box.
From personalised sweet treats to candles and bubbles, there's a whole host of bridesmaid proposal boxes out there and each and every one is going to get your 'maids geared up and ready to work that aisle with you. Some even come with accessories that make the bridesmaid role easier. We love a practical pal.
Whether you've had the names of your bridesmaids scribbled in the back of your diary since you were a teenager (ahem, guilty) or you've spent the last few weeks agonising over who to choose, you're going to want to make asking the special girls in your life to be your wedding wing-women an unforgettable moment.
Bridesmaid Boxes: 26 Bridesmaid Proposal Boxes & Gifts for Your Best Pals
Shop our favourite pre-packed bridesmaid proposal boxes or follow the steps to create your very own bridesmaid proposal box and get inspired by our pick of the best bridesmaid proposal gifts to fill it with. It's the perfect way to say 'Will you be my bridesmaid?' Oh, and get ready for a big fat YES from your best pals of course!
And we also have expert tips and advice from Team Hen founder Danielle Kendall to help you even further.
The Best Bridesmaid Proposal Box Ideas
1. Maid of Honour and Bridesmaid Gift Box – £30, Studio Hop
There's no better way to start off your wedding experience than making your besties feel special, and giving bridesmaid boxes out is a great way to do this.
This box from Studio Hop has a number of customisable gifts, including an eye-catching set of hair slides and a charming knot bracelet. You have the option to choose from a will you be my bridesmaid or maid of honour box and depending on what you choose, the title will be printed on the socks inside.
Customers are more than satisfied with this box, with one giving it five stars and writing, "Quick delivery, beautiful packaging and quality products included. Perfect gift for the bridesmaid to be!"
Pros: This bridesmaid proposal box is great value for money with the receiver getting a number of personalised gifts without you having to spend a fortune.
Cons: Each box contains a variety of gifts that will suit all personalities which is great as you can't swap any items out. For example, if they don't wear makeup and the sponge won't be their thing, they may like the notebook or compact mirror.
2. Maid of Honour, Flower Girl & Bridesmaid Proposal Box – £12.50, Etsy
Almost too pretty to unpack, this bridesmaid proposal box from All Bits Printed can be filled with gorgeous treats that are guaranteed to get a 'yes' from your crew. You can choose from a range of lettering colours and job roles, including maid of honour, bridesmaid and flower girl.
Now all you have to do is start collecting lovely things to pop inside!
This product is tried and tested with 117 glowing reviews. One reads, "Love, love, love these boxes I got five and every single one was made perfectly - they come flat packed but are so easy to put together and they are really strong. I cannot wait for my bridesmaids (well if they say yes that is!) to see them."
Pros: These bridesmaid boxes allow you to give each person a personalised box with gifts that are tailored to each one of them, instead of a one-size-fits-all situation.
Cons: This proposal box might take a little longer to create but it'll be well worth it in the end as you can customise it with gifts that are completely personal to your loved ones.
3. Personalised Bridesmaid Proposal Box - £27.95, Flawless
Looking for a will you be my bridesmaid box that has all the essentials inside? If that sounds like you, this personalised gift is just the ticket. The bridesmaid boxes from Flawless are personalised with your crew's names on the front and you can choose between three options for the contents inside.
The first option is the Rose Pamper Set includes products to help prep the skin for the big day. The second option is the Relaxing Pamper Set which has all the goodies needed for a truly relaxing night-before-the-wedding pamper. And the third is the Ultimate On the Day Set which includes all the must-haves for the wedding day itself including a nail file, confetti and pocket mirror.
Pros: These boxes are perfect for a pre-wedding sleepover - all the bridesmaids can open their boxes together and have a full on pamper session.
Cons: Unlike some other bridesmaid boxes, these items are to be used before the wedding or on the day, so the crew will have to save them.
4. Personalised Name Bridesmaid Boxes - £14.00, Pink Positive
If you're after bridesmaid boxes you can fill yourself, you'll love these personalised boxes from Pink Positive.
There are two options for the size of the box, ranging from the medium which is 20.5cm wide to the large which is much bigger at 28.5cm.
You can choose which colour you'd like, (pink, white, black or baby blue) and pink a font colour (silver, gold or rose gold) to go with the base.
Finally, add text to the front and inside the box with your bridesmaid or maid of honour's name and you're ready to fill it!
Pros: These boxes come in two different sizes so if you need more space to include bottles of fizz or bigger gifts, you can do so. In the same breath, those gifting smaller items can opt for a smaller box so the gifts don't get lost inside.
Cons: The box doesn't come with filling paper but this can be added on at the checkout - alternatively you can pop to your local supermarket to buy tissue paper which will do the trick too.
5. Will You Be My Bridesmaid Gift Box - £30, Team Hen
If your bridesmaid is the ultimate planner, someone who always has everything under control and the one who's really in charge, they'll absolutely love the bridesmaid gift boxes from Team Hen. This particular box includes three essential bridesmaid gifts for organised Queens.
Inside, you will find a hen party planning notebook - because where else are they going to write down notes from our hen party planning guide? - as well as a pen to write with. And to finish it off, there's a chic bridesmaid candle too so they can light it and relax even when the WhatsApp group is going off.
Customers love the quality of the products, with one review reading, "The gift sets are gorgeous. Everything was finished to a high standard and the little boxes are adorable. Very pleased!"
Pros: There is still a bit of room for you to add any additional gifts for your bridesmaids if you did want to put an extra little something in there.
Cons: Some other bridesmaid proposal boxes have more products in them, but we think this set is plenty, and as we mentioned there is room to add more if you wish.
6. 'Will You Be My Bridesmaid?' Gift Box – £26.99, Etsy
Your bridesmaids deserve to be pampered, and this luxurious gift is a good place to start. The bridesmaid boxes include a face mask, bath salts, wax melts and some sweet treats for your crew to enjoy an indulgent night in. It even includes a bridesmaid sash that they can rock at the hen party, and can be ordered for maids of honour as well.
The box includes a shea butter and coconut oil hair and body butter, a natural soy wax melt, rose petal confetti and more.
Customers who bought the bridesmaid boxes say, "This is fantastic. Our bridesmaid was over the moon with it. It was such a great gift and everything was fantastic quality. I will definitely be ordering from the seller again."
Pros: This box includes so many products for less than £26 and has something for everyone. You can also add a personalised message or name.
Cons: The chocolate bar is Galaxy so might not meet all dietary requirements - if this is the case it is super simple to swap it out!
7. Personalised Wooden Bridesmaid Proposal Gift Box – £26, Hitched Shop
Just like our mates, we're sure sometimes the only way to your bridesmaids' hearts is through a nice glass of rosé, so why not incorporate the theme of wine into your bridesmaid boxes. Throw in a keepsake box and a personalised glass from the Hitched Shop and they're guaranteed to say yes.
Pros: This bottle box fits most standard bottles of wines and sparkling so you can fill it with a bottle you know your pal loves.
Cons: This box comes empty so you can really cater it towards any budget, however you do need to factor in the cost of the bottle to your overall spend.
8. Personalised Bridesmaid Proposal Hamper – £32, Mix Pixie
For something a bit different, why not gift your bridal party a stunning bouquet of dried flowers? This luxurious gift box features a bottle of Champagne and a sweet-smelling candle with personalised labels for an elegant touch. You can also opt for a full-sized of mini bottle of prosecco to keep costs down.
If you need this quick, you'll be pleased to know customers have been more than satisfied with the ordering process, with one giving five stars and writing, "This was good quality and fast service."
Pros: Your bridesmaids will be able to keep the dried flowers as a lovely keepsake of this special moment. They could even bring them along to the wedding day!
Cons: This product includes both alcohol and chocolate, so if you are proposing to any non-drinkers or vegan bridesmaids you may want to swap out some items.
9. Personalised Will You Be My Bridesmaid Gift Box – £32.99, Etsy
Who wouldn't love this scented candle, prosecco glass, bracelet and makeup bag set? Each item in the bridesmaid proposal box from Monkey Business at Etsy can be personalised with the name of your bridesmaid or maid of honour, making them perfect keepsakes.
This seller has 1,713 five star reviews, featuring comments claiming that their bridesmaids 'loved' their boxes.
Pros: This box doesn't contain anything that is perishable so you can buy them well in advance. If you like to be organised, it is the perfect pick!
Cons: Returns and exchanges on these items are not accepted, but we're sure you'll be satisfied with your order.
10. Personalised Luxury Will You Be My Bridesmaid Gift Box – £39.95, Martha Brook
Martha Brook are well-known for their luxurious and gorgeous wedding accessories, gifts and more. This gift box is filled with a personalised notebook, trinket dish, card and pen. The box itself is also fabulous, and sturdy enough that every item will stay in tip-top condition.
The luxury "I can't say I do without you" card is a lovely touch and gives you the chance to write a lovely message to your friend inside.
Pros: The sturdiness of the box means that your bridesmaids can use their boxes to keep hold of wedding keepsakes and use it as a memory box to remember their role as bridesmaid or maid of honour.
Cons: This is one of the more pricey bridesmaid proposal box ideas but it's well worth every penny for how special it is. If you are only having a few bridesmaids, it's a great choice.
11. Personalised Will You Be My Bridesmaid Crate – £21.99, Etsy
We love this crate box from Laser Gifts UK, a perfect way to introduce a hint of a rustic wedding theme to your 'maids. Plus, we reckon your crew would totally use it to store stuff in afterwards.
We also love the idea of bridesmaid gift boxes that are just open, giving more of a hamper vibe than an enclosed box.
Reviews for this product are glowing, including one that reads, "We had outstanding customer service and very good communication, even sending me proofs to look at to check it's okay before completing. Super fast delivery and boxed up very well to ensure no damages. It's a brilliant quality product, and I will be definitely recommending and ordering again."
Pros: This crate already comes assembled so all you have to do is fill it with special gifts.
Cons: It is on the larger size so we recommend popping in items that will make a statement, such as a bottle of wine or a bunch of flowers.
12. Personalised Wooden Keepsake Box – from £25, Etsy
This personalised wooden gift box is a wonderful keepsake for your bridesmaid-to-be.
We love bridesmaid box ideas that can be reused after the wedding is over, and this is a perfect example of one which can be used again, providing a constant reminder of your friendship and the memory of your big day!
It comes in multiple sizes and can have a lock included too, so they can hold valuables inside without worrying about others getting in.
One of the many five star reviews reads, "Absolutely delighted with my purchase, I bought two boxes and added engraving. Hesta was so helpful along the way and it was reassuring to see a preview of the wording style before engraving."
Pros: We love how the inside of the lid can be engraved so when it is opened it still has a personalised finish.
Cons: It will cost a little more, but this box will be with your friends for life.
Amazing Gifts to Put in a Bridesmaid Proposal Box
We have a whole guide on the best ways to ask 'will you be my bridesmaid?', but here are some of our favourite bridesmaid gifts to include in your proposal boxes.
13. Bridesmaid Proposal Candle – £10.99, Team Hen
Available to buy for bridesmaids and maids of honour, this pink tin candle from Team Hen is the perfect trinket to include in any bridesmaid proposal box.
It's the kind of gift that gets the message across whilst also being practical and something the bridesmaids can actually use day to day.
Speaking about the product, one reviewer gave it five stars and said, "Everything came wrapped up perfectly, the candles smell lovely. Would use again if I needed further items."
Pros: This candle has up to 40 hours of burning time, so your bridesmaids can enjoy it for a very long time!
Cons: These candles can appear frosted at the top, but that's completely normal for 100% soy wax candles.
14. Personalised Bridesmaid Clutch Bag Gift - £17.99, Katie Loxton
We love a Katie Loxton bag, so you can imagine our excitement when we discovered they do personalised bridesmaid clutches. What better way to ask will you be my bridesmaid than gifting them a gorgeous new bag they can wear on the day?
We'd pair this with a bottle of fizz in a pretty bridesmaid gift box - they'll be so pleased!
Pros: These bags come in a range of colours and can be personalised with your bridesmaid's initials to make it extra special.
Cons: This may be a bridesmaid boxes article - but we're huge fans of the Katie Loxton gift bags which you can add on at check out - we're sure your bridesmaids will be okay without the box when they see how pretty the bags are!
15. Bridesmaid Proposal Gin - £39.99, Team Hen
We love a gin-themed gift (who doesn't!?) - and if your crew do too, we recommend including this Team Hen gin in your bridesmaid boxes. The 'I can't say I do without you' gin is berry flavoured and made in small batches to ensure a premium quality flavour.
Pair with a set of gin glasses and you have the perfect bridesmaid proposal box for your bestie.
Pros: The gin bottle is 70cl so (depending on how quickly they drink), this should last a pretty long time.
Cons: The gin is berry flavoured which may not be to everyone's taste, but you can always gift it with a range of tonics and garnishes so they can experiment with different combinations.
16. Personalised Prosecco for Bridesmaid Boxes – from £5.99, Getting Personal
Because your bridesmaids will need something to sip as they plan, right? It may as well be a personalised prosecco gift from Getting Personal. Their Prosecco gifts start from just £5.99 for a small bottle, and increase to full-sized personalised bottles, ones with pictures and special bridesmaid gift boxes.
It's a fail-safe option that is super thoughtful too as they can keep the bottle and open on a special occasion.
Pros: There are so many different options at different price points for personalised Prosecco that no matter what you plan to spend, there will be a product for you.
Cons: Many of these products don't include a glass so we'd recommend including one in the bridesmaid boxes so they have something to drink from..
17. Bridesmaid Proposal Mug – £23, Gemma Wightman Ceramics
Does your pal love a cuppa? If so, we love the idea of including a surprise message mug in your bridesmaid boxes. Hear us out - you fill the box with all their favourite goodies and say you just wanted to treat them.
Make yourselves a hot drink with the new mug and wait for them to discover the surprise. They won't believe it.
Pros: This mug can be personalised with a message as long as 50 characters and offers a choice of six rim colours including berry and lime.
Cons: This will only work if the bridesmaid finishes their entire drink!
18. Bridesmaid Woven Jute Tote Bag – £14, Hitched Shop
This sweet little tote bag from the Hitched Shop is perfect for bridesmaid shopping trips and acting as its very own bridesmaid proposal box.
It features a handy front pocket and has a sturdy exterior and strong handles so it can hold lots of bridesmaid proposal goodies. One five star review reads, "I love these. I bought these for the bridal party and am so happy with them. The bride and us bridesmaids will be using them to take shoes, bag and jewellery to the venue when we get ready."
It would also make a perfect wedding gift bag for the morning of your wedding too.
Pros: Reviews state that this bag is great quality and the ideal size.
Cons: There is only the choice of one font design but it is chic and stylish.
19. Personalised Compact Mirror – £14, Hitched Shop
Perfect for a hen party and wedding day touch-ups, this rose gold, tropical compact from the Hitched Shop is the ideal addition to your bridesmaid proposal box. It is available in several different designs so you can choose one that suits your loved one's personality.
Pros: These mirrors are a luxury (hence their price tag) so will be truly appreciated by your bridesmaids. They won't break after a few uses and will become a new staple in their handbag.
Cons: Personalised engraving costs an extra £5.95, but it's so worth it for your best pals.
20. Satin Eye Mask for Bridesmaid Gift Boxes – £14.99, Katie Loxton
Beauty sleep is a pre-wedding essential for both you and your bridesmaids, so make sure they get theirs by including this cute satin mask from Katie Loxton in your bridesmaid gift boxes. It can be personalised with their initials which is a lovely touch as well.
Pros: The Katie Loxton gift bags are so gorgeous and can also be personalised with a will you be my bridesmaid message and your bridesmaid's names which is such a lovely added touch.
Cons: Free delivery is only available on Katie Loxton for orders over £30, but buy a few and you'll get there.
21. Personalised Bridesmaid Foiled Notebook – £16.95, Martha Brook
From helping you with wedding planning to sorting the best hen weekend ever, your bridesmaid-to-be could definitely do with a place to scribble all of the amazing plans, making this notebook a brilliant thing to include in your bridesmaid boxes.
We love this personalised notebook from Martha Brook, it feels more luxe than your usual notebook and will be something they really cherish.
Pros: This gift is as practical as it is pretty - you can choose the notebook and foiling colour as well as lined or blank pages. If you want to make it even more special, we recommend adding in a gorgeous gold pen and having it gift wrapped.
Cons: There are cheaper notebooks out there, but this is a special occasion and deserves something just as special to match.
22. 'I Couldn't Tie the Knot Without You' Bridesmaid Bangle – £22, Junk Jewels
Not only is this a super-sweet message, the Junk Jewels at Not on the High Street bangle makes for a great on-the-day accessory for your 'maids to rock. We adore the pun and bet your bridesmaids won't be able to stop smiling when they see these in their will you be my bridesmaid box.
This may sound like it's too good to be true, but this reviewer confirms it's not, giving it five stars and saying, "This is a beautiful bracelet, really fast delivery and dispatch. They genuinely look absolutely stunning and I can't wait to give them to my bridesmaids."
Pros: You can choose from rose or yellow gold, or silver to suit your bridesmaids jewellery colour preferences.
Cons: The bangle is adjustable in size but be gentle when resizing.
23. 'Please Will You Be My Bridesmaid?' Chocolates – £32, Cocoapod Chocolates
These delicious handmade, Belgian chocolates from Cocoapod would certainly get a 'yes' from us if we saw it in our bridesmaid box.
To wow your crew, we say pack these in your bridesmaid proposal box with a bottle of bubbles for a sweet selection for the ultimate treat.
The box measures just under 30cm wide so keep that in mind if you're buying a separate gift bag or box to put them in.
We're predicting these tasty treats are going to get polished off pretty quickly so we recommend giving your bridesmaids a handwritten card as well that they can treasure as a keepsake.
Pros: You can get these chocs in milk or dark chocolate so you can choose which flavour suits your bridesmaid.
Cons: Anyone with nut allergies and vegetarians who don't eat cochineal may not be able to consume these.
24. Personalised Fold Over Velvet Clutch – £24, Hitched Shop
Another great gift idea that doubles up as an on-the-day essential are these stunning quilted clutches which your bridesmaids can keep everything they need for wedding day touch-ups. Just choose the shade that will best match your colour scheme and you're good to go. You can choose between 15 different thread colours and a number of fonts so each one will feel really personal and bespoke.
Pros: This clutch bag is secured with a zip so all items will be kept safe and secure. The velvet fabric is traditional, yet the personalisation keeps the design contemporary.
Cons: Light colours may stain more easily on the day so keep that in mind if you have slightly clumsy bridesmaids.
25. Personalised Initial Knot Bracelet – from £8.14, Etsy
Sweet and simple, we reckon this delicate knot bracelet from Etsy will become an everyday addition to your bridesmaids' look. It looks a lot more expensive than its price tag and is a design that will work with all jewellery tastes as it is simple and minimalistic. Choose from rose gold, silver or gold depending on the jewellery colour they wear day to day.
This bracelet also comes in an adorable box that says 'I couldn't tie the knot without you'.
Raving about the customer service here, one five star review reads, "These bracelets were the perfect addition for my bridesmaid proposal boxes! The seller was even kind enough to add an extra initial at no additional cost which was so sweet."
Pros: These are so dainty and lovely, they won't take away from any other jewellery your bridesmaids may wear on the day.
Cons: These bracelets only come in one size however they can be extended longer to fit any wrist size.
26. Personalised 'Will You Be My Bridesmaid?' Heart and Crystal Jewellery Set – £26, Hitched Shop
Continuing with the jewellery theme, we reckon your bridesmaid-to-be will adore this stunning personalised heart and crystal necklace and earrings set from the Hitched shop. It'll sort all their jewellery for the wedding day in one gift and will really help to elevate your bridesmaid boxes.
One five star review stated that this set was 'wonderful' - and we completely agree.
Pros: This is a brilliant bargain for a pair of earrings and a necklace but they look far from cheap. It'll ensure all your bridesmaids are matching.
Cons: We love these for bridesmaid on-the-day jewellery but not all of your bridesmaids might want to match so make sure you discuss the topic of jewellery beforehand.
How to Make a Bridesmaid Proposal Box?
To give you the best advice on making your bridesmaid boxes, we caught up with Team Hen founder Danielle Kendall who shares her top tips: "Asking your besties to be your bridesmaids is one of the most exciting parts of getting engaged! With countless creative ideas circulating on social media for popping the all-important question, it can be overwhelming to decide how to approach your closest friends," she explains.
Keep Things Personal
"The secret to a truly heartfelt bridesmaid proposal lies in its personal touch. Take a moment to reflect on what makes your friendship uniquely special. Share a cherished memory that tugs at your heartstrings, or better yet, incorporate those inside jokes that only you two understand. This thoughtful approach demonstrates the effort you've put into this momentous question," says Danielle.
It Doesn't Have to Cost Loads
Reassuring nearlyweds they don't have to spend a fortune on this, Danielle says, "The best part about assembling bridesmaid proposal boxes? You don't need to break the bank. Often, the homemade aspects of a proposal are the most cherished. So, unleash your inner DIY guru.
"Craft a charming card or even a mini scrapbook that weaves the beautiful story of your friendship together. Infuse it with humour and heartfelt sentiments to make it truly exceptional."
Decide How to Deliver Them
But how to get it to them? Danielle advises nearlyweds to, "Consider the location of your squad; if they're nearby, hosting a bridesmaid brunch could be the way to go. Plan a laid-back brunch or coffee date with your besties, and casually introduce the idea over a plate of avocado toast or over lattes. This chilled approach will take them by surprise, creating a memorable moment.
"Now, if your friends are scattered across the map, embrace technology. Organise a virtual hangout on platforms like Zoom or Skype. During the call, unveil a fun "Will You Be My Bridesmaid?" slide on your screen. Seeing their reactions on camera will be priceless.
"For an extra surprise for those too far to meet in person, consider mailing out your Bridesmaid Proposal boxes to arrive before a specified date. Include a note instructing your friends not to open them until the designated moment arrives. It's the perfect way to build up anticipation and excitement!"
What To Put in a Bridesmaid Proposal Box?
If you are wondering what to put in a bridesmaid proposal box, our edit of bridesmaid proposal gifts above will give you tons of inspiration. You can opt for special accessories, such as bridesmaid jewellery, that your crew can keep forever, tasty treats, pampering products or even gifts that they can bring along to the hen party and wedding day.
To help you even further, here are Danielle's must-haves when it comes to putting these together:
Start with a pretty bridesmaid box or bag, and a card - but remember, it's what's inside that counts!
I would always include;
Something to Drink - a miniature shot, or bottle of fizz will always go down well and means she can toast the occasion in style
Something to Wear - Depending on your budget, this could be a stylish kimono or something as simple as a pair of bridesmaid socks
Something to Write In - There is no hiding it, we all know the bridesmaid will need to be making notes whenever they meet with the bride in the run-up to the big day. A notebook and pen is a really useful gift she will treasure and use…a lot!
Bridesmaid Candle - Who doesn't love a candle, especially as the nights draw in. S be sure to include a candle the bridesmaid can light when she needs to chill.
Bride tribe assembled? Send these hen party ideas over to your maid of honour so she can start planning the ultimate celebration!