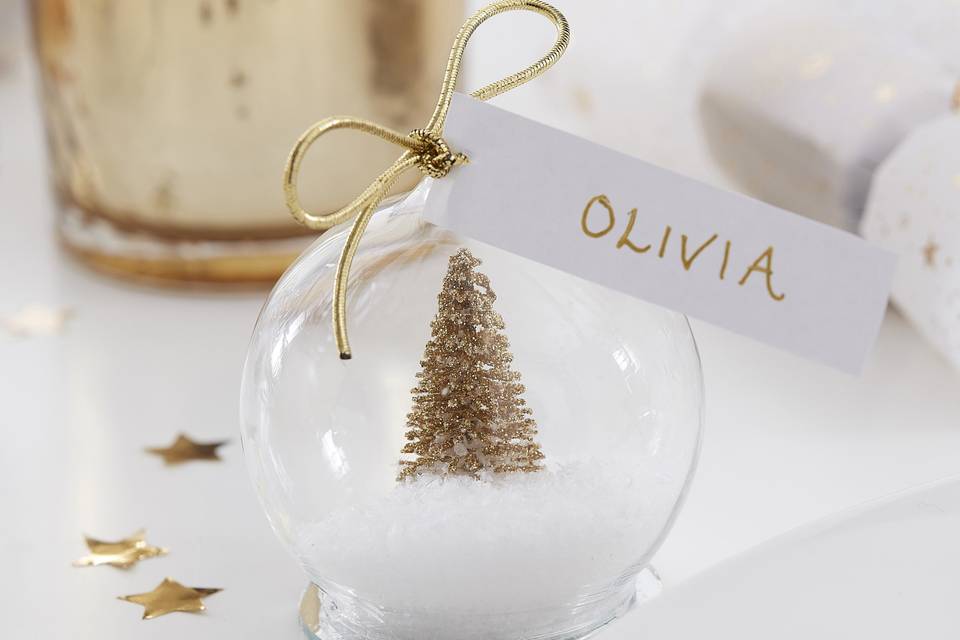 A Christmas or a winter wedding truly is set in the most wonderful (and romantic) time of year! Not only does the excitement for the coming holiday give everyone even more of a reason to celebrate, it allows you to have a some fun with your wedding day - we're talking fun nibbles and stylish winter wedding dresses to magical décor and Christmas wedding songs.
In the spirit of giving back, it's a really lovely idea to thank your guests for all their support in the lead up to your wedding and for attending the day itself by gifting them a special something that they can take away or use then and there.
From tasty treats (miniature mince pies, we're looking at you), to gorgeous wintery keepsakes, if you're thinking of getting hitched during the festive period these 25 magical Christmas and winter wedding favours are the finishing touch you need to include in your wedding. Even the Scrooges in the room will be pleased if they receive these!
1. Personalised Wooden Snowflake Bauble - £15, Hitched Shop
Their Christmas tree will never have looked better if you give each of your guests a personalised wooden snowflake ornament from the Hitched Shop. Better yet, it'll double up as a place name too!
2. Personalised Whiskey Wedding Favours with Gold Tags - £4.50, Hearth & Heritage
Treat them to a festive tipple with these personalised whisky wedding favours from Hearth & Heritage. The gold foiled labels and white ribbons will look gorgeous on your wedding breakfast tables.
3. White Christmas in a Matchbox - £5, Marvling Bros Ltd.
If you weren't lucky enough to wake up to a snow covered winter wonderland on your wedding day, fake it with these little matchboxes filled with instant snow. The packet will instantly expand to 100x its original size into beautiful snowflakes. Let it snow, let it snow, let it snow...
4. Christmas Cracker Wedding Favours - £42.10, The Handmade Cracker Company
These personalised Christmas cracker wedding favours would be great to have on your tables if you're thinking of serving a traditional roast. You can choose from gold, silver, white and Kraft brown, plus fill them with a number of fun prizes, a hat and a joke.
5. Personalised Glass Jar Gift Candle - £20, Hitched Shop
The Hitched Shop's personalised candles are available in a number of fabulous festive designs. Your guests can take this lovely present away with them to use another day or light them at your evening reception and create a lovely ambience.
READ MORE: 29 Enchanting Winter and Christmas Wedding Invitations
6. Personalised Let Love Sparkle Wedding Favour Cards - £8, Instajunction
Gather everyone outside to enjoy these magical 'let love sparkle' sparklers. They'll have so much fun and we guarantee when everyone has theirs going at the same time it'll make for some amazing wedding photographs.
7. Children's Winter Wedding Activity Book - £2.40, Fancy Party Boutique

Keep any kids on your guest list entertained with these winter themed activity books. Not only will they appreciate it (as will their parents), the chic Kraft paper cover will ensure they look lovely on your wedding tables.
8. Chocolate Gold Coins - £5.95, Fortnum & Mason
You can't beat a chocolate coin at Christmas and while you can pop down to your local corner shop and pick these up for less, we reckon your guests deserve these Fortnum & Mason alternatives.
9. Grow Your Own Christmas Tree - £7, BEEcycle
How adorable are these grow your own Christmas tree hessian bags? They come with everything they'll need to plant their very own hand grown tree for future years!
10. Mulled Wine & Spiced Cider Kit - £2.99, Spice Kitchen
We love the idea of serving warming glasses of mulled wine and spiced cider at your wedding so we were over the moon to find these individual spice kit wedding favours. Your guests can take these home to enjoy on a cosy evening in.
READ MORE: 40 of the Best Winter Wedding Guest Dresses on the High Street
11. Gold Snow Globes - £11.99, Ginger Ray
Bring your wedding tables to life with these gorgeous golden snow globe Christmas place cards from Ginger Ray. After the celebrations are over, each of your guests will have a beautiful keepsake to remind them of your special day.
12. The Enchanted Forest Chocolate Christmas Trees - £8, Hotel Chocolat
If you don't want your winter wedding favours to be overly festive, consider these enchanting forest chocolate trees from Hotel Chocolat. Each tree is filled with either solid milk or delicious caramel and you can get 30 trees for £20 - that's less than £1 per favour!
13. Cinnamon Winter Wedding Favour - £1.50, Little Indie Studio
Add a little spice to your winter wedding favours by giving your guests a little wrap of cinnamon with a personalised note. They'll look gorgeous if you're getting married at a rustic wedding venue and will make the space smell gloriously fragrant.
14. Christmas Novelty Funglasses - £4.99, Ginger Ray
Upgrade everyone's Instagram stories with these Christmas novelty glasses from Ginger Ray. If you're having a photo booth at your wedding we reckon these are a must-buy.
15. Hot Chocolate Wedding Favour - from £2.38, The Pure Moment
These unique test tube hot chocolate wedding favours are filled with cocoa powder, sprinkles and marshmallows. They also come with the option of writing a short message on them too for an extra special touch.
READ MORE: 45 Romantic Christmas Gifts for Your Fiancé
16. 12 'Spread the Love' Chutney Favour Stickers - £7, Wedding in a Teacup
Is it really Christmas without devouring copious amounts of cheese? Take their festive snacking up a level with these cute jars that can be filled with your favourite chutney.
17. Village Scene Matchstick Puzzles - £16, Marvling Bros Ltd.
We don't think we've seen more adorable matches in our lives - these village scene matchstick boxes from Marvling Bros Ltd. would be a brilliant winter wedding favour if you are thinking of placing candles on your wedding tables.
18. Candy Cane Wedding Favours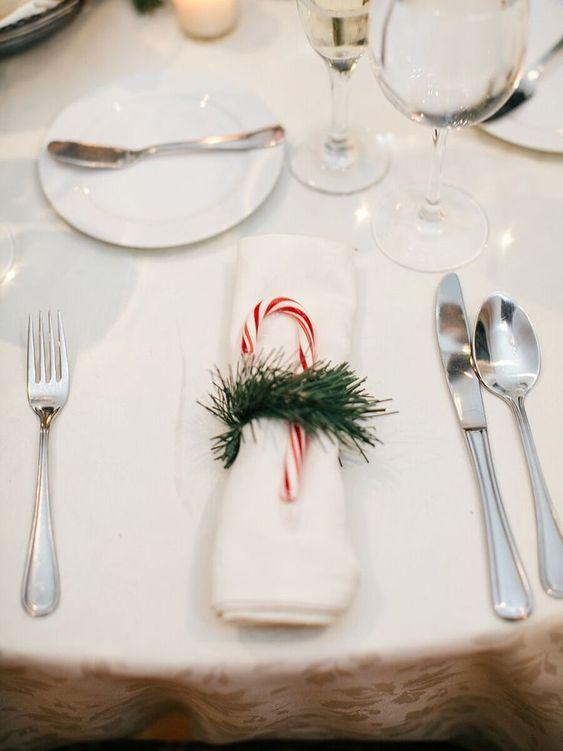 Popping a peppermint candy cane is a simple yet effective way of giving your table settings a festive touch and gifting your guests a sweet treat at the same time. You can get 36 individual canes for just £6.99 on Amazon.
19. Christmas Pudding Baubles - £8.99, Ginger Ray
Get your hands on these Christmas pudding wedding favours from Ginger Ray quickly - we're predicting a sell-out! Once they've been used as place card holders at your wedding, your guests can tie string to the top and hang them as a decoration in their homes.
20. S'mores Kit Wedding Favours - from £6, Robinwood Ranch
If your wedding venue boasts fire pits hand out these American inspired s'mores kits. Filled with marshmallows, chocolate and biscuits, they'll be enjoying a gooey snack around a cosy flame in no time.
READ MORE: 50 Cute Christmas Gifts for Couples 2021
21. Minatare Mince Pie Wedding Favours - £14.50, Bettys
Wrap these miniature mince pies from Bettys up individually and we bet your guests will be pleased! You'll get 16 butter-rich pastries topped with flaked almonds or traditional crumble per box but don't blame us if they end up asking for more.
22. Christmas Scratch Card Game - £3.99, Ginger Ray
These scratch card games from Ginger Ray are a great ice breaker if you're having a mix of people who don't know each other on your wedding tables. Each pack contains 10 cards and feature funny questions and festive facts.
23. Terry's Chocolate Orange Christmas Pud - £12.99, Sweet Trees
Yes, that is a whole personalised Terry's Chocolate Orange complete with white chocolate cap and edible holly leaf. If your wedding guests don't want them (and they'd be mad not to), send them our way!
24. Christmas Music Box Kit - £6, Marvling Bros Ltd.
These traditional mini music boxes play a lovely rendition of 'We wish you a merry Christmas' and also include a sweet lyric sheet too. What a charming winter wedding favour idea!
25. Chocolate Brussels Sprouts - £16.95, Quirky Chocolate
Convert the sprout haters among your wedding party with these funny chocolate brussels sprouts from Quirky Chocolate. They look exactly like the real deal but they're filled with a soft milk chocolate or Baileys truffle centre. Seconds please!
A winter wedding calls for a festive playlist and our Christmas wedding song round-up has you sorted.