Wedding Planners: The Best Wedding Planner Books for Organised Couples
On the hunt for the perfect wedding planning book? We've rounded up the notebooks that will help you organise your day, as well as being beautiful post-wedding keepsakes
We have included third party products to help you navigate and enjoy life's biggest moments. Purchases made through links on this page may earn us a commission.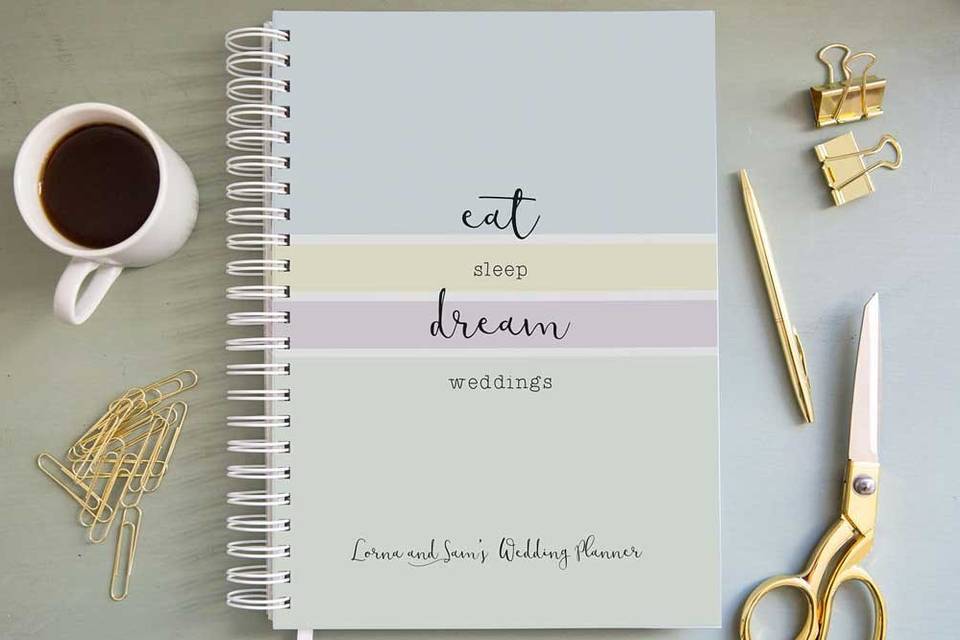 What's more useful: printed wedding planner books or online planning tools? The answer is you need both in your wedding-planning life!
That's because the two things fulfil different functions. Online planning tools or wedding apps are about practicality - you get a simple way to sort out the logistics of your big day, such as tracking your budget and managing your guest list.
With wedding planning books, it's about inspiration and emotion. Inspiration, because your notebook is a useful place to jot down those on-the-go ideas and thoughts, from the name of a wedding dress designer you want to investigate to a couple of colour schemes that came to you on your lunch break. Emotion, because as any stationery-lover knows, it's easy to form a real connection with a much-used notebook; it's a real thing you hold in your hands; it starts to feel special.
What's more, your wedding planner book will become a lovely memento of the big day that you can refer back to when you're feeling nostalgic.
That's why we've rounded up the wedding planner books that are as pretty as they are practical - the most stylish designs to help you organise your thoughts. Some contain prompts and advice to get you thinking about the planning process, while others have just blank pages waiting to be filled with your ideas.
1. Ultimate Wedding Planner – from £22.95, Illustries
Chic on the outside, open the cover and this planner is packed with personality. As well as themed sections for wedding elements such as dress inspiration and menu tasting notes, there are fun pages for practising a new signature and dropping hints for the hen do.
2. Say I Do Soho Wedding Planner – £180, Smythson
You can count on Smythson for their high-quality pretty-but-practical stationery, and this wedding organiser is no exception. Some features include a luxe lambskin cover, gilt edges, and pages to help you out from the engagement to the honeymoon.
3. Pampas Ultimate Wedding Planner – £20, Paperchase
This wedding organiser is genius. As well as a notebook, you get sections for such important subjects as the guest list, wedding party, gifts and dress code.
READ MORE: 32 Questions to Ask Your Wedding Venue
4. Luxury Wedding Planner Book – £18.85, Inspired by Alma
This wedding planning book certainly fulfils our practical-and-pretty criterion. The cover is a soft grey suede with rose gold foiling, and inside you'll find all kinds of useful prompts, including step-by-step checklists and budget planning.
5. Little White Book – £45.05, littlewhitebooks
Looking for a chic yet practical wedding organiser? This best-selling planner won Best Wedding Organiser Diary from Bridal Musings and triples as a checklist, diary, and keepsake.
6. Dusty Pink Cotton Cloth Wedding Planner Book – £32.95, Blush & Gold
Cotton cloth makes for a lovely material for a wedding planner, as you can see from this dusty pink Blush & Gold design with gold gilded page edges. There are over 150 pages of worksheets and moodboards to get you inspired and organised.
READ MORE: The Essential Guide to Being Newly Engaged
7. Luxury Pink & Gold Wedding Planner Book – £15.99, Ginger Ray
This pink and gold-foiled planner is great for giving prompts on what you need to organise next, and the spiral binding makes it easy to use.
8. Personalised Wedding Planner – £22, The Gift Studio Company
How pretty is this wedding planner book? That watercolour cover is just delightful. Inside, you'll find information and advice, as well as space for your plans.
9. Mrs and Mrs Wedding Planner – from £15, The Sarky Cow Gifts
We just love the cute design of this wedding planner, as well as the fact that it's highly customisable. For starters, you can personalise the illustrations on the cover to look more like you, and add your name. The inside is also blank, so you can plan the pages to contain whatever you want.
READ MORE: 10 Traditions to Ditch or Reinvent for a Same-Sex Wedding
10. 'I Do' Bridal Planner – £43.99, kate spade new york
This organiser is a high-style option for anyone planning a wedding who loves a bit of luxury. Inside, you'll find 48 planning pages, sticker tabs to mark your place and some pockets.
11. Sloane Stationery Love Wedding Planner – £27.30, Amara
If you're looking for a cool, alternative wedding planner, this notebook is it. Handmade in England, it features a lizard-embossed cover in a notice-me hue; so chic, and also gender-neutral.
12. Navy Wedding Notes – £34.99, Papier
Simple and elegant, this leather notebook contains 96 lined pages for jotting down your wedding dreams, and has a ribbon to mark your place. For extra style points, you can have it monogrammed.
READ MORE: 5 Cute Ways to Announce Your Engagement Online
13. Wooden Wedding Planner Book – £16, Luck and Luck
This wooden wedding planner will definitely help you get organised, with checklists to ensure you don't miss a thing, as well as blank pages to keep track of your inspiration. Plus, it's right on theme if you're planning a rustic wedding.
14. Tying the Knot Panama Notebook – £55, Smythson
When it comes to classic, high-quality stationery, it has to be Smythson. Their Tying The Knot notebook features a textured white leather cover, and inside there are themed tabs for easy planning.
15. Ultimate Wedding Planner Book – from £19.99, Etsy
This wedding planner book contains lots of prompts and advice, so it's great if you're right at the start of your planning process and aren't sure how to proceed.
READ MORE: 13 Things That Happen to Every Bride After Getting Engaged
16. White Moon & Stars Leather Notebook – £34.99, Papier
This pretty notebook is ideal if you don't want your wedding planner book to look too, well, wedding-y. We love the design, and inside there are no planning prompts, just blank pages for noting down your ideas and to-dos.
17. Personalised Leather Wedding Planner Scrapbook – £20, Artbox
Want a scrapbook-style wedding planner so you can create a printed mood board? This leatherbound style is a good option, with sturdy paper and a cover you can engrave with your names.
18. Personalised Notebook – from £7.99, Getting Personal
This wedding planner book is a great budget option, and you can make it feel more special by having it personalised with your initials (or the couple's initials if this is a present).
READ MORE: The 51 Best Engagement Gifts for Couples
19. Wedding Planner Book Organiser – £29, Elegant Design Ltd
We love this planner for any kind of wedding, but the cover design would be particularly apt for a chic celebration. Inside, you'll find all sorts of handy features like a guest tracker, as well as reminders for after the wedding.
20. 'Love' by Robert Indiana A5 Notebook – £45, Sloane Stationery
Another contemporary-cool design from Sloane Stationery, this A5 notebook features gilded, quality paper for your ideas - jotting down your thoughts never felt so luxurious. The cover features a pop-art design inspired by Robert Indiana's iconic LOVE sculpture.
21. Wedding Plans Personalised Notebook – from £24.75, Norma & Dorothy
This charming wedding planner comes in a variety of colours, from blush pink to pastel blue and white. To really go the extra mile, you can opt for the larger A4 size.
22. Personalised Wedding Plans Scrapbook – £29, Made by Ellis
If you're more a visual person than a words person, this scrapbook-style wedding planner could be right up your street. Simply stick in images, sketches and fabric samples for inspiration for the look of your day.
READ MORE: Wedding Colour Schemes: 15 Beautiful Palettes for Every Season
23. Passion Journal Wedding – £17, Moleskine
Great news for Moleskin fans - they've brought out a wedding version of their iconic notebooks. It's divided into tabbed sections, and has a 12-month calendar, stickers and a pocket - the perfect marriage of style and substance.
24. Candy Mustard Lay Flat Notebook – £21.95, Katie Leamon
It's not specifically a wedding planner, but this Katie Leamon notebook is still one of our top picks. That's partly because of the 'lay flat' binding, which makes it easier to write in (particularly if you're left-handed), plus the fact that for the quality of the paper, it's a very good price indeed.
25. Leather Wedding Organiser – £32, BeGolden
This wedding planner is made from recycled leather and will look beautiful accompanying you to your wedding-related appointments. With plain, smooth paper and no tabs, it can be used however you best see fit as you prepare for the big day.
26. Wedding Planner Book Eucalyptus – £29.95, Blush and Gold
This pretty wedding planner has a range of sections that any bride or groom will find useful, from mood boards and checklists to vow planning and even honeymoons research.
27. Personalised Wedding Planner – from £27.50, Unique Planners Shop
This pastel wedding planner book has plenty of useful worksheets and themed pages to get you thinking about different elements of the day. The colours are very chic, and it's available in sizes A4 and A5.
28. Wedding Planning Notebook – £22, Nina Thomas Studio
This gold-embossed notebook is ideal if you prefer free-form planning - there are no themed sections, just lots of blank pages to fill with your ideas. It's also a lovely gift, as the notebook can be personalised with the to-be-wed's name on the front and different colour covers.
READ MORE: The Best Bride-to-Be Gifts
29. Rose Gold Foiled Wedding Planner – £11.99, Ginger Ray
Want a pretty bride-to-be notebook? This rose gold wedding planner is a lovely choice, with themed pages to get you thinking as well as blank spaces for your ideas.
30. Personalised 'I Do' Wedding Planner Book – £25.99, Designed
If your personal tastes run more towards clean and contemporary than pretty, this wedding planning notebook could be for you. There's a choice of six different font colours to pick from, and you can personalise it further by adding your names and wedding date.
31. Personalised Wedding Planner and Organiser – £39.95, Martha Brook
The inside of this planner is every bit as chic as the neutral-toned linen cover. As well as themed sections for wedding elements such as wardrobe and timelines, you can personalise the cover with both of your first names.
32. Personalised Walnut Wedding Planner - £24, Oakdene Designs
This beautiful wooden wedding planner notebook is built to last, making it a sweet keepsake of the buildup to your big day. You can even personalise the cover with two names and a line of text.
33. Love Our Wedding Planner Journal - £25, Write To Me
With its embossed linen cover, this stylish wedding planner journal is perfect for any nearlywed with a taste for simple luxury. The A5 size makes it perfect for taking with you to vendor meetings, too.
34. Personalised Regency Wedding Planner - £24.99, Getting Personal
Feeling a bit Bridgerton-inspired wedding? This wisteria-patterned planner can be personalised with your names and some text of your choice, and is broken up into sections, depending on how far away the wedding is.
35. Wedding Planner - £19.95, Scribble & Dot
With its minimalist design, this elegant wedding planner is perfect for anyone who appreciates the simple things in life. It has space to jot down all sorts of notes, including about the honeymoon, and also offers lots of helpful tips.
Is it Worth Getting a Wedding Planner Book?
If you're planning on doing a lot of your wedding planning on your own, then getting a dedicated book to keep all of your appointments together is definitely a worthwhile investment. Lots of wedding planner journals will come with sections to help you organise your thoughts, as well as dedicated pages to keep track of any inspiration that strikes, from what colour flowers you want to your preferred menu for the wedding breakfast. Plus, you'll often find helpful timelines to follow, to help you stay on top of everything and make sure nothing falls through the cracks. There are so many wedding planner books available online that you're sure to find one to fit your needs and budget.
What Should be in a Wedding Planner Book?
If you prefer the sound of a structured wedding planner book over a blank notebook, then there are a few sections you can expect to see. There'll be pages dedicated to your guest list and keeping track of RSVPs, as well as ideas for wedding attire. In addition, there could be suggested timelines and schedules for you to follow, breaking down the coordination into more manageable sections. Seating plan charts and budget planners are other helpful guides you might find in a wedding planner journal. As an added bonus, a lot of wedding planner books will have tips and tricks throughout to help you out.
Where Can I Buy a Wedding Planner Book?
You'll be able to find a wedding planner book quite easily online, with sites like Etsy and Not On The High Street offering personalised options for a thoughtful keepsake. Trendy stationery favourites like Papier, Scribble & Dot and Katie Leamon will also have different options for you to choose from. If you want your wedding planner book with a side of luxury, check out iconic stationers like Smythson, while the likes of Kate Spade New York will offer you all sorts of kitschy charm.
Find out everything you need to plan for your big day with our comprehensive wedding checklist.